Consumer Complaints and Reviews

I've never wrote a review in my life; ever. But, I depend on the reviews of others to determine what services to purchase so I want to pay it forward. First and foremost, do NOT use All My Sons Moving. I don't care if they are the last resort! You'll come out better moving yourself. Now, on to my review. I called and scheduled a move with an office in the Hampton Roads area. BIG MISTAKE.
The movers showed up an hour late; no big deal. However, they were less than professional and some of them were sketchy. They load up the truck and off to Northern Virginia we go. They unload everything and damage not only my couch but a few other items. No big deal, I thought. Come to find out they made a pit stop at their "shop" and offloaded some of my items. Things I can't replace at all. Along with some paintings and other items that I will have a hard time replacing since they were from remote parts of Africa.
All in all, this was a bad experience and I want everyone to beware. Do yourself a favor: move your own things. Go rent a U-Haul or other truck and move everything yourself. Solicit help from friends and relatives and maybe even pay them to help you but you'll come out better doing it yourself. Moving is already stressful enough and All My Sons just makes the experience even worse. Oh yeah, don't worry about filing a claim. It's trash. Items that were invaluable are worth $100 to All My Sons. I didn't even bother getting it notarized and sent back in. Do not use them. Again, do not use them. And one more time for good measure: DO NOT USE ALL MY SONS MOVING!

The salesman did an outstanding job selling All My Sons as an expert company. Picked them because of their experience packing china. BIG MISTAKE. They were very late. They were not prepared to pack up a kitchen. I had to go buy boxes and bubble wrap. Ended up packing up the kitchen with my mom. They were really, really slow. The truck smelled like pot. While there were four people on the team, at no point did you see four people working. They had one roll of material to protect the carpet and laid it in the tiled kitchen. While that wasn't a big deal, the whole thing was comical.
They got lost and disappeared for several hours between leaving the old house and driving to the new apartment 40 miles away. They had never done an elevator move before. The whole thing took 11 hours for a fairly simple move. They took apart a dresser and mirror and never provided the screws needed to put it back together. One cabinet fell apart as soon as we touched it in the new apartment. Glass was broken. There seemed to be a complete disconnect between the dispatcher and the team. They were not prepared for the move and knew nothing about the area or the job (i.e., traffic, high rise building issues, urban parking issues, where to find the weigh station, how to efficiently deal with the paperwork and payment). I feel like a real moron for hiring this company.

I wish I would have checked these reviews out before we choose AMSM. Gave estimate of $300.00 and did not say they billed by the hour until dropping off the load. Also, they wouldn't unload until we paid but the job wasn't finished. The driver did not like being told anything and was rude and wouldn't look at you when you talked to him, especially when my wife tried to talk to him. He then started running in and out of the house throwing air punches as he loaded and unloaded and yes, he was pissed. I've moved many times and this was a complete joke. Look at all of the complaints, bait and switch, rude, miss date. Please don't use this company and if you do and have issues, please continue to voice concerns here. It could lead to something over time.

The men who moved us stole over $1000 in handguns, bullets, and other items. After filing a complaint the local authorities investigated the movers and found that all of them were convicted felons with ACTIVE WARRANTS. The company had not done a background check. DO NOT USE THESE MOVERS. We had to file with an attorney just to get the company to listen or investigate their workers.

My thousand dollar move went pretty well until I noticed my scratched furniture and broken planters. I told the guys about it, and both they and I took pictures. Then the nightmare began. I couldn't fill out a damage form on the spot - I had to call the company to get one. Three calls later, no form. I finally put a disputed payment on my credit card. THEN they sent the form. When replying to the dispute, they said they don't owe me anything. Great. Don't use these guys unless you don't have anything that can be scratched or broken, because they won't step up and take responsibility for breaking your stuff.
How do I know I can trust these reviews about All My Sons Moving?
788,323 reviews on ConsumerAffairs are verified.
We require contact information to ensure our reviewers are real.
We use intelligent software that helps us maintain the integrity of reviews.
Our moderators read all reviews to verify quality and helpfulness.
For more information about reviews on ConsumerAffairs.com please visit our FAQ.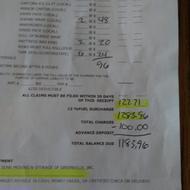 Hired this company to move 2 bedroom house... Dining room, living, and some garage items. Took 2 men 8 hours to load the truck... granted no boxes, we had everything packed. No TV, no lamps. Just furniture. I even called the company about how slow they were. Do not hire this company they charge by the hour and will milk it for as much as they can.

This moving bunch are a joke! Unfortunately, the joke was on me/us! They used every excuse NOT to pack up certain things. They don't pack up liquids, however, they don't pack up the items that CAN be packed within the cabinet that contain the liquids. I mean the whole cabinet! What I needed was a monitor, checking behind each drawer and cabinet, making sure they emptied each one. The worker of the Master Bathroom was ask to leave some items on top of the counter, I guess he heard, "Don't pack ANY of the three bathrooms." I got to my location and had no linens (towels, washrags, etc.). No box was clearly marked for the designated room. Furniture was just left in the middle of the rooms. I don't know how to stop complaining, the list is so long. I couldn't be more disappointed with this moving company, and myself for using them. THEY SHOULD BE SHUT DOWN... THEY'RE A COMPLETE RIP-OFF!!!

They came a week before to pack up my kitchen items which I assumed would be professional and they used paper and put dishes together instead of separating them. All broke. I'm so glad I packed my own crystal and china. That's the only thing that was safe. They came the day of move to finish packing us up and my husband went out to go get these guys lunch while they were packing up his closet and forgotten that he kept cash in a wallet behind his socks. 600.00 stolen. When we moved to the new house and noticed the money was gone and they were still there we confronted them and said, "You guys figure it out amongst yourselves." No one came forward. Guilty for certain. It's a shame one guy ruined it for all that are honest. They were shady.
They moved my piano ok thank goodness to a separate location and then when they finally got to our home they literally just shoved all boxes in the kitchen amongst the appliances so that we couldn't even get in the kitchen. The garage was a nightmare. They left so many other items and boxes at the old house we had to go back 2-3 times to load up our own truck. The truck was too small for a 5,000 sq foot home. Called the owners did not want to take any responsibility of the poor services and thieves he hires. Someone should take ownership of hiring guys that are not criminals. We wasted our money, time, lost many items that broke - some decorative pieces I have had many years.

They pretty much bailed on me in the 9th hour on May 6th, 2017. I made reservations weeks prior to my move, I paid a $120 deposit, was told because I have an apartment move that it will be in the afternoon sometime probably between 2 and 4pm. I waited, and waited. @5pm I called and their exact words were "I'm trying to find a crew to come out and move you, I have a bunch of calls in" so apparently they did not have me actually scheduled. I gave it 'til 5:30, I called again, and still same "waiting to hear back from some crews, but not sure what time they will get to you, but I'm working on it for you." Well I think 2 hours after you're supposed to be there is a bad time to start working on it, how about 1-2 weeks prior that it's scheduled, not the same day.
So I'm thinking okay it's 5:30pm on a Saturday, and they "are trying" to find someone, they don't "have someone" so my move basically is a crap shoot at this point. I call another company at 6pm, they said they'll do it, I call back and ask All My Sons, "Can you confirm you have someone and a time." He said, "No I'm sorry." So of course I went with the other company. They are apparently not very good at scheduling, it's not a haircut, it's moving! Moving is so stressful as it is and then you do everything to get ready and find out you have no movers.
The other team from Total Moving Services got to me at 8pm, they moved me 'til about midnight in the rain, these poor guys were so tired, they were headed home for the night after a long day of work and their manager asked them if they could do one more, and they were nice enough to do it. All My Sons put me in a very bad spot. Ironically I went with them, even though they were much more expensive because they said "we are accredited with the state of GA"
And I was worried about movers not showing up on time, never did I think I would have to find new movers hours after they were already scheduled to be there. They wanted me to pay upfront, to confirm my commitment yet they couldn't hold up their end. I was so exhausted on Sunday that I still have to go back now and do my cleanup at the other place, and I have to pay an extra day of rent because All My Sons could not deliver on the commitment.
And of course sharing my nightmare experience at work the next day, one of our VPs and another employee shared with me that they too had nightmare experiences, the already stressful experience of moving 10x worse. I think the state of GA needs to rethink who they accredit themselves with. Thankfully they didn't fight me about my deposit. They really need to get their act together on their scheduling.
I do not recommend, there are other great movers out there, Bulldog, Silverline Mover and Big T I heard from reliable sources that are good. Total Moving did a good job and saved me when I was in a bind. When you are ready to move, there is so much planning that goes into it, whether it be an apartment or a house, you need people you can rely on, and All My Sons failed on that account.

I was told that my cost would be $514 for 2 hours labor and 1 hour of drive time. It took them 1 hr and 15 minutes to load and 45 minutes to unload. I paid $149 upfront so the balance should have been $365. I had to pay $680. They charged me $277 more than they quoted. These people lie about price. I advise everyone to use a different company.

Horrible experience! After estimating our move at $350, movers got truck stuck in yard. Billed 2.5 hours to move a single load with only 4 large pieces of furniture and charged over $500. Will never use or recommend this company again.

Beware of this company. I am 100% disabled unable to bend over or walk a few feet. Heart condition and minor stroke. They came my home. Moved furniture. Did not wrap one of my book shelves. There was no damage. When it arrived my new home. It was badly damaged. They didn't assemble one bedroom set. Left my coffee table outside. Had to ask neighbor to bring in for me. Knowing I could not assemble the bed or pick up the coffee table due to my disabilities. I brought the damages of bookshelf to their attention. They said they took photos. I saw one of the workers enter my car through the bedroom window. I had a $400 pair of Ray Ban prescription sunglasses taken. When the company answered my complaint the workers had lied. Said I told them to leave. Not assemble the queen bed. Now if I have such a disability why would I ask them to leave if I cannot bend over to assemble?
They were disgruntled they did not receive the tip they thought they deserve. They said it was an insult. This is one very unscrupulous company that hires shady workers that lie and steal. Beware and do not employ this company for your move. They assume no responsibility for damages they cause. They take advantage of the disabled. Lock your vehicle.

I used All My Sons Moving Company out of Southwest Florida and I was completely unsatisfied! They had about 6 to 8 guys load all of our stuff and when they arrived at our home in Pace Florida there were only two guys to unload it! This took forever and they wanted to leave and come back and finish! Needless to say we did not get the boxes in their assigned rooms because there were only two guys to unload a packed 18 wheeler. Somehow our boxes were repacked (we packed our own boxes). So they went through every box!
There were numerous broken bent items on this move! My 55 inch big screen tv was packed in a tv box and they still smashed the left corner of the tv. The insurance they give you is a joke! We even packed pictures in a picture box and they were all scraped up! I would not recommend these guys unless you want your items bent, broken or damaged! They even scraped our doorways! Please find someone else to move your items because these guys are overworked and I believe that is one way some of the carelessness came about.

My daughter and I called several companies to arrange a move on March 25th. The scheduled move date was for the 26th. Brock quoted us 129 per hour and 129 to and from the shop drive time. Although he was Not the cheapest quote, he was a great salesman and sold us on the companies great reputation and background checks on employees. We agreed on the above price. Now mind you we were fully prepared for the move, 8 flat boxes we taped ourselves. 16 Plastic totes, lids fit tight. This was a 700 sq ft Apartment, and we were not moving the living room furniture. So they sent two movers. They moved 24 boxes. A small kit. Table and four chairs. One sleigh bed. (This took minimal disassembly.) One tv. One tv stand. One small dresser. Approx 12 pictures, prewrapped in plastic and a washer/dryer. Less the few pieces of furniture, the unload was just to the garage. Drive time from apartment to house 15 minutes.
My BILL WAS $840.00 dollars. To include insurance, surcharges and materials that weren't needed nor quoted. In other words they moved one bedroom, two pieces of furniture, no living room other than tv and stand. One dining which was a small table and four chairs. And a washer/dryer for 840.00. When we called Sunday to complain we were told we knew we were going to be charged 840 and were told all charges up front and that someone would call us yesterday 03/27/2017. No call. Can someone please call and adjust our bill. I have pictures of every item included in the 840 that I have sent twice to the local office and still no call.
I also want to say that when the two men arrived they immediately shove a iPad in your face and have quickly begin initialing and signing. I am absolutely sure that they will hide behind these documents claiming I read them and agreed to be overcharged. It doesn't change the fact that right is right and being unfair and overcharging is not okay. Also they have verbally admitted both movers and the man on the phone the day of the move that they were suppose to send three movers and they only sent two.

Great workers. John the lead man, and his crew (Jerry and Tyler) are fantastic. They cared about my property and the speed was money saving. Kindly request for him by name. He will work with you on speed and advise you of the time remaining. The operation managers all awesome and they kept calling to check up on me! This is my second move in 8 years with this great company which is my moving family!! ALL MY SONS THANK YOU.

Moving is a pain. We all know that but with All My Sons Moving Dewayne ** was our lead person and dealing with him was a pleasure. He is very hard working and cares about his customer and their things. He worked with passion and speed to try and keep everything moving as smooth as he could. At the end of just two days he felt more like family. I cannot express my gratitude towards he and Ms Randi **. She also was amazing calling to check on us and showing up on the day of the move. I would highly recommend these two fine people so when you book your move ask for them by name.

My stepdad hired this company to move him and my mom from a condo to a house that was 5 miles away. 3 bedrooms. They were supposed to send 4 people to the condo and then go to a storage unit with my stepdad. Scheduled to be there from 9-10; showed up at 11:30 with only 2 movers and a truck that was too small for all of their belongings (although they were told the size of the condo/storage unit, etc.). They claimed they didn't know about the storage unit. My mom and I went to new house, but I had to go home at 1:00.
I called my mom that evening; workers were still there and she was frazzled. I texted at about 10:00 that night, but didn't hear from her. I called her the next day (today) and she told me she was "in hell." The movers didn't leave until 11:30 pm!!! That's 12 hours!!! They chipped her brand new hardwood floors and then told her they were just going to leave the big boxes in the garage. What?!? My mom is 65 years old! If she could have lifted the boxes by herself, she wouldn't have hired movers. She told them to bring the boxes in the house. They begrudgingly did.
When I talked to her earlier, I heard my stepdad in the background. He wasn't yelling, but he wasn't far from it either. My mom told me he was on the phone with the moving company. They were being uncooperative. I don't know if they will discount their "by the hour" price, but I don't even care at this point. A company who takes advantage or my 65 year old mom and her husband deserves less than one star. DO NOT HIRE!

These guys busted their butts!!!! They came in and immediately got started. Took care of my belongs. I cannot express how grateful I am of their service and professionalism. They made a very stressful situation for me, stress-free. Very friendly and super hard working guys. My furniture was heavy and big and I only wish I had extra money to pay them more as a tip because they deserved it. THANKS TO ALL 3 GUYS, YOU WERE FANTASTIC!!!

7 hours 2 rooms, they did not have to move anything from the master bedroom because I had sold my things prior to my move. They did not have to move a washer, dryer or anything from the kitchen and I was charged $916.00. The extra hour was for 30 min coming and 30 min going. All of the complaints and nothing done to this company so they continue to rip people off. I will never recommend them to anyone I know nor will I ever use them ever again. Be Aware Of This Company unless you want give your money away!!!

This is the worst moving company I have ever dealt with and I have moved 3 times in 5 years. The men are so busy talking they do not come in and start working. If you respond to them, they will stop doing whatever they were doing and stand and talk for so long, you literally want to blow your brains out. Two of the men wrap and move things out and the other 2 stand out by the truck loading. They could have moved me in much less time if all four had been concentrating on getting the items out of the house and out to the truck.
When they arrived at our destination 1.2 miles away, I might add, they immediately said they could not unload the truck until they were paid. Well, that made no sense to me, because we didn't know how many more hours it would take to unload. They called the "boss", and he estimated how long it would take them to unload and wrote the bill for his estimate, which I knew was a ridiculous number of hours to unload the truck. We were given the explanation, we would be refunded the overage by Monday, our move was on a Saturday. I checked my account Monday, Tuesday, Wed, and on and on. I called 13 days later to ask about the refund, and the man I talked to acted like he didn't know they owed me a refund and had never seen the paperwork. After he looked at the paperwork, he told me one amount, and that the refund would be processed that day before the end of business.
Once again I checked my bank account day after day and no refund showed up. I then sent an email to all the names on the original contract and received a reply that it had indeed been sent on that same day I was told, with a screen shot of his ordered refund. That is not an actual receipt for a credit sent to my account. Anyone dealing with accounts can type in anything and then send a screen shot. Also at the last of the bill they tacked on a fuel charge, which no other mover I have ever used did that for an in-town move.
Also the men repeatedly told us how they don't make overtime and they have to work sometimes to midnight, and how they don't get paid well, hinting for big tips without actually saying the words. They are going to try to get you to go online before they leave and give them a commendation while they are standing there, don't do it!!! It's blackmail just like them holding your things on the truck until you overpay them before they will unload. My advice is if you live in Knoxville stay with the tried and true companies.

Worst moving company EVER!!! Appointment at 9 am. Called at 7 am and wanted to come then. I explained we weren't quite ready sooo they show up late! I assumed that since I was never emailed my contract they would bring my copy with them - NOT. The man stood there acting angry that we just didn't sign it without reading it and answered every question we had (about the additional costs no one had told us about) with this gem: "We are just here to move your stuff we don't know nothing about any of that." So I called customer service and was told they were typical charges and they would email my contract right away and he would personally speak with the lead mover concerning his attitude with us. The packing and loading didn't go that badly even though we had to tell them repeatedly that "yes that was going also" on several items.
He came to me about a loose chair leg and loose lamp base. I acknowledged that those items were that way. When we arrived at the new home I spent 20 minutes walking with him through the home at his request to show where this should go. That was stunningly useless! I left them alone for 15 minutes and found that furniture and boxes had been put in the completely wrong rooms. They kept bringing in furniture that was going to be in the way of bigger pieces when they brought them in but when I said anything they would just ignore me and speak to each other in another language. One man asked me where this big box went so I said right on that shelf in front of you so he set it on the ground RIGHT IN FRONT OF THE SHELF.
So now the fun stuff - the DAMAGE. They tried to get my California king bed frame up 2 sets of stairs and around a corner WITHOUT taking it apart. They busted a hole in the wall and my Oak frame is completely scratched up and damaged. Once they did take my bed frame apart we found out after they left that they left 3 pieces of wood outside in the yard with huge nails sticking up. I told them they could remove them and not put them back on but to leave them where anyone could walk on them - really people?! They dropped the top part of my Armoire on top of the bottom busting a corner off of the top piece. I have a $6,000.00 bedroom set that they just decided it was OK to TRASH. They bent a handle on my dresser horribly.
Instead of taking the doors off of my Double door refrigerator (which I asked them to do twice) they just shoved it through the back door and gouged the handles (white) with black from the door frame and the doors are now sitting uneven and not sealing properly. My grandsons captains bed is literally falling apart now after they "put" it back together - parts of frame separated, drawers won't go in and middle door hangs open and will not shut. One man dragged my Extra Large La-Z-Boy recliner across the tile floor slamming it up and down to move it. After they left we realized that he tore off one of the nails on the bottom frame. How did we realize this? My grandson stepped on it and it went ALL THE WAY INTO THE BOTTOM OF HIS FOOT! They broke glasses, pictures and other things that we were trying to pack as they were moving items, kicked an ashtray on the floor over and left it and the mess.
They pulled apart pieces of furniture that I specifically told him were not to be taken apart. I was quoted at $758.00 dollars for the move which turned into almost $1,300.00. They left garbage and pieces of packing tape every in both homes that we had to clean up. Also the packing tape I had to pay for of which I am now the proud owner of 7 rolls that they left at the first house. Lazy, rude, unskilled, are just a few of the words I have for the moving crew. I have also spoken to customer service who has made it quite clear they could care less about us. I still have never received my "contract" or moving inventory list. I have lived in Cape Coral for 20 years and work at a job where I know and talk to many people and I will tell every single person I ever meet to NEVER use this company.

All My Sons movers are the best movers I have ever had and I have moved 14 times in 16 years. They are extremely professional and extremely careful with my belongings. I would highly recommend them to anyone and everyone. As far as the bad reviews, I completely disagree with them. You can't ask for a better moving company than them. They are the best!!

First time I have ever used a moving company, and I was a nervous wreck. I don't like someone else touching my stuff, but I had to get help. All My Sons totally relieved my stress and worries and allowed me to focus on other things that needed my attention. I no longer have a fear of hiring a mover and would totally use them again. I strongly recommend All My Sons to anyone needing to hire a moving company to help move their memories and belongings. Thank you All My Sons for saving me in a time of need and making my experience amazing!

I was given a time when the movers would show up and they were over an hour late. As they were loading the truck two of the movers asked for tips. Tacky!!! One of the movers had headphones on the whole time, listening to music and didn't respond or care when I would say something to him. Never removed his headphones. Before they would unload I had to pay. When I said, "That wasn't how things worked," one of them called the "boss" and then instructed me they would not unload until I paid. I had no choice, they were holding all of my things hostage. I was told before I even hired them that they would assemble everything that needed to be assembled and all they did was put my bed and my patio table together. When they assembled my bed they leaned the headboard against the wall and put the mattress and box springs on the frame. I had to finish the assembly.
They didn't listen to most of my instructions on where to put things and most of the things ended up in my shed. I still haven't found a lot of my kitchen supplies. They put a box full of tools right inside the shed and in front of everything after I asked them to put all the boxes on one side of the shed and the loose things on the other side so I could get to everything. As I said they didn't do as I asked. If they had done as I was told they would do I would have everything I need in the house and not in the shed.
As they were leaving, I asked them to take the mattress boxes and they said they wouldn't take my trash, I was responsible for removing it but if I wanted to make it "worth their while" meaning more money then they would take the boxes. I said, "No" and then the guy with the headphones proceeded to throw their trash out of the truck and put it with the mattress boxes I had to take care of. I told them to load that trash back on their truck and got a smart remark back. There is so much wrong with this company and the people they hire, I can't even begin to add everything up. I am not happy with All My Sons Moving and I can't express enough not to use them for your moving needs. They are awful, very unprofessional and way overpriced.

I hired them to move my one bedroom apartment to a storage unit one mile from my place. They showed up 2 hours late. They moved very slowly, and I would find them taking 15 minutes to tie down an item in the truck, trying to run up the time! They were in no hurry to get the job done, and one of the movers stood around most of the time, and never came into the apartment to get anything moved unless the other one came with him.
The owner told me it would be between $350-$450 on the high side to get the job done! This job turned out to be a 4.5 hour job, and the charge was $567.00. I refused to pay the amount, and told him the job could have been done in 3 hours max, but the movers dragged it out, taking as much time as possible. I finally got him down to $450.00 which was still very expensive for the move!
Run from this company, and their business tactics!!! The men who did the work were polite, but one was lazy, and dragging the time out to get paid more! Get a flat rate from a mover, not a flexible quote, depending on how much they want to make. He told me, "If you can't afford to hire a mover, then why didn't just move it yourself?" I told him, "I am 66 years old, and I asked you how much you told me it would be and I am not paying one cent over the highest price you gave me!"

Terrible moving experience! An estimator was sent to evaluate the size and cost of the move. A one truck, one price, one day move turned into a three truck, two day, very expensive move. Felt like a bait-and-switch routine. The estimator assured us that the crew would arrive early and stay until the move was complete. They arrived late and left early. We were assured that they would wrap and package delicate furniture. That was not the case. Several items were damaged. The door was ripped off of one piece of furniture and they neglected to inform us about it. After 3 trucks and 2 days, I still had to complete the move myself. It took 3 truck loads and a late night to finish the move.
Upon arrival at the new house, they scraped up my wooden floors, gashed and scraped freshly painted stairway walls and ceilings. They did not put my dining room table back together and left items in downstairs that needed to be upstairs. Once again the move was not complete. We had to hire additional people to come and help us complete the move. The upper management was not much help and never inspected the damage done to our home and furniture and were indifferent to the fact that our furniture was not put back together. We filed a claim and the claim process was painful. They never return phone calls and we still have not come to what I consider a fair agreement. The company takes no ownership for the poor treatment of their customers. It was a nightmare!!!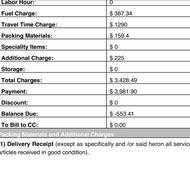 I had great customer service from the Houston branch so didn't even think twice about Dallas. Worst service ever!! Refused to use my packing materials. Stuff packed randomly. Didn't itemize for customs like I asked. Silverware in with bathroom. Lied??? Didn't return phone calls. Used suspect math. Stay away. Refused to refund overcharge.

This company is not transparent. They hide their charges and not inform about their prices. They don't provide anything in writing so that they can fool you in paying more. Please stay away from this organization. The people who come to move are really nice and we're very happy with the workers. It is sad that they work for such a terrible company.

We hired All My Sons to move contents in a storage building. They said "Yes we will take care of it." Oh was I shocked! They told me I didn't have to stay. They would clean it out and meet me at my new place. They came and I was told few items was left they couldn't transport. My husband and I go to the storage to get the few items and sweep it out. It was still full of stuff. Stuff was dumped out they even left their trash. I call and they get the local branch manager to call me. Well few minutes he did. Told me he would have to charge me hourly again for a job they didn't finish and cussed me out.
Never been so pissed off in all my life. But they took my money and left me with the job they was hired to do. DO NOT USE THIS COMPANY! They have no respect for you or your things. I asked to speak to someone to help me and got told I have to send a email. All this happen today, 2/2/17. Never again will I use this company. I don't see how they can treat their customers with such disrespect and still be in business.

After 10 min in my home one of the movers had to use the bathroom. They came early, caught me off guard and I left my earrings in the bathroom... They were TAKEN. After a few phone calls that day, "my earrings would be returned the next day..." no they were not. It is now 6 months and I am waiting for a check. I was played with, lied to; good runaround on their part.
All My Sons Moving Company Profile
Company Name:

All My Sons Moving

Website:

http://www.allmysons.com/