Consumer Complaints and Reviews

Terrible moving experience! An estimator was sent to evaluate the size and cost of the move. A one truck, one price, one day move turned into a three truck, two day, very expensive move. Felt like a bait-and-switch routine. The estimator assured us that the crew would arrive early and stay until the move was complete. They arrived late and left early. We were assured that they would wrap and package delicate furniture. That was not the case. Several items were damaged. The door was ripped off of one piece of furniture and they neglected to inform us about it. After 3 trucks and 2 days, I still had to complete the move myself. It took 3 truck loads and a late night to finish the move.
Upon arrival at the new house, they scraped up my wooden floors, gashed and scraped freshly painted stairway walls and ceilings. They did not put my dining room table back together and left items in downstairs that needed to be upstairs. Once again the move was not complete. We had to hire additional people to come and help us complete the move. The upper management was not much help and never inspected the damage done to our home and furniture and were indifferent to the fact that our furniture was not put back together. We filed a claim and the claim process was painful. They never return phone calls and we still have not come to what I consider a fair agreement. The company takes no ownership for the poor treatment of their customers. It was a nightmare!!!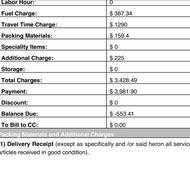 I had great customer service from the Houston branch so didn't even think twice about Dallas. Worst service ever!! Refused to use my packing materials. Stuff packed randomly. Didn't itemize for customs like I asked. Silverware in with bathroom. Lied??? Didn't return phone calls. Used suspect math. Stay away. Refused to refund overcharge.

This company is not transparent. They hide their charges and not inform about their prices. They don't provide anything in writing so that they can fool you in paying more. Please stay away from this organization. The people who come to move are really nice and we're very happy with the workers. It is sad that they work for such a terrible company.

We hired All My Sons to move contents in a storage building. They said "Yes we will take care of it." Oh was I shocked! They told me I didn't have to stay. They would clean it out and meet me at my new place. They came and I was told few items was left they couldn't transport. My husband and I go to the storage to get the few items and sweep it out. It was still full of stuff. Stuff was dumped out they even left their trash. I call and they get the local branch manager to call me. Well few minutes he did. Told me he would have to charge me hourly again for a job they didn't finish and cussed me out.
Never been so pissed off in all my life. But they took my money and left me with the job they was hired to do. DO NOT USE THIS COMPANY! They have no respect for you or your things. I asked to speak to someone to help me and got told I have to send a email. All this happen today, 2/2/17. Never again will I use this company. I don't see how they can treat their customers with such disrespect and still be in business.

After 10 min in my home one of the movers had to use the bathroom. They came early, caught me off guard and I left my earrings in the bathroom... They were TAKEN. After a few phone calls that day, "my earrings would be returned the next day..." no they were not. It is now 6 months and I am waiting for a check. I was played with, lied to; good runaround on their part.
How do I know I can trust these reviews about All My Sons Moving?
697,568 reviews on ConsumerAffairs are verified.
We require contact information to ensure our reviewers are real.
We use intelligent software that helps us maintain the integrity of reviews.
Our moderators read all reviews to verify quality and helpfulness.
For more information about reviews on ConsumerAffairs.com please visit our FAQ.

The MOST UNPROFESSIONAL Moving Company EVER. Charged for Shrink Wrap they didn't use. Used the side doors with NO ramp - took extra time. Kept rearranging furniture instead of putting it where it needed to go at the first -- took extra time. Slid mattresses in dirt and got dirty. I could go on and on!!! I called the Supervisor (Stephen) at 803-234-5977 and he acted like it was NO Big DEAL. He said he would credit my acct. for the shrink wrap that they charged me for but there was nothing else he could do except to talk to the guys that moved the furniture.
I told him how unsatisfied I am with the bill and the moving experience and he acted like it was nothing to him!!! I told him that the 2 guys wasted a lot of time and this move should have been done no more than 2-3 hours at the most! He said there was nothing he could do about it. He acted like he didn't even care about my dissatisfaction with the company. He hung up on me!!! Please--take it from me--DON'T USE THIS COMPANY OR YOU WILL BE SO MAD AND DISSATISFIED AND THEY WILL DO NOTHING!!! Move date: 01/12/17.

THIEVES!!! DO NOT USE THIS COMPANY!!! This was my first and last time using a moving company! The "owner" (Zack) assured me that the employees that worked there had background checks, drug tested, no criminal histories, and were not day laborers. **!!! They showed up smelling like **, took "smoke breaks" every 20 minutes, damaged our furniture, damaged our brand new house, and stole so much of our stuff, including guns, prescription pills, laptops, checkbooks, social security cards, credit cards, and more. We have had to file a police report, cancel all of our accounts, and take so much time to combat these criminals! My husband just found out they added 8 additional lines to his Sprint account and his phone bill was outrageous because they have been using our service!!! These people are professional criminals. I beg you to not use them!!!
I called Zack and he said there was nothing he could do except send a claim packet out to us and we can file a claim for our damage and stolen goods. We received the claim packet and it's requiring receipts of everything stolen and damaged. They know people do not keep receipts of items they have had for years. This is how they get out of paying the claim!!! I will continue to use social media to let everyone know to not use this company. They are criminal, they are liars, and they are thieves!!! DO NOT HIRE THIS COMPANY!!!

Absolutely horrible experience! Most unprofessional behavior by any service company I've ever encountered. COMPANY was unable to tell me why the moves were late or when they would arrive. When they arrived Juan was rude from the start. First thing they did was to demand we sign a form stating the furniture was delivered and undamaged. This was before they even started. Juan said they would leave if we didn't sign it. After wasting quite a bit of time which I ended up paying for the company told Juan we didn't need to sign until after furniture was moved.
Upon arrival at destination before they would start unloading Juan demanded payment in full plus an estimated charge for two hours to return to their shop which was 30 minutes away. I was supposed to be refunded for the extra time but that didn't happen. I gave into this ridiculous surprise demand because they were stressing out my 82 year old mom. They also again demanded we sign a form stating the furniture was all delivered without damage before they would start unloading. AVOID THIS COMPANY!!!

DO NOT USE - JAX, FL. In spite of walk-thru with packers explaining monetary value of heirlooms/collectibles (over 4K) and signed numbered antiques, they FAILED. Failed to use bubble wrap instead flimsy paper - 2 sheets then packed heavy items on top on 2 items. $700 was paid for packing. Claims process even worse - explicit documentation and detailed photos provided. 40+ photos and mfg. estimate of appraised value piece proof of Value. Their claims dept. offered a settlement amount of $147. My 40 yrs old heirlooms. NOT acceptable. 65 days, 11 emails, 4 conversations, still no resolution. BBB will be contacted, lawyer, state financial institution, social medias, small claims court if an reasonable settlement not received.

Very unhappy with their service. They overcharge customers without making them aware. Not to mention that the movers have to have their own tools. If they don't they will hold you back big time, something you wouldn't know until they get there. Very unprofessional company and I won't recommended to anyone.

They stole my money. I had a huge basket of change. They buried it. When I checked it, it was less than half full. Then they begged me for a tip. Then they stole my cologne. When I called them they were like "fill out this form". DON'T EVER USE THEM!

I was told one price and when they got here 500 dollars to go one block and my sofa is still in my kitchen because they do not take sofas apart. My floor is marked up and my door frame is damage. They pretend to care when I call main office but no response and I asked for a complaint form none here today. Told me they would come take the sofa apart if I do not write a complaint. Stay away from them unless you want to lose your money.

DO NOT USE THIS MOVING COMPANY!!! I called them a week before my move and asked for a quote to move my 3 bedroom house. They quoted me 4 movers and a 26 foot truck for 2 hours for 253.30 an hour to load the truck. They then said there would be an overnight charge of 125 to store the truck at their warehouse. The next day they were to come out to my new house and deliver my stuff for 2 hours at 253.30 for 4 movers.
The movers showed up at 12:20 on Thursday to move my stuff. No advanced notice, no call. I showed them through the house what was to be moved (everything, all boxed, all broke down) and what was priority (the heavy stuff first). The lead mover then went over the paperwork with me and wrote down his start time as 12:15. They then backed in the truck, unloaded their stuff and walked around the house. Throughout the first hour they moved a minimal amount of boxes and made many trips up and down the stairs empty handed. 2 guys did most of the work.
Towards the end of the second hour they had most of the items brought down from the second floor. By the end of the third hour they had 75% of the house packed, but still had not packed the gun safe (As promised, discussed, and agreed upon) and chairs and a few other large items. Their fleet manager called and said that the truck/crew was needed back at the company.
The lead mover then had me go over paperwork at 2:50. The movers stopped moving. The lead mover called his manager and then wrote down 3:15 as the stop time. He was discussing drive time with his manager. He crossed out the 3:15 and wrote in 4:15. I said, "you moved me for 3 hours, one hour over what was agreed and you are leaving me here with 25% of my stuff still in my house and you haven't put the gun safe or the grandfather clock on the truck as agreed upon". He quickly signaled his team to move the safe and the clock and then informed me that I was being charged an extra hour for drive time. DRIVE TIME AT @ 224.95 an hour! THIS WAS NEVER MENTIONED TO ME OR AGREED UPON! They finished loading at 3 and left me with a job unfinished that I had to rent a uhaul to move.
I immediately called to complain. I was told by Allen (the 4th person I've talked to now) that I should never have been charged for drive time. He told me that I wasn't being charged for drive time, I was being charged for the 4 hour minimum on Saturdays as per company prices. I then informed him that it was Thursday. He corrected himself and said that the extra hour was wrong. I then asked him if he would credit me with an hour on delivery. He said yes.
The next morning there was a hang up on my end with my house not closing on time. I had made them aware that this would be a possibility. I called them as soon as they opened and asked them what my options were to store my stuff. I was quoted at $1400 to store my stuff for two nights! "We will have to unload your truck into our 8 vaults and then reload your stuff to bring it out to you for delivery. You will be then charged for unload at your house on top of that." I said that this was not an option and that I would rent my own storage unit and have them unload the truck there. Alan said that is just fine and that it should take their guys an hour to an hour and a half to unload the truck into the unit. I booked a storage unit (free for the first month) and had them meet me there at 12:45.
The same crew brought the truck out minus one guy (3 total movers this time). I was told that because there was only 3 guys the hourly rate was reduced to 175.80. The lead mover put the start time at 11:45. I said, your clock is off, it is 12:45. He told me I was being charged an hour for the drive time! This was not agreed upon. After the first hour, half the truck was left to unload. One of the movers then stopped moving and started removing tape from the moving blankets and folding up all the blankets. This took him over 20 minutes and while he stopped, so did the second mover. I recorded this on video.
At the two hour mark the lead mover brought paper work over for me to sign and pay for the move. I told him that I do not want to pay for this move until the job is finished. You were supposed to have this truck unloaded in an hour and a half and now it is two hours and still 25% of the truck left to finish. He called his manager and the manager called me. He told me that he told his movers to freeze the truck and close down the move until I payed. He strong armed me into paying up front and held my possessions hostage. He then yelled at me, "I do not have time to argue with you" to which I hung up and told the movers to get my stuff off the truck. I signed their paperwork with the lead mover putting down 3.25 hours as the total for this unload!
This company is sneaky, preys on people who are in a bind, and will hold your possessions ransom until you pay. You will never deal with the same person even when you request it. They will lie to you, make up prices as they go, add on fees as they feel fit and never put anything into writing. There is a reason they have so many negative yelp review and are a D on the Better Business Bureau website. STAY AWAY FROM THESE CROOKS!!! They stole $400 dollars from me!!!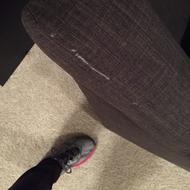 Let me start by saying, how do the mover make himself comfortable in your home and eat your food? I had chips in my kitchen, and the movers stuck his nasty dirty hands in my daughter's chips which my daughter threw away. I had a new sofa wrapped in plastic when it got to my apartment it was missing the plastic, but had paint on it. Where did the paint come from? I don't have a clue. When I asked the movers what happened to the plastic I was told they took it off. I told the movers there was paint on my new sofa. His response was, "for someone not paying for your move you are very demanding". I was insulted. They are hired for a service, and they do not care. To treat customers so rudely is so disrespectful. I don't understand how a company like this exist. People with businesses with great morals can't succeed. I will never use anyone but Gentle Giants again. If I can't get them the day I need them I'LL WAIT.

$1500.00 to move a 2 bedroom house??? Alonso the owner is a certified crook! Why add 3 then 4 at the end of my move. Using verbiage like "It's now a full pack out", to justify. Yes I'm moving everything in my house?! I was completely taken advantage of! I will never recommend this place and wish I did my research!

I hired All My Sons Moving and Storage of Fort Myers, Florida to move me from Saint James City, Florida to Supply, North Carolina. They asked me if I would like to buy insurance from them to protect myself from them breaking, losing or stealing my own items. I did not think that was the right thing to have to do. If you do not buy their insurance from them, they only pay sixty cents a pound on what they destroy or do not deliver. Sure enough, they lost my 3X4 signed framed lithograph worth a few thousand dollars, three large glass table tops and fifteen other items, some personal that can never be replaced at any price, much less at sixty cents a pound.
I have reported them to the Better Business Bureau, went to arbitration and, now, never hear from them. They showed no real interest in finding and delivering all of my items. I cannot imagine that they innocently lost all of these items and have no idea of where they are. I would never use this company and I will warn anyone to avoid them at all cost!

Although the two movers were very nice, they took much more time than needed, charged us for more time after they said done, caused minor damage to some of our pieces, and littered the street and our lawn. We still can't find some of our boxes.

I called this company and told them specifically that I was moving a couch, an entertainment center and a heavy table. I told him I wanted to price around. He assured me it would be "around" $400. I thought it was high but agreed. When it was all said and done they charged me over a THOUSAND dollars! Of course I was not around and had my husband sign the I'll while the items were still in their truck, threatening not to unload it. I called to talk to the manager and he said he would look into the matter and call me back with NO RESPONSE! Beware people they are CROOKS!

Absolute worst moving company I have ever dealt with. Overall cost much more than quoted. Broke furniture. Left TONS of stuff at my old home even though we hired them to quote us what it would take. Answer? Pay more. Hooked up my water line to fridge causing leak, wall damage and basement damage. Most stuff just stacked wherever they could sit it down in my basement. At first everything is "friend" and "no problem", until they want more money. AVOID AT ALL COSTS!

Do not use this moving company. They will call and be persistent until you send them a deposit, then they disappear. You will not hear about scheduling until right before you move. That's when they disclose hidden fees and charges. Not worth it! There are too many other reputable companies that are honest and upfront.

I used this company to my Mom from her apartment to my house. It cost me over $700 to move a 2 bedroom apartment. They were slow and inefficient. They did not shrink wrap but chose to use tape for everything including taping furniture to a dolly. Of course it is beneficial for them since they charge $4.95 for each roll of tape. After calling customer service they insisted they get good reviews and offered a 30 minute credit. Totally unacceptable.

Never choose All My Sons as a moving company. WATCH what you sign. This company has you as a customer sign a form saying that if they provide any claims to you that you will not complain or otherwise tell others how poor they were. Fortunately I did not myself sign that form. Someone else did. Who would believe you would have to go through such a process? We were mislead by their nice sales people in several ways. They promised the movers would be well trained and would package (cushion) our items well. They promised that our items would be protected in the move. One man started work that day and I don't think he had 1 minute's worth of training. One mover literally wrapped individual paper books! Remember you are paying by the hour! I wish I'd known what he was doing.
One time I found the whole crew of 6 taking a break on the side of the truck where they couldn't be seen. One time I saw a whole crew of 6 watching 2 men wrap our piano. I did not agree to pay men to observe other men working. Then one guy put ornamental ceramics, my computer printer and other delicate items, with NO cushioning whatsoever, in a large box. Damages did occur on this and many other items. They destroyed a nice antique table by splintering the wooden legs. They damaged my grand piano so the whole key set was no longer operable. It was probably inadequately cushioned on the bottom of the truck so when it hit bumps it was jarred and damaged. Yes they offer a claims process. Their claims process is awful. Expect it to take a long, long time and then expect them to Low-ball you on your claim.
They also demanded we have our signature Notarized just to file the calm. That means you take their document to a Notary and PAY the notary to observe your signature and stamp the document. We did it once but then they wanted us to do it AGAIN on our acceptance form. I told them no. I said either waive their "requirement" for notarization or send a Notary to my house on my schedule and we'd sign/Notarize it for them. After a couple of weeks and several phone calls they finally decided they could waive this requirement. We made a list of $1800 in damages and they offered us $600. We said no. We went round and round with them on this. Go ahead and try to call their claims department. They won't call you back. We had to call them over and over again on this fiasco all through the process. (When you need moving services they will call you back pronto!!!)
Then we sent in the last acceptance form for the $1800 which they finally "accepted" to pay about Oct. 24. On Oct. 31 we have still not received a reply or a check so I contacted them. They said my check will be written on November 20. I suggest you find another moving company. Whoever you hire, WATCH what those guys are doing and save yourself some trouble. When they are wasting time doing something of no value to you then tell them to stop it. Better to stop them from damaging your things. You won't like the claims process. I suspect most people just give up.

When I called All My Sons I was told they did not hire fly by night movers and all their employees are professional. I would get four movers instead of two. Great! The process was far from efficient. Three of them had just started and never moved furniture before. They would stand around talking about each other or the three new guys didn't know what to do and was looking for direction from the foreman who was more interested in talking than moving. My husband and I saw that they needed motivating so we jumped in to help move some of the smaller items. They just sat there and watched us! I have moved several time before using a different company (two men and a truck) which we will be hiring to finish the jobs these guys couldn't get done.
That company had only two drivers and got an entire house in a previous move completed in 4 hours! These four guys with all my sons had a half of a house to move and six hours later only 3/4 of it was done and it came with a busted desk, bedside table and ripped leather couch and loveseat. We stopped the move immediately and told them to go. The manager was far from sympathetic and just referred us to their claims department. So 1,000 later we are not moved and have furniture that cannot be used. If we wanted busted up furniture, we would have saved the money and moved ourselves. This company is far from professional from the top to the bottom.

We were quoted $650 to move our already packed apartment from Independence to Belton. Once it was loaded they told us it was going to be $1200. I didn't have the extra money so they kept our belongings. My autistic child had his world turned upside down when they took the only thing he owned and helped him, his Xbox. People please beware. These people are slick. They act pleasant and professional. It's all fake. Thank you!

I researched moving companies very carefully for a full pack and move from Indiana to Maryland. I interviewed three different movers, as is often advised. I was completely taken in by the surveyor Joe **'s promises of how careful the packers and movers would be, how he would make sure I had the "best team" (he even gave me names), and how they would bring special materials to protect breakables (like artwork) and how the "same team" would follow me to Maryland to deliver. It all sounded great. Maybe even too good to be true! Long, painful story short: the movers arrived without any packing materials and no record that this would be a full pack, and two hours later when packing materials were finally trucked down from Indianapolis, the delivery did not include boxes for artwork or boxes for clothing.
So clothes were thrown helter-skelter into boxes (no wardrobe boxes, as promised), and artwork was wrapped in blankets, not bubble wrap and boxes!!! And the "same team" could not follow me to Maryland, as one of the guys had an ankle monitor that didn't allow him to leave the state, and the driver explained it's cheaper for the company to have him drive by himself, and then pick up two unknown guys in Maryland to finish the move. So many items were dropped and broken. Artwork had been framed with museum glass, etc. Broken glass was everywhere. Some of the artwork was just mysteriously "lost."
Given the damage to the artwork and my belongings, not to mention the hole in the wall in my new house the one Maryland guy put in it that needs to be refilled and painted by an expert, I filed a claim, as instructed. For what will cost me several thousand dollars to fix and replace, the company has just offered me---are you ready?---$184.80, and holds me to the promise that I will not "thereafter publish or otherwise make to any person or entity verbally or in writing, any negative or derogatory remarks about AMS or its employees."
Their form is also hilariously full of grammar mistakes. They had me fill out long, complicated forms describing the losses and damage, all for this ridiculous sum. There is no way I will accept this, nor can they "buy my silence" for a measly $184. I don't really care as much about the money as I do about the lost items that had not only monetary value exceeding thousands of dollars, but sentimental value, as well.
Joe **, the surveyor, who was so nice and full of promises and assurances (like having the movers put runners down on the floors so as not to leave a mess---naturally, there was a huge mess that I had to stay up all night cleaning before leaving the next day to drive, and the runners were cheap paper that just tripped them) never returned my calls, even the day of the move when I tried to tell him things weren't right. Moving is also stressful enough without this. The two men on the Maryland end were rude and nasty. From beginning to end, this was a terrible experience, and clearly they are not going to reimburse me any reasonable amount for any loss. I am heartbroken over all the damaged items and losses. There was artwork that is irretrievable. They had told me that if they packed the artwork, they would be responsible for it. Not so. I feel tricked and deceived. No one is taking responsibility. The buck just gets passed on.

I initially was told that my move could easily be completed with 2 people in four hours. When I next called back it had jumped to 3 people and maybe another hour. The team came when promised but 2 of the team apparently never moved before. As a result the move was horribly slow as 1 person did the work and the other 2 watched or walked out to the truck and back. The move ended up taking twice a long and many pieces were damaged. I ended up having to move many of the pieces myself in order to expedite. Terrible company, terrible customer service. Do not hire this company. You will regret it.

Do not hire All My Sons movers. They will give you a sales pitch that they are an employee owned company and that every employee cares and you can be guaranteed that they will do a good job. I see on this website that they have 1 star... I wish I would have checked this site before I hired them. They suckered me in. We were told they would be there between 1-3 in the afternoon. They would call an hour ahead. 2:30 rolls around nothing. I called the "dispatch" said they would be there by 3:00. 3:30 rolls around. I get a man that says they are running late because 2 crews called in sick.
Also, to complicate things the "corporate" office says the truck has to be back at the shop in Salt Lake City by 8:00 pm. After several calls, they ask me if it's OK that they come first thing in the morning. EVERYTHING is packed up. I have a 85 year old mom, with Alzheimer's needing to be moved. They didn't care. I would NEVER hire them again. We (4 people in their 60's) ended up moving everything ourselves. My back and legs were hurting so baaad the next day, I couldn't walk. I was so upset and disappointed. I have always used Two Men and a Truck and have never been disappointed. I will always use Two Men and a Truck from here on out. I highly recommend them!!! Do not waste your time with this company. Look at all of the reviews, like I wish I had.

WORST MOVERS EVER!!! My mother hired them for a local move in Palm Coast, Florida and it was a nightmare. Before they even started they asked for a tip! They were late, broke numerous items and even stole a jar of loose change! When the truck was "full" they announced there was no more room (even though they specifically were told days before how many rooms were to be moved). My mother was forced to hire additional movers for the items they left and when she complained, she was told there was nothing to be done and to take it up with the corporate office. Shame on you. You should be truly ashamed for posing as a "family company" and treating someone like that. I hope it doesn't happen to your mother.

The sales agent at this place initially told me that my move would take 4 to 6 hours maximum with two movers. She quoted $99 per mover. To save myself additional money, I took four loads on my own, in a van, the night before the move. This was a two bedroom one bath house with 1300 ft. The night before my move one of the owners called and highly recommended that I hire a third person bumping up the rate to $149 per worker. I asked why he was changing this the night before the move and he said he was only trying to "save me money". So I agreed to that. The next day the movers arrived and I was told that I had to pay an additional $100 for the movers to drive to my house and another $100 for them to drive the truck back to the shop.
There were three movers there, and I have never seen movers move so slowly and inefficiently. They had no supplies like straps and no tools to take my furniture apart and put it back together. It was obvious that they were not trained well and did not know what the heck they were doing. While two of the men wrapped furniture awkwardly, the other stood there watching. As they worked they moved very slowly, putting only one or two boxes on a handcart, or carrying one thing in their hand and leaving the other hand empty. I was moving very quickly along with them to help make things go faster, bringing things to the porch and to the edge of their truck. I am 43 years old and a woman and was moving twice as fast as they were getting twice as much done. I was so frustrated watching these guys work and thinking about my money flying out the window each minute that went by.
The guys ended up taking 7 hours to move me. They broke a lot of my furniture. I watched them drop wooden furniture on its corners and saw later that the furniture is cracked and the drawers will not shut because the furniture is misaligned. My Tempur-pedic mattress and box were not wrapped at all and the corners are worn off and filthy. These guys got on their cell phones and joked around, and one even ask me if he could have something I was leaving behind, and got on his cell phone to arrange for a friend of his to come and pick it up at my house. So unprofessional. The final nail in the coffin was when at the end of the move I saw the guys in their truck folding up all the blankets neatly and stacking them and getting everything strapped down for the next customer on my time and my dime! They spent about 20 minutes doing that.
I contacted the owner and tried to have an adult conversation with him and asked only for a partial refund. I only wanted my original estimated amount to be honored. He stated that I was being uptight and argued with me and was extremely rude and disrespectful. No refund. I actually felt sorry for the movers because they are not skilled and not trained and probably don't make very much money per hour. It was estimated that my move would cost about $700. In the end the total was $1140. I was sick about it. Do not give this company your business. They are a bait and switch company that only care about making money hand over first and do not respect their customers or their employees.

Mark ** the sales rep from All My Sons Moving, sold me a move that was an absolute disappointed from the start. When the team of 3 guys showed up the one immediately asked for payment. I opened my wallet to give him my credit card and one of the other movers asked me a question, so I turned for a second. Not realizing it till I went to tip them, he had stolen the $100.00 I had in my wallet, when approached he denied it.
On the delivery end, all my plastic bins were shattered with the contents strewn all over truck and road. Every and I do mean EVERY piece of furniture was damaged, scratched, marred, chipped etc. Even the cardboard boxes were ripped and smashed... I was not given a one hour window for delivery. I was called at 11:00 a.m. and told the trailer had been dropped off and I needed to get there immediately. Got there 15 minutes later and trailer was there but no movers. Movers were to arrive between 8-12 with a one hour ahead call.
When I called the local office in Raleigh, NC, Tyler told me they're on their way. By 12:30 I called again and he said between 1-3. Said they will call an hour ahead. 3:30 and still no movers. Spoke with the salesman who sold me the move and he said "What do you want me to do". Now I have no car and am stranded at the empty apartment. At 5:20, I get a call from a mover stating he will be here in 5 minutes. After 20 minutes 2 guys show up and it took them till 9:30 to finish. Again, everything damaged and ruined. Never ever use All My Sons Moving!!!
All My Sons Moving Company Profile
Company Name:

All My Sons Moving

Website:

http://www.allmysons.com/