How to avoid moving scams
Protect yourself from moving fraud



Written by

Edited by
Find Moving Companies near you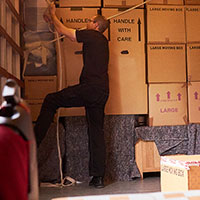 It's easy to fall for a moving scam — the internet is full of horror stories (e.g., missing belongings, wildly inaccurate quotes, delivery trucks going MIA) from people who were taken by clever scammers.
The good news: There are things you can do to protect yourself. Knowing the signs of a scam is step one.
---
Key insights
All interstate movers must be registered with the Federal Motor Carrier Safety Administration (FMCSA).
Most legitimate movers will survey your home either virtually or in person to provide an accurate cost estimate.
One of the most important things you can do to avoid a moving scam is ask any company you're considering plenty of questions.
10 red flags for moving scams
If this is your first time hiring a professional mover or you haven't moved in a while, it's good to review the most common signs of a scam.
A good rule of thumb is, if something doesn't sit quite right with you about the company or you have a gut feeling something is off, it probably is. At the very least, research your movers thoroughly. If anything seems wrong, find another company. It's not worth the risk.
1. You can't find company information
If you're on a mover's website and can't find a physical address, mover's registration or proof of insurance, that's a red flag. Another warning sign is if you call and hear a response on the phone starting with something generic like "movers" or "moving company" rather than a specific brand name.
2. The company only does phone estimates
If a company refuses to come to your home to make a final estimate, that's a red flag. Some scammers make rough estimates over the phone, accept your deposit and vanish. A legitimate company comes to your home (or uses video chat) to see your things and determine an accurate estimate. It's also a red flag if a mover grudgingly agrees to inventory your items but only gives them a cursory glance.
3. The mover demands a significant down payment
A small down payment is normal (usually less than 20%), but scammers sometimes ask for large down payments, pocket them and disappear. Another common moving scam involves holding your items and demanding more money to return them — these scammers are called "rogue movers."
4. The bid is suspicious
If one quote is dramatically lower than the others you've received, that's a red flag (if it seems too good to be true, it might just be). Also, be wary of companies who refuse to put estimates in writing.
It's also not a good sign if the company bases its quote off others' without surveying your things, though it might not necessarily mean "scam." This happened to a reviewer from Chicago.
» MORE: What to know about moving quotes
5. The company doesn't mention your rights and responsibilities
By law, licensed movers must provide their customers with a packet entitled "Your Rights and Responsibilities When You Move" before interstate moves. The booklet is designed to help you understand the moving process and protect yourself against moving fraud. It covers estimates, contracts, insurance, dispute resolution and tips for a successful move.
However, if you're working with a local or intrastate mover, the requirements may vary depending on state regulations. It's best to check your local laws to ensure your rights and responsibilities are covered.
» MOVING NEARBY? COMPARE: Best local moving companies
6. The company has gone through several name changes
If you can trace the company's history through multiple recent name changes, that's a bad sign. Companies with subpar customer reviews often do this to mislead prospective customers and get around previous negative coverage.
7. The mover insists its quote is "ironclad"
While the quotes you receive shouldn't be too far off the mark, if the company says your quote is set in stone and won't change, be careful. Most quotes are subject to change if the weight of your household belongings is more than expected.
Trust your gut. If something feels off about a moving company, move on.
8. The insurance supposedly covers everything
If a mover claims its insurance covers absolutely everything, be skeptical. Typical moving protection starts at 60 cents per pound per item, meaning the company reimburses you that amount for the total weight of all your belongings if they're damaged, destroyed or lost.
» MORE: Is moving insurance worth it?
9. The truck is not marked
If a truck is unmarked, it might be part of a scam. A reputable moving company will have signage on their truck. This is not to say that a scammer won't have signage, but if a moving truck shows up and it isn't marked, consider that a red flag.
10. The company charges by the cubic foot
Movers should charge by weight. A company may be able to get by doing it another way on smaller moves, but charging by volume or cubic foot for interstate moves is actually illegal if there is not a weight conversion attached.
Tips to protect yourself from fraudulent movers
There are some good, reputable, trustworthy moving companies out there. It just takes some research to find a good one. Always stay aware and look for discrepancies. If something isn't adding up, ask about it.
Scammers rely on a person's hesitancy to ask questions — they depend on you not being mindful, confident or alert enough. If you do ask questions, pay attention to how they respond.
Here are some other ways to protect yourself from moving scams:
Check a mover's license: By law, all interstate movers must be licensed, and some states may also require licenses for local movers. Before you put down a large deposit, look the mover up in the Federal Motor Carrier Safety Administration company database. You can search by a company's name, USDOT number or MC number.
Pay with a credit card: Credit card payments are insured in case something goes wrong. If you get scammed after paying with cash, don't expect to see your money again.
Understand the terms and conditions: Read your contract and understand the ins and outs before signing. Look for set pickup and drop-off dates. It should also be clear how the company calculated your charges.
Keep an inventory of your possessions: A written list is the best way to account for everything. Consider numbering your boxes to keep track of them.
Read reviews: Comparing moving company reviews is a great way to get a sense of previous customer experiences. Don't just look at the star rating, though. Make sure you read what previous customers have to say — that's where you get the whole story. If you can't find any reviews or the only reviews are the ones on the company's own website, that's a bad sign.
Don't sign a partial or blank contract: Whatever you sign should be comprehensive. Unscrupulous movers might give you a low or competitive price, then drive the price up by adding on fees you weren't aware of.
Plan in advance: If you plan ahead, you're more likely to find an experienced, legitimate company. A longer planning phase gives you more time to research and makes you less likely to fall for a scam.
Ask around for a recommendation: Get recommendations from people you trust, like family and friends. Real estate agents are another great resource.
Consider moving insurance: Moving insurance offers protection for your household goods if they're damaged or lost during your move. Policies differ, though, so find the right one for you.
Take notes: Document everything from the first contact until the mover drops off your belongings.
» NEXT STEPS: How to pack a moving truck
How to choose a reputable mover
The best way to ensure you choose a reputable mover is to check pricing. Legitimate companies usually have similar prices because they calculate their rates based on the weight of your belongings.
When you hire a mover, you're making someone responsible for all of your possessions — it's best to pay a little more to be sure you aren't getting caught up in a moving scam.
Get several moving estimates: Beyond helping you compare costs, this also lets you establish a normal price range so you can spot outliers.
Ask for recommendations: Practically everyone moves at some point in time. Friends, family and co-workers are likely to have recommendations from past experience.
Read consumer reviews: The longer a company's history, the better. A strong history of positive reviews is a good indicator that a company is a good choice.
Look up a company's registration: Make sure to check a company's registration to confirm it's legitimate.
Don't automatically choose the lowest moving estimate: It's normal to want to save money, but you don't want to sell the opportunity to handle all your possessions to the lowest bidder, especially if that bid is significantly lower than the others.
» READ MORE: How to hire movers
Moving scams FAQ
How do moving scams work?

Moving scams vary, so it's hard to pinpoint exactly how they work. There are some common traits, though:

Scammers commonly advertise artificially low prices to attract victims. If they're successful, they might steal your money or your possessions.
Scammers take advantage of desperate and inexperienced consumers. Some people don't know what to expect from movers, and even people who do know better may ignore their instincts in a pinch. Unscrupulous movers take advantage of these situations to charge extra.
How do I know if a moving company is legitimate?

There are a few things you can do to confirm a moving company is legitimate:

Check to see if it has an online presence.
Make sure it has a physical address, proof of insurance and verified reviews.
Confirm its registration with the Department of Transportation.
How do you deal with a bad moving company?

First, try to resolve the issue with the company itself. Keep a level head and make your issues known. It helps if you spell out what the company can do to resolve the problem.

If the issue is left unresolved, report it. You can file a report against the company by contacting the FMCSA's National Consumer Complaint Database.
Can you sue a moving company for theft?

You can sue, but the burden of proof will be on you to show that the agents or employees of the moving company were the ones who stole your belongings. Consult with an attorney to find out what the applicable local, state and federal laws are and whether you need to sue in small claims court, county court or circuit court. You should also file a police report.
Did you find this article helpful?
|
You're signed up
We'll start sending you the news you need delivered straight to you. We value your privacy. Unsubscribe easily.