Consumer Complaints and Reviews

I do not like this company at all because they get customers in with an introductory low rate and then they raise the rates every year making it harder and harder to pay until it's almost impossible. They get people caught in a Catch-22. Not many can afford to pay a mover every time they raise the rent. Never store anything in these places for more than a year or not at all. It's not meant for long term. They do not reward longevity or referrals. Is there is a class action against this company for gouging customers? Also the corporate office does not return phone calls very much of the time. Thanks. Never store anything in these places for more than a year or not at all. It's not meant for long term. They do not reward longevity or referrals.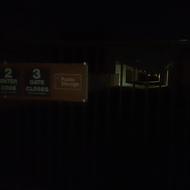 I pay a lot of money at Public Storage in Scottsdale and have not been able to house my unit in 3 weeks because it's pitch black inside and out in the evening. Not only that but the security is a joke. One camera facing the gate. None facing the units. Someone crawled between the back side of the gate the other night and got right in and out with a car faster than I could find my phone to report it, driving a car this time and got out without even using a code!! Ridiculous! I called several times and I am here now and still no lights so I'm leaving a huge note on the door because no one has even bothered to call me back or fix the problem.
What's worse is they are unwilling to credit anyone in this situation. I do not feel safe here at night and I am terrified my unit may get broken into! I canNOT afford to move all my stuff right now so something needs to be done real soon but it does not look like they care. Here is a picture from the outside of the gate looking in. PITCH BLACK! Who would feel safe here?

There's only one security camera facing the gate at my location in Scottsdale. There has been no electricity/lights on my whole side of the property for over a week and no one does anything to remedy it! It's pitch black out there and I'm usually by myself and only 98 pounds soaking wet. I saw someone come in the property by sliding in on the side of the gate last night and then leave without a code, with a car, After hours! I am so scared my stuff is going to get robbed out of there. Someone can drill out a lock at night and they have won't even know because there's no lights and no security camera facing into the property itself, only on half of the gate, not even the whole thing like where I saw that guy go in last night. I can't afford to move it to another location right now and they dont offer discounts to already existing customers.

13640 Bel Red Rd. Bellevue WA - I understand from readying my contract that I am supposed to receive 30-days notice when rent is going up. Mine is automatically withdrawn from my checking account and it went up by $46. When I called the office, the young man who answered told me they raised the rents every six months or once a year. Manager is very rigid and didn't offer the on-line discount she encouraged me to seek when I set up a smaller unit there.
P. S. The bathroom has been out of order for four weeks. And the manager said it was really just for our convenience (implying it's not a part of their service) and that they were waiting to have it repaired. And they don't provide a dumpster for those papers we'd like to toss when we continue opening up our packed belongings. Manager said they don't provide it because people dump their sofas in it.

I signed a lease agreement on May 20th and my bill was pro-rated. I informed the lady I will be moving out the beginning of the month (August). I called them to find out what my pro-rate for the 5 days will be and 5 different customer representative told me 5 different things. They can make changes in their policy that will affect your payment and they believe they are not obligated to inform you of these updates. Only a company involved in shady business will their employees won't have a guideline of procedures. Their employees are rude and never ready to help. If they do not prorate at all, they shouldn't have done that when I moved in. I did not get anything writing that they update their terms of service. That is fraudulent and unfair to customers. I will never use them or recommend them to anyone.
How do I know I can trust these reviews about Public Storage?
846,626 reviews on ConsumerAffairs are verified.
We require contact information to ensure our reviewers are real.
We use intelligent software that helps us maintain the integrity of reviews.
Our moderators read all reviews to verify quality and helpfulness.
For more information about reviews on ConsumerAffairs.com please visit our FAQ.

Public Storage @ 1501 Louis Henna Blvd, Round Rock, TX - When I reserved into this unit back in April I reserved a unit online for I think $65, 10x10. I think the special was move in for $1.00. Boy was that misleading! Then they say you HAVE to have insurance. That is false. My insurance policy only covers 10% for storage unit contents being $1k so I opted for their insurance at $11/month. I ended up being forced to buy some crazy small lock of theirs at $20 or so and by the time I was done I ended up paying nearly $65 to move in.
Very misleading and false advertising on their part. So, I'm in for what 2 months and get an increase letter for an increase to $80/month starting August 1 bringing my new total to $91. I canceled the insurance today 7/30/17 and still the monthly amount is $80 which is still a $15 increase from the move in monthly amount in April. Total rip off company. Shady practices. When I inquired on the sudden increase just a few months in the excuse was I am on a month to month lease. That is nuts.
I've rented storage units in the past years ago I admit and never did they do an increase like these people. Now I have to go to the huge hassle of searching for another unit in Round Rock, scheduling movers again which costs $$$ and find the time to do all of this while on and off the road. I'm certain based on prior reviews that they will increase again in a few months. I want out before that happens. Once moved into a storage area a customer is supposed to feel relieved of that task not bothered by having to move out a short time later due to price spikes. I highly do not recommend and will definitely do research before signing a contract with another company.

I was in between homes for a few years. I rented a storage unit on Glades Road in Boca for a wonderful price. Place was clean and temp controlled with restrooms, music and plenty of carts. Public Storage bought it and rent almost doubled, a/c is hot, garbage cans, restrooms and carts were removed. Place smells and is so dirty now and also the elevator is not up to code. I moved out and will never again rent anything from Public Storage. 2 other of my associates have also closed their units for the same reasons. Look around... They are horrible.

I was relocating from CA to MA for work and was looking for affordable temporary storage. I wish I had seen all of the terrible reviews of Public Storage and taken my business elsewhere but that isn't the case. I booked a unit through their website because it offered a web discount. The deal was $1 for the 1st month and $189 monthly thereafter for a 10x15 unit in Peabody, MA. 2 weeks prior to my move, I received a phone call from an employee at the Peabody location confirming my unit. I specifically told her that I'd be there by 4:30pm May 14th for my unit. She put the notes in the computer and we hung up. I drove a moving truck for 4 days across the U.S.
Approximately noon on May 14th my phone rang. It was an employee of Public Storage saying that he just came into work and noticed that I was coming in for a 10x15 unit, but unfortunately they did not have any units of that size available. Considering it was a Sunday, office hours at storage locations are scarce. Plus, I can't exactly do research while driving a moving truck that is also towing my car. So I ask what can be done. He tells me that I can go to another location in Salem because they have a 10x20 unit for a better price than Peabody. The monthly rent was $240 but the 1st month would only be 50% off instead of the $1 deal we were supposed to have. Since I was still 4 hours away from the storage location, I had no choice because all other storage companies close around 2pm on Sundays.
Being that I had work at 8am the next morning and needed to get to my work clothes from deep within the moving truck, I was stuck with Public Storage. So I have a unit (not on the ground level like the 1st one was supposed to be) and it is much bigger than I need it to be. The employee at the store can't help me resolve this issue so he gives me his manager's number. I call, leave a detailed message, and never hear back. As I'm slowly moving into my unit I notice that people are actually living in their unit WITH THEIR DOG!!! Not trying to cause a scene, I just let it go. So we call the manager again, and still no call back. I was told by the employee that the girl who called me initially to confirm my unit, must've forgot to link the available unit to my account (which I had already entered my payment info for). So now I'm paying for your employee's mistake? And you can't return my calls to resolve this issue?
Finally the manager calls my boyfriend back because I was just a ticking bomb ready to explode. How is this company still in business? Oh wait, I know. THEY LIE. They don't rent you an available unit, they just reserve the price but then supposedly it's "first come, first serve." Well, that kind of contradicts your employee's explanation that the girl forgot to link the available unit to my account. Back to the manager calling my boyfriend: So the manager says that the prices should drop in a month and that he'd call back to help adjust to the dropped price. Guess what? A month came and went and NO PHONECALL. So I called the store again. They suggested I call the customer service center. The lady who helped me was very sweet and informative. She sent an email to the manager and to his manager about my issue. Guess what? I received a call! And guess what else? He was mad at me!
He wanted to know why I called customer service. Also, he said that he can't help me with the price of the unit because it's a national company and he doesn't have that kind of authority. But instead of connecting me to someone who can help, he just said nothing can be done about it. Look, I'm not the type to argue a point if I know I'm wrong. But if your company's employee made an error, you can't push that problem on me. For a company to treat their paying customers this way is just not the way to do business. I will make sure to never use Public Storage ever again, I will make sure that this terrible experience is shared with my network of employees (we are 60,000 strong), and of course with all of you reading this now. Save yourself the hassle if you're relocating from far away. Go with a company that will treat you right and fair.

Made a reservation on the phone for Lawrence ks (college town) but when I received the confirmation email it was for Merriam Ks. They said no problem to switch, but after I drove 2 hours to Lawrence to meet my son, they ran my credit card for 142$ instead of the 1$ first month that I had been quoted. They said they don't honor that special but I have since called the reso line as a new customer and was told that of course it was good in Lawrence. I cancelled, but they gave me no receipt, when I checked my CC statement, they had shorted my refund by 21$, the cost of the lock which I never left the building with.
Their policy is that they don't do refunds on merchandise. Merch that I never took possession of! I cannot get anyone to return my calls. The office can do nothing and the district mgr according to the co-manager is just really busy. I drove 2.5 hours for nothing and am told he is too busy to call after I have left numerous messages and called customer service. They said they would list it as urgent and he would call me back. I guess when a customer tells you they need a call it means nothing. He may be busy but it is not answering/making calls re: complaints!!! DO NOT USE.

Tried paying my bill thru customer service and online. Was unable to pay my bill on time and charged a late fee because Public Storage entered my data incorrectly and could not locate my account. Was told that it was my fault that they were unable to locate my account by looking up my name and phone number--Said they had no account under my phone number. Was told that the account was under another person's name (even though I set up the account) and they were unable to assist me without the person on the phone. Eventually I located my account number and called them back-- where they were able to locate my account under my name. They had my phone number with 10 digits. They insisted that it was my fault and I am charged a late fee.

The local manager has been great. That doesn't mean he's given us more than we deserve/paid for; it means he's been considerate, positive, focused on providing solutions or at least explanations, and is generally polite. He is the exception. Making changes to a policy was horrendous. That is, turn in one unit and take another. Reserve online, get confirmations, find out in 5 different stages from a local staff person - and I don't mean nicely - that almost NONE of it applies. We did everything right and on their own website. It's not even that the terms may be different for an existing customer (which I don't abide, but OK, your business), it's the caustic, incomplete, derogatory, tired way it's addressed and communicated. Nope, you're the customer, you're enemy. Like it or lump it.
In making said move to another unit, we had to call customer service (1-800-567-0759) because the new unit would not attach to our existing online account. The rep stated, "You need to create an account," to which I replied, "I already have an account, but when I--" her response to which was to interrupt me and say, "Can I talk?" Instructions continued, for me to again "Create an Account" and use a different username. Despite her (once more) caustic, curt instructions and admonitions to my attempts to explain what I already had, I figured out on my own that now, on signing in, I must use the username and username ONLY. Despite the fact their website says "Enter username/email address" I, in fact, cannot use my email address because--in their system--it will not attach to my current unit. So, in fact, I needed to know that I may only now sign in with my username.
There it is, my unit and ability to give them more money. But I had to figure that glitch out on my own and in the face of an incredibly rude "customer service" representative. My expectations are pretty slim: have a conversation. Explain exactly what I'm seeing and what I want to do. Take polite instructions and make it work together. I was permitted no such courtesy and this is a repeating pattern with all but TWO staff people at Public Storage with whom I have directly interacted. The second left the organization about a week after I met him.
My items are in storage. I have to have storage at the moment. I am loathe to move it AGAIN if I don't have to and, honestly, have no proof that any other storage provider would exceed my expectations of Public Storage. However, with the scales already tipping away from any positive lingering experience, this will be my only option soon. They are simply horrid. The exception to the rule are, well, the exceptions to the rule, who appear to prosper and provide a positive service experience based solely on their own value system and training, and not in ANY way due to a corporate culture of service or support at Public Storage.

We have had a Public Storage unit for 3 years. A 10 x 20 unit that housed our entire home belongings. For the most part we have not had any issue except for them raising their rates annually and the "secured gate" being broken every few months! What started off as $120 has skyrocketed to $200 a month! We have just moved out of the public storage unit into our first home. I was in shock, disbelief and disgusted when we started pulling our things out of the unit. Almost everything that was in the unit was either peed on, pooped on or chewed on by rats. When I brought this to the manager's (Bruce) attention he said that they don't do any kind of extermination or pest control for rodents, cockroaches, mice, or any bug.
If we would have known this they would not have had our business or the business of our friends! I believe that they have been making pure profit off of our unit and everybody else's units since they don't pay for anything except for the mortgage of the land! We have had to spend thousands of dollars to replace the items that were damaged and some things that were passed down cannot be replaced that had to be tossed out.
If I could I would give them zero Stars. They need to understand that rats carry infection! I've also made multiple attempts to reach their district manager with no response! They don't care about their customers. All they care about is lining their pockets! Their manager Bruce had the nerve to ask me if we had the insurance? I said of course we do because it's required to have if we would like to have a unit with them!

Searched around for a good deal for 1 year storage, and found a rate I could afford. The location was good and manager there was great. But 5 months after I rented it, got notice that my monthly rate was going up 45%. I asked the manager, was told that is controlled at the corporate level. I called customer service. The rep told me they can charge whatever they want, increase as much as they want at any time, and I'm welcome to move out at any time. So I am. After using their company off and on for 30 years, now I'll be using every forum I can find to steer others away from them. Wish I had seen this website before I moved my stuff in.

When I went to rent from them I reserved online and went to the place. When I arrived I was given a ride to my unit which is suppose to be 10x10 so I had a tape measure with me and decided to measure the unit. It was 10 feet wide but only measure 9 feet deep. When I asked the sales lady about that she said "maybe it was measured from the outside" but that makes no sense since I would not have 100 square feet of space to store my stuff. Then we went back to the office and I asked for corporate number. I called them and they said it was approximate. How is being off by a foot when you are paying for 10 feet approximate. I mean think about it. It's 10% of what I'm paying for and not getting. Storage units think they can rip off the consumer by doing this.

I rented a 10' x 10' unit over 7 years ago. There was no promotion, it was the regular rate at the time. I paid $82.00 and that included the rent tax. They have consistently gone up, between eight and $10 a month every six months, like clockwork. My monthly rate has gone up a whopping 250%. I am now paying $198.00 a month. I went in to pay my bill and met with the District Manager, who was training a new employee. He couldn't help me and gave me the number to corporate. Each month, when I pay my bill, there is a new face. I have been told by an employee, that the pay is terrible. There isn't any customer loyalty, rather, loyal customer penalty.
I recently went online and the specific location I rent from had posted a rate chart for each of the different size units. My 10 x 19 unit has listed $148.00. 15% discount online is $136.00. What? Why am I being overcharged? I called Corporate (15min. wait). They really couldn't give me an explanation other than these posted rates can change on a daily basis! The regular rate has never been this high. Only after I really ripped the representative, they came back with a discount for the month of August only, and it still did not come down to the regular rate. I had not paid my bill yet for July, as I was riding out the grace period to contact the corporate office to get some relief. I have half a mind to have an attorney look at this as a discrimination suit. I will be making every effort to be out of there by the end of this month. I have located several other storage facilities in the area that are much fairer in their price structure. Buyer beware!

This billion dollar family owned company is insanely overcharging customers. Yes, I needed storage, and I paid PS on time, and had always updated my mailing information with them. But when it came time to pay, PS would increase the rental DUE amount without informing me every 6 months. This unit is off of 610 & South Main in Houston - not air conditioned, horrible condition, I paid for the lock, and was not informed of increase because the office staff never updated my address. The first price was $1, next month amount for several months $85, increased 6 months later, $125, and 6 months later $139. The staff claims the increase is due to location - really, it's robbery!!! I am moving out END of this month! Would never recommend Pub.Storage.

Each and every month our price was raised by $18 to $30. On top of that when we ran into some serious medical bills we called the district manager to inform him that we needed just a little more time. He NEVER returned the call and we received the only call 19 hours before our unit was auctioned off for a paltry $900. Our $40,000 worth of merchandise went for $900. No concern about this on their part. This is bad enough but the district manager had THREE WEEKS to call me before doing this. He ignored that purposely. Public Storage is simply the WORST COMPANY IN THE UNITED STATES and I have been around a long time to see what's out there. AVOID Public Storage at all costs. There are much better and much more economical independent choices.

I have been a customer of this company for over twenty years, but let me tell you that they have become incredibly greedy. Stay away. I can't wait to move my property to another company. I have called the managers number to only get a recording, never to receive a return call. The people at the local site are nice but the people that control the prices are evil. A rating of one is an overrating for this current group of managers. STAY AWAY, FAR, FAR AWAY!

Made online reservation 6/18 for smallest unit at 75.00/month. Public storage adds $24.00 administrative fee, $20.00 for a lock, takes money on 6/19, then prints an agreement for a $93.00/month fee. I objected to the extra $18.00/month. The "manager" was obviously inexperienced, said there was nothing he could do. I called customer service, was told "manager" should call District Manager. "Manager" said he had no number for DM, would not call. I insisted and when new customers came in, he miraculously produced a number for DM the I should call (outside so other customers wouldn't hear). No answer, no call back, of course, so I cancelled the reservation but was charged 25.95 to do so.
Meantime, doors were locked while new customers were shown units. However, on return, he did not unlock the doors, although he saw me outside. A potentially new customer arrive at locked doors, saw him in office, and eventually left, saying, "Tell him he just lost another customer.' When I finally was allowed in again, "manager" said he thought the man was with me and didn't want a scene. My refund, same day, had a 25.95 deduction, unexplained. I feel totally ripped-off.

I have placed 4 calls to corporate regarding an auto payment that couldn't be stopped in time after we moved out causing me to get charged for an extra month. They don't return calls, there's no customer service supervisors available when you call and when you leave a message you don't get a call back. They have a "we can't do anything about it" attitude and pass you on the next person.

I've been using them for almost 4 years, with modest increases. They just raised my rent from 102.00 to 149.00 starting July 1, 2017. Where do they get off with such a large increase? I'm pissed off and they can get away with this? Where are our elected officials? And how come public storage needs to increase so much? Their overhead has not changed. Sounds like corporate GREED!!!

I recently retrieved all my items from a Public Storage facility in Nashville, TN. I was surprised and upset when I found my belongings to be damaged by water and improper climate control. I write this review to WARN others!!!

Public Storage never sent me a certified letter or made any type of contact notifying me that they were going to toss my belongings in their on site dumpster. I never received a late bill or notice. I phoned Public Storage customer service and was told to call the on site manager who tossed my stuff. That lead nowhere. I literally had to crawl in the dumpster and retrieve my belongings. A lot of the stuff was damaged and stinky from being in the hot dumpster. Isn't there laws about this? I would not recommend Public Storage!!! A serious rip off!!!

Public Storage is definitely a rip off. I first started at 116 then it kept on climbing until past 218! I am now scheduled to move and they said they don't prorate and I have to pay for the entire month even though I am moving mid-month. How can a company do this to people? They should have a reminder or disclosure upon signing the contract that you will not be reimbursed the storage fee if you move out past the 6th day of the month. I will not ever use these crooks again. They rip off people and the storage facilities are not even well taken care of. How can we people get our hard earned money back? Anyone else got ripped off like this??

Public Storage has a policy of charging a late fee on storage rental bills that are paid after or on the 7th of the month. Today is the 6th of month and I have tried all today to pay my bill online before the 7th of the month to avoid this late charge. First, I called their customer service number to pay over the telephone to save a little time. After spending a while listening to prompts from a machine I learned that they charge an additional 10.00 fee to pay over the telephone with a credit card. Second, I attempted to pay online with their website where I am already registered with an account but this did not work either because the computer saved user name and password would not log onto their site.
Finally, I attempted to reset the password through the website at least 7-10 times and it would not send the code to my email to reset. Well tomorrow is the 7th, the late charge now applies and my final option is to go to the location to pay the bill in person. I would have done this today if I had not spent so much time trying to pay this one bill today. I guess they want to force you to use their autopay system so that their almost monthly increases can be taken automatically. I am going to solve this by just getting my things out of there. Greed at a new level!

I checked around and got a 10 x 15 unit at a Public Storage Facility in Ledgewood, NJ paying $149 a month. Lo and behold 6 months later they are raising the rent to $180 a month, a whopping 20% increase. I called the company to complain and see what they could do to lower the bill and they told me that this is what they do every 6 months to 1 year. They have a "pricing committee" that decides how the prices should be increased and they do so accordingly. Therefore you are NEVER locked in to your rate. BEWARE.
Clearly, I did not do my homework on this and did NOT expect an increase like this. What a racket this is. I would be VERY careful about this place and I would not move your stuff here thinking you are going to get the current rate they are offering for any length of time. What a joke. They offered moving me to a smaller space and I said if I wanted that size space I would have taken it from the beginning.

Public Storage is a huge ripoff. Rate increase of over $30 in less than 6 months and now we will be paying almost $300 for a unit smaller than the average bedroom. They lure you in with $1 first month when we ended up paying over $100 for the first month. False advertising like this should really be illegal. They don't tell you about overpriced mandatory "insurance" you have to purchase. How I wish I had picked a different storage facility or even PODS. Unless you have money to burn go any place other than Public Ripoff err Storage.

I have had a 10x10 storage unit for past 26 months. My rate started at $169 and now 26 months later it's $344. Last month I went online to pay my storage and it was already paid. Found out they turn on my auto pay so I turned it off again. This month it's back on and my bill was paid. This company is hog. Remember pigs get fatter and hogs get slaughtered. Cleaning out my unit this month.

Rented a unit on Union Hills rd in Phoenix in Dec 2016, my monthly rent went up by $41 in one shot by June. Their excuse was that operating costs went up. I asked to speak with a manager and was advised by Roxanne at customer service that it would do me no good. I will avoid this company in the future and would advise others to do the same.

I have been renting from Public Storage off and on for almost 7 years and 3 different states. My complaint is with the one in Renton, WA. I have been renting a unit for almost 2 years and in that time they have increased my rent twice... each time by 26.00. The unit is not one their best. It rains here in Washington almost continuously during 10 months of the year. Our unit does not have a gutter, so there is always a waterfall over our door when it rains. This waterfall prevents us from entering our unit unless we want to get soaked and have all our belongings soaked.
This price hike is going to lose them our business. As soon as I can remove my stuff out of the unit I will be done with them and we will spreading the word to everyone about how bad this rental place is. I have an accounting business and I do a lot of business with other business owners in the King and Pierce County area. So word will spread quickly. My account is under my daughter's name and she is removing her stuff from the unit also.

ConsumerAffairs Research Team
The ConsumerAffairs Research Team believes everyone deserves to make smart decisions. We aim to provide readers with the most up-to-date information available about today's consumer products and services.
Public Storage is a global self-storage provider offering facilities in the United States and Europe. Along with self-storage they can accommodate business storage needs and vehicle storage needs.
Unit sizes: Public Storage offers unit sizes ranging from 5 feet by 5 feet to 10 feet by 25 feet. The smallest unit can hold the contents of a small room or a large closet, while the largest unit can hold the contents of a 250-square foot business space or up to six rooms. Vehicle storage spaces range from uncovered to enclosed for cars and large spaces for RVs and boats.
Moving supplies: If you are in need of moving and packing supplies, Public Storage offers boxes, packing supplies, tape and specific moving kits for purchase. They provide free shipping on orders of $75 or more.
Business storage: Public Storage offers various businesses tips and ways to use storage to make operations more convenient. Real estate, office, construction and retail businesses have easy access to units for daily or seasonal needs.
Discounts: Consumers can go online for discounts and specials such as $1 first month rent on selected units for new customers and 15 percent off monthly rent.
Service areas: Thanks to the acquisition of Shurgard Self-Storage, Public Storage has self-storage facilities in the United States and Europe. Consumers should check the interactive map online to determine their nearest location.
Best for Consumers with personal or business self-storage needs, both domestic and abroad.
Compare Self Storage and Portable Storage Companies
Public Storage Company Profile
Company Name:

Public Storage

Website:

https://www.publicstorage.com/