Consumer Complaints and Reviews

I sent two emails yesterday about not getting on to play games, since that my wife & myself have got back on. When the wife tries though she has it come up on the screen. The connection was reset on a white background, nothing else. She then has to go another way to get on the games. She also lost out on bonus point by not playing. We both think that it was your problem. We should get more bonus points. Thank you.
Original Review
My wife & I have played slots on msn for about 2 years, the last while we can't get on to play slots. I phoned Microsoft free service & after talking to your support staff which I had read was free he checked out a few things on my computer & tells me he can fix the problem for about 79.00 dollars. I don't know how they can say free service when he comes up with amount of money. I don't know how many other people have been ripped off but I know we are both finished with msn. Going back to pogo. They're honest anyway. Thank you & goodbye forever.

After installing windows 10, I try to login to my outlook.com account so I can play the games and use the apps in the App Store. All of a sudden the windows login screen for the App Store tells me there were too many Login attempts and that my account had been suspended. I then tried to reset the info, but since I changed my debit card before this happened, and I only use their email for logins, I had no way to valid my account, and now I'm locked out forever. They won't let me back in.
Also my USB 3.0 Windows installation media was misplaced, and since it's linked to my account it should have been very easy to have them give me my product key, and simply make another usb install from their download iso. But no they refused and told me the Amazon.com was the one to ask for the product key. I've been in the IT field for decades, so I know better than to fall for that. They were misleading lazy, and as far as I'm concerned robbed me for the price of Windows 10 and all the stuff I purchased on my now locked App Store.

It's evident that msn.com behaves as a step mother to Kannadigas. One of them was the recent clash with tamilians regarding Cauvery water where we protested for our rights, many of the national news channels and online sites including msn.com stated Karnataka as an intolerant state. If we Kannadigas are intolerant then why would we Kannadigas are only 30% in Bengaluru facing all kinds of problems (housing, water, traffic, our language & culture hamper) because of outsiders crowd here. The whole of India is staying here peacefully since 15-20 years enjoying all benefits & privileges of what we Kannadigas deserve.
If you guys can promote negativity, why don't you promote good things of us? I have msn promoting all languages (Hindi, tamil, telugu and malayalam) actors and their movies. Why not Kannada?? Even our movies are rocking worldwide since 2 years and good quality movies. We have made sensible/intellectual movies! Our movie 'Thithi' has won 10 international awards, have you promoted this movie? The movie 'Nagarahaavu' made with a budget of 40 crores despite our Vishnu dada is dead with replacement head technology from Makuta effects is released. Have you promoted this movie? I'm a Kannada activist and raising my voice on behalf of all 6 crores Kannadigas. Please implement this and promote Kannada actors/movies.

I contacted MSN for help regarding a problem with the new Office 2016 I had just purchased. The help staff requested access to my computer via letmein.com. I gave him access. Once on my computer he said the problem was with the program I bought. He offered a credit so I could buy the more expensive one and not have to pay twice. He put a form on my screen and asked me to fill it out. He made sure I used the same credit card so I could get the credit he claimed. Once I filled in the form he said since I had paid I could now talk to a technician. I told him I would pay nothing to correct a problem caused by MSN. He said he could do nothing and the charge would go against my account. In other words in order to get a credit of $149 he charge my account $149. I contacted my bank to report this scam and they told me that MSN had not charged the second amount to my account but a third party company did.
It turned out that the support staff member was in cahoots with the supposed tech firm, called myPhoneSupport. I spent two hours trying to get the charge reversed but the firm refused to do so and my bank would not reverse the charge either. So I paid $149 for the wrong program and another $149 to fix that. After I explained to another senior MSN tech staff member, she refunded the first $149 but myPhoneSupport would not even return my calls. Beware when TALKING TO ANY MSN SUPPORT TECH PERSON THAT THEY MAY SEND YOUR INFORMATION OR REQUEST THAT YOU GIVEN IT TO A THIRD PARTY who have no intent to assist you. When I contacted MSN they knew nothing about this firm myPhoneSupport. I will never buy anything again that has MSN on it. I am buying an Apple tomorrow and never looking back. MSN at one point was a good company. Now they are a bunch of crooks it appears.

First I beg Dave's forgiveness for the obvious plagiarizing of his recent review. His review was so spot on, I felt the best I can do is copy it. Thanks Dave and so here it is... "MSN should have a new slogan. MSN.com not responding, recover webpage. MSN is the lousiest website there is. They run far too many ads that they are unable to load properly which causes the webpage to malfunction. Also their new 'refresh the page' banner which pops up constantly also interferes with whatever you are working on. It seems it's not really the news they want to update but the damn ads. They need to hire a whole new IT dept with employees that have at least a half a brain."
How do I know I can trust these reviews about Microsoft?
693,146 reviews on ConsumerAffairs are verified.
We require contact information to ensure our reviewers are real.
We use intelligent software that helps us maintain the integrity of reviews.
Our moderators read all reviews to verify quality and helpfulness.
For more information about reviews on ConsumerAffairs.com please visit our FAQ.

MSN should have a new slogan. MSN.com not responding, recover webpage. MSN is the lousiest website there is. They run far too many ads that they are unable to load properly which causes the webpage to malfunction. Also their new refresh the page banner which pops up constantly also interferes with whatever you are working on. It seems it's not really the news they want to update but the damn ads. They need to hire a whole new IT dept with employees that have at least a half a brain.

A hacker took over my account and I tried for days to recover. In their final e-mail they suggested that I create a new e-mail, but I won't. I want my e-mail. I answered all their questions. I won't come back.

I just went through hell to get simple pdf email attachments to print. Ridiculous 2 and 3 steps to get my HP Envy 4500 printer to print simple pdfs and I know how to get through the maze when not simple. THIS IS BS!! Extremely pissed off at midnight helping my wife... Again ridiculous!! FIX IT!

MSN today covered a story on Turkey rightfully blowing a Russian war plane out of the sky after being warned ten times not to continue flying. It appeared as though everybody was going crazy about the story but it ended out being completely untrue as MSN were deleting any comments that were agreeing with the Turkish actions. They have obviously got a problem with the Turkish and love nothing more than instigating this kind of hatred in people which is why anything they print should never be trusted. NEVER trust a news source that edits the opinions that differ from theirs. I will never read another MSN report in my life.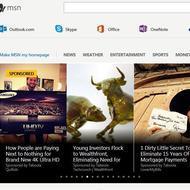 I, and I am sure many others, use MSN.com as their home page. My first ritual in the morning is to look at the rotating section of the home page which provides the top news or human interest stories of the day. I have come to trust MSN as source of news and information UNTIL NOW! Now these rotating banners have embedded advertising disguised as stories. There are many places on this site that advertising is prevalent but not on the rotating headline banner. Not the place!
MSN.com has abandoned any journalistic integrity. Any news site that you have to carefully examine every link to determine make sure you haven't be duped into reading an ad disguised as a story or worse, going to a site thinking it's a trusted source only to find out that not only is it an ad but the ad is sponsored by unscrupulous foreign organization with malicious intentions. I guess it proves the point that you can't trust a product company like Microsoft to also be a trusted news outlet. The lack of integrity starts at Microsoft's core, its leaders. Once lost, trust is a very difficult thing to get back. I'll try CNN.

MSN spontaneously sending phantom emails - My account runs through Outlook. At the bottom of the screen (where it tells you, "all folders are up to date," I also see, several times per day, "sending message *,*** of *,***." What are these messages? And where are they being "set" to? Are they all my old messages that I have not deleted? The enormous number in my "deleted" folder (I have tried to reset it to not store all these, but to no avail). Since I get no "replies" to these thousands of emails that are "sent" per day, I assume it's either a "phantom", or it's the NSA (kidding, but not much...).

My email has been hacked. It when I contacted tech support with MSN - they didn't want to do anything after letting me know that my email had been basically taking over and that any of my information that had been emailed to me from my insurance companies from my utility companies from my personal business was now out in the open. They want to charge people. They are not securing their email at all and once you're taken advantage of they continue to take advantage of you. I reported the lack of security and activity and they chose to do nothing about it. For I give them a dime I will take my business to Road Runner where there is security and I would give it to them before I would give it to MSN who chooses to rape their customers.

Me and my Husband can't no longer going into our account for 3 days now!!! I have family that try to Email us… I can't get my email! It ask for my password and it not working, so I try other password and still not working. No help, no nothing. :(


I just found out that we have been paying MSN $19.95 every month for the last 10 yrs for the dial up service that we don't use. It's because it's an auto payment on my husband credit card. He thought he has to pay as his email is .msn, which is free. There should be a lawsuit against MSN for this.

No matter how clean and having to do with the article the comments go with, my replies to other comments keep getting blocked.

I have not been able to use MSN for two weeks. Going to MSN Games is just a great big mess and this is the second time within one year with two different computers that this has happened. I have deleted the cookie, reset, deleting Active X, reinstalling and the same with Java. I now get to the second box but it just stay there… Microsoft can fix any other things or software with Mr. Fix it but not this MSN. I have never seen a company try so hard to run customers away from the protect. There is NOTHING and I do mean Nothing to make this system come back up that I can find and I was told by a friend that I might have to format the hard drive - this is crazy to the core. If anybody know how to get this system working again please let me know.

I would like to add my name to the list of unhappy users of the new msn.com. Some of the other posters have already identified the many reasons this is a terrible piece of software. Please let us go back to the old page or I will not be using this junk. It is big and cumbersome, and as someone pointed out a giant delivery system for advertising. I cannot even get it to keep me signed in on my private home computer! This after I sign in and check the box that says "keep me signed in". Yahoo is looking very good, unless anyone has other alternatives. The new MSN.COM is one more crummy product from the evil empire. Please either fix it or replace it! I am unable to post this with zero stars so I give it 1 star.

In September 2014 MSN made good on its threats of turning off my.msn.com and forwarding it to msn.com. At the same time MSN reformatted msn.com to become just one large page of advertisements and splash ads. The complete customization of my.msn.com is gone with very little choice on content and accessing any content requires multiple web pages and mouse actions. The new msn.com is designed to accomplish only one thing, generate revenue for msn.com due to selling ads and link revenue. Hopefully once MSN notes that that page hits drops and revenue drops they will return my.msn.com to active status without the extreme amount of advertising now found on MSN.com

Who do you use for field testing these changes? Masochists?? Trying to change the location for a Weather report from what is automatically input to my actual location was unbelievably frustrating. So, I will probably switch to Google after a long relationship with MSN. Sorry!

I have ever had more trouble finding things on MSN - on the new system than anything I've come across. I wish they had never touched it. If it ain't broke.... Don't fix it. Put it back like it was!!!!!!

My computer remembers my password and email and they won't let me in. All they want is a card. I've had that password for years and email now. They say I forgot it.

MSN stopped working may 8th. I called their help and support number and after 3 hours of repeating the same steps they told me I needed a cd to reload MSN Internet back on my computer. I was told it would take 7 to 10 days. I still had not received it by June 16th. MSN repeated told me it was ordered and I spoke with 3 supervisors and several others to find out where it was and they said maybe my post man stole it or someone took it from my mailbox. My mailbox goes directly into my house. I was told on June 16th that the payment they took would be refunded back to my account in 72 hours, instead they tried to take an additional payment on July 6th, I still had no cd to reload or service. I have made many phone calls trying to resolve this. It finally arrived July 12th. Now no at MSN is capable to install the software. Tech support says it's a billing and password issue and billing and password say it is a tech support issue. I have received 19 emails from MSN asking for details on my account and still no one can resolve this. They took my money and cannot provide service. All I've gotten are meaningless apologies and excuses. They take no responsibility for anything.

On April 6, 2014, I purchased a new ACER Aspire computer, with Win 8.1 installed, from our local Walmart store. On the same day, I emailed Microsoft Support asking for assistance in transferring email from my old MSN account to my new Outlook account. It is now 46 days later, 31 emails to Microsoft Support, 2 telephone calls, 2 chat sessions and a letter to their CEO Satya Nadella (who has not responded in about two weeks), all to no avail as I am where I started on 6 April. On top of all that, it appears that Microsoft may have blocked me from using their support website as I have been receiving the same message for the past 10 days -"Ummm...we seem to be experiencing technical difficulties, but we are working on a solution right now. Please try again later." It would take several more pages to explain the problems that are in the 31 emails, phone calls, chat sessions and in dealing with a sarcastic Microsoft representative. I need the old emails but at this point, am not sure if I will ever retrieve them. What a way to run a business. At this point, I am trying to see if Walmart will refund my money. I guess my next step is to contact the Washington State Attorney General and file a complaint against the Microsoft Corporation.

"MSN has stopped working" message - I get this message several times a day sometimes after 10 minutes and other times after 2 hours more or less. No real pattern to this but it's very annoying. I've complained on their feedback page over and over for a month or so with the expected... no response. We've all heard people complain about Microsoft. Now I'm adding myself to that list and I've used MSN and other Microsoft products for over 2 decades. They could care less.

Easy to see from other comments that MSN service is totally, fraudulent, inferior service. Believe it or not, I started with regular MSN and then was forced to switch to Premium about ten years ago. They just keep getting worse: Selling your ID to advertisers, aiding NSA in spying, transferring help desk calls to offshore countries where idiots that don't speak good English struggle with even the most fundamental issues. It's garbage. Time to change and get A real email program that protects privacy and has software that works. Stay away from the giants and seek out alternative companies.

For the last few weeks, MSN pop-ups have been appearing at the bottom of our computer screen. I want them removed. I did not ask for them and they are very provocative. Please instruct me as to how to do this.

Wed 9/11/13, got an automatic update from MS on computer overnight. Morning of Thursday 9/12/13, went into computer and all of my MS docs had been changed to MS Office - I couldn't open any of my hundreds of documents. Later that day, my computer all of a sudden showed MS doc icons and could open. Today, I spent all day on the phone (8 different people). I was to get a call back from Microsoft Word within 2 hours and have not. Have had MSN, MS, Norton and an MSN specialists tell me "it has to do with a glitch in the update they downloaded into my computer (and others)." I can not open any attachments with doc or docX - MSN has blocked them.
I can't open any attachments on any old emails from years back. I'm totally out of commission. The last MSN specialist uninstalled MS office 2010 and said MS needs to reinstall the software as the starter version 2010 was causing the issues and she removed that from my computer (remotely) and now I'm not able to open any documents. This is so infuriating and no recourse it seems. Just at MS beck & call. MSN has been nothing but problems for years. I've paid a lot of money for their services which are a total joke. Yes, I can change servers but that means changing my business docs, everything and all.
MSN and MS need to be held accountable for their crappy services. To have to call 8 people, get disconnected several times, and no one seems to know how to deal with any of this. I've lost business today due to this. Worst of all, I'm a bag of nerves, so angry and stressed and there seems to be no way to get satisfaction. MSN and MS are an empire and need to be crumbled - total lack of professionalism, etc.

I recently logged into one of my secondary .msn accounts with the incorrect password. I then re-entered the correct password and was told that someone tried to access my account and it needed to be verified... Fine... I had the security code sent. After entering the code, it now says that since someone has tried to access my account, I must change my password. No one has tried to access my account but me. Called MSN explorer tech support and was given a case # and transferred to some stupid rude person. I proceeded to tell him my issue and told me it was nothing that he could do but change the password.
Why should I change my password when nothing of malice has occurred?? He then lied and said that since the security upgrade, everyone would have to change their password eventually. I then stated I have 5 MSN accounts and was not asked to change any passwords on those accounts including my primary. I then asked where I could obtain this information of changing of password or if he could email me the update. I mentioned the only email I've received about the email changes is you would need to sign into each attached account manually versus automatically as in the past. It did not mention changing of passwords. When I mentioned that I had been a customer for over 10 years. His reply, "GOOD FOR YOU"! Very unprofessional, rude, and clueless.
Needless to say when I asked for the proof and called him on his lies, he hung up after I waited on hold for 20 min. to have my issue resolved. These people obviously have no clue of their jobs. Maybe if they would route the calls to the contact centers in your respective country it would be a little better as I am sure that no one at this place receives diversity or sensitive training. You pay your money to MSN for what? This is one of the reasons Google has surpassed them in the email arena. I hope they continue on with their success and surpass them on any other software/hardware functions as well. They SUCK!

As of 8-5-13, not able to access our email. MSN claims someone else is trying to use it. I spent over 2 hrs on the phone with people that I couldn't understand. I was hung up on, transferred, and given other numbers to call that led to nowhere. I finally got a hold of one person that seemed to be very helpful and was issued a ticket # and was advised that I needed to set up another email address for contact. Still no contact!!! I used the "guidelines" online and got nowhere. It was asking questions like, people's email addresses that I have sent, subjects, folders I had created...
This is a scam and MSN needs to take care of this!!! Apparently because this is a "free" account MSN doesn't care. Oh another question that the online form was asking was for "any other passwords that I have used in the past"... Now I just want to delete this account and not have anything more to do with MSN. I just don't know how to take care of this and get the account accessible so I can just delete it. Please investigate.
Company Name:

Microsoft

Website:

https://www.microsoft.com/en-us/