Consumer Complaints and Reviews

I had a domain name for 20 years. Due to some error it did not get renewed. GoDaddy wanted to sell it back to me for an exorbitant amount claiming that there was heavy bidding for the domain name. For the past year I've been checking. Nobody has purchased it. When I go to the URL, the company is parked there. They want to sell it to me for $9999! There is clearly no demand for this domain name, but they figured that if someone had it for that long, they will be desperate. This may be legal, but it's highly unethical.

For two years now (over 6 telephone calls, multiple emails and several complaint forms later) I have been asking to be removed as a contact from an account that I use to be a contact for. The holder of the domains on this account is a fraud and has been charged and convicted of such on at least two different occasions. I keep getting assured that my name and email address has been removed but yet I still receive communications! I am so frustrated as each and every person I speak to assures me it was taken care of!

They misrepresent their services, BE AWARE! Once you paid they don't do refunds. I called to find out if they could do anything about a note that came up on Google search when my page was searched, "this page may be hacked". I cleaned my page from malware on my own and submitted a ticket to Google for review, after several days of waiting for Google's reply I decided to pay Godaddy.com to make their magic as they assure me they were able to remove that note immediately after paying $250, they not only were not able to remove it immediately as they promised and submitted a ticket as I did it myself a few days ago but they charged to my CC $320 for a product they originally offered for $250. Their sales agents will do anything to get your money.

Facing problem of hacking at Godaddy. Very poor data security and if we ask for backup they ask for more money. So I don't think that Godaddy's doing a fair business. It may be scam. May be Godaddy don't have income from their domain and hosting services. :)

Had been without Godaddy for some years. Discovered recently of unauthorized charges. Upgraded the subscription without any notification and increased the charges. Explanation was simply they don't have the package subscribed initially available anymore.
How do I know I can trust these reviews about GoDaddy.com?
848,010 reviews on ConsumerAffairs are verified.
We require contact information to ensure our reviewers are real.
We use intelligent software that helps us maintain the integrity of reviews.
Our moderators read all reviews to verify quality and helpfulness.
For more information about reviews on ConsumerAffairs.com please visit our FAQ.

I was charged 5 times from 2013 to current for an auction membership which I never nor know anything about. I have been a customer of GoDaddy for over 20 years and owning over 20 domains. I received an email saying I was charged for this auction membership. When I called and spoke to Christi, the billing supervisor, she said there are no refunds for this product?! I explained I never authorized this charge and did not notice the charges previously but she was unwilling to remove the charge. I will be changing companies and would not recommend GoDaddy as I do not trust that they will not add on things that were not authorized and claim that they are an auto renewal.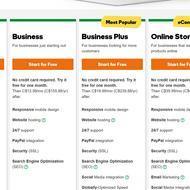 So I paid a developer to make my site and then GoDaddy removed the site and from their website builder and then gave me 2 credits for website builder, then told me that what I had was a basic website builder, then while speaking to the rep they said It would cost me about 239 to have my website built and told me that if I clicked on the Business Plus link it would only take me to the personal builder that was free. And that it didn't matter what link I clicked it would only take me to the personal builder false advertising, then proceeded to say that the site would still cost me $180, for restoring a site to make a copy of so that I could have it moved else where, and then told me there is no free Business Builder Plus options once I showed them this.
Then she said that it would cost me 90 to have my site restored and then told me that they would half it yet once again so it would cost me 45 to restore my site. So at the end of the day GoDaddy deleted my site and still wanted money for the mistake they did. And offered no compensation nor took responsibility and falsely advertised services that were paid services.

I cancelled all further charges to my account after I noticed my card was charged on 05/27/17. On 07/13/17 I was charged an additional fee. I called and talked with billing. They said it was an error on their part and the charge was reentered. I told him I had cancelled any future order and he said it was a previous order that had failed to be processed. I asked what I could do. He said, "all charges are non-refundable". I would have needed to contact them within 30 days. I received the charge on 07/13/17, today is 07/17/17. Within the 30 limit. He said the charge was issued on 05/27/17, therefore, it's non-refundable. My best advice is not to do business with this company. And any domains you wish to purchase make sure about their refundability. There are better products out there.

Godaddy.com charged my credit card 5 times without my consent. If I am only one person and this happened to me 5 times, imagine how many times Godaddy unlawfully commits theft of funds of others who in good faith give their credit cards to this untrustworthy organization. It will be very unsatisfactory and sad if I have to cancel all accounts and take a judicial action for an insignificant amount that godaddy charged illegal in my account and unless not try to offer something or check about this situation. Would be easy refund or offer me some credit.

If you are within 60 days of your renewal, you won't be able to check your email, and customer service is zero help. I'll be moving my account as fast as I can!!! (domain hosting and email). They suck!!! The customer service person is nice enough, but obvious they can't do anything. Horrible!! I've paid them a bunch of $$ for nothing! Never again.

Godaddy refuses to issue refunds when outside of 30 days because it is their "policy". When my hosting plan on an expired domain auto-renewed I called 40 days after the renewal. But because I had called 10 days later they refused to issue a refund even though I would not be using the product for the remainder of the year. In response, I offered to pay for 2 months of service but they again refused. Then the customer service "supervisor" repeated back to me what I had explained to her and said, "What am I missing?" She was extremely rude and not open to listening to my situation. This company is just simply not focused on the customer and simply treats you as a number. I will never use Godaddy again for hosting.

Lose all your work and get abused in the process: STEER CLEAR - I spent GBP2,700 with this company after spending 10 years taking unique photographs of life and scenes in Myanmar (Burma). I spent around 16 months selecting and improving 730 of my best pictures from the 21,000 pics which I'd taken of accessible places to way off-limits gem pics and accurately labeling them and then a solid two years at the British Library and online and reading altogether 43 books on the history of the places of interest to tourists and the politics and background of the Bamar and of the 147 ethic groups.
Godaddy claimed - falsely that none of my five registered and valid cards worked with the hosting renewal of my site after I'd launched it after all that epic work and sent the email whilst I was away in Myanmar and out of reach of the internet - they then took my site down the same day as the last payment was taken, and charged a huge amount to "recover" the site, but failed to do so; I hired a techie website guy in Malaysia and he told me that my pictures - the most valuable aspect of the site - were still there, but it needed Godaddy to co-operate with the recovery.
They failed to give ANY help in the recovery of my website which they had trashed, but still billed my credit card - the one they had claimed had failed billing - with hosting, then various people- who didn't seem to have a clue - at GoDaddy - promised recovery and refunds - which of course NEVER HAPPENED. NEVER BELIEVE anything you are told by staff-they are just there to do a HARD sell to you and are pig-ignorant about techie, and most other hosting issues.
I hired - at great expense - other guys to recover my website and in the meantime my computer got a virus which then infected my back-up disc, so GoDaddy's co-operation was critical in not losing YEARS of my work. GoDaddy's staff were incompetent no-goods and each of my techies gave up in stressful exasperation; meanwhile I had no income, and after the last failed "promises" from GoDaddy, I lost EVERYTHING - I cannot yet describe the stress nor get over it - I was forced onto anti-depressants for the first time in my life.
The STRESS was mega-worsened by the false promises of GoDaddy staff who seemed to know next to NOTHING. I've - in my time - started and run and sold a car hire company, dealt with refugee supply logistics in Burma, and run inbound specialist tour operations: I have NEVER encountered a company like GoDaddy. I cannot describe the stress resulting from this; at one stage I was just in TOTAL despair. Now I'm suing GoDaddy and will post the result here; no doubt this will take a long time, but I want to see justice done.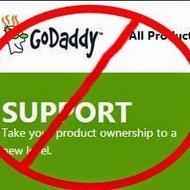 Godaddy.com charged my credit card three times without my consent. First, Godaddy.com gave one of my business accounts to an unauthorized individual who blocked me from the account and charged my credit card. Secondly Godaddy charged me for what they claimed to be a free trial. Finally, without request or consent, Godaddy charged a domain name for a second year and again refused to refund the money. If I am only one person and this happened to me three times, imagine how many times Godaddy unlawfully commits theft of funds of others who in good faith give their credit cards to this untrustworthy organization. All conversations have been recorded and will be posted publicly to warn the public of these unlawful practice by Godaddy.

I contacted Godaddy a few weeks ago regarding a domain that I wanted for my business. I was told it was not available and the rep convinced me to buy a variation of the name and its variables (.net, .biz, etc.) In the conversation with the rep, I mentioned that I think the whole domain acquisition for resale business is B.S. and hurtful to actual business owners and he informed me that he himself did this. I told him I thought that an actual domain re-seller working for a domain provider was a conflict of interest but he informed me that it is not... OK. During the process of purchasing my roughly $300 domain package, I was never informed that the domain I really wanted would be expiring within a week. A few days later while trying to see if I can make an offer on the domain I wanted originally I see that it has expired and is at auction with none other than Godaddy (If it is expired why is it not available? Why is it at auction?).
Anyways I pay for their auction membership and place a higher bid on it and another variation, both set to end at the same time. Watching the auction revealed no action, no views, and no bids for two days. I received a notification that I had won the variation bid and went into the account to see why I had not received notification of the original domain, only to find out that its auction had run for a few minutes longer and an "automatic bid" had been placed at the last minute and won the auction. I called to find out what "automatic bid" meant and why I was not informed that I could make one, why a domain re-seller is even allowed to work at Godaddy as a domain rep and why I was not informed of the pending expiration.
The customer service rep started by defending domain reselling (or hijacking as I refer to it) just like the prior rep had done. In the end I asked for a supervisor who more or less told me the same as the others, that everything at Godaddy is legit and fine and that if I wanted they would contact the "new" owner if I wanted to make an offer on the domain.
I find it quite suspicious and coincidental that I was not informed of the pending expiration and that "someone" had an automatic bid placed on the domain without any prior action. I am transferring everything I have with Godaddy and never doing business with them again, but like most corporations these days they got my money and don't care.

Set up a new website today. They took my money in seconds. Had a problem with creating just one email account. Told to check back in 1 hour. Now told up to 3 business day, which puts it out almost a week from now with weekend and 4th of July. Asked for a refund. Told takes 1 week and I can't move my domain name because they have it locked. Ohhhh, for $59 more they will create it for me by the end of the phone call. This company is fraud...

DO NOT USE THIS SERVICE WITHOUT DOING RESEARCH OF WEBSITE DESIGN PROVIDERS! I Paid $1300 for website design plus $200 for useless annual hosting. After 3 weeks, I received what they called "a draft" which is nothing more than a template with my data pushed into it. There was absolutely no professionalism to this "design". They took my word processing document, converted it to html, and plugged it into a tab copied from my old website called THINGS TO DO. There were subcategories in this word document, as well as labeled photos by all items. They put NO photos into the "draft" website under THINGS TO DO TAB. Instead, they put all photos will-nilly into a TAB called RENTAL PROPERTY.
Local Scenic sites, home photos, and property photos were copied right into this category of RENTAL PROPERTY but with none of my photo descriptions and all mixed up so it didn't even make sense. The HOME PAGE was copied from my existing website with stupid and ugly modifications that made no sense. They put my personal cell phone on the main page - who would do that?
I notified GODADDY of the horrible deliverable they gave for a "draft". I asked about mods and refunds. They would refund 70% of the $1300 at this point in the process, but if I gave them a chance to fix the "draft" and make it a website, there would be NO refund. Considering the unprofessional product they delivered as a draft, I opted to cut my losses at this point and receive a partial refund. Or I could've lost it all. Oh and the $200 they charged for hosting to go with this "website design". It was lost too because there was a 30 day refund period from the time of order and it took 4 weeks to get the amateur "draft". I was told this "hosting" couldn't be used for any hosting other than with the finished product from their "professional web design". I received a refund of $870 after paying $1500. GODADDY should be ashamed of the staff person who "designed" this draft and ashamed of their customer service. NO MORE GODADDY!!

I trusted GoDaddy to migrate my server two month ago, received confirmation that the migration completed, started new website thinking all new data will be loaded on the new server but it was still loading on the old server. Two months of work was lost when they deleted the old server. Why was my new data being loaded on the old server? No one could answer that and they did not care. No one can make a decision to help me with this serious mistake. Most frustrating experience. I am stuck with them for three years, they did not show any concern when I told them I was very disappointed with their service and I wanted to cancel, they did not even ask me why.

Charging me auto billing - I have been out of the country for a month and upon my return saw a charge for $50.32 from Godaddy - A service recommended to me by a computer helper that I never used at all. I called billing to ask for it to be removed and even escalated up to senior billing management who didn't care either and both indicated this is the way they do business and all are happy with it. I am not. I want everyone who is looking at this company to know they take your money and do nothing to earn it and they charge you for no service and do nothing to try to satisfy their alleged "customers". God save us from these tech companies.

I set up a payment arrangement for my Domain payment. I was provided confidence that I would be able to get additional time before my domain would be removed and website would be delete. Next thing you know, my website was deleted. Causing me missed business. I called in to complain and have it reversed. I explained I only wanted to be charged for the domain, not the website builder. Quoting my rep on the cost for the domain at "$20". Later I found out he charged it for $140, and because they actually can get your website back after they "delete it permanently" decided to authorize the charge for the website builder... I didn't give him permission to do that.
I called and complained and spoke to Chad ** in Arizona call center and Trevor. Chad was nonchalant, monotone, and rude. Went as far as to say he would do what I was requesting (which was providing a one year free website builder for being provided wrong information, and for being charged without consent) if I was making any sense to him, but because it doesn't make sense he want do it. Disrespectful.

I had a tech delete my website and then requested I'd pay a restore fee of $60. When I called back to speak with a supervisor the log showed as if I deleted my own website on the account. You would think that a public company would cover all possible ways to ensure that each staff log in shows so things like these could be traced. I'm just wondering how many other clients are there who being ripped off??? I hope that someone will investigate their business practices. Chances are they may uncover some more fraudulent business practices.

I have been paying Godaddy for website builder and 2 domains for 5 years now and just lost everything due to their website editor "upgrade" which requires you to throw out the old website and start from scratch. I have used competitors' products and Godaddy has me tearing my hair out for the following reasons. Their website is full of useless information trying to get you to purchase items that don't relate to holding and editing your personal website. Why is it so difficult to edit my website using Godaddy and so easy in WordPress and other sites?
They use fear tactics to try to get you to buy "protection". It reminds me of the teenager in a sketchy neighborhood who tells you "pay me to watch your car or I will damage your car". Once you enter your personal information, they show your personal information and then try to get you to pay to protect it! Ridiculous and I feel illegal. When they migrate to new editing software, everything created with the previous software is no longer usable. Again, ridiculous. It has been years since I have reached this level of frustration, I have wasted hours upon hours and I will not use them ever again for anything.

A customer service rep called me to upgrade my account which I agreed to. Unknown to me, he actually set-up a new account and essentially double billed me. When it was discovered they refused to reimburse me. The customer service person was absolutely rude. She took down my website even though it is paid through 2018. She told me I would lose the domain name which was incorrect. It's now 6 months later and GoDaddy customer service called me again to ask about my account. Again, refusing to reimburse me or acknowledge their fraudulent behavior.

Godaddy.com is the worst. They hate Macs. They don't care, they don't respond. They won't help you. They laugh at you and enjoy seeing you suffer. I think Godaddy.com is a Russian front organization. They seem to exist only to ditch people by the side of the road. Take your money to the river, burn it and throw it in. NoDaddy.

I set up a store on GoDaddy several days ago. It was straight forward and simple to do and I was able to build the store in 1 day. However, I spent 3 days on the phone with 11 different customer service reps (Plus two on chat) trying to get my site to go live. All have been polite and confused as to why there is a problem. All said it shouldn't be difficult and gave basic recommendations which didn't work and told me to wait. It is finally live after dealing with the 13th GoDaddy employee who discovered the issue. But, all my domain names are not forwarded as promised which will entail more phone calls.
In addition, the products I added could not be viewed when the site did get published. This entailed another hour and 7 minutes with a GoDaddy customer service rep. In addition, I was asked to purchase more products. Some of which were already included in my purchase such as an SSL certificate. I did ask if I could talk with an expert on GoDaddy's eCommerce store. I was told that is not possible as they do not speak with customers. While GoDaddy's products are straight forward and simple to use. Their support staff is completely untrained and has very little knowledge of their products. So if there is a problem which isn't easily fixed, there is little to no available support.

GoDaddy does not respond to requests. Their customer service has gone downhill over the last couple of years (I used to love working with them). I have requested more than once that I be called before they charge for a renewal, because they charge for an entire year, and at times, this is more than I can afford. They just did this again and made me short for the month. When I called customer service, the rep was very "snippy"--something that never used to happen at GoDaddy. He tried to make me feel "stupid," and as I have a Ph.D., I did not appreciate his tone! I am going to look elsewhere for services.

I have purchased the email domain service along with the domain. I have been doing this for long and did not realize the service is only allow to create one email user (2017 who does this?) and yet I only be able to find out when I tried to create another user (eg: email1@domain.com and email2@domain.com). Made the call to Godaddy Asia, bad service and manner. They refused due to the fact it's a monthly product. Called the States hotline, the girl did the refund and told me to wait for the refund to be shown. Months later, randomly got the email saying, "We were unable to do the refund. Bye now." CALLED AGAIN, some customer rep named Sharon gave me attitude, not helpful at all, told me the same crap, said they cannot do it. Again this one with attitude did not ask me to wait while put on hold. Talking tone like she trying to school me.
Point being said, it's not about being refunded or not. It is about being professional. You made a mistake within your department ** deal with it and apologize. Be responsible. Acts like a grown up and don't give me attitude because you got to work on the weekend. AND WHAT A FREAKING RIPPED OFF. $5 per MONTH- LIMITED EMAIL SPACE AND USER.

GODADDY.COM DELETED ALL MY DATES AND MY RIGHTS PROPERTIES. A year and a half ago, I rented a VPS server from the hosting and e-mail hosting company Godaddy.com. Previously the company had sold me a 2GB RAM server and after a couple of weeks, I was testing the 2GB server and a godaddy vendor, had convinced me to upgrade to a 3GB RAM server, being that this server was the only one I used until recently to do my projects and register, having some domains of my property hosted on my VPS server that I finally acquired.
The e-mail domains used on my server that were destroyed were:** and others. I did the renewal of these domains but the company destroyed and erased my old DNS settings from my server, but for my warranty I have printed documents from which all my projects were sent to two other emails that I own out of the server that do not belong Godaddy.com.
On my mobile device, I have archived in memory, receiving my own emails from my server from which the company destroyed. I believe that deleting the old configuration of my emails from the server was for the reason for the company to be free of the proofs, flagrants, because it certainly erased all the data of the old server to escape the criminal act, but I have evidence that I used them.
I was using my server for a little over a year, using emails hosted on VPS to send emails to my own domains that were hosted on my own server. What happened is that when the renewal period of the server purchase expired, the server after twenty days was destroyed by the company with all my records of emails, theses, articles and innovative projects, since I used my own VPS server to ensure the registration of my industrial projects, so that I had the authentication of sending the dates and times and the sender IPs, to produce legal and authentic proof of ownership of my projects.
A little over two weeks ago, I questioned the action of the Godaddy company, of which I had explained, that the action of having destroyed my server, with all my industrial data and projects worth millions dollars, the company claims that after twenty days godaddy's has the right to destroy all data contained in my server, but deleted the data in my absence, without my permission and knowledge.
The big problem is that I am being harmed because I have lost all the authentications of my projects and now I am private and vulnerable if someone comes to use the projects, currently I will not be able to prove in the court, through my server, that I own the projects. Because by the header of my emails that were sent from my own VPS server, they no longer exist, so that I can prove the authenticity of my e-mail content as a material and moral proof of my work, since proof of authenticity by my e-mails, has the same legal effect, compared to an expert for the verification of virtual crimes/cybercrimes to which the justice acknowledges the author of the submissions of its contents. What differs is that I have the right to recognize the authorship of my e-mail content, which is my industrial projects.
The judge analyzing the facts, he will recognize my authorship by the emails that I sent to myself through the dates and time and IP. Can you do percept my rights? I've created a new concept, that I can use my own e-mails, to secure my creations with legal authenticity in court, based on legal recognition compared to digital crime. I created this method to save money on Brazilian patent organs. My projects are of interest even for use in providers, as projects use authentication, against fraud in general, other projects can also be used by financial institutions. I create innovative projects and articles, all of which were hosted in my VPS by godaddy, which I used as a cloud, so that I had total security, against industrial espionage.
The company GODADDY.COM at the time when I sold the server, it became my duty to provide the service, giving me full access to VPS, for my use and hosting of my files and emails, within the period of validity of the payment of the months I used. The months that I used my VPS, I had the right to produce and store my content and I also have the right to have, but Godaddy claims that the American laws are different from those of Brazil, except that the company has forgotten the rights which I have on my property, which were archives of authenticity of the emails of various industrial projects that I have been producing and registering inside my server through my e-mails and folders.
The Godaddy company arbitrarily took away the right to have my files that I had produced inside the VPS server as proof of the authenticity of my work, causing me several damages that would guarantee my future when I was to sell the projects to several interested companies. There have been several violations of rights, two of which are the human rights of which are: Human rights, 17 art. "No one may be arbitrarily deprived of his property." (All content on my server was my property.) 27 art. Everyone has the moral and material right, whether in the scientific, literary or artistic productions of his own. (Godaddy, when destroyed my server, deprived me of these rights, since in addition to deleting all my contents, I can no more longer use it as legal proof to prove my moral, material right, including the authorship of my productions, which were in my VPS.)
The company claims that it can no longer recover all my files that they destroyed. The company had charged me $150.00 to try to recover what they destroyed, how they could not, according to they gave me back the amount. Godaddy automatically declares himself and declares himself to be a defiant defendant of the facts, when they claimed that the renewal term of my contract had expired, they destroyed my server without even giving me the chance to back up my projects and data, or they themselves could have backed up my data to provide me with all the material I produced for download in my user account before even destroying my server.
In my understanding of the law, no service contract can override and deprive the user of having the security of all their data content intact, as the godaddy company acted arbitrarily when it deleted my server, depriving me of any creation that is of my right, when I produced during the validity of my hosting. They have committed several violations and crimes, but they was use privileges to access and delete my files. The godaddy company made use of its facility, going to my VPS without my permission, to delete all my content, without giving me the right to safely have all my data as a backup, all the data I have produced for months, of which I have the right to have. I have the printed material with date and time plus IP, and much of it in gmail, which I submitted from my server that was destroyed.
The crimes: Violation of material and digital law. Material, emotional damage, followed by vandalism and embarrassment. Vandalism. Crime of elimination and deprivation of evidence and of intellectual and material property. Abuse of power followed by the destruction of a VPS server with all my industrial data of my own incalculable value. Unauthorized destruction of the data of the author. Obstruction and elimination of digital evidence, so that justice and judicial expertise can together with the judges have the understanding of my authorship of all intellectual content produced by me.
The godaddy company is located in Arizona. For a better understanding, below shows the crimes and the local laws, being that in my case it also qualifies like federal law: **. If godaddy claims that there was no virtual crime, because he thinks that the digital files produced by the author have no legal value because they are not palpable, then why Facebook and Google are worth billions of dollars, since the files are digital and generate Financial profit.
From the moment the company offers a product, of which it is a digital service, it is falling into contradiction, since VPS is a virtual private server and all products are also not palpable and generate profits billionaires for company, because Is a service charged. This proves that both their service are objects that can be traded in money, just as my projects are also objects that can be traded in cash. The crime was committed within the US, in the state of Arizona, and the company has to be prosecuted in that country.
Company policy can not override the moral and material right that the user possesses within their server, email accounts, file folders and etc... because the user has the right to have, as he has paid for it, to That the company provided access for hosting. The address of the godaddy company: My godaddy user number is: **. The address is from Arizona only appears on the website the phone +1 480 505 8877 24/7 Support.

Couple of days I've purchased two domains for my husband so he can build a website for his wonderful underwater aquatic therapy for disabled people. Today I've received an email from Godaddy.com telling me I have to verify my identity by clicking on a link in the email and submit a government issued ID. I called their customer service desk and told the young man I am not sure the email is from Godaddy. I told him I don't feel comfortable clicking on links in emails and I don't feel comfortable sending my ID via email.
He verified that the email was indeed from Godaddy. I told him I still don't feel comfortable to submit my ID online. He changed his voice right away and starting yelling at me. I asked him, "Why are you raising your voice? Why are you talking to me like I am a criminal?" He put me on hold for the longest time and when he came back he asked me to log into my Godaddy account. I tried to do so but there was a red window above my login telling me the account was blocked for too many attempted logins. I told him I've tried to log in only once, tried to log in only when he asked me to. Obviously he blocked me out of my account. He talked to me like I am some kind of a criminal. I felt like talking to an SS officer in Nazi Germany. And for what? For a mere $16.34. I am absolutely outraged!!!!

So after 2 years of okay service but a working and growing WordPress blog they modified something because they did not like my theme or something because all of sudden no one could access the blog. I called and sat on the phone for like many many hours and they could do nothing to help fix the problem. But they could offer a service that I pay for that could find the issue. So I move the blog to a different place that give free SSL cert. Way better service. Oh and my theme works 100% better. The whole blog is way faster. The pageviews have gone way up. I hope soon they will be almost to where I thought they should be.

My wife set up her business website through these con artists and we were going to drop them and go with BluHost until a scumbag salesman named Daniel ** talked her into switching from Website Builder Business Plus to GoCentral Business. She asked him repeatedly if her dashboard and email would transfer over and he assured that they would. Lie. She bought the GoCentral and renewed her domain name, rebuilt her website and published it to the net. Then we couldn't find her website, either as administrator or as a customer. Called these morons, got the site back up and was told by yet another scumbag salesman that her email and dashboard would be fine. Lie. A WEEK later found that her email accounts, along with customer info, had disappeared and the site was again invisible to the general public.
Called again. Long story short, we had to pay $50 to get the email accounts back with all of the missing emails. The gal said she would forward all info to her supervisor to ask about a refund since we have been lied to and jerked around by scum-of-the-earth salesmen. Haven't received a refund on the email or the time our site was down, haven't received an apology, haven't heard a peep out of these con artists since our last phone conversation. Suffice it to say, come May of 2018 we are finished with GoDaddy. They care about nothing but getting your money, after that you are less than garbage to them. They have seen the last penny out of me that they'll ever get, and we plan on being in business a long time.

ConsumerAffairs Research Team
The ConsumerAffairs Research Team believes everyone deserves to make smart decisions. We aim to provide readers with the most up-to-date information available about today's consumer products and services.
GoDaddy is one of the most popular web hosts in the world, and currently serves over 45 million domains. It is known for its low cost, domain name auctions, and its back-ordering policy for unavailable domains.
Easy to use: GoDaddy comes with an integrated control panel that makes it easy to access email, upload web page files, and install add-ons.
Straightforward setup: Once you purchase hosting services, it is easy to set up your account and begin using it.
24-hour customer support: GoDaddy offers a variety of customer support options 24 hours a day. There is an online FAQ to help customers get answers to common problems they may encounter. Phone and email support is also available. Despite GoDaddy's size, customer service emails are answered within 24 hours.
Website builder costs extra: Customers who don't want to design their website from scratch must pay extra fees to access GoDaddy's website builder tools, although the tools are very useful for both beginning and seasoned web designers.
Storage space: The economy plan comes with only 10GB of storage space – enough for most small business owners, but anyone who plans to expand his/her business and consequently his/her website may end up paying more for extra space. Even GoDaddy's advanced plans offer comparatively little space – you can get unlimited storage space and bandwidth, but your database is limited to 1GB.
Shopping cart: Ecommerce tools cost extra, and the shopping cart has an inventory cap. If you want to offer more inventory, you have to pay an extra fee.
Best for Personal website owners, web hosting companies and bloggers.
Question and Answers - Godaddy.com
What problem is GoDaddy trying to solve?

There are approximately 210 million small businesses worldwide; GoDaddy helps them get online. We are dedicated to helping small businesses turn their powerful ideas into meaningful action. GoDaddy gives small business owners the tools to name their idea, build a beautiful online presence, attract customers and manage their business.

What sets GoDaddy apart from the competition?

Often technology companies force their customers to choose between technology and support, delivering one but not the other. At GoDaddy, we break that compromise and deliver both great products and great support to our customers. We believe engaging with our customers in a proactive, consultative way helps them knock down the technology hurdles they face. And, through the thousands of conversations we have with our customers every day, we receive valuable feedback that enables us to continually evolve our products and solutions.

What needs do your products services fulfill, and how do you fulfill those needs better than your competition?

GoDaddy operates the world's largest domain marketplace, where our customers can find the perfect name to match their idea. We provide website building, hosting and security tools to help customers easily construct and expand their online presence.

In addition, GoDaddy's product suite includes Get Found to help small businesses attract new customers on popular destinations including Google and Yelp and Online Store which provides everything a small business owner needs to open and run a full ecommerce store. We also offer productivity tools including Microsoft Office 365, Online Bookkeeping, Email Marketing and Get Paid.

What sets us apart from competitors is our intense focus on customer service. About 60 percent of our workforce is dedicated to customer care. These are the friendly, knowledgeable and compassionate people who are there any time of day or night to help a customer resolve a problem or answer questions. Many of our customers tell us having our personalized technology resources available around the clock is like having their very own IT department at their disposal, at no cost.

How does GoDaddy measure success?

GoDaddy measures success against our mission and values. GoDaddy's mission is to radically shift the global economy toward small businesses by empowering people to easily start, confidently grow and successfully run their own ventures.

What's the most common misconception consumers have about your industry? Your company?

A common misconception about our industry is that you have to be "tech savvy" to create a website. At GoDaddy, we leverage what we know about our customers to give them simple products and services that work fit their needs. If they have questions, we have localized customer support agents available for personalized support around-the-clock.

Some consumers don't know what GoDaddy does because of our past advertising. When Blake Irving joined as CEO in January 2013, he shifted GoDaddy's advertising to focus on small businesses and how GoDaddy enables them to successfully get online and grow their digital presence.

How has your industry changed in the last 5 to 10 years?

GoDaddy essentially 'democratized' domain names back when the company was born in 1997. Before the company launched, the domain name registration process was complicated and expensive. GoDaddy brought mainstream marketing, competitive prices, reliable technology and personalized customer service to the early days of domain name registration, which revolutionized the registrar landscape and propelled GoDaddy to its No. 1 ranking in the world.

Today, GoDaddy has evolved and provides small businesses owners with the products and services they need to manage and grow their business. GoDaddy offers Website Builder, Online Store and professional design services for websites.

GoDaddy also offers Get Found, to help small businesses attract new customers and productivity tools including: Microsoft Office 365, Online Bookkeeping, Email Marketing and a tool to help small businesses Get Paid.

What is something you wish every consumer knew about GoDaddy?

GoDaddy's mission is to radically shift the global economy toward small businesses by empowering people to easily start, confidently grow and successfully run their own ventures.

Has your business received any awards that your customers would like to know about?

In 2014, GoDaddy won the following awards: 2014 Stevie Awards Sales & Customer Service, Bay Area's 2014 Top Work Places (Bay Area News Group), Washington's 100 Best Companies to Work For (Seattle Business Magazine), Iowa's 2014 Top Workplaces (Des Moines Register), 2014 Best Places to Work in the Valley (Phoenix Business Journal), 2014 AZ Most Admired Companies (AZ Big Media), 2014 Valley's Healthiest Employers (Phoenix Business Journal), 2014 Arizona Corporate Counsel Awards.

How has GoDaddy grown or evolved?

GoDaddy has refined its user-experience and reinvigorated product offerings sharply focused on helping small businesses effortlessly leverage the power of the Internet. GoDaddy has also shifted our brand strategy to revolve around small businesses.
Godaddy.com Company Profile
Company Name:

GoDaddy.com

Year Founded:

1997

Address:

14455 N Hayden Rd Suite 226

City:

Scottsdale

State/Province:

AZ

Postal Code:

85260

Country:

United States

Website:

http://GoDaddy.com