Consumer Complaints and Reviews

I simply bought 2 domain names in preparation for a website I want to create and have within days received over 20 contacts from people in India offering their services. This is appalling and has never happened with any other company where I have purchased domain names.

Godaddy has ripped me off for the third time. When I purchased 6 domains in 2014, I did not select auto renew billing. However, GoDaddy charged me for auto renew 1 year later. I called several times in 2015 to cancel the auto renew billing. After several weeks I did get my money back. However, just this month GoDaddy is charging me again for domains I no longer own. Turns out they made three charges. I ended up canceling my credit card. I no longer want GoDaddy fraudsters to have access to my credit cards. GoDaddy.com is a scam, cannot believe they are publically traded company.

I requested to cancel my service with GoDaddy in 2015 but they have been continuing to charge my account $19.99 annually! I just received an email from them with my customer # included so I called to make sure I wasn't still being charged, because why else would I have a customer #? The rep Maya told me that I was being charged $19.99 annually, the last charge was in January of 2017, and I was outside of the refund policy because it was more than 30 days after I had last been billed!
I told her I had called more than a year ago to request that my account be canceled but it never happened. She said she didn't see any notation of my phone call so I must not have called! After a 26 minute wait for a supervisor I spoke to somebody named Chris who stated that since it was outside of the 30 days to request a refund he is denying my request to be credited back for an account I haven't used for 2 years but snidely wished me a good day. Horrible customer service to boot.

I honestly have never written a review like this or very many reviews at all. I've been with Go Daddy for over 3 years and never had a problem until today. 1st one representative told me one thing, while the next said something totally different, which ended up almost costing me more money, when they said they were calling to help save me money. Because of the conflicting stories, the second time I called, the call was 1:40! Who has time for that, while not accomplishing anything!
It was round after round of misinformation about email migration and they didn't even know how it worked. One rep told me I can migrate all of my emails myself and they would help me, never mentioning cost... The next told me they don't help with migration, but they offer it as a service for $100... All while my email is in limbo not working, I'll spare you the rest of the saga. LOL.
When I asked simply for consideration of all the time I was on the phone and the fact that I was misinformed if they would discount the migration fee, they wouldn't and kept refocusing on the discounts for the email, which I was ALREADY RECEIVING. I asked to speak to a supervisor and was told, "they will tell you the same thing"... So what, let me speak to them. Then still a merry go round of stalling. When I was finally put on hold for a supervisor, they took the longest time, so I cut my losses and hung up. SMH. I'm very disappointed and will be looking for another provider.

I called Godaddy to renew my hosting plan for several websites, the rep told me that Godaddy was moving to a new platform for hosting WordPress sites and convinced me to pay for a 3 year plan in lieu of the annual contract. 6 Weeks later I looked and found my site was down. Godaddy told me that I had not migrated my sites to their new platform. I had never been told I had to do anything during the sales pitch. After a lengthy discussion they agreed to do the migration as I had no skills to do it. I left out of the country when they sent me an email (that ended up in spam) asking me to contact them regarding the migration.
When I returned back to my office 6 weeks after our conversation, I noticed my websites were still not up and contacted Godaddy one more time about it. They told me that because I did not return their request within 30 days that they had deleted all of my sites! The entitled millennial manager rudely asked me why I did not recall what was in the email as he was about to go down the path that their "contract" states... etc. In fact when I reviewed the email there was no mention of any date to meet. They just deleted my files without my permission and this has cost me thousands of dollars. The web development company did all the work on the WordPress site at Godaddy, and there were no local backups. Why should there be when Godaddy promises redundant guaranteed backups???
WARNING... Godaddy has become just another United Airlines where the staff does not have any idea how to solve a problem that the company has created for themselves. Godaddy has lost touch with the customers that made them successful. Perhaps they will need more lewd ads during Super Bowl to win back their customers who are finding out who they have become.
How do I know I can trust these reviews about GoDaddy.com?
766,190 reviews on ConsumerAffairs are verified.
We require contact information to ensure our reviewers are real.
We use intelligent software that helps us maintain the integrity of reviews.
Our moderators read all reviews to verify quality and helpfulness.
For more information about reviews on ConsumerAffairs.com please visit our FAQ.

I have wasted my two week searching a good name for my eCommerce site. I searched on Godaddy.com for the domain. But whatever I selected, was already taken by or occupied by Godaddy himself. Finally one day, I got a good domain name. And I searched on Godaddy for this domain that is it occupied or not. I found that (XYZ.com) name is not occupied by anyone and it is in 99rs to book. But when I go for booking the domain the Godaddy site hanged for a while and when I refreshed I found that Godaddy occupied that domain name and selling it in 1 Million Rupees. WTF... It actually thieved/steal my idea. If it really want to occupy all the name then why the site is for domain booking. Really wasted my one week. Hate you Godaddy. You are not good for site booking.

Godaddy is doing black hack things to force me upgrade my services to get more money from me, is time to starting posting movies about that is YouTube. I waste 2 years SSL service for 5 websites never work anything, just I went to Fiverr and somebody for $5 dollars fixed everything. The trouble is Godaddy offer money to the customer service operators and then they forced sales doing black hack and making false promises. How to screw and big knife in the back to Godaddy? Well doing movies and publishing in YouTube, showing to the people what is happening, for the movies use Filmora is easy in Fiverr $5.

My unfortunate journey with GoDaddy started in May 2015. Since the first day, I did not get assistance. I had to pay them more and more! Let me not go into the past! At present, I purchased Linux hosting with GoDaddy on 17 April 2017. I got no assistance from them, whatsoever for any questions I had when I repeatedly told them I am not a developer and I have no one to assist. In fact, they kept saying to even give me the answer to my question, they will charge me! They could have directed me to the troubleshooting steps on their website but they didn't.
Anyways with this Linux Hosting I got a free site and I have (as I have been advised now, they did not tell me at the time of purchase) 5 working days to change the free domain name. I called up thrice in the early evening and the agents were ready to change the domain name but the names I had in mind were already taken. At 10:15 when I reached the support team again with a domain name that was available, they refused to update the domain name. They wanted to charge me for it. I called up again after hanging up and this agent was being briefed over the phone and I could hear that he was talking to someone. This agent asked me to call in the morning because no supervisor was available to approve the change presently.
It's a pain working with GoDaddy. All the time they hate to help and love to charge. I'm not a rich person yet and today, they refused to change my free domain name. I have moved some of my domains to Big Rock and I have had no issues with them at all. But I am stuck with GoDaddy for another 3 years and I am complaining about this third class company for fleecing me and harassing me repeatedly. A bunch of thugs!

Your company has been SELLING my information to companies who create websites. Not only is this MORALLY WRONG!! It causes me constant harassment from phone call and emails that take away from my work. I plan on canceling my account very soon and starting fresh with a new company that does not partake in profiteering that causes issues for the customer. You're suppose to help the customer. Not cost them time and money of answering spam type phone calls and emails!! Many from third-rate countries. I mean how easy can my personal data be stolen from third-rate countries that are known for scamming people and stealing identities.

HORRIBLE, TERRIBLE, AWFUL. DO NOT USE!!! We cancelled because we didn't like the service and kept getting recurring charges. If this happens to you, FILE A DISPUTE WITH YOUR CREDIT CARD COMPANY. They hate that but it's the only way to get rid of these leeches. The customer service rep was one rude, rude, awful dude. He was pissed because we disputed the charges. Extra work for them! Jerks! Never use GoDaddy.com. They are terrible. The "customer service" rep hung up on us. Jerk!

I bought a domain from GoDaddy yesterday, April/19th. I then received 6 spam calls today, April 20th, 2017. Many of them were Robo call where there are ring then after I picked up, there is no answer. However, I'm so sick of the constant calling and I picked up to talk to this person from India, who ask if I have purchase a domain, and he knows the exact domain name. He told me that he can help me build a website for $300 dollars, then I realized that GoDaddy must have sold me information out to Spam company. My phone # is forever doomed. I am an insurance broker that cannot change my phone #, as I have had been using the same # for the last 20 + years. Other than complaining to FTC, I am not sure what else I can do. If you know of anything else I can do, please kindly email me at **.

Last month, I called GoDaddy to buy 1 year of website hosting. I told them I wanted website hosting that was optimized for Wordpress. The salesman sold me Linux hosting. He did not offer me the "Deluxe Wordpress Hosting" plan they offer. I found out 34 days later that the Godaddy salesman sold me the wrong hosting plan. I immediately called them to be asked to switched to the correct plan, which is EXACTLY the same price as the inappropriate plan they sold me. They refused to switch me to the proper hosting plan and they also refused to offer me a refund because I called 34 days after the purchase and I was supposed to call within 30 days. So now I am stuck for almost 3 years with a hosting plan my website developer does not want to work with. This is highly unethical behavior on the part of GoDaddy. Avoid dealing with GoDaddy at all costs. This company is going downhill rapidly. This is the second time I have been ripped off by GoDaddy.

Two years ago, they screw 16,000 emails - they disappeared. This year, I made sure they assured me that my site was safe w/ a backup. App 2 weeks before my site expired I paid to renew. Today, I realize that I had NO website. It was all wiped out, except for the main photo and my name. The "expert" tech told me that the ThemeLove was to be renewed and that it had nothing to do with them.
I called back but this time the person who answers the phone told me that he can fix it for me!! So it only took 2 minutes! He asked me to go to "back up" and just scroll back to the date that I wanted. I suspect that the expert tech is ignorant or wants me to pay them to "fix" it. They charge $60 and that is the minimum. I did not need anyone. He could have told me to go to back up and click the date... just like the other guy when I phoned again. THESE GUYS ARE SCAMMERS. Also, if you want leave, ensure to LET THEM KNOW ONE MONTH EARLIER, OR THEY ARE GOING TO CHARGE YOU FOR THE WHOLE YEAR!

DO NOT HOST WITH GODADDY. Godaddy is a bunch of shady ** that will charge you more than what you paid if you tried to cancel. First, if you plan on using their email servers DON'T BOTHER. GODADDY'S EMAIL SERVERS HAVE BEEN BLOCKED BY ALMOST EVERY COMPANY FOR SPAMMING. When you complain to Godaddy about this, they are like "so what you paid just $12" for the hosting. If you Google the problem with blocked email servers, you'll see complaint after complaint after complaint. Cheap hosting yeah, but they want to steal your money and keep you with a worthless account. Paid $12 for an email server and that's it. Website just to send and receive emails. Couldn't do that because this SOBs spam everybody and everything in sight. So when you go to cancel within your rights, 30 days. They want to charge you a ridiculous undisclosed price of $14.99 saying that that's what it costs them to register the domain.
Godaddy is the biggest shadiest company we have known. Their server performance sucks, you can't do backups with your own software. Your site gets slow and then faster, then times out. Godaddy is nothing more than a bunch of lying bS artists for the fact that they want to charge you $14.99 for the domain name registration and only charge you $12.18 for the domain and hosting? Really, lying SOBs. You would not be offering free domain registration if it costs you $14.99 and you're charging customers $12. It's just another lying excuse for fraud this company wants to do. Will be contacting my credit card company and dispute the charges. So Godaddy be prepared to pay for chargeback fees!

I wanted to purchase a domain so I went to Google - learned Google does not own domains. They sell them third party so I went with GoDaddy through Google (by recommendation of a classmate). I built my site through G Suite sites and the nice Google rep walked me through to set it up to supposedly start populating - which, to date it has not populated. I have to wait for this to begin marketing and I'm on a week and still nothing. In the interim I have had several conversations with GoDaddy - nice people but their product simply doesn't work. If I wanted a free site to populate I wouldn't of gone this route. Very Frustrated and will never use them again.
The last site I used was through NetIDNow.com and the second I hit publish I was live. I didn't use them again solely for financial reasons (they are reasonable at $20 per month) - unfortunately a dissolving partnership left me scraping the bottom of the barrel. I see my only alternative at this juncture is to go back to NetIDNow.

My website was unavailable for access by anyone for three months. I only now became aware of the situation. I called GoDaddy customer service. Someone on their staff had re-entered an old e-mail address of mine. They also had my correct e-mail address, however, notices about my account were being sent to my old e-mail address to which I no longer had access. Everything was corrected today, but GoDaddy refused to give me credit for the three months that my site was unavailable. Instead, they blamed me and said I must have entered the information incorrectly! No way would I enter an e-mail address on my account that was inactive for more than two years. Worst customer service ever. Will definitely not renew when my contract is up.

I had terrible, terrible experience with GoDaddy.com. Don't ever sign up for AutoPay. They will increase the bill every year and take advantage of the auto payment. When I realized I paid extra for something I didn't even need and called the customer service. They told me that it was pass the 30 day refund window and they are very strict about their policy. That is just ridiculous!

If you don't renew your account, they will completely delete everything that you've worked hard to create. I created a GoDaddy account a few years back, I could no longer afford to pay for a domain, but thought it would convert to a free account like other websites offer. I received emails they were going to sell the domain name which I was fine with. However, they not only deleted the domain but the entire website and all the work that I had put into creating it. Not only that. Everything, that had my business name on it via the web world before I used GoDaddy is gone as well, including any google searches. I would never recommend anyone using this site for a website or to manage their domain. Their only interest is how to make "MONEY" off consumers! They could care less about your hard work.

I have my hosting of all my domains with Godaddy. I reached my file limit. I contacted Godaddy several times to assist me, not being a tech person, what I can do to solve the problem. Tell me where these files are and which category of files is causing the problem. After 3-4 calls at different times and only yesterday I received guidance regarding the problem. Every time telling me their job was not that of a Web Developer. I did not ask them to do the job of a Web Developer - I was asking for guidance on how to solve the problem. The arrogance is what upsets me calling Godaddy. Every time I am on the phone you have to explain the same problem. Also every time I call +1 480 505 8877 it is at my cost - when holding the line, it is at my cost. Godaddy consultants attitude is bad. Where is the days where the customer is #1?
My website did not show up well. I contacted Godaddy. I was told on the first call that it is due to the file limit that is why the pictures are not showing. After I reduced the file size I called back. Immediately I was told that my account reached the file limit. At that time I knew that the file size was about 243+ thousand which was less than 250,000 the required limit. It took me getting angry and showing frustration for the person to look at what was really the problem. When I made the first call, no real investigation was done to solve the problem. This second time I was not going to let it go. My website is not showing pictures. My website is key to my business. Are they not getting it? Finally the problem was discovered. It had nothing to do with the file size, the Wordpress had a different domain name attached to it. So, there you go. The problem solved. But what did it take to solve the problem? Energy and time wasted!
I have a sense that Godaddy interest is not the client. At least their first priority is not customer satisfaction. Their business activity is sneaky and deliberate. Why do I say that! Under my Deluxe Plan I have 100 emails I am allowed to receive. I did not renew my unlimited email plan thinking that I can still get the 100 emails. What Godaddy did was remove all my email accounts that are active under the domain name that I am using. They left the email accounts that I have not used. I run a business, so I can't communicate with my customers because my active email accounts was literally removed. This was deliberate because in this way they forced me to renew my unlimited email subscription. This I call crafty and bad business. Also tantamount to a lack of integrity.
The bottom line - Godaddy is not helping businesses become successful so that they can in turn help Godaddy be successful. Godaddy instead provides very poor customer service that makes you feel you have to constantly fight with them to get your point across. This accompanied with bad manners, speaking while you are trying to explain and making you think you don't' know what you are talking about. Within the next month, I will remove all my domains from Godaddy to avoid unnecessary future stress. Also, my business is no longer in safe hands.

It is cheap enough for hosting, but their customer service is not very good. I am the webmaster for three company that use GoDaddy hosting and they seem to have problems that should not happen.

I need to write about what I'm going thru with these guys to keep other people from spending time in this services. THE MANAGED SUPPORT ACTUALLY IS A GUY TRYING TO SELL YOU FULLY MANAGED SUPPORT. On service compare when you purchase their dedicated scam they didnt state what includes each plan so be warned actually with managed support. You'll end doing everything yourself.
EMAIL RELAYERS - Seems somehow even if you have a full dedicated server, they will get your emails thru several email server they administrate, so dedicated is now a pool for all other people sending emails. Lots of these servers are blacklisted and it's almost impossible to get support to investigate bounces. They will only tell you to keep trying sending in 15 minutes as the relayers rotate IPs... This is unacceptable for dedicated but it didnt end there. After making you spend time on support chat you will end with the same question you begin spending hours and hours of blah blah and no REAL SOLUTIONS. Most of their relayers are blacklisted and not rotated/solved so you'll end without sending real emails to real world, Hotmail, Gmail will fail lots of time...
Today for example I get support answer that I need to check my server security as it was compromised somehow... I reviewed server and sent summaries. They told me I send 16000 emails but their same stats showed only 2000 so these guys will look at any excuse to throw the ball to you or try to sell you fully managed support to get some decent admin to answer your questions... People on support are or not will to help... No one on all the support tickets I've sent for more than a year had responded or reviewed IP blacklists on their relayers. They will not give even a try to help you.
SNAPSHOT - Keep away from this recovery option. My server was hacked as no one in support tried to help in any of the 20 times I communicate to support and ask them for security help. It seemed somehow I followed all the CPanel guidelines to keep hacker away from shell and exploiting server. Also had cxs solution to mark all rare usage. Even with all that measures and lots of hours setting security, we get to fatality on our "dedicated plan", so I asked them to let me know the last recovery snapshot they had.
Already tried to bill me 150 USD for recovering their snapshot so I went to my snapshot taken a few days earlier. Well to recover 800gb of data it has taken about 9 days... This is a totally joke as I manage 120 accounts in there... So let all the end users they will not have a server as the SNAPSHOT that should work in minutes takes most than a week... I had to convince all the 120 end clients to recreate their blank accounts, emails and that soon it will be an option to copy all websites as the VPS Snapshot is a scam. I dont even want to try their BACKUP solutions as read they will charge you for each account recovery too. NICE DONE... (mental note: I do really need to start looking to Amazon and Azure. Microsoft people if you really read this it would be nice to provide an Azure vps plan that includes CPanel... please note that.)
Keep away from these please, lose your time in anything other than this service as no one assures quality and live chat reviews are not taken seriously... Maybe they have too much work to respond you or maybe give you support... Actually they dont have a support email for writing. You need to wait to chat support to work and it doesnt work 24/7. It's just 8/5 if you get lucky to enable the CHAT BUTTON.

This company makes money off of scamming people. They charged an expired credit card with no prior notice, authorization or confirmation. When I called to deal with this issue, the customer service representatives were unwilling to help or refund the unauthorized $45 charge. I would have been a continued and future customer had they offered to help but their interest in not in helping customers, but in stealing money. DO NOT USE THIS COMPANY. I warn you - they will try to steal your money! I am very careful to always check accounts and credit cards. Anytime I have ever had an issue to a company, they have been willing and happy to help me. That is how you run a successful business. GoDaddy has no interest in serving customers. They want your money now and do not care about your future business. I will never be doing business with them again.

It serves a purpose that many can relate to, and offer the service at a very reasonable price. It teaches the user to design and implement their ideas. The user can make changes, alter ideas and learn at the same time.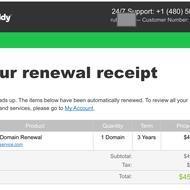 Godaddy.com charging me with auto-renewals after I CANCEL. Godaddy.com has tricked me multiple times stating they removed auto-renewal on my account after I called in twice! Usually the auto-renewal is set for 2 or 3 years down the road, so you won't notice until you see a payment receipt. I called in 2 times to cancel (and confirmed by customer service) in a 5 year span. It never sticks! There's always another auto-renew notice after. I asked to terminate my account on the phone a couple years ago, but I'm still getting billed! WTH. I filed a complaint with Paypal, Godaddy and now I'm going to BBB.org.

On 4/1/15 I paid GoDaddy $1,151.15 for a website. I had several very long phone calls with their website development people. Their web forms did not fit my business size or model. I couldn't get anywhere. One derogatory employee sent me a link to build one myself. UGH. The next year on 4/1/16 they hit my card again for $1,151.15 and I started asking for a website and got nowhere. I even sent them an example of a site I wanted. I asked multiple times for a refund. I never got either.
I got hit again today for $1,151.15 and called. This time they said they would refund this charge. I asked about the other $2302.15 they took and was told they could do nothing about it. I asked them to talk to a supervisor to make this right. They should give me site. He put me on hold for a while then came back and said that no supervisors were available. He said they would call me. This is just like the last 2 years. GoDaddy are the worst. Stay far away. Any company would be better than them.

Recently I purchased a domain from GoDaddy and at the time of purchase they gave a free web builder free for 1 month but it didn't work. I called to their customer support quite a lot of times but their response is so weird and unprofessional. Their rep are replying very rudely and not at all bothering about my concern. And their IVR flow is also sooo pathetic that after connecting very difficultly passing all the options, it will get disconnected. Sometimes their reps are disconnecting the call after hearing to the issue. Very bad experience.

Our experience with GoDaddy has been terrible. I will give one example, but my last statement reflects many specific experiences. On their recommendation, we transferred a website that was hosting by them to a "greater and better" hosting plan because it was to be faster. We had three weeks of nightmares with the website being down because the new hosting plan would not accept the old website design. It took over three weeks for someone at GoDaddy to confirm that and then we had to return the old website to the older hosting plan. You can not trust anything that a person tells you. The next time you call you get a different story that negates anything that you were told previously.

I want to buy a domain from Godaddy.com. I go to Godaddy.com but the domain name I want is sold out. The website give me chance to buy it. I think I paid 7000 for the domain but they sold me a DOMAIN BUY SERVICE. Now I have to bid for this domain. Which is not affordable. The domain buy service is not refundable which means 7000 I invested is fully wasted. Company make 7000 without doing anything. This is called business strategy.

Please advise me on a good hosting website I can use. Godaddy is losing my valuable domains left and right and they have been charging me $80 more than 7 time to regain my lost domain. I kept changing my email so they would email me with warnings, but they never send me warning emails, they just send me emails about my account being deleted and that I must pay $80 to get it back.
Godaddy used to be the best, now I am looking to leave them. Please direct me to another hosting site, because I'm going crazy at Godaddy. They want me to renew my domains for 10-20 years per domain but I should not have to do that. I should have control and reminders when it's time to renew. This is not right. I'm paying $80/domain to renew it every time. When it should be no more than $10-$15. Please help me, they are robbing us.

I have often told people that work there that I would hire them to work for me in a New York minute! They are courteous, knowledgeable, professional, helpful, caring and a lot of fun to speak with. They "listen" and don't assume anything. They educate you so you don't go at anything blindly. And they don't let you off the phone until your problem, need or request is completely fulfilled. In today's computer world it really nice to have a "Human Experience". Other companies' customer service would do well by following the customer service at GoDaddy!
Question and Answers - Godaddy.com
What problem is GoDaddy trying to solve?

There are approximately 210 million small businesses worldwide; GoDaddy helps them get online. We are dedicated to helping small businesses turn their powerful ideas into meaningful action. GoDaddy gives small business owners the tools to name their idea, build a beautiful online presence, attract customers and manage their business.

What sets GoDaddy apart from the competition?

Often technology companies force their customers to choose between technology and support, delivering one but not the other. At GoDaddy, we break that compromise and deliver both great products and great support to our customers. We believe engaging with our customers in a proactive, consultative way helps them knock down the technology hurdles they face. And, through the thousands of conversations we have with our customers every day, we receive valuable feedback that enables us to continually evolve our products and solutions.

What needs do your products services fulfill, and how do you fulfill those needs better than your competition?

GoDaddy operates the world's largest domain marketplace, where our customers can find the perfect name to match their idea. We provide website building, hosting and security tools to help customers easily construct and expand their online presence.

In addition, GoDaddy's product suite includes Get Found to help small businesses attract new customers on popular destinations including Google and Yelp and Online Store which provides everything a small business owner needs to open and run a full ecommerce store. We also offer productivity tools including Microsoft Office 365, Online Bookkeeping, Email Marketing and Get Paid.

What sets us apart from competitors is our intense focus on customer service. About 60 percent of our workforce is dedicated to customer care. These are the friendly, knowledgeable and compassionate people who are there any time of day or night to help a customer resolve a problem or answer questions. Many of our customers tell us having our personalized technology resources available around the clock is like having their very own IT department at their disposal, at no cost.

How does GoDaddy measure success?

GoDaddy measures success against our mission and values. GoDaddy's mission is to radically shift the global economy toward small businesses by empowering people to easily start, confidently grow and successfully run their own ventures.

What's the most common misconception consumers have about your industry? Your company?

A common misconception about our industry is that you have to be "tech savvy" to create a website. At GoDaddy, we leverage what we know about our customers to give them simple products and services that work fit their needs. If they have questions, we have localized customer support agents available for personalized support around-the-clock.

Some consumers don't know what GoDaddy does because of our past advertising. When Blake Irving joined as CEO in January 2013, he shifted GoDaddy's advertising to focus on small businesses and how GoDaddy enables them to successfully get online and grow their digital presence.

How has your industry changed in the last 5 to 10 years?

GoDaddy essentially 'democratized' domain names back when the company was born in 1997. Before the company launched, the domain name registration process was complicated and expensive. GoDaddy brought mainstream marketing, competitive prices, reliable technology and personalized customer service to the early days of domain name registration, which revolutionized the registrar landscape and propelled GoDaddy to its No. 1 ranking in the world.

Today, GoDaddy has evolved and provides small businesses owners with the products and services they need to manage and grow their business. GoDaddy offers Website Builder, Online Store and professional design services for websites.

GoDaddy also offers Get Found, to help small businesses attract new customers and productivity tools including: Microsoft Office 365, Online Bookkeeping, Email Marketing and a tool to help small businesses Get Paid.

What is something you wish every consumer knew about GoDaddy?

GoDaddy's mission is to radically shift the global economy toward small businesses by empowering people to easily start, confidently grow and successfully run their own ventures.

Has your business received any awards that your customers would like to know about?

In 2014, GoDaddy won the following awards: 2014 Stevie Awards Sales & Customer Service, Bay Area's 2014 Top Work Places (Bay Area News Group), Washington's 100 Best Companies to Work For (Seattle Business Magazine), Iowa's 2014 Top Workplaces (Des Moines Register), 2014 Best Places to Work in the Valley (Phoenix Business Journal), 2014 AZ Most Admired Companies (AZ Big Media), 2014 Valley's Healthiest Employers (Phoenix Business Journal), 2014 Arizona Corporate Counsel Awards.

How has GoDaddy grown or evolved?

GoDaddy has refined its user-experience and reinvigorated product offerings sharply focused on helping small businesses effortlessly leverage the power of the Internet. GoDaddy has also shifted our brand strategy to revolve around small businesses.
Godaddy.com Company Profile
Company Name:

GoDaddy.com

Year Founded:

1997

Address:

14455 N Hayden Rd Suite 226

City:

Scottsdale

State/Province:

AZ

Postal Code:

85260

Country:

United States

Website:

http://GoDaddy.com