Consumer Complaints & Reviews


My mother recently purchased a Kirby... I've told her several times Henry HOOVERS are incredible but she bought a Kirby after a salesman came to her door!!! She has had it a week and I hate it. It doesn't pick up dirt. It is too big and heavy. I can not get under the TV stand without having to search for a million different attachments just to clean! Trying to hoover the stairs is awful! It is far too heavy! And today the carpet cleaner attachment overheated and stopped working! I would rather she bought a Dyson! As she is disabled she cannot hoover so it is me breaking my back every day just to hoover the stairs! I am disgusted in the product and it was not worth £1700!

Like the representative said, What is MUD spelled backwards? I can't believe I let these people into my house! My experience and the 2 hours of being verbally abused by a young woman who 'was trying to win a trip to Cabos' match every other bad experience documented on your complaint file. I, too, had to threaten to call the police to get them to pack up all their equipment and exit. I do have a dirty carpet--IF they had removed the stain (and they did not) I might have listened further. This was an unbelievably bad experience. I am going to buy a NO SOLICITING sign for my front steps tomorrow. Enough said.

I felt very violated. Their original conversation turned out to be very misleading. The salesman was very pushy about selling you the product, and spent the next three hours trying to sell me the vacuum. During those three hours he basically sounded like a high pressure car salesman, trying to convince you that you were getting a great deal, and that the vacuum was only running a 1/3 power because he wasn't using the bag which seemed suspicious. The deal was that by having him show the vacuum in your home for one hour that they would give me a food processor. After those three hours he left muttering curses under his breath, and guess what, no free food processor!
The whole time he kept trying to look in every room like he was casing the place. When he called his manager every time, he would try to wander out of earshot and sight. Some of the times I could hear his conversation with his "manager". They were laughing and making jokes about how if we sold our stuff we could afford it. The deal started at $2500 for a new unit, and the last offer three hours was $1400 for a used one, a $69 trade in for my current vacuum, and $55 a month payments. He kept acting very nervous and was constantly looking around like he was expecting something bad. The other reviews on this site that are bad about this company are sadly spot on. Nothing seemed very legitimate about what he was doing. I was so glad when he finally left.

As many of the same of you have talked about your experience, I had the same thing happen to me. I thought free cleaning of my floor, great... After at least an hour later, my kids wanting dinner and the sleazy "boss" came to my house and would not stop pushing me. There were all these special discounts and would even take my old vacuum for me. I told them over and over again that I had just been laid off work and I am a single mother so I didn't have any money to spend on this. Again, he wouldn't let it go. His final approach was that he would leave it with me for 60 days and if I didn't find a job to afford the 52.00 a month payment then he would come pick it back up and it would not affect my credit. THAT WAS A TOTAL LIE TO NOT ONLY ME BUT ALL THREE OF MY KIDS WHO HEARD HIM SAY IT. When I got a call from the collection about a past due bill and I told them what I was told, they quickly informed me that was never even an option.
How do I know I can trust these reviews about Kirby?
574,312 reviews on ConsumerAffairs are verified.
We require contact information to ensure our reviewers are real.
We use intelligent software that helps us maintain the integrity of reviews.
Our moderators read all reviews to verify quality and helpfulness.
For more information about reviews on ConsumerAffairs.com please visit our FAQ.

Last Monday in the early afternoon I was tending to my sick toddler when I got a knock at my door. A very rough-looking young guy with piercings all over his face and mud on his shoes and pants immediately starts talking at me at a million miles an hour as he hands me a tacky fluorescent pink flier with the words "AVALIR HOME SYSTEM - win a FREE carpet cleaning!" on it.
I honestly wasn't paying much attention to him as my son was crying and I was trying to comfort him and I was jet lagged from having only just gotten home from an overseas trip that morning but nevertheless he talks and talks and I get the gist of what he's saying. Give me your details and go in the draw, we will call you if you've won a free carpet cleaning, blah, blah blah. I'm not really interested but I'm preoccupied and I feel kind of bad for this scruffy kid out in the cold and rain having to hand out these fliers for what I assume is dismal pay. I give him my name and cell phone number and off he goes. Except he doesn't. He stands on my driveway under his umbrella for 30 MINUTES talking on his phone. I thought this was really odd at the time but I now realize he was probably calling his "boss" to let them know I was easy harassment material.
As soon as he leaves and I've settled my son, I decide to google this Avalir Home System thing that I've never heard of and I came to find out it's a model of Kirby vacuum. NOWHERE on the flier was there any mention of anything to do with Kirby and as far as I recall from the scruffy kids super fast speech, he didn't mention it either. I did a little more searching and that's when I found this page. I then remembered reading online recently about a local woman who was basically held hostage in her own home by a Kirby salesman for 8 HOURS until 1 AM! Like most people she didn't realize until it was too late that he was a salesman and then he wouldn't leave. She was a single mother with young children in the house and didn't know what to do to get rid of him. I think she ended up calling the police.
Anyway I realized my mistake in giving the guy my details so I told my husband should anyone call or come to the house mentioning anything to do with carpet cleaning or Kirby, he was to immediately slam the door in their face. Then the next day I get a call on my cellphone from a number I don't recognize. I just knew it was them so I didn't answer. Looking back I should have answered that first call and told them where to get off. But I didn't so they kept calling back approximately every hour throughout the day. I never answered and the more they called the more intimidated I felt.
I told my husband when he got home from work and he said the next time they called he would answer it. Sure enough another call came through and he put the phone on speaker. A woman was on the end of the line and seemed genuinely surprised that someone seemingly not me answered the phone. She asks for me and my husband asks her what her name is and what she wants me for. She never gives her name but says "Oh, I'm from PUT Ltd. We made a call at (my name) house yesterday and she was interested..." My husband hung up the phone. Then literally 20 seconds later she calls again. I don't answer, she calls again, and again, and again. Then suddenly I start getting calls from an unknown number. I was honestly starting to feel scared and was now MAJORLY regretting ever even answering the door to that scruff ball.
After about the 10th call back my husband is getting really pissed off. He picks up the phone and unleashes an obscenity-filled tirade at this woman that I think even surprised him. He ends it with "IF YOU CALL THIS NUMBER ONE MORE TIME I PROMISE YOU WILL REGRET IT!!!" And he hangs up. Finally my phone fell silent for the first time all day and thankfully I haven't had any more calls since. Today I figured out how to block numbers on my phone too so I blocked the listed number she first called off for good measure. All I can say is thank God for my husband!
Backtracking a bit, it seems PUT Ltd doesn't even exist. There is nothing about them online so I figure they're another one of these "independent" Kirby suppliers. I'm legitimately flabbergasted at the amount of effort these people put into harassing me. Unlike most of the other reviews here they never even got into my house yet they still managed to intimidate and harass me! I don't know what they thought they would gain out of treating me like that. Perhaps they figured pretty early on that I wasn't taking the bait so they decided to have a little sick fun instead. Who knows. But even if my carpets start growing new life forms in them, I sure as hell will NEVER EVER be buying a Kirby.

I am open minded and friendly... When a young man asked if he could clean one of my carpets FOR FREE and demonstrate a superior American product in my home, I was open to it. I was like: Hey, I have a stain on my rug and this dude want to do his thing... a win, win! It's FRIDAY NIGHT at 5pm. I figure I have a little time before dinner and a romantic evening I have planned with love interest... Then the MEGA-PITCH starts... He is unpacking boxes with at least 20 parts all over the living room. He wants to take the show on the road, showing me HOW FILTHY every room in my house is... How my bed is full of dust mites and their **! Shows me on 6" white round disks, which he frantically keeps changing and putting the DIRTY DISKS out on my clean counter, dinner table, EVERYWHERE!
I am clearly upset and say: "I don't want all this loose dirt here, Please throw it away." He says: "I can't yet! I have to show them in pictures to my supervisor" (a HARD SELL LOUDMOUTH I could hear thru the phone). I was getting mad and my home was becoming a mess! He would not stop the hard sell! I said I was hungry and I had company coming. I said: "Please wrap this up." He says: "I can't. I have to call my supervisor before the carpet shampoo." I say: "I'm done, I would NEVER buy this. I'm hungry and tired. Please go now." He does not listen. He fills the shampooer and starts soaking my carpet! I am HORRIFIED! He tells me only the top is damp and it will dry in 1/2 hour... It is over 12 hours later and I have a fan blowing on my WET RUG! He washed all his dirty parts in my sink and used my clean DISH TOWELS for his FILTHY MACHINE PARTS! WTF?
Now for the Coup De Grace: Calls supervisor and I can HEAR them discussing overcoming my objections and making a payment plan... The price goes from $3000 to $1600 in mere seconds, because 'I'm getting the friends & family special'. Ummm... I was born at night, but it wasn't LAST NIGHT! He was INCREDULOUS, when I told him to get out! He took his sweet time and kept up the hard sell. I was furious and SAD. I wanted to help an independent young business person and get the stain out me carpet! HEY? WTF? Where was MY consideration? He was suddenly surly and cold. He left muttering about how my FILTHY HOUSE WAS MAKING ME AND MY FAMILY SICK!
I am sure Kirby is a pyramid scheme. It was EXCRUCIATING and I am still paying for my open minded friendliness. One of the WORST experiences I have had in a long time! I feel very sorry for the people taken in by this PYRAMID SCHEME! The Kirby sales force are PAWNS in a much bigger corrupt game. I am NEVER opening my doors to ANYONE again, thanks to KIRBY HELL!

A young woman came to my door with a gift card claiming to be a local business owner trying to get people to review her product. I agreed. She went to get said product and returned with two boxes and an older gentlemen. As he set up she took off. He proceeded to show my all these features and mentioned if I buy told I can help him win a vacation. I told him no one said anything about buying, just reviewing. He continued saying I'll fall in love with product if I see it. I again said, "It's nice but I won't buy." After an hour, I told him I had somewhere to be and I needed to get dinner ready so he needed to leave. He asked if I like the product and I said it was nice. He told me I could buy it in stores for $3000 but his boss would give it to me cheaper. I laughed and said it has to be less than 175 or I wasn't interested and again I had to leave. He said ok. He had to pack up but he would call his boss to get me a great deal.
I told him leave a catalogue or a number for his boss because I wasn't buying anything today. As he packed his "boss" showed up. She was a pushy individual when I told her I had to leave. She said, "I can give you a deep discount price of 1300" which I could pay $53 monthly. I laughed and told her I don't do monthly payments. If I can't afford it with cash I don't buy. At this point she got nasty and said, "I don't understand what you are telling me. That's stupid. What's wrong with you?" At this point, I told her I have to leave so they need to go. She tore up the yellow sheet of regular lined paper she wrote the price on and glared at me. It was ridiculous and unprofessional. I, like most people, don't buy products without researching them. They didn't have a catalogue, a store, or online shop... she claimed. Kirby needs to step into the 21st century and fire these high-pressure sales people... invest in advertising and a website.

I use to love my Kirby until I had to change the belt. Now every time I try to use my vacuum I have to put a new belt on. It is driving me nuts. It is so heavy and not easy. I would never buy another Kirby again. It is not worth the frustration. I can use any other vacuum and it would be better than this. I have so many bags and belts that I have to keep using this until I run out. I HATE it.

We were offered an in home demo and accepted. (Please be responsible homeowners when letting independent sales persons into your home.) Our demo went very well. The sales people were very polite and knowledgeable. Yes, they were in our home about an hour but they demonstrated everything the carpet cleaner could do. We have 2 dogs and a bird so the dog hair, dander and seed debris was too much for our older cheap machines. And I hated cleaning because the house never looked clean when I got done. The Kirby does all types of cleaning well and I will never go back to a cheaper brand. I also use it to dust the walls and drapes reducing the dust in the air. We even traded in 2 crappy vacuums and a carpet shampooer. I would encourage you to be patient and attentive during a demo of a Kirby because it is worth every penny. I can provide my sales receipt upon request.

The Kirby Vacuum door-to-door saleswoman would not leave my house after I repeatedly asked her to. I literally had to call 911 to get her to leave! She kept giving me excuses: "But you invited me into your home", "Don't throw away those dirty filters; I have to show them to my supervisor", "Can I get a wet paper towel and a dry paper towel to clean my equipment?" "I can't pack up my stuff until I clean it," "Can't I call my supervisor?" etc. I finally said "Do I have to call 911 to get you to leave?" She was yelling in the background the entire time I was on the phone with the 911 operator.
Also, she was using a filthy vacuum to make it seem like my house was dirty. I know this because the first time she turned on the vacuum she just demonstrated the suction by showing how an entire stack of HEPA filters would stick to the nozzle. Yet the filter she then removed from the vacuum was filthy from all the dirt that had been picked up "out of the air". Finally, as she packed up she muttered something about "your dirty house". Not cool.

It started off with a girl catching me while I was sweeping our living room. She offered for someone to do my chores. I wasn't interested. She said it's for a new startup business in town and we would just be reviewing their service. I said "Sure" (unwillingly). My boyfriend hates salespeople more than me but I always respect the hustle so I let her do her thing.
She leaves and comes back 10 minutes later with 2 other guys. A big guy, about 5'5 blond hair, beard. He wouldn't give me his name at the end. And a younger gentleman by the name of Samuel who did the cleaning and demo of the vacuum. My boyfriend got along with Samuel. He was very respectful and did a great job. We loved the vacuum but to pay $2000 for a vacuum seems INSANE so we declined but thanked them for the demo. We tried to be patient after an hour of them being in our house and delaying me of cleaning as I was doing when they showed up.
After 1.5 hours, I got impatient as my boyfriend had to leave to help his dad in an emergency. So I was straight up with the salesperson in the photo, I told him that my life isn't about cleaning and I could care less what is under a microscope. I've traveled to rural places and have seen the living conditions of others. What I have is LUXURY. Yes my vacuum doesn't work like the Kirby but can I sleep at night knowing that? YES I CAN. When I was trying to express my feelings, his phone rang and he didn't even excuse himself and gave me his back as he answered the phone. I GOT SO MAD. I let Samuel to clean up and for them to head out.
The salesperson got off the phone and continued to be extremely rude with me telling me that I was rude. First of all, at this point as a salesperson, you excuse yourself and try to make things better and not point out that I'm becoming irritated. YES I'M IRRITATED. My boyfriend hasn't eaten dinner and is too nice to tell you to get out. Recommendations to make experience better for the customer: TELL THE TRUTH. If you come knocking on someone's door, it's likely that you're interrupting something. Be honest as to what you're offering. This will save you irritated customers.
CUT IT SHORT. Dragging it on to 1.5 hours was just too much for me especially at dinner time and having been cleaning my house. WHEN YOU MESS UP, ADMIT IT AND FIX IT. Having been a secretary for 3 years, I learned this is the best thing you can do to turn around a bad mood/experience. Admit your faults and apologize and fix the problem. He left storming out all mad in such an unprofessional manner. I WILL NEVER BUY A KIRBY VACUUM EVER. I feel bad because Samuel did awesome and the vacuum is great but I believe that customer service comes before the actual product.

Gentlemen comes to my door, saying he is starting a new business in the area and wanted to introduce himself, says they clean carpets. He said he would clean one area of my house to show what he can do. When I asked him to come back because it was 6:30 pm, he insisted on doing it that evening to get paid $35 from the "company". When I told him he could clean my small hallway, he said he had a bad back but had a family member that would do it. When Joe came in, he is carrying 2 boxes of the new Kirby vacuum. As he is setting it up, and he starts talking, I realize this isn't for carpet cleaning, but to sell a new Kirby. I told him right away that I was not interest in buying anything. And, if he wanted to clean the carpet, he would have to finish by 7:00 as my 97 year old mother would be going to bed. He said he would hurry. Right!
Tells me the carpet would be dry in 15 minutes compared to hours using a steam cleaner. The carpet was still wet at 10 pm! He kept offering to vacuum different areas, showing me how nasty my carpets were after I had vacuumed with my new Shark Rotator Powerhead, which I absolutely love. He kept pulling these white discs from the vacuum showing the dirt and telling me how the Shark was ripping my carpet and that was what was on the disc. He just kept trying the hard sell. I tried to be pleasant.
Finally, he sits down to tell me I can have this carpet vacuum/cleaner for as little as $58 a month. He started at 2,400, which all the discounts he was giving me "because I like you" he says, it got down to 1,700, then 1,500. I kept telling him no, even when he got down to $1,040, or $39 a month. I then started asking, "is there interest charged." "Yes, there is, over 19%," couldn't even tell me exactly. But, kept saying there was no prepayment penalty, I could pay it off any time. He kept saying if I bought it, it would help him win another vacation. He said he was bragging but he was ranked #7 best salesperson with the company. I told him I couldn't buy it that night, but if he could give me 2 or 3 days I would think about it and see if I could budget for it and I'd give him a call.
At that he said, "everyone says that". At that point I thought, there is no way I would buy this vacuum from him. I should believe everything he says, but he doesn't believe what I say. I have a one of those very old heavy Kirbys, never use it anymore. I really was thinking of buying the Kirby. But, once he said that, he lost the sale. The next day I looked at the carpet he cleaned, and once dry, didn't look any better than when I clean it with my Hoover carpet cleaner. That whole disc thing they do trying to tell you how much is being picked up is a bunch of baloney!
Buyers beware! These guys were the epitome of the door to door, hard sell salesperson. Oh, and by the way. They weren't family. Joe, the one that cleaned the carpet, said Robbie, the person that came to the door, was his boss. They finally left at 8:30 pm all upset that they had to clean and pack up the Kirby! But, they'll sell it as brand new to the next unsuspecting person. :(((

So some chick shows up at my house. Hands me a 5 dollar gift card for Walmart and says she wants to clean a room for me. Couldn't understand exactly what she was getting at or who she was with but I accepted... trying to be friendly. She leaves. 1 minute later this sweat hog shows up carrying his Kirby. His name is Nik. Lol. Nik... He starts a demo. I watch it for a while. Not interested. I tell him he's gotta finish up. Got somewhere to go. He has the nerve to ask me for the 5 dollar card back. I tell him no. I've wasted my time. He's wasted my time. So he packs his **. Asks me for a drink of water. With my back turned he steals the card he gave me off my table and also lifts a half pack of smokes. Really? I hope Kirby sends another salesdemon over here again. Time to thin the herd of pieces of **. This is Kirby's finest? Can't wait till they sink. ** you kirby. Not only will I never buy a kirby... but I will do everything in my power to help sink you.

The salesman was nice and thorough but my problem is cost! I know 2 individuals that have had the demo and bought the sweeper after comparison of the bill of sale. We all paid 3 different amounts - my boss' friend was $900, my boss $1400, and me $2400!!! I get the company wants to make money but selling sweepers to people at different prices and get the most money you can is morally sick! I don't know maybe I am just a good person with a conscience!!! No matter what your income is they are going to suck every dollar they can out of you. Like I stated before the product is good but $3000 for a sweeper is ridiculous! In the end I gave mine back the next day and canceled the contract!

Came unexpectedly to ask if can do a 'free' carpet cleaning demo. I told the girl, Jayleen to please make sure there is no sales pitch to lure me to buying the product. Few min as she followed through stating she will get someone to come by and showed me that she did bring her manager, Dwayne, and John will did the demo but they left him to go to other people's home in the vicinity. The carpet looks better than it did before if I had more time for them as only one room was done free.

A representative from the above-mentioned company sold my father, 69 years old a New Kirby vacuum and he had a perfectly good Kirby vacuum at the time. At worst of all, my Father had just lost his wife, a few weeks before the event and He told the rep that, but the person continued to sell him a vacuum he could not afford and will not pay for because he has no money to pay for it. Now I have to try to fix this problem. I know that these representatives have a job to do. But they should not sell to people who can't afford this product.

I bought the vacuum a few months ago from a salesman who "appeared" to be very nice. He said the sale would allow him to get a vacation or something like that but little did I know that that was just a line as he had said the same thing to other people. As some reviewers have mentioned the vacuum is very heavy and too complicated to function. The salesman promised to come back to assist if I was having difficulty but once he was paid, he never responded to my texts.
Recently, Kirby's representatives were back in my area and I had a relative have them demonstrate the use of the machine. This guy was more professional and very patient but still there is too much to change from one thing to another to get the service you desire from the vacuum. Also, he told me that I paid double the price that he was asking this time which made me even more mad. I know it's my fault but I was surely duped and have a vacuum that I can't use. I wish I had just gotten a Dyson or Shark which cost a whole lot less.

Sold a kirby to my 86 yr old mother. They knocked so of course she answered the door. There isn't even any carpet in her house... all wood floors. Said it would be good for her allergies. She can barely drive, or pick up a cast iron skillet and walks with a cane. That should be against the law!!!

I purchased an Avalir after an in-home sales presentation. Two months prior to the presentation I had my carpets professionally cleaned after a continually spilling roommate moved out and had been vacuuming with a Dyson. The amount of dirt picked up was incredible considering it is my cat and myself and occasional company! The shampooer got out stains, the professional didn't! If you have no mechanical inclination, do not buy this. If you are not in good physical shape, do not buy this as there is much lifting and bending down required and it is not lightweight. Although I love it, it is not for everyone. This vacuum is the best I have ever had! My house smells better, my carpets do not look down trodden anymore and I know clean carpets last longer so less expense for me in the long run.
Cons: The shampooer has a very small holding compartment and must be emptied frequently. It is also a bit flimsy and I can see breakage happening if not handled with care. If you mix as recommended you have tons of bubbles and run through shampoo quickly. I mix the proper amount and put it in a spray bottle and pre-treat area to be done. I then put water and a small amount of shampoo in the container in order to get the suds. It is easier to put the container on the machine and then use a measuring cup to pour in mixture. I recently found a wonderful dog and had him neutered. Everywhere he sat he left small amounts of blood. The Kirby shampoo/vacuum got it out of my light tan carpet!!!
I love the extra long cord, the power and capability of this machine. The cost is high but I will get several more years out of my carpet due to this vacuum. I would not recommend this to my 84 year old mother but I would recommend it to anyone who is physically capable and has some mechanical aptitude especially if you have young ones crawling on your carpets. I will be taking it to a few of my older friend's homes and giving their carpets a good cleaning (yes my parents will get the first cleaning). If I could afford a cleaning service this is the vacuum I would want them to use!

I had a very nice couple show up at 11 am this morning, told me they are starting their own cleaning business and wanted experience so they would come in and clean my living room for free. I was very hesitant but felt bad so I let them in. Took them over 20 minutes to get the pieces together and put the white paper piece on the bottom to show how much dirt was on the floor. He told me he only needed to sale one more vacuum to win a trip to Disney or something. I felt this whole thing is very misleading, way too expensive and actually pretty heavy versus my normal vacuum. It does seem to work well after watching the 3 hr. demo and the "bargain" of a $1700 vacuum. But I would have liked to be told the truth from the beginning.

I have had my vacuum 2 months and so far not good. Cleaning power is okay, but too heavy to carry up the stairs. Attachments are a pain in the neck. The belt continually doesn't connect right. So frustrated!! Service is only available east coast hours. I'm in west coast time.

In 2010 a charming Iranian technician knocked on my door and easily persuaded me to part with an absurd $3,000 for a vacuum cleaner. Although cumbersome and unwieldy, it had good suction. I never managed to master the accoutrements, carpet cleaner, various tubes. Very few months I'd be rung up and offered a bargain service call, something I soon needed as the machine needed more attention. This year a salesman in the guise of a service giver insisted on demonstrating the new model, saying it was lighter in weight and cleaned floors as well as vacuum. I declined. A few months later my Sentria needed attention as it refused to work. Somehow the charming handsome salesman persuaded me to buy the Avalir (daft name) but no-one ever came to help me work out how to use its various parts, I am so annoyed with myself.

I am so disappointed in my Kirby!! It's definitely not worth the $1500 to $3000 they charge. It's very inconvenient to use. It's takes too much time to change attachments, it's too heavy and it doesn't clean carpet very well! For $3000 you want me to get on my hands and knees to scrub the carpet on my stairs??! What!?! You're better off getting a carpet cleaner from Walmart and as soon as I get the some money that's exactly what I'm going to do!!!

Salesman was kind. Was supposed to be in and out within 30 min - was here for 4.5 hours!!! And got here at 6:30 pm. I have 3 little ones. He pretty much wouldn't leave unless we bought the piece of ** vacuum!!! It doesn't work and with having a two story house it is a pain to carry up and down the stairs. Doesn't pick up anything, and yes the bag is empty and it still doesn't pick up anything. I've contacted the company and they are so shady and just say I'm using it wrong! And 5 min ago they called my husband's phone asking to speak to my daughter who is a year old!!! Really?! So he went off on them and once again they said we were using the product wrong! Shady company, shady people and piece of crap vacuum! Don't buy into this.

Today, at about 1 pm shortly after my husband left for work, a young lady knocked on my door. Usually I don't answer the door--but, she knocked just like my brother so I thought it was him. She handed me a bottle of cleaning product and before I even knew what was happening a young man hopped out of the van and grabbed two boxes and they were pushing their way into my house.
They gave me the same spiel about a contest and how they just needed to do a quick demo and the new guy would get paid. The lady takes off and leaves the guy at my house. I told him straight off, I have a son at football practice, the team is going for lunch after practice then I need to pick him up. He says 'Oh it'll be quick and so he played with my dogs and spent forever hooking things up and taking them apart and 'cleaning' small areas with every single flipping attachment. Meanwhile, it is now 2 pm and my son texts me and says he's done with lunch and practice.
I told the demonstrator SEVERAL times that I HAD to go pick up my son from the school. We live 20 mins from his school, walking home is not feasible. He continued on with his spiel as if I said NOTHING. I texted my friend freaking out about needing to leave and that I was stuck. She couldn't help me out, her car was broken down and her husband had the other. So she sent my other son and her son down to my house to tell me that Son #2 NEEDED to be picked up. They got to my house and the demonstrator introduces himself and seems all nice. My sons says LOUDLY, 'Mom, T needs you to pick him up, he's been waiting for an hour already'. The demonstrator got kind of short and says 'Oh yeah we're almost finished' and carries on.
Meanwhile I'm trying to find my kid a way home because it's 3...then 3:30...then FINALLY he calls his people he was riding with and says he needs to finish up so I can pick up my son. An HOUR AND A HALF after I first told him. So, the lady shows up again and then offers me several prices. Makes me feel guilty about not wanting her cool vacuum and this guy's stupid trip. I tell her I can't commit to such a large purchase without talking to my husband. She tells me that he'd just be like 'Oh well do you like it, I don't care if we get it' because that's how ALL husband's are.
Finally she gets down to $50 down and 54 a month. At 4:30, my child has now been waiting for TWO AND A HALF HOURS. Her response is, "aw a little extra practice won't hurt him." He's NOT practicing! He's sitting at a school by himself! She still has to make phone calls for financing and stuff. First call she makes, they say no--but, there's another avenue she says. But they'll come back in one hour so I can go get my kid. FINALLY they pack up their stuff and go. At 5 pm. I had finally found someone who could go get him for me. I don't think they came back. I wasn't here because I had stuff to do, but she did call.
My son answered the call while I was at dance with my daughter. Hah. She wants me to call her back?? NOT likely. I didn't give her money and I didn't receive any merchandise so I'm hoping they can't charge my account for anything. I don't like them having our info on the application, but I really just needed them to leave so I could get my kid!! I could not believe the blatant disregard for a child!! He waited for just under 3 hours. Absolutely disgusting. I would never consider buying from them after this experience.

My husband insisted on buying the Kirby. I HATE IT. It is heavy and cumbersome. The head is too big and I can't even vacuum under the kitchen cabinets or under the nightstands and dressers in the bedroom unless you take off the head (each time) and put on the other head for the attachments and then replace the other head for regular vacuuming. This is time-consuming for each room that you have to vacuum under items and in corners. Besides you have to carry the attachments around with you. Not even a handle to carry them! This is no provision for them to be in the vacuum. If you have a two story house, it would be extremely heavy to take up the steps. If you need a good workout without going to the gym, this is it! Kirby needs to redesign the vacuum! I much prefer the Rainbow vacuum cleaner!

First and foremost, your Kirby salesmen have been to my house three times. They're brash and refuse to leave when told you're busy! They are at my door now pounding on it. I haven't answered the door and they're still knocking. :-( It's been 20 minutes and they're still knocking at my door. They are now at the back of my house knocking on my other door! They conned us into buying a Kirby for $2300 to my husband who is disabled. I called them directly back within 10 hours as it was night time and I had to wait until the morning. They came back and offered the vacuum for 1300 dollars and I told them to take their vacuum and please leave!!! They sat on my couch and kept trying to sell and I finally had to get brash and say, "It's time for you to go!"
I was then told that I should be ashamed of myself because the salesman spent 6 hours and would lose their vacation to Universal Studios. They didn't bring back my vacuum cleaner that evening. Now they're sitting at my door with my vacuum cleaner pounding on the door for over 30 minutes now when a posted note was hung in huge letters to leave the vacuum cleaner at the door!!! They're still pounding! I'm going to call the police and report this as harassment and retain an attorney to sue your company for harassment. Someone better get to the bottom of this horrible sales program your company is promoting.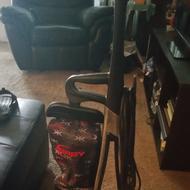 I bought a Kirby Avalir vacuum despite their sales techniques. It seemed a good product and I was willing to invest in a good cleaning tool. The shampooer does not work. Even when I use their shampoo, it makes a foamy wet mess but doesn't extract. I borrow my Mom's carpet shampooer (which costs 10% of the Kirby price) and it cleans 100 times better. The vacuum doesn't pick up like it should on the floor. The only positives are the attachments. Absolutely not worth the money.

Hein ** from Kirby Johannesburg took my case up seriously and my money paid over to me in full.Thanks for taking me seriously and dealing with this. My faith in humanity has been restored.
Original Review
I had a legitimate Kirby Sales rep stay at my establishment for 1 month while selling Kirby Vacuum cleaners in our area. He left without paying his bill which is over R20,000, even after filling in his booking form and Indemnity with all the terms and conditions. I was offered a vacuum cleaner instead of payment. I was so insulted. I have taken the matter to Kirby South Africa but to date I am still no closer to getting my money. It has been 4 months and I keep getting the Runaround. My services were delivered and I went above and beyond to assist this guest and I've been left with Pie on my face. This is totally unacceptable, Kirby cannot have people representing them that are dishonest especially that these people are coming into our homes. Kirby does not seem to be too concerned with the trail of destruction of its sales reps that I've now been reading about. I want what is due to me as my services have been delivered 10 fold!

ConsumerAffairs Research Team
The ConsumerAffairs Research Team believes everyone deserves to make smart decisions. We aim to provide readers with the most up-to-date information available about today's consumer products and services.
The Kirby Company is a division of the Scott Fetzer Company, which was founded in 1914. It is named after Jim Kirby, who designed the company's early vacuum cleaners.
Scheduled demonstrations: Potential buyers can schedule demonstrations to help them decide whether they want to own Kirby vacuums.
Useful tools: Kirby home care systems have tools that let them convert into everything from air pumps to carpet shampoo systems.
Customer service: Kirby offers a wide range of customer services, including online how-to videos and phone support.
Limited warranty: All Kirby vacuums come with three-year limited warranties.
Maintenance services: Rebuild and maintenance services are available to lengthen the life of Kirby vacuums.
Best for Kirby's flexible vacuum system makes it useful for homeowners, renters, landlords and drivers.
Kirby Vacuum Cleaners Profile
Basic Information
Company Name:

Kirby

Address

1920 West 114th Street
Cleveland, OH 44102
United States

Year Founded:

1914

Website:

http://www.kirby.com/