Consumer Complaints and Reviews

I bought this Oster 1.6 cu ft Microwave OGR41602 for a very reasonable $99.99. It worked well until last night. I was cooking a souffle and about 10 minutes before it was done, the microwave just stopped working. The souffle was a failure. I looked at my receipt and discovered I had purchased it 1 year and 10 days ago. I didn't hold out much hope for any satisfaction, but I called the customer service representative. (I thought that failing 1 year and 1 week after I bought it was REALLY bad luck.) Nevertheless, the young lady helped me, had me try a couple of things, then said she was sorry about the inconvenience to me, and told me A CHECK WOULD BE SENT TO ME IN ABOUT 6 WEEKS! So although I'm not recommending the microwave itself, I AM recommending their service center.

I called Oster about my microwave today on 1-12-17. I told them that when I was using it, baking potatoes, it stopped working and has done so off and on since. CSR told me that baking potatoes in it is not a good idea because they generate a lot of moisture while cooking... well, it does have a potato setting and even with a picture of a whole baking potato over the top of the button. None of the functions ever worked, but Costco has KNOWS GOOD CUSTOMER SERVICE!!! They took the thing back... no questions asked... My question is if there is a short in these ovens, and CSR said they have had issues, some of the reviews have had them burning, shooting flames, etc. What is Oster going to do??? Wait until someone died in a fire??? Why haven't these ovens been recalled???
I purchased an under the counter can opener from Black and Decker once. It would not cut hot butter and they must have sent me 25 emails. What color is the plug, is there a number in the plug. Stupid question after stupid question. Ya know what? That was 20 years ago and of all power tools, shop vacs, appliances, etc... I have yet to own ANYTHING Black and Decker makes since that experience. All because of that can opener. My family doesn't purchase their products either. GUESS WHO ELSE goes on that list??? OSTER. NEVER AGAIN... EVER will I purchase anything they make... EVER. Bought a new microwave today. PANASONIC!!!

Model #OGB81101. Parents bought this model in December 2015. First one didn't work out of the box, Nebraska Furniture Mart replaced no problem, told us to throw the old one away rather than return it... Dad found issue was faulty electrical cord wiring so he rewired and used 6 months before crapping out on us, so they started using the replacement in August 2016... 4 months later and it's having issues with inconsistent heating and turntable is acting like the gears are missing teeth and makes a horrible noise... Will not be purchasing another Oster. We still have an old 1980's model in the basement that works quite well.

I bought this microwave 900 watts in December 2015, it has stopped working. It keeps cutting off and when I reset it nothing happens. I have to wait 10-15 minutes before it will work then it power off again. This is a piece of crap. Do not waste your money on this product .When you bought an Oster you bought quality. Now it's cheaply made.

I have a microwave under warranty, it's 7 months old now. The microwave is turning on the plate, the plate spins but does not heat up the food. I called customer service and they do not want to replace the microwave. I am very disappointed with this product. I am never buying an Oster Microwave again.
How do I know I can trust these reviews about Oster?
697,993 reviews on ConsumerAffairs are verified.
We require contact information to ensure our reviewers are real.
We use intelligent software that helps us maintain the integrity of reviews.
Our moderators read all reviews to verify quality and helpfulness.
For more information about reviews on ConsumerAffairs.com please visit our FAQ.

Oster 1.3 cubic foot capacity Microwave oven - I bought this microwave 17 months ago. It has a one year warranty. So, it is out of warranty by 5 months. My wife told me of the problem yesterday, but I don't know when it occurred. The damage looks very old, but I know that heat damaged steel will corrode very quickly. All the Oster people said was "thank you, don't continue to use it", and they will NOT reimburse me anything. In the lower right-hand corner of the inner compartment you can see severe heat damage, in fact, the finish which is maybe paint, has melted and started running down. Pictures are included.

Microwave purchased Dec of 2015 now door will not open. Contacted Oster and was told they do not repair so will receive a refund. Called back with info they asked me to provide and was told I would receive an email with instructions. No email was received so called back and had to ask for the info and was then told 10 weeks to process a refund. How ridiculous can it get. Told the rep that it had not taken them 10 weeks to accept my money. Will never purchase another Oster product.

Over the past 25 years, I've owned three microwave ovens. The first one lasted 15 years; the 2nd one lasted 10 years. This Oster 1.3 cu. ft. was purchased around March 2015. I am amazed at how quickly this Oster deteriorated! The carousel can't rotate, due to the bottom rusting through. When setting the heating time, it turns on for 2-5 seconds; shuts off. I am getting a replacement, but not an Oster...! This was my first Oster microwave.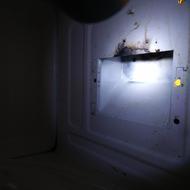 I have had microwave for three years. Enamel paint surface peeled and exposed metal surface behind magnetron cover plate. While using microwave started spitting flames as it blew a hole in cover plate. It appears there a number of persons having issues with enamel paint peeling on these later microwave. I've had 4 different brands and until now never had this problem. Guess what brand I won't be buying.

Purchased this microwave a month ago. I still can't get the burning plastic smell out of it, and it makes a strange internal noise as it is working. What a cheap, poorly made piece of junk. The smell is horrible. I don't know if there are any chemicals leaching into my food because of it. I am getting rid of this thing today and will get something a better. I would never recommend this machine to anyone.

Oster 1.3 cu 110 watt microwave. Worst decision I've ever made buying this thing. It steams up a LOT of moisture while cooking, which leads to the bottom and door frame rusting. Even if you dry it out after every use. I had it less than 6 months before it started rusting out. Then it would just stop working mid-cycle, no warning, no noise, just dead, while the timer keeps going. So now I need a new one. Guess which brand I WILL NOT be purchasing.

I purchased an Oster microwave approximately 3 years ago. Now it's headed for the trash. I put my water in the microwave for 2:06 & it keeps shutting itself off several times during that time. I have to stand & watch it so I can reset it each time. Trust I will be buying a new microwave & trust IT WILL NEVER again be this trash brand. It may be one to save money upfront, but will cost more in the long run.

I purchased an Oster microwave (model OGB8903) back in July and at the end of November it just died. No problems, no warning, nothing. Just quit working. I save every receipt (my partner even teases me because I have saved receipts from Kroger for a couple of years) but, unfortunately, I haven't been able to find this one yet so I may not be able to return it. Hopefully I'll find it before July but if not maybe I'll turn it into something else (a little free library?). Will not purchase Oster appliances (or subsidiary Sunbeam) again.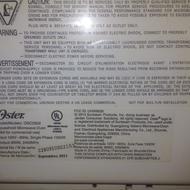 My mother got me this microwave for Christmas last year. It start to peel under the wheels of plate holder then it started to peel around door. Now it has started to break apart under the turn plate and you can see directly through the bottom. Today the microwave started going and stopping by itself.

Oster Microwave Model OGZJ1104 (manufactured 8/14) - Purchased this microwave in December 2014 from Target for $60. Clock went out about 6 months ago. Unit stopped heating yesterday. So disappointed. Will not purchase an Oster microwave again.

I turned my microwave information 30 seconds and my microwave made a loud weird noise and I saw flames inside the microwave. I bought my Oster microwave less than a year ago. Model number OGB81103. 1000 watt microwave. I bought it at Costco.

My son bought me a brand new Oster microwave in April 2015. It's stopped working in September. (Does not heat.) I had my previous microwave for over 10 years. I can't believe this product is still on the market after reading these reviews. DO NOT BUY!!!

During a kitchen remodel we needed a small microwave for our meals so I purchased the "cheapest" one I could find; a 900 watt Oster for $60. Everything I cook in it such as frozen dinners & meat pies burns quite severely on the bottom, middle. It gives my house a burned smell. I have to discard that portion of the meals and I'm seriously afraid of things catching fire. I'm afraid to pop popcorn because I believe it will probably ignite! I only need this microwave for another couple of weeks but I want to warn other customers... DO NO BUY THIS! If not monitored, it might burn down your house.

Microwave was set for 7 minutes, turntable plate broke in my daughter's hand... very bad quality... Never again.


Bought Oster because I thought it to be well made and last. I bought it from BJ'S. It will not heat anything. Very disappointed with unit. Not even 1 year old. I use mostly to reheat. Never buy Oster brand again...

Just bought a new Oster 1100 watt microwave less that a month ago. Already the plastic film over the number controls is tearing off, unit is noisy. Expect it to puke any day. Not what I expected from Oster.

My boyfriend bought me a microwave (Model OGZJ1104) on February 20, 2015. Today on March 29, 2015 it has stopped working. It comes on and spins but it won't heat my food. I'm very disappointed.


OGB61101 - Incredible... This product lasted 1:37 minutes. It was set to 3:00 minutes just for a test. A glass with water was used. Start button was pushed and it started OK. I stopped at 1:37 and pushed start again. That was all. The timer kept counting, but the plate kept still, no humming or anything. Tried all buttons, nothing happened. A fuse or breaker was not tripped. Days later after playing with all buttons it came alive, and seem to be OK, only to die again after the next stop press. Sadly, I bought it from a military store and stored it over a year so there were no warranty. Product looks beautiful but it's a piece of junk.

Oster OGYM1401 1.4 Cubic Feet Digital Microwave, Black. Purchased this item on July 2, 2013. On March 2, 2015. My microwave was rusting on top and a rust spot on the lower front behind the door. A hole started to developed on the lower area where the rust was exposed. I don't live in a high humid area. New England is dry most of the time except summer. I call Oster about it, but it was out of warranty. So I am going to replace this microwave oven with a Panasonic.

OGYK0703 - Same as most others here. Junk. And I bought this because of the Oster name. It's apparently mass produced junk made in China by Galanz with the Oster name slapped on it. Oster would not do a thing about my microwave that quit heating after only slightly longer than a year. My previous microwave lasted over 10 years! Shame on you Oster.

Purchased Oster Microwave 5-2013 at Bjs. Model #0GYM1602. 1000 watt. Less wattage than the one I had for 10 yrs. Breaker kept blowing. Called an electrician. Still kept blowing. Finally discovered it was the microwave. When I called the oster help line for info or recalls they had no information on this model that was reported. Finally found my receipt. Later said they couldn't help me--it was out of the warranty. What a bunch of crap. Oster should remove microwaves from their line of appliances if they can't back this product. Customer service awful. Very dissatisfied Customer.

The door release on the 20-year microwave broke. Don't much like reheating all leftovers on stove or in oven, so off to Wal-Mart for a new microwave (MW). Oster Model OGC2901/2902, made by Guangdong Galanz in China. MW was at just the right price. Microwave was used lightly, reheat leftovers, coffee; nothing serious like defrosting or cooking a whole meal. Right after Thanksgiving 2014, the MW would heat intermittently. Thought it was something I was doing wrong. Middle of December 2014 the microwave will not heat anything.
The logic board, fan, interior light, turntable, buzz of the transformer, all of it is there, but won't heat. Called Oster with receipt in hand. Since Receipt read 12/2/2013 - and it was mid-December 2014, in as far as Oster was concerned I was simply a nuisance. MW Lasted little more than a year! They would not even assist any further in helping me to fix it. I will not purchase Oster anything. Would rate Zero (0) if I could, but website insists on at least one star.

Oster Microwave 2013 Model # 0GG61101 just stopped heating - Very disappointed. I have had my microwave for about 8 months. Only used once or twice a week. The power comes on and turntable turns, but does not heat. I will never purchase another Oster product. My prior microwave lasted for over 10years. I will return to purchasing a brand that has proven customer service that stands behind their products.
Oster Microwave Company Profile
Company Name:

Oster

Website:

http://www.oster.com/