Consumer Complaints and Reviews

I purchased this machine (Maytag Bravos XL MVWX700XL2 ) about 18 months ago. I was so excited with the looks and the reviews I found on the machine at that time. For the first 14 months I was happy. All of a sudden, it has become the washer from Hades! It twists and almost ruins my clothing. Not to mention, I think it is permanent wrinkles that it puts into things. I washed our comforter on "Bulky". The part that must have been at the bottom is completely wrinkled and it also wrecked all of the fill. This was a comforter that it is supposed to be fine to put in the washer. I am attaching pictures in which you can almost plainly see where the comforter was at the bottom.
I had a serviceman out a few weeks ago. He said Maytag knows that there is a problem, however, there is no service bulletin that is out yet on it. In addition, he ran all of the codes and told me there is nothing wrong with my machine. That must be why I have to iron almost every piece of clothing in this house. Maytag will hopefully give me decent customer service on this, or I will come unglued. For the price of this washing machine, I expected much more.

Was assured the washer could do comforters, etc. Well, I took a video of the washer doing 5 t-shirt, 1 pair of pants, and 3 pairs of socks on the power wash cycle. Nothing tumbled. All the plate did was swish some water around on the bottom. Clothes weren't clean at all. Check my Youtube video, and you can watch the leg of the pair of pants sticking up out of the water and never getting back down in to get wet. Horrible horrible machine. With that said, called the company I bought it from, and they arranged for a front loader since I'd only had the machine for a couple hours. Stuck me for a second delivery fee though, which I wasn't happy about. We'll see when the new one gets here Tuesday.

Maytag top loader washing machine - Worst appliance purchase ever made. Does not clean laundry, takes all day to do 5 or 6 loads. Not enough water to properly wash or rinse load, even using the "deep water" setting (a joke). A load of 2 king size sheets and 4 pillow cases wadded up in a ball and rattled around so hard in the spin cycle, it pulled the plug out of the wall.
Maytag sent out technician who conducted diagnostic testing, which did not include any actual laundry. Technician said machine was operating as intended and verified I was using the machine properly. I have tried to return this machine since the first load was done and realized it was a disaster. Maytag refused to help. In fact, their phone agent had the audacity to suggest I wash one sheet at a time to prevent the machine from moving across the floor so far the plug came out of the wall. Maytag surely is not what it used to be. I'm sorry I did not know they, like so many other companies, don't care about their reputation or customer service, not to mention producing a quality product. I would say they are actually misleading their customers by calling this product a washing machine.

Bravos washer is 4 years old. Started making an extreme amount of noise during the spin cycle. Had a repairman look at and showed me the bearings and area under the tub. $400 plus in damage due to bad bearings, rust to bottom of tub and surrounding area. Four years for a high-end washer is pretty bad. Needless to say, I will buy a new unit and would NEVER recommend a Maytag Bravos appliance.

We bought a Maytag Centennial Washer in 2011. 6 months ago the control board went bad. Maytag has an exorbitant replacement price! I went to Ebay and bought a NEW board for 1/7th of the price Maytag wanted. The old board was marked revision B. The new board is revision F! That indicates to me that the board was defective when it was new and they have made 5 attempts since then to fix it! No recalls however. Now the motor is shot. I found out the motor from Australia is also inferior! So this 5 year 3 month old POS Maytag is going to the dump! We will shop for something made outside the US. No not a Samsung. I think there should be a class action suit against Maytag.
How do I know I can trust these reviews about Maytag Washers & Dryers?
743,097 reviews on ConsumerAffairs are verified.
We require contact information to ensure our reviewers are real.
We use intelligent software that helps us maintain the integrity of reviews.
Our moderators read all reviews to verify quality and helpfulness.
For more information about reviews on ConsumerAffairs.com please visit our FAQ.

This machine sucks. I'm down to washing three to four items only on an extra capacity machine because every single load becomes unbalanced. Feeling the weight of each item and then placing it correctly doesn't work. Repairman came out. Said it was balanced. Lie. At this point I want to take a sledgehammer to it and send the pieces one by one to Maytag. They should be embarrassed to even have this product for sale to the public with their name on it.

The Maytag Bravos washing machine may well be the worst appliance available for purchase. Sure it is a high efficiency machine that saves on water -- the clothes are often still dry when the complete cycle is finished. Many times there is still soap residue on the clothes. Forget cleaning anything with any amount of dirt on it because it seems as though items are even more filthy after washing them. I have tried everything the company advised and still my clothes are not clean. My advice... please do not purchase this machine. You would be better off taking your clothes to a river and beating them on a rock. #wearingdirtyclothesforever

Stay away from this product!!! Let's just say one star is too much for this product. Terrible. Let's just say one star is too much for this product. We bought this washer 2/2017. We used our previous Maytag washing machine for about 15 years without any problems. But this machine on the first try was a big disappointment because it did not wash clothes very well. Clothes come out of washing machine smelling bad and you could see the soap scum on darker clothing. We try to return the machine to Home Depot after 3 days, but they said after 48 hours they could not take it back. So if there was any problems we had to call a technician to repair it. Well, there is nothing to repair because that's just the way the machine is designed to conserve water.
Worst washer and the customer service is even worse than this machine because they just keep repeating that if there is nothing to repair then, there is no problem. So, therefore it's not their responsibility. TERRIBLE!!! I even bought their extended warranty and that doesn't do anything with dissatisfaction on this product. If you are owner of this company or at least care about your company, you should stop making this kind of product, and listen to people's complaints!!! What a waste of our hard earned money in this bad economy!!!

I had a 1 1/2 yr old front load washer. I was worried the filter might have a lot of dog hair in it so I called to just have it looked out. I couldn't remember if I had an extended warranty. Thought it would be listed with Maytag. They said no. I said OK. They recommended A+ to come out and said it would be $60.00. That was OK because I wanted to prevent any problems with the washer in the future. I thought them checking it would be a preventative measure. The tech came out opened it up said there wasn't much hair or any other problems. Put it back together, plugged it in. There was a Big popping noise and smoke! Washer no longer worked. The man said doesn't make sense but he would fix it and not charge me for parts etc. I called Maytag. They refused to do anything since it was out of warranty even though they recommended this company and there was absolutely nothing wrong with it in the beginning.
After about 2 months he still couldn't fix it. About this time I found papers for a warranty with the Home Depot. The repairman said he works with Home Depot as well. Told me to contact them but I needed to pay $120.00 to him and file a claim and then he would fix it. Apparently he does not do service work for Home Depot. They sent out other repairmen. They tried to fix it but apparently it was deemed unserviceable he blew the mother board. Home Depot said they would replace or reimburse me the amount I paid for washer. Then a machine called said they were sending me a check. We will probably never buy another Maytag! Even though I want to buy American if they won't help or stand behind their products. I now have an LG we bought from Pacific Sales with a cheaper warranty and much better customer service.

We purchased the washer and dryer pair...beautiful looking, no agitator, water efficient. Load sensing feature. TERRIBLE, TERRIBLE, TERRIBLE. WORST APPLIANCE WE HAVE EVER PURCHASED. Used it 3 times. Clothes would not rinse, left white soap residue in the folds of the black clothes, even after a second wash. Home Depot was just the GREATEST, they replaced it for us. We went with a less expensive model GE. With the agitator and full water load...save yourself A LOT OF TROUBLE, stay away from Maytag Bravos XL.

Bought machine 03/23/15 exactly 2 yrs ago & machine will not work. It looks like the electric panel and which there are a lot of complaints about the panel, and the lid. It seems as it's about the extended warranty now. The quality that Maytag advertises is lies. You buy the product and you have no choice but to purchase a warranty on your machine. Simple is better when it last 20 yrs over 2 yrs on a fancy machine. First electric panel machine washer with a horrible experience. It will cost 98 just to look at, that is not including parts and labor. It's 339.15 for a year warranty which equals over 300 per year for 3 years. Overpriced in all ways. Worse choice ever.

Like many I have never wasted my time writing a review, this time I have had it. Purchased all new appliances from Maytag, biggest mistake I have made in the last 10 years. Front loading washer is the main culprit. Doesn't clean clothes, have had to replace the rubber boot on the inside twice now, machine is only 3 years old. Maytag basically treats you like you're stupid, resend instructions like that will fix their broken P.O.S machine. I will never buy another Maytag and will be sure to let everyone know what a piece of garbage, from machine to company!
Sad that the overall reviews on my machine are 1.3/5 stars on Maytag's own website. Oddly, I cannot write any review on their site, Maytag must have realized what a POS they've been selling and now block reviews. I'm thinking that we should get enough owners together and file a class action lawsuit, maybe that would change their tune??? Never BUY MAYTAG, PLEASE keep in mind THEY are UNDER AN UMBRELLA with WHIRLPOOL and MANY OTHER MAJOR PLAYERS... Do not let them scam you the way they did me! If you work hard for your money spend it on a more reputable brand that will not try to stick it to you because they build junk!

I went to Home Depot in Kennesaw, Ga to purchase new W&D combo. I had found what I wanted but when the sales went to complete my order, the units I selected weren't available. She talked me into the Maytag Bravo, but I specifically stated I needed a large tub because I wash a lot of towels and sheets. Well this expensive piece of shhh, doesn't even get all the items wet. I've had to lift the lift and physically flip items in tub, especially with towels and sheets. Also, the washer is loud, did I say loud, I mean freaking loud. The dryer is fine, but I bought combo for a reason... Pricetag $1200.00 with my discount. I waited a week for delivery, I am mad as hell. What's point of having large tub, when you barely get enough water. Luckily I found out now, so I can have them pick this CRAP UP, Do not buy. They're cute looking, but washer does not get your clothes clean.

Maytag Bravo Washer and Dryer XL Series - This the worst washer and dryer I have ever owned by Maytag. I wish I could give them away. The washer does not clean my clothes and the dryer does not dry my clothes. They are absolutely terrible. Do not buy them, you will be sorry.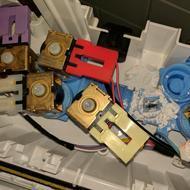 I bought the Maytag Bravo XL MVWB725W washing machine and dryer pair in August of 2015. 2 months after I bought the pair the thermostat went out on the dryer. It was under warranty so it was fixed and no problems after that. In July of 2016 I have my first stainless steel hose break at the fitting because of corrosion flooding my laundry room. I thought it was a fluke so I put another one. The next hose started to corrode in September 2016. We thought there was some weird chemical reaction going on between the hose and the filter on the back of the machine. So we changed to rubber hoses in September. Since then we have gone through 6 sets of rubber hoses.
We have had the water company out, they say our water is fine. A plumber out, our new water heater is fine as is our plumbing. An electrician, who changed an outlet and put a grounding wire on our house water line. And an appliance repair man, he found the problem so he called Whirlpool who makes Maytag. There is corrosion on the water temp control. However nobody has EVER seen this problem and doesn't know how to fix it. Not even Whirlpool. And Whirlpool says it's my house. I'm at a dead end with a washer that is constantly going through hoses. It really doesn't wash clothes very well either unless you put a lot of stain remover on the clothing before and wash it in hot water. And yes it is noisy. Don't buy this product.

Bought a new Maytag High Efficiency washer. I followed the directions closely, using the proper type and amount of soap, and the proper settings for the soil level. The clothes come out of the washer smelling almost the same way they went in. I contacted Maytag by email. Their response was to send me instructions on how to operate the washer. I responded again. Their response was basically "Sucks to be you." This is the worst washer I've ever owned, and the customer service is truly awful.

I sold my 20 year old Maytag set and upgraded to this Maytag Bravos washer. This machine takes almost 1 hour to do a load and they come out dirty. Only way to get clean is to set on bulky sheet which uses twice as much water as old machine. This unit should have never been put on the market.

Bought a Maytag washer MVWC415EW in 4/2015. We don't use the washer heavily but over that time span the paint on the top cover and the side where the cover comes down has bubbled up. It looks like a bad rash but only on a washer. I think the company used inferior paint which can bubble up with the heat of the hot water during the wash cycle. I called the company but they do not cover "cosmetic" items on the warranty. I think since this was a flaw in the paint used they should at least replace the cover portion which would be an easy fix. Maytags are not what they use be! Last Maytag lasted 17 years with no paint problems or mechanical problems.

I am extremely unhappy. This is a terrible washer (Maytag washer MVWC565FW). I am so sorry I didn't buy a GE. Terrible loud noises, shakes and vibrates like a plane taking off. Funny smells as if something is burning. Repairman came 1 week after purchased and stated nothing was wrong. A huge waste of money, I HATE, HATE this horrible machine!!! Totally unsatisfied, I would never purchase anything with the Maytag name again!! Wish I could get my money back!

This is the worse thing I have ever purchased!!! Every time I use horror washing machine I want throw it out!! Doesn't get clothes wet, much less clean. I have tried different settings. Does not help... I have to take sheets and bath towels to laundromat. Don't buy this machine Serial # C40431812 Model # WTW4900BW. Store says they have many complaints! I am not happy with Home Depot either!!

Bravos XL was costly. Mistake! I owned my first Maytag for 20 plus years. The sticker shock of buying a new Maytag 4 years ago was pushed aside knowing how long my previous model lasted. The salesperson at Lowe's closed the deal with his explanation of an improved gear driven system vs the old belt and pulley version. Oh how wrong! I too have the jet plane from hell landing in my home for over 2 years now everytime the spin cycle engages. This is a two person family and it failed at 2 years?!?!?
As for water conservation... if I don't include the additional rinse cycle, my clothes don't get clean. Watched the YouTube on how to repair this unit... but what guarantee do I have that it won't go back to the same problem in another year? Can't afford another big investment like this now that I am retired, so I will run this baby until it seizes up. Don't wash clothes if company is coming or if you want to enjoy evening TV programs. Not sure why this unit hasn't been recalled based on all the complaints I have read on this site?? Worst decision I ever made! I bet the Maytag Repairman is spinning in his grave!

My new 2017 Maytag washer Bravos XL MCT top load purchase has been very disappointing. I now regret I didn't try to return it in the first month as offered. It makes these horribly loud sounds that shake the house and make it impossible to sleep as you can hear throughout the house. You'd think new technology and $650 machine would be quiet. Several times we've had to restart because the rinse didn't get all the water out, and you can't select spin only. You must do a whole new rinse cycle. Stains don't come out, now we have to scrub before, where our 15 year old GE did a better job.
Surprisingly you don't even get stainless steel for this price, the most expensive and largest model they sold. We have 3 teenage boys and thought we would be able to wash large loads, in fact you can't or it won't spin them dry or clean them. When you select power wash it only uses hot water & takes over an hour (minimum 107 minutes, 120 with two rinse cycles) to wash with one rinse. I now wish I had bought a less expensive washer with a agitator, just glad I didn't buy the dryer now.

I had a tub failure on my washer Whirlpool Duet, which I bought brand new and it lasted 12 years with no problems. The dryer is still in use at my son's house. However, this failure lead me on a search for a set to replace the duet. I did some research and found the Maytag 6.2 Cu. Ft top loader and huge Dryer to match. The set was not cheap and it did have high marks for a great washer. So, I bought them both and had them delivered on 12/30/16. I have read all the owners manual and watched YouTube videos to see how to use this machine with all its pretty lights and sounds. I will concede that the machines look great, very impressive in my laundry room. I would bet it would even be a plus when I go to sell the house.
THAT is all the nice stuff I can say. The machine does not clean clothes and I have done all the settings. I have changed laundry detergents, and even tried to add a little more water with a bucket at the start of the wash. (Saw that one on YouTube.) REALLY. That did not work, nor should I have to do that to get it to clean well. The answer seems to be, set the machine on FULL tub of water. So, I tried that for a couple of times and found that the clothes just float around and since they do not touch the Wear Plate they don't get clean. My wife (yes, I am a man that does most of the laundry) said she hates the washer and I was an idiot for buying this expensive piece of metal that does nothing but take up space and leaves spots on your clothes. Have you heard the term Happy Wife-Happy Life. Well not so much for me now.
Spending money even $2,500.00 on a washer and dryer seems a little crazy. But I had the extra money and I have always wanted a MAYTAG. These guys know how to make a washer. Boy was I wrong, this machine must be an embarrassment to Maytag. I know I am really shocked that you would sell this machine as top of the line. I am not sure what Maytag will do, but I thought I would give you a chance to make this right. I have attached pictures of the machines installed and pictures of the model number plates. I have faith that Maytag will step up. My wife said this was a waste of time. The ball is in your court Maytag. (Come on Maytag let me win this one.) - Just a man and his dirty clothes.

Buyer Beware! This is by far the WORST washing machine (Maytag Bravo) I have ever owned! The complaints are almost too numerous to list. Among them: Noise level is atrocious, water level is always low and cannot be adjusted, suds do not wash off, clothes do not come clean and get beaten up, takes an hour plus to do a load of laundry, frequently comes unbalanced, do not feel I can leave the house with this running, service calls have provided no fix, Maytag does not care. Do not buy! Saving my pennies to buy a different brand, will never touch a Maytag product again, Surprised there is not a Class Action lawsuit pending. When there is, I'll be right on board.

In October 2016 I purchased a New Maytag washer (Model# MVWC565FWO) from LOWE'S. I bought an extended 5 year warranty with it as well. I have my invalid, totally incapacitated Sister living with me. The situation requires several loads of washing each day due to her conditions. TWO WEEKS after starting to use it we began having issues with the washer. It would stop in the cycle, lights flashing, only way to restart is to unplug it, move control from wash cycles setting to drain and spin... then within the next 3-4 loads it would do it again. Sometimes it sat for awhile I would smell like an "electronics Odor" getting hot... I called Lowe's. They replaced it. Approximately 3 weeks later the NEW washer began doing the SAME THING...
Lowe's would not replace it with a different Model or brand... only send a repairman out. Long story short, he has been here 4 times, replaced the "Computer Control" with NO IMPROVEMENT!!! NOW Lowe's is sending him out again and saying that if this doesn't fix the problem they will refund my money... My problem with it all is this... IF MAYTAG is having these type issues, WHY PRAY TELL, has a recall or solution been found and passed on to the repair folks??? I bought this Maytag due to #1 Reputation, #2 It was "Assembled" in the USA, NOT South Korea like the Samsung with recalls... Now all this is going on. I WANT A WASHING MACHINE THAT WORKS RIGHT!!! This is totally unacceptable and totally uncalled for. WHY could these Gov't agencies and Manufacturers not LEAVE the washers alone? Computer technology... PLTTT. The old timers controls gave no problem in over 40 years of using them. Now this crap.

I have a Maytag Bravos washer bought 6 years ago. Recently, it started giving trouble by stopping at spin stage. I contacted a local service company and they immediately told me even without looking at machine, that it is a control board problem and will cost a lot to repair and suggested to buy some other company washer instead of repairing. They told it is the third similar complaint this week. But I contacted Maytag and they suggested their factory authorized technician who could not correctly locate the problem but charged for the visit. Later he also came to the same conclusion. Thus my previous washer from another company lasted for more than 20 years (Still in working condition), this washer required a service with a cost same as its price!!!

Purchased this Calypso machine as a second machine for my ranch to handle really dirty clothes. Purchased from Sears Outlet as a refurb machine would be fine for the purpose. Machine was alleged to work by Sears. Paid several hundred for the machine, brought it home, and voila it does not work. New hoses, ran all the checks, and will not fill. Called Sears and, despite the statements of the manager, was told that I have to have a 3 day old machine repaired and not replaced. This POS did not even work out of the box. Years ago I had a Calypso which is now a flower pot. Junk, Junk, Junk. NEVER buy anything from Maytag or Whirlpool.

We are now empty nesters and bought a better machine, for more money with stainless inner drum and energy efficiency. Many of the settings are not manual and give you fewer choices. The Maytag Bravos XL 850 Washer lasted just 4 years, and then started sounding like an Airplane, LOUD Airplane starting up as it went into spin cycles.
According to the repairman and the parts diagnostics online, it would be about $400 in parts and $200 in labor and is NOT COVERED in Warranty. Yes $600 of repairs after 4 years.. Not doing it. They say the inner drum is covered, (what goes wrong with a stainless inner drum really) but the bearings, seal and outer drum is NOT covered. So don't bother with extra years of warranty. Like Ron Paul said, "we have toilets that don't flush and washers that don't wash thank you environmentalists." No agitators I suppose were to reduce energy too. Well our cloths seldom smelled fresh and we were careful not to put in too much soap because heaven knows, that is the first thing a dishwasher or washer tech will tell you.. IT'S YOUR FAULT.. You used two tablespoons instead of one. This is all BS.
We just bought a GE for 35% less money, has manual dials, has PREsoak settings in 15 minute increments, has an agitator, has dials that let you set whatever levels you want and not preelectronic programmed. When it breaks, We won't call a repair man. We will fill the frigging Landfills with more of this crap so I hope you environmentalist are happy. We used to get 20 years or more out of our appliances. I hope they are proud of their work. I think Donald might say, for every two environmentalist washers we throw away, we need to bring back machines that will last that with both wash clothes CLEAN, and have replaceable affordable parts.

I purchased the Top Loading Maytag Washer and have had nothing but an awful experience with this washer. The dark clothes come out with soap on them. I then need to take a wet towel to wipe out the soap stains. I have had a repairman in 2 times so far and there is nothing he can do to fix it. Maytag said I must wash all the towels with towels, all jeans with jeans, roll clothes into a loose ball before putting in machine, use the extra rinse cycle and the longest wash cycle and do not load clothes more than 5-6 inches high in the tub plus 7 other things I must do to get a clean load and none of those things have worked yet. If the salesperson would have told me all this, I never would have purchased a Maytag and nor should you!

Bravos XL washing machine is the worst washer I have ever used. IT DOESN'T GET THE CLOTHES CLEAN! There is not enough water when filling up, and you can't control it. I put a load of dog blankets in the washer and at the end, they were in the same order as I put them in; they hadn't moved! All the stains were still there and there was soap scum everywhere. Also, while I appreciate a large drum, it is so large that I can't even reach down to get the clothes on the bottom, I have to use a stick to get them up. I am so irritated that I spent $1636 for the washer and dryer (dryer works fine but same trouble with the huge drum). I got mine from Sears online after checking the Consumer Reports which put it in the top 5 washers!!! Don't buy this washer. Waste of money. Will probably just have to throw it out and it's brand new.

ConsumerAffairs Research Team
The ConsumerAffairs Research Team believes everyone deserves to make smart decisions. We aim to provide readers with the most up-to-date information available about today's consumer products and services.
Maytag has been inside American homes for over 100 years and continues to provide innovative technology and great customer service.  The company is especially famous for its Maytag Man, a symbol of the company's dependability and dedication to service. Maytag continues to build success, with nearly five billion dollars in revenue generated in 2014. Their washers and dryers are available as top loading or front loading and can be configured to fit your laundry room's space. Maytag's innovative technology ensures your clothes get just the right amount of clean and just the right amount of dry, all while saving you time and money.
Energy Star qualified: All of Maytag's washers and dryers are Energy Star qualified, meaning they are energy efficient and will save you money compared with a machine that is not Energy Star qualified.
Size capacity: All of the front loading and top loading models range from medium to extra large capacities, so you can buy one that works best for you based on the size of your average laundry load.
Quiet: Maytag washers and dryers are quiet, so you can put them anywhere in your house, including closets and near bedrooms, without worrying about noise.
Advanced Moisture Sensing: Maytag's Advanced Moisture Sensing makes sure every article of clothing gets dry, from socks to towels. The sensor strips located inside the dryer measure moisture levels around the fabric of the clothes in the dryer. At the same time, inlet sensors determine air temperatures to stop the load at the appropriate time.
Best for Value hunters, families, individuals and customers who want a dependable brand.
Compare Washers and Dryers
Maytag Washers & Dryers Company Profile
Company Name:

Maytag Washers & Dryers

Year Founded:

1893

Address:

553 Benson Rd.

City:

Benton Harbor

State/Province:

MI

Postal Code:

49022

Country:

United States

Website:

http://www.maytag.com/