Consumer Reviews and Complaints

Brand new washing machine model MHW8200FW purchased at Karl's, a Ferguson subsidiary, in Madison, NJ end of June, 2017. I wanted to buy a top of the line machine and this is what the sales person recommended to me. Problems started soon after purchase. Initially I contacted Maytag because the machine wouldn't spin dry a cotton bath mat weighing 4.5lbs soaking wet. I was told I should put more items in the machine to help balance it. Well there WERE more items and the machine wouldn't spin dry them either. I tried every trouble shooting Maytag suggested. Having exhausted my nerves, I called for service. The technician came and said these machines are extremely sensitive and that sometimes they won't even run an empty cycle. He said this is a common complaint with these units. One of his suggestions was to take bath mats, duvets, comforters... articles like that to a laundromat.
I did less than 10 wash cycles after his visit when the washer started having more issues and finally broke down completely. The technician who came this time wrote a repair order indicating a mechanical (Stator) AND electrical (Control Panel) breakdown ($500+ for the parts alone if the unit wasn't under warranty). He also stated that he had never seen such problems in a brand new machine.
I contacted Maytag for an exchange. Maytag customer service wrote to me that the breakdowns are "... normal, with all the units we sell some may have a defect in the first couple of months..." and refused to exchange my defective unit. I can accept that there may be a defect that will warrant a repair, but in this case there are multiple defects in separate systems - mechanical and electrical - within the first month of service. This shouldn't warrant any further discussion, only a quick replacement and an apology.

I am very dissatisfied with this washer (Maytag Washer Bravos XL), it doesn't use enough water to cover the clothes. No matter which cycle you use, the clothes don't come clean. Who cares about water sensing if your laundry isn't clean. I will not buy another water sensing machine, I think the consumer should make that call on how full to fill the washer. Even on power wash the small agitator turns slowly. Not happy with this machine at all.

Maytag XL Washer - My new machine is awful as well. Black clothes are smeared with I don't know what... looks like dirt. The wrinkle cycle doesn't work and the bedding cycle forget. Wish I read reviews... silly me.

MVWC565FWO Maytag Top Load - Bought a new washing machine less than six months ago... extremely noisy: Clank, Clank, Clank, Clank, etc. Reviews said it was just noisy, nothing wrong with it. Last week it would not spin the clothes dry. Now when it is plugged in, it does nothing but run the pump! No lights, no water. Also the deep wash was never deep at all - barely covered a modest load of laundry. Repair coming today. Wish I could return it.

Was so excited to get this machine so that I could wash larger loads, including blankets, but unfortunately the machine didn't really clean as expected. That was very frustrating, but even more upsetting was when it began to sound like a jet engine when in the spin cycle. In researching this online, we have discovered that it is probably the bearings. When we called for service from the local store where we purchased the washer and dryer, we were told that it will likely cost at least $600 to repair.
We have looked online to see if it is something that we can do ourselves, but really don't want to attempt this as it will require some heavy lifting and a lot of time. I am amazed that a machine like this would fail in such a short period of time and would like to add my name to the list of people who will not buy Maytag again! If a class action suit is ever filed against Maytag for this poor excuse for a washer, count me in, but unfortunately I will probably need to buy a new one before much longer.
How do I know I can trust these reviews about Maytag Washers & Dryers?
880,156 reviews on ConsumerAffairs are verified.
We require contact information to ensure our reviewers are real.
We use intelligent software that helps us maintain the integrity of reviews.
Our moderators read all reviews to verify quality and helpfulness.
For more information about reviews on ConsumerAffairs.com please visit our FAQ.

Bought Bravos XL washer and dryer about 4 years ago at Home Depot. The dryer is fine. The washer not only doesn't clean the clothes unless you have it on rapid wash - but every person that is here when I wash clothes is shocked at the noise coming from it. I always say my laundry plane is landing or taking off. It's out of control.

Bravos 4.3 High Efficiency Washer - The worst washer ever. I recently returned from burying my step-mother. She actually used the same washer and dryer, by Maytag, for over 50 years. Those days are gone forever. This is my second set of Maytags in ten years. The first literally stopped working just after the first year warranty ran out. I still have them inside my pantry, like a set of anchors. Notwithstanding that, I thought, Maytag was a good brand, it must have just been the style of machines, so I purchased these in January. After over six months of usage, I am amazed at how many times I have to wash a single load of clothing to get the items clean. Who cares if the machine saves water? What was wrong with having an agitator? I literally have to remove freshly laundered clothing, turn it over and run the wash again to get the top of the laundry clean.
I have had a blanket finish for the fourth time to get it clean, only to have to hang it outside because it is so full of water, the weight keeps it from spinning properly. And why would you remove a timer feature which permits very busy, working people, to wash their items while they are on the way home or in the middle of the night so that there is no waiting to pop the clothes in the dryer? None of the cycles takes less than 80 minutes to complete. Who has 80 minutes to wait on the washer to do its job? I am so upset about the amount of money I spent on all of these machines. Just think, I could have brought the over 50 years old set home from my step-mother's and had a washer and dryer do what they were supposed to do -- clean the clothes.

Purchased Maytag 3000 series washer and dryer in June 2009. Like many other reviews, the washer is making a terrible loud noise during the spin cycle. I contacted Maytag customer service and was told wait time is 10 minutes and opted for the call back option. Received a call back from an agent located in Tennessee, United States and he checked for recalls or projects and found nothing. Offered a technician call in my area for $112.00 for 30 minutes to diagnose the problem. I told him that if he checked on the reviews, he will see many regarding this problem and a bearing issue at a cost of up to $700.00. The Maytag repairman is not only lonely but out of business and Whirlpool bought them out.
I would never again purchase Maytag or Whirlpool products. We are seniors and do not abuse our appliances and why do they not last at least 15 years. Talk about disposal washer machines, who can afford to purchase them every few years. The washer sounds like a jet going through our house when it is in the spin cycle.

I purchased my Maytag Bravos XL washing machine in July 2016. In August 2016 it broke for the first time. I was just passed my 30 day moneyback guarantee, so Sears would not take the washer back. I have had more than 10 service calls on this washer in one year. I live in a rural area, so Maytag told me I was in a "non-serviceable area" and would have to wait WEEKS until they found a repair person willing to come to me. I only live 40 miles from Richmond VA, where I purchased the washing machine, so imagine my shock when they told me they couldn't fix it because of my location! I've had countless people in and out of my house, and it still does not work right. You can only do very small loads, so the perk of having an XL machine is none. But even at that, it does not properly clean anything, tangles clothes, and will leave even the cleanest items looking terrible when they come out.
I've had a new circuit board, new transmission, new bearings and gears, new balancing rods, and still, I'm left with a machine that does not wash and makes terrible grinding noises. I bought the washer and matching dryer as a set, and even the dryer had to get a new circuit board put in it in the 1st 60 days! After thousands of dollars in repairs on a $1000 washer, Maytag will not admit I have a defective machine and replace it! I just ran a load of laundry and have to call Maytag yet again, because the grinding noise gets louder with every run. Do not waste your money!
I would give anything to have the 29 year old set I gave away when I bought this garbage back! I have literally been on the phone with Maytag in tears because it doesn't work properly, I've had to throw away items that would not come clean because there is not a laundromat available in the town I live in. All I want is to be able to keep my family in clean clothing and linens, doesn't seem like too much to ask.

I bought a Maytag Washer Bravos XL approximately 13 months ago. To be exact, July 16th, 2016 through Home Depot. Model #MVW8775DW. Since I bought, the washer shakes, and doesn't complete the cycle as it gets stuck on the spin cycle. I have called Maytag and they have sent out a technician... They have told me that there is nothing they can do. I told Maytag that their product was a lemon and this should not happen... And to please it with one that is not defective. Since then, the cycle does complete, but the clothes are soaking wet and I have to run the cycle again, just on the spin cycle.

Washer breaks after 2 years. I purchased a Maytag Bravos XL washer from Lowe's just 2 years ago. One of the main driving factors for the purchase was the Maytag brand. The repair tech just told us the bearing was bad and we need to replace this and the drum. The service call was $100 and the repair will be over $500. I can purchase a new washer for this. I strongly recommend not buying any Maytag product. The brand used to stand for quality but not now. I don't think the Maytag repair is still the lonely tech they used to be.

Washer exactly 3 months old, will not work. Maytag can tell you nothing, they just want your money. They called a repair service in our area, never heard from them. Here we sit no way to wash clothes. And they say will charge to fix it. WHAT IS WRONG WITH THIS PICTURE. FO NOT BUT MAYTAG ANYTHING.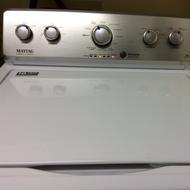 Maytag washer Purchased December 2016. Washer is very slow: runs 1 hour plus. Wash takes a VERY long time. Small load only. Heavy loads go to Laundromat. Maytag does not clean clothes, always MUSTY smelling. Cycle OFTEN does not drain tub And forced to use Drain, Spin cycle to drain tub. Wrinkle cycle ties clothes in knots. Using AFRESH to clean tub makes no difference in foul odor. One service call, error codes found, computer reset. Repairman said that the MACHINE WORKS AS DESIGNED. Repairman said that any tiny bit of debris can cause washer to clog and fail to drain. At best clothes always wet, slow to dry. My old Whirlpool washed any sized load. Clothes always clean and fresh. I used laundry only when we had power outage. LIKELY WILL PUT THIS ON THE CURB. I DO NOT RECOMMEND THIS MACHINE.

I purchased my first Maytag (Bravo Washer) appliance in 2013 and thought this washer would last me for a minimum of 10 years. It started making noises occasionally right away but I wasn't too concerned until it started sounding like someone was banging on it with a sledge hammer. I waited 8 days for a repairman who told me the bearings were going out and it would cost $400-500 to repair. This is the worst washing machine ever manufactured. My advice is to buy any other brand. Don't be fooled by the Maytag hype. Their quality is nonexistent. I am shopping for a new washer.

We've had 2 Maytag washers that lasted a combined 41 years. Five years ago we purchased a Bravos XL top load washing machine directly from Whirlpool. Like many other reviews, it is impossible to keep the machine from going out of balance and trying to tear the laundry room apart. I called Maytag and of course they want to make sure the machine is level in at least 3 dimensional space as well as 2 parallel dimensions per String Theory. As far as the 3 dimensions, I assured them I had already thought of this (as an aside, ever try to find any flat metal on one of these machines? Kind of helps when using a level.)
So after more exciting conversation, they offered me a Warranty for $437. While trying to control my laughter, I said I could trash the Bravos and buy a new machine for that price. As far as repairing it, it cost $120 for a repairman to grace my door step plus $35 every 15 minutes plus parts -- again, the decision is to trash it and buy a new machine. In case I was too subtle in my comments, I WILL NEVER BUY A WHIRLPOOL PRODUCT AGAIN. I'm too frustrated to tell you about my KitchenAid fridge. As much as I detest it, I am forced to join the "buy and trash 5 year club ". Sometimes "the good old days " were really better.

Maytag used to have a reputation for quality. Their low water energy efficient Centennial is a waste of money. Half of the time clothes come out wet and most of the time they are still dirty. Also you are only supposed fill the tub 1/4 of the way with clothes so you end up doing 3 times as many loads per week. What genius came up with this idea? Save your money. You would get better results washing your clothes in a tub with a washboard. Seriously!

I don't know where to start. This machine (Bravo XL Top Load Washer) is ridiculous! When I finally figured out how to start it, it did not rinse or spin clothes. I cannot figure out how to get it to do that so I'm stuck with a washer full of wet clothes. To add insult to injury, I cannot reach into the washer to retrieve them. I am 5'2" and all washers are designed by freakishly tall people with NO REGARD FOR WOMEN apparently! Poorly designed! Poorly engineered! What a piece of junk!

I purchased this washer in January 2017 at our local Home Depot here in Mexico. It was a washer/dryer combo. Now, in July, a mere 6 months and only a few wash loads later, it has gone from the worst machine I have ever owned to what I consider to be garbage material. First of all, it boasts about not using much water. This is true... Only 1/4 of your load is in the 3 inches of water at the bottom of the machine and the top 3/4 never even gets wet. I couldn't believe it. Now, I put 2 sheets in this morning and it fills almost to the point of spilling out, though I have to give it credit for shutting off the water before it actually did so. This is a NEW washing machine!!! I, along with a lot of other folks from what I am now discovering, are all in the same boat. I remember Maytag being a mark of excellence way back in the day... This is no longer the case. Stay away from this company... I know I will.

The Maytag Centennial is the worst washer ever. Not only doesn't get the clothes clean but it does not spin out properly either so your clothes have to be run through a 2nd time after washing. The water fill level is so low that the clothes are not covered in water at all, even midway through the wash.

The washer that always needs repair! My first problem with my Maytag washer was that the sensor needed replacing (wont wash or spin). Since then I have had the sensor replaced and motor replaced. Today, I had to call for a service call, and was told that I have to wait over a week! Bad customer service!

Like others that have submitted a review, about six months ago, our then less than two year old Maytag Bravos XL washer became very loud. If the problem is the main bearing as others have suggested, it's not covered under the 10 year warranty. Aside from loud noise, the washer has never performed to my wife's satisfaction. Neither has the Maytag Bravos XL dryer. Regardless of the settings, the dryer doesn't dry the laundry completely. Extremely disappointed with both the washer and dryer which replaced our 15 year old Maytag washer and dryer. We will be replacing the defective Maytag's with another brand like LG or Samsung very soon.

We bought a Maytag washer in 1987. It worked beautifully for years. The Maytag Centennial Washer we have now is sub-standard. It takes a full hour or more to wash one load. No quick wash feature. Today I filled the washer with soap, clothes, and pushed the button to fill it. It filled and inexplicably drained, wasting my time, water, and laundry soap. I regret buying this washer.

Maytag Top Loading Washer-We bought this machine a little over a year ago and it is one of the worst products we've ever purchased. More often than not clothes barely get wet and then wad up into a twisted mess which stops the machine. I've had to restart a load over and over. And, the clothes are not as clean as they were from our former Maytag washer which lasted 14 years. The new washer has to be cleaned at least once a month or it smells. We purchased this washer from HHGregg and they are no longer in business or I would complain to them about selling faulty products. I don't know why the manufacturer decided to remove the agitator from new models. What a mistake! We have decided to get rid of this washer and buy another brand. No more Maytag (or Whirlpool) products... ever!

This washer ( MHW3505FW) leaks, is crazy loud, water won't drain, clothes smell bad after washing, defective drain pump, defective mother board. Only had 2 1/2 months and it broke. Maytag refused to refund me and Lowe's refused as well. Thankfully I paid by credit card. Am disputing the charge. Terrible washer should be recalled. Many complaints on this washer. Very disappointed and upset.

We have had this washer/dryer stack up for about 2 years now. Not long after it was purchased from Best Buy, it started smelling like mold, even though we were doing everything possible to keep it ventilated. Best Buy employee said that service was not covered by the warranty that we purchased, so they suggested we YOUTUBE some ideas on how to get rid of the smell. They said it was a common complaint for front load washers. We have tried Affresh, hot water and bleach, hot water with vinegar and lavender, etc. Nothing is working. There is mold on the plastic inside the washer door and the stench is horrible now. You can smell it when you walk into our home. I believe that stench is the reason we are all having respiratory problems, allergies, etc. I just don't know what to do anymore. Really frustrating!! These appliances cost a lot of money.

I am submitting this review today to express my disappointment with my Maytag washer. This is the Maytag MVWX655DW (Bravo), with Serial# C61842055. In August of 2016 I lost many treasured items due to a flood in Lafayette, Louisiana. My daughter and I were devastated and displaced because of this event. This is also in addition to completing Cancer treatment 2 days before the flood.
I lost my GE washer which was a great product. It was a struggle for a long time, but we were finally get back on our feet. I was able to get another place to live, and it was time to purchase a washer. I was told that Maytag was one of the best products on the market, so I decided to purchase my first Maytag washer. This did not turn out well for me, and it was very disappointing. After 9 months of ownership of this product, it is broken! It is my belief that the product may have been defective.
I put in a service call, and had a repairman come to my apartment on June 19th. I was told that my washer needs several parts to repair it, including a pump. I have never had this issue with prior washers. My previous washer before my GE purchase survived for over 10 years before it has had any issues. I called on June 26th to ask about Maytag issuing me a new washer or a full refund, instead of repairing this faulty product. I was told no, and was offered and extended warranty for 6 more months and $75.00. I expressed to her that I would rather have a new washer.
The Bravo Washer is a very bad product. Instead of taking advantage of customers, Maytag needs to stand by that 10 year warranty sticker on the washer. Please understand this purchase is a LEMON. This washer did not last a year. After all I have been through, I did not need this financial hardship. In the long run, this product will die again. Unfortunately for me I may not be able to afford to purchase another washer. I am still getting follow-up treatment for my Cancer, and it is very expensive. Can someone please re-evaluate the need for a replacement washer or offer me a full refund? This product should not be broken after only 9 months of service.

First off. Maytag customer service is horrible. I purchased a Maytag washer & used it 8 time. It now doesn't rinse the soap out of my clothing or even clean anything. The washer isn't broken because thousands of other people with the same exact washer have written negative reviews everywhere online. The washer needs to be recalled & never sold again. Maytag is making people SICK and they don't care. My whole family had skin irritation because we didn't realize our new washer wasn't rinsing.

BROKE AFTER 3 YRS. Purchase a new Maytag model: MVWC425BW1 top load washer and dryer after just 3yrs of use. It failed and to find out this is a common problem with these new open drum washers. The bearings go out. Be aware do not purchase them and they also do not wash your clothes good, clothes just stay in same position and you have to wash 2-3 extra washes. It was going to cost 350.00 plus to repair so I purchased Speed Queen that has good reviews. Tech said that top load open barrel washers have been a nightmare.

I do not recommend this product. I purchased them 2 years ago. Within one month, the drum stopped working on the dryer. This was covered under warranty. In the last month, though, I have noticed that there are blue stains on the new drum. I do not leave clothes in the dryer wet. Last week, the washer stopped agitating or cleaning clothes even though the cycle would still run. I called for a service call and paid $82 for this. I found out the transmission was not working. This is not covered under the warranty.
The warranty for entire machine is only 1 year. The 2-10 year warranty only covers the drive motor and wash basket. I cannot understand why a transmission is not covered. I feel like they are not standing behind their product. Finally, after a lot of talking, I did get Maytag to agree to cover the cost of the transmission part; but I am still obligated to pay $150 for labor. Why are products not standing up to use as in the past? I am very disappointed with these products.

This machine(Bravos XL Washing Machine) was highly recommended to me at the Home Depot by a sales associate. I broke down and took the recommendation. Oh how I regret that! This is a terrible washing machine. It does not put enough water into the machine to even cover the clothes halfway. It ties the clothes in knots! I made a terrible mistake when I purchased this!

ConsumerAffairs Research Team
The ConsumerAffairs Research Team believes everyone deserves to make smart decisions. We aim to provide readers with the most up-to-date information available about today's consumer products and services.
Maytag has been inside American homes for over 100 years and continues to provide innovative technology and great customer service.  The company is especially famous for its Maytag Man, a symbol of the company's dependability and dedication to service. Maytag continues to build success, with nearly five billion dollars in revenue generated in 2014. Their washers and dryers are available as top loading or front loading and can be configured to fit your laundry room's space. Maytag's innovative technology ensures your clothes get just the right amount of clean and just the right amount of dry, all while saving you time and money.
Energy Star qualified: All of Maytag's washers and dryers are Energy Star qualified, meaning they are energy efficient and will save you money compared with a machine that is not Energy Star qualified.
Size capacity: All of the front loading and top loading models range from medium to extra large capacities, so you can buy one that works best for you based on the size of your average laundry load.
Quiet: Maytag washers and dryers are quiet, so you can put them anywhere in your house, including closets and near bedrooms, without worrying about noise.
Advanced Moisture Sensing: Maytag's Advanced Moisture Sensing makes sure every article of clothing gets dry, from socks to towels. The sensor strips located inside the dryer measure moisture levels around the fabric of the clothes in the dryer. At the same time, inlet sensors determine air temperatures to stop the load at the appropriate time.
Best for Value hunters, families, individuals and customers who want a dependable brand.
Compare Washers and Dryers
Maytag Washers & Dryers Company Profile
Company Name:

Maytag Washers & Dryers

Year Founded:

1893

Address:

553 Benson Rd.

City:

Benton Harbor

State/Province:

MI

Postal Code:

49022

Country:

United States

Website:

http://www.maytag.com/