Consumer Complaints and Reviews

I am so fed up with my Bravos XL washing machine, that I felt compelled to vent and see if others have the same issue. The first two reviews I read complain of the same thing as I am finding. Some kind of scummy residue on my dark clothes, need to rinse, sometimes soak again to get the residue off. Have tried many different detergents. The guy at the store said try cold water! Yeah right. I use half the amount recommended. We have two boys who play baseball. The seller said this would be a great machine. I'd almost consider trying to sell it on Craigslist and buy a good used one with an agitator. Spent a lot of money on a fancy looking machine. Definitely overpriced and overrated. Do not buy this machine!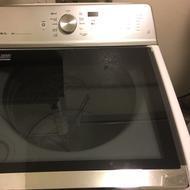 We purchased the Bravos XL washer just over a year ago. It is being replaced 1/10/2017. Simply put this is the worst product I think I have ever encountered. Extremely noisy wash cycles leave residue on the clothes, clothes do not get wet in some spots. This washer is so noisy you can hear it from outside. What an embarrassment. You have to run the clothes twice first with detergent and again without detergent to remove the residue left over from the first wash cycle (not energy efficient at all). If I could give a minus score like minus 10 I would.

Fifteen months after purchase of the top load washer, we have had to call in repair. The lid lock and sensor have went out on the machine and the repair costs are equal to the purchase of the machine. Whether the consumer has an extended warranty or not, this is unreasonable. So hear this Maytag, the CONSUMERS will invest elsewhere when delivered cheap merchandise like this even if it is "Made in the USA" as you wish to tout in order to bait the consumer for their money instead of providing superior quality American products. This consumer is sending this machine out the door.

My Maytag Bravos is only 6 months old. Purchased May 2016. Maytag has the worst service repair I have ever experienced. Don't even think about buying this product. It cost more to repair it than replace it with a new machine. It has been more than 30 days since I called for repair. They refuse to reimburse me for my laundry services I have had despite it is their problem. It has not been repaired yet. They actually said they could not give me the corporate telephone number. I say BS!! I could write 3 more pages of complaints so let me just say... DO NOT BUY MAYTAG ANYTHING. HORRIBLE HORRIBLE SERVICE.

After only about a year or so - and it is out of warranty - the clothes are not clean - there are white type of scum marks left on clothes and especially dark clothes. This is even after I use the recommended detergent and less than normal and do a double rinse. Have to wash clothes again with no detergent with a double rinse again. Just so annoying. Would never buy Maytag again.
How do I know I can trust these reviews about Maytag Washers & Dryers?
670,460 reviews on ConsumerAffairs are verified.
We require contact information to ensure our reviewers are real.
We use intelligent software that helps us maintain the integrity of reviews.
Our moderators read all reviews to verify quality and helpfulness.
For more information about reviews on ConsumerAffairs.com please visit our FAQ.

We have had this washing machine almost 1 year and the small problems have grown enormous. In addition to the constant soap residue left on the dark clothes (my guess is it's on the light clothes too, but you just can't see it) the washer goes out of balance frequently (they are replacing the suspension, after they said it's all working great). The repair man said I'm not loading the clothes properly, I need to roll each item of clothing into a ball and then place it in the washer. Are you kidding me, my new machine has special needs? And don't put in too large of loads. What!!! It's an XL capacity but I can't do an extra large load, because half the clothes won't get wet or clean. Maytag blew it big time with these models, I could talk about the dryer too. Maybe next time.

Bought a new home in July of 2016 and the builder had included a Maytag Bravos XL washer and dryer. They are THE WORST performing appliances I have ever used! I will replace as soon as I have the means to do so. DO NOT PURCHASE the Maytag Bravos XL appliances. The engineers that designed them should be fired! The washing machine makes an incredibly loud noise (like an old starter grinding in a '50s car). I'm told that this is "normal" for the machine. Does NOT clean well and leaves soap spots on dark clothes... leaves them on light clothes but I cannot see them. Whites come out dingy even with bleach. The tub is so deep that I have to use tongs to get out smaller items, I am 5'3'' tall and have never had this issue before. Soap dispenser drawer won't stay closed during wash cycle. Clothes are so badly tangled during the wash cycle that it is hard to describe the wrinkled mess that has to go into the dryer.
Dryer issues: Very loud. Very wobbly and unstable, and yes, it has been leveled 3 times. Bed linens have to be separated at least 3 times during the drying cycles because they twist and wad up into big, wet knots of cloth. Infuriating!!! Dry time is very long unless you wish to cook your clothes. So disappointed in this product. Total rubbish!!

Absolutely the worst washer I have ever had. I have read some of the other reviews, wish I was smarter and checked this out before spending my hard earned money to buy this washer. My washer also is rusting at the top where the bleach goes. I never close the lid when not in use my basement is dry AND I never use bleach??? My clothes come out they are a tangled up mess. When I go to hang them they are partly dry.
It isn't as though I stuff the washer NEVER put more than 8 shirts in at a time yet they all come out with dry streaks like that part of the clothing never even got wet. We all know what happens when you leave a tissue in your pocket and it goes through the washer... Well not with this washer the tissue sometimes came out as dry as it went in. HORRIBLE product. I want the old agitator/I SET THE WATER LEVEL type back. It takes forever to get laundry done. They should take these OFF the market and give us poor consumers some cash back.

At first you think wow Maytag. Have heard was the best washer. WRONG. Clothes come out dry in spots. Not washing like it should. Whoever came up with this water saver and no agitator was crazy. Clothes don't get washed properly. Give me an old school washer to where my clothes get clean. When you have to wash clothes twice makes your power bill soar through the roof. NOT GOOD MAYTAG. NOT GOOD AT ALL.

We have had washer/dryer Bravo Series and been nothing but horror stories. Washer bounces all over room to point hoses come out and flooded my laundry room and foyer and garage. It takes over 1hour 45 minutes to do loads sheets which is 2 sheets 2 pillowcases. The repair man told me that takes that long due to "MY sheets are dirty". I have been married 46 years and never heard that ever!!! The dryer is just as bad, takes over hour and half to dry sheets and towels almost 2 hours to dry. DO NOT BUY MAYTAG ANYTHING. The person who said needed hurricane straps to hold washer is something I agree with. Just a horror.

It has never failed me and I can't remember when we purchased it. When I grew up, my Mother only used Maytag Washer and Dryer. When I married (almost 50 years ago), I purchased a Maytag Washer and Dryer and have never regretted it.

I bought the Maytag Bravos X, last year. The silver color and glass top fooled me into thinking this was better quality than it is. This washer is very easy to go out of balance. I had to open the top (easy) and install/glue a little styrofoam, to limit the amount the tub could travel. Second unresolvable problem is how to wash anything larger than ONE outfit. If you watch the videos, and read the information, this washer is supposed to flip your clothes so what's on top makes it to the bottom for agitation. Ha! Absolutely BS. Unless you wash a very small load single level. The clothes in a TYPICAL size load will sit exactly as you loaded it.the only attention the top layer of clothes is only sprayed with water, no agitation. Hope you don't have kids. Doesn't XL mean extra large? It sure does, you can wash one pair of extra large pants, and or one extra large shirt.

Purchased a Maytag front loader and matching dryer in Sears and have had nothing but problems with both since the beginning. Now that the warranty has run out we have even more problems and doing laundry has become stressful. Big lemons. Wish I had kept my Kenmore units. Now looking into reviews for other brands, may go back to the Kenmore brand too. NOTHING can be as bad as Maytag.

Bought this washer and dryer 3 1/2 years ago mainly because of Maytag name and reputation. They were very expensive to purchase. The washer is a piece of junk 3 1/2 years old used for my wife and I and leaks oil all over the floor. Called repair man to come and look at it, wasn't here 5 minutes said transmission is shot. Cost over $400 to have it repaired. We are junking it and that will be the last Maytag product I ever own.

I just bought my first home and after well over 20 years of apartment living and not having my own washer & dryer I was so excited to finally be able to buy one! I decided on the Maytag/Bravos and even spent the extra $100 for the glass top. The "high efficiency" machine was delivered on August 8, 2016. My kids are grown so it's just me; I do one load a week give or take. A week or so ago, I noticed the washer was taking an inordinate amount of time to go from "sensing" to "washing" and even longer to get into the "washing" cycle. This past weekend, it didn't work at all. Just sat for hours with the "sensing" and "washing" lights on, without actually "washing" the clothes. The machine was packed loosely with the correct amount of High Efficiency Detergent in the proper place.
I called the #Sears store I purchased the appliance from (Braintree Ma.) and they said there was nothing they could do as it was past 30 days, gave me their "customer solutions" number which is basically a call center with people who I could barely hear and/or understand. They in turn gave me more phone numbers which seemed to me to be in the same call center. I want to return the 4 month old washing machine that doesn't work and I want my money back. I've filed a report with the Massachusetts Attorney General Consumer Affairs Department. I will NEVER AGAIN shop at #Sears and I will NEVER AGAIN purchase a #Maytag appliance. I am beyond disappointed in #Sears and #Maytag, both names that used to mean quality and customer service. And if there's a class action lawsuit to be filed, please count me in.

This review is pretty simple, if you have kids, do not buy this washer! I just went to the local wholesale guy after almost 8 months of using this POS, and spent $200 on a older agitator machine, after the first load my 7 year old close came clean of dirt! There is literally no water and the motion of the drum, it is almost impossible for this machine to clean clothes. I really am surprised that no one has started a class action. And to anyone saying the are hog farmers and work outside and get dirty? I would love to see it first hand. I am going to post on YouTube and show what this machine really does. Think about this before you buy, We all get hooked on how big it is, thinking you can do 4 loads at once, but trust me the low water thing is real! How do you clean clothes with no water! You will regret this purchase. And I am a Maytager for life! So disappointing.

I have done absolutely nothing to this dryer except keep the lint screen clean. Have had it for 15 years. Keeps on tickin'. It is used daily. Sometimes 3-4 times a day. The outside looks rough. But who cares. I bought a new lg washer with great looks and had it just a year and 2 weeks. Had to spend another $200 on it. Still doesn't work right. I'm Maytag all the way!!! It is a simple dryer. But it is a workhorse. It was a gift from my mother and have so much appreciated it. It has been an amazing piece of equipment. From now on I will only look for the maytag brand for whatever appliance I purchase.

We have owned a Maytag Commercial Centennial washer for 4 years and made the mistake of not buying an extended warranty as we thought Maytag was dependable and a reputable company and thought the manufacturer's 10 year limited warranty would cover us. Washer would not spin clothes properly, started making loud noises, lid would not always unlock as time went on, and finally it broke and soaked my tile and it ran through my wall into my hall carpet. Called Maytag and was told we didn't have a 10 year limited parts warranty 6 times (we still have the book that says we do), they offered us a 1 year full warranty for $320.00. We purchased the warranty 11/04/16, Called Maytag as no one knew where the parts were and was told service plan is through AIG. AIG couldn't tell us where the parts were either and when I asked for our refund and we just buy a new washer they advised me they would have to prorate it.
Now I feel held hostage. Parts finally come in and Maytag Certified repair man comes to repair machine on 11/30/16, only to be told they could not fix our washer as the screws and transmission rotted and fused to tub. Call Maytag as this should be under my warranty and everyone insists I don't have a warranty. Filed complaint 11/30/16, they sent me a survey on 12/2/16 and I filed my complaint again on the survey. No call from Maytag. Call back on 12/06/16 to be told the survey was them closing my complaint. Now they escalate my complaint and will be called in 48 hours and give me an email address to email my pictures of my warranty. Surprise no call back, so I called them again 12/08/16 and I am advised it takes 3-5 business days. Ask for supervisor and he told me even if I have warranty they will only cover the basket.
I will have to pay for technician, and other parts. Still no info on my complaint and you can't talk to anyone just have to wait. I emailed Jeff Fettig CEO of Whirlpool (Whirlpool owns Maytag) as well on 12/6/16 a copy of my complaint with pictures of warranty. The bottom line is Maytag sells junk and their customer service is worse than their product. After being without a washing machine since 11/04/16 we will be buying something Whirlpool does not own which is very limited which is why they can get away with making junk.

It just keeps going. Still looks great. We have had our Maytag Neptune analog dryer for over 20 years. It has dried a usual 3 loads a day, with very little maintenance. We have replaced the motor, blower, and support rollers, but these are parts that were just wear and tear items, after years of extraordinary use. It has outlasted 3 or 4 washing machines.

I moved into an apartment home in June 2016. My apartment was furnished with all new appliances. The washer & dryer were purchased in May 2016. I live alone so on average I do 1 load of laundry per week. In November I noticed paint peeling on the inside of the dryer drum. Each time I use the dryer more paint peels. I contacted Maytag because I figured the dryer was still under some type of warranty. They sent out a technician only to tell me this was a "cosmetic" problem and cosmetic problems are not covered under the 10 year warranty. I would need an authorization code from Maytag "if" it was covered under warranty.
Again, I contacted Maytag and now they want to send another technician for a second opinion. I don't feel this is "cosmetic" because the dryer is only 6 months old and already the paint is peeling. I feel this is a product defect because this type of problem shouldn't happen on a new appliance. I have scheduled an appointment for a second opinion and if he says it's "cosmetic" then I have to pay out of pocket for the repairs to fix the problem. I thought Maytag stood by their product and customer satisfaction was a top priority. I guess I was wrong.

I've tried all manner of washing clothes, especially dark ones. Different cycles, different detergents and amounts, but it always leaves scum marks in folded places. I have to either brush off what I can, and/or rinse the clothing in a sink and then rewash the clothing without detergent. In an attempt to save water, I end up using two or three times the amount.

I was all too excited to FINALLY own a new set! I conducted research and read reviews. We decided on the Maytag Bravo XL set (Lowe's) and was thrilled! For the first 6 months. They were both fantastic! 6 months later, several times the clothes washed were soaking wet as if they had been set on "soak". It continuously alerted to "clean" after 3 loads. The dryer... Well, evidently, if you live in a high-humidity region, DO NOT HOOK TO THE WATER LINE FOR THE STEAM OPTION. It will soak your dry clothes! After 3 loads of drying, it fails to re-start for the 4th load for at least 12 hours! When paying over $1,590 for a new set, this should not be an issue. Mind you, I do laundry once a week - 5 to 7 loads including linen. Fortunately, we paid an additional $200 for the warranty at Lowe's.
Let's see what happens there!

I have had it since 2011 and still works as good as it did back then. I love it. Hope it helps people decide when they go shopping for a dryer. I have a dog so I have to keep her clean so I wash a lot of her bedding and she sheds a lot. She also sleeps on the with me so that other bedding that I put for her on my bed between her clothes and mine which I do separate. The dryer works a lot and it is still going strong.

Works like a Dream!! My dryer is an older model Maytag and it works wondrous. I have tried the newer energy efficient kinds and I feel like they dont dry well or make my clothes smell clean. My older maytag works fast, efficiently and I love how my clothes feel fluffed and smell fantastic!

My disappointment with this washer (Bravos xl) is that it smells moldy and musty no matter what I do. I clean with affresh when light comes on, leave the top open, etc. I have tried cleaning it with baking soda and vinegar poured down the detergent opening. Water does not drain from the bleach or softener openings. I have resorted to using baking soda in every single wash and adding an extra rinse to keep my clothes from smelling. The laundry room always smells. I would go back to an agitator in a heart beat if this hadn't been so expensive. DO NOT BUY THIS MACHINE.

My family purchased a New Maytag Washer and dryer about 1 1/2 years ago! Thinking that the name was far more Superior than anything we could afford! What a piece of junk! The washer is nothing but flashing codes! Unlevel this and always stopping and starting over with a wash, when in fact it doesn't shake and bounce itself into the middle of the floor! As best as I can describe, it literally needs Hurricane straps to hold it down! You can never wash a full load because it can't handle it! Now! Onto the pathetic dryer! Several weeks after they were installed was the first scenario with the dryer! We had a representative that does work for Maytag warranty to come and work on it, after telling me over the phone that if in fact the "lint trap" had lint in it, that I would have to pay the service call! Funny!!
So after diagnosis he said the belt broke that runs the exhaust fan! He said it was fixed and went on his merry way! Several months down the road! Same routine! Broken belt that runs the exhaust fan! And once again several more months down the road! Guess what!!! Yep!! Broken belt that runs the exhaust fan!!! So now here we are! I am now into the extended warranty that I purchased from the furniture store which was almost an additional $250.00! And voila!!! It's broken again! So being the fed up person that knows what the answer is going to be, I take the front off the dryer like I have seen done so many times before!!! And what to my surprise do I find?? Another Broken Belt!!! So I am wondering!! Why so many broken belts!
So I take my flashlight and look at the motor and housing that holds the exhaust fan and I notice that in fact the housing that holds the exhaust fan is BROKEN! Therefore, this is the cause for so many broken belts!!! Well, who should be responsible??? I contacted the extended warranty people! What a waste of time! After setting an appointment for Sears to come work on the dryer and after explaining on several Recorded Phone conversations what has taken place! The service man comes to my home and not even 1 minute after entering tells me that he can't work on it because I have "self diagnosed " my dryer! What was the purpose in me explaining to them beforehand what I found??? Why didn't they mention then that I should not have taken it apart or hey put the front back on!!!
Now after causing a ruckus with the furniture company that I have spent well over $50000 with!! They want to supply me with a 1 time Customer Courtesy!!! Of repairing the dryer!!! Oh did I mention that I am a Professional Diesel Mechanic for a major Trucking Company that is far more capable of diagnosing something like this than evidently the person they sent the first 3 times!! NEVER AND I REPEAT, NEVER BUY ANYTHING MAYTAG!!!

Never dies, never have had to have it serviced. House burned down is reason why it died. So I rebuilt, bought another one, then moved took it with me, then left it with my daughter and moved to Mexico. The dryer is still working to date and this all happened over 10 years ago. I sooo want another one. Best brand period. I only buy Maytag as they last. Unfortunately I do not have one now as they were unavailable in this country so bought something different. I was told the machine I have currently was as good as a maytag - they lied. I recently found out they have them now, so when I can afford one again, I will purchase one.

We bought the Maytag set of dryer and washer just over 5 years ago with ex. war. The dryer now doesn't heat up but the drum does turn. To fix it would cost about $500 maybe more and the parts may only last a few months. I believe that dryer should last longer when only used about once a week. I am now looking at Speed Queen. Cost more but am told they last longer.

Maytag Bravo Washer and Dryer - We are usually review writers. I just felt it was our duty to help others save their hard-earned dollars and not purchase this product. We have owned this expensive and highly researched set for a bit over 2 years. We have had to have repairmen out a half dozen times for dryer repairs. The washer was purchased with the largest tub because I wanted to be able to wash a full load of sheets or a blanket. NOT!!! It gets off balanced, twists every single item (as in blue jeans, towels, soft t-shirts, etc...any weight or size) into a huge mess and has actually ruined some of my clothing. The dryer gives me error messages all the time.
I am beyond words with my disappointment. We saved a long time for this set and now are absolutely stuck for a long time before we can replace. You know Maytag my message to you is that hard-working people used to trust your company name. I have been married 43 years and we keep our purchases for many years. I have never in all these years been so disappointed in the huge purchase we made thinking it was a lifetime investment. Now I am doing everything I can to save this year so maybe can replace it down the road as soon as we can. I am telling you people reading this... DO NOT BUY THIS SET. IT IS A TOTAL WASTE OF YOUR HARD EARNED MONEY.

Maytag Bravos XL washer and dryer. Best washer and dryer I have ever owned. I have owned about every major brand and these are by far the best. My husband is a hog farmer and the washer does a great job. I will always purchase Maytag appliances.

ConsumerAffairs Research Team
The ConsumerAffairs Research Team believes everyone deserves to make smart decisions. We aim to provide readers with the most up-to-date information available about today's consumer products and services.
Maytag has been inside American homes for over 100 years and continues to provide innovative technology and great customer service.  The company is especially famous for its Maytag Man, a symbol of the company's dependability and dedication to service. Maytag continues to build success, with nearly five billion dollars in revenue generated in 2014. Their washers and dryers are available as top loading or front loading and can be configured to fit your laundry room's space. Maytag's innovative technology ensures your clothes get just the right amount of clean and just the right amount of dry, all while saving you time and money.
Energy Star qualified: All of Maytag's washers and dryers are Energy Star qualified, meaning they are energy efficient and will save you money compared with a machine that is not Energy Star qualified.
Size capacity: All of the front loading and top loading models range from medium to extra large capacities, so you can buy one that works best for you based on the size of your average laundry load.
Quiet: Maytag washers and dryers are quiet, so you can put them anywhere in your house, including closets and near bedrooms, without worrying about noise.
Advanced Moisture Sensing: Maytag's Advanced Moisture Sensing makes sure every article of clothing gets dry, from socks to towels. The sensor strips located inside the dryer measure moisture levels around the fabric of the clothes in the dryer. At the same time, inlet sensors determine air temperatures to stop the load at the appropriate time.
Best for Value hunters, families, individuals and customers who want a dependable brand.
Compare Washers and Dryers
Maytag Washers & Dryers Company Profile
Company Name:

Maytag Washers & Dryers

Year Founded:

1893

Address:

553 Benson Rd.

City:

Benton Harbor

State/Province:

MI

Postal Code:

49022

Country:

United States

Website:

http://www.maytag.com/