Consumer Complaints and Reviews

We like the Maytag as we had one of these for 25 years before this one. So I guess with no breakdowns it does not owe us anything. This new one is much noisier but they tell us all the machines are this way now unless you buy a expensive one.

The washer is not cleaning the laundry. It's a HE my butt. It's been looked at and "fixed" numerous times. It sits too long and it doesn't really agitate the laundry at all. Laundry is in the exact position when you loaded it when it's done. It's the worst washer ever! I can clean the laundry better in the sink!

This Maytag Neptune is great at first but as you use it a lot it starts leaking from the seal of the door and it doesn't wash as well. It also doesn't let you change the settings after a while of use either. It is not a brand I would recommend because it doesn't stand up to a lot of use and doesn't last very long.

We have had this washer and dryer set for 5 years now and have never had a problem. The washer is top-load and does not have a central agitator but works like a front load - very easy of clothes and cleans well. The dryer has automatic shut-off when clothes are dry and also a wrinkle resist feature. And, due to the steam feature, we also use the dryer to refresh coats, pillows or anything else.

I absolutely love this Maytag Bravos XL washing machine... I bought this machine before doing any research because of a sale and then after reading multitudes of reviews... positive and negative... I thought I had made a mistake. The absolutely most important thing with this machine is to load it properly and select the proper wash cycles. You must stack your clothes around the outside of the drum leaving the center open. You must use HE detergent. This is a Commercial grade washer and is meant to be loaded. The twisting and wringing of clothes is because of the high speed nature of the spin cycle (commercial). If you have never been to a public laundromat then you should try it and see what those machines do to your clothes. I too was apprehensive about the water levels at first... So I stood there for an entire cycle multiple time and on diff settings.
The machine is constantly adding water as needed and each time after about 10 min... no matter the size load I put in. The clothes eventually were covered by water. Have had no issues with clothes that come out dry in spots. I suspect this is due to improper loading. Again my info on using this machine... loading techniques etc.. all came from positive reviewers stressing the importance of these key factors. This machine was not designed or intended for light or delicate use. So if you do a lot of those type loads perhaps this machine is not for you. As for the loudness and banging I have read about I have not experienced that. I have read reviews that the problem in some case ended up being metal or plastic drip pans used under the machine. Mine sits on concrete. Anyway hope this helps someone out.
How do I know I can trust these reviews about Maytag Washers & Dryers?
692,550 reviews on ConsumerAffairs are verified.
We require contact information to ensure our reviewers are real.
We use intelligent software that helps us maintain the integrity of reviews.
Our moderators read all reviews to verify quality and helpfulness.
For more information about reviews on ConsumerAffairs.com please visit our FAQ.

I have used Maytag washer and dryer for over 20 yrs. I recently replaced the set we purchased in 1988 because the washer broke down but I have never had a great problem with it either. I do an average of 3 loads of laundry a week. I measure my detergents, mostly wash on warm or cold and I keep the filters and machines clean. I would buy the same maker should I need to replace them.

I love the way it can really handle large loads. The dryer is the best though. It actually dries your load without you having to turn it on more. There are many different choices that handle drying. So, no more "to the bone" drying.

Maytag Bravos top load washing machine - This is the worst washing machine I have ever used. Like some of the other complaints it leaves lint on your clothing. It does not put enough water in the machine. The so called smart technology that senses your load does a terrible job. Your clothing is halfway out of the water, with dry spots, even after 10 minutes of agitation. I am constantly adding 3 to 5 gallons of water to my loads to get things in the water. And if I want to let thing soak for a while you have to unplug the machine, because after 10 minutes it will automatically drain the water out. 2 years of dissatisfaction. I can't wait for it to die. I should have come to this site first. Never buy a machine without an agitator!

WORST MACHINE EVER! Besides the soap scum Maytag Bravos XL Washer leaves on all of our jeans and my husband's work pants, the machine decides when it wants to work and when it does not want to work. We've had repairmen over, we have called the 800 numbers, just like all of the other reviews on here. I've readjusted clothes in that thing more than I've done laundry in my life!!! I HATE this machine. I've memorized the manual from reading it so many times, have the correct detergents, tried washing large loads, small loads, lined up the clothes around the outside so the middle thingie is not covered, thrown clothes loosely in there. Every way possible. The machine senses, starts filling, then just stops. Today, no matter what I do with the load in there, it will NOT run, it keeps shutting itself down and I do not even know what else to do. NEVER EVER EVER buy this machine! We will never own another Maytag EVER.

We've only had the machines for about a year, but so far they operate perfectly. However, the washing machine seems to take much longer to operate than my prior machine and is much noisier. But, the cleanliness of our clothes is great!

My mother always said Maytags were the best but I never bought a washer and dryer until about 5 years ago and both are the worst appliances I have ever owned. The washer has rust all over the bleach container and smells to high heaven and I clean it with Affresh all the time. The dryer doesn't dry well and the washer doesn't wash well. I am trashing both and buying some new ones.

This machine may save water but I spend more time and money getting out the severe wrinkles it creates. I use my dryer and iron much more than with my previous washer. I never thought a new washer would make wash day more difficult.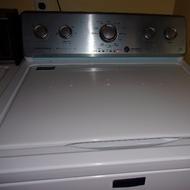 I have been washing clothes in different washers for almost 4 decades and never had a terrible washer until now. It has total control of the water level and it NEVER has enough water added. I have to add at least 2 full dish pans of water to every load. My washer does not allow you to pick your level because it does it automatically and no there's way to bypass this problem. It moans and groans for almost an hour in slow motion at its best. It should be illegal to sell such crap!
If the intent was to save energy it fails when it runs twice as long as other washers. The instructions that are in the lid say that when you set it on deep water wash that it does not sense automatically-LIES! This lid must be generically made for other washers that they have because again, you cannot choose a water level. When a washer runs for almost an hour (this is not soak or extra rinse either) it is not saving energy over those that run for half that length of time. I wish I had returned it, but I listen to others who say that this is how washers are now. I still owe 150.00 on it and hate writing that check.

I love the front loading machines. Fabrics don't get beat up like they do with a top loading machine with an agitator. My Maytag front loader doesn't have as many bells and whistles as others, but I love it nonetheless. Reliability was very important to me when I bought it, so I talked to a couple repair men to see if this was one they worked on a lot. When I found out they didn't, I bought it.

Fifteen months after purchase, the lid lock and motherboard goes off. It was replaced with new parts and the machine still doesn't work. Cost of repair is equal to the cost of the machine. With or without an extended warranty, the expense is not worth the investment. While shopping to replace the machine, the dealer finished my sentences on Maytag washers.

I have a new HE (high efficiency) washer. It takes getting used to as it's a definite change from the old agitating system but I think I like it. It doesn't make much in the way of suds but everything still comes out really clean. The wash cycle is much longer than my old washer but it uses a lot less water.

My Neptune has been a great washing machine. I did have to change the door gasket twice and just recently changed the bearings. My machine sounded like a jet engine. I ordered the parts on eBay, watched a YouTube video, and fixed my Neptune washing machine. It's still working and runs quietly.

I am absolutely disgusted with this Maytag Bravos XL washer. Have owned it 6 months and can't wait to get rid of it. We live on a farm and have cattle. If jeans go in the machine with mud on them, they will come out with mud on them. I have tried soak, deep water wash, power wash. Nothing works. I might as well put a wash tub in my back yard and wash by hand. Anything black must be washed by itself as it will come out covered in lint. How did this machine ever go on the market? Expensive mistake. Please do not buy this machine.

I "just" got the washer 2 days ago! It's horrible! What type of quality assurance dept are running? Or is there even a QA team?? I put a big load and selected Hot & Power wash. There was hardly any water. It was cold. The detergent nor softener never dispensed. This is the worst washer ever!!!

Purchased this machine (Maytag Bravo Washer) in May, 2015. Drive motor blew Jan, 2017. 18 mo. old. 10 year parts warranty and a tag on the machine that reads MCT (Maytag commercial Technology), which leads the consumer to believe this heavy duty machine. I called the warranty number, as I had properly registered the machine on the day of install. Said he would have a new drive motor out to me in 7 to 10 weeks. Yes. WEEKS. Really? I advised the operator that 3 parts stores in my area had the part available, and asked if there wasn't something we could do. He said no they are back ordered. How is it that Maytag can't get their own parts. I purchased the motor for 118.00 and my clothes are now washing again. NICE job Maytag. I suggest finding another company to buy your appliance from. Promises made are not promises kept. DO NOT PURCHASE THIS MACHINE.

Maytag washing machine is the loudest machine I've ever heard. It doesn't wash the clothes well leaves spots. We had a new barrel put in and it still walks across the floor. The water level doesn't come up high enough, makes grinding noises and it takes forever for the wash to be done. How can you say it's an energy saver if it goes on for an hour or so. Very dissatisfied and pissed off.

We bought a Bravos washer 13 months ago and it's been problem after problem. We had 6 service calls and the problems continue. From bearings being replaced to sensors to error codes, and now the washer drips water. This is the worst washer I ever owned.

My Maytag 2000 has ripped our clothes. This is my 1st front loading set. I looked on the internet and it seems that this is a known problem. Very upset that a brand that I had for 30 years and recommended to others as well has turned into a terrible company. I'm a single mom and I'm not in a position to replace a washer every year. I trusted Maytag! A recall and either replacement of the parts, or delivery of new part to fix the problem should have been put in place. I wrote to Maytag to see if they will do something to fix this problem.
I have the set, washer shakes a lot, but works well. Washer also always has a lot of water left on the door seals folds, terrible design... I will post on other sites to warn other customers. This is not OK, my clothes are destroyed. See pictures. Clothes got trapped in a gap that exists in the perimeter of the opening, where it meets the door. Why is there a gap at all???

Almost two years after purchasing the Maytag Bravo XL, I am fed up. I have the exact same problems as everyone else in these reviews. Soap scum left on dark clothes since day 1. I thought maybe I was doing something wrong. I have read and re-read the manual especially the troubleshooting guide and still have the same thing happen. It's very frustrating. I constantly have to re-rinse clothes because of soap, lint, dirt, etc left on clothes. I wouldn't give away this washer to anyone, I would rather burn it. I am currently looking for a new washer, the last one I had for 11 years was a front loading Whirlpool. I should have stuck with a Whirlpool, I still have the matching dryer no problems at all.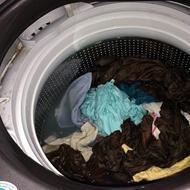 Bravos XL Washer and Dryer (Maytag) is the worst appliance set ever. Not enough water in the bin, residue despite using the correct detergent, and clothes which do not even get fully wet during the wash cycle. I am so sorry I purchased this pair - I do like the heavy duty spin, and the dryer does dry (but the door clasp has somehow come loose and stopped working - has to be wiggled into place every time I close the door). The really frustrating part is the low water levels (and even 'bulky' is less than a half a bin of water. I am attaching a photo with two sets of sheets, a towel and three wash cloths). Most cycles only put about two inches of water in the bin - appalling. And the long long long cycles - what is energy-saving about having to do a load twice and using more than an hour for one cycle? I wish I could adjust the water levels. Seriously disappointed in this duo. Sorry I wasted my hard-earned money on it. I was seduced by a pretty exterior.

This is the WORST washing machine I have ever had. You cannot control how much water goes into the machine and the clothes being washed are not even covered by water. They stick out above the water at least a few inches!!! How can anything get clean if no water is touching it! I even add water into the machine at the beginning with jugs of water just to cover the clothes... the machine automatically gets rid of that extra water and when the wash cycle comes on again the clothes are not submerged!
I paid A LOT of money for this awful machine and Maytag needs to do something about it! And, yes there is a sticky gummy substance on all the dark clothes! I even put clothes in the washer with a dirt spot on it purposely and the spot is always there when the wash is done. Nothing gets clean! DO NOT BUY this machine... you will be very sorry!!!

My grandmother got a Maytag Bravos XL MVWB755 washer and from day 1 she had to call Maytag with issues due to residue left on the clothes. They told her to not use this setting... buy this detergent... only use cold water etc. Never did they offer a repair guy to come out. A year passes still having issues she's out of warranty. They now offer a repair guy but claim they're going to charge her $90. Once she explains to them that she was never offered a repair guy & they should've done this before. They decided to waive this fee and send a repair guy.
Once the technician comes out to the house they do absolutely nothing and they fill it up with water say we need to clean it and I'll come back out and do another diagnostic. When they come back all they do is fill it up with water get a glass check the water and say, "Nope, no floating residue. Everything's fine." They then tell her she needs to get a water softener which is going to be hundreds of dollars.
The technician also says do not use any other settings except for these two. Can someone please explain to me why they have all these dang buttons and settings if we're not supposed to be using any of them and why all of the clothes come out with soap residue scummy residue all over them? The old washer never did this. It was a Kenmore and it's the same water same everything but this Maytag washer is been nothing but problems. It leaves the residue which is stripped all over dark and white clothes, it is extremely loud, not all the clothes even get wet! Maytag is been extremely uncooperative with assisting my Nana. They tell her no one else not one other person is having this problem but when I look up this issue I find that about 2500 people on this forum are having very similar problems.
Something has to be done. Maytag should have to take responsibility for this washer. The bottom line is it supposed to be an XL. When my grandparents are washing it's only for two people. They're not even filling that washer up of all of the clothes are not even getting wet. It just goes to show you that the energy-efficiency that they claim is not working. The washer's not getting enough water inside of it. It's not fully rinsing the clothes and no one should have to put the clothes in wash them then do a whole another rinse cycle just to get the dang soap off. So basically at this point she stuck having to do multiple washes using way more utilities than she should have to and Maytag is basically going to do nothing. It won't help her over the phone the technician is a joke and it looks like so many of you people are having the same issues.

Maytag BRAVOS XL Washer - The worst washer I have ever used. Do not buy! It does not use enough water and leaves a white scummy residue on dark clothes. You have to wash them all off in warm water and then send it through one or two more rinses to get it washed off. I may as well do laundry by hand! Absolutely disgusting!

This happens to be a commercial one - I don't know why; the landlord bought it. It will not do just 1 or 2 items. I would need this for when I have a very muddy towel from the dog & don't want to put anything else in with it; or with a newly purchased item that I want to wash by itself. It gets stuck on the wash cycle & will not continue. Then I have an item(s) that is soaking wet, which I don't want to put into the dryer. And in the winter, I can't put it outside. I did an online chat about this & was told not to just put one or 2 items in the washer. What??? I'm 68 years old; have been doing wash for well over 50 years & have NEVER had this problem. I don't know if this applies to all Maytags since this is the only one I've ever had, but I would definitely not recommend this product!!!

All I can say is what a mistake. Had a front loader that always smelled and had mold around rubber gasket in door. So, wanted a top loader this time after old GE died. Unbelievable, not enough water to clean clothing. Clothing comes out with some dry spots. And the worse thing is washing black items, tiny particles on black pants, shirts, etc. Think is lint not soap but not sure. You have to rub all over the clothing to try and remove. This washer is 8 months old and I have cleaned it with baking soda and vinegar mixture thinking this would help, it doesn't. The spin cycle sounds like a rocket ship taking off. Lots of banging noises during operation also.
I have invested a lot of money thinking Maytag is rated high. It is a pretty grey color with glass top. Well I was fooled, not only the saying looks aren't everything for people but it's true for washing machines. I have gotten multiple mail from co. wanting me to get extended warranty. Think I will, usually don't, cause I think it won't be reliable. Wish I had my washer from the 70's and 80's. Plain old wringer that got things clean. Just put black pants in dryer on very low heat taken out damp cause I don't dry a lot of my clothing. This seems to have helped to remove stains (soap)/ lint. but, talk about wrinkles, oh boy, this machine has that spin cycle going 100 miles a minute. And if you pick a lower spin speed things come out wet. I actually can say I hate this Maytag Bravo. Things don't come out clean, wrinkles beyond control, very loud. Please folks check out your sites on the internet before buying Maytag.
Compare Washers and Dryers
Maytag Washers & Dryers Company Profile
Company Name:

Maytag Washers & Dryers

Year Founded:

1893

Address:

553 Benson Rd.

City:

Benton Harbor

State/Province:

MI

Postal Code:

49022

Country:

United States

Website:

http://www.maytag.com/