Consumer Complaints and Reviews

I bought this washer (Maytag HE) almost a year ago, and if I could redo my choice, I would not choose this machine. There is no separate spin cycle. Often items are left with quite a bit of water in at the end of the wash cycle (often literally dripping as you transfer to the dryer), and you can't just rearrange them in the washer and then spin again. The only option on the washer is to both rinse and spin, which almost never helps get out more water. So you then have a heavy load in the dryer, much longer dryer time, and higher utility bills to get some loads dry, especially bath towels, sheets, jeans, etc. The washer is large capacity, but if you fill it more than 1/2 to 2/3 full (depending on the heaviness of your items) the spin cycle definitely will not get nearly enough water out of the clothes. The lid on the washer is SLOPED!
The most ridiculous design I have ever seen for a washer, everything you set on top, even for a moment - laundry detergent, folded clothes, wet clothes - ends up on the floor. And the lack of agitator means at the end of the cycle, some loads that contain a sheet or any large flat item (tablecloth, etc.) the rest of the items are captured below the larger flat item that is over them like a mushroom cap. You can't tell how long the items have been like that in the washer, but it's hard to imagine they are getting properly cleaned and rinsed. You absolutely cannot use powder stain removers, especially OxiClean, unless you are using the oxi cycle (much longer than regular cycle) because with any other cycle you will have white cloudy patches on all your clothes and items where the powder dissolved in the water but did not rinse out. You have to manually scrub them out, as putting these items through another wash cycle does not remove all the spots.

I purchased these appliances on 02-10-16 from Home Depot in Loganville Ga., for almost $2000.00. I filed the first repair call less than 3 weeks after delivery. The sensor panel was "bad" and had to be replaced. Now 8 months later the washer is not starting, AGAIN. The dryer will only dry one load a day or you get the AF code. This means that the dryer cannot push air over 5' or so and we need to have a vent booster fan (an additional $200.00) installed plus have an electrician run a new outlet. I returned to Home Depot with my complaint. Feeling that I have an inferior product, they tried to get Maytag to make it right. Maytag refused to offer any solutions whatsoever. Home Depot refunded a little over $300.00 for my inconvenience.
The washer is an absolute ill-conceived piece of junk. It is ROUGH on clothing and does not remove soap. I started out with brand new (expensive) towels when I purchased this machine and 8 months later all of the hems have been snatched off and they're unraveling and falling apart and are slowly becoming car wash towels.
You cannot wash delicates in this machine and allow it to spin. Underwires in bras are badly misshaped or broken completely. You cannot wear them afterwards without being gouged by bent wires. The only way around this is to take away the spin cycle, but you better be ready with a clean garbage can to haul the dripping clothes elsewhere and hung up to drip dry. The washer has NEVER removed all of the soap from bed sheets. I have a dark gray set that show the soap best. Now I have to wash once with soap then wash again with no soap. This negates the machines being "efficient".
Unfortunately, I found the negative reviews AFTER buying the machine. My complaints are well known to Maytag, seeing has to how the same complaints are found online as far back as 8 years ago. I have been brand loyal for 30+ years to Whirlpool and thought that I was moving up with a Maytag, based on my parents' 50 year experience... I was wrong! I will never purchase another Maytag product nor Whirlpool since Whirlpool now owns Maytag. I have researched and am of the opinion that Speed Queen is a far better product and plan to junk this set and replace them with Speed Queen.

Bravo Series Washer and Dryer. I hate, hate, hate this washer and dryer. I have had it for 2 years and hate it more every day. What makes is worse is the over $2,000 spent to buy this piece of crap technology. The engineer should be fired and sham on Maytag for selling such a piece of crap. Washer does not get clothes clean and I have pictures to prove the amount of dirt and lint and soap left on clothes and bedding. Very poor design, and worse yet absolutely horrible engineering.
To wash one item on delicate takes 47 minutes. No way around it and you are limited to the water temperature you want to use and the spin cycle that you want for that item. Water level is too low no matter what setting you use. I have read and reread and gone step by step according to instructions with no success of clothes coming out clean. Clothes are also twisted and knotted and wrinkled like no other machine I have used in over 50 years. The washer is very limited in what it allows you to do. Bedding cycle is a joke that does not work at all. One of the reasons I bought this was so that I would no longer have to take the time to drive to a laundromat. I washed a comforter and so much soap and lint and dirt was left on the comforter. I still had to take it to the laundromat to get it clean.
Dryer is just as bad. Even with the energy saver off it still takes 1 hour and 20 minutes to dry 4 towels that are 5 years old. I can't imagine how long it would take to dry brand new fluffy towels. It was engineered to sense when ONE piece of clothing is dry. I want ALL my clothes dry, not one piece and the machine shut off. How stupid is that??? Engineers - design it so it senses when clothes are still damp and the machine keeps running!!! I can only use the time dry setting because no other setting even comes close to getting the clothes dry.
To top off the hatred of this machine some damn engineer apparently thought this was a car and needed to be aerodynamic with a curved lid on both washer and dryer so you cannot put anything on top of the machine!!! Not every house is 5,000 square feet with plenty of room and storage!!! They want to force you to buy the drawers to put underneath and then the washer becomes too tall for short people to reach down into to get the clothes out. There is not one positive thing I can say about the washer and on top of it I will never purchase another item from the store I bought this set from. I have had service come out time and time again and they say it is an installation problem. Installation says it is service and yet no one will admit it is just a very poorly designed machine. Do not buy this brand or series of washer and dryers. This series deserves a minus and the company should replace every set sold!!!

For families where people work in gardens, work on vehicles and get just plain dirty doing things anywhere outdoors these agitator-less machines are not for you or me. I've had mine for two years and I truly dislike it (Model MVWC425BW1). With different products I scrub dirt and grease stains on pants before they are put into the washer, scrub again when they come out of the wash and then scrub and wash again a few more times but I cannot get all the dirt out. I now work more on laundry and harder since I got this machine.
This agitator-less machine is designed for people who don't get really dirty - just remove everyday perspiration and household grime. I think this machine was designed by engineers who have never done daily laundry for any length of time and theoretically thought it would clean really dirty clothes. They were really wrong! Having done laundry for 50 years, I now know that an agitator cleans better. It would be nice if other women and I, who have done laundry for years, could be on focus groups about developing new washing machines.

As with most other owners I am dissatisfied with the cleaning action of the machine. I suspect, that in an attempt to garner "green" bonus points, the engineers have tweaked the cleaning water amount to the absolute minimum that may do the job and lengthened the wash cycle to the point that laundry for two average adults is an all day affair. Only get a decent washing job if you make very small loads. If you put a set of king cotton sheet in the machine, you will find that the machine manipulates them into the shape of your compact spare tire, and when you take them out... you will find many sections where the water did not reach... bone dry! Reload, rewash, ground hog day with each load. Can't wait for it to throw a bearing so I can get something else.
How do I know I can trust these reviews about Maytag Washers & Dryers?
608,728 reviews on ConsumerAffairs are verified.
We require contact information to ensure our reviewers are real.
We use intelligent software that helps us maintain the integrity of reviews.
Our moderators read all reviews to verify quality and helpfulness.
For more information about reviews on ConsumerAffairs.com please visit our FAQ.

I've read a few reviews and would have to agree. This is the worse washer I have ever purchased. I agree clothes go in dirty and come out dirty. I have to hand wash clothes to get them clean and won't even mention how long it takes a white t shirt to start looking like it was placed in mud vs being placed in a washer. Called Maytag and they said I was loading it wrong even though I was loading it as suggested by the manual. Then they suggested it needed service. I think not after reading these reviews.
The irony is that I had called for service on a front loader due to prolonged washing cycles, the repairman was as useful as this MayTag washer. Come to find out I replaced a perfectly functioning washer, intake screen on cold water needed to be cleaned, for this piece of useless metal. I guess since reading that Maytag doesn't value its customers by offering some type of consideration I will replace this piece of crap. Please don't buy the Bravo series. You will be sorry and you will never have whites white again.

Please do not buy a Maytag washer top loader. It does not get enough water and it does not clean your clothes. It is the noisiest cheapest made machine out there. If you have kids you really need to bypass this one. I have had this for 10 months and it's only me. Please especially if you have children stay away from it. I'm the most unhappiest camper Maytag ever had.

I bought the Bravo XL HP Washer and Dryer in 2014. Dryer is great but the washer just after having it 1 yr started making awful noises. Had a repair man come which cost me money and was told the bearing went out and I needed a new one. He said it would cost over 700.00. I didn't fix it as I could buy a new one for that price. I did that. I hate the washer. It doesn't get the clothes clean and the cycles are long. My clothes don't feel or look as good. I have to leave the top open or it smells awful. So, I got the new washer 1 yr after the other one in 2015. It is now 2016 and it is making noises. Theses washers need to be recalled and we should be able to get a different one or our money back. Please, do something about these washers as a lot of us are stuck with them.

2 years ago I purchased a Maytag Washer & Gas Dryer. Unfortunately, I did not invest or believe in extended warranties. I believe in trying to buy quality products. The door on the washer would not open and 2 error codes were displayed. I was trying to add another piece of laundry and the washer had just started. I canceled the load, waited for the door lock light to go out, but the door would not open. The error codes began displaying E3 and F5. I immediately went to the Maytag website for a resolution. The suggestions did not work and was instructed to obtain service if they did not. I called for a service call for $35, but was told that the repair would be over $300 for parts and that was not including labor. The parts I needed were a control panel and a part for the door lock.
This was not a Maytag Company service tech and he told me that this happens because the parts are plastic. Currently, besides a Maytag Washer & Dryer I have a microwave, stove, and dishwasher that are also Maytag. When I replace these appliances, I WILL NEVER BUY ANOTHER MAYTAG PRODUCT. I expect the quality and life of an appliance to be more than 2 years, without buying an extended warranty. When I told a friend what had happened with my Maytag Washer, she told me that she had a Maytag Washer broke down with a control panel problem, and she couldn't remember the other part. She informed me that her repair was over $500.

Does not clean properly! Water level is too low for clothes to move around properly. This appears to be a very poorly engineered product. We have had Maytag products for many years. The only good thing I can say about this product is that it beats a scrub board. Would not recommend Maytag product to anyone. Looking at other complaints it appears that Maytag is doing nothing about this. Will try to sell this at a yard sale and hope no one asks my opinion. Then go buy something that works.

Low water level resulting in poor cleaning. Very poor design. Requires 2 rinses so the water savings of the wash cycle is a joke! I'm very disappointed with the so-called "Maytag quality". If doing very very small or handwash loads it work somewhat ok! Would never buy Maytag again!!

I bought a new top loader Maytag washer and dryer on 1/1/16. My first experience with the washer was as many in has stated - "It Doesn't Clean, the clothes", also I have trouble with the fact that is there is a string loose, it become worst. Why did they improve a product that did not need improving. They just made it worst. It is totally **. I'm stuck with it as I cannot afford another washer. The dryer work fine.

Purchased Maytag Bravo High Capacity Top Loader Washer in 2011. Purchased at Lowe's. They were great. I did not get the product warranty. Wish I did. At first seemed great. Washed comforters and clothes come clean. It does always get off balance and takes a while to wash the clothes. Well I am on my 4th time having it repaired. Put over 400 into it. Now it is leaking. Going to cost another 300 to fix. Only going on 6 yrs old so done. Just ordered a new washer LG Top Loader with warranty praying I have better luck with this washer. Just wanted let you know I had no luck really. Thought Maytag was a better product. Sad to say not for me???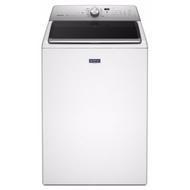 Washer was delivered Feb 2016. (First one delivered Jan 2016 with damage.) Home Depot HEAVILY promoted this model - we paid $600+. This washer has NEVER thoroughly cleaned clothes & now does not drain completely!!! There's always lines of dirt left on clothes - you can see dirt clearly on dark clothes. Washer does NOT fill with enough water to thoroughly wet clothes! (Even on the bedding, extra dirty settings!) Clothes smell clean because the detergent was not washed or rinsed out. Washer does not agitate, turn over or rotate clothes... It gently "shakes" the tub side-to-side (like a mild earthquake does the ground) which does NOT move clothes around.
Home Depot salesman said it "strongly rocks clothes turning them around and under". It does not do that! You have to stop washer and PHYSICALLY move clothes from center and turn them around so bottom of pile gets wet (Now I understand why this model has a see-through lid!!!) This model is supposed to pre-wash 'sense' the load amount by shaking the tub side-to-side to gauge how much water is need - FALSE ADVERTISING! I put gallons of water in two loads (same bulk & weight of clothes) to see if more water would be used on the heavier load - results: the same amount of water was used on both loads. Now (Oct 2016) the washer is not draining completely and going back to 'wash' instead of rinse, drain! Maytag Corporation just says they'll send a repair person out but this is a SMALL town & the repair shops they'll use here are sketchy!
This Washer is a huge waste of money just to own laundry status tone bells & non-usable settings. It's probably in violation of OSHA health/safety codes because if there are chemicals, feces (sorry, but where's there's kids...), blood, diseases (if you visit anyone in a hospital), etc on the clothes... Those things are NOT being washed out of the clothes, so you're being infected by touching improperly washed clothes. WHY is there not a RECALL for this appliance? There are many, many people having the SAME problems as us. This is our first HE top-loader and I wish I could afford to get rid of this & buy a washer with an agitator... But alas, we still owe $300 on this worthless (albeit fancy-looking) appliance. :( Maytag XL HE top load Washer MVWB835DW (Does NOT clean clothes!)

This machine is the worst! I purchased this Maytag washer 2 years ago and the machine leaks from the left side bottom. I called Maytag and they said I need one of the techs out to check the machine and the cost was going to be $115 so I agreed even though was not too happy that there is no guarantee after 2 years. The service tech arrived. He could not move the machine himself and was a little angry so my wife called a neighbor to give the tech a hand after looking at the machine.
He called if office to help him diagnose the unit and said the drum seal was bad and it would cost $315.00 so my wife agreed but at the end of the transaction my wife asked the technician, "Is it guaranteed that this would fix it?" He replied there is no guarantee but we still have to pay to try... What kind of diagnostic is this, I'm very unhappy with this company. 1st the machine sucks after 2 years to start leaking and 2nd their service dept. sucks also... stay away from Maytag.

Very disappointed with Maytag Bravos XL, four year old unit with bearings going out. Quoted $400 + for repair. With two in the house, wash demands are normal. Quality is questionable to have bearings & seal going out in four years. Also you cannot buy the bolt which holds the Washer Motor Rotor Cover on without buying the whole $130 assembly. Daughter has Whirlpool brand with same problem. Seems to me this is a problem Maytag/Whirlpool should address. My old unit (that I wish I still had), worked for 25 years. Would not recommend these machines.

I bought a every expensive Maytag Neptune (washer and dryer one unit) and it is now sitting in the carport. The washer broke and I had to have service people come to my house continuously. Over a period of 6 months I had to pay for 3 motor control boards plus service calls. That's when I had I moved to the carport. In 2012 I bought a Whirlpool Duet washer and dryer so I would be able to stack them. I had to put them at Sears because I had to use layaway. I paid for them over 12 weeks and had to use a laundromat during that time. Last week I got a F01 E02 error code which means "replace motor control board". These boards cost over $300 each not counting the cost to install it.
I did talk to Sears since the washer was only bought 4 years ago. They were nice to me but could do anything for me. Truly sad when a washer only lasts 4 years for the amount of money I had to pay to purchase it. I don't know what I going to do now since I am now retired but I WILL NEVER BUY A WHIRLPOOL OR MAYTAG AGAIN.

Bought this washer back in March of 2016. This is the biggest piece of garbage that I ever came across! That washer does not clean clothes, when they are dirty. If I stand in the rain dressed in dirty clothes, they get cleaner than in the washing machine. In 5 month I have tried every possible variation of washing to no avail. I have to handwash the clothes that I wear to work in the garden, or any other dirty job, because the washing machine does not do the job! I bought that washer at ABC warehouse, I paid almost $400 for the thing, and I have to handwash my dirty clothes!!! Shame on you!!!

We used to own a Neptune Model. After always leaving the door opened and following the recommended monthly cleaning and many extra cleanings with diluted bleach and water, we could not get the smell out. We paid for a new seal, Advice from Washing Machine Repair service even though we paid a lot for an extended warranty. We had to pay for this ourselves. We also had our year to year maintenance. Because we could not fix the issue, nor would MAYTAG, we donated the set to donated it to Salvation Army.
We decided to give MAYTAG another chance, so we purchased a brand new FRONT-LOAD WASHER and DRYER in 2014. As I would repeat the same regiment, I would notice little black specks, so I would clean it an extra time with Afresh. I have continued to this date, repeating the same regiment of keeping my washer clean and serviced as we should, I now have the whole tray dispenser spotted with LARGE black goo that smells. So I have continued to clean my Washer.
After returning home from the Cleveland Clinic, I was ready to do our laundry from the trip, more black goo and smell coming from my Maytag front-load washer. My sister had stayed with my 86 year old mother and had wash a load of towels while we were gone. She left the door opened also as she was instructed many times, and that is how we found it. So I took the dispenser tray out as usual and bleached it and scrubbed it. As I did this I noticed bigger areas of goo. I looked in the dispenser housing and OMG it was covered with black mold. I am appalled that our $900.00 Washing Machine is like this. This IS BLACK MOLD, There is no way to remove this mold. I have the sides and bottom cleaned with bleach, BUT I cannot get into the multiple crevices.
I called Maytag and I was initially told by a Maytag Customer Service Person said that it sounds like BLACK MOLD and MAYTAG COULD DO NOTHING! I asked to speak with a supervisor. At first she seemed a little put off, but as we talked she became more pleasant, I offered to send pictures or a video of the WASHER WITH THE BLACK MOLD and she said no. She told me to pour bleach into each dispensing compartment and the drum. Then run a wash with no clothes on all HOT WATER 2 times, then rinse 2 times and this should get rid of it and to also leave the dispenser drawer open a crack as well as the door after each wash.
The Supervisor said ok and thanked her for her help. Then she said good luck and thanks for calling MAYTAG. I've did and already do everything our Washer manual says to do on cleaning and maintenance of my expensive Maytag Washer and dryer. The manual says nothing about leaving the dispenser drawer open a little so it dries. The bottom of the housing looks great from doing this, along with me scrubbing it until 5:00 am with diluted bleach water. However, in the MANY SEAMS, CREVICES, THE SCHUTE AND POSSIBLY THROUGHOUT THE WASHING MACHINE IS BLACK MOLD that we cannot access without disassembling the machine and voiding our extended warranty.
MOLD GROWS RAPIDLY and causes many illness. I already have an ongoing illness since childhood, I take care of my 86 year old mother, my husband just finished cancer treatment in January. We certainly do not need any other health issues. I called my local Appliance repair company and they said that they normally do not handle anything like this, but if my husband couldn't take the outside of the machine off then the top I could pay for a repair person to come out to take it apart then call and have them come back to put it back, pay them again to reassemble our Washer.
I believe Whirlpool in its purchase of Maytag has taken a Monkey on its back. Maytag will do nothing, why should they? They already have their money from when we purchased our machines along with money from many other consumers who also have ongoing issues with their WHIRLPOOL/MAYTAG Front-Load washing machines. It is undignified and deceitful how they treat their consumers with such disregard when we have filled their pockets by being loyal customers.
Word of mouth is good or bad advertisement for any company. Everyone who has unresolved issues of any kind can write a formal complaint to the CEO and President of Whirlpool/Maytag. The address is on the internet. Shame on Whirlpool/Maytag for taking many consumers hard earned money, when apparently some of Whirlpool/Maytag's money is ill gained by developing and manufacturing a consumer product that causes black mold and marketing it to sell to us, the consumer. THIS IS A SERIOUS ISSUE WHIRLPOOL/MAYTAG. OWN UP!!! My advertisement begins today!!!

Maytag Bravo XL -Model MVWB88OBWO. Washer quit after 13 months of light use. Repairman came, $148.00, worked on just a few setting for 4 loads. It has a bad controller and some other part. Total cost of repair, if I was stupid enough to make it, $650.00. Guess what's going to the trash. I guess that kind of negates the ECO-FRIENDLY, huh? I will NEVER own another Maytag appliance.

I'm have finally given up and purchased a replacement for my Maytag Bravos XL Top Loading High Efficiency Washer! The Maytag was 2 years old and I have ALWAYS had trouble with it. My towels became sour after 1 or 2 uses (sometimes they smell sour even before use!). My dark clothes ALWAYS came out of the wash LOADED with lint. I researched online to determine whether these were common problems and found several sites with suggestions such as: don't use more than 1-2 spoons full of high efficiency detergent (which recommendation I followed), Use white vinegar or liquid fabric softener. (I tried both with only minimal results.)
ALSO use a dryer sheet in the dryer (I did this but it seemed like a waste since I was already using fabric softener in the washer). Don't overload the washer. (I didn't, but if I couldn't fill it, then why did I buy a washer with such a large tub ?!) Clean the washer monthly. (I faithfully did so, and tried alternating Affresh and bleach to see if there's any difference in the result... not really. Make sure you are fully drying the towels (I ALWAYS DID!).
We had a Sears repair technician come to the house the last time my frustration level was overflowing and she only made me feel like an idiot, repeating some of the above recommendations and insisting they would solve the problem -- which, if they had worked, would have precluded my need to call a repair technician!!! The repair technician provided no other service or ideas to fix the problems. My husband decided we should go back to the tried and true agitator-type washer... bye-bye, Maytag Bravos.

This machine (Top-Loading High Efficiency MVWB755DWO) does not clean, it only leaves soap and moldy residue on clothes. The Whirlpool company refuses to assist even though it was delivered less than a year ago. So much for warranties! Wrinkles clothes, wrings incorrectly and does not give you freedom to manage independent of technological controls.

I bought this washer brand new in 2011 for $650. I had bought a Maytag washer before in 1967 and it was still running in 1995 when I gave it away. Considering my first Maytag lasted me nearly 30 years (Last I heard the machine was still running in 2005), I never thought my new Maytag would give me any problems, until it was at least 10 years old. (I did know Maytag had been bought by Whirlpool but didn't expect any difference in quality). Boy, was I wrong! After using it for a month the machine broke down and it had to have the clutch and gear box replaced. Last week July 2016 the machine broke down again. It was the internal computer (referred to as the electric control unit) a printed circuit board that retails for approximately $300 (A ridiculous price given that much more complicated laptop and tablet computers today can be brought for $100, the circuit board should retail for no more than $40).
With labor the repair bill came to $550, which was nearly as much as a new machine and did not justify the cost. Supposedly the electric control is susceptible to current surges and power outages. Given that this is the case, it makes no sense whatsoever that a machine billed as eco-friendly would carry a part that will doom it to the junk pile because of a power surge or outage and does not carry a surge protector. After learning of my experience Maytag called me the next day and offered to sell me a new Maytag at a discount price, which of course I flat-out refused.
I would never ever again own a Maytag appliance or one made by its new owner (as of 2005) Whirlpool. With such susceptible electric units these appliances will sooner or later result in electric fires that will end the life of its owners. The US govt needs to protect US citizens from these predatory companies that make over-prized, throwaway products labeled as eco-friendly that are potentially dangerous. My advice for anyone that is thinking of buying a Whirlpool or Maytag washer don't do it. For those that already own these machines do not run them without a heavy duty surge protectors. It is not worth your life.

Back a couple years ago, Dec. 29, 1983, I purchased a Maytag washer, model A209, and a Maytag Dryer, model DG110. I'm still using them daily. The washer has given NO problems, other than the brake has taken to squealing. This causes nothing more than a notice that the load is done, so no repair is necessary. The dryer has proven more problematic, as I have had to replace the ignitor three times, the blower fan twice, and the motor (and belt) once. I still think I have gotten my money's worth.

Two years ago I bought a matched set of Maytag Neptune washer and dryer. Although I bought really liked the front loading and large capacity, I bought them because they were Maytags. I remember my parents grumbling that they couldn't afford a decent washer or dryer like Maytag and had to settle for Kenmore or some other brand that they figured was inferior. I noticed that they "struggled" through 20-25 years of maintenance free use of their inferior appliances. So when I found a pair of Maytag, I thought I had finally arrived. I was 60 years old and I knew this would be the last washer and dryer I would ever have to buy.
It is now 2 years later and we developed dryer problems. The repairman found the computer malfunctioning and suggested it would be cheaper to replace than to repair. We asked him to check the washer while he was here and his diagnosis was similar. The drum bearings were gone and probably too expensive to repair. The Maytags are now in some scrap yard and I now have an "inferior" washer and dryer and I am looking forward to many years of maintenance free "struggles." I used to think that "Maytag repairmen are the loneliest people" because their machines were reliable. I now know that they are lonely because all of the "Maytags are garbage and not worth fixing."

We purchased a washer and dryer, spent in the neighborhood of 1000.00 hard earned $$... extended warranty, the whole enchilada. Maytag. dependable, lonely repair man, ha.. that is just so much stuff. Well anyway it was a Centennial set. What junk. Never really worked that well to begin with. I trashed them both after exhausting all avenues to make it right. Well I got the hair to report the mess to consumer affairs and see if they are what they claim to be. This is more of a warning to all consumers.
The stuff you consume today isn't worth the money you pay for it. The money isn't worth the time you spent to earn it. I am gonna try to find a old washer and rebuild it, and a dryer as well. Or just use solar. Best to keep the old stuff repaired and running. I don't know how many people I have spoken to about this problem. Our infrastructure is crumbling. A consumer based economy. Only there is not anyone to service the products we consume... pitiful. I guess my wife will be out back with a tub and washboard before it is all said and done... she will not like it, I guarantee that. I could not even begin to repair the washer. It was a computer operated board that did not work correctly from the beginning. The dude came out from the repair shop and fixed it while still under warranty. It died a slow painful death shortly after that. I disassembled it with a screwdriver and now have potatoes growing in the tub.
The dryer has not met the same fate yet. It just sits there, anticipating the moment when I remove it and dissect it with a Sawzall. And I guarantee that day is coming. Do not buy anything from Maytag or its subsidiaries, think long term. We have become a bic lighter economy. I have been on the forefront of that movement. I did not realize it at the time. I do now. and for that I am sorry. I always expect something to work when I need it and if it doesn't, I try to repair it. Cannot fix this stuff now. The support we used to take for granted has been outsourced as well as the production of the product. Bob Dylan said it best in the song "union sundown"... Thank you and e pluribus unum.

This is the WORSE POS I have ever owned/used/etc.... our clothes are dirty, w/ a scummy film, really bad in most cases. Some have weird stain appear that weren't there. Electric & water bills up. Have to always use deep water wash, double rinse. My clothes are wet when I put them in due to "sensor" fill (extra weight), also a zillion mesh bags. Clothes are getting trashed, faded so bad & smell bad. Having to use a cleansing product monthly, in one aspect, should encourage the engineers that signed off on this POS to change careers. Maytag customer service says "no complaints have been filed!!!" Horse **!!! $ 800.00, trashed, unclean, wrinkled "to the point of almost needing to iron all your clothes". I have been going to the laundromat. Engineers should have been FORCED to use this machine at least 2 months.... good reviews my **.

I am 86 years old and have happily owned Maytag washers for many years. I just recently purchased the front loading model for ease of access. After using it for sometime, I could not be more disappointed. The clothes come out smelly, stained and gray. I tried using affresh washer cleaner on hot setting and the tablet did not even dissolve. There is black mold growing and must be cleaned constantly. I am so sad that my favorite company has let us down. I cannot afford to buy another washer so I am stuck with this lemon!

We purchased a set of Maytag appliances (our third set) in February. We noticed that lint was being spewed in front of our and our neighbors front doors and throughout the landscaping. We live in a condominium and share our front area with 8 other units. We had our vent cleaned out twice and are still having the same issue. We have had at least 4-5 dryers in the past and have never had this issue before. We finally contacted Maytag and requested service. Gary from Brandt's Appliance came out and checked it out and after taking apart the housing found the screen left a gap and that lint was getting past the screen. He brought in a new screen and tried that and it did the same thing, left a gap. So he said he would order a new housing and see if that would solve the problem.
There are 8 other units that share our front area, all with dryer vents that don't spew out lint. Gary returned today and checked the new housing with the screen and the same issue was present, a gap where lint would get by. He went to his truck and made a call to Maytag for further instructions. They gave him a file number (**) to give me and said there was nothing else they could do. I then called customer service and talked to three people and explained the issue three times and each one stated there was nothing wrong with lint being spewed out of the vent.
Now, we have never had this issue before and have owned Maytag dryers in the past. Gary even stated he did not feel this was normal, but was told by tech support that it was. We feel also this is not normal and also is a fire hazard by letting lint gather in the duct unnecessarily. It is also a constant eye sore to us and our neighbors. Since lints blows out, it lands not just at the front doors but in landscaping where it is difficult to remove. After my final chat with Tanya #**, she said there was nothing to be done that it was buyers remorse!! Nowhere in the Maytag manual/guide that came with the dryer does it state the it is normal to have lint come out of the exhaust hood. In fact in the manual it says not to use it if the screen is loose.
I asked Tanya if I could talk with next person up the chain and she said she was it, so that is why I'm contacting you. This is just unacceptable for a company as large as yours not to resolve an issue as important as this. This is truly a design flaw and we are left holding the bag because your team says there is nothing wrong. So we and our neighbors are suffering because of it. We would like a quick resolution because it not fair to litter up our common areas with lint. This is a hardship because we are limiting the use of the dryer and cannot pick up all the lint off the landscaping. We will be happy to exchange this dryer with a different model with a different lint trap design.

I purchased a Maytag washer and dryer three years ago. They both were taken to recycling and I received eleven dollars for both of them. They were both horrible. The transmission went out on the washer. The repairman said not worth fixing since it would cost $600.00 to repair. He said Maytag appliances are being outsourced and are not what they used to be. Even before the transmission went out it took forever to wash and the clothes smelled when I took them out of the washer. The dryer quit heating a few days after the washer went out. The repairman said it wouldn't be worth repairing it either. I will never buy another Maytag!!

ConsumerAffairs Research Team
The ConsumerAffairs Research Team believes everyone deserves to make smart decisions. We aim to provide readers with the most up-to-date information available about today's consumer products and services.
Maytag has been inside American homes for over 100 years and continues to provide innovative technology and great customer service.  The company is especially famous for its Maytag Man, a symbol of the company's dependability and dedication to service. Maytag continues to build success, with nearly five billion dollars in revenue generated in 2014. Their washers and dryers are available as top loading or front loading and can be configured to fit your laundry room's space. Maytag's innovative technology ensures your clothes get just the right amount of clean and just the right amount of dry, all while saving you time and money.
Energy Star qualified: All of Maytag's washers and dryers are Energy Star qualified, meaning they are energy efficient and will save you money compared with a machine that is not Energy Star qualified.
Size capacity: All of the front loading and top loading models range from medium to extra large capacities, so you can buy one that works best for you based on the size of your average laundry load.
Quiet: Maytag washers and dryers are quiet, so you can put them anywhere in your house, including closets and near bedrooms, without worrying about noise.
Advanced Moisture Sensing: Maytag's Advanced Moisture Sensing makes sure every article of clothing gets dry, from socks to towels. The sensor strips located inside the dryer measure moisture levels around the fabric of the clothes in the dryer. At the same time, inlet sensors determine air temperatures to stop the load at the appropriate time.
Best for Value hunters, families, individuals and customers who want a dependable brand.
Compare Washers and Dryers
Maytag Washers & Dryers Company Profile
Company Name:

Maytag Washers & Dryers

Year Founded:

1893

Address:

553 Benson Rd.

City:

Benton Harbor

State/Province:

MI

Postal Code:

49022

Country:

United States

Website:

http://www.maytag.com/