Frigidaire Washers, Dryers
Consumer Reviews and Complaints

Two words... STAY AWAY!!! We purchased a front loader Frigidaire Affinity washing machine about 5 years ago and it has to be the worst ever. From the very beginning it has been nothing but a disaster! The front door does not seal properly so it constantly leaks. We had a repairman come out and fix it twice and it continues to do the same thing. Next we had an issue with the tub filling up with water and not draining, so my husband decided to clean out the filter and look at the pump, now my husband is pretty handy and holy ** what a mess. It took hours and we literally had to take the whole machine apart!!! This has happened numerous times. This last time we thought it would be the same draining issue, so we took the whole machine apart again and it was not that. Apparently it's the locking device on door, which cost me $100 to fix. I will NEVER purchase another Frigidaire product again!!!

In 2001 my wife and I bought a Frigidaire Stackable Washer/Dryer Combination (FLLG63911QW). It served us well for almost 16 years. When it died we thought we would buy another one because we had been very happy with the one we had. So six months ago we did. Big mistake. First of all we didn't realize that some genius had determined that it didn't need an agitator and it would work better if you put everything in first and then the machine locked the top and made a decision as to how much water was needed. It puts in just enough water to almost get the clothes wet. In order to add additional water you have to change the cycle that you chose and then it will add additional water. However, this requires that you stay around the machine and wait for the water from one cycle to stop before you can switch it to the next cycle. Also without the agitator the clothes just kind of get sloshed around and they really don't get clean.
To make matters worse, it stopped working so we called Frigidaire because it stopped working. It took 3 days to get a repairman and when he did show up he was able to determine that it needed a part. Now here's the fun part. Rather than just being able to go pick up the part it has to be ordered and can take from 7 to 10 days. Then once the part arrives we have to wait until the repairman to come back to fix it. I asked him what had happened and he told me the water fill valve had gone bad. He also added that it was a very bad design which made it difficult to replace. I called Frigidaire and they basically said "Tough **". Whatever you do, if you are looking for a washer dryer combination make sure it has an agitator and make sure it is not a Frigidaire.

While my ATF8000FS2 washing machine has worked well for 6 years, now the drain pump or control board went bad, with an error code of E23. I checked on how to clean the drain pump and it's ridiculous. What moron thought it was acceptable to have the end user have to pry open the top and front face (and all the steps involved with that) and then remove a boot which is a nightmare to put back on, let alone all the other pieces involved? Really, you think people will tip over the machine and access the small porthole to do this? My next machine will be anything but a Frigidaire/Electrolux with easy serviceability.

I purchased a Frigidaire FAFW3001LW2 Front Loading washer in 2013. I have had it repaired once under warranty and 5 times under an extended service contract - all for the same issue. No warm water wash. Only cold. For a time, the Hot water setting worked, but never the warm. Now, not even the hot water setting works. The machine stinks to high heaven, even though I always dry the gasket and leave the door open. It is disgusting. The mfg will do nothing because it is out of warranty.
The retailer has offered to repair it one more time under the service contract, but I am unconvinced that it is reparable. The retailer also offered to sell me a new machine at their cost - but I am not inclined to purchase another Frigidaire. However, if I decide to purchase another front loader that is a different brand, I will have to pay for the pedestal as well (an additional $180). While I am grateful that the retailer is at least willing to do something, I have zero confidence in Frigidaire appliances.

Had purchased my first stackable set by Frigidaire 15 years ago. They were very faithful. When the washer gave out I went to my home town shop owner to purchase a new set. Just went in said "I'll take the upgraded set." It went all down from there, this is the most inefficient system I have used. I have ruined more clothes and it takes forever to finish a load of clothes. I should have been more informed and read the reviews first. Wish I could get rid of them now they are less a year old.
How do I know I can trust these reviews about Frigidaire?
881,173 reviews on ConsumerAffairs are verified.
We require contact information to ensure our reviewers are real.
We use intelligent software that helps us maintain the integrity of reviews.
Our moderators read all reviews to verify quality and helpfulness.
For more information about reviews on ConsumerAffairs.com please visit our FAQ.

This is typical situation that anyone like avoid (Frustration), I recommend you never buy a Frigidaire product, because they have a policy to not replace any washer and dryer, only send technician to repair, but my history start on February 2016 when I bought this product on HHGREGG Aventura (The people knows the service and they are closing now) with a worst customer services I saw on my life.
The washer never works and my calvary start with HHGREGG, Frigidaire and now with Warrantech (The insurance company from HHGREGG). After multiple visit from the follow service companies: 1- RR Appliances, 2- Expert Appliances, 3-First Class appliances, 4-Taveras and again 5-RR Appliances the washer doesn't work. All of them change the same parts 3 times without lucky. Frigidaire said, "We can't replace the unit, we should repair it." Warrantech after the year said, "The contract is for repair not to replace."
Miami-Dade said, "This is in response to your complaint regarding HHGregg. While we attempt to resolve disagreements through mediation, we cannot legally mandate resolutions between disagreeing parties. The objective of mediation is to encourage informal solutions to consumer complaints. We offer this process as a public service but must rely on the voluntary cooperation of the business as well as the consumer to resolve disputes. In this case, mediation of your dispute resulted in NO AGREEMENT. I have attached a copy of their response for your records and review. If you wish to discuss this response or require further information, please contact me at **.
You may consider proceeding to Small Claims Court where you may file a claim for an amount up to $5000, and where representation by an attorney is not required. Our website (**) provides information on how to file a small claims action and a schedule of free small claims court clinics that this department offers to the public. If you wish to consult legal counsel in Miami-Dade County, you may contact the Dade County Bar Association Attorney Referral Service at **. We thank you for providing us with the opportunity to address your concern. Your file is closed and will remain as part of the public record." I'll do a claim.

Having purchased a 2016 stackable washer and dryer, I am extremely disappointed in its performance. I was informed it required minimal water which was an environmentally efficient feature, and that it required no agitator. I was dubious about the latter feature but was assured it did not affect the cleanliness of the laundry. My laundry is worse when it comes out than when it went in. The clothes never move from the bottom of the drum and in fact compact against each other when wet. There is a large amount of white scum on the clothes which requires me to re rinse and spin every load. In addition I take a lint brush to remove what remains behind. I would not recommend purchasing this unit and will look into returning mine.

I purchased washer and dryer combo for a condo, first of all this machine(FFLG3911QW) is very noisy for small places. Water level very does not wet clothes entirely. Washes the clothes on dirty water. Machine takes on normal cycle takes about 1:20 mins. No dial to indicate what cycle you are at. Ruin clothes white stains and lint all over clothes on both washer and dryer. I thought it was my air vent clogged and paid to have it cleaned. Did not help at all same problem. Tech is coming to check out. Hopefully they find a solution if not I might be stuck with this junk.

My wife wanted a basic machine. Nothing fancy, strictly utilitarian. Controls are all manual, no electronics. Throw in the stuff to be washed, put in the detergent, turn the dial and push it in then walk away. Presto, wash all done.

My wife and I purchased a new townhouse with all new Frigidaire appliances, except the stove, we went with Samsung for a gas stove. Our problem is the front load washer, model FFFW5000QWO. I have had a technician in on 4 occasions with this product where they replaced all the circuit boards. It works for about two days and then all the settings start to fail. On normal the time changed to do a load from 47 minutes to 1:07 hours to wash it stopped allowing me to select water temp or spin speed and it stopped after about 7 minutes, not even running. Eventually, other settings like Bulky or Heavy did the same thing. Long cycles, no selection of options and shut down after 7 minutes.
Finally after the 4th failure Frigidaire agreed to replace the machine. Only thing is the replacement has the same problem and is starting to fail. So I call Frigidaire, whose parent in Canada is Electrolux, explain the situation and what do they want? A tech to come out and look at the problem. Same problem people. Geesh!!! I wanted a credit from them, and for them to take the machine and I will go back and buy a new machine. Surprise, the person in customer service can't do that, they need the technician to issue a report. Can I speak to a manager or supervisor? No that is not in their policy but wasting my time is? So I am trying to get the supplier to take it back and give me a credit. In my honest opinion and looking at the other appliances in our home, I would never recommend any Frigidaire appliances. The quality is not there and the customer service is the worst of any company I have ever dealt with.

Been doing laundry for over 60 years, beginning with helping my Mother using a wringer washer. Have never purchased a Frigidaire product before, never will again. If you are not 6' tall, then the combo w/d is not for you! I cannot reach the bottom of the tub, I think there is a bottom down there! Do they think only tall men are doing the laundry? Or that all females are now 6' and over? And yes, I have previously owned 2 other combo w/d and loved them! Maytag and GE. Stupid to buy this product and most likely going to get rid of it. Besides so darn deep in there, it does NOT do a good job of cleaning the clothes. Some water, please! But it uses power for an hour to do even a small load. How great is that! So, please, as always; buy beware.

I purchased a condo that had a new Frigidaire combo water-saving washer/dryer machine. It does not perform its basic function. For example, putting in even a single article - a bed sheet - can result in parts of the bed sheet not even getting wet. I have done everything that I can. I have had an authorized service person come and replace the controller. He assessed the unit and said that it was functioning as designed. I have even tried the "fix" of changing the cycle setting after the filling so that more water is put into the basket. However, that does not work. The problem is a poor design: the agitation is so weak (there is no agitator) that it won't even ensure that a single bed sheet gets completely wet. I have not gotten any satisfaction from the repair person. I all called the national Frigidaire service phone line and got an uninformed reply from the Frigidaire representative. So, what does one do in this case?

Horrible don't even consider it. Our clothing stinks, it gets stains on it IN the washer, the washer stinks. We have tried everything. Would wipe the rubber around the door. We have been having itching, breathing problems, constant congestion, chest issues... nothing works. Well... we decided to check the rubber ring further because nothing we tried would get the black off. We were HORRIFIED to see that the gasket is folded and much larger than we knew, and it has thick black mold all over it. We could not even scrape it off. Nothing, including bleach is affecting it. No wonder we have been sick and our clothes and washer stink. We've read reviews that Frigidaire claims they aren't aware of this which has to be a major lie.
DO NOT purchase this machine. The negative reviews are everywhere. We bought ours several years ago and have had these problems since the first few months. Major health issues which look to be directly related to this. It is disgusting for so much filth to actually be created within our washing machine. Horrible design, major major fail for Frigidaire. By the way, the machine shuts itself off so when you think it's time to switch loads you have unwashed clothing. Don't waste your money people!
Frigidaire's stance on it is "mold is not covered by warranty", "not on a recall", "there is nothing they can do about it". So they have a major design problem and they refuse to do anything about it! We've had health issues for several years and now we know why. Your clothes stink, they get discolored and you breathe mold causing health issues. You cannot possibly dry all these areas, every single place that the gasket touches the metal, plus inside all the folds of the gasket. Do NOT consider this product or you will regret it.

One day after the warranty expired the machine intermittently stopped spinning at the end of the wash cycle and the rinse/spin cycle did not spin either. It is not very energy conserving when you have to put clothes through the same cycle several times in the hopes of having them dry enough to put in the dryer. It should also be noted that the matching dryer arrived with the door switch missing and so was inoperable! Now, the washing machine no longer draw the detergent into the wash cycle, it has to be added by hand. No help from Frigidaire, of course. This was an expensive experience as I have just junked the washing machine and replaced it... not with another Frigidaire... ever!

Within the first year and then each year- almost a year to the day annually. No heat, you don't realize and then enormous hydro bills. I have nothing but trouble with this Frigidaire Affinity dryer- error code E64. Repaired under warranty 3x. Warranty states the company has a no lemon policy. Bought at the Brick in Hamilton, Ontario on Upper James. They were rude, condescending and extremely unhelpful in resolving my problem. At the last repair- a few days before the warranty expired they said the part is warranted for 30 days. Big deal each year the part goes and the estimated cost to fix it again is $600.00. My guess is that the product is made in a manner to last as long as the warranty. If I had not purchased it my repair costs would have been $600.00 within the first year. Buyer beware as the say. Don't buy this dryer and don't go to the Brick.

The new Frigidaire water saving washing machines are complete garbage, when you throw a load of clothes and there is a piece of Kleenex paper in a pocket, the machine won't ever rip the paper up like every other machine does, so if it is so "gentle" as to not even to be able to rip up a piece of paper, how well does it clean your clothes? And often times the water does not even cover the top of the clothes! This particular machine does not have a water level adjustment for the wash cycle, and only has a water level adjustment for the rinse cycle, which would explain how the clothes actually get wet, but should get wet in the wash cycle.
And this piece of crap machine is always off balance, so if you stop the machine to balance the load out on the rinse cycle, then the rinse cycle starts all over again, meaning the machine fills up with water only to become unbalanced again..... NEVER, I MEAN NEVER NEVER NEVER buy a machine that uses a thimble full of water to wash your clothes. The only cycle that uses adequate water level is the rinse cycle, so I throw my clothes in on the rinse cycle, then when the machine is full I turn it over to another cycle.... piece of crap machine, I hate it! I rent, so I can't even return the piece of junk..... never buy one, you'll be sorry, and it's so noisy you'll offend your neighbors washing clothes!!

We purchased a Frigidaire washer/dryer set 2 1/2 years ago. The dryer literally started acting up the day after the 1 year warranty was up. We looked up the code and it was a heater issue. We purchased the heater part (which was over $100) from the local store where we got the set. My husband fixed it. The appliance store guy tried to tell us that it most likely happened because our hose was too long and should be moved or shortened... Which my husband did while he was at fixing the heater. Fast forward another 6 months: Same error code and dryer getting super hot before finally just not putting out any heat. Ordered part on Amazon for around $80. Husband fixes yet again. Fast forward to 2 days ago: Dryer giving statement on pad that the door is open, but door is not open. Seals are fine, everything with door is fine.
I noticed dryer getting very hot just prior to this. Thought maybe it was a switch... It wasn't a switch. Ended up it's the dumb heater, yet again. The open door announcement was actually the same code for the heater error. We ordered another $80 heater and it will arrive tomorrow. My husband is so tired of tearing into this dryer every 3-6 months and putting all of this money into it. It is ridiculous. Of course, we didn't purchase the extended warranty. This is a real lemon and I wouldn't give this dryer to my worst enemy. The washer has been fine, the dryer is an awful piece of junk with an apparent fault that needs to be corrected before it causes a fire. I think the company should certainly be responsible for this and in the very least ashamed to put out such a bad quality product. I highly doubt we'd have any recourse.

10/13 purchase can use either mold in washer and fire hazard in dryer. Used for 1 year set sits in basement. Went back to basic washer dyer. Works great. The amount of bleach and vinegar to get mold free clothes has been exhausting. What a ripoff. Filed a complaint with companies who states the product fine. Buyers beware.

We purchased a stackable Frigidaire steam washer and dryer on September 27, 2016 and although the washer has been fine, the dryer has had issues already. After just 9 days, an error code showed up on the screen, "EFI." I could not find this code on the Frigidaire website. Fortunately, we took a service contract on these appliance. The repair person said it was not connected properly (not the fault of the appliance or company). So he reconnected it the way it should have been initially. There was no problem since then until 2 days ago - same error code showed up on the screen! Waiting until tomorrow to call again for a service call on it again. Has anyone else had a problem with their steam dryer? Does anyone know what error code EF1 is? We replaced these appliances due to a Whirlpool washer that was only six years old and had 3 major repairs done, until the repair person said it would be too costly to repair again! Help!

Purchased new model FASE7073NW 12/28/13. Now October 25, 2016 it is necessary to replace the heater element - parts and labor about half the cost of the unit when it was new. Better to keep 30-year-old reliable washers and dryers. To get less than three years use from a new dryer is inexcusable.

We have owned the Frigidaire Washer and Dryer since 2004 and they're still going strong. Only one maintenance call and that was for a knob that broke off. We may now be in the market for new ones not that ours are giving us a problem but just to get newer models with more efficiency.

I bought this washer 3 years ago. From the very start there were problems. It would not run hot water into the tub. I had a repair man come and look at it and he couldn't fix it. Then the spring broke on the lid and it would not stay open. Again I called a repair man. The spring would break a total of 3 times in the 3 years I had this machine. It being an HE machine I knew it would not use as much water but it would not run enough water to cover even cover the smallest amount of clothes in the tub. I would have to stop the machine and start over to get just enough water to just cover the items. And it was always cold water, no matter what temperature I selected. I got rid of this machine this week. I will never buy another Frigidaire again. I bought a new Maytag washer and it is such a pleasure to use. After 3 years of dealing with that piece of junk I had.

Over the years I thought it was something I was doing wrong. Should I leave the door open or closed after use. I have mold all around the door, etc. I have bought washing machine cleaners, scrubbed with a brush and scouring pad. I get stains on my clothes. I have multiple cracks and plastic pieces coming off. My Daughter sent me a text saying there was an issue with front loaders. I checked, Frigidaire is not included. When I did a search I saw several people are having problems with the same washer I have. Consumer affairs needs to look at all front loaders that are over 5+ years old as there appears a defect that was detected in all makes and models as this mold issue is not restricted to one brand.
I am so disappointed as I bought a front loader as they were to be gentler on clothes, but it is the opposite. With stains and mold. I have had it repaired more than once and now my dryer, which also has broken plastic pieces the same as the washer is needing repair. The material they used is not holding up, wonder if that contributes to the mold. Buyer beware and look at the new top loaders first!

Frigidaire Washer - Model FAHE 4044MW. We have had this machine for 3 years and we have had trouble with it the entire time. It has been leaving linty/oily stains on our clothes. We had the entire inside replaced (cost about $300) which was supposed to fix the problem. It did not. We have had a repair man to our house and on the phone with Frigidaire at least 5 times. Frigidaire has taken zero responsibility for the issue and has told us there is nothing they can do. They feel it is a "loading issue". I am so disappointed with this product - we have ruined so many clothes because of this stain/issue. More importantly, I am disappointed with Frigidaire customer service and lack of accountability. I will never purchase another Frigidaire product.

I bought a Frigidaire Model # FAFW3801LW3 on 10/05/2012. I have replaced two belts, door latch, and sensor board within the 4 year period of owning this machine. And now the belt is broke again. I have made sure the washer was level at all times. I also found out this model has been discontinued. I was so excited to get a front load washer. My clothes always smell moldy (I have used the washing machine cleaner faithfully) and I can't seem to keep the machine in working order. I am so frustrated. I called Frigidaire and the only response was to pay a service tech to come out. Why is it no one backs their products anymore?

We only had our Gallery series for a few years and started having problems with the washer where it wouldn't drain. We were constantly having to hit drain and spin 3-4 times after wash, and even that didn't work sometimes. It was about 8 yrs old when it started to rust under the laundry door. Then we had problems with the dryer. The last problem was the control panel broke and would have to be replaced. Well we figured a couple hundred so we chucked them both and purchased new LG. Our washer and dryer were only 10 years old when we got rid of them. My friend said that she has had hers close to 20 years (Not a Frigidaire) and no problems. It sucks that we had to spend about 2 grand for new ones already. Purchased from Jetson's Appliance.

Washing machine leaves tiny pinholes in all t-shirts – USING the most gentle cycle on machine, and brand new t-shirts are getting tiny pinholes in middle of shirts. Very unhappy with this machine.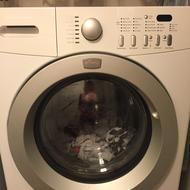 BUYERS BE AWARE!! Washing machine purchased in 2007. Over the past 5 years I have had a horrible rash on my arms, legs and back. I have see multiple doctors had biopsies and tried everything topical you can think of and NOTHING helped! Why? Because the root of the rash lay in my Frigidaire Affinity Front Load Washer and transferred to my clothes, sheets and towels! MOLD! I have a terrible allergy to mold! I Called Frigidaire and they say they know nothing about this yet. After researching I found that to be inaccurate. There are other mold reviews. BUYERS BE AWARE!! There are so many adults and children allergic to mold. I sure don't want them to go through what I have!!

Thank goodness I didn't purchase the stackable top loader machine for my home. This is the worst machine ever. Not only does it not let you choose the water level... the machine does (how I don't know) but I have clothes that have DRY spots on them. Meaning to me there was not enough water in the machine to begin with. Now let me tell you how bad it rips up your clothes and towels... NEW towels at that. The dryer is no better than the washer. No matter what you put in it you have to choose 90 min. for it to dry. I am so regretful that I didn't read these reviews before buy this disappointing combine set... even though it was for my vacation house.

Have a Affinity washer that is 10 years old and the control board broke and there is no boards being made any more. Had to get a used one off of ebay. Overall a good washer. Just should be able to get parts.

ConsumerAffairs Research Team
The ConsumerAffairs Research Team believes everyone deserves to make smart decisions. We aim to provide readers with the most up-to-date information available about today's consumer products and services.
Frigidaire has been innovating since the company invented the original self-contained refrigerator in 1918. Since then, the company has grown explosively, making a wide variety of kitchen and laundry appliances that suit nearly every household need.
Quick wash: Consumers who want real speed often choose Frigidaire, which offers the Quick Wash feature on select washers. This feature can allow for washers to completely wash clothing in only 20 minutes at full capacity.
Great owner support: Frigidaire features a dedication to the customer, and offers a wide variety of extended warranties, a toll-free customer support number and product support section on the Frigidaire website.
High-efficiency top-loaders fit more: Frigidaire's HE top-loaders allow users to fill their clothing all the way to the very top without compromising washing ability, meaning users spend less time doing laundry.
Best for People who want to wash a lot of clothes very quickly, large families and professionals.
Compare Washers and Dryers
Frigidaire Washers, Dryers Company Profile
Company Name:

Frigidaire

Year Founded:

1918

Website:

http://www.frigidaire.com/