Consumer Complaints and Reviews

We purchased a washer from Home Depot on April 20 2017, our delivery date was set for 26 then cancelled. Then the 29 a Saturday then cancelled two hours before said delivery time, then May 3 between 12 and 4. I finally called store at 5:00 pm. Was told they couldn't get hold of their delivery people but did give me a number for their delivery people, needless to say NO ONE called me at all that day. I called the next day and informed them I shouldn't have to do their job by calling all over. Got a date for washer delivery for May 6. We will see if this actually happens going on quite a long time on a washer we bought and paid for. Laundry mats are not cheap. Extra days wasted waiting and waiting for washer and waiting at laundry mats, and Home Depot does not care. Not once was a gift card for our inconvenience or a simple phone call apologizing.
I really hope I get my washer tomorrow and if not at the very least will hope someone contacts me that it's cancelled. I couldn't even fill out THEIR own survey because I WAITED too long and I still haven't gotten my item yet. This company is unbelievable, and unbelievably rude almost to the point of just absolutely poorly managed and poorly run, will never buy another appliance from them unless they make this right for us.

Just had a terrible experience with the delivery of our new washer. Paid for hook up and haul away of our old one. Guys showed up with a dishwasher at first. Then realized it and got the washer. Brought it in, left it at the bottom of the stairs and left. Didn't hook it up. Didn't take the old one. We had the old one ready to go (unhooked and pulled away from the wall). We had the new hoses there for them to hook it up as well. They left my back door wide open and I have two pets that could have easily escaped. They left my gate open as well and my dog could have got out. Absolutely terrible. Then I got on the phone and they were rude and when I told them the story they tried to blame me. Then they said, "what do you want me to do?" They said they would have to rebook someone. I told them it is very difficult to get someone to be home during the day as we all work. Their answer "Everyone does." Pathetic.

We purchased a Refrigerator and Range on 3/29/17. We were told that they could not be delivered until April 27 2017. Which we were ok with not thrilled but we really wanted them. Come April 26 we pulled both appliances out to clean and have ready for the new to arrive on the 27th. But the 27 we had not heard from anyone from there at all. So I started calling the numbers we were given to reach recordings. It stated there was no delivery time scheduled but it was to be delivered on the 27th of april.
So I called the store where we purchased it and spoke with Mike. He was not very pleasant and told me that there was no time scheduled after already telling him that. He finally was going to have the Manager check into and call back which they did to say the delivery was not going to happen till May 10th. No one had called to even communicate this. We were upset to say the least. We cancelled our order, went to appliancesmart, got the exact same thing PLUS a 5 year warranty for the same price.

Not sure how to handle this one. I ordered a $1500.00 stove from Home Depot, good deal going to be delivered in 2 days. In 2 days delivery comes, stove damaged (badly), DIDN'T ACCEPT!!! Received a call from Home Depot stating that they would call LG and see when next delivery date will be. So I waited and waited. So I went on my Home depot account looking for my order, started chatting with employee. He stated he was going to call LG, stayed on the chat for 25 minutes and the gentleman was very nice. He stated LG phones is reported to be down. He would have someone contact me the next day.
Next day Nothing, so I go by Home Depot. Can't help us since it was ordered online, give us a phone no. Call the number wait 30 minutes someone answers can't help us have to talk with someone at LG. WHAT! I said, "I didn't pay LG 1500, I paid you 1500, you are LG's customers, I am your customer." So I want a supervisor.
Finally after waiting 30 more minutes she states the same thing. Okay, "I want a refund". "Sorry can't help you there. You will have to go back to store." After almost losing my mind I told her "They said they couldn't help me." After all this she says, "Maybe we can send a part out to repair the stove..." "Lady!!! I DON'T HAVE THE STOVE. IT WAS SENT BACK. I DIDN'T ACCEPT IT!!!" "Oh, that's different. We can process your refund". OH, I say Ggreat!!!" "But it will be 15 to 20 days because we have to verify that you didn't receive the stove." REALLY, I WILL NEVER SHOP, OR TELL ANY OF MY CLIENTS TO EVER, SHOP, OR PURCHASE ANYTHING FROM THEM AGAIN!!! I'm going to blog, Instagram, whatever it takes to make sure no one else has to go through this.

Home Depot online purchase and delivery - They did let me know the 4 hour time frame when they would arrive. The last time I purchased and had delivery of a washer or dryer the delivery men carried it into my utility room and lifted it above the refrigerator which is half way to the wall and then installed it in place. This Home Depot delivery guy took one look at what he would have to do and said they would not deliver it. He suggested he leave the dryer on the porch and I hired someone to move the refrigerator out of the room and deliver and install the dryer.
I said no, that delivery and set up was part of the purchase and if he would not give the effort needed to do this then I was just going to cancel the order tell them exactly why I was canceling and try again somewhere else. My husband and I are senior citizens and can't move large appliances around anymore. Another time I had delivery of a new washer and dryer in the same house and room the delivery guys moved the refrigerator out of the room so that the appliances could be delivered. Yay for them and boo for Home Depot delivery guys.
How do I know I can trust these reviews about Home Depot?
761,264 reviews on ConsumerAffairs are verified.
We require contact information to ensure our reviewers are real.
We use intelligent software that helps us maintain the integrity of reviews.
Our moderators read all reviews to verify quality and helpfulness.
For more information about reviews on ConsumerAffairs.com please visit our FAQ.

Extremely unsatisfied with their service. We ordered a Samsung fridge, washer and dryer from Home Depot and we were given the delivery date. We were also told that we would receive a phone call the day before for delivery confirmation. We did not receive a call the day before and they did not show up the day of. My husband called Home Depot and was put on hold for 45 mins just to be told that the appliances were not in stock and we had to contact Samsung to find out what was going on. My husband went to Home Depot to speak with a representative and they were able to find out that the washer and dryer were not in stock, but the fridge was. We asked them to cancel the washer and dryer and deliver the fridge. The representative confirmed the cancellation of the washer and dryer as well as a new delivery date for the fridge.
Here we are the day before the fridge delivery date and we are being told that the washer and dryer were not cancelled. We are also being told the fridge will not be delivered tomorrow. We just moved and we have no fridge. This has been a very frustrating experience and I would advise anyone looking for appliances not to order with Home Depot. It feels as though they have washed their hands of the issue and are pointing fingers at Samsung. Not to mention we were not told about the fridge not being delivered until 7:30 in the evening and then were told we needed to contact Samsung directly. This is after Samsung working hours so we can not speak with anyone about the issue until tomorrow. I'd rather have our money back at this point.

Best Buy told us these inductive stoves were not available so we naively went to Home Depot who told us we could have it in a week so we ordered a $2600.00 stove. Was given a 1 week delivery date (sold my working stove with this in mind!) At said such date they called to tell us the stove arrived damaged!? And that we would need to wait another week. 2 weeks later we received a $2600 used!!! Stove!!! This company seriously needs to be shut down!! Please contact me with any similar stories as I hired an attorney that deals with nothing but these fraudulent chains and shuts them down!!! ** don't care that it's personal because I know that I have an active case as of 4.16.17 1:09 am.

This recent experience is now the second in a row of major appliance purchases where the delivery went so far wrong that it hardly seems possible. Weeks ago my wife and I purchased a new Samsung washer and dryer set from Home Depot, in Tacoma Washington. Our card was charged a little over $2,000.00 and a delivery date was scheduled for the following week. The following week came and delivery was hours late, and did not call in advance to say they were in route as promised, but the delivery and installation was completed.
The washer and dryer were installed opposite of the correct hookups, so the dryer vent had to travel behind the washer all the way to the vent and the washer hoses likewise traveled behind the dryer. This caused the units to be sitting way out in the laundry room and clearly was not the correct installation. After a few hours using the set it became clear there was a problem with the cycles and Home Depot suggested the easiest way to resolve the issue this new was to have them come and pick up the set and we order a second set. So we did.
The delivery of the new set was promised for Wednesday the 5th of April and the set we had was to be picked up the 4th. We were assured we would see a credit for the defective set on our card within one week of April 29th. Here is it April 11th, the original set has been picked the new set was promised to be delivered 5th of April and they were a no show, so we called Home Depot and they said Samsung failed to ship to them so they rescheduled for April 12th, and to avoid being forgotten we just called the delivery company and were told we are not on schedule for tomorrow.
So here we are still waiting for our refund of the $2140.21 that Home Depot has had since 03/23, and out the $1596.11 they have had since the 31st of March, we have no washer, no dryer and no idea of what the heck is the problem or what is the solution. We have missed 3 days of work and paid interest on our credit cards for all this money and lost over $500 in wages, not to mention we have piles and piles of dirty clothes.

I ordered a refrigerator with a ice maker. When it arrived it was broken. I called then they referred me to the manufacturer who said they would return my call. After waiting a day I called Home Depot back and was told I could not get a exchange because it had now been 3 days but they would give me a loaner fridge but I had to pick it up. After calling corp they changed their tone and decided to deliver the loaner. I asked for a refund instead of exchange. They agreed but had to pick up the fridge before they refunded me my money. I went over 2 weeks with no loaner fridge and it took them an additional week to pick the broken fridge up.
I lost almost $100 worth of food thinking I had a working fridge and I had been through a lot so I asked corp to grant me a $200 credit and I would bring my business back to Home Depot. That was approved but the branch told me I had to come to the same branch to receive it which was a lie according to corp and that branch tried again to rip me off. I went to another branch. Brought a fridge without the credit. Called to ask for a gift card in that price. They denied it, said the branch can do as they please.
I had just spent more money on this fridge than I had the 1st one so I was upset not to mention the loaner was teeny and plain. I cancelled my order because I wasn't giving my business to this company. I went to Lowe's and they took good care of me. I suggest you go to Lowe's. I lost food and time dealing with Home Depot and they were rude and did not care. Never again.

Bought a double wall oven, first time it was delivered it was damaged. Rescheduled delivery (soonest available was 4 days later), showed up a second time damaged. Had to reschedule for another 3 days later. Call customer service to complain and they seemed like they could care less. Still without an oven and have had to miss work 3 times now. Lord knows what will show up on Saturday.';-

Bought a new gas range stove from Home Depot. Product was delivered with severe damage on the bottom of the stove. I did not discover the damage until I started the installation as it had tape over it. Calling Home Depot for support is like calling the big black hole. Got zero support from them as they washed their hands off as soon as you paid for the order. Contacted Samsung, now I have to wait 6 days for product to be redelivered. Since they hauled away my working stove I have nothing to cook with. Never buy appliances from Home Depot again.

Horrible customer service! Bought a new washer & dryer and the salesperson told us that if we get a credit card there's a no hassle return. Nothing but hassle. GE has been out to try to fix the new washer several times. It's still not working! Beware... Home Depot will do nothing but refer to the manufacturer warranty. Their no hassle return doesn't apply to appliances no matter what the salesperson says. I will never buy an appliance from Home Depot again.

Horrible installation experience with Home Depot. I ordered a GE 30 inch slide in gas range and oven from Home Depot, along with installation, a gas range installation kit, and haul away of my old unit. As promised, the HD installation crew arrived about 7:45 AM (Saturday morning), they removed my old stove (I'd already disconnected and put it on their truck). They brought the new stove into my home (note, unlike some delivery services, they came right in w/dirty feet etc, no hardwood floor protection). They had already uncrated the stove, then proceeded to put the flexible gas line on the stove, and then said they could not fit the gas line to my gas shut off valve.
Mind you, this home is 1981 construction, code-conforming, and Sears had installed a gas range in exactly the same location about 8 years ago with NO problem. The installation crew abruptly halted their work. Said they had 20 installations to do today, then packed up, and said they would file an "exception report" that they could not install. They then drove off, leaving me without any stove, a new stove in the middle of my kitchen - with nothing assembled --- tags and everything still on stove, burners still in the packaging. They didn't even leave the instruction manual or the installations manual(!)... NOTHING. Just left me to figure out how to get my stove working on a Saturday morning.
I drove to the local Home Depot to ask for some help on a resolution. Two of the staff graciously tried to help, but they kept trying to come up with adapters etc. for 3 hours (!) and one of the people from plumbing finally told me I'd just have to use a 3/8-inch line. I said I couldn't, because the older line had been bigger - and I needed a 1/2 in line. I asked if that wouldn't be insufficient for the stove, and he said - it would be fine - it would work for 17,000 BTU. (I told him the main burner for the stove - alone - was 17,000 BTU and said I didn't think it would be sufficient. He said "Oh, your other burners might go down a bit if you turned them all on at once"). This was BS - so I finally just got fed up and walked out of the store.
I wasted 4 hours or more driving to the store, in the store, talking to Home Depot on the phone. Finally, at 1:30 PM, I just decided to do the installation myself, so I went to a different hardware store, bought the parts I'd need, headed home, and had the stove up and running by 2:45 PM. (1 hour and 15 minutes from leaving home for the hardware store, getting their help, bringing the parts home, and completing the installation complete with the anti-tip bracket the "installers" never put in.
I'm fed up with Home Depot, and I will be hard pressed to EVER shop there again. An installation I PAID FOR was never completed by their "installers". They left me with a mess that I'd dare say most homeowners would not know how to resolve on their own (let alone have sufficient monkey wrenches and adjustable crescents etc. to complete the installation. This was a HORRIBLE installation experience, yet the manager at the store said this happens all the time. They have many customers complain that appliances are installed or aren't properly installed...and Home Depot seems to just wash their hands of the whole issue.
They did refund the cost of the installation, but not the installation kit and I ended up spending from about 8 AM until 2:45 PM (most of it talking with their local store staff patiently trying to get a resolution to no avail). I finally lost my cool and walked out. No customer should be subjected to this treatment and this incompetence on installation. In balance, I wish I had told Home Depot to just drop off the appliance and I would have installed it myself from the beginning, but at age 63, I was treating myself by paying for the installation service. Very poor performance Home Depot.

I just got my Amana Washer and Dryer yesterday from Home Depot. Dryer works great but Washer is defective on first day received. It's brand new and defective. Tech will come in 3 days to fix it. Nonsense. I should have read reviews first. I will never buy an appliance at Home Depot because them too didn't want to take product and return. Instead they said the Vendor will have to check it out FIRST because it has guarantee. Stupid. I'm Sooo Upset I regret buying This Brand AMANA.

I ordered a new range and refrigerator from the Home Depot website on 2/15/2017 and scheduled delivery for 2/24/2017. When the refrigerator was delivered it was damaged and returned. The delivery for the new one took another 10 days, March 9 because the delivery contractor in my area only worked two days a week and was booked that long.
The day before I get a call that they will be there between 4 and 8 at night. At 7:30 I get a call that they are on their way. They never show, so about 9 PM I call the number on my cell I received the call from. The man tells me they had to reschedule. I never received a call to tell me that. He also adds that the truck is not supposed to be out past 7 PM. If that is the case why did they schedule an appointment from 4-8 and why did he call me at 7:30 and say, "He was on the way"? He also says he did not call me back because he could not make outgoing call from that phone. But he had already called me from that number as that is how I got it to call him back.
I then call Home Depot and the lady calls this delivery company and they tell her that everyone in scheduling is gone and to call back in the morning. She puts notes on the file and asks me to call back in the morning and they would call again. I do that and they call and are told the delivery vendor they use only deliver to my area on Thursdays and Fridays and the earliest they could is 3/16/2017 and she says that someone from the delivery service will call me once the figure out what happened. Still have not heard from them. I know this is not Home Depot directly delivering but it is their vendor and I bought from them so I feel they bear some of the responsibility.

Horrible appliance delivery service. Forget the whole same day delivery. First they have to order what you want and you have to wait for it to arrive, then once it arrives you have to wait to be scheduled for what's a three part service they don't tell you about. You find this out when the company that's delivery their product for them calls you up to schedule. I got a call from a company telling me when I was scheduled for my dishwasher to be delivered. Then they informed me that someone ELSE would call to schedule the actual install. Ok is my dishwasher going to sit here for a week waiting to be installed? Thankfully that company called me and said they would install it the NEXT day.
My delivery window was between 3 pm-7 pm I got a call at 5:30 from a lady in the office saying they were on their last hour of deliveries, and that they would call me 30 minutes before arrival. 8 pm rolled around and no call, no dishwasher and no one in the office of the delivery company to talk to. At 8:20 pm I get a call from the driver that they are 10 minutes away. So at this point I have waited 2 hours for a call, I have no idea what's going on and I have no one to talk to because the office is now closed. The dishwasher finally arrives at 8:30 pm. And all the driver can say is "Oh sorry, busy day." Ok I get busy days, and I would probably be a bit more understanding if I had gotten a call telling me you were running behind. Some kind of a heads up would had been nice, where I'm not spending my night wondering if it was coming at all.
Now Mind you, I also paid to have the old dishwasher hauled away. I asked the drivers, who are in a hurry to run out the door, who takes the old dishwasher? Them? or the install guy. NEITHER! Now once it's the new one is installed, I have to call Home Depot and schedule to have the old one removed. Are you kidding me? Who has time for this mess? Where I'm suppose to keep it waiting for a scheduled pick up is beyond me as well. I don't have a garage. So I guess the old one sits in my dining room like the new one is now.
This is a place best kept to buying your plants and DIY material. Anything else past that is worthless, Home Depot doesn't do the work themselves anyway. They hire 3rd and 4th party people not just for install services, but to deliver their own products as well, while pushing that cost off to the customer. Might as well save the time and money, weed out the middleman and go straight to a company that does their own work. It's been one aggravating lessoned learned call BGE home if you need appliances. Or even Sears. Need a roof or fence? or any other product installed? Call a roof or fence company. They are going to sub the work out anyway, and it doesn't save you a dime if anything it's more expensive. There is no communication of how the process works, I guess if there was not many people would be going through them if they knew.

I ordered a brand new refrigerator from Home Depot. The experience at the store was wonderful. Everyone was helpful and nice. I, like many others, were excited to own a brand new refrigerator. I cleaned my old fridge the night before to ensure no bugs were in it. I made a pathway for the delivery people to ease in and out. However, the delivery service was a nightmare.
The people that arrived complained the moment they entered my house. First, they complained about my floor and demand I clean it up. Second, they complained to their bosses about switching the door hinge. Luckily, the hinge was fine. When I told them that, they said "good." Their job is to deliver, install, make required changes, and leave. Saying "good" for refusing to do your job is not a good sign. Third, their refusal to haul my fridge away when I paid 15.00 for haul away service is unacceptable. Their excuse was "it has bugs in it." I already said it was clean in this review, so this answer was sheer laziness. I had to beg them to move it to the nearby junkyard in hopes someone will pick it up.
After all the trouble they caused, the movers had the audacity to ask me to give them a good review! I was so angry. I went back to Home Depot and retrieved my money back for haul away. Meanwhile some stranger picked up the refrigerator. If I knew that, I would have saved myself 15.00. I will not return to Home Depot to purchase appliances again, and I hope you don't either.

Doubtful this will get any response, but figured I'd try to share my recent experience with HD and their warranty program for appliances. I have an LG fridge, and after 6 months it had a problem with the ice maker. I called and made an appointment for service, and was told the tech would be out on Monday, Feb 27th. I took time off to be available for the repair person (as like most people, I don't have a house servant to do that for me). I was told someone from the repair vendor would call me to confirm, which never happened (STRIKE 1 - poor communication).
I then reached out to them directly to make sure they were coming. They indicated they cancelled the service call because they did not have an LG certified tech on staff. They said to call HD to see who was being sent out instead. I called and found out they did not schedule a replacement vendor (STRIKE 2 - they could have called to let me know they were not able to make the appointment). One of the supervisors did try to get someone out that day from LG, but they were not able to make it. (STRIKE 3- took time off for no reason.) They indicated they would reschedule and come out next day.
When I asked the supervisor about compensation for me taking time off and them missing the appointment, was told they would check. Just got a call saying they can't do anything to compensate me. So for those who are considering an appliance purchase and warranty coverage, just remember how much HD values your time. How much is a day off worth to you, and how would you feel if someone stole that from you? Very dissatisfied... HD has failed to look out for their customer in this case.

Pathetic service from Home Delivery America. That's the company Home Depot uses in NJ. I have been brought to tears by these guys. 3 installation attempts have been made already and the machine still not installed. First machine they installed was damaged. Asked to reschedule another installation, second one had a big dent when it arrived. They just took it back. Third time they come with a new machine and say that they do not have a paperwork to take away old (installed/damaged) machine. They just leave without even communicating properly. They hardly speak English. This is the worst customer service experience I have had in my life! My family is been taking off from work every time to stay home for installation for these idiots to come and then just leave without finishing the work.
The issue is still not resolved. Now I am in process getting these pathetic guys pick up the dishwasher and get my money refunded. Even that is taking hell lot longer. There are far better shops who would be able to provide awesome appliances installed with much more peace of mind. I am going to take my case to higher consumer authorities. But for people who plan to buy any big item from Home Depot, BEWARE! You'll find better companies who actually care for customers.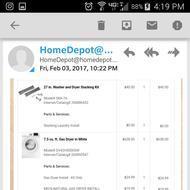 I am writing to you to express my complete dissatisfaction with your company. My wife and I have never been treated so horrible before. We placed a large appliance order online on February 5th, 2017. We ordered a Samsung front load washer and dryer. Along with the appliances we ordered a stacking kit. Delivery was scheduled for February 8th. I was able to get home from work in time to meet the delivery. The two men who came one was not able to do any type of install. The other gentleman was too heavy to fit into the room to remove our old (stacked) washer and dryer and install the new one. It was extremely embarrassing for him and for me. He had to tell me he could not fit and would not be able to complete the job today. He immediately got on the phone spoke with his manager and put us on the schedule for Friday February 10th.
I called the 800 number and confirmed we were on the schedule for the 10th and later that same night my wife called to reconfirm and also express how unhappy we were about what had happened that day. There was no concern on the other end from Home Depot not even an apology. "Yes you are on the schedule for Friday. You will receive a call Thursday. Thank you for calling Home Depot." Thursday at about 530 pm I called the 800 number again because we had not yet received a call regarding our delivery window. Once again we were told we were on the schedule but no time yet we should be getting a call around 7 that night. We received no phone call. I called AGAIN this time there was no one available to help us at all. Not that we were getting any help from anyone anyway.
I called our local store at 6am and got a direct line to the delivery service. They were even less helpful. I was told their truck went out already. It was full and they would not deliver to us. I asked about Saturday the 11th. Again, "Our truck is full we won't deliver to you. We can put you down for Tuesday February 14th". I took a day off of work to be home. The guys came on time except one rather large detail. They were here for a service call. Our stuff was not on the truck. At this point I am beyond furious. So I make yet another phone call to customer service. "We cannot attempt delivery until Friday February 17th." No you have to do better than that. Nothing was done for us. No attempt was made to help us in anyway.
A little while later I get a call from Home Depot. Now I am being told that they cannot locate our washer and dryer. We have to do a dock search and we will get back to you. No one ever called us. So at that moment you had $1398.90 of my family's money and the merchandise that you lost and we have nothing. We have since cancelled the entire order. We went the next day to JcPenney's we told them about the awful experience with Home Depot. They went above and beyond for us. We upgraded our appliances and got a better price. My wife and I will not be returning to Home Depot.

On 2/14/17 around 8:35 p.m. I went to Home Depot to buy a washer and dryer, as they were on sale. I asked for credit as I will be paying a down payment of $500. I only got a credit limit of $500 do I had to put 541.59 on it. That was bad enough but when I got to the register to pay the balance, the clerk said "I forgot to tell you, you don't qualify for the 12 month interest free financing, and you will be paying for the hookup." I asked why aren't I getting the 12 months free financing? She (Cynthia was the associate) said because I did not put the whole amount on the credit, and paid with 2 different payments. I said "how could I pay it all with credit, when I only got $500 credit and the total amount was 1041.59." She shrugged her shoulders and walked started walking away. I pointed to her and told her she will be hearing from me.
I had already paid the $541.59. The delivery was to be on 2/17/17, and when I got home, I thought about it, and thought if they were going to play dirty that way, I don't want the merchandise or the credit. I had to work nights and on 2/15 while at work, wrote to the better business bureau about them. I went back on 2/16/17 and told them I do not want their business, that they told me wrong, and took advantage of me, and that I wanted my money back and their credit card back to them. I was told that I had to get a RMA confirmation before they would give me back my $541.59 or close the credit.
It is now 2/19/17 and I have not gotten my money back. It is not my problem about an RMA as the merchandise was never delivered. I am going back to the BBB on 2/20/17 if they don't give me back my money. I am going to also call the corporate office. I am so angry that they won't give me my money, but I will keep fighting. Don't get Home Depot merchandise or credit. They are bad business and don't care about us.

Ordered stackable washer and dryer. On delivery the washer appeared to work. Dryer was very loud and sounded broken. Refused both, stating they were a pair and I would like a replacement dryer. Both were returned on delivery and a mess was left in our condo. When delivery person returned (2 weeks later) they came with just dryer and not washer. I decided to return both for refund. When I called Home Depot was told that I would be charged a 15% restocking fee. This infuriated me that I would be charged for restocking a broken item and I asked to speak with manager.
2 hours later I was called back and informed that I would not be charged restocking fee because I never accepted items but that I would have to go to local Home Depot with credit card in 3 days for refund. Just got back from Home Depot and was told that the delivery company can't locate the original washer so I have to return in 3 days to receive refund or until it is located. I'm concerned it was misplaced and this will carry on indefinitely. Never signed for anything. Not sure why I am financially responsible for their mistake while they try to locate washer.

I am so disappointed in what is happening currently with my appliance purchase. We purchased all new appliances on 1/31/17 and still have not received them. The company Home Depot contracts has failed to bring them and messed scheduling, has lied to cover their mistakes and no one, Home Depot corporate office, Home Depot delivery support or the company Ralphs Transport seems to care one way or another. Leaving me with the choice of waiting until they feel like delivering it, missing more work or canceling the order and purchasing from somewhere else and having to wait longer. This is so disgusting!
I am in the process of renovating a home we just purchased and I will be taking my business from this day forward to Lowe's or any other supply store. I understand, as do many customers mistreated by you, that you could care less if I take my, what is no doubt small purchases in your mind to another store, but that is exactly what I will be doing since Home Depot cares so little about customer satisfaction. And I will also be taking my company purchases to another place of business. As a CEO of a local company myself, I get to not only stop purchasing personally but also through my company. I will do all I can to encourage patronizing businesses other than Home Depot among all my friends and family. And I guess my and my family have to continue living without appliances until Home Depot decides to deliver the items I have already paid for!!

My 93-year-old mother was talked into opening a Home Depot credit card to buy a Maytag Washer/Dryer at the Mesa Store in AZ, #406. The washer has a loud grinding noise and shakes violently when it spins. Home Depot will do nothing about it even though they advertise that there is a 365-day return policy when you purchase using their credit card. However, they then say all washers and dryers are "special order", and they do not allow returns. All they do is refer you to Maytag, who just say that is the way these machines are, and they also doesn't stand behind their products. A total runaround and passing the buck, selling defective products and then refusing to take them back. Don't fall for their false advertising.

I've had an appliance delivery scheduled for 02/03 with the simple requirement of 9 am - 4 pm delivery which is basic for Manhattan buildings. They came after hours and were sent home. They were very rude to me and to the building staff about their lateness. I was rescheduled for 02/07 and although I called a few times to make sure they know the time allowed they came at 5:15 pm!!! Again were rude and this time the next delivery is 02/16 which is 13 days delay from my original date. I have tenants moving in on 02/10 and will be without appliances for a week!!! The company doesn't care. The manager didn't call me back after many messages. They hang up the phone on me on regular basis and this is after it takes an average of 40 minutes to get someone online. I got some people from HOME DEPOT involved but no one could get me an earlier delivery date.

Bought a Ceiling Fan for my bathroom after my old one started making noise from the motor. I found one at the store I liked. Bought it but once home I opened it and it was dirty. Clearly someone had the same model and must have swapped them. I haven't tested the one I got but I would bet it doesn't work. One part was missing too. Don't they inspect returned items? All I have to say is no matter if they swap it out for a real new one no problem the damage is done. I will add a pic of receipt and item in used condition later today.

Dead washing machine on arrival. Got the runaround. Just wanted to let people know not to buy any electrical appliances at Home Depot. Bad, bad customer service... Not buying anything else at their store. They give you the runaround. They blame Mabe, and Mabe says if they want they can change my machine. They just throw the ball back and forth. Horrible experience the stress they gave me, the running around, calling back and forth. So people watch out for whatever you buy at Home Depot. They do NOT give a ** about the customer. P.S. Meanwhile it's almost 4 weeks living in stress. Who is going to compensate me for all this?

I purchased all new appliances post flood. I received all of them in a timely fashion, still in box/and crated because my home has not started repairs. The delivery company told me that I had 48 hours from when it was opened to report any problems. He documented on the receipt note it was still in crate. Unfortunately when I placed the crated fridge in its place I saw it would be too big, so I went to the local HD store where I purchased it to talk to someone about a "pick-up for return" and an additional purchase of a smaller fridge at HD. Went to appliance center and she told me to call the online HD number for pick-up return.
The online HD told me they did not handle that it was the local store. I spoke to the service desk at HD and she said that I had to speak to the delivery company but it was closed on Sat. I called the delivery company... it was open! They told me the local HD had to process it. I walked back to the service desk to have her talk to the delivery company on my cell phone. Service desk told me the COS was not in till Monday and to come back. Arrived at the service desk on Monday at 1:20 pm. Left the service desk at 3:15!!! (Yes that long a wait because only 1 person in the store can handle... this the COS) after paying pick up fee and amt. of refund upon receiving the fridge. Scheduled pick up Monday a week later.
Today, Monday morning, I am awaiting a call to tell me what time to expect them to come pick up. I saw a missed call. (I assumed it was possibly the pick up company (FYI - the pickup company is different from the delivery company.) The guy answered and I asked him when he was coming. He hesitated and said "where is your fridge", I said "in the house". He said well I will have to contact HD and get them to put a new pick up on my phone. I said "but you did not even come here, you called 5 minutes ago... did I miss the pick up in 5 minutes?" He said "I will call back". He called back and said he "couldn't pick up the fridge". It had to be "like by the "curb" (?!?!) or garage". I said "no one told me it had to be outside the house!!!" (I am glad the weather was nice today.) He said the company that "delivered it" was supposed to pick it up. I told him the HD COS said it would be a "different" company.
10:12 am - I called HD and told them what just happened. She said she would contact the company and work it out. Meanwhile the HD delivery company called and said they had to deliver my microwave tomorrow. I asked them "will you pick up the fridge I am returning." They said they could not because they did not have authorization. I told them my story of the morning. No hope other than contact HD. 3:41 pm - Called back HD. Put on hold, she asked questions. I told her I had the paperwork in front of me, I had a call for pickup but they couldn't get it because it wasn't outside. She put me on hold. She came back on the phone and said a "different company will pick it up" from the delivery.
I laughed. (I wanted to cry.) I told her the HD system between delivery and pick-up for return is BROKEN! I explained to her the above story... she told me the woman in charge was in a meeting and she will call me back to work it out. No one called back and it is 7:30 pm now. HD set a delivery for a microwave tomorrow and the second fridge in a few days, (the same company that delivered my first fridge that is sitting in my house.) Go figure. Has there ever been such a difficult task of returning. I have NEVER ever had one like this.

Home Depot was supposed to deliver a refrigerator 3 weeks ago. The first delivery person said he refused to deliver because Home Depot gave him the wrong address so when he called Home Depot and they told him the correct address, he said, "No," he was done for the day! 2nd delivery just never showed. 3rd delivery was supposed to be today January 30th. They called and said it would be delivered Wednesday. Am I supposed to believe them! Worst customer service ever! P.S. I have no working refrigerator for over 3 weeks.

Ordered and paid for 3 kitchen appliances on Nov 26. So far I've been back ordered 4 times. Still no merchandise. Unhelpful store customer service. Totally dissatisfied with this company and will take all business elsewhere. They sell you stuff that's not available. Horrible.
Home Depot Appliances Company Profile
Company Name:

Home Depot

Year Founded:

1978

City:

Atlanta

State/Province:

GA

Country:

United States

Website:

http://www.homedepot.com/