Abe's of Maine
Edison, NJ
Abe's of Maine was founded in 1979 as a small, family owned electronics retailer in Maine. We have since grown into different states in the northeast region, but our commitment to our customers and outstanding customer service has not changed.
Providing for our customers is our top priority. Our knowledgeable staff is waiting to help you find the right electronics to meet your needs.
Consumer Complaints and Reviews

I placed an online order for a camera lens, shown with a hood and case. Minutes later, I received a phone call from 'Ted' verifying my order. Then he asked if I wanted the hood and case. I told him that the Nikon lens kit came with those items, and he told me they were extra. I asked to cancel the order at that time, and he offered a discount on the additional items. I declined, and again told him to cancel the order. Again, he pressed for me to purchase the "optional" items. This repeated several times until I finally demanded that the order be cancelled.
I was sent to 'customer service' (I don't think it exists) and was promptly disconnected. I attempted to call their customer service number, but was disconnected immediately. I had to call my credit card company to tell them to deny any charges from them. Then, I received ANOTHER phone call telling me the order was cancelled, but they would be charging me a 15% restocking fee (odd, since the charge for the item never went through). I told them what they could do with their restocking fee. What a bunch of crooks!

Tried to purchase a Nikon 16-80 f2.8-4.0 lens for $649 off the website only to get a call a few days later telling me that if I wanted a US version it would be $250 more. The website makes no mention of the product being an international or gray market item. The entire call was very sketchy and the story kept changing. I cancelled my order. Avoid them at all costs.

I purchased on their website, the new Nikon AF-S Nikkor 200-500 mm f/5.6E ED VR Lens for the sale price of $1139.00, and all the photos show the collar, lens, hood and bag in them. You assume everything is included in the price. They charged me an additional price of $140 to add the hood, collar and bag, when it should have been already included in the price. Abe's of Maine is the only company who charges extra for the accessories. The false, low price of $1,139.00 draws customers, and if you to try and add the accessories kit on their site, it is nowhere to be seen, to add to your purchase.
This is a scam they use to get you to purchase their items, and when you receive your items in the mail, and realize the accessories are not included in the $1,139.00 price, they will charge you a restocking fee, if you try to send it back. I personally had to spend over an hour on the phone with a supervisor to try and negotiate the restocking fee. Buyers beware of bait-and-switch scams this company practices. I will be contacting the Better Business Bureau to further investigate their fraudulent practices.

I waited five years to purchase the newest technology from Canon. My budget was an important so I looked for the absolute best buy for my money. Abe's advertised the Canon 5D Mark 4 at about three hundred dollars less than B&H. I called Abe's and was told that if I wanted the USM 5D, which was not the one advertised, that I had to pay $200.00 more. I was assured that it was the USM 5D Mark 4. I also purchased a 24-104 4.0 IS USM Lens for about $300.00 savings. All together my savings were about $500.00
Sounded too good to be true, well it was. I looked at Reviews about Abe's and they were all negative. Everyone warned not to deal with Abe's. But I decided to wait and see what arrived before cancelling my order. On the phone they do try to talk you into additional accessories. They wanted an additional $100.00 for a lens hood and 77mm filter, which they assured me was top of the line. The lens hood is available on Amazon for $24.00, and when I received the high-end filter I was promised, I looked it up online and found it for $7.00. So they already lied about all of that.
When I got my camera and lens in the mail, they were both in a large cardboard box. When I opened the box I found my camera in a Canon Kit box that had been opened previously. There was no warranty card! The 24-105 Macro IS Lens was in a plain white box with styrofoam and had no booklet or warranty card. The box was not A Canon Lens Box, and the lens was not sealed. I was pretty upset about the entire ordeal and was seriously thinking about returning everything. I called Canon to confirm the serial numbers, but they WON'T DO THAT. They said they cannot verify a serial number. I told them my story and they said that I probably got a gray market camera and lens, which translates as European Market. The woman at Canon said that Canon will cover the Camera for one year and the lens, but that it was not a US or Canadian camera.
I did some research, and this has happened to quite a few people. The only positive is that I saved $500.00, and in truth, the camera is fantastic. The lens is perfect, and the images are stellar. To say it's from the European Market is not so bad, they have great photographers too. Both the Lens and Camera were made in Japan, so the big difference is the warranty issue.
The real issue is that Abe's lied about the validity of these products and intentionally deceived me into thinking they were the exact items listed on B&H website. I asked them up front to verify they were both USA products, and they assured me they were, knowing it was a lie. The extra hundred dollars for the hood and filter was absolutely a ripoff, and they do that so be aware!! I'm not going to return these items because they work just fine, but would I ever deal with Abe's again? Absolutely NOT!!! They are a bait and switch company, and I should have listened.

I purchased a Nikon D7200 body only as I am only upgrading. It was a week later I received an email asking me to call them regarding my order. I called as asked to find out that it doesn't come with a battery or charger, and if I purchased the battery and a charger separately it would cost me over $300.00. After doing just a bit more research I not only found that the body only kits sold by Nikon include the battery and charger. BUT I found this site and warnings. I continued to shop around and declined their Increase in my purchase another $200.00. Don't deal with this company. There are BETTER deals out there.
How do I know I can trust these reviews about Abe's of Maine?
744,488 reviews on ConsumerAffairs are verified.
We require contact information to ensure our reviewers are real.
We use intelligent software that helps us maintain the integrity of reviews.
Our moderators read all reviews to verify quality and helpfulness.
For more information about reviews on ConsumerAffairs.com please visit our FAQ.

I have been dealing with a lender place insurance issue for 16 months. Numerous calls, documents faxed, documents uploaded to the Ocwen web portal - still no resolution. I have had the same insurance policy since purchasing my home in 2010. Ocwen has received all the documentation, multiple times, yet every time I call they have to "look into it further", "contact my insurance company", etc etc. Then I call back to follow up, and I have to start the entire process over again. Due to this "Lender Placed Insurance" I now carry 440,000$ of coverage on a 140,000$ condo! How is it legal for a company to debit your account for something when you have not given them permission to do so?

I went online and ordered a Canon EOS 7D Mark II Digital SLR Camera Body for $1079.00 on (1/23/2017). Upon calling Abe's I was told that the camera I ordered did not have a Canon warranty. WTF! I was told I needed to purchase the retail version for $1399.00 which included warranty, battery, USB cable, and charger; I begrudgingly agreed. I looked on Abe's website and they did not even offer a "retail version." I found the same item for $1349 ($50 cheaper) on B&H. I also found out the Abe's is NOT an authorized dealer and they are known for switch and bait tactics. I WILL NEVER PURCHASE ANOTHER THING FROM ABE's OF MAINE which is now another company since 2012. If it's too good to be true, there is a reason. BEWARE of the fast talking ** at ABE's OF MAINE.

First off, I must say, it is completely my fault for falling for their scam. I know better. I have always purchased from B&H. Always. And since I had always purchased from them I had never researched Abe's of Maine, so I did not do my due diligence, which is my fault. But I am still angry. I purchased a Canon EOS 80D for what seemed like a great deal Black Friday. Then got the same email to call "Jeff". How many "Jeff's" do they have I wonder?
They called me actually and I was busy with family and distracted. I was told I purchased a base kit without battery, strap, etc. etc. I fell for the upsale, and even the warranty. Well, guess what, something is not working with my "new" camera, called customer service and you guessed it, they are not available. Also, called Canon and they told me Abe's of Maine is not an authorized reseller SO my camera may not be covered under warranty. WHAT?? What business does Abe's of Maine have posing as an authorized reseller? I feel a lawsuit coming on. I am so upset I fell for this.

I normally don't write reviews (negative or positive) but this experience made me upset, especially after seeing several other reports regarding Abe's of Maine's shady bait and switch tactics. I ordered an LG TV from these guys off the web. They emailed me they would not complete my order until I spoke with one of their reps. Once speaking to them on the phone they told me I ordered an international unit that wasn't the right voltage and was a display version without all the TV features etc. None of this info was listed on their site description for the item. The rep then proceeded to try to sell me the "right" one with the "white glove" service including home install even though I told them I didn't need installation. This was over $400 more than the initial quoted price. I declined to proceed with the order based on this bait and switch and asked them to cancel my order. Thankfully my credit card was never charged.

I have been a consumer law attorney for almost 25 years. Of course, I am also a consumer and recently purchased a 65 inch Samsung TV which was offered by Abe's for hundreds of dollars less than competitors. I received an email confirmation and thought it odd that I need to call "Jeff" to confirm my order. It was already confirmed in writing. When I reached "Jeff" I was told that in fact I needed to buy some kind of upgrade which would make my TV suitable for residential use. What? Baloney. Nope, and it would cost me several hundred dollars more.
"Jeff" indicated that I would not get my TV that I ordered. I promptly cancelled (after their notice to me of breach). Today I have sent notice to Abe's of Maine under the Texas Deceptive Trade Practices Act ("advertising goods with intent not to sell them as advertised"), seeking damages and attorney's fees. I'm not going to just let this go because as I see from other reviewers, this is a systemic deceptive ploy by Abe's. See you in court, Abe's. Clean up your act and be honest. Otherwise, sooner or later you'll run into someone like me with access to the courts and consumer law expertise (I'm Board Certified in Consumer Law).

Per another recent review my purchase of a Sony xbr65x930d (65" Ultra 4k flat screen TV) for $1649 was followed up a day later by an email asking me to call "Jeff" to confirm the order. The conversation started by thanking me for placing the order but adding "by the way, are you aware that the TV you ordered is made in China and not Mexico?" Having read many similar complaints on file, and expecting an upsell attempt, I replied "Yes". The call ended there and I was told the product would arrive in 7 to 14 days. I then contacted Sony who stated that there was no difference in this model being manufactured in China as opposed to Mexico - they were identical. Now I am waiting for another notification attempting another tact. If so, I will cancel my order and purchase it from Best Buy for $1999 before Saturday, when their sale ends.

They 'bait' you with a killer deal online. Like no other company in the world, they make you confirm it!? Suddenly, that item is on backorder so they up-sell you something else. They told me it was USA-made, it was not. It was impossible tracking down a human for a RMA number. The package was untouched but they're making me pay crazy shipping and a restocking fee. Just another way for this fraudulent company to make money. After finally getting this scammer on the phone, he argued with me when I wanted to return it. They could care less about satisfying customers. I'm pretty sure it's just one guy in his mom's basement anyhow.

All of the reviews where you read that you have to call "Jeff" and confirm your order are 100% true. I placed an order for a high end camera, only to receive the email to "call and confirm". While on the phone, they tried to tell me the camera did not include a strap, a battery, a battery charger, and other obvious things that are inside the box of any nice camera. They try to add things on to your order and completely lie and try to deceive buyers, only to swindle you out of hundreds extra. Luckily, I was able to cancel. They are dishonest and deceitful. Believe all of the negative reviews... do a simple google search, you'll find them. They are true, do not do business with this company.

Also placed order online for LG 65UH8500 TV. It was priced at $1149. Got email to call Jeff at extension ** and he proceeded to tell me that he saw that this tv was going to Alabama and that this tv is an international tv using 230v. Then Jeff tried to upsell me to the US version for $ 500 more. After doing a little research I found that LG doesn't sell a 230v tv and I said that it would be fine ship it. The next day they said it was suddenly back ordered and would be 2 - 3 weeks. After 13 days I just went online to their website to track order and my order could not be found. They have no intention of selling you what they advertised. Bogus company.

In the market to purchase an LG OLED television. Have been shopping for a good price for a while. Thought Abe's of Maine was legit and their price was substantially under market. Not as low as the other rip-off artists, but lower than most. Their policy states: "All Products include USA Manufacturer's Warranty unless otherwise stated." So, after placing the order, I get the email to call Jeff and confirm the order. Jeff asks me if I want the U.S. model since the one at that price requires 230V. That indicates that it is a non-U.S. model. He tried to parse the words stating that they disclosed it as a non-U.S. model and that he could sell me that one for several hundreds of dollars more. Of course, they do not even list the U.S. model on their site. Avoid.

I was very happy with the 50" LG Plasma TV I ordered from this company in 2010. I saw this year they had a Black Friday sale on the Samsung KS8500 series television (UN65KS8500FXZA). After over a week I received an email requesting I call the "order confirmations" line and speak with "Jeff", who told me they oversold the product and the product I'd be getting was a commercial model, that isn't as good as a residential model and something the residential model being made in Mexico vs. Korea. I decided to cancel the order, as I don't like being told that I need to spend $400 more than my original order. I was wrong to put my confidence in this company after a pleasant experience several years ago. Beware.

Placed order online for LG 65UH8500 TV. It was priced at $1149. A good $400 lower than other online retailers. Got email to call Jeff at extension ** and he proceeded to tell me it was out of stock and that I have ordered the commercial version and the retail version was $500 more. Bait and switch company, avoid at all costs.

Ordered a Samsung UN65KS8000F on Black Friday for $1419. All the other stores were asking $1499 for the same model. Abe's emailed me to call to confirm my order. Jeff at Abe's asked me if I wanted the commercial or residential tv? He said this is the commercial unit and if I wanted the residential tv (which he of course said was much better) it would cost $1800. Asking how one would know a commercial model #, Jeff replied that you wouldn't know unless you saw the serial number. When I called Samsung they of course told me there was no such thing as a commercial tv with that model number. And further explained that a commercial tv was built with sturdier edges and frames, not less picture quality. Of course fearful of what they would actually send to me I canceled the ordered.

I must agree with reviews I have read about Abe's. They required me to call and confirm my online order, and then told me the camera was no longer available and upgraded me to a more expensive product. After seeing the product on Amazon for significantly less, I called back and was told that Amazon did not have the Sony warranty and was a cheaper version. When you call their customer service, it says to call back during office hours when there are no office hours. This company is a big scam.

Stay away from Abe's of Maine. Apparently they are now a bait and switch house. If you won't upgrade then apparently they just don't bother to ship your order. I started to get bad vibes about my order when the sales guy called to try and get me to buy kits, extended warranties, batteries etc. I declined all of them and the guy was an ** about it. I read some reviews about them today and found out they are no longer an official Canon dealer. I called their customer service department to follow up on my order and they said that it was on back order without a definite delivery date. I cancelled the order and bought the camera from B&H for $150 more. By the way Abe's still shows it as being in stock. I followed up 24 hours after cancelling and they still showed to order as pending. I called customer service and their representative refused to give me his name. Finally after more calls I received a cancellation confirmation. Live and learn.

Purchased a Tamron telephoto lens and when it arrived I discovered it was made in China, the real Tamron lenses are made in Japan. They wanted to charge me 15% to return it. Yes, they called when I placed the online order to confirm then added two filters I needed at "half price" $99 each. I can buy the same filters on Amazon for $12.58 each, same brand, exact same filter. Again, charge me 15% if I want to return. These people are a scam. DON'T buy from them. They will rip you off. Buyer beware... Don't be their next ripoff.

DO NOT TRUST ABE'S OF MAINE!!! Read the reviews all over the web about how this company is a scam. I had a horrible experience with them. First they make you call to confirm every order which pretty much makes ordering online obsolete. They make you call so that they can tell you your order is out of stock and then try to sell you more items or to try to increase the price of their order by sending generic batteries and disks that do not work with many higher end cameras.
The customer service is horrendous!!! Not only did I have to pay $15 for a address correction made by my computers auto-fill out (which I understand isn't their fault) but typically with Amazon you can correct this information prior to the package arriving at your home for free. Especially when the package hasn't even left the packaging state yet. Then when I tried to return my order because I was so fed up with calling them, I was charged a 15% restocking fee for an item I never even received. BUYER BEWARE!!! Even though other websites may be more expensive, I will NEVER shop at Abe's of Maine again for free that I will not receive a US ready and REAL camera (many of their cameras have been found to be fakes). Check out their reviews online please!!! You will see that I am not the only one that has had MAJOR problems with this company.

Sony RX100 M4, no accounting for extras or even total price. Ended up with Grey Market Camera. Would not advise anyone to trade there.

I wanted to purchase a Panasonic GH4 along with a Panasonic 12-35 mm lens. I ordered both products online and received a call from the (dreaded) Jeff the next day. Typical bait and switch, tried to add on extra batteries, insurance, shipping, etc. Only then did I find out the lens is 4-6 weeks backorder. I called back and asked if he could give me free 3-day shipping (an otherwise $44.99 charge). He said the best he could do is $5 off. I said, "Okay, I might have to cancel the order because I couldn't wait 3 weeks for the free ground shipping." He proceeded to say "Okay I will cancel your order... etc.". I said "No, I MIGHT have to cancel. I need to think about it."
Jeff starts screaming at me: "You have to make a decision right now: do you want free shipping or the 3-day shipping?" "Are you normal?" "You can't ask me 5000 questions right now!" I calmly told him, "That's no way to talk to a customer who has general questions." I asked him EXACTLY when the camera would arrive and if it could potentially take longer if I got the free ground shipping... he said (screamed): "No, it will not take longer. It takes 14 business days." "I can't answer your questions anymore". So I said "If you know exactly how long it takes, how can you not tell me an approximate date? I need to know so I can plan accordingly."
Jeff continued to lose his cool with me, acting like a petulant child and being extremely unprofessional. Finally he says to me, "That's it. I'm canceling your order. You're not getting this camera." And he hung up. I received a call from Jason - Customer service representative about half an hour later. He was apologetic. I complained about Jeff and Jason said he'd have the camera to me around Tuesday. Really shady place - I got what I wanted because it was significantly cheaper than sticker price, but I wouldn't recommend anyone buying things from this place. Terrible Store.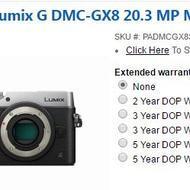 Tried to buy a Panasonic Lumix GX8 camera, advertised at $715. In a telephone call Jeff tried to upsell me on a 64 GB memory card, two lithium batteries, a battery charger, UPS and insurance for a total cost of $903. It took two phone calls for a total of 1 hour and 20 minutes, including about an hour of hold, to straighten out the order by dropping accessories I did not want. The "free shipping" advertised on the site still cost $50 for handling and insurance, for a total price of $765. In addition to what I saw as dishonesty in the transaction, Jeff was very rude and the other customer service representative continued to try to upsell me, even when I rejected the accessories.

Terrible experience!!! I purchased a 55" Samsung curved TV to be shipped to Florida for $939.00. Next day I get an email to call and confirm the order. I talked to Jeff and he said the total is for $1,080 and I am getting free shipping but curved TVs required insurance, which is not included and I must get it. They always do that, so be sure to stay away from these guys as they usually do it.

My mother has been putting money away for a new television for almost a year now. She is finally ready to purchase and asked me for some assistance. I found her the LG 55EF9500 and searched Google shopping for the best price. Abe's of Maine came up (image attached) with a price of $2329 with no tax and free shipping. This television sells for $2999 in most all big box retailers and she just couldn't afford that much. She was however willing to stretch her budget a little to accommodate the $2329 price. Having dealt with them many years ago, I advised my Mom that this is a good company and to go ahead and make the purchase. She did. Boy was that a mistake.
The next day she received a call, first asking her to purchase extended warranty plans, and when she declined, telling her that she would have to pay $289 for the shipping. She questioned this and was then told that it's to cover the insurance on the shipment. She texted me what was going on and I told her not to pay them anything more than she already had. Their website specifically stated free shipping in not one but two places (once on the product page itself and another when you are checking out). The man who called her (Jeff ** x **) was rude to her and she got off the phone and asked me to step in.
I called Jeff and asked what was going on. He fed me the same line about paying for the insurance of the shipment. I responded by saying "you cannot state free shipping in multiple places on your website and then call and basically say 'Ha ha, just kidding, pay us another $289 or you don't get the product'." He started yelling at me (bear in mind I did not speak to him in an agitated voice in any way), saying I shouldn't bother ever calling them again until I "learned how to speak to people". I told him to cancel the order and hung up. My advice is to never do business with this company. Not only are they are complete bait and switch operation but the rudeness of their employees speaks volumes about how they handle their business.

I saw the Nikon D7200 on a google search and noticed that Abe's of Maine had it for $795.00 with free shipping. This is $300 less than the other great vendors that I've purchased from before. I placed the order and threw in a $500.00 lens for $225.00. The upsell call came within the hour. They wanted to sell me another battery and I said no. They then mentioned that this is a import and doesn't have a warranty. They would gladly throw on a 3 year DOP (Date of purchase) warranty and a drop warranty for $199.00.
Two minutes later, both my cell phone and my phone were ringing. Apparently, the credit card company has had numerous complaints and declined the purchased. The sales guy begged me to ALLOW to contact my credit card company to allow the purchase. More research on the warranty (NOT an authorized Nikon repair dealer) nor the company deserve my consideration. BUYER BEWARE!!! Now I'm considering calling my credit card company and requesting new numbers.

I spoke to a Jeff around 12:40 pm today. I inquired about purchasing a d7100 camera. Jeff advised me about the camera. Jeff advised me that the battery that comes with the camera only last about 20 minutes and it was better to purchase an additional battery for 59.99 that last five hours. He offered TWO 5 hour batteries for 59.99. He also offered 3-5 day shipping so I could get my camera before next weekend. I agreed to the purchase and the total was 698.00. After I got off the phone I thought about the purchase and changed my mind. I called back around 12:50 pm and advised Jeff that I wanted to cancel my order. Jeff became very angry with me and told me that I could not cancel because it's already been shipped. At this point I hadn't even received my receipt. Which totally confused me because it was only 10 minutes.
Jeff told me that I was able to get refund but less the cancellations fee and the shipping charge which was about $129.99. I asked Jeff to speak to a manager and told me that the manager would be busy for an hour. He told me I could sit on the phone if I wanted to but NO ONE was available to speak to me but HIM. I attempted to call back twice and he hung the phone up on me when he realized it was me. In the process of Jeff hollering at me he made references to me being hard of hearing. The way he was talking to me put me in such of place of hurt, confusion and anger. I constantly asked him why was he speaking to me in this tone and manner? When a customer calls out of state and makes an order they want to feel like they can trust the sales representative especially when giving financial information over the phone. I have used Abe's before and have NEVER ever had this issue.
As a professional photographer I will never use this company again because of JEFF. I called back and spoke to Jason. Jason is the most professional and apathetic manager I have spoken to in a while. He was very attentive and apologetic to me in regards to Jeff. I honestly think he didn't believe that Jeff would speak to ANYONE in the manner that he spoke to me. I have worked in customer service for years and I would never, even on my WORSE DAY, speak to a potential customer in this manner. I really encourage you guys to review the conversation, if capable, of Jeff and I. I can guarantee that he will be either FIRED or SEVERELY REPRIMANDED.
Jason did VOID my transaction and tried to make amends for the way Jeff treated me but at this point I was totally over the purchase and just wanted my money back. I really wished I would have spoken to Jason first because all of this could have been avoided. Abe's lost a valuable customer today. I might not spend thousands of dollars monthly on equipment but no one deserves to be treated in such a manner when dealing with money especially over the phone. He left such a bad taste in my mouth that I'm going to change my credit card information because the trust that I put in Abe's is totally gone.

Standard Bait and Switch!!! Ordered an LG 65uf9500 for $1615, then told that I am purchasing a commercial model and that I would need to spend $700 additional to get the residential model. I told them that nowhere on their site is this stated. I asked to speak with a manager who told me, "Yep, it is what it is. The unit we are selling doesn't have any info that it's a commercial model but that is what we are selling for the lower price. If you want a residential model we have them for $700 more." It's a joke that this place has been a good place to do business since 1979 but that ship has sailed and now they are just another New York/Jersey bait and switch internet discount electronics site. Don't buy anything!

ConsumerAffairs Research Team
The ConsumerAffairs Research Team believes everyone deserves to make smart decisions. We aim to provide readers with the most up-to-date information available about today's consumer products and services.
Founded in 1979 as an electronics retailer, Abe's of Maine has expanded to offer a complete line of appliances, camera equipment and other consumer electronics. Despite the name, their store location is in Linden, NJ.
Fast shipping times: Most products ship within 24-48 hours, allowing for a very quick delivery compared to the industry standard of 1-3 weeks.
Three year extended warranties: The Abe's of Maine extended warranty includes the original manufacturers warranty for the first year, and matches that level of service for the remaining coverage period.
Flexible payment options: At Abe's of Maine you are able to pay with cash, credit or Paypal.
Free shipping: For regular freight with a 6-8 day delivery time, shipping is free.
Expansive catalog: Not only does Abe's of Maine carry all major brands, they also have several models from each brand.
Best for Frugal shoppers and big families.
Abe's of Maine Company Profile
Company Name:

Abe's of Maine

Website:

http://www.abesofmaine.com/