Consumer Reviews and Complaints

I have owned it since 2014. It's been great except I lost my husband, and one evening trying to get it into the garage after a college kid had cut my lawn, I was stumped. There is a little gold colored Allen type thing in the rear of the machine that moving it allowed me to get it into the garage. I think John Deere could do something better than that to move the tractor by pushing. I looked and I couldn't find anything on the machine to indicate its location or its purpose... (It was late and I was tired, but I couldn't find anything...)

We have owned several John Deere riding lawn movers. They provide good service and cut the grass as we expected. We do find that the plastic seems to be lacking in durability. As for the price, they, like all the others, are overpriced. So what is a consumer to do, buy another one.

I have run an agriculture business ever since I was a teenage boy. When I began to buy my own tractors, I heard the John Deere had great equipment for work. Upon hearing that, I purchased my first sets of equipment that became the tools for me to succeed in growing my business. In 1978 I began to grow vegetables in 6 acres of land. By 1999 I had bought, in total, 6 John Deere tractors and we had grown to harvest 150 acres of vegetables. I felt very confident when I would buy equipment from John Deere. But unfortunately I was very disappointed when in 2013 I bought 2 new tractors which caused me issues that I would have never imagined.
The way that they had been designed made it extremely difficult to do the work that they were supposed to do, especially the three point system. But worst of all was the mechanical issues that were soon to become evident. As a result I began calling my local dealer (4101 S Moorland Ave Santa Rosa, CA 95407), and they told me that the tractors no longer had a guarantee since the guarantee was only valid for a year. I found this ridiculous considering I had paid more than $56,000 for each tractor. I began to spend thousands of dollars in trying to repair the tractors only to find no solution for the issues that they have brought me.
The dealership continues to tell me "Sorry the tractors do not have a guarantee." Because of this, I am very disappointed with the brand of John Deere, as I had been a loyal customer who trusted and believed in the brand. I would like a response for all of these issues. I am now considering buying new tractors from a different brand because the ones your company provide no longer do the work that is needed for my business.

Purchased a D170 spring of 2015. By the end of the second season the transmission was slipping though. I thought it was the belt. Replaced the belt spring of 2017 and found it was not the problem. Per local dealer, "this is a well known issue with D170 tractors". "The transmissions do not last and will not hold up when the unit is used on hilly ground. I wish we did not have to sell these." Now half through the third season and the unit is useless after 15 minutes of use. Dealer quoted $900 for the transmission plus labor putting the price around $1400. JD should not be selling this junk with known issues in the design. Now my only reasonable course of action is to replace the D170 with a quality lawn tractor, of another brand, when I should still have 5 or 10 years use left in the piece of John Deere "equipment" I presently own.

I bought a John Deere D170 five years ago. The mower currently has 124 hours on it and I routinely take care of maintenance on the mower. Starting last year, 2016, I noticed a decrease in performance especially when going uphill. I have 2x acres I mow and 25% of my yard is at an incline but shouldn't be too steep for a riding mower or so I thought. This year, 2017, I can't even mow a section of my yard that's at an incline because the mower comes to a complete stop. The loss of power when going up even small inclines is very frustrating too. After doing research, I believe the cause of this issue is with the transaxle. The D170 has the K46 transaxle which is 27 lbs and has 131 ft/lbs of torque. From the research, this is far too small of a transmission for this mower and the K66 transaxle should have been used which is 51 lbs and provides 250 ft/lbs of torque.
I bought the D170 for $2,799 and I can now only use it on flat surfaces. The recommendation is to upgrade the transaxle to the K66 which I would have done but that costs roughly $1,600 - 1,800. Sorry, I'm going to buy a new mower at that price. Or I can get the K46 replaced for $700 - 800 dollars and get another 3-4 years before I have to replace it again. John Deere is a company that prides itself on its name and reliable equipment; however, they failed in this situation and lost a customer for life.
The K46 is too small for this mower, its life expectancy if you have hills or use the mower for other things than mowing is short, and you as the customer are now faced with costly repairs or forced to buy a new mower. The D170 and other models impacted by John Deere's decision to use the K46 transmission should be recalled; however, I doubt that's going to happen. If your yard is flat, the D170 is a great mower. Don't buy if you have hills and/or going to use the mower for other things than mowing.
How do I know I can trust these reviews about John Deere?
880,156 reviews on ConsumerAffairs are verified.
We require contact information to ensure our reviewers are real.
We use intelligent software that helps us maintain the integrity of reviews.
Our moderators read all reviews to verify quality and helpfulness.
For more information about reviews on ConsumerAffairs.com please visit our FAQ.

First rider ever, Craftsman, lasted 15 years. 2nd was John Deere, lasted 8 years with the last 7 jumping it every time before use before the engine blew up. Apr 4, 2015, bought a 105 series despite all the rumors that JD mowers' quality has gone to cheap. Well, my 2 year old mower is in the shop with blown head gasket and dead battery. So sad for a once dynamic and American product. NEVER AGAIN! I now believe the rumors, cheapened junk! 2 freakin' years, I am sooo pissed!

Bought a John Deere D-140 Series riding lawn mower on July 1st, 2014 from Home Depot. On June 5th, 2017 the trans-axle went bad. Naturally the 24 month warranty had expired and the John Deere Dealership wanted One thousand dollars to fix the defective transaxle. I was a little upset with what I thought was a quality John Deere Mower. I did some checking on the John Deere Riding Lawn Mowers only to find that the D-Series and L-Series are junk. The D-Series (Bad Transaxle), the L-Series (Bad Engine). The sad part is John Deere and the stores who sell them (Home Depot and Menards) know this. So much for honesty and selling a quality made American Product. SHAME ON YOU JOHN DEERE, HOME DEPOT AND MENARDS.

I recently acquired a John Deere RX95 riding lawn mower. The mower itself is an older mower. I was mowing the other day and the belt broke. Since I did not purchase it new I did not get a service manual with the mower. I bought the belt and thought... no big deal, I'll get the diagram online. Could not find a diagram online. Mind you this is probably the cheapest mower they sell. They want $150 for a service manual! I couldn't believe it. No way I'm giving up $150 to put a belt on my lawn mower. My Harley manual didn't even cost that much. John Deere can place that manual up their **!

We bought a John Deere from Home Depot May of 2016... it always had a little noise but ran fine. A month ago it made a clank noise. Immediately my husband shut it down and called John Deere. TriGreen picked it up. After a few weeks they determined that it was my husband's fault and it would not be covered... let me ask you people why why why would he sabotage it with 2 years left to pay on it? So now we have a mower dead in the water. We have to pay 100.00 to pick it up? How dare you call yourselves a reputable company... believe I've posted to social media and will continue to do so. We want no one else to go thru this from your so called good company. We've since heard this is how John Deere gets out of fixing a mower. They blame the customer.

I took my mower (John Deere Z255) into Zagg Power approximately 5/19/17 due to the engine lunging and trying to die. I picked up the mower on 6/19/17. They told me they put a pick-up unit back in the fuel tank and let it run until out of gas with no issues. The charge was $117.85. I brought the Mower home. My wife used it the next day. It ran fine until the fuel tank was approximately half empty then it began to lunge again. I called the field service writer on 6/20/17. She said to bring it back in. I took it back in on 6/21/17. She helped me unload the mower and told me she would set my mower up for top priority and put a different mechanic on it. I went out there on 6/26/17 to check the status and the service writer had failed to even log my mower in for service. She apologized and said she would get someone on it the next day.
So I go back on the 27th. She said they could find nothing wrong with the mower. She said she would go online to (De-Tac) to research for similar reported problems and to give her one more day. So I went back today and she wasn't there. There was a rep from the corporate office there and I told him the problem and asked for a refund since they could not and did not repair my mower. He refused to even discuss it.

With only 22 hrs. of service the tractor (D140) would only run with choke on. I have changed gas to 0 ethanol, added stabil, sea foam, carb. cleaner and it ran ok for a few minutes then would only run with choke on. My last John Deere. Bought it at Home Depot in Smyrna, Tn. in 2016.

Nothing runs like a Deere till it breaks. Deere D105 riding mower. 68 hours on it. 5 years old, greased and maintained and now I lost the ability to drive it. Right pedal flopped to floor and moves no more. Going to cost me over 200.00 to fix this piece of crap plastic transmission!

LA 150 rusted top and bottom because John Deere did not prime the mower before painting it! This mower was garage kept and taken care of. I noticed the paint was lifting and found the whole mower was a rust bucket. I will never buy another John Deere! They probably saved $15.00.00 on primer! Junk!

I recently purchased this John Deere D110 42 in. 19 HP riding lawn mower as a recommendation from a friend. The first couple months have been no problem at all, but now 5 months after the purchase, I am regretting my decision. It started out with the steering going slightly left (which was manageable to deal with) but now the mower randomly stops. I have almost fallen off because it has stopped at full speeds, on hills, etc. My yard is about 1.5 acres, and I cannot mow it completely without it stopping at least once. It is not only annoying, it is very time consuming because it takes about 5 minutes before I can start it again. This machine has caused me more stress rather than speeding up my mowing. I now prefer to mow with my 10 year old push mower, because it takes less time! Overall, I cannot recommend this product to anyone based on my personal experience with it the last 5 months.

After 20 yrs of mowing my yard bought a new John Deere. It seems they have built their decks out of a thin gauge material. If you strike anything at all it will bend your deck and you must take it in for calibration. Never bent a deck in 20 yrs, bent 2 this year in 3 mowings. It is ridiculous that they have built the deck with such thin gauge material.

I purchased a Zero Turn, 42", Z335. I had it 26 days and after using it and taking a break, I got back on and tried to start it, NO START! I called the place of purchase and talked to service department and was told they been having problems with the auto choke on these units and to let the unit cool. It started after cool. I was told if it started after it cool, to call them the next day and they would arrange pickup. So place of purchase came to pick it up, one day after they told me they would to fix the auto choke. At this time they have had it two weeks three days. The mower had 3 hours on it when they picked it up. I have no mower at all. I will never purchase John Deere again. NEVER. Poor quality. I got the mower back on May 30. Now it backfires when I start it and backfires when I turn it off. Won't ever know if the not starting when warm is fixed or not for sure.

I purchased the John Deere L-119 riding mower back in 2005. The tractor has performed well except for the steering linkage. There is two linkage arms one for each front wheel. The connection is a small ball joint with no grease fittings. I have replaced each one at least four times. The dealer and customer service has no answers why this keeps coming apart and the only repair is to replace it. It started out at $32 each, now it cost almost $40. It takes an hour to replace it each time. The problem is I never know when it will break. Can be mowing the grass and all of a sudden one of the wheels turns and the mower skids to a stop. This also could be bad as the sudden stop has almost thrown me or my wife off the mower. John Deere should design their steering as to not have this problem.

Have John Deere 6420 tractor with 1200 hours. Radiator leaking. Took to be repaired. Cannot be repaired. Must buy new radiator on tractor with only 1200 hours. After calling John Deere to see about a price, because there was a problem with that type of radiator with other tractors, it has now been modified and you can not buy the same radiator. So in order to replace the radiator on this tractor I must change at all parts, hoses, clamps, thermostat in order to make the new radiator fit. Ridiculous! Radiator is 1100 dollars. John Deere is not quality!

I purchased from Lowe's a John Deere D105 riding lawn mower in 2014. I had a factory 2 year warranty and now the transmission has stop working. Is there a recall on these transmission because there is a problem with the design. It was difficult to get it into the proper gear when I purchased it and now the mower will not move. I was told that it is the transmission. 1gx.

Bought Z910 transmission at above place. Went back to buy hydraulic fluid for Z910. I was sold low viscosity. Put it in and have been using mower. Noticed that oil was low. Owner's manual said that I should only use Hy-Gard. Have a severe leak now. I asked about getting it repaired. First question asked after explaining the problem was, "Is it under warranty?" When I said no, I was told it would be five weeks to wait. What kind of service for a John Deere business is this? I may as well buy a new Toro, or anything else that "does not run like a Deere."

I purchased a D105 John Deere lawnmower on September 13, 2016 at a Home Depot in Fort Worth Texas and was encouraged to do so for the two year warranty. This was the end of the mowing season and I didn't have any issues with this mower. On April 13, 2017 I was attempting to mow my yard, 1.61 acres, and the mower would start then continue to die when I tried to engage the blades. I called Home Depot and they referred me to the John Deere dealer, Ag-Power which told me it would take two weeks to come and get this mower.
I would have delivered it myself but recently had stomach surgery and was unable to do so. Today, April 28, 2017 a representative from Ag-Power, out of Rhome Texas arrived to "fix" my new mower with only 17 hours on it. The guy walked up to the mower, tried to turn the key on and said it probably needs the valves adjusted without any further attempt to fix it. The guy also said it would probably be about three (3) weeks to get my mower back, due to manpower shortage back at the shop.
Now I am recently out of surgery and having to push mow 1.61 acres for a minimum of 5 weeks with a new John Deere mower with only 17 hours on it sitting in the repair shop. I was told my only alternative was to pay to have it fixed elsewhere, but this would VOID this wonderful two year warranty. I called the John Deere Service and Support department which was no help. He said that he would "note" my complaint, which to me means they're finished with me. Beware of the wonderful TWO year warranty.

Just got my 6 yr. old X300 mower back from repairs (Spyder Webb Co. in Ft. Smith, AR). $640 for starter, belt, blades and "worn" pulleys. My Murray didn't cost that much new and it lasted 14 yrs. Deere are not as reliable as they claim. I won't buy another.

I bought a John Deere X300 tractor over other makes for the reason every one said, JD was the best. I have owned it approximately 6 years. Over the first 100 hours I called to see if I should bring the tractor in to be checked out. The manager told me, "Anything wrong with it?" I said, "Nothing acting up," that I had changed the oil, new filter and greased it, etc.
He said "don't worry" then each time I would call at next 100 hours till it reached 440 hours had the same response each time I had complained of the cheap seat plastic cracking and tearing bad. After 5 years they gave me a new seat that I put on. Guess what. It cracked in about 3 month. This warranty was for 400 hours or 5 years, whatever came first.
Last year (summer time) we live in the North East Ohio and I bought it new at Moore Lawn and Mower, John Deere dealer, a small town dealer. Then it started not wanting to move. Right after getting worse I took it in. They had in the shop about 2 days fall now, said transmission had a small leak and it's not fixable, needed a new tranny at $800.00 for new one and $300.00 labor installing it.
I asked, "Is this normal problem?" They said no. Humm why me then. So I have a shot tractor now and they want 1/2 the cost of another new one to work mowing. But I don't trust John Deere now. If they would have said to bring it in as stated in handbook. Then this might have been fixable. By the way the factory has no way of adding oil once the seal leaks, hummm warning to buyer's of John Deere. Bought new 8/5/05 (fall), remember only used 447 hours, last used fall of 2016.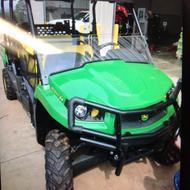 Two months ago I started working at purchasing a 590 Mule from a sales person Ty at Ag-Power, Tyler Texas. I added a roof windshield and a bumper and had all specs emailed to my banker along with the price agreed. I told my sales person Ty from the get go I just need to be kept in the loop on the process. Time passed and I made call after call to him only to find out a month into it the 590 had a recall on them. I understood, then another week passed no call, no apology, no offer to make it right, no returned phone calls, no satisfaction after every call. One more week put me over the edge on the customer service I was receiving. The last phone call I made was enough.
I am now a very happy customer and proud owner of a new 570 Polaris that the dealer went and picked up from another dealer and had all the extras I needed in stock at their store. This one phone call, pick up, delivery and accessories all put on and ranger bought and paid for in less than 12 HOURS. John Deere and sales person at Ag-Power Tyler Texas... Bam!!! That's HOW IT'S DONE!!!

Purchased 1023-4 tractor and kept it for eight months and logged about 30 hours using the front end loader which worked fairly well. Then needed to mow the lawn and after about 30 minutes of mowing the engine overheated. Checked the fluid levels and all were at the proper levels. Let it cool for a while and it overheated again, and repeated the process about 3 times more and each time it overheated. Took it back to the dealer and they wanted $80 to pick it up but I was able to drive it.
At the dealer they wanted me to pay for a diagnostic test when the tractor was still under warranty, and I refused to pay it. They then informed me that the problem was that the radiator was plugged with grass clippings and that there was nothing wrong with the engine, but they claimed there was an oil leak on the mower. How can the grass clippings get on the radiator when the mower is on the back of the tractor? I left the tractor at the dealership for a few days and then decided that the tractor might have not been a good investment with only 4 months of warranty left, so I wrote them a letter and informed the dealer that I was returning the tractor.
A $2000.00 down payment plus $1487.20 paid to John Deere is $116.24 per hour paid to use tractor. All attempts to get any of my money back were futile and I feel like I have been robbed. The serial number on the tractor is 1LV1023ELGG100902. So be aware because they are going to unloaded on another poor sucker like me.

Bought a John Deere D-110 riding lawn mower in July 2014 because my 11 year old Murray riding lawn mower, still working, was getting old age problems. The John Deere worked great until January 2017 when it started blowing dark smoke out of the engine. This was six months past the two years warranty. The John Deere has 71 hours on the meter and was serviced as required. I contacted the local John Deere service department and was informed that I needed a new engine. I could order one, $600 plus, and install it myself or have them to install one for $700 plus.
Should have kept my old Murray. I read reviews that the John Deere 100 series has had engine failures. Maybe this is why the John Deere 100 series mowers warranty is only for two years. Would a new engine last any longer? Maybe or maybe not. I don't think I'll chance it. My replacement riding mower won't be a John Deere and will have a 3 year factory warranty. My John Deere mower PIN number is 1GXD110EJEE520030.

In checking the reviews at the time John Deere seemed to have fewer deck problems than the rest so I went with it. I still own an L105 purchased around 2006 and this unit mows an acre and a half about twice a month. In ten years I have performed the oil changes and replaced the battery a few times. I took it to the shop once to have a more thorough service although was having no problems and they changed my belts, blades and one pulley. The only thing I do not like about this unit is the narrow 42 inch cut and it is slow.
I also own a 2010 D140 48 inch model. I mow about 1/3 acre at least once a week. I use the bagger about half the time. I have done the services myself and have had no other issues with maintenance. Original blades, belts, and pulleys. The only thing that I do not like about this one is that when I am turning no matter how slight it cuts at an angle. The bagger clogs a little too often if grass is damp or I get a small stick or debris. This unit is fast and great to ride? I never mind mowing. Sometimes regret not getting the zero turn though.
Neither unit is perfect but if I were rating just for dependability only I would have to give both five stars. I looked at some of the reviews and wonder what they are doing. Both of mine are driven by adults and serviced at regular intervals by myself. I use John Deere oil and parts on both units and they are washed little but kept out of the rain.

Horrible company to deal with. Originally I thought that they are helpful. In fact they are NOT. I was looking for a position, which doesn't exist. No one knows nothing about??? Complete chaotic KOS with John Deere HR Department!!! Total ignorance!!! They run like mama's and papa's shop rather than any business! I never seen such CRAP before!!! If you need more info contact them with Mitch at their dealership in Ft. Pierce, FL : 772-461-5568 or Rose ** to contact direct them and find-out on your own. Good luck!

I don't know why you all are having so many problems with your John Deere LA125. Mine is 6 years old; never had a problem. You people must abuse your equipment. 1 more thing John Deere recommends 10w30. Don't use it; 5w30 synthetic Briggs recommend, Try it. It don't have to be Briggs brand; any brand and I cut half acre once a week steep hill to.

I purchased a new john deere 1023E on August 7, 2016 for $17922.50 with all the attachments. I used it for less than 3 hours and the machine malfunctioned causing damage to my property. Apparently an O rings malfunctioned and the dealer, Central Jersey Equipment says this is because of negligence on my part. I am not sure how they come up with that because I put approximately 3 hours on the machine. I contacted Central Jersey Equipment about this issue, which happened within 20 days of the purchase and they have done nothing.
I've contacted john deere directly and have had no luck dealing with them. They give me the runaround but no one ever calls me back. I spent over $17000.00 and I feel I was ripped off. I requested a new machine and something towards the repair of my property and to date have not received a callback from anyone from John Deere. The only thing they say is it is up to the dealer that sold me the tractor. I just wonder how they would feel if they spent their hard earned money and received this kind of service. NOT HAPPY AT ALL!!!

ConsumerAffairs Research Team
The ConsumerAffairs Research Team believes everyone deserves to make smart decisions. We aim to provide readers with the most up-to-date information available about today's consumer products and services.
The John Deere Company is the oldest lawn care company with a 175-year history. This company's distinctive green and yellow riding mowers offer homeowners feature-rich options for their lawn care needs.
Innovative designs: This company has pioneered many lawn equipment innovations.
5-acre mowing: Powerful, high-speed mowers are equipped to handle extensive lawns.
9 MPH speed: A fast mower cuts down on lawn maintenance time.
Residential focus: This riding mower line focuses on consumer-grade needs.
Implements: The attachments and implements expand the John Deere riding mowers' functionality, such as a tiller to prepare soil for planting and a box scraper for yard digging.
Best for Residential homeowners seeking a well-known brand with many product models.
John Deere Company Profile
Company Name:

John Deere

Year Founded:

1837

Address:

1 John Deere Pl.

City:

Moline

State/Province:

IL

Postal Code:

61265

Country:

United States

Website:

http://www.deere.com/