Consumer Complaints and Reviews

I bought a upper top of the line dishwasher. Most times that I use the machine some of the dishes come out dirty. It's not me and it's not the way I stack them. Bosch has refused to acknowledge a problem. The pocket handle has broke twice and so has the rinse dispenser. Bosch replaced them both once within first 12 months. Now that warranty expired they ignore my requests for assistance. If you're considering Bosch, don't do it. Poor machine, worse customer service.

Purchased in July 2015 for $1350. We were debating between the two name brands, so we have decided to purchased Bosch "invent for life", that was the slogan. After 16 months the drain pump has stopped working and shown "e24" on the panel. Did our research online, clean the filter, reset... no success. Called customer services and the respond I got, "the warranty has expired after a year so you have to pay for the labour $129 cost and parts will be extra". Why should I pay, My last dishwasher lasted for 15 years (still working but not very energy efficient). So I have to wait for 48 hours for management approval. Well it has been more than 3 days, no respond. After a few phone calls, Bosch finally responded and agreed to pay only for the parts. Lesson learnt, Bosch never purchased again.

Seriously you can only put plates on the bottom rack, no bowl casserole dishes or Tupperware of any kind will fit on the bottom rack. My husband purchased me the most expensive dishwasher Lowe's had... think he did good... Seriously this dishwasher isn't for large families. The slot are too close together on the bottom rack... Whoever the hell designed this product apparently has never loaded a dishwasher or doesn't have a family of 4 or more...

I have this Bosch wall oven, model # HBLP451LUC and it has problems with the control panel failing within a few months of using the oven, and according to many other customer reviews I have read online, even after it's been repaired or replaced by Bosch, it fails again. AND Bosch is trying to charge me 200.00 to have the wall oven repaired even though it's still under warranty, using the excuse "you have to pay for us to take it out of the wall and reinstall it".
First of all it's a WALL OVEN and advertised by Bosch as such, meaning it's designed and meant to be installed "in a wall". It is therefore reasonable for BOSCH to assume that if/when repairs are needed, the oven would have to be removed from the wall. At no time during my purchase, or anytime thereafter was I told by Bosch or the retailer that I would have to pay for access to the oven if repairs are needed. It's reasonable for me to assume that it's in Bosch's best interest to make defective ovens, since they'll be able to make 200.00 off every repair (citing access was needed). Some consumers online have stated they've had the control panel on their oven repaired or replaced multiple times while under warranty. Can you imagine how much money Bosch is making off the removal and reinstallation fees.
If you have had repairs done on this oven please contact me asap. Bosch is aware of the problem with the control panel failures on these oven and continues to sell them anyway without disclosure to customers. If you are thinking about purchasing this oven (or any Bosch appliances) please do your online research and reconsider your decision. Do you want to be without an oven for weeks at a time every time Bosch needs to do repairs? Do you want to have to pay 200.00 every time the control panel fails and they have to repair it? Do you want to have multiple Bosch appliances failing in your kitchen on a regular basis?
In my opinion, Bosch is not a company who practices integrity and does not meet it's legal obligations to its customers. The quality of Bosch appliances falls far below acceptable standards. If you are in the market for new appliances I would strongly advise to stay away from anything BOSCH. You will regret purchasing their products. I have. I also have the speed oven and it too has had nothing but problems and design flaws....and according to online reviews I'm also not the only one with problems with that oven as well. And the Bosch cooktop I have has also failed on multiple occasions.

I bought this Bosch Zoo'o stick vacuum cleaner from the UK. Due to the fact I was saving $160 if I had bought the same product in Australia it would have cost me another $160. Not realising that it would come with a UK charger. Meaning that I was unable to charge the vacuum. My husband initially contacted Bosch about the problem & he was told they would send an Australian charger free of charge but it would take 2 to 3 weeks to receive it. So I waited 2 weeks had heard nothing. So I contacted them when they brought the file up they turned around & said that it had been written down on my file that they could not send me the charger free as they had to order one from Germany & it would have to be paid for which would cost me $67. But they had not contacted to me to tell me this. So anyway I agreed to buy the charger as I could not use the vacuum without it.Again I was told 2 to 3 weeks for me to receive it.
Another 2 weeks passed nothing as yet. So I decided to ring them again. That was Monday 20/2/ 2017. I was told it wasn't 3 weeks until Friday the 24/2/2017 & to ring back then if I had not received the charger. So I rang again Friday as I still did not have the Charger. Spoke with the same women & she said the order had been completed & could not find the tracking for the charger. So she said she would try & find where it was & get back to me which she did about 20 min later & I was told it was leaving their warehouse on Monday. I specifically asked the women by the name of Tracy if it was definitely a Australian Charger I was getting sent to me & her reply was yes.
Monday morning 27/2/2017 the charger was delivered to my doorstep. I opened the box & it was another UK Charger. I immediately contacted Bosch & was quite cross with them. The man I spoke with said he would pass on the what had happened & Bosch would be in contact with me to give me details to send the charger back & get a refund.
I contacted Bosch again today 2/3/2017 due to not hearing anything. I gave the women my order number so she could bring my file up to see what had been going on. I asked her why no one had contacted me about the return & refund. She put me on hold for a couple of minutes then when she came back I could hear her superior in the background asking her to ask me if I had opened the charger because if I had they could not take it back or refund my money. My reply was of course I have opened it how else was I going to know that you had sent me the wrong charger again. So the women told me they could not take it back or refund my money.
I told her the plastic & the tie was still on charger & I wanted may money back as this was their mistake or I was going to take it further. The women said she would see what she could do & get back to me but I have heard nothing. So I am at my wit's end I have a brand new $440 Vacuum that I am unable to use with no charger to fit it & no refund on the UK charger.
How do I know I can trust these reviews about Bosch Appliances?
717,175 reviews on ConsumerAffairs are verified.
We require contact information to ensure our reviewers are real.
We use intelligent software that helps us maintain the integrity of reviews.
Our moderators read all reviews to verify quality and helpfulness.
For more information about reviews on ConsumerAffairs.com please visit our FAQ.

Bought a very expensive Bosch slide in range and we are extremely disappointed! First of all, the oven takes FOREVER to heat, the oven door has something happening in between the glass panels that slightly obstructs the view (happened just a year after the purchase), replaced the electrical panel which cost us $450 and now none of the burners are igniting, so we'll endure another repair! This is all within a five year period! Don't buy Bosch - it's junk! We never had to repair our cheap Kenmores - EVER!

The grates on the range have a plastic coating on them and they scorch. I call this a defect and they should replace them, but they want to sell me new grates that they cannot tell me what kind of material they are made of. First of all they should replace the grates for free, why put some material that does not hold up to fire on the grates, and second why would they not be able to furnish me with information on the new grates as to the material they are made of and if they have the same plastic coating on the grates. Why would I want to buy the same junk so it can be an ongoing sale?

There is a class action attorney interested... Bosch didn't recall their hazardous (bursting into flames!) dishwashers until a suit was filed. Similar issue here with brand new Bosch double convection oven--control panel and knobs became scalding the first time we used it. It took over two hours for the control panel and knobs to cool down. We keep it shut off at the breaker because the technician said it was just a "glitch." Bosch told us if the technician says it's safe to use your oven it's safe to use your oven--but they refuse to warranty any damage to our kitchen (hello--our us!) if there's a future problem. They'll just replace the oven--I guess after it burns down your kitchen. Make sure you report the problems on Consumer Advocacy site so others can be aware.

I purchased Bosch washing machine on 27.11.2016. It delivered to me on 9.12.2016. For installation and demo Bosch service executive came on 12.12.2016. At the time of demo he find very huge noise in washing drum. He discussed by phone with his Bosch senior service executive. On 15.12.16 senior technician Jayakumar visited to my home. He checked the washing machine and he said washing machine drum to be changed through warranty. After this 2 times senior technician came and checked twice. He said the new washing drum has to be come from company. I am still waiting. Pls update as early as possible.

We had a long power cut yesterday. My washing machine was working at the time of the power cut. When the power came back on again the machine showed a warning light that indicated there was a problem with the motor. I tried the Bosch website and found a section about self-help and put in the model number - it was not recognised so I contacted Bosch customer service. I explained the problem. They were supremely UNHELPFUL; said I needed an engineer and offered to book one with a £95 call out. I searched online 'how to reset my Bosch washing machine after a power cut'. The instructions were simple and took about 20 seconds to complete. SHAME ON YOU YET AGAIN BOSCH. Previously I had tried to buy new baskets for my Bosch dishwasher but at £126 EACH I did not!!! They are OUTRAGEOUS.

Buy any brand appliances but not Bosch, it's the worst. I bought all my kitchen appliances Bosch and I regret it, worst customer service. I had my new fridge for only 2 months and half and the ice maker stopped working. They want to replace the piece but not the fridge, I received it October 21, 2016 and broke mid January 2017. Worst brand ever, I bought the range hood too and when the installation guy opened it, was missing a part. Called and they didn't do nothing, my installer had to make the piece for it. Representatives keep repeating same thing like a robot even the supervisor, "We don't replace. We fix." I feel bad for people like me who got cheated by the brand. Worst brand ever. I have extra fridge in my basement. I don't know what its brand. Had it for 9 years. Never broke and works perfect, 9 years, what a shock after 2 months Bosch fridge broke.

I bought a Bosch WDT55 condensing clothes dryer in July 2016. It has never worked consistently. Sometimes it dries the clothes, other times it leaves me with a load of wet laundry. I tried to return it to the shop after one day but they refused. The 'engineer' came out and said that nowadays dryers are not supposed to dry clothes completely. I explained that it is an intermittent problem. When it works I have no problem with it. It's about twice each month when it leaves the clothes wet that I am inconvenienced. The engineer said he would ask Bosch and call me back but now says they have never got back to him. I called Bosch customer service and got a man who did not believe me when I said the clothes were wet, as in toes of socks can be wrung out. He said if that is so, I need an engineer to come out. But this is an intermittent problem. I cannot make the machine produce the wet clothes the moment the engineer gets to the house.
Bosch customer liaison have this spiel about EU regulations and not being good to dry clothes completely. I get that but they refuse to believe that my machine has a problem. They said maybe I am drying the wrong mixture of clothes!! They are the most condescending bunch who have learned this 'lecture' about 'modern efficient dryers' that I could give in my sleep now. I am in my 60s, have lived in several countries and have never had this particular problem before. Is there some way to get through to Bosch?

DON'T BUY A BOSCH DISHWASHER. I purchased my dishwasher April 2016. I am very dissatisfied with it. I always have an odor, dishes don't dry and I have tried every one of the suggestions to have dry dishes and none of them do the job. I rinse my dishes first and I don't wash them everyday since I am alone. Lately I have been getting black mold on mostly the plastic containers.
I've had several different dishwashers over 40 years and this is the first time I'm having this problem. It is very quiet. Today I spoke with customer service and was told I should do a rinse everyday because it is very air tight and there is no heating coil. I've tried the Extra Shine feature which raises the temp to further enhance drying results. Well, it doesn't work. If I have a dinner party and need to wash more than one load, I have to dry the dishes. The best dishwasher I had was the KitchenAid which I want again. I have a service man coming out to have him smell the odor. I had to throw away wooden spoons, covered with black mold, washed and stayed black. The only thing about this dishwasher is it's quietness. I would gladly have a noisy one that works fine. Another thing, it takes 2 hours or more to complete a cycle.

We had a new kitchen last March and decided after much research we would buy Bosch appliances, supposedly they are very reliable. Unfortunately we found them not to be! We purchased 6 appliances at a cost of around 5k. After 1 week the extractor decided to not work. I informed Bosch and they came out and repaired it although it took 2 visits, though I must say it is not easy getting them out when it suits and I ended up taking a day off work.
Whilst he was there on his 2 visit I reported the fridge/freezer was not getting cold. The engineer advised switching it off and then switching it back on at the lowest level to see if that sorted it, it didn't. Another call to Bosch and another visit from an engineer. He advised that the fridge/freezer needed re-gassing. I advised him it was a brand new fridge only a month old and I wasn't prepared to accept a repair and insisted on a new one. Bosch agreed and duly delivered a new one, this meant getting my kitchen fitter back in as it was integrated, again more time off.
Now 9 months in and the main oven has a problem, after putting it on the self-clean setting when it had finished we opened the door and the glass cover clip had broken. Again another call to Bosch and another day off to accommodate the arrival of the engineer. I must say I am very disappointed in first the products and secondly Bosch's customer service. They are very slow in coming back to you and not very cooperative either. They have agreed to cover all the appliances for an extra year on top of their 2 year guarantee but it is the inconvenience of it that really annoys me. Let's hope the remaining 50% of the appliances stand the test of time! Great appliances though when working!

I have a Bosch 36" 5 burner cooktop that is less than 9 years old and had a wiring harness failure in 1.14 and again this past week. Twice for the same part in less than 9 years is unacceptable. The part is almost $400.00 and labor is another 150-200. Has anyone else had this issue? I am about to call the company again and look for a solution. The final solution may be to ditch Bosch as a supplier and buy from another vendor.

So... I'm standing in the kitchen around 11 pm, watching a soccer game, getting ready to take the dog out. The bottom oven was on Proof at 95 making yogurt. I hear pop! pop!, look over at the 6-year old Bosch double oven. Flame is coming out of the vent at the top left of the oven. I walk over & blow on the flame. It goes out but is still smoking so I get the fire extinguisher & spray the vent a couple times. I spend the next hour or so cleaning up white powder that spread a lot further than I would have expected.
Next day I call the local Bosch Certified Technician. We pull the ovens out so we can see the control boards behind the control panel at the top. Main control board has four melted relays as well as a bundle of burnt wires. Tech says he is going to recommend the oven be replaced instead of repaired, that there is probably more damage that will show up later and we will never trust this oven again. Tech takes a picture to send to the Bosch regional rep along with his report & says to call Bosch customer service. CSR says they need a copy of the original sale receipt. Of course, we cannot find it. I send the original packing sheet and call again. Different CSR says she will see if they can find it in their system & gives me the File #.
Call again & CSR says they have enough info so it has been submitted to upper management, should have response in a couple days. The response: Bosch will replace the oven with the current equivalent model prorated. That means if we pay them $1649.50 (half the MSRP) they will remove the burnt oven, ship & install a new oven. I say My oven should not start on fire! Bosch should replace it with an oven that won't burn up without cost. CSR says he will submit my request. 2nd response is the same. The oven was part of a Bosch package including stove top, microwave, dishwasher, washer & dryer, refrigerator & tankless hot water heater. The control board burst into flame & apparently Bosch has no interest in finding out why. We rejected Bosch's offer & purchased a different brand.

We bought a Bosch dishwasher she68t55uc mid 2014. It has been great but all of a sudden last month December 2016, the dishwasher started making a squealing sound. We called and a repair man came. He chipped my counter which I had to fix, he had to break the door hinge because it was fine before he came, but after coming twice to repair it, the squeal is still here. Said it was the drain pump, so they replaced it, but it still squeals. They admit they are not familiar with working on Bosch but Lowe's picked them to work on it. Not sure why. So Lowe's will replace as under extended warranty, but I hope to pick a kitchen aid instead. I had a Kenmore elite for 18 yrs and it was still working when I replaced it with the Bosch, but it had become too noisy over the years. But it was a great one!! Wish I had bought another Kenmore.

I really love my oven and it came with the house when we purchased it. As much as I love it, I am not sure I would spend the extra money if I had to replace it. I have had GE in the past and was equally satisfied with that performance.

When we remodeled our kitchen we bought all new Bosch appliances. Refrigerator needed service after 2 months of use. Circuit board needed to be replaced. Bosch refused to pay for spoiled food. Ice maker never worked right. Repair tech said we use too much ice. Microwave blew up after 2 years. Unit was replaced by Bosch but does not match the rest of my appliances. Instructed not to use the metal rack that comes with the microwave.
Dishwasher needed a service call because it was making excessive noise after 3 years of use. Now, while cooking a Christmas roast, the inner glass of my 4 year old oven exploded after the oven was turned off. Glass all over the kitchen. We were stuck with a $200 repair bill. Service tech instructed us not to use the self clean feature. My husband and I are in our 60's and the appliances are not overly used. I have had more repairmen in my house in the past 4 years than I have had in 41 yrs of marriage. Bosch appliances are very expensive, overrated, and unreliable.

I absolutely love my Bosch oven! We have had it for a few years now, (probably longer than I realize), but this oven is the perfect size and while it is modern in style it was easy to figure out and so does get used! I would recommend a Bosch to anyone looking for a great oven!

The grates have a coating that scorches and they suggested a replacement, but can't tell what the material of the grates are. Which sounds very unprofessional to me, you don't know your product Bosch employees. Tells me a lot about the company. So the grates are defective and I have to invest more money into this range. NO! Stand behind your product, that's how you get more business and happy customers.

Stupidly we believed the hype about Bosch products. Dishwasher was too small for regular size dishes, who knew, Bosch dishwashers were built for the smaller European dishes. Washing cycles were hours in length, no such thing as a quick wash! Had to be replaced after 5 years with a Kitchen Aid which works fine.
Front loading washer (supposedly top of the line) needs to be wiped down after each use, and propped open to prevent mold. Can't run spin cycle only when necessary. Would sure like that feature since the washer doesn't always get all the water out of the load. Plastic window cracked and came off the frame almost to the day after the warranty expired. The scotch tape looks so attractive holding the plastic window in place.
And the dryer WOW what a poorly engineered appliance. The door fell off! Thank goodness for "YouTube" where my husband found instructions to order the door part and to repair the door. And, I just love cleaning the entire length of the filter after 2 or 3 loads because the "filter" and I use that term loosely doesn't filter. Lint, etc. gets stuck at entrance to the filter and also on the other side of the filter and BTW the filter needs to be washed about once a month because the filter screen gets covered with something.
When we had the repairman out to repair the heating element I mentioned the filter problem and he said he heard that complaint a lot. Fix it! And thank you very much I'll decide when the clothes are dry not the dryer which 9 times out of 10 cases, the clothes aren't dry and I'll decide if I want to use the wrinkle free function not the dryer which again is trying to prevent wrinkles in damp clothes. Hello, Bosch, you get wrinkles in damp clothes! Never again will we buy a Bosch product, they are the worse.

DO NOT BUY BOSCH!!! My kitchen renovation required a replacement of the brand new stove. The dishwasher was replaced at least 2 times, and thereafter required service and at the present time is noisy. The refrigerator required several service calls and replacement of the ice maker, as whenever I needed ice, there was none, or the cold cuts in the refrigerator were frozen, or the vegetables in the drawer were frozen. It is too frustrating. In the beginning, Bosch was accommodating, however, there is no assistance whatsoever although I was assured they would be there to assist with the refrigerator. Unbelievable experience. WILL NEVER BUY BOSCH AND RECOMMEND ANY OTHER BRAND!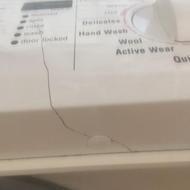 I at first liked this washer then several problems. One, the moldy smell inside required the door to be left open to avoid a stench. I got used to that, though constantly had to wipe the gaskets out and clean the inside door and gaskets. Then a couple of years ago, 8 years after I bought it, the housing near the dials developed a small crack. I called customer service and received no satisfaction.
I called again in August this year, obtained a file number for my complaint, but they wanted me to get a Bosch repair person and pay them to "diagnose the problem," which was evident from the picture below, as a crack. This was not due to operator error or misuse. We are a retired couple, don't take in laundry (!) and it is kept on the first living floor of our heated and air conditioned house. I have seen other complaints of these issues online, so I know we're not alone. I wish I had kept my 29 year old Maytag and replaced the pump instead of buying this set. Don't buy Bosch!

Purchased new Bosch tankless water heater. Nothing but problems. Turn on hot water and the moment I open cold water tap the heater turns off. Have spoken with plumbers Re this problem and they all say this is an inherent problem with these heaters. You can only open hot water tap. The moment you want to mix hot with cold the heater turns off. Absolutely junk waste of good money. Tore it off wall and purchased a reliable hot water heater conventional. Also Bosch products in general are total crap. Will not purchase and will not recommend. Obviously not made in America.

$600 dollars to repair a 3 year old BOSCH washing machine not covered under warranty. The part that regulates the motor went and the part is $399. Customer service said they needed my purchase receipt and diagnosis and they would get back to me. After a number of emails and phone calls BOSCH will not cover a penny. BOSCH does not stand behind their product. I just bought a LG washer, never buying a Bosch product again.

The dryer has been problem free. I have had this dryer for almost three years and have not had any problems. We live in a condo so we purchased this model because of the smaller size. It is fine for two people, but I would not recommend it for a family. The only downside is that it cannot handle large bulky items such as king size blankets.

Was told by salesperson at Lowe's in Longview that the Bosch Dishwasher #SHe53tf2ud02 FD9503003422 was the best to buy. Was purchased for $796.41 in May 4th. 2015 at Lowe's in Longview. From the start we could not dry dishes in the machine. Asked for service man to look at it to see why it would not dry dishes. We were told by service rep. that it was not designed to dry dishes. Went back to sales department at Lowe's and were told that it was too bad but we purchased a dishwasher that didn't dry dishes. No recourse what so ever. So, since owning it our dishes are now etched and the washer stinks up the kitchen and make it smell like a moldy swamp. We are removing the crappy dishwasher and replacing it with a 219.00 Frigidaire like the one we took out. Don't buy Bosch from Lowe's or anywhere else.

Our dishwasher is good, but not great. Our dishwasher is comparable to the previous one we had, except that it runs a long time on regular wash. Also, the stainless steel front makes it difficult to keep streak free. The size is fine. Otherwise, I don't see much difference between dishwashers, except for the price. This one is expensive.

It is so quiet! Very roomy & configured to get a lot of dishes in at one time. We have the stainless steel. The look of the dishwasher is very sleek, no buttons at all on the outside. Inside the dishwasher is roomy and configured to load glasses, plates and pots and pans after a family dinner with no problems. We use cascade and a dishwasher liquid for glass spots. Our plates, glasses, everything comes out gleaming! The best feature? The dishwasher is so Quiet! Seriously! There is a small red light that shines on your floor while your dishwasher is in use. That is how I know it is on. Love It!
Bosch Appliances Company Profile
Company Name:

Bosch Appliances

Website:

http://www.bosch-home.com/