Consumer Complaints and Reviews

We bought a Bosch dishwasher she68t55uc mid 2014. It has been great but all of a sudden last month December 2016, the dishwasher started making a squealing sound. We called and a repair man came. He chipped my counter which I had to fix, he had to break the door hinge because it was fine before he came, but after coming twice to repair it, the squeal is still here. Said it was the drain pump, so they replaced it, but it still squeals. They admit they are not familiar with working on Bosch but Lowe's picked them to work on it. Not sure why. So Lowe's will replace as under extended warranty, but I hope to pick a kitchen aid instead. I had a Kenmore elite for 18 yrs and it was still working when I replaced it with the Bosch, but it had become too noisy over the years. But it was a great one!! Wish I had bought another Kenmore.

I really love my oven and it came with the house when we purchased it. As much as I love it, I am not sure I would spend the extra money if I had to replace it. I have had GE in the past and was equally satisfied with that performance.

When we remodeled our kitchen we bought all new Bosch appliances. Refrigerator needed service after 2 months of use. Circuit board needed to be replaced. Bosch refused to pay for spoiled food. Ice maker never worked right. Repair tech said we use too much ice. Microwave blew up after 2 years. Unit was replaced by Bosch but does not match the rest of my appliances. Instructed not to use the metal rack that comes with the microwave.
Dishwasher needed a service call because it was making excessive noise after 3 years of use. Now, while cooking a Christmas roast, the inner glass of my 4 year old oven exploded after the oven was turned off. Glass all over the kitchen. We were stuck with a $200 repair bill. Service tech instructed us not to use the self clean feature. My husband and I are in our 60's and the appliances are not overly used. I have had more repairmen in my house in the past 4 years than I have had in 41 yrs of marriage. Bosch appliances are very expensive, overrated, and unreliable.

I absolutely love my Bosch oven! We have had it for a few years now, (probably longer than I realize), but this oven is the perfect size and while it is modern in style it was easy to figure out and so does get used! I would recommend a Bosch to anyone looking for a great oven!

The grates have a coating that scorches and they suggested a replacement, but can't tell what the material of the grates are. Which sounds very unprofessional to me, you don't know your product Bosch employees. Tells me a lot about the company. So the grates are defective and I have to invest more money into this range. NO! Stand behind your product, that's how you get more business and happy customers.
How do I know I can trust these reviews about Bosch Appliances?
668,849 reviews on ConsumerAffairs are verified.
We require contact information to ensure our reviewers are real.
We use intelligent software that helps us maintain the integrity of reviews.
Our moderators read all reviews to verify quality and helpfulness.
For more information about reviews on ConsumerAffairs.com please visit our FAQ.

Stupidly we believed the hype about Bosch products. Dishwasher was too small for regular size dishes, who knew, Bosch dishwashers were built for the smaller European dishes. Washing cycles were hours in length, no such thing as a quick wash! Had to be replaced after 5 years with a Kitchen Aid which works fine.
Front loading washer (supposedly top of the line) needs to be wiped down after each use, and propped open to prevent mold. Can't run spin cycle only when necessary. Would sure like that feature since the washer doesn't always get all the water out of the load. Plastic window cracked and came off the frame almost to the day after the warranty expired. The scotch tape looks so attractive holding the plastic window in place.
And the dryer WOW what a poorly engineered appliance. The door fell off! Thank goodness for "YouTube" where my husband found instructions to order the door part and to repair the door. And, I just love cleaning the entire length of the filter after 2 or 3 loads because the "filter" and I use that term loosely doesn't filter. Lint, etc. gets stuck at entrance to the filter and also on the other side of the filter and BTW the filter needs to be washed about once a month because the filter screen gets covered with something.
When we had the repairman out to repair the heating element I mentioned the filter problem and he said he heard that complaint a lot. Fix it! And thank you very much I'll decide when the clothes are dry not the dryer which 9 times out of 10 cases, the clothes aren't dry and I'll decide if I want to use the wrinkle free function not the dryer which again is trying to prevent wrinkles in damp clothes. Hello, Bosch, you get wrinkles in damp clothes! Never again will we buy a Bosch product, they are the worse.

DO NOT BUY BOSCH!!! My kitchen renovation required a replacement of the brand new stove. The dishwasher was replaced at least 2 times, and thereafter required service and at the present time is noisy. The refrigerator required several service calls and replacement of the ice maker, as whenever I needed ice, there was none, or the cold cuts in the refrigerator were frozen, or the vegetables in the drawer were frozen. It is too frustrating. In the beginning, Bosch was accommodating, however, there is no assistance whatsoever although I was assured they would be there to assist with the refrigerator. Unbelievable experience. WILL NEVER BUY BOSCH AND RECOMMEND ANY OTHER BRAND!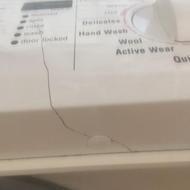 I at first liked this washer then several problems. One, the moldy smell inside required the door to be left open to avoid a stench. I got used to that, though constantly had to wipe the gaskets out and clean the inside door and gaskets. Then a couple of years ago, 8 years after I bought it, the housing near the dials developed a small crack. I called customer service and received no satisfaction.
I called again in August this year, obtained a file number for my complaint, but they wanted me to get a Bosch repair person and pay them to "diagnose the problem," which was evident from the picture below, as a crack. This was not due to operator error or misuse. We are a retired couple, don't take in laundry (!) and it is kept on the first living floor of our heated and air conditioned house. I have seen other complaints of these issues online, so I know we're not alone. I wish I had kept my 29 year old Maytag and replaced the pump instead of buying this set. Don't buy Bosch!

Purchased new Bosch tankless water heater. Nothing but problems. Turn on hot water and the moment I open cold water tap the heater turns off. Have spoken with plumbers Re this problem and they all say this is an inherent problem with these heaters. You can only open hot water tap. The moment you want to mix hot with cold the heater turns off. Absolutely junk waste of good money. Tore it off wall and purchased a reliable hot water heater conventional. Also Bosch products in general are total crap. Will not purchase and will not recommend. Obviously not made in America.

$600 dollars to repair a 3 year old BOSCH washing machine not covered under warranty. The part that regulates the motor went and the part is $399. Customer service said they needed my purchase receipt and diagnosis and they would get back to me. After a number of emails and phone calls BOSCH will not cover a penny. BOSCH does not stand behind their product. I just bought a LG washer, never buying a Bosch product again.

The dryer has been problem free. I have had this dryer for almost three years and have not had any problems. We live in a condo so we purchased this model because of the smaller size. It is fine for two people, but I would not recommend it for a family. The only downside is that it cannot handle large bulky items such as king size blankets.

Was told by salesperson at Lowe's in Longview that the Bosch Dishwasher #SHe53tf2ud02 FD9503003422 was the best to buy. Was purchased for $796.41 in May 4th. 2015 at Lowe's in Longview. From the start we could not dry dishes in the machine. Asked for service man to look at it to see why it would not dry dishes. We were told by service rep. that it was not designed to dry dishes. Went back to sales department at Lowe's and were told that it was too bad but we purchased a dishwasher that didn't dry dishes. No recourse what so ever. So, since owning it our dishes are now etched and the washer stinks up the kitchen and make it smell like a moldy swamp. We are removing the crappy dishwasher and replacing it with a 219.00 Frigidaire like the one we took out. Don't buy Bosch from Lowe's or anywhere else.

Our dishwasher is good, but not great. Our dishwasher is comparable to the previous one we had, except that it runs a long time on regular wash. Also, the stainless steel front makes it difficult to keep streak free. The size is fine. Otherwise, I don't see much difference between dishwashers, except for the price. This one is expensive.

It is so quiet! Very roomy & configured to get a lot of dishes in at one time. We have the stainless steel. The look of the dishwasher is very sleek, no buttons at all on the outside. Inside the dishwasher is roomy and configured to load glasses, plates and pots and pans after a family dinner with no problems. We use cascade and a dishwasher liquid for glass spots. Our plates, glasses, everything comes out gleaming! The best feature? The dishwasher is so Quiet! Seriously! There is a small red light that shines on your floor while your dishwasher is in use. That is how I know it is on. Love It!

I am having issues with a brand new oven/microwave combo that keeps breaking. The Bosch service department does not have their act together, so they keep postponing my appointment, and they are not very apologetic about it either. I tried to write a negative review on their website, but it was reviewed by them and not posted. They only post the good reviews of their product. This is symptomatic of a company that is not transparent about their business.

We had a Kitchenaid that did not clean the dishes as well as the Bosch (I found this out when I got the Bosch). The Bosch has a better rating for reliability. The KitchenAid I replaced was top of the line and it died at 8yrs old. My wife says the Bosch holds more dishes and is easier to load. One tip, whom ever installs it should read the directions carefully (some plumbers are over confident they know how to install these. End up not getting the drain hose placed properly and the power cord) as these two exit the back of the dishwasher and when pushed into the cabinet they could have a chance to get crushes or tangled up or under the machine.
The hose and cord need to pulled to take up the slack as the machine is pushed back in place. The drain hose needs to be 20" higher than where it exits the machine before going to the sink drain. Some folks complain of a foul smell from these machines and I feel the plumbers did not install them right. My sister in law has a Bosch and the cabinet inside stinks awful, mine has No Smell after a month of use. That's why I feel the install by the plumber is faulty. I always bought KitchenAid but felt the quality has gone downhill and am very pleased with this Bosch... Cleans super well.

I purchased a Bosch gas stove and dishwasher 18 months ago as part of a home remodeling project. Within weeks of installation the symbols on the stove knobs indicating what burner they corresponded to had virtually worn away. I had the plate replaced and within a few months they had worn away again. I have used no cleaning product on the stove other than stainless steel cleaner - now I just live with the fact that people have to figure out what burner they're turning on by trial and error. Within months the electrical components of the oven also began to malfunction. The oven would preheat but if it were left on for a while (while cooking Thanksgiving dinner, for instance - yes, that happened) the oven would spontaneously go dead - the digital display as well as the heating element. Switching off the circuit breaker and turning it back on again did nothing.
I had the circuit board replaced (it was still under warranty) and a few weeks later the same thing happened (again, during a party when I was doing a lot of cooking). Long story short, it took 6 months and several service calls to resolve the problem. Now the oven works but the clock loses hours almost daily - I have to constantly re-set it. (Again, I just live with this - apparently having a stove clock that works is too much to ask.) The dishwasher has been just as bad. A wine glass apparently broke during a washing cycle and a 1" shard of glass got through the filter and into the pump. (Like this has never happened before in anyone's kitchen? The filter system underneath the dish rack should be designed to prevent hard objects like a piece of glass from getting into the pump.)
The dishwasher is 18 months old. I just spent $250 dollars for a new pump. I will never, ever buy a Bosch appliance again. I had a Frigidaire dishwasher in my old house and never had a service call in 10 years. For supposedly higher-end appliances, Bosch's engineering and attention to detail is absolutely pathetic. I would give them a 0 for reliability. The local appliance outlet I bought these from has been extremely prompt about coming to my home for service calls, and very apologetic about my complaints. I don't blame them - I place the blame entirely on the poor quality of the appliances themselves.

The dishwasher is great, dishes are clean, etc. The biggest feature though is how quiet this dishwasher is - you cannot hear it operating! We love it! Never had one this quiet. If your home is noisy due to kids, pets, technology or whatever, this is one appliance that will not contribute to the cacophony. This is the quietest dishwasher I've ever experienced and a joy to operate. It has three 'shelves' for one thing with the top one perfect for silverware and utensils. It works great - dishes are clean and sparkling every time... And you'll never know it's operating.

I purchased a Bosch DHD3014SS Downdraft for behind my new Bosch cooktop and discovered after only two years that it stopped working and needed outrageously expensive replacement and repair parts. The up/down switch failed and damaged the motor and transformer costing as much as some new downdrafts to repair. I hardly even use it and it was obviously not the first time this happened because my repairman has seen this before in this product. My GE downdraft lasted over 20 years and the one year warranty on this is inadequate for such an expensive and poorly built appliance. I know Bosch must be aware of this problem because they refused to allow me to post a negative review on their company website. I will NEVER purchase another Bosch product and I would never recommend the Bosch downdraft. How can they refuse to allow negative comments on their own website and expect people to trust their reviews?

Let it be known, the Bosch website controls how many negative reviews can be posted. Mine was rejected when I complained about the lettering disappearing from the controls of my Bosch dishwasher. There are many non-Bosch website reviews critical of this issue. It would be suspicious if there were no critical reviews, so some are obviously allowed, but compare the 5 star and 1 star percentages to Amazon's reviews. Quite a different story.

BOSCH STEAMER (CDG634B.1B). Avoid this product as it is not fit for purpose. It does not work. Having complained to Bosch we have had two engineer's visits to no avail and a subsequent replacement product that is as useless as the first. Bosch know that this product is not fit for purpose as they warn their engineers of the customer complaints they are likely to encounter. Complaints to Bosch are met with obfuscation and a refusal to refund any monies paid. We will never buy another product from this manufacturer.

Bosch 500 Series HBE5451UC - From installation forward the oven would not heat up to temperature. We bought it through Sears. I called Sears Repair twice. They just gave me the runaround wanting me to bake various things and keep track of how long they took to bake. Sears was not interested in my problem. Called the Bosch Service line. They gave me the name of and excellent repair service that would drive 60 miles to my home in the mountains. The repair technician evaluated the oven and found it had a bad "board", I suppose circuit board. It took 3 visits from the repair tech. The wrong board was first sent. Once the correct board was installed the oven is reaching temperature. However it continues to not bake good evenly. It bakes things faster in the back of the oven than at the front. I have to watch or bread or cake will be burned in the back of the oven while still pale at the front.
The baking rails are a real danger. There is only one pair of rails with the oven. I tried to buy a second pair so I could bake 2 pans at a time and they are not available. So, I tried inserting a pan without the rails. It is very dangerous!! You have to be very careful or the pan falls out and would dump its contents on the floor. So, the oven has very limited use with only one usable rack for a pan limiting how much one can back at a time. This is the 3rd wall oven we have had in this cabinet in the 40 years we have lived in the house. It is 34 inches up from the floor. Every time I open the oven it blows hot air into my face fogging my glasses. I have to step back and wait for my glasses to clear before I can check or remove whatever is baking. As a Public Health Nurse I am concerned this oven has too many safety issues and is a menace to the consumer.

Purchased a model shs5av56uc Bosch dishwasher. Less than 2 months old. Service module out. Service came has no idea when the part will be in. Bosch won't post my review on their website. Only positive reviews. Bosch will not respond to my concerns. I have never had this issue with any other brand. Terrible appliance. Would not buy another Bosch again.

I am a senior and have owned Dishwashers all of my adult life. This machine is just over a year old and it needs a service because of not draining. I have never had to get a repair on any of my previous machines. As I look online this appears to be a common problem with Bosch.

The compressor on our Bosch refrigerator seized after just 7 years. The cost to repair was more than we paid for our new refrigerator - NOT a Bosch, a Frigidaire Gallery. Stay away from dual evaporators - sounds nice, but it's too complex for the government-mandated efficiencies. (The Bosch dishwasher is great.)

Bought a Bosch Refrigerator May 2011. A year later, the ice maker went out. Repair tech told us it would cost $500 to fix. We've been using bagged ice ever since. Last week it started beeping and no cold air was circulating even though the control panel said it was cold. Called Bosch Customer Service, there is only ONE service repair shop in our area and it took 5 days for him to come out to look at it. We've spent the whole time living out of an ice chest with 2 young kids. Not fun. When the tech came it took him 10mins to say it probably needed a new control panel but he wasn't sure that would fix the problem. New part costs $750 ($250 for 1hr of labor!!!). When I asked him if we got a "lemon", he said no, this is normal. WTF. Never buying Bosch again!!!

Long story short, I bought a 500 series Bosch and after 2 months it started malfunctioning. I must say Bosch Customer Services did try to fix it by replacing two computers and a pump, but it still malfunctioned. They finally replaced it after numerous calls, service calls and emails. I bought a different brand. Bosch did call me back unprompted by a call from me to see how things were going and even after it was replaced, I got a call from one of the managers about problems with a dealer refund. I found them to at least care about their customer to go out of the way to assist me. As for the product and I have had Bosch's before, it was a lemon. Previous bosch dishwashers were great and my niece even has the same one I had but hers worked beautifully. After an 8 month ordeal, I don't think I would buy one again, but it's only because I don't want to ever experience this amount of hassle again over anything.

Washer dryer hardly been used. Not working. Paid almost £600.00. Told today by customer services about an almost £600 washer dryer that has only be used a few times, "We cannot guarantee that our products are not faulty and that they will always reliable." Thanks for letting me know for future reference.

A lot of time and $$ spent trying to purchase a new motor control module. Not Available! Anywhere. Sent mine out to be fixed - not able - parts not available. We now have to throw out a perfectly good washer and dryer stackable unit (3 yrs old) because of the part. Has anyone else had this problem? What a waste of money! (let alone the environmental aspects). Off to spend $2,000.00 - not on Bosch!!!
Bosch Appliances Company Profile
Company Name:

Bosch Appliances

Website:

http://www.bosch-home.com/