Best weight loss apps
These diet apps make tracking weight loss easy


Written by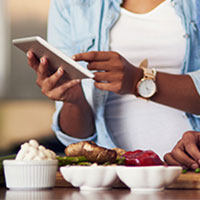 You already know that scrolling through your phone doesn't burn enough calories. There are hundreds of apps out there claiming to help you lose weight. Some help, some don't. Finding the right app to help you lose weight makes dieting a little easier and a bit more fun: tracking weight loss becomes a game with food tracker apps, calorie counters and exercise motivation.
What are the best weight loss apps?
Most weight loss apps claim they can motivate you to get healthy and also help you to better track longterm progress in your weight loss journey. In order to help you make an informed decision on your next download, we've compiled a list of our top ten weight loss apps out there based on a 4+ stars in the app store and at least 100 total ratings.
Our favorite for personal coaching
Noom
How Noom works: Noom encourages long-term results through behavior and habit changes, not restrictive dieting. Dieters first take a 30-second quiz to determine their weight loss goals and current lifestyle. The quiz also asks questions about medical issues, identifiable health risks and major life events to customize the best diet plan for each user. Noom diets don't restrict specific types of food. Instead, the app provides structured courses to help dieters focus on nutrition and physical activity while gradually adopting healthier habits. Most people who use Noom lose one to two pounds per week. Around 60% of Noom dieters keep the weight off for at least a year.
Compatibility: Compatible with Android devices, iPhone, iPad and iPod touch. Requires iOS 10.3 or later.
Price: $9.99 – $79.99 after the 14-day free trial period.
WEIGHT LOSS APP FEATURES

Get personalized, one-on-one coaching from health experts
Easy food-logging with "custom dish" feature
Select from healthy weight and diabetes management programs
Our pick for diabetics
NuMi
How NuMi works: NuMi by Nutrisystem is a diet app that will remind you to track your meals and snacks, drink enough water and exercise. To log your meals and snacks, simply press the "+" icon or select one of the choices in the journal section (Nutrisystem Entree, SmartCarb or PowerFuel, for example). You can "Create a Custom Activity" to keep track of exercises through the Quick Log function. Plan guidance shows your PowerFuel and SmartCarbs allotment for every meal. It's also easy to go back and log a meal or snack if you forget earlier in the day.
Compatibility: Requires Android 5.0 and up or Apple iOS 10.0 or later. Compatible with iPhone, iPad and iPod touch. Syncs with FitBit.
Price: Free, with in-app shopping available for Nutrisystem food items.
WEIGHT LOSS APP FEATURES

Great for anyone with strict nutritional needs
Exclusive games and contests
Access to daily nutrition articles, diet tips and recipes based on where you are in your weight loss journey
Good for people on the go
WW
How WW works: This app by WW (formerly Weight Watchers) will track your food, activity and personalized goals. A barcode scanner makes it easy to find SmartPoints value information on almost anything. Once you've scanned a product's barcode, you can track it through the My Day dashboard, where you can also track your diet and exercise. Toggle between foods and activities, or use split screen to track both simultaneously. You can look up specific foods or activities and tap or swipe right to add them to your dashboard. When you find a recipe you like, add it to your "favorites."
Compatibility: Requires Android 5.0 and up or Apple iOS 10.0 or later. Compatible with iPhone, iPad and iPod touch.
Price: You must be a member of WW to use the app. Cost for WW membership varies depending on where you live, but typically costs about $10 per week to attend meetings and $3–$5 per week for the digital program.
WEIGHT LOSS APP FEATURES

Search 4,000+ recipes by meal time, dietary needs, SmartPoints value, prep time and popularity
Access to members-only digital community, Connect, for motivation and encouragement; 24/7 online chat support
WW app connects to your fitness device
Our pick for athletes
Beachbody on Demand
How Beachbody On Demand works: You'll get access to hundreds of fitness videos for strength-training, cardio, yoga, dance, mixed martial arts and more. Watch them on your phone, tablet, computer or smart watch, or stream through Chromecast or Apple TV, where you can view your heart rate zones and calorie burn in real time. Videos are also available for download to access offline. Includes popular workouts like P90X, Core de Force, Body Beast, 21 Day Fix, PiYo, plus exclusives like Shaun T's CIZE: The Next Level dance workout, and Fixate, Autumn Calabrese's cooking show. Most workouts are about 30 minutes or less.
Compatibility: Optimized for iPhone, iPad and Apple TV and connects to Apple Watch. Also connects to Roku players, Amazon Fire TV or Google Chromecast.
Price: $14.99/month or $99.99/year. Offers in-app purchases. Try free for 14 days.
WEIGHT LOSS APP FEATURES

Expert trainer guidance and social support to keep you motivated
Access to resources on Shakeology channel and hundreds of Beachbody recipes.
Syncs with Apple Watch and Chromecast
Great for tech-savvy dieters
Lose it!
How Lose It! works: Lose It! makes it easy to set your goal and track your progress with weight loss games and challenges to keep dieting fun. Highly customizable, you can log your food and exercise with easy database and tracking tools. Record your food intake in one of three ways: Search food database with over 7 million items, scan a barcode or snap a picture of the food. The app's recognition software can identify most common food items. Confirm the app's analysis and select your serving size to automatically add caloric and nutritional information to your log.
Compatibility: Works for most Apple and Android devices. Compatible with FitBit and Nike+ Run Club.
Price: Free with in-app purchases available. Premium subscriptions $19.99–$39.99, annually.
WEIGHT LOSS APP FEATURES

Access to Lose It! social community for inspiration and support
Macronutrient goal setting and tracking with data analysis and recommendations
No ads with premium subscription
Our pick for music lovers
Aaptiv
How Aaptiv works: Simply enter your fitness goals and find workout programs you like. You can choose a workout based on duration, trainer or music. Then, put on your headphones and let Aaptiv's trainers guide you to your fittest self through audio-based instructions. Workouts feature music by top artists across genres, specially timed and paced for your workout. You can do the workout at home, at the gym and anywhere else headphones are allowed. Classes are constantly being added, so you'll never get bored with the same workout every day. You'll also have access to Aaptiv's social community for motivation, support and inspiration.
Compatibility: Available on iOS (including Apple Watch) and Android devices.
Price: $8.33 per month, billed annually. Free 7-day trial.
WEIGHT LOSS APP FEATURES

Get unlimited access to more than 2,500 guided workouts
40+ classes added every week
Great for dieters motivated by digital social communities
Great for dieters on a budget
Fat Secret
How FatSecret works: Through the app, you can keeping a food journal, monitor your weight and chat with other dieters who have similar goals. All of this can help you meet your weight loss goal and see where you went wrong if you don't. FatSecret helps you track your food in a food diary and provides nutritional information for all foods, brands and restaurants. Also features a large collection of healthy recipes to help you lose weight and comes with an exercise diary to keep track of the calories you burn, a weight chart and a journal to record your progress.
Compatibility: Works on iPhone, iPad, Android, BlackBerry and Windows devices.
Price: Free with in-app purchases.
WEIGHT LOSS APP FEATURES

Tracks calories consumed and calories burned
Diet calendar function makes it easy to track progress and plan ahead
Huge nutritional database with popular food items, brands and restaurants
Good for long-term weight loss
Happy Scale
How Happy Scale works: Happy Scale monitors how your weight fluctuates over time and uses an algorithm to chart your overall progress. If you've ever been discouraged by a weight loss program because you got on the scale and were inexplicably heavier than before you started your diet, this app could help you stay motivated for long-term weight loss. Happy Scale also helps break up your weight loss plan into realistic and achievable goals. You can easily export your data in a single file and import to other devices.
Compatibility: Works on Apple devices. Automatically syncs with iPhone, iPad and Apple Health.
Price: Free with in-app premium products available for purchase.
WEIGHT LOSS APP FEATURES

Set and achieve long-term weight loss goals
Syncs between multiple devices and other apps
Good for dieters who want to track their progress over time
Great for exercising at home
Seconds Interval Timer HIIT
How Seconds Interval Timer works: Whether you're into cycling, running, lifting weights, cardio, stretching, boxing or MMA this interval timer will help you keep track of your work and rest periods during workouts. The Seconds Interval Timer app allows you to specify an overall time or program, high/low-intensity interval and rest time between sets. Especially if you have a lot of excess weight to lose, adding high- and low-intensity interval workouts to your diet plan can help you lose weight quickly. Customize your number of sets, countdown times, set times, low or high interval times, rest time, timer sounds, language and volume, playlists and more.
Compatibility: Requires Android 4.2 and up or Apple iOS 9.3 or later. Compatible with iPhone, iPad, and iPod touch.
Price: Free with in-app purchases
WEIGHT LOSS APP FEATURES

Highly customizable
Bright colors and large text on a large, clear display
Bluetooth heart rate sensor support
Good for long-term health tracking
My Net Diary
How MyNetDiary works: Free membership plans come with food and exercise tracking, diet planning, weight loss charts, daily analyses and access to MyNetDiary's social community. Premium membership also includes FitBit activity trackers and body scale, personalized diet advice and tips, plus diabetes or pre-diabetes health tracking. MyNetDiary's Premium experience is ad-free and includes customer support. It's popular with adept dieters who already understand the basic components of an effective weight loss program.
Compatibility: Works on most Apple and Android devices. Syncs with iOS Health App and Apple Watch app.
Price: 0–$9/month
WEIGHT LOSS APP FEATURES

Nutrition database of 926,000 food items
Automatically syncs with multiple devices
Works offline
Label
Authorized Partner
Company name
Logo
Contact
Summary
Learn More

Non-restrictive diet plans
In-app pedometer and health log
Free trial period

Label
Company name
Logo
Contact
Summary
Learn More

Set your own daily calorie limits
Connects to FitBit and other fitness devices
Free

Label
Company name
Logo
Contact
Summary
Learn More

Works off SmartPoints value system
Automatically syncs with FitBit
Free
Bottom line: Are weight loss apps worth it?
If you're struggling to lose weight or keep it off in the long run, a weight loss app could help you. Studies suggest that dieters who weigh themselves daily are more likely to lose weight than those who don't keep track of their weight at all. Weight loss apps help you track your progress, and sometimes have extra features like games, exclusive content and social support. Many weight loss apps use tracking tools to monitor your calorie intake and exercise habits, so it can also be easier to see where you still have room to improve.
Did you find this article helpful?
|
You're signed up
We'll start sending you the news you need delivered straight to you. We value your privacy. Unsubscribe easily.