Our promise. We provide a buying advantage with verified reviews and unbiased editorial research.
About Noom
Noom is a personalized weight loss app with access to coaching in your pocket. The company's habit-changing solution includes daily lessons and progress tracking for meals and exercise designed to fit individual lifestyles. The custom plans are created from the Noom quiz that asks about your specific goals and needs. The program uses psychology to teach you a lifetime of healthy habits.
Pros & Cons
Pros
Free trial period
Community support
Cons
Dieticians aren't available 24/7
Meal plans not provided
Bottom Line
Noom is a weight loss app developed by registered dietitians and nutritionists. Through the app, users can log their meals, water intake and activities and get personalized support.
What is Noom?
Noom is a mobile-based wellness program that uses psychology to encourage long-term healthy eating habits. Through the Noom app, you get:
Personalized, one-on-one coaching from a health expert and a support group with other Noom users for motivation and support
A progress tracker to log meals and water intake, record your exercise sessions, input your blood pressure and glucose and track your weight loss progress
An in-app pedometer
Access to courses that walks you through lessons, like the psychology of weight loss and food fundamentals using interactive articles, games and quizzes
The program is backed by 40 peer-reviewed scientific articles and a team of behavioral health experts with doctorates and master's degrees in psychology, neuroscientists and statisticians.
How does Noom work?
Noom works by motivating you to change your behavior through psychology lessons. To start, you complete a quiz that takes about 10 minutes to determine your individualized weight loss plan. The quiz asks you to answer questions about your goals, health, current habits, behaviors and more.
After you take the quiz, you make your initial payment and download the app to start the program.
Noom programs
Noom has two programs: the Healthy Weight Program and the Diabetes Management Program.
The Healthy Weight Program consists of four stages over 16 weeks: learning, practicing, advanced learning and mastery. Participants receive easy-to-follow tasks and track their progress through the app. Users also benefit from feedback and encouragement from their personal support coach and peers.
The Diabetes Management Program offers similar support but focuses on the carbohydrate content of the foods you consume. The diabetes program is recognized by the U.S. Centers for Disease Control and Prevention, which requires programs to meet certain criteria to qualify. These criteria include program participation, curriculum review and other success metrics.
Noom example
For a woman in her 20s wanting to lose 35 pounds, Noom calculated a daily calorie goal of 1,320 over six months. This is with a weight loss speed of 7 out of Noom's 9-point scale.
The daily calorie goal is based on your age, starting weight, goal weight and preferred weight loss speed. Noom doesn't scold you if you don't meet your goals — it provides motivating messages encouraging you to continue logging and doing lessons instead.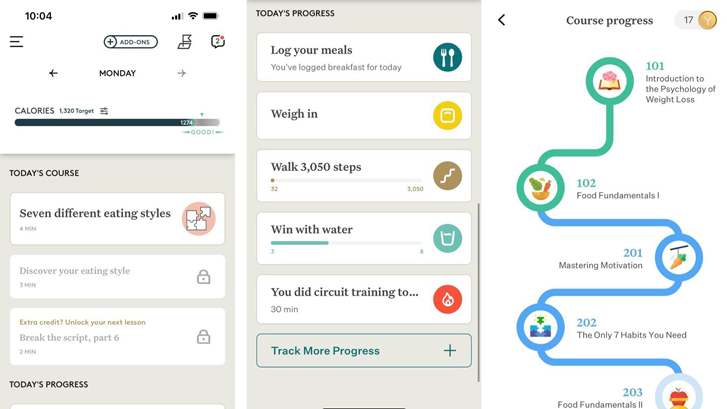 What can you eat on Noom?
The Noom diet plan doesn't have food exclusions or banned foods. Instead, foods are assigned a color — green, yellow or red — that acts as a portion guide and not an indicator of "good" or "bad" food.
Noom green foods: Green foods are the least calorie-dense and have the highest number of nutrients. Most green foods are vegetables and whole grains, such as spinach, apples, sweet potatoes and brown rice. Noom users can eat green foods in larger quantities.
Noom yellow foods: Yellow foods have less healthy nutrients than green foods but can be enjoyed in moderate proportions. Many yellow foods are starches, lean meats and dairy products, including eggs, salmon and black beans.
Noom orange foods: Orange foods are the highest in calories and have the least healthy nutrients. Most orange foods are red meats and dessert dishes, like bacon, popcorn, almonds and ice cream. Orange foods aren't totally off-limits but should be eaten mindfully.
When you log your meals or snacks into the Noom app, it automatically sorts the food into one of the three colors so you can monitor the number of calories you're eating from each group and visually see where to make improvements.
How much does Noom cost?
Noom costs $60 per month for the monthly auto-renewing plan. However, the more months you commit to, the better the deal — see the auto-renewing subscription pricing below.
Monthly plan: $70
Two-month plan: $129
Three-month plan: $159
Four-month plan: $169
Five-month plan: $174
Six-month plan: $179
Seven-month plan: $184
Eight-month plan: $189
Nine-month plan: $195
10-month plan: $199
11-month plan: $205
Annual plan: $209
Since Noom plans are individualized, the total cost of your plan will vary based on the recommended time it takes to reach your goal weight.
Is Noom worth it?
Noom is worth it if you want to lose weight through learning healthy habits and psychological methods. A reviewer from Georgia said, "This has been one of the best experiences I've had losing weight, learning about my body and mind and maintaining motivation. Compared to other programs, the focus is on LEARNING!"
However, Noom might not be for you if you don't want to log every detail of your meal. A reviewer from Nebraska said, "While the lessons are great and give me a lot to work on, the coaching and food logging leave a lot to be desired."
Overall, Noom gives users the motivation and support they need to change their habits for the better.
ConsumerAffairs has collected 2,578 reviews and 694 ratings.
A link has directed you to this review. Its location on this page may change next time you visit.
How do I know I can trust these reviews about Noom?
4,350,500 reviews on ConsumerAffairs are verified.
We require contact information to ensure our reviewers are real.
We use intelligent software that helps us maintain the integrity of reviews.
Our moderators read all reviews to verify quality and helpfulness.
Page 1 Reviews 0 - 5
Reviewed June 5, 2023
My results so far have been nice, have lost 16 lbs. since mid-April. Have been able to eliminate one type of ** and one type of oral diabetes medication. The meal logging has been very helpful to do since it is easy to see if your choices might not be the best, from a calorie standpoint. Meal logging is generally easy to do but if you are putting in a custom menu item, it is tedious to enter on the phone. To return to a custom item and see its content or edit it, you cannot go directly there—you have to select the item as if you were logging it for a meal. Also, there isn't any way to save a custom item with a different name, so that you can make a variation of the original content.

Response from Noom
We're so glad that you're enjoying what Noom has to offer, Anne, and that you're finding weight loss success and are able to eliminate medication. Go you! We also appreciate your thoughts about what you'd like to see improved with meal logging. We want Noom to be the best app we can make and your feedback is invaluable to that process. Remember, if you need anything in the future, you can always reach out to us directly at reviewsupport@noom.com. Happy Noomin'!
Thanks for subscribing.
You have successfully subscribed to our newsletter! Enjoy reading our tips and recommendations.
Reviewed May 26, 2023
I started a Noom after gaining back 10lbs after going completely off the rails with my eating choices. I felt horrible. I was bloated, puffy, sad, disgusted with myself and my sciatica was hurting every day. I had tried to do Keto with much success, but it's just not sustainable, despite what others might say for me anyway. Then I just started doing low-carb that wasn't sustainable either. I really missed drinking skim milk and eating some pasta or brown rice or whatever I wanted to eat for that matter without feeling terribly guilty.
I saw an ad for Noom. Can't remember where, maybe Facebook? And decided to take a leap of faith. I am down the 10 pounds I had gained and feel good. My sciatica does not act up nearly as often as it did, which is a miracle to me. I am really motivated and actually look forward to doing my reading in the morning and believe it or not. I don't mind weighing myself. To be honest there are days I cringe because I'm up and down, up and down. But I have decided to stay the course. I think my goal was pretty; I want to lose 35lbs. I will be THRILLED with 25!
I really really really wanted pizza last night so I had it I expected again and there is one, but it's minimal and today I will eat super healthy all over again, and I have no guilt. Not like I usually would. For the time being, I feel like I could be a poster child for the program. Nothing has worked for me in the past, as well as Noom in my honest opinion I am really glad that I clicked on the button to try it out! We'll see what happens going forward. My end goal is to be feeling very healthy and happy when I go on my long awaited Bucketlist trip to Scotland and Ireland in September to celebrate my 60th birthday!

Response from Noom
This is amazing, Jill, and thank you so much for giving us a shot! Your motivation and commitment are inspiring, and we're so happy that you're finding success with Noom! We also love that you're having fun and gaining tools to use towards creating a healthier lifestyle! Keep up the great work!
Reviewed May 12, 2023
I've been following the Noom program and App for over 8 weeks now. I have lost 16 pounds and am working to lose another 20 before my 6 months subscription ends. I came to Noom after trying many other programs over the last 30 years (Whole 30, Weight Watchers, Keto, Elimination Diets, overload myself with exercising). Those programs momentarily worked but during times of high stress and overloaded schedules, I would gain the weight back. Currently, I am about halfway through the Noom lessons and have learnt so much about why I eat when I do, how I do and what I do. I've learnt many valuable skills that unfortunately my parents, not anyone else had passed to me.
More importantly, I've learnt how I've been distorting my thoughts about food, eating and myself. I haven't been able to keep weight off long term nor be healthy long term because I would make food choices on automatic not realizing how I was sabotaging myself! Some of the concepts have been simple ones I have never learnt and some have been deeper ones where I've needed to be honest with myself. I feel the most prepared (with real information and not just a list of foods I can never eat again) than I ever have to be able to live forward and keep my weight to a healthy level. More importantly how to do it with the insane cycle of overindulging, shame, guilt, struggle, eliminate food and joy, lose weight and start the cycle all over again. I understand why I've done each of those steps in the past and why I don't want to reenact that unhealthy script again. I understand how to be friends with my weight and most importantly myself and my own health.

Response from Noom
Way to go, Noomer! We are so proud of your dedication to your wellness! Thank you for letting Noom be a part of your success, and keep up the great work! You've got this! Remember, you can always reach us at reviewsupport@noom.com.
Reviewed May 2, 2023
This is the third time I have subscribed to Noom. I re-joined at the heaviest weight. I've been in all the times I was using Noom, but I know that it worked before, so I joined again. While it does seem that the wait is not disappearing quickly, the knowledge, education provided, and a deep understanding of the foods, I have been eating are truly what has made such an impact on my current weight versus where I need to be. The science behind Noom, as well as the understanding of my relationship with Food as well as my environmental cues are truly what has made an impact in my wellness journey.
I have read plenty of articles criticizing Noom, but from my understanding is that these people writing such horrible reviews I have not remained open to the fact that they need coaching. Everyone just says that the app is "expensive" versus understanding that this Noom app is a major tool for the person that is on a weight loss journey. It's my choice to eat whatever food I want drink or don't drink water, and take the initiative to get in steps or burn extra calories. And that is true, whether you join a gym, a fitness club, invest in a coach or trainer, or simply do it on your own. I tell people that if they want to invest in themselves, they should definitely look at Noom and invest in that program, because there is more to food and fad diet than simply counting calories or points.

Response from Noom
We appreciate you for taking the time to share your Noom experience with us, Kate. Your dedication to your wellness is truly inspiring and we can see your healthier mindset shining through. We're honored to help you achieve your goals and wish you much success! Remember, you can always reach us at reviewsupport@noom.com if you need anything in the future.
Reviewed Dec. 26, 2022
I started my weight loss journey due to health problems. I lost 40lbs on my own by eating healthy and exercising. However my progress stopped and I felt I needed a little extra help, that's when I decided I would bite the bullet and join Noom. 2 months in and I am down another 12 lbs. Noom is something I will definitely continue doing until I reach my goal weight. I love the psychology aspect of the program. I've learned so much about why I eat the way I eat and how to overcome intense food cravings. I learned that a lot of the foods I was eating before joining noom weren't quite as healthy as I had thought and weren't the best choices when it comes to keeping me full. I was also stuck in this never ending circle of constantly criticizing myself whenever I didn't lose pounds on the scale. In the past I would plateau, lose hope and then go back to unhealthy eating habits and ultimately gain everything back.
Now I understand plateaus better and know not to lose hope. This is the first time I have ever been able to "fall off the wagon" for the holidays or a weekend but ultimately been able to get back on. Noom has helped me understand this is a marathon not a race. Having slip ups is inevitable, being able to get back on and continue your journey is more important than focusing on your one day failure.
I rated 4 stars instead of 5 because I paid for premium however my food program didn't follow the food restrictions I am required to follow for health reasons. I did reach out to support via email and was told in a few days it should be fixed. The problem was never fixed. I also have never been added to a group despite reaching out twice about the problem. The Canadian price of the program is much higher than the American pricing. I was very surprised to see the cost on my credit card bill after seeing the advertisement for $120 plus another $40 for the premium package, what was charged was close to $300 Canadian.
Considering the premium package content was never fixed to be geared towards a pescatarian diet which is my diet restriction I found the cost of the premium package to be a complete waste of money. In the future I will stick with the main program. Overall, despite a few disappointments the program is actually very helpful and I've recommended it to all of my friends that are also struggling with their weight. Great program!

Response from Noom
This is awesome to read, Brianne! You have come such a long way and we are so excited for you! Congratulations on all of your success. We have no doubt that you will continue to crush your goals!
Reviewed Nov. 13, 2023
I was initially happy with Noom. I lost weight at first and then it stopped working. All notifications are through the Noom App and texts. After being auto renewed after the first paid year (2022,) I was not happy and used the app to cancel my subscription. I thought. I was under the impression that I had cancelled and would be reminded to renew later before it ran out. Since I was auto-renewed, I tried using the app during the second year and gained back more than half of the original weight lost.
When I was billed again this year (third billing, with considerably more anger) it clearly said your have a year left, let us remind you later to cancel. So that is probably what happened the first time. I never got a reminder through the app or text (that is how Noom communicates.) I found after the fact, an email reminder. Their subscription policy clearly states no refunds on renewals. I would claim that their renewal process is intentionally deceptive and relies on the fact that all relevant info from Noom is through the app or text, except for billing, and that most people's inboxes are swamped. Having a 30 day cancel on the renewal would show less malicious intent. If you do chose Noom, make sure you cancel your subscription before it renews. They are counting on you forgetting. And they state: THERE IS NO REFUND OF AUTO-RENEWED SUBSCRIPTIONS.

Response from Noom
We appreciate your honest feedback and understand your concerns about your billing experience, Robert. Please rest assured that we never intended to catch you off guard and we thank you for bringing this to our attention. Our team will be reaching out to you very soon to assist with this matter. Remember, you can always reach us at reviewsupport@noom.com if you need anything in the future.
Reviewed Nov. 10, 2023
I thought I specifically signed up a 6 month trial, no renewals. I was reviewing my credit card charges and noticed a renewal charge after the 14 cancellation period. I requested an exception since I was just laid off from my job. They would not make an exception, even though they can clearly see that I have not logged into the app. While this a beneficial app, I will not use it again.

Response from Noom
We're so sorry that you've had a negative experience, Heather, and we appreciate you sharing your thoughts here. Our team will look into this further and reach out to you very soon. Remember, you can always reach us at reviewsupport@noom.com if you need anything in the future.
Reviewed Nov. 9, 2023
Same story you will see in multiple reviews below. I never received the notification for the auto-renewal and was automatically renewed for another five months. I tried to cancel that very day when they charged my credit card and they wouldn't do it. So now I'm stuck paying for FIVE MONTHS of a service I don't want. I understand if they would charge me for a month. That would be fine. But getting screwed out of $170 makes me a sad panda.

Response from Noom
We're sorry to hear that you had an upsetting billing experience, Jose, and we'd be happy to look into this for you. Our team will be reaching out to you soon to see how we can help. Remember, you can always reach us at reviewsupport@noom.com if you need anything in the future.
Resolution In Progress
Reviewed Oct. 27, 2023
Looking through other negative reviews, I can see that I am not the only one who has run into this issue with renewal billing. I signed up for a full year with my initial subscription to save money. I missed the notification for the autorenewal in my inbox and was renewed for another full year, which was a significant amount of money. I reached out to customer support less than two weeks later to cancel, and the response I received was, "It's too late, we can't refund you. It is against our policy" company line. They would not agree to pro-rate the renewal either. Although they offered a credit for other services, why would I want to set someone else up for a similar negative surprise from this company? Although the Noom program itself was helpful in some ways, I wouldn't recommend it due to this negative experience. I got what I needed from it, and do not need or want the additional year of services.

Response from Noom
Your honest feedback is appreciated, Linda, and we understand your concerns regarding the auto-renewal process. We'll be happy to look into this further and we'll be reaching out to you soon. Remember, you can always reach us at reviewsupport@noom.com if you need anything in the future.
Reviewed Oct. 25, 2023
During signup after they had my payment info, there were multiple additional package offers that you had to skip or buy. It was very expensive as each one was a separate charge. I skipped all of them. It was extremely frustrating. I realized they were just trying to get more money. I then get an email thanking me for adding 2 packages! When I talked with an agent in chat she was very helpful and blamed me and said I had to do it. I know I didn't! And then she said I had cancelled the trial also. I didn't do that either. She said there was nothing she could do because that was all the info she had (that I had done both!). I told her I wanted to speak to a supervisor and she refused!
During the first part of the trial you had to answer more questions in the app. Each area you would eat a "coin" for sharing what you learned. They encouraged you to share your journey with someone to help your progress and make you accountable. Well this was also a way to get more people to sign up! Everything you shared was an advertisement to the person you shared it with. To say, "Look what she did with Noom!" And then give them a price if they signed up! Deceitful practices to get more money than they say it will cost!!!

Response from Noom
Teresa, we're so sorry that you had a negative experience during your enrollment process and when you contacted our support team for assistance. We appreciate you reaching out and sharing your thoughts here. Our team would love to help and will be reaching out to you as soon as possible via email. Remember, you can always reach us at reviewsupport@noom.com if you need anything in the future.
Noom Company Information
Company Name:

Noom

Website:

noom.com