Noom
Noom is a personalized weight loss app with access to coaching in your pocket. The company's habit-changing solution includes daily lessons and progress tracking for meals and exercise designed to fit individual lifestyles. The custom plans are created from the Noom quiz that asks about your specific goals and needs. The program uses psychology to teach you a lifetime of healthy habits.
Overall Satisfaction Rating
5 stars

4 stars

3 stars

2 stars

1 stars
Pros
Free trial period
Community support
Cons
Dieticians aren't available 24/7
Meal plans not provided
Bottom Line
Noom is a weight loss app developed by registered dietitians and nutritionists. Through the app, users can log their meals, water intake and activities and get personalized support.
What is Noom?
Noom is a mobile-based wellness program that uses psychology to encourage long-term healthy eating habits. Through the Noom app, you get:
Personalized, one-on-one coaching from a health expert and a support group with other Noom users for motivation and support
A progress tracker to log meals and water intake, record your exercise sessions, input your blood pressure and glucose and track your weight loss progress
An in-app pedometer
Access to courses that walks you through lessons, like the psychology of weight loss and food fundamentals using interactive articles, games and quizzes
The program is backed by 40 peer-reviewed scientific articles and a team of behavioral health experts with doctorates and master's degrees in psychology, neuroscientists and statisticians.
How does Noom work?
Noom works by motivating you to change your behavior through psychology lessons. To start, you complete a quiz that takes about 10 minutes to determine your individualized weight loss plan. The quiz asks you to answer questions about your goals, health, current habits, behaviors and more.
After you take the quiz, you make your initial payment and download the app to start the program.
Noom programs
Noom has two programs: the Healthy Weight Program and the Diabetes Management Program.
The Healthy Weight Program consists of four stages over 16 weeks: learning, practicing, advanced learning and mastery. Participants receive easy-to-follow tasks and track their progress through the app. Users also benefit from feedback and encouragement from their personal support coach and peers.
The Diabetes Management Program offers similar support but focuses on the carbohydrate content of the foods you consume. The diabetes program is recognized by the U.S. Centers for Disease Control and Prevention, which requires programs to meet certain criteria to qualify. These criteria include program participation, curriculum review and other success metrics.
Noom example
For a woman in her 20s wanting to lose 35 pounds, Noom calculated a daily calorie goal of 1,320 over six months. This is with a weight loss speed of 7 out of Noom's 9-point scale.
The daily calorie goal is based on your age, starting weight, goal weight and preferred weight loss speed. Noom doesn't scold you if you don't meet your goals — it provides motivating messages encouraging you to continue logging and doing lessons instead.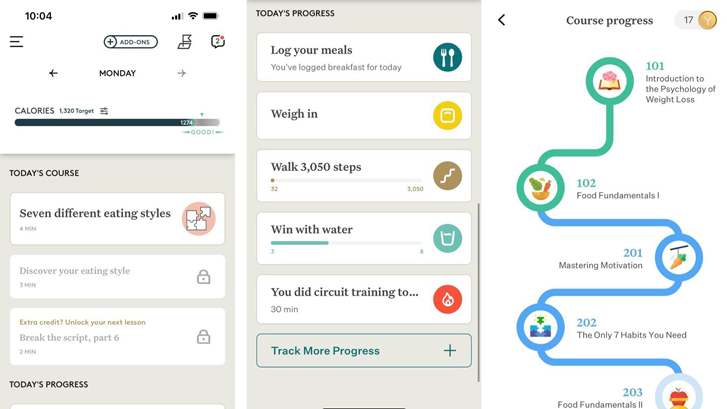 What can you eat on Noom?
The Noom diet plan doesn't have food exclusions or banned foods. Instead, foods are assigned a color — green, yellow or red — that acts as a portion guide and not an indicator of "good" or "bad" food.
Noom green foods: Green foods are the least calorie-dense and have the highest number of nutrients. Most green foods are vegetables and whole grains, such as spinach, apples, sweet potatoes and brown rice. Noom users can eat green foods in larger quantities.
Noom yellow foods: Yellow foods have less healthy nutrients than green foods but can be enjoyed in moderate proportions. Many yellow foods are starches, lean meats and dairy products, including eggs, salmon and black beans.
Noom orange foods: Orange foods are the highest in calories and have the least healthy nutrients. Most orange foods are red meats and dessert dishes, like bacon, popcorn, almonds and ice cream. Orange foods aren't totally off-limits but should be eaten mindfully.
When you log your meals or snacks into the Noom app, it automatically sorts the food into one of the three colors so you can monitor the number of calories you're eating from each group and visually see where to make improvements.
How much does Noom cost?
Noom costs $60 per month for the monthly auto-renewing plan. However, the more months you commit to, the better the deal — see the auto-renewing subscription pricing below.
Monthly plan: $60
Two-month plan: $119
Three-month plan: $149
Four-month plan: $159
Five-month plan: $164
Six-month plan: $169
Seven-month plan: $174
Eight-month plan: $179
Nine-month plan: $185
10-month plan: $189
11-month plan: $195
Annual plan: $199
Since Noom plans are individualized, the total cost of your plan will vary based on the recommended time it takes to reach your goal weight.
Is Noom worth it?
Noom is worth it if you want to lose weight through learning healthy habits and psychological methods. A reviewer from Georgia said, "This has been one of the best experiences I've had losing weight, learning about my body and mind and maintaining motivation. Compared to other programs, the focus is on LEARNING!"
However, Noom might not be for you if you don't want to log every detail of your meal. A reviewer from Nebraska said, "While the lessons are great and give me a lot to work on, the coaching and food logging leave a lot to be desired."
Overall, Noom gives users the motivation and support they need to change their habits for the better.
A link has directed you to this review. Its location on this page may change next time you visit.
How do I know I can trust these reviews about Noom?
4,189,804 reviews on ConsumerAffairs are verified.
We require contact information to ensure our reviewers are real.
We use intelligent software that helps us maintain the integrity of reviews.
Our moderators read all reviews to verify quality and helpfulness.
For more information about reviews on ConsumerAffairs.com please visit our FAQ.
Page 1 Reviews 0 - 5
Mary of Pueblo, CO

Verified Reviewer Verified Buyer
Original review: June 15, 2022
My Noom step goals keeps decreasing to 2000 steps per day, and my calories increase to over 2000 per day. Any day I eat over 2000 calories, I gain weight. And the step goal is absurd. It takes my personal coach a day or longer to get back to me most of the time too. I was excited because I had lost 15 pounds in 3 weeks but now my weight has fluctuated and it's only 13 lbs in 4 weeks. I think there are a lot of glitches to be worked out and the food logging is often inaccurate too.
Noom response
We're glad to hear you're finding success with Noom, Mary, and we sincerely appreciate you reaching out to let us know your concerns regarding your step goal, calories, coach, and food logging. I can imagine how frustrating these issues are and our team will be reaching out soon to lend a hand.
Remember, you can always reach us at reviewsupport@noom.com if you need anything in the future.
15 people found this review helpful
Thank you, you have successfully subscribed to our newsletter! Enjoy reading our tips and recommendations.
Marie of Palmetto, GA

Verified Reviewer Verified Buyer
Original review: April 2, 2022
Promises, promises and more promises. It seems that every weight loss program out there gets your attention by making promises that can't be fulfilled to everyone. Oh, I am sure that there are those that are successful in losing weight the way you promise, but few and far between in numbers. Mind you I didn't say there were not those that do. I just don't happen to be one of those fortunate people. I have thoroughly enjoyed the education. My coach answers my post with questions back to me.?? I feel like a test subject at times. I am not a social media person. I really don't care to share. Although, I will encourage. I spent 2 years getting 20 lbs off my body. I then went through some major medical issues and boom the weight was back due to inactivity. I am 73 and I didn't want to spend the next 2 years struggling to get 20 lbs off. So I took a chance. I joined Noom. The weight is not coming off as I anticipated.
Noom response
We completely understand how frustrating it can be when you're not seeing the progress you'd like, Marie. We'd love to help and our team will be in touch as soon as possible to lend a hand! Remember, you can always reach us at reviewsupport@noom.com if you need anything in the future.
18 people found this review helpful
Dawn of Albuquerque, NM

Verified Reviewer Verified Buyer
Original review: March 4, 2022
It's a good program in that I have to log my consumption and it makes me aware and accountable. Some things I don't like… if I put in say a Caesar salad the whole thing just goes under red or yellow. But if I put all the components I get credit for all the greenery and less in my red or yellow. If I order a Wendy's taco salad but I don't eat the chips or sour cream I also have to enter all the components separately. I really like to listen to the readings when I'm working or driving and am sad that the rest I have to read now and am not as diligent I've been under my calories on MOST days and don't seem to be going anywhere Little frustrated Logging my food works for me(WW points worked for me) but I got sick of them changing and me having to start over with my recipes and favorites. But this doesn't seem to be working like I had hoped. Could be my menopausal body just isn't as cooperative as when I was younger.
Noom response
It's good to hear that Noom is helping you be more mindful of your eating habits, Dawn, and we certainly understand how frustrating it can be not to see the progress you'd like. We also appreciate your feedback regarding the food color classifications. Our team will be reaching out as soon as possible to lend a hand.
Remember, you can always reach us at reviewsupport@noom.com if you need anything in the future!
17 people found this review helpful
Robert of Bend, OR

Verified Reviewer Verified Buyer
Original review: Feb. 28, 2022
I have been on Noom since early January. I have lost 4lbs and honestly expected more. The target you gave me was to lose 26 more lbs by early summer (June to me). I am not optimistic. I've learned a lot about food and me and believe in Noom. But where are the results? I keep getting notices to join my group. So far no group. Where is group? Have heard a couple times from adviser. Given all this I would still recommend Noom. But I need some help.
Noom response
Four pounds is awesome progress, Robert! However, we understand how frustrating it can be not to see the progress you expected. Our Support Team will be contacting you soon to lend a hand as well as help with your group! Remember, you can always reach us at reviewsupport@noom.com if you need anything in the future. Keep on Noomin'!
10 people found this review helpful
Joshua of Las Vegas, NV

Verified Reviewer Verified Buyer
Original review: Feb. 6, 2022
Overall I have had success on Noom, so I would say that the program does works. I am a 30 year old male, who wanted to lose 15lbs, and I am 3 away from goal. Overall though, I think Noom is better suited for people who have a deeper/ more emotional connection with food, and need those psych tricks to help nudge them to subconsciously make decisions they normally would be adverse to.
Sometimes though, Noom can be very contradictory. I.e., they came up with a food labeling system, then say people should not "label their food as bad, ok, and good". Noom will say, "You can eat something in Red if it fits within your calorie budget," but then I will have a coach tell me if I want to lose my remaining 3 lbs to reach my goal I need to eat more Greens and less Red; seems very contradictory to what the course teaches; also when I was suggested to eat more Green by my coach, literally one of the courses I had for the week was about being more (Pro)-protein telling me to sub out some carbs or other greens if I ate more protein instead (most protein rich foods are yellow or red). So, just to restate Noom's color system is all over the place, and advice on how to use it for calorie budgeting, I think is very clumsy at best, and misleading at worst.
Finding recipes that I saved for later is terrible. There are so many other platforms that Noom can look to (I.e. Pinterest) that they can copy for saving healthy recipes to find later. To echo above, finding anything I saved can be difficult including articles. "Take a screenshot to look back later" is lazy on the developer's part; a have a bunch of random screenshots of articles I found interesting in my Noom, randomly interspersed among my daily photos, and is in no way organized or helpful to me later.
Speaking of lazy and unhelpful, I bought the extra add-ons for food planning and exercise regiment and received two very long and tedious PDFs in my email. I think I looked at each once before, never setting eyes on them again. Again, super lazy on the developer's part: they could have made that way more interactive and useful to the person who bought it; even by adding those two hopelessly long and unuseful PDFs to your App's account vs just an email drop would have been a step-up vs just emailing once to your email. That probably made me the angriest over anything with Noom. I totally felt suckered by those add-ons.
I lost weight on Noom, so was it worth it for me in the end; yes. Do I think Noom is any more novel, then say, MyFitnessPal? For me, not really, but it may be better for people who have a tighter and more emotional connection to food, which may help them subconsciously break or ease their reliance on food to comfort them.
Noom response
We are happy to hear that you are finding success with the program, Joshua, and thank you for taking the time to share your thoughts and honest feedback with us.
Our developers are always adding new features and adjusting current ones, so your feedback is extremely helpful towards these initiatives. We're constantly growing, evolving, and improving the app, with our members being our first priority. The details you've provided here will be much appreciated by the teams who are responsible for these features. They are always extremely grateful to know what works and what needs improvement.
Our Support Team would love to learn more and will be in touch! Remember- you can always reach us at reviewsupport@noom.com!
11 people found this review helpful
Seth of Newport, NH

Verified Reviewer Verified Buyer
Original review: Jan. 29, 2023
I find the articles helpful and informative. I like the color charts for food. I like the app and signing in. I have asked for a coach and for guides and have no one. I've written support three times and nothing. I paid for the stress reduction package and have received no articles or anything.
Noom response
We're so happy to hear that you're enjoying the daily articles and color charts, Seth! We also appreciate you bringing these coaching concerns to our attention. We will reach out to you shortly to review this further with you, but please know you are welcome to email us at reviewsupport@noom.com in the future!
Be the first one to find this review helpful
Cathy of Jordan, NY

Verified Reviewer Verified Buyer
Original review: Jan. 29, 2023
I became a customer in November doubtful that I would lose any weight given the holidays were coming but to my surprise, I managed a sale but steady decline in numbers. It's the end of January and I have lost about 11 pounds. Thanks to Noom I have continued with things I already knew and have learned more about why we do what we do. My goal is to get from 165 to 140 and learn what I can along the way. Thank you.
Noom response
This is so awesome to read, Cathy, and we are beyond proud of your amazing progress! Keep up the great work and motivation!
Be the first one to find this review helpful
Liz of Geraldine, Other

Verified Reviewer Verified Buyer
Original review: Jan. 27, 2023
One month in and I am loving this experience. I have completed and lost weight with other weight loss programs but this is the first time I feel more in control. I am able to understand why I eat and how psychology affects everything. I feel I have more strategies to cope with the real world.
Noom response
Thank you so much for giving us a shot, Liz - we're so proud to have you as a part of the Noomily! Keep up the great work!
Be the first one to find this review helpful
Susan of Phoenix, AZ

Verified Reviewer Verified Buyer
Original review: Jan. 27, 2023
If routinely withholding information is just a ploy to have me "buy" more services, I feel that's unethical and would quit this service. I'm not finding it user friendly. For example, I was encouraged (by a bot ????) to join a group of my interest. OK… I did. I joined the "inspiration and motivation group". Which is a pretty good name for it EXCEPT every time I tried to read an entry, It cut off the rest of the entry half way... SO THAT was not motivating or inspirational. I know I have been erratic utilizing Noom. I regret that, And rationalize my erratic behavior to the many barriers I run into when I attempt to use it. SO THAT'S MY EXPERIENCE…so far…
Noom response
Oh no, Susan! We understand how frustrating this would be and extend our apologies for your experience up to this point. We never want our Noomers to feel like we are withholding any information. We'd love to help, and our team will be in touch as soon as possible to lend a hand! Remember, you can always reach us at reviewsupport@noom.com if you need anything in the future.
Be the first one to find this review helpful
Leslie of Strongsville, OH

Verified Reviewer
Original review: Jan. 27, 2023
If I could give no stars I would. When I signed up on the app, it told me that I would get a notice when my subscription was up for renewal. As you can guess I never got that email. So of course they charged me again for another 6 months. When I called them it was very difficult to explain to them what happened as they kept saying the same thing over and over. Very long story short they refused to give me my refund. Even after speaking with a supervisor they still refused to credit the account. So if you are expecting such a thing...they told me on the phone they don't offer that...basically you have to remember on your own. As far as the diet itself...well you can guess since I'm cancelling the subscription. Save your money! Terrible company to do business with.
Noom response
Leslie, we are so sorry to hear about the disappointing experience you've had! Our team would like the chance to help however we can, and you will be hearing from us shortly! Remember, you can always reach us at reviewsupport@noom.com.
Be the first one to find this review helpful
Noom Company Information
Company Name:

Noom

Website:

noom.com