Raymour & Flanigan Furniture
New York, NY
Consumer Complaints and Reviews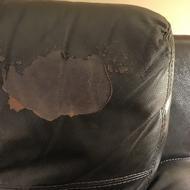 We purchased over $10,000 worth of furniture for our new home back in August 2015. It has been a little over a year and the two chairs we bought are severely stained and frame messed up and the sofa that they said was leather is peeling apart and clunking when the recliner goes up and crooked. We filed a claim and they came out and fixed the frame of the sofa and chairs and took pictures of the peeling on the top of the sofa. We then received a call from Raymour & Flanigan and they said the protection doesn't cover peeling so we have to just deal with the sofa.
We tried to explain that we paid $2000 for this sofa and it was only 1 year old and should not be falling apart. We were very dissatisfied customers. Why get the protection plan if it doesn't cover defective furniture? They just said you are stuck with the couch. We called the protection plan company and they said they would send someone else out but we are completely turned off by this whole situation. Are completely devastated. We cannot keep this sofa in this condition and again, it is 1 year old! Is this how long their furniture is supposed to last!? If so, buyer beware!! Raymour & Flanigan does not value their customers and we are so incredibly regretful that we ever gave them so much of our hard earned money. Their furniture is cheap and defective and their customer service is even worse!!

11/19/2016 purchased bedroom set from Raymour & Flanigan. 11/29/2016 dresser with mirror fell right over. You could clearly see black mark on back of dresser. Plus screws came out of mirror. Now I have to wait until Dec. 20, 2016 to be fixed .That's a long wait. I paid 2000 for this. Not new stuff at all. When you check a mirror and dresser is up against a wall surely you can't see if there is damage there or the screws were put in properly. You trust the company who fails the people. Very poor business and service.
Updated on 11/30/2016: People came, picked my dresser off floor. Moved my whole bed set for me since I'm having problems. They stated my floor was uneven causing my dresser to fall over. I asked them about that when I got my delivery. I was told that wouldn't be a problem. Pictures were taken. Gotta wait until Dec. 20 2016 to see what happens next. This is how my dresser gotta stay. Tracks are broke. This is from the Wilkesbarre, PA store.

I had purchased bedroom and living room furniture. The sales associate was very quick to sell me furniture, but failed to mention that certain items were out of stock. it has been a month later, that they were able to fill this order. I had to chase after the store manager to find out where the missing furniture items were. They were to deliver my furniture today between 12 - 3. Furniture still has not arrived. I had to contact customer service to finally get an answer that it should arrive in a hour. Save yourself the headache, and shop somewhere else. Extremely unprofessional and do not care about the customer service- just looking to make a quick buck!

First of all, when we got to the store there were many employees just hanging around. However only the most incompetent came to show us the beds. This person made us lose a lot of time because she didn't even know where the products were. She also could not answer most of our questions. She was very ineffective asking me over and over the same questions about my information instead of just writing it down. Additionally, we were offer a 48-month plan but after our application went through she said I was not approved for the amount I needed. I told her that we were looking forward to that offer so if it was not possible we would have to think about our options and come another day. Then she said she would find me other options but what she didn't say was that she was going to submit another application to another credit company which was not what I wanted because as we know this affects our credit score.
When I refused to sign the terms and conditions of these new offer she took me to her managers in the "Customers Care" where the least they do is to care about their customers. There, this rude group of people did not answer my question about the terms and conditions and just requested that I sign the paper. They got more angry when I said that I needed to read that information before signing it. I was approved for more than I needed because of these two applications they submitted. But I didn't buy anything (I cancel the order) because that is not how you treat a client that is willing to spend thousands of dollars in your store.
The lady that was working with, **, signed an electronic document without my authorization. This was so far the WORST EXPERIENCE I have had in a store in my life. I have never submitted a claim, but I think we, the customers, have to raise our voice if we want services to be improved. If this can prevent someone from going through this at least something positive came out of it. The location of this specific store is at 629 Snyder Rd, Reading, PA 19605.

I received a desk from Raymour's and I love it. It's beautiful. Received it in great condition and on time. I have no complaints with them at all. Thank you. I cannot believe anyone would giving them a bad review.
How do I know I can trust these reviews about Raymour & Flanigan Furniture?
637,576 reviews on ConsumerAffairs are verified.
We require contact information to ensure our reviewers are real.
We use intelligent software that helps us maintain the integrity of reviews.
Our moderators read all reviews to verify quality and helpfulness.
For more information about reviews on ConsumerAffairs.com please visit our FAQ.

Ordered a formal dining room set. Upon delivery did not accept the buffet piece because it was nicked and had several pockmarks in it. Our salesperson said to inspect every piece at delivery and if we were not satisfied to not accept delivery and send it back. Then another piece would be redelivered in a timely manner. Well 2 days later they call and say they no longer have that particular piece in their inventory and now we will have to wait 6 to 8 weeks for the manufacturer to send it.
When we purchased this set, the salesman in the Watchung, NJ store (Ermis) did not inform us that this was possible. They tell you that the furniture will be delivered to you in 3 days or less. They don't tell you the complete facts. Plus the delivery men really pressured us to accept the damaged piece which is not right. The delivery guy even told us that we could possibly get this same piece delivered back to us next week because there really isn't any follow-up and you get whatever they load into the truck. Pretty ridiculous right? Would really like to deal with honest, upfront people when I spend over 4 grand on a dining room set. Raymour & Flanigan have lost our future business. This was my 3rd time purchasing from them but now it's my last.

Let me start off by saying that the products are fine. I was called the day before delivery and was told that my delivery window would be 11:30-1:30. I thought it was weird, because the order confirmation said 3 hour window. So I left work around 11 to make sure I was here in time. I waited until 1:30 and called customer service who told me that the window was actually 2:30 and they had 2 more stops and they would be there. About 1:50 minutes later I got a call from the delivery driver and said they would be here in 45 minutes. So they were going to be late even within the 3 hour window. Around 3:15 I called customer service back because they still had not delivered my order. She said that she wasn't sure what the hold up was even though it was almost twice as long as the driver said it would be.
I couldn't wait any longer so I went back to work and had a family member wait for the delivery. They eventually came around 3:30 and delivered the products which I have no complaints about. Although the couch was missing the 2 pillows that were supposed to come with it. I didn't even bother calling customer service as I don't even want to deal with them anymore.

I purchased a $3,582.45 Tempur-Pedic bed. I started getting bites on first night, but thought it was a mosquito. (My husband never gets bit by anything.) On the 4th night I was bit 4 times. I called their store located in Lake Grove, NY on 10/18/16 which was the 5th day. I was sent to which I will assume was the actual store customer service but because of the problem was transferred to the Corp Customer Care Center. Gave them the info, the rep. said email pictures. I did the same day. They sent me an email that they would get back to me in 24-48 hrs. They did not. I had to call and got the rep's answering machine. So I called the store and got their customer service and that rep told me the other rep may not be in today. Very upset I advised him this bed is still in my house, he put me on hold and called the corp office.
Then, 5 minutes later I received a call from the person who was suppose to call me back. She said the pics was unclear, looked like mattress material, and would need to send an inspector on the 27th. I was stunned. Told her unacceptable. I was put on hold, she said "Ok, tomorrow." Explained I had Dr and lab test and needed a time. She said could not give a time frame. So I said "What about the day after." She said "No. The appt will have to be the 27th then." I said goodbye. All I wanted was this bed to be replaced. Buyer beware at this store!!! I am now stuck with an expensive bug-ridden bed.

Purchased rug in July, decided shortly thereafter that I did not like the way this rug was made. They would not let me return it to local store where it was purchased. Picked up by FedEx end of August. Store is completely out of the picture after item is purchased. I've talked w/ customer care individuals 5 times or more so far. 3rd individual on 9/9 said check coming to me 7-10 days - didn't happen. Next person I spoke with 10/4 said return finalized, would be sent out on the following Weds or Fri. No refund yet. I talked with another fellow today, said I couldn't have a refund via check, must be back to my credit card. Put me on hold a couple of times, stated refund will be re-submitted and I should see the amount on my credit card in 2-3 days. I'm not holding my breath! Apparently they have not been accredited by the Better Business Bureau. I will not purchase anything in the future from Raymour & Flanigan.

They all lie about being able to deliver in 3 days, it's been 3 weeks. Store manager Niame ** doesn't return calls. Sales persons are completely useless. Corporate customer service is a joke. Don't ever buy from R&F as they treat you like crap.

My consultant John ** was so great: no pressure, great service and very quick. I was shopping for a coffee table. I was looking for a lighter color that can fit my new redesigned leaving room. I did not want anyone to follow me as I knew exactly what I was looking for. John greeted me and my husband and I said I am just looking. He listened to me and let me look around. When I was leaving, I asked for his card and told him that we will probably be back. He said "No Problem."
We wanted to check their competitors across the Street - Ashley Furniture. As soon as we walked in a salesperson asked if we want to know about their sale. I told him no as I want to see first if they have a product that I am interested in. I was pushed away from the sale right away and thankfully they did not have the coffee table that would catch my eye. Right away, we went back to my sales associate John ** and after 15 minutes left happy with our modern coffee table. Thank you John for all your help and understanding my needs and your great customer service. :)

Raymour & Flanigan has the worse customer care department that I have ever dealt with and I have been buying furniture for over 41 years. The handle broke off of my love seat recliner. I called over a month ago to have it replaced. They were supposed to come Saturday 9/24 between 1 pm and 4 pm. I got a call at 1:30 that they were not coming because the van broke down. Mind you, I work on weekends and I took the day off. It was rescheduled for today between 10 am and 2 pm but I did not receive a confirmation call last night. I got it this morning at 8:30 am.
The guy just came at 1:30 pm and his work order says "mechanism not working." He's like "I don't have a handle to put on because it doesn't say that the handle was broke." Really? I will never, ever buy furniture from them again. I currently have 5 rooms of furniture from them. God help me when something else breaks. BTW, it'll take a few weeks for the part to come in and we get to reschedule all over again!!!

I spent over $11,000.00 on a sofa and love seat, a bedroom set for my daughter and a complete bedroom set for myself. I found it disrespectful that the salesperson first tried to sell me the most expensive items. As soon as he came up to us the living room couch and love seat came separate and when the couch did arrive they never checked to see if it worked properly which it did not. They put my daughter's bedroom set up shock without incident. My bedroom set however they were the laziest two delivery guys available. Not only did they put the chest in the wrong area they left the end table in the middle of the room. The bed was too tall for the slanted ceiling and they put a hole in the ceiling in the showroom.
The bed was lower than in my room which with an injury is horrendous to get in and out of it took three times to get just the dresser upstairs, which took all of 5 minutes yet they can't attach the mirror and expect me to hire an outside contractor in order to attach it to my wall. I did not buy a set to mess up my home and their 3 day guarantee delivery is false advertisement. Now I've been requesting them to take the whole set back, refund my money, so I can pick out a different set. They don't want to return my money. They want to give me credit which I haven't even used the items and the couch. They kept getting wrong and wanted to deliver a love seat due to them getting the order wrong. Now I have to wait until October 10 for a couch that will work horrendous. Absolutely horrendous.

I purchased sofa and loveseat in Abington Pennsylvania store. It was being shipped up to the Poconos from the local store. I spent close to $2900 but not in the beginning. It was $1600. I picked out first and another sofa and loveseat. By the time I got the furniture I wanted I spent over $2900. Why because it took them four tries to get it right so I had to keep buying different furnitures. They keep coming with the wrong product. They also could not get the delivery time right. After all my frustrations finally getting it right which took over a month to do this.
We finally got it right on Labor Day. I just received the bill from them with no description basically just saying "fund transfer you owe us $450.50". I told them "I will not pay any more and you delivered it under the condition that I had to pay first before delivery." I've called the stores, did not heard an answer. Why are they trying to charge me more money. No answer. This was one of the biggest jokes I've ever done with all the aggravation and it still not ended.

We bought at mattress a month ago. We also took note of other furniture we were considering. We seen they were having a Memorial day sale 30 percent off. We went back for the sale. The kitchen table sale price was 110.00 MORE than the original price. The chairs we were going to buy were 79.00 more on sale than the original price. How can they sell things so much more than original prices and call it a sale. Needless to say we did not buy and Will never go back.

I purchased $10,000 in furniture from Raymour Flanigan in 2013. I've had several issues with my couches, my table, the chairs. The screws kept coming part. I guess you can say my mattress a year later I had to have it replaced because I guess the memory foam bed topper, it like sunken. A year later the same issue with my mattress. I had the company come observe the mattress which they said "yes it's something again, but the mattress has a stain on it so we cannot replace your mattress due to this stain." I've never in my life heard if you have a stain on your mattress they won't cover it. My issue is not the same. It's the Indians in the mattress that is giving me difficulty sleeping with me. Having a bad back already, this is not helping my issue. The customer service rep was very very nasty, pretty much told me it was my problem.
I asked her "where does that say that on my warranty paperwork?" and she said "it's not our policy." It's a mattress company, but I bought the warranty through Raymour & Flanigan. Also they are anti animals. My mother had just passed away in 2015. I had taken my mother's dog in temporarily until I can find it a home. I had an issue with my couch cushions and they said "oh you have a dog." I explained this to the customer service representative that it mother's dog. That my mother just passed away and she pretty much told me that's not her problem. "We do not cover. Your warranty is now cancelled." They don't tell you that when you're in the store purchasing $10,000 furniture and the warranty on top of that. I would never ever ever buy furniture from here again and I recommend everybody do the same. Now I have to hire a company to clean a stain off my mattress so I can get covered for my warranty. That's if they approve it.

First let's start by changing the name from Raymour & Flanigan to PayMore & Flim Flam Flanigans because that is exactly how my wife and myself really feel about the worst experience we ever had when purchasing new furniture from any store at any time, from the start our sales person named Barbara ** on 08/03/2016 greeted us half into the store and proceeded to start showing us bed mattresses of all different manufacturers. My wife wanted Beauty Rest mattresses and was shown a couple of different ones and a couple of Serta Savant III King size Plush that we ended purchasing with an adjustable base that had to be special ordered that I had to leave a $500.00 deposit on to order the new base. I don't know if this was Barbara's first order or not but she had to get directions on every move from Dave the manager for every move she made on the sale.
We also purchased a new headboard and frame on the sale. We had to wait for another bed to be removed before we could get the new one so we had some time spare on delivery, so 15 days go by no new bed set? A lady called Nicole and said the bed was ready for delivery but no base because nobody put the special order was never ordered, so much for guaranty three day delivery on anything, finally someone put an order in and the bed is delivered without the headboard and footboard. The delivery team were very nice to us and installed what they brought with them which was two piece adjustable base which they have never seen before but they tried and left content. Nevertheless the bed did not adjust properly or move up and down right. It jumped all over the place and for comfort it was hard as a rock not like the one in the store we tried.
We tried the bed for about week or so and I personally did not feel comfort at all in the bed for the time I spent in it. My wife and I decided to send the bed back for a different one so we ended up going back to the store because we were not getting anywhere with the store general manager Carrie. She had promised a refund on my special order adjustable frame that I never saw in the paperwork or my credit card as of yet (just another ** story). She was very rude to my wife and myself at all times that we spoke only on the phone. Never seen in person I might add. Just like our sales person was there when we went back but could not take of us because she had back problems that day but was in work. Give me a break will you; who goes to work with a bad back. The store manager had to take care of us at the time but he also had to talk to the general manager on everything he had to offer with the general manager.
OK, in between all that the second delivery team comes to install the bed frame and the first thing out of their mouth is, "I don't know what we doing here and don't know how to install this bed frame" so I had to read the instructions to them and tell them how to put the bed together. Nevertheless they wanted to get out of the house after 2 1/2 hours of trying. They left with the bed not working properly, by the way this is all taped on my cellphone on how the bed performed after assembly how the headboard rises 8" and hits the shelf mounted on my wall first and then the mattresses will rise with the bed frame and then drop down after it get to a sextant height and bang it drops down.
Finally the third team of delivery men come to bring us our new order and it is wrong, the base was not the one we had ordered. We ordered the frame with Velcro on it so the mattresses would not move and they sent us the one with bars which my wife specifically told she did not want and that the two beds which were two different height would be adjustable to the same height when done installing the beds. Nevertheless the two installers did not know how to do that either. When calling back to the store and talking to Carrie she said that's all she would do for us. We had our second chance and would not get us the right frame or fix the bed height difference and take care of it yourself. She was done helping me and that's it.
So needless to say I had to get a new set of legs for the bed to adjust it to the right height and put the bed frame back together the right way with all the extra parts that were left here to any kind of satisfaction to any customer. I don't believe that any company would hire a person like Carrie to be a General Manager for their stores that act on your behalf to any customer or even a manager like Dave that would follow her lead on something like this. I personally will tell every person I see or know on this experience with Raymour & Flanigan. Again I have this all on video if you would like to see it. Thank you for your time I know I just wasted my time writing this letter.

Please beware of buying furniture at Raymour & Flanigan's is most of the furniture made for the store is made in China. Even some of your brand names are made in China. Just the coverings are made in the United States of America. For example Simmons products. That is why they do not last and they cannot warranty their products.

Please buy your furniture anywhere but not at Raymour. The quality of furniture especially sofas are so unstable and it gets easily damage after few months of usage. And when you need to fix it, you have to call so called Customer service center, where these folks those who are working have limited power to resolve and they always blame the store staff. I spent a good amount of money for all my furniture in 2014 and after few months I had a problem with sofas. Every other week something happened to my sofas and every time I called to fix it took 2-3 weeks waiting time and then when they fixed it the same one got damage again in the same place within few months. Please go to the brand name store and spend few extra $$$. I bet you will be very happy instead of going through pain and frustration at Raymour.

My wife and I went to Raymour & Flanigan to purchased new furniture. We were immediately approached by a sales person who showed us around. We picked out a couch, a love seat, a center table, and a kitchen set. We looked at the label of the couch marked leather. We were excited, after all it was something we were investing in. A week later the delivery guy showed up with his son to assemble the furniture. The guy had a marker in his hand, which he used to color in the leg of the couch and center table he damaged. I am not a fussy person, so I let it go.
Fast forward, later on the table set and the center table screws had to be tighten all the time. The supposedly leather couch is peeling like a dog with mange. Keep in mind we have no small children to wreck our furniture. We called Raymour & Flanigan about the problem. They sent out a technician. He came, spray the couch and used some hot mixture to fix the problem. We thought that was it, but the couch kept peeling even worst. We paid 3,445.84 in full for these furnitures and not one of them has lasted over two years. It's better to pay for quality than marketing strategy.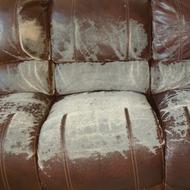 My husband and I bought this sofa. Looked beautiful but after a while the seats become uncomfortable to sit. Now after 4 years the leather sofa has peeled off completely. When you sit you come out with little pieces in your body of the leather that is peeling off all over your body. When we call the company they did come to fix the seat but no better but was told the insurance doesn't cover the peeling of the leather. Can you believe it? Now have to throw it on the Garbage. Wish can post the picture. Don't buy from Raymour and Flanigan. Just bought another sofa from Macy's.

I recently purchased a sofa and chair from The Raymour & Flanigan clearance center in Poughkeepsie NY. After a couple of days my daughter and I began to break out with some sort of bug bites. To my surprise the couch had bedbugs! I spoke with the store manager Lana who originally said that I was going to be responsible for transporting to bedbug infested couch back to their location. After threatening to get my attorney involved, Lana changed her tone and sent their delivery guys to pick up the furniture.
I was issued a partial refund because they had to audacity to charge me a delivery fee! I'm very upset and I will take legal action against this company. I would NEVER RECOMMEND this disgusting location nor company to anyone. I will NEVER purchase anything from Raymour & Flanigan again. When I called customer service all they did was give me the runaround! Totally disgusted!!! This company lies to its customers about the clearance furniture. They say it's a floor display when actuality it's a return or a repo from someone's home.

I went to the Raymour and Flanigan in downtown Brooklyn in Fulton street. I purchased a Duncan Beautyrest queen mattress 6/27/16. It was delivered 6/28/16. Almost 2 weeks later I noticed the side that I slept on was sunk in. I went back to the store to let the sales guy know that the mattress didn't feel right. He said "you were the one that wanted a plush mattress" in a rude way and now said I would have to sleep on it for at least 45 days. I left the store. I called for an inspection and the rude inspector came to my home. The mattress is defective. I was told that I had to meet with 2 managers on 7/26/16 in the Fulton store to get another mattress because they don't give refunds. I looked online at all the complaints and I'm so angry.

Bought a Patio furniture July 18th 2015 for $1900/-. The sales guy sold the Platinum protection plan of $145/-, saying they will replace anything without asking any questions, "even if you have stains on the chair cushion, we will be replace them. If the chairs get rusted, we will replace them." After 2 years, one windy day the umbrella broke, very bad design. I called Raymour & Flanigan and the representative was trying to get out of the claim even before listening to what the problem was. He started saying the external elements are not covered. I said it is an outdoor furniture and it will have external elements.
He wrote up the claim. Called me back and said will send someone to take a look at it. After a week he called and said, "We will replace the Umbrella". After 3 weeks he calls back and says, "You paid $70- for the umbrella, and it is not available now but we can order one for $149/-, you have to pay the difference". So I have to pay more to the Umbrella than what I paid when I got it. This is ridiculous. If someone in the company is watching these reviews, wake up and do the right thing!!!

I purchased furniture from this company and have had it replaced 4 times. It is now on my fourth set and they have been out numerous times to replace cushions and stuff them and it is been less than 3 months since the last visit and they are a mess again. They want to come out and replace the cushions again. This is ridiculous. I want my money back so I can go to another furniture place and pick out furniture that will last.

R&F contacted me and resolved my issues by picking up all of their furniture and gave me a full refund. Thank you.
Original Review
We recently purchased 4 rooms of furniture from R&F for our home and we have had nothing but problems since the day it was delivered. Our sectional was delivered with stains on it which is disgusting! Our dining room set and 2 children's bedroom sets all had been delivered with chips/dents/scratches. I called in the morning after delivery to report the problems and was met with my first of very rude people. The women said "it just sounds like you are unhappy with your furniture purchase." I explained that yes I was unhappy that I paid for quality products and that was not what I had been delivered.
She set up our 1st service appt to have a tech come out. When the tech came to our home he took pictures of the sectional and put some stain/paint over the chips/dents & called them "fixed" which didn't fix anything, they are all still there just with some stain that doesn't even match up. I was called to ask how the appointment went. Explained I was still unhappy with everything because of the dents/chips & that the tech said he couldn't do anything about the stains, she said she had to turn it over to another department and they would contact me.
After a few days went by I went to the online chat because I had no idea where the person called from, that's when I found out she had "closed my case". I explained everything to the online chat person and they turned it over to a manager they said. Few days went by nothing so I followed up AGAIN, I was told it was being worked on.
A few days later I was finally called about the sectional and had been given two options - have the same one redelivered or choose a new one. On top of the stains the sectional didn't feel anything like it did in the store. It felt like cheap foam. So, in hopes of actually getting a quality product I took my three small children into the store to choose a new sectional. While waiting for the new couch to be delivered we had a 2nd tech come out about the dents again and the same thing slapped some stain on it to "fix" it. The second sectional was delivered and I discovered it had a huge HOLE in it and pulls all over the fabric.
So, I call again and have yet another service appointment set up and spoke with a so called manager in the meantime who when I start to tell him about all of the issues he says "well what's wrong with this sectional, it was just delivered." I'm amazed at just how rude every person I have dealt with have been. The last thing I expected from a so called reputable company would be defective furniture and extremely rude employees.
We had a 3rd service appointment and the same results with slapping some more paint/stain on things and calling them "fixed" - he also cut out a few of the pulls on the sectional while missing others. He glued our dining room table back together because it was soft to the touch and warped. It is still soft and coming apart. The fact that we had to have service calls out to our home right after it was delivered because everything had something wrong with it is unacceptable. I have had to waste 4 days on this issues along with countless phone calls and online chats. I've been told I waited three weeks to call which isn't remotely true when I called the day after delivery. I've found out my calls haven't been documented, I am now dealing with a manager who doesn't want to be bothered with my problems, doesn't call me back. Trying to get a hold of someone above these people is next to impossible.
Since all of my problems I have started reading others stories with R&F and sadly it seems like tons of other people are having the same problems with poor quality furniture and extremely rude employees of the company. At this point all I want is all of the furniture picked up from my home and my account credited. I'm fighting the company on this now and they say they don't do refunds. No one tells that when you make a purchase and it's not posted in the store anywhere.
I have also seen other major furniture stores and a competitor of R&F actually do offer refunds when furniture is defective. That to me means they know they sell a quality product and they stand behind it. R&F on the other hand must know that their furniture is poor quality and they don't stand behind it. This company shouldn't be in business with the way they treat people. We went in happy to get new furniture that we planned on having for a long time and unfortunately that's not what was delivered. What we have is poor quality kids bedrooms sets with dents, chips big chunks out of the rails of the beds, drawers with missing stain. A dining rooms set with nicks & dents that I was told by a manager that that's the way it's supposed to be because it's distressed - well the description of the set doesn't say that anywhere.
The table itself was actually soft and falling apart. We have a sectional that has holes in it, pulls all over it and the cushions look worn already after 2 weeks of light use. It looks older than the sofa we had before. I am sick of being spoken to the way this company's employees speak to people, I'm sick of wasting time on re selects, and service appointments that don't fix the problems. I want to be done with this company for good. I have taken this to the BBB, I will write reviews wherever I can showing people what kind of company they truly are. I will take this to our local news as well. People need to stay away from this store!!!

I recently went in the store on Fulton Street in Brooklyn New York on the 4th of July sale day (so they say)... I purchase a living room sectional and accent chair, also a bedroom set plus additional pieces. The sales representative is really sweet. The furnitures was delivered on the 8th (4 days after). The delivery crew was nice until I noticed that the bed was mounted up twisted and the braces that holds the mattress was unbelievably 3 skinny breakable pieces of wood. He became aggressive and basically wanted to storm out... The bed was the wrong size. I called the store and my sales rep was not present that day.
The next day I called and he was still not present. I unmounted the bed that same Friday evening because it was not safe to sleep on it (twisted and weak). I called and they told me once it's delivered it CANNOT be return. It's almost $5000.00 worth and it's not worth it. Keep away... it's not worth it... When you enter the store they GREET you but they leave you hanging after you purchase. BEWARE of the fine prints.

I placed 2 orders worth $4,000 over the course of 2 days which included 2 twin bunkie boards, king bed, king mattress, queen mattress and queen box spring. I was skeptical about purchasing the bunkie boards but went ahead with the purchase based on the suggestion of a sales representative. This was suggested despite my concern of the bed being too high. I still went ahead with their suggestion considering that they are the experts in their field. On delivery the bed did turn out to be too high even for an adult. I spoke to the sales manager and mentioned my concern especially considering that my child will be sleeping on the bed. I was told that I could return the bed for a 15% restocking fee. The 15% restocking fee for the bed seemed a bit much so I decided to just return the bunkie board.
On meeting with another sales manager the same day, I was told that I could return the $170 bunkie bed for a $47 shipping charge. I offered to deliver the bunkie board myself only to be turned down by the manager. I've purchased from several furniture stores in the area in the past but have never received such poor customer service after a sale. I was going to furnish 2 more rooms in our home from Raymour but will clearly not return to this store after this experience.

We bought couch, chair and loveseat and 5 year warranty. After about 6 months the material started to come off in strips. Called warranty number and they came out to look at it and stated it was normal wear and tear. This furniture looks like it's 20 years old and it's only 2 years old. It's ripped in multiple places and the mechanism on the recliners in the chair and the couch are not working. Pieces of crap. DO not ever buy the warranty, they always have an excuse why they will not fix the problem.

I purchase a sofa, and chair and ottoman in January 2016. This week... just not even six month, June, I notice when I get up either the chair or sofa I feel the wood on the arm rest. I have to put a pillow to sit on both. I complained to Raymour and Flanigan. They sent a tech who agreed that this will only get worse in time, and told me they had a complaint with another customer who purchase the same furniture called "Molly"... and I said, "And this was not taken care of?" After he left he reported that there was NO MANUFACTURER DEFECT and no further action needed. I could not believe the blatant lie he just reported. I called several managers and customer care dept. Also called their corp. office in Liverpool, NY and they had the nerve to tell me that this is normal wear. 6 months?
I told them I had furniture when my kids were small and kept it for 20 yrs or more, now just my husband and I, in our sixties. This is normal wear. They stuck to their reasoning. I am so upset of their deceit. I feel taken advantage of. I am suppose to feel complete, and happy. I am not. This will not end. I will NEVER, NEVER, buy anything else from this dishonest store, and their employees and all the same, not interested in helping the customers once you have the furniture. Yes they run over you when you come in the store but that where it stops. DO NOT SHOP AT RAYMOUR AND FLANIGAN. They do not care once you buy their furniture. They don't even slightly show their unconcern. I will file a consumer complaint. Probably will not get nowhere. So disgusted.
Raymour & Flanigan Furniture Company Profile
Company Name:

Raymour & Flanigan Furniture

Year Founded:

1947

Address:

7230 Morgan Road

City:

Liverpool

State/Province:

NY

Postal Code:

13088

Country:

United States

Website:

http://www.raymourflanigan.com/