Raymour & Flanigan Furniture
New York, NY
Consumer Complaints and Reviews

This is a follow up review on the service that I have received from the customer service representatives at Raymour and Flanigan regarding my leather sofa. The problem with my sofa has not been resolved with both Sue the original customer service representative that I have spoken to and Cari the customer service rep in the service department have been extremely helpful in trying to do everything they can to assist me in reaching a resolution. They continue to be in contact with me in trying to find a resolution.
The service department does not think they can repair the sofa to an acceptable quality and does not want to take the chance of damaging the product further. They have offered to send me a gift card for use in their store and have given me the necessary information to contact the company that has manufactured the product. These girls have been extremely helpful and have gone above and beyond at their level to assist me. The quality of the product at this time is the issue the frustration lies in what can be done about it. At this point an attempt to contacting the company Violino may have to be the next step.
Original Review
After a very positive experience purchasing furniture at Raymour and Flanigan to furnish the rooms when we built our new home 14 years ago, as well as many of the rooms in our previous home, we decided to once again use Raymour and Flanigan when we decided to upgrade our living room and kitchen furniture. So, just about 3 years ago we purchased a leather sofa/chaise sectional and matching ottoman for approximately 3 thousand dollars. While completing the paperwork I sat down at a dining table set that happened to be on sale as is. It was a set that would work great in our kitchen so we took that as well. Well, I do not know if the company went through some sort of changes or changed ownership in the 11 years since we had last purchased furniture, but the quality of the items we had bought was significantly poorer than the furniture I had previously purchased.
The leather on my supposedly 100% leather sofa is cracking and peeling off on 2 squares of the chaise part -- similar to a faux leather chair my parents had purchased at Kmart. Now I do not have the Platinum Protection Plan which would not have mattered anyway since it does not cover peeling or cracking. The kitchen table immediately started to get white water/heat spots all over it -- even when no one was eating on it. When eating on it we always use placemats or a tablecloth. Plus, the finish began and continues to rub off the corners and edges. Now we bought it as is off the floor -- final sale. That was our own stupidity there -- Lesson Learned!
I did contact Customer Service and got the best service rep ever named Sue who was totally awesome and went above and beyond to try to help me. To SUE I give 4 **** stars. She was very helpful and prompt in responding to me and was in constant contact with updates. She asked me to send pictures of my sofa so she could forward it to the service department to make a determination on whether or not it was repairable. After they reviewed the pictures they said it should be able to be repaired and Sue set up a time for a service tech to come and attempt the repair. He was to come Friday in the afternoon but was to call Thursday to give us an estimated time frame. Well that is where things went downhill. He never called Thursday to confirm or give a time frame. When we did not hear from anyone and it was halfway through the afternoon we called the service number on the website.
After holding they got in touch with him and said the timeframe will be between 3:30 and 5:30 and that he had called and left a message on our machine, which he did not. We checked several times and there were no messages or missed calls. At 5:30 when no one had yet arrived we called again just to make sure someone was still coming, so we knew whether or not to wait. They said yes. He was 5 minutes away. It wasn't until 6:05 that he arrived. When he did all he did was look at the sofa. He tried to say it looked like puncture holes from a dog -- which we do not have -- and it is not punctures. It is obvious cracks and peeling. Then he said he didn't have anything that color on his truck. He said, "I will take pictures and turn them in to see if this can be fixed." That is what I already did!!! He was suppose to be one to come and fix it. I think it was after 6 pm on a Friday and he just wanted to be done for the weekend!
When I contacted Sue she was very apologetic for the confusion and said she will contact the service department again. I guess they are going with this tech's review that it cannot be repaired. The cracks are too deep and there is no color that will match. I don't think he sent the pictures to anyone, just decided he couldn't or wasn't going to do it. So I am out a couch. If I knew I was going to have to throw the couch away in less than 3 years I would have purchased one for a lot less money at a discount place such as Bob's or Ashley Furniture. You definitely do not get what you pay for anymore at Raymour and Flanigan!!! It is a shame as I now have to find somewhere else to shop for my home furnishing needs.

We bought a bedroom set 6 weeks ago, we were in the process of redoing our bedroom, so we wanted delivery July 12. 6 weeks later, I changed the delivery two days later. The day before my delivery I get a call that my adjustable frame was out of stock. Seriously??? You had 6 weeks!!! SO here I have a bedroom set that I can't sleep in. Paid $6000. Really **!!!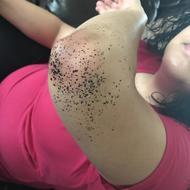 I purchased a living room set from Raymour & Flanigan in May of 2016. 10 days after my one year warranty, the springs of the sofa ripped through the leather. I called my protection plan since I had purchased the platinum protection. I was advised that I was 10 days past the manufacture warranty and unfortunately, there was nothing that they can do. After screaming for some time, the representative stated she would have someone come out and look at it. I also called my the arm rest on the sofas were wearing off. I have a house full of girls and lotion is a priority.
Fast forward: The technician came out and noted that yes, the springs in fact pierced through the leather and proceeded to take pictures. He also "spray painted" where the leather had worn off. He used a few sheets of paper to dry the area because he stated that the blow dryer that the company uses, is located in the truck and it was too hot outside for him to walk out and get it. Needless to say, every time someone sits on the sofas, the paint is attached to their skin or their clothing.
I've had BOB's furniture for 11 years now and have never encountered this type of service. I decided to go with R&F for the living room set as my cousin was a manager at one of the sites and spoke highly of of the company. I paid $850.00 more for a similar set that is displayed at BOB's (I'm guessing it is because of the name Raymour & Flanigan). She is embarrassed that this is the type of service her former company uses towards their customer.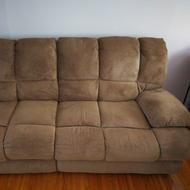 We bought a recliner a couple of months ago. It looks good and it's comfortable. It has some structural issues but not that important. For example: the wooden frame on the side pokes your thigh when you seat at far left/right. We also paid for the extended warranty they offer. Less than a week after delivery the spring for reclining broke and when we called they said they will send someone in two month because they are short of technician now. That means we could not use the recliner for two months! Anyway... no one ever came to fix it or called us about that. A month after that one of the support rods broke. Unfortunately, the quality and customer service are both crappy.

After purchasing a mattress from the Raymour and Flanigan Store in Brick, NJ it was delivered with a fee to my residence. After sleeping on the mattress I began to get suspicious of the mattress I received. It did not seem to be the ultra firm mattress I purchased at the store. After researching my bill and the tag on the mattress I was able to confirm that the mattress was indeed not the one that I purchased! In fact it was a totally different brand.
I went to the store that I purchased the mattress at in Brick, NJ to discuss the problem. Come to find out they said that they don't even sell that brand mattress that I received upon delivery to my house. So they basically told me that I might have switched up the mattresses and tried to scam them! They were unwilling to give me any compensation and the accusation that I was trying to scam them is ridiculous! Lesson learned DO NOT BUY FROM RAYMOUR AND FLANIGAN!!!
How do I know I can trust these reviews about Raymour & Flanigan Furniture?
829,326 reviews on ConsumerAffairs are verified.
We require contact information to ensure our reviewers are real.
We use intelligent software that helps us maintain the integrity of reviews.
Our moderators read all reviews to verify quality and helpfulness.
For more information about reviews on ConsumerAffairs.com please visit our FAQ.

Very bad service. I was never informed about their in-house service stipulations. I bought a living room set for 1500 hundred dollars and never was told that there was a 90-day payoff fee and if it was not paid in full in 90 days, my bill would shoot up to 3000 dollars. I feel I didn't get a proper shake. It seems all the salesman wanted to make a quick easy buck. I will never shop there again. I feel betrayed and hurt (Baltimore Pike Springfield PA).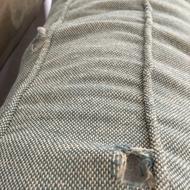 I had 2 tears in the attached sofa cushion of my sofa. This was caused by my movers, because this is how the movers returned it to me from storage. When I asked for the repair, it was scheduled. On the day of the repair my gate did not allow them in so I called. Then Raymour and Flanigan decided my cat had caused the damage. I had them review my photos and they decided again that it was my cat. I DO NOT recommend purchasing the Platinum insurance when you buy furniture in the store as they do not actually repair your furniture. It further concerns me as to the integrity of the company as a whole.

We bought a living room set on 6/24, with delivery on 6/30. Received a phone of confirmation 6/29. On 6/30 day of delivery phone call 9 am - they can not deliver until 7/2. Very poor customer service, they left my husband and I with nothing since we dispersed our old furniture - my husband is a 100% veteran of the Vietnam war and will have to spend a holiday weekend sitting on lawn furniture (not very comfortable). Raymour & Flanigan could care less. Paid cash - maybe should have financed for better service. I should just cancel but it's too much for us to go out and do it all again. So much for DELIVERY IN 3 DAYS OR LESS - GUARANTEED. Shame Shame Raymour & Flanigan. Will NEVER buy another item.

I originally used Raymour and Flanigan to purchase a couch--the process was effortless and I received what I needed in a timely fashion and with good customer service. Because of this experience, I then decided to purchase a dining room set from them, this is when the nightmare began. I placed a special order on February 28th, because it was a special order I was quoted 6-10 weeks for delivery- no problem. At the ten week mark I did not hear from the company, I called in and they could not tell me when the order will be in, they said, "We are guessing about two weeks or so." Two weeks go by, again nothing. I call in and they still can not give me an update on the order also stating that there is no phone number to contact their vendors just email and a response from them could take up to a couple of days.
About one month later the company tells me that half my order is in, they deliver to me a damaged table and chair and another defective chair. I send them picture of the damage, the delivery guy process a swap out and reorder of these items. I call them a few days later to check the status of when the replacement items will be in and when the other items will be in, at this point they have no idea that a reorder was placed. They apologize and place the reorder. A couple of weeks later they call to tell me the other items are in, I confirm a delivery with them later that day. They call to say they made a mistake that only one item is in not two because the vendor did not send the right parts. They offer to deliver what they have, I confirm the date and time and they never came. No call/no show, I call them and they say that the delivery guy was running very late.
At this point I put everything on hold. I call them the next day to make arrangements to refund my total order and they refuse, I then call my credit card company and dispute the charge. Present day it has been over four months since the original order was placed and over two months since it was late. Over the course of the two months dealing with this I was offered a $78 dollar compensation for my time mind you on a $1236.20 order and a $100 gift card (which I do not intend to use) and most recently $100 credit for their poor business.
I do understand things can happen with shipments and orders, sometimes things do not run on time etc but what I do not understand and will not accept is the hounding down I needed to do with this company and not following through on a confirmed delivery. I should have done my research beforehand as I come to find out that Raymour and Flanigan has an extremely poor quality of merchandise reputation and an even poorer customer service reputation. BUYER BEWARE!

Horrible experience with this "Platinum Protection Plan". The charging consoles on their couches and loveseats break almost immediately. Call the 866 # for service. They gave me an appointment 6 weeks later. I said not acceptable! They said they will order a new charging station, BUT it's being shipped from CHINA, so it's been 6 weeks and I'm still waiting to hear back. I called them today and they said, "It JUST came in, lets schedule." The date for installation is in 6 weeks time!!! Platinum Service??? NOT!!! Customer service, awful!!! Furniture, go someplace else!

Bought a mattress on the end of April for my grandson to sleep on. The third day he complained to me. I think the mattress has bed bugs. No way, did not realize, he was not sleeping on the bed. Sure enough he was sleeping in a chair... Called the store. They said no way does their beds have bed bugs. Threw out most of the stuff in the room along with the bed. Well they won't get paid. I don't have 500 like that.

We recently purchased a bunk bed and opted to pick up the bed at our local Warwick store to avoid taking time off from work. While putting the bed together we noticed that three brackets were missing and we were unable to finish the setup. I called our local store regarding the issue and was transferred to the main call center. The representative stated that I would get a call back within 24 hours. After two days of no responses I called the store again and yet again was transferred to the call center. The representative stated that due to the holiday she would be unable to give me a definitive answer regarding the missing pieces. She reassured me that I would get a callback the very next day. A rep did indeed call me the next day and left me a voicemail. I immediately called her back and left a message.
After two days of no responses I called, yet again. The representative then told me it would take two weeks for the parts to arrive as this was an item that needed to be ordered from a third party vendor and that I would need to be home for the delivery so they could swap out the parts (the rails & hardware). That would mean, two weeks of a bed we couldn't use & time off from work which was not an option.
The phone calls continued for nearly two weeks with very unpleasant representatives to no avail. On Friday, I was finally told that I could pick up the hardware the following Monday at our local store. Upon arrival to the store I explained the situation to the secretary. She then searched for the items in warehouse and could not retrieve them. I was told I would get a call "first thing in the morning".
I got a call from the secretary in the afternoon stating that it was an oversight on her part. The items were indeed at the warehouse but were placed in a large box along with the rails (which were not needed). She reviewed my file/notes and assured me that she or her manager would be in touch with me the next day regarding the inconvenience we faced for two weeks. Again, it's been a week & we still haven't received a call. After being a customer of Raymour & Flanigan for many years I refuse to purchase anything further from this company. The customer service department/local store sent us around in circles for weeks for an item that was paid for in full and we were unable to use due to their lack to rectify the issue in a timely manner.

We purchased a Simmons mattress in April of 2016. This May it started sagging while I was sleeping in it. They sent out the mattress Tech and he said it hasn't sagged the required 1 1/2 inches. I told him it only sags when I'm sleeping in it. That was not their policy. So I will not be shopping at this store.

I went to the Valley Stream store, I bought a Tempur-Pedic mattress. It's been about 19 months and the mattress have a hole in the middle. I call customers service to file a claim. They send a tech over and this guy walk in my house with rod in his hand, he took the rod and lay it down on the mattress. Keep in mind if I take that rod and hit you over the head with it you will laugh. In other words people do not go and spend your money at Raymour & Flanigan. This furniture outlet is a rip-off. Never again. I will take the mattress that I bought back to the store and leave it there. I show the tech the hole and he said, "I know but this is how they want me to check the mattress." Please people don't spend your money in this outlet.

The scam they took the price off the chair for the warranty we paid cash and the delivery was giving a 3 n hour window. 3 damn hours and still couldn't make it on time. A hour after them being late called the store. Told them to cancel the chair. We will come and get our money. After a half hour on hold they said they couldn't give us our money. They will send a check. ** I paid cash so they took a 140 dollars off the price and they will mail us the money. I know I will never see it. The delivery would be there at my house within the hour. Well it's been 2 hours and they are still not here. This store is in Montgomery, PA.

I ordered a couch online on 5/27/17. My mother was buying it for my husband and I as a gift. I inputted incorrect card information for payment, corrected the information, tried again, and the purchase went through. My mother received a call that the couch had to be sent from the warehouse and then we would receive a call to schedule delivery. The money was taken from my mother's account the day we ordered. She received a call a week later on 6/1/17 that they needed proof of residency because of the initial declined transaction attempt. I was given a fax number which was not accepting faxes. I tried 7 times before I called back and said it was not accepting faxes. I was given another number to fax, which had the same results. Hours later and Kristina gave me her email to send the proof that way. I asked what the turn around time is and when we will finally get the call to schedule delivery. She said it would only take a few hours.
Never received a call or anything at all. 6/2 I called back for a status update. Moncy or Mandy answered (she mumbled her name) and said it was out of their hands and could not provide me with anything. I asked to then cancel the order because this was ridiculous, no one could give me any information and they already had the money. Moncy didn't even bother to help assist with figuring out what was going on. I then asked for the cancellation confirmation number and she would not provide that information either. She said it was again, out of her hands and I would get an email "whenever it went through".
They still have our money and will not produce a cancellation confirmation. There was no other contact number available on the website, no one else to contact except for the customer service department that cannot provide customer service. Everything is "out of their hands" so who is in fact dealing with our issue? You had a new customer here and completely treated me like **. I will be telling everyone I know not to purchase from you. Abysmal customer service. Make sure you thank Moncy or Mancy, or whatever her name is, for treating me so awful. She was the worst. I hope no one else has the misfortune of dealing with her.

I bought a chair from Raymour & Flanigan two years ago. Last week the metal rods underneath the chair broke. I attempted to contact the store and the customer service center. I kept getting put on hold and then they would hang up. I finally spoke to a representative "Michael" who told me that since I hadn't purchased their warranty plan they were not responsible for any defects in the furniture they sold me. If I wanted them to send a technician I would have to pay for a service call and charges for replacement parts. That, I believe, would turn out to cost more than the chair. All they could do was give me the name and telephone number of the manufacturer [American Furniture] to see if they would do anything. I would not recommend buying from them. They do not make sure that the products they sell are reliable.

I am so disappointed. My husband and I spent over $13,000 at Raymour and we also purchased the platinum protection plan, which was an additional $300. Chuck, our salesman, was explaining how the leather sofa set we were purchasing was hand rubbed. He made us feel like we were purchasing a great quality and it was the best that money could buy (and in this particular store was the most expensive sofa set). The sofa set we purchased (sofa, and 2 recliners) cost us around $5000. After a few months of being in love with our purchase (which was for 3 different rooms) the hand rubbed leather started to crack. Now, I am not dumb, I know the difference between worn and cracked. This set is NOT hand rubbed. It was literally flaking off.
We called to have it serviced. Since it still fell in the first year of purchase they didn't need the protection plan we purchased. The service guy came out and literally just sprayed paint on the cushions where it was flaking. He tried telling both myself and my husband this is normal wear on leather. Before a month passed by it was doing it again. So, we pulled out the protection plan. Everything in the plan contradicts itself. No matter what, we have to pay out of pocket to have repair the couch and recliners that we were told were hand rubbed (when all they will do is spray paint it) and then charge us for it.
We have contacted Bernhardt and asked if they would sell us the color dye and they told us we need to contact the retailer we bought it from. Raymour and Flanigan tells us we need to have the service guy come out and it will cost us because it's not covered in the protection plan and now we are over the year mark. It's so heartbreaking especially with how much money we gave that store to fully furnish 3 rooms. We wanted a good quality leather set to last us years to come and it didn't even last a full year before looking like a piece of crap.

I am a very loyal customer of the Raymour and Flanigan. I am buying furniture from them since 2013 for my new condo & home. Treated me well until last January. My wife & I walked into the Cherry Hill store looking for coffee & end tables set for the family room furniture we bought from them. We saw the floor model set of tables for a price of $109.00 and bought. While support staff of the store loading the tables in my pick up truck we noticed the legs of the table were broken. The staff tried to glue on the broken legs and did not work. We refused to accept the set in that condition. Store manager a young attractive lady was called in and she replaced the set with the another similar set from the storage. We were impressed and accepted the replacement set for the same price.
To our surprise 4 months later we found out, when we applied for mortgage that TD Bank had a late payment account, which apparently was sold by R&F claiming that they charged full price of the set $499.00. We visited R&F Store in Watchung, NJ where we normally shop and know the sales and credit staff. With their help we found the above information.

From the time we entered the store we were greeted very professionally and handled in a very professional manner. Received our living room and bedroom furniture and we were very pleased with everything that happened at Raymour and Flanigan and especially the furniture and the bedroom set we are using now.

I am happy to report that by continuing to contact the store to help me resolve my issue with the defective furniture, it has paid off. I worked with 2 Managers, at the Smith Haven location, that were very responsive to my complaints. They had me come back to the store and pick out another set. I am sure we will be very happy with the new furniture. I plan to be a continued customer of Raymour and Flanigan.
Original Review
After several visits to the Raymour & Flanigan showroom in Smithtown, NY we finally decided to purchase 2 couches that were really nice and very comfortable. About a week after they were in our home, we began to notice the poor workmanship that went into these sets. The biggest complaint is that the wood is not covered by the padding in the arms and the foot of the recliner. We also have a rod or piece of wood that protrudes out and hits you in the back. The stuffing is also not uniformed so the support is not even and results in back aches. They are the most uncomfortable pieces of furniture we have ever purchased. We did log a complaint but we're asked to just try the sets a little longer, let the furniture get broken in. We did and nothing has changed.
They sent a representative to our home to check out the furniture and our complaints. The response I was given was that the furniture is "To standard and not a manufacture defect". I was also told they were very sorry but if I needn't more assistance to call the store manager. I did place a call to Shawna **, the store manager, left a message and was told she would call me back. I have not heard back from her yet and this is 4 days ago. Why should I have to wait for a call back? Is she that busy she can't call back a valued customer. I thought that was their commitment to us, the customer. It's funny how the sales people never left our side every time we came into the store but now that we've made our purchase and have an issue with it no one is there for us. Reality is we are stuck with defective, uncomfortable furniture. Standard furniture at a premium price. Guess you aren't looking forward to serving me, my family or my friends into the future.

Last November, we purchased a dining set from the company with the Premier Service Plan. A few weeks ago, one of the legs of the chair collapsed with someone sitting on it. We called Premier Service only to find out that it would take a few weeks before they would make a service call and replace the chair. The appointment date was set for May 6, 2017 with no definite time. However, the company assured us that they would call prior to making a service call. On Thursday morning, May 4, the company called and said they were scheduled to make a service call during the day. I advised them that they had the wrong date. No problem. They'll come to our house as planned on May 6, and they'll call to let us know what time they'll be at our house.
But it wasn't until late afternoon that we received a phone call informing us of a scheduled delivery on Sunday, May 7, 2017 between 3 pm and 6 pm. So we stayed home Sunday afternoon instead of going out to eat, waiting for Raymour & Flanigan's reliable Premier Service Technician to arrive within the designated time slot. Guess what? He never showed up, nor was there a phone call advising us about the situation. As I was getting ready for bed around 8:14 pm, the "reliable" technician called and said he was going to make his service call. I told him **. Needless to say, I was extremely upset which immediately ended the telephone conversation.
I'm very disappointed in Raymour & Flanigan's Premier Service plan as well as their total lack of concern for providing good customer service. We were loyal customers for several years but now we plan to terminate the relationship. As for their PREMIER SERVICE, I would advise you to hold on to your wallet. No matter what the salesperson tells you.

I purchased a dining room table and 4 chairs back in February of 2016. I am very disappointed with the furniture. There are two adults at our home. The chairs are loose and there are screws falling out.

My husband and I purchased a sofa sectional about 2 months ago. We picked an item that was exactly as shown on the floor and in stock. We took advantage of their 30 day cash payment plan too. A couple days after purchasing (and before delivery) I looked again at the sales order and noticed it was different from what I ordered. I called the salesperson who fixed it right away. When I asked for an updated sales order for my records it was $300 more than I paid... Once the item was delivered, I noticed the wrong item was delivered. When I called the store they told me it was my fault because I gave them the wrong SKU numbers!
Well after lots of arguing back and forth, I had the right item delivered at the correct price. UNTIL. I received the bill from TD Bank and paid it immediately. 2 weeks later I was checking my online account and noticed they never cashed my check and 'what a surprise', they charged me interest and a late fee... My credit is over 840. Believe me I was not being a irresponsible customer by not paying.
When I called TD Bank I was told that I was at fault because I couldn't remember what address I sent it to (I sent the payment in the envelope provided) and that I should have checked 4 days after sending to make sure they got it. REALLY? Who does that with any payment. Is it possible that it got lost in the mail? Certainly but I don't believe it for a second because the only one who loses is the customer. TD Bank gets the additional funding and Raymour and Flanigan gets their money. Throughout every screw up, no one took any responsibility for the errors. I just bought a second home and will not ever buy a piece of furniture from them again.

I purchased thousands of dollars of multiple furniture sets, including dining room set (buffet, table, chairs), bedroom sets (beds, night stand, dresser).. in addition to the platinum protection guarantee. 2 items from 2 separate sets were broken. The company was unable to purchase parts to fix it. I was told to reselect 2 items from the store and then return the damaged furniture. Reselecting items that do not match the full purchased set is ABSURD! I want the money to fix the items at my own expense OR a credit to use at the store for other items.. and then forfeit the protection agreement for those items and keeping the damaged items.

Purchased a 3-pc. living room set in Nov. 2016, have had nothing but problem after problem. Sofa when sat on you tilt to the right, what repairman said was sit close to arm of sofa then you will not tilt. Accent chair cushion rip and insert of cushion moves and the chair material has pilling balls on it after a month of having it. Called sent repairman out. He said that was normal for the sofa. Sewed up the rip on cushion. My grandkids could have done a better job and took apart the cushion, sprayed adhesive on foam part of seat, put back together and said, "It is fixed now". After 3 days the cushion is the same way. They called me and said, "The repairman said that the sofa needed to repaired." I then told them the ottoman was coming apart on top. They told me to take a picture and forward it to them. I said, "The repairman will see it when he comes back to repair sofa". They called to set up appointment.
The repairman came back to house to fix sofa, took off the bottom of sofa covering, he put a piece of foam in between the wood frame and springs and said it is fixed. Had to fix the accent chair cushion again. Took pics of the ottoman, said it need to be replaced. Now mind you this is all in 1 month of having it. Called again. They said they will replace ottoman. Ok good news. Someone will call to set up delivery. Waited 2 weeks no call. So I called them. They said they called and left message, no one ever called me. 3 day later they deliver on a Sunday. I had to call again about accent chair cushion, repairman came said it's fixed, took out something from his bag and started to go over the chair saying, "this will take off the pilling." He only did the arm not the area where it needed it the most.
Now this is the 4 time in less than 5 months. The accent chair is coming apart on the front of the chair. Again take pic and sent to us. No way. Have a repairman come out. That is why you have repairmen in the first place. Now mind you I am still under 1 year warranty before my PLATINUM PROTECTION PLAN kicks in so what is the problem. This living room set is paid in full. They have my money. I do not see what the problem is. I have call several times and all I get is a runaround, one person said one thing and another person tells you something different. I have said many times let me return the set and have for another one of equal value or more money which I will pay the difference.
They keep telling me we can replace the whole set but I have to pay a 30% pickup/restocking fee of what I paid for the whole set at which would cost me a total of 600.00 more just for them to take back the defective set they sold me. They are crazy if they think I am going to pay that. They do not care about the customers just the sale. I DO NOT RECOMMEND BUYING FROM RAYMOUR & FLANIGAN. Policy really need to be changed in order to keep customers coming back or referring other. All they care about is just making a sale. Once you get your furniture it yours. They want nothing to do with it or you. So you're stuck with what you purchase even if it is defective.

I purchased a leather recliner couch less than two years ago. The recliner part broke after two uses. Also, I was told that it was good quality leather. However, the leather is rubbing and peeling off and the seams are falling apart. It is the worst quality furniture I ever purchased. I tried calling the showroom, Customer Care, and the corporate office. I was told it was not their problem. I was treated like I was an annoyance and brushed off. I will never, never purchase furniture from Raymour & Flanigan again!!! Even if I have to sit on the floor!

Purchased a recliner in May 2014 from Raymour & Flanigan. Had to replace it twice. Finally picked a new one for more money within 2 months. Had also purchased a platinum plan with the furniture. (I also purchased a sectional, end tables, coffee table & a complete bedroom set at the same time.) Had a repairman come out in December because the recliner head rest was coming apart. He said it was not covered by the plan because it (the headrest) was vinyl not leather like the chair.
Call to make a claim in March for a 2 tears in the arm of the recliner. Serviceman came out on April 12. He took pictures and said we would hear from someone within a day or two regarding the outcome. I had to call them today and was told it is denied because the headrest was too badly damaged. I told her I knew that but what about the tears in the arm. She said it was denied and I wanted to know why did I spend $65 on a platinum protection plan if they don't stand by it. I will NEVER BUY ANYTHING FROM RAYMOUR & FLANIGAN AGAIN. THEY ARE THE WORST COMPANY TO DEAL WITH AND THEIR FURNITURE IS JUNK!

I bought a full living room furniture cost $4000. After 6 month it's break the side and fade of the color, call the customer center, they said, "You guys sitting in the couch that's why". I didn't understand that statement. The couch is for sitting or just for seeing... The furniture is less quality veryyy bad quality and high price. So I strongly disagree. Don't buy furniture from there. Only 6 month experience. I lost 4000 dollar. I have 5 year warranty. They came and spray some paint that smell horrible for one day. And last only for 2 weeks... A BIG MISTAKE buying furniture from Raymour???

I bought the Natuzzi edition set from Raymour & Flanigan about a year ago. I called because I have a service plan to have the arms on both the sofas restuffed. The repairman got to my home and began to restuffing the loveseat. Midway through he began to complain that it was too time-consuming and too much work and that he would only be able to do one sofa. After he stuffed the loveseat he attempted to put the legs back on. It was in this process that he stripped one of the screws and the leg could not be reattached. He says, "Sorry but I can't fix this. I'm all booked this week so they will probably send someone else out to fix."
My couch worked before he got here now it propped up against the wall and useless. The professional was not that professional. I called customer service and a Raymour & Flanigan representative told me that she couldn't tell me anything until the repair man turned his report in and a coordinator will contact me within 24-48 hours and that's all she can do. So not only did I not receive the service that I contracted I was not giving and answers by the company. I paid a lot of money for these sofas and expect better service.
Raymour & Flanigan Furniture Company Profile
Company Name:

Raymour & Flanigan Furniture

Year Founded:

1947

Address:

7230 Morgan Road

City:

Liverpool

State/Province:

NY

Postal Code:

13088

Country:

United States

Website:

http://www.raymourflanigan.com/