Raymour & Flanigan Furniture
New York, NY
Consumer Reviews and Complaints

The problem is a product issue, service issue and a warranty issue. Product (Poor quality and hazard): I bought a three piece sectional from R&M in February of 2017 (cost was approximately $2,500). The couch began to open up from the zipper (which was stripped so would not close) on the chaise section and the pillows provided began to tear by June of that year. The chaise cushion began to bow in with only a few months use. It is only myself and my girlfriend using the couch. Staples were falling out of the couch all around the bottom of the upholstery and my girlfriend actually stubbed her toe and had a staple go directly in about an inch and a half (we have pictures). There was a sharp nail sticking out of the back of the couch which I cut my hand on.
Service: Scheduled a tech to come out to my house for the end of June (approximately 3 weeks from when I called to me the appointment). Took off from work on a Friday and was canceled on a few hours before the scheduled appointment. Appointment was postponed until August, AFTER I received confirmation from a manager who informed me the tech would come out with replacement pieces because I had sent in pictures. Tech shows up with no replacement pieces and apparently no information regarding my request and previous conversations.
Called R&M and was told I should receive a call from a supervisor regarding the lack of service. Supervisor calls back the next day (Saturday) and apologizes and swears she will have the order expedited because of all of the miscommunication and wasted time they put me through. She explains I should receive the missing pieces by Friday of the following week. Friday comes and I receive a call asking which pieces I ordered. After some annoyance we finally reach an agreement that it will AGAIN be expedited and I should receive it in a week.
Two weeks pass and I call the NY customer service number of R&M. After explaining that I spoke to a dozen people (I've left out numerous in between calls) about the issue, the rep tells me that the warehouse does not have the pieces available. I ask her why this is the first I'm hearing about it either everyone else lied to me OR she is lying to me. I explain to her that I have both the manufacturer warranty and a 5-year warranty that I paid $250 for. The couch is fairly new and still being sold in the store so how is it possible they can't replace my ruined pieces. She says that's not how it works and they do not take pieces from couches being held to sell new. Obviously frustrated, I ask how they sell warranties only to treat those customers as second rate when they call in a replacement.
I call the store sales person (Lee **): He explains he completely understands and would be just as upset as me. I explain that not only do I expect a resolution but some type of store credit or something for my wasted time and energy and extremely poor customer service (or total lack of). And also, WHY IS THIS COUCH FALLING APART?! Still no response back and that was two weeks ago tomorrow (9.9.17). Clearly there are product quality and hazard issues, customer service issues (misinformation/lying/incompetence), and breach of contract issues by not upholding their promises (at least the way the warranty is sold). This warranty is supposed to help me not have to deal with this type of treatment because I PAID to make sure I wouldn't. R&M is clearly selling poor quality furniture and playing games with their customer just to save a buck.

We had a new bed delivered and things went well till we wanted to return a pillow. They would not take it back. They said once it was in my home it could not be returned. They also said I would get 72 months to pay for the $2,700.00 bed and after all the paperwork was signed I found out I never opened an account for this to happen. It was charged to my credit card all at once. I went to the store the next day after delivery to have an account opened & a credit be applied to my credit card. They refused to do this also. Very upset & extremely disappointed with this customer service.

Salesperson Wendy ** was nice during purchase but failed during horrible delivery. She emailed "that is terrible " and "so sorry " but did nothing to ease the pain of the botched delivery attempts times two. This was by far the worst experience with R&F for guaranteed delivery in 3 days.

My mother bought a mattress 1 and half years ago. They came out, checked the mattress, told her she wasn't getting a new one cause she sweat on the mattress. Only took pictures of where she sweat which was one spot, it's not like they are going to resell the mattress. And they should correct the guarantee that if you sweat don't call us. Some guarantee they have. They didn't even check that the mattress was sunk in on both sides. When I sat on it I fell in it. And we have rotated the mattress. I will never buy from them again and I will tell all my family and friends as well. Thanks for nothing Raymour and Flanigan.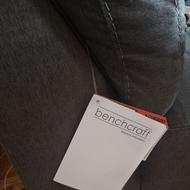 Update 07/28/17 - Raymour and Flanigan Stratford has called to confirm tomorrow's delivery of my "New Ashley Brand Sofa" - negative. They once again tried to tell me they only carry BenchCraft - That Ashley's bought BenchCraft - and that they tagged the sofa wrong (In other words they're tagging BenchCraft items Ashley Furniture). Upon telling them that they would be wasting their time, they now want me to go to the store speak to a store manager and pick a new sofa of equal or lesser value - Oh and it must be done within 14 Days! No If, Ands, Or Buts... So forget whatever I have planned, it is the only way you will receive a new sofa - now you have to hope you find something you like within the same price range of what was purchased months ago! Do Not Be Fooled!
UPDATE 08/17/17 **. I have gone to the original store in Nanuet. Met with the manager who obviously states he does not know what it is I am speaking about and that he must contact his reps regarding sending me a different brand/quality sofa. He calls me 2 days later as he promised - to only tell me that the Rep states there the same exact sofa and that there is no way it was tagged differently - that everything on that sofa is identical down to all the screws, and the inside "quality foam".
I did some more research because R&F manager and I believe a sales girl have been trying to tell me if the SKU numbers are the same then the sofa has to be the same - she is offering me a gift card of $100, or take the one I have at home for $150 back on my card which is unacceptable. At this point I tell them I'll pick a different sofa of a difference of $300 but that I will not pay any difference and just continue through the BBB - to which originally she said no that they cannot give me my sofa credit + $300. I then replied to her with all this information I found via the SKU/Product IDs turns out if you go to benchcraft.com they only sell the Chase and the Vendor on that is MAINER. If you look up MAINER Sectional 2 piece it is in fact my exact same sofa that R&F is trying to sell as ASHLEY (same product ID's).
I will try to add images of all this information in case I do not make any sense. I am looking to potentially file a suit considering I saw some class actions about the platinum protection. If anyone has had a similar experience please reach out to me at **. I don't even care for a new sofa. At this point I am determined to prove they are scamming their clients.
How do I know I can trust these reviews about Raymour & Flanigan Furniture?
881,173 reviews on ConsumerAffairs are verified.
We require contact information to ensure our reviewers are real.
We use intelligent software that helps us maintain the integrity of reviews.
Our moderators read all reviews to verify quality and helpfulness.
For more information about reviews on ConsumerAffairs.com please visit our FAQ.

I am writing to this hoping someone on top will hear me out and re-consider the sales tactics. Your employees are salesman, not doctors. Customer knows best. After 9 wonderful years of having my "firm" bed from Sleepy's it was time for a new bed. I would have returned to Sleepy's for my mattress needs, but they closed down their Waterbury, Ct. location. And so, because I had done business with R&F in the past with furniture, I thought I'd try buying a mattress from R&F.
Now from my sleeping experience, which is above all other professional bedding experiences, I was determined on getting me another "firm" bed. Who knows my back more than my back? So I walk into the Waterbury Location and immediately I was approached by a sales rep. I told her that I am looking for a mattress. As we walked to the back of the store, she asked what type of mattress I had in mind and I told her a firm mattress. She then begins to ask me what side do I sleep on? I told her that I am a side sleeper. She then said, that for a side sleeper plush is the recommended mattress. I told her well thats against everything I believe in. I then told her, that I walked into R&F with my mind set on buying a firm mattress due to my previous mattress experience. She has me try out two plush queen beds.
One was too soft, but the other at the time felt like it may have been what I needed. She says, I'll give you 15 minutes on the mattress and I'll come back to see what you think. She comes back to what felt more like 10 minutes and asked what did I think. (I now know a mattress decision takes way more than 15 minutes.) I told her the mattress does seem that it will do the job. Plus, hearing all she had to say about plush being for side sleepers made me feel like I may have been wrong with my own idea of a firm bed. Even a manager came by to help me understand that side sleepers use plush. He even stated, "firm is one of the most returned mattresses." They also convinced me to buy the platinum warranty just in case it doesn't work out. I make the deal. What a regret!
I should of listen to my body! The bed arrives and my first night on it was great! But on the 3rd day, I woke up with with a stinging feeling on my hip side. I went back to R&F and spoke with the manager and he said, it may be that my body is adjusting to the bed and that I should give it more time because I have platinum coverage. I leave thinking he may be right about me adjusting, so I go back home. But I now see, more time sleeping in a bed that wasn't for me wasn't good advice, medically speaking. Even a healthy back can get harmed sleeping on a bad mattress. The manager who said I should give it more time was really saying to me, leave the knife in your hip some more, I'm sure your body will adjust. What ridiculous advice from him having no medical background, and stupid on my end to have listened! About a week later with sleepless nights and painful mornings, I wake up in tears and in much more pain.
Now, I went back to the Waterbury location. I see the same saleswoman and I tell her please get me out of this bed. She says, she's gonna get the manager. I think his name was Jim. I don't know what was with Jim that day, but he would not listen to my experience with this plush bed. It seemed as if he was upset that I was exchanging my bed and would not give me his ear. I wanted to give him my reasons on this whole plush idea for side sleepers may not be for EVERYONE. I wanted to tell him my experience on this plush bed and that maybe what is recommended may not apply to all customers. (During my research on mattresses, I read an article that strongly agrees that firm bed is for side sleepers) But seeing that Jim was acting irritated and insensitive to me, I felt so offended that I left pissed off out of the store and made a complaint to the customer care department of R&F on the manager of the Waterbury, Connecticut location.
Hours after walking out. I received a call from Newington, Ct R&F. The manager tells me that he heard through the district manager that I needed help exchanging my mattress and that he wanted to help me out only if I come to the Newington location. I wasn't too happy about the half hour drive there, but I really needed this issue to be resolved and was willing to invest my own time. The manager there was awesome. He heard me out and even agreed with me that the plush idea for the kind of built size of a man I am wasn't a good bed referral. A Firm mattress should of been recommended, due to my size and previous experience with a firm mattress.
I also expressed to him that I had wished I made the first decision or first mistake on my bed and not R&F. I felt now my warranty will be used up on what I believe was R&F fault by not listening to me before the initial sale, and the complaints after the sale. He told me not to worry. He will waive the 95.00 delivery fee and make this sale like a first time sale. But that if I don't like the new firm mattress, then I would have to pay the 95.00 for delivery. I agreed. I was very happy to know I finally am going to get some real sleep... not so fast!!
Here's the topper!! The second bed arrives. The delivery guys begin moving the bed out of the truck. One of the guys is out of the truck and the other is inside the truck sliding the bed out. When the bed was about to exit the truck, the guy inside the truck lets the bed drop to the ground. The bed bends at the corner due to the impact. I immediately said to the guy, "Hey!, thats a thousand dollar bed and you shouldn't of done that. And especially in front of the customer, me!" I asked the other delivery guy in Spanish, because he knew little English, what happens if I reject this bed and don't sign because I seen the way my product was handled and now I'm concerned it may have been damaged? He replied, "It'll be ok. You should see how we handle them at our warehouse."
I was shocked that he said that, but at the same time I thought maybe the beds can handle such abuse so why fuss for another one. My new mattress is gonna get abused at the warehouse, like the driver said, before I even see it anyways. They put the bed down, I inspect it and lo and behold!! Now, theres a visible hump in the middle of the bed and a slope on the top corner of the bed where the driver let the bed drop. Complaint was filed again on the drivers handling of my product and his remark about how they handle all other mattresses at the warehouse. Finally, I am hoping this matter falls in the right hands and that I am dealt with immediately. I will be continuing my complaint until I am heard. If not, I will do whatever it takes so that I am heard.
**Update** 08/12/17 A foam mattress was selected and extremely discounted due to my awful experience with R&F. Two months later the foam mattress is not holding up. It feels like a plush foam now. My hip pain is still there. Very uncomfortable at night with both the bed failing to support me and also my hip waking me up at night. For the record, I've never had a left side hip issue. I hope there is no long term damage done to my hip. My advice stay away from this company. Their sales tactics is too aggressive, especially on a product that takes time to make a decision on. They're after your pockets with their aggressive sales tactics, and not after your well deserved beauty rest. I recommend going to an all mattress store next time.

Purchased a very expensive Tempur Pedic mattress about 7 years ago, thinking it would be comfortable for my aging body. No such luck, but I stuck with it. Now the mattress is sagging, and horribly uncomfortable. R and F sent a technician, to no avail, because it wasn't "sagging" ENOUGH! I'm sleeping in a FRICKIN' hole! Expensive is NOT BETTER!!!

I DO NOT EVEN KNOW WHERE TO BEGIN. On April 28th I made a purchase of a living room set mattress and head and foot board totaling 6000 dollars cash... We are now regretting our purchase and feel completely robbed. Dealing with the insurance the platinum protection plan that I paid an additional 349.00 has proven to be as defective as my furniture. Every piece with the exception of the chair in my living room had to be serviced.
My 1500 dollar mattress that I paid a total of 1099 for after holiday sale discount. I defective the mattress has a huge bump in the middle leaving it impossible to sleep in. I have seen my chiropractor three times since my purchase. The service tech came and without even sitting on the bed seen the lump and said "that mattress is defective you need to reselect." Then took his mattress tool and took his photo, called the company and said "It's DEFECTIVE." Needless to say this is where my nightmare gets worse. Imagine being pregnant sleeping on an air mattress for now the fourth week.
My beautiful leather couch purchased on The 28th day of April had to be entirely restuffed with high density padding. Hum on July 7th or 13th don't have my calendar with the exact date with me. Sorry but needless to say it was way too early to be using my warranty especially to be having my entire couch restuffed top pillows and of course all cushions let me add. Now my couch looks absolutely ridiculous because it's so unevenly stuffed that the seat cushions don't sit flat on the frame of the couch. And you think it cant get any worse? Well moving forward to issue three.
My beautiful chair and ottoman, my ottoman after two months has to be entirely replaced. Why you ask? Because since it's one piece it cant be restuffed like the ** job they did to my couch. Here's the catch it can only be replaced once... now if in less than two months it went flat why would I believe that it wont happen again. I am five foot 3 and I weigh maybe 145, so resting my legs on my ottoman can not cause it to become flat in such a short period of time. It looks as though I have a pet elephant who prefers his seat to be the ottoman. Once it's replaced I am out of luck when it happens again.
And my new claim starts today, My love seat. When I lifted the cushion to vacuum the under the cushions I noticed a nice big tear where the Velcro sticks. Super. My list can go on and on and let me tell you I have yet received a call from management to apologize for this inconvenience. So far I have gotten nothing. Not my ottoman, not my mattress, nothing. My complaints started in June. I picked and paid for my furniture. I expected quality. If I spent 600 or 6000 I expected to get what I pay for. Now I will KEEP MY REVIEW UPDATED as my Nightmare continues. Not only do I feel ripped off I feel expendable. Not one call from anyone... Stay tuned.

Buying our furniture through R&F was super easy (of course it was; they wanted our money). The sales people were very helpful and patient - no complaints there. My major, major complaint is in regards to their financing, which is done through TD Bank. Just an awful system, and completely unreliable, both by phone AND online! My husband and I created an online account so that we could connect our bank account to it and make direct payments. When we created the account on my laptop, there were no issues, and we made our first two payments without incident.
When it came time to make our last payment (we paid the couch off before the 6 month period was up and interest kicked in), my husband tried to log on using HIS computer. He entered his username, and when it took him to the screen to verify his 'Security Image', the wrong security image appeared. We verified that he had entered the username correctly, and tried to enter the password anyway. We did this 2 or 3 times - however many it takes to get locked out - and we got locked out. When I was able to get back to my own computer to attempt to log in, the security image showed up correctly, even though we had entered the same username on both computers. What kind of unreliable online payment system only allows you to log on from one computer? It's borderline scammy. I have never experienced an issue paying any other bill from multiple devices.
At this point, we tried calling the customer service number to unlock the account, but we couldn't get through to a live person via their phone tree, and we couldn't get to an 'unlock account/account services' option. It was very bizarre. However, we COULD make a one-time payment via phone, so that's what we did. At this point, we paid the couch off in full, and thank god, because I couldn't bear to go through this again. The money was debited from our bank account, but my husband never got a confirmation email (which he had gotten when all the previous payments were made).
Just to be safe, I tried to log into our online account to verify the $0.00 balance - forgetting of course that we were locked out. And so again, I called the service number again to unlock the account - or to at least verify the balance electronically. I was prompted to enter our 16-digit account number, and last 4 of the social security # on the account. I did this 3 times, and each time I got a recording saying that the account # and social security # don't match what is on file. How could this be possible when we successfully made a payment via phone before (after entering the account # and social)? Why all of a sudden NOW does the account information not match? We have tried to make payments and unlock our account via 2 different computers and 3 different phones, with no success. What is going on???
All I can say is, thank god we paid it all off early and paid more than our minimum due each month, because with all the hassle of trying to get through to these people, we absolutely would have missed a payment otherwise - at which point we would have been charged full 29% interest (plus late fees), which would have defeated the entire purpose of paying it off in under 6 months. I will never finance through Raymour & Flanigan/TD Bank again. Their financing systems and practices feel untrustworthy and predatory to me. I will go back to paying out of pocket, or simply using my Discover card, which at least gives me cash back for my trouble!

I bought a bed mattress box spring from Raymour 2010 and also a Platinum Plan. I had issues almost from the start. They sent out 2 technicians and they were not helpful. It seems like they give you the hard sell about purchasing the Plat Plan but won't honor it. Basically it's your word against theirs and you have no win. I will never purchase anything from this shady company again. I will buy a mattress from a real Bedding store instead of these people who just want you to buy but won't help with their shoddy furniture when it's defective and overpriced smh. Also Customer Service are of no help whatsoever. They act like they're the only game in town. Won't see another penny from me or any of my friends or family in Life.

We purchased the outdoor couch, coffee table and 2 chairs last summer. We stored our furniture in our shed and noticed this summer that the wicker paint was chipping off the chairs after only using the furniture 1 season. Raymour came and could not replace the product because they no longer make the chairs anymore (probably because they had a lot of issues) so they issued us a "re-select" which had to be used within 14 days. No one told us we needed to make an appointment with the manager when going into the store, so we get there and they told us they could not help us. There were a ton of salespeople not helping any one but could not help us because we needed to work with a manager and only one manager works at the store. We leave make an appointment for the following weekend and are told they had a scheduling mishap and they made 3 appointments for our time slot and they we had to wait.
We waited almost an hour and decided to leave because the customer care people did not have an estimated time of how much longer. We asked to speak with the store manager and they never came to speak with us. After this awful experience I will never shop here again. We are in the process of working with the corporate office because the level of customer services was horrendous. I would avoid shopping here at all costs. Not worth the aggravation and treatment.

I purchased a bed and an emergency happened to me (not in any way due to Raymour and Flanigan). I explained the nature of the emergency to Raymour and Flanagan, who offered to help resolve the problem easily and without any charge. The team came in and within minutes the problem I had was professionally and easily resolved with the nicest of men. The company didn't have to go out of their way, but with such kindness- they have a customer for life!

Sofa almost killed my cat & now they say I have to pay to fix. 2 weeks ago I began adjusting my reclining sofa & heard a warning meow, my cat was under the sofa. When I attempted to return it to the initial position everything went wrong & she ended up caught in the mechanism. Not only caught, but her long tail had become wrapped in the drive. Hours later we were able to get her out, to an emergency vet, and her tail had to amputated. In order to disengage her from the mechanism it had to be taken apart.
Today was the "earliest available" appointment to repair and replace the mechanism. The technician looked at the pieces for a few minutes and said it couldn't be fixed. I just got a call from Raymour & Flanigan telling me my extended warranty does not cover injury to an animal and I will have to pay for a replacement - IF ONE IS AVAILABLE SINCE MY SOFA WAS OLD. Two and a half years old is old? Shop somewhere else!

I purchased two leather couches and an ottoman from Raymour and Flanigan as well as the product protection plan. Within months leather cracked and peeled. I call for repair and was told to have both couches replaced because they change the couch color. I went to the store to get new couches and was told that I could get them but couldn't purchase the protection plan because I told them that the person that checked my couch told me to ask for 2 couches to be replaced instead of 1. He also told me they change the manufacturer so my couches would not match. I was punished because I wanted my set to match.
Fast forward the two new couches along with the ottoman are all falling apart. I will never shop there again. The leather that I thought I bought turns out to be bonded leather which I was not told. Don't buy from Raymour and Flanigan. They aren't selling good products and they aren't being truthful about the leather that they are selling. It's bonded leather not genuine leather!!!

Recliner replacement - Purchased a bonded leather group 4 yrs ago. We have since moved to Georgia. We have no children and no pets. The leather suddenly started to completely delaminate. I contacted customer service and after sending the invoice and pictures the company replaced the set. Raymour & Flanigan stood behind their product over and above my expectations. I have extended family in the Philadelphia area and their furniture store of choice is Raymour & Flanigan.

Waste of money!!! I have a promotional account which is due two days ago and it's my fault I'm not being careful. So I called and ask if it's possible to remove a accrued interest of $336. I will pay in full but unfortunately they are so greedy. In short they can't do anything they said but to charge me the interest. :(

This is a follow up review on the service that I have received from the customer service representatives at Raymour and Flanigan regarding my leather sofa. The problem with my sofa has not been resolved with both Sue the original customer service representative that I have spoken to and Cari the customer service rep in the service department have been extremely helpful in trying to do everything they can to assist me in reaching a resolution. They continue to be in contact with me in trying to find a resolution.
The service department does not think they can repair the sofa to an acceptable quality and does not want to take the chance of damaging the product further. They have offered to send me a gift card for use in their store and have given me the necessary information to contact the company that has manufactured the product. These girls have been extremely helpful and have gone above and beyond at their level to assist me. The quality of the product at this time is the issue the frustration lies in what can be done about it. At this point an attempt to contacting the company Violino may have to be the next step.
Original Review
After a very positive experience purchasing furniture at Raymour and Flanigan to furnish the rooms when we built our new home 14 years ago, as well as many of the rooms in our previous home, we decided to once again use Raymour and Flanigan when we decided to upgrade our living room and kitchen furniture. So, just about 3 years ago we purchased a leather sofa/chaise sectional and matching ottoman for approximately 3 thousand dollars. While completing the paperwork I sat down at a dining table set that happened to be on sale as is. It was a set that would work great in our kitchen so we took that as well. Well, I do not know if the company went through some sort of changes or changed ownership in the 11 years since we had last purchased furniture, but the quality of the items we had bought was significantly poorer than the furniture I had previously purchased.
The leather on my supposedly 100% leather sofa is cracking and peeling off on 2 squares of the chaise part -- similar to a faux leather chair my parents had purchased at Kmart. Now I do not have the Platinum Protection Plan which would not have mattered anyway since it does not cover peeling or cracking. The kitchen table immediately started to get white water/heat spots all over it -- even when no one was eating on it. When eating on it we always use placemats or a tablecloth. Plus, the finish began and continues to rub off the corners and edges. Now we bought it as is off the floor -- final sale. That was our own stupidity there -- Lesson Learned!
I did contact Customer Service and got the best service rep ever named Sue who was totally awesome and went above and beyond to try to help me. To SUE I give 4 **** stars. She was very helpful and prompt in responding to me and was in constant contact with updates. She asked me to send pictures of my sofa so she could forward it to the service department to make a determination on whether or not it was repairable. After they reviewed the pictures they said it should be able to be repaired and Sue set up a time for a service tech to come and attempt the repair. He was to come Friday in the afternoon but was to call Thursday to give us an estimated time frame. Well that is where things went downhill. He never called Thursday to confirm or give a time frame. When we did not hear from anyone and it was halfway through the afternoon we called the service number on the website.
After holding they got in touch with him and said the timeframe will be between 3:30 and 5:30 and that he had called and left a message on our machine, which he did not. We checked several times and there were no messages or missed calls. At 5:30 when no one had yet arrived we called again just to make sure someone was still coming, so we knew whether or not to wait. They said yes. He was 5 minutes away. It wasn't until 6:05 that he arrived. When he did all he did was look at the sofa. He tried to say it looked like puncture holes from a dog -- which we do not have -- and it is not punctures. It is obvious cracks and peeling. Then he said he didn't have anything that color on his truck. He said, "I will take pictures and turn them in to see if this can be fixed." That is what I already did!!! He was suppose to be one to come and fix it. I think it was after 6 pm on a Friday and he just wanted to be done for the weekend!
When I contacted Sue she was very apologetic for the confusion and said she will contact the service department again. I guess they are going with this tech's review that it cannot be repaired. The cracks are too deep and there is no color that will match. I don't think he sent the pictures to anyone, just decided he couldn't or wasn't going to do it. So I am out a couch. If I knew I was going to have to throw the couch away in less than 3 years I would have purchased one for a lot less money at a discount place such as Bob's or Ashley Furniture. You definitely do not get what you pay for anymore at Raymour and Flanigan!!! It is a shame as I now have to find somewhere else to shop for my home furnishing needs.

We bought a bedroom set 6 weeks ago, we were in the process of redoing our bedroom, so we wanted delivery July 12. 6 weeks later, I changed the delivery two days later. The day before my delivery I get a call that my adjustable frame was out of stock. Seriously??? You had 6 weeks!!! SO here I have a bedroom set that I can't sleep in. Paid $6000. Really **!!!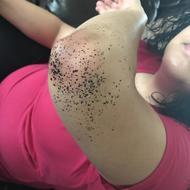 I purchased a living room set from Raymour & Flanigan in May of 2016. 10 days after my one year warranty, the springs of the sofa ripped through the leather. I called my protection plan since I had purchased the platinum protection. I was advised that I was 10 days past the manufacture warranty and unfortunately, there was nothing that they can do. After screaming for some time, the representative stated she would have someone come out and look at it. I also called my the arm rest on the sofas were wearing off. I have a house full of girls and lotion is a priority.
Fast forward: The technician came out and noted that yes, the springs in fact pierced through the leather and proceeded to take pictures. He also "spray painted" where the leather had worn off. He used a few sheets of paper to dry the area because he stated that the blow dryer that the company uses, is located in the truck and it was too hot outside for him to walk out and get it. Needless to say, every time someone sits on the sofas, the paint is attached to their skin or their clothing.
I've had BOB's furniture for 11 years now and have never encountered this type of service. I decided to go with R&F for the living room set as my cousin was a manager at one of the sites and spoke highly of of the company. I paid $850.00 more for a similar set that is displayed at BOB's (I'm guessing it is because of the name Raymour & Flanigan). She is embarrassed that this is the type of service her former company uses towards their customer.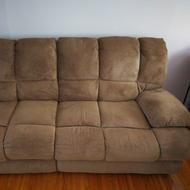 We bought a recliner a couple of months ago. It looks good and it's comfortable. It has some structural issues but not that important. For example: the wooden frame on the side pokes your thigh when you seat at far left/right. We also paid for the extended warranty they offer. Less than a week after delivery the spring for reclining broke and when we called they said they will send someone in two month because they are short of technician now. That means we could not use the recliner for two months! Anyway... no one ever came to fix it or called us about that. A month after that one of the support rods broke. Unfortunately, the quality and customer service are both crappy.

After purchasing a mattress from the Raymour and Flanigan Store in Brick, NJ it was delivered with a fee to my residence. After sleeping on the mattress I began to get suspicious of the mattress I received. It did not seem to be the ultra firm mattress I purchased at the store. After researching my bill and the tag on the mattress I was able to confirm that the mattress was indeed not the one that I purchased! In fact it was a totally different brand.
I went to the store that I purchased the mattress at in Brick, NJ to discuss the problem. Come to find out they said that they don't even sell that brand mattress that I received upon delivery to my house. So they basically told me that I might have switched up the mattresses and tried to scam them! They were unwilling to give me any compensation and the accusation that I was trying to scam them is ridiculous! Lesson learned DO NOT BUY FROM RAYMOUR AND FLANIGAN!!!

Very bad service. I was never informed about their in-house service stipulations. I bought a living room set for 1500 hundred dollars and never was told that there was a 90-day payoff fee and if it was not paid in full in 90 days, my bill would shoot up to 3000 dollars. I feel I didn't get a proper shake. It seems all the salesman wanted to make a quick easy buck. I will never shop there again. I feel betrayed and hurt (Baltimore Pike Springfield PA).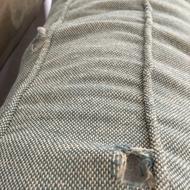 I had 2 tears in the attached sofa cushion of my sofa. This was caused by my movers, because this is how the movers returned it to me from storage. When I asked for the repair, it was scheduled. On the day of the repair my gate did not allow them in so I called. Then Raymour and Flanigan decided my cat had caused the damage. I had them review my photos and they decided again that it was my cat. I DO NOT recommend purchasing the Platinum insurance when you buy furniture in the store as they do not actually repair your furniture. It further concerns me as to the integrity of the company as a whole.

We bought a living room set on 6/24, with delivery on 6/30. Received a phone of confirmation 6/29. On 6/30 day of delivery phone call 9 am - they can not deliver until 7/2. Very poor customer service, they left my husband and I with nothing since we dispersed our old furniture - my husband is a 100% veteran of the Vietnam war and will have to spend a holiday weekend sitting on lawn furniture (not very comfortable). Raymour & Flanigan could care less. Paid cash - maybe should have financed for better service. I should just cancel but it's too much for us to go out and do it all again. So much for DELIVERY IN 3 DAYS OR LESS - GUARANTEED. Shame Shame Raymour & Flanigan. Will NEVER buy another item.

I originally used Raymour and Flanigan to purchase a couch--the process was effortless and I received what I needed in a timely fashion and with good customer service. Because of this experience, I then decided to purchase a dining room set from them, this is when the nightmare began. I placed a special order on February 28th, because it was a special order I was quoted 6-10 weeks for delivery- no problem. At the ten week mark I did not hear from the company, I called in and they could not tell me when the order will be in, they said, "We are guessing about two weeks or so." Two weeks go by, again nothing. I call in and they still can not give me an update on the order also stating that there is no phone number to contact their vendors just email and a response from them could take up to a couple of days.
About one month later the company tells me that half my order is in, they deliver to me a damaged table and chair and another defective chair. I send them picture of the damage, the delivery guy process a swap out and reorder of these items. I call them a few days later to check the status of when the replacement items will be in and when the other items will be in, at this point they have no idea that a reorder was placed. They apologize and place the reorder. A couple of weeks later they call to tell me the other items are in, I confirm a delivery with them later that day. They call to say they made a mistake that only one item is in not two because the vendor did not send the right parts. They offer to deliver what they have, I confirm the date and time and they never came. No call/no show, I call them and they say that the delivery guy was running very late.
At this point I put everything on hold. I call them the next day to make arrangements to refund my total order and they refuse, I then call my credit card company and dispute the charge. Present day it has been over four months since the original order was placed and over two months since it was late. Over the course of the two months dealing with this I was offered a $78 dollar compensation for my time mind you on a $1236.20 order and a $100 gift card (which I do not intend to use) and most recently $100 credit for their poor business.
I do understand things can happen with shipments and orders, sometimes things do not run on time etc but what I do not understand and will not accept is the hounding down I needed to do with this company and not following through on a confirmed delivery. I should have done my research beforehand as I come to find out that Raymour and Flanigan has an extremely poor quality of merchandise reputation and an even poorer customer service reputation. BUYER BEWARE!

Horrible experience with this "Platinum Protection Plan". The charging consoles on their couches and loveseats break almost immediately. Call the 866 # for service. They gave me an appointment 6 weeks later. I said not acceptable! They said they will order a new charging station, BUT it's being shipped from CHINA, so it's been 6 weeks and I'm still waiting to hear back. I called them today and they said, "It JUST came in, lets schedule." The date for installation is in 6 weeks time!!! Platinum Service??? NOT!!! Customer service, awful!!! Furniture, go someplace else!

Bought a mattress on the end of April for my grandson to sleep on. The third day he complained to me. I think the mattress has bed bugs. No way, did not realize, he was not sleeping on the bed. Sure enough he was sleeping in a chair... Called the store. They said no way does their beds have bed bugs. Threw out most of the stuff in the room along with the bed. Well they won't get paid. I don't have 500 like that.

We recently purchased a bunk bed and opted to pick up the bed at our local Warwick store to avoid taking time off from work. While putting the bed together we noticed that three brackets were missing and we were unable to finish the setup. I called our local store regarding the issue and was transferred to the main call center. The representative stated that I would get a call back within 24 hours. After two days of no responses I called the store again and yet again was transferred to the call center. The representative stated that due to the holiday she would be unable to give me a definitive answer regarding the missing pieces. She reassured me that I would get a callback the very next day. A rep did indeed call me the next day and left me a voicemail. I immediately called her back and left a message.
After two days of no responses I called, yet again. The representative then told me it would take two weeks for the parts to arrive as this was an item that needed to be ordered from a third party vendor and that I would need to be home for the delivery so they could swap out the parts (the rails & hardware). That would mean, two weeks of a bed we couldn't use & time off from work which was not an option.
The phone calls continued for nearly two weeks with very unpleasant representatives to no avail. On Friday, I was finally told that I could pick up the hardware the following Monday at our local store. Upon arrival to the store I explained the situation to the secretary. She then searched for the items in warehouse and could not retrieve them. I was told I would get a call "first thing in the morning".
I got a call from the secretary in the afternoon stating that it was an oversight on her part. The items were indeed at the warehouse but were placed in a large box along with the rails (which were not needed). She reviewed my file/notes and assured me that she or her manager would be in touch with me the next day regarding the inconvenience we faced for two weeks. Again, it's been a week & we still haven't received a call. After being a customer of Raymour & Flanigan for many years I refuse to purchase anything further from this company. The customer service department/local store sent us around in circles for weeks for an item that was paid for in full and we were unable to use due to their lack to rectify the issue in a timely manner.

We purchased a Simmons mattress in April of 2016. This May it started sagging while I was sleeping in it. They sent out the mattress Tech and he said it hasn't sagged the required 1 1/2 inches. I told him it only sags when I'm sleeping in it. That was not their policy. So I will not be shopping at this store.

I went to the Valley Stream store, I bought a Tempur-Pedic mattress. It's been about 19 months and the mattress have a hole in the middle. I call customers service to file a claim. They send a tech over and this guy walk in my house with rod in his hand, he took the rod and lay it down on the mattress. Keep in mind if I take that rod and hit you over the head with it you will laugh. In other words people do not go and spend your money at Raymour & Flanigan. This furniture outlet is a rip-off. Never again. I will take the mattress that I bought back to the store and leave it there. I show the tech the hole and he said, "I know but this is how they want me to check the mattress." Please people don't spend your money in this outlet.
Raymour & Flanigan Furniture Company Profile
Company Name:

Raymour & Flanigan Furniture

Year Founded:

1947

Address:

7230 Morgan Road

City:

Liverpool

State/Province:

NY

Postal Code:

13088

Country:

United States

Website:

http://www.raymourflanigan.com/