Farmers Furniture
Dublin, GA
Consumer Reviews and Complaints

I am writing this complaint. Due to my furniture not being delivered at all! I called the store and they kept telling me that the delivery guys say 45 minutes. Or I am the next person on the list for furniture to be delivered. Still no delivery. They were supposed to delivered the furniture on Sept 2, 2017. No one called me and told me anything as to say "we are late and won't be coming." I know when a store is closed. The delivery still has to go on until the lady furniture is delivered. This was a bad experience for me. And I will call my attorney.

I have used this store previously and was very satisfied but unfortunately I recently purchased a living room set that when was delivered looked like a repo. And cushions was so flat it hurts to sit on it. Called and they said they would come to check it and never did. I called a month later and got a runaround telling me there was nothing they could do.
And then they sold me a TV and fireplace that was supposed to be new but come to find out it was refurbished. And they add one to the account that they say will leave your payment the same. Well it will but you will pay for it a very long time and all the interest and insurance and warranties they add to your acct is ridiculous. They are very rude to you when you try to talk to them regarding any complaints about what your account. Since this Anniston store has changed ownership to employ owned it is the worst I've ever dealt with. I would never recommend them to anyone and will never ever do business with them again. All their things are used and refurbished. Very cheap made. It is more like a rental place than a business. Do not ever do business with Farmers Home Furniture in Anniston Al. If you don't want to get burned.

I have purchased furniture from Farmers Furniture in Arab, AL several times and have never had any issues. However, a year after purchasing a loveseat and sofa in 2015 I lost my job in 2016. I was able to make steady payments because of the money I had saved but eventually that ran out. I called the manager numerous times to work out a plan to make smaller payments and he refused telling me there was nothing he could do. I had to borrow money from my son to make payments and even then I couldn't keep up especially when my unemployment ran out. Now I am 2 mo. the behind again and cannot make a payment so they have threatened to take me to court.
The set that I bought was $659.00 and $699.00 along with the washer and dryer I had $800.00. That would be $2158.00 total. When it was financed I originally owed them almost $4100.00. That is almost double what I actually owed. I now owe less than $1500.00 and they refuse to help me. This place is a joke and they are all rude. My ex husband has tried to make a payment and they have refused to take it. He isn't even on my account but was trying to help me out either!!!! Good luck with trying to take me to court with no job... Come get your crappy furniture that I have already paid almost $3000.00 for. Don't ever, ever buy anything from them. I would rather go through Aaron's or pay cash at a better furniture store!!!

My fiance purchased a bed set for over 1000 dollars. We have had to replace the bed frame twice!! The frame is so cheap. Our drawer handles on our vanity fell off less than two months after we purchased the set. I will never ever ever ever buy anything else from Farmers Furniture!! The frames and dressers are so cheaply made. I am so unsatisfied with everything and cannot believe how much money he has wasted and is still making payments on this cheap worthless set! Save your money and go elsewhere.

I am writing this review out of concern for others; I just ran across this site. I made a purchase of @ $1000 at a Farmer's in Fort Valley, Ga; however, it was probably in 2013. Nonetheless, I have done several 6-12 months purchases with several businesses and was never required to have insurance and the exorbitant interest included in the purchase price upfront. I was told that one was required to show proof of homeowners insurance if they did not include the insurance at the time of purchase. I have excellent credit and could have gotten the furniture elsewhere but I knew that I would pay it off in the allotted time without having to pay all those charges but what about those disadvantaged and elderly who I saw making purchases there? I thought they will be paying forever because if they make the minimum payment, that is just covering insurance and the interest that they have already included in the final cost.
I paid off my balance within the given 12 month period and the person who handled the final payment told me that she had never handled a transaction to remove these charges. That somewhat confirmed my concern for others who make purchases there. This is my truthful experience and I have discarded all my receipts, paperwork, etc. because I had no intention of doing business again with Farmer's due to what I believed was an unfair and unbelievable policy. I do still have the furniture which is peeling which is because of the material. The salesperson did tell me that I shouldn't have a problem with that because it was a better material. Oh well.
How do I know I can trust these reviews about Farmers Furniture?
882,235 reviews on ConsumerAffairs are verified.
We require contact information to ensure our reviewers are real.
We use intelligent software that helps us maintain the integrity of reviews.
Our moderators read all reviews to verify quality and helpfulness.
For more information about reviews on ConsumerAffairs.com please visit our FAQ.

I happened to be in the store to pay on my bill. I always check their AS-IS section. There I found and purchased an AS-IS sectional sofa from their AS-IS section of the store with a price tag of $199.00. It was damaged. I was prepared to pay cash and have it delivered but instead the sales person suggested that I do an "add-on" to my account with about approximately $300.00 dollars cap. Well that "add-on" turned into a $599.00 ticket. My monthly payments went from $122.00 to $125.00. They now claim that I purchased a new sectional sofa that was reduced from $799.00. I was never informed that this was a new piece of furniture. I'm thinking I purchased the AS-IS sofa. They are not telling the truth because the sofa in the "AS-IS" section. I have been hustled. Wondering who else has experienced this unethical practice.

I am a credit customer with this business. They are aware of my pay dates and consistent payments based on court proceedings that their company rushed and filed after having over a year of payments from me. Like clock work, each month on the due date I begin to receive numerous calls from different phone numbers associated with the business. I have requested to the manager that the harassing calls discontinue, especially after I have dealt directly with the manager in reference to my payment. I continue to receive multiple calls as though my account was not updated or communication between sales representatives were not properly disseminated.
This has been one of my most stressful and unpleasant dealings with a creditor. The company is very unprofessional, does not adequately explain clauses within the contract that significantly affect one's total balance (late fees that are not discussed upon obtaining credit and customers are treated in a very condescending manner due to the fact of having fair credit ratings). I would not recommend shopping or applying for credit with Farmers Furniture. They are in the business of putting customers in bondage. Don't go into their store unless you are purchasing with cash. RUN...

I took my daughter to this business to pick out a new bed. She picked out the bed and mattress. The mattress had crayons on it so she was excited. I placed both the bed and mattress on layaway. Paid layaway off within 2 months of me buying it and was told both my mattress and bed would be delivered the next week on Thursday. Waited the next week no bed or mattress. The store said it didn't come on the truck so they made me wait another week for delivery. The following Tuesday the delivery driver called me and my address was incorrect on the order. I was confused because my address has been the same since I was a customer. Once I cleared the address they were going to deliver my bed but no mattress. I called the store and the manager said I paid for a plastic mattress cover and bed but no mattress. Lies!!!
The bed was $399 so if my total was 532 where is the rest of my money? She said my total was 504 and the mattress covers were $69!!! What?!! Then she said, "Bring in your contract!!!" What contract? Never signed one. I paid a layaway no financing!!! I then told her I want my $ back. She said I would have to get it from corporate! Are you serious?!! My baby had to sleep on the couch 'cause she had no bed and cried because she was sooo excited to get a bed and mattress. We even picked out decorations and a bed set for her room. To see my 7 year old upset made me cry. I'm sooo disgusted by this store and will never do business with them again. I just want my money back to get my daughter a bed!!!

I have never been treated so unprofessional in all my days. Even the store manager was in on it. I was lied to by the salesperson first. Then when I went back today, I was lied to by the credit manager. When I told them it's against the law to pull my credit without my consent and by lying to me they started dating anything just to get rid of me. I told them I'll take it up with the district manager.

I purchased a table and six chairs from Farmers Furniture in Sanford, NC on November 25, 2016. The chairs were back-ordered so they delivered the four chairs that had been on the showroom floor for an undetermined period of time. Two weeks later I asked when the new chairs would be arriving and I was told they did not know. I said, "In that case I want to cancel two of the chairs and receive a discount on the four I received since they were not new." This conversation was with the store manager approximately the 10th of December. I also requested a call to confirm that the credit had been applied.
It is now January 5, 2017 and nothing has been done. I have made numerous calls to the store and the manager is never available. I was told by the credit manager yesterday that the store manager would be there today. I went into the store this morning and the manager is out. I told the credit manager my next call would be to the police as it is apparent that the store manager is not responding. This is totally unprofessional. In addition, it is to Farmers Furniture's detriment. I am looking for a small desk, and matching TV stand for a 55" TV, and a large matching bookcase. Not only will I not purchase these items from Farmers Furniture but I will post this message on the web as an example of how to lose business by being totally unprofessional.

Bought a 3 piece living room suite from Farmers Furniture in Ozark, Alabama. The couch is peeling & flaking all over everything, even tiny particles sticking to your clothes. The manager assured me more than 3 months ago, after sending him pictures, that the couch would be replaced. He said it would take 4-6 weeks since this would be a special order. I have been in constant contact with him [Jack] & each time it's the same story. It hasn't arrived at their store but insist that they will replace it. In November, I went to the store to check in with him. He SAID he checked online & that it should arrive at the Ozark store Nov.29th. Did not happen. Called him again, he said it hadn't arrived yet, but assured me AGAIN that it was on back order.
Today is Jan.1, 2017. Still nothing. I think I am being given the runaround. I was told by the manager that the company, Jackson Furniture, by the way, this is Catnapper furniture, got a bad batch of material. That's not my problem. Knowing this, they continued to sell this defective furniture to customers. I have been a loyal customer but will NEVER buy anything else from them. On advice, I will be calling the Better Business Bureau next week.

Went to Farmers Furniture in Sylvania GA to make my payment. When I walked in I noticed the manager was in a rotten mood assisting another customer... I awaited my turn by talking with the sales girls. When I got to the counter she snapped at me about trying to call me that morning... I explained to her that I feed my animals first thing in mornings and am not in the house. She was being nasty attitude towards me... I told her I had a payment to make... She said she wanted the late fees and the monthly... I told her I had my monthly 90.00 and that was all I could make at the time. She refused to take it and said she would come and get my freezer if I did not give her all she wanted then.
I told her I had 90.00 on me to make the payment... She said something smart and I told her 'cause she was in such a lousy mood "Don't take it out on me." She retorted that it wasn't her that couldn't afford her bills... Then we got in to a little insulting match which led to her yelling at me to make the payment she wanted or leave. I told her to ** herself and left...
This morning they are burning my phone up for the payment. When she apologizes she will get it but I'm not her whipping boy when she's in a pissed off mood... And SHE WAS A MANAGER THERE... I'm sure hope no one uses that store while she's there. I liked the other manager... She was nice and she worked my payments with me 'cause I'm an agricultural worker and my job is not a 9-5 or a stable pay check. That store sucks now. I'm gonna go to BADCOCK... They always treated me nice.

On Monday, Sept 12, 2016 I paid off the remaining balance on my account, which brought my account balance to 0 dollars. Closing my account the store manager Joe personally signed my receipt Paid in Full. I know that as most companies do their report at the end of the month, so expected to show on my credit report at the end of the month. Well it is Oct 4, 2016 and is still on my credit report as open with 107 dollar balance! Mind you every time I was late with a payment it showed up on my credit report like clockwork the next month. So I called the store here in Brewton, Al to speak with the same store manager that had personally signed my receipt, and he said "we have no control over it being reported" and gave me the number to Equifax.
They seemed to get annoyed at the fact that I had paid off my balance, and we're very dismissive, and quickly got off the phone. It's ironic that when they were trying to collect their money, they harassed me with daily back to back phone calls, telling me to please return the call because it was so important. I guess me as a customer being helped was not important enough! Don't buy from them. They are predatory lenders, with very poor customer service skills. All they want to do is get people on the hook and then they show their true colors.

Purchased a nice mattress and entertainment center and TV in 2014. If you are three days late they called my job and my out of town sisters and aunts. They tried to take me to court over 1300. Filed bankruptcy stuff was 4000 total. They made me surrender the items. Never buy anything here or refer anyone here. See like they could have just wrote that off. It was paid for to me because the interest is high. Worst company.

I recently bought a table from the store in lyons, ga and it was such a pleasant purchase all the way around. The people were great and so was the delivery team.

I bought a mattress and box spring from Farmers in GA 6 years ago. I have recently moved to Alabama. My bed was sagging and had a huge hump in the middle. When I went to Farmers to ask about the warranty, they sent their man to my house to look at it. When he saw the mattress he said, "Come to the store and get a new mattress. I talked to the store manager and she said we will replace your mattress at no cost to you. I'll have it brought to your house when it comes in." The next week my new mattress was delivered. Finally I'm getting a good night's sleep. I don't know about other Farmers stores but Farmers Furniture in Enterprise, Alabama is great. They warrantied a mattress that I bought at another Farmers. I will definitely buy my furniture at Farmers in Enterprise, AL from now on.

BUYER BEWARE: My complaint at this point is against Farmers Furniture on Abercorn in Savannah, GA. I went in last year to purchase furniture, I was greeted by Rick who then was the manager. He was very kind and understanding. He never made me feel as if I was an inconvenience, he's no longer at the store. I was greeted by a new manager whose name is Bruce. To say the least Bruce is for the company and not the customers who keep the business going.
I went in to purchase a new living room set last year 2015. At the time it was a managers special. I was told that the furniture would be $1949.00 plus taxes. However, upon dealing with Bruce, he wanted me to pay out a previous account which I had been paying on at the time for over a year. I told them that I would wait before purchasing anything else hence the manager's special. I was paying faithfully until I ran into a health problem which has caused me to have to move. I contacted the store and told them when I was going to make a payment which by the way I was only late one time out of two years with the company, those people called me 6 times a day literally as if my situation was going to change, they tried to get me to do a post dated check. I said absolutely not. I asked them to please note on my account when I would be in there, hmph! The calls kept coming.
I also, explained that the living room suit kept breaking and the credit manager assured me that Bruce would be in contact with me. Yeah, right two weeks later and yet nothing has happened except he yelled at me when I was trying to understand why I am owing over $3300.00 on a $1949.00 set that was a manager's special. If this is how Farmers treats their loyal customers I will not be dealing with them ever again.
I also, asked Bruce did I need to contact corporate. He yelled and said "YOU CAN CALL CORPORATE." At that point there was nothing else to be said, I feel as if I have been discriminated against as a ** person, and again as a female, and again as a poor person. He talked at me as if I was illiterate. I'm anything but illiterate. All I ask is to be treated fairly, with dignity not as a $ sign. Farmers really needs to make my account right and not try to explain to me why you are screwing me with no Vaseline, Bruce wants to show me on his paperwork how he's able to manipulate the numbers to his store advantage.

I purchased a 3 piece pit sofa. I spent about $3,000 on this fake leather pit. When I purchased I was not aware that this was fake leather. Now I know, because after 2 years of having this furniture its ruined. I am going to have to throw it away. I can't patch it up. I called the corporate office, left a message and they referred me to the Farmers Furniture I bought it from. They did call me back and ask me to send pictures. I was hopeful something would be done because I did have a warranty, which is useless. Once you pay off it don't count anymore. They basically said they can't do anything for me, not even refer me to someone who can repair. It sucks because you pay a lot for this and after a year or so it's useless and they can't do anything for you. So the warranty is useless and I just felt I got ripped off.
I will never purchase anything from them again. They got their money and don't care about the customer. The pit it started with a small snag, over weeks it grew and started just peeling away if you touched it. Now it's just ruin! Just please be aware that if they say leather please check quality. This material can't be patched up at all. Buyer please be aware. Dont waste your money! Fyi.

I went into the store, bought a living room set. The delivery date to the store was set for the following week on Tuesday. I arranged for the pick-up and when I called the store to alert them I was told the furniture did not come. I was told it would be on the truck the following Friday. I arranged for pick-up for Friday. On Friday the furniture did not come and I was not notified until the person picking it up arrived at the store.
When I got home the afternoon the furniture was not there. I called the store and was told it did not arrive. It was at this time I was first introduced to Derek (the store manager). Derek spoke down to me, was demeaning calling me Ms. ** very sarcastically. When I asked him not to do it anymore he started saying my first name very sarcastically. He approached me in the store room showcase in front of other customers. Finally we reached a contentious agreement that the furniture would be delivered to my house on Tuesday free of charge and that he would refund me a hundred dollar check for the inconvenience.
On the following Tuesday unlike promised, again no furniture and also no call. I had taken off from work early to get the furniture in the house. When I called the store due to the fact that they were a no show and no call, I was told the furniture was in the store and they would deliver it right now. I was angry over the lack of communication but wanted the furniture. I asked Derek if this furniture was the new furniture and not the showroom piece. He assured me it was the new furniture. I asked that the furniture be left in the plastic as my trust in this young man was nil. When the furniture arrived there was no plastic on it but the men assured me it was not the showroom furniture?
Yesterday 5/16/2016 I was looking at the furniture and noticed it sat low on the floor on the left-hand side and so I turned it over and when I did there were scratches along the bottom side and the left leg is malformed making the chair sit askew. I believe that Derek gave me the showroom loveseat (SKU number 165658) simply to appease me and get rid of me. This furniture has been in my house less than a month and already I am having issues with it. I am not sure what merit Derek was given the position he has but I am sure it has nothing to do with his winning personality, customer relations, or his trustworthiness.
I have taken pictures of this furniture (the loveseat) and want it out of my home and replaced with the new piece. I also want the $100.00 refund he promised me as he shot his big mouth off acting as though I was trying to get something for free and that if he dangled the refund in front of my face that would make everything else of no account. This communication transpired in the presence of other customers and employees. All I wanted from this guy was clear communication and follow through on what he promised. If he had told me it would take a month for the furniture it would have been information I needed to make an informed decision about whether I wanted to wait. When I have spoken to others about my experience the responses have been "Was it Derek?" What a coincidence…

Ordered Mattress and box spring on 3/2/16. My sale person set me up for 3/9/16 delivery. I was told I will receive a call 30 minutes before they arrive. I called the store at 11:30 am to confirm delivery. I was told the driver will call from their personal phone so please answer. It is now 4:50 pm. No call, No Show! Called the store and I was told it did not come to the store today. When I called earlier they could have told me that. A day off wasted waiting from 9-4:30 pm. Poor service to customer. I can't even give them a 1/2 star. Too pissed!!!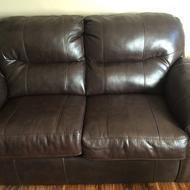 I bought a couch and love seat about a year ago. About two months after owning them the it felt like when you sit down you sunk down completely. The springs in the couch were already bad. Needless to say the couch and love seat hardly get used because we are always on the go. Tedrick the manager of the Lancaster, Sc store came out to our house and I explained the situation. Of course he didn't listen and sent out a Furniture repair company. Needless to say they ordered replacement cushions which was not the issue in the first place. Of course I had the same issue again and they ordered cushions again. Duh... didn't fix the problem the first time.
Was told the cushions would be at store in two weeks. It's been a month and no cushions. The arms on love seat are now screwed up. The company they sent to fix them said it will take over a hour to fix them so we will have to come back and I asked when will that be? Guy said "I have no clue. If you don't hear from us in a week call the store." I've called customer service and left messages trying to explain it's not the cushions, it's the springs and no call back. Idk what kind of operation this is, but I'm ashamed to say I bought furniture from Farmers. Cheap furniture for a outrageous price!!!

So I got this express credit pass pre qualified paper in mail. As I have been looking for living room set I went... Right in the door a saleswoman is right there, show her pass and she states has to check to see if they will honor it. Ok... explained to her I am new to AL and when looking up location the Ozark one does not show. I walk around, find a set I love, am told I have to fill out credit app, ok done. Saleswoman is looking over it and states "Oh you haven't been with your job 6 months. We can't help." HELLO I just told you I was new to AL. Why would you waste my time letting me look around and fill out papers all to say that, should have been 1st thing out of her mouth. I do not appreciate my time being wasted. But I must say it is a blessing in disguise after reading the reviews on this company.

Back in April 2014 my husband and I purchased a bed frame set and mattress from the Hartwell store after much consideration because we weren't really in need of a new bed. But we received a promotional card in the mail that showed the frame set for $799.00 and we picked a mattress that advertised being on sale for $199.00. That's where the problem began because after the manager went and "wrote" a sales order and contract and tried getting us to sign it without any kind of explanation of it or anything. We noticed that final payoff was $2100.00. What? We questioned the final price and was told that the bed was charged for each individual piece and mattress was too. We only need 1 mattress with this frame was told we had to purchase two for the 15 yr. warranty to be effective, so we did.
3 weeks later, our bed was finally delivered but it wasn't what we ordered. The frame was all beat up and damaged so badly that the delivery guy had a wood marker to cover all the spots and then we noticed the mattress was dirty and the edge was unstitched with a giant hole down the side of it. We called the manager immediately and he told us that a new one hadn't arrived yet so instead of us having to wait any longer he got a floor model from a different store. We sent it back and told him we would wait.
Two, three weeks went by finally got a call saying they were on the way to deliver it. Wrong mattress again but we were tired of waiting so we accepted it. Went to the store the next day to get our paperwork contract and warranty, he said he had mailed them. Never have gotten them, but still paid for the bed on time every month and paid it off early, but before I paid it off I informed them that the mattress had developed a horrible sag on one corner of it. I was informed that since I had no warranty that they couldn't do anything. Well 2 months after I paid it off here comes a guy from the store saying that he needed pics to send to the warranty department. Less than 30 minutes later, a woman from the store called and said because there was a spot on the mattress that my warranty was null and void. Somebody needs to stop their lies and fraud.

When delivered, bed was scratched up and broken boards. When questioned about this, the delivery guy Drew stated "I don't know, call the office." So we did. Took them 2 weeks to order parts then another week to come out to fix it. She wasn't able to sleep in the bed. They didn't even apologize for scratching up the bed. The gun cabinets lock didn't work right. They said they didn't have another one. Are we sure we are doing it right? They wouldn't return our calls but wanted the money.
She had already paid off her tv. The tv was fine. But as far as furniture, it sucks. It has fallen apart within three months. She has to tighten the screws more than once. They stripped some out when they put it together. Calling in trying to talk to someone about these issues all you get is a credit manager talking ugly to you. I guess he is afraid she won't keep making payments. For his piece of crap furniture he delivered. They are so disrespectful and don't have any customer service experience at all. They need to train their people better. Very disappointed.

My father passed and had a balance. Left on his account and we were told that because of his age they did not offer it to him. With a balance of 2500. They said the Life of south insurance in Jacksonville FL did not offer it at his age. But he was 69 when he renewed the loan, and had credit life insurance. And months later he went and added on more and they didn't even give him credit life insurance. He passed in December of 2014 and was 71. I was told that's why they did not offer it. But at the time of purchase they never added it to his policy which was at the age of 69. Now am being told if we do not continue to make the payments that they can come pick up all of his items from all the way back to 2011 which he never missed a payment.

I am very dissatisfied with my purchase of mattresses at Farmers Furniture. To explain: I was shopping for mattresses at Farmers Furniture in Bainbridge, GA. I saw a set that had a large on sale sign sitting on top of the mattress set for $499.00 for the set. So I asked our sales person to make sure that, that price was for the entire set. We were told yes no doubt the price of $499.00 was absolutely the cost for the entire set of box spring and mattress. I decided to purchase this given this information.
However, the price was then changed to $799.00 for the set. Immediately after being told it was $499.00 for the set. THE PRICE AT $799.00 for the entire set. Bait and switch! Bait with a low price and switch to a higher price. BUYER BEWARE! I WILL NEVER SHOP THERE AGAIN. IS THAT NOT AGAINST SOME LAW? Yes I do have an eye witness. My friend also bought a set that was with me on that day that bought the same set, was told the same price and was given the same higher price as I was. What gives? Fair is fair and that ain't fair.

Since this review, the furniture was paid off and the owner addressed the issue of the furniture falling apart by replacing the cushions on the chairs for the coffee table, one cushion for the couch as a replacement, and one couch cushion cover for future. Now the furniture looks better. I thought it would be fair to show that they did something about it. This response is in relation to the older post from a year and a half ago.
Original Review
Bottom line... if you purchase anything from this company they will chase you down if your payment is even one day past the due date, call your phone multiple times per day, send texts, show up at your house and leave a business card that makes you feel like you are being stalked, and send threatening messages from a man that says that you "really need to call him" in an authoritative voice. The furniture was delivered by guys who scraped it across our front door and left a gash in the metal door where the paint scraped off. Then it all started to fall apart in the first week, and we realized that it was barely assembled. We had to get out the tools and tighten everything ourselves. The couches had loose stitches that came unraveled and look like junk now. We sent photos of these things along with a description and complaint to the manager and got absolutely no response.
As far as we are concerned, we have already overpaid for the service and products that we received. That doesn't change the fact that we owe them as agreed, and they will get their money. It just makes us angry that they so aggressively go after their money when their product was poor and we have already paid almost all of the balance. Next time we will go to a store that respects their customers instead of treating them like they are criminals. They are like the slumlord of furniture stores. I can't wait until they are paid in full so that I can just get them out of my life.
Ever since my Dad died in September I have been struggling due to funeral and travel costs and can't bring myself to talk to them. I am ashamed that any payment is late, and this is the latest we have ever been. I know I should not avoid them but I don't think they will care. They just want their money. Now. I just made another payment today, and hopefully that will get them to leave me alone for a couple days. Three more to go...

I recently moved from Colorado and wasn't able to bring my living room furniture. I was driving by Farmers Furniture and decided to stop. Paid over $1200 cash for a sectional and chair. The delivery took a week and the delivery guys brought my furniture in NOT wrapped, banging it against walls, dragging it across my hardwood floors. The legs on the couch are scratched, 2 small holes in the couch from the guy digging his nails trying to grip the couch.
Called and spoke with ** the store manager. He informed me he would refund my delivery fee and give me a set of lamps for free. When he came to my home I showed him the holes. He said, "I will also give you a area rug and we will call it even." I said, "Ok." Got to the store, ** gave me $59 for the delivery fee and it was $69. When I corrected him he slammed the $10 on the counter. Then told me he never said he would give me a set of lamps while yelling at me and wouldn't let me talk. He would yell over me when I tried to tell him what he said. I walked out the store with an area rug, $69 refund and the number to corporate. Very unprofessional and will not purchase from this store again. 6121 Fairburn Rd.

The experience of purchasing a love seat from this company is the worst I have ever had in buying furniture. 3 months ago we bought it and realized when delivered it did not have full padding on arms and the lid on the console did not fit... We couldn't get our glasses to stand up straight. Contacted store numerous times and finally, tired of the lies about ordering part and calling me, I filed complaint with the BBB. As of today, October 25, 2015, still no love seat replacement. NEVER purchase from this store or this company. They are not to be trusted... By the way, the manager of the store said she had no knowledge of the problem... What does that tell you? A manager who doesn't know what is happening in their store? Makes me wonder about the company in general.

So, we bought a couch from Farmers. It was on sale because it had some minor cosmetic damage. We asked the sales guy, sales lady, manager, and customer service exactly why it was on sale, was it a return? Was it previously purchased and returned? We were told, "No, it's on sale because it has cosmetic damage." Well, we pick the couch up on Sunday evening, get it home and put it in the living room. What do we see tonight? BEDBUGS! The "brand new" couch is infested with bedbugs! So we get to spend our Tuesday night (it's already 1 am) moving the heavy couch out, and washing everything in our house and trying to avoid an infestation in our home. You sold us this couch under false pretenses because unless your store is infested with bedbugs, and therefore all furniture you sell, THERE IS NO WAY THIS COUCH WAS BRAND NEW! We will be contacting you and corporate tomorrow.
Farmers Furniture Company Profile
Company Name:

Farmers Furniture

Website:

http://farmershomefurniture.com/