Consumer Complaints and Reviews

I charged $400 to my credit card on the WU website to transfer money to my brother, then decided to cancel. WU refused to cancel the money and asked for a long report of security information, very invasive. I am filing complaints with the state of CA. Never deal with WU, just use a bank wire.

Made a wire transfer through Western Union, the recipient never acquired the money. Western Union stated it arrived 2 hours & 26 minutes after I sent it. I was notified 10 days later that the money didn't arrive. I then notified WU and was informed that it would take 24-48 hours to investigate and I would hear from them. Didn't happen. 96 hours later, I called WU. This time I was told it posted 16 days after I sent it and to call the bank.
I could not get any satisfaction from the bank because I was not the account holder of the account I deposited into. Then WU said it was sent as a payment and was applied to a credit card account. When I informed the representative that the account it was sent to had 6 less digits than a credit card account, I was instructed to go to the business which provides WU services. WU told the merchant that it was made as a payment on the business' account, and they would investigate and know something in 24-48 hours. This was from the call station in the Philippines who had stated earlier that they had talked to the bank but later admitted to the merchant that all they had was a confirmation number and had not talked to anyone at the bank.

The website said if there is a fee, the sender would be aware of the fee and would have to agree to the fee before monies or bill pay is used. No fee was shown for a bill pay but was charged a fee for the bill pay by a second charge that was not authorized. Legal?

After RECEIVING a W/U money order (in NJ) I attempted to cash it at several Rite Aid Pharmacy locations that are Western Union agents. 2 out of the 3 said they only send and would not pay out. The 3rd location in Hopatcong NJ said they do pay but I would have to call WU to get a verification code before they would cash it ($500 max). I called and rec'd an automated answer that asked for a 10-digit pin aka MTCN number. This number is NOT on the money order and can only be gotten from the person who purchased the WC MO so I got nowhere with the automated system.
Frustrated beyond belief I called WU, it was a Sunday, I reached a rep but was advised that no one there could help me with the verification code and that I should try calling Monday to reach their tracking department. This lead me to believe (#1) - WU does NOT properly train their employees, (#2) WU does not really care to help their customers, or (#3) - I was speaking to a lazy buffoon. In the end I simply returned the WU MO to the sender and asked them for a Postal MO, I found out that the Post Office is inexpensive and their MO's can be cashed at ANY Post Office location providing they have the funds... I will NEVER Send or Receive a Western Union money order, it's nothing short of a SCAM.

They send me many letters telling me they own me money from past transactions but when I tried to contact them is impossible. They just don't answer and make it impossible to pay your money back. They are really a bunch of thief and scammers!!!
How do I know I can trust these reviews about Western Union?
692,060 reviews on ConsumerAffairs are verified.
We require contact information to ensure our reviewers are real.
We use intelligent software that helps us maintain the integrity of reviews.
Our moderators read all reviews to verify quality and helpfulness.
For more information about reviews on ConsumerAffairs.com please visit our FAQ.

I have been sending money to my son every month for over 5 years and I can't remember a time I didn't want to put my head through a wall. After all the questions they ask your Gold card no., name, address, DOB, bank card no., expiration date, security code no., where money is going, who it is going to and all the warnings about fraud and gambling, etc. after 20 minutes they tell you they can't process it and can't tell you why. IDIOTS!!! And they all sound like chipmunks.

On October 14 of 2016, I performed an online payment to the FBOP. I noticed it never went through and I called the customer service and they said it had to be verified. I continued to call back and received the same answer. I then decided to cancel the transaction and was told it would take the normal 3 to 5 business days to credit my card back.
I continued to call because the credit never came. After talking with numerous customer service reps, through a chat online, one FINALLY tells me a month later that... I COULD NOT use a prepaid debit card for an online transaction! So this is why that the transaction seems to be "stuck". She then proceeded to tell me that I was speaking to the WRONG department! So for a whole month, the customer service reps had been lying to me about processing a refund because they could not even do it! I then contacted the quick collect department and they proceeded with the same shenanigans the other department had previously. Every single time I call, the supervisor tells me that they are waiting on the back office. EVERY TIME! I finally spent $5 to get a printout and fax the proof they debited my account. I've called still at least 5 times and they say either the back office hasn't received it yet or the back office hasn't responded.
This is all for $28.95! I have been trying to get this refund for almost 4 months and no one in customer service seems to be able to help. The customer service representatives are uneducated on the policies and just say things to get you off the phone. They never call back like they say they will. They make you feel like you are lying about your money!!! I am truly surprised as to how bad and unprofessional their customer service is. I actually even called the corporate voicemail and received no callback! I've sent 3 emails, no REAL reply other than an automated response.
I've even continued to use their services after the fact but they still will not refund my money! I honestly believe that Western Union is ripping people off because they make it nearly impossible to receive a refund and customer service from passionate employees that truly want to help the customer. It almost makes you want to give up. But then of course, they win and keep the money. I also suggested that they put a banner or something making consumers aware that you cannot use a prepaid debit card to help prevent situation such like this. Absolutely exhausted!

Absolutely do not use Western Union in the US or for US transactions. Should you purchase a money order and find the payee won't cash it or needs it for a transaction, you have no recourse and cannot get it refunded at ANY agent. DO NOT EVER USE WESTERN UNION. Go to a US POST OFFICE FOR YOUR MONEY ORDERS.
CASE: After driving hours post op and in severe pain to secure a long awaited apt, I purchased a money order (made out to the apt complex for the required apt deposit per their instruction), but upon arriving the apt was not available. The apt refused to accept the deposit to refund me the money but suggested I simply return to the (upscale) Pavilion's store (nearby) to cancel the money order for non use and get my refund, but the store refused saying they have a policy not to cancel or refund money order purchases!
I called Western Union customer service four times, found very ignorant people on the other side of the world to whom I had to repeat myself at least 8 times, finally demanding supervisors who also could not help. Short of sending Western Union corporate my money order with the apt complex name and paying $15 "for handling" or short of going to a local bank where I do not have an account AND falsifying a signature as an agent of the apt complex who has endorsed the check and short of paying that bank the extra $7 to $10 for cashing my own money order check purchased with my own money, I cannot get a refund. Western Union is screwing the consumer by not having a policy that allows for the refund of non used money orders that have already been made out but for one reason or another are rejected or don't reach the intended party.

I had a friend try to help me out during a hard time. I live in Portland, and winter storm came in and snowed about a foot, just needed some cash to make some adjustments, needed snow chains to get to work. Western Union decided not to give me money, put a hold on it, so I called them. First time they said it was the sender's bank not releasing the money. I called my friend. He looked up his bank account and Western Union had already taking the money out, so I called them back. The idiot on the line asked me what my problem was. I replied that I had problem getting my money. He then asked if I was the sender or receiver. I then said, "Gee, I just said I had a problem getting my money, kinda would make me the receiver don't you think?" He then hung up on me. Then I called back, and they said they had it but wanted to ask the sender a question.
I then said, "Funny, I always take people's money, then try to ask them questions, said no one ever." "So you mean to tell me that you already took his money, won't give it to me, and you want to ask questions." This is **. I don't see how the hell this place has been open this long? When they took the money, it pretty much moves to the next phase, give it to receiver, but no, they don't see it that way, they do what they want, funny, transferring thought we paid them to do what we want... you get transferring money for someone else, it isn't that hard. When it's all done online, it's even easier. If you took the money, it then moves a phase, ask me whatever, but don't take then ask, that is crack head **. I will never use this place and will tell everyone I know to go MoneyGram, easy and cheap.

You think, guys, that when emergency arrives you need Western Union, because we have no money to operate (gas, tube, food and such). So after you troubled some good person to send the money properly and provide you with the mctn (control #), you will count the reasons how sad it is that that company still. Charging 40 usd or 30 gbp. For example, for a 360 shipment to England, yes 10%! And on top gives you bad product. i.e. to receive the money you just suffer - it is almost - more than likely, that the location nearby never has the funds - in his store etc, and he/she can only "send" Western. Then you spend money and travel fee and trouble fees to research and get somewhere that has the funds on hand.
And remember - you are broke and tired - so you spend an average of another 13 usd or 10 pounds for the info. So we arrived, in my case 13% of the amount sent, actual costs to collect the money. And do you know what happens if one letter is missing compares to the I'd written?? You'd better not ask guys. In short compare it to other peer to peer companies such as Neteller, EcoCard, Skrill, PayPal that are average 2% fees. You will have to agree with me that Western Union is the worse peer to peer company in the past 7-8 years.

Money was sent to Dominican Republic. Because of varying exchange rates my friend received 50$ less than what was sent. WU described a lengthy refund/reissue process by returning to the location where it was sent.

Western Union is a bunch of crooks. Lost 800 from them a year ago due to them sending money to wrong country and never got it back. All they do is steal money from the consumer. They will be shut down by the federal government soon. They're a joke. Now I have a NetSpend card that I put cash on and they need all this documentation hoping you don't send it in so they can keep your money. Biggest scumbag company on the planet crooks? Belly up.

I am an American Service Member living in Germany. I needed to transfer $1,000 to someone in the country of Ukraine. I went online to start a wire transfer through Western Union. I was provided with two options of transferring the money. 1. I could either use a debit, or credit card and the fee for this transfer was $48.00; 2. I could use my personal banking account and pay $12.00 for the transfer.
If I paid the $48.00 transfer fee, my money would be wired within minutes. The disclosure for opting to use the $12.00 wire transfer, read that it could take up to 4 business days for my transfer to be completed. I wanted to know what the latest date that my transfer would arrive to its destination was, before making the decision to pay the $48.00 or the $12.00 fee. Unfortunately Western Union will not provide the sender with a date as to when to expect the delivery to be made until after the transfer is complete. Western Union will only provide this information with the receipt of your transfer. I did the math on my own, and I calculated that if I transferred the money on 12/14/2016 that the money would be delivered by no later than 12/19/2016. This was not ideal, but I could live with a delivery date of 12/19/2016.
I paid my money and completed the transaction. I was issued my receipt, and my receipt read that my money would be delivered by no later than 12/20/2016. I was very upset, and I am not happy with how long this process takes. What is frustrating is that my money was taken out of my checking accounts within seconds of me completing the wire transfer with Western Union, but it apparently takes Western Union, 6 Calendar days to transfer the same funds that took them seconds to take out from my account. I called Western Union to ask them to release my funds as soon as possible, and I was told that they have a clearing process, and that it is my bank that is not releasing the funds to them yet.
Western Union, is using a business approach that allows them to make plenty of money on the interest that they are collecting from the millions of dollars that they are collecting from their customers, but they are definitely not interested in providing a quality product to their customers. I have done many transactions with Western Union, but never more.

A few days ago, my father sent me money (he lives in Israel, and I in the States) as a birthday gift. He called me and said, "I sent you a gift, go pick it up at Western Union". On my lunch break I went to the nearest location, which happened to be a RiteAid. :( Someone please explain to me how a store which offers a service, knows NOTHING about this service? It turned out that my dad didn't give them my full name (ex: Dan and not Danielle) and also gave the wrong state: OK instead of OH. Okay I get it, he made a mistake. I called him back and told him to make the necessary changes. Next day he went back to his WU location and corrected the two mistakes.
Next day, I again went into the same RiteAid to pick up the money; and this is where the incompetency begins!!! First, the teller told me she could not give me the funds in cash, it would have to be a money order. For the sake of saving time and my sanity, I agreed. After a 10 minute process of watching her click every button on her screen, she picks up her eyes at me and says "NO". I ask "no what?" "NO" she says again. After a few of these back and forth meaningful Q&As, I just leave. Then I go across the street to a Giant Eagle, where I again try to withdraw the money. There the employee tells me that I have to go to the city of my residence to pick up my money... What nonsense!!! So I leave empty handed again.
I called Western Union to find out exactly what they advise me to do so I can pick up the money and stop wasting my time. 20-30 minutes of hold time, I get the privilege of speaking with more people who are even more clueless than the tellers at the stores. Each one told me something different, one even telling me that the state did not get updated from OK to OH. Just to be clear, the name change did apply and the store tellers no longer had a problem with the state. I told them that I had photo proof that my dad did get the information changed. But they kept insisting that he has to go back once again and make the necessary change. In this process, I also found out that each WU location has a limit on how much money they can work with, handy to know this ahead of time!
I kept telling the representatives, and then supervisors that he is an older man, and it's a hassle for him to have to be going back and forth like this. I told them that he and I have the same last name, I have a photo ID, I have the confirmation number, EVERYTHING matches, can a supervisor please assist. Needless to say that 1 plus hour conversation went nowhere.
The next day, I thought I would call WU again, hoping that maybe their system updated and I can finally resolve this issue. Spoke with a few agents again, got nowhere again! A supervisor suggested that my dad call WU instead of having to go back to the location again, so I asked for the number, just to make it a little easier. After some time on hold, the agent comes back and tells me that he only has numbers for US because this is his service region. How can a worldwide company not have a directory for all of its branches???
Completely exasperated, I went online to see if maybe I could find a solution on my own, instead I found the WU headquarter in CO. So I figured, well, someone in headquarters must have a resolution... Spoke with an escalation agent, then a supervisor who first told me that my father should go and get his money. (And I asked, "and then what, go to a different company?" No, she said but if he's having such a hard time, he should take his money back.) And then she told be that technically, they can change the state, but she can't because she works in the US to International department, and only the International to US department can do it, so she transferred me there. That supervisor told me that he understands my frustrations, but unfortunately can not assist.
He suggested that my dad call them or again go into a location. So I suggested that since we are already on the phone, that we 3-way my dad into this conversation and make all the necessary changer right there. He told me "no, your father has to call us from his number" so I asked for the number again. He put me on hold to look it up, then came back and started saying "1-800", I said, wait 1-800 can't be for Israel, so he put me on hold again. 2 minutes later he came back and said "I CAN'T SEEM TO FIND A PHONE NUMBER, SO THAT MUST MEAN THAT WU DOES NOT HAVE PHONE SUPPORT FOR ISRAEL, so he will have to go to a location." These are the word of a supervisor in the headquarters!!!
I AM AT MY WITS' END! Nothing is worth such aggravation! I told my dad to get his money back and NEVER use Western Union again. These people are clueless, useless and frustrating. Just because the agents were taught a certain script of English words "I am sorry for your troubles" "I understand your frustration" does not make them qualified to work in this position, or the alternative is that this company is so out of their element, that they shouldn't even exist on the market! UNPROFESSIONAL & UNEDUCATED IN THEIR FIELD! Truly disappointing that in today's day and age, we still have to waste so much of our time and energy battling incompetency, carelessness and disorder.

I am from Philippines and had been hired by a company in US to do scientific research. We have been using Western Union for more than two years to send funds for my travel and payments. I never had a problem with Western Union until recently they blocked me on receiving and sending money through WU. I emailed them and they sent me a questionnaire (which I need to send some proofs). I did sent all of the possible agreements, itineraries, IDs, and other proofs. But then they still blocked me. I sent them message until when they plan to ban me for using WU. I guess it will be forever. Now I'm using MoneyGram. If you are a receiver from Philippines better use MoneyGram because you can pick up at any remittance or pawnshop store.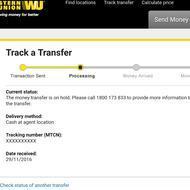 I sent $1620 cash on Nov. 29, 2016 to a Chinese manufacturer to purchase products for an ongoing project. Normally the receiver should be able to pick up payment the next day. But this time the receiver was told the money was held. I also got a phone call and email telling us we needed to submit the receiver's photo ID and translation the information on the ID into English. And we did it right way. Shortly we received their auto email response that they received it and submitted it to their higher level for validation.
It's being 10 days now. Every day we spend at least an hour on average talking to a few reps and holding for being transferred from one to another. And every time we are told the money is on hold for validation. I just want the money back! I requested the refund. But I was told my money was safe there. I am not depositing the money in a safe account! I sent cash to purchase products. I need the money back so that I can wire the payment to the manufacturer asap! How long is WU authorized to hold customer's money?

Last night I attempted to make a transfer from California to a friend in Hong Kong. I received an email saying my transfer was on hold pending a review by Compliance Department and process should not take more than 2 hours. After 3 hours of waiting I called Western Union to determine what the hold was for. I was given a phone number and case number, and told I must go through an interview with Compliance Department. Since Compliance Department was closed I called this morning. I was told I would need to provide details of what I did for a living, what was the name of the company I worked for, what was my full name and phone number. (All of this information is stored in WU in my account.) I was then asked very detailed questions about EVERY transfer I made since January 2015. I answered to the best of my ability but some I was not 100% sure of the details.
I was put on hold for 15 minutes and then told I could no longer use Western Union, and the transfer that had been approved would be reversed. I asked for the person's name and was told no. I asked him to send me an email detailing phone conversation and was told no. I asked to speak to his supervisor and was told no. I then told him he had insulted me with insinuation that I was a fraud. He said, "Sorry," and hung up. UNBELIEVABLE. In my business I send and receive millions of USD every year through PayPal, and Western Union can get lost!! I want every person to know they provide the worst service ever and are not someone I would ever recommend to even my worst enemy!!

Have used for about 4 years but they have become more and more unfriendly and bothersome to use. Other recent reviewers have given a lot of the same issues I have but I want to point out that their website always seems to have problems and the Continue button I've come to hate just sits there when clicked and does nothing. No error message of any kind. I've tried different browsers and my emails to customer support go unanswered. My work around I've found is to use the android app on a tablet. The downside to that is it is harder to type.

I normally send money from the US to Africa, my homeland. I have been using Western Union and Moneygram. I choose either one of them depending on the convenience. But of late I have been using Western Union because the RiteAid which offers Western Union is just a block from where I live. I'm a Lyft driver and as you know, the more you drive, the more money you make. So a week I can make $1400, after Lyft fees. Actually one week I made $1400, and the following week I made $1321. Wow. But I got sick after that! But the bottom line is every week I make a minimum of $1000. Which most people don't make even those who work in the government.
So every week, I send money home. I can build a bungalow there in a flash! You know how I can get $1400 in a week, I can send $1000 and still have $400 to keep me going until next paycheck. So this RiteAid which is behind my house, I normally go there, input my information on the machine, the receiver, amount, receiver country, then am connected to a live person who goes ahead to give me the temporary no. Sometimes they probe me with a lot of questions that I become irritated. Like one day I had to yell at their customer rep for asking me many questions, my address, email address, etc.
When I take the temporary pin to pay the cashier so that I can pay the money for me to get the MTCN, they seem to look perplexed at how I can send such huge sums of money every week while they make peanuts working from am to pm. Now today I went to send money. After entering my phone no. which should have directed me to prompts to put the other information (this saves time), I was immediately directed to customer rep where I was put on hold for the next available agent to handle my business.
I said, I don't have such time to be put on hold, I hung up, got out of the store, drove to Moneygram which is up the street. It was empty inside, no customers, only a smiling rep. I grabbed two send forms, went to the counter, filled them quick. I was sending to two people. After I was done with the first one I handed it over to the lady who worked on it as I filled the other one. By the time I finished the other one, the other form had been worked already. Because Moneygram has my phone number, once she entered it my information populated on the screen.
She did the other form too as she joked about my birthday which she said one of the coworkers had the same birthday too. So less than 15 minutes of walking inside that Moneygram, I was done and went on to turn my Lyft app make more money. So I said I will never use Western Union again because they waste my time by putting me on hold unnecessarily and asking me unnecessary questions.

I've bought a property in Cambodia and used Western Union to transact. The website is very hard to use and I accidentally ordered the same payment 3 times. And they charged me for cancellation of the other 2 orders. Also, the email they sent me is "This is an order confirmation only, it is not a receipt" and I've yet to pay for any orders. Therefore it should not constitute of an order. Also very hard to reach their staff and their website is usually down during the weekends for some reason, you won't be able to login. I tried to ask them for a waive of cancellation fees but they refuse. Perhaps this is how they earn their money from the consumers. Also, exchange rate to USD is very bad.

I've been using Western Union money transfer service for many years, but I see a negative pattern emerging. One of ignoring the customer's request in favor of the whims of the local clerk. What's happening is this: Each time I send a money transfer, I've selected the "No ID Required" option with a test question. I do this because I've discovered that for reasons unknown, the local clerks have a tendency to unduly hassle the recipients and even deny them the transfer even if they have proper ID, so I send it this way to try to keep my recipients from being unduly hassled by the clerks.
In spite of having selected the "No ID Required" option, (confirmed by the local store doing the transfer) very often my recipients complain that the clerks falsely tell them there wasn't a "No ID Required" option requested with transfer and require ID anyway in spite of my request. This happened so frequently that I filed a formal complaint. In it I asked. What's the deal? It's unclear if this occurs because of personal biases or some implicit company policy. When their "No ID Required" option is requested, the senders wishes should be honored. What's the point of having the no ID option if a local clerk can arbitrarily chose to ignore it?
Here was QC holdings companies partial response in the tenor of a Kiss my ** letter I received from their attorney Catherine ** and I quote "Please note that a money transfer agent can require protective measures that are higher than those by the general Western Union Program". What??? I understand a need for security, but that essentially means the no ID option is false advertising. It's worthless because it can actually be usurped at the whim of a local clerk! With each Western Union money transfer, there should be a conspicuous notice so that the general public is made fully aware, up front, that what Western Union is offering at the transfer end may be over-ruled and not be honored at the recipients end.

Western Union is the worst. They have blocked my son from being able to get money... "Because I send it too often"??? They have listed him as a security risk? Tried to send him his rent money from his trust fund. They put it on hold and I had to call and they asked all kinds of personal questions. One was... "Why don't you send just once a month?" WTF… Well maybe because he needs other things sometimes besides rent you idiots! I finally called and got someone who could tell me something. After over an hour of phone hopping he is listed as a terrorist because he gets more than one transaction a month??? Will never use them again.

I had sent money through Western Union for several years. Suddenly, they won't allow me to send money with them. When we ask a reason, they tell me they can't tell me. YES, you read correctly. They can't tell me why they won't accept my transfers. I'm allowed with the other agencies. I'm also a law enforcement officer. It is so ridiculous. I sent one today. They took the money, then sent me a text saying the transaction was under review. I called and they said it was declined. I am suppose to get my money back by check someday. Nice!

My family and I have sent money thru western union. I tried sending money today to my wife and the customer support agent said that they don't send any money out the U.S. which they advertise send money online and they say you can't now which is false advertisement and next step will be with the BBB. Be careful because about a couple of months ago western union didn't want to refund money they had sent.

Money transferred through Western Union [from USA to India] on Nov. 16th, money has been debited from my account but still the amount is not credited in receiver's account (my own account in India). When I am tracking the status, it is showing Money Arrived, but Money Not received in receiver bank. I am calling daily twice from last 5 days, the customer care executives are telling that they are escalated to investigation team and will get response in 24 hrs. to 48 hrs. Every time I call they are telling me that same I will get response in 24 hrs. to 48 hrs., but not getting response either from customer care executive or from investigation team. And still money is not deposited either in sending account or receiver account. Please suggest me how can I solve this issue.
This all looks like a scam to me. WU recently started giving better rates than all of its competitors and started charging $3 transaction fee. Its rates were so attractive that even with the fee sending money through WU was profitable on the receiving end and the money was getting received within 1 hr. in the overseas bank. Now I'm caught in a mess and short of a lot of money for 7 business days. I will be ending up paying penalty fees for late payments in both the countries. And have put my friends also in a bad situation by referring them to Western Union.

I saw lots of post in top that we should not use Western Union Money transfer. I transferred money from last 20 days and still now I did not get money back in my receiver bank account. I saw lots of people in same situation and somebody got money???

I have been using Western Union for my business to pay suppliers in China. Western Union customer service is going down the hill. They have rude customer service agent and they talk to you like they are doing favor completing your transfer. We had really bad experience with our recent transactions, they put the transaction on hold and did not even contact us. Our shipment was delayed because the suppliers did not receive the money on time. And when you call them, you have to actually wait at least half and hour to talk to the agent.
Their compliance department is so incompetent that they can't simply keep note of previous interviews and distinguish business customer and personal customers. They keep on holding your transaction without any reason and every time our transfer was on hold we had to give same long stupid interview to compliance department. Forget about money in minutes you would be lucky if your money arrive in days. I am never using Western Union again!

July 21, 2016 I sent $300 to my nephew who was working in NC, before he knew he had money at Western Union, he had already got back home to Va. So I cancelled the transaction. I do business with Western Union a LOT, so I trusted they would refund my $300. I have called and called, to get my money back to no avail. They have told me my money is tied up, and it was caught up in some kind of foreign money transaction? And have offered me no answer, to they can't even find the transaction any longer. I thought Western Union was a better business than this until now. And after reading all the reviews, I know now, that they will scam you, and take your money. Be WARY of WESTERN UNION!!

So I hit the wrong thing on the Western Union app. while trying to send my grandmother money in Jamaica due to an emergency. I call Western Union to have it worked out. One lady tells me they cannot give an instant refund. It'll be 2 weeks before I get my money back. She then transfers me to her supervisor which tells me she can send the money back and it will be available as soon as possible. I explain that I do not want a possible overdraft in my account therefore if it wouldn't be available in my account I would have someone else resend her the money and not try it again using my card. The supervisor assures me that that wouldn't be the case and tells me to call my bank as soon as we get off the phone.
I called my bank and they couldn't see the transaction at all. Two days later I check my account to purchase my newborn something and it is in the negatives. I call my bank yet again and they tell me I was indeed charged twice and there is no sign or a cancellation nor refund. I call Western Union back and speak to yet another supervisor whom at first seems sincere and apologetic about it. But here's the kicker. At the end of the conversation she says "Oh well your overdraft fee is only $15" so I ask her if she is saying that to say that's nothing? Yes indeed it is only $15. $15 that I could use towards diapers, socks and/or wipes for my child.

I've been in India since July and my American bank cards don't work here. I started sending Western Union to my husband (resident of Hyderabad) so I could have cash. Almost every time I do a money transfer we have to visit a few locations in order to find one capable of completing the transaction, i.e. giving us the cash. Multiple excuses are given: internet down, NO CASH AVAILABLE, closed down to go PRAY... closed for festivals. We started calling ahead to different locations to make sure they could provide service only to find that more than half of the time NO ONE ANSWERS THE PHONE. Considering we have to pay a driver to take us to these Western Union locations I am losing money each time they fail to complete my transaction. NO CASH!
I did a money transfer going on 3-days ago and still can't find a Western Union location in Hyderabad Banjara Hills to complete my transaction. Each time we enter the location, we are immediately told "We don't have any cash." A week ago, India's Prime Minister banned 1000 and 500 notes and a place like Western Union should be back to business by now. They should also be able to tell us WHEN we can come back to complete the transaction.
Lastly, and I can't confirm, but I do suspect, that some Western Unions in Banjara Hills may have known about the upcoming ban of the 1000 and 500 notes because our last two money transfers were given to us in mostly if not all 1000 and 500 notes. Needless to say, I have NO CASH because of Western Union's Banjara Hills 'out of order' locations.

ConsumerAffairs Research Team
The ConsumerAffairs Research Team believes everyone deserves to make smart decisions. We aim to provide readers with the most up-to-date information available about today's consumer products and services.
Western Union (WU) was founded in 1851 as an American telegraph company, and it began offering money transfer services in 1871. Now, Western Union is one of the world's largest and most well-known money transfer companies. In 2015, it facilitated the transfer of more than $150 billion. It offers consumers and businesses options for sending and receiving money both domestically and internationally.
Fee tool: Consumers can use the fee estimator on WU's website to see how much it will cost to send money to someone else online, in person, over the telephone or through the WU app. The tool will also show consumers how long it will take for the funds to be available to the recipient.
App: The Western Union Money Transfer app, available for both iOS and Android devices, allows consumers to send money directly from their mobile phones. Money can be sent to other individuals or be used to pay bills at select businesses.
Rewards: The My WU rewards program lets customers earn points for money spent on transfer fees. Rewards points can be used to make free transfers, enroll in select Udemy online courses or make matched donations to the Western Union Foundation.
NGOs: Western Union partners with the Clinton Global Initiative to help non-governmental organizations (NGOs) get money to individuals around the globe who do not have access to traditional financial institutions. In some locations, funds can be sent to users' mobile wallets.
Refer-a-Friend: The Refer-a-Friend promotional program rewards customers who invite others to use Western Union. The first time the invitee sends money, both the original customer and the new customer receive a $20 Amazon gift card.
Best for Western Union has services that meet most customers' needs, including individuals, entrepreneurs, business owners and charitable organizations.
Compare Money Transfer and International Money Transfer
Western Union Company Profile
Company Name:

Western Union

Website:

https://www.westernunion.com