Toyota Financial Services
Consumer Complaints and Reviews

I have had a car since I was 21 yrs old. I am 36, so you can see I have been a car owner for over 10 yrs. I have never worked with a financial company that operates on being rude and unreasonable. I fell ill in June of 2016 which put me behind on payments as I also need to pay rent, insurance, and take care of my son who is still in pampers. I called customer service to inform them that this month in June I would be short but to no avail. I did not receive assistance from the rep. I have been paying my car note but I am backed up and pushing things out until I can get back on track with my taxes.
Recently I have been contact by Toyota and they are really nasty, rude, and the manner in which they feel they can speak to customers is ridiculous. They lack the customer service skills to actually assist or work with customers at times. I feel they live off of threatening a person that they will repossess their car. The reps will say "we are working with you but what happened that you fell behind." If they record all the conversations and they type up their contacts I do not and repeat do not understand the miscommunication of why they are not aware of why a person falls behind. They really need to get it together. Most financial agencies assist you right away because they understand things can occur in life.

I was relieved to see others have experienced what I have. After my vehicle was released from a chapter 13 bankruptcy, I was informed by lawyer to make payment arrangements with them. The first time I called them my vehicle was discharged yet, back in Nov. 2016 I did talk to them and they were nice and told me I could make arrangements and to check back in a couple weeks. Well a couple weeks later in Dec I get the cure to default letter with a due date of payment the week before as if the letter got lost in the mail or something! Weird! I sent them a payment and sent a letter I will be paying more. I hear nothing from them.
I then call them this month in Jan. all to learn that it has been sent for recovery to be repossessed. News to me! And that my payment had been sent back! Have not seen yet! I have also called them at least 4 times, and 2 of the calls they were nasty about the repossession, which I was willing to payment arrangements, however they will not! I was told by my lawyer if I contact them I should be able to make arrangements. Not the case with Toyota! A matter of fact I feel like they immediately sent me to repo right from the beginning of being discharged! I feel like they didn't give me a chance, and I even sent them payments!
I am also a single mom of 2, and just what am I suppose to do if they repossess and try to transport my kids and get to work! They are going thru loopholes I feel and getting away with illegally repossessing vehicles by avoiding to agree with payments and probably training their customer service in-house on how to do this. I have worked in customer service and I know the rap and Toyota are being rats! I will never do business with them again ever!

I wish I could give 0 stars! I would never buy a Toyota simply because I DO NOT want to deal with these people ever again - very disorganized, disrespectful and dishonest. Associates and supervisors are trained to throw lies at you. They are making this buy-off process the most horrible experience of my life. Be aware - THEY ARE HORRIBLE!

In spring and summer of 2015 The Houston Gulf Coast had flooding over a period of 3 months. Toyota contacted me and MY Daughter about helping each of us with 2 month extensions so we could clear our homes, property of water and also get to work after flooding went down. We were told by Toyota we could take 2 month Extension at which point we were sent agreements By Toyota to fill out then return. Surfside on the beach where our mail came and our home was almost impossible to get to for over a period of about 3 weeks. I called Toyota. They sent the forms again but to my alternate address in Tomball TX. I filled out form and returned it to the company.
I waited till my next payment needed to be processed, I was told by the lady a Toyota they were glad I called that she needed my vehicle returned to Toyota as I was 2 months past due plus month due in 3 days. I was being repossessed because my form didn't get back in time (that would be the correct form I was finally sent 2 weeks after they said they sent me wrong form to start with). She did not care if it was Toyota's fault. I offered to pay those month but I would have to wait a week to make sure my direct deposits got transferred to my new bank account. She said no that I was being repossessed. Then hung up. Several weeks later a man came by. Told me to give him my truck. I told him "Without a court order no." He left and 1 week later I received a letter informing me that my extended warranty package $1800. Was applied to my account (at the back end).
Now Toyota wants 4 Months. My Daughter was financed with Toyota also. HER 2 other extensions were bt. She was in college so I used my account, made a payment on her account and Toyota without telling her removed payment and applied that to my Toyota account??? I called, ask for a address to their legal DEPT and lady hung up. My attorney had me put vehicle in bonded storage and said wait for someone to serve papers. That has been over 16 months ago. Toyota has sent nothing or had anyone look for me or call. Additionally my credit score went from 715 to 535. Now some guy is calling my kid's and ex-wife pretending to be a policeman looking for me but my number is same, address same and I've been home early all the time since this started. I am considered 100% DISABLED BY THE MARINE CORPS. My Attorney has even called with no response.

I purchase a car with gap insurance was finance by Toyota. I recently refinance. I cancel my gap insurance. In August was told In several weeks I will receive my refund. I had taken time off to go to local Toyota office in West Palm Beach after calls were not return on numerous occasion. It's now month of December. I decided to visit the office again only to be told that check was mail which I never received and a stop payment will be made on check and I have to wait a few more weeks to receive another check. I am totally disappointed. I would never buy another vehicle all because customer service the day you are there to make a purchase everyone is nice. After the purchase is difficult to contact anyone.
How do I know I can trust these reviews about Toyota?
673,068 reviews on ConsumerAffairs are verified.
We require contact information to ensure our reviewers are real.
We use intelligent software that helps us maintain the integrity of reviews.
Our moderators read all reviews to verify quality and helpfulness.
For more information about reviews on ConsumerAffairs.com please visit our FAQ.

I paid my truck off on November 8, 2016 and gave them some days to process the payment, expecting my title to be sent to me. I called them a couple of weeks later to be told that my title was sent to the state's DMV in which I was living when I paid the truck off. I didn't understand that so since I had recently moved from TN (where I bought my truck) to FL, I went to FL DMV who confirmed they didn't have my title. I then called TN DMV who confirmed they didn't have my title. I called back to be put on hold forever.
Their customer service is HORRIBLE, I have been on hold as long as 40 minutes to speak to a customer representative. When I called back, I was told it would take 30 days to process the title. I corrected them and told them that was incorrect because I had been previously informed it had already been processed. A few days later, I called back and was told that that the lien was closed out on the 12th. Since the 12th was a Saturday, I was told the title was mailed out on the 14th and I should received it shortly.
By the 28th of November, with no title, I called back and waited on the phone again for 30 minutes. This time I requested to speak to a supervisor. I was then told it was mailed out but that the apartment number was not on it. I told them that was their error because my address was correct in Toyota's system. They confirmed that it had not come back to Toyota but I didn't have it either. I was then told they could only print one title but they would send the paperwork needed for me to be able to get my FL tag.
As of today, December 5th, I have nothing. I called back today and was on hold at least 40 minutes to talk to a different supervisor, Candace, who was not helpful and somewhat defensive. Nevertheless, I was told more of the same lies today and they stated that the second piece of paperwork was mailed out last week and that I needed to contact the post office. Really??? I am so over it because it shouldn't be this hard to get MY title. They didn't take four weeks to process my payoff payment and I want my title. Any suggestions on what I need to do because my current tag is expired now dealing with all of this. Regardless of good rates or not, I will never finance anything from them again!!! THEY ARE HORRIBLE!!! And from previous complaints, unfortunately this is normal behavior - such a travesty!!

I recently moved to another state, and have been trying to get my title and registration set up in my new state for about two months. This has been impossible to do because TFS continuously claims that they are not receiving the requests for title transfer from both myself and the MVA. I even faxed the request ten times from work one day, all faxes confirmed that they went through. Emailed customer support, still nothing. Now my tags are set to expire from my old state and I still do not have my title and registration set up in my new state. This is absolutely the most horrible customer service I have ever received and the people on the phone just read off of their script and do nothing to help resolve the problem. I even emailed the dealership where I bought the car and asked if there was anything they could do to help me or if I should just contact a lawyer (no response, of course!). I will NEVER buy a Toyota ever again.

I had turned in my 36 month Corolla lease to Mazda in September 2016. Mazda had agreed to payoff my remaining lease payments since I still had until February 2017 with the corolla. They advised me I might be assessed a disposition fee which I was ok with paying since I termed my lease early to switch to mazda. About 3 weeks later, I get a phone call from an unknown number asking me to pay $272 that was remaining on my TFS account. I said I didn't know who she was and I never received a statement, but if she would like to send one, I would pay it. She seemed annoyed by this, but why would I pay a random person without knowing what I am paying for? It took about 2 weeks from Toyota to receive this statement, but I reviewed it and thought it was my disposition fee so I called and paid it. The rep I spoke with said my account was clear and I was all set.
Well, about another 3 weeks later I get ANOTHER statement from Toyota this time asking for $378! I called them to question what this payment was for? The rep told me it was for the disposition fee. I said I just paid $272 a few weeks ago and I was told my account was clear? The rep said "oh yes, I see that payment, it looks like you overpaid and are due a refund" but she was going to check with her team lead and call me back with an accurate answer. She said if I didn't hear from her to call back within a few days for status. Since I never heard from her, I called them back and asked what the outcome was. The rep I talked to said it was reviewed and I was NOT due a refund.
I then asked why I was paying $272 anyways, they told me that Mazda only paid 4 out of 5 lease payments. I said but I was there when they called to get the payoff amount and why would they only pay you 4/5 payments? I was then told I could call Mazda and work it out with them for a refund and that Toyota wouldn't be doing anything and where do I think I'm getting a refund? Umm because that is what your rep told me?
I called Mazda and spoke with the finance manager who worked on my payoff, and he said that was the amount given to him on the automated system. I called Toyota back and they said there was nothing due back to me, so there was nothing left to dispute. I asked to speak with a manager after getting huffs and puffs from the customer service staff and it took 2 days for them to call me back only for the manager to be BEYOND rude. I asked that I have statements sent to me showing all payments I've made toward my lease and then the payment from Mazda.
After 2 weeks and still not getting those statements, I called back asking that I get an extension on my disposition payment since I was waiting on statements to review before I paid them anything more. About a week later I am now just getting these statements. After looking, it shows I've made 33 payments. Mazda has paid 4... something just doesn't seem right. So when I called again today to question this the rep kept talking over me, telling me I'm not getting money back, And I don't have a reason to be mad, which was just infuriating me even more. After I told her I needed to break the payment up into a few payments she said I could only have until December 6th for a payment plan and that I couldn't pay with a credit card.
I will be calling again and bring this to corporate's attention if need be because the way I have been treated my Toyota Financial reps have been so disrespectful, making me look like I'm the idiot, and that I have no reason to be questioning where MY money is going. I will never buy a Toyota again in my lifetime or recommend them to anyone looking for a car.

It is very bad experience to deal with Toyota Finance Services. We visited the Yorkdale dealer 2 weeks ago before lease expire, they perform the pre-inspection and there is nothing required to be repaired, however they asked 2000 dollar for dents which are smaller than repair size. After almost 2 months, they performed another inspection by third party and sent us a bill with more than 1500. We told them we have the pre-assessment and the inspection result cannot be accepted after 2 months since we returned the car. Now we have to go through small claim court to resolve it.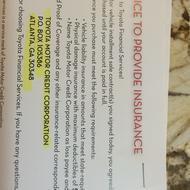 I have financed all my Toyota through Toyota Financial Service and with my last car I paid 0.9% financing! They are a terrific company to work with and offer financing that is so much lower than other companies! I like to make payments one month in advance and they have been great about letting me do this by sending my bill to me one month in advance! Thank you Toyota Financial Services!

I was a happy Toyota customer until I turned in two leased vehicles recently. My husband and I each leased a Toyota from a large, high volume Massachusetts dealership three years ago. Thanks to the dealerships size and swarms of customers trying to lease/purchase vehicles, we had to quickly sign contract papers after verbally agreeing upon the monthly lease payments and the fact that we did not agree to pay any additional fees. Needless to say we were not given the time or explanation of all the details of our contract.
Fast forward three years after making all payments on time and taking care of the vehicles, when we turned in our clean cars that each were significantly under in mileage, we did due diligence and called Toyota Financial Services (TFS) to make sure we were all set with everything. They told me that we were all set and didn't owe anything. They then mentioned after reviewing my contract again that I would owe a $350 fee plus taxes on each vehicle. I asked why and they said it would be a disposition fee that the dealership was charging.
I called the dealership and they said it wasn't a fee they were charging but rather one TFS was charging. I feel exhausted just trying to explain this next part, but over the last few weeks we were on the phone repeating our confusion and frustration to various departments at TFS for several HOURS over several days. TFS told us they get SEVERAL calls from customers with the same confusion and complaint but still insist there's nothing we can do and we must pay the $750. No one expressed any concern... why would they? They're a large organization and we're just an unknown middle class family.
If we are so unimportant to TFS as a prior (and no longer potential customer I must add) then why on earth is my $750 of hard-earned income at a non-profit so important to them? The deceitfully added fee is supposedly to offset the cost of "all" TFS does for us when we turn in THEIR vehicles. Yeah, let me rush that thank you card. A more ethical practice would have been to either require dealerships to have customers initial next to the fee in the contract or don't charge the fee at the end and ask for it up front. Might help them to not look like the unethical, one-star rated organization they are.
Now that we have to send $750 to help Toyota keep up its revenues and lower our savings, I can guarantee I will never purchase or lease another Toyota in my life. I've already encouraged other members of my large family who have or were planning on getting Toyotas to purchase other vehicles. So sad when companies have no regard for the human factor of doing business.

2015 Toyota Camry LE totaled in wreck (not at fault). 3rd party insurance sent out the check out on Oct 8th on a Saturday. Didn't get mailed until Tuesday the 11th because Monday was a holiday. So it's been 14 days sense. I've been calling and calling playing tag with all the representatives that I speak to about the situation I'm in. They are rude and they DO NOT WANT TO HELP IN ANY WAY. If this ruins my credit I will get a lawyer and will sue because they are wasting my time and ruined my credit by taking their time. I hope other individuals read all these reviews about Toyota Financial service and do not ever ever get a loan by them. They are the worst ever. A reminder, the wreck was Sep 11th over a month ago. Claim filed the day after. This should have been settled by now. If this goes on I'm getting a lawyer.

TFS placed a negative credit mark on my report. Just one, out of years of solid payments. They would not remove even after writing their CEO. Note, although the payment was technically late, after the error was found I made the payment immediately on the due date, however they did not post the payment until after the due date and then smacked me with not only a late charge, but a negative rating on my credit report. I have written to the CEO and he wrote back saying they were not changing the mark. This after owning only Toyota's and perfect payments... Going back to the 1990's!! Toyota obviously does not care about their customers after the car deal is done, thus I have decided to leave them and move to another car manufacturer.

Two weeks ago with TFS buyout check 9/30, from our credit union's stated buyout amount check was sent with agreement. Our CU sent us the FAX receipt to number TFS instructed. TFS denies receiving the FAXed Mileage report, Authorization, Title instruction form. They point to the dealer, dealer points to TFS. Does this belong with US law enforcement, Iowa law enforcement, BBB or do I have to find a lawyer? Past month has been a pattern of misinformation from Toyota of Oxnard and TFS. Appears they feel we should lease another Toyota or finance buyout thru Toyota. What to do? Beside never deal with Toyota ever again? **. FAX resent Date/Time: 10/18/2016 3:24:33 PM.

I am writing this letter of complaint against Toyota Financial Services (TFS) because of all of the back and forth I have had with closing my account. In April 2016, I traded in a 2014 Toyota Venza that was financed through TFS for a 2016 Toyota Camry, that is currently financed through Southeast Toyota. In August, when meeting with a mortgage counselor, I discovered that the 2014 Venza was still appearing on my credit. I immediately called TFS and found out they were not aware of the fact that I traded the car into a local dealership because they have not received the 2014 Toyota Venza back in-house. With that said, I called Southeast Toyota who apologized for not notifying TFS that the vehicle was returned.
After I straightened out that debacle, I called TFS about the third week of August to confirm that the account was closed since they had received confirmation that the vehicle was returned in April. TFS then proceeded to tell me that I still owed a payment of about $444. I could not understand how I still owed money on the vehicle when I had already worked out a deal with Southeast Toyota when I purchased the 2016 Camry. So after asking a few questions to get to the root cause of the error, that's when TFS stated that the representative with whom I spoke to in April, provided me with the wrong amount and that amount was given to Southeast Toyota when I purchased the 2016 Camry.
I was very upset that the representative had given me the wrong amount, but TFS did nothing to correct the error other than to say that they would use my experience as a "coaching opportunity" for the representative. The call was then escalated to a supervisor with the Mature Leasing services, but the best the manager could offer me was an extension on the due date. He advised that he would extend the due date to October 5, 2016. My husband and I scrambled to pay both my current 2016 Camry's payment and the 2014 payment in early October.
As soon as we mailed the payment to TFS, I called again to ensure that the payment was received and that the account was closed. However, imagine my surprise on today, October 17th, six months after I traded the vehicle in, when the representative told me that I owe an additional $738 for the miles, which includes the sales tax. I could not believe that once again TFS was telling me that I owe them more money. I tried explaining to the representative that I should have been notified months ago and said that even after I spoke to a supervisor in August, someone should have told me about the miles. Instead, I was only notified after calling today.

My mother passed in July of this year. I have contacted Toyota Financial Services too many times to count. I was trying to get the pay off of my mother's vehicle. I was told that they needed the will which I do understand. Probate gave me a reference number and told me that when I call in to give the reference number. I attempted 5 or 6 times to use the automated which was a joke. Then it sent me to customer service. I told them every time that I have a reference number and I need to speak to probate. They gave me the runaround every time. They would put me on hold with that God awful music (and I use the word loosely). They want an account, a social security number or a vin number. Mind you, I have a REFERENCE number to get to Probate so I thought. I have had to argue with them every time I have called. This is the most sorriest excuse of a company I have ever tried to work with. I don't have time to argue with them for hours.
I finally got the payoff and wanted to give them a check over the phone. I was told that I would have to make several calls to pay it off because they can only accept 3,000.00 at a time. Ok, here I am trying to pay this vehicle OFF!!! And they tell me I'll have to make several calls??? I have been a vice president for a company for many. I know how a company should work. Evidently, the people who are up in management don't know how things should run. I nor anyone in my family will ever buy a Toyota again. I would not put my enemies through what these people have put me through.

I don't even know where to start. But my car get repossessed, even though I had an agreement and payment set up plan. I was only backed up but continuously paid my car. Not to mention, I remained in contact the whole time, updating them about my financial status. But regardless, when you try to get back your car, they talk to you as to a prisoner and loser. No respect whatsoever, nasty and snide comment, rude tone in the voice, they lack giving you the correct information, hence you will be charged for all kinds of holding and storage fees, because nothing is getting processed the way it should be done. The most abusive company and staff. I have never seen anything like this, and I am 41 years old and have "been around the block" as they say. I wish I would have known how this company is. I would never get a car finance by them. This is illegal practice, and retaliation.

I am a mom who leased a new 2013 Toyota. One month after leasing my daughter was diagnosed with cancer and my husband left us. Our finances went haywire... I lost my business and had to drive our vehicle across the country to get my daughter to the required hospital for a bone transplant. My experiences have been horrendous in our personal life, but Toyota Financial has been really good to us. Even though I was late on two payments due to my daughter's health issues - I just forgot, they never were mean or even discourteous.
When I went to turn in my lease and my credit was so bad that I could not buy anything Toyota kindly extended my lease. Six months later they offered to extend my lease to help us out... which is now. Even though I probably won't have things fixed enough to buy another Toyota when my lease has ended I am very VERY grateful for their kindness to me and my girls. We have had a really hard time, and I appreciate all that they have done for us.

This is my 4th attempt trying to resolve something that one of your employee name Joseph from Toyota Finance was extremely rude and bossy, irrespectable to me on the phone. I have report this issue to his direct supervisor. Mr. Mark even send a letter to the Financial Director of Toyota Finance in Markham Ontario Office. I would like to add I even report it to your customer service center but still I have not digest the way I have been treated by your employee.
First of all, let me describe my history to you, I have bought my first car ever in Quebec which is a Toyota Corolla LE- Automatic Transmission. The car is superfine and I had the car in my possession and already run a mileage of 2000K. I received a phone call from Joseph from Financial Services. First of all, no number appeared on my mobile screen. Secondly, this guy starts to introduce himself and soon starts to raise his voice tone and start holding me responsible that it was my responsibility to call back to report that the weekly payment is still to be due.
He was very aggressive and bossy, I must admit that I had to interfere and let him know that he has no right to talk to I'm like that because it is not my fault and therefore I am the customer who is paying for the car. No empathy nor apology from his side as if he took me for granted. He even threatened me that this will affect my credit history if I don't pay your company the soonest possible. Many things on, I even complained to Mark, his supervisor, and send a letter to the Financial Director, which I think he might been busy not even to respond to my letter. Because nobody cares for customer feedbacks and values.
Well, I would like to inform you that your cars are super well but just the way that mere employee behaved I am no longer turning back to Toyota and even telling friends my worst experience I have had with your employee. I wish to say that I refused Honda Civic 2016 (St. Constant - which you may cross check to see that I am lying) and came to you but this the way how I was treated. This is absolutely unacceptable from your company. I really wished that my concern is being taken care of and somebody get back to me and also hoping to have something done as good will gesture. Thanks.

I purchased a Toyota Camry from a private party, on which Toyota Finance had a lien. My lien holder send the check to Toyota Finance, and it took them 1 1/2 month to process the check and we are still waiting for their mercy to release the lien on the car. They sent a letter stating that lien is released. But when we go the DMV to get the title, DMV says NO, the lien is not released yet. And yes they did get the payment and yes the check has been cashed. Unprofessional and unethical services! Will never deal with Toyota Finance in my life. Amount of time and efforts wasted: 1.5 Month with still uncertainty about the lien. Multiple trips to DMV and lien holder to get the temporary tag. Several phone calls and emails including the one with Toyota Finance.

I leased a Camry and paid it off August 5th. I had called to notify them the automatic pay withdrawal ended in July. They took out an August payment. I called immediately and was told a check would be cut and mailed. Six weeks later I still do not have the refund and have talked to 4 different people all giving me the runaround. I have always loved my Toyota cars, but will never use their financing. I see from other reviews this seems to be a common method of poor service.

Purchased new Prius in 2007. 2009 I went Chapter 13. Toyota paid in full for value of the car. 2015 I voluntarily returned the car because Toyota refused to work with me. Toyota privately sold the car for $2300; worth $6,000. Now, Toyota is suing me for interest. I am counter-suing them in Court. Call the media, post online, sue them back, don't be intimidated by this greedy company.

I've had this loan for about a year and half now. Got it when I needed a new car, and of course they gouged me on the Apr as my credit score was poor then, but I had to go with it, which made my monthly payments for my Highlander ridiculously HIGH. In short, I just got laid off from my job, and Toyota Financial didn't care. They totally denied getting me an extension which is actually a deferred payment. It blows my mind that this company is going to get the payment anyway, so why not work with their consumers to give themselves a great reputation instead of being known as money hungry beasts. They couldn't give me a straight answer when I asked why I couldn't get a deferred payment. Just gave me a blanket answer which consisted of random reasons why I might not have been able to get it.
Florence, the rep I was speaking to, seemed very short and not helpful at all. Not even sympathetic. How would she feel if she lost her job, and couldn't make her ridiculously high car payment, and got threatened with a repo? What added insult to injury was that they dared to tell me, "We will mark your payment as late and add a late fee with report to the credit bureaus if your payment is not received within 30 days, so it's better that you resume your payment for this month." REALLY!!! Come on Toyota Financial, have a damn heart for your customers!!! I'm trying to refinance with another company but it seems like no one wants to touch this loan because now I owe more than it's worth. This company totally screws you!!!

Their gap insurance was just a ripoff. They never paid and every time I called them they required one more item. They sent a form with a section that said "to be completed by finance company" which the bank wouldn't do. In the end They wouldn't accept the items they asked for. In the end it wasn't worth the stress for the small amount they would have to pay anyway. STAY AWAY!

I have 2 leases with Toyota Financial: A Corolla and an Avalon. After a year of calling Toyota to inquire why my account assessed a late fee every month it was because my county had my Corolla listed to be charged as business use, not personal use, so I was being charged a higher tax rate for 3 years. I called attention to it, Toyota was made aware, the County I live in adjusted the tax rate and issued Toyota a refund check to be applied to my account in the area of $850.00.
Toyota has cashed these checks days after they were mailed but has not applied them to my account. I have spoken with countless members of the so called "customer service" team who act as though you are an obstinate child when you call, I have been transferred without even being asked to hold to collections more times than I would like to count and been treated like a dreg of society, I have spoke with members of the laughable "customer resolutions team" whose hours do not correlate with any member of society, so God forbid a person go to work to pay their bills, you will certainly not be able to catch a member of this elusive team in a timely manner. I have even spoke with members of the Corporate team.
The executive administrator to the President of Toyota Financial Services Adrian **, who apologized profusely, acted horrified, assured me he would call me back the next day with information and I am still waiting for his return call. I fixed this problem with NO HELP from Toyota and now not only will they not, for whatever reason, appropriate these funds to my account, they had the audacity to SEND OUT 3 YEARS OF PERSONAL PROPERTY TAX TO MY COUNTY!!! So, instead of any of these people who are supposed to be fixing this problem, fixing it, they have made it nearly $800.00 worse. These are some of the rudest, most unprofessional, ridiculous, non-customer service having people I have had the misfortune of dealing with. Incompetence does not even begin to describe this financial institution.
This has been going on for a year and everyone I speak with assures me they will save the day and fix it and then they promptly lose my number. I know for sure, if I owed Toyota this amount of money, they most certainly would not have waited a year for it. This company has informed me that they have a personal property tax team working to resolve this issue as quickly as possible and I have yet to hear from that "team" and the problem is worse, not better. If you want to give your money to a bunch of irresponsible people who cash checks and then "can't find" the money so they don't credit your account then this is the place for you. DEPLORABLE UNETHICAL RUDE IRRESPONSIBLE UNCARING DISINTERESTED CANNOT COUNT MONEY WELL. Good luck.

I recently paid my lease off through USAA to Toyota. Toyota has cashed the check $15,000.00 and I have been given the royal 2 step about getting title so that I may register the car in WV. My first call was 8-5-16 I was transferred to a resolution specialist who said" your account will be ready to mail within 7 to 10 days. She did say it was sitting yet to be processed until she looked into it. Today I called and was told the same thing. Mind you they have been paid in full!

When selecting our loan term, the finance person we worked with described an option for making smaller bi-monthly payments instead of monthly payments. This would reduce the overall interest paid on the loan and also cut our overall loan term by a few months. It seemed like a great deal and no reason not to choose the bi-monthly option.
We come to find out afterwards that Toyota processes this service through AutoPay Plus (which seems like a fine institution) which charges a $1.95 fee for initial signup, a $1.95 fee for each transaction ($3.90 per month) and a $399 "Program Fee" - which essentially will eat all of the savings we might obtain by paying less interest and prepaying the loan a few months ahead of time. None of these fees were described when the option was presented to us and we never would have selected this program had we known about these costs. Our loan is still relatively new and I'm hopeful that we can cancel our account with AutoPay Plus before they process the $399 fee. I may try to refinance this car loan as soon as I can so that it is not directly through Toyota any longer. I would not deal with this group again.

On 6/6/16, I paid my Toyota Highlander off. The payment cleared my bank account 6/6. I at that point turned off the automatic payments to them since I paid it off. At the end of June, I received a "bill pay" I thought, they just hadn't completely processed it. On July 20th, I received another "bill pay" for June and July's payment with late fees. I called Toyota Financial. After a 45 min hold (I also posted an email to customer service while I waited for a person on hold), the gentleman told me that he saw the payment, but it didn't get applied. It was over 12K. So, he applied it and basically closed the account. On July 27th Toyota sent me a letter stating that it was taken care of and I also got a check for interest. Then on 7/28 they withdrew the June/July payment from my account. I have spent a good 4 hours trying to get this straightened out.
Finally today via the email on their site they tell me they get it and my money will be returned in approx 15 days. Unbelievable. They took money after it was turned off for them not to withdraw, overdrew my account, so I have overdraft fees (they made me fax that info in) and that will come "separate" from the return of the two payments. My bank also tried to call them but was stuck on hold for over 45 mins. They finally gave up and the next day I had to get back on the phone with Toyota. Only the people you talk to cannot do anything about this. The people that can, even the Toyota rep told me they don't have a phone # for, only a fax number for us to send in the bank records showing the "error".
As much as I love my car, I would NEVER recommend financing through Toyota because they have NO clue what they are doing. I can deal with the 1200 overdraw, but many people cannot. The fact that they can just take the money that doesn't belong to them and then jack you around about when you may get that back is ridiculous. Oh, by the way, my Title is in the mail. But my money isn't.

The worst company I have ever had to deal with. Pennsylvania requires the official title in order to complete the registration process. I started the process to have the title sent to the PennDOT facility that was handling my registration on June 30th. I have had to call in multiple times, sit on hold for up to 45 minutes each time I had called and was never given a straight answer about where I was in this process. I have even given them a FedEx account number in order to expedite the process once the title was sent out. I called another time on July 21st, I was told the fax was processed on July 18th. I was beyond frustrated. 11 business days just to process the fax especially when I was told that it was already processed and my title should be sent out "any day now" from multiple representatives.
I was then transferred to the supervisor on duty. She was very nice and explained why it was taking so long. I gave them the benefit of the doubt and was understanding that they were "backed up" with processing the requests. That supervisor told me she would reach out to me Monday (July 25th) with an update on whether my title has been sent, no phone call. I even contacted the place the title was to be sent to see if it was an oversight and that my title was received. It has not been received. So I am now on hold for a 6th time with TFS to see if someone can actually do something instead of telling me what they think I want to hear. This entire nightmare is enough for me to never finance a car through Toyota Financial Services ever again. In fact I am very close to just paying the car off so I can have the title and I'll never have to deal with these people again.

Called Toyota financial to ask about my lease pay off instruction. They instructed me to log in to my account and send a payment equal to lease pay off. Pay off was sent, but 2 weeks since no title or confirmation letter was sent, called in again. No response. Called in third time. They blaming me for sending the payment to the wrong place??? Huh? You instructed me to do the payment on toyotafinancial.com. How it can go to a wrong place??? 2 month down the line, I still have no money, no title, and no pay off confirmation. On the top of that they still charging me every month for the lease that was already paid off.
Toyota Financial Services Company Profile
Company Name:

Toyota

Website:

www.toyota.com