Toyota Financial Services
Consumer Complaints and Reviews

I was approved for credit (rewards credit) based on if I wasn't able to have a cash down payment for a loan on a car at Toyota Marina Del Rey Dealer. We agreed on the date to have down payment withdrawn from account. Fast forward to that date. Not only was money withdrawn, the Toyota credit card I was approved for was also used by the company and they sent me a bill. I was able to dispute it with the bank that is associated with the Toyota Rewards Credit and get it resolved however the manager who used the card was not reprimanded, he is still working for Toyota Marina Del Rey and I feel my contract is bogus. I went back there to have them redo it but they refused.
Toyota Financial Services has overdrawn my account twice because of their negligence and I've had to request a refund to my account. This time the representative stated it will take until the next payment is due to be corrected. The company is shady. I need a reliable vehicle but at what cost??? I make my payments on time but somehow I feel like I'm paying too much. Not right.

I paid my truck off in August 2016 and it is April 2017 and still have not received my Title! I have been going in circles with a financial customer service agent for the past 2 weeks! When I first called she said that I had to verify that the cashier's check I sent was mine even though when I sent the check they make you send a copy as well and she had the copy. She made me go and get another copy from my bank to prove it was mine. Not only did I get a copy but I also found out that T.F.S. had cashed the check so I also sent her that information as well.
She said she needed a couple of days to verify everything and she would call back. She did not call back. I called back after no response and the same agent had said that she needed me to verify that there is a stamp of Toyota on the back of the check showing that they cashed it. I was puzzled... I said how can I have a Toyota stamp on the back of a cashier check that I sent? I argued with this lady for an hour that I would not have a copy of my cashier check with a Toyota stamp unless they sent me a copy after they cashed the check and why would Toyota do a thing like that? So after being frustrated and wanting to grab this lady through the phone, I asked to speak with a supervisor. She said and I quote, "I don't feel like this is a supervisor situation so I'm not going to allow you to speak to my supervisor." I kid you not this lady said that!
So I hung up and called customer care. They documented everything I told them that happened and said that they would get a supervisor on the line and like I said I have been dealing with this for 2 weeks. Every time I would somehow be sent right back to the same agent! Today I get a call on 4/6/2017 by the same agent. She informs me that she still hasn't received a verification that the check is mine and that they also lost my funds. I quickly began to smell something very fishy. I asked the agent, "So you lost the cashier check when it clearly states on my bank statement that I sent her T.F.S. cashed the check 5 days after I sent it." She quickly changed her story so I asked her again, "May I speak with a supervisor?" I kid you not she said the same thing! She didn't feel that the situation called for that so she wasn't going to let me speak with one.
I am outraged at the disrespect and the shenanigans this lady is pulling. I'm about to go seek legal consultation because I have proof I paid the truck off and Toyota is clearly responsible for not only sending the title but making sure the owner gets it. Word of advice don't ever ever do a loan through Toyota! I absolutely love my truck but after dealing with this I will never deal with Toyota again and that sucks. I paid 21,000 dollars and you would think Toyota would make me a platinum customer. Nope they could care less.

I turned my lease in almost a year ago, made 3 payments to pay off the excessive mileage and disposition fee and now they are telling me that I still owe over $600 but no one can tell me why. On top of it, they said I have only made one payment so far and asked me to fax them copies of two checks that they cashed! I would never imagine that a company that has been in business for so long would be so disorganized!!! Every time I call the agents are very nice but no one can figure out what is going on with my account. They requested a supervisor to review it and when I called yesterday (after 3 weeks) no one had reviewed it and they asked me to fax them copies of the checks again!!! Unbelievable! I loved my Prius but I will NEVER get another Toyota. Get your ** together!

I leased a Toyota Corolla through TFS and paid my monthly payments on time. In fact I paid my lease off 5 months prior to the end of my lease and handed the car over a month early in July 2016. A few weeks later I received a letter in the mail from TFS stating I am owed a refund check for $1,500 and I will receive the check in a separate secure letter. I'm a generally patient person and thought cool, I'll just wait for it to come. I made my first call September 19th because I moved and realized the check could have gone to the wrong address. I had found out that they hadn't cut the check yet and that there's a 90 day window. I called back in early January 2017. I don't like to push these kinds of things, but it had been almost 6 months since I first received the letter and was told on the phone that there's no reason for the hold up and they would escalate the payment.
I called back at the end of January to check on the escalation on my account and nothing had happened in the previous 3 weeks. They said they would expedite the process on my account so I thanked them and hung up. After 3 more weeks I called again and they had no update. I was given the number for HQ & for complaints. Both numbers lead to the same automated message options. I have NEVER written a complaint before, but this is outrageous. It has now been 8 months since I turned my lease in and was informed of my refund check and there is still NO update and NO check.

Save yourself the trouble and time and avoid this company. Customer service is horrible and their employees are just outright rude. I refinanced my auto loan with my credit union in January and they sent the payoff on the 29th. My credit union has proof that Toyota processed the check that was sent on February 8th. However, Toyota owed me for an overpayment so I called to find out why my check was not sent on the 16th when it should've been sent just to find out on the automated system that my account was past due by $918. I was very upset and unsatisfied because I have already made two payments to the credit union. Decided to check my credit and I now have two auto loans! Spoke to an employee as to why I was not informed about them reopening my account.
They claimed they mailed me a letter which I have yet to receive. They also claimed that they left me a message on my voicemail and my voicemail was not set up which is a complete lie. They had me going back and forth with my credit union saying that the proof I had was not sufficient when in fact it was the only thing they needed. I am not sure that these employees aren't being properly trained, but regardless don't waste my time when you are the problem. After three days of going back and forth they finally took the document the credit union sent to me since day one. I called again to get an update and the representative was very rude, would cut me off, and then had the audacity to tell me to make the past due payment that was owed after Toyota admitted that they were at fault. I hung up on her and I have been calling pretty much every day and still nothing.
The representatives are no help and no one can tell me how and where my payoff check disappeared into thin air. After the check was mysteriously found it's been processing for two weeks now and every time I call they tell me "There's nothing we can do if your check is still being processed." Then they offer suggestions of me making two car payments a month so it does not go on my credit.
I honestly hate Toyota because this is the second auto loan that I have had with them that I've had an issue. Are you guys just that greedy and do not care about your customers or are your employees just incompetent? I'm very annoyed and frustrated, but all I can say is once this gets resolved and if it does, given that I'm still going back and forth with you all since my first car that I have already traded in, I will never make the same mistake again. I will continue to inform people about how you're all a bunch of thieves and deter them from doing business with you!
How do I know I can trust these reviews about Toyota?
743,097 reviews on ConsumerAffairs are verified.
We require contact information to ensure our reviewers are real.
We use intelligent software that helps us maintain the integrity of reviews.
Our moderators read all reviews to verify quality and helpfulness.
For more information about reviews on ConsumerAffairs.com please visit our FAQ.

I wouldn't recommend Toyota Financial to anyone. They don't care at all about their customers. They don't believe in working with you to resolve the issue at all. This company is just all about money and when you call the representatives have a very nasty attitude. They don't care if you lose your job or whatever it may be. They don't listen at all you could have been. Told them something just the other day and they forget to notate it. SMH!!
I loved my 2015 Toyota Corolla, which was repossessed last month at 3:00 in the morning. I had hell trying to get my items back and finding out where the vehicle was taken to. In order to get my items I had to pay with a card over the phone which the company never answers the phone and they don't stay open but 4 hours a day. I wouldn't dare finance another vehicle through Toyota Financial at all. Don't get me wrong Toyotas are very good cars and I would definitely get another one long as it could be financed through someone else. Stay away from this company if you can by all means necessary.

I have been having a leased vehicle for almost 3 years. Starting in August 2016 I started having problems with Toyota getting my payments. I contact Western Union Bill pay to try to get some information regarding my payments. They are telling me Toyota has received the payment but Toyota is saying they have not. I have been sending in extra money to try to keep the payments current but the problem continue to happen. I am missing a lot of money that Toyota has taken out of my account. They feel they are not responsible for the missing money.
I have talked to customer service that has not helped me at all. They make it seem like I am making up the story. I have proof they have been taking out the money from my bank account. They are not trying to fix the problem. I sent in a payment recently to try to fix the back payment problem. They put me in for repossession and never told me anything. I didn't get a letter or a phone call. I have a payment I sent to them a week ago but they said they never got it. My car has been taken. I would NEVER recommend anyone to Toyota Financial because of the horrible service. I don't even want the car back.

I would recommend that people be little cautious of this company, I leased a vehicle from them and never missed a payment, I even paid my lease ahead so I could be approved for a house loan with no problem, It has been almost a year since I have turned in my lease and I just got a letter from a debt collector claiming I owe the disposition fee to Toyota, I have all the proof that I indeed did pay it. When I called Toyota to talk to them they said my account is now with the debt collector and I would have to deal with them.
I thought that this was supposed to be a company with a good reputation however after dealing with this I can say that I will never get another Toyota. I am currently in the process of trying to prove that I made this payment. I have bank statements and everything, when I called to pay the fee they even overcharged my bank account and sent me a check for the difference. I can't believe it has taken this long for them to do something either. I turned my car in May of 2016 with no problems at all, even got confirmation numbers and everything and they are still claiming I didn't pay and won't talk to me themselves about it. All I know is that if I could give 0 stars I would, I loved my Toyota but after dealing with this I won't get another.

Paid off my 2015 Toyota Highlander on 2/14/17. I called prior to paying it off to find out the process and how long to get my title. Started calling 2/20/17 daily to have my title overnighted. Each day I was informed it would happen. Called each day to get tracking number. No number and title had not been shipped. Each day has been a different story and a different date of when this would happen. When I complained about the inconsistencies of their information, the customer service agent became short with me. Friday, 2/24, I was told that if it was not overnighted today it would most definitely go out in the mail.
Called today, 2/27, to confirm my title was in the mail. I was informed it had been mailed on 2/17 and must be lost in the mail so she was notifying title and registration to send me out a lien release form so I can go apply for a new title at my local DMV??? Are you kidding me? I expressed my dissatisfaction with TFS and a different answer to the same questions each day. It was explained to me there was nothing they could do as they no longer had the title. I also requested the number for their title and registration department so I could take care of this myself. Nope. They don't take calls. Surprise.
I let that sit a minute and called again. Keep in mind, same day and same question. This time I spoke with Jonathan who told me they have the title and would overnight it to me. I will not be holding my breath. When I purchased my vehicle I was going to use my credit union but let the salesperson talk me into Toyota Financial Services. BIG MISTAKE. I am soured on the product now and will not be purchasing a Toyota again and will NEVER use this financial institution. Save yourself the headaches. Don't use this TFS.

The Toyota Financial Representative misinformed and mislead me about a deferred payment that I requested on December 2016. I was told that I was approved and now our credit score is lower than ever. It was the miscommunicated and withheld information from their part that created this dilemma, which they now want to place the blame on us. I refuse to be their victim. I was in the process of renting a house and the negative mark that they created on my credit by this situation added to the decline of my ability to obtain our new home. It destroyed that for us. The credit dispute department makes decisions that only benefits them and elude to the fact that they are messing with people's lives.
Now they added that there was also an issue in my account in 2015. I totally disagree. The issue is being evaded. My satisfaction rate with Toyota went from very pleased to totally disappointment. I encourage others to constantly review their accounts and if able too, finance elsewhere before they too are misled. I am so ready to give back this vehicle since Toyota has already ruined what little salvaging I had done with my credit.

In November I paid off my lease early. In January I received a letter stating that I owed 2500 of fees and they had no record of the check that I sent in November. In a few days they had sent this to a collection agency which caused severe damage to my credit report. Learn from my mistake and DO NOT consider a lease with Toyota Financial.

I'm being repeatedly told I have a bill due. I call, someone say it will be corrected and then I get another bill. 1/7/17: I went into Baxter Toyota to speak with Bob ** about my Prius Lease that was going to be up soon. Neither he nor his manager, Joe **, could work with me on my price range. I said thank you and went to Gregg Young Chevrolet to see what options they had for me. 1/9/17: I purchased a new car from Gregg Young Chevrolet and they bought out my Toyota lease. 1/23/17: I received a letter in the mail dated 1/18/17 from Joe ** at Baxter Toyota stating there's still a remaining balance of $219.87 for my Prius lease.
1/24/17: I send the letter to Gregg Young questioning whether they paid off my lease. My car salesperson, Dave, says, "I talked to one of our accounting people and he gave me copies of your "Payoff" amount and the check that was actually written to Toyota for the payoff and they are the same $15,518.22. Sounds like it is a way to get you into the store to buy something from Toyota. I tried calling Baxter Toyota and they were in a meeting. I talked to Toyota Financial Services (TFS), they received final payment but couldn't apply it because of 2 pieces of information that they said they didn't receive. Signed payoff form. Signed odometer statement. Talked to our Finance Director and they will get both of those faxed over today. Payoff was received and it will be back-dated per Jess at TFS. "You should be good to go and don't owe any $. Let me know if you hear something in the future from them."
1/31/17: I check my TFS account to see if the situation has been resolved, it has not. First I called TFS, don't recall the person's name, he said I had to call my Toyota Dealership. Called and talked to Katie in Finance. I lost my cool when she said I needed to call TFS. Then she said Gregg Young hasn't paid anything. I rattled off numbers and dates to her about the final payment. Then she started looking stuff up on her computer. She had me call another number that went right back to the TFS automated system. I speak to Sam, he says Gregg Young didn't send over odometer documentation. I said they faxed it on the 24th. He puts me on hold for a few minutes. He comes back on the line and says they got it on 1/26/31 but it hasn't been processed. Sam says everything should be fixed by the end of the week. Katie calls me a few hours later to see if the issue has been resolved. As far as I know it has been.
2/3/17 Receive an email from TFS about owing a final payment of $219.87 for my Prius lease. 2/5/17 Check my TFS account 1 more time before writing to the BBB. It still states I owe money. I don't I owe this money, but if I don't pay it it's going to hurt my credit. I want this fixed. TFS is not affiliated with BBB and since the first bill I received was from Baxter Toyota my complaint is with them.
2/7/17 Baxter Toyota's reply, "When consumers trade vehicles, it is the responsibility of the new dealership to ensure everything goes smoothly, to include any payoffs, etc. I do not have enough information to have an informed opinion on whether or not Gregg Young has done everything right. They typically do. They are a reputable dealer in Omaha. That being said, we reached out to Toyota Financial Services and found the following: Toyota Financial received a payoff from Gregg Young on 2-3-2017. Based on the payoff Ms. ** may be due for a refund that she should receive in 3-4 weeks. Once again, this situation is out of our control and is between Ms **, Toyota Financial Services, and Gregg Young." I repeat that the first statement I received was from Baxter Toyota with the General Manager's name on it.
2/8/17 I check my TFS account again this morning. The home page says I haven't paid the last January payment when before it was a February payment they were after. The last payment I made was on 1/6/17, I even have a confirmation number. That payment was due by 1/21/17. I paid it well before the due date. So now my TFS account says I have a past due balance affecting my credit.

I urge you NOT to finance a vehicle through Toyota Financial Services. My experience has been one of a shell game. I feel as though I was the victim of fraud or a scam. I financed a loan for a Toyota truck through a local dealership. I recently sold the truck and paid off the $22,000.00 loan balance. Toyota confirmed that they received payment on 2/1. Since then, I have spoken with 6 agents and three "resolution specialists" to try to get Toyota to release my truck title to me. In EACH INSTANCE, I was assured that the title would be shipped and that the customer service rep would call me with a FedEx tracking number. Mind you, I had to open a FedEx account to receive those assurances.
I started working on this a week ago. As I write this, the evening on Feb 7th, I still don't have my title and it hasn't been shipped. I will file a complaint with the Better Business Bureau and the Vermont Attorney General. Vermont loves to pursue consumer fraud offenders. I will never buy another Toyota product as a result of this experience.

Horrible customer service. I can't describe to you how bad it is. Never ever uses company when I bought my lease. It was one time lease payments of $6,300. In the end I had to paying 7300 all the hidden fees taxes and disposition fee even though I bought a car from Toyota. My new car end up paying me $10,000. Will have this one forever.

I was told I missed a payment for a month last year. Went back through records and I show payment. This place is right up there with DirecTV and they're already taking a beating throughout the country for their billing practices. TFS is tricky this way too. Go to your local bank or credit union and save yourself a lot of heartache.

These two companies (Stevenson Toyota and Southeast Toyota Finance) are horrible. They are liars. They also take great pride in being exemplary scammers. They are exceptionally skilled in being able to make people pay more money for their vehicle than they'd agreed to. Customer service sucks. Maybe they think enough people need cars that they don't need to provide good honest service. Don't go there!!

Shout out to everyone out there. Don't finance through Toyota Financial. Their payments process takes forever because they use a third party to do the payments. None of the representatives know what they doing. One person tells you one thing and next time you call the other one tell you different. You'll better off finances through a bank.

Our son's 2016 Toyota Tacoma sr5 was totaled in Nov 2016. Call was made to Toyota Financial Services on Dec 1, 2016 and our son was told that the insurance and gap insurance would cover all from date of accident. However the other drivers insurance failed to pay off until end of December and Gap coverage was dated 1/5/2017. Now Toyota Financial Services are stating that there is a balance of 345.57 for the December 2016 payment or they would send to collections and that would affect our credit rating... I paid and will take the issue to the Better Business Bureau and the National Safety Protection Agency as the Tacoma's truck frame buckled in a low impact rear end collision that caused very little damage to front end of the striking vehicle. Please reconsider any leasing or buying options with this company.

My car was spotless when I turn it in, and the dealer said that because I am getting same car again, make and model, will NOT have to pay anything at all. No excessive miles or wear and tear, my surprise later. After a month I received a bill for the amount of $362.45. I can't get no one on the phone to dispute this charges. I was never even hear of wear and tear when I deal with the same company buying same type of car. Like I said my car was spotless, no damages, new tires, no dents, etc, and I had it detailed before I turn it in. Who in the world I can complain. I do want to dispute this charges. HELP! HELP! HELP!

My mother had financial problems and she had to returned her Toyota car. She went to the dealer and she returned the car. She was told then nothing else was needed to do and her credit score it will be affected. At the due date of the returned car $497 was drafted from her bank account. Toyota Financial was called to let them know that the car was returned 3 weeks ago and a refund was needed, why she should pay for a car that she doesn't possess anymore? She was told that the money could not be refunded because they were not aware that the car was returned. The following month she started receiving several calls from Toyota Financial stating her payment was past due. She explained again that she doesn't possess the car anymore for 2 month already and she was informed again that they didn't received the car back yet and she was still responsible for the car payment until they get the car back.
She went back to Toyota dealer to find out what happened with the car and she was told that her car is still with them because Toyota Financial didn't repossessed the car yet. She explained the situation to the seller and she was told if she didn't want to go to collection she should make those payment even if she doesn't have the car anymore. Already passed 3 month and my elderly mother is still receiving threatening phone calls from Toyota Financial almost every day to make payments. The car is still at the dealer and after thousands of phone calls to Toyota Financial and Toyota dealer "No one" could help her to resolve the problem. We don't know what to do anymore.

I have had a car since I was 21 yrs old. I am 36, so you can see I have been a car owner for over 10 yrs. I have never worked with a financial company that operates on being rude and unreasonable. I fell ill in June of 2016 which put me behind on payments as I also need to pay rent, insurance, and take care of my son who is still in pampers. I called customer service to inform them that this month in June I would be short but to no avail. I did not receive assistance from the rep. I have been paying my car note but I am backed up and pushing things out until I can get back on track with my taxes.
Recently I have been contact by Toyota and they are really nasty, rude, and the manner in which they feel they can speak to customers is ridiculous. They lack the customer service skills to actually assist or work with customers at times. I feel they live off of threatening a person that they will repossess their car. The reps will say "we are working with you but what happened that you fell behind." If they record all the conversations and they type up their contacts I do not and repeat do not understand the miscommunication of why they are not aware of why a person falls behind. They really need to get it together. Most financial agencies assist you right away because they understand things can occur in life.

I was relieved to see others have experienced what I have. After my vehicle was released from a chapter 13 bankruptcy, I was informed by lawyer to make payment arrangements with them. The first time I called them my vehicle was discharged yet, back in Nov. 2016 I did talk to them and they were nice and told me I could make arrangements and to check back in a couple weeks. Well a couple weeks later in Dec I get the cure to default letter with a due date of payment the week before as if the letter got lost in the mail or something! Weird! I sent them a payment and sent a letter I will be paying more. I hear nothing from them.
I then call them this month in Jan. all to learn that it has been sent for recovery to be repossessed. News to me! And that my payment had been sent back! Have not seen yet! I have also called them at least 4 times, and 2 of the calls they were nasty about the repossession, which I was willing to payment arrangements, however they will not! I was told by my lawyer if I contact them I should be able to make arrangements. Not the case with Toyota! A matter of fact I feel like they immediately sent me to repo right from the beginning of being discharged! I feel like they didn't give me a chance, and I even sent them payments!
I am also a single mom of 2, and just what am I suppose to do if they repossess and try to transport my kids and get to work! They are going thru loopholes I feel and getting away with illegally repossessing vehicles by avoiding to agree with payments and probably training their customer service in-house on how to do this. I have worked in customer service and I know the rap and Toyota are being rats! I will never do business with them again ever!

I wish I could give 0 stars! I would never buy a Toyota simply because I DO NOT want to deal with these people ever again - very disorganized, disrespectful and dishonest. Associates and supervisors are trained to throw lies at you. They are making this buy-off process the most horrible experience of my life. Be aware - THEY ARE HORRIBLE!

In spring and summer of 2015 The Houston Gulf Coast had flooding over a period of 3 months. Toyota contacted me and MY Daughter about helping each of us with 2 month extensions so we could clear our homes, property of water and also get to work after flooding went down. We were told by Toyota we could take 2 month Extension at which point we were sent agreements By Toyota to fill out then return. Surfside on the beach where our mail came and our home was almost impossible to get to for over a period of about 3 weeks. I called Toyota. They sent the forms again but to my alternate address in Tomball TX. I filled out form and returned it to the company.
I waited till my next payment needed to be processed, I was told by the lady a Toyota they were glad I called that she needed my vehicle returned to Toyota as I was 2 months past due plus month due in 3 days. I was being repossessed because my form didn't get back in time (that would be the correct form I was finally sent 2 weeks after they said they sent me wrong form to start with). She did not care if it was Toyota's fault. I offered to pay those month but I would have to wait a week to make sure my direct deposits got transferred to my new bank account. She said no that I was being repossessed. Then hung up. Several weeks later a man came by. Told me to give him my truck. I told him "Without a court order no." He left and 1 week later I received a letter informing me that my extended warranty package $1800. Was applied to my account (at the back end).
Now Toyota wants 4 Months. My Daughter was financed with Toyota also. HER 2 other extensions were bt. She was in college so I used my account, made a payment on her account and Toyota without telling her removed payment and applied that to my Toyota account??? I called, ask for a address to their legal DEPT and lady hung up. My attorney had me put vehicle in bonded storage and said wait for someone to serve papers. That has been over 16 months ago. Toyota has sent nothing or had anyone look for me or call. Additionally my credit score went from 715 to 535. Now some guy is calling my kid's and ex-wife pretending to be a policeman looking for me but my number is same, address same and I've been home early all the time since this started. I am considered 100% DISABLED BY THE MARINE CORPS. My Attorney has even called with no response.

I purchase a car with gap insurance was finance by Toyota. I recently refinance. I cancel my gap insurance. In August was told In several weeks I will receive my refund. I had taken time off to go to local Toyota office in West Palm Beach after calls were not return on numerous occasion. It's now month of December. I decided to visit the office again only to be told that check was mail which I never received and a stop payment will be made on check and I have to wait a few more weeks to receive another check. I am totally disappointed. I would never buy another vehicle all because customer service the day you are there to make a purchase everyone is nice. After the purchase is difficult to contact anyone.

I paid my truck off on November 8, 2016 and gave them some days to process the payment, expecting my title to be sent to me. I called them a couple of weeks later to be told that my title was sent to the state's DMV in which I was living when I paid the truck off. I didn't understand that so since I had recently moved from TN (where I bought my truck) to FL, I went to FL DMV who confirmed they didn't have my title. I then called TN DMV who confirmed they didn't have my title. I called back to be put on hold forever.
Their customer service is HORRIBLE, I have been on hold as long as 40 minutes to speak to a customer representative. When I called back, I was told it would take 30 days to process the title. I corrected them and told them that was incorrect because I had been previously informed it had already been processed. A few days later, I called back and was told that that the lien was closed out on the 12th. Since the 12th was a Saturday, I was told the title was mailed out on the 14th and I should received it shortly.
By the 28th of November, with no title, I called back and waited on the phone again for 30 minutes. This time I requested to speak to a supervisor. I was then told it was mailed out but that the apartment number was not on it. I told them that was their error because my address was correct in Toyota's system. They confirmed that it had not come back to Toyota but I didn't have it either. I was then told they could only print one title but they would send the paperwork needed for me to be able to get my FL tag.
As of today, December 5th, I have nothing. I called back today and was on hold at least 40 minutes to talk to a different supervisor, Candace, who was not helpful and somewhat defensive. Nevertheless, I was told more of the same lies today and they stated that the second piece of paperwork was mailed out last week and that I needed to contact the post office. Really??? I am so over it because it shouldn't be this hard to get MY title. They didn't take four weeks to process my payoff payment and I want my title. Any suggestions on what I need to do because my current tag is expired now dealing with all of this. Regardless of good rates or not, I will never finance anything from them again!!! THEY ARE HORRIBLE!!! And from previous complaints, unfortunately this is normal behavior - such a travesty!!

I recently moved to another state, and have been trying to get my title and registration set up in my new state for about two months. This has been impossible to do because TFS continuously claims that they are not receiving the requests for title transfer from both myself and the MVA. I even faxed the request ten times from work one day, all faxes confirmed that they went through. Emailed customer support, still nothing. Now my tags are set to expire from my old state and I still do not have my title and registration set up in my new state. This is absolutely the most horrible customer service I have ever received and the people on the phone just read off of their script and do nothing to help resolve the problem. I even emailed the dealership where I bought the car and asked if there was anything they could do to help me or if I should just contact a lawyer (no response, of course!). I will NEVER buy a Toyota ever again.

I had turned in my 36 month Corolla lease to Mazda in September 2016. Mazda had agreed to payoff my remaining lease payments since I still had until February 2017 with the corolla. They advised me I might be assessed a disposition fee which I was ok with paying since I termed my lease early to switch to mazda. About 3 weeks later, I get a phone call from an unknown number asking me to pay $272 that was remaining on my TFS account. I said I didn't know who she was and I never received a statement, but if she would like to send one, I would pay it. She seemed annoyed by this, but why would I pay a random person without knowing what I am paying for? It took about 2 weeks from Toyota to receive this statement, but I reviewed it and thought it was my disposition fee so I called and paid it. The rep I spoke with said my account was clear and I was all set.
Well, about another 3 weeks later I get ANOTHER statement from Toyota this time asking for $378! I called them to question what this payment was for? The rep told me it was for the disposition fee. I said I just paid $272 a few weeks ago and I was told my account was clear? The rep said "oh yes, I see that payment, it looks like you overpaid and are due a refund" but she was going to check with her team lead and call me back with an accurate answer. She said if I didn't hear from her to call back within a few days for status. Since I never heard from her, I called them back and asked what the outcome was. The rep I talked to said it was reviewed and I was NOT due a refund.
I then asked why I was paying $272 anyways, they told me that Mazda only paid 4 out of 5 lease payments. I said but I was there when they called to get the payoff amount and why would they only pay you 4/5 payments? I was then told I could call Mazda and work it out with them for a refund and that Toyota wouldn't be doing anything and where do I think I'm getting a refund? Umm because that is what your rep told me?
I called Mazda and spoke with the finance manager who worked on my payoff, and he said that was the amount given to him on the automated system. I called Toyota back and they said there was nothing due back to me, so there was nothing left to dispute. I asked to speak with a manager after getting huffs and puffs from the customer service staff and it took 2 days for them to call me back only for the manager to be BEYOND rude. I asked that I have statements sent to me showing all payments I've made toward my lease and then the payment from Mazda.
After 2 weeks and still not getting those statements, I called back asking that I get an extension on my disposition payment since I was waiting on statements to review before I paid them anything more. About a week later I am now just getting these statements. After looking, it shows I've made 33 payments. Mazda has paid 4... something just doesn't seem right. So when I called again today to question this the rep kept talking over me, telling me I'm not getting money back, And I don't have a reason to be mad, which was just infuriating me even more. After I told her I needed to break the payment up into a few payments she said I could only have until December 6th for a payment plan and that I couldn't pay with a credit card.
I will be calling again and bring this to corporate's attention if need be because the way I have been treated my Toyota Financial reps have been so disrespectful, making me look like I'm the idiot, and that I have no reason to be questioning where MY money is going. I will never buy a Toyota again in my lifetime or recommend them to anyone looking for a car.

It is very bad experience to deal with Toyota Finance Services. We visited the Yorkdale dealer 2 weeks ago before lease expire, they perform the pre-inspection and there is nothing required to be repaired, however they asked 2000 dollar for dents which are smaller than repair size. After almost 2 months, they performed another inspection by third party and sent us a bill with more than 1500. We told them we have the pre-assessment and the inspection result cannot be accepted after 2 months since we returned the car. Now we have to go through small claim court to resolve it.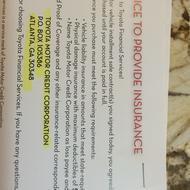 I have financed all my Toyota through Toyota Financial Service and with my last car I paid 0.9% financing! They are a terrific company to work with and offer financing that is so much lower than other companies! I like to make payments one month in advance and they have been great about letting me do this by sending my bill to me one month in advance! Thank you Toyota Financial Services!
Toyota Financial Services Company Profile
Company Name:

Toyota

Website:

www.toyota.com