Consumer Complaints and Reviews

Had my Taxes Done. They lie about what your fees will be. Do Not Have your taxes done here. You'll play hell getting your money off your American Express. American Express is what's used mainly in overseas. It's not widely used in United States. Read on of issue of the American Express is because all your information is going to another country. A third party lender. Once you get down to 10 dollars on your card you can't get rest off it unless you have an account where American Express is used. They lie about fees. There's numerous fees associated with this company. What was suppose to be a 250 fee turned into a 540 fee. Had a lot issues getting my taxes done. Stay clear of this place. You'll Regret going there. You can get your Taxes done elsewhere for way cheaper. Mine was done Feb 2016. What a Bunch liars and rip off. They should be sued.

I get my sister file my 2015 taxes, I was happy get done then I get letter back from IRS showing someone else name and ss number. I call my sister so she what happen then told she going fix it. Then month later I get another letter from IRS. I had to verify who I was. Now I am trying get my money but when I go to Jackson Hewitt they never there or when I call never answer the phone. I have went to IRS place get things right. They have everything right. Told go back to place. Then Aug 3 had me check with right name and address still wrong ss number. They void the check send it back. When I talk to Jackson Hewitt republic bank they told me they have send check back to IRS so they get right. When I call IRS they told all they have to do is cut another check with right ss number but jackson hewitt republic bank told me they have send back then IRS get with you.
It's Oct now still have not get no money from them. I am tired of this. Where is my money at. I work everyday nothing show for it. When jackson hewitt republic bank told me on phone that send money back to IRS on Sept 9 now month and some later. I have not seen nothing. When I call to jackson hewitt on Ramada Rd she never there or don't answer my call. When I do get hold her she have everything say nothing show for it. When I check IRS website showing they have my money. They having me go around the circle with this. I am tired. I need help get my money that I work for. I will never going back to jackson hewitt. They are wrong and hated I used them this year. Never again. Never trust someone. Never again.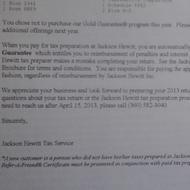 They did my 2012 taxes in 2013. The tax preparer did not include money of my W-2s and said, "You have a $6K refund." We were so excited. We had moved in 2013. In 2014, when we filed with H&R Block, the tax preparer had skimmed over our previous tax year, which I love about them, and found we owed because Jackson Hewitt did not input my W-2. We didn't have any money to pay the IRS and just kept to ourselves that we owed because we did receive the money in a lump sum.
When we finally received a letter from the IRS in 2015, we noticed that we were being charged fees and I figure it was time we call Jackson Hewitt because it was not our fault they did not input my W-2. My husband spoke to a woman named Linda in January of 2016 (moved again), who said she would work on it for us. She never got back to him. I just called today and the woman said it was passed the 30 day contact date and the 3 year guarantee date. That's it? Nothing? It's now on us? I will no longer use Jackson Hewitt and I will sway everyone from them. In other words, you have to know the ends and outs of tax preparation in order to find out if there is an issue with your taxes to begin with. They are banking on your ignorance.

I got rejected by the IRS two times, and each time she would say it was this or that, but definitely was her mistakes! I was supposed to receive my money on the Emerald card but received a check instead. Also referred two customers to them, and told I'd receive a 50.00 check in May. When I called to ask they were rude and had no such knowledge of this. Why are they not being investigated with all the same complaints from past customers? We are victims is what we are!!! I'll never ever even consider using them again!!! Hustlers in Disguise.

The district manager or Aruellia ** keep leading me on and leading me to believe that I was going to receive the money with that was not returned to me. I've been waiting for 2 months, still no word. I've left her plenty of messages. She's always busy. She never wants to get back to me for some reason. It seems like this lady does not want to help me, so therefore, this review is the way this review is - no stars, and she just seems like she does not want to help me for being a tax preparer, thinking they would. I got no satisfactory for my taxes for 2016 and the reason for this bad review is also they made several mistakes, not on my part, their part on my income taxes not once, not twice but three times.
How do I know I can trust these reviews about Jackson Hewitt?
633,951 reviews on ConsumerAffairs are verified.
We require contact information to ensure our reviewers are real.
We use intelligent software that helps us maintain the integrity of reviews.
Our moderators read all reviews to verify quality and helpfulness.
For more information about reviews on ConsumerAffairs.com please visit our FAQ.

I am going to start off by saying that I am highly disappointed in Jackson Hewitt. I paid for the Gold-guarantee. Filed my taxes 02/19/16 and still do not have my refund due to mistakes made by JH. I am still being hit with surprises that are resulting in a further delay of my refund. I have filed complaints demanding my fee paid to be returned to me. They first sent me a check for $200 back in March and then a check for $258 just recently. I paid $518 to JH and was told that I would receive all of my fees paid. Why are they retaining the rest of my fee? I am waiting on an answer to that. Below, I have mentioned some of the situations that I have ran into (so far).
My husband and I being in the company of a JH staff member whom made a prejudice remark while we were wrapping things up with the preparer. Having to return to the JH office on several occasions after being called by preparer that forgot to sign a section of the return or forgot to tell us to sign/initial a document. Contacted by the IRS stating that my SS number and name was an issue. Preparer not advising the use of my legal name and married name correctly. Being told that the Injured Spouse form could not be filed electronically. Finding out on April 21 that my Preparer told me to send my state return to the WRONG ADDRESS. JH COULD NOT RETRIEVE MY TAX DOCUMENTS - I had to send my copy to them for them to tell me what was going on.
Finding out by local JH manager (transferred to after 3rd complaint was filed), that I was shorted roughly $400 because my preparer plugged in the wrong information on federal return. Manager did amendment and told me that sending it in would not further delay my return already being processed. Just found out today that my amendment was received and that I would have to wait an additional 16 WEEKS before I get my refund. Just a disaster. I would not recommend Jackson Hewitt to anyone. This situation has affected my livelihood. I am waiting on a refund of $6000 that I desperately need for many things, including summer care for my children. Parents - I'm sure you can relate!

I file my taxes February 3, 2016 with Jackson Hewitt. Biggest mistake I have ever made in my life. It took 4 different people making huge mistakes. Here it is May and I am still dealing with Internal Revenue. As the result of their careless ongoing mistakes it has affect my health insurance. I am so done with Jackson Hewitt. The Gold seal means absolutely nothing. They should refund our money back from the first time we used their lousy service. I give them a 0.

My 2015 Amended Tax Return was filed with the Jackson Hewitt office on Sycamore View Road in Memphis, TN on March 21, 2016. I was told by the tax preparer that my return would be picked up by UPS the following business day. To date, the IRS has no record of my Amended Tax Return. I've made repeated attempts to contact Jackson Hewitt via telephone and email, to only receive automated responses. When I speak with people from customer service, their only response is that they are "only the call center" for Jackson Hewitt and cannot access my records.
Three days ago, I was told by one of the representatives that she in fact located my electronic documents in their system, but couldn't understand why they were never sent to the IRS. She further stated that she would overnight my Amended Tax Return to the IRS, and that she would even send me a screenshot of the tracking number. I've yet to receive it. I've been a customer of Jackson Hewitt for nearly 10 years, and this tax season will be my last business with this company. My family has been extremely inconvenienced by their unprofessional behavior, and I'm now in the process of seeking legal recourse to recover my $2000 refund plus filing fees.

So I filed my taxes with Jackson Hewitt 04/03/16. They took $280 from my account, 5 weeks and 3 days later I contact the IRS where they tell me my refund is nowhere to be found on their system. To call Jackson Hewitt and verify the information. Funny thing is the only "customer service" phone number is a store locating number that directs me to a voicemail. How am I supposed to get answers? This is unacceptable and I will turn this into a legal matter. Do not trust these people with your money. They are nothing but a bunch of thieving liars!

JH did my taxes 3 years ago. They made a mistake with my forms. Got a letter from the IRS saying I owed them 7 grand. Contacted JH and went to their office with my paperwork showing their mistake. Promised they would pay the interest and penalties. Guess what, after several visits and phone calls nothing happened. Still waiting for that check. I have reported them to the IRS and the Better Business Bureau. The IRS was very interested in this company.
Updated on 05/03/2016: I was advised to mail the letter I received from the IRS so that I could a check for the interest and penalties. Well I called the office where I got my taxes done, they are closed. Cannot send mail because of that. Went to the office on High Street in Pottstown PA, they are closed. Guess the joke is on me. I knew they would not take responsibility.

Took all supporting documents to file before deadline and sat with preparer for hours. He was going to have the return reviewed by his partner. Have not heard anything since, and the deadline has passed. I feel like my taxes are being held hostage with no ransom note. I have made many calls, left many messages and today I left a message that I am considering filing a complaint. I do not have an invoice, so therefore have no receipt.

I had my taxes done on Jackson Hewitt on March 25 by ** on 8280 N Cortaro Rd, Tucson AZ 85743. Last four of the SS **. At that time I was told I would receive a 50 dollar card from Walmart and my daughter Angie ** would get 25 dollar card from Walmart for referring me to them. Today is April 27 and either of us have received the cards. We have called and talk to many rude people about this problem.
Now they are saying it's my fault because the person that did my taxes entered my E-Mail address in wrong and I was supposed to have noticed that before I left. Well after all the questions and all the stuff you go through when you have your taxes done I guess I should have noticed the error but the person that did my taxes should have copied it down correctly. She was the professional - not me - that's why I went there in the first place. Now I question the accuracy of the tax forms they did.
If you can't copy an E-Mail address correctly did they mess up my taxes?!! My daughter and I have call and asked about the cards and talked to mean nasty rude people and after all that my E-mail address has not been changed. I'm so tired of calling people and having to explain the same story and being treated like I'm lying or that they never heard of such a thing. Don't these people have a records of my calls, somewhere, on my account???
After all of this mess I don't think I will be returning to JH next year and me or my daughter will not be referring anyone to your services in the future. I have been in customer services for years and if I would spoke to anyone the way I was spoken to I would have been fired. My opinion is if the customer service people are so rude and nasty to people, the company they work for is not a nice place to work. I can't even rate my experience with JH because it was so bad.

This is the second year I have used them. As I labeled my review, EXTREMELY POOR CUSTOMER SERVICE. First of all to be called Honey or Dear is wrong by a tax representative. Entitled to a gift card but I had to makes several trips back to investigate and finally receive, charged twice for their service on my MasterCard payment, promised several telephone calls but never received any and now after more than a month since my taxes were done still attempting to resolve their double charge. Extremely upset with the representatives I have had to deal with and these individuals should be scolded on their customer contact. Hopefully their duplication of charges with soon be rectified.

I had taxes done at Jackson Hewitt and spent over 200$ which according to ads I should have received a 50$ gift card but was told not available because his bosses don't like to give out free stuff. I was also told that I would get a paper check faster than direct deposit so I agreed and when check was available I went there 3 different times over 3 days only to find out location had closed in the middle of tax season. Took me 2 weeks to track down check and not only that I also received a letter from IRS that I have an additional 500 coming to me because taxes were prepared wrong. I tried contacting a district manager and was told every time that they would get back to me within 24 hours and still to this day, 2 months later I still have yet to get a response from management. The whole experience was very frustrating and disappointing.

I have used Jackson Hewitt for many, many years. This year has to be the worst experience I have ever encountered. I will never use this service again. I would not recommend this service to anyone as well, as I have in the past. For one, I was told I was getting back a certain amount after the fee of which almost was in the amount of about $400 bucks. I would have never in a million years have signed that tax paper if I knew my check would be half of what the tax preparer advised me it would be. I work all year and I would not want to have to give half my check to Jackson Hewitt.
Then when I tried to resolve the issue after receiving my check the preparer basically told me I was ** out of luck. So I let that go. Now my State was held for 90 days and finally processed, and now I can't get anyone at the damn office to give me my check because no one is there. I called Corporate yesterday to see if they could have another branch deposit into my account and of course that could not be done. Now I'm waiting for MY money that is being held by your corporation. Jackson Hewitt is on my list of DO NOT USE. This company has made over $5000.00 or more off of my services and hard-earned money throughout the years and this is what I get in return.

I have used this company to complete and file my taxes online twice. I am a full-time student working part-time. Last year I used the free version of the software, as an option of the irs.gov website for those with low incomes. I ended up owing hundreds of dollars despite making about $20,000 a year seemingly because I had to pay taxes on my scholarships. (Before this amount was entered I didn't owe anything.) This year, I again visited the irs.gov website and selected their service. I was taken to the website, clicked on "do your taxes for free", and I signed in and began my taxes. Upon completing the taxes I was happy that this time I was receiving a refund. But then I also noticed that instead of using the free service, I had been using the premium service. I tried to get customer service help on the chat app of the website, but did not get contacted by anyone. I wanted to see if I could use the free service and likely still get the same refund.
Without any customer service I filed the taxes. After filing the taxes, and going back to the site to check on their status, I saw their homepage had the price breakdown by various editions and that they had somehow automatically started me on the most expensive, and unnecessarily complicated version of their software. This is poor customer service, and the process seemed misleading since I was automatically given the premium service, despite starting the process through the "free" link. They have made their page unnecessarily difficult to navigate through the price and service options.

My husband did our taxes there this year. I seen a sign, lots of them saying you get a $50 Walmart gift card. Which we didn't get. But today I went to their site and saw taxes had to be done by march 31st. That's OK but then take down your signs. I found it slightly misleading. Spent 280.00 to have them done and I understand it's my fault for not visiting the website to see the dates of the offer. Just felt slightly misled by signage not removed. Boo. Will return to H&R Block next year.

I e-filed both my federal and state tax returns with this company. I was sent an email that my federal tax return had been rejected and I needed to go back into the website to put in my Adjusted Gross Income from last year or my electronic pin from last year. Well, I had no electronic PIN so put in my AGI from last year's return. I got another email that it had been rejected. I did it again and it was rejected again. I then called the local Jackson Hewitt office who told me that they did not handle online e-filing and to call this 800 number.
I called the 800 number and spoke to someone named "John" who would not give me his last name. So called John was of zero help and told me to call my local Jackson Hewitt office and get help from them. Remember this is the office that gave me the phone number to "Zero Help John." I told him this and he told me to log on to the site that I had already been on to file my taxes and get information there. I then clicked on phone support that stated that I would have to pay $74.95 for their deluxe edition. What a ** website... And what a bunch of idiots behind it. I will now do my taxes on my own and avoid this frustration. I urge consumers out there to not use this company!!!

I am a previous customer who has used Jackson Hewitt before. I dropped off my taxes to my local Kalispell branch yesterday at 3pm. I emailed my W2 at 3:30pm and then called to speak with the branch manager. She was unavailable so someone took a message for me and said the manager would call me regarding my W2 and taxes. I did not get a call back. I called several times last night to follow up and could not get an answer.
I called many times today, even calling another branch and still no call. At this point I have heard nothing and no one has gotten back to me, my taxes are not filed and I am very upset as we are now past the deadline. Kim the manager never called me back. Needless to say I won't be using Jackson Hewitt again as they are unreliable and do not follow up with their customers or even answer their phone. I would like a call back from corporate regarding this. But I would not be surprised if I hear nothing, based on my experience so far.

DO NOT I repeat DO NOT and again DO NOT USE THIS "SERVICE" TO DO YOUR TAXES!!! I've used another online service in the past, but they were getting too proud of their service IMO so I moved on elsewhere. I only even use online tax websites because it's faster than forms and I can do all the filing and paying online and simple. I guess not, anymore. So, enter Jackson Hewitt. I've heard of them, figured a large tax preparer should have their ducks in a row. Nope.
My first indication to stop and go elsewhere was entering information for my Schedule A, and then the program not using it to calculate my taxes due. Uh... I didn't just enter all that because I felt like it. No, had to find the spot to change it from "Standard deduction to itemized deduction" rather than it figuring that out on its own that it would make sense to use my Schedule A information.
I seriously should have stopped right then and there, and gone somewhere else. But, I was stupid and I didn't. MY mistake. So I go back to review and file, now that I'm all prepared to, and guess what? I go through each step, click continue... and continue... and so on... enter last years AGI for verification... at no point am I prompted to enter my account information. Next thing I know, I get a screen saying "Success! Your taxes have been e-filed!"
Success? Seriously? Ok, sure... and how exactly do I now pay the IRS what I owe them??? I'm not kidding here, one worthless chat window, 5 phone calls, and 8 people, and one hour later, I finally speak to a person at Jackson Hewitt with somewhat of a brain and he directs me to the IRS form I will need to file, there's no other option given. Great. So I go off on my own, and lo and behold... the IRS has a way to e-pay them right there. It's a two day delay because of time of day, but supposedly I'm not going to get hit with penalty or interest. We'll see. I would never recommend these clowns to do your taxes, they flat do not know what they're doing. Period.
Updated on 04/20/2016: I wrote a review on Monday, the real April Fools day, and I also wrote an email to Jackson Hewitt at the link they provided me in an email sent to me. Well, this is the response I received: "Sorry, we were unable to deliver your message to the following address: Mail server for "jacksonhewitt.com" unreachable for too long". So contacting them via email is, obviously, a total waste of time. Good luck if you decide to use this worthless company.

My experience with Jackson Hewitt was horrendous. I paid $186.00 for horrible customer service. I thought Jean was a nice older lady who knew what she was doing, however I later found I was wrong. A few hours after completing my taxes Jean called me to tell me she needed me to come back in because of a discrepancy. We took care of it and told her I didnt receive my $50 Wal-Mart gift card. As the sign reads INSTANT Wal-Mart gift card. She said now that my taxes are complete I'll receive it. I waited a day, called and spoke with Mary who was very rude. She said because the tax transaction was put on hold I wouldn't receive the gift card. I told her that I shouldn't be penalized for a mistake I didn't make. After days of calling and getting nowhere I stopped in. I spoke with Jean, she said that she had to call the general manager but she was too busy too and her current customers were her priority not me.
I explained to her that I am a customer and I just wanted them to follow through on what was promised. I asked for the general managers number so I could sort this out myself and was told she's not allowed to give that info out to anyone. Well finally I get a call from Peter the general manager. I can't get the gift card because of a technicality and that I was acting like a crackhead over $50. I was understandably upset and honestly very uncalled for. (I know that I can be very rude but on that occasion I was cordial. Well nice enough anyway.) I do have his number and occasionally when I'm angry I call up good old Pete and say obscene things to him. It brightens my day!

Have been with JH since 2008. No problem. Used same rep til 2014 tax season. Filed on Jan. 31st 2015 with Mr. ** as my tax rep. No issues. Got my $50 Walmart gift card and received my state refund within a week. Was told my federal would take up to 21 days. Three weeks later I'm informed by the IRS that I didn't submit a 1095 from the Healthcare Marketplace. When I asked Mr. ** why I wasn't told that I needed this he said that the "new" tax laws aren't made available to them till the end of Jan. and I filed too soon. (Huh? Don't I pay you $500+ for this info?) When I fax my missing info to the IRS, they released my refund within a week. Fast forward one year...
I returned to Mr. ** March 3rd 2016. We had a laugh over the debacle of last year. Had three W2's and two 1095's. One for me. One for my son. I watch him physically scan my paperwork. I sign off on it. Ask him if everything is in order. He says yes. 28 days later I go back because I've yet to receive my federal refund. Again. He gives me the IRS hotline number (that tells you zip)... When I check my mail that night? A letter from the IRS. Again. Telling me they failed to receive my 1095's. Again. Of course, the IRS tells me to fax my missing info in with the understanding that 1. They can't tell me when or if they receive it 2. It will be 6 to 8 weeks before I receive anything. I would have been better off doing my taxes by snail mail! I called the JH customer complaint line. Was told a rep would call me to discuss my issue. It's been a week. So what is my recourse? It's now April 15th! (How ironic!)

Like many other posters, I wish I had read reviews prior to using Jackson Hewitt services. The Maximum Refund Guarantee and the Accuracy Guarantee policies are non-existent. In order to enforce these policies, your tax preparer must make copies of every document/form you bring in, regardless of whether it is being used or not. Otherwise you as the consumer, have absolutely no proof that these documents existed at the time of service. You must then rely on the moral standards of the tax preparer to admit when they have made a mistake.
Our experience: We are new to the New Richmond, WI area and thought we would give Jackson Hewitt a try, even after years of using H&R Block and TurboTax. When my husband made the appointment, he was told that our somewhat complicated return would be doable at this location. The day of our appointment on Feb. 2, 2016, there was a snow storm in the area, but our tax preparer assured us that she would be willing to assist us. When we arrived we brought in a file folder of documents including our W-2s from 2 different states, Roth IRA withdrawal forms, mortgage interest forms for the house we sold and the house we bought, student loan interest forms for both of us, our entire moving company packet (which included the final payment receipt on top), and a sticky note with our childcare credit EIN and company information (our daycare does not send out forms).
We had forgotten our daughter's SSN, which my husband drove home to get while the tax preparer worked through our return. In the meantime, we asked if the HUDs were required since we sold a home in another state and bought a home here. She assured us that it was not required. In talking with her, her coworker piped in and gave a look like "wow, this is going to take a while." Just in conversation we mentioned the various documents we brought in. He then offered to stay to help our tax preparer, but she again assured him that there was no issue.
Fast-forward to an hour and a half of talking about why we moved to the area (which was to be closer to family and leave my job to stay home with our children), our year and a half year old daughter sitting on my lap, our new baby arriving in June, what a blessing it has been to move here from across the country, etc… She then tells us that our deductions do not add up to $12,500 (I don't remember the exact number required for a standard deduction); therefore based on our income we do not qualify for a standard deduction. The amount we were to get back from our federal return was $19 and $116 back from the state of WI. The only deductions she would use was the Child Tax Credit, Moving Expenses (which only includes our mileage, not the actual amount we paid from the final receipt), and our maximum Student Loan Interest Deduction.
We questioned her naming off all of the other forms we brought in and mentioned that we had made almost $40,000 less in 2015 because I left my job in July and my husband took a pay cut by moving here. We questioned her over and over again, in which she tried schooling us on what we should claim on our W-4s. Her conclusion was that we would get a bigger return if we claimed 1 or zero, instead of 2 and 3. We then explained to her that we understood how the W-4s work and we have never had a problem receiving a larger return on our taxes. She was very very insistent that she was correct.
Hindsight being 20/20, we should have gone with our gut instincts and just said, "thank you for your time, but we will be having a second look." We brought our documents to a local H&R Block for a second look, but they were too busy to complete it. I picked up our documents after 7 weeks of waiting and brought our documents to the H&R Block in Somerset, in which they finished our amendment within the week. They found an additional $927 in our federal return and an additional $316 in our state return.
I called our Jackson Hewitt tax preparer to tell her that we had a second look and there is a huge discrepancy compared to her work. She gave me the name of her district manager, located in Bloomington, MN, named Curtis and an extension for him that did not work. I called her back to get the correct extension, in which she suggested he call me back. I said that would be fine. Then a few minutes later, she called me back saying she just got off the phone with him and he would like us to bring in the paperwork. My husband dropped off copies of the paperwork the next day.
The following day my husband receives a voicemail from our tax preparer stating that we didn't bring in the correct documents and we provided different documents to H&R Block. Therefore we were not eligible for the Maximum Refund Guarantee. I then called to leave a message for Curtis, because obviously something didn't add up since the only additional documents we had provided were the HUDs from our homes (again she told us she didn't need those at the time).
After waiting 2 business days for a callback, I left another message for him to call me. He was supposedly out because of a personal emergency. Another day goes by, my husband calls to speak with Deborah or Debra, our tax preparer's manager in Bloomington, MN. She called him back and would not let him explain the situation - just kept talking over him placing blame on us. She literally used the word "inflated" and told him that we were just trying to create some sort of ploy to get our fees back. She also mentioned that Kathy called her to warn her that we were really upset, in which we were not upset until we couldn't get any answers from Curtis.
I'm sure unknowingly, she was talking to my husband, a healthcare professional with impeccable career references, patience, and integrity. The career I left behind was a Branch Manager at a credit union on the west coast. I understand when employees make mistakes, sometimes it's difficult to comprehend, but you must always listen to the other side of the story, from there you would draw your own conclusion. If Deborah had taken a step back to listen, she would realize that a conversation based on our home ownership history with our tax preparer had taken place, therefore we would know to use our Mortgage Interest as a deduction. This is assuming the tax preparer was listening to us.
After moving from across the country, common sense would tell anyone that it costs way more than $905, as our tax preparer had entered. The main deduction that kept coming up with Deborah and the tax preparer as an argument was the childcare credit. Any one professional would ask or assume that there is a childcare credit based on the parents' field of work and their overall reason to move. This is called "getting to know your customer." We had provided the information, with which it was not used as a deduction, even though we had used this as a deduction the year prior without a specific form.
Again, Deborah did not give my husband a chance to state our case in any way, simply spoke over him, like she knew better than him. When my husband mentioned that her employee is lying about our interaction just to get her attention, her response was something like, "well my employees would never lie to me." Just my opinion, but that is a sheer sign of bad management in the financial industry. All in all, Deborah was nothing short of nasty, unprofessional, and inadequate in her communication skills.
To save you from more details, the customer service we received from Kathy, Deborah, and Curtis is horrible. It was the worst service we have ever received in our lives. As professionals who usually do not deal with this sort of unprofessional behavior, it saddens me to see that we cannot be the only ones experiencing this. To deal with financial industry professionals who treat hard working people the way they do is completely wrong. Imagine if we were uneducated and never had a second look. We would be out the amended return refund, instead of just being out the $278 we spent at Jackson Hewitt, with an additional $149 we paid to have our return amended.
We have concluded that our tax preparer was simply caught up in the moments of a snow storm, her cell phone constantly going off, and the fact that we had a complex return. She may have been more present in mind during these moments if she were able focus better on the task at hand. We also strongly believe that humility, respect, and kindness are not virtues possessed by those listed above.

Went to Jackson Hewitt to get my taxes done with a coupon for $50 Walmart gift card if I paid over $150 in tax prep fees. The tax agent didn't tell me I couldn't use the coupon until AFTER she had finished my taxes. She refused to honor the coupon I had and said I didn't qualify for it because she had "applied at JH coupon" meaning that I couldn't use my coupon because she had applied one of her own already (one that I couldn't see and she hadn't mentioned until the end).
She also held on to my W2's because I wanted to think about whether I wanted to use their service if she wasn't going to apply my coupon. I ended up calling the company and getting my W2's back but the tax agent I found at the desk was also rude and defending why they didn't use my coupon which had some additional info in the fine print. I told him next time, they should come clean before a customer spends their time sitting there to have taxes done and they should put in LARGE PRINT anything that could cause a honest customer to be ripped off by the company. I will NEVER use their service again and unless you like being scammed, DO NOT go to Jackson Hewitt.

I had my taxes done on Feb 2. It's April the 10 and still no refund. As the paperwork was filed wrong the first time. I got a letter and paid again a small fee and then the IRS said they never received so what did I pay for? After 2 months I had to resend paper myself from a fax machine and I paid over 600.00 for this ** service. They don't care, nor is anything a big deal to them. This is a huge deal for me and my children. As this year I worked three jobs and needed this money back. But it's their attitude that makes me really mad. And the fact that I have used them for years and the girl that I first deal with knew nothing and had to keep getting help, and they told me they would double check her and it was fine... LIES. These people are horrible. DON'T use them. For this amount we could all get CPA that are up to the task. NOT A 12 week training course and still know nothing.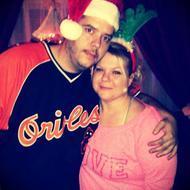 I got charged 484 to file my taxes. There was a problem but when I called and asked I was told everything was fine. Then I received a letter from the IRS stating I need to confirm my identity. I had to wait over 14 weeks for my check and I feel I paid way too much to have to wait, and also I referred 2 people in there and never received me $20.

So had my taxes done JH. Paid fees, they efiled. Thought all was good. Government sent notice. All is good. Got fed return back so thought Mich would be back. Really about 11 weeks later nothing. So I looked on computer. Get filed. So called JH, said was simply mistake. It happens. So I am still waiting on my tax returns. They act like no big deal. I think it is. No more JH tax service for me.

I go to Jackson Hewitt every year for the last 15 years. This year they have an advertisement that says, March Madness 50% off of the total. They charged me $620.00 for a simple form and did not get the 50% off like they said. I didn't realize it until I had signed the forms because you signing on a computer signing pad and you don't see what you're signing until they print it. They got me but they won't see me again.

I am so sorry that I did not research these thieves beforehand on consumeraffairs.com. I had used them approx. 4 years ago with some satisfaction but now they are just a scam. For 2 simple filings (2014 and 2015) with only W-2's...they charged me over $500. The promised "email" with a $50 Walmart Credit is a lie. Never came...and no promised call back from the Manager either. I'm flabbergasted these people can get away with such a blatant con. They are toxic liars and will fleece you given the chance.

I've been dealing with JH for 12 years. This year they lost me as a customer. They messed my taxes up. Don't know when I will get my money. My husband's been out of work since July because of a collapsed lung. They had to remove part of his lung. About to lose everything but I know the good Lord will take care of us. He has so far and he will everyday.

Melissa Hincha-OwnbyTax Software Contributing Editor
Melissa Hincha-Ownby is a freelance writer who finds joy in doing her taxes, testing new tax software programs and sharing her experiences with others. More about Melissa→

Jackson Hewitt started out as an in-person only tax service provider, but in 2010 the company expanded with the launch of Jackson Hewitt Online. The online tax software service is aimed at those taxpayers that are comfortable preparing and filing taxes themselves, which introduced the Jackson Hewitt brand to a new market.
In-person option: Jackson Hewitt offers both online and in-person tax preparation services.
Expanded online support: All Jackson Hewitt online packages come with free unlimited live chat support.
Great price for freelancers: The Premium package, which is designed for 1099 contract employees and freelancers, is priced significantly lower than some competitors.
Phone support: Phone support is available with the premium package.
Website: The JacksonHewittOnline.com website is very basic.
Best for Individual and Basic Filers, Families and High Income Individuals
Compare Tax Software and Services
Jackson Hewitt Company Profile
Company Name:

Jackson Hewitt

Website:

http://www.jacksonhewitt.com/