Consumer Complaints and Reviews

My husband and I purchased a 2007 Pontiac G6 from Used Car Factory in Janesville, WI on August 1, 2014 with the loan thru Credit Acceptance Corporation. We put 700 down on the car and we financed for 10,000. When we first got the car we had problems with it for the first year and half. Then we started noticing the burning smell coming through the vents and took the car to shop and they said the car was a quart low on oil. We always got our oil changed. Never had the issue before. Also, the car was always having brake problems. We had fix the control arms in the front the wheel on the passenger side front, the struts were a major problem.
We called CAC and asked them if we could stop making payments for a month because all of the mechanical problems we had with the car and they said, "No." We were paying 400.16 for a piece of crap car that we could no longer afford to keep fixing. We only have two incomes my husband's monthly disability check and my work income and was barely enough to pay the car payment and everything else we have. The other thing that we didn't like about them was we had to call them every month to tell them that we were making our payment on the 3rd of the month because that is when my husband got paid. The rep would always get rude about it and say, "Well you can use our automated system or set up automatic payment every month," and we always tell them no.
Then this past January we decided to trade the car in for a new car. I called CAC and told that we traded the car in and said when were they going to get their payment. I told that their check was on the way from the dealership where we bought our new car from. They kept calling my husband and we told them their check was coming. We called the dealership and they mailed it right away. My message to people with bad or no credit, don't finance a vehicle with Credit Acceptance Corporation. They will ruin your life.

I financed a auto from Credit Acceptance Corp, and it's been a year now and when I went to check my credit scores, there was a "credit issue pending" from Credit Acceptance Corp. I don't see how this can be as I paid that car off in January of 2016. I called the company and all I can do is dispute the issue. I been trying to dispute this issue for 6 months now and the "credit issue pending" message is still there. Even I wrote the company I have not received any replies so all I can do is keep trying. This issue is holding me back from repairing my credit so I can finance another auto.

I got screwed into Credit Acceptance as the car I had broke down and was unfixable, I had no choice but get a car so me and my son could get home. I got put into Credit Acceptance with the financing, not only are their fees crazy, their customer service is awful, they don't help. I have been getting late fees put on my account since I opened the account because they didn't send me the coupon books so I had no idea when the payments were to start, I called about it and I was told that's my fault, it took them a month to send me the book.
I asked to defer 1/2 a month payment and they said, "NOPE we'll just charge you late fees for the next few years until the loan is paid off and we'll harass you 8 times a day for the $200." Most car loan companies defer payments and will also waive late fees if late payment is not your fault, not this company. They live off the fees and any late fees they can throw at you. If your payment is due the 1st and your grace period is the 10th, let me tell you if they receive the money on the 2nd bam late fee. It's disgusting, I'm surprised they have been allowed to rip off people for so long.

When I changed my auto pay dates, I had confirmed it with the representative at customer services and was told it was taken care of. That same month I was charged for the old auto pay date and also for the new auto pay date. When I had inquired about the mistake that Credit Acceptance had made, I still had to pay for both auto pay dates and late fees. The customer service supervisor was so rude and would not even acknowledge that they had made a mistake and wouldn't even take the extra charges off. So I had to make a double payment for that month. Customer service is very poor and the employees and the supervisors need better training with customer service. Also the company itself needs to acknowledge their mistakes and correct them not add on additional charges to people's accounts and demand payment for the company mistakes.

Recently we had a massive hail storm. I had only made about 3 payments on my car when my insurance company came back and deemed my car a total loss. I originally wanted to keep my vehicle and continue my payments in order to help my credit score, when the insurance company offered Credit Acceptance the settlement they declined on my behalf and said they were going to use GAP coverage. But here is where it gets irritating. I cannot get another vehicle without the loan being paid off, and unlike other finance companies who only require a copy of the check to show paid, they refused to do any thing which left me without a vehicle until they decide to post full payment. This company is so far beyond unreasonable and do as they please! I should have known how bad this company was bad when payments are made through Western Union. I will never use this company ever again and hope everyone stays away as well.
How do I know I can trust these reviews about Credit Acceptance Corp?
743,926 reviews on ConsumerAffairs are verified.
We require contact information to ensure our reviewers are real.
We use intelligent software that helps us maintain the integrity of reviews.
Our moderators read all reviews to verify quality and helpfulness.
For more information about reviews on ConsumerAffairs.com please visit our FAQ.

This company is beyond terrible. I get paid bi-weekly and may go a couple days past my due date. I call on months this may happen to only be threatened by the company that they do not have a grace period and that my car can be taken at any time. I mean really. I am calling to let you know I may be just a few days and no they never work with you. Just threaten you. I am so sorry that the place I bought my car from uses this bank as a loan place. So unhappy with the service.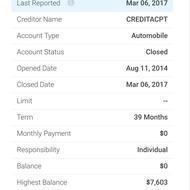 I have read some of the reviews. A lot of them are bad. I am a real person and I do not work for CA! I work for Napa Auto parts, just to be clear. I had some credit problems in my past and CA gave me a loan for a vehicle I needed at the time. The interest was high but that's what you get for having bad credit. The payment was right and I was able to pay online with my debit card. I prefer this method because it makes my life easier. I purchased the 2004 GMC Envoy XL in August 2014 and I paid it off March 6th 2017. I paid all payments on time or before and at times paid 3 or 4 months ahead. The car had high miles but all in all was in pretty good shape. Air conditioning was a must haha.
Anyways, the bank has never given me any problems with the contract or customer service. I always get treated well when I call, a lot when I wanted to get it paid off. I didn't go through them when I bought my 07 Suburban only because the dealership didn't work with them. I used in house financing. The deal is, if you pay the payment on time they won't take your car. Read what you are signing and if you can't afford it don't buy it thinking they won't take it if you don't pay. They will! I would! The only thing I can see wrong is on my credit it says account closed and not account closed by consumer. Also is the same way on my credit from Atlantic Acceptance so I don't see an issue really.

I purchased my vehicle in 2016, a Kia Forte. I love my car, but I fell victim to credit acceptance. The high interest rates. The poor customer service. And the fees that this company has tacked on to my account is ridiculous. My car was repossessed after not in 60 days late, ok I got sick got in a bind. But it's what happened next!! They towed my car in the middle of the night ok. Fine. I called credit acceptance the same day told them I would pick up my car less than a week from then, they had already removed all of my belongings from my car and drove the car 150 miles away to an auction. And I'm not only responsible for the fees that they charged me but my car payment as well as pay an Uber 105 dollars to take me to my car. Hmm and they still calling me talking about clearing up fees, etc. I am going to trade this car that I love just to get away from credit acceptance. This has been the worst company ever for me.

The worse loan company. Won't let you change your due dates like other car loan companies. Things changes in your life and to make sure on time payments are on time it is necessary to have that option of changing your payment due date. At least let the person change it only once. Car dealer don't tell you about the company. They just want you to buy their car and make money off you.

How do Credit Acceptance complaint department works? They told me to fax the paper. What's wrong with the car is they not help me fix it or what. This is scary. I'm paying my car notes but I haven't been driving my car since I bought it. It has a oil leak and a misfire in the engine. Need help.

I signed up for automatic payments so I wouldn't have to worry about remembering to make payments. One of the automatic payments of $130 from 5 months ago didn't work because there wasn't enough money in my account but Credit Acceptance did not communicate with me to tell me about the missed payment so it just accumulated late fees without me knowing and then they unexpectedly repossessed the car and made me pay $500 to get it back. They made a one-time half-assed attempt to call me about it. No letters, no emails. They make more money if they have poor customer service I guess. ** credit acceptance!

My girlfriend bought a van, through Hebron Auto Sales, back in 2004. CA was the line holder on the loan. She never received a title. Well, come to find out that willingly and knowingly CA helped falsify loan papers. The sales people changed all the information on the paperwork and CA filed the loans. After federal investigation both companies were found guilty of fraudulent lending. Well, the owner of the car lot committed suicide instead of going to jail. CA is still operating.
The vehicle was seized and $1,500.00 downpayment lost. Today she received a wage garnishment notice. Says she owes $32,000.00 for the van. 13 years later. Some **. They gave a fraudulent loan, wrote it off and now want to garnish, now my wife's, wages. Well if anyone else is tired of them getting ripped off by CA start a class action suit. Stand up and let our voices be heard.

I called to have a payment made from my card cancelled. It's originally my husband's account. The representative stated & I quote "It doesn't matter if you're his wife. You have authorization to do anything on this account." So only a few minutes later I had my husband call them. He told them the problem. I quote again word for word "It's not our problem, and we can't help you. We don't deal with cancellations." My husband asked "who does if you don't?" They told him "we don't know." So he asks again who can I call because I can't afford to go pick up a truck that is 2 hours away, to get this payment cancelled? They said "Sir that again isn't our problem, call an uber and catch a ride. We're not giving you a refund" and then hung up in his face!
These customer service reps are definitely not customer service worthy people. They should be working at the dump with all the crap they dish out to the actual paying customers. In a line of work such as Customer Service "Customer" is the first word that describes what they would put on anything that says Job experience etc. These people should be ashamed by how they talk and treat people over the phone. I can guarantee you they wouldn't have such nasty attitudes and sarcastic tones if they were sitting at a desk, face to face with each and every one of us. I would give negatives stars if I could and would never recommend this company to anyone. Do your research people. If you go to a car lot, and they use Credit Acceptance as their bank/creditor run as fast as you can!

They are the worst business I've dealt with. They claim they will help you. But really don't help at all. I've been out of work because of work related injury. So I'm going through workman comp. I explained this to them. Because I had auto withdrawal for they company. When they didn't receive my payment. They never called and let me know I was behind, until it was too late. So I learn my supplemental time had ran out. So workman comp. Was the only people paying at the time at a 20% disability. Which was wrong so I'm dealing with lawyer and court right now. I talked to them and they claim they would help me. So I paid the balance they ask me to pay. I was unable to get the car because where they took it. So it set there. Was going to forget about the car because it was stressful. They called like they really wanted to help. So I paid them 745 just to get back. If I knew that they wasn't really helping me. I would of left it.
They don't work with you. It's their way or no way. Now they raised my payment more than I can pay for the back payment. Which I feel they could of put to the back. Now I just got my car back three weeks ago and explained to them I don't get direct deposit right now and I have to wait on the mail. So now they're talking after I make the payment we have to make another contract because it's past the due date. Which I told them ahead a time about the mail issue. Somebody really need to look in to them!!! And which may be my fault for not looking at the paperwork. I have a 2009 Lincoln MKS with 104000 miles on it. When I got it asking price 16000.00 + 2500 for warranty. 18500.00 at a 24% come to find out they're charging me 32000.00 for 60 months. Is me or they really doing some shady stuff. Never again, don't go through them. All they care about is money. Not the customers.

This company has the worst customer service I've ever experienced. And this review was not off of one customer service rep but every time you call Lian the representatives have an attitude. They're rude.

This is my second vehicle and 5th year with this company. The first 3 years were fine. These last 2 have been horrible. I know if you're late they want their money but when you have talked to them every day for 5 days and let them know exactly when you can pay and they still repossess the vehicle 2 days before, it's too much. And every time I turn around they say my vehicle is going to be disabled. I'm trying my best to get away from them. Even with a cosigner my interest is 21%. My credit is improving and soon I am getting rid of this headache of a company. Please if you have other options, take them. These people are crooks.

I had a Ford Taurus through them. I made payments and yet car shut itself down. I asked them to fix issues. They repoed car instead. They got rude when asked to fix and I had warranty. These guys need to be shut down.

We paid off our car after only 2 years on a 5 year loan, never a late payment. I thought I had canceled the auto pay with my bank but an extra payment was sent 2 weeks after payoff. I have called numerous times about getting that payment refunded but get nothing but a runaround and excuse after excuse. At this point I doubt I will get the funds back. Think twice before dealing with these crooks.

So while at work today I look out window and see tow truck hooking to my car. My payment is due on the 8th and today is the 3rd. What is going on?? So tow guys give me the number to Credit Acceptance. I call and ask why they are repo my car. My payment isn't due for five more days. Credit Acceptance clerk proceeds to tell me that last month my payment was due on the 8th and was received on the 10th. So if I pay $250 right now they won't take the car. "Ok. So can you call me back while I get my card info from husband?" "No, if we end phone call they take the car." Due to me being at work on the work phone I have no access to another phone line. Call ends. I get info needed to make payment. Call back and now I have to pay $450 + $375 tow bill. I paid the $450 and tow company brought my car back. Now I think it would be in my best interest to have let it go. Because seriously the stress this caused me is just not worth it.

Impressively bad customer service! I've never reviewed a company online for any reason, because I am aware that one should not judge the whole by one bad part. Unfortunately, what I just experienced just minutes ago was the absolute WORST case scenario for really, really, really bad customer service. First of all let me state for the record that I am a NEW customer and my account is NOT late or passed due. I called to get more information about the auto pay feature and the representative was rude from the very beginning. The attitude was so terrible that I almost thought that she was my ex wife. Her being rude and trying to belittle me is not what motivated me to write this review however.
I'm writing this review because for the first time in my life...an adult pretended to suddenly have connection problems (like in the movies) and just hung up in my face. I just kept saying "ma'am are you really doing this I mean really" and she was like "sir... are you still there... sir... sir". I almost believed her until the very end of the conversation when I heard her say to a colleague "I had to get rid of his..." I can only assume that the last word was **. I'm not here to say don't do business with this company. I'm writing this to say if you do use their services, please understand that all the bad reviews here about their atrocious customer service... is apparently TRUE!

I bought a 2002 Mustang in May of 2016. Paid $800 down. Got finance charges at 14.75% through Credit Acceptance. My payment's $255 a month. They worked with me so I could make 2 payments of 128 a month. I read a lot of negativity about them, yet with my experience with them I have bad credit and they treated me good and I am looking forward to financing another car through them as soon as this one dies. I have had a few minor problems with the car but nothing that has cost me over $100. And may I say it is now Jan. 2017 and my car is paid off. Like I said I have had no problems with them and would recommend them to anyone with bad credit.

After reading a lot of reviews, I now know I am not the only one dealing with and having serious issues with these horrible crooks. It should be a crime to do and treat people like this! Especially b/c they prey on low income people with bad credit. I live in Detroit (look up the Don Foss story) he started C.A. on a few small car lots here and has got rich off the poor. I have dealt w/ them for over 2 yrs and have had nothing but bad experience. Have paid more than twice what the car is worth with a 5,000 down payment and still owe a lot... it's a 2006 charger. They have repoed my car now for the 3rd time. This time leaving my husband stuck at Davita Dialysis after his treatment. This time redemption dept. said b/c it was paid on the 2nd of Jan. and not the 1st which by the way was a holiday so the Walmart money center I use was closed that day. They don't care.
They are rude and I don't know how those people sleep at night (Oh and the payment was $ 1.76 short). Was on auto pay, say you have a 10 day grace period but don't tell you if it's paid 1 day past the original due date your payment is considered late. Makes no sense. Just another way to get more $. Didn't realize was a month behind somehow, we pay every month and am not in any way dodging payments.
They will not work with you. Don't care about REAL LEGITIMATE circumstances that cause needing extra time. They are quick to tell you it's going to auction if you don't pay a lot fast and of course now they have added MORE $ w/ repo fees. I already pay an extra $50 a month on those. It's just not right. They have caused a great deal of anxiety on my already stressful situation. I live in MI and am trying to find someone or a lot of people to stand up to these people b/c as consumers and human beings WE HAVE RIGHTS. I'm tired of being taken advantage of.

My car was repoed on 1/16/2017. I had just made payment on 1/11/2017 but they still came and took my car. These people need to be reported because they are not doing right by their customers. I am on a fixed income but yet they do everything in their power to try and take my whole check. Please. Something needs to be done about these crooks.

I'm on year 2 w/ Credit Acceptance and so far I've had no problems with them. It seems like most of the complaints on here are due to Credit Acceptance giving them a hard time when they are late on payments, or aren't able to make one, or the problems that they are having w/ their car. Granted, there are some people who are going unexpectedly run into hard times and, unfortunately, are going to run into problems with their cars. But two things.
First, CA is taking a chance on people like us by giving us a loan to finance a car, which other lenders won't do. So, I am not really surprised that they have strict payment policies. I mean, if I was in a better state and loaned a "high risk" person money I'd be hard on them, too, making sure they paid me on our agreed date. Simply put, you just have to see it from their eyes. While this may sound a bit harsh, but true, if you even think that you may run into financial trouble while financing your car at least finance an older/cheaper car instead of the more newer/expensive ones. You'll thank yourself later.
Secondly, everyone is going to run into car trouble. Whether you get a flat tire, battery dies, bearings on your car are fragile and need replaced, or your engine breaks down. To make it short, it that really CA's problem? No. So, why even fault them for something that happened to your car? They're simply just a finance company. Unless it's for insurance purposes, there's not really much they can do for you. I had to go through a couple of repairs with my Jeep. Did I whine to CA about it? No. I pouted, as any car owner would, and went to the car repair shop, got the car repaired, paid for the service, then went on with my day.
I'm not trying to defend CA or say that they are the greatest car financing company. But you, the customer, need to understand yours and their situation. Like I said, I haven't had any issues with them, so far, so I can't really say. I knew my situation before I signed the papers with CA. I knew what I could afford and strategically looked over my payment options. Did I get the car I wanted? Nope. But did I get the payment plan I wanted? Sure did, and that's all that matter. And you know what? I have not had any issues with CA and I have made all my payments on time before, or on, the due date. I'm not trying to sound all perfect, but these are things that I am learning as I am working on improving my credit and becoming financially stable. Overall, I am really satisfied with CA that they have given me the chance to own a car when other financing companies wouldn't.

I paid 9000 on a 10,000 auto loan before Credit Acceptance repoed the vehicle I thought was mine. I was in the process of transferring to a new job location because of a promotion so I call up Credit Acceptance and explained to a clerk that I would be 2 weeks late on my payment. One week later my car was repoed. 3 payments the loan would have been paid off. I wish something can be done about companies like this. I'm out 9000. On my credit report it states car loan paid. SMH.

Financed my $5,500 car loan unfortunately thru this bank. Honestly not sure how this company hasn't been shut down by Feds that's how shady they are... Here's my story... 19 days ago with only owing/LATE ON ONE PAYMENT and $1,900 AWAY from owning the car they send Repo people to my work and REPO guys (3) one DROVE NOT TOWED DROVE MY CAR out of my sight. Obviously it's middle of winter and at my job I go directly back inside to call bank and pay to get my car back so I do so.
They then tell me to call the repo company to set up the appointment to pick up my car. I do so I'm informed, "Oh yeah the car is not running under its own power anymore and you need to bring a tow truck and a mechanic." I said, "Excuse me, you guys just drove it away. Took it from my work 15 minutes ago. What do you mean it's broke down?" Repo guy told me, "Oh yeah cars a piece of ** and something broke on it. Not our problem." Funny right? I said, "OK we'll see about that." Call the bank back immediately tell them what's going on. I'm told by two different people in the redemption department as well as my husband calling and being told all calls are recorded by the way that the car was not in the same condition as when I handed it over not to pick up the vehicle.
Called repo company back. Told him that was the situation that the bank I would be in touch but I am not picking up a broken vehicle that I handed over that was totally fine that I drove to work 40 minutes from my house. Or is the very rude repo people said they wanted to "pound" my husband, ran their mouths to me. The most disrespectful people I've ever dealt with in my life. I'm then told now this is my six or seventh call the bank that day, "All your legal team needs to look into this." "Will be in touch within 24 hours. If you don't hear back in 24 hours, call us." We did the 24 hours. Call back to the redemption department and I'm now told, "Oh no you were misinformed. It's 7 to 10 business days before the legal team gets back to you." Mind you I have no vehicle. I've paid to have the vehicle released. The repo people broke my car and now I need to wait. I have a job.
It's two days before Christmas so I'm forced to go rent a car. Cost me $515 for the week. Still hadn't heard from redemption department. Of course on the 10th day of the last hour they finally called me to tell me that die I need to show proof that they drove the vehicle even though I have a handful of witnesses from my work that saw it happen. The vehicle broke down. I don't know quarter mile from my work. Not even anywhere near my work's property. That I had witnesses of that also said how would I drive a broke down vehicle to work that day when I live 40 minutes away. Hello doesn't even make sense. Car was backed into my parking spot I parked in for 10 years. This legal department yeah add a joke. It's just him another customer service center of the church have their heads so if their asses it's not even funny. Tell me no I can't send pictures of the layout of the parking lot, no I can't get statements from the cops, from people at work that witnessed it, so pretty much tell me no I can't prove to them that they drove my car.
Finally get my car back towed to my house at my expense yesterday. Whatever they did to my car they must've beat the piss out of it in the quarter-mile they drove it and probably hit the 3 foot crater in the middle of the road because it's New Englanders potholes everywhere. Don't know. No idea what they did. It drove fine when I drove it last. At lunch that day broke and axle and or a CV joint axle hit that bump so hard that's my guess broke the motor mount. Course that's a dealer part only. It's the weekend car still not drivable. Nobody cares. This place is a joke I'm not even sure how this could be legal.
I just am baffled here no help from the bank. They hired the repo people like I'm not paying customer here. I just I'm baffled. Yeah. OK. Called and file the claim with the Better Business Bureau me and 1 million other people what contact my state Attorney General with 8000 people maybe in two years get a call or a letter from somebody telling me, "Oh yeah go hire a lawyer." Will go hire a lawyer for $2000 on a car that's not even worth that and I don't even owe that much on, YEAH OK. Like I said how this place is even still in business? I'm shocked and floored. Am yeah so if anyone has any suggestions or thoughts or can offer any help it would be greatly appreciated.

Credit Acceptance is bad for business! I was late for a couple days and made a partial payment the month before and they re-poed my car in February! My payments are extremely high 615.95 on a 2015 Chrysler 200 and I am looking to get out of my contract. They charged 815 something and it took a dozen times to call to get thru for them to accept the payment and for me to get my car out from recovery. When I received my car from Mad Dogg Recovery in Lynwood, IL, all of my belongings were in black garbage bags and my license plates were taken off of my vehicle. It seems as though they were banking on sending my vehicle to auction. They call and harass you and don't give a grace period unless you're set up on auto pay. Some customer reps are pleasant and understand, and others can be cruel and cold-hearted douchebags. They are a rip-off and should be out of business.

My husband and myself were in a bad situation and had no choice but get a car, because our family was to be moved from Texas to California on military orders. My husband and I had some bad things happened prior, and it ruined our credit score, so we couldn't get a good interest rates or a reputable financial institution to finance us. So we went to a car dealership that got credit acceptance to finance us on horrible terms, but we had no choice, we had to move. We purchased mazda 2007 in 2012 with 90000 for almost 20000.
Later my husband had to file bankruptcy but only under his name. I was a cosigner on the car, and I keep on paying. I have another year to pay, I have never missed a payment, despite the fact the car has been sitting in the garage for a year and is not drivable. It has been under recall for over a year, and they don't have parts to fix it. I owe 4500$ on the car, that worth 1600$ according to blue book.
They put my phone under block and won't answer. I have been trying for the past two months to get a payoff information. They placed my account and my social number into their bankruptcy folder, and automated service hangs up as soon as recognizes my number. I however, like I said never filed bankruptcy and they have never corrected account under my name, although they never forget to withdraw the automatic payment I set up back in 2012. How do you allow these organizations to scam honest working citizens, and speculate so openly. They don't even bother to call! Consumers deserve protection!!!

I financed through Credit Acceptance Corporation for just over two years from June 2014 through July 2016. All payments were made in full that entire time and on time, never late. July 11, my regular occurring bi-weekly payment was made. I went to my credit union and refinanced 2 days later on Wednesday July 13. I received a 10 day quote and a check was mailed covering that balance. The following day I received it. I want to reiterate that for two years I always made my payments bi-weekly and they were auto-draft so I never had to call in.
My first issue here is that a payment came out on July 15th 5 days after my previous "bi-weekly " payment and one day after a check was mailed covering everything. I never got to the reason behind why Credit Acceptance was drafting a payment that was not due because I have a bigger issue here. Anyhow due to that payment it would have resulted in an overpayment to C.A. and I contacted them to have the payment reversed which they said they weren't able to do. They said I would receive a check in the mail within 3 weeks to return the amount overpaid. It's funny how they can take my money in a second but yet it will take me almost a month to get it back???
Since they would not return almost 150$ to me in a timely manner I contacted my credit union to have the payment reversed. This process took 3 business days. I had to print, fill out a form, fax it and wait for approval. I mention this in regards to a later point I will elaborate on because C.A. claimed the payment was not made when in fact it processed and posted during those several days. To get back to July, I called twice within the week and a half of mailing the check to see if the check was received. The automated system didn't recognize me as having an account (indicating it was closed). I also spoke to a rep to verify this information and she also stated the account is closed, paid in full, and that there was no further action on my part.
Come September I go to apply for new car insurance and I received an adverse credit action notice so I go to check my report and see there is a charge off from C.A. as of August 2016. I have several issues with this here. First off I never received any communication from them indicating there might be some money owed, no phone calls, no email, no mail, NOTHING. It just went straight to the credit bureau. Second how do you even close an account if the customer owed any type of money, the answer is you can't.
The most frustrating part is the amount they claim I owe is 21$!!! Here I have spent two years paying thousands of dollars to these people and you don't have to decency to notify my account has been reopened. Instead they just send it off as a charge off, I never had a chance to dispute or pay (if I felt I owed). Anyone could have paid that off easily. The issue here is not the money but the fact that I already had this negative item for almost two months when I found out and now about four months.
Till this day I have no idea what the 21$ (now 21.95$ for some reason I'm not aware why or when) is because in these months I have spoke to dozens of rep and they all say different things. For several months it was said it's a return check fee which is impossible when the payment did in fact come out. Then they called it a late fee and more recently a past due balance, none of which makes sense.
As I mentioned I've spoke to many many reps and supervisors alike in multiple departments and I even filed 2 (now 3) disputes with the credit bureaus to get this resolved and they are essentially taking C.A.'s word. I spoke to 2 reps in particular of C.A. that agreed these items would be deleted, and updated as current and paid off as of July. However, I could not reach them after those conversation and they did not provide me written documentations to support my claims.
The balance was cleared after I spoke to the first representative on November 15th that stated my recent statement and my title was finally mailed. However at some point they reopened it (again without notice) and are now going against what other reps were saying would be deleted and are now showing a balance again. They are of course still refusing to admit their mistakes. This company has caused me so much stress and turmoil because I can't get a better auto rate, take a loan to fix my car, or even get a new one due to what they unjustly put on my report.
I work and go to school and just to do these things cost me so much money now. I worked hard to build my credit from nothing to pretty good for someone with such a short history. Not only has this matter affected me but it has affected my cosigner because they are suffering the repercussions as well. All I want is justice. Corporations like this don't want to admit when they make mistakes and I'm not afraid to call them out on it and let my voice be heard. I only hope people can learn from me and not do business with people that are as sketchy, unprofessional, and lack human decency as they are.

Credit Acceptance is a great company to work with. I was in a bind. My engine blew up on my old car and I had a 483 credit score and I needed a vehicle. They financed me when literally nobody else would. Everything was disclosed in the contract. They finance high risk customers so yes, the APR will be very high and if you want a nicer vehicle, you will have to pony up some dough. They will get aggressive if you are late and don't respond to them. Contrary to what has been said, they do not want to repo you car anymore than you want it to be repoed.
When they sell it at auction, they most likely won't get enough to pay the remaining balance and then they have to go through the hassle of suing you for the difference. They would much rather you pay the loan off. If you call them, they are quite reasonable and willing to work with you to help you get caught up. You have to be at least 30 days past due before there is talk of repossession. When you buy the vehicle, the dealership can set you up on autopay so you are never late. Also, get the vehicle inspected by an independent mechanic if you have concerns. I successfully paid off my account with Credit Acceptance. I had perfect history with them and my credit score is now in the mid 600's. Financing through them is not ideal but they have helped many desperate people get into a vehicle and restore their credit.
Credit Acceptance Corp Company Profile
Company Name:

Credit Acceptance Corp

Website:

https://www.creditacceptance.com/