Consumer Complaints and Reviews

So here's the deal: I honestly think they're out of business and there's no one there! My emails never get answered. They are only open 9am -2 pm EST. (I mean who does this?) And every time I call within this time frame an automated message says "due to high call volume no agent can pick your call". I created a login on their website and forgot password. After I request a new password it simply goes to an error page. Now since my birth date and name is associated with it, I cannot create another account unless I create a new email address!! This has been my worst experience with any website; third world countries have better websites and support than what WES has!

I first opened my account with them in May 2016, then opened one for my husband. The university in South Africa sent forms to them but they did not accept the forms as it was not from an institution recognised by them. Instead of then requesting further information they disallowed the forms. South Africa since the new government has changed some names of organisations and procedures. I then contacted another company in South Africa to handle the authentication. They immediately did this and couriered the documentation to WES.
WES have had this since the 14th of September. If I log in the tracking number they say please allow 3 working days to review this. If I phone the number just rings. If I email they never respond with anything intelligent. Just "Thank you for contacting World Education Services (WES). This is an automated message to confirm receipt of your correspondence. A representative will review your question(s) and respond to you as soon as possible. We thank you in advance for your patience and understanding as we work to address your inquiry. We look forward to assisting you." That was 1 week ago!

I recommend WES for everyone. They do their job perfectly. But, you have to send your documents exactly according to what's written in their web site. After I sent my documents, I read the reviews. You scared me to death with all these negative experiences! But mine was very good. They have finished my evaluation report even one day earlier than the expected date!! Wow!!! Thank you WES.

I am so disappointed about WES. I submit my original transcripts and I am still on hold for 4 months. I missed fall semester already and I decided to cancel my process. They sent me an email recently in this week saying that so sorry about older mails that I even did not received other mails and they gave me a name and a number. That guy is not responding my mails. I cannot explain my frustration that I am not able to enroll the colleges that I want because of WES issues.

I want to apply US Master degree and the school accepts WES evaluation. I send all official transcript to them. After about 2 weeks I received my evaluation report with GPA 3.0 which is acceptable to the program. My evaluation status showed completed and I can order any additional copy to any other university. I had very good experience with WES.
How do I know I can trust these reviews about World Education Services?
612,345 reviews on ConsumerAffairs are verified.
We require contact information to ensure our reviewers are real.
We use intelligent software that helps us maintain the integrity of reviews.
Our moderators read all reviews to verify quality and helpfulness.
For more information about reviews on ConsumerAffairs.com please visit our FAQ.

WES sent my documents back. My issue resolved!
Original Review
Hi. I submitted my original documents for evaluation to Wes, but still I received status as required documents are not submitted. I have seen all the reviews. Now am scared. Will Wes ever return my original documents which are my future... these originals are from India, and it is impossible to get my originals back from India. Can anyone please let me know how to get my originals back, any reply would be greatly helpful... please. Thank you.

I sent my evaluation to WES as I thought they do a better JOB given the amount of experience they claim they have. My 12 courses taken in UK with a NON-Awarding Institute was made equivalent to a 4-year college degree and the membership certificate (non-degree) was made equivalent to a degree certificate by WES. It is utterly ridiculous the way they just made that such a short course - of less than 2 years of study they made it equivalent to an full - 4 years college degree in USA. They do not offer any explanations what made them to do that. Their decision is final. Some Universities have made them the only evaluator acceptable, which is double crazy. They really do a half-hearted job with zero diligence work. I would NEVER recommend anyone to go to them for evaluation, they also charge a premium fee for a crappy, sub-standard JOB! I requested re-evaluation - and that came out with no-revision made!!!

Had to order a WES review of my Canadian degrees to apply for a US graduate program. Followed the directions online and had no issues. Was updated in a timely manner on when documents were received. The evaluation was completed before the expected date I was provided. Added UPS ground for delivery so I could follow tracking. Once documents were received - less than a week processing time to delivery.

In 2003, I have decided to evaluate my credentials through WES. I've sent them all documents they required from me. After 6 years I asked them to send the same transcript to another college, but unfortunately, they ignored all of my requests. I've been asking them by emails, faxes and I've even sent them an official letter attention Mariam Assefa - CEO of WES - with no such response. I don't know why they are doing like that. All their concern was to collect $280 from me. After that you will be completely ignored. I am sure thousands of students were and still suffering from WES. I advise all students, don't apply with WES to evaluate your credits because they will ignore your request completely at the end.

I recently wanted to use WES services to evaluate my diploma. I sent them my documents, including original diploma and my original school transcript along with payment of $204. My diplomas was returned back to me because they needed it Apostilled. However, I never received my transcript back. I called numerous times and spoke to representatives to get the remaining document back. However, I did not get a clear answer on where my transcript was. I wonder what should I do regarding this matter because the only option for me to get that transcript would be to travel to Russia and get it from the University there. And this is absolutely not possible for me to do that at this point.

I applied online to get an assessment with World Education Services last Aug 2 2016. I paid $284.76 to get my college grades evaluated. I courier all required documents to World Education Services. And I received an email saying my transcript has been rejected. I've been calling World Education Services and sending them emails about my documents being rejected but They never got back to me. They rejected my documents even without telling me what is wrong. They never contact me (as per their website - World Education Services will contact you if you have problem with your application) but they never did. I didn't even get my evaluation. And now I'm late for the college. DO NOT TRUST WORLD EDUCATION SERVICES. They just want your money. They don't care about the customer. It's very frustrating working with World EDUcation Services

I decided to do my evaluation with this company. So, I gladly had sent them my documents with a pre-payment of the full amount. They started requesting additional information, which in essence was completely absurd. Check this out. I had all the necessary seals on my documents. However, that was not enough "proof" that those were legitimate. I would have to have my original documents sent over from NYC all the way back to Ukraine (estimated 14-20 days), have some other company to look at it, then have it "verified" by that very company, which has no relation to my university whatsoever, and then that third party company would send it back to NYC for further evaluation (14-20 days) plus initial evaluation approximately 20 days. Isn't it insane?
And the sweetest part is that when I cancelled the service while they had not done ANY work on it yet, they requested a $50 cancellation fee from the total amount of $215. I actually lost time and money with them. This is a totally incompetent, poorly managed, low performance company that deserves to be shut down immediately. I would be more than happy to take part in hammering this company down, if anyone knows how to take legal action on them.

I have evaluated my International High school, Bachelor's and Master's Degree from them and the whole process completed in 2 months. This delay happened due to my mistake in sending stamped and sealed degree and transcripts to WES office. After they received everything in order then they only took two weeks to process the whole report. Don't bother bad review about WES. Try yourself first and follow instructions properly.

This is the first time I ever have the need to file a complaint. The day I applied and paid my application, I also asked my school to forward my official transcripts. I graduated from a respectable UC in the US with double degree. Never would I expected that today, a month and a half after I applied, my result is still not available. My lawyer's been asking about it, and my ECA is the only thing that halting mine and my husband's EE application. I called almost 10 times, each time I waited for about 12-15 minutes. I got a hold to them once.
When I asked about my application, she said they'll need 20 business days AFTER documents are approved. They approved my documents 3.5 weeks after my application. Even if they got my documents a week afterwards, they said that it might take them up to 3 days to review. Nope. It took them 2 whole weeks. I've been contacting them 2 times online and got no one to reply me until I sent them Facebook message. I got another vague answer how they would need 20 days after documents are approved. Another BS basically. Please don't use their service unless you want another problem in your life. This company sucks.

Stay away. I have no way how these people still in business? They kept my wife's paper for month and every time I call they comes up with different excuses after long waiting time. When I cancelled they charged me almost half the money even though they did nothing. Big scam company.

Too bad that the majority of the universities and colleges accept or suggest this crappy agency, and even way worse that I did not research reviews, I agree to the brothers and sisters here. My school sent the transcripts. They accepted them, had to pay everything, I have a degree! I passed my nursing boards, wanted to continue my education and apparently this fraudulent website or agency came up with the option that they could JUST write a letter saying that my 4yrs were just a preparatory (reallyyy?) with no degree or equivalences so at the end it was not possible to evaluate course by course. Many times I asked why and the only response it was, "Well that's what it says in the computer" (well hello, I can read either, her system is the same apparently that I have.)
I asked them if it was possible at least to write the class name with the credits just for the school to see it and they said NO. Had to cancel. Their customer service was one of the worse ones. Once I cancelled which they did not care, I got charged with a cancellation fee of course. So my expenses that I had to pay from school, then S&H, then to their fee, yeah more than 120 dollars just for fun. Very very disappointed. Please don't use this one. Ask your college for a list of agencies but WES, just delete it from your list please.

How is such an obvious FRAUD company allowed to exist in the USA. I had to pay online first. Then tried to ask them about my documents because I would hate to send out everything and it be returned for silly stuff. Then realized they have no contactable number. Took numbers showing up on credit card debit, 212-219-7307 but Eastern Asian sounding voicemail's every single time. Found 2122197330, 212-966-6311 on Google search. Nobody responses, nobody talks to you, no place to leave a message. So emailed my question everyday for 2 weeks, till finally I said, "please forget it." Just refund my money... cannot work with you.
That was 2 months ago. I doubt they will ever return my money but I continue to send them emails on their website every single day, sometimes 3 times. One of my friends received a refund minus a processing fee. Where did they mention anything about such a fee and so high fees. Why are they not they being scrutinized and still have a business license to continue defrauding innocent clients like me, after so many complaints against them on this site alone?

I sent in my documents and paid $160 for a course by course evaluation. I sent all the documents, which showed an accepted status online, but it's been 1 weeks and they have still not started the review process. I called (about 30 min wait time) to ask about the status and the rude customer service person told me that they are very busy so I had to wait for as long as it took them. I told her that I needed the evaluation for a visa and she said that did not matter.
I mentioned that their website said that the evaluation took between 7 to 10 days but she said that that did not matter if they were busy. I asked for a timeline and she began to yell at me saying that I needed to be patient because these things took time. I asked if the process was held up because of missing documents, even though it should (in green) that the docs had been accepted and she said that she was not able to tell me anything just that they had not started the process and then she said thank you and put the phone down. I would not recommend this company, judging from their lack of customer service or willingness to keep to deadlines. I am not sure how the evaluation will turn out but I will keep you posted.

My wife submitted her degree certificate from her college in Spain for a course-by-course evaluation (not the actual detailed transcript) in Apr 2016, and paid $87. She had previously gotten a US equivalency of the same exact degree back in 2003 as being "Masters and Bachelors" degree. This time around she wanted to get a course-by-course evaluation for her work. But WES came back stating that the US equivalency is "Bachelors" degree only and due to the way the program is conducted, they cannot do a course-by-course evaluation. Our contention was that how can WES's evaluation change and make it from both a Masters and Bachelors degree to only a Bachelors degree when nothing had changed in the course (how can the course from Spain be downgraded in such a manner.
We hadn't even provided them the detailed transcript from the institution in Spain so how can WES state that course-by-course evaluation cannot be performed. If so, then they should have informed us upfront at the time we were paying $87 for this service. There should be some sort of preliminary check performed as to which degrees can get a course-by-course evaluation and which ones cannot. We asked for a refund since we had paid for a course-by-course evaluation and they refused. This shows WES's US equivalency system is not reliable/credible. Was the first report correct in 2003, or what they are saying now in 2016?
WES is unethical in that if the agreement and contract was for a course-by-course eval, then they should be honest enough to refund the money since they are unable to fulfill their side of the contract. Hopefully someone in Consumer Affairs can help us. This is an example of a big company playing with consumers. On top of everything, you cannot talk to someone on the phone to discuss the matter. You can only submit your issue via a form on their website, to which they respond from a "no-reply" email address.

I sent my original document to evaluate my degree... Not able to contact them by fax, by calling there is no email id for such big ORG. Looks like they have auto formatted email replied... No one is reading what you are asking... With big organization employee is like 5th grade. I like to give no star rating. Still have question for myself why I have to pay three time for UPS 2nd day service to return my document. And they have statement that if fail to pay you might lose your document. Why this company still open and valid for this type of service.

I requested WES to evaluate 3 credentials in October 2015. The processing was taking a long time. I later asked WES to release 2 of the evaluations that has been verify and release the last evaluation once it has been verified. The 2 was release. All these within 2 weeks. When I asked for the WES to release the last evaluation, they refuse. WES asks me to pay another money. There was nothing on their website that state I could not make the request I made. This is simply exploitation.

So I emailed them regarding my evaluation. They did not provide any answer to my question, Instead, this woman called Erika just sent me a link of their website. She was not helpful at all. So I called the customer service. It took forever for them to answer the phone and the woman on the phone was incredibly rude. She said she could not fix my problem, that I have to email them again even though she understood my problem and she had the answer. I asked for her name and she hung up on me!!! This is the worst customer service experience I have ever had in my whole life and I live in NYC.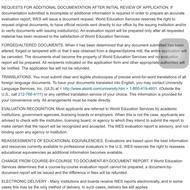 I made a Yelp account just to express my frustration here because their customer service didn't do anything about my complaint. I emailed them a week ago regarding my order cancellation but they just got back to me and told me they're taking away 50 dollars as the cancellation fee. I asked them where it's stated on their website and told me it's by the faq section.
I checked and clearly they are not honest and upfront by how much the cancellation fee is because they only placed; "FILE CANCELLATIONS. A processing fee applies upon cancellation. Completed evaluations are not subject to cancellation. Returned checks are subject to an additional $30 fee." They should place the amount or the percentage that will be taken if the customer does choose to cancel. They charged me $50.00/24% of the total amount. Their customer service is inefficient and no help as well. BEWARE OF THIS COMPANY. They are fooling people.

Punjabi University, Patiala sent my transcripts for evaluation to Canada on 23rd Nov 2015 but till now neither WES has got my transcripts nor they are traceable. I don't know what to do? WES account is showing that they are still waiting for my documents. Who is responsible for that?? All my money is wasted and I am hopeless now that my documents will be evaluated or not.

They will not accept calls. They didn't give me an evaluation on a course I sent them and still charged me. Wouldn't speak to me about it, just told me write to them and then they would give me an automated reply that had nothing to do with my question.

I wish I knew before choosing the schools I decided to apply. The good about this agency is that the evaluation was done and money was not stolen. Although its prices are a total rip off. But they think they are a monopoly. The thing is that people don't know that many schools do not require official transcripts until you are actually accepted to the program. And some schools give you options of getting a different agency's evaluation. I wish someone had told me before to do my research and pick a different school. It could save me a lot of money, time, and worries. Anyway, my complain is the same as it is of others: very high prices with zero customer service. I think it should be investigated by consumer rights advocates as a possible class action suit, but the only people whose rights get abused are foreign people.

I read all these reviews after I had sent my documents to WES for evaluation and I got pretty scared because of all the bad things I read. But nothing of that sort happened to me. Everything went on well despite the fact that it took a few months to finish and you hold on for hours when you call customer care. It was very successful. A piece of advice to anyone who wants to evaluated their credentials through WES, follow the instructions and go accordingly. Everything surely work well. I promised to write a review if everything went on well. Thank you W. E. S.

I have received the credentials evaluation which has incorrectly evaluated one of my degrees. I wanted to know what is the reason for this issue but all my attempts to contact WES via phone and email have been futile. After calls are directed, the music just keeps playing and no one ever picks up. I have attempted multiple times. They never responded to the emails I have sent through WES services page. So if WES makes a mistake in your evaluation it is going to be permanent.

Like most of the other reviewers, I found this service to be deplorable. I applied to have my credential verified, according to the instructions on the website. My documents were sent but somehow were unacceptable. No explanation, no answer to my emails or phone calls. Why the hell the government of Canada recommends this service, I'll never know. What a ridiculous waste of money and time.
World Education Services Company Profile
Company Name:

World Education Services

Website:

http://www.wes.org/