Barclays Bank/Juniper Financial
Consumer Complaints and Reviews

I just recently got hurt at work and don't have my extra income coming in. When I called this company to explain this to them they told me there was nothing they could do and my payment had to be made on my due date. They now expect me to pay over 100.00 even though I have no extra income coming in. I got them through Credit Karma. I warn you. Do not go with them. All they care about is money, not people. I will never go back to them and have closed my account.

I took out a loan with Barclays in 2011. Unfortunately I had to go on a payment plan due to change in my circumstances since 2012. This year in March I received a settlement offer from PRA Group where they claimed that my account would appear as settled. I paid the amount. Barclays delayed updating my records. I even received letters that I still owe the money and I need to pay. Later bank said I could pay the rest of the amount if I wanted to, otherwise my records will show "partially settled" for six years. I complained to the Ombudsman who admitted that Barclays is responsible for PRA's misinformation but said that since I paid about 30% of the total amount owed my credit records is updated accordingly.
In my opinion though the idea of a settlement offer is not about its percentage of the actual amount owed, be it 1%, 30%, or 99%; settlement sum is by definition the payment of a set amount of money to satisfy a pecuniary obligation that might otherwise continue indefinitely. Also in regards to the concerns I have raised, there are specific rules in relating to firms in relation to consumer credit activities that I feel are relevant to my complaint. As directed by the FCA these can be accessed in the Consumer Credit: Conduct of Business Sourcebook (CONC) using the links below: CONC 7.4 Information on status of debts, CONC 7.13 Data accuracy and outsourced activities, CONC 8.10 Conduct of business: providing credit information services.
I feel the firm made a false claim in a communication to a customer to be able to remove negative but accurate entries from a customer's credit. The lender or owner didn't ensure that the continuing existence of the debt and the possibility of the customer being pursued by another firm who purchases the debt was explained in clear terms to the customer. I was in these conditions, why would I not continue with my payment plan - (1) being in financial difficulties; (2) being particularly vulnerable; (3) a repayment plan or forbearance being in place.
After paying the amount I was still approached by Barclays to pay more money. As they said because of their system error. Again a firm should take reasonable steps to seek to ensure that, where it has engaged a third party to recover debts on its behalf, the customer is not subject to multiple approaches by different persons, resulting in repetitive or frequent contact with the customer by different parties. Barclays paid £100 for this and Ombudsman ruled they should pay another £50 to recompensate. Does that recompensate bad credit file for the next several years though?

I recently got approved for a new card and received the card yesterday. When I went to activate it I was told I had to mail in a copy of my driver's license, a utility bill and other identity documentation. Usually this is required before one gets approved not after. I spoke with 4 customer service agents to see if there was an alternate way (other than copying and mailing) to activate the card and was told NO. I have never had issues activating a card. Usually one simply calls a number and 10 seconds later it is activated. Barclays should not be sending out cards where they have not already vetted the applying applicant. This is poor business practice. The card I received has been shredded and I would recommend applicants look to banks other than Barclays.

I called in because somebody stole my credit card. Both of them and fraud department say is my fault. I called. I spoke with somebody at Office of the President and they agree with the fraud department. They told me that my authorized user activated my card and they didn't. That had nothing to do with my card being stolen. Every time I call them I have to argue with them. It shouldn't be like that.

I recently have made several attempts to resolve my account with LL Bean visa. I am experiencing hardship. I asked if I could apply for financial hardship. My income is low right now and I am doing my best to make payments. Barclays LL Bean Visa card has refused to lower my interest and keeps telling me there is nothing available. My account is past due. I am making 100.00 since I cannot afford minimum payment of 400.00 a month. On top of that even if I make a payment they are charging me late fees.
It really is unfair. I hope I find another company that is willing to work with me so I can pay my debt off once and for all. I am so sick of the loyal customer bs, they don't know loyalty. I offered to make arrangement but they are refusing to work with me. I have tried to work with other credit counselors but they cannot help me. It is unfair because I am a responsible person and care about paying my bills. I would not recommend LL Bean Visa card through Barclays Bank. They just have no ways to help customers. They want me to suffer in my status. They told me they would only allow me to go on a hardship plan once I am over 6 months past due. They don't care if I ever pay my debt off. It is just unethical.
How do I know I can trust these reviews about Barclays Bank/Juniper Financial?
638,664 reviews on ConsumerAffairs are verified.
We require contact information to ensure our reviewers are real.
We use intelligent software that helps us maintain the integrity of reviews.
Our moderators read all reviews to verify quality and helpfulness.
For more information about reviews on ConsumerAffairs.com please visit our FAQ.

After applying for the card, I had the company close my request. These people are total idiots. I was worried that if I took the card, I would have nothing but incompetent issues with the card. I keep a credit block on my account so I can understand that they would want to verify. I am happy with that but these idiots asked for my driver's license and SS card. After I sent them they said they wanted the backs of the cards too. Why didn't they ask for the backs in the first place. When I called to verify my address, a request they made two months after I applied for the card, they said that it wasn't proof that I got their letters at my address and I needed to send utility bills. What idiot gets hard copy utility bills. News flash: everything is done online.
The real stupidity is that Barclays did not request this information within days after I applied with a list of everything that they would want to see instead of sending letter after letter requesting something different. I didn't take the card because I was afraid I would end up with this total nonsense for the entire I have the card. Other companies, like Chase, is on the job 24/7. If anyone even tries to use one of my card they notify me within hours. They protect themselves and me! Thank you Chase! No thank you BARCLAYS!!!!! Barclays is totally incompetent and a waste of time!!!! Do not bother!!!!

I was in the process of applying for a credit card through LUXURYCARD.COM issued by Barclays Bank Delaware (Barclayscard). On two occasions, once in the beginning of the process and once at the end of the credit card process, I asked, "Do you offer a credit decision at the end of this process?" At first I was told, "Yes if you are approved". This answer of yes allowed me to move forward with the application process. At the end of the application process I was again asked, "Do I have authorized to run your information?" I replied yes but once again I asked do I get a decision once it's run. Customer Service Representative replies, "Well it could take up to 5 days for a decision". I reply, "Well that is not what you said in the beginning of this process So CANCEL THIS PROCESS AND DO NOT RUN THIS APPLICATION". She replies ok. Barclays Bank Delaware (Barclayscard) RAN MY CREDIT ANYWAY WITHOUT MY AUTHORIZATION.

I have had my Hawaiian Airlines CC for about 8 years now. This card was once owned through BOA. BOA then I don't know sold it or whatever it is they do to BARCLAYS Bank. Since then I have nothing but problems. I am unable to access my account anymore online. I like the convenience of calling or getting online and getting automated information. Well about a month ago, the automated system started asking me for my DOB. That's fine, except when I entered it, the system said it was incorrect!! Excuse I know my DOB. Had to wait for someone to get on the phone so they can fix it.
Now today, it asked for a phone number for extra security. OK that's fine. When I entered the only phone number I have had in 13 years, it doesn't recognize it!! So again had to wait to speak to someone. The supervisor asked me a couple of questions and my account number to confirm who I am. He asked me my phone number and I asked him, "What do you have?" "I don't have anything, as I am unable to find your account. That's why we asked 2 out of 4 security questions." OK!! Well I just answered 2 so why can't you find my account!! I couldn't take the stress so I hung up!! I will paying this card off asap and closing the account!! NO MORE FROM THIS BANK!!

I have many credit cards and worked with many different banks through the years. My wife had signed up for the US Airways card a few years back and it became the Barclays AA Aviator card. I have to say this is the single WORST CARD EVER. We had a birthday party for my son who was turning 1. Paid for the balloons with this card. On the day of the event, the vendor came late, did not set up close to half the balloons as agreed in the contract and worst of all, in the balloon letter display of my son's name, she did not include the middle letter in a 5 letter name. My wife complained since the guests came into a party at 6 pm and clear could see the missing letter. Pictures were taken with the 1 year old with the missing letter. The vendor's response, "Can't you take pictures later?" One year old baby, Sure let's wake him for pictures after the party.
I put the dispute in for contract violation with Barclays. First, you can't submit a dispute online. You have to mail or fax. Fine, so I mail in a copy of the contract, copies of the emails from the vendor and pictures from the event showing violation of contract. 30 days have gone by. 30 DAYS. I got a form letter from Barclays saying "We are looking into the matter." I call to speak to a rep, she tells me they are reviewing the case. I continue to ask what is there to review. I enclosed a statement, pictures and the contract. I was told, pictures and a contract with my statement do NOT AMOUNT TO PROOF. Pictures are not proof. She also told us the vendor was not responding to their phone calls either. She didn't answer ours.
The vendor's google review show she has done this to many people since our party. Still no money back. I have filed disputes through the years. Citi, BOA, Chase, AMEX all have your back. Barclays DOES NOT. AVOID THIS CARD. AVOID THIS CARD. AVOID BARCLAYS. Poor customer service, poor protection of the customer.

I received an offer for 0% interest with a low fee. I paid off another credit card. I received other offers and did the same thing. Each offer had an expiration date associated with the offer I used to pay off the credit card. I kept track of my payments to know when the first offer expired to be sure I paid it off before the 18.24% rate started. I came to find out that Barclaycard does not apply the payments toward the oldest 0% offer first, so in effect I have an offer that doesn't expire until next year, but the balance is far lower than it should be. The offer that expires this month is now much higher.
I have contacted the Better Business Bureau and the President of Barclaycard only to be told that they are following government regulations and there is nothing I can do. Bottom line is this - They are not honoring the agreement I signed up for. This was never divulged to me and now I see they have added a disclaimer to the monthly bill stating they can apply the payments regardless of the offer I signed up for. I am going to continue to fight them as this must be illegal.

I opened a billing dispute for $1,300.00 with my Barclays Rewards MasterCard. They take great notes but there is NO ONE that will speak with you about status, etc. I asked 4 times to speak with manager. They called, left message with a number that reaches NO ONE. It's a voice mail HOLE. Then they send letter saying "We called you several times to discuss your concern". One call does not equate to "several time" and NOT leaving a call back number. Really!!? I'm now learning that MasterCard does not make their customers "whole". MasterCard will bury their loyal customers is their data abyss. For the record, when opening a billing dispute only cards like Visa and AmEx make their customer whole and happy campers. Guess I will close Barclays Rewards account when my billing dispute goes silent and falls by the way.

I have had this Carnival Barclays card for nearly a year. Against my better judgement, I gave in and applied on a cruise for the freebies they were offering. Believe me, the freebies have NOT been worth the hassle I get every time I have to call Barclays US. Originally, I rented a vacation condo online and all was okay. When I tried to make a purchase in a store, the card was denied. When I called the Barclays customer service they told me several things that weren't true. That I had called and told them I lost my card, they had sent a new card, and then no, they didn't send a new card, they just updated my credit report. It was all confusing.
Then they sent me a new card, and I started using it knowing that the points would count toward a future cruise. I have used the card a lot but am getting closer to the cutoff to redeem the points. Still a few hundred points short, I purchased an item I was already planning to get through their accelerated points program of purchasing thru Barclays to the seller website. I was to get 12 points per $1. Today the points came through and they didn't award that. My cutoff is in 5 days to redeem and today they told me it would take 3 to 7 days to review that. I am LIVID. If this doesn't get corrected, I will be cancelling this card. This is the WORST customer service ever. STAY AWAY FROM CARNIVAL BARCLAYS CREDIT CARDS.

Enjoyed a Priceline Visa card from Barclays for several years. Never late on payments. Because I get paid upon completion of a project which are occasionally long term, my credit utilization goes up and down. Imagine my surprise when Barclays, without notice, cut $4,100 from my credit limit suddenly leaving me with about $200 available. Reason given was credit utilization which, thanks to Barclays is now far worse creating a potential snowball of similar responses from my other cards. There really should be a regulation about this so that you at least have an opportunity to manage it. Impact on my credit score due to their move is terrible. I guess they are trying to make up for the fines that regulators have been assessing them for their illegal banking practices. I see that other reviewers have had similar complaints. Don't trust this bank's credit cards.

I have several credit cards, some for as long as 40 years. I've had a Barclaycard for several years. I use my credit cards heavily due to my business. It is not unusual for me to run them up close to the credit limits and then pay them down. I will pay off the Barclaycard over a longer time because of the favorable interest rate. I've never been late on a payment with them or with any of my other creditors. My credit score will vary just because of the changes in my credit balances but not due to any delinquencies or derogatory remarks or issues.
Twice now Barclaycard has cut my credit limit without notifying me. Both times just as I pay them down and within a few dollars of the balance. This puts you in a very bad situation because that can get you in trouble if you are using the card as they cut. Plus it changes your utilization ration causing your credit to dip. When you call they will do nothing to assist you. They just don't care. My suggestion is there are plenty of credit cards out there that want your business. Barclay's isn't one of them. I would stay clear of anything Barclays related. My opinion is that if they run one division this way they run them all this way. You have to watch the corporate culture. All of the above is my opinion and nothing more.

Worst credit card ever, very bad customer service, very unhelpful, and rude people. My advice is to stay very far away. I even got sued for owing 500 bucks because the customer service didn't help me. I couldn't pay my bills and therefore got sued...

Several weeks ago I applied for a credit card through Barnes & Noble, hoping to make use of the reasonably good rewards program for in-store purchases. In the course of the application, I was asked to enter my permanent address, with a note that if I was living at a temporary address it could be entered later for the purpose of shipping the card. As a student, I was happy to see that, and entered my permanent address, which is, for the time being, still my parents' house. The promised opportunity to enter my temporary address wasn't offered, but that was a small inconvenience I've been living with for a checking account for a while. I was also given an opportunity to have a $15.00 charge applied to the new card as soon as it was issued for express shipment. I checked this box inadvertently; that error would prove to be the catalyst for a great deal of bother in the coming weeks.
I was, as I expected, approved fairly quickly, but because the new card was shipped back home, it took several weeks for me to get it and attempt to activate it. I was shocked to find that activation was refused, with no reason given. After a second attempt, I called customer service, where I was informed that after having approved me, they had "monitored activity" (there was none) and decided that I needed to provide more information before they'd allow me to use the card, and since I hadn't activated it yet, that meant before they'd allow me to activate it specifically, a scan of my driver's licence, front and back, my social security card, front and back, and of a bill in my name at the address I entered. This last was crucial, since the permanent address I'd entered was not a residence where I paid the bills (thankfully). It was thus actually impossible for me to provide the required information.
The customer service representative was rude and insulting throughout the conversation. Apparently not grasping the distinction between a permanent and temporary address, she said she was "sorry I'd put an address where I no longer lived," but they'd still need precisely the information they'd requested. Since I couldn't possibly provide it, I asked if I could simply cancel the card. She pointed out that not using it would do the same thing, but noted that there remained the matter of the $15.00 charge for shipping -- a charge I knew nothing about, since I'd signed up for paperless billing and couldn't log into my online account until they allowed me to activate my card (much later, I received notification of the bill and the required documentation, but well after I'd needed it).
Better still, I was informed that because more information had been requested (I was given no reason beyond that, despite asking repeatedly), I could only mail in the payment: I couldn't pay online (obviously, since they still wouldn't give me access to their online service) and I couldn't pay by phone. Annoyed, I mailed a check for $15.00 to the address I was given, then disposed of the card in disgust, thankful that, for less than the price of mid-range dinner, I was rid of the consequences of the mistake I'd made by doing business with Barclaycard (by this time, I'd read a few reviews, and knew what some of you had experienced).
Several weeks later, I was informed that the payment had been returned. I later realized this was my fault, as I entered a "3" instead of an "8" in one digit of the account number, but I was still left with less than a week until a late fee would be applied, and no way of paying the account quickly thanks to Barclaycard.
That's where the situation stands now. If the check arrives in time, if Barclaycard allows me to pay off my account without charging a late fee, I'll have received a remarkably inexpensive and much-needed education in disreputable companies. If not, I'll likely have another few weeks of hassle, and perhaps pay a slightly higher tuition for the Barclays School of Absurdity. In the meantime, I cannot encourage you strongly enough to have nothing to do with Barclays Bank and anything related to it. If you're thinking about it, stop. If you have a relationship with them, cancel it. There are too many honest and competent companies out there to waste time with Barclaycard.

Barclays was most difficult credit card I've ever had -- I've spent lots of time calling customer service w/additional fees. I used Barclays at the Apple store (easy approval) and thought they would be ok. However, once the Apple special expired I used it for one expense that fell outside the Apple special rates. Interest was extremely high -- I called and they would not lower the interest rate even -- they were absolutely non-negotiable. I found this very odd. Is the company trying to keep customers?? (no) So I paid the account off. With my last payment, they charged me additional interest "trailing interest" they call it, so even though I paid my bill in full, my last payment left a small balance. I am very annoyed by their practices and in general working with this company. I found them non-responsive to my needs and would NOT recommend them to anyone. Call bankrate.com for a better company!

Thought I read the agreement closely when I signed up to get the 50 bonus for signing up for Visa. Well I guess I had to make a purchase before July 17th, my room was booked for July 24. So I didn't t get my 50 credit. Contacted them and the manager had no intention of helping me whatsoever!!!! My parents closed their Barclays account this morning, my husband is transferring his balance to Capital One, and I will be closing my account in Sept only because I booked a room with my points and got great deal. I am very sick and had several hotel reservations to make in the next two years for trips to Cleveland clinic... what a waste for poor customer service care.

Took 35 min to change bank auto repete deposit comes from and then Barclays typed in a credit union not a bank. Told me to check back in day or two vs fix it and send confirmation.

I used a Barclays card check (balance transfer offer received in the mail) to make a loan to a friend. Apparently, Barclays card made one call to my cellphone to try and confirm the check (with no message left) and when they got no answer cancelled it. I then incurred a returned check fee and my friend incurred 3 bounced check fees (one for the Barclays card check that was cancelled and two more for checks he wrote in anticipation of receiving funds from Barclays card). When I called Barclays card I got no satisfaction what-so-ever and no cancellation of the return check fee - just a robotic repeating of "well that's our standard policy." I think its ridiculous to make only one call and then cancel the check! Duh, they can't even leave a message? What a scam!

I used a Barclaycard check (using my line of credit) to make a loan to a friend. Apparently, Barclaycard made one call to my cellphone to try and confirm the check (with no message left) and when they got no answer canceled it. I then incurred a returned check fee and my friend incurred 3 bounced check fees (one for the Barclaycard check that was canceled and two more for checks he wrote in anticipation of receiving funds from Barclaycard). When I called Barclaycard I got no satisfaction what-so-ever and no cancellation of the return check fee---just a robotic repeating of "well that's our standard policy." I think it's ridiculous to make only one call and then cancel the check! Duh, they can't even leave a message? What a scam!

Barclay Bank is terrible! They will offer you a great credit line for their card, and convince you to transfer your balance from a higher interest card to them, then without notifying they will cut your credit limit to make it look like you are over using your credit to the CRA's. Do not fall into the Barclay Bank Scam, avoid this bank at all cost.

I have 3 Barclays cards and I suggest if you are thinking about getting one... think again. They started me out with 2 $4000 credit limits and the other one at $2500. I've had the cards for 2 years or more... have never been late and almost always paid more than the minimum due. One day out of the blue I get a letter stating they are reducing my credit limit on one card. I emailed them and asked how they can do that to someone who has never been late! Of course, I get a generic email back saying how sorry they are blah, blah, blah... and almost 7 months later they did it again! Doing this affects my credit score!
They are shady and I strongly suggest you don't get this card and if you have one... don't use it again! I'm sure this has happened to others and it's really unfair how they can do this to people when if affects their credit. Barclays is the worst company ever!!! Beware of getting their cards. I look forward to getting mine paid off and cutting them up! Bad business for Barclays! They are the worst credit card company EVER!!!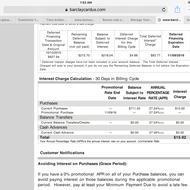 Never have I been so pissed at a company as I am with Barclays. Unlike #CareCredit, they do not apply your payments to special interest financing unless your account balance is paid in full. I have paid more than three times the special finance charge in payments, and yet there is a balance... Total BS. If I carry a BALANCE I DOUBLE OR TRIPLE MY PAYMENTS TO AVOID HIGH INTEREST. These tactics are low down and dirty and trick consumers into cards with them. I will not be using this card much more I will keep a marginal balance so as not to ding my credit, but this relationship is done.

I used one of the checks that they offer to pay off another credit card. After paying all of the balance transfer I still owed almost all the money. I called and they told me that the bank apply the payments whatever they want. So, be very careful because you never going to finished paying this off unless you don't use your credit card for purchase. This is the worst credit card I ever had.

I have had an account with Barclays for over two years now possibly three. Over the last year since May of 2015 I have made 1 transaction on the card and paid it off less than 30 days later. To my knowledge the card was paid off so have not checked my account in months. The next month after I made my last payment the annual fee of $49 was charged to my account without my knowledge.
If this company was up to date and cared about their customers like Discover or Capital One does, I would have gotten a friendly text before my account was over 30 days late. Instead, I went months before finding out I had a balance, only when I checked my Credit Karma to see my score went down because I was over 60 days late for payment. I called Barclays customer service only for them to tell me there is nothing they can do and I will just have to pay them NOW $156.00 bill and my credit will suffer from this honest incident. I have already cancelled my card and am debating on getting a lawyer.

Due to lack of a better word, I have to call this "Worst" Barclays credit card. Their customer service is pathetic and their business practices are selfish. I filed a dispute case against a furniture store who didn't deliver a item, and after around 6 months with at least 20 mails & phone calls, they put the charges back on me, saying that I need to provide them proof without any responsible investigation on their side. Where is the so called "Consumer Protection"?
All I have is a invoice and I sent them that. But they refuse to do any kind of due diligence on their end and just close the case saying I should pay them the amount after 6 months of pending dispute. And most of all, their customer service can cause your BP go high, because they just don't care and they put off phone calls multiple times and have no shame in doing so. They proudly say that this is how they work and it's up to us to retain their credit card or not. What a pathetic company that calls itself "Premium Barclays Credit card".

In or about 2014, I had 2 Juniper credit cards with Barclays Bank. When I initially applied for the cards, I was given a 9.7% APR. I paid the monthly balances on time for more than 12 months. All seemed to be OK. All of sudden, Barclays notified me that they were "RAISING" my interest to 25.97%. I could not believe it. I called Barclays and attempted to converse with some foreigner who I could not understand. To make a long story short, this foreigner told me there was nothing he could do. I told him very frankly that there was I could do, and that close my accounts. He said, "Go ahead." At the time I owed balances on both cards and told this jerk that I would not pay them. He could have cared less. I did close both accounts.
Subsequently, Barclays sold the accounts a "Bottom-feeder" collection company named Midland Financial, or something like that. Midland has been harassing me for the past several years by constantly reporting these accounts to the three credit bureaus. Frankly, I don't know what they are trying to prove with their tactics. In any event, I have filed formal complaints against Barclays Bank with the appropriate authorities and am awaiting a response from those agencies. If and when I do receive any responses, I will post them here. The moral of this story? "STAY AWAY FROM BARCLAYS BANK." "FAR AWAY."

Have had card over 2 years. I used it and CL was raised 2500.00 so total of 4500.00 used and paid. Paid off last June and did not use much at all and if I did paid in full. 4 weeks ago I put 1500.00 use to help my son and made one payment on time and today I received a letter. They dropped my CL to 1800.00. Never late almost always made more than min. I am paying off all my cards in Aug so just made min this month. It was at 0 for over 8 months. I called. No one can tell me why. Have AmEx Discover and Capital One (4 Caps total of 35000.00). I will cut up my Barclays Cards (Apple NFL and World Cash) AND never use again. I do not want to cancel because it will take a hit on my score but will watch very closely on my phone app that there are no Fraudulent Charges. Stay away. They are good to get going on credit but then pay off and cut up.

This company is the most frustrating credit card company I have ever dealt with. I have spent numerous phone calls and two trips to post office to provide them with documentation that I exist. It is thru the Apple finance program. Amazing, Apple store gave me a 1200 dollar computer, but I can't get the credit card approved. The letter from Barclays said to send in a utility bill, but that wasn't good enough. Then I need to send in a copy of my social security card and my driver's license. Still not good enough. The driver's license wasn't clear enough. It was legible to me. I am not going to pursue this card and get the Apple rewards, but I will continue to make payments on the credit card that I cannot get approval for. I wonder what the connection is with Apple. This would be nice to know.
Barclays Bank/Juniper Financial Company Profile
Company Name:

Barclays Bank/Juniper Financial

Website:

https://www.barclaycardus.com/