Consumer Complaints and Reviews

I have been building my own high end gaming pc's for over 10 years now. All told I have built at least 12 rigs for me and my son. I always swore that Newegg was the best place to buy components. Recently I have noticed that if you're not careful you can end up paying 2-3 times more from a 3rd party seller. Last month I ordered a gaming mouse from Newegg. Not really paying attention I just clicked on the mouse I wanted. When it arrived I realized that it was used and broken. There was dried food it and the latch that was located underneath which held the weights was broken.
For the first time ever the review I attempted to post was declined so I then posted the same bad review on the sellers review board (it got posted). A few days after it went up the seller (from China) actually called my phone to ask me and I quote, "If you remove your review we will give you $5". I couldn't believe it. When I called the Newegg CS number their exact response was "Sorry man business is business. You should have clicked the box that says Newegg only". A good way to verify that Newegg is allowing the 3rd party sellers to rip us off just go to the site and search "gaming mice" you'll find mice that are $1000! Then click on "Newegg only" and you'll see the same mice for $75-$125.

Last week I placed an online order for parts to have a custom gaming PC built for my son who just graduated from 8th grade, (high honors his last year), and his birthday is **. He's been talking about a gaming PC for almost 2 years. He started putting money away to save over the last 6 months because of how expensive they can be. The IT guy I work with is going to build it for him, so he compiled a list of what my son would need. I placed the order and later that afternoon, I received an email saying my order was on hold. I found that they processed 2 orders (even though I only placed one) because of a "free" game that came with two other things I ordered. It flagged my bank as fraudulent. I was advised to call my bank to have them allow the transaction. Called Newegg back and was told the prior rep gave me misinformation. He re-ran the order on a different card, since now I have over $800 pending on my debit card.
He said he was seeing the same issue, so that was voided automatically. I was on the phone with this guy for an hour and a half! He said his supervisor said there was an issue with the free game on their end causing orders to void out. I told the guy I didn't give a crap about the free game, I needed these parts by Tuesday (6/6). He was able to successfully process it without the free game one order. Weekend rolls around... Sunday I open Newegg's website and see I have 11 things in my cart and no open orders. I check my email and only had received the one from the original canceled order. Really?? I was livid! 3 times they voided my order! I did some online chat since they weren't open. That person said she had to send it to their verification dept for review.
So, Monday morning I call and I'm told it takes TWENTY-FOUR HOURS to be reviewed by verification and that they don't even call, they send an email telling me I can replace my order. Umm, no thank you Newegg! I talked to the IT guy and we went to Fry's and just picked up the parts. Sick thing was, Newegg emailed me Monday afternoon saying I had 11 items in my cart, do I still want them? Ha! Nope! It was not until later that night that I got another email from Newegg saying they reviewed the account carefully and found that I can now place my order. They are absolutely terrible! Luckily I had a backup plan and my son's PC is being built as we speak. It'll be ready for his party on Saturday the 10th! He has no idea he's getting it!

Do NOT trust these people. They do not care about their clients. I bought a laptop from Newegg worth $2,100 and they sent it to my address (after I paid 2 day express shipping) through FedEx. FedEx left it outside my apartment, on the street. Laptop was stolen, package boxing was left outside. I found the package remains and contacted Newegg. They responded after 3 days, and said they can't do anything. Then I contacted FedEx. They said contact Newegg. Newegg said they can't help me and won't refund anything, but offered a $35 gift card. How useful.
Customer representative (Tom **) and his supervisor (Wendy) were useless, and wasted 10 days of my time having me go round and round in circles, yet they never called and did anything. Only communicated through emails. Took over 24 hours to get responses. Still haven't received my money or product. I do not recommend buying from them, they don't give a poop about their clients and are a waste of time.

I ordered a product from Newegg for the 2nd time. The first time it took at least a month to get the product and when I called I got the runaround because Pamper Inn was actually the seller. No way to contact them. It showed up the next day. This time... I decided it may have been a fluke and tried again (shame on me). I contacted them because I ordered my product on 05/02/2017 and have yet to receive it. The order number didn't exist. The agent (via chat) told me the order was voided due to nonpayment. Paid with credit card day of purchase and have receipt in hand.
They told me they never actually charged my card and order was voided. They failed to notify me and when I asked why they didn't, the agent told me to check my email. I wanted to choke them through the screen. When you wait for a product that should have arrived within 5 to 7 business days you check it daily... Junk mail and all. I will be taking my business elsewhere and thought anyone looking to get something from these guys might want to look elsewhere.

We received a new motherboard that was defective. We had purchased it on a gift card and since we have done business with them for several years with no issue, the gift card was discarded as it was not reloadable. So contacting Newegg about the motherboard before we sent, we told them about the gift card and they said they could do store credit. That changed to do a check which we never received. In talking to them even with the information they had from us, they applied the refund to the now non-existent gift card. After several chat conversations and conversations with their customer service, they are giving us the runaround still. This is $199.99 which is a lot of money to us. Terrible company. Buyer beware.
How do I know I can trust these reviews about Newegg.com?
788,323 reviews on ConsumerAffairs are verified.
We require contact information to ensure our reviewers are real.
We use intelligent software that helps us maintain the integrity of reviews.
Our moderators read all reviews to verify quality and helpfulness.
For more information about reviews on ConsumerAffairs.com please visit our FAQ.

Get a new customer service team. They are awful and rude. Marie is the worst and gives you attitude when you are simply trying to resolve your issue. Since this company has been bought out, the services have gone completely downhill. Customer service treats you like garbage and then when you call them out on it, you get a measly 20 bucks as if that's the magic wand to fix the problem. Thinking that you can provide dog crap tier customer service and then buy back the customer is silly and would not be necessary if your team treated people like human beings.
I have unsubscribed from all promotions and will not be a return customer. The only reason I will return to Newegg is to further tarnish Newegg's image for their laughable attempt at getting return business. Amazon happily took my money and will be getting me what Newegg couldn't on time. Been a customer with Newegg since 2012 (sadly) and have literally watched as my used to be favorite retailer dropped like a pooh in a toilet. I will do everything I can to make sure people know not to shop Newegg anymore.

I'm in the market to buy a PC now that mine is getting old. I had one from Newegg picked out and planned to buy it after my next paycheck, until I was displayed an offer to save $100 off my order if I signed up for Premier. It seemed like a good deal to me, since I was a new shopper and there was a 30-day free trial if you signed up for the annual subscription. I planned to subscribe and buy my PC now instead of waiting since the extra $100 would leave me enough in my bank account to be comfortable for the rest of the week until payday.
So I go to sign up and fill out the form, except when I click to submit it, nothing happens. I am redirected to my cart. No confirmation, nothing. I go to my account overview to check and see if the membership had been applied and there was just a bug, but nope! Nothing there either. Okay, so it was probably just a fluke. I clear my cookies and try again. Same thing. New browser. Same thing.
I open up a customer support panel and let them know what's going on. I then spend the most agonizing 40 minutes rehashing the same two sentences back and forth with the CSR because they don't seem to have any reading comprehension whatsoever. I then go back and find that, mysteriously, the $100 off offer is gone. Not wanting to waste any more time, I ask the CSR if he can confirm whether or not the offer is valid, because if it's not, I don't want Premier. NE: "Premier members get free shipping." Okay. That's not even remotely close to what I asked. Talking to Newegg CSRs is like talking to a poorly developed artificial intelligence. Remember Cleverbot? It's like that.
So I sit there for a bit and try to decide whether or not I can justify spending the money now. I decide I can manage on a couple hundred for a week and send in an order only to open my bank account and realize there is a false positive and one of my deposits is still pending despite being shown in my useable funds. I immediately cancel the order (within 20 minutes of submitting it -- my card HAD NOT been charged yet) and go about my day. I'll buy it next week when I know I have more than enough money. That's where this should have ended, but no.
The next day, I go to my bank and find that there's a charge on my account. What gives, Newegg? I canceled, and I received a confirmation of approval of my cancellation. You shouldn't have processed my card. Once again, I'm talking to another incompetent CSR. This is the best part: I'm sitting here with the charge log right in front of me and this guy is telling me they never ran the transaction. I show him a screenshot of the charge (with important personal details censored out) and he STILL denies it. "Nope, we never charged you."
I have the proof right here that he did, and he becomes increasingly more rude and lies to my face. "If you canceled your order, how would we have charged it?" I don't know, Will. You tell me. I hang up and go call my bank. Guess what? The charge HAD been posted, just like I said it had. I had to spend an hour contesting the charge to have the amount refunded to my account. Never again, Newegg. NEVER.

I had never heard of this company. I received an email in November 2016 about a mouse for $5 and a rebate for $5, limit 5. Thought that was a great deal. Ordered 3. Sent in my rebate details quickly, in fact, the next day after receiving the product, which was delivered super quick. That was in November 2016. In March 2017, I went in search of my $15 rebate. The first response was, "We didn't receive it." Now, I have to tell you, I am in my 60's and I've been responding to mail-in rebates since in my teens. I can count on the fingers of one hand how many times my envelope did not reach the intended recipient. So, after some back and forth, the CSR said the $15 would be credited to my bank account in a few days. When I checked back, it was, "We changed our minds. You can have a $15 credit to our website." I refused.
She basically said, tough luck. I wrote a snail letter to the CEO, only after, may I add, when I asked CSR for the name and contact information of same, she said, "You cannot have that information. That is private." I found it on my own (with no problem). So, I got a response from the office of the CEO. He said, "Your $15 will be credited back to your bank account in 3-5 days." That was some time ago. More than 2 weeks, in fact. I have tried to contact him. He will not respond.
OK. My $15 is gone. I see that. I'm not rich. It hurts. I would never have bought these without the rebate offer. Oh, and, may I add, the connection of the mouse to the computer is so old school that it is pitiful. Of no use at all. Newegg, not so new. Old scam, still working. I feel like an old fool. Used to be that scammers fooled old people on the phone asking for their SSN. I am embarrassed, but, still fighting. I haven't lost my faculties, I hope!

I have been purchasing business computer equipment from Newegg.com for a number of years and they have never disappointed. Shipping is fast and I often get my product shipped same day as order is submitted. Their pricing is very competitive. Have not had to return anything to them. Sometimes a bit difficult to get customer service on the phone but they are available via email and they do respond quickly.

I bought 3 Philips DiamondClean toothbrushes on Newegg. When I received these items, the tags overlapped an older one. An agent told these are returned items, and people forgot to change the package when in warehouse. They offered to replace. It took a week for the refurbished items returned to Newegg. Replacement was canceled as one of the models was not in stock. I had to place another order. It took half a week for the refund to be finished. When the second 3 toothbrushes arrived, I found they have all been fully charge, while Philips told me these items need 24-48 hours charging before use, so there shouldn't be any power. Newegg agreed to return all money back after they proposed to send only 85% money since the packaged were opened. It took half a week for the returned items go back to Newegg, another half week for they inspect the returned item before the refund issued.
It then took 4 days for the refund to be sent back to my account. I don't think Newegg sell brand new items, 6 items were definitely refurbished when I received them. I complained to agents, and they told me this is the fault of the warehouse, while there is no refurbished toothbrush showing on the website. Newegg proposed to give me $20 Newegg gift card which expire in a month for the compensation of these refurbished items, and they refused to change it into cash or larger amount of gift card.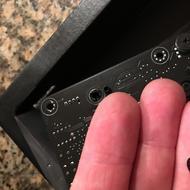 I recently purchased all the components for a new computer. The Asus ROG Maximus IX Code LGA1151 mobo (**) was one of my purchases and was broken when I received it. They shipped me a physically broken motherboard. (A screw on the back of the mobo connecting the back to the front had been over-tightened, presumably by the manufacturer, and broke the plastic housing it was in.) As such, I went through the RMA process and returned it.
First, they say, "Please allow 2-5 days for processing once Newegg.com has received your return." It took 10 days and multiple follow-ups to get it processed, double their promised "maximum." Second, Newegg rejected the RMA saying, "Unfortunately, the item(s) was physically damaged and beyond the applicable Newegg.com warranty coverage as indicated in our Standard Warranty Policy." They shipped me a physically broken motherboard and now want me to deal with the manufacturer? How is this acceptable business practice? That's like Target telling me to go talk to Sony because Target sold me a broken TV! They make you wait double their promised RMA processing time and then tell you it's not their problem they sold me a damaged product?
Additionally, I had to pay to have it shipped back! While I haven't had a problem with Newegg before, I've never received damaged product before either. I now know what other people meant when they commented on Newegg's customer service. I would recommend steering away from Newegg. You can find almost all the same products for less money on Amazon, your local store, or other retailer. The same motherboard was available on Amazon for slightly less. Additionally, Amazon's next day shipping charge was $8.99. Newegg's is over $40. Part-way through the RMA process I just bought it off Amazon because I needed a working computer right away. I still can't believe "it's not Newegg's problem they sold me a damaged product."

I ordered a product from Newegg for my son in Tennessee. Newegg stated shipping in 1 to 3 days. The product was not provided by Newegg, but by a Marketplace supplier 123Stores subcontractor. I had no notification that the product had shipped. When I contacted Newegg they disavowed responsibility but said they had canceled the order. The next day Newegg sent an email saying that my credit card had been charged. I contacted Newegg again to get a tracking number. I still have no proof that the item shipped and will file a fraud claim if it has not. I will not use Newegg again.

Always, ALWAYS an issue to start. It's always something. Once started it needs to go thru restarts, updates, it never ends. Why did I buy this Acer One 10? No, Newegg would not take it back. Stay away from them.

Because I was having a credit a card and address change difficulty, I called Newegg Customer Service. The man did not resolve anything and I was told that I could not speak to a manager or supervisor. So I guess my credit card will remain not updated so my Premier account will not be renewed.

Ordered 2 internal pci cards for my home computers from Newegg (Kingsmore). Little did I know at the time that this was a 3rd party Newegg China company. Needless to say 6 weeks later my order still showed as "shipped" and no evidence of such a tracking number or item. Finally had to go thru refund process (over a week, really Newegg??) NOT the way to do business. After 7 years of purchasing thru Newegg I have lost any confidence in them. Amazon and Best Buy will now get any future business of mine.

I ordered a computer and paid an extra 41.27 for next day shipping. My print out receipt "guaranteed" delivery by Friday. It's Monday and I haven't received it. In fact, when I attempted to look for my pkg, my sales number wasn't even registered. I have the receipt and a sales agent tell me that it would be delivered on Friday. My FIRST AND LAST EXPERIENCE! NO THANK YOU TO reneging on your own contract, and trying to make someone pay for a service you didn't deliver. Wrong person!

Newegg has issued a refund.
Original Review
I ordered a M.2 SSD from NewEgg a while back. The performance of the drive was terrible no matter what I did. So I requested an RMA and was approved. I packed the drive up in the original packaging and returned via UPS with their shipping label. A week later I get an email from NewEgg stating that I returned an empty box and that they would not be refunding my money. Now I am out the SSD and $330. After researching the issue on this and other consumer protection sites, I have to say I am shocked at how unethical NewEgg seems to have become. I am very much not alone in my issue. I recommend cutting all ties with this company.

I purchased a monitor from Newegg and it broken within 3 weeks. They send me a FedEx label to return it for a full refund (got that in writing). They rejected the return because the box was somehow missing some serial number (presumably by being shipped twice). HOW CAN A CUSTOMER BE RESPONSIBLE FOR that? They then argued there was a 3rd party vendor (Laptops4Less) and that Newegg wasn't the seller even though I paid them (my credit card receipt reflects this).
They send the defective laptop (the fact that it's defective isn't in dispute) back to me to dispose of! So on top of being stolen from, I'm supposed to pay to recycle the thing. I've filed a complaint with the Better Business Bureau and will sue them in small claims court if those folks do nothing. I should say that getting the shipping label and written assurance that the return would be accepted for a full refund took hours. This company is slimy. I didn't want to give it even 1 star. I give it a negative 5 stars!

What's to like about Newegg? Nothing. I ordered a cat tree from Newegg almost a month ago. It was supposed to be shipped within 5 to 7 business days. No sign of it yet. I checked their website and all they show is "in transit". The USPS site shows that a shipping label was created, but there is no tracking information beyond that. I'm very familiar with online shopping, and I know that the tracking information should be there, indicating the item was sent to a sorting facility, out for delivery, etc. I have been ignored during chat sessions. Customer service is terrible! NEVER buying from Newegg again. I will get a refund through PayPal. Thank goodness they watch out for buyers!

3 weeks after order was placed, I contacted customer service to inquire about/cancel the order. Upon cancellation, an email from a 3rd party supplier was sent to notify me that the order had just shipped. Spoke with another agent at Newegg the same day and was informed that it was up to me to cancel with supplier, which I did. Minutes later, I received another email from 3rd party with tracking information. Spoke with yet another agent at Newegg who made it clear that the onus was on me to cancel order. Received (cancelled) order today. Contacted Newegg and was told there was nothing they could do, and once again had to contact the supplier for an RMA. Was told there is a 15% restocking fee. After speaking with agents, I knew in my gut that this would not end well. Super sketchy. Do NOT purchase anything from them.

So I am building my pc and some of the very last pieces I need are my ram cards. I saw they had some pretty cheap but good ram cards so I ordered them from here. I'm trying to get my build done as soon as possible so I figured I'd pay for 2 day shipping so I could try to finish up. 2 days come around and they still aren't here so I go to check on the tracking and they hadn't left the facility. I started wondering why they hadn't left or anything until I was informed after the fact that Newegg's "2-day shipping" isn't that whatsoever.
In the support page, they state that it's 2 business day shipping but for some reason they don't put that out there when at the checkout screen. And it's not even two day shipping! It's 2 day shipping but you have to wait a day for processing! So you are paying $15 dollars to get scammed out of shipping as fast as possible, have to wait a day for your order to process, and then you can order it in Thursday or you won't get it until next Tuesday or Wednesday! This is an absolute scam of a website. I was always told to order everything from here but I will never do such a thing again. They may be cheap prices because they scam you in the shipping and handling. Will never order from here again.

From the beginning, dealing with this company was impossible. FIRST PROBLEM: They emailed the invoice but I was unable to open their weird attachment, and so I could not print, and I needed the invoice for taxes. They refused to include the invoice in the box, and they refused to print it and put it in the mail. NEXT PROBLEM: Defective products. NEXT PROBLEM: They gave me a return number, but no shipping label. Because I am not a big company, I can't get the same shipping rates and return shipping will cost as much as the product.
NEXT PROBLEM: I tried repeatedly to contact them for shipping label. They have no phone contact, and never answered email. NEXT PROBLEM: I finally got customer support on a chat window. They said they are a marketplace and the seller had to send the label. I asked for seller contact info and they closed the chat window. NEXT PROBLEM? I just filed a dispute with my credit card company. We shall see.

I bought my daughter a refurbished laptop for school work in Nov 15 with a 2-year service plan. It was advertised with Windows 7 professional. It came with Windows 7 Home edition loaded. The unit had issues out of the box and completely died by Feb 2016, still under vendor warranty. I had complained and sent reviews to Newegg about the false advertising from day 1. They blocked the review and did not respond. It took a couple weeks of prodding to get the computer replaced when it failed and I got stuck with paying partial shipping, as Newegg capped shipping reimbursement at $15. The replacement also came with Windows 7 Home.
The hard drive failed again in February 2016. I had to dig and make phone calls to Newegg to get the extended warranty coverage as Newegg does not share it with you at the time of purchase. I found out Mywarranty.com was the actual service company. I called them, got a return authorization and mailing label on the spot. They will not repair the computer, they issue a replacement credit with Newegg to replace the computer. I was ok with this seeing the first one is junk. They said the credit would be issued 2-3 days after the Laptop SHIPPED.
I contacted Mywarranty.com 2-3 days after the unit was RECEIVED by them as I had yet to receive my credit. I got a response back stating it takes 5-7 business days. I shipped the computer Feb 16. They received my computer on Feb 20th. It is now March 2nd, with no credit issued and neither company will give me an update on the status. I had service warranties from a major competitor in which they would repair and return laptops with 5 day turn around and all shipping paid.

Newegg failed to deliver the same item 2 times. The item not delivered was part of a promotion, buy the item and receive another item free. However, the original invoice split the charge erroneously. When I refused to have the failed delivery item delivered for the third time, they only issued credit for less than half of the value, by their voodoo math. I offered to return, at their expense, the free item, unused, but they refused to accept. Now I'm out my original cost, plus I don't have the missing items from these thieves. The use of voodoo math worked in their favor. Last purchase from me for Newegg and I will seek restitution through the Attorney General for them and shout their bait and switch attitude from the rooftops for stealing my money. Bad, bad, bad company.

I bought a ASUS Laptop f556ua- uh71 Intel Core i7 7th Gen 7500U (2.70 GHz) 8 GB Memory 1 TB HDD Intel HD Graphics 620 15.6 Windows 10 Home 64- Bit. It was a very poor quality as to what was advertised on their website. I returned it as soon as I opened it. I returned it in the same condition the next day after receiving it. I paid $629 FOR THE COMPUTER. I GOT AN INVOICE ** ON 2/22/2017 showing that $521 was going to be returned instead of the original $629. This is a ripoff. I returned the computer in the original box and condition the next day after receiving it. They took $100 as a punishment for returning a poor quality computer. That's why I will never order anything from them anymore. It was my first time to order any item from the company.
I warn anybody willing to purchase any computer from Newegg to read the customer reviews first. I highly recommend Amazon because they will always refund the money without any penalties. I recommend customers to check with Amazon for any item they need to order. They will never regret. That is why Amazon is having good profits because they are trustworthy. Never buy any computer from NEWEGG. You will be risking your money. Very disappointed customer.

Purchased a $200 gaming video card. After Newegg shipped to wrong address, they issued a replacement. It had been advertised with a rebate, so we followed instructions to clip UPC bar and send in rebate. Two days later, supposedly new video card started flickering endlessly and gave way. Newegg claims because we sent in UPC, they cannot take it back. Could I possibly be in the twilight zone? They tell you to send in UPC for a rebate but don't tell you that makes product unreturnable? Highly deceptive, can't believe this isn't illegal. What a bunch of jerks. Never will buy from them and wish as so many customers did, that I had read the numerous terrible reviews. The worst part of this was this was a unit that my 11-year-old son saved up $200 for a long time to buy. Ridiculous and heartless.

This company made a quantity error on their Ebay listing. They admitted to their listing error. They did not and would not issue a partial credit because of the error. Rather they kept "delaying" the refund stating they were "in the process" of issuing it... Too much time passed and they were unable to process the refund. They know this. DO NOT... DO NOT... BUY FROM THIS COMPANY!!! DISHONEST!!!

I purchased a computer and the associated extended warranty for my disabled son.The computer was damaged. I contacted the warranty company, ServiceNet; they advised they would send a return box. The box did not arrive and a week later they called and told us to return it to the manufacturer, and they were closing the claim. I began another claim with ServiceNet about December 20th and was advised the box would be coming. On January 4th the box still did not arrive. I contacted Newegg and was given an RMA number.
I returned the computer on January 5, 2017. Newegg contacted us several days later stating this was the wrong RMA type and that they would send it back and we needed to return under a new RMA #. Once the laptop arrived back, we received an email asking for further details. We responded with a phone call on January 24 and were advised that a new RMA number would be issued and they would refund the purchase. At this point, I purchased a new laptop from another vendor. Today we were advised they will not refund the purchase. I am now left with a nonfunctioning computer for which I purchased an extended warranty.

I ordered an open box item and it did not work. I did the online RMA and it told me 3-4 months for a replacement part so I called the joke of "Premier" customer service to see how I could get the item sooner. After overcoming the language barrier, I was told to buy a new one at full cost and wait for a shipping label and new RMA for a refund vs the exchange I had previously got. I tried for months to get his label but could not break the language barrier. They hear one word in a sentence they understand and read scripted responses until you say yes.
I finally got the shipping label and returned the item. Take is even marked by them as being an open box, and they declined my return saying that I did not return the open box item, despite it being labeled by them as an open box. They are insisting that I originally ordered a full price one and I tried to return it when I found it cheaper as open box even though their documentation shows the open box was ordered first. Nobody at this company understands a bit of English. Avoid this company, if you have a problem it will never be resolved. I've been trying for almost 6 months now, repeating myself and not a soul understanding any of it.

Returned a refurb desktop computer for a replacement. This computer would turn itself on daily at the same exact time, quite scary. The hard drive was noisy and from my experience on its way out. The Windows OS authorized number was not given. With the computer, I received the China made cheap keyboard and mouse. I never opened up the keyboard package. Returned all items, as well as, my wireless mouse's USB adapter still in the computer's USB port. Called Newegg about the USB adapter, and get this, they found it and returned it to me. Well, TY. But then they fabricated a story that the keyboard was missing thus "Incomplete Return". I have searched my home and there is no keyboard in a box lying around. Why would I knowingly keep their keyboard? I am overrun by keyboards as it is.
Now this is the deal or should I say RAW DEAL, I will be receiving the same computer minus the keyboard perhaps. No satisfaction. I am being ripped off. It is in their best interest to deny my return because of the deal I got in the first place and the cost for them to fix a refurb and to send me replacement is way more than what I paid. It's easier for NEWEGG TO LIE about the package and send back the piece of junk they sold me. First time buyer at Newegg and it's my last.
Newegg.com Company Profile
Company Name:

Newegg.com

Website:

http://www.newegg.com/