Consumer Complaints and Reviews

As you get hooked into the deal you might think is great. The deal will change as you get signed up. The gift card started as a $300 credit for paying off an old phone bill and switching to U.S. Cell. But in the end you will find it is only a $100. Card not a gift but used to pay the money you have due on the phone. It is a very misleading way and a tool that will turn out to be a lie in the end. And yes, the service still is very bad and not even near what they tell you in the TV commercials! So hope that you read this and don't fall into the trap!

Poor customer service, shafts you out of money - This is from a few years ago, but better late than never. My mom had a cellphone thru US Cellular for years. It was an "emergency only" program that she paid around 10 bucks a month. She was notified that the program was being discontinued and she needed to upgrade to a newer program that was around 20 bucks a month. She did and during the upgrade, she wanted to make sure the customer service rep updated her password and also added me onto the account. Allegedly he did (we went to one of the local stores for the upgrade). I also signed up for their cheapo program and got a phone at the same time.
A few months later, she fell and broke her hip and was in the nursing home for a month for physical therapy. She had to have a phone but her minutes on her cellphone were really low, so I took it to the store to add minutes (mom wasn't in any shape to do it herself). I gave the kid the password and account information and found out that the previous nitwit who'd supposedly updated mom's password and added me to the account really screwed it up. He not only didn't add me to the account, he also transposed the numbers and letters in mom's password so the password I gave was "Incorrect."
For three days I fought with these idiots at the store and all they could do was smile at me and tell me "I'm so sorry, but since you're not on the account and don't have the proper password, we can't let you add minutes to the phone." I explained to them that the kid who did the upgrade on her phone screwed up the password and didn't add me to the account like he said he did, and they ADMITTED they'd screwed up, but wouldn't do anything to fix it. I took out mom's billing statement, the updated contract she signed, her driver's license, EVERYTHING. I told them she NEEDED a phone in the nursing home and I couldn't give her my phone because then I wouldn't have one in case of a car breakdown.
Finally on the last time I went to the store, I was nearly in tears and extremely upset because they weren't fixing the issue that was their mistake in the first place. I finally got someone who said okay, we'll call the nursing home's landline and have them take their phone into your mom's room. We'll then walk your mom through the password until she hits the right one. Mom was able to give them the incorrect and transposed combo that the initial idiot had entered as her password and we got it changed to the password she wanted, plus they then added me to her account. We were both really upset with US Cellular but stayed with them, figuring it was a fluke that we'd had issues with them.
Then a couple of years ago, I changed credit card providers and needed to update the credit card that US Cellular used to bill me monthly because that card was going to be canceled. I went to the local store and the service rep there gave me a big smile and told me that she was sorry, but I now had to upgrade my service to a more expensive plan because she "couldn't make any changes to the account unless you upgrade." I said, you've got to be kidding me, you can't even just change the credit card information without making me pay more? Big smile and "No, I'm sorry, I can't make changes unless you agree to upgrade to a more expensive plan." She then started to shill the "plan" and I kept telling her I just use the phone for emergencies, I didn't do any online work or any texting with it.
I asked to speak to a manager, who came over and gave me the same big smile and song and dance about how they couldn't change the credit card info unless I upgraded. I was like, "Fine, I think I'll be switching providers." I went to another area provider and they had a good plan that was in my price range, so both my mom and I made the switch. But while we were at the new provider, when we called to cancel our accounts with US Cellular, we got customer service reps who tried to harass us into keeping our phones with US Cellular.
I tried to explain to the guy I talked to that I was switching because US Cellular wouldn't change my credit card info unless I upgraded to a higher plan. I told him how ridiculous that was that I couldn't change basic info on my account without having to pay for it. He tried to tell me that even though it "broke the rules" he'd let me keep my old plan and I said no, after the issue with the mistake they'd made with my mom's phone and now this, I wasn't interested in staying with them. I finally had to get a little pissy with him to get him to cancel the account (mom had to do the same with the service rep she talked to as well). The new provider we're using has been fine, we've not had any issues with them. They had no problem putting me on mom's account and they didn't screw up our passwords. So we'll be sticking with them from now on because neither of us will EVER go back to US Cellular.

So they talk you into contracts. You would think you get a good deal signing. Don't. Customer service can do nothing. It's cheaper to use the month by month. They offer better deals for those who do not sign contracts. I paid for my phone with cash. It was 500$ cheaper than the payment plan. But they rape you still with a disconnect fee.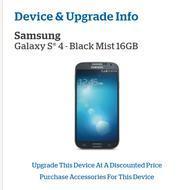 I am writing to warn others of a deceptive sales practice. I am a US Cellular customer eligible for an upgrade. On my online account on my home page, there is information about my current phone. Under the picture of my phone is a hotlink that reads, "UPGRADE THIS DEVICE AT A DISCOUNTED PRICE." I clicked on the link and it took me to their phone selection with pricing. I was savvy enough to log out of my account and go to the forward facing website of US Cellular to compare what people who do not have an account pay for a new phone and compared it with the "discounted" price that I was being offered and found THE PRICES WERE THE SAME.
Concerned I chatted with a customer service rep on 7/6/2017 who said there was no discount even though I was being offered one to upgrade and said he would talk to his supervisor about the "confusing" wording on my account. I messaged US Cellular on Facebook on 7/6/2017 and was told by rude-guy Ben that he was not about to "subsidize" a phone for me. I called again today 7/7/2017 and talked to a manager who admitted seeing the same discount price message on her consumer account but never really paid much attention to it. Long story short, I was told to go to WalMart to get a subsidized phone and that US Cellular, even though they have advertised that they will offer to me a new phone at a discounted price WILL NOT HONOR what they have advertised me. Is this legal? Beware current customers... Unless you're savvy enough to do a little research you might think you're getting a discount from US Cellular when, in fact, you are not.

US Cellular advertises cell services anywhere. I live in a small town in WI. I get no service unless I go stand out in the middle of the road. Castle Rock Lake, WI, no service. Door County WI, no service. Montana, no service. Many areas in Wyoming, no service. Their advertisement "even out here" is a bunch of crap! Not to mention they sucker you in with a set price, yet your bill is more and more every single month. They're a rip off.
How do I know I can trust these reviews about U.S. Cellular?
851,761 reviews on ConsumerAffairs are verified.
We require contact information to ensure our reviewers are real.
We use intelligent software that helps us maintain the integrity of reviews.
Our moderators read all reviews to verify quality and helpfulness.
For more information about reviews on ConsumerAffairs.com please visit our FAQ.

I have stayed with US Cellular ONLY because they were the only provider with service in my WV location. I cannot make enough negative comments about their service representatives - particularly in their stores. One of many examples: Want to add husband's phone to account. Go to US Cellular store. After 2 hours of trying to figure out how to add an existing line, we are told it is taken care. He is on a contract. We do NOT want a contract. I ask is this the same as me, EXACTLY - they say "YES." BUT that is not true. Shortly thereafter I get a notice that my cell phone insurance is ending. I call up and say there is a problem with the account. Am assured there is not BUT two days letter I lose my service. They added his account and ended mine, despite spending 2+ hours in the store and 1+ hour on the phone asking them to please check.
Moral of story: 3 hours and EVERYTHING is WRONG despite my asking specific detailed yes/no questions. Virtually everything that could go wrong did go wrong. Most recently my Samsung S7 (great phone) developed an issue. I call up, spend a while on the phone and am told to bring the phone into the nearest store. I do so... only to be told that they have to order a new phone and will be sent via mail. So why did I have to go into the store? And the phone does not arrive as promised. Is there ANYTHING they can do correctly? My experience would suggest not. I am moving to an area where other carriers exist and switching at the very first opportunity. If you can get service on another carrier, I would strongly suggest you do so.

U.S. Cellular has good service but not even 90% coverage in places I travel. Coverage could be better in my rural area. Customer service is great though, never had a reliability issue but billing charges could be explained better.

My family and I took a trip hiking in the Smokey Mountains out of Gatlinburg, TN for a number of days. We used our phones often. When I got home, I called US Cellular customer service to see if I went over my data package, I was told "no". Then the customer service representative said, "Let me look at your plan to see if I can make it better", she then said "I can add 6 GB of data and save you money monthly." I asked, would this change any of my accrued credits on my account (connectivity credits accrued over 10+ years of service with US Cellular) and she said "no it won't change anything but the data".
The first month was pro-rated so I didn't see the actual effect of her changing my plan but when I was billed the first whole month on the new plan, I had lost $30 of connectivity credits ($10 per phone on 3 phones). I called them and they said "there's nothing more we can do except give you a 30% discount for 1 year". They basically reimbursed me what I lost for one year. I lost $360 per year in connectivity savings per year because I trusted the customer service representative to actually know what she was doing. After this year, I'm changing companies.

This company has always had the best cell phone coverage in our area. Also, their customer service is one of the best ones I have encountered. Their bill are one of the easiest to read and understand too.

I use my phone for work. I told the sales girl that I needed unlimited as I travel around the state for work, and that the service was all over the state. Service around the state is roaming and you only get 500 mbytes that's not unlimited... This reminds me when companies hide your time just to get you to overpay, worse damn company ever. It goes roaming as soon as I leave town and won't get back to network until home, garbage.

U.S. Cellular have gone out of their way to help. When we were self employed and had a hard time getting paid from the general contractor since they turned off our services but when I called and explained the situation and if I didn't have my phone I couldn't try to get paid, and they restored our service to help us. They are very understanding and compassionate and will work with anyone to try and help.

I have been with U.S. Cellular for over two years now. I had been cheated since day one. When I switched my services from Verizon to U.S. Cellular, they promised to pay off my contract from Verizon. But they never did. I contacted them and they told me that I should have bought some kind of services for the phones in order to qualify for it. I swear the sale representative never mentioned anything about it. It take us almost a whole year to get this resolved.
The second problem was that my services was being cut off. Again the sale rep never mentioned anything about paying your bill on time or else they will charge $25 per line for reconnect. This is ridiculous!!! This year of 2017, I have been contacting them every month since March until today. I just had enough of this ridiculous game. For future consumers, PLEASE DO NOT SIGN ANY CONTRACT WITH U.S. CELLULAR. They are nothing but liars!!! SO FRUSTRATED WITH THEM!!!

I have had nothing but problems with this company for about a year now. It has been a nightmare but this latest blunder was pure stupidity. U.S. Cellular had a promo going where they would give you an S8 if you turned in your S6 or S7. I went into my local U.S. Cellular and was told that yes they could do that and it would be no problem, but I wanted an S8+ which, they just happened to be out of but they would be getting more in.
I informed them that I had to leave that day and would not be back from my out of state work until the 5th of May to which I was told that would not be a problem and I could just stop in when I get back which I did, only to be informed that the promo was over and now they would have to handle it as a regular upgrade with monthly payments, activation fee, etc. The thing is I had my heart set on that S8+ and why was I told that I should just drop in when I got back in town when obviously the promo was ending on the 30th of April. U.S. Cellular customer service is the worst and although I will rate 1 star, I would much rather be rating 1/2 a star because that's all they deserve.

I have been with US Cell for 2 years and had never gone over in my data. The month that my contract was up, I went over in data and was shocked with my bill. I should have known better than to use their cell service to begin with. Prior to signing this contract 2 years ago, my experience with them... I had to call them EVERY month because they could not keep the monthly service rate correct. I should not have had to babysit a cell provider like that! I literally had to call monthly and they had to adjust the bill each and every month. I switched providers tonight and will NOT go back to US Celluar. Two strikes and you are out!

Been with the US Cellular 35 days. I am on the $60.00 unlimited plan. I been charged $134.?? now and fighting... The unlimited does not mean UNLIMITED. AFTER 22 GIGS THROTTLED. WHAT THAT MEANS = PAGE OPENED 1/16 OF 100% OR NO SERVICE AT ALL. DONT FALL FOR THIS!!! Any new or old customer waits min. of 35+ minutes in line to talk with CSR. CSR are busting their **... MY EXPERIENCE on a Friday night around 4:30P only two CSRs in Muskogee, OK on Shawnee. 6 customers walk out!!!
NOW EVERY TIME I HAVE BEEN IN THE STORE SEVERAL PEOPLE GET TIRED OF WAITING AND WALK very mad. What is wrong with you guys. People dying to give you money for your services and you can't provide them. Just hire people for the flow! Tons of people looking for jobs. In return you get customers. Who's making business decisions for the company? THE CEO's 8 year old CHILD? Get a clue U.S. Cellular! AT&T had lost so many customers and totally lacks at customer service. People are leaving and they are dropping in your lap. DUHHHHH.

Have a signed contract with this company. Been with them over a year. Review was done on my account. They cheat me out of part of my employee discount which was agreed on when I signed up in contract. Customer service jerk tells me "if we don't raise rates how do you expect us to stay afloat." These were his exact words. I was suckered into a contract with a tablet and the rep told me "we will increase your employee discount by 5 percent if you accept the tablet". So I do. Now they review my account and say "we cannot give you this discount".
Now this last month of course my taxes go up monthly. More money less customer service. You guys are crooks and breach contracts. You should be run out of business and I am turning you in to Better Business Bureau. This is all out deception. I pay my bill on time every month. You breach contract more than once. Very dishonest crooks. No customer retention. All you care about is what's good for US Cellular. Well guess what. Can you hear me. Now I am fed up with you. And your cheating customers and the BBB will love I am sure my complaint. At least they will listen unlike your crappy customer service department.

US Cellular phone which is on auto pay thru bank did not work one day and was puzzled. Four calls later and with elevated blood pressure learned that they did not process my charge thru bank since my credit card was outdated. I asked why that made a difference and just told that is policy. That credit card I have not used for about 10 years and did not realize it was even listed on the account and since it was coming out of my bank account why does it make a difference??? For goodness sake. Do NOT get a prepaid card from them and by the way had lots of trouble understanding the foreign born personnel I talked to. Canceled prepaid phone.

Since I started with this company 8 months ago I have had nothing but problems. Started out with 3 months to even get them to look into why my service was dropping in the middle of multiple towers. 2 months later had to reset network due to being on Canadian network when in southern Maine. I have yet to receive an accurate bill and multiple times have had account suspended couple hours after due date expired including 3 times while I was paying the bill.
The customer service is horrible and always getting different story depending on who you talk to and bill for everything. Their bill reducer app was using 11-12 gigs of data and month which you get charged for and they push for automatic payments offering $10 discount but can never tell you what your bill will be. Worst cell phone company I have ever dealt with. Smoke signals are preferable to dealing with this company. If no improvement in service am leaving contract for breach of contract and fraud. Rude, incompetent, and thieves.

I purchased two pair of Beats headphones for my son for Christmas from US Cellular. Today he informed me that the sound just stopped so I said "well it's only been 3 months. They should be under warranty." I contacted Beats and they informed me that they would NOT uphold their 1 year warranty because we did not buy them from a Beats Retailer. They suggested I contact the retailer. I called US Cellular and they said they only offer a 15 day warranty on ALL accessories which they never bothered to tell us about and they made no effort to help remedy the situation.
I have never written a review for any company but I thought people should know that if you spend hundreds of dollars on accessories at US Cellular be prepared to take a loss if your product stops working on day 16 or beyond. I will never purchase anything else from US Cellular or Beats and just as soon as my contract is up at the end of the summer I will be switching carriers. Seriously what happened to companies doing the right thing by their customers?

I have been with US Cellular for over 10 years and the last few months have been nothing but problems. I had a Galaxy S5 and had it replaced. Within 3-4 months I had a charge port issue. I was offered either to get another replacement or upgrade. I went ahead and upgraded even though I did not want to. The agent in the store advised I will get a visa gift card for 100.00 I could use anywhere. The agent gave me misleading info and the card is only good in US Cellular stores. I paid my bill and asked for them to refund money so I could use promo card. The money was refunded and shows pending in my account. I have to wait up to 14 days to get money back. I extended my bill out longer to make sure the funds come in.
I'm glad all the associates I spoke with were able to feed their families and had food in their cabinets. While my family has literally nothing. Your customer service empathy sucks. You don't understand what I'm going through. How will I get gas, groceries, and pay other bills? Oh guess I'll have to wait the 14 days to get my money. I'm switching because you don't play with my money and make me wait to feed my household while all your employees get to eat. Total negligence and did not really have a solution to give documentation to my bank so they could return fund. Advised financial services does not do that. This is how you treat a 10+ year customer. Good job US Cellular!!!

I'm writing for my mother-in-law. She paid week ago. She only owed 75 dollars and her phone was shut off owing only 75 dollars that she was going to pay on the 1st. My mother-in-law is blind. She needs her phone on and they shut it off without any notice. Shame on U.S. Cellular... Better Business Bureau will get a report. People don't get U.S. Cellular you'll regret it... Will be filing complaint. You ** shut off a blind lady's phone.

We have had US Cellular for probably 10-12 years & the biggest problem we have is little to no service at home, in city of 80,000. This is a huge college town & I can get 1 tower in my home. I have called & called talking to many customer service personnel & when they check into the problem they come back with the same response. Oh Yes! We know that is an area with problems but they will tell us flat out that have no plans to make changes in this area! In trying to tell them about the issues I have the call dropped 4-5 times is nothing new. So the advertisement that has the "you can get service Way.. Way out here!" Is so ridiculous. I want to change services, but problem is this is the provider my husband's employer provides discounts. So we are stuck!! Now once I drive 4-5 blocks out of our neighborhood way, way out there we have all kinds of service. Poor Service!!

US Cellular Rocky Mount, NC lied about contract end date. Management is unprofessional and don't take responsibility for their employees. Their monthly fees are not competitively priced. With so many other phone carriers options I highly suggest avoiding US Cellular.

How can you have a service for two actual months and pay twice what they said it would be and then get a bill for $300 something. You try to talk to them and they say that's for your data that had a cap on other I might add... then have no service for the third month and I owe them over $400. Crooks.

I live in central Maine, so when it comes to cell reception, US Cellular has it all over all other providers. HOWEVER, in September 2016 someone in Maryland managed to buy almost $3,000 of equipment (iPhones, iPads, etc.) at a Maryland US Cellular store and put it on a payment plan on my account. I immediately contacted the US Cellular fraud department and they "took care of it".
Fast forward to Feb. 2017, and my monthly bill STILL is wrong as it has been for every month since September 2016. There are constant (and varying) equipment charges, errors in service billing, and device protection charges - all of which came from this fraud. The local US Cell store has refused to let me open a new account (without ANY fees), but my monthly bill is still a mess. They cannot seem to clean this mess off my account. I think they are incompetent!! If there were any other company that had reception here, I would change! BEWARE US CELLULAR!!!

I have been dealing with US Cellular for almost a year now and have had problems since day 1. We switched from Verizon because the salesman ensured us we could Keep the same coverage for less money than we had with Verizon so we spent about 2.5 hours in the store switching over services. The first bill came in and it was about the same as it was with Verizon with half the coverage as we had before. As the months went on we kept seeing unusually high data usage but keep in mind we kept our Verizon phones.
After the first couple months of complaining they ended up giving us 5 more gigs a month to help offset the overages we were being charged. None of our data usage has increased since we moved from Verizon nor has our phones. So we continued with the spotty service US Cellular was giving us and I ended up calling and complaining about it every other month and was told each time I'm not having a problem and to continue on.
Well now tonight we are almost a year into service and I have had enough. Service is going downhill and nobody wants to do anything about it. When I asked about leaving and if I would be charged a cancellation fee I was having to argue with the customer service agent for over a hour just to get transferred to the department that could tell me how much I would have to pay. Stay away from this company. They are nothing but liars and just want you to keep paying your bill but not help with concerns you have. I am leaving Us Cellular and going to find another carrier ASAP.

I have found this provider to have above average coverage in areas that are known to be weak. Excellent coverage on a regular basis. Their customer service is also very good and choice of phones is excellent. All in all a classy company.

Paid my bill and phone off in October in November my bill should of been $45 and I paid 20.00 of it which left 25.00 and I get a bill for $112.00. I have had nothing but outrageous bills about every other month never got my deposits back after phone's paid off! Stay away from this rip off company!

Switched from Verizon because US Cellular would pay fees... not! You get debit cards some of which are good at their stores only. Takes forever to get cards. By the time I got them Verizon took me to collections dropping my credit score 50 points. Bad reception in Minneapolis for my son. Forget to pay bill they will cut you off no notice. Also when switching over which took two hours in store at the end you get a $25 per line activation charge. Horrible. Awful. Don't switch. The ads should be classified as false advertising.

Although I have been with them for 2 years my prices have gone up and up. Every plan I have tried no matter what either my data is not enough or something else.
U.S. Cellular Company Profile
Company Name:

U.S. Cellular

Website:

https://www.uscellular.com/