Consumer Complaints and Reviews

Last week my iPhone SE didn't charge anymore, so I contacted Apple support. They said it's warranty. 2 days later UPS picked my iPhone SE up and send it to Apple repair center. Another 2 days later, your iPhone has a scratch on your housing so it isn't warranty and you have to pay 150 Euros to repair the iPhone SE, Only because there is a scratch they needed to replace the housing and the actual problem. Because there was a scratch it isn't warranty and the whole housing needs to be replaced. It's ridiculous. Apple warranty is not good, and also the repair isn't good. Apple won't help you fix your iPhone, they only want some extra income.

I purchased 3 IPHONES over 3 years ago. One day the phone just locked down. Started with Technical support who sent me to Activation Lock Team because I could not locate my original iTunes ID and password... Well my ID was known but was not recognized by Apple when we tried to RESET to gain entry to my locked phone. So again they had to start at beginning because the ID was not accepted. APPLE for 1 could not tell me why my phone "randomly" went into lock mode. It just happens sometimes (they said). Also APPLE could not explain why it could take up to 4+ days to get this rectified. "This is the process Mrs. ** and I am sorry but there is nothing you can do but wait." "I have provide all needed information to verify that I am the original owner of the phone. I gave you my original store receipt, why does it take 4 or more days to verify." "Ma'am that is the process."
"We have been without the phone already for 5 days and possibly another 5 days and that is all you have to offer? I would like to let APPLE know of my concerns, who can I address them to, why THEIR PRODUCT that I paid big money for just quits?" "Laughs" "chuckles" at me... "Why are you laughing sir? My frustration is laughable to you?" "I am sorry ma'am, I was not laughing." But he was. So I guess Apple sells a product they do not have CUSTOMER SERVICE. I am switching to an ANDROID. I am angry as I really liked the APPLE, but I cannot stay with a product or device that does not offer customer service. I guess they don't care, my $2400 sale is nothing.
I hope that I can let everyone know the CRAPPY customer service that they provide. They sell you a product and just do not care after the fact. At the end of the conversation I said that on that following 4th day that I would be calling if I did not hear from them. He said NOTHING. We sat there quiet... I asked, "Are you still there?" He said, "Yes..." I guess he wanted the salutation to come from me... "No thank you Mrs **", no nothing just a hang-up. I hope anyone who reads this takes heed of it. APPLE just lost me and I will tell anyone who is willing to listen about my experience. Shame on them, but I guess it does not matter.

The iPhone 6 has got to be the worst phone I have ever had the misfortune of wasting my hard earned money on. I would rather have a flip phone than to have wasted my money on this stupid phone, that doesn't even appeared to be tested before they put it on the market. I'm just waiting on the phone to blow up next, because everything that could go wrong with a phone has gone wrong with this waste of money. I would never buy another iPhone or Apple anything if this is the quality they're putting out. Shame on big business charging that much for a phone that should be free. Got me this time but never again.

My iPhone 6 plus had issues with touch which Apple didn't able to solve. They are not ready to resolve the problem. They are insisting me to handover the phone with all my personal data for which they are not ready to take responsibility. Better to go for some other device. Poor quality.

When I bought my iPhone 5 I set my id address according to a Yahoo email account. But after a long while I neglected to check my email account so it was cancelled automatically by Yahoo. And one day and suddenly my phone required my id address which I did but it didn't work; this problem had happened to me before but I just wrote the serial number on the phone package and it worked with my old iPhone 3Gs. The Apple security policy has made it impossible for its consumers to restore their phones due to stupid reasons. Who would buy an iPhone again? Not me for sure with my phone thrown into the garbage.
How do I know I can trust these reviews about Apple?
762,011 reviews on ConsumerAffairs are verified.
We require contact information to ensure our reviewers are real.
We use intelligent software that helps us maintain the integrity of reviews.
Our moderators read all reviews to verify quality and helpfulness.
For more information about reviews on ConsumerAffairs.com please visit our FAQ.

I upgraded to an IPhone SE in October of 2016 through Verizon Wireless. Within 6 weeks of having the phone the audio jack broke. Calls incoming and outbound could only be connected through use of the speaker. The microphone for dictation stopped working also. The phone eventually went completely static after a while. I followed every required step without any solution. Apple sent me a replacement SE and within a month the same problem happened again prompting another replacement. I was sent an IPhone 6S and sent the SE back. Then today I received a random broken IPHONE SE in an opened box.
When I contacted APPLE to report what happened I was told they didn't know what happened and 5 hours of back and forth to the point of me shouting obscenities because they expect me to return all phones and be without a phone for 4 days while I wait for another lame IPhone SE to be shipped while they charge my credit card $450 to ensure they receive the phones back. It's not that I can't live without a phone it's the principle that I pay Verizon an obscene amount of money and for a defective APPLE product that I can't use and they offer NO solutions. This is what has become of our society. It's really messed up and APPLE products, their company suck.

Purchased my phone iPhone 6S on 19th March 2017 through Amazon. Was very excited as it was my first time with Apple product but unfortunately within a month my phone got damaged within the warranty period. I went to the Apple Service Centre in Andheri (E) hoping to get it resolved but never thought will be shocked by their reply. First they make me wait for three days stating that they will send my phone to Bangalore for repair but then they asked for Rs. 25,000 for a replacement which is Utter Nonsense. Come on you'll should understand I had paid Rs. 43,000 for my phone then additional Rs. 25,000 for replacement. It does not make any sense. Horrible experience from Apple. Will never recommend anyone else, so either Replace the phone or pay my money back.

Apple iPhone 6 - It was working good but suddenly before a month the home button stop functioning. How could I change? When I went to Apple Store and discussed the problem they said that if we change home button then sensor will not work. I am not satisfied with their response.

I have IPhone 5s. My phone was not working okay again. Again off and on problem was there so I went service centre F1 Info Solution in Ahmedabad. After 15 days they replaced my phone. After 01 day in that phone NO SIM and NO NETWORK problem frequently come. 6-8 times I went service centre but no solution. They are saying that "in your sim some problem is there. You have to change your sim." While same sim is working good in other mobile. Even though I changed my sim but the problem again repeated.
I called Apple customer service support centre from last one month but every time I talk with new person. Every time they are saying that "we call back to you within 24 hour with solution" but never get call back with solution. My case Id is **. I talked with so many person in apple care. Some contact are ** Ghanshyam and ** Shahbaz. Even today also I talked with another madam in apple care. She is saying that "people are working in your case." I don't know which type of working they are doing. One month has been passed but did not get any solution. I am facing so much problem due to this in my life and business. I never suggest anyone in my life to purchase apple products. Very disgusting service are provided my apple.

I am just pissed! Why? I bought an iPhone 7 to replace my iPhone 5s. I have spent over the last 24 hrs trying to get the new iPhone working just like my old one. Apple says you should easily be able to move from one iPhone to a higher upgrade which is obvious. I mean other than that it will be plain stupid to any company to make harder for customer to change from one model to a new model. Unfortunately, that's what am experiencing now.
When I plugged in the new iPhone 7 plus and started the setup, I got to the option of restoring my old backup to the new Phone so my setting, text messages and other stuff can be on the new phone where I expect them to be. I tried many times and the error I get is either the backup is corrupted or not compatible. Which I believe for the compatibility because my iPhone 5s is running a latest iOS 10.2.1 and through no fault of mine, the new iPhone 7 Plus is running iOS 10.2 so the next obvious step is to update the iPhone 7. As gruesome as it is, and after my tries and wasting of my precious time, iTunes finally downloaded 2.5Gb of the update only to tell me the update is corrupted. I ain't doing this again.
So I tried getting through to Apple support so I can tell them my piece of mind while I buy a software that can do that for me. Only for me to realize that Apple intentionally makes is difficult for customers to use the online support. I mean it is nearly impossible to reach a human being in Apple, I wonder if there are humans who actually design and build the phone. I mean Apple prefers to call you than you call or chat or even email them. No am just sitting there not sure my next step. Why didn't I get an Android phone?

iPhone 6s battery drastically cuts or loses all power when exposed to outside temperatures 32F or lower. This is the third time this week I've had approx 40% battery power when I started a walk outside, go for a walk outside at below 32F temperature and when I'm finished with my walk (less than 30 min.) I have no or 2% or less battery power. Once I plug in the phone again, within 10 minutes it jumps back up to the old power. And no, it's not eligible for a recall apparently. Good thing I don't need it to actually make a call. My old Windows Nokia phone never had this issue. Wouldn't recommend this phone to anyone.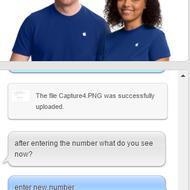 I reset my phone and I was trying to restore backup through itunes, but it was asking for password. I entered password. System was saying it's incorrect password and I was unable to call anyone and I just started chat session. Even they were very rude and (LEM) Csr ended chat suddenly. I have screenshot of this chat and I also have case I'd no. They didn't help me. Very dissatisfied.:(

Purchased an iPhone SE last year. Issues with frozen screen, spastic display, incorrect letters/numbers when typing. Plenty of phone calls since purchase regarding issue. Offer things like restoration, etc. Several months ago screen cracked - one singular crack through home button when carpet cleaners were at my home. Had fixed at local place. Finally had enough with freezing, plus incorrect typing inability to properly move screen. Opened a case with Apple. Put my case into my son's serial number. Told rep screen was fixed at a non-apple store, she set me up to have my phone replaced.
Got to store spent an hour and a half then went to put money in meter and girl says she didn't notice the screen was not the original. White and black certainly don't match. Won't replace the phone due to software problems and offer screen replacement. Tell me screens replaced by 3rd party often cause issues. I tell them this issue has been ongoing even before screen was replaced. There are plenty of recorded calls they can trace if they wish. Then they tell me I could have had the screen replaced for free however when I purchased the phone they told me physical damage was not included in warranty. Jerk rep tells me they would have fixed it for free b/c it was a hairline crack. I refuse to pay 129.00 and leave. Second rep was rude and condescending. I will no longer be part of Apple's "club".

It is my 1st iPhone (iPhone6). After several days the phone sudden, do not want to turn on. Been asked to go to iPhone centre. They cfm it was a defect unit and they asked me to wait. It's written 90 days just to get the result as maximum days as standard clause. It is ridiculous we have to survive without any phone at all. Now I need to buy new mobile phone and need to wait for 48 more days just to get clarity about the replacement and so. What a worse services. Accepting the money in advance and neglecting the service afterwards. Indeed having a status in the web. But the status never updated or so after more than 30 days.

I purchased an iPhone 7 yesterday... went home, plugged USB in mac to the 7. It crashed every one of my older iPhones. Permanently locked my Apple ID forever. Apple will not allow so they said... I spent 4 hours on Apple Care who by the end I figured out my daughter knew more about iPhone than this moron did. End result I am left with a blank iPhone 7. All of information locked up by Apple who tell me they will never unlock that account for any reason... You insisted I open new account.
2 hours later he could not open me any Apple ID account coz he had no idea what he was doing. Got tired of trying passed to manager who only want to get me off the phone asap and had no idea how to fix problem but spent entire time speaking in his daddy voice asking why I could not understand how smart he was and why I could not understand that. 5 min of that and I was done... started working on problem myself using the bits that dribbled out of the Apple retards...
Iphone 7 will not work with a Mac that is approx 5 years old best guess... when I plugged it in it locked everything down. All my old iPhones, iPads, anything that has an Apple ID in it. Apple does not have a fix. Not sure if they had any idea this was going to happen... again that's why I have blank 700 dollar iPhone 7 that I can't load. Old or new info my old phones are all blocked. If I plug in USB to phone Mac says "this is a blocked device, can no longer use for anything, it's considered stolen." Apple Care does not know how to fix. As of 2/12/2017 that's what I got for being a customer over 20 years, pay full price both hardware and cell service, never complain once.
I am stunned by their behavior and I have no phone and no one who knows how to fix... that's only a very small part of my last 24 hours. Beware of iPhone 7. It is designed as a TERMINATOR!!!! They are built to kill whatever Apple once the second you plug it in it's too late. It has enough info to continue on killing devices, accts, passwords, Macs, and it absolutely can't be stopped... even if I am totally crazy and embellished 80% of my story the 7 is going to be a mean ugly bitter phone!!! Sorry for spelling and grammar... between my dyslexia and iPhone putting in what it thinks I am typing I hope some can read it.

I was just sent my fourth iPhone 6 as all have some type of battery problems and now my new iPhone 7 plus is having issues too. After I'm done w/ my contract I'm done w/ Apple and Verizon. Now I have to find another brand that can do a better job than what I had, "GOOD LUCK IN DOING THAT" I SAY TO MYSELF.

I bought an Apple product, it gave me hard times because of its battery since the date I purchase it. Following are my sufferings: Scheduling an appointment with Apple store is itself a tiring task. When finally I made it to Apple store with appointment, I came to know that my phone is a defective piece. They admitted. They didn't have the iPhone 6s battery during that time. They asked me to visit again in order to get it repaired. After some 10 days, I got an email that battery is available in Apple store. I went there to get it replaced, after 3 hours, they said battery replacement didn't go well so they are replacing my complete phone, I ain't sure whether it was a new iPhone 6s or refurbished one. I switched on it and while configuring my iCloud I'd, it stopped working. It was rebooting again and again. This all happened while coming back to my home.
Since the Apple store folks don't entertain without appointment, and there wasn't any appointment within one week. And I had only one phone which is dead now. I used Apple support chat medium to tell the issue. There I chatted with Renee **, I told her all my sufferings because of this phone and asked her to set one appointment in Apple store right away or next day. I told her, "This is the only phone I have and I have a big need of it for work." She didn't gave me any appointment but she told she can create a case for me with high priority, and she will escalate it. She also said turnaround time of such issue are 24 hours and gave her email ID for further communication.
Now, after 24 hours when I am asking her on the status of the phone over email, she isn't responding. I again contacted Apple support through chat, this time another senior advisor (Danielle) attended me and said turnaround time is 48 hours. I told her I've already been told 24 hours is the turnaround time then she said by EOD she will be sending me update on it. It's been 4-5 days now, no response from Renee and Danielle. Meanwhile, I contacted Apple support chat around 10 times, talked 4-5 different senior advisors but No help. All the time they said is engineering team is working on it and they don't have any updates. I still don't know what's going on. I had to borrow one spare phone from my friend. I can't check my emails and other stuff but Apple doesn't care about it. Worst Experience ever!

Went into the store to get my phone screen fixed, after being run around from $45.00-$299.00 I was finally placed in a queue to see a tech. The wait was 2 hours. I was fine. When we finally got a tech, I re-told them my issue. Just got them to say "we don't have the iPhone 7 display part." I waited 2 hours for a part they should've checked about when they put me in a queue. I hope a new phone company comes out because I will not purchase another Apple product if this is how customers time and money are appreciated. 2 hours for nothing.

iPhone 6S Battery Replacement - Worst Customer Experience. Apple is going down. Battery Replacement Turnaround time is High. Appointments doesn't work. Worst Quality/Replacement program. I been to Valley Fair mall Apple store couple of times, they told me "I have to leave my iPhone overnight to get the battery replacement". This is ridiculous, customers' time is not being appreciated. I agreed to leave my phone for 3-4 hours and it's not sufficient for them to get the battery replaced. I am in the store at 6PM and they can't fix the phone by 9:30PM and there is no guarantee they can fix my phone if I drop it earlier time 5PM. I never seen such a worst customer service. You (APPLE) got to improve it, don't go low or cheap. Finally, don't sell defective pieces to customers, don't fool the customers and don't tell them to circle around the store again and again. Apple is going down. Is it true?

iPhone 7 review. The sleek design of the iPhone 7 is accompanied by some also challenging factors in the cosmetics of the phone. I won't put the whole phone to shame, seeing I've been an iPhone user since 2012 and since then have seen the enormous improvements of their phones and the capabilities they carry. Drastic changes from the iPhone 7 and the iPhone 6 are the ports located and the bottom of these phones. Up to the iPhone 7 every iPhone was delivered to you with a 3.5 mm headphone jack with a charging port to the right of it and speakers to the right of the charging port. While as the iPhone 7 stands different in this because of the headphone jack being removed and replaced with speakers.
Now the charging port also stands as a place for headphone connection. While not too bad of an idea, Apple left us with a slight problem. If you ever need to listen to music and charge your phone you better play it aloud or invest into some Bluetooth headphones. This problem isn't too major but just something that can cause problems. Other than that the phone's overall speed is good and I find myself using the camera from the phone a lot more often than my personal camera now. I owned previously the iPhone 6s and wasn't disappointed by anything other than my low storage captivity of 16 gb. But now with the new iPhone 7 the standard storage is 32 gb which saved me a lot of struggle. Now I can hold onto all the memories I make through videos and photos. The iPhone 7 is worth the purchase for a more developed experience with phones and their capabilities.

I have IPHONE 6 date of purchase is 11/13/14. The warranty good for a year. Couple of month after the warranty had expired the battery started to drain very fast. Couple of months later the phone no longer powers on - unexpectedly shut down. On July 1st - which was very hard to schedule an appointment - I went to a local Apple store to find out what happened to the phone, they weren't able to diagnose the problem. All they could do was replace the battery to see if the battery was the problem. After replacing the battery the phone still wouldn't powering up. Then they put the original battery back in saying since the battery is not the problem, and because the phone warranty has expired the only option is to replace the phone for $299.00 plus Tax. I can't offered to pay over $300.00 when I just paid for the phone costing almost $600.00 which make the total of about $900.00 just to be able to use IPHONE 6 when IPHONE 7 was almost out.
I found it unfair to pay $600.00 for the phone and be able to use it for a little over a year. My IPHONE was put aside until I heard about a program for unexpected shutdown issues due to manufactured problems, so I called Apple support on December 14th case ID:** Was on hold for at least 30 min. Explained to the rep. the problem I experienced with my phone. The conclusion of the call was my phone is ineligible for the program and the only option is to replace the phone for $299.00 plus Tax (same thing I was told before) I gave up. I believe this is unfair to pay this high price to purchase a phone and only use it for a little over a year. My decision after this experience is to stop purchasing Apple products. Apple doesn't care; they just want your money.

My phone is exactly 1 year and 1 month old. Right after I installed iOS 10, the phone started shutting down when the battery is on 40%, without a warning. Taking it to the nearest iPhone store, these were my given offers: Your warranty is finished so you can send it to the lab, get parts that are not apple, and pay full price for them. Give us your old phone and get a small discount on a new one. Stay with a nonfunctional phone. Obviously, all of these answers are unacceptable, to say the least. Is Apple seriously telling its customers that after a year they can go ** themselves?
I can't even send them an email to their support. They're forcing me to go again to the local iPhone store. In short - do yourselves a favor and stay as far away from iPhone as you can. They'll do anything to make you upgrade, even break your phone. I hope that there's a shred of decency still left in this company and I'm waiting to hear back from you with a reasonable suggested that will not leave me hating your company and banning it forever while telling everyone I know to stay as far away from your products as possible.

Informed that my 6s iPhone required an 'in warranty' recall involving the replacement of a defective battery. Apple support advised me to contact the Apple store directly to verify availability of parts and schedule a repair. First I was unable to contact the store (transferred all over). Second they wanted me to make a road trip to have the phone checked then make another one perhaps two trips to effect a repair.

I gave this review two stars because I had a previous history of Apple purchases and being very happy. Looking through my records and old electronics, I have an iPod touch, an iPod mini, a MacBook Pro and an iPad all of which I had positive experiences with. So, when I was looking for a phone in October, 2015, it seemed logical to get an iPhone so it would communicate with all these other Apple products. My previous phone was a Google Nexus which was a great phone. Only trouble is I couldn't do WiFi calling with it.
So I finally got an iPhone 6s through T-Mobile back on October 16, 2015. I was happy with the phone for a year. However, about a month or so ago, the screen started acting crazy. (see the images below) Briefly, the issue is it turns on and all the white is gray and the black is dark gray. Sometimes it starts scrolling through all these screens as if under someone else's command. Finally, when it looks like this I can neither swipe the screen nor touch to access any of my apps. This phone has never been dropped and was always in a case. I think I have a lemon.
In any case, it is my opinion that a $700 appliance should last longer than a year and a month. I went to a T-Mobile store and since I didn't pay the extra money for the insurance and it is a month or two beyond the one year warranty coverage, there is nothing they could do. I can understand from T-Mobile's perspective that they did not manufacture the phone but I was given very few options other than to upgrade. They encouraged me to set up an appointment at the Apple Store. When I went to the Apple Genius Bar, it was working and they ran a diagnostic which could find no problem. Don't you know the next day it started acting screwy again so I made another appt at the Apple Bar for next week (12/21/16).
I would appreciate the intervention of someone other than a sales associate at Apple to discuss options. I have enjoyed using Apple's products for many years but, if this is a sign of today's quality, I will probably opt to buy a Google phone next (again, my previous Nexus still works fine, it just doesn't offer WiFi calling). I do have the T-Mobile receipt dated 10-16-15 with the register #, transaction #, and sale rep # but I am not sure if this is at all useful to Apple. Thank you, in advance, for your time and assistance in this matter.

I am a very unsatisfied customer. I decided to subscribe to this site and to write this review with the only purpose of maybe saving you from buying a product from Apple. I know it makes little sense as you don't have any more reason to believe me more than anyone else. But I'm so fed up of my iPhone 4S... It used to be my best friend, a wonderful companion, but across too many useless updates, it became a really useless piece of silicon Here are my points:
I never asked for any update, except the one for night shift that was actually a complete hoax. (They could not tell you that actually it is not supported on your device until you had taken the step of upgrading...) But whatever you do, and as though they knew you'd be reluctant, you have a nasty pop-up that seems to be designed for you to accidentally accept the upgrade. I really wonder how legal this is... You'll end up upgrading, don't worry. Whenever I perform one of these upgrades, I tend to lose some of the autonomy. Not an impression, a fact. It is counted in hours. The last one saw my autonomy drop by 4 hrs.
I had my battery replaced, the iPhone was soooo much better, then came an upgrade and it was bricked... Google will immediately diagnose the source of the issue and placing back ANY official battery will do the trick. I work in the field of consumer electronics. I can assure you this is ON PURPOSE. There are thousand ways to prevent a device from getting bricked by an upgrade. This was designed so that the less techie would drop the phone and move to a newer one. It is a FACT.
From the day Apple announced that iPhone 4S was end of life, it started bugging even more. (Like so many times I receive a stupid message that something was wrong on the page and it needed to reload, nothing is wrong on the page. Something is definitely wrong on the iPhone!) I have been allowing an upgrade about every 2 years, so I won't believe there was suddenly a new technological leap that would explain why suddenly I have issues I had never had before. So please, believe all the ones who like me tell you that Apple is abusing you. Apple doesn't care about you. Just check this:
The emission level of their phones is so much higher than the competition, even Huawei does better! I consider that such a behaviour (programmed obsolescence and programmatic obsolescence) should be punished by the law, but as it is not, it is our duty to punish them by refusing their crap. I personally decided that the only way I would ever use an iPhone again would be if I'd receive it for free. As a comparison, my old pre-Microsoft Nokia is still working (3g of course). Most probably they were too good... Take care.

My iPhone 6 after downloading update 10.02 on phone shuts off showing full charge and will not hold a charge for more than 40 minutes max. It will be on charger provided by Apple for hours, I will leave house and with a few minutes of use will go from 100% to 80%. Then I will go on internet for 3 minutes and phone will drop down to 1% or completely die. If plugged into wall charger it will work but very slow response, sometimes loses personal wifi connections, also screen sometimes freezes and is non responsive.
Also bluetooth no longer working and my phone has randomly made calls or gone online to websites while just being charged on table with no human contact. Went to Apple store and were of no help solving issues. I had a few connection and battery drain issues with IOS 9 but nothing like this since installing to IOS 10.0.2. I'm afraid to update any further when promoted by Apple. They no longer offer the older operating system to revert to and my Macbook pro doesn't recognize my backup I did before I installed the 10.0.2 version. My phone is basically nonfunctional unless plugged into wall charger.

Concerning Apple update 10.1.1. There are many changes. None of which are good. I purchased my SE iPhone on 10-25-2016 and it had the old software. The reminders and calendar notifications were very handy on the lock screen describing what was coming tomorrow and what was today. Great information at glance. Since the update: I or anyone can read and respond to text messages without unlocking the phone. I or anyone can read the transcribed voicemail and perform the callback without unlocking the phone. It now creates its own picture albums that I do not want. It has created a memories album that has caused lots of problems with my fiancée, she doesn't believe that the phone is the source and I can't fix it.
I have pictures in a map that I don't want. I can't delete any of these because they are removed from my photos. When the phone is placed face down and turned back over it turns itself back on. Why does this phone turn itself on when placed on the charger? Battery life is in the toilet since the update. The new text messaging must be for children; certainly adults have something better to do with their time than babysit an Apple phone. I don't have the ability to change these items because it's written in the software. Having spent many hours trying to work out the update issues at the Apple store, my only conclusion is that the PRIVACY THAT APPLE TALKS ABOUT DOES NOT APPLY TO OWNER OF THE CONTENT!
Everyone involved with these software innovations should be fired. I would think they have better things to do with their time. I had planned to buy my fiancée an Apple Iphone, but I can't do that to her. In short this is my first, only, and last Apple product! For myself I will buy a new phone having had great luck with all of my Samsung and Motorola phones. I will also post these comments on every site possible and hopefully keep someone from making a big mistake.

I am totally dissatisfied from Apple services. I am using iphone from last 3 years and I bought new iPhone 6S, 15 days back and now its charger is not working. I talk to their service executor. They told me that charger pin got rusted, but there are not a single scratches. Then Apple service executor asked me to go to Service Centre. I went there and they were also not able to resolve that and asked me to pay Rs 1500 to buy new data cable. I don't know how to get out of this hell.

My iPhone 6s is one of the phones that needs the new battery. Customer service made an appointment with the closest Apple Store to me. It was in Texas 2 hrs. away. I got to the store, and they did not have the batteries to replace mine and informed me that just because I have an app. to replace the battery does not guarantee me a battery. I tried calling back the person at apple that made the appointment, hoping there was something she could do. I even left her a message. She never returned my calls. I have since called apple again and asked them what they planned on doing about getting my battery to me. They wanted to set up the app. again and I said no. I asked that the battery be sent to me and I would have it put in. They said they could not do that because they do not mail apple parts. So this is a problem with apple's product, but they will not help me. I will never buy another apple product.

The touch screen was unresponsive after 13 months. Google the problem and a lot of users had the same issue. Employee at Apple store did not find any abuse or water damage inside. He said it would cost $300+ to replace the part. I went back to AT&T to upgrade it instead (for less). The new iPhone 6s Plus is working OK. It's about 5 months old and it responds to touch a little slow sometime... I'm not sure if it is the same issue. I had 4, 5, 5s before and they all worked well. Apple products are going downhill... like Samsung.
Apple iPhone Company Profile
Company Name:

Apple

Website:

http://www.apple.com/