Consumer Complaints and Reviews

I bought an Apple iPhone in February of this year. It came with a one year warranty. One month later, it wouldn't charge. Apple replaced the device. Three months later, I have major battery/software issues again. I went to the store to get my problem taken care of, only for this girl to derail from the issue at hand and push some ** corporate propaganda about software troubles. Here's the thing. No matter how you spin it, I shouldn't have to waste my precious time every 2-3 months trying to fix a phone bought a few months ago. Apple replaced my iPhone in March with another crappy iPhone. They probably gave me a refurbished one when I PAID for a NEW one.
This girl patronizingly started explaining to me the difference between software and hardware. I have a freaking Bachelor's degree in Computer Networking, graduated summa cum laude. The last thing I need is for this know-nothing explain to me the difference between hardware and software. No! What I need is for Apple to sell me a decent quality product in exchange for my hard earned money. Their crappy products are already overpriced. You'd think that they'd use that money to at the minimum professionally train their staff. Nope! Low quality overpriced products, awful service seems to be Apple's business. She said the only way to fix my issue is to erase everything and start over. So now every 2-3 months I have to erase my entire iPhone? I should not have to waste my time every 2-3 months to troubleshoot their crapola phone.
Their waiting times are so high, and the entire store setup where you form a line in the middle of the product displays to get checked in is so stupid. You'd think they would at least have a registration counter, separate from the product display traffic. Nope! I have had an Android phone before I made the regrettable decision to switch to an iPhone. Big mistake! NEVER-EVER had a problem with Android phones. And I was using an LG device. For all the hype Apple products get, I never thought I will be having this much trouble with them. Stupid logistics, crappy products, and low quality customer service. If I have another issue with my iPhone while under warranty, I will be suing. Their treatment of customers coupled with their faulty products are unacceptable considering the astronomic prices this company charges.

The customer service with Apple is going downhill. When you buy expensive products, normally there is great representation behind them. I had a defective phone, the phone NEVER worked. When I took it in to get fixed, they said I would have to pay $200 because my screen was cracked (which I did not care about). If there was no crack on the screen they would have covered this under warranty. I argued that they sold me a defective phone and no one seemed to care. They were rude and this experience with Apple makes me think about EVER buying another Apple product. I explained that I have multiple Apple products and have been an Apple customer for 10 years, spending thousands of dollars and didn't seem to care.

After losing my phone for a month Apple realized they put in the wrong model number and because of that they sent my phone back broke for me to send it back to them and start over. I have never in my life dealt with as much stupidity. Every call to Apple has been literally 2 to 3 hours and now they're telling me that I can only send it back with proof of purchase. With all the things Apple does to keep theft down or to eliminate it all together this is the stupidest thing ever. I don't even want to give 1 star.

I bought an Apple iPhone 6s+ in Dec 2015. Within a couple months I started having issues with the touch screen not responding. I made many calls to AppleCare. They were unable to resolve the issue and ultimately I had to make an appointment at their store. They found that the battery was swelling and replaced my phone with a "new" one in early Dec 2016. In mid Dec 2016 I went to the Grand Canyon. Photo touch screen unresponsiveness problems started with the new phone. I revisited the store where they made some adjustments in Jan 2017. I found later it wasn't fixed. I made many many calls to AppleCare without resolution.
Problems have multiplied. On 2 calls I made 2 days ago I had to turn the phone off in order to hang up. On another call the screen went black and I was unable to make the phone respond at all (I even tried turning it off but that didn't work either). The screen returned when the other party hung up on their end. Now, intermittently, the touch is unresponsive...whether taking photos, editing them, messaging, etc the touch becomes unresponsive till I turn it off and reopen. AppleCare had me do a reinstall of factory settings but say if that doesn't fit the problem it will cost $329 to repair/replace ($800+ initial cost for faulty new phone now faulty replacement phone=2 phones in 18 months). I am outraged. It should have been replaced in January when I had to return to the store for "adjustments" that didn't work! I feel like a sucker.

They ended communications with me because I used the word "damn" a couple of times. Even the senior support techs have no idea what the problem is after sharing a screen for 2 hours but that was the best excuse to dump me.
How do I know I can trust these reviews about Apple?
825,614 reviews on ConsumerAffairs are verified.
We require contact information to ensure our reviewers are real.
We use intelligent software that helps us maintain the integrity of reviews.
Our moderators read all reviews to verify quality and helpfulness.
For more information about reviews on ConsumerAffairs.com please visit our FAQ.

My iPhone 7 (which is 9 months old) is having a GPS problem. It won't track or record correctly. I went to my carrier whom I got it thru, after trying all fixes known to man (which I had already done about 5 times) it was determined that is definitely my phone that is screwed up. At that point I had to call in and tell the tech in whatever location the story again and have her tell me to do all the troubleshooting AGAIN. I explained to her that I had done that no less than 10 times already. Finally I was transferred to Apple Support. While waiting for them to tell me to do all the things I had already done the tech at the carrier store told me I should take my phone to an authorized Apple repair shop.
So, while I'm on hold with Apple I get on my car and start driving to the shop. Apple comes back and tells me to repair my phone. I will need to send it in and then it would take at least 5 days. I say "Do you send me a loaner on the meantime?" The answer is NO. I run a business and this phone is my life line. My husband is deployed and this phone is OUR lifeline but, hey no problem you can live without it for a week!!!! I say, "Are you kidding me?" Apple then tells me to go ahead and take it to the authorized shop and that would be easier and quicker. Ok... I hang up and finally get to the shop. Guess what!?!? Same story!!!! They would have to send it in and I get no loaner. I will just not have my expensive phone for at least a week. Not be able to talk to my husband who is 5000 miles away, can't keep my business going, can't check on my elder parents. NO BIG DEAL!!! Worthless. They are worthless.

I can only give them below 0 stars. Today I am going to share my experience about DHL courier service. They are fraud. It was happened to me that's why I want it wouldn't happen to my friends and other family members. Actually a month ago I rang DHL courier service to find out if I send iPhone 6 by courier then what's procedure. Customer service guy told me over the phone "We charge £79.92 to send phone to India" and I clearly asked him when phone reached in India do I need to pay extra money but guy told me "No you only need to pay £79.92 in UK you no need any insurance on the phone." I said OK.
My husband send phone from DHL and when he send it he asked the shopkeeper same thing again and we get same answer from the shopkeeper and even they said, "If no one get your parcel in India parcel will automatically come back to the address from where we send." Now we are ringing them from 4 weeks. When we ring them they said "You need to send us letter you want your parcel returned." We send them letter. Then they said "Wait from 2 days, we'll get back to you." Then no one get back to us. When we rang they said, "It's Friday today we'll let you know on Monday." We waited Monday all day for phone call no one rang us on Monday. We rang again today and after that much harassment they said we don't have return policy. They said "We need 30000Rs and we'll deliver phone otherwise we not gonna return your parcel."
So please friends don't send anything from DHL they are so unresponsive, fraud cheater. ** company. I am just sharing my bad experience with this company. If they don't have return policy then why they told us couple of weeks ago, "If you want your parcel return you need to send a letter." Just because they think the costly item in the courier that's why they doing. They only want money. Different stories they telling us every time. These fraud companies should be shut.

They received my payment, they did not unlock my iPhone, sent me a message that my phone was blacklisted, lost or stolen (pure lie) and sent me a useless coupon that cannot be used, to try to unlock another, or to pay phone checks at checkMEND. So they are useless. Do not trust this company. Beautiful website but the company is in Nassau, do not have an address, a phone number, chat, does not answer emails. They hide... They pay for Trustpilot recommendations. They fake everything.

Multi touch issues sent for repair & Apple lost my iPhone - Apple lost my iPhone 6 plus when it was delivered to the warehouse for repair and they have acknowledged that they are at fault so why have they not replaced the phone after 3 weeks. The reason I sent it in was a problem they knew about and wasn't my fault because it is a design flaw but they still charge customers for repair.

iPhone 5c: Oh, my, a lot of difficulty with lighting on this camera. You try and focus on an object and it's changing hues by the half-second. You better snap quickly at the most realistic one. It's hard to center an object and the picture orientation lock works at whim. Am so tired of rotating photos. Also, why if I have my phone on Do Not Disturb with the purple moon highlighted, am I hearing it ring anyway? If there's something else I need to do to make it work, why to that, too? I never had to when I first got it. And yes, I've done Resets, the short and the complete, factory-status versions. I once brought the phone to the local Apple store for help with the camera and didn't really get anything resolved. Weird service, too. I left the phone with them and went off to do other errands for about an hour and a half or so and got somewhat chastised when I came back for being gone so long. Huh?

I took iPhone 7 in month of November, till now I'm facing multiple problem of touchscreen problem, problem in microphone, my phone gets hang etc. I have visited the centre 5 times but my problem is not solved. Mumbai Borivali Aptronix centre has also cheated me by saying that, "We have sent your phone to Bangalore service centre," but they haven't sent my phone to Bangalore. I put mails to Bangalore service centre but their reply was an automatic system reply. No one is helping me to sort my problem. I'm so annoyed with iPhone. I never expected this thing from iPhone company. They are not replacing my phone even after getting hardware issue and multiple issue. They have gave me literally a defective piece. Help me with this problem. I have spent my 6 months salary on this and I'm facing this problem. Never purchase iPhone!!

I ordered 1 iPhone 7 Plus 128gb. Shopkeeper by mistake shipped 3 iPhone and 1 Samsung 64gb 7 Edge. Now he forced me to pay for all of them. I pay them already 47k for one iPhone and custom fee 33k. He said that, "If you pay custom fee. We will give you all the 4 items." I pay the custom fee also then. He hold the item and asked me to pay 91k more for all the item. Now the item is in hold. I pay 80k total.

I bought a iPhone online. When I went to Boost to activate the phone they had the same exact phone for half the price. I initiated the return on a Thursday night. On Friday morning when FedEx opened I dropped the phone at FedEx. I was tracking the phone, which was going from Salem, Oregon to Rialto, California. FedEx is open every day including weekends. My order went from Portland, Oregon to Memphis, Tennessee. It spent a day there and went to LA where it sat for an additional day and was finally received on Tuesday after 4. That is not 2 days.
Now they are starting their 5-day count before my refund hits my debit card. They got the phone yesterday and according to my debit card issuer they still have not started the return. I believe they sent the phone to Tennessee to extend the time they had to process my return. We all know that the actual time to get back on my card can be as little as 5 minutes. If Walmart can do it so can Apple. They are a shady company. I will never buy from again.

The awful service is the same in the U.K. Took iPhone 7 in that is just under 6 months old in immaculate condition would not charge. After trying ALL the usual fixes to no avail was advised online and by phone to go to a Genius Bar in store. I paid £700 and took out AppleCare but was still sent away without a replacement and having to wait for phone to be assessed. They do not care once they have your money. Wanted to charge card another £700 to send out another phone when still under warranty. Worse company ever. Product's average was full of people with broken phones, Macs etc...

Went to first the internet to research what was happening to my iPhone 6s plus. I was very excited to purchase such a nice phone. Ironically 100 days after the warranty expired I contract the touch screen defect. Here is the kicker: Apple acknowledges this problem yet refuses to fix it without charging the user a fee of 359.00 but they want to keep me happy so they will cut that fee in half and only charge me 150.00. But I say to Apple "so you're telling me that you sold a phone that you know has a manufactured defect and still want to charge me money on top of what I pay AT&T monthly just for the phone alone?" They say yes that what they say.

I bought the iPhone 6 32 GB model in the month of April 2017. I believe that I got a defect piece. After multiple to and fro travels to the Apple store, it got replaced with new piece. But the wait to use the phone is still there, this time the new piece has got the same problem [Hang Issue]. Store people couldn't resolve the issue after multiple consults even. Now the replaced mobile is in Apple service center [CONQUER service store in Ameerpet, Hyd], I'm still waiting... I need a new phone which works as per the brand expectations OR at least I need my money back. "From now, I won't suggest anyone to go for Apple product." Details of the defective pieces: first Phone: IMEI: 359220070357760. Second Phone: IMEI: 359220073228083.

Last week my iPhone SE didn't charge anymore, so I contacted Apple support. They said it's warranty. 2 days later UPS picked my iPhone SE up and send it to Apple repair center. Another 2 days later, your iPhone has a scratch on your housing so it isn't warranty and you have to pay 150 Euros to repair the iPhone SE, Only because there is a scratch they needed to replace the housing and the actual problem. Because there was a scratch it isn't warranty and the whole housing needs to be replaced. It's ridiculous. Apple warranty is not good, and also the repair isn't good. Apple won't help you fix your iPhone, they only want some extra income.

I purchased 3 IPHONES over 3 years ago. One day the phone just locked down. Started with Technical support who sent me to Activation Lock Team because I could not locate my original iTunes ID and password... Well my ID was known but was not recognized by Apple when we tried to RESET to gain entry to my locked phone. So again they had to start at beginning because the ID was not accepted. APPLE for 1 could not tell me why my phone "randomly" went into lock mode. It just happens sometimes (they said). Also APPLE could not explain why it could take up to 4+ days to get this rectified. "This is the process Mrs. ** and I am sorry but there is nothing you can do but wait." "I have provide all needed information to verify that I am the original owner of the phone. I gave you my original store receipt, why does it take 4 or more days to verify." "Ma'am that is the process."
"We have been without the phone already for 5 days and possibly another 5 days and that is all you have to offer? I would like to let APPLE know of my concerns, who can I address them to, why THEIR PRODUCT that I paid big money for just quits?" "Laughs" "chuckles" at me... "Why are you laughing sir? My frustration is laughable to you?" "I am sorry ma'am, I was not laughing." But he was. So I guess Apple sells a product they do not have CUSTOMER SERVICE. I am switching to an ANDROID. I am angry as I really liked the APPLE, but I cannot stay with a product or device that does not offer customer service. I guess they don't care, my $2400 sale is nothing.
I hope that I can let everyone know the CRAPPY customer service that they provide. They sell you a product and just do not care after the fact. At the end of the conversation I said that on that following 4th day that I would be calling if I did not hear from them. He said NOTHING. We sat there quiet... I asked, "Are you still there?" He said, "Yes..." I guess he wanted the salutation to come from me... "No thank you Mrs **", no nothing just a hang-up. I hope anyone who reads this takes heed of it. APPLE just lost me and I will tell anyone who is willing to listen about my experience. Shame on them, but I guess it does not matter.

The iPhone 6 has got to be the worst phone I have ever had the misfortune of wasting my hard earned money on. I would rather have a flip phone than to have wasted my money on this stupid phone, that doesn't even appeared to be tested before they put it on the market. I'm just waiting on the phone to blow up next, because everything that could go wrong with a phone has gone wrong with this waste of money. I would never buy another iPhone or Apple anything if this is the quality they're putting out. Shame on big business charging that much for a phone that should be free. Got me this time but never again.

My iPhone 6 plus had issues with touch which Apple didn't able to solve. They are not ready to resolve the problem. They are insisting me to handover the phone with all my personal data for which they are not ready to take responsibility. Better to go for some other device. Poor quality.

When I bought my iPhone 5 I set my id address according to a Yahoo email account. But after a long while I neglected to check my email account so it was cancelled automatically by Yahoo. And one day and suddenly my phone required my id address which I did but it didn't work; this problem had happened to me before but I just wrote the serial number on the phone package and it worked with my old iPhone 3Gs. The Apple security policy has made it impossible for its consumers to restore their phones due to stupid reasons. Who would buy an iPhone again? Not me for sure with my phone thrown into the garbage.

I upgraded to an IPhone SE in October of 2016 through Verizon Wireless. Within 6 weeks of having the phone the audio jack broke. Calls incoming and outbound could only be connected through use of the speaker. The microphone for dictation stopped working also. The phone eventually went completely static after a while. I followed every required step without any solution. Apple sent me a replacement SE and within a month the same problem happened again prompting another replacement. I was sent an IPhone 6S and sent the SE back. Then today I received a random broken IPHONE SE in an opened box.
When I contacted APPLE to report what happened I was told they didn't know what happened and 5 hours of back and forth to the point of me shouting obscenities because they expect me to return all phones and be without a phone for 4 days while I wait for another lame IPhone SE to be shipped while they charge my credit card $450 to ensure they receive the phones back. It's not that I can't live without a phone it's the principle that I pay Verizon an obscene amount of money and for a defective APPLE product that I can't use and they offer NO solutions. This is what has become of our society. It's really messed up and APPLE products, their company suck.

Purchased my phone iPhone 6S on 19th March 2017 through Amazon. Was very excited as it was my first time with Apple product but unfortunately within a month my phone got damaged within the warranty period. I went to the Apple Service Centre in Andheri (E) hoping to get it resolved but never thought will be shocked by their reply. First they make me wait for three days stating that they will send my phone to Bangalore for repair but then they asked for Rs. 25,000 for a replacement which is Utter Nonsense. Come on you'll should understand I had paid Rs. 43,000 for my phone then additional Rs. 25,000 for replacement. It does not make any sense. Horrible experience from Apple. Will never recommend anyone else, so either Replace the phone or pay my money back.

Apple iPhone 6 - It was working good but suddenly before a month the home button stop functioning. How could I change? When I went to Apple Store and discussed the problem they said that if we change home button then sensor will not work. I am not satisfied with their response.

I have IPhone 5s. My phone was not working okay again. Again off and on problem was there so I went service centre F1 Info Solution in Ahmedabad. After 15 days they replaced my phone. After 01 day in that phone NO SIM and NO NETWORK problem frequently come. 6-8 times I went service centre but no solution. They are saying that "in your sim some problem is there. You have to change your sim." While same sim is working good in other mobile. Even though I changed my sim but the problem again repeated.
I called Apple customer service support centre from last one month but every time I talk with new person. Every time they are saying that "we call back to you within 24 hour with solution" but never get call back with solution. My case Id is **. I talked with so many person in apple care. Some contact are ** Ghanshyam and ** Shahbaz. Even today also I talked with another madam in apple care. She is saying that "people are working in your case." I don't know which type of working they are doing. One month has been passed but did not get any solution. I am facing so much problem due to this in my life and business. I never suggest anyone in my life to purchase apple products. Very disgusting service are provided my apple.

I am just pissed! Why? I bought an iPhone 7 to replace my iPhone 5s. I have spent over the last 24 hrs trying to get the new iPhone working just like my old one. Apple says you should easily be able to move from one iPhone to a higher upgrade which is obvious. I mean other than that it will be plain stupid to any company to make harder for customer to change from one model to a new model. Unfortunately, that's what am experiencing now.
When I plugged in the new iPhone 7 plus and started the setup, I got to the option of restoring my old backup to the new Phone so my setting, text messages and other stuff can be on the new phone where I expect them to be. I tried many times and the error I get is either the backup is corrupted or not compatible. Which I believe for the compatibility because my iPhone 5s is running a latest iOS 10.2.1 and through no fault of mine, the new iPhone 7 Plus is running iOS 10.2 so the next obvious step is to update the iPhone 7. As gruesome as it is, and after my tries and wasting of my precious time, iTunes finally downloaded 2.5Gb of the update only to tell me the update is corrupted. I ain't doing this again.
So I tried getting through to Apple support so I can tell them my piece of mind while I buy a software that can do that for me. Only for me to realize that Apple intentionally makes is difficult for customers to use the online support. I mean it is nearly impossible to reach a human being in Apple, I wonder if there are humans who actually design and build the phone. I mean Apple prefers to call you than you call or chat or even email them. No am just sitting there not sure my next step. Why didn't I get an Android phone?

iPhone 6s battery drastically cuts or loses all power when exposed to outside temperatures 32F or lower. This is the third time this week I've had approx 40% battery power when I started a walk outside, go for a walk outside at below 32F temperature and when I'm finished with my walk (less than 30 min.) I have no or 2% or less battery power. Once I plug in the phone again, within 10 minutes it jumps back up to the old power. And no, it's not eligible for a recall apparently. Good thing I don't need it to actually make a call. My old Windows Nokia phone never had this issue. Wouldn't recommend this phone to anyone.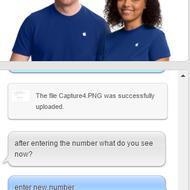 I reset my phone and I was trying to restore backup through itunes, but it was asking for password. I entered password. System was saying it's incorrect password and I was unable to call anyone and I just started chat session. Even they were very rude and (LEM) Csr ended chat suddenly. I have screenshot of this chat and I also have case I'd no. They didn't help me. Very dissatisfied.:(

Purchased an iPhone SE last year. Issues with frozen screen, spastic display, incorrect letters/numbers when typing. Plenty of phone calls since purchase regarding issue. Offer things like restoration, etc. Several months ago screen cracked - one singular crack through home button when carpet cleaners were at my home. Had fixed at local place. Finally had enough with freezing, plus incorrect typing inability to properly move screen. Opened a case with Apple. Put my case into my son's serial number. Told rep screen was fixed at a non-apple store, she set me up to have my phone replaced.
Got to store spent an hour and a half then went to put money in meter and girl says she didn't notice the screen was not the original. White and black certainly don't match. Won't replace the phone due to software problems and offer screen replacement. Tell me screens replaced by 3rd party often cause issues. I tell them this issue has been ongoing even before screen was replaced. There are plenty of recorded calls they can trace if they wish. Then they tell me I could have had the screen replaced for free however when I purchased the phone they told me physical damage was not included in warranty. Jerk rep tells me they would have fixed it for free b/c it was a hairline crack. I refuse to pay 129.00 and leave. Second rep was rude and condescending. I will no longer be part of Apple's "club".

It is my 1st iPhone (iPhone6). After several days the phone sudden, do not want to turn on. Been asked to go to iPhone centre. They cfm it was a defect unit and they asked me to wait. It's written 90 days just to get the result as maximum days as standard clause. It is ridiculous we have to survive without any phone at all. Now I need to buy new mobile phone and need to wait for 48 more days just to get clarity about the replacement and so. What a worse services. Accepting the money in advance and neglecting the service afterwards. Indeed having a status in the web. But the status never updated or so after more than 30 days.
Apple iPhone Company Profile
Company Name:

Apple

Website:

http://www.apple.com/