Consumer Complaints and Reviews

I started having problems with my LG4 about 6 months ago and was told by My Sprint dealer that it was caused from a bad charger. Continued to have problems and it finally totally quit last weekend. When I took it back to Sprint they would upgrade me but I still have to pay off $200 for the LG plus my upgrade. Being 71 with a disabled husband I have to have a phone. What are my options? After reading all the reviews I'm glad I didn't try to get it repaired. And it seems all the carriers know about all the problems, don't notify their customers they might be stranded without their phones, and still stick them with the bill.

It is one of those things you put up with, until it finally damages something crucial to your livelihood and sanity. The first casualty, after an update was the accessibility of the browser. (Google for me.) Before, I could minimize the browser, but after an update suddenly I could not do so. There was no help from the internet. I figured it out myself. Now I had to swipe, make it a dual window and delete it. Annoying, but I can live with it. The second casualty was the mic icon which I used extensively for using the browser hands free and asking for directions. (One of the selling points in getting the phone in the first place.) An update came and, wallah, suddenly the icon vanishes from my home page AND from the browser.
I try different things. Settings tells me that it is on and working. In fact FROM settings I can access it, but no way to get it back on the front page OR my browser. That is a serious loss of functionality. Again, internet, no help. Now I have to type in everything, THEN when I am getting directions the mic magically appears, after the fact. This annoyed me greatly but I lived with it. However, this Monday arrived the update that not only broke this camel's back, but made me scream profanities into an uncaring ceiling (standing in for the universe). Most know; to transfer files (photo and video for me) from an LG phone, the best way is to use a USB cable. This had worked fine since I got the phone (two years ago?) Now, suddenly, after an update my desktop doesn't recognize the phone. Again, internet totally useless.
I try different things. Finally under some secret lair deep in the OS I see that, in fact, the desktop does see it, but just doesn't recognize the phone. This is getting long so I will skip the numerous things I tried: installing the suddenly missing drivers, transferring to Google Drive, (looked like garbage!) etc... Of course, I called Customer service. When they were clueless, admitting it was an update issue that could not be resolved, I asked to talk to a supervisor and after 10 minutes on hold with the same message about how much "we appreciate your business", the supervisor came on and was utterly useless.
Like many of the disgruntled customers here, their only options were for me to send the phone in "for repairs." (Um... yeah, so you they could find non-existing water damage, NO THANK YOU!) or to send me a refurbished phone. (Yeah, so you could leave me dangling for months just to send me a garbage replacement, um...No thank you! And please sod off you stupid git!)
One of the main reasons I have THIS phone was the camera. I have made MANY videos (300 and counting on Youtube) with various cameras over the year. When I saw how good this camera was, I started doing videos ONLY with the cell phone. (Yeah, crazy, but true.) I now have 80 video bits (yup, all in the course of a weekend!) stuck in my camera. I can't film anymore because I don't have the space. I can't go back to an earlier version of the OS before the update, Google Drive sucks like an Event Horizon, and I am literally out of options. I am not happy. I will NEVER buy another product from LG. EVER.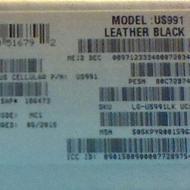 Bought an LG G4 outright mid 2015. Worked fine for 18 months. With no abuse whatsoever, it stopped booting up. Thought the best place to get it fixed would be LG. They offered to refurbish it for $115. I told them to go ahead. Three weeks later, and after 3 calls asking for a status, it arrived with the leather back missing and completely dead. At least when I sent it to them, it would try to boot and then fail. Now it doesn't even light up at all. I checked my bank account, and so far they haven't charged me, but I'm concerned they still might. This phone was touted as one of the best phones available in 2015. I would definitely agree to a lawsuit against LG. Bad phone. Bad service. No offer to replace. No offer to compensate monetarily.

Google recently pushed an OTA update to my LG Nexus 5X phone and caused it to enter a bootloop. Both Google and LG blame each other and no one will take accountability for a problem which is widespread. Type in Google 5x into google and the top search terms are on this issue. Seems like it's more than just a few users that both companies claim are impacted. Look forward to a class action lawsuit, so they take this issue seriously.

My LG phone G4 has a power looping problem or something like that. When I bought it it broke down about a month after I had it. It broke down again 14 months later. I didn't know that their warranty was extended so by the time I called I was 10 days out of warranty with the same problem. They were supposed to fix the first time. I wouldn't own another LG phone again. Their service people don't try to help you. They won't let you speak to the supervisor. They tell you that the supervisor is going to tell you that it's out of warranty. They said I could send it to him and then they would fix it, charge me and send it back. Why I think this phone should have been recalled. Sickening how big companies step on little people.
How do I know I can trust these reviews about LG TV?
717,175 reviews on ConsumerAffairs are verified.
We require contact information to ensure our reviewers are real.
We use intelligent software that helps us maintain the integrity of reviews.
Our moderators read all reviews to verify quality and helpfulness.
For more information about reviews on ConsumerAffairs.com please visit our FAQ.

Late January my LG G3 started turning off randomly and the screen started fading to black. After contacting LG I sent it in to repair through their services. I received a shipping update stating that it had be received at the repair centre January 27th. LG promised a 7-10 business day wait for repair and return. After waiting 10 days I contacted LG and was given a generic response that the phone is under inspection, again they asked for another 7-10 business days.
Another 10 days pass and I have still received no updates, no phone, nothing. After expressing my annoyance with this process and having to pay a phone bill this whole time with no phone LG emailed me back saying they had "escalated the case to their manager" and it would take 4-5 business days for the phone to be repaired and returned. After another week passed I contacted them again, they replied that the phone had water damage and I needed to pay 150$.
Now, if this information had been provided initially that would have been fine. However, after all this wasted time I was hoping to speak to a manager about their repair service and possible compensation for the wasted time. After finding a way to call them through my laptop on Google Hangouts I began the process of calling their support and basically being told to call back another day. LG will tell you their supervisors are busy to avoid having to deal with you, I was told that I would be able to speak with a manager one day, then the next day I was told they had no managers and that only supervisors would talk to me.
In the end they have told me they would approve the repair and I would have to wait for it even longer. It's now been well over a month and still waiting, repair was approved yesterday. Overall, there is a complete lack of accountability and respect for customers within LG. One of the most prominent examples was when I was told by an employee they would patch me through to a manager and THEY HUNG UP. This kind of situation is extremely frustrating because it makes you realize that as a consumer you are not respect and powerless to these companies that promise services for their products you pay for but do not deliver. Based on this experience I would really recommend anyone with an LG product looking to have it repair to skip it, and go look for another product with a company who cares for their consumers.

Bought my LG G4 in June 2015 and it stopped working about a month ago because of the bootloop issue. I called LG and the phone representative stated it would be repaired and sent me a shipping label. I shipped the phone to them and after about a week of it sitting in "diagnosing" status they declined to repair stating it was out of warranty and physical or water damaged. I never dropped the phone once and always kept it in an Otterbox Defender case since the day I bought it. The phone was never once near water. When I called to find out why the phone repair was declined the rep stuck to the script saying, "It's no longer under warranty or physically damaged". She said they can repair it for about $75 or refurbish it for $150.
I declined to have it repaired and demanded a supervisor but the representative kept saying the supervisor will advise the same. I had the phone sent back to me, broken and useless. I am still making payments on a phone I can no longer use as the 2 year payment plan is not quite up until June 2017. I really don't think I am liable to make good on the remaining payments for a broken phone I can't use. I will never buy another LG product. I cannot believe after all the similar reviews I've read there is not a class action lawsuit filed against this company.

It finally died for good. Have had the same problem with it dying and resetting it by removing and replacing the battery. This time it stayed in the startup loop and never turned on. Kept dying. Going to cancel my Sprint account and get a Samsung.

My family has 4 LG phones and three different models. They have all been modified so that you cannot format the sd card as internal memory. That is a feature on the new Android. They disabled it. You cannot move any apps to the card. You cannot move mp3 or any other music format to sd. Players cannot find it. Downloaded games, apps of any kind cannot be moved to sd. All of them eat up internal storage. The camera on my K10 only has a 4X zoom. Pitiful. Seems like a ploy to get you to buy more expensive phone with more memory. Will never buy another LG product.

My LG G4 suffered from boot looping after less than a year. LG acknowledges this defect but failed to recall the affected phones. However, since my phone was still in warranty, I sent it to LG for repair on Dec 30. FedEx lost the repaired phone so after being reimbursed by FedEx, LG sent me a replacement. The replacement they sent me is not compatible with my carrier, Sprint. LG, depending on who I talk to, says that either the ESN release needs to be filed or that the release has already been processed. I have made at least five requests for the ESN release to be filed since Feb 3, but my phone still doesn't work on Sprint's network. I've been without a phone for nearly two months now and have given up hope that LG will ever help me. They will not activate the replacement, send me a replacement that works with my carrier, or refund me. Their customer service is a complete joke. Avoid LG products at all costs.

I have purchased LG10 V from AT&T; I have it for about 15 months when it suddenly stopped working. It won't turn on and has Bootlooped. I called LG support unfortunately my warranty just expired this January first as per the technician. I told her that I found many other customers with the same problem on the internet while trying to figure out what was wrong with my phone and she told me that they never had a complaint. This is a fault of LG. They should fix the problem for the customer without an extra charge. I am not happy with LG. Loved the phone while it lasted but hate that it only lasted a little over one year for the price that I paid.

This phone is absolutely the worst. Period. System UID's out of hack to no fixable solution. This was the worst purchase ever. Not ever again will I make this mistake. My memory card has been wiped twice now, and that in itself is worthy of all the hate and venom I can ever possibly come up with to say regarding LG phones. This is not the first LG phone I've had problems with, and this purchase took 29 months for me to decide due to the prior dissatisfied experience. Thank you.

3 months after receiving my refurbished LG g4 phone I started having problems. I would not be in control of my settings. Either it would be blocked out or not be there at all. My phone would download things all the time even if I tried to stop it. I would receive fake lg legal agreements. My phone would turn off when I would try to record it with my other cameras. I would get redirected to fake websites as well as fake 1 800 numbers. It would turn on repeatedly when I would try and factory reset. It would have this vibrating pulse about every 3 seconds that would drain my battery extremely fast. It would delete any photos or videos that I would record of it. It would know when I was about to make calls or report this to someone and turn off my phone before I could dial number, as if it could see my every move. Amongst a few other things that happened in last 30 days them are just a few.
I'm 100% convinced that someone was remotely controlling my phone and was able to see through the camera because it would stop me from doing something seconds before I could dial number or record it or anything of that nature. It could change setting right in front of my me and had total control of my phone. After 3 factory resets nothing would stop this hacking attack to my phone. I cannot google things now because I won't agree to the google agreement. I'm limited to phone calls and texts. Of which I had never received missing texts and tech support said it showed texts leaving their phone but would never make it to mine for starters etc...
If anybody else believes they were actually hacked and not just victim to malfunctions of the phone please let me know. I'm not going to give them my phone back for refund after reading in the reviews what a nightmare that will be. I'm going to get a different phone and never buy anything lg again. I might try to find a tech who can inspect it carefully and see if he can detect any tampering with because I'm 100% know I was a victim of a hacking scam.

Purchased an LG4 January 2015 - 2 weeks after the 1 yr. warranty the phone has completely died. I'm still paying $300 for a phone I can no longer turn on. Bought a battery thinking that was the problem. I'm very upset that I have now lost photos, contacts and other information. I will never purchase another LG. Thank you for nothing LG- Life is not good.

LG G4 phone still on lease program will not reboot after one year and one month. Sprint rep made us aware of LG G4 issues, told us to go directly to LG. After sending phone back for inspection LG claimed not under warranty due to damage. I have never dropped the phone and have always kept the phone in an Otterbox for protection. The only damage the phone has is a cracked camera lens from my carrying in back pocket. The phone has been able to be used with the lens cover damage.
LG said they could fix for $85 for the lens and $185 for the other issue. Having contacted LG support and speaking to someone from? The rep was on script and kept saying "Due to damage your phone is not under warranty. You can pay to have phone repaired." After continually asking if a diagnostic had been run to verify a software issue has been done and asking if there is a known issue she reluctantly admitted there was an issue of people not being able to boot up beyond the LG screen.
We researched and noticed many complaints about this phone have indicated that numerous persons have and are experiencing the exact same problem. I just asked for them to repair the software issue, don't worry about the lens I can get a replacement for $13. They are sending the phone back as I sent them. I am S.O.L. and having to continue paying for a defective phone. Out of frustration some have tried repairing themselves. Some have found that by taking a hair blower and heating the chips so they will fall back in place can sometimes repair the phone.
How can a company out of good conscious knowing there is an issue continue to treat a consumer in such a manner and stay in business? How can we as consumers come together and file a suit against LG??? To make an issue right? The attempt to contact LG has been impossible after having missed the call from Alabama after I complained the previous weekend. I get caught in a loop and am unable to make contact with a real live person... Only having to hang up…

My LG G4 headset icon is stuck to on even when the headset is unplugged. I don't know why. This is the 2nd time it happened to me. The first time I've sent it in for repair, the phone worked for 1 1/2 month, the 2nd time, I've exchange it for a replacement phone. Hopefully, this will resolve the issue. I've noticed this happened after I dropped the phone, however, I have a case to protect the phone, so, shouldn't be an issue, but who knows. If it happens again, I'm done with the LG G4. When It's stuck with the headset icon on, the speakers are not working, I can't hear people when they call, I can only talk to them when I put them on speaker. I wonder if anybody else have a similar issues.

I have a LG TV. After 4 years of use, it started to show different type of failures. I searched the web, many people encountered the similar problems. By baking the PCB (main board, or the IO board) can fix the issue, sometimes it will work for a few months. In my case, different issues popped up. I baked it again and fixed it. I am a computer HW engineer and this points to the flow soldering issue during manufacturing. Apparently LG does care because when this showed up, it would have passed the warranty.
In Oct 2015, I purchased their flagship G4 phone. After 14 months of use, the phone is in endless boot loop during power up. Again, many people complained about this. Youtube showed user how to bake the phone. Again, this is the manufacturing SMT soldering issue. I baked the phone and able to get it to work for 24 hours. After a full backup, the phone died again. It is out of warranty. I shipped that back to LG yesterday, and I am not sure how much it will cost to fix it. THE BOTTOM LINE IS: I will not buy any LG products.

Will never own a LG phone again. I bought the beautiful LG G3. Was an amazing phone that was simple yet packed with features. I was a big fan of the phone. I woke up one morning to find that my G3 had bricked. It was stuck in boot loader. I had the phone for little over two years, so it was out of warranty. I ended up buying a new LG G4 for $350.00 (even though the G5 was out). Not even a full year later, my LG G4 bricked. It stays on the LG G4 boot loader screen. Supposedly it's a hardware / mother board issue. Saying that I'm very frustrated is an understatement. These phones are expensive to fix out of warranty, not accounting for the time it takes to fix them. Save yourself time, pain and money, and just stay away.

My LG Nexus 5X was affected by the bootloop issue. One evening it just randomly began restarting, and then never turned back on. I had the phone for 8 months. I had to send it out to LG to be inspected and possibly repair. About 2 weeks later I was told it could not be fixed. They offered to "upgrade" me to a G4, which I didn't not want as it has no fingerprint sensor. They then agreed to ship a G5 instead. About 3 weeks later (one month after my phone died) I get a package that has a refurbished G4 in it. I called and was told a new order will be shipped out with the G5 and I can then send the G4 back. During this whole time, I had to go out and purchase a new phone.
About two weeks later and no G5, I called Customer Support who had no record of the G5 ever being shipped and was told they could do nothing about it. I emailed Customer Support and only get generic "Sorry for the inconvenience" emails back, but nothing is being done each time I call for an update. It 100% safe to say I will never purchase another LG product again. I am glad this happened before me and my wife purchased some new LG washers and dryers we were looking at just before this.

Well at times my LG4 for some reason would recycle itself. Then on Sunday 01\29\2017 it just stopped working. I went to AT&T and I got dumb looks, Till I told them there was a ongoing problem. The nice clerk did some checking and then told me to contact LG. Well time for doing something I LOVE nagging companies that did not let others there was a problem. Well first on to Facebook to contact AT&T and LG and posted in the open about my problem. AT&T was so helpful and told me that LG will take the phone back and fix for free. I got the nice agent's name after telling them that I was thinking of just going to another carrier after 14 years.
Next step. Contacting LG, I went a few rounds and I got the info on how to get the phone serviced for free. Granted it will be almost a month before I get it back. Oh they do tell you to pull your SIM card and extra Memory as they toss them in the trash if it is sent to them in the phone. Granted It took me almost 3 hours. Then I got in touch with AT&T and did an early upgrade. In the morning I will be getting my Kyocera DuraForce XD. Once the LG gets back it will be use it as my UBER only phone. It was worth the fight.

I have read countless stories online from LG customers whose phones have experienced a boot loop failure. LG has publicly acknowledged the issue is a design defect. They have lied to customers and held on to phones for months. I have asked LG to send me a replacement or refund rather than be another who ends up with no repair, no replacement, and no refund. LG customer service will not move my call up the chain. They simply hang-up.

When I first got the LG smartphone I thought it was a pretty decent device. But then a few years later I found that the phone started boot looping and I was unable to fix it. I tried a hard reset but that did not work. Taking it to a repair shop won't do me any good since the warranty has expired. LG customer service is a joke.

Summary: Paid $72 to have phone repaired and back within 5-7 business days. 25 business days and counting with no phone. Details: I sent my LG G Flex 2 to LG Electronics for out of warranty repair in December 2016. It was received on 12/19/16. It was diagnosed on 12/20/2016 as "Power Completely Off/Components on Board" at fault (This is technically incorrect as I noted it does communicate via USB with a PC and registers as a "Qualcomm 9008" device - physical components were fine, only the software was wiped from memory. Nonetheless LG diagnoses the whole motherboard as faulty and charged $72 to swap it without replacing any housing).
I paid $72 by phone on 12/22/16 at the number provided. Payment was accepted. I verified on my banking app during the call and the service representative verified payment on their end. She stated it'd be "3-5 days for the repair" and I'd get a FedEx tracking number when repair was complete. The email from LG Electronics Alabama, Inc. also stated, "You will receive your repaired unit within 5 to 7 business days from the date we receive your payment." I received no calls or emails and the "Track Repair" page on LG's website still read "Repair In Progress" as of 1/11/17. I called again and the same representative told me the board was on back order and would be available on the 13th. Repairs would begin then, and it'd be 5 more days after that to wait on repairs.
A week later on 1/20/17, I receive an email from LG saying to contact them, that repairs could not be made at this time. This email was sent late business hours Friday afternoon, so I was unable to contact until the following Monday, 1/23/17. The phone number was different, apparently Customer Service division. The previous calls were with the Physical Damage/OOW repair department. The email address was verified as LG.
After half an hour or so of this new representative checking my account, he tells me the board for my phone is actually on back order until March. I informed him that wait is not acceptable because I was already told the part was available as of the 13th by the repair department representative, because the original statement is "receive repaired unit 5 to 7 days from date of payment" and it was a whole calendar month later and because, more practically speaking, I'm moving mid-February and phone is at risk being permanently lost/delayed in mail. He apologizes and offers a refurbished LG G4 instead of my G Flex 2 if I do not wish to wait any longer.
I refused, stating the G4 was well-known to have boot loop issues, not reliable and expressed I preferred my G Flex 2. He then offered a G5. I was unaware of anything defective with that model at the time of the call so I did accept a refurbished G5 to replace my G Flex 2. I was given a second authorization # to track the G5 with and told I would not be receiving my G Flex 2 back. I asked for a FedEx tracking number and - you guessed it - was told I will be sent one by email in 5-7 more days (In retrospect I should have pointed this statement as being an unacceptable wait too, but I maintained the same politeness I've had in all these calls. I felt the issue would be resolved soon).
As of this morning, 1/30/17, my tracking page for my G Flex 2 still reads "Repair In Progress" over a month later. The tracking page for the second number I was given on 1/23/17, to track the G5, has read "Awaiting Customer Shipment" for one week. This is the only message it has said since the representative gave me the tracking number. 1/22/17 when payment was made until today, 1/30/17, is 25 business days. I paid $72 to "receive your repaired unit within 5 to 7 business days from the date we receive your payment." I have made three phone calls to two representatives from different LG departments and don't even have a shipping tracking number yet. I am following up with another phone call during business hours today to try and escalate and expedite my case with LG. This wait is unacceptable and is bordering on unbearable now. Will update with details here moving forward.

I purchased a LG phone in Sept. of 2015. I had to replace it July 2016. Today 1-27-2017 this phone stopped working. I have to pay to replace it. I am very frustrated because I may not be able to retrieve my data. I feel that you should be told at the time of purchase that this may happen. I have read many reviews from LG customers that have had the same experiences with their LG phones. Why do you keep selling these defective phones? It makes no sense to pay for a phone that doesn't work. I will not be purchasing a LG phone again. I will pay this phone off and purchase another brand.

LG G4 phone just died. What a customer service nightmare!! Manager "Andy **" how do you even have a job??? Phone triage with Verizon to LG no notes documenting call, still owe 150. On a phone and "free repair" promised not honored due to agent's poor service. Not located in the US.

We purchased the LG G5 phones December 2016. Had constant problems with the batteries with this phone. Had constant problems with the phone having to reboot. Once the warranty is up within two weeks both phones to completely crashed and shut down. Took the phones back to T-Mobile. They say nothing they can do. Want to charge you $300-$500 for a new phone depending on which one you want. They say to contact LG. LG has had several complaints regarding this phone. They are doing absolutely nothing about it. This is a complete scam. LG is aware of what they are doing with these telephones and that everybody is having the same problem. They need to reimburse people for all the money that you paid on the so-called leases of these phones. There's going to be a class-action suit if something is not done immediately. I too have contacted LG and filed a complaint.

LG G4 a trash. Just stay away from this phone (or probably all LG phones). I bought this phone 15 months ago, and recently, it stopped working (problem of Boot Looping). I called the service repair and they said "you have to send your phone for servicing" (payable, of course). Firstly, I don't get it from people who are willing to send their phone loaded with private stuff to unknown person for repair. Secondly, why LG did make the solution (repair kit, firm download) available on their website? This problem of boot loop was discovered sept. 2016, and LG representative acknowledged the problem later, and said that all the phone with this issue will be fixed. Here I am now with almost a dead phone loaded with important photos (can't transfer them to PC, USB does not recognize the new drive), and can't send it to a stranger to fix it. Very disappointed.

I am very dissatisfied with LG. It was my first product I used of LG and my life's first expensive thing I bought from my responsibility. It was a great phone according to internet reviews. After a year it stuck into bootloop after updating software. This problem was with many LG G4s. My phone had a little crack on the screen which I got 6 months before the problem happened. LG was taking responsibilities to repair all of the phones but they refused for mine because it had a little scratch on it (according to policy). How funny is this. Yes it had a physical damage, but that doesn't mean this is because of it.
They knew bootloop problem is not because of that physical damage. But as most of the companies out there... Making money and all, asked for 150 dollars + taxes. ** man. Your phone is ** and still who has to pay... Consumer... Who just made a bad decision to choose LG. I will never buy any LG phone. Neither let my friend and family buy. Thank you LG. Life is so good...

Doesn't hold a charge worth spit and lousy keypad for texting-only. Have had it a month. Try getting this company to do anything about it. I bought it at a Metro PCS store. Their service is fine. It is the product that is not good. I have had cheap flip phones that cost less than this one and they worked much better.

I purchased a bluetooth headset in March of 2016. In August of 2016, it just stop working. Since the product was still under warranty, I sent it back to LG with the required information, which was the RA number that was provided to me by LG. LG sent my bluetooth back to me in the same condition that I sent it to them. I called LG and was advised that the technician refused to fix my bluetooth because he didn't have the required information. I spoke with a supervisor of LG who informed me that the systems shows that they received the required information. I filed a complaint with LG. I was supposed to receive a response within 24 hours. That was 4 days ago.
LG Cell Phones Company Profile
Company Name:

LG TV

Year Founded:

1958

Country:

Korea Sout

Website:

http://www.lg.com/