Consumer Complaints and Reviews

I purchased a new LG G5 and used it for less than a month. The phone showed problems with battery life and would only hold a charge for 2 hours a day. I send the phone in under warranty to LG. They examined the phone stated it was repairable due to signs of liquid in the interior. Their final conclusion was that the phone was exposed to humidity and this caused the problem. So I paid $700 for a phone that was used somewhere with moisture in the air and this voided my warranty.

LGLS 755... Marketed as LG X Power – New in Box. 3 months of light use with Virgin Mobile. Was working great at all levels. Then not charging well, followed by battery meltdown, turned to glue becoming attached to inside of phone and back cover. I live on the coast of Central California so heat is not a factor. Purchased phone on eBay. LG not backing warranty. Warning Will Robinson. Another cheap Android phone goes down.

LG has to be the worst cell phone manufacturer especially their LG G4. Just a few months after I bought my phone, it broke completely and I had to purchase a whole new one even though I was under warranty and I was paying a lease on the original phone. About 5 months after that it broke yet again and I sent it in to repair. It got repaired but I'm sure it wasn't totally fixed since it broke yet again about 5 months after that. I resent it in and they claimed they couldn't fix it and it was out of warranty. A phone should not break 3-4 times within a couple years.
The worst part is the lady at AT&T told me that LG knew about their faulty G4 phones yet they didn't do any recalls or send customers new updated phones or offer any rebates. Just continued to let it break and not fix it. Completely unacceptable. I wanted to break away from the iPhone craze which is why I went with LG but definitely going back to Apple. Much better customer service over there!

I purchased a LG LS777 model phone in April 2017. In June 2017 the phone stopped working. The phone got stuck in airplane mode and would not come out. How did this happen when I was not on a plane or nowhere near an airport? I took it to Sprint and they was unable to fix it. Sent it to LG for repair. After a week of having my phone they sent it back. Took it back to Sprint to have it activated. The same problem exist. The phone was never repaired. Called LG customer service again. They tell me the phone was fixed and didn't show any issues when sent out. I was told to send the phone out again. Now it's Aug 6th and I'm still without a phone. Their service and phones SUCK!!! STAY AWAY FROM LG PRODUCTS!!!

I have only had my phone (G5) a year and it is only half paid off, and it died in the beginning of my vacation, and started boot looping. We took the phone to the store and they were not able to help us after 3 days of them telling us our new phone had to be shipped to the store since we still owed 300.00 on this phone. We were leaving in 2 days. The phone showed up a day late. Very disappointed hearing about all the boot loop issues. This should be looked at so they can issue a recall if this one is next. The G4 had this issue from what we are reading. Our phone arrived late after we left on our vacation and we had to make a 5th visit to the store at home, and have the 1800 number call the store since no one would answer the phone. It took another 30 min for the 1800 number to get thru and verify where my phone had been shipped. No one in the store actually took any of my information at the Myrtle beach corporate location.
How do I know I can trust these reviews about LG TV?
850,588 reviews on ConsumerAffairs are verified.
We require contact information to ensure our reviewers are real.
We use intelligent software that helps us maintain the integrity of reviews.
Our moderators read all reviews to verify quality and helpfulness.
For more information about reviews on ConsumerAffairs.com please visit our FAQ.

6 weeks ago I sent in my lg4 for factory repair. They replaced the circuit board, send it back to me after 3 weeks and still three weeks later it's still not connecting to T-Mobile. I have been on the phone with customer support for the last 3 weeks and then promised it will be fixed in one or two days. It's still not repaired. I want an RA that you sent it back and they won't give me one. This is totally unacceptable support. I ended up buying a new cell phone. This is just ridiculous and I still owe $200 on this one.

I bought an LG5 phone last week, today it suddenly locked itself and only the LG red logo came up and the word android. Now phone is completely dead, I cannot use it. Disgusted, over a week old, has anyone else had this same problem with the red logo coming up and then the phone went dead? I went to tech support. $5 for getting a tech and then $30 for the whole call, I am not paying that amount of money to get answers to questions about their LG phone terrible service. Is this phone even worth paying for? Had an iPhone and never had a problem.

We bought two phones two years ago. They disconnect your call. Still owe $60 dollars. They are a nightmare and AT&T is a nightmare. Trying to figure out what to do next. They have our money so there is no trade in allowed. We went back to our old phones till we can figure out what to do next. Stay away from an LG phone and don't let them give you a tablet because you pay monthly for having it.

My wife and I were using the original LG Stylo phone. Within the past month, an apparent LG software update caused a failure of the "double-tap" feature to close & open the screen. This failure caused REAL problems. I could not wake the screen to answer an incoming call. I had to press the power button on the back to wake the screen & that would cause the call to be rejected and sent to voice mail. I would then check the call log and quickly call the person back. In addition, the software operating system became more sluggish.
Not being able to improve the matter, and reading blogs about this issue, I purchased the new LG Stylo 2 phones. I put the first one in service about five days ago. The "double-tap" feature work very well, until last night, when the phone started an automatic upgrade from Android 6 to Android 7. Immediately, the double-tap feature quit working. Back to the old problem.
Today, I noticed that for a period of time the double-tap worked. Now my confidence in the phone is sinking even more. Reading blogs from others, there seems to be a lack of qualified service reps capable of actually helping with tech problems, an apparent lack of communications by LG to assure users that they are aware of the problems, and are responding.
I spent some years writing code for control systems. I can assure you that this is a mistake in the coding process. Someone caused the problem in a system-call, sub-routine, or something related, and did not pick up on it. For one, when LG made code modifications to the shortcuts across the top of the screen, they didn't (only my perception - perhaps flawed) fully test to see what other functions were affected. It's probable that similar code blocks utilize calls or routines that are generic to several functions. I hope that someone will listen and pass the word to the software engineers. They don't willingly intend to damage features that distinguish their software features from others. The double-tap feature is valuable, and I'm sure that I'm not alone in wanting to keep it working. Thanks.

I am now on my second LG G5 cell phone. This is the worst phone I have ever owned. With the first one I had the plug completely melted into the phone and burnt my hand. I had already had problems with other people hearing me on the first phone. And now here I am with a second phone and still no one can hear me and the phone still overheats. This phone is very scary to me. I would never advise anyone to buy an LG phone...

My phone as well developed cracks in the glass and battery life is inconsistent. However the overriding problem that I have had is dropped calls/incomplete sent emails, because the reception is terrible. I stand side by side with my wife and while she has 3 bars of coverage I only have one. This remains constant no matter where we are. The phone is JUNK.

Looking through the notes I see that I am not the only one with the issue of the phone where people on the other end can not hear me. This has been going on for quite a while now. I have had Verizon replace my phone 3 times now and I have not had it a complete year yet. This time they connected me with LG to see if they would fix the issue. Well needless to say LG was no help at all. Yes, my phone is under warranty and yes they will fix it. But let us me a label, I need to purchase a box or a FedEx/UPS bag, I need to mail it to them, it will take them 2-3 weeks to fix my phone and mail it back to me. I explained to the lady that I need my phone for business use. He comment was "Well that is how long it takes". Nothing like "let me see if there is anything I can do to at least send you a loaner/replacement." Nothing.
Customer service is horrible, and the phones are worst. The bad part is LG knows of the issue and they are still selling these darn phones. It will take the majority to band together, ask for our money back and not buy their product anymore. I have just received another replacement phone from Verizon. That is all I can do is keep asking for another phone every 3-4 months. Please do not buy any phones from LG, especially since they are not willing to fix the issue before selling them.

I am requesting all the friends and smartphone holder to please don't buy any LG phone. LG service is very very poor service. Phone is not good that is an important thing. Another problem is all the LG executive I. e C. Care, Service Center and ASM all are useless people. Recently I have faced an problem with my LG Nexus 5X Phone. Motherboard damaged of my phone. Went to LG service centre, engineer told me it will take 8 to days. After 10 days I follow up to the service centre and he told me motherboard is not available in India. And you will get a phone of 10000 to 11000 price mobile. I called to LG C. Care, they people are very useless. They are given me a no. of ASM. He also useless person. Till now I am struggling for my phone.

LG V10 H961N: Bought this phone new from eBay 6 weeks ago, the screen started with what appeared to be tiny little scratches that became a hairline crack after carrying it in my jeans pocket and never dropping it once. The phone gets hot, the battery drains a lot and the earphones plug turns on Google voice assist randomly. Will sell it and get an iPhone this time, never again buying anything from LG.

LG V10 got stuck on loading screen, the problem is known as BOOTLOOP, a common issues with LG phone. There is nothing you can do to fix the phone yourself. After MY WARRANTY run out (13 months) LG didn't have any responsibility over the BAD product. LG knows they have a problem and want to get around it by selling the product to others. Of course warranty is 12 month but if you don't buy extra warranty you are DONE!!! I bought my phone at VERIZON so now I am a loyal customer of iPHONES APPLE. I will not recommend this brand any longer. Had LG2, and LGv10. Google: Class-action lawsuit targets LG over legendary G4, V10 bootloop issues.

I bought an LG Stylo 2 from Sprint. After only 4 months I have to use speakerphone for anyone to hear me. Of course, Sprint can't fix it. I call LG and they want to send me an email with a postage label. I tell them I have no printer and can't do that. They insist that I can. Sure, I could go to the library to print out the label, Walmart to buy a box, and then make a trip to the post office. THEN, I have to go without a cell phone until they fix it. In 2013 I bought an LG TV. After 18 months the sound card broke. I was out of warranty and replaced the sound card myself, but it still wouldn't work. Total garbage after 18 months. Never again will I buy an LG product. I am done with them!

I have owned 3 LG phones over the years and they all have the SAME problem. LG puts the digitizer on the top layer and if this layer breaks which it always does when the screen breaks you will not be able to use the phone. You have probably seen many phones with broken screens that still work fine. This is not the case with any of the LG phones I have had. One of them I dropped within 10 minutes of receiving and it had to be completely replaced. In my opinion you should never buy an LG phone until they stop putting the digitizer on the top layer.

I started out with the G3, paid $600.00 for it. I loved it. I dropped it and smashed the phone. I have insurance so I received a G4. Went through 5 of them because they would get so hot. I burnt my hand and ear. I just used it to text. I accidentally left it plugged in all night and it burned the holder that it was in. Then I realized that I could have burned my house down. Since I went through so many of them my warranty was still good. I was sent the V20. My sister was calling me because my mother was dying and I should get to the hospital. I never received the phone call.
A week later I called LG and talked to a supervisor named John, I did not want to take it out on a different person. He did nothing for me. I yelled that he could never get this time back to me. I stated that I want a phone that works. NOPE!! I asked why do they keep sending garbage to my carrier? I literally am sick if pairing my phone to my car, downloading my info and my husband wants to get a lawyer. I AM SO DISSATISFIED with LG. I am considering getting a lawyer, but that still won't bring my mother back so I can say goodbye and I love her.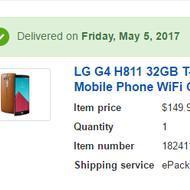 I bought my LG G4 from eBay (Brand New sealed T-Mobile Unlocked ) on April 20 2017 and received it on May 05 2017 and used it for a week until it died. Screen is black and when I called LG customer service they told me, "You are out of warranty. However you can send in the cell phone for repair but there's gonna be charges and fees for diagnoses and repairs!" Obviously I refused to pay more and now looking for a replacement phone. Not an LG phone again! Be aware and don't buy LG phones. They all have problems and LG doesn't want to take care of problem! Worst customer service and customer support ever. They even don't have stores anywhere on US. Only one repair center in Texas which they only repair your part. They don't replace them!

I bought my second LG phone (HG811) as the first one was inoperable after a year. My phone broke in a restart boot. I sent my phone to Texas and had to pay the freight. Three weeks later I get it back and it last one day. I send back again forcing LG to pay the freight. It has been two weeks now and again no phone. Their chat line is canned responses. You cannot call their 800 number as it refers you to their website. Their website refers you to their phone. My husband had a double bypass during this horrible time and LG was not there for my predicament. This is a HORRIBLE company. DO NOT BUY THEIR PRODUCTS.

This is worst crap that is on the market. LG is a piece of **. Do not buy any products of any kind. They break in less than 90 days and no customer service. They do not care about their clients and are worthless. My phone (LG X Power) that purchased on March 22 is fried and will not turn on. It is used for my business. I need my phone.

So I purchased an LG G4 in December of 2015 and I have loved the camera and phone up until my phone stopped working on March 17th 2017. After doing some research I figured out it was the boot loop issue. I went on this website before I sent away my phone and saw all the crappy ways people were treated and I didn't believe it at first. When we went to Costco which is where I got the phone from... they said that it would be quicker to contact LG and get it shipped in... we called LG and they seemed really nice and offered to fix it for free since it was a known issue.
So we get it sent away and then 2 weeks later we get an email that it costed $30 for them to inspect the phone's issue and they blamed the issue on CORROSION! That is DEFINITELY NOT why it broke because I looked after my phone and I was using my phone when the boot loop happened so I know it wasn't from physical damage. They wanted $450 to fix the corrosion!! I'm absolutely enraged at this! It's a scam! I plan on contacting them in the morning but from what I've read on here... that won't do much good! LIFE'S SO GOOD!!! >:( No one go with LG they are pure crap!

LG v10 gets stuck on loading screen, is known as bootloop, a common issues with LG phone. There is nothing you can do to fix the phone yourself and cosmetic damage is not the causes of it. After contacting LG I was inform that although the problem was caused by LG it will take 2 weeks to send me a new phone and that if there was any damage on the screen (such as scratches) the warranty will be void. LG knows they have a problem and want to get around it by screwing their customers. Shame. Will not recommend this brand any longer. Had LG2, LG3, LG4 and LGv10. Google: Class-action lawsuit targets LG over legendary G4, V10 bootloop issues.

I have had my LG phone (LG G4) for under 1 year. Never been hard on it, never had it near water etc. The charging stopped working and I sent it in for repairs under warranty. They returned the phone, unfixed and now cracked (was not cracked before it was sent in). I called them and sent the bill of sale etc. and they tell me that it will not be fixed or replaced under warranty because the warranty is void. Upon reading their warranty further they can deny you warranty because of any wear or scratches, even if it is a tiny cosmetic only scratch. Will never buy an LG phone again. They are cheap and their customer service is awful.

In December I purchased a LG G5 cell phone through AT&T. On the 9th of this month I began having trouble. Took it to an AT&T retail outlet and was informed the hardware was defective. After big hassle with AT&T, I was able to get another one. My problem: I'm paying the cost of a new phone for a refurbished phone. The warranty phone has also been repaired and is not working properly. Tomorrow I will no longer be under contract with AT&T, so I will no longer have this problem. WHAT ARE THE ODDS THAT ONE PERSON WOULD ENCOUNTER TWO DEFECTIVE CELL PHONES BACK TO BACK? Obviously, there's a problem with the manufacturer.

I bought the LG V10 cell phone Dec 2015 in June of 2016. The LG V10 shut off out of nowhere and would not completely turn back on. So I was advised by my cell phone carrier since the phone was not even 6 months old to call LG because it was clearly a manufacturer defect and they're responsible to fix it. I called LG and they sent me a shipping label, asked for me to send a copy of my receipt proof of purchase of the phone and I sent my phone to them. They 'fixed' it and sent it back to me. Now when they sent me back the phone in June 2016 the phone had the sticker on the back of it missing. At the time I didn't think anything of it. I just assumed this sticker had to come off for the repairs that needed to be done just like they told me I had to take off the tempered glass on the front even though there were not working on the front of the phone. They were working with the back of the phone.
I just thought maybe they had discarded the sticker while in the process of working on my phone. I didn't think this was an issue at the time just as long as my phone worked which it did. Fast forward to May 2017 the LG V10 shut off again and won't completely turn on again. So again I call LG but now I'm angry of course since I sent my phone back already to them not even a year ago. Why has this happened again? Are the parts in the phone no good? Did they even fix it right the first time? LG can't answer these questions. Customer service just says "send back the phone and we'll take care of it" as long as it's not because of water damage or from a fall or physical damage that I did to the phone. If it is internal something like a part manufacturer defect they fix it free of charge always. This is what the rep told me on the phone. I said "ok so I got another shipping label".
The rep says "I have all your information already from last time and from what it seems like what you're describing it's the same issue". I said "yes". So I send back my phone, annoyed yes, since I won't have a phone for 2 weeks since LG has no time management whatsoever. But I was happy to know as long as it was gonna get fixed that the company stood by their products and if they had a faulty part they fixed it. Then a week and a half later I received an email saying they were not gonna fix my phone, that I had to pay for it 380 dollars to fix it because the phone was not in warranty. I called and asked what they were talking about, why it was not covered, why I was told it would be and not it's not. Then I was told because the sticker on the back of the phone had been taken off and that voids the warranty.
At that point I was shocked. First off they were the ones who sent me back the phone in June when I sent my phone the first time without the sticker on and second I was told to begin with that no matter what as long as this was an internal damage a manufacturer part/defect which it is, and not water or physical damage like a break or cracked screen or damage from a fall that this would be covered. I told the customer service rep that I had received the phone without the sticker, that it was taken off back in June 2016 from LG and I was told that I should of called and had it documented. Now I had no idea this sticker was a big deal. They make me take off my tempered glass so why would I think anything about the sticker on the back. The rep then says "our techs would never take that sticker off so it had to have been you".
Now at that point I was pissed. I asked this women if she had proof that they sent this phone back to me with the sticker on and she told me no. I tried to stay calm. I talked to a supervisor and again same thing "our techs would never take the stickers off". I said to her "Listen. Mistakes happen. It makes no sense how I'm taking the tempered glass off the front but you leave the sticker on the back. It's an honest mistake. Mistakes can happen. Can you really sit there and say for certain the techs never take the sticker off?" And she said to me "I can't say that it doesn't happen." So now her story changed but then real quick which I couldn't believe that she said this. She said "but you can't prove our tech took the sticker off just like we can't prove you took the sticker off. Can I help you with anything else today ma'am."
I asked to speak to someone else. 7 different people I spoke to that day and no one would help me. I just wanted my phone fixed and these people could care less. I went as far as to email LG cooperate and ask if they could do an investigation since I felt taken advantage of and treated very unfairly and the customer service I received was horrible and that in June 2016 I was sent back the phone with no sticker and I wanted them to investigate that. I received an email pretty much telling me that their records show my phone was fixed, that there was no record of the tech making note that the sticker had been taken off and that without that sticker they won't fix the phone. Regardless if the issue is the fault of a faulty LG part or not no need for an investigation. Said sorry that my phone was broken and told me to have a nice day.
I have never in my life experienced such horrible customer service. Never. It's not even customer service. With customer service they're suppose to help you find a resolution. These people do nothing. I could completely understand if I damaged the phone, if the phone was broken for something I did and they won't fix it. I wouldn't expect them to. But this is a manufacturer defect, a part inside the phone that broke not just once but now twice. Clearly something is wrong with the part and it is a manufacturer defect and they should be liable for it. All I want is for them to do what they promised in the first place and fix the phone. Instead all they want to do is fight with me about a sticker that they took off but won't take responsibility for it and tell me I have no proof that they took it off.
Sticker or not if it is an internal issue they should be responsible to fix it. It is their part that is faulty or they didn't fix it right the first time. This is the worst experience with a company I have every had in my entire life. I will never buy an LG product again. They may have nice, shiny products but they are made cheap and poorly. They advertise well but have no customer service. I will tell everyone I know never to buy their poorly made products. I paid hundreds of dollars for a phone and expected a good quality phone and got a phone that keeps breaking and now won't turn on and LG won't fix. Very disappointing. I have had a lot of cell phones before and never experienced a problem with a company like this. Avoid LG like the plague.

Bought a LG v20 smartphone in December. It died in March. I sent it in as instructed and they said it was unrepairable due to water damage in the charge port. I called them several times and explained I have never dropped the phone in water and I take very good care of it and I rarely use the charge port as I always carry a spare LG battery. They would have none of it. I seriously have bought my last LG product.

I purchased an LG v10 phone, I am a computer IT director and put the case directly into a waterproof secure case. No need as I go from my home to my office and don't take my phone out much anywhere. One day in the middle of a business week while sitting in a meeting the phone rebooted and got locked on the LG screen. I found this happened to thousands of people online and attempted to factory reset to find it was stuck exactly as people described. When I called LG they said "send it in. It is a common problem."
When I did they shipped it back and said it was water damaged, but will not tell me how they could determine this as I personally know this is impossible. I want them to show me and prove it. They refuse to even talk to me now that I have complained on their support site and they are not replying to my messages except with automated emails. LG will not sell another phone to me and I am happy that I buy hundreds of them a year and they will not get any of those sales.

I bought my LG G4 in Jan of 2016. I took it in to my Verizon dealer when it stopped charging. They informed me that my one year warranty had expired the day before but I had taken out the extended so I was still covered. After sending me home to jump through hoops, which are hard on a 66 year old, they finally agreed my phone was not going to work and sent me a refurbished one. This one always had charging issues, since the charging port was loose. It gave out on me in March, when I was about 1,000 miles from home, literally, by myself, and counting on it for directions. They replaced that one, after I got home, after I spent money on a TracFone and minutes.
Now it is May. I'm having lots of trouble charging, have bought countless chargers in the 17 months I've been dealing the these phones and have better luck with the cheap ones, even though they constantly break in, telling me I can charge quicker with the original charger, when in reality, I can't charge at all with it. It does, however, still work with other phones. I so look forward to my 2 year contract being up, if I can stand this stinkin' piece of junk that long.

I had an LG G3 and kept it in immaculate condition in a protected case with the glass screen protector, etc. It was never dropped and never exposed to liquid, only charged with the LG charger. In fact it was often turned off and in airplane mode most of the time. After 2 years I got the dreaded "No SIM Card" error. The phone was erased, factory reset, a new battery was used, etc. The error still persisted. Turns out the manufacturing of the motherboard is done poorly and components eventually disconnect on their own. The still immaculate phone is now unusable as a mobile device. LG had similar complaints with the G4 and V10 models and a class action lawsuit in California. Who knows if the G5 and the G6 will start having the same problems in time. Motorola and HTC smartphones are known to have much better manufacturing processes and build qualities.
LG Cell Phones Company Profile
Company Name:

LG TV

Year Founded:

1958

Country:

Korea Sout

Website:

http://www.lg.com/