Consumer Reviews and Complaints

I have been on the phone for 30 minutes because I could not get into my account on my cell phone - I could on my PC. After 30 minutes I said to call me if you ever figure it out. I have the same plan for 2 phones, I pay the same for both phones - 1 has 809 mb the other 0 mb. No one could explain why there is a difference. I have used TracFone for 4 years. About this year, they have really let me down.

Seems every time I enter a new card for data messages, I don't get everything I pay for. My online account balance is different from the one I access online thru the phone. Seems I lose 25mb with each refill. One would think the account balance would be the same no matter which way to access it! When I called to rectify this, they have no clue or blame a "technical" issue. I think not!

Was with SafeLink for over 10 yrs. Phone broke. Bought new phone from TracFone. Didn't work. Called for almost a month pleading for help. Placed on LONG holds to use my mins. No answer why phone won't work. Refused to give money back or mailing back inst. HELP. Now won't give me back $$$ spent returning phone or min. spent on hold I had to purchase. SO I had to go to another company. WRONG. Unfair practices.

Two weeks ago I was told by two Reps that my replacement phone would be delivered. The first time they said order is in, and I never received it, with the Supervisor telling me it was NEVER placed by the Rep. The second time calling to see where my phone was, they had to replace order. Now I can't get through calling. I called three times, put on hold for over 30 min first time, second time they said it should be delivered any day, the third time TODAY I was put on hold, with them trying to find out what happen to my order, waiting on hold for over an hour. I have it documented and witnessed all that I have been going through trying to get my phone.
I am disabled and now unemployed with more health issues and doctors constantly calling me for updates and testing and scheduling and I need A PHONE. And This is a NYS Provided Phone for the Disabled? You cannot understand 2 out of 3 Reps with broken English, and they all say the same thing... "Hold on please", like 13 times within 30 min to one hour putting you on hold. The others promise and lie telling you it's in the mail and FedEx is delivering it, and it never comes, I was told 3 times this and no Results. I recorded everything, every time trying to get help, and have more than enough evidence of negligence and incompetence.

Overprogrammed pile of ** site. Crashes all the time when trying to load it. It matters not what browser you use either. Opera, Safari, Firefox, IE, they all smash up the unprogrammed correctly TracFone ** website of screwed up Java and Flash manure. Did anyone ever try to use Java? You have to have the right one for it to work loaded in your add ons. Do you know what it is like trying to upgrade all that crap inside a browser? It's a nightmare. But do you think for one moment some idiot that calls himself a corporate executive could understand for one moment, that people that use such cheap ** as TracFone, do not have Whodini for to upgrade with in their computers?
May they all shut down their own businesses because of lack of reality of conscience. We need a chat line like a hole in the head. All we need, is a simple way to access our accounts. Without being bombarded with every Tom, Dick and Harry security measures. IF I were you, UNITED STATES GOV, I would put a stop to bankruptcy filing, and make damn sure, the ones that ** up the computer, are responsible for doing so.
How do I know I can trust these reviews about TracFone?
880,156 reviews on ConsumerAffairs are verified.
We require contact information to ensure our reviewers are real.
We use intelligent software that helps us maintain the integrity of reviews.
Our moderators read all reviews to verify quality and helpfulness.
For more information about reviews on ConsumerAffairs.com please visit our FAQ.

I have been using TracFone for many years with a flip style non-smart phone. I only used it for emergencies and purchased the yearly card because it was less expensive. Each time I purchased the card it included at least 800 minutes and I recently accumulated almost 3000 minutes. I decided to research smart phone. I spoke with a customer service agent who assured me that if there was any problem with the smart phone all the transferred minutes would be transferred back to my old phone. The new smart phone arrived and there was not enough signal strength to do much with it so I went through the troubleshooting routine with a tech.
He finally determined the phone was working and the signal should have been good enough. He said to "wait several days to see if the phone acclimates". Of course, that never happened so they agreed to send me a replacement phone. That phone also had little or no signal. I contacted customer service again and wanted my minutes (over 2,900) transferred back to my old phone. The first tech could not do it so I was transferred to a higher level tech, who also couldn't do it. He transferred me to a supervisor who said the reason the minutes could not be transferred was because there were no minutes to transfer! I read a review from another person who had the same problem so this seems to be common practice with TracFone.

Use it mainly as a backup and the $10 phone works great and good reception everywhere as I believe they roam for best coverage without any roaming charges. I get 120 minutes for $20 for up to 90 days and unused minutes roll over.

Have had TracFone for several years as a secondary phone. Rarely use it, mainly keep it as an added phone in case my phone gets lost. I purchased the TracFone from HSN, the reason I purchased it is the minutes and the time tripled every time I put money into the account. Now all of a sudden I am told that that has never happened. That I must be imagining that my time tripled because they can triple the minutes but the time has never ever tripled. This is a total lie. For the last three or four years I have been tripling the time and the minutes with one card a $9.99 card. I spent probably two hours on the phone speaking with different people then they would hang up on me. I would call back give them all the information. I had again asked to speak to a supervisor was told that I was speaking with the supervisor. I said, "You have a supervisor, everyone dies". At this, I was hung up on again.
I called back several times and each time I would get hung up on and one time a supervisor put a loud beeping on the phone. I could not get it to stop even when I tried to shut the phone off, I had to turn the phone completely off and turn it back on to stop the beeping. This is one rip off after another. They have now got several of my dollars. I called in during the night and put $22.95, I asked them to refund that to my credit card so I could use the right card that they tell me would triple my minutes, so then I put a $9.99 card. It still did not triple my time at triple my minutes but it took away the minute that I already had. I'm going to let my time in minutes run out because it's not worth it to me to hassle. I will get with another company because it is after all just an additional phone, nothing that I desperately have to have. I am going to contact HSN in though because they have a contract with TracFone and TracFone is breaking it.

This company is corrupt. I have bought numerous phones and cards as well. Here is the scam. They force customers to use their website and call. This is so they do not have to hire call center employees, even off shore cheap labor. SO, they force you to register your phone via website and/or call but remember they charge you for the call 611. They run down your minutes, they make sure the recordings are slow and wordy because hey you're paying and they want you to buy more minutes, a complete scam. They hire inept staff, I mean rude, nasty, condescending and inept. Of course I may be wrong but, I think they do it on purpose. They kept telling me over and over they would activate my phone but they didn't. They lied. Why? I have no clue.
So, these liars and thieves took my money. Didn't activate my phone. Now I came to the conclusion they are beyond corrupt, they lie want you to get angry because they think when you do this justifies them stealing from you. They need to be sued a massive class action not for the money the lawyers get that but for the ability to keep them from stealing from anyone else. I stress do not do business with this company. They steal your money nickel and dime and outright theft.

I purchased this phone for my daughter who is a 6 grader. For the past few days each time I call her number there is a series of beeping sound. A long pause, and then a strange ring. Finally someone with a foreign accent answers. I have called her number several times while we were together and her phone in hand never rings yet someone with a foreign accent keeps answering on the other end. I call Tracfone customer No service and they are of No help. All I received is transfers to 3 different agents/departments and No help. Adding to my frustration is the list of 160 minutes in 7 days. I believe these numbers and minutes are somehow being resold, can't prove it but my situation speaks to something going on behind the scenes. I am Leaving this service and taking my business somewhere else! If you are smart I suggest you do the same! Don't do Business with Tracfone!

I purchase the TracFone but TracFone I purchase had someone's previous number. The number was still active under that person's name. I was receiving Texas each time he used his bank card. I was receiving phone calls stating that it was him debt collectors all kinds of calls. Meanwhile TracFone was deducting minutes units from my phone because of this person. When I called TracFone from my TracFone, TracFone used my minutes so I could fix the problem. They had to change my phone number three times to fix this problem.
Meanwhile they had used up all my minutes and explain to them that that was not my problem. That they sold me a phone with the active number in someone else's name. TracFone refused to give me my minutes back. I waited a month. Called back explain to them the fact that of what happened. TracFone give me back 39 minutes but they did not give me the remaining minutes of all the time that I had used under this other different person's name. Bank Texas phone Texas calls under this guy's name each time I answer the phone or check the text, it would deduct minutes from my phone. TracFone did not compensate me for that. All in all TracFone did not compensate me for all these problems.

I have been with Tracfone for over 13 years. For 3 months of those years I was on their SafeLink program, while unemployed. After going back to work I was removed from the program and started buying cheap end flip phones from eBay and Amazon. I did do transfers between phones when I liked a better one than I had before. But I never did anything wrong to obtain extra minutes or time. Well. Tracfone apparently never removed me internally from SafeLink. They continued to add my serial numbers on my account. I had no idea what was happening on their end. Now it's 2017 and they have refused to accept my credit card, (even though it was never declined), and they force me to go and get an airtime card from the store, which makes no sense.
In my last transaction, after finding out they are discontinuing their Triple Minutes for Life program I had just purchased an older (what they call) "feature" phone. I did this because the last 2 android phone constantly received spam and robo calls on them nearly every day. When you change from a feature phone to an android they call this an UPGRADE. If you decide you liked your feature phone better Tracfone will call this a downgrade and remove many of your minutes that you have paid for. None of their CSRs know whether to give you TMFL benefits on "BYOPs" either as they were evidently not trained about this sudden change. All in all Tracfone ripped me off of 7,450 minutes from my last phone. I want to switch to Page Plus, but I hear they are now owned by Tracfone. I use my phone very little. I am 60 and just want a good low priced company like Tracfone USED TO BE.

I purchased a new TracFone and tried to get - a portion of - my existing Tracfone's minutes (1600) transferred to my newly purchased phone. They tried, but did not succeed. In the process of doing this, they/Tracfone De-Activated my existing/old Tracfone and therefore lost all (1600) minutes. In other words I completely lost a phone and 1600 minutes! When I challenged them on this, they said that they have no way of verifying that I had 1600 minutes on my old phone, so sorry!

My brother and I were going out of town and it was mandatory he had a phone. When we got half way there we stopped at a friend's house and realized he didn't have his phone. Looked everywhere... Decided it was lost. The next morning I got on Live Chat with a Rep. I was told his phone had 680 minutes on it... He could either deactivate the phone or get another phone and transfer to the new phone. I asked which would be easier. He said to get a new phone and transfer the number and minutes on it.
So we went out to find another phone. Tried to get on Live Chat but could not access. So called the 800 number. The whole process took over 90 minutes. And at the end the rep said that she successfully transferred 180 minutes to the new phone! WHAT??? He had 680 minutes on his phone a few hours ago. She said something ridiculous about the new phone not being an Android so they decrease the minutes. This is outrageous. TracFone has not heard the last from us!

I have had a TracFone for 5 plus years. Now I cannot get service. When I chatted with several different people 3 times and called 3 times the last person hung up on me. I can never understand the people I am talking to. They did not resolve my problem and now I have a TracFone that has no service. I will never deal with them again.

After filing a complaint against Tracfone ** contacted me. ** is the Executive Resolution Specialist at TracFone Wireless, Inc. address: 9700 NW 112th Ave Miami, FL 33178. When I called and talked to ** on 6/7/2017, she asked me for my credit card information and she told me she could see on her computer where I was charged $22.59 for 125 minutes on 12/23/2016, and she could see the charge for $44.69 for 200 minutes that was good for 90 days alone without the one-year-plan that a Tracfone agent helped me start two days before Christmas. When ** was talking to me about a refund for the 200 minutes I didn't receive all of a sudden she told me her computer went down and she said she would get back to me to resolve this issue but she never did.
The next email I received from ** she stated that she made me several offers but the fact is she never made an offer to settle this dispute over the $44.69 90-day card for 200 minutes that I never received. When I called her back to explain to her how one of her customer service agents set me up with a one-year-plan that would charge my credit card $22.58 every three months while giving me 125 minutes every three months and I tried to explain how the agent told me the plan would start on 12/23/2016 and end 12/23/2017 and charge my credit card every three months which would be four payments of $19.99 + tax which would be $22.58 every three months for one year.
I paid the first payment of $22.59 on 12/23/2016 and on the same day I paid $44.69 for 200 minutes but when I didn't receive the 200 minutes I called and talked to Tracfone's customer service agent and he said he would fix the problem but after finding out that Tracfone didn't send me the 200 minutes it became a hassle because every time I called Tracfone customer service the agents were rude and at one point I couldn't open my account with Tracfone until I made a complaint with the Better Business Bureau.
On the same day that I started my one-year-plan with Tracfone the agent talked me into buying extra minutes because my one-year-plan would only give me 125 minutes for three months and this way I would have 325 minutes until I received my second 125 minutes on 3/25/2017. The Tracfone agent talked me into buying 200 minutes for $44.69 but I never received these minutes and ** told me it was too late to give me a refund to the original payer source which was my credit card because autopay canceled my plan. When ** told me this I responded by explaining to her that the one-year-plan was separate from the one-time separate payment for 200 minutes because the 200 minutes was a separate order on a three-month card.
** told me she could send me a check for a refund of $44.69 for the 200 minutes I didn't receive but while talking to ** she told me that her computer stopped working and she would have to get back with me but I waited for over a week but she never called me back and left me hanging from 6/7/2017 until 6/17/2017 when I sent her an offer to resolve my case she didn't respond and I had to contact the Better Business Bureau again to find out that the case closed so I had to reopen the case by adding another complaint. ** tried to con me by telling me she would get back with me and she purposely left me hanging until the BBB case closed and ever since she has refused my calls so I can't talk to her.
I haven't been asking ** for a refund for any plan. I paid $44.69 on 12/23/2016, for 200 minutes for a 90-day card that I paid for on the same day as the plan that the customer service agent set me up with. ** stating that she tried to resolve this issue but it just ain't true. ** is a con artist and a liar she had no intention of resolving this issue and she stole $44.69 from a fifty-five-year-old man that is handicapped and lives in a nursing home and she did this because she is a thief and she has no shame! After making numerous attempts by phone and email to contact ** she refused my calls and she never tried to resolve this matter and I believe she never intended to make this right with me because she is a con artist who steals from handicapped people and the elderly.
After the runaround I have received with Tracfone's customer service agents along with ** who I believe never intended to help me resolve this issue, I have some words of advice for anyone who thinks they can trust Tracfone or any of the eight separate cell phone services that Tracfone offers the public. ** is the lady you will have to talk with if you have issues with their phone services, so save yourself the hassle don't buy into any of them. Do not use any of the eight separate cell phone services because these people will steal your money and leave you with out service. The following cell phone services are all connected with Tracfone: TracFone, NET10, Straight Talk, Simple Mobile, Telcel, Page Plus, SafeLink, and Total Wireless. These cell phone services are a Rip-Off! "WARNING DO NOT SPEND A PENNY ON ANY OF THESE CELL PHONE SERVICES."

So, I paid $30 for 120 minutes of airtime and 90 service days. But they had to waste my time by sending me a new SIM and I had to call to activate it. They said my phone number wasn't eligible to transfer and they kept telling me my new SIM was in a different phone than what I had. I've had the same phone and number for 3 years. In my 3 years of service, I had to activate 5 SIM cards for the same phone. I'm on the phone with a customer service agent, who I can BARELY understand (sounded middle-eastern). There was nothing they could do. I asked if I could get a new phone number, which they said they could do. So they put me on hold 8 times for 10 minutes each time to 'talk to their supervisor'. Then they asked for my first activation date (like I would remember that). I just said "you know what? ** this, it's not worth it!" Then hung up.

The thing I like is I choose how much I use my phone. And I only pay for what I use. I chose to use it only for phone calls and texting. I've used TracFone for over 20 years and have not really had any problems...

I bought the TracFone about a week ago and found I cannot use the phone in the area where I live. I called and talked to 2 different people at the TracFone with no help from either person. First and foremost I could not understand the representative I was speaking to, the accent was so strong that I had to keep asking them to repeat each question I was asked. Then I was told that if I was not in the area where the phone would be used they could not help me. I explained that I could not call from the area where the phone would be used because I could not get service there. So I hung up and tried again a day later from the area where I would be using the phone.
The rep on the other end was VERY hard to understand and each time I asked him to repeat what he had said he was becoming irritated. I finally asked him one last time that he repeat what he said and the rep hung up on me. After that the phone would not work anywhere and I was told my number was no longer in the TracFone system and the 200 minutes I bought just a week ago were all used up. This TracFone is the biggest waste of money and I would not recommend anyone buy this plan or phone. A total rip off!!!

I have been a customer of TracFone for about six years. This issue is an on-going issue that TracFone does not seem to be able to resolve or won't resolve. During the six years of service I have contacted the company regarding texts advertising their games, etc. that they send to my phone. I have repeatedly requested them to stop these texts. Each time a request was made, I was assured that I would not receive anymore. Recently with my love one in a hospital and hospice care I kept getting their texts sometimes 3 or 4 of them in a row. This was a difficult time for me, while waiting for phone and texts from family TracFone and their automated advertising kept sending advertising texts to my phone. I have been interrupted at funerals, during emergencies, and in public places.
My last request was about one week ago, and here it is one week later and the texts are back again. The last complaint I made I decided to do on-line. The customer service in the Philippines is the WORST I have ever experienced. Difficult to understand, many people in a room talking on phones and no lasting actions. They assure you it is fixed BUT it is not. I am a senior citizen. You can take my word for it when my contract is up, I will be cancelling my TracFone. Enough is ENOUGH. In conclusion, TracFone does not give a RIP about your PRIVACY. They are intrusive and a self-serving company. Fla - Angry citizen.

Cheap but if you use a data Android phone it can get pricey. The service itself is good, the phones are dated. If you buy your time as a card at a store, then there is no paper trail between you and the phone. I am paying about ten dollars a month for service. Android ZTE, ninety day card at twenty bucks. It gives enough data time for the occasional web visit i.e. maps. And more than enough text and phone time. The help desk is offshore. I never understand a word they say.

I bought a Samsung Galaxy Sky 320. I proceed to set it up then when I went to get into it, it asked me to slide to unlock then it asked me for a password. So called TracFone up and told them what happened, so they had me reset it back to factory settings and wipe data. When I tried to set it up again, Google was on there so I put in my email and password and it wouldn't let me go pass that point. Called customer service up again, online chat reset again, still couldn't get past the Google point. The rep said, "Well keep trying. It will get thru." I tried working on this phone for 3 hours.
They say the phone is not a dud after I called the 3rd time. They suggested I go to a cell phone repair shop and see if I can get the Google account off the phone. Seriously, after I spent 100 to buy the phone and they are too incompetent to help me with the process. I have had TracFone for a long time but I am not a real happy camper. And also I add the auto refill so won't forget and they auto refill the phone way before the due date. I am looking to find another pay as you go phone service.

TracFone data access can be a challenge for smart phone set up. Offset by using free WiFi points. Have to stay on top of expiration date to avoid loss of service.

I received this phone in the mail from TracFone. I go through SafeLink due to being disabled. The phone they sent me is unusable for my area since they use LTE signal around here. Even TracFone admitted to me that it is useless for me. They told me I need a new phone that will connect. A week goes by and still have not received the replacement phone. It is not my fault they sent me the wrong device. I can't afford to buy a new phone when they knew where I live and the service requirements. I don't know what to do since the people from India don't care whether or not the American users can get signal or not. I am sure that if we all died they would be pleased.

"I wanted my phone ring 3 times before it goes to voicemail." This is what I wanted, but the INCOMPETENT Rep DENIS could not give me the answer on first 18 minutes waiting time on the phone. Then she transferred me to Annabelle ID ** who asked too many questions and serial number. She also make me wait on the phone for a long time. In the end, she said, she will transfer me to another rep.
DOES TRACFONE TAKE BRIBES TO EMPLOY INCOMPETENT Filipinas? If you do not know your job, learn it before you get the job. It is not right to waste customers' valuable time. I had to waste my time for a simple instruction, and still did not get the answer. Either TracFone is very bad, or the hiring practices take bribes from Filipinas. The Consumer Affairs should take the license away from TracFone, because TracFone cannot offer the service it supposed to provide to public.

When I first got the phone and called to get started it would not make a call. After about 4 hours getting the run around they sent me a new sim card. When I got it I had to call them again after another 3 hours or so. It still would not work well. This went on and on and after 3 phones and a bunch of sim cards and another 7or 8 hours I still do not have a working phone. Am now waiting in another piece of junk they call a TracFone.

I add airtime every 90 days and 4-5 days before my airtime expires I received a text or an email offering a promo code for bonus minutes if I buy a specified Tracfone minute refill card. In the past I never had any problems however the past 2 times the promo code was not accepted. I used the same code that had just been sent to me by Tracfone but it did not work. When contacting Tracfone the rep just says "The code has already been used". So just to warn everyone out there, before you add your minutes and promo codes write down your current minutes and then add your airtime and see if you are actually getting all of the minutes you are supposed to get. Tracfone is not honoring any of those bonus minutes I was supposed to get and I have been a customer for over 15 years. The company's reps are not helpful and they just keep repeating the same answer. Don't be fooled by the promo codes.

I have been a customer with TracFone for a few years now with never an issue. But it's been at least 3 weeks of dealing with their customer service reps now that has really gotten me to the point of complete aggravation. They lost 1500 talk, text and data from my new phone, 2300 some odd minutes off my old phone. Can't transfer phone numbers competently because if I don't change minutes to the same phone I am changing the number to then I will have to purchase more minutes to be able to have them do that, and my September 2018 end date on the new phone has changed to 2017.
Asked for a supervisor and he could not make a decision on his own so then asked for his boss. She was supposedly a manager...and she supposedly fixed all of my issues... but guess what? Here I am still minute less and my account is still not right. So now I have filed a complaint with the FCC. They contact them and they are required to contact me with a solution. We shall see what kind of solution they offer. Mind you my daytime job is customer service over the phone and if my customers don't hang up with us satisfied then we are in trouble. How do you tell a customer they have to buy minutes to transfer a number and minutes separately?!! Ridiculous!!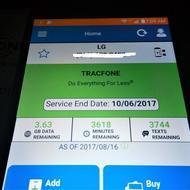 I've been a customer for several years, I decided to upgrade my phone. My old phone I had 3600 Minutes left on it, prior to the Upgrade. After the Activation of the New Phone, those minutes were to be Transferred to the New Phone. Activation was a nightmare... I LOST as those Minutes during the process. You keep getting the "Run Around" from them.

I bought a TracFone in 2012. I used it for a year or so. Then I did not need a cell phone for a while so I did not use it. It had over three hundred unused minutes on it, but the service time ran out. As time passed, I needed to use the phone again. I bought minutes and days to load on my phone. I tried to add the time, but the phone would not accept it. I called TracFone and told them of my problem. They said because I did not keep my phone "active" they deactivated my phone. The customer service person could not speak clear English, and acted like he did not understand.
When I asked to speak to someone that could talk with better English, he said that he had perfect English, and named some school he went to (Like that would convince me he could speak English). He never had a better English speaking person come to the phone. He could not give me a reason why they would deactivate my phone, nor why they did not inform me of their action when they did it. After all, I paid for the phone in full, I would expect the phone to work, no matter when I use it. The phone promotion said I only had to buy the time I used. That is what I did. He refused to reactivate my phone, and said I must buy another phone. WHY??? I have a phone already! They obviously had many customers with the same complaint, as they just refused to provide the service I paid for, and was very rude. He acted like I should know they do not provide phone service to people that seldom use the phone. What a rip off!

ConsumerAffairs Research Team
The ConsumerAffairs Research Team believes everyone deserves to make smart decisions. We aim to provide readers with the most up-to-date information available about today's consumer products and services.
TracFone offers prepaid unlimited and pay-as-you-go plans to customers in the United States, the U.S. Virgin Islands and Puerto Rico. It was established in 2008. América Móvil, a Mexican telecommunications company, owns the company. The TracFone family of brands also includes Net10, Straight Talk and SafeLink.
Refer-A-Friend: Current TracFone customers can earn cash when they refer friends who purchase and activate a phone from TracFone.com. When new customers use the link sent to them by an existing customer to make a purchase, the existing customer can receive up to $30.
Text support: Both existing customers and interested consumers can get answers to their questions about TracFone via text message. They can simply text HELP to 611611. They can also get fast answers by texting specific words, listed on the company's website, to that number.
Value Plans: TracFone's Value Plans are monthly plans that automatically bill customers and add a certain number of minutes to their phone. Customers do not pay an activation fee to set up these plans, and there is no charge for canceling their service.
International: Customers can receive up to three local, Mexican numbers that will call through to TracFone customers in the United States. This feature means international callers will not be charged long distance fees for calling friends and family in the United States.
Accident protection: TracFone customers can add an accident protection plan to their phone so they can replace it if it is accidently damaged. The company offers two protection plans.
Best for TracFone is best for temporary users, non-cell phone users and budget-conscious consumers.
Company Name:

TracFone

Website:

http://www.tracfone.com/