Consumer Complaints and Reviews

REMEMBER I SAID THIS. If you have any issues ANY not only is the customer service center for any issue in Dominican Republic they won't & can't do anything for you!! ALSO if you get put on hold for ANY reason you will be "HUNG UP" on or just left on hold until you hang up. RUDE, RUDE, RUDE. I haven't had my account for 30 days (switched from Verizon) to find out they screwed my billing date due 3 days earlier than expected while on-duty (yes military) in the Indian Ocean. My services were interrupted for my whole family (5 phones).
Their answer for me to run down to my locker 10 stories down in a vessel to get my credit card to make a partial payment or full payment of $100.00... HELLO my bill isn't even due... SO REMEMBER I SAID THIS... CRICKET doesn't care AMERICANS from the USA (nor any phone carrier. They all have shifted offshore). Just hold the next retail representative accountable so they know I WILL be back in to see you when you screw me!

I was wondering how many citizens here have used our local Cricket phone service and what your experience has been? I have started using Cricket mid Feb of this year, because it was local and it was now suppose to be AT&T. I have had nothing but a bad experience from day one with nothing but lies and extreme costs. I have dealt with each person in the local store and any service rep I can on the phone with each recurring issue. With no good result from anyone and it's fair to share my personal experience as a precaution to you for your future expense and knowledge and from there you can make your own personal choice. I had bought a phone and started my service with Cricket in mid Feb of this year. The phone I wanted was not in our local store so I was sent to the Franklin store and purchased and activated my phone.
The next day I was having activation issues and as this was a new phone to me I was not familiar with many of the features. And the activation wasn't set up right. I went to our local Dickson store for help. Kyle was able to help me and also explained to me about a computer service on main street that he said was contracted with Cricket and would help with any phone issues we needed. (1st this was a new phone I should need anything) I left satisfied my phone was working. The next few days my husband had also bought a phone and service from Cricket and wanted to have his contacts and some business stuff transferred from his old phone to the new one and was also told to see this computer guy on main street for help. (Only to visit this place and find out he DOES NOT HAVE ANY CONNECTIONS WITH CRICKET, and does not know anything about phones, only computers.) That was our first lie told to us.
About 3 weeks later, my phone froze up. So I returned to the store and Kyle reset things for me and I was again happy when I left the store. Another few days past when my phone froze up again. Kyle request I send it back to the company for repair saying it might be a software issue and it was still in the 12 month warranty so they may fix it or send me a new phone. So, here is when the problems and expense started adding up. As I go through the proper steps requested to return my phone and talking with the online phone service I find that in spite of the 12 month phone warranty and the insurance I paid for with my plan, it still requires me to pay a 75 dollar fee along with the shipping cost to return the one month old phone for the factory repairs it needed. Reluctant and frustrated, I returned the phone for repairs.
Now thinking I will be without a phone for 2 weeks I returned to the store to see what can be done to help me with a phone until mine returned. And discussing this with them the only choice I could think to do was to by a new cheap $20 phone to get me through this repair period. Again no help from our local cricket employees and customer representatives insurance or warranty help. I purchased another phone. I am charged $10 more for a new SIM card and a $15 activation fee. When I asked about using the sim card from the phone being sent back I was told I can't use it because it would deactivate the phone and VOID the warranty. At this point I'm so very agitated in this service I have invested in. Is not helping me with the cost process to replace or repair the phone they have sold me that is having these problems so soon after purchase. And paying insurance fees and their 12-month warranty is of no help or benefit at all.
And no local help from the store as everything was needing to be done by calling the customer service number. So after fees and sending back my one month old phone I am out another $200 more dollars for my one month old warrantied and insured phone. I bought a ZTE Grand Max 4 phone and a Max 2 phone was returned to me. However, I went on with this phone annoyed but it was working until yesterday when started using it and none of my programs would open. So upon their past instructions I rebooted this phone only to have the Cricket logo to return and it was frozen up again.
By now I'm knowing this process and expense I am going to have to endure yet again. I return to the store for help. Knowing that this issues has occurred 4 times since I bought this phone and needing a phone in the meanwhile and paying insurance and this phone warranty I feel this store should help me in whatever is needed to get this all handled in whatever way possible. I was told yet again the only choice was to again call the customer service line and file an insurance claim. OK I cannot call anyone. You see my phone is frozen. I need your assistance in helping me, as you are here employees to Cricket. They pay you to deal with things and I am your customer and you know my issues from the beginning. It's all recorded on the calls I've made to customer service and I feel this is what a local store at any other service store has ever done for customers. It's how it works I would think.
"NOPE we cannot help you." she replies with no offer to help me or call customer service for you in your behalf to help their customers. You are on your own for anything needed when you have trouble. Mind you they are glad to take more of my money to reactivate my cheap phone again for me at the cost of another sim card and activation fee. Because remember I cannot use the one in the phone because this would void its warranty. So that's my offer with another insurance form and $75 dollar fee for repair and the shipping cost again of which I just did 3 weeks ago and the 15 dollar fee to reactivate my phone when it came back from repair. I then chose to count my losses and the lesson I learned and went to Walmart and my dear hubby set me back up with a new Verizon Straight Talk phone of which I was content with for 5 years before all this.
I have had phones last me years. I have only dropped one on my bathroom floor and cracked a screen. I only changed hoping for the option of a local service rep that would speak English and because cricket was now AT&T a service that is generations old in America!! That did not pay off too well for me. Thought it very difficult and expensive. So this is my point in sharing my issue. Cricket is a very expensive service and they do not have helpful local or online customer service. Sorry this is so long. But I hope it serves to you helpful before you make a choice in phone service. Whatever choice you make, read the reviews. As now I have read many many bad reviews on Cricket that sound much like mine and I wish I had read them upfront. Please read up and ask questions before choosing any service.

We switch providers only because the coverage map showed we have service in our area we just moved to. Unfortunately we found out they are going to build a tower in our area in about a year. So we have no service in the area we live... sad don't believe Cricket's coverage map... also read the fine print. No money back for their own stupidity for advertising coverage in a dead zone.

All the staff is polite and very helpful. The only problem I didn't care for is the "LOUD Spanish" music blaring outside. I am not a racial man. We do live out West in Loxahatchee and the Royal Palm. 95% of the people listen to Country or the Gater 98.7. I almost didn't go in your grand opening. I find it offensive. I would recommend turning it to English music. This is not Miami. That suggestion would be helpful towards management to get customers to come in. I hope this will help... I have lived out here 38 years. I kind of know how it is out West. English speaking country people. Thank you!

Cricket Wireless does utilize AT&T service which was the reason for establishing service with Cricket in 2015 upon relocating to Windber PA area which has limited service coverage for its competitor Sprint (Virgin Mobile). In 2015 establishing service was quick and easy, purchased a free Nokia phone after porting a previous number and avoided activation fees by doing so online. Service was great even after relocating to Lewistown PA area. In 2017 decided to purchase another free phone with ported number (Samsung Amp 2) after cancelling service in 2016 with no problem. Email correspondence from Cricket indicated the number could be successfully ported although 24 hours after applying for the phone. A cancellation notice arrived claiming Cricket was unable to verify information.
Several calls to Cricket customer service, activation, department, and authorization produced no information as to why Cricket was unable to verify information. One representative suggested using a different credit card after 3 failed attempts with a debit card although the $40 monthly fee was authorized and later removed from the card. When using a different credit card, the software indicated the mailing address did not match the billing address although the credit card company indicated they did indeed match.
Overall 5 failed attempts were completed online, local stores indicated they were unable to activate a phone for free nor could they accept payment for service permitting the customer to activate the phone online if ported. An online attempt failed with assistance from a representative after guiding for 1 hour through the process suggesting that it was not customer error and the cards were valid as they both are used daily without issues. Either Cricket is forcing customers to purchase products in stores to pay fees that can be avoided online or they refuse to acknowledge the software needs modified.
How do I know I can trust these reviews about Cricket Wireless?
765,713 reviews on ConsumerAffairs are verified.
We require contact information to ensure our reviewers are real.
We use intelligent software that helps us maintain the integrity of reviews.
Our moderators read all reviews to verify quality and helpfulness.
For more information about reviews on ConsumerAffairs.com please visit our FAQ.

I tried to sign up for Cricket Wireless in September '16 at a local store and spent 3+ hours there while they tried to figure out how to transfer my number over to their service. I finally gave up and went to another store a few days later and was in and out in 30 min. Everything was good until April '17 when my credit card that was on my auto-pay account expired, so I went to the first (I will refer to them as "STUPID") store to have my info updated. The person updated my account, but deleted my auto-pay. I got the text telling me this and that I could re-enroll by tapping the link. So I did. 2 weeks later, I receive another text telling my payment was due. SO!!! Once again I went to the "STUPID" store and told them my auto-pay was deleted, so I needed it re-instated.
I then got stories about how incompetent the person who updated my credit card info was. Then I told them I needed to pay my bill because I can't get online for some reason. Since this was the due date, he should have known just re-instating my auto-pay account wasn't going to pay that day's bill. As I left "STUPID" store, I asked how much I had paid for my bill that day, and the clerk said "$45". May 1st, my phone was disconnected due to non-payment. SO ONCE AGAIN I WENT BACK TO STUPID STORE TO DEMAND AN ANSWER!!! Yet another person behind the desk, and this is only 5 days later. He showed me that not only hadn't a payment been submitted, but auto-pay STILL wasn't active (At least I had the receipt this time saying it was set up). PLUS he told me I had to pay a $5 late fee to get my phone reconnected.
I literally started jumping up and down while I yelled "WHY SHOULD I PAY FOR A LATE FEE WHEN YOUR PEOPLE TOLD ME IT WAS PAID AND IT WASN'T??? IT IS YOU THAT ** UP!! NOT ME!!!" He went on to talk about there is nothing he can do about it except give me the customer service number. I walked out of "STUPID" store for the last time. If you are keeping count, they are 0 for 4 at helpfulness and 4 for 4 at ** everything up.
So I went to the only store that was helpful, and explained once again what happened. He was very helpful and even contacted Cricket and explained what had happened and if the $5 fee could be waived. Cricket responded, "NO!!" Reason? I didn't check within 24 hours to make sure it was paid. WHO THE HELL CALLS EVERYWHERE THEY SHOP THE NEXT DAY TO MAKE SURE THEIR CREDIT OR DEBIT PURCHASE WENT THROUGH??? I don't, and Cricket isn't going to make me start either. Right now I still haven't reconnected my phone, and am now shopping around for another carrier.

On March 31st I ordered an HTC Desire Refurbished, I got a confirmation email stating that my phone would be shipped out in two business days. After the first week of waiting I called and asked what was taking so long, all they would tell me is "your order is still processing" so I was patient for another week. I called again they told me the same thing, so I filed a complaint and in the middle of our conversation the person hung up on me. Its now April 24th. Still have heard nothing about the phone. Every time I call they hang up on me or get annoyed and transfer me. And on top of all of that, they keep sending me emails IN SPANISH telling me to write a review on the phone I never received and probably will never receive. Another thing is I spent around $30 on this whole thing and they won't refund me even though I never even received the phone.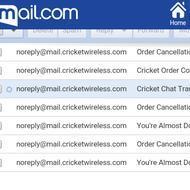 3 attempts to switch from another provider to Cricket and each time my order was processed but cancelled. Not going to make a 4th attempt. Each time l followed instructions from the reps while trying to resolve issue but Lies all Lies. They kept recommending that l switch service at a Cricket store. The difference is if you switch service online on their website you AVOID the Activation Fee. If you do the same thing in a store they CHARGE you the activation fee. Shady Practices. Shady Company. Can l give less than 1 star please. I will stick with my current carrier. The free phone with number transfer is not worth all this headache!!! Horrible Shady Company. And then they have the audacity to hold the funds for an extended time after they cancel your order. Shame on you.

I signed up for Cricket on March 4, 2017. I switched from Verizon, kept my phone and was told that I qualified for a $50 switcher credit since I brought my own device. I was initially going to keep my number, but there were so many hoops to jump through, and since my dad was the owner of the original Verizon account I didn't have access to it, so I just got a new number. I was told that I would get the $50 credit after paying the first month. Well April rolled around and my account was charged, so I called them and they told me there was no $50 switch promotion. Okay, what gives? They told me to go back into the store I switched at, and the guy pulled up the promotion and explained that it would credit my account after 45 days if my account was in good standing. Okay, sweet.
45 days have now come and gone and still no credit. I call again, and they tell me now that I don't qualify because I didn't bring my phone number with me. She just kept parroting the policy at me. Okay, I understand that I don't qualify, but that's not what I was led to believe. I signed the contract under the assumption, as I was SPECIFICALLY TOLD, that I would be getting a $50 credit. I ask to speak with a manager, and she says the same thing, "I don't qualify, sorry about your luck."
Okay, but here's what happened: I was either lied to or unintentionally misinformed about your promotion. EITHER WAY, this is NOT my fault, and the customer should not be held accountable for the mistake of the employees. I even asked what else she could do for me, and she said she's not qualified to do anything, I'd have to go to the store, that I've already been to TWICE. YOU'RE THE MANAGER FOR GOD'S SAKE. I told her, in no uncertain terms, that she could add the credit, or Cricket would be getting some serious negative feedback for false advertising from the BBB. She basically told me "go ahead do it, see if I care." Worst customer service ever. I'm going in a THIRD TIME tomorrow and if they don't have anything for me, I'm switching. I'm not paying another cent to this company if they're going to make their customers pay for their mistakes.

I thought that service on Cricket would get better once AT&T took them over. Well, that's not the case at all. The download speeds are ridiculously slow and are even worse during peak congestion times, texts sometimes are missed or take forever to send and receive, calls constantly drop or are missed, I could go on. Their network is horrible. There are still a lot of dead zones too. I think they've dropped a lot of towers even though AT&T runs them. Whatever you do, go with someone else. Their service is terrible.

HATE THIS COMPANY. THE WORST OUT THERE. DON'T WASTE YOUR TIME NOR MONEY!!! I do not do this often but people need to know what type of bad wireless company this is. This is far the worst company out there that you can get for wireless. Man if you want cheap then go to Walmart. They have better wireless service than this company here. These people have lost their minds okay. Don't waste your money nor your breath on this company. Take your money elsewhere but don't spend it here. This was a bad idea. We ended up going to Verizon. For prepaid.

I am a 66 year old person that is living on social security. When I get my check at the beginning of the month, I pay all bills for the month, whether they are due or not, and whatever is left is what I have to spend the rest of the month. My Cricket bill was not due until the 19th, but I paid it on April 1. The total paid was $90. That is quite a large amount for a retired person, but I paid for a family plan. I cancelled service on April 15th due to the fact that the Microsoft phone (with Windows) no longer supported the messenger service and was told I would need to buy new phones to upgrade. I am unable to afford such a purchase, so I changed to another supplier and got the new Android phones for free.
I called Cricket to get my $90 PREPAYMENT back and was told that there are no refunds for this as I was the one that cancelled the account! I understand no refunds in the middle of the month, but this was as I said PREPAYMENT and not even due yet!!! I will be getting an attorney if necessary to try to get my $90 back... And I will also post this on all social media, ie. newspapers, Facebook, Twitter and anything else I can think of so others will know not to pay their bill until the day it is due! I don't believe that Cricket can justify keeping my $90 PREPAYMENT AT ALL! I wonder how many other people have been bilked out of their money and not able to get it back... THIS IS JUST COMPLETELY WRONG!!!

After spending no little time on the phone just to get a phone activated (we have 5 lines) they deactivated my son's SIM card even though I told them he was out of town on business and not to touch his line. They refused to reactivate his card. Previously they gave us the runaround regarding the defect phones they sold because it was after 7 days. It is astounding to me that they would have such incompetent people in upper levels of their activation dept.

I got my mother in law a cell phone from here to use in case of emergency. I set up billing to be directly taken out of my bank account each month. It was fine until they randomly disconnected her service. I went back to the store and girl at the desk said that it happens sometimes and for $45, I could resume service. When I said I wasn't doing that, she told me, "Call customer service." When I did that, that person was unhelpful and hung up on me. I had asked if I did pay the $45, what's to keep this from happening again? Another $45?? It's extortion.

I've had this phone since March 2017 and now I see why is a low budget service. Sales pitch: Same lines as AT&T. Truth: plenty of dead zones, weak signals more so than not. Texting: poor to extremely poor complicated to get the texting service back on right service. Customer service: inexperienced young people. I ran into one who had Verizon and she works at the Cricket store! I was with Verizon for 5 years. Their costs per month continue raise to up to 81.00 a month. Will Cricket another month and will switch back to Verizon. Advice: own a business. No way!

Was a generally satisfied customer for about three years. Decent coverage on the AT&T network and we don't use enough data to worry about throttled back speeds. About ten months ago I upgraded to a LG smartphone. Last month it began experiencing trouble. Had to jump through a few hoops, but eventually they sent me another (reconditioned) LG phone of the same model. Seemed to transfer the settings well but a day or two later calls were not coming in or out. Instead, outgoing calls were being transferred to their call center.
Turns out the reconditioned phone they sent me was on the National Call Block list. This means the phone was reported by the last owner to lost, stolen, etc. or the carrier hot-listed it due to unpaid bills/contract breach, etc. Two reps I spoke to indicated my case was not unique. They said they would fix the Cricket list "quickly" but getting it off the national list would take "longer". Got estimates varying from a few days to several weeks. They would not send me another phone or set me up with a loaner from a local store a few minutes away even though they acknowledged this was their error. The "quickly" removal from the Cricket hot list became "30-60 minutes" on my second call to customer service the following day. It actually took three days. There is a site to check the IMEI number and it still has not been cleared from the national list sixteen days later. So calls to/from other carriers still don't work.
I also had to put $215 deposit on my card to ensure the old phone was not damaged. UPS tracking showed they had it on Friday, April 7, yet the charge had not been reversed as of Friday, April 14 when I called them yet again. They said it would come off the following Tuesday to Friday, acknowledging that they had the old phone. A few hours later, the charge was reversed. I'm sure my call was unrelated to this (yea, right). I'm voting with my feet and switching carriers.

I have been a Cricket customer for 10 years and I am fed up with the horrendous customer service. I followed a link on mycricket.com to upgrade my phone and was told that because I was a current customer I would have to pay $100.00 more for a phone. I understand they want to port in numbers from other carriers however I was willing to add another number to my account and give them even more business. These people at the Cricket corporate store are either brain dead or just do not care about losing customers. If I were you I would take my business elsewhere as I did.

My experience with Cricket was terrible. I had MetroPCS before Cricket and it was so much better. Never had problems with internet or calling. With Cricket I got the plan with unlimited data and I didn't have data or calling everywhere. They sucked ass! They stole $150 from me for nothing. I'm going back to MetroPCS. Sorry Metro.

I have a Iphone 6S plus and I have Cricket Wireless. Three months ago I never used over 2 GB a month. Nothing has changed but then when they changed me to the 8GB plan for free I started running out of data in the middle of the month. I have never used over 2. When I call customer service they don't speak English well and just keep repeating that I need to shut my cellular data off when I am not using it. I never did before and now for the last 2 months I went over 8 GB and so I did what they said and I still ran out of data. I don't do anything on my phone, no videos, no games, no nothing. This is frustrating because even in the store they see I did not use over 2GB but the Cricket app is saying I used over 8. Help what do I do???

I sent my phone in because it would not keep a charge. I bubble wrapped and placed it in a secured box. It was not broken. However a few days later it was returned to me broken and rejected. I have called and called and they will not replace my phone even though they broke it at warranty.

I called customer service asking for a printout of my call log because the phone I had lost had numbers and it's that I had not yet saved but I still need for business purposes and they replied that I need to get a subpoena! Mind you this is not for a court case of any kind. These are my records from personal use of my phone. The device disappeared & I needed to recover some of the phone numbers in my call log that I didn't have saved. In the past Cricket has done this for me for a $25 fee no problem. Now I have to get a subpoena... Absolutely awful. Looks like I'm switching carriers.

My husband & I were with Cricket for 9 yrs. We recently decided we had enough of dropped calls and dead spots, so yesterday we switched to another co. I called to ask about a refund since I just paid the bill in full like always on March 28th. I was told I can't get a refund because we switched to another provider. What really? We were not under a contract nor do we owe anything on our phones, they were paid. Why or how does this company think they have the right to keep anyone's money just because they switched companies?? We are entitled to a refund and I will keep at it. Reported to FTC, now to the BBB. You can't keep people's money because they had enough of all the problems that Cricket has!

Cricket Wireless is pretty good as a carrier of wireless service. They use the AT&T network. Better hope you don't have any problems, though, because their call center is a total disgrace. A few months ago, I had to add 1GB one-time data to my account, at three different points during the month. Each time I went on to the My Cricket Android app, selected the 1GB of data, then paid with my debit card. The charge immediately appeared on my debit card, but for some reason Cricket never acknowledged my payment and my account was still stuck in "throttled" 2G mode for being over my plan data. I work in the middle of the night sometimes, and of course their customer service is closed until 7:30AM ET.
Similar issue another time. I paid my monthly bill on the My Cricket app. The charge came out of my bank account via my debit card immediately, but for whatever reason Cricket never acknowledged the payment, so my service got turned off, cutting off my ability to make calls or use data. Of course this was at 1 in the morning so they were closed. Worse, when I did call in, they blamed it on me for not paying. It required 2 Supervisors to rectify the problem.
After that I figured I'd try their Twitter support for my next issue. If I have one suggestion for all Cricket customers, it is use their Twitter support and do not call their call center! Twitter Support is based in the USA, and the call center is overseas somewhere. I had major language barrier issues with the call center agents, plus they don't seem to have any sort of empowerment or explanations for anything other than a script they read. Twitter Support can actually fix things.

Extremely disappointed in this company's sales tactics and customer loyalty. I've been with C Spire from the beginning of cell phones (throughout the many name changes). And would still be with them if I had known Cricket was lying to me about the plan I signed up for. I specifically asked about caps on the high speed data or possible future caps on the unlimited planned they were so eager to sign me up for. They assured me it was all legit and no changes would be made. They used this to get me to sign with them and leave the only cellular company I'd ever known. They poor mouthed their competitors for using the unlimited term and then slapping a cap on the high speed data. They said that's the reason I should be a cricket customer. I fell hook, I line, and sinker...
How can you ever trust or even come to like or be satisfied with a company that begins the relationship with lies??? I could even understand if they did not offer the plan to new customers if they were not happy with their own plan that they so eagerly promoted. But to take it away from existing customers they've already sold to is the most unprofessional and unethical thing they could possibly do. Now that I am limited to my high speed internet I can barely look at Facebook. At times I can't even do that. But to download or stream now is a freaking joke.
I'm trying to find out if what they have done is even legal. I don't see how it can be. It sounds to me like they even tried to cover their butts by knocking $5 off the "UNLIMITED" plan but telling us we had to go into an office to sign up for the savings. Of course to sign their new contract with the "not" unlimited high speed data. So it would void the contract they used to sign us up with Cricket that offered unlimited high speed data. Be very careful with this company because they have been well trained on how to deceive you or they are the most poorly trained bunch of corporate folks I've ever seen. Not sure which, but either does not offer any future customer satisfaction awards.

I woke up and my daughter was like "mom our phone is off." I said "no it is not. It is due on the 3rd." She said "no it is off." It was 5:40am. Here I am pissed cause I normally talk to my mom every morning cause she had a stroke one morning so I check in on her every morning then I talk with my sister on her way to work. Then but mostly I take my child to school every morning and anything can go wrong so I make sure I have my phone on me. For one I stay in the country. My child goes to school in the city.
But anyway it wasn't 7:00am yet. I pulled over in an empty parking lot, put my earplugs in. They told me that I owed a payment from MARCH 9 then said my bank called them and requested the money back. So we made a conference call with my bank and the bank told the they was lying to their face. Over and over again. Guess what y'all. They told me my other bank did the same thing but this time the bill was due DECEMBER 8. My bank told them they was a lie. We were on conference calls each time. Now here is the ** part they asked me do I have another debit card. I told them hell no and turn my damn phone back on. I am so hurt by this. I have never had to deal with this before. I have always gave them five stars. This was a mistake made on their end. I wish they would see it. I just can't pay for something I know that I have already pay for not twice. Frustrating. I have to have my phone on for several reasons.

So now the end of April 2017 Cricket wants to charge us a 3.00 a month fee to pay our bill in person in the store in cash? What is up with that? It's bad enough they charge a late fee due to their automated system being located in stupid central time United States but the way I see it they want their sticky fingers into everyone's credit or debit card accounts and bank accounts in other words automated payment systems but they still fine you for this that and the other. What part of prepaid don't you get AT&T alias parent company of Cricket Wireless? Bet if it was Sprint we might not be putting up with this crap.

You can tell they are owned by AT&T. They sent a new message about new rates. If you are late with your payment and they end your account. Well we do auto pay and suddenly this month for some reason they can't get the payment from my bank. Hmmm. I checked my account and they never tried. I also checked my phone account and it said my bill was paid but I received the message saying it wasn't (Sneaky).
When I told the girl this on the phone, she yelled in my ear my payment was declined because information was wrong. I told her, "Nothing has changed in the two years you have been taking money from my account except this message I got on the new rates for cancellation." She yelled again only louder that my payment was declined because of wrong information, then hung up on me. I didn't even get to ask what this $4 charge was for that was added to my phone saying due to a change. Which nothing was changed. Well I dropped At&t, at&t wireless, DirecTV, now it looks like I'm going to have to drop Cricket. At&t can really ruin a company.

I went to the Cricket store on Austin Hwy, there was two young girls working, one of them was Kimberly and I didn't get the other girls name, neither one of them really knew what they were doing. I went in because my phone froze up. I went to that store because I wanted my phone fix right away. It took both girls almost two hours to work on my phone. Neither one fixed it. What Kimberly said was that she would have to reset the phone, which would make me lose all my information, phone numbers, pictures, etc. She was frustrated, I told her to look up my account to see if I had insurance on the phone. She never did.
I finally said I was leaving and I thought I had another phone at home. I ask if I could bring the other phone, she said yes. She said she could change the sims card. I decided to call her when I got home and told Kimberly I want to close my account. She stated just to leave it alone it will close on its own. She didn't even apologize. No common courtesy.

I was shocked to find so many negative reviews re: Cricket Wireless. I have subscribed to: Vz, Sprint, Virgin Mobile, Net10, Straighttalk and T-Mobile. HANDS DOWN, the BEST signal, coverage, unlimited data for the cost is Cricket Wireless. It's an MVNO owned by ATT, and hooked into its cellular network. I have never had an issue with dead spots, dropped or broken calls. Never have I been throttled, AND (unlike my last carrier T-Mobe,) NEVER had an issue with unavailable data signal because it couldn't penetrate a building, or land obstacles.
Yes, Cricket's LTE speed is capped to around 9 Mbs vs. ATT's 15 or so. Folks - this is not like comparing dial-up to broadband. Because as a practical matter, I defy anyone to demonstrate any qualitative difference. I have never had an issue stream music or video, let alone the usual web-surfing, texts etc. Perhaps for graphic-heavy applications it may spell a difference. But not being a gamer, I just don't know. But for my needs - web, texts, voice and video streaming, Cricket Wireless' unlimited plan for $55.00 - I mean, c'mon!

I bought a new phone and subscribed to the service. This totaled $177. The phone came the next day and couldn't be activated. I tried calling customer service and could immediately see that this was the worst company I have ever dealt with. No ability to get the phone working properly. Customer service agents that tormented me for nearly two hours while I tried to get a refund. Now I am still on hold waiting for an agent to get me a return label for the phone. This is theft!! Do not use Cricket Wireless. The service agents are sadistic. They are refusing to refund my plan fee, telling me it was activated, while I keep telling them it was never successfully activated. Also, I read the agents pretend to be each other's supervisors. I experienced this as well along with hang ups. I just lost $177! How can this company still be stealing money from people like this after all of these reviews. I am not the only one who has experienced this obviously!!!

ConsumerAffairs Research Team
The ConsumerAffairs Research Team believes everyone deserves to make smart decisions. We aim to provide readers with the most up-to-date information available about today's consumer products and services.
Cricket Wireless was founded in 1999 and became a subsidiary of AT&T in 2014. It offers only prepaid unlimited plans and has over 5 million customers.
Coverage: Cricket Wireless offers 4G LTE across most of the United States. Interested consumers can see a coverage map on the company's website.
Rewards: Cricket Wireless customers can sign up for mPLUS rewards and earn points for downloading apps, playing games and other activities. Rewards points can be used to purchase gifts cards and other merchandise as well as to make charitable donations.
Plans: Interested consumers can choose from multiple plans from Cricket Wireless. Plans are available for basic mobile devices and smartphones. All plans have unlimited talk and text, and some have unlimited data access.
BridgePay: Cricket Wireless offers consumers the chance to break their monthly payments into two bills when they need to do so with the BridgePay program. Customers may use this program as frequently as once per billing cycle.
Free phones: Cricket offers new customers new phones at discounted prices when they switch from another carrier. Phone types and discounts vary, so consumers should check the company's website for the most recent offers.
Best for Cricket Wireless is best for budget-conscious consumers, business owners and parents.
Cricket Wireless Company Profile
Company Name:

Cricket Wireless

Website:

https://www.cricketwireless.com/