Consumer Reviews and Complaints

Too many dropped calls and no service. Have to go outside to use phone sometimes. Would not recommend to anyone. Customer service is horrible.

Cricket is reliable. I have been with them for about 10 years and you can't beat the price. We have saved thousands of dollars over the years. I see what others pay and I wonder. Why doesn't everyone use Cricket?

It's tough sometimes, since another company bought them some of the terms and rules changed. But the pricing is pretty good and they don't overcharge you.

I have separate civil dispute with another entity. I was able to engage discussion from this entity's attorney. In order to settle the dispute without going to court, all I need to show was that I attempted to contact the entity's customer service. In order to do that I need my call logs from Cricket. Cricket has some stupid policy that they don't provided call logs unless subpoenaed. So now I am filing a civil lawsuit against cricket to retrieve my call log.

I switched to Cricket Wireless after being with T-Mobile for almost 6 years, and was with Sprint for 5yrs before T Mobile. T-Mobile bills were too expensive and customer service was horrible, every time I called Customer care with an issue, I somehow ended up on a different plan that would increase my bill and contract. I've been with Cricket Wireless for almost 2 years now and haven't had any problems with my bill or service, not even any problems when we traveled from Arizona to Florida for vacation last summer.
How do I know I can trust these reviews about Cricket Wireless?
883,201 reviews on ConsumerAffairs are verified.
We require contact information to ensure our reviewers are real.
We use intelligent software that helps us maintain the integrity of reviews.
Our moderators read all reviews to verify quality and helpfulness.
For more information about reviews on ConsumerAffairs.com please visit our FAQ.

I recently went to Cricket in Port Richey Florida US 19 by Coffee Square Mall. I was then talked and said purchasing a phone that was off the market. It was it cost me $120. I bought it. Very happy. A week later the phone crashes and I have to restore it to factory settings. It's asking me for the original owners Gmail. Lady that sold me the phone gave me a used phone and can't retrieve the old Gmail. She denied the phone was used... since me buying the phone I moved to Marianna Florida.
The gentleman I forget his name was very helpful and tried for hours to help me retrieve the Gmail. I had to then purchase which is not an upgrade. It's a really really bad downgrade and still had to pay the $25 upgrade charge because his manager was too busy trying to say what he should not be doing in try to keep me happy but wouldn't waive the fee even though it was the company that sold me a faulty phone. Not happy with this and I will be moving different companies when this phone plan is done. All together spent about $200 in a week on phones. Not happy at all. I think it's time to change your ways Cricket and most of your staff.

Cricket is my first Smartphone Experience after years of hanging on to my TracFone Flip Phone. I thought I'd never switch from Tracfone as I live in a dead zone where everyone else's service failed. Eventually TracFone also failed. I've spent years researching who I would switch to eventually, as I knew this day would come. Cricket won the research test and for the past 6 months has continued to exceed my expectations. Best value out there.

Former Cricket customer. On 6-3-17 went to purchase a basic phone, local calls only. Was charged 84.00 + 19.99 PHONE, 25.00 activation, 30.00 monthly prepaid, 5.00 SIM and Tax 4.32... Defective phone? Cannot use for calling. Customer Service or the store will do nothing.

The only complaint I really have about this company is that they charge a pre-authorization fee of $15 when you buy anything, now granted it is released from the bank after the payment is posted but if all you have is the money to make your payment then it is best to pull the money out and make the payment in person. Other than that I loved them.

Have used Cricket for at least 6 years. Thought it was just great. Highly recommended it. Reasonable price, good service in my area and many others. Used Verizon prepaid flip when I went West. Even Verizon didn't work everywhere out West. Well good ole Ma Bell (ATT) bought Cricket. Totally frewed it up. In the last 2 months nothing but garbled, dropped calls where for 6 years I had very good service. I have tried everything until I could just scream.
I have to say that tech support at Cricket has always been more than helpful, they fix the problem, so when people say it is terrible I don't believe it. When I have problems with these dropped calls, they contact me back. Now that ATT has taken over Cricket, I would think legally they should have to give Cricket customers as good or better service as they have been accustomed to. No longer true. I don't blame Cricket. I blame ATT. I filed a complaint with the FCC against ATT. I wish everyone who is having problems with ATT would. It is not hard. Just contact FCC Consumer complaints.

Great services, very good prices, unlimited text and email, no drop calls like the others big names. Good thru whole state included Hawaii and Puerto Rico.

I went into my local Cricket Store to try smartphones for the first time. I chose two free LG phones, My fees were as follows: $50 for 2 Activation Fees. $39.98 for 2 Tempered Glasses. $79.98 for 2 Cases. $97 for First Month Prepay. When I took the phones back to the local Cricket Store because they wouldn't ring in my house I was told that there was nothing wrong with them. Since there was a 7 day return policy provided everything was returned in good order in less than 24 hours, I thought I would be entitled to some money back. But I couldn't even get my $97 first month pre-pay amount back. NOTHING.
In less than 24 hours I was out $281.36. I spoke with customer service and was told that it was out of their hands, that if the store manager would not refund the Pre-Pay which I didn't use, then I'm SOL. This is an example of American Greed like no other. Why didn't the store agent at least tell me that, since I chose a free phone that, once my debit card is swiped, ALL SALES ARE FINAL???

Awesome service for the price... can't beat it anywhere. Ease of bringing one's own phone and setting up both in the store and on my own. Even better is it's on ATT network without the huge price tag.

I don't have customer service problems! I can pay online or by phone for no extra fee. I'm happy with my free text messaging, and my bill is always the same.

Great price and service, no hidden fees or surprises, choice of phones to pick and great monthly plans to choose from. Customer service friendly and helpful.

Customer service over the phone is NOT U.S. based & very difficult to navigate through ANY issue you may have - store service is slightly better, depending on which store you go to.

I left Cricket 12 years ago because I went out of state (Tennessee) and went to Arkansas and couldn't get no service. I made a promise to myself when I get home I was changing companies and I DID. I went with AT&T and have been with them ever since. Cricket customer service sucks too!!!!

Price is right for 4 lines, and adding another would be free. I like their M+ points app where I can check-in at places and earn points toward gift cards. Their website takes time to figure out and is not very informative. Previously I was pretty happy with my service as there were few times when I did not have service. However, when I moved 6 weeks ago to a new housing development, I have "no service" on my phone most of the time while at the house. It is not just my iPhone 6 because we have 4 phones with Cricket and they all say the same. I've let them know but have just been told "Give us your zip and we'll look into it." Getting ready to change to T-mobile as they do work here.

I wanted to leave AT&T in an effort to save some cash and went online to Cricket Wireless and ordered a SIM card, which wasn't able to work with my iPhone for whatever reason. So I called them on 7/28/17 & told them I was returning it. The girl said "no problem, just send it back and you will be reimbursed within 5-10 days." I sent it via UPS so I could have tracking and signature because I had a bad feeling about it already. Fast forward to today 8/28/17 - I have been on the phone with "Joshua" for almost an hour and every step along the way he had to place me on hold, check with someone, then told me it would be 5-10 days. I reminded him that it had been one month already and he had to (you guessed it) put me on hold, then check with a supervisor, then explain why he kept telling me it was $25 when my card was charged $35.
I will hold off on publishing this until I actually have the money back in my account, but if this is any indication of what kind of customer service to expect, save yourself a great deal of heartache and headache, stay with companies that actually have their act together. I gave them an unfiltered review of their customer service, as I know they like to record these interactions "for training purposes" so I told them their training is obviously not working if I had to provide the same information twice before they could "start a case" and with any luck at all, refund my money. I will follow up when (and if) my account is credited and will let you know how long it took, from start to finish.

Cricket service isn't that great but the price can't be beat. Customer service is nonexistent so do your homework before you purchase anything including plans. The smart phone selection is average so don't expect much more than most carriers. That's the good and the bad from my experience hope it helps someone.

Happy for like 10 plus years. I will always use Cricket. I like the no contract approach. It's the best there is, best there was, and the best there will ever be and that's that. GO CRICKET.

I like Cricket because you can choose your Rate plan. I can call my grand daughter in Mexico. There are large coverage areas and less dropped calls. I can stay in touch with all my family members from the U.S. The signal is strong. I use my internet and e mail a lot. And I love all the Cool apps. I recommend My Cricket to anyone who is looking for Good services and a Good rate.

We had Verizon. Great service but $300 a month for 4 phones, I could not afford that anymore and needed another phone. We decided to try Cricket. We now have 5 lines - 3 unlimited data and 2 that are 5GB a month - for $180 a month. I have had zero coverage issues (apparently they have AT&T's coverage area) and the only problems we had was years ago there was a texting problem that was resolved fairly quickly and the service did go out one day a while ago (the day a lot of different services were interrupted). Other than those 2 small issues everything has been wonderful. Even when I have to call them the service is good and they have an online chat that I can use and that also works well. I would recommend this service for sure. I also used my Verizon phone for this service and had no problems. My wife did also.
When it was time to buy a new phone they had the 64GB IPHONE SE for $229 so that's what I got. The prices on their phones aren't bad (until you get the absolute newest phones - they are pretty expensive). They have a decent selection of phones and most Verizon phones can be used. I think they offer a monthly payment on their phones now but I have no experience with that. The internet speeds are fast enough for me to stream whatever I need to. Also there is no overage fee - if you go over you allotment they just slow you down when they need to. That way I never have to worry about my kids running the bill up. That was another reason I hated Verizon - had to keep an eye on the data. Not anymore. For the price I am extremely happy with my phones and service.

I won't be using Cricket any longer. $70.00 a month unlimited plan to have them slow the data down. When the speed is slowed down the service sucks. The phone barely works. I guess it's more money in their pockets. Unlimited means unlimited. Going with a different company.

I went to CricketWireless.com and after they said I could use my year old Cricket phone, I signed back up and ordered a new sim card. Long story short, after hours on the phone with them and being hung up on when I requested my money back after they sent me all over the place to find one of their stores to get a new sim card; then hours in their store without air-conditioning, I was told my phone could not be used as they had said and still, they refused to refund my money. I got another phone and it would not receive calls or go online. I contacted the BBB which contacted Cricket but Cricket still would not refund our money. I also contacted the Attorney General, but never heard back from them.
Cricket fully well knows that they are stealing and lying, yet they continue to get away with it. This new phone only shows 1 bar in my home and Cricket said the problem is my home. When I told them it is the same when I am outside, they say it is the phone. After speaking to at least 15 different customer service people, it is obvious that they are not trained to help but rather to deceive. I would not wish this company on my worst enemy.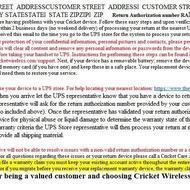 I spent an hour on here reading all the HORRIBLE reviews about Cricket, their products, and their customer service. I just bought an LG Harmony m257 in July 2017. The sound never worked from the time I bought it. People would say 'you're cutting out' and I would get dead silence when trying to hear others (for a few seconds, several times in a call).
The GOOD NEWS is, I got a very intelligent, very helpful, very nice lady that spoke my language (English). I called at 4:25 pm and by 4:38 pm our business was completely wrapped up. She informed me that she was sending me an email with my Claim# on it (which has already arrived). I only have to delete my personal stuff, factory reset it, take it to my nearest UPS where they will verify it is not water or physically damaged, provide the box and free return shipment, then send a message to Cricket who will then ship my new phone, to arrive within 1-2 business days (which remains to be seen of course). I have to say, I am quite pleased. Hopefully, all will go as planned.

I tried to order a phone online. I get an error message stating they can't complete the order. Cricket plays dumb and can't figure out what the exact glitch is but tells me to complete the order at a store. They don't tell you that there is a $25 charge for all orders completed in stores. Really dishonest.

I have had Cricket for 15+ years. I've paid insurance the entire time. On 7/21 I dropped my iPhone in water. I went into the store the following Monday. I was told my deductible would be 170. I paid $200 two years ago. No one bothered to look up my account and I was treated rudely. I called and had a $75 deductible. Okay. I jumped through hoops to get the claim filed. Done. The website said my phone was on back order and I wouldn't be charged until it shipped. I was charged immediately. I called as there was no follow up and the iChat doesn't work on Asurion's website, ever. I spoke with a woman who said I should be getting my phone within a few days. It's been 3 weeks. I called today to follow up and nothing's been shipped.
I was offered an upgrade but guess what, they're on back order. I asked for a refund-it'll be two weeks to recover that money. I called to cancel my service for the month I paid (the day it was ruined) and was told "Nope! No refunds." Then, I was offered an option to buy a new phone for another $170. No way. I've already spent $170 on insurance that is bunk, $75 for a deductible and $60 for a month's service. This is a blatant ripoff and this company should be held accountable as this is fraud all the way. I will be filing a claim against the company as everything is well documented. I will be taking this to every media site and I've already written letters, emails and placed calls to Cricket's bigwigs. I will not go down without a fight. This is unacceptable. My money and time are important.

The service is complete garbage. Every time my other half and I are having a serious conversation the service just goes out and does it repeatedly when I'm outside, inside, wherever the service goes out and makes her think I'm hanging up on her and then has a panic attack and I blame most of it on Cricket... FIX YOUR SERVICE!!!

About a month ago, we were expecting a air conditioner repairman to come, after a week with no air in 100 + temps we were desperate... He was suppose to call and come early... We work nights. He never called, we got up at 1:30 pm to find we had no service on our phones. Yes, we panicked... None of our neighbors were home. So my roommate got online and contacted customer "care". She was told it was a system wide outage, it could take awhile to be fixed, but her signal could be bounced off a nearby tower. She was told to remove her battery and SIM card. She removed both... As soon as she took out the SIM card, the rep ended the chat, leaving her stranded... With no idea how to replace the card, she put the battery back in and replaced the back, then had to wait 3 days until a day off to go to Cricket.
3 days and nights without a phone... She was furious. That happened on Wed. Sat, we went to Cricket. The girl, had no idea how to remove the back cover... She was bending and twisting the phone... She showed her how to remove the cover. She installed the SIM card, put the battery and cover back in place. The phone lit right up, only now the on/off button was messed up. It worked prior to that girl bending and twisting the phone. The girl told my roommate "she" broke the button. A repair shop wanted $60 to $100 to fix it... NOT! We went back to Cricket expecting her to make it right... Nothing!
So 4 weeks later we returned to Cricket after deciding we'd all upgrade. They had phones displayed between $20 to $50 we each chose a $50... None in stock, so we chose a $40 phone nope nada... $20?? Nope, the cheapest phone they had was $100. I asked, "If you only have $100 and up phones... Why are the other phones displayed??" The girl smiled a syrupy grin and said, "It's all we have." She in no way cared about doing her job. After 5 years with Cricket we are so done. Shady shady shady.

ConsumerAffairs Research Team
The ConsumerAffairs Research Team believes everyone deserves to make smart decisions. We aim to provide readers with the most up-to-date information available about today's consumer products and services.
Cricket Wireless was founded in 1999 and became a subsidiary of AT&T in 2014. It offers only prepaid unlimited plans and has over 5 million customers.
Coverage: Cricket Wireless offers 4G LTE across most of the United States. Interested consumers can see a coverage map on the company's website.
Rewards: Cricket Wireless customers can sign up for mPLUS rewards and earn points for downloading apps, playing games and other activities. Rewards points can be used to purchase gifts cards and other merchandise as well as to make charitable donations.
Plans: Interested consumers can choose from multiple plans from Cricket Wireless. Plans are available for basic mobile devices and smartphones. All plans have unlimited talk and text, and some have unlimited data access.
BridgePay: Cricket Wireless offers consumers the chance to break their monthly payments into two bills when they need to do so with the BridgePay program. Customers may use this program as frequently as once per billing cycle.
Free phones: Cricket offers new customers new phones at discounted prices when they switch from another carrier. Phone types and discounts vary, so consumers should check the company's website for the most recent offers.
Best for Cricket Wireless is best for budget-conscious consumers, business owners and parents.
Cricket Wireless Company Profile
Company Name:

Cricket Wireless

Website:

https://www.cricketwireless.com/