Consumer Complaints and Reviews

I switched to Cricket Wireless 5 days ago and have 2.5 gigs of data. Yesterday get a message saying used all my data up. I call customer service and ask them to explain to me how I used all my data when I am disabled and connected to my wifi at home. No clear answer from them. Tried to send some photos to my brother and they won't send. I look at my status bar and have no data. Call Cricket Wireless customer service and she pulls up my account and says I used up all my data and I have no data left. I questioned her about this and said unlimited data plan they are selling is not unlimited. She said that is correct. It limits you to the things you can do. So they do offer unlimited data!

The worse service provider out there. I've been with Cricket for 5 months now and haven't been able to have one good month of service. It seems like every month a tower is degraded. It causes for me to get bad calls and slow internet. I call all the time to customer service to complain and it's always the same process of refreshing my phone. They won't credit anything on to my account for the bad service but they sure take my $70 every month. I'm going back to Boost Mobile where I was for 12 years. Before I transferred to cricket I had $150 on my Boost Mobile account. Cricket offered to deposit that on to my Cricket account if I left boost. They only deposited $50. I called them asking for the rest of the money but they didn't have anything on file about that and that all that they are allowed to give is $50. So after I got screwed on that they continue to do it with the bad service. Cricket is a crooked company.

Buyer Beware! I paid $169 cash for the terrible ZTE Grand Max 2 and Cricket refuses to take it back. The phone has a severe firmware and software problem (see many reviews all over internet), that causes it to crash 50% of the time when I receive a call. Imagine having to call back everyone who calls, after waiting for the reset. Imagine if some of those calls are essential, like doctors calling you back, or a job interview. I dropped the phone and cracked the screen slightly. I did not make a claim on this as everyone knows no one covers screen repair.
The problems continued with the crashing and freezing because this phone has severe firmware and software issues. I called their warranty and customer service lines many, many times, including being persistent about getting a supervisor and a supervisor's supervisor, and they continued to stonewall on repair or replacement EVEN THOUGH THIS IS COMPLETELY UNRELATED TO THE SCREEN, and consumer laws and their own warranty state clearly that unrelated damages should be covered. This is like refusing to honor a drivetrain warranty in my car because of a scratch on the door. There's plenty of case law on exactly this issue and the law is clear that the firmware/software issue should be covered.
Cricket is a soulless company that doesn't care about its customers. I know, because I have been calling their reps and trying to find a solution for some time. Not only that, their offshore call center is notably undertrained, just following a rote script. If this is what has become of the once grand AT&T, I am very, very sad. If you plan to use a discount carrier, take my advice: Buy an unlocked phone from a dealer that will stand behind it, and leave the discount carrier the second they disappoint you.

When I asked to pay my phone bill I was charged $5 extra. Ok no big deal but I would like an explanation why. When I ask I'm told she will not take my payment due to this being the second run in with this employee. The district manager has done nothing and as my husband comes in to pay bill she's laughing on the phone with her boss about how she had treated me. Yes I did as I left told her she needs to learn how customer service works!!! I called the customer service # but knowing this company nothing will happen. Well we will see. If not, I will make this company known to anyone that will listen!! I would score you at a 0000000! Do not recommend!!!

Cricket Wireless is useless if you need customer service. I am a prior customer of 5 years. I tried contacting customer service both from the phone number posted on my credit card billing and the number provided on their website. Both numbers were not in service. I tried chatting but the chat was terminated by the service person before issue was resolved after they said they would leave chat open. I did another chat and that person just quoted the company party line and did not provide service or resolution. As result I am no longer a Cricket Wireless customer and do not recommend them.
How do I know I can trust these reviews about Cricket Wireless?
669,639 reviews on ConsumerAffairs are verified.
We require contact information to ensure our reviewers are real.
We use intelligent software that helps us maintain the integrity of reviews.
Our moderators read all reviews to verify quality and helpfulness.
For more information about reviews on ConsumerAffairs.com please visit our FAQ.

Verizon revoked all unlimited plans recently. I chose Cricket because of prepay, sales guy assured me I will not be disappointed. It's really worst service ever, not even compare to Metro PCS. Was traveling from Chicago to Shayne WY, after to Denver CO, from Denver to South and North Dakota and back to Chicago. It took me 7 days, guess what... There was a phone service for about 18 hours in total. Beside that I faced problem with my device, Samsung Note 5, it stop to work properly like used to be, so took off simple card, connected via WiFi and my phone works with no problems. Don't even try this b.s. service.

Ordered and paid for 5 lines and 5 phones with Cricket. Cricket never shipped the phones. Cricket refused to fix the problem after they charged my credit card and promised 2 day ship. Never got the phones or service. Spent 5 days & 40 hours on the phone to no avail. Went to Cricket store. Called Cricket Corp store. No one would fix or escalate issue. Horrible customer service and no integrity or character with this company and employees. Cricket breaks all professional etiquette and laws and screw the customers.

I tried to get a second line added to my account. I attempted to have the number transferred 6 times with no success. Customer service has no clue what they are doing. My grandson was without a phone for over a week, dangerous situation. DO NOT USE CRICKET WIRELESS.

Good luck getting the referral credit. I signed up both my parents in store and never got the credit. Online chat is the worst. Probably outsourced the job to India. The cell phone service is good and my monthly rate is cheap. Customer service is the worst.

We have 5 lines with Cricket Wireless. Each month for several months we have complained about changing the due date. Most of the service persons have no idea how to eliminate the problem. So last month Gillian said to call in on the 3rd of January 2017 to make arrangements. Called today and the service person kept telling for moving my payment date one day. It would cost another $30.00. Heck. I'm already paying $190.00. Let me explain why I needed the payment on the 1st. I get paid on the 1st and have since 1988!!! Second reason is we have a very sick person in the house. So anytime the phones are off his health is put into harm's way. We have doctors and nurses calling for appointments and to make home visits!!! For being part of AT&T you think that the incompetency level should not exist. I have been a DirecTV customer for 4 years.

We ordered a new iPhone 5 through Cricket on 12/23 and were promised 2 day delivery. It is now Jan. 2 and there is no tracking number established for the delivery. We called customer service on three separate occasions. Each time we were laughed at and told to just wait. We have now canceled the order and the service with them. We were told each time that it was UPS's problem but were refused a tracking number. Our account was charged immediately at order but no documentation other than an order number exists. Not professional at all!

I paid for monthly unlimited wireless phone service for 52 dollars per month. 5 days later it was slowed down so much I could not do anything with it. I complained about the throttling and was told if this month I went on their 70 dollar month unlimited plan I'd not have any throttling. I did 3 days later. Speed dropped again, can't even listen to music and customer service doesn't care.

This is a review of poor and bad service from both cricketwireless.com and 1-800-CRICKET. First, I visited cricketwireless.com to see their deals. They were promoting "Cyber Deals", which means it was only available online and not offered anywhere else. I decided to accept their online offer and tried to purchase it online, but when I was on the payment page and tried to submit my name, address and credit card information, it repeatedly generated error messages when I clicked Submit. The first error message was "Encryption" error. So, I verified I had correctly entered the information and tried again. Then, I got invalid address error, twice. The problem with Cricket Wireless website is that the company management has decided to not allow their website to accept payments with any PO Boxes and the shipping address must be the same as the billing address with the credit card company.
The website does not allow the buyer to enter both a shipping and a billing address. It only allows the buyer to enter one address and it must be a physical address and it must be the same as the billing address or an error message will appear and it will not process the payment or allow the order. In an attempt to resolve this foolish business decision to allow a buyer to enter both a billing and a shipping address as 99% of websites and Fortune 500 companies do allow a buyer to enter both a billing and shipping address because the billing address may be different, such as a PO Box, I temporarily changed my billing address that was a PO Box to a physical address to accommodate their stupid business decision. After changing my address with my bank and trying to place the order online again, I got another error message that the address was invalid and it was doing the same thing again.
I called 800-CRICKET and she said I must wait 24-48 hours. 800-CRICKET does not accept orders over the phone and none of the stores, which are all independent contractors with the Cricket logo, will not take any online orders and do not offer any online offers, but charge an activation fee and charge more for their phones and would not help me with any online orders after the website errors. So, I waited 24 hours and successfully placed the order online. Within minutes, I received an email with my order receipt details that included my order number, new telephone number and that I would receive a tracking number when it became available.
The next day, instead of receiving a tracking number as promised, I received an "Order Cancellation Notice" that my order had been cancelled. It stated the reason for my cancellation to be either they were unable to verify my information or "you have exceeded the number of line of service that we allow customers to purchase online, but we are unable to complete your online order at this time." I contacted 1-800-CRICKET immediately and Kevin with Cricket customer service answered with a thick Hispanic accent. I explained that what had happened and he asked for the order number. I had to repeat the order number to him 6 times because he kept getting one of the digits wrong and it almost proceeded with the wrong order number, which would have been no help. He looked up the order and read the email message that I had just received and said, "No worry. We will refund your money."
I had asked or said or had no worries about getting a refund because I did not want a refund, but the order fulfilled or a more details for the reason for the cancellation because it was too vague and did not include any contact info in the email that was a no reply and returned undeliverable when I replied to the email. Kevin was not answering my question about the specific info that they could not verify or any reason other than what the email stated and was evasive when trying get any real specific reason for the cancellation or anyone I could talk to that was nobody else and no other departments for this and there was nothing he could do. I tried to escalate it to a supervisor and he put me on hold for a while and then came back and told me the same thing rather than a supervisor coming on the line to answer my questions.
I had to tell him repeatedly that I wanted to speak with someone else and wanted to speak to a supervisor or someone in a higher position, but he continued to argue with me and then put me on hold and after holding, he came back to see if anyone was still on hold and place the call on hold again and then it was disconnected. I waited a few hours and then called 1-800-CRICKET again. I explained the situation and asked for a supervisor. I was placed on hold and then disconnected. I called 1-800-CRICKET again and spoke with a different girl this time. I explained the problem and asked who I could speak with about this problem with the online order cancellation because I had no contact info and it did not state which department sent the email. She said that they have an online order support team, would I her to transfer my call. Sure.
She transfer my call to the Warranty department who could not help me and wanted to transfer me back to her department. My call was transferred back to the customer service department and then back to the Warranty department again and back to the customer service department and I was disconnected again after waiting for a supervisor. I called 1-800-CRICKET again and immediately asked to speak with supervisor or manager. She kept asking for my info, but because of the previous customer service idiots providing poor and bad customer service, I told her that I would give my info to the manager. She placed me on hold for a customer service manager and after a few minutes the customer service manager with an Indian accent came on the line. He was quite good. He listened to my complaints and looked up my order and explained the email.
Although, I completed disagreed with Cricket Wireless business practices, I appreciated his explanation. He stated that once the order is cancelled, they will not fulfill the order or kept the part of the agreement to deliver the order, but will refund the purchase. He also stated that the reason why the system cancelled order was that there were too many failed attempts to place the order and that I would have to wait 5 business days to re-order, but there is no guarantee that I will be able to successfully place the order then because there is a limited supplies and it is while supplies last and the promo ends in 6 days. I asked if he could correct the system error or if there was any way he could fulfill the order without me placing a new order. He replied, no, there is no way, but he did state that he could provide more coaching to his customer service reps.
He stated that Cricket Wireless has decided for their system to be this way for security reasons and that department has not changed. I made several buyer suggestions about their bad business practices concerning their business decision, the way the process online orders, their website not offers a billing and shipping address for each order and reneging on orders that were successfully entered and then cancelled the next day without a proper detailed explanation or contact person. In addition, the poor and bad customer service reps he was responsible for, no Sales department that can take orders over the telephone and no stores that can help with online orders, which are only independent contractors, no Corporate stores.
Finally, I explained to him that if he or someone at Cricket Wireless could not fulfill the order that they agreed to fulfill and then cancelled abruptly without proper notification or contact info, then I had no plan to ever do business with Cricket Wireless again because of all of the reasons already explained and reasons not mentioned. Cricket Wireless obviously does not value their buyers and prospective customers enough to provide what the call Customer Care, but is really Customer Careless Reps that is a direct reflection on not only management, but all Cricket Wireless as company. He said he respected my decision. I thanked him for his info as the only person of a total of 4 Cricket Wireless customer services reps, 2 warranty department reps, 2 store reps and 1 customer service manager who was able to provide me with an answer. His wished me a Happy New Year. The End.

Extremely bad/ horrible customer service. They advertise the product and then upon receiving the payment they cancel the order. However they will not tell you they cancel the order. I had to spend hours on the phone trying to figure out what happened to my phone (After 24 hour delivery Never happened). I called them 4 days later to inquire. Their explanation is that it's not them IT's me and that I interpreted the ordering time wrongly because I ordered on Friday and they only got to process it on Tuesday. Definitely my fault for not reading the rules correctly. They told me to call back again tomorrow.
I called back again and after hours of waiting they realized that they canceled the order however they can't disclose the information why. They refuse to offer explanation, they refuse to offer the solution and they refuse to return the money in 3-5 business days or any days. A month later I still don't have the phone and I still don't have my money. I have three different file/case numbers I filed. Their customer representative sent emojis (kisses, flowers and hearts) while I was trying to cancel the order. It HONESTLY feels like a horrible scam: advertising something, taking the money, Keeping the money!!! Be aware please.

First of all, Ive been with Cricket for over 10 years. I bought a new phone on 12/22/2016 and added a screen protector to it. 4 days later I was wiping my screen to clean it and the cover came off. I went back to the store I purchased it at and explained what happened, to the person that had sold me the phone, which I learned was the manager of the store, who said and basically accused me of getting the phone wet, which was not the case at all. I simply wanted her to fix it but was told there was nothing she could do for me, so I insisted to talk to the owner of the store, which she wouldn't agree to do. She said she could sell me another unit at a discount.
I shopped at this store for years, but will never go there again, and just want the owner to be aware of the lack of customer service the manager shows. I'm considering going to another carrier. The store is located at 3178 Washington blvd, Ogden, Utah, 84401, and according to my receipt, the name of the one who helped me and is the manager is **. Thank you, and I hope some notice is taken on this.

I've been with Cricket for 2+ years. So my payment of 60$ (I've got the pro plan, unlimited everything, plus 5$ off if you do auto pay through the app) is due on the 21 of every month. Well my job threw my pay day off by a whole week because of holidays so my phone bill wasn't being paid for. In need of a phone because of my job going without a phone was a no-go. I contacted Cricket and let them know of my payday setback and they didn't even second think it. They pushed my payday to the 2nd which was more days than I needed. They gladly did it for me and this is the first phone company has done that for me with no hassle. I HIGHLY recommend Cricket. I don't regret a day that I've been with them.

Just this past Thanksgiving, November 26, 2016 I started with Cricket Wireless. Online offer was the $30 month plan with $5 a month discount if signing up for Auto Pay at time of enrollment. Now comes my first month's billing time and they completely deny ever having an offer like that!! Has anyone else had that experience on the $30 plan... offered the week of Thanksgiving? Did live chat with customer service today and they deny ever offering that, won't even consider honoring it, and say the store where I signed up misinformed us!! Am I the only one "misinformed"?!

This is so poor service. I was not able to get any call in Parkland FL. 3 months is a waste. Call and visit customer service - no luck. Moved to Verizon and canceling the service. Cricket get autopay monthly service bill and I called to get reimbursed as I already moved to other service but they say "How we make money? We cannot return." Even talk to supervisor and they said, "We will not give you back your money. You can dispute these charges with bank and get it from there." I was surprised how Cricket can suggest they have poor service and why bank need to reimburse me for that. Very bad model of business cricket... Shame on you Cricket.

Order phone 3 times. Order goes through, get confirmation, suppose to ship next day. Then come back. Telling me order CNL. Nothing wrong with payment method. Money on hold three days. No product.

Cricket Wireless, seriously has some of the dumbest and most rude people for customer service. I have never felt so insulted and disrespected by customer service ever in my entire life. The representative and Supervisor were incompetent and never resolved the issue. The supervisor ended the chat without asking if there was anything else, and without so much as a goodbye. This is by far the worst customer service, and they have no respect for disabled veterans or students. They disregard your problems, and are the dumbest people ever. I had to restate the problem and run through the scenario 27 times. It still didn't get through to them. They had an error in their system, and even though I canceled services on 10/1, I had to do it AGAIN on 12/5, and was charged for two months of service. They refused reimbursement.
Any Disabled Veteran knows how hard it is to live on the disability paycheck, and knows that we deserve the utmost respect and a phone service that has such deplorable customer service should be looking to restructure their customer service department. Money was stolen through unauthorized charges, and they refused to reimburse. Even though it was a problem with their system. WORST CUSTOMER SERVICE EVER.

In spite of the tempting online offers and prices and phone offers, I could not get it to work. The online system said my address was invalid and could not use PO Boxes - which it was NOT. I tried using different browsers, clearing cache, but regardless of how I put my street address in - it would not accept it. I tried online chatting with them only to be told to 'try again later'. UGH! Then I called their customer service and was told it needed to match my billing address - but I had not even gotten to the billing portion of the order yet - it's like the lady was just reading a list of excuses and not listening to what I was telling her. Then she then put me on eternal hold - and left me there... So I hung up! When I called the local store but was told they do not have the same deals as the online offers so they could not come close to the offer. NOT a good way to run a company - so I took my business elsewhere.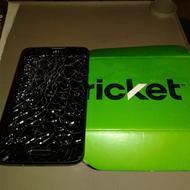 I was in a bind because my S2 Galaxy died, so I wanted the cheapest phone I could find and I found Cricket, and the phone was a low end phone but I was saving up for a 7 (almost there) and didn't care if it only lasted me 5 months. I had AT&T and services were great. I could watch my Google paid purchases. Homeland and Pandora fit fine and Netflix. I busted the screen but I was dedicated and I could see mostly to watch my show. I was happy with the phone even cracked. I was happy my Google music played on this cheap end phone. People listen to your gut because this is where I messed up. Sprint was having a promotion so I decided to trade in my broken phone for a new cheaper end phone and it was refurbished and they don't sell refurbished and from day 1 I had issues all the way up till Sprint finally cared but you can read that review on ConsumerAffairs, there are 614 bad reviews on Sprint. They don't care.
But I was promised a cheap tab which they were out of and the girl made me tip. I still regret leaving Cricket. Plus the customer service at this store was awesome and I may take my unlocked phone to them if AT&T store is too much. Nitpick is all this is. Once you start an account you have to pay that every month as I found out the hard way, or your phone gets disconnected. I paid over the phone and I went with a different amount and it took my money but it still would not work. But I got the money I needed & all was well and I am almost certain I overlooked it. I definitely would recommend and please think twice about the grass being greener on the other side of the fence when certain stores try to reel you in and definitely be informed.
Check ConsumerAffairs and see if you can find your store and get the results. I'm learning so much because of another store's issues. I've become more aware and when it cost you a lot of money you start paying attention. The young manager Joseph ** was running the store by himself this day and he was calm under pressure. I was impressed because I still mattered two days later when I went in and that says a lot. Cricket is a trusted wireless company.

Gotta love how warranties work on your phones so I paid $60 for my phone on a promotion. It's acting up. Not sure what it is. Call warranty. Yep have one but here's the catch. I can send $85.99 + $20 overnight shipping or $10 one night shipping and get another phone and it get refunded back on my account if they determine no physical damage or I can wait for a UPS shipping label and not have a phone for 5 to 7 days while they determined information and still may end up having to buy a new phone. Either way I'm out more money than what I even paid for the phone. I think not so off to shop for another phone because I'm not paying $40 more for a phone than what I paid for it originally for them to make their own decision on whether to cover it. so bottom line make sure you determine that next time you need to use warranty.

Have been with Cricket for almost one year. My family and I have the insurance plan and we always paid our bills on time. On November 2016 I lost my phone and I opened a claim to get another phone LG stylo 2 and I pay the deductible of course. They sent me a cheap phone ZTE. I never heard that brand in my whole life. The phone is joke, it freezes and turns off all the time. The picture are horrible, and I always has to put on speaker while answering calls. I called my bank to cancel that deductible transaction but they told me to figure out an option with them first. Right now I am stuck with this cheap and malfunctioning phone. I went to Cricket store and they won't help. GUESS WHAT I found out that ZTE phone cost $19.99 but they charged me $79.99. That is crazy. I need my LG phone back and that deductible I won't pay for it. Please Help to resolve this issue with those scammer people...

I don't know how retarded a customer service dept can be until I contacted Cricket Wireless. They charged my CC without my consent. I already have a SIM card and they forced me to get another sim card for no reason. When I placed my order, they "accidentally" charged my credit card twice. I don't know how ridiculous this can be. Do not use Cricket as it is a complete waste of time.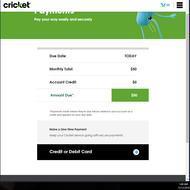 Paid my bill using the over the phone number. (It redirects all of your calls to this number.) Waited for an hour and still no service, so I went to my account where when I went to recover my password (the website crashed when I made the account), it showed my security questions in plain text on my Chrome browser AutoFill. It showed the payment, but said my account was still suspended pending payment. I logged into my credit card account, and sure enough, $50 dollars which was my payment in full due, pending and approved on my recent transactions.
The website is horrible, the phone payment system is clearly broken, and customer service is nowhere to be found when they take your money and don't deliver goods as promised. The absolute only reason I came to them was because I was tired of AT&T's dishonesty and high prices, and I thought I could fix one of those issues here. I guess I'll be getting a new phone number now, since they want to hold it hostage.

Customer service was great, everything was set up and explained. Payments could be slightly less, service could be slightly better, but all in all very satisfied customer. Love the inexpensive no contract monthly payments, service is pretty good.

Cricket needs work. My service always drops my calls. One month I paid over the phone with the automatic service and was charged twice. Took Cricket two weeks to return my money. Went in the store to get some help and it took a while for them to acknowledge me.

I am a customer of theirs and ever since I switch to them I have got the best service compare to other carriers. I have try different companies and they all promise the best service and reliability but at the end they all fail short. And since Cricket parent company is AT&T the service is great. The phone get signal everywhere I go and I don't get any drop calls. What can be better than that. Ever since I switch I have got the service expected from a cell phone company.

If you care at all about customer service and shady business practices, find another carrier. I was excited about switching over to Cricket Wireless until I had the worse customer service experience! Friday around 10:45a, I placed an order for 2 new phones and 2 lines. Around 5p, I called to adjust the order because I'd ordered the wrong phone. This is when I was informed my numbers were not porting over, so I requested to cancel the order. The rep asked for an order number in which I replied I'd not received an email confirmation yet. Long story short, and after talking with 4 reps giving me 3 conflicting stories and a supervisor named Paolo who literally said nothing more than "sorry, have a nice day," after about 4 hours of my precious time on this earth wasted, I was informed that my order was cancelled. I'll receive a refund in 24 hrs.
I called back because later that night I received a shipment confirmation, Rep 2 informed me, "No worries. The delivery person has been notified to not deliver, at which point you will get a refund upon our receipt of package." Today I received a delivery receipt on my front door that a package is at my local store, now this rep is telling me to call UPS and refuse the order. And your supervisor says, "sorry, have a nice day." It may not matter to you, but you just lost one.

ConsumerAffairs Research Team
The ConsumerAffairs Research Team believes everyone deserves to make smart decisions. We aim to provide readers with the most up-to-date information available about today's consumer products and services.
Cricket Wireless was founded in 1999 and became a subsidiary of AT&T in 2014. It offers only prepaid unlimited plans and has over 5 million customers.
Coverage: Cricket Wireless offers 4G LTE across most of the United States. Interested consumers can see a coverage map on the company's website.
Rewards: Cricket Wireless customers can sign up for mPLUS rewards and earn points for downloading apps, playing games and other activities. Rewards points can be used to purchase gifts cards and other merchandise as well as to make charitable donations.
Plans: Interested consumers can choose from multiple plans from Cricket Wireless. Plans are available for basic mobile devices and smartphones. All plans have unlimited talk and text, and some have unlimited data access.
BridgePay: Cricket Wireless offers consumers the chance to break their monthly payments into two bills when they need to do so with the BridgePay program. Customers may use this program as frequently as once per billing cycle.
Free phones: Cricket offers new customers new phones at discounted prices when they switch from another carrier. Phone types and discounts vary, so consumers should check the company's website for the most recent offers.
Best for Cricket Wireless is best for budget-conscious consumers, business owners and parents.
Cricket Wireless Company Profile
Company Name:

Cricket Wireless

Website:

https://www.cricketwireless.com/