Consumer Complaints and Reviews

There is Nothing good about this company. But my biggest beef is the invasion of privacy and being treated like a child. As an adult in my 50s its very rough to have to obtain permission to do anything on my phone service. As my husband is the primary holder he is allowed to view anything he wants of mine. All my texts, incoming, outgoing & missed calls. My picts, EVERYTHING. But I cannot see any of his info. With my husbands over active, paranoid mind he's convinced I'm cheating! We are on the verge of divorce over this.
Plus if I want to do anything even though they swear I have equal authority as my husband & I have my husband's ss number, l am still required to obtain his permission to do the simplest things. For example, activating my new phone. I must be put on hold, why they call him to obtain permission! Plus their selling point "Get unlimited 4G data" is an absolute straight out lie! You have a limit, and once that's reached, your internet access slows way down to 2G and thats if you're even lucky to get internet at all. Dropped calls, no internet access, over priced phones, overpriced service you must argue with monthly, lousy service, lack of cell tower coverage on the west coast and 0 privacy! BUYER BEWARE! THIS IS A NO BRAINER! STAY AWAY FROM THIS COMPANY! ABSOLUTE WORST!

In March, I purchased a Google Pixel XL. I brought it in to T-Mobile to be activated. The person in the store was very helpful, and let me know that the $350 Google Pixel promotion was still active. He submitted the form for me. On March 22, I received an email from T-Mobile saying that it was being processed. Then on March 31, I received an email from T-Mobile saying that it had been approved, and I would receive the reward in the mail in 2-3 weeks.
By May, I had still not received anything, so on May 1, I called to inquire about it. I was told that I should receive a card with $350 on it in the mail by May 19. Today, June 7, I still haven't received anything, so I called again. I spoke with a CSR, who said there was no record of any of this, and the Google Pixel promotion has ended, so I will not receive any promotional reward at all. When I asked to speak with a supervisor, he told me that I cannot speak to a supervisor. When I insisted, he put me on hold and after several minutes, the line disconnected.
I then called back and spoke with another CSR, who told me he saw the promotion in my account, and that I should receive the reward 2-3 weeks after it was approved. Yes, he acknowledged that it was approved on March 31, and didn't seem to see the issue with that. He gave me a URL and tracking number to check on the status of the reward, and it shows that I should receive $13.55. This is clearly not what was promised.
I also asked that CSR to speak with a supervisor, but he said that in fact, there are no supervisors on duty, but gave me an 877 number to call for a supervisor when they may be in. I also asked that this be escalated, because this is clearly a breach of what was promised. He simply sent me a text message saying he has addressed my concerns. Rest assured, my concerns have not been addressed or resolved.

So frustrated with this store's return policy. I bought an iPhone 5se at the T-mobile store in Shasta Mall in Redding, CA operated by MobileOne LLC and after 7 days returned it to the store in the box with all the packaging and ask for a refund. I was told that if I had ported my number back to the previous carrier that they could not refund me the money and it had to be shipped to a Texas address and that I would be refunded by T-Mobile corporate. So they created a UPS shipping label and packaged it up and I took it to the local UPS store in Redding. It shipped and was received in TX which was confirmed by UPS tracking. So I call when it was received and ask about my refund, the T-Mobile customer rep at a call center said I had to wait 17 days to ask about it and they could not call and check on it.
I called repeatedly and never got my refund, so I returned to the local T-Mobile store and ask that they escalate this to upper management. They gave me Steve ** the north California Market director. He escalated the issue and I received notice by email that the warehouse had not received the phone and to go to the local store where I purchased the phone. So I still don't have a refund after returning the phone and it's been over 90 days since I tried to return the phone at the local T-Mobile store. I paid $488.26 for the phone, security deposit, and sim kit.

I was told that T-Mobile was expanding their service in my area, so I wanted to try them out since their services were cheap. Worst mistake ever! I leave the store and get to my town and I have 0 service. I tried rebooting, finding new towers reprogramming... Nothing worked. I called in (via Wi-Fi the only way I could make calls on their network) they told me they would send out a booster. I agreed and went to the next town over where service was supposed to be great. I couldn't make a call out at all. I tried for 10 days.
Their contract says 14 days and you can cancel free and clear... I canceled after 10 days. I thought I was good. I had already paid out of pocket over $400 to get 3 phones, cases and headphones. I returned my stuff. I received the booster in the mail 3 days after I canceled. I went to UPS sent it back and called T-Mobile with the tracking number. They said, "call back in 3 days". When I called back they hadn't received it yet call back in 3 days... 3 times this goes on. The last time I called them they said, "it was taken care of, you don't need to call back." 3 months later... I get a collections letter with an additional $16 added to past due balance that I was not even aware of!!! I will NEVER do business with T-Mobile again. NEVER! I will also Never recommend them to anyone either.

I've been a customer of T-Mobile for years. I have 5 lines that they service. They charge $20 per line now for reconnection, which is ridiculous. They use to only charge you if the service was interrupted for more than three days and would still allow the user to receive incoming calls and messages. Now if your service is interrupted there is no grace period and you automatically get charged $20 per line. Shame on you T-Mobile. Would not recommend T-Mobile. Customer service is poor even when I asked to speak to a manager. They all had the same scripted BS.
How do I know I can trust these reviews about T-Mobile?
791,307 reviews on ConsumerAffairs are verified.
We require contact information to ensure our reviewers are real.
We use intelligent software that helps us maintain the integrity of reviews.
Our moderators read all reviews to verify quality and helpfulness.
For more information about reviews on ConsumerAffairs.com please visit our FAQ.

I have signed up to this website for one reason: to praise T-Mobile's customer service. I have been a loyal customer for 15 years now and have always, really always found a way to talk to them when I had a problem. Most recently I had to discuss an issue over a lost (or stolen) phone that I returned in exchange for a new iPhone 7plus. I had to go back and forth with them a couple of times, but in the end they accommodated me more than I had hoped for. I was persistent though! But my experience is that you can always talk to them and they try to help. So thank you, T Mobile.

Hello all this is a review of T-Mobile and my experience as we left AT&T we took our phones to T-Mobile. Trading in 4 phones and starting a new service on Black Friday three years ago. I think it has taken until now for us to really get used to the idea of being screwed over so royally. We showed up in the a.m. and were immediately greeted by a manager stating we had picked a fantastic time to join T-mobile as we were getting a great deal on phones, tablets and other hardware and plans. We started by picking out what type phones we would like to have and of course we all wanted to know the cost of each phone on the plan. As we were going to split the bill in three parts. Myself and my wife acquired two phones alike. Our daughter and her fiance got other hardware.
Next out of the blue the Manager said as a benefit of the Black Friday we all were going to get a free tablet to take home with us. I said to the lady, "We, have no desire for a free tablet, we have tablets running out our ears." and personally I and my wife own at least 5. "Well if I don't give them to you I will have to just give them to someone else. Your loss." I said to my wife it may be a good idea to just give them to someone that needs them for a book or for a kid in the car to be entertained. We both said, "OK". She excused herself and stated it would take a while to get these all set up before we would be able to leave. I said, "Fine we will just talk. You do your work."
Upon the sale of the equipment I told the lady that I did rural installs for a product and have to be able no matter how rural it is to connect to any cell tower to give my morning call to a customer before I approach a house initially. No matter how rural it is we could always make a call as T-mobile has the best coverage of all. I said to her "if you do not have the type of coverage you say that will be a deal breaker as we make money with our phone and if we could not communicate we could not do business." OK well call me naive but I said OK, well I used to have AT&T and would like to come close to that usage. Not a problem. I decided then and there that I would just give them a chance.
OK well here is the sum. The first time I went out to work I had no phone to notify my client before I arrived. Consequently on no highway was I using was T-mobile able to give me the power to talk so I had no ability to do my job correctly. In addition to this we were accustom to running up and down Interstate 20 between Midland and Weatherford, TX. AT&T was capable of giving me a signal all up and down 20 for some reason, but this anywhere coverage was not capable of giving what we needed.
I called the manager at the store whom conveniently was unable to take the call. And then I called the Tech support people and asked them how come they could not get on the very cell tower I was reading as an AT&T tower that I was scanning in front of me. I thought they shared some towers. I said to the fellow I had on technical support. "Hey this is not going to work, can you share these towers or not?" "Oh yeah yeah we can do that." I said then that I wanted him to switch me then. He said well it would take him a few days to get things setup and a work order was being sent etc etc. Give him 3 days and he would call me back as to the case and inform me what has happened.
In the meantime I get a chance to open one of the boxes that the tablets came in and I saw a pretty nice little tablet. I turned it on and it proceeded to ask a couple setup questions as most things do and then asked me how I wanted to connect to the INTERNET. I thought well my home WIFI is this thing for real as it was offering T-Mobile to be able to browse the web with a internal chip that T-Mobile had put in the tablet. I thought Wow, I did not order another line. I only said it was ok to give us a free tablet. Wow, I am beside myself by now.
I continued to use the phone and then started to investigate it. I figured out after a little time scanning the systems setup and all that whenever the phone called the first thing it does is see if there is an active WiFI internet connection and then it connects to it for a VOIP call if it can so it really is not using any resource of theirs. And that was the default setting on that particular phone. It was at that point that I begin to think (what a bunch of scum suckin ground crawling phone pimps). And in the case of a person having WIFI in their home these guys are sucking off them. As soon as you go away from an active open WIFI or keyed connected WIFI you don't really have that all over connection they talk about. So it really is not capable of cellular activity on its own away from a WIFI connection. The opposite it true.
Aha the guy calls me back and tells me "which way are you going tomorrow and can you test it and see?" I said what? You want me to go back to the tower and all or what? He said well he and some other techs had made some adjustments. Really. I mean dude, you guys either have a cell connect or you don't. I cannot help you guys, not your technician.
Fast forward to the end as this is getting quite long. We traded about $1200 or so dollars worth of phones in and we were reimbursed over time for those. At no point did we get an account that met what the Manager sold us on South Hulen St. in Fort Worth. This company cannot at this point deliver an everywhere type of cell phone service as far as I need which is if there is a tower there I want on it immediately.
Shortly thereafter we moved service to Verizon. Not as good as AT&T but they will do for now. We later got a bill for the new phones we traded into Verizon which Verizon would drag and drag their feet on giving us the 1800 plus dollars. They would only give us credit toward our bill online. Which we were pretty pissed about. But what do you do? These Corporate ** you know are just doing their job. And guess what. They got your number and the lawyers. So if anyone got treated as I did and run over by T-Mobile well let's all lawyer up. After 16 years of AT&T and never even a late bill I am wondering if any of them would have had a quality customer.
We in this family look to T-Mobile as being the primary cause of difficulty in the communication department due to false advertising and then stringing us along and telling us they could not take the equipment back after the 10 day grace period which all technicians and customer reps said they would overlook because they would fix the matter. So if they tell you that, don't believe them final comment. Buyer beware of T-Mobile.

There are employees at T-Mobile that have put settings on my account that I believe violate my privacy rights. I would like for someone to investigate my account to confirm my suspicions. My passcode keeps getting change. And I keep getting messages on my phone that T-mobile has changed settings on my phone without my permission. I am sure that if someone investigate this matter they will find that until recently I have only spoken to 3 customer service reps since I've had my accounts until recently. These 3 reps are the persons I believe are violating my privacy rights.

I purchased a phone over the phone with T-Mobile and decided to return it during the 14 day window. I called they provided an UPS label and shipped it. Tracking info says it was delivered May 2nd, 2017. A month later they are now saying that the phone never reached their warehouse, that I have to pay for the $850 dollars. I called UPS to file a claim and they told me that T-Mobile should be the one filing the claim not me since they have the account with them. They still went ahead and filed it but said they would report back to T-Mobile only not me. I have been calling pretty much every day to a point that they say the phone's IMEI shows was being used, and the representative even said, "Not saying is "you" but many people return boxes empty." I responded to him saying, "Well if I had it like you just made it sound, why would I ask you to block the IMEI so that no one can use it?"
Anyways, my last phone call they finally decided to call UPS and file a claim themselves and now they are saying that it's going to take another 7 days and that I'm responsible for the payment of the phone. This is what sucks, I did everything I had to do, I requested a shipping label, I took it to UPS, and been waiting for a long time so that they tell me I have to pay $850. They don't want to hold UPS accountable for the thieves they have as drivers and prefer to lose a customer like me. I have 10 lines and 1 internet line and I have never been late to any of my payments. The way T-Mobile appreciates their good customers is very poor. I really like the service but cannot afford to be nervous when ordering/returning devices from them since they don't do anything to find out what really happened and just expect me to pay for something I returned.

I sent a defective phone back to T-Mobile and they claim they received the preposted box with no phone. They let a year go by before letting me know they did not have the phone. Now they are charging me $700 for the phone I put in the mailbox. Once I put it in the mail I have no idea what happens next. So they are charging me for the post office or T Mobiles errors. Not good business at all.

T-mobile is not the company you want to use. I paid over $300 upfront for a phone and was told I could put the remaining balance on my account and pay it off w/ Payments added to my bill. Now I have gotten a text saying if I don't call and get back on a plan for payments (which is going up double what my payments originally were) or they will add over $200 to my next bill. Wtf?? Why wasn't I told about this when I purchased the phone. Omitting the whole truth is a lie!! The website to view and pay your bill sucks too. They charge whatever they want and put 'misc charges' on your bill and when I tried doing a live chat to ask what the misc charges here she only patronised me! I still don't have an explanation on what those charges were. If you are looking for a different cell phone provider, keep looking cause t-mobile will only cause you time out of work trying to get your bill situated. Simply ridiculous!

Back in January 2017 one of the iPhones on my account was damaged so we filed for a new one. They said it would be sent out on the next business day and we would have it in 2 days. THAT WAS A LIE. We called almost everyday for 2 weeks. One time they said the phone was already received. Next they said the phone was shipped to a T-Mobile store for pickup. So I went and the associate at the store told me that information wasn't accurate because T-Mobile doesn't ship "insurance claimed phones" to their retailers. Okay. Next they said 3 iPhones were shipped out to 3 different addresses. WHAT??? Alright skipping to the end of that hassle 2 weeks later we got ONE iPhone and returned the damaged one. Again this was in January 2017. March 2017 I had a non-return fee on my account so I call the customer service line once again to figure out what's going on.
They claim they never received the damaged iPhone that they would investigate and call me back in 2 weeks and everything would be resolved + the charges would be dropped because this has happened to me before, (yep). THREE WEEKS LATER and nothing is resolved. Now I owe over 1,000 including my last month's bill because they tell me not to make any payments until they "fix this issue". I even have a receipt from the post office from when I returned the damaged iPhone BACK IN January!! Also I have a voicemail from a T-Mobile customer representative assuring me that they would drop the charges from my account!! Now it is May 30th. This company is the worst. I've been with them over 7 years and it's always the same problem when you're filing an insurance claim. Maybe they should stop sending the phones in a black box with bright pink letters.

I moved to a new home a few miles away. I'm well inside the DFW area but due to T-Mobile's lack of investment in their network, I was unable to get service at my new residence. I work from home and called daily for 2 months about my lack of service. When I finally canceled, T-mobile charged me $500 for breaking my plan even though they were the ones who breached the contract with their lack of service. I will never use T-mobile service again even if it were completely free.

I regret walking into that store. They are liars and steal your $$ and then play games when you call to complain and put you on hold and multiple people answer the phone only to waste hours of your time and get nowhere! Worst reception ever! Cancelled within 16 hours of joining. Takes over 3 months to receive credit on statement. Total nightmare.


I have been with T-Mobile for just under 8 years and because of both financial as well as wanting to keep my same number am being extorted. I bought a Galaxy 7 or 8 or whatever it is and I broke it. I had insurance on it so I paid the 150.00 for the insurance company to replace it. They sent me a replacement phone that was lubricated with something that I have a hard time explaining but was so slippery... beyond slippery. I didn't even have it 24 hours. I got it one day and I was literally carrying from my house to the car to get a protective cover for it. The phone was covered in some sort of lubrication that was so slippery it ** out of my hand and hit the sidewalk. I know most people would say, "Ohhh bummer!!!" Yeah I would agree but I was bending over to pick up my dog. My dog is a bichon frise. He's not more than 12" tall and the phone slipped from my hand 12" off the ground, hit the concrete and broke again.
My point is I was sent a replacement phone that was lubricated with something and being a replacement it was a refurbished phone with inferior glass... paper thin!!! This thing wasn't a foot off the ground when it dropped. I wasn't moving quickly. I didn't throw it. It dropped 12inches!!! Ridiculous! This is not the phone I bought originally. It was a refurbished one and my hunch is it got refurbished because its glass broke. So I called and of course they told me, "Tough luck. Sorry. We can send you a new one. Pay the 150.00 for another one." I had been on the phone with customer service the night before because it was acting weird to boot. It wasn't texting right, it was hanging up, it was powering off. It was a hunk of junk!!!
OK so I need a phone. I run my business from my phone. I need my phone. It's a small business and I'm crippled without it. I already had to wait 2 days to get that one and I couldn't wait for another one so I had to buy a new one. 250.00 for a S4. An inferior product. I was like, "Whatever let's get it done. I can't wait another day to be back in business." So I'm still paying on my S8 and my S7 and now a S4. Let's go back even further. I was in the T-Mobile store talking about my bill being so high with one of their sales reps and she talks me into buying this stupid watch and if I buy this thing it'll lower my bill by 15.00 per month. Well she lied. The purchase of that watch actually raised my bill by 25.00 per month and another 5.00 per month for the added line. So I'm totally getting hosed by T-Mobile and I just want out!
I've talked to all my friends and found out I can get cell service granted. Prepaid for 45.00 per month, unlimited data minutes and all from T-Mobile. T-Mobile is charging me 135.00 per month for the same service. Sooo I'm like, "Let's put me on that plan." In order for me to be out put on that plan I have to pay off my T-Mobile phone and buy a new T-Mobile phone. Pay a disconnect few and pay off my T-Mobile equipment for a grand total of 998.00 to get in a plan from the same company for 45.00 per month. What a ** joke right? No! It's not. They are serious! So now I have the most expensive phone bill of anyone I know. I've talked with customer care and decided that it should be called customer I don't care. I could not and would not and strongly recommend that anyone that ever considered using T-Mobile for their cellular service to avoid them like the plague! They will lie and steal from you!
So in order for me to discontinue and go with someone else I have to pay a grand. To continue with T-Mobile and get a cheaper plan I have to pay a grand. They have me by the short hairs because it's a business line. **!!! Don't ever give T-Mobile one dollar of your hard earned money please! I would love it if the whole country would put them out of business. If I ran my company the way they do I wouldn't get one more call and I wish it would be the same for them.
I guess if you spend millions on advertising it doesn't matter how you treat your customers. You can always get more. They are liars and thieves and not to be trusted. I don't know how anyone could work for a company that screws over their fellow man the way they do. The way they conduct their business lowers my faith in humanity and it's sad that people need a buck so bad that they would work for such a devious, deceitful company. I'm pretty sure it's owned and run by Satan himself. Swines. All of them.

I have been dealing with T-Mobile since Black Friday, 2016. T-Mobile had several promotions, such as free iPhone upgrades with paid JUMP service (which I had), free Samsung tablet, and extra lines for $9.99. 6 Months later and I am still paying full monthly price as if I had just gone and bought two new phones, they charged me for the "free" tablet, and the line has been $19.98. The Customer Service (CS) Reps have been nice, but ineffective. Every month since last November, I call with the billing issue (they are billing me for things that we offered for free) and the reps assure me everything is fixed and will never appear on my bill again. They did, that is, until the end of April / beginning of May. CS Rep Nicole tells me that T-Mobile isn't culpable and I owe full price for everything. I can drop my T-Mobile, but I owe them $1600 first.
I started a BBB complaint and got the Representative Martin from the "President's Office" but he cannot seem to be reached and is always "away from his phone." I have been over billed every month since November and no one can remedy the situation. The CS reps have a manager, but if you want to escalate it beyond the "Nicole" level of CS, you have to write a letter to T-Mobile in Albuquerque. All I would like is for T-Mobile to honor its promotions and to stop hassling its customers. It would be nice if the CS department could actually fix the problems.

Am I the first guy to try and switch from an unlocked Verizon phone to T-Mobile? They're like - "we don't know what wrong?" Right, like it never happened before. Manhattan, 9th Ave store. Now phone is in Limbo - unusable until everything gets switched back... Already 1 day with no phone.

Put a 500 dollars down on 3 phones, return one the next day. Have phone 2 wks. Was billed for 3 phones. Only had 2. Spoke with T-Mobile... very next day. Had the phone a week. They bill me again for another 3 phones. Overdraft my account. They sorry computer error. That's it. So I cc my service. Had phone 2 wks... they keeps my deposit for 3 phones. I only had 2 and had the nerves to bill for 25.00. Wow... really. I will take the loss and move on. In my mind I will never deal with this company and won't recommend. Buyer beware.

I had T-Mobile for almost 4 years now and had multiple bad experiences with customer service (not so much in store but through the 611 customer service line). I am so fed up with their service!! I cannot wait to pay my devices off and switch to a better plan. Although I wasn't a fan of Sprint's service, their customer service is wayyyyyy better than T-Mobile. As a long time T-Mobile customer, this has been by far the worst phone service I had!!!!

This is the ** service I've ever had... I've been through all the companies and this one was last on my list... We don't get service anywhere... The sales lady conned her into signing a contract and we can't even receive or send calls. I grit my teeth every time I use the phone because it's such a ** service. If there was an emergency I would run a half a mile to my neighbor's house before wasting time on this junk. They're ripping people off with... with their bare minimum narrow banded ** river. I would NEVER recommend this ** to anyone. I wish there was an option to select ZERO stars.

I had purchased the new Samsung S8 phone, I had to return it because it didn't fit me for my business, and I returned it with the 20 days so I would not be charged. I returned it on the 12th of May. Called a few days later. Can't find the phone. Called again a few days later. Still can't find the phone. Called again and because when I originally called to return the phone they never gave me a claim number to locate the phone. On the final call on the 22nd of May, they still have not found the phone. Finally gave me a claim number, and here it is the 24th of May and still have not found the phone, and still charging me for the phone.
I told them they had 2 days to find my phone and again the agent I spoke with told me not to worry, and that this would be escalated to be resolved within 5-7 days. I told them they had 2 days to do it or I would write a review on them, so here I am one very unhappy customer. So now I am paying for a phone that T-MOBILE cannot find and I returned it like I was told to do, but all I get from them is, "Don't worry. We will get this resolved." Well since the money isn't coming out their pocket they don't care how unhappy a customer is and I will probably be switching my account.

My 20-year-old daughter-in-law lives with me and came home from work one day with a BURN on her thigh that was caused by her Samsung J7. She had the phone in her pocket and it suddenly got extremely hot and burned her through her jeans! She immediately took the phone to T-Mobile and explained to them what happened. Their resolution?? They made her purchase another phone!!! I am so angry I can't even think straight. This girl was basically forced to BUY another phone to replace the faulty phone T-Mobile sold her that literally caused her an injury! This burn happened a week ago and she still has the burn mark. I think there are so many better ways this could have been handled. At the very least, a new phone should have been given to her at no charge. I am disgusted with T-Mobile and Samsung. I'll tell everyone I know about this incident and do my best to steer people away from this company and these devices.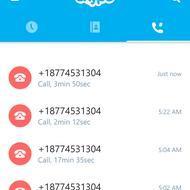 I've been trying all night to speak with a supervisor from this "customer care" and no one seems to be willing to get me to one. I am very aggravated with this situation and the agents have been disconnecting me all night for no reason. Last call I told the agent "Asha I am not okay everyone disconnects me." Last thing I heard was a completely fake "Oh I am so sorry that you're....." ended the call right into my face. And these are Philippines people that been doing that. The ones from the States they just spin you over from one agent to another until you get to Philippines and they cut you off. I am SO NOT HAPPY with the T-Mobile agents right now.

I was drawn in by the $70/mo total (including fees) and the giveaways on Tuesdays to save me at least $40/mo. I made a HUGE mistake. The BEST I get on my phone is 2 bars, have frequently dropped calls, frequently slowed or non-existent web use, long waits to get customer service only to speak to people overseas with heavy accents. And to top it off, was told the "credit check" would be a soft one, only to learn days later it was hard, will stay on my record for two years, and end up costing me thousands on a loan I'm about to sign.
The "customer service people" handed me off from one to another, with the last saying, "Sorry for your troubles but I can not help. Could you please call back in the morning." WTF?? My web experience is sooo slow, can't watch a single video AT ALL. John Legere, instead of hyping, how about fixing? Forget addressing this through T-Mobile social media accts. Unless you're asking glowing questions, they're not replying.

Hi. After many years at T-Mobile I am very upset for the update they did to my Samsung Galaxy Note 5. After fooling me into this software update and screwing up my entire phone and applications & settings, technical service at T-Mobile said they could not fix this problem. Next billing cycle I will cancel my service! If you are a T-Mobile customer do not trust them and any T-Mobile software updates. Only updates from Samsung. HEADING TO A NEW PHONE COMPANY! P_SSED Off???

It was in the middle of the day and I received a text to upgrade my plan to unlimited data which sounded like a great deal. I went for it. I was never informed that they charge for non-autopay which is $10 per month and that I would be charged $30 for middle of the month change of plan.

I have paid nearly $5000 in bills for 8 months. They cut my phone and won't even discuss my over charging until the past due amount is paid. I pay it and then they act like they want to help and always tell me that my bills are incorrect but too many problems were found and their team of specialist who deal with this stuff will call me back. No one ever calls me back and the process begins again. I know where and what the problems are but never can seem to reach anyone that can fix it. I have 6 lines which I did not ask for. The 6th has never been used or activated. Several times a month I ask for it to be cancelled, it hasn't yet. I'm always told if I cancel anything I cannot despite it. I'm also told I can't make plan changes with past due amount owed. I am only late and have past due amounts because I'm always disputing my ridiculously high bills. They are always supposed to be under review.
I get charged for payment arrangements I have never made and changes I never make. How can I make plan changes when my bill is always past due? It's a giant scam and you then are held hostage!!! My identity has been stolen and it's almost impossible to recovery​ from that. So just changing carriers is not an option for me. No one can ever seem to help and they should be held accountable for this!!!

Everything started back on Black Friday. I call to switch 2 of my lines to the Galaxy S7 Edge offer. I was suppose to pay $200- after trade-in in my old LG G4's back them. The representative didn't inform me that the devices needed to be paid in full. So when I got the bill next month and saw the charges I call then and I paid $132.7 for each of the G4's that I return in order to qualify for the offer as I was told back in December 16, 2016. After a couple of months of no changes on the bill I call again & the said that I needed to change to a different plan in order to qualify which at that point I as then to be switch to the new plan. After calling them every month & been told every month that the issue will be fix I was told today that I didn't qualify to the offer because I was out of the time period. I talk to more than a dozen customer service over 5 hour on the phone for this issue to never been resolve.

It's really amazing how T-Mobile just took it upon themselves to go into my bank account and remove $70 for phone service that I do not have. The account was canceled within the 14 days that they require. I never received the SIM card... I never received a refund for The Sim card that I never received... And then they charge me $70 for service that has never been used. And the icing on the cake is, I have to wait and see if they think I am entitled to my money back. Then a refund will be issued, IF I am entitled for a canceled account. So now they have my $4.27 for a SIM card that I never received and $70 for a CANCELED phone line, that has never been used. #CorporateTHIEVES.
Company Name:

T-Mobile

Website:

https://wm6.walmart.com/Walmart-Family-Mobile