Consumer Complaints and Reviews

Phone got very hot and caught on fire. Phone and wireless provider refused to help and continued to charge for monthly service after I said I wanted to end service due to inability to service me correctly. I went into the Holmdel, NJ store several times to complain with no resolve when the phone was overheating and would not hold a charge. Phone company cut off service and continued to charge me and sent my bill to collections!

I tend to be loyal to companies that will do the right thing if I ever have an issue come up with them. After purchasing a phone from T-Mobile it quit after only a few months and I lost all my contacts and data on it. I spoke to the online customer service representatives, the customer retention department and local representatives to see if they would make the situation right with me. At the time they were running a special on the exact phone that had broke on me for new customers giving the new customers a free phone if they signed a 2 year contract with them. I told them I would be willing to sign a 2 year contract with them to take advantage of the special they were running and as a loyal customer of at least 10 years they would not do one thing to help me. Already the reception was very poor in many areas that I used so I decided to cancel my contract with them and pay $300 to leave them.
I switched to Verizon and have been satisfied with them. I can actually get reception in all the places I need it with Verizon and when I have had customer service issues come up they have solved every one of them. DO NOT USE T-MOBILE. I regret ever signing up T-Mobile. I will NEVER use T-Mobile again even if they have a great special. They do not value their loyal customers and actually penalize them for being a loyal customer. They have lost 1000s of dollars from me when all they had to do was offer me the same special that they were offering a new customer or even give me a discount on a new phone or some token gesture to try to help out.

Hi everyone, 5 weeks ago I meet a T-Mobile salesman in my friend shop, and after couple conversation about the plans he's gonna provide me with T-Mobile he convince me to switch from Sprint to T-Mobile. After finishing the paper works and everything it appear that I have to pay $191.00 as down payment and I paid with my visa card. After a week I received the phones iPhone 7 black and iPhone 7 rose gold. After 2 Days I figured out that the plans which I been told it's not the one I got!? So I decide to turn the phones back. I called T-Mobile. They send me the UPS label and I send them back next day and it was in 3 of November 2016, and I suppose get my money with 10 days but unfortunately till today I got no refund. No response from anyone from T-Mobile!!!
I called maybe 20 times - stay on phone for couple hour. Nobody have a clue about my refund, and they keep saying "We will call you back" and nobody does and I keep calling and calling and I got the same answer "We will call back." They received the phones 3 weeks ago in their warehouse and they couldn't find them!? Seems is like my problem. I advise anyone who wanna switch to this horrible phone services and disaster customer service to think twice before you switch.

My husband and I decided to switch from Sprint because they were becoming pretty expensive and also we wanted to upgrade our phones without the "lease" option. So we went to a local T-Mobile retail store and explained our situation to a rep and advised we heard they are cheap for 2 lines and we can keep our current phone numbers and they would pay off our Sprint termination fee and bill. So we signed up for 2 lines under $130 month, traded in 2 iPhones so we can "purchase" our phones and not lease.
My first bill was good... Then we got our second bill... Over $200.00. Way more than with Sprint mind you. So I called a rep stated that we were signed up for a smart lease plan. Whatever the hell that is. So the rep lied about everything we signed up for... And we are paying monthly for our phones apparently. So we pay... And each month our bill keeps rising with no reason... I threatened to cancel. Retention stated... There wasn't nothing they could do. This company is a complete fraud and I am surprised they are still in business. I should've stayed with Sprint. Lesson learned!!

T-Mobile is by far the worst company I have ever dealt with. I am in the process of initiating legal action against them and I have never even considered doing this before to any company I have ever dealt with. I switched to SPRINT last December and that is where the majority of my problems started. I called them directly after the transfer of service to confirm my account would be closed out and that I would get a final bill (which SPRINT would pay). I was reassured several times that my account would be closed out. I even called in early January to make sure again that it would be closed out and my automatic payments would stop just to be sure. They then began to bill me for my iPad which was complimentary up until that point. I never received a final bill until May of that year of which they showed the amount as past due which SPRINT would not reimburse me for.
I have called close to a dozen times trying to get that corrected so that I can pay the bill and SPRINT could reimburse me. They then sent me to collections and damaged my credit for not paying a bill that is MATERIALLY INCORRECT. The collections department that they use have hung up on me when I tried to explain to them that I need a corrected bill several times. They hung up on me 6 times in one day in fact. I will never or recommend T-Mobile again.
How do I know I can trust these reviews about T-Mobile?
633,951 reviews on ConsumerAffairs are verified.
We require contact information to ensure our reviewers are real.
We use intelligent software that helps us maintain the integrity of reviews.
Our moderators read all reviews to verify quality and helpfulness.
For more information about reviews on ConsumerAffairs.com please visit our FAQ.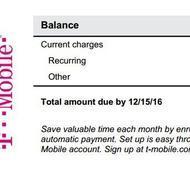 Enrolled to a family plan after was agreed that this will be a 4 line plan 6 Gb data each for $100 per month, they do not give you any confirmation paper. They promise and let you trust them. 5 days later they sent me a bill of $183.27!!! On top of $42 enrolment fees. Will go tomorrow to cancel it all with them. I'll stay away from them for ever as their policy is deception.

Horrendous inconvenient. It started Wednesday. I go in hoping to figure out what to do about my phone and see what options I have because my phone's been not holding a charge and dying continuously. The manager Misty, informed me they can help and said I should come in Friday (black Friday) for a great deal to upgrade my iphone 6 for the iphone 7 with no out of pocket cost, just switch in the phone and pay a 24 month fee of 4.16. My boyfriend and I ask if you're sure. She said yupp! To get just one more opinion we drive to Washington Square Mall to the T-mobile store there to ask and they gave us the same response, looking at our plan and my phone that agreed it would work. So we decided to hang in until Friday to get a new phone for a great deal. (I'm in school full-time and work only part-time so money is tight and a good deal is a good deal).
BLACK FRIDAY, we came in. They took my phone and we spent an hour there getting things ready. They gave me the new phone, helped to move everything over to the new phone. We even talked to them about our current plan and what could happen if we added another line (keep in mind they knew what kind of plan we hand at the START). After an hour I left with a new phone, great battery and was happy. I went to gym after and I also run there since it is close enough. I get there and to log in I need to open my gym's app which wasn't opening, then I noticed my Wi-fi wasn't working so I tried to call my boyfriend and his number went directly to T-Mobile's line. MY PHONE WAS NOT ACTIVATED. I go back to the T-Mobile where they we're like "Oh you were in here early. Why are you back?" and I told them my problem and they said "Oh we forgot to activate your new phone." So they activate it where they find out.
NOW I DON'T QUALIFY FOR THE UPGRADE. Saying now if I wanted to keep this upgrade I'd have to pay an additional $50 every month on top of my $78 dollar a month plan. I was so upset because that was something never told to me after checking with these T-Mobile workers THREE TIMES and they said if I can't they can give me back my old phone and move all my stuff back to my old phone. Which I said yes too because 50 every month is not something I can do. All Misty said was "Sorry you know how it is though right. This is all new for us and it's been crazy busy and we just got sent the information about this yesterday." (I never one lost my temper. I was polite and understanding.)
I had to wait there an additional hour just to get my phone back and be back at square one when I was trying to be proactive about my situation and came in on Wednesday. Customer service was horrible here. Workers have no idea of their OWN plans, promos and offers and it turned my whole morning into a mess and a scramble. 100% disappointed. Avoid the Hillsboro location if you can. Not to mention they also lost my case... complete disaster of an experience.

I signed up for two lines at T-Mobile on July 29, 2016 and I got 2 Samsung galaxy and also I bought some accessories for the 2 phones. Then on August 11, 2016 I cancelled it and returned everything. Actually I lost my money because I have to pay for the restocking fee of 50 dollar each phones and also $99.00 dollars for the days of service that I was using the phone. So T-Mobile still sent me a bill 4 times already and asking me to pay $339.80. I keep calling them for so many times and they can't still resolve the problem which is I don't understand what kind of system they are using because they can't locate the 2 phones that I returned to them. And I spoke to the person that cancelled my service and she said she returned to the warehouse, but T-Mobile can't locate.
Is this scam so that people will pay them even though they have the merchandise. T-Mobile is scammed. I hope the government will investigate this company. And talking to their customer care or the store where I bought the 2 phones are so useless too. I asked them and just don't care because I think they used to it already scamming consumers. And one person work at the store told me "just pay them and you get a refund later." So I told her "you guys took already my $274.95 and now you still want me to pay another $339.80." Then if I agree to pay them it means like how many people already they collected the amount of money. So I hope somebody will get them because this company is the worst one.

T-Mobile advertised cheap prices so I thought I'll give them a try. I spoke to different representatives and both of them told me that there will be no charge if I disconnect service within the first 30 days if I don't like it. II started a plan with them but reception sucked anywhere I went so I called them up and they reassured again that there is no fees and I can stop the plan immediately which I did.
Now around a year later I started getting phone calls from collection agencies that I own $124 to T-Mobile. No one is able to explain what this money was for. I told there is no way I'm paying something that I don't owe. Now they reported me to the credit bureau and my credit is dropping. I hope that anyone who reads this review will stay away from T-Mobile, otherwise you're more than likely be screwed by them as well. Anywhere I look I only see bad reviews on them. Why are they still operating??? Go figure.

I added the buy 2 lines get 2 lines for free. My friend who lives in a different state is one of the additional lines. When I went to the store they said I could buy the SIM and then my friend could exchange a new on at her store. The guy at her store said they can't do that and had her buy another SIM and said I could just cancel the temp line. I went into my store and they said they don't do that. So now I am in a limbo. They blamed me for not knowing better but how is it possible for me to know the technicalities of T-Mobile. Anyways they sent me home saying they have escalated the issue with the District Manager. It's going to be 24 hours soon and I have not heard a word! Horrible experience. I am in two minds to switch back to AT&T where I never had such experience with Customer Service.

I have been with T-Mobile for 4 years now and I have 7 lines with them. I made a terrible mistake of ordering new phone by calling customer service. I had a note which smoked and just got fired. While I was trying to dispute my remaining balance for the device, I decided to upgrade 4 phone. I ordered 4 new phones, two S6 Edges and two S7 Edges. They charged me full prices, $20 activation for each line and taxes. Then ending up sending me pre-owned phone while they charged me full price for new phone. After I returned the phones on Oct 25, 2016, I have still not received a refund.
Up till today I have spoke to 20+ representatives and about 4 supervisors and everyone keeps saying 3 business days, 72 hours, another 5 business days. They are trying to steal my money and every time they give a new excuse for not refunding me my money. Eventually they ended giving me only $140.61 back and I am still missing $224.28. This is sad and very disappointing how they treat a customer. I can't begin to tell how many false charges and fees they put on my monthly bill, it's like every month I have to call them and have them refund or adjust the bills. So poor those customers who think T-Mobile will bill them right and do not check their bills. They are losing money.

I have had nothing but lies since the very start. The store lied about my rebate and the overall monthly charge for my account. I then call to get help in understanding how my bill could be $100.00 more than I was quoted and the c/s agent assured me she would file a complaint against the store and call me back after my bill had become available to see what she could do to assist me. Not only did I not receive a call (duh) they cannot even get a hold of the person. I thought it was a little strange being a call center that she was able to do that and I was right.
After speaking with her I immediately received a review and now am I glad I didn't respond right away because I would've given her an excellent review for nothing. This has been the worst experience and I wish I had never left Verizon. And they have very strong accents which makes it almost impossible to understand. Except for the person who was going to help me. She spoke English but flat out lied to me. Ugh! Super frustrated!

I decided to give T-Mobile a try. Not having the best credit I had to settle for cheaper phones as I needed multiple lines and it would have been too expensive initially to buy all them phones. I was told by the rep that after a year I would be able to upgrade with no problem to whatever phone I wanted. Once I reached my year I called to do the upgrade. By this time I had been dealing with these phones for several months, not getting service, memory full messages when trying to view photos or download apps, dropped or unreceived calls, incompatibility with bluetooth devices, etc. I can go on and on. When I called they said I was not eligible for an upgrade because I had been late several times in the past. The rep only said I had to be with them a year, never said that being late would automatically disqualify me.
I described all the issues I was having and they said it was nothing they could do and the only way was to pay almost the full price of a phone which I didn't have the money for. Shortly after I would receive offers telling me I'm eligible to upgrade by paying just 109.00 dollars and things of that nature and whenever I called they would still not honor what they offered me which was clearly offered to me by message. They would get my hopes up by telling me I could upgrade and not stand by it after about the six time I told them that I was gonna cut ties and they still didn't care. They don't value their customers. They are liars. Their service sucks and I would never do business with them again and advice that you don't either.

T-Mobile lures you in with "PROMOTIONS", but is very vague with the 'PROMOTIONS" entail. I was told I could get a 'FREE' tablet, but come to find out in order to maintain the 'FREE' tablet, I do have to pay. Not only that, but if I no longer want the 'FREE' tablet, I have to pay for it. (GO FIGURE!!!) Also, the plan that I ALLEGEDLY have should run around $89.00 per month. How in the world does $89 turn into $170.00. These cut-throat businesses are something serious.

The issue is simple. I was told they would take care of any issues with the Galaxy S7. My phone stopped working after 3 months. Would not turn on. Lost all contacts saved to phone, lost a lot of work. They refuse to replace because of a hairline crack on the screen which occurred literally outside the store I was visiting to get phone replaced. Was laughed at by the associates about being clumsy, then told they would not be able to do anything about the phone because of the crack that had just occurred in front of their eyes. Was then told by the insurance that I was stuck with a broken phone.
After 12 years of being a LOYAL customer I was treated with much disrespect. Called customer care and asked to be transferred to the retention department which is the one department that's sole job is to make sure they don't lose you as a customer. Was told there was absolutely nothing they can do. I was stuck with the broken phone and would cost me an additional $350 fee. I am appalled that I was treated in this way by my favorite company. T-Mobile you have become a company of liars. I will be leaving you as soon as I pay off the garbage you left me with.

I was told when I signed up for T-Mobile that I would have the same discount as I had with my previous carrier (AT&T) with them. The discount was for 11% off the monthly fee. They ended up not having any discount for my company (Kyocera) at all. I then was told I would receive a refund for the phone I owed on with my AT&T and for the amount I owed for all phone payments. I still have yet to receive any refund and this is 4 months later.

My phone number was given to somebody by T-Mobile while I was using it. I am stranded right now. I have been calling them repeatedly but nobody can give me an answer. I paid for that number; is this legal on their part to give your number to somebody without talking to you? Please help! I am desperate.

T-Mobile is the worst company. I would not recommend anyone. I kept on calling these people for two years but they never returned my security deposit. First couple of months they kept on telling me "Your check is ready. We just want to make sure your current address. This check will reach you in 10-12 business days." After couple of months, they said "We credited it to your credit card." In addition to this once I got phone with contract, they sent me bills 90+ and sometimes 100+, and on asking they tell you this tax that tax. Worst company is this. I will never use it in my life again. These people are thieves. Steal money. Not good service. Bad customer service.

Every month my bill gets higher for no reason. Went to a different cell phone company and when I tried to return the phones they wanted to charge me 163.00$ for each phone. Had 3 of them. Makes no sense. Am giving back the phone. No contract. Never told if I decide to go somewhere else I would have to pay to return. STAY AWAY from T-Mobile. RIPOFF.

It remains a mystery how T-Mobile can have so many issues providing me with uninterrupted service. I realize outages and failures do happen however there is no excuse for extended outages & other network problems as frequently as in my experience. More egregious are the tactics employed to avoid customer service by creating frustration and delay instead of addressing a customer complaint/issue. A brief outage may be unavoidable however the level of importance assigned by T-Mobile to correct Network issues is completely under their control.
Twice this morning, I called (800)937-8990) for assistance and each time I was disconnected while on hold waiting for a supervisor. This suggests a deliberate effort on the part of Customer Care to avoid dealing with issues and in particular their objection to connect to a supervisor. Again on call two, while waiting for a supervisor the call was disconnected. T-Mobile lacks common sense or courtesy to train and demand the customer must be called back when YOU disconnect. Anything less is simply rude. This further arrogance suggests my first guess was likely correct - it is a deliberate effort to frustrate and avoid providing customer assistance at a meaningful level.
The initial reason for my complaint was the Network unavailability preventing phone calls or a text. From approximately 2 pm and into the evening 11/14/16. Note: related issues are listed below including a partial list of loses incurred as a result of T-Mobiles failure. On 11/15/16 at 10:00 am I phoned customer service from a landline. Both calls were connected to a dial tone while on hold for a supervisor. Note: this appears to be protocol rather than coincidental accident. This same behavior has been experienced by me on past calls to customer care suggesting a high probability of deliberate efforts to frustrate the customer instead of addressing their problem with T-Mobile. The same problem continued after leaving a WiFi connection on 11/15/16 prompting me to visit a T-Mobile store which was close to my office.
At the very least, I request reimbursement of $18.00 and assurance in writing T-Mobile will finally address and put a stop to the bad manners displayed by their representatives in the Philippines, and a renewed focus on providing customer service instead of customer frustration and Customer I don't Care. It is noteworthy that offshore representatives in the Philippines is where this tactic is pandemic. Perhaps T-Mobile must implement meaningful oversight if they insist on offshore agents. Past written complaints to T-Mobile remain ignored. T-Mobile has a policy of not responding in writing. I understand their reluctance since I caught them in a lie and attempt to defraud customers on their rebate cards. They did reply to my BBB complaint. Hence I suggest you also file a BBB complaint against T-Mobile. You will likely get an answer through the BBB.

I am sitting in between two towers that have been in upgrade process for over a year. I work from home and I shouldn't have to leave my home to get work done. I get 2 bars most time, and sometimes 4g. The only thing that T-Mobile is concerned about is your money, your payments, that's it. If you're thinking about joining T-Mobile, don't do it! You will wind up like the rest of us, unsatisfied!

T-Mobile is actually horrible. Most of the operators can't understand anything at all. Their slogan is cheaper is better but that's a scam because they steal your money anyway. My phone has been broken for 3 months now and I called in and told them to cancel the automatic charge to my card so because I didn't have any money in it. The operator said she canceled it. I woke up this morning with my card charged and an overdraft fee on it. I called them and explained everything to get a withdrawal. Conveniently the charge was nonrefundable. That's T-Mobile for you. A bunch of thieves. Cheaper is better but it's not cheap anymore when they're stealing that money on the side.

In June of 2016, I decided to give T-Mobile a try as our cell phone carrier for my 14 yr old son. I put $100 dollars down because my credit wasn't the best at that time, and the rest was billed to me monthly. When we received the phone 6 days later, we immediately turned it on and gave it a try, and noticed that we had zero bars and weren't able to make any phone calls from inside our home. We then tried to make calls outside, but still had no luck. I pulled up their coverage map and seen that our area was solid pink, which means we should have 4G LTE coverage in our entire city of Elkhorn, WI.
Immediately, I called T-Mobile Customer Service and told them that we don't have any bars, and that we are not able to make or receive any calls on the new phone we just received. The representative I spoke to, told me that this would not be a problem, that she would immediately send out a signal booster and that would solve the problem we are having. I am not a very tech savvy person, so I trusted that she knew what she was doing, and that this would solve our problem. She then told me that she has to put in a work order for this signal booster and that it may take 2 to 3 weeks for us to receive it. During this time, my son figured out that if he stood in a itty-bitty spot in the corner of our house, he could SOMETIMES, get 1 maybe 2 bars.
So two and a half weeks went by, and I still had not received the signal booster, so I decided to give T-Mobile Customer Service a call again, and find out where the booster was. I spoke with a different representative at that time, and said she pulled up my account and did not find any documentation about us needing a signal booster. I then explained the problems we were experiencing, and she said that a signal booster wouldn't help us anyway, and that she would like to transfer to someone who could better help me with this problem. (Please keep in mind, I've had the phone now for almost 3 weeks.)
This new representative instructed my son, who knows much more about electronics than I do, to check and change a bunch of settings, to see if that would help us to better receive or make calls, and it made zero change. The only thing it did change was the fact that he was able to use our home Wi-Fi, in order to use the phone, and that was only for when we were at home. This still meant we couldn't use the phone anywhere else. He said that he was still going to work on our account and that he was going to request some type of work order, which meant they would have their outside field engineers check and see if there were more people in our area having the same problems. He said they would also check the tower closest to us to see if there was a problem there. He said this may take anywhere from 2 weeks to a month but they will keep me posted.
Once again, I never heard from anyone, and my son was still unable to use his phone within a 15 mile radius, or when he was at home and connected to our Wi-Fi. Then in August or September, my son was at the park in Lake Geneva, WI with some friends and had a emergency. First he tried to call me, 5 times, and each time the call was dropped. He then tried to call 911 twice, and was unable to do that too because of no service. Thank God, there was a mother outside doing yard work and she called me, and told me he needed help.
When I picked him up, and he me how many times he tried to call me and 911, I was absolutely livid with T-Mobile!!. I once again called their Customer Service and told them my situation, and how I haven't been able to use this damn phone since I got it in June (it was now September) and her answer was as useless as the rest of theirs. I told her this is unacceptable and that I need to talk to someone who is willing to help me out, and she told me at that time that even her supervisor wouldn't be able to help me.
I told her I spoke to someone a month or so earlier and asked to speak that department again so she transferred me and FINALLY, I was able to talk to someone who actually cared about my situation. He basically told me that they've been stringing me along, and that there is NOTHING that he or anyone at T-Mobile can do for us, as far helping us to be able to use this phone in our town. He advised me to get the money together and buy the phone, and get a new carrier. I took his advice and saved everything I could out of my disability checks, I am a disabled, single mom, and don't have even 2 pennies to waste on something that doesn't work. But, I was able to save enough money to buy the iPhone SE and close out my contract with T-Mobile.
On October 8th, 2016, I spoke to someone and asked her several times, EXACTLY how much it was to buy the phone and get out of my contract with T-Mobile, and she told me $208.31!! I used my check card and I paid that exact amount, and haven't heard from them since last week when I received a bill in the amount of $79.18. Once again, I called them and explained this entire situation over and over to 3 different employees. Not one of them were willing to work with me.
I then asked to speak to their supervisor and she transferred me to a girl named Caitlyn. I explained everything for the 4th time and she was probably the most cold-hearted employee I'd ever talked to in my 42 on this earth. She said that T-Mobile provided a service to me and that I needed to pay for these services even though the services I paid for NEVER WORKED. I cannot believe they are still making me pay for this $80.00 bill even though we have never been able to use the phone, and even though the person I spoke to when I paid it off, said I was paid up and no longer had a contract with T-Mobile.
I believe that T-Mobile strung me along for as long as they could so that I couldn't return the phone and terminate my contract. I found out in July that I could have returned the phone 2 weeks after I received it. But they kept telling me they were going to help me and by the time I realized they weren't going to help me, it was way past the 2 weeks.
I am so sorry that this is so long, I just wanted to make sure that I am telling you everything you need to know to help me out. I don't know what else to do. I have since went with Verizon and have a monthly payment with them. $79.00 is a lot of money for me and could get my son a few, very nice things for Christmas. Everything I told you in this statement is absolutely true. In fact I and sure pretty sure that T-Mobile has documented everything I called them about. Maybe you can get farther with them than I have. I really, really appreciate you helping me with this situation.

T-mobile lied to me. I am on the jump program, and I was told 3 different times by 3 different people, that if I switched to the 7 phone my payment would only increase about $4. After I switched, my payment increased $14 because by switching I lost some sort of promotional. No one ever told me that. I will be telling everyone I know about this, and I will putting this online for everyone. I think this is very dishonest.

Order the iPhone 7 to trade for my iPhone 6. I was just gonna pay the taxes when the phone shipped. I waited over 1 month for the iPhone and it never delivered. Instead, I received a bill for a phone line never used. I went in the store and found out they cancelled my order for the iPhone 7 without notifying me because according to them my card declined. Nothing was ever notified to me. The rep in the store didn't even try to apologize. I called customer service and said they couldn't honor the promotion because it had expired. Well, duh, it expired because I had been waiting for my iPhone that I never received. I canceled everything with T-Mobile and I am going to another provider. The customer service sucks and they don't help you at all!

Terrible, terrible. Store would not honor their word to me if I have ANY issues I can return the phone. The issue I had, was I can't get any reception in Madison Wi. As we all know this isn't a rural town, It's a big city. The state capital of Wisconsin. In addition I found out after the fact the phone only has 8GB of memory. 4GB are already used for installed apps. I wanted to install twitter & Starbucks app to the phone. It wouldn't let me saying "memory full". These are the reasons I took the phone back.
This T-Mobile store would not even let me upgrade. I was told I have to pay an additional $50.00 for restock fee. Now I paid 200.00 for this phone already. Just to upgrade I have to pay restock fee plus the difference of the upgrade phone. This is the worst service I ever had. T-mobile lost a good customer all because they would not let me upgrade without a restock fee. Remember, the phone was still within the 14 days. Promise. Don't ever buy a phone from T-Mobile folks. Never, never, never. Bad customer service, Bad service coverage in Big city.

After trying to buy a phone all day long and being switched to 5 different agents, I finally thought I found someone to help me. She did not tell me that I would be charged an "upgrade" fee. I signed an agreement saying the charge would be $96. I told the customer service agent the next day after I saw that I did not upgrade, I got new service. They said they couldn't help me. So instead of paying $96 I had to pay $139. I am cancelling my service. Completely ridiculous to be lied to. FYI, this is the very short version of what happened.

These people completely lie to you to gain you as a customer. Was told I'd receive up to 650 a line to become a new customer. I transferred 3. 2 were eligible. Was told my old phone were down payment for new phone and they would pay off the rest off my phone from old company. I soon found out that was not the case. After calling in a month ago, I spoke with an agent in customer loyalty. We hashed everything out or so it seemed. I was quoted an amount. And was happy. Now a month later they did not come through with the amount stated. I talk to 11 loyalty and retention agents. I tried everything to get to a supervisor to help and my 11th agent was one. I still did not get a resolution. I was basically called a liar through the whole ordeal. I was transferred abruptly every single time. I was told they basically don't care if I'm retained as a customer and ultimately go into collections due to not paying off my previous phone company.
They took my old phones applied that credit to new phone while taking that credit out of the money they were to pay off previous company. It doesn't make sense and would have never agreed to those terms if I was lied to in the beginning. If a car dealership offered 500 cash back and my trade in is worth 200. They wouldn't take that 200 out of my 500. It would be additional. So they basically stole my phones and made this whole switch more costly than it was to stay with my previous company. They did not stick to their word and flat out lied. As soon as I can I am leaving them. I will never pay their bills and go into collection. That's how bad they treated me!

I have NEVER been more disappointed, frustrated and irritated in my life. This is my very first review on anything. Prior to having T-Mobile I was with AT&T for 7 years. I must say AT&T customers' service is WAY BETTER than T- Mobile. 11 days ago my iPhone 6s stopped working. So I went into the store to get a replacement phone. Which in the past has not been a problem. Should get here into 1-2 business days. I went into the store and when getting my IMEI number they tried telling me my "phone wasn't bought through T-Mobile". So I spent an hour with customer service inside a T-Mobile store to get transferred around customer care until Apple. I ended up hanging up because I was tired from a long work week.
The following day I again got the runaround. Finally talking to Apple tech saying this has been happening to A LOT of people and they found my iPhone and it was from T-Mobile. Obviously, why would I lie? Saying they placed the order and it would be there by the following week. Still cellphoneless. I called T-Mobile this past Monday to see why my phone is taking so long. They supervisor said "Oh it looks like they forgot to place your order". They reassured me that it would be in my mailbox NO LATER than Thursday. Here it is Saturday, November the 11th, 2016 and still NO CELLPHONE! That is absolutely UNACCEPTABLE! So again I WASTED my time, the little time I had.
I called T-Mobile explain the situation and I spoke to a supervisor and she reassured me that 1/2 would be taken off my cellphone bill and a phone would be here in no time. But, again when I got transferred to customer service Apple tech they had no idea what was going on. After an hour in between my jobs. I then had to go into T-Mobile. I have to go into the store again tomorrow to solve this situation that should have been fixed the first time. I hope the president of the company reads this because this is the WORST customer service I HAVE ever experienced. I'm very disappointed and not happy at all!

I been with T-Mobile for 4 years. I have always paid for the insurance. For the first time that I need to use the insurance they say no to me. Make it up a lot excuse. You didn't change your billing address hanging up on me. They are horrible so stay away from them. They will take your money. They will still find you.
Company Name:

T-Mobile

Website:

https://www.t-mobile.com/