Consumer Complaints and Reviews

I keep getting a bill from T-Mobile. I have never had a T-Mobile account and use Virgin Mobile USA for years. I don't know what is going on but they have my name, address, ss number. I'm afraid my info has been hacked or stolen but they will not talk to me. What is going on with this company?

First of all coverage is very bad. I paid 70 $ for the first month 55 $ and 15 $ for the new line and before the month end and changed the service to other company because of very bad coverage. I canceled the service with T mobile. Now customer service calling me stated that I have to pay 55 $ for the last month. I already paid. Because it is not her system, it doesn't make any sense. They asking me to pay money I already paid because it doesn't show up in the system. And said to me to come back to the local office to bring the bill that was month ago. I was suffering from very bad coverage, and now I have to waste my time and go to the local store to figure out what happened. Is this fair, it is not my fault.

You must file a suit in small claims if you want satisfaction from T-mobile. They'll settle out of court, but they are impossible to settle with on the phone. You cannot reach their corporate offices by phone, only by letter. Forget that. Sue them instead. It's faster and less painful. After auditing my bill after several years of paying the same amount each month, I found ongoing service charges that I had not approved. They would not refund me the unauthorized charges. It amounted to approximately $400. They did volunteer to refund $8 of the $400. I demanded to talk with someone with more authority to authorize a return of these monies, but they refused. They told me that I could write their headquarters (in Germany, I suppose) and file a complaint. I decided to post here instead. After all, they're already dealing with over 4,000 complaints in court, and had a judgment awarded against them, and yet they're still screwing with customers.

When T-Mobile offered their Unlimited USA-Canada-Mexico Phone/Text/Data I took their bait in spite of my being a light user of all three services just to avoid having to purchase costly internet service when I travelled. Had to buy a T-Mobile phone for $30 (my unlocked Samsung Galaxy wouldn't work on their network), and used very little data, texts and calling in the USA for the first week of service, then took a trip into Canada and immediately lost all data service.
T-Mobile customer service was my first call but seemed unable/unwilling to do anything. I spent the next two weeks trying to find the "lost data" problem by making repeated trips to outlets of T-Mobile's Canadian partners and private cellphone experts enlisting their help in trying to find the T-Mobile problem (all pointed back to a failure T-Mobile's failure to set up protocols with its partners).
After two weeks of running around (several 20-mile trips and hours and hours of my time), I became increasingly irritated with T-Mobile's "we don't really care about our customers' problems" attitude, I asked to speak to someone who might care. Transferred through a number of "levels of indifference" until finally someone actually said: "We don't guarantee that you'll actually get data service when you're out of the country". That was it! T-Mobile Customer Service people don't even read their own BS ads!
Still in my first month of $40/service, I ask for some compensation. They generously offer $5. Unacceptable! I get shoved "upstairs" - "that's all we're authorized to offer" was their reply. I said: "If you are either unwilling or unable to deliver the service you promise, I might as well discontinue service." Their response was to say "fine", hang up and cut off my service within seconds. If that wasn't insulting enough, they then bill me $56 for their $40 plan.
I've got to say that, from time to time, I've been on both ends of customer service - as a business person dealing with issues my customers had with my products and as a consumer looking for help solving my own technical problems with other people's products. But this was the one and only instance where I felt "customer service" treated the customer as the "problem" to be solved and solved the problem by getting rid of the customer.

Had to wait 37 minutes before I got a hold of a person. Next time I called, was on the phone for 1 hour and 47 minutes in order to get my problem fixed. Was transferred to five different people, and had to point out their mistake multiple times, and finally ask for a supervisor to get anything taken care of. I switched to them two months ago, and have had to call about a billing error or a charge or problem at least 10-15 times since then. I would NOT recommend this company to anyone I know.
How do I know I can trust these reviews about T-Mobile?
692,550 reviews on ConsumerAffairs are verified.
We require contact information to ensure our reviewers are real.
We use intelligent software that helps us maintain the integrity of reviews.
Our moderators read all reviews to verify quality and helpfulness.
For more information about reviews on ConsumerAffairs.com please visit our FAQ.

Do NOT change your plan to T Mobile! My experience has been absolutely painful and seriously stressful. I was trying to get out over the cycle of going over on my data and switched to T-Mo. BIG MISTAKE. The promo was, if you handed in your iPhone 6, you would get a 7 for free. I attempted to hand 2 iPhone 6s in at the store, and they said I had to mail them. I mailed them (and took a picture of the label). UPS tracking shows T-Mo received them. Now T-Mo is claiming they can't find them and is charging me for the 7s. In addition to other billing problems, I have spent more than 20 hours of my time trying to resolve the issue by calling, going to the store, and on chat. 4 months into this mess, my latest bill is $1500. I will be filing for arbitration. Don't repeat my mistake, stay clear of T-Mobile.

My boyfriend and I went to T-Mobile to add another person on our line. When we did that and we also wanted to upgrade our phones and we're told can't do that until we pay the past due balance. We did that and then my bf had called the 611 and explained to them about the situation, but they told him one thing then say another thing. He was told if he paid $32 balance then we can, so we did that. The next thing they told him something else to pay $80 and we good to go, and they lied to us as we were in the store. My bf had them on his phone and put on speaker phone so the sales person can listen to what was being said prior to the agreement of upgrading our phones. We paid $263 to square away the bill and that didn't happened after we done what they asked us to do to settle the bill.
My bf and I spent 2 half hrs at the T-Mobile store trying to resolve the issue. When he did that and another a**hat told us we can't until we pay the entire balance of $206 and we were like flipping piss off and told them that they had sent us letter stating that the old bill will be broken down in 9 installments which was. It too bad to add that on our regular bill.
Then they hung up on my bf in the store, finally the sales person called them back and explained what he had heard them saying and told us what we had to do in order to get upgraded phones. So that point where my bf finally flipped out and told them he want all his money back since they refused to allow us to upgrade our phones. We got our money back and other part won't be returned back on my card in about 2 to 3 business days. My bf told them "If it's not back on my gf's card and we will be seeking lawyer" for false advertising that they have said to us and we have all the paper and evidence of what they said to us. They didn't tell us that we can't upgrade until the old balance is paid off. My bf told them if that is the case then why did you allowed us to upgrade our services to T-Mobile One for $160 a month unlimited everything as we have 5 lines with them.
This does not make any sense for them to allow us to upgrade the services, but not the phones. As the new bill came out it's $200 a month so we split 5 ways as other family is on our plan which made it cheaper for them to pay their part of the bill. Now we not happy with T-Mobile as we said we will pay them off and close the account. We will go with another carrier that is affordable and reasonable without any hassles. I can see why T-Mobile losing lot of loyal customers.

After purchasing a sim card for my T-Mobile hotspot at the store on 21st & Lewis, national customer service told me that the hotspot was no longer compatible with service in my area. I returned to the store the very next day to get a refund for the sim card and data card. They said they were unable to refund sim cards. What's worse, Kelvin REFUSED to call anyone to find a solution. The items were purchased in their store, less than 24 hours earlier. They installed the sim card in the device but didn't check it, and now they won't give me a refund?! And, they won't even try to help me. That is customer service at its worst.

I signed up for 3 phones (at the time there were 2 year contracts). Kept the phones for the 2 years, but after the 1st year, I needed a new phone. They never told me when you get a new one, you are signing up for another 2 years. The service was TERRIBLE and too expensive, so after many discussions with them, I took my business elsewhere. T-Mobile sent me a final bill totaling almost $600. I assumed it was the bill including the 1 contract I broke (since the other 2 phones on the account never got renewed).
After about a month, I received another bill showing I owed $1100. The bill never showed why I owed that much, and even when I talked to them, they could never fully explain the charges. Just said because I broke my contract. (On one phone - $175 fee.) Now after a few years T-Mobile has gone insane and is reporting I owe them $1775!! They've gone mad! I recommend to NEVER go with T-MOBILE EVER!! Unless you want ridiculous charges for bad phone and customer service.

Be careful switching your cell phone pkg. The old saying is the grass greener on the other side. Well the damn grass was completely dead. I switched to T-Mobile. They told me my device would work on the service no problem so I switched on 16 Jan. From that date till 31st of Jan. I had nothing but problems maybe one good day. They sent me a booster for my home that did not work so on the 30th I decided to just go get a new phone from them 217.00 dollars. Worked good. Service all day. Sunday night a new phone decided to go haywire. Tech dept. at T-Mobile said, "Well sorry you just got a bad phone." Have to return it. Get another one.
Well I decided at that point to jump back over the fence to Verizon. Should never left. T-Mobile was offering it appeared to be a good deal. Well Verizon had a sweet deal also to switch back. Got cell coverage. No dropped calls like T-Mobile. In my opinion talk to Verizon if you're considering leaving. They will work with you. I know some have the T-Mobile service and you may like it but it did not work good for me, in my opinion I would not recommend them. Oh I forgot. Half the time I could not send text or pictures. The service was not good. Also I returned the defective phone. They were going to charge me 50 dollars restocking fee for defective device, the saying is if it's too good to be true it is. THANKS VERIZON FOR THE GOOD SERVICE AND WELCOMING ME BACK.

I was a customer with T-Mobile about 4 years with the rates becoming expensive. I decided to Change to another cell phone provider. Contacted T-Mobile customer Service to close account, was told that I currently had a 100+ dollar credit on the account and that I would be receiving a refund check in the mail the first week in January. They stated if I received a bill to discard it as the account was closed and I had a credit. About a week later I received a bill for $36 for the account in question so I discarded it and was wondering where the refund of my credit check was.
Well now it's January 27 and I receive another past due bill for $64. I immediately contact customer service. Transferred through about 4 different representatives to basically be told that when they closed my account that the next billing cycle was open and that I had to pay the bill and late charges. They would not admit that their representative gave me bad information on the account balance and the fact that there was no credit to the account. I asked if they could waive the late fee for January since I was told that my account was paid. The representative said they could not do that. I asked how I could have verified the account balance and they said I could go to the store and check it there.
Basically I feel the rep lied to me about the closing balance so they could stick me with a couple months late fee's. Since I terminated service they're unwilling to attempt to do anything and say if unpaid it goes to collections and on my credit history. I paid the amount and asked rep how I know that my account is truly paid in full and I was told "Because I told you it is". Truly comforting since that what they told me two months ago and now I'm shelling out $64 to keep them off my credit report. Beware if they tell you account is paid and verify account is paid in Full.

My family and I have been T-Mobile customers for well over 14 years now and as the years go on, their service continues to deteriorate. It's a rare occasion that I encounter an informed and friendly representative on the phone. I have spent 20hrs+ on the phone trying to get my bill explained to me correctly and get my questions answered in the last year... Calls to them should be 15 minutes tops unless you are looking at new plans or anything of the sort. They are rarely able to fix my actual problems with my bills and I just get so fed up and tired of talking on the phone that I give up. I usually don't have a short temper but the amount of times I have lost my head dealing with them is countless. They treat you like an idiot and argue with you even when you are right. When they are wrong, they don't admit it and they just push the focus onto another topic. Untrustworthy.
I have been lied to multiple times in stores and on the phone about bill questions and bill projections for new plans. Don't trust them when they tell you all about a great plan that will give you adjustments or credits each month and if you do, be ready to have it be incorrect all the time and have to call T-Mobile every month when your bill comes out. The customer service reps try to argue with you about your plan with "alternative facts" (just to poke fun at the controversy going on in the media right now). T-Mobile leaves much left to be desired on the customer service front and have recently said that they are working with their business tech or some team on the "known problems" that I've been facing with my bills. Hard to believe anything will change.
Corporate is lazy and does nothing. All the reps can do for you when they can't solve your problems are escalate the situations to their higher ups who still don't do crap. T-Mobile gets me the best deal for exactly what my family needs but the headache really isn't worth it. Will be looking out for a cell provider that can meet my needs but until then, T-Mobile it will be. So much more to say but just no more energy to continue. Hope that this gives you the slightest idea about them. T-Mobile has worn me out and given me grey hairs.

They don't even deserve one star. Last October my wife took advantage of the iPhone 7 promotion. She was told that she would receive $45 for her iPhone 5s and would receive an additional credit of $30 per month for 24 months. Credit was to begin 2 months after purchase of phone. Initially there was no mention of any requirement to switch phone plans - not a word.
Now after three months of waiting for credits for return of 5s and towards bill, they are not finding any return of phone and telling us that in order to receive the $30 credit we have to switch our plan that will cost us more than we pay now and cost includes the credit. So bottom line is that the increase cost of plan will pay them back the "credit" that they say I should be receiving. This company is a joke and people lie all the time in order to get your business. And I've been with T-Mobile for 15 yrs, shame on me!

T-Mobile sales reps came to me with a promotion of Free Samsung galaxy on 5 phones. After one month I discovered that the phones were not free as there was an EIP plan for the phones to be paid for monthly. They also lied that the data was unlimited and never slows down. All they needed was a sale. Truth is that there is no free promotion with T-Mobile. My bill was to be $100 monthly but first one came $263. Moving out of T-Mobile after 26 days. Never recommend it to anyone. When you hear of promotion from T-Mobile please it is pure lies. Run away else you will regret. Bye bye T-Mobile after 3 weeks.

I switched from another cell phone provider to these crooks. My reception was the worse - text messages would go through, bad reception, the problems went on. The customer service woman couldn't hear me when I called her to complain. I paid for the third month for the $25 announced in the store, because I had to keep the phone on in order to transfer to another provider. They would turn my phone back on. When I called, the man lied to me and said that $25 dollars plans were no longer in place (lie - they were announced in all the stores) and I had to pay the full amount of $42 like I had before. I paid for the full amount and twenty four hours later I called and asked for a refund. The woman on the phone told me she couldn't refund. Luckily I had paid with my credit card. I called my credit card company and they got my money back through the disputes department.

T-mobile always like give you a wrong bill. If you can't find it and they win the money. Why do they never charge me less? I don't remember how many time is it T-mobile make wrong bills. But every time they charge you wrong and you contacted them to tell them it will takes at one hour to explain and spend another hour to wait their response. Then T-mobile will tell you they will fix the next bill. At next bill, I found the problem still there. Then repeat the process again. The only difference will be the rep will tell you it need 2-3 bill cycle to fix it. Before t-mobile fix it, you need to pay the extra bills. When does t-mobile fix the problem. Nobody knows even their employees.

It looks like is a good Company because Plans are cheap but data is still expensive and phones are ridiculously pricey. Signal coverage is real bad. It drops constantly and even in open places signal is lost and people can't hear you. Asking for too many Rights on your device. If you choose get your bills by mail, bill comes too late I mean with just the 10 days before due day. Customer Services is very good.

I have had the worst experience with T-Mobile and their customer service reps. They lied to me when they came into my office with their "promotion". They said I would not have to do anything to transfer from the carrier I had to them. And that was a lie. They said they would pay my last bill with the last carrier and anything that was owed on the phone that I had and they lied about that too. My last phone was worth more than the stupid rebate they want to give me. My phone was $700.00 and want to give me a rebate of 300. Total cons and frauds!!! I am so NOT SATISFIED WITH T-Mobile and all the idiots working in the customer service dept. they never answer the phones they put you on hold forever and if you hang up and call back they make notes and make you wait even longer. I HATE T-Mobile!! I regret ever changing to their service.

I have the same experience as the gentleman below. It is illegal, it is a scam, and they've messed with the wrong person - will be taking legal action!! I've been to T-Mobile over 10 times in the past 3 months to try and solve this issue. Each time, they have 100% assured me the problem has been fixed and they are terrible sorry; however, NO CHANGE was made and I was completely lied to.
I was convinced to open 2 free lines during a Black Friday promotion. Also running at the same time was a free tablet promotion - open new lines and receive free tablets. My bill was not expected to go up at all - my normal amount was $170. I was skeptical. I asked tons of questions, I asked what the catch was. "Absolutely no catch!" I was assured, given personal phone numbers, and tons of documentation. 3 months later, my bill has been constantly $70 more than it is supposed to be. I paid for SIM cards and NO tablets ever came. The "corrections" they offer me actually cost me money!! This sounds an awful lot like the illegal activity Wells Fargo was engaged in. Open as many lines as possible by lying and through the cost of the consumer, illegally. Take notes, T-Mobile, I WILL NOT GO QUIETLY.

I encourage everyone to find a better phone company if you currently have T-Mobile. If you are looking for a new service T-Mobile is not it. I have read some of the reviews and I do agree with some of them. Their service is terrible right along with their customer service. When you have to call 3 TIMES for an error to be fixed then there is a problem. Yes, the error for each month was attempted to be corrected, but I don't believe it was fully corrected. After all the trouble, it's not worth arguing with them because they let employees make silly errors.
Prior to that I was lied to by 2 different people and when speaking to the manager, she wasn't very appreciative of her customer at all. Yes, I asked for a credit for the inconvenience because I had to call 3 TIMES for the same error to be corrected. The only thing that they could mention was that they fixed what was incorrect, well that's what I was told the first two times. So a week later, yes my phone bill is late, but how can you trust them? I go to make a call to retrieve information for payment and my lines are turned off. Okay, cool.
I asked for a representative and of course they want your money so they weren't helpful. Since they waived a fee in 2016, they cannot do it for me today. Do I believe them? NO! Well if I can remember correctly, this was done towards the beginning of 2016, but that doesn't matter. They are more worried about their money than their customers. They would rather lose a customer than to assist them with removing an $80.00 charge of restoring fees. At this point, I am annoyed and getting ready to cancel as I mentioned on the phone; I also asked what it requires, I was told and the rep threw out there the balance of my phones, like that was to scare me away from canceling.
I know that I am a customer service supervisor and I could do better than this manager did this morning. I am going to continue to write bad reviews like I continued to get the 2 calls per day like anyone harassing someone would do. Do not sign up with T-Mobile because this is not the first time that I have had troubles with T-Mobile. They like to give you the runaround and their service is terrible. It's sad that Straight Talk is better than T-Mobile. T-Mobile puts more money into their phones than they do their cell towers. If I don't receive a call after this review then it will show that T-Mobile does not care about their customers.

One of the phones on my line screen went black and wouldn't turn back on so I call T-mobile and because it was a malfunction I was told I would have no charge since it was covered by warranty then they tell me that they would have a phone ready tomorrow anytime after 4:00 pm so the next day I go and to my surprise the phone wasn't there and the Employees have no idea what I'm talking about. I go the next day but before I made sure that the phone would be there this time by calling tech support after over 20 minutes of waiting on hold and tech support making sure the phone was there making it seem like it was rocket science or something; anyway I get there and they charge me 5 dollars after I took the time out of my day and wasted my gas to go drive over there, T-Mobile decides to charge me 5 dollars? Yeah it isn't really much money but the point is I shouldn't have been charged at all. Ridiculous.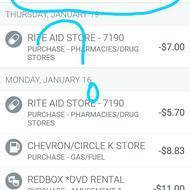 I've been disconnected from T-Mobile for about 2 months now and last month they didn't take any money from me but yesterday, they withdrew $54 from my bank account and I'm not even on auto pay with them (since I was on a prepaid plan with them). They never sent me an email or text, they just basically robbed me and that money was for my insurance bill that I have until 2 days to pay! This isn't the first time they've taken my money from me either. I've lost a total of around $60 or more because they didn't want to refund me or anything and when I tried calling them to get this straightened out, it said I had to reactivate my account which I don't want to of since I have a new cell phone provider! This is just highway robbery to me and I'm sick of having to deal with T-Mobile even though I don't use them anymore!

A year ago I saw a promotion online on for iPhone buy 1 get 1 half off. So I ran to the store, I asked the rep if the promotion was still available, he replied yes. So I went ahead purchase 2 iPhone 6s plus, I put down $791 and made monthly payments on 1. So in early December I called to pay it off, the rep told me that I was leasing the phones and if I want to keep it I have to pay $263. Well I got upset because when I was buying the phones the store rep didn't tell me that. Yesterday I went back to the store. I spoke to the same rep who sold me the phones. He said I didn't get any credit because I didn't purchased the phones on any promotion. I told them to look it up, both the manager claimed they don't have the access to do that. I called customer service, they added insult to my injury by offering me $20 and I rejected. She changed it to $35 that made it even worse.
This morning I called corporate. The rep wasn't much help. She said she looked up all the promotions for 2016 and there wasn't a buy 1 get 1 half off. I am so disgusted with T-Mobile. I feel like I was robbed. I know 100% that promotion was there but she said I didn't have any proof so she can't help me. I pay T-Mobile $252 a month and my boyfriend has an account with them so he pays almost the same price. We will be taking our business somewhere else.
T-Mobile violated me. Why must you lie and cheat to make money. My neighbor hates T-Mobile, now I see and understand why he hates it so much. It's a shame I thought they were honest. They trained all their employees to lie. They don't care about the truth coming out because most people don't read their paperwork. Well I learned my lesson. I will never do business with T-Mobile again and I plan on telling all my family and everyone else who has T-Mobile to take their business somewhere else.

I transferred my phone number to T-Mobile because I was traveling out of the country and wanted to have internet. They promised me I will have internet with no problem, and they also promised me that by switching my phone number with them they will pay off Sprint, and I won't have to worry about my last bill or whatever cancellation fee they were charging me.
First, when I was away I didn't have internet because my phone had no service approximate 25 days out of the 30 days. Second, it has been 2 months and almost 3 months, and I still haven't received the money to pay to Sprint which was approximate $925 due to canceling my contract with them. It seems every month my bill comes way higher than what they promised me. I will never recommend T-Mobile to anyone. They do not offer what they promised me. Worst customer service there is.
I am stuck with a higher bill every month, still paying Sprint bill and without the money they promised by trading my phone and IPAD. I feel this is completely unfair and the company is taking advantage of myself and who knows of how many more people out there. How can T-Mobile run this kind of business? I completely trusted them. Please help!!!

About a year ago my wife and I joined our T-Mobile accounts and arranged with representative to have all her info and payments transferred to my account. When I said ALL charges to be transferred it was confirmed by the customer rep that this is all done and we have nothing to worry about. About 7 months later my wife gets a phone call from T-Mobile that she missed last 6-7 payments for her iPhone and it will go to collection if she does not pay back due amount. She right away told them that she will pay all of it but was told that she needs to call different company to make payment because that's the way it should be done. My wife being a good person she is, she never questioned it and called company that had her set up a payment plan.
Few months go buy and I do a random check on her credit report and to my total surprise there was a collection agency account. It turned out that incompetent representative never transferred her iPhone payments to my account and T-Mobile never called to let us know but just sent it into collection WITHOUT NOTICE!!! By the way if T-Mobile supervisor gives you their ID#, it does you no good because for some FUNNY reason nobody can track them even when you reference their ID#. Talking about criminal operation while evading all accountability for ** UP PEOPLE'S LIVES!!!

When purchasing 4 phones as a family plan, I was told I would pay less than $200 a month, $30 per line, plus about $60 in equipment, that's about $180 monthly. When I received my bill, it was for $260.74 a month. Nobody can show me a breakdown of my bill that explains this price. The salespeople in the store tell me I have to apply for rebates, and that will take the price down closer to $200 a month. I called customer service and they allowed $30 in rebates for bringing 3 lines from other carriers, but cannot apply those rebates immediately, It will take a couple months, I'm told.
I just received my second bill, and it is for even more than the first, I suspect that charge was for insurance I selected for two of the phones. It seems they can process additional fees rather quickly, but not rebates. I want to pay what I was told I would pay. Apparently some others I've spoken with have had similar experiences with this carrier. I guess they can tell you whatever they want to get your business, but there is nothing in writing, just a bill that comes later that you cannot change.

I had been with Verizon for almost 20 years so switching to T-Mobile was a very hard decision and turned out to be a painful-frustrating process. I did not get the promotions I was quoted over the phone. I called them multiple times invested multiple hours. Customer service just really didn't seem to care they could see the problems but they said their computer just wouldn't let them fix it and give me the promotion and monthly phone rates that I was quoted so now I'm stuck paying a bill higher than I agreed to. Extremely frustrating I feel like they scammed me which I would not expect from a company as large as T-Mobile and I have never written a complaint my life. I'm not that person. This is the honest truth just beware.

A week from now I ordered a phone from T-Mobile's website, only to find it took them three days to realize it, having to wait for a couple more days from now, without a phone to use. I was not able to do the overnight shipping due to the fact I ordered it after 5 pm. I'm pissed that this is taking this long for something that doesn't even weigh 2 pounds. NEVER will I order something from their website again. **

I recently went in to a T-Mobile store to purchase a new phone. When we went to the counter the representative asked us if we wanted a screen protector and a case for our phones. I explained that I thought their retail prices too high and I would be buying elsewhere. The T-Mobile Employee then told me that both the protector and case would be free. I asked, "How was this some sort of sale for getting a new phone?" He said, "It would be." We proceeded. At the end of the transaction my wife, always double-checking everything, asked for our monthly payment. She knew what it should be, but we were told something way higher. We asked what was bringing the payment up. We were adding phones, which should have been X, and dropping their Jump! program which should have lowered it by Y.
It was then, when he had no way of lying, told us it was the screen protectors and cases. It was "free today" but "bundled" in to our monthly payment. This is the opposite of FREE or FREE TODAY. Out-of-pocket, yes. No down, sure. Pay nothing today, fine. But FREE isn't the word. I would have thought this a one time deal, if they then, different day, different store, different person, did this to my hearing impaired mother-in-law who is on my account, and that's where I take extreme offense. She's deaf, and it's strikingly obvious. Usually, when people talk with her, they try to be very concise, but this other sales rep did the same thing and tricked her into getting a case and protector for "FREE". So, beware of T-Mobile and their new sales tactics of telling you things are free, and just charging you later for it.

I have been with most of the other major carriers and have been a T-Mobile customer for >10 years. Their service inside the buildings may not be as robust as some others, but the customer service more than makes up for it. They have always been responsive and helpful either in person or on the phone. Otherwise I wouldn't stay.
Company Name:

T-Mobile

Website:

https://wm6.walmart.com/Walmart-Family-Mobile