Consumer Complaints and Reviews

This new cancellation policy is completely wrong and unfair. I moved out of my apt and attempted to cancel my internet service. I was informed that I was 2 days after the billing cycle so I must pay for another FULL month. Apparently a letter was sent out notifying customers of this change and it was my responsibility to know my billing date and cancel prior to that, otherwise pay a full month for 2 days of service. Problem for me is I work online, so I needed my service up until the day I left. So my only choice is to pay for a full month service to get those 2 days...
No pro rating? How is that legal? I am no longer using your service. I want to cancel and be prorated for the month I'm not using. Sorry this is no longer possible... I wonder how much extra revenue this company is getting from this tactic. How many customers actually know that they must cancel before the billing date or be billed for an entire month? It can't be that many...

I have a similar story as many of the previous posts. After raising my rate by 25%, I cancelled my service and switched to FIOS. Unbeknownst to me was that Optimum unilaterally changed their billing policy after the Altice takeover in Oct 2016 to make their customers responsible for the entire month's bill, regardless of when in the cycle the customer cancelled. I was only 4 days into the next billing cycle and am being billed for the entire month (they did however, prorate only the small telephone portion of the bill, probably because of local laws). I got nowhere pleading my case to two different Optimum reps on the phone and one was very sympathetic, but said that they are forbidden from doing anything about it. I even wrote a letter appealing to their sense of fairness and got back a very impersonal form letter just reiterating that the charges are correct.
I was not disputing whether or not they were correct. I was questioning if they were fair and reasonable! I contacted the NYS Public Service Commission, which is jurisdiction over cable TV providers and they told me that since deregulation, there is nothing they can do about it. I am very tempted to not pay them and let it go to collections. Has anyone done this? If so, what was the outcome?

Lousy product, incompetent service. Basically, the internet cuts in and out all the time. We've taken time out of our weekends and/or work schedules to have techs come out to fix the issue, and nothing changed after their visits. Over the last month or so, the problem has gotten so bad that having a consistent internet connection without losing service for 10 minutes or so is an anomaly. Their response: "Your internet connection is fine, but if you'd like we can schedule a tech to come out and test your connection."
Brilliant idea, that worked so well the last couple of times. While internet service in general is fairly expensive, before my experiences with Optimum, with all of them at least the service was reliable. With Optimum, not only is the service terrible and inconsistent, they lack the ability to provide the service they are charging me for. They simply don't know what to do/how to fix it, other than to give a scripted, apathetic response. I have done as much as I can myself, reset the router, unplug everything and plug back in, etc. to no avail. Anyone that is considering internet service and has another option, whatever it is, go with it. Otherwise, you risk throwing your money away on an unreliable service to a company that doesn't know how to correct it.

If I could give them negative stars I would! My billing cycle ended 12/22, I called and cancelled my services on 12/22. I returned all equipment on that day. Fast forward to 2 months later and they have sent my account to debt collection for unpaid services. The unpaid services are for 12/23-1/22 when I didn't even have the equipment/services in my house! How they can just decide to charge you a full month for services you do not have is beyond me and then send it to collections is ridiculous. And when you call them everyone is an idiot and cannot explain why this is. They told me had I called a few days earlier then I wouldn't have been charged... Does this make sense to anyone? As far as I'm concerned I paid through the time I had the services... story done. They are crooks and I refuse to pay them a penny more for goods/services that I did not use.

I recently switched cable TV, phone and internet providers. I returned all of my Optimum equipment on 2-22-17 and asked the woman to terminate my service. She said ok and asked me if I was moving or switched providers. I stated that I switched providers. She handed me a receipt for the equipment and I asked if my service was cancelled and she stated "yes", never mentioning the end of cycle policy.
The following day I received an email from Optimum stating that my service was cancelled effective March 15, 2017 and that I would be billed until then. I reached out to Optimum customer service who stated that this was their new policy that they only cancel service at the end of a billing cycle. I stated that I was unaware of this new policy and that I shouldn't have to pay for something for an additional 21 days that I wasn't using. Basically I was told there was nothing I could do about it and nobody could help me further. I will prorate the bill and pay them what I owe and nothing more. They can take me to court for the rest. Optimum/Cablevision was recently purchased by Altice USA and since then prices have increased, customer service decreased and policies changed that adversely affect the consumer. Be aware folks. Be very aware.
How do I know I can trust these reviews about Optimum IO Cable?
716,078 reviews on ConsumerAffairs are verified.
We require contact information to ensure our reviewers are real.
We use intelligent software that helps us maintain the integrity of reviews.
Our moderators read all reviews to verify quality and helpfulness.
For more information about reviews on ConsumerAffairs.com please visit our FAQ.

I've been a customer of Optimum/Cablevision for 20 years and called today to get my service disconnected and was told I will be charged through the end of my billing cycle of March 14, which is 3 weeks from now. Optimum does not service my new house and I will be unable to use my billed service through March 14, 2017. Obviously being a long time customer means nothing to these people. And I quote from Jeff in Retention and two other representatives as we were transferred from one department to another "it's like rent, you have to pay through the end of the cycle, just like a month's rent." Well OPTIMUM we are done and I will never use you again and hopefully I will get this information out to as many people as I know, and maybe just maybe this company will be reminded of what customer service is about and stop ripping off ex-customers to make profit.

Last year they turned off my cable service without notice because they said "there was a leak in the cable". Cut me off right in the middle of a video conference with clients. I even saw the techs out on the pole. They never came to the door, called me, or emailed. Just cut the line and left. When I contacted customer support they had such a "Who cares about your business" attitude. It took 3 days to get techs back out to fix the "leak". The techs told me they were surprised since it was so marginal... they even showed me the meter reading. It was barely a blip. A few weeks later they rewarded me for being a long time loyal customer by raising my rates. You get to pay ~$50/month more than a new customer. DirecTV, here I come. I warned you Optimum, and you told me there was nothing you could do. Until after I called to disconnect. Too late! They didn't learn.

Leo **, an Optimum sales person came to my house on numerous occasions to try and sell us a cheaper package. My wife wisely sent him away. When he came back I decided to hear him out. Leo outright lied to me about the rate I'd be getting. I was reasonably happy with my other provider and would only switch for a much cheaper deal. He sold me on a cable package with less channels than I had previously because of the rate. I specifically asked him if that included all taxes and fees and he said that it did. It was a lie. I'm now paying one dollar per month cheaper for fewer channels and slower internet. I called to complain and they won't honor the deal we agreed on. Leo ** is a creep and I can't even get a supervisor on the phone. The grass isn't always greener.

My husband completed an online application for Optimum 200, Gold TV and Phone. The price quoted was cheaper than what we are already paying with Optimum. Nowhere on the website is it listed for "New Customers Only". We were emailed an order summary, confirmation number and Cart ID number as well as a time when the service would be performed. After 30 minutes past the 3 hour window given, I CALLED THEM. Only then was I informed that we did not qualify for the deal. 4 service reps, 57 minutes later I was told that the order confirmation was generated automatically but no one could answer why we weren't Flagged as existing customers and received no email or phone call to alert us the service would not be performed.
Waited 3 and a half hours for a guy to show up, wasted another 57 minutes on the phone and as far as customer loyalty is concerned, they HAVE NONE. Their attitude is "we'll take $10 a month off your bill but you'll still not get the deal for Optimum 200, Gold TV and Phone", despite the fact that I have an order confirmation number etc for the package offered. So don't waste your time thinking they give a ** about customers. THEY DON'T.

Unfair and shady billing practices. I have dealt with Optimum for several years and they have no problem prorating services when you are starting with them but to leave their region, they hold you basically hostage. I gave them a date to end our service but since it was 3 days past their billing cycle, I was charged the full month. They also did not get the correct date and cut my TV, internet and phone service a week early. They also refused to allow me to take my home phone number with me to my new service because it was technologically impossible. I have to pay the remaining 3 weeks because I am liable due to a change in their billing cycle that was announced to all customers on the 3rd page of the Oct, 2016 bill. Customers should have been notified of this change by a separate letter or put the announcement on the first page of the bill, not hidden on the 3rd page. People, READ your BILL.

No matter what you do, stay way from Cablevision/Optimum Online. They will jack up your price every 6 months and when you call to complain, they will purposely hang up the phone on you. One of their scams with the online services is they will purposely change your IP every 48 hours so that your financial institutions will lock you out of your account. One day your IP address of the modem points to one town, 2 days later it points 20 miles to another town and it goes on every day and they know about it.
They will try to con you into getting a business account which is 2x higher than a residential package just to stop it. Then when you start removing services, it's total BS. Paying $100 a month for nothing. Then they will send you a letter promising you $79.90 for 2 years and then when you call they will immediately refuse to give you the deal in writing. They give some BS excuse that it's for new customers only where nowhere does it say on the document it's for new customers only. I'm turning this over to the NJ Dept of Consumer Affairs in which Cablevision will get sued again for the deceptive and misleading business practices.

The criminal behavior of Optimum (Cablevision) shouldn't go unpunished. It is disgusting enough that these creeps do not offer their loyal customers their best deals until they call to say they are leaving. They are happy to have you pay way more than you should. It's only when you tell them that you are leaving that they admit you could have had their services for about $50 less per month. But what must probably be illegal is that regardless when in your billing cycle you terminate service, they will bill you for the complex monthly cycle even if you had their service for just a few days.
When I told them I would promptly pay my final bill as soon as they presented me with a bill that actively reflected the 12 days that I had their service before being disconnected, they lied and said they didn't have the capability to prorate the final bill, which is load of crap because they would always prorate bills for days lost due to outages. There needs to be a class action suit. Thousands of people are being screwed for hundreds of dollars each. Thanks for your prompt response.

I moved out of New Jersey on Dec. 1, 2016. On Nov. 1, I notified Optimum in person that I would not be needing the service as of Dec. 1. The women at the desk told me that it would remain usable until the 15th December, and it would be like getting "free service". What a joke. I told her I would be out of state and could not use it. When I got my final bill I was charged in advance until December 15. I have made several calls, sent e-mails, and reported to the Utility Authority and FCC. I got return calls from Optimum and the guy just says it's a new policy implemented in October of 2016. I got the notice of change by email but did not see such policy, and now see that is was only included if you downloaded a copy. Nonetheless, I never signed anything to agree to that. I have paid more than half of the bill, which I felt was a fair amount.
Just this morning I got a call from a collection agency regarding the remaining amount. I explained the situation and she said to take it up with Optimum. I know where that will take me. I also happen to know the new tenant in the home I was living in and he had internet installed on Dec. 1, 2016, the same day as I moved. I had already turned in all of my equipment. He has also been charged the full amount from the 1st till the 15th. Now, I call this a case of not only overbilling, but I feel that it is double billing. Is this even legal. Should I ever decide to return to NJ, you can be sure I will never have Optimum Cable in my home again.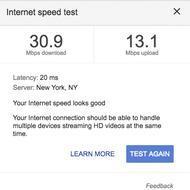 Optimum forces customers to use their router by slowing down their modem by 50% or more. When we ordered TV cable two months ago, we asked Optimum not to change the internet. The prick on the phone say, "No worries, we won't change it." Next thing I know he move my internet from 60 speed to 100 without my authorization, charged us 15 dollars more. So now we have fast internet, and TV in a bundle package (when we specifically said no bundle). Then they hit us with almost $300 dollars bill, for the following: installation fee, service fee, TV fee, TV plus sports fees, sports fee, $10, internet setup fees, etc.
We were so upset because no only they violated our rights as consumers to choose and pay for what we ask, but because we didn't have $300 at hand, and GET THIS, they wanted to get pay within 2 weeks in full! WTF!!! So we ask them to remove the TV service, which it took 6 hours and 4 different phone calls to convince them to take us off TV package. They will send us to a nasty natzi concentration camp called "THE RETENTION CENTER." The "retention" agents are nothing but bullies and thugs. They will stay on the phone with you for hours just to convince you to keep packages or move to another packages -- even when I beg and almost cry asking them to STOP and just leave my account with Internet only. The prick agent put it back with 25 speed and charge me $68 dollars a month (instead of $49 for 60 speed).
So the next day I had to spend another couple of hours talking to the HISPANIC department (they speak English but has less attitude), which someone finally a Hispanic agent took pity and put my internet back and gave me my price of $49 back. A month later, during a phone call with Optimum to ask them if they had payment plan or if I could pay half, they ask me if I want to pay $4.99 dollars to add 100 speed (from 60 to 100). I say yes, the service was disconnected for 15 min. I called twice, and finally the internet was back but the speed was not 8 download speed, and at others times 35.
So now we spend endless hours with nasty reps blaming my computer for the problem, but then told Optimum that they cannot blame my computer since this problem was on MY COMPUTER< MY MAC< MY WINDOWS PC< MY TWO TABLETS< MY TWO MOBILE PHONES!!! To make it short, finally they pass us to technical support, but in a nasty way, this person was trouble shooting our modem asking us to connect, and disconnect, and connect again. Then he transfer us to tech support. WTF!!!
After an hour with tech support, the guy just told us that they will send a technician to our house and charge us $80 dollars for their STUPID ** UP SERVICE PROBLEMS. UNREAL! WE said no, then we noticed that the router was shooting 100, but the direct modem connected to the cable was only giving 30 or 40 down speed. WTF?! So my friend who works for optimum tell us that Optimum program their system equipment so they can do all sorts of HORRIBLE TRICKS by slowing your router or your modem or blocking your one of your computers, or blocking you from using another router, which we wanted to do BELKIN router. So now they forcing us to stay with their router, only one computer gets the high speed, and the other doesn't. But this is just tonight, I'm sure tomorrow the speed will go down.
They target me because my last name is Hispanic, my husband is not me, but the account is in spanish name. During our phone call we noticed that the optimum speed Test.net site belongs to optimum, so while trouble shooting. Their site will say 100 download speed, but when you tested with google internet speed test or fast.com the speed was actually 25. I can go on and on at all the NASTY MENTAL GAMES AND HACKING GAMES They do with consumers. I'm so disgusted, we are going to try to save money to switch to BIOS, VERIZON another thieves!!! Verizon still owns me $1000 dollar deposit from a cell I had back in 2001. ** ALL OF THEM! So we updated Optimum internet from 60 Mbps to 100 down speed when we had TV and internet package,

I have been a customer for 25 years and have always been told by customer service "If we send a tech to your house and the problem is found to be with inside wiring, you will be charged." I have never been charged in 25 years. Since Altice acquired the company the policy is changed. The new policy is to charge for all site visits whether the problem is found to be Optimum's and even when the problem is not fixed. Surprised when I was charged for a service visit, I called the customer service line and escalated to the supervisor. She told me "We don't care if you have been a long time customer. We have been acquired by a new company."

Added services without my permission and refused to refund it when I objected. These included insurance for in home service. They don't mail you a paper bill and they will make you go through hoops to download a copy of the bill. They will bill for the partial month when you start service, but will not refund you money when you cancel during the middle of the cycle. A totally unethical company whose billing practices need to be investigated by the NY attorney general's office.

Scam artists: Unhappy with Optimum for their high rates and slow internet service despite the speed I was paying for but never got. Called to disconnect on Oct 10 and they say I have to pay thru Nov 8 and that the last bill cannot be prorated even though their service was disconnected from my house on Oct 13 and Verizon put in place. They claim this policy of paying for a FULL billing cycle regardless of when you disconnected and no longer had their service was a result of a policy change that supposedly came in fine print on your regular bill online. I did not see this, and I did not agree to this change. I did not agree to this and after hours on the phone they said they would adjust billing and I would only pay for the service when I actually had it. OK great.
They never did adjust the bill and it went right to a collection agency who then told me I could pay the prorated amount if I sent proof of the Verizon connection at my house. I did and waited for the prorated bill. Didn't get it. Collection Agency (CBHV) tells me I was misinformed and that rep was reprimanded (really, lol) and to pay what I thought I should pay and then Optimum can dispute the remainder. Call Optimum and after a very robotic, condescending phone call they want the full amount and there was absolutely no one else to talk to, no supervisor, no boss, no other department. Suddenly the 'escalation dept' that I originally spoke to had no records on my file of our agreement and there was ABSOLUTELY no way to talk to someone again in the escalation dept and the rep wouldn't even admit that this dept exists. It was the run around and it has been a horrible experience. I will never go back to OPTIMUM. There are may other options, stay away from them!

This company does not send out any bills, so they also charge you a late fee which is a result of their mistake. They also raise their charges when they already have an agreed amount for two year. Extremely bad company and stay away. They are thieves.

I signed up for Optimum's package deals because they promised a good deal. I called customer service, asked in detail about their bundle services. I asked for SPECIFIC channels that I watch. The customer service agent told me that the deal includes ALL the channels I asked for. Fantastic! We sign up and the cable, internet, and TV are installed. Guess what? None of the channels I asked for are available. I was forced to upgrade to get my channels and they had the nerve to lie to me EVERY TIME I called to ask about their billing information. They tried to blame it on me, that I was hearing them wrong, that my phone connection might be bad. They kept offering me deal after deal, discount after discount to make me stay as their customer. But the bill prices kept increasing and each offer they offered me? Gone! Never existed! We cut our services with Optimum.

I emailed them to find out how to disconnect cable TV, if I could bring the box to the Optimum store and take it off my bill going forward. I have been an Optimum customer for 20 years. I am streaming TV now on my internet and no longer need Cable TV. They told me to call a disconnect service line. I did for over 20 minutes on hold. Meanwhile I called customer service to add new service to see how long it would take to get them to pick up the phone. They picked up the line in 30 seconds. If that isn't shady I don't know what is. They make it EXTREMELY difficult to shut service off, and they keep charging you. How is this legal?

Optimum has come up with a genius way of robbing people. I couldn't get through to a rep over the Holiday weekend over the phone on 12/30 or 12/31 so once I was done with my move I took the equipment in person. Now I'm being billed for 26 days of service that are not available to me (last day of my cycle is the 31st). When I finally got to a "team leader" he kept repeating that optimum sent out emails notifying customers that if they canceled they would be billed through the end of the billing cycle: all because of the lagging hot-spots they provide. When I asked to change my account to internet only through the remainder of my billing cycle, I was told they couldn't do that either "it's the policy".
After I asked for the information to their corporate office I was put through to a supervisor that just kept repeating the same thing about their policy and the refusal to make any adjustments to my final bill. I was willing to pay for internet through the end of the month but they wouldn't even make that adjustment. I don't have the equipment anymore but they are charging me for 26 days of phone, internet, and cable. How is that even legal? I will be looking for open lawsuits about this. Optimum should not be allowed to operate under such unethical business practices.

Am joining the rest of the dissatisfied customers who canceled their Optimum account in the middle of a billing period, not realizing that the bill would not be pro-rated. After two carefully worded letters to the Melville, NY office, two unsatisfactory letters of denial were received. Cablevision apparently does not care about their reputation and is hurting their "goodwill" which has been tarnished by many customers. We had been loyal customers for over 20 years, but they are rigid penny wise and pound foolish. So much easier to pro-rate a bill than to have so many complaints.

Optimum IO cable is a perfect example of highway robbery. Everything is one sided. They can jack up prices as and when they wish, change terms of the contracts without getting customers consent, etc. After having multiple rate changes (always prices going up), I decided to cut the cord and move over to FIOS. I called them on December 15, 2016 to discontinue my services. First they gave me a run around, they call it customer retention department who put undue pressure on you and make false representations, they informed me that even though the services are being terminated as of December 15, they will keep billing me until January 7, 2017! They tell me that it is a new policy and I was informed in one of my prior bills (with a fine print!). What a scam!!! Be aware of these con artists! They will get you one way or the other!

Just like any other service provider, they nickel & dime you for every little thing - even charges that customer service can't explain. God forbid you have to move, make sure you cancel the MONTH BEFORE so you're not paying for service that you don't have. Moving or canceling is a very difficult process, but customer service refuses to work with you because "the computer calculates your charges" even if they can't explain it. I did like this company, but now I refuse to ever use them again due to their sheer refusal to work with me when I had to cancel. Customer service and finance charges aside, their internet and cable are good.

I am paying for 100 Mbps but not getting more than 60 Mbps. I called the Customer Service but nothing happened. I feel that I am getting ripped off and this is an excellent case of false advertisement. I am in the process of filing complaint with FCC. I see similar complaints by other consumers but don't see any lawsuits brought against them. I am providing the steps here to file complaint with the FCC which will help other consumers who are the victims of the false advertisement.
You have multiple options for filing a complaint with the FCC:
File a complaint online. By phone: 1-888-CALL-FCC (1-888-225-5322); TTY: 1-888-TELL-FCC (1-888-835-5322); ASL: 1-844-432-2275. By mail (please include your name, address, contact information and as much detail about your complaint as possible): Filing an Informal Complaint | Federal Communications Commission: https://www.fcc.gov/consumers/guides/filing-informal-complaint.

Prices have continued to rise over the years which is disappointing. In the process of switching to FIOS as Optimum could not match their deal. Biggest disappointment is their new policy not to prorate your bill if you cancel your service before the next billing cycle. Very disappointing policy change by the company.

I disconnected Optimum about 4 months now. There were many reasons why I switched, bill got higher, when speaking to customer service it was the worst (guess they make too much money to pay any attention to customers' needs). So 4 months later, they decide that they will come to my house to disconnect the line from the pole (now because it's on the street, I don't mind) but why come into my properly. Why come to the back of my house. It's now considered trespassing, disrespecting someone's household. When I called, it stated I had a scheduled appointment, who called me to schedule this appointment and with everything happening and people getting rob why wouldn't I worry? So I call them and guess what they don't care about past or future customers. They are making money with our without you!!!

Canceled optimum October 8th. Got a past due bill in November. I called to tell them that I had canceled and they actually owe me money. When I got another bill in December I called again. When I finally got thru because I called on my cell phone as they don't let you out of automatic payment I explained again that I had canceled over 2 months ago and was still getting billed. This guy starts going on and on about the great deals he can give me. I told him that the deals are a little late since I turned in the equipment after I canceled in October. At that point I asked to speak to a supervisor. It was a woman who seemed like she would solve this problem but I just got a call from the Sunrise collection agency lol.

Requested increase in speed for internet. The rep told us he increased in and out bill reflected the increase. Service still seemed slow. Figured out that we should run a "speed test." We were only receiving 25 out of 100 mbps. So when we called to ask what was going on they said they have to send someone out and couldn't refund us anything because it isn't part of their compensation policy. Why are they not checking for their customers after telling us we are getting a certain service? Why don't they run a speed test for you?
What kind of company is this is? How many people are being ripped off thinking they are getting something and they aren't because the average person doesn't know about these things and know about speed tests and just trust the company they been paying. I wish that there was another cable company that provided my neighborhood.

Don't make the same mistake I did. Signed up for cable, after having phone and internet for quite some time. Explained to the sales rep. what services I had elsewhere and what it would cost to have comparable with their company. I was quoted a rather competitive price so I went with it. Install day comes and I discover I don't have any premium channels or DVR services. Called and spoke to a CSR and they said, "You should've checked your email which goes over everything that was discussed on the sales call, before installation was completed." Hung up and immediately checked email, but nothing found. Oh wait a minute, I just received it an hour after the installation was complete.
Ok, here I go again, second call. CSR states that they will pull the recording and get back to me, (still waiting for that phone call) but meanwhile I should just get the services I want and if I'm still not satisfied with the product I can cancel within 30 and get a full refund. Researched other providers in the area and end up going back to old provider. Cancelled cable within that 30 day window but kept phone and internet with them as before. Called back and discussed this 30 day money back guarantee, and wait for it, denied. You have to cancel all services to get the money back, even though that is not what I was told.
But the bottom line is, this company doesn't stand by anything their employees tell you even though you make decisions based upon the information they give you. It's absurd, they have the capability to pull the recordings and stand by what an agent of their company told you but just refuse to do so. In making their decision on the refund I ask him if pulling the recordings is part of that process, and he says "No, that's not our company policy." Just a ridiculous experience and now I will be hunting for a new phone and internet provider as well.

ConsumerAffairs Research Team
The ConsumerAffairs Research Team believes everyone deserves to make smart decisions. We aim to provide readers with the most up-to-date information available about today's consumer products and services.
Founded in 1973 under the name Cablevision Systems Corporation, Optimum continues to serve millions of customers in the New York area. The company offers television, Internet and cable services.
Business and residential service: Optimum has a full range of telephone, Internet and TV products for the home and office, and it is a good choice for residential or commercial customers.
Better channel options: With more than 600 HD channels available, customers in the New York area can experience a variety of programming.
Unlimited plans: Customers can get unlimited cell phone, text and data usage, and premium TV services in one package.
Internet-based TV: Optimum offers a digital paid TV service.
Free package: After signing up for broadband Internet service, the company offers a 50-channel package for free.
Best for Television fans who watch a range of programs, businesses who provide entertainment to customers,, households on a budget or staff members and customers with special interests.
Compare Cable & Satellite TV Providers
Optimum IO Cable Company Profile
Company Name:

Optimum IO Cable

Website:

http://www.optimum.com/