Consumer Complaints and Reviews

We have been calling and complaining for months now about losing dvr service at night, constantly being kicked the Internet and losing phone services. After months of going back and forth, them changing the lines in the house, each one saying it was the previous tech fault, changing the lines outside my apt and down the entire block, changing out our router to their router, having the electric company come out and repair their wires etc, etc, etc. Now I'm being told that the reason it doesn't work between midnight and 4 am is that is when they run maintenance. I asked if they run it every night. "Well no the other times are probably just outages in your area again almost every night". Well no.
So I found a website to file a complaint with the FCC (you can do this as long as it is a bundle). So anyone having a problem with service at Optimum can go on to consumercomplaints.fcc.com go to phone TV Internet file complaint. Fill out your info/complaint form. They contact Optimum corporate and follow up to make sure the issues are handled. I Never knew this before so I will be posting this on whatever social media pages I can think of.

It's like they just hiring these people and throw them on the phones. I've been hung up on 4 times now over a stupid remote setting that isn't working when I try to do the online tutorial. 32 mins on hold with one rep over a remote! I ask to speak to a manager. She gets defensive and hangs up on me. I'm sick of garbage customer service when I need it. Do you think I want to be on the phone on my day off arguing about a remote setting?

Had one month overdue. One month. Sent out the check few days ago. AND THEY CUT THE SERVICE!! Like wth. Since when do any company do this. Over one month. Tried talking to customer service agent. But guess what, everything is automated. Their customer service is the worse.

I have been a satisfied customer of Optimum for the past 6 yrs until recently in May 2016 when I moved my account from my old apartment to my new apartment. When I moved I had optimum come and do my installation on the day I moved into my apartment. There was no lapse in service. 4 month later I am being billed $100 for a router that I do not have. When the tech came to do the installation he took all three boxes but supposedly not the router. The statement I recently received did not state $100 for equipment. I assuming it might have been a prorate of services. I had spoken to several people at optimum regarding my account since May including supervisors on other matter. At not one time did someone ask me if I still had unreturned equipment. It was only when I ask to speak to a supervisor I was advised that I was being billed for unreturned equipment.
I explained I gave everything to the tech who did the installation back in May. The representative a supervisor said I had to pay the $100 while they will do an investigation for the equipment and if it turns up then they will credit my account. I asked "why am I being held responsible for equipment when all of the other equipment was returned and not the router. Shouldn't that be on the responsibility of the optimum tech?" Her response was "well Ms. ** what usually happens is if we look for the equipment and we don't have it then its in the customer home." I offered them to come out to my home to check. I said to the rep "so you already found me guilty if you don't have it? How about its just lost. How about you do an investigation and then once it's done if not located then we move forward from then." She said "that's not how optimum works." We went on and on until I advised I would be filing this complaint.
At that point she said she would get the higher ups to call me back because I also said I would file a corporate complaint. So a gentleman called me at 10 pm on a Sunday night at first from a unknown number but left a voice message on stating his name was Ray. He left no rep ID number but he left a callback number. I called the number twice and got no answer. I called customer service again to see if they can connect me to him but I was told they were unable to and that he might have gone for the evening.
As of today 9/26 I have not received any calls from anyone at optimum. While I will pay my bill for my cable, internet and phone services. I do not feel I should prepay for missing equipment that I do not have prior to optimum conducting a full investigation. I am not sure what is going on with the company but I also had an issue since my move regarding false salesmanship regarding their electronic insurance. I was misled about a product. Once I was aware that I was misled I asked for my money back but yet I was still billed. I had to fight for a credit that I should not have been billed for as I stated I no longer wanted the service.

You'd think after this company got sued and settled they change their ways. No they have gotten to be bigger scumbags than ever. Optimum's new scam is to deliberately change your cable modems IP address every 2 days so that every financial site you have such as your credit card, bank, etc, keeps changing your password, asking you for your security questions. Optimum technical support gives every lame excuse into the reasons of why they change your IP address every 48 hours. It's not that they change your IP to the same town, one day your IP address is on town, and the next its 15 miles away then 2 days later it's back in the same town as the first and this happens ever single 48 hours. And it's not like we live in the sticks, we are in a medium populated area. They do this purposely so that they can get you to upgrade to a static IP address shell out another $20 and 3x more than what you're paying for internet.
Usually IP addresses change when you reboot your modem, that's the way they've always been. Now Optimum plays their BS games in rebooting your modem on you every 2 days so that you get calls from your financial firms you do business with, get locked out of your credit card and bank accounts online because they think they are getting hacked by someone. This is all Optimum's fault and when you call support, they try to lie to your face and give you BS excuses. Time for another law suit.
How do I know I can trust these reviews about Optimum IO Cable?
607,960 reviews on ConsumerAffairs are verified.
We require contact information to ensure our reviewers are real.
We use intelligent software that helps us maintain the integrity of reviews.
Our moderators read all reviews to verify quality and helpfulness.
For more information about reviews on ConsumerAffairs.com please visit our FAQ.

Like everyone else here, I too loathe Optimum & hate that I had no other choice as far as a provider. Their services cost a mint & the Internet especially I have nothing but problems connecting. After 10 mins of waiting to get a live person on the phone, I get a different story every time as to why I have so many problems connecting to the Internet: there's too much traffic, I need a new router, restart the new router, let's set up a 5G connection, get closer to the router, I need to buy a network booster. No. I'm not taking money out of my pocket to buy additional hardware, I shouldn't have to!
I noticed these connectivity issues coincided with the end of my 2-year contract -- so it even costs more now per month on top of it! The customer service is awful, these reps don't know the products, don't know what they're doing, they're glorified salespeople. And it's next to impossible to bypass the automated menu to get an actual person! I previously had FIOS & was so much happier with that service. I don't understand how these monopolies are allowed to exist & consumers aren't allowed their choice of provider. If a dish were allowed in my complex I'd go with DirecTV instead. Horrible!

I have noticed on many occasions that I don't get service after 9 pm. This is happening more than 4 times a week. For $172 a month they should not be withholding services. On the website it states they are doing maintenance. I'm sure this is just some lie they maintain while they charge you for something you're not getting. They will prorate your bill if you begin the service after the bill cycle but they don't prorate when you're not receiving the service. Only in America is it ok to pay for something and not get it!

I went to the optimum store in Norwalk, Ct to exchange my broken remote for a new one. I have a service dog and went in with her, she is a 14lb terrier that I was carrying her. The security guard was so rude and, "said you can't have your dog in here." I explained she is a service dog and I had already saw the customer service representative and exchanged my remote but the security guard was very rude and asked what I need a service dog for. The discrimination was not necessary. I was only in the store for 15 seconds.

I am extremely dissatisfied with Optimum. I made a deal with them for 79.99 a month. Last month my bill was 83.31. This month it is $115.32. I called. They act like I'm getting a bargain. I had Verizon. I was receiving at least 13 more channels including movie channels for only 15 dollars more a month. They gave me a DVR I don't want or use. I'm so angry right now. Do not deal with them. They are thieves. At least with Verizon if you call with an issue they will try to give you something to keep you as a customer. Do yourself a favor and use Verizon if you can. You also get better uninterrupted service.

I pay for upgraded internet access and yet the service is spotty and requires constant support. Every time I call for assistance, I get stuck in the automated service loop. Only direction is to reboot and get a signal resent. Finally worked through the machine to get a tech support agent "Byron" who just decides to blame the Wi-fi router even though the cable modem has the orange lights. Luckily he is as useless and painful as the automated support loop. Only willing to send info to an optimum email I don't have access to. This monopoly has to end.

I have been a customer of Optimum for over a decade and have paid them faithfully, well I recently had a hardship where I was not able to pay them for a month, I called them and told them of this and said I would pay something on my bill but they told me that they do not do payment plans. I went into their place of business and paid 150.00 towards my bill and they still sent me to collections which will damage my credit score even after I told them that I would pay the remainder of my bill. I have also filed a complaint with FCC letting them know that Optimum is in a contract with my housing complex and has monopolized this complex and the residents of my complex cannot choose another cable provider. Optimum robs its customers, and has no empathy for anyone. My next complaint will be going to Albany.

I live with my dad and I am responsible for paying our cable bill. The cable is in his name because living with him in temporary. Back in December, I decided I wanted to add HBO on demand and the other movie channels. I called and without an issue, easily upgraded the package and added about $30 to the monthly bill. They never asked for his authorization or anything of the sort. Today, September 2nd, I called to remove the upgrade because I can no longer afford to pay the extra cost.
This time, they denied my request and told me he needs to call in and add me as an authorized user. It's not an issue for him to call. However, I find it hilarious how no authorization is necessary to ADD money to my father's bill but it requires authorization to take away from the bill. It's okay to spend more money but not okay to spend less. Someone needs to retrain their employees. If it was an issue when I added the package, we would have fixed it then. No big deal. They clearly don't want you spending less money for their services. FIX YOUR POLICIES.

They charge 59.95 for service appointments. Next month it increases to 80. They even offer service plans, like it's a car or toaster oven I'm renting. One of my channels has been out for the past two days. I contact customer support and do the usual "what is the message", which now states a lie stating that "the technical teams are working to fix the issue"; and then reboot. Of course that doesn't do anything; it never does. So the representative says he needs to schedule an service appointment. Then comes back and says it'll cost me 59.95 for the service. I ask him/her if this is a joke.
I'm paying for Optimum's service which doesn't work and now they want to charge me to fix it. He/she says it's a standard charge, but there is a service plan of 4.99 per month. Does this make any sense to anyone? It defies all logic! It's like purchasing an airline ticket, and if there's a problem with the plane, every passenger needs to pay a service fee to fix it so we can get off the ground.

Optimum keep increase the wireless internet connection rates, saying some story on promotion offer got expired. When spoke to customer service there is no proper response and gives diplomatic replies. I am sure they are running their business as monopoly in my area with no satisfaction for many with respect to service and rates.

I literally lose my Internet connection multiple times a day... They went in my house already 3 times to fix the problem. The last schedule was for today between 2-5 pm. My luck that I call them at 4 so they told me that I reschedule appointment for tomorrow... What? I record all me conversation, when I told them that I work and it has to be today not tomorrow, but of course they don't care, they just want you to pay bill even if you don't have Internet...

I began using Optimum cable Internet service when I moved several months ago to a building with nothing else except Verizon copper line service. I previously enjoyed FIOS. After several months of assuming my outgoing mail was being swallowed by recipient Spam filters, I discovered that my IP address is on three major blacklists and has been so for more than a year. In other words, Optimum assigned me an already-blacklisted IP number. They insist they have no way to request a white-listing of the address and that the only solution is to throw out a rather expensive router and install a new one, which they could well assign another blacklisted IP address. It should be a federal crime to assign someone an IP address without first verifying that it is clean. Telling the customer to keep buying routers until one of them is assigned a clean IP address is unconscionable.

So I pay is $85.23 for the G5 internet ONLY!!! No TV, no phone, nothing else... So I called so I can get cable TV right... So they said they can upgrade and give me TV for $170 extra on top of my $86. So that's $260 just to add TV. They said they had to give me the phone. If not it will cost more. So then he says "Ok. I can do it for you with a discount and it will be $102.53." I said "Ok now we talking triple pack." So he puts me on hold because he has to talk to his Manager to give me the discount... You know the whole Bull Crap scheme... They put you on hold, come back 3 minutes later saying "Ohh man it was hard but I begged my Manager to hook you up." All the time it's bull crap. They don't talk to NO ONE.
Then he says "I got you with tax. It's going to be about $110." So I say "My new bill every month not going to be $85 no more. It's $110 right???" He says "No. It's the $85 plus $110. More roughly like $215." I was like "WTF. You said $110." He said "No. It's $110 added..." SO PEOPLE LISTEN CAREFULLY CAUSE OPTIMUM WILL ROB YOUR BUTTS WITH YOUR PANTS UP TO YOUR NECK... and they say all the deals is only for new customers. HELLO. So they say you have to cancel your account for 30 days right then call back. Well stupid people. When customers cancel they don't wait 30 days. They just call another cable company and lose out on millions of customers with their bull crap scheme... Why not just satisfy the customer and give them what they want instead of lying and stealing and scheming us.
So now I rate OPTIMUM #1 BUT #1 BIGGEST CROOKS. I say to all leave Optimum and go with Verizon even though it sucks because you have to wait 5 minutes for the channels to change. It suppose to be faster but when you change the channel you can go take a bath, come back and it still loading... So next best thing everybody go buy a digital powered satellite and have all the free cable in the world. No payments. Shut all these legally criminal cable companies down...

First let me say I have had Optimum for TV for years and never had a problem but it seems the company was just sold and is slowly turning to crap. For the last 3 1/2 years I have had TV/Internet/Phone and about 6 months ago their services started to disconnect intermittently every day. I have had 4 techs and a supervisor out here and each one has no idea what is going on. All I have heard so far is the problem only happens to me. Like that is reassuring. All customer service wants to do is send another useless technician out here because they can bill you for that but admitting that the problem is theirs would mean they have to pay and it would also open them up to having to re-wire my entire apartment building.

When I first moved into my new apartment, I didn't realize that Fios wasn't available. So I had no choice, but to get Optimum which it was a mistake. I only has internet at. After a year I decide to upgrade to tv, so I called asking my what promotions they have for tv. I also told them on their website that they have tv and internet for $69.95 for 2 years. The man told me that it's not available. It's only for new customer and that I can't get the tv without the phone. So I was paid 3 years for the phone service that I never used. 4 years go back they mail me a letter say that they're raising my bill for $100 to $140 so I cancelled cable tv and phone. I just have internet right. Please guy. Don't get Optimum tv and phone. Don't waste your money.

No wifi over and over with this company beginning three years ago. They have sent techs out so many times. They told us to replace our router which we purchased on our own. They gave us theirs. Then they came over and rewired. Then they told us to buy a booster. Then they changed their router to their latest model. Then they came again and changed their router to a better one. Then they told me not to use the booster they told me to buy. Then they changed the router to their latest brand new model.
Then the rep told me I should try to connect on the 5G because there are less devices that can connect to that, less demand. No service, no service no service. Then the rep said that there are busy times where the customer demand exceeds their capacity and to keep trying the 5G. I am paying for a fictitious product!!! There are more customers and demand and no way to deliver. Then they gave me an app on my phone to contact them to troubleshoot, and now the app says it can't process my request! I am fed up.

I have had Optimum for cable, internet, and phone at no choice of mine because they are the only company that service this area, and where I live DISH is not allowed. My issue with Optimum is that you are charged outrageous amounts for the triple play, but then you receive extremely slow internet. I spoke to many reps who ran speed tests, and had me plug things in and out of my computer and router. But of course the verdict was my speed was great, yet I still can't get proper internet on 4 of my devices. The rep continued to tell me that I should have all of my devices checked, which included two brand new Samsung S7s, a Samsung Smart TV, and HP laptop, that are all new devices!!! I could not believe he told me that all my devices has issues instead of trying to help me with my problem. They suck, and I will be switching to FIOS.

A few months ago I was pleased to be on Optimum for internet. I could speed check and consistently reached @ 20mbps. For the past month service has been slowing down, more and more. I have complained to them on chat and over the phone. For a day or two after the complaint the speed would increase. Then, their speed cratered. Now I speed test and the speed is barely above 1.3mbps down/1.2mbps up load. They are truly the most horrible ISP. Look at their site. They hide phone contacts and make actual contact about service and complaints a chore just to find. This is a symbol of an inferior company. This is a company that should be stripped of their authority and should be enjoined by the FCC for their abusive and misleading trade practices.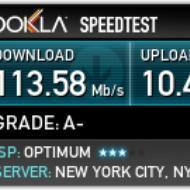 I have optimum 101 for about 3 years, since the beginning always I have issues with the upload speed. I can't broadcast my TV shows, I can't host my Software Service for Car Service as I'm supposed... I just have Optimum 'cause it's the only one in my area. I can't keep up with this any longer, they can't handle the service they offer us... For the record I work with my own software and provide service support for Taxi Companies in Brooklyn, Queens, Bronx, NY and LA. Whenever is a problem with Optimum Internet Service, I check my client's internet speed 'cause they use Optimum also, and all of them got the same issue at the same time so the trouble is in the Company Equipment Servers or nearby their own location... I'm trying to get fios, but is not available in my area.

Spoke to a field rep about getting our internet service back on. He told me all we had to do was pay the minimum balance and the service will be put back on in 1-2 days. 1-2 days passed and no service. Tried calling the field rep, but I got no response. At that point I'm feeling like I was tricked/lied to. I call customer service. Whole new story! They tell me I have to pay the whole balance plus the next month in advance, reconnection fees and other fees. Before this I was already upset about all the countless times I called Cablevison asking them to fix my already slow and choppy internet connection all to get no response or field rep to come and fix the issue. I'm tired of Cablevison and all their lies! If anyone knows who I can talk to to complain about this company please let me know.

My internet service has dropped everyday for the last year. At first I would call to complain but I would just get generic responses blowing me off saying it was my laptop or I was probably sitting too far from the router. Meanwhile I would be right next to it. And of course there's the classic response to just turn it off and on a couple of times. Really? That's what I want to do while I'm working from home? I need to tell my boss, "Hang on. Let me just turn off my router and we can get on with the meeting"? I literally lose my internet connection multiple times a day...and it's been a year of this.
I grew up with dial up in a third world country and that was less frustrating than this. Dial up where you heard that noise and all that was better than this mess! But of course they still charge a ton of money and let's not get into the rip off that cable is. Paying all that money for crap service and a landline I don't use. The government needs to step in with this company. The whole industry needs to be revamped. How is it ok to rip people off like this? Optimum is total rubbish!

I called the company a few weeks ago to let them know whenever I try to watch my recorded shows on demand I'm unable view any shows. This been happening for a month. Two technician came, couldn't solve the problem and said it's a system problem that the company had to fix. I've been with this company for years but when I called to get an extension on paying my bill because I don't get paid till next week, the rude agent informed me that it didn't matter that I had to pay my bill by the 18th. Optimum gives bad service, rude customer service, raise your bill every year and call your phone reminding you that the bill had to be paid by the due or else. Myself and few of my neighbours have same complaint so we will speak to the landlord concerning putting Verizon FiOS in the building. Optimum is the worse cable company.

Our bill was becoming unmanageable for us. As we are retired and our children have grown we have had to cut back. 2 months ago we had to stop our Cable service. We had been a customer for over 21 years and had our e-mail account with them with the same name all that time. I was never notified that my e-mail would be stopped without warning. I just went to get into the account to check my mail and it is completely gone! In speaking with support, they say it was a privilege we were afforded only because we were customers. When you have a customer for over 21 years that always paid on time, couldn't they have at least warned us to switch over our e-mail server? This is so upsetting. If we were ever going to get cable I would never have Optimum ever again. They've definitely lost this customer household.

My service was interrupted. I called and they sent a technician. When my bill came it was very high. I called and they told me it was because they need to change the wiring. That was a lie. They only changed the small piece from the wall, supposedly it wasn't working. Then just for one time I was unable to pay my bill on time, it was disconnected and they charged me 7.99 for each device (I had triple play) plus the amount I owed. They're charging me 5.99 for a sports channels that I don't watch but because I have preferred service those channels are included, so why pay 5.99 if they're included.
When I called when my service was interrupted I asked if they can waived the 25.00 fee for reconnection based that I've been for many years with them, they said no. Their packages are very expensive. The worst thing is that several movies channels are showing the same movie, some of them at the same time. Others at different hours and even worry every day. Unfortunately Fios isn't available in my area yet I just want to switch so they could appreciate valuable customers like me.

This company is really hard to work with when you call them and you either get rude customer service or one that doesn't know its own products. They get you with a good deal then increase it every year till you have no choice but to find someone else and switch. I have two accounts with them and I've been with them for over 5 years but I just got another letter saying that they are increasing their rates again. The reason I have two accounts is because I have my own and then I have my mother's which is under my name and I pay. Well I called them again because they are raising my prices yet offering new customers deals a lot better than I'm currently paying. So they treat new customers great to get them to switch then hike up the prices every year and force us to leave.
They rather lose both of my accounts where I'm paying almost $400 to take in new customers for less than half? Sounds like bad business practice but oh well I just made an appointment with Verizon Fios and they are switching me this Friday. When I called them they were "oh well there's nothing we can do for you. We can't offer you any other package." I know as soon as I leave they will be sending me e-mails 'Please come back. We have this offer for you and we can do this for you." LOL. Ridiculous these cable companies.
The same thing happened with Verizon. They wouldn't work with me so I left them for Optimum. Now I'm going back great package, $300 visa card and price locked for 1st and 2nd year of 2 year contract and they have to come and install it for me. Like wouldn't it have been easier if they would have worked with me and not lost me as a customer in the first place? In two years I'll probably be doing the same thing if Verizon Fios doesn't work with me. Comparing the two though I got to say Optimum's customer service are a lot less likely to work with you. Verizon kept me for over 10 years. This one I was ready to leave after 3 and I'm finally leaving now. They are losing two accounts.

When we first moved into our apartment, the representative assured us that we could keep our phone number with Optimum. The technician came in and hooked everything up. He told us that we could keep our number if we called optimum after he left. We called and were told that we could not keep our number. We called our old number and it was already taken. Recently service was interrupted in our building. Although other people's service was restored, ours was not. We called and they said that they could not fix it remotely and they sent someone out. The technician checked the cables and the boxes. He tightened the wires and left.
We received a bill for 59.95! When we called to dispute the bill, the supervisor stated that he had to charge us because the technician replaced some cables. My husband watched him and talked to him throughout the time he was in our apartment. At no time did he replace any cables. When we explained this to the supervisor, he would not take the charge off our bill. As soon as Verizon is available we are switching. Our cable boxes have never worked right. We are paying for DVR but it doesn't work. We are paying for On Demand and it doesn't work. At this point we don't want to complain to them because they will only charge us for doing nothing!

ConsumerAffairs Research Team
The ConsumerAffairs Research Team believes everyone deserves to make smart decisions. We aim to provide readers with the most up-to-date information available about today's consumer products and services.
Founded in 1973 under the name Cablevision Systems Corporation, Optimum continues to serve millions of customers in the New York area. The company offers television, Internet and cable services.
Business and residential service: Optimum has a full range of telephone, Internet and TV products for the home and office, and it is a good choice for residential or commercial customers.
Better channel options: With more than 600 HD channels available, customers in the New York area can experience a variety of programming.
Unlimited plans: Customers can get unlimited cell phone, text and data usage, and premium TV services in one package.
Internet-based TV: Optimum offers a digital paid TV service.
Free package: After signing up for broadband Internet service, the company offers a 50-channel package for free.
Best for Television fans who watch a range of programs, businesses who provide entertainment to customers,, households on a budget or staff members and customers with special interests.
Compare Cable & Satellite TV Providers
Optimum IO Cable Company Profile
Company Name:

Optimum IO Cable

Website:

http://www.optimum.com/