Consumer Complaints and Reviews

Cox communication is the most ** company in the universe. Worst than dealing with the Federal Govt, the Post Office, the IRS and many others. This company should be put out of business due to the lack of capable of people who are so damn stupid they couldn't even tie their own shoe laces. Would you believe I was transfer 10 times just to speak to a superior who was totally worthless and unable to provide any assistance in the matter. Had to go to the Cox Store as the tech didn't have the right equipment in the first place then find out the equipment didn't work once I got home, had to leave work early to wait for a new tech only to have the asshole leave a note on the door as he was too damn lazy to ring the doorbell as I was home waiting for him.
Called the tech dept to speak to a mgr. Get transfer again and again getting the run around so I'm so ** fed up with this ** ass of a company. I'm taking my business to another company and if you really read the complaints that people write about Cox you'll stay away from them and use another company. If you use Cox then you're more stupid than the people who work there and you deserve the bad service you'll get when you use them. I'm going to DIRECTV and also the small claims court as I intend to sue them in court for my time they wasted.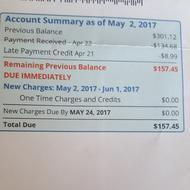 We have previously had a different cable company for 2 years and never had an issue of this type before. So we have had our service now for two months. The first bill I receive was supposed to be $103 according to their website when I set it up. I receive the bill and it is $133. So I call them and they tell me that there must be a glitch with the system and the "maybe" the taxes were not added. Time comes to pay the bill and I pay $100 at the pay site and then come home and pay $34 using the card. The bill shows up a week later and says $234. I try to call and the won't speak to me because I put it in my husband's name. So it takes him a couple days to get around to calling them. By then he tells them that he wants to take everything off but the internet. They say that will lower the bill to $84 per month. Suddenly we get a bill of $301 in the mail.
My husband calls them April 21st and tells them to turn off the service and he wants to pay it in full. The lady in billing says the bill is $168 and the will be sending a refund check of $33 when we return the equipment. Today I receive a bill of $157 and mind you the service is off. I call them once again and just request they send me an itemized bill to the address because I don't understand. Once again I'm told I'm not on the account. I said "What does it matter. I have the bill that you sent me in my mailbox. Just send it to the same address you've sent all my bills to that I call you about." I just don't have an understanding of the bill or how I can be billed these amounts for a service I've only had for this short period or for that fact when it's turned off and we returned all the equipment. Worst company ever!!! If you wanna get screwed and throw your money away this is where to do it.

I had a heart attack on 01/09/2017 plus was hit in the back of the truck by 2 cars with my elderly mother. Since then I have been on disability, going to therapy with a Pinch Nerve & a slipped disc in my Lower 5th Lumbar. Haven't been able to work due to my injury, and my little disability check barely keeps the lights on. I explain this to a Customer Rep for Cox & they sent a man to my house to take my equipment that I've had since 2016, in my new house. Had you, I've been a member since 2000 & thought they would have compassion on my family. My wife & 3 little kids were nervous when the man came & made us feel like criminals.
My cable was only disconnected 3 weeks, & here he was coming to get ALL of our Bundle package, including the alarm equipment that I've brought & paid for. I didn't allow him in my home, thanks Cox Cable for showing me how much of a valued customer we are. Kick a man when he's really down. Sad part is as soon as I receive my Lawsuit Check, I'll be paying Cox in full, but I know for myself they don't care about the customer, only about the money. Oh, & this don't even include how many times they're calling about my bill since they've shut me off. Again, thanks Cox Cable for caring.

Just spent one hour of my time (which I can never get back) at my local Cox Communications office in Las Vegas. I went in there for a change of pace from wasting one hour with Cox on the phone, my usual tactic. In Las Vegas, Cox has been advertising cable TV bundles starting at $89.99. This price includes 200+ stations, 50/5 internet, and a landline phone (Oh wow, a landline!). Also, free install and one free HD receiver box.
For the same internet, no phone and 115 channels with two HD boxes, I am paying $133.00. I went to see if they could work something out so that I, as a loyal customer of 13 years, could get that $89 deal. But the rep said, "No way." As I am an 'existing' customer and the deal is only for 'new' customers. He did, however, offer me the same deal for the loyal customer price of $141.00! The only other choice was to cancel everything, wait three months and Presto! - I'm a new customer who qualifies! Does any other business other than the cable companies mistreat their long-time customers and reward the new ones? What school of business teaches this form of customer service? Even the Casinos here in Vegas give their loyal losers a t-shirt or a free buffet now and then.

I wouldn't recommend nobody to get Cox. They are a ripoff. They charge you 2 months in advance and they charge you for stuff that you ain't supposed to be charge. Cox has bad customer service when you go into the store and they way too expensive. They ** you over.
How do I know I can trust these reviews about Cox?
766,190 reviews on ConsumerAffairs are verified.
We require contact information to ensure our reviewers are real.
We use intelligent software that helps us maintain the integrity of reviews.
Our moderators read all reviews to verify quality and helpfulness.
For more information about reviews on ConsumerAffairs.com please visit our FAQ.

Cox is the worst. I called Cox to cancel my phone service. When I called the first time it was in the evening. The person told me my bill would increase by 100 dollars because of my bundle. They told me to call back in the am when the loyalty department was in. I called back and asked to cancel my phone. To my surprise the agent told me no problem. I asked him to confirm this several times. He confirmed it and said my bill would be reduced by 20 dollars. I asked him to disconnect the service on the following Wednesday as I was having my alarm service coming over on Monday to move me to wireless and I wanted to be sure it worked. The alarm company came over moved me to wireless. My bill for the alarm increased by 10 dollars a month. But I saw this as a wash because my bill with cable was being reduced by 20.
On Wednesday my phone was still on. I thought maybe they disconnect at night. On Thursday it was still on. I checked Friday morning it was still on. So I called Cox. The agent I spoke to said my phone was never disconnected but reduced to a emergency line only. In addition the bill was never reduced by 20 dollars but only by 2. I explained to the agent that the previous agent assured me that my phone service would be disconnected. He said that was untrue because it was only reduced to an ER only line. So basically he was calling me a liar. I was infuriated. First I would have never moved to wireless with my alarm if my phone was not being cancelled. Second my alarm bill increased by 10 a month.
After arguing my case and getting nowhere I asked for them to cancel my phone and cable all together. Only after my request did the agent reduce my bill by 10 more dollars. I cannot stand Cox. They screwed me over. I going to buy an HD antenna today to cut the service. I have been with Cox for 20 years. I am done with them. They have to win my service and they have not.

Cox Communication is the most disturbing unrelentless commercial packed cable service in the United States. It's absolutely the most disgusting service I've ever had in my life. Constant commercials, you get a series of shows that continue to be the same ones over and over and over again, the hundred $50 a month and you have absolutely no other recourse but to watch commercials and TV at $150 a month. This is totally completely outrageous. It's so disgusting I can't even begin to tell you that basically we are paying for commercials. That's the bottom line and never mind the Contour because Contour gives you like nothing you think. They might add one little extra little Movie Channel once in awhile for $150 a month. You people are like deadly sharks.

In Feb I called Cox to see if they could lower the bill for my mom. Reason was because my dad just passed away of cancer and my mom had a lot of medical bills to pay. The women I spoke to in the loyalty dept was wonderful and said they would lock her in a 2 year contract at the rate she was paying. So last month the bill went up again. This month it went up again.
Called back and asked what was going on and to please pull up the recorded conversation with the person I talked to. I got basically tough crap and, "We don't have the recorded tapes. You have to go call their home office number." They were even less helpful and told me that wasn't what was written down. I told them, "Please check the recording." "We only keep the recording for 90 days." "Ok, it hasn't been 90 days please check the recording." "Nope we don't have it." Well they should have it since the recording wouldn't be erased until May. So basically I got a big ** from them. It's a shame they took advantage of someone who lost her husband of 50 yrs and is elderly. I am so upset right now, it's not funny.

We moved to Pensacola a year ago last January. Chose Cox as at the time it was them or the satellite option. We had our own lifetime TiVo unit (No monthly charges for our own DVR) only needed some cards that click in the back to work with their system. Well it took the first day very good install. All new cables throughout the house. The day after had problems without TiVo connecting to Cox. Out comes a tech. He fiddled with it for almost 3 hours. Could not get it to work. Two days later (Mon) a Cox tech that had experience with TiVos. He got it working by adding some filter and reprogrammed the cards. Wasn't a month he had to come back. Set up different filters and it got better not perfect. To make this short, we had 18-20 visits to attempt to get the thing to pair up to Cox. I had TiVo check my unit and gave it a perfect condition report as Cox was saying my unit wasn't working.
First they had me buy a new wifi antenna for it. Made no difference. I finally said look I'm spending just under 200 month for cable some premium channels no DVR. A plain box in living room and a different box in bedroom for the TiVo. Plus internet at 100 mbps. Plus basic home security system. Not a bad deal. But I'm paying for two cable cards and can't record a thing! So after 6-7 months I offer to save $$ for them supply me with their DVR and I'll put my TiVo into its box. That way they aren't sending techs weekly. So they agreed to only charge me 3 dollars a month for remainder of contract. So it was straightened out. I came to a point needed to cut my bill. Dropped premium channels and internet down from 100 to 50 mbps. My bill went down $30. It helped. But the wifi wasn't connecting half the time. Got a notice from Verizon our data was hitting the 6 GB per month.
We're retired and don't use much Data. Rarely over 2 sometimes 3 gigs. I mean I couldn't get Facebook to open in my living room less than 10 ft from the router. So now have to have cell data off for everything minus phone map etc or we burn data sitting in front of Cox router!!! Their comment. "We sell internet service but do not guarantee wifi service." ARE YOU KIDDING ME??? So I visited a Cox location going to drop all but basic channels up my internet back to 100mbps, buy a wifi booster for the house. Finish the last 8 months of contract then just get Internet from the best reviewed company here in Pensacola. There are a few more choices for that. On being AT&T is one of them.
Hope Verizon steps in as running our phones with my daughter and a 4th line for her mom (my ex) we get a 20% discount. With taxes and fees and 6 GB of data for our two phones the bill is right at 95-100. We've paid our iPhones with them. If I could get internet through them with our discount. That's where I want to be. FORGOT to mention our bill was at $175 after canceling some options. As of Jan 1st SURPRISE!!! It's now 208!!!!! Up 20 bucks higher than when we had 100 mbps internet and all the premium channels!!! Price hike I'm told! Well they best wake up. More and more companies are starting to serve this area. A few get in and COX is doomed!! I'll never sign up with them again!!

First off... Orlando in customer service is awesome. He made a very frustrating situation so much better! I wish I could say there was no frustrating situation but he listened and helped me get it straightened out. Also I had internet issues on Easter Day. I called in to the customer service line and the rep was very kind and helped me out. I really appreciated that. They are only reason this review is a 4. They each deserve a 6/5. They are the only reason I didn't just cancel my business and go to the competitor.
I was looking to get internet - as I use Netflix and don't need cable. My salesperson told me the cable internet phone bundle came with free installation and I could switch down to any other package anytime. The package I wanted just internet with the installation would have been exactly the same almost as the bundle which came with free installation, so why not have cable for a month right? I double checked that I could call and switch anytime. He said, "Of course." Also I have my own router. They charged me for it in my first months bill. I understand that happens so I figured when I called to switch down I would mention that.
Fast forward... I called in to switch down to only internet. I knew it wasn't going to work with my budget as I just got a pay decrease monthly. I call in and they say I can't switch to that because I am no longer a 'new customer'. I call my rep. He says he has to talk to his supervisor. Eventually there is plan to have me return the cable box and remote and then they would 'see what they can do'. I said, "I will bring it back but I need you to tell me you will make this right." He said, "Yes I will." They will refund me for the router and fix my price.
I returned it. That was 15 days after install btw. Over a week later still no details on how it is 'made right.' 8 days later he says it will be fixed. No refund for the first month, which I told them that is fine because that would cover the installation cost anyway. Then he says this month will be still the old price. Then drop down. I said, "No way. I am not paying for 2 months of cable and phone that I had for 2 weeks."
I called in to customer service. Orlando said my bill this month is because there is another piece of equipment that needs returned and it's on my bill. My rep never told me about that. Orlando said if I can't find it he will send someone to get it free of charge. Also he said my router fee was never refunded and was still on my current bill. He took it off and refunded me from last month router fee. What a freaking mess. This has taken so much time and could have easily been avoided had the rep told me the truth or listened to what I wanted.

Phone - Internet - basic cable w/ 3 mini boxes. Had the contour when I asked to reduce my bill from $220.00. The next bill came in at $245. Went and turned in the contour because I was not given anything like they display it is. Much more usable is the mini boxes. Still trying to cut the bill down. They are very hard to talk to without being beat up on in their offices on Bell rd. Made to feel stupid and dumb. All I want to do is reduce the bill. They have the best Internet around, but at a price. They know this and hold it over you. Was told if I don't like it, then switch... you'll be back. Soon CenturyLink should have their act together and give them a run for the money. That is if Arizona/Phoenix will let them in all the way. And COX know it.

Prices always changing even if you have a 2 year contract with them. I canceled my contract and now they are worst. They lied to me about the price I was supposed to get and I'm not even getting the service. They want to send a tech over but I need to pay $75 for that. I spoke to a supervisor which her name is Jane employee number ** (maybe it's a lie too). She was even worse. She just straight out told me that they can't do anything about the service. If I want to downgrade the service the price will remain the same as what I'm paying right now. Or if I just wanted to cancel the service with them. So it seems like they don't even care about customers.

I know I'm wasting my time complaining about a big corporate giant like Cox Cable. Being a "loyal" customer for over 28+ years (more like secret code/signal for customer won't leave so take advantage and feeling like a "sucker"). I know Cox have a monopoly - hard to believe we can still have this today's world in US. It would be criminal if you agree to a price and every time I called back it went up $10-$12 when quoted and how convenient my order is never in the system. When requesting an email confirmation on what we agreed to or call back number to representative answer, "We don't have email." (Cox is an ISP and internet provider, but do not offer email communication for CSR agents??? Strange isn't and you can never talk to the same representative twice either.)
Every time call back, "Please give us 48-72 hours to update our systems." When I call back again quote a different price went up again $10-$15. I call back 3 times and my price quoted jumped from $179 to $199 including tax. Reason initial call was because my price went from $189 to $230 (for TV & internet) for no reason? CSR told me as a "loyal" customer (labeled on the phone), I should go for silver package bundle include TV, internet, phone to get better price because I'm paying too much for old equipment only 2 services. OK sounded like good ideas, so the black hole started. This took 3 frustrating weeks to get order completed and 2 weeks to install phone service because was given temporary phone number while waiting for my phone number to ported over. Yes, we had phone service, but anyone trying to reach me via my home number was getting "phone disconnected/ out of service". Basically, useless!!!
The kicker was after reluctantly settling for $199 price including taxes and fees with CSR, when I got my statement bill, guess what... to my surprise $213. Again, another price increase, of course no written proof from my side, my word against Cox agent. Ridiculous, I would be sued as a small business owner and criminal act.
So, do the math $10 times 100,000 subscribers = 1 Million addition dollars per month x 12 months... $12 million dollars SCAMMED from Cox customers. I don't know actual number of customers, might be a million households across US. Numbers are probably larger, remember I'm using $10 (usually increases are greater). So, the system is rigged against the individuals but if FCC looks at the larger picture they would find the act criminal. People don't want or get frustrated to speak up about $10+ bucks. Again, no decent communications with CSR agent, prices mysteriously just jump at random. Every time you call to complain about price, the agent tells me to remove mini-boxes or receiver change plans (always come out to same price for less services).
Cox gives you the runaround, transfer another department. Always canned answers, really. I would love to change provider if I could, but I don't have another decent option available in my area. Cox is preserving the way they do business because it makes business ($$$) sense for them to make additional millions for nothing. Come on Google get the gigabyte network and give the cable companies a run for their money. Frustrated, waiting for solutions especially a game changer.

I'm feeling discouraged about continuing service with this company. My installation was set up for 3-5p. Why did the installer call at 430 to state that he didn't have the equipment to do the job. A pm installation and you wait until time to do the installation to say, "I don't have the equipment." If this is the way Cox does business I'm going to rethink my services and go elsewhere. With the multiple excuses I received within 15 mins. man... Cox SUCKS.

Cox is way too expensive. Very unsatisfied. Have been a loyal customer many yrs. Recently called to see about getting bill lowered and would not. The prices of tv and internet are outrageous. Will be looking around for better service with someone else.

We have had Cox going on four years now, I have had Comcast, Bresnan and Sat and Cox is by far the worst there is. We just upgraded to the contour 2 box and service and that's a joke with them, Comcast has their stuff together but not Cox. When they first came out to hook it up everything was OK for a little while, we had 2 contour, 2 dvr boxes and one client box (we record a lot). Our bill has been over 300 a month so we decided to cut back a little and try to get under 200. Well to do that we had to remove 2 boxes and only keep the 1 contour box, remove all movie channels, only local calls on the home phone (which we don't use just have it because without it our bill would be 40 higher). So basically we have the basic package they have, local home phone and internet (also a joke) and that got the bill to 212 a month. Still more than its worth for mediocre service.
Our tv constantly loses signal, we pay for the 150 mbps internet speeds and we have only ever been able to get 35 to 40 on a good day. 12 techs have been out with no solution. When we got rid of the 2 boxes I took them to the Cox store and the idiot turned off the wrong box so when I got home the box was off. I called to have it reactivated but after 6 transfers they couldn't get it activated again. (Lost all my recordings) Guy came out to replace the box, the one he replaced it with was an old contour 1 box refurbished into a contour 2 box (bs). It lasted not even a week then took a crap (lost even more recordings).
I was told that the reason Cox sucks so bad is because the lack of research and development. Comcast spends millions maybe billions on the technology but Cox takes shortcuts and spends a few hundred thousand to have old technology refurbished. He installed a new box yet again which brings us up to current. Bottom line is don't go with Cox if you have another option. They are a rip off and only care about their bottom line and do not care about their customers. We are about to move so we are cancelled our Cox and going with Directv. We are getting every channel, including all premium channels, internet for 80 a month for 3 months then after that we pay 50 more for the premium channels which is still only 130 a month compared to over 200 and having to cut back from our cable to get to that price. PEOPLE STAY AWAY FROM COX. STAY FAR FAR AWAY. I PROMISE YOU THAT YOU WILL REGRET IT DEEPLY.

Cox Communications is a major Ripoff!!! Its 2017!!! Do they not realize there are plenty other options available? People are getting better deals with no contract, no surcharges, and no ridiculous taxes & bogus ass fees! Basic cable, internet, & phone should not cost us $200 + a month! WARNING: DO NOT DO BUSINESS WITH COX!!! BE CAREFUL. If you blink your eyes your bill will quadruple and metamorph into a price that makes no sense at all! I predict by 2020 Cox will be a thing of the past b/c bankruptcy will be their downfall. Cox Communications are CROOKS! We are not paying another penny, nickel, dime or quarter to Cox money hungry asses! Yall have serious issues if you think yall will continue to be successful! Ha! Ha! Cox who? Is what everyone will be saying sooner than you can say Bill due!

This has been the most unbelievable situation in dealing with a major corporation that I've ever had in my 57 years! We were in a major Natural Disaster, and was moving back into our home after losing everything, having coverage on our home, but not the contents. I say this because we were dealing with rebuilding a house and remaking a home, spending nearly our entire savings to refurnish a home. I've been with Cox for over 27 Years. I own my own DVRs (Tivos) but rent my CableCARDs and decoder adapter from COX so as to be able to receive service on my TIVOs and have access to COX On Demand. After moving back into our home we started to set up our electronics, but couldn't get our Cox On Demand to work. Tivo's have an icon for this service, and we use it nearly every night.
I will sum up the 4 weeks of dealing with Cox CableCARD Specialist for hours and hours they would send a tech out. I'd always request No COX Contract Workers, as they Never know how to fix ANY situation, but due to the disaster, we are flooded with them. They were rude, argumentative, going so far as to call and Refuse to come out because 'their' supervisor said Tivo's do NOT get Cox on Demand. Finally I got a good Cox Tech who came out on Jan 13 2017 and informed me that he decided I needed new CableCARDs and Decoders and that he would set it all up and HE would come back on Monday the 16th (Let me interject here that my TV had been sitting on the floor, because we hadn't decided where we were going to mount it, and it's SO big, that it actually covers the front of the credenza that is full of junk that we were actually considering Leaving it in front of the credenza.
This issue really has little to do with the story, as it was sitting there when every Other tech came out and there were no problems with it, and if they Thought it shouldn't be sitting on the floor, then they should Not have touched it (Just a little side point, in case someone wondered why the TV was sitting there)! Anyways, Monday rolls around and I get a call at 10:37 am from a phone with an Arkansas area code (479) (I'm in Louisiana) and the guy on the phone says "Hey your job just got dropped in my lap, because the Cox Tech is tied up at another job. I see in the notes that you do not want another Cox Contract worker coming to your home, but I just finished fixing the same TIVO issue, so if you WANT me to come Fix your problem I can be there between 3 and 5pm." Hesitantly, I accepted his offer. Oh how I wish I never made that decision!
So he called me from a Different Arkansas Cell phone number, at 4:24 telling me that he was at my front door (my doorbell isn't hooked up yet) and I showed him my 60 inch Vizio television and we went through all the channels with him standing and watching it. I showed him the on-demand icon and he saw that it was not working. I also showed him the menu which shows the CableCARD/Decoder id numbers, serial number etcetera and he needed to look at the wires coming into the house. I walked him around the side of my house, through a gate, where the line comes from the 'tap'. He said that there were all sorts of issues with the installation prior to him coming there, that there were too many staples, he said and he just was not happy with the install so he said he needed to go and get something in his truck. So he went around the house in through the gate that he had initially walked through.
I came in through the Bask door and went into my bedroom completely bypassing the living room where the TV was. I heard him enter the home through the front door and I heard a crashing sound and I heard him say **. So I went into the living room where he was standing in front of the TV and I said "What's wrong" and he said "Oh you don't get On Demand and I've already talked to my supervisor." I looked down at the TV and it was cracked and had a huge black bar running vertically with my electric screwdriver pointing to the crack that was causing the big black band!!! I asked him what did he do to my television and he said, nervously, "What do you mean" and I said "You don't see the giant crack in the TV and the black band across the TV and the screwdriver that Obviously fell when you were moving the router and the modem and the decoder around on the credenza!!!" and he said "Oh I thought you did it."
Needless to say, I became a little irate and called Cox at 4:40 PM telling them the story that has unfolded, and then the Contract Worker became irate and said that he was calling his supervisor and I said "That's fine with me!" I was told by the lady that answered the phone and took the information down that she would submit this claim and "Don't worry Cox will take care of this because you have been a loyal customer of Cox for well over 24 years!" Well I only heard from Cox two times once to tell me that the ID number and the name that I had given were not the person that came to my home and I told them that I had no idea who came to my home.
I just was given this ID number from the COX Representative that took down my claim (she Obviously was showing the COX TECH ID that was Supposed to come out, the one that came out on the previous Friday, and had promised to come back on Monday, but was unable to. So this Cox representative on the telephone who said he was a supervisor trying to 'figure out who was sent out to your house on the 16th'!!! I told him that I had the Cox Contract worker's 2 telephone numbers which he used to call me on that day!!! After giving him the 2 phone numbers, I told the supervisor that I did not appreciate the fact that Cox had no idea who they sent to my home that day, and that that seemed very irresponsible. He told me that he would call these numbers and would continue to investigate! He promised to get back with me within 48 hours. He never did.
I called Cox every 48 hours and spoke with supervisors every time, 'escalating' the issue to a higher 'level'! Always being promised that I would hear from someone within 48 hours! Never did! I went into the Cox Store, always being told that I would be contacted within 48 hours, always Shocked and So Sorry that I was going through this and that there was no excuse for it, and that Cox just needed to take care of the problem and reimburse me for the TV! (I even offered to accept a credit to my account, because, needless to say, after 9 Weeks of this, I've gone out and Purchased a Replacement TV)!!! So Finally the local office sent a 'guy' named Chuma out to my house who said "I have no idea why I'm here, but I was just told to come talk to you"! I showed him the picture of the TV, with the electric screwdriver lying on the floor, in front of the TV, pointing to the crack, and the black band that ran vertically up the TV from the crack.
(The TV was still ON) I showed him the actual TV with the crack, I showed him my Verizon Call Log, showing every time I called Verizon, the phone numbers of the TECH and the Times he called, and the phone call I MADE to report the accident TO COX 16 Minutes later! He also saw the call log showing my phone calls TO COX every 48 hours! I showed him the receipt for the TV and he left saying "Look, I can't make the call on this, but from what you've told me and from what you've showed me, I can't Imagine Cox not taking care of this. We are a multi-BILLION dollar corporation, and I can't imagine them not offering to replace your equipment or reimburse you in some way"! Of course, NOTHING!
So I filed a complaint with the Baton Rouge Better Business Bureau, and was given 2 names and phone numbers of supervisors that I could call, one being Leigh **, a man that had been a 'client' of mine and who knew me well enough to know that I am a level headed honest person. He received an email from Cox Corporate office, called me, was Shocked and Appalled at how I had been treated, and said that I would be hearing from the person in charge of dealing with accidents that occur due to Cox negligence. 48 hours later I Finally Got a Call From the Cox Rep in Charge Of dealing with damage that Cox Caused, saying "Sir I am calling about your 'concern' about an incident that occurred at your home, do you have time to talk?" I said, "Yes, Of Course!" He said "Well we just wanted to let you know that we are going to Decline your claim!!!"
I was Shocked (why????). "Why?" I asked. His response? "Well sir, because the Cox Contract worker reported the incident to his supervisor and therefore we are going to decline to replace your $749 television!?!" What the Heck does that mean?? I responded "I reported the incident to the COX Representative 16 minutes after it happened, while the Cox Contract Worker was still in my home! His response? "Well, I understand your concern..." I told him that I was insulted at that statement. It was SO asinine and basically was based on Zero facts and just Cox flippantly deciding to Not reimburse me for the damage done to my property by a Contract worker that I don't even have a Contract With. I have a 'contract' with COX, and they should be supporting and protecting my interest from a secondary company representative that COX sent into my home. He stood his ground.
I told him, truthfully that I have a Small Claims Case form filled out, ready to file with court on Monday, and I have a friend who is an attorney that is willing to represent me in court, to recuperate the cost of the Television that Cox's Contract Worker broke, the Cost Of Court, and the Cost of loss of service to this TV". The Cox Rep said he understood. I hung up! Can you believe this... Yes you can! As you all have had dealings with this company. So why don't I Switch To AT&T??? Because as you all know, they are junk! Everyone I know that switched to AT&T hates them and goes back to COX. Also COX allows the use of TIVO's and AT&T do Not! I have $3,000 tied up in my Tivo's and prefer them to Cox's DVRs! So what do we do? I have no idea. If I win this case, they will probably drop me as a customer! LOL Thanks for reading this. It always feels better to vent!

I have been with Cox for over 5 years and I feel saddened that it has to come to this point. My bill skyrocketed to normal rate in January and now it's hundreds of dollars behind. I had to call myself to get discounts and adjustments and it's STILL TOO HIGH. I can't even get an extension on my bill. For a customer that has paid on time and this being the 1st time this far behind no one was willing to extend my account because I'm no longer working. I've even called corporate TWICE and they made sure to notate my account to not make an extension, as if I never pay my bill. Calls to Cox to get issues resolved takes hours and several talks with supervisors, and still aren't resolved. I have been lied to on numerous occasions about my bill.
I've attempted to get my bill lowered by cancelling my homelife security but I was told I was on contract but then was told I wasn't on contract. Was told I would be getting a cardboard box to return my cable box (which will not stay powered on) but I had to call Cox because they never submitted the order. Was told a supervisor would call me. He called but I hung up on accident called him right back. He didn't answer. Called cox again and he was gone for the day. They really don't care. On top of billing issues channels break up and the contour remote sucks. The batteries run out every wk because it's touch sensitive and lights up even when you don't use it. I feel like wasting my money. I will be taking my business elsewhere if this is not resolved. I feel very devalued as a customer, and feel cox is not concerned for the customer. Please help.

I scaled down from cable TV to just streaming programs, due to cost. My experience with the Cox broadband service has been good but it's a bit expensive and I'm going to try CenturyLink next.

I kind of feel like the odd-man-out. My experience with Cox has been for over 10 years and I kind of like them. It's not that everyone knows exactly what they are doing. It is that the next person you talk to wants to/tries to help. In the 10 years I've gone from pure analog to mini-digital cable boxes and finally to cable cards. Other than analog, I've had problems with the others. However, they basically seem to want to help, to fix the problem. I guess my most negative review would be that I had a team of technicians in my house trying to figure out why my cable cards didn't work. They kept focusing on my equipment and I tried to explain that the two cable cards I have are tied into 2 separate pieces of equipment.
The problem had to be downstream. After hours of troubleshooting, they figured out that the problem was downstream, replaced the underground cable and all was well. So my only real complaint is that the technicians are following a strict procedural book. It would be nice if they explained to the customer that the "basics" had to be checked before moving on. Kind of frustrating when a person knows they are "barking up the wrong tree".

Horrible company to deal with. We signed up for a 2-year bundle 6 months ago. Then, they rendered our 2 smaller tv's in the bedrooms useless by requiring extra equipment to have them work at an extra charge of course. They have also increased the rates twice in 6 months. Service goes out frequently and half of the Contour features don't even work. Only 1 phone works in the guest bedroom and you cannot hear well. My cell service is better! Will not be renewing! Write letters, called, and filled out their surveys. No one cares.

Be very careful when you sign up for Cox services. The agent, who showed up at my home, omitted a lot of important information. For instance: Unlimited internet is not unlimited. It's 1 TB a month. Then they charge you. Cox does not have a lot of channels that Verizon Fios has. The Cox agent promised to give me international channels as part of my package. But I was billed $70 extra. The phone is VOIP - not a traditional landline as this agent seemed to suggest. Also, their Contour App will not let you play DVR-ed shows on your tablet. So make sure, you research everything before you sign up. I am still mad from all the omissions. Plan to go back to Verizon in a few months. Their customer service sucks, but their internet has a cap of 5 TB a month, better channel selections.

With crediting my bill it takes 30 day for the billing it was paid and then you're always seem behind and next they prorate the bill like a taxi meter. Each day you have not paid it add up but have not made transparent to me the customer. It is a legal practice so if you have a bill 146.50 and you paid it three day later it would have average to be 180. So you wonder how they get away with scamming.

DO NOT CONDUCT BUSINESS WITH COX!!! They're out to get your money, and that's it. The only thing they're good at is misleading people with the goal of taking your money. I stopped my service a month ago because I moved to an area they don't service but instead they put 'transfer service' in their system. A week after I stopped my service I returned all the equipment to the local Cox office and that's when I found out how sleazy they are. I made sure that they terminated my service and in fact, they told me I will be credited $55 that I will receive in about 4 weeks. It's been a month now. And today, Cox sent me an email saying my auto payment didn't go through.
Well, thankfully, my debit card was stolen, that's why. Otherwise, Cox would've taken my money from me even though I stopped my service a month ago! WHAT THE HELL???!!! I stopped it a month ago and they are still trying to bill me!!! Again, do not conduct business with this sleazy company. They're awful and they suck!!!

Cox Cable is way out of reach for the poor! They make it impossible to eat and relax while enjoy watching tv! You either pay almost $200.00 a month for tv and of course you're too busy working to pay the bill! So, what happened to relaxing? Lol. People don't ever get to enjoy what they work so hard for! The poor that live affordable apt can't get any other cable service in many states!

First off all my service with COX has been HELL since I started with them. I was told deposit of 67.00 for to start service but I was told 150.00 by a rep once I called with a different issue. Cox has added fees and unknown charges to my account since I started making my bill almost 200.00 each month. I've been on maternity leave and I needed a courtesy of just a few more days to make a payment in full. The agent in collections was so nasty and rude, wasn't customer friendly whatsoever and refused to help and chastised me about not paying my bills in full but making half payments here and there, regardless bill was still being paid. COX is a horrible service I will never use again and I do not recommend. I'll be damned paying 200 a month for basic cable and internet. ** COX. COME GET THIS ** EQUIPMENT.

Cox has been monthly raising rates on every part of our bundle. Now I see that they offer the same things I receive in my so called "bundle" but call it a different bundle name for $40 dollars less and will not let me change to this package. Been with this company 12 years. How dare them? They are a very very Corp. business... "None for all and all for them."

We set up a simple internet service account with Cox in Gainesville, FL. All was good until the end of the promotion, which was NEVER discussed in the account setup discussions. The price per month doubled. We called and were told that everything goes increases in cost like that, so don't worry about it, it is normal. We also were told that we could not qualify for another promotion because we were existing customers. Since our Gainesville home is a second home, we were ready to cancel and they suggested that we put the account on "vacation" at $5.99 per month, and when we return to Florida we can simply take the best promotion and they will turn on the internet again.
We paid six months and yesterday I called to find out what the new promotional rate would be. Then, and only then, they told me that the promotional rate was $2 less than the rate they were raising it to prior to wasting the $36. And, no, we can't get another promotion because we are already customers. They transferred me to "account rescue" and I got another runaround, but not anything close to a significant discount.
I closed the account and enrolled with a competitor at half what Cox wanted, which is a promotion rate for non-customers that will last a year... then we will play their game and go another provider for a new promotion time, then switch when that is up. I refuse to twice as much because I am a "loyal" customer. Cox internet service was ok, but their customer service is slick, telling you half truths and leading you into spending more than you wanted. Don't need that. Cox is officially on my list to NEVER again do business with!

It has happened to me couple of times. Every few months, for example, before March 2016, Cox increased my Internet bill without notifying me. When I called and complained, they refunded me the difference of the months they overcharged me. Then in October 2016, they increased again. I didn't notice that until this time, they increased the bill one more time in March. I don't want to keep calling to complain and ask for a refund. I am ready to disconnect to service. There are other better companies with better ethic than this one.

ConsumerAffairs Research Team
The ConsumerAffairs Research Team believes everyone deserves to make smart decisions. We aim to provide readers with the most up-to-date information available about today's consumer products and services.
Founded in 1962, Cox Cable serves more than 6.2 million residential customers each year. As the first cable company to offer business-centric products, it also offers businesses paid TV, telephone and Internet services.
Take control of more than just the TV: Cox offers the service, Homelife, which allows users to remotely set the thermostat, turn lights on and off, and lock or unlock doors.
Low-cost solutions: Cox offers television, telephone and Internet services bundled at comparably low prices.
24/7 support: There is no scheduled downtime for Cox Cable technical support. Tech support is available day or night.
Custom programming bundles: Instead of paying for unwanted content, Cox allows subscribers to customize their channel bundles, which includes programming like extra movie content or in-depth sports coverage.
Bundle services: Cox bundles high-speed Internet, digital phone service and digital cable services.
Best for Businesses who provide entertainment to customers, households on a budget or staff members and customers with special interests.
Compare Cable & Satellite TV Providers
Cox Cable Company Profile
Company Name:

Cox

Year Founded:

1962

Address:

1400 Lake Hearn Drive

City:

Atlanta

State/Province:

GA

Postal Code:

30319

Country:

United States

Website:

http://www.cox.com/