Consumer Complaints & Reviews

Is incredible how we the people are without any protection between the biggest corporation. Am giving one time permission to DISH for starting the account and this company put me over for $18 in my bank account. This company take $190,00 but my monthly payments is supposed $155,00. My one time payment was a percentage of this amount at start the service. They never used the payment authorisation. Am call twice in a period of 6 day am pay $73,00 and 6 days later $51,00. Now I need wait to the bank complete the transaction for submitting a complaint in it.
The person who attended to me by phone in 5 minutes play are been deaf and hang on the phone. The bank can't do anything but who works for me??? Who take care as back? Banks? Company's offers bad services? Is faster lost credit. Who take care about? Am always pay my bills maybe later payment but am pay. Why company's credit report never go down. We are squeezed every day every time. GOOD luck America!!!

Dish is a money scam! After the deals expired my bill went sky high! They kept adding movie channels and I would have to call everyone to get them removed. We were paying almost $200 for just TV! My parents have TV, Internet, and phone through another company and couldn't believe this was what bill was! Well times are hard and my husband and I are having to move back in with my parents until we can get on our feet. We only had 5 months left in our contract and call and see what we can do. They said we would have to pay an early termination fee which I don't have right now hints the reason we are having to move. I had only the amount I owe my landlord in my account and Dish took it upon theirselfs to pull out the money they need without my permission and then tell me it's in their contract they can do that. I now do not have the money to give to my landlord and don't know what I'm going to do.
I called Dish to explain nicely and they could give two craps less about their customers and their situation's just as long as they get their money!! I would recommend this service to anyone and if you choice them you're going to get screwed! It's so shameful a company can be so greedy to people and not work with them! I was also will to get up a time. I knew I could give it to them. Nope couldn't do it! This place is bull!

Dish service is still bad when it rains. Even though they claim it doesn't. Out of the 250 channels I am suppose to have I would say less than half of those are watchable. Why am I paying for informationals?

I apparently lost my "credits" because a year had passed so my bill went up to $176 MONTH! I'm on SS so I called them to see what they could do for me. They said they could give me a $10 credit! I said NO THANKS. The internet was shoddy to say the least. SLOW, hard to buffer anything! They lost 4 channels that I watched because the channels never resigned! OH, BUT THAT'S OK because it's in their contract that they can change their lineup. Anyway I wanted to be set up on some sort of payment arrangement to pay the early cancellation fee. NOPE they couldn't do that! NO PAYMENT ARRANGEMENTS!
I changed my billing information on my account and took out my credit card number so they wouldn't take it out on auto pay. DIDN'T work. They must've had a record of it because they took it out anyway. I'm NEGATIVE in my account. My car payment didn't come out and neither did 5 other bills. So I was also charged the insufficient fee on those bills! BUT BY GOD DISH GOT THEIR MONEY! I AM SO, SO BROKE. Thanks to DISH. I hope they lose their shirts and no one ever signs up with this awful company again! They DON'T CARE ABOUT YOU! THEY CARE ABOUT THE $$$.

We canceled mostly because we don't need it. But final bill wasn't right. We received several "we'll do almost anything to get you back" pieces in the mail. So I called to see if we could get it cheaper, starting with adjusting the last bill. It was only $20 too much, but we spoke to 3 people who refused to adjust. So for $20, they lost a customer permanently. But the worst it... when we took the box, etc., to UPS, THE UPS GUY WARNED US TO BE SURE AND HANG ON TO THE RECEIPT BECAUSE DISH WILL BILL US! And the man behind us said... "Oh yeah! In 2 months, you'll get a $700 bill. I used to work for them!"
How do I know I can trust these reviews about DISH?
554,940 reviews on ConsumerAffairs are verified.
We require contact information to ensure our reviewers are real.
We use intelligent software that helps us maintain the integrity of reviews.
Our moderators read all reviews to verify quality and helpfulness.
For more information about reviews on ConsumerAffairs.com please visit our FAQ.

After 7 yrs, show me some customer service. Worst ever experience, customer service experience, of my life! Account #**. I have to move for my job and new place I am renting already has cable service included as part of rent. I cannot help. 45 min spent with customer service (very rude way to talk). As soon as they figured I am not going to be customer, they throw contract at me. I am not worried about $80 cost of early termination but I expected consideration for my longevity with company.
Instead, she keep reading me contract, keep telling me about mailing charges (making sure I know all this is because I am voluntarily terminating lease) and not once taking time to hear me. "Basically you are willing to lose your most loyal customer for $80 and some mail back fees?" And she said "yes". I contrast this with my experience with Verizon. It took 5 min for me to early terminate. They understood my situation and it was done. They sent me label to mail them my router back without any charge. Now that is customer service. So now, do you understand why I am pissed. Whole reason I started Dish was because your claims about customer service. Today was first time I used it in past 7 yrs and this is my experience.
Just to add, I told your customer service agent that I have to leave California by 2nd of August and is there any way she can get me boxes earlier. She keep repeating same sentence and did not help. I am not moving from California to Virginia because I like to but I have to and I have to join job by 4th of Aug. My last day here is 2nd of Aug. I have flight on 3rd Aug morning. I need to return equipment by 2nd aug.

Let me add my complaint to the thousands on here. I am sick of "complete signal loss", "partial signal loss", and " local channels interrupted." All I want to do is watch the news! No weather event, no nothing. Didn't have the news all weekend. Now it's Monday, and the same deal. I am about ready to buy an antenna like the good old days, when we had TV even during hurricanes, and the reruns were confined to summers. I am suggesting that we write our Congressmen and make a law requiring them to return our fees during outages. Then I bet they get their act together.

I have never had a more poor experience with a satellite service provider! We signed up for Dish Network through an independent contractor, MMC Communications. The owner and installer gave us all false information and has been EXTREMELY difficult to work with. On July 22, 2016 we contacted Dish Customer Service at 3 pm to see if it would be possible to make a partial payment to ensure continued service (to keep our good payment history going). The customer service agent told me it would be no problem to make that partial payment and make the remainder of the payment on Monday, the 25th of July.
As of 6 am on the 25th our service has been suspended. I called customer service only to find out that we are a "pay as you go" account and that even though we received "FALSE" info again by another representative of Dish Network there was nothing they could do unless we paid the balance due of $48.56. The supervisor was not helpful other than to advise us after being with them for 19 months that we are a "pay as you go" customer!
We have never been late with our payment or had our service suspended! Our contract is up in 5 months and we will be leaving Dish Network FOR SURE!!! THEY LIE AND PROVIDE FALSE INFORMATION ON A REGULAR BASIS! Watch out for MMC Communications in the Southeast Idaho area. It is a small company! The owner is the installer and his wife answers the phones. I have had many, many problems with them clear down to technical support!

Dish Network is a horrible service simply because their satellites can't communicate when it rains--be it a LIGHT drizzle, normal rain, or storm, reception is interrupted for extended periods multiple times during the "weather event." This occurs 100% of the time when there is precipitation. 100% of time, not "most of the time", not "often", not "sometimes"----100% of the time. Maybe it's odd that when it rains, I watch TV---well, I try to anyway. Nothing like watching the 1st, 3rd, 5th and 7th inning of a ballgame, it really adds the intrigue... I will be cancelling Dish and going back to cable where service interruptions NEVER occur due to LIGHT drizzle.

I made many calls to Dish about service and temporary suspension during off season at a rental property. I was told nothing would change if I put a temporary hold on service, everything would be just as it was before, LIE!! I restarted service and lost a $30.00 a month discount. I was NEVER TOLD this tidbit of information. Not once in, safely saying 5 separate inquiries to Dish before signing up for service. That and my one year plan has become two years with an untrustworthy corporation. Don't ever believe a word they say, not without it being in writing. Bait and switch!!! That and their 120 package has almost 30 that's right - 30 shopping channels, yep!!

I called the DISH Network and they didn't care what is fair for me because I am deaf and using closed captioned and it's difficult to watch when the screen become smaller due to loss channels, and I feel that we should get our cancellation fee waive due to their loss channels and closed captioned was not big enough to read due to the screen becomes smaller since we have 60 inches of TV... The screen is like as 25 inch... I requested to waive and they won't waive. Pay the cancellation fee. Even only four months left till Nov 2016... They still want us to pay no matter what because we signed if they lose contract with other network and we must continue paying til the contract ended. I feel the the DISH network is not doing right business with customer. I pray for the DISH Network to change and be honest with their customer in the future.

I'm posting this because I believe Dish will block my post on their Facebook page. I sincerely hope this post somehow becomes viral. I'm not sure my blood pressure will ever be same after dealing with this company. A rant and question and a plea... 2 nights ago, I came home after working my usual 10 hours to find my internet down. It had been working in the morning but there was a storm in the area so I called my internet provider Dish to see if there was an outage.
Rant - I was informed that I had canceled my internet service on 04 May 16. Heave, sigh, I informed customer service that I had not canceled my internet service and that I had no problems until this evening 19 Jul 16. I was once again was told, as I would many, many, many times and over 5 hours over 3 days that I had not internet service since 04 May 16. I was SO reminded why I canceled my TV satellite service with Dish over a year and half ago... I only kept the Internet connection for simplicity sake.
I explained I had received an email in May acknowledging that I had cancelled my service. Since I hadn't, I assumed that Dish was being their usual inefficiency and incompetent self and was referring to my cancellation of their cable service a year and half ago. The same day of my receiving an email about my cancellation of service I received an email saying they had received the equipment I had sent back. Again, I ignored it, since I had never canceled my internet service and the equipment they described receiving back was, 1) not the Internet modem model I had, and again, I never received a box from them and had not sent ANYTHING back to them in the last year and a half.
And so it began... I've lost track of how many people I've spoken with over the last three days or how many departments to which I've been transferred or how many times I heard "one last transfer" or how many times I had give out my personal information to "verify my account" or how angry and nauseous I am when I HEAR Dish advertise on their wait music proclaiming they take pride in WORLD CLASS CUSTOMER SERVICE. Also, I was informed many, many, times that I didn't have any of their equipment (no matter how often I told them I was staring at their modem and could send them a picture). I also spoke with several so-called "supervisors" who all assured me the next transfer would take care of re-instating the service I had never canceled in May and had the service until the evening of 19 Jul 16.
Another item, that made me go something beyond LIVID on this nightmare, the second day being bounced around and around again to apparently impotent after impotent department and agent, until yet another impotent agent told me they could see every second, much less hours, I had been trying to resolve this issue and every, not so blessed department to which I had been transferred and could see how much time I had spent time with everyone though I lost count of how many times everyone of them made me repeat and repeat my information about why I was calling. I had been totally ignored, including being ignored by the so called supervisors.
Yesterday, I was totally promised by an agent named Rob would call me back after I got off work since I had spent most of my lunch hour and break trying to resolve this issue. Again, a total failure to provide customer service. Today, I was told by a supervisor named Juan, I should just keep their property and start again as they had no record of me having it. Really? Have you ever heard the term "integrity"?
Okay, they win. They don't want me as customer. I will contact another internet provider who promises better service (a dead person could provide better service than Dish). I will have to wait, no matter what the cost or time, it's worth it after the crap that Dish has put me through. I have no words how unbelievable this experience has been especially since my job is technical support for a software provider. That's right folks, I'm hardly a digital neophyte nor am I a neophyte to helping customers.
Very rarely (thank God), I get a customer that has ping-ponged around our company even to a minuscule of degree that I have been by Dish. On that very rare occasion, thank God again, my first reaction is abject embarrassment. Next, I don't let go of that customer until their issue is resolved even if it doesn't truly involve my department. I always take ownership so the customer has a contact and give information to contact me if need be so they know I will be responsible even if the resolution is out of my hands. If any other result presented itself, I would personally would call them back and solicit a supervisor's attention without having to be asked. End of rant.
Question - As Dish has exhausted me with their "FIRST CLASS CUSTOMER SERVICE", so here are the questions. I've contacted another provider who says they provide better internet service for less of a price. So, the question is how the hell am I to return equipment to a company that says I don't have the equipment nor an account? Like this instance, I don't want them coming back a year and half later asking for compensation for equipment I do or don't have... coz once again, I've had internet service via Dish until 19 Jul 16 evening, and never, cancelled it last May. I have second question, where can one go complain about this horrific but powerful company? Anyone have any ideas? Plea - If you are considering Dish for ANY reason, please don't. If you are already with company, I pray you have never ANY problem...

My wife and myself sold our home in Chicago in 2015. We wanted to downsize, so we found an apartment. Landlord sent a technician out. I was told by Dish contractor he would install system. My wife had been sick so I handled it. I did not agree to a contract nor did I sign one. My wife died on December 20, 2015. She died in our apartment after a long bout with lymphoma. I was devastated. It is not the fault of Dish that Jan got sick and died. When I called Dish and told them I had to move, I had to get out of that place, they could have cared less. Several times I called and waited on hold for 30 minutes or more and was finally disconnected.
After numerous calls and hours on hold and or having to explain over and over that I never signed a contract, or even asked them to come to my apartment. They said that I owed them an early termination fee of $300 and about $250 in back charges. I tried to explain that I never was told about a contract or that I signed one. They were insistent that I pay every penny. I told them the truth as I have here. After months of calls, I gave up and paid them. They really just did care. They did not care that my wife had just died. They didn't care that they obviously have dishonest people working for them. Rather than argue any further with them I just gave up and paid. So beware. They are not in my experience, not honest or at all reasonable.

I've had DISH now for 11 months. I could write a book with all the problems I've had. If not every day, every other day, I have to reboot hopper and Internet. I've had techs out 2 or 3 times. They'll get my equipment to work, then a day or two after it starts acting up again. If I call to complain, I would be calling every day. I'm moving out of state in a month and will be unable to use any satellite equipment. I called DISH to find out if I would be able to cancel my contract with no fees. I was told I would have to pay the early cancellation fees. Also, I've called several times to lower my bill, only my bill gets higher! What's that about! Very unhappy!

CAN I MARK A NEGATIVE STAR??? My Aunt lives in LA and I have been trying to assist her with her issues with DISH Network from my home in San Diego. DISH has been forcing her to pay a monthly charge for services NOT rendered and are in violation of the contract they are forcing her to uphold. DISH NETWORK, a large corporation, is bullying an elderly, disabled woman who cannot afford a cancellation charge. She is alone and her TV is her only friend late at night. Originally she was using another network service and was manipulated in to trying DISH with a 2 year contract.
In order for her DISH box to function she has to wait for the daycare person to arrive to manually "reboot" the in-operative box and manually adjust the TV volume. When we requested customer service send a tech to link all her devices together with the one remote, the technician from DISH said it could not be done leaving my Aunt to have to get up off her chair and crawl to the in-operative box and make adjustments.
I have attempted to get the contract canceled for her a couple times but DISH Network insists she is under contract and must pay the cancellation cost. Even though she has been paying since 2015 monthly with continuous issues. How can a big corporation be allowed to manipulate, lie and STEAL from the elderly and handicapped citizens of our State of California? Is there any assistance out there who can make this right?

I contacted DISH Network Technical Support when my satellite service was not working. After extensive troubleshooting over the phone, they determined that on-site service was required. They indicated that the earliest available service date was 9 days later. 9 days is not an acceptable level of customer service. Despite multiple requests to escalate DISH Network has been unwilling/unable to improve.

We were charged for a full year without having service. They lied to us saying the service was discontinued right away. The service was not working right. It kept cutting out but it was never disconnected. This was a representative of theirs. We have been trying to find a solution to this problem but to no effect. I feel they owe us a refund of 1,600 because we never had the service. We've been dealing with this problem since January 2016 to this day. They gave us an address in Aliso Viejo which they have moved since a year ago and a phone number which no one answers. If anyone can help us please call us at **. Thank you.

When we set up with Dish TV we were told that there is a $10 discount with automatic payment (epay?). There is no discount. There is an actual EXTRA $10 service fee if you don't sign up for automatic payment. To me that is misrepresented. And it hurts that the bill is $10 more a month for the package deal and that is WITH autopay being seniors on a budget.

Fortunately I had the sense to have a pro take apart DISH's equipment, install the appropriate pieces in THEIR provided box, photographed the contents before sealing it with THEIR shipping label and taking it, as directed, to UPS for shipping. Good thing I kept a copy of the label!!! Despite timely and appropriate delivery, signed for BY THEM at THEIR dock, using their label, they claim they never got the equipment and are trying to dun my bank account $99. Lucky for me I had already turned off my account auto-pay. Now, to protect my credit!! I have threatened to go to the FCC with this complaint. Hope I don't have to!

Well when I first called Dish, they told me they had a promotional deal that was going on that day. A two year deal. And if I accepted package it would be flat price every month. Told me I could get redzone netflix for thirty four ninety five. I just had to pay fifty dollars to get promotional package deal for two years and my price wouldn't change.
My dvr never records movies all the way through. The sales rep made a lot of promises so I told him I only had forty dollars on my credit card so he ask me could I get the fifty dollars, I said, "Call my dad. He is a customer of yours." He said he would use his credit card for my one time use to sales rep. We had three way calling and me and my dad said to sales rep, "You will only use my dad's credit card one time and then from there you would use my credit card on my account and credit card number under my name." "Yes mr. **." He said installation was free.
I had my fiancee's daughter and my dad that heard conversation. Before I would verbally make a deal with dish, he gave me his word that it was fifty dollars not a penny more. Come to find out next day they took another fifty from my dad's credit without his permission or mine for installation. They lied the first day I made deal.
A week later my dad said they took a hundred out of his credit card. Very dangerous game to play. They not only broke contract but they committed fraud by taking money off my dad's credit card. I paid my dad his money back. But then I called dish. They said they charge a fifty dollar installation fee but sales rep said installation free. A week later charged my credit card from bank fifty dollars more. Then a month goes by wondering I haven't received my bill by mail. They charged me seventy dollars. I didn't pay because the next day I called and ask, "Didn't you take money off my credit card?" Nope. They took more money off my dad's credit card.
My dad had bank investigate. They took money back from dish. They had my credit card number. They shut my services off and I am wondering why haven't received bill. They have my credit card auto pay and now it's a mess. They put blame on me and now they said if I want services restored I need five dollars. Huh? They robbed me again. We agreed to three hundred. After all they committed fraud. Now today they won't let me cancel them unless I pay five dollars to drop them. They are the worst of cable companies. They all rob a few twenties but dish robs hundreds anyone looking to sign new customers. Don't believe the deal. Prices change every month. Don't get channels. You pay for deal changes when they throw their line out there to lock you in their two year deal and they hooked me. Don't let hook you with their lies. All crooks lie but dish network are big time crooks.

I spent an hour on the phone with Dish Network customer service, trying to reduce my bill seeing that new customers get full package for 8$ a month and existing customers that have been with them for 10 years are paying 130$ a month. While on the phone with them I discover I'm paying for a protection plan, that I don't remember agreeing to. It is 8 dollars a month and I have been paying for 5 years. It is my fault for not paying closer attention to my bill, but that is not the good part. Satellite companies like most industries rent their equipment out so you are paying in your bill for a piece of equipment that is not yours so you can have their service. Now the protection plan is that if this piece of equipment breaks the cost of sending a technician out and repairing the equipment is free.
Let me be clear. IT IS NOT UP TO THE CONSUMER TO PAY FOR RENTED EQUIPMENT. Anything that you rent from someone else house, power equipment, example your transformer that powers your house, is paid when you pay your monthly bill. If it breaks it will be fixed no cost to you. So Dish Network is charging people 8$ a month to protect their own equipment if it was to break and you didn't get your service. Tell them to come get it and if they want to charge you find some other business. They are falsely charging customers to protect their own equipment. Please review this company. They did compensate me back half the money that was spent. Once I called them out on what they were doing the supervisor started backing up on everything. They know what they are doing and it should be criminal.

We switched from directv to dish about three months when we talked to a rep who assured us that if we didn't like the switch we could move back with no problem. Dish is in negotiations with a local channel and the nfl network - therefore we are not getting these broadcasts. Since they are not providing the services they contracted for we figured they have broken the contract and called to cancel their account. We have to pay a 400 cancellation fee. They did send us an over the air antenna for free for the local channels but it doesn't connect to the dvr so we can't record. They sent out a technician to hook it up to the dvr who advised us the only way to hook it up was to pay for an adapter.
This is unacceptable to pay more money for something they cancelled. Very frustrating. We had been with directv for 15 years with no problems except a higher bill. I am very sorry we switched. It seems dish makes up for their lower monthly fees by knowing they will be charging you huge cancellation fees. Cancellation is necessary when the company doesn't live up to their original channel lineup. We are extremely sorry we ever switched.

Okay. Okay. I've never been a fan of Dish customer service. Stupid hold music, moronic base level customer service reps - unplug the machine and restart, blah blah blah. Negotiating service fees is a giant hassle - long term customers get screwed while new customers get great deals. Even with my upgrade, if Dish raises my service fee next month, after nearly 15 years, I'm out. Too expensive. Too many blackouts with no rebate. Too many new streaming options - Dish competing against itself with Sling. Go figure.
Back to the upgrade. Had a problem with On Demand and Dish service responded within a day. Decided problem was internet provider related. While they were there, we discussed upgrade to Hopper 3 could actually lower my monthly service charge by eliminating 1 of the 2 Hopper 2's that I had. Tech called billing. The 1st customer service agent was a total inconsiderate **. Treated the tech like a piece of ** and I heard the entire conversation on the speaker. If she worked for me, I'd have fired her on the spot. The next call to billing was much more pleasant. Got billing to waive 2 year contract and upgrade fee. No brainer to do the upgrade. Scheduled for the next day.
After 2 additional days of cancellations, upgrade completed on July 4. Tech spent at least 5 hours on the project. After he left - the problems started. Hopper and Joeys continued to lock up. Watching live TV or DVR, all units constantly showing new error messages. Called customer service. Unplug and restart. Who didn't know that was coming? Bottom line customer service just flipping the cards and having no experience with the new product. Tech was sent out. Did all the diagnostic tests. Couldn't figure it out.
Nearly every day for over a week, techs would come to the house trying to solve the problem. I met nearly every tech and manager in the region. They started to home in on the problem, suggesting the existing wiring wasn't capable of pulling in the signal from the new satellite receiver on the roof. Looked around the house and realized that there was apparently no way to run new wires because everything was covered by sheet rock.
At this point, I was contacted by Dr Dish and informed that my "case" had been upgraded and he was dedicated to resolving the problem. Very impressive. Very accessible by email and phone. Incredible customer service that I never expected. Finally, the last tech to look at the problem came up with a solution. We both realized that the cable coming from the satellite to the new Hopper was actually accessible! He dropped a new line from the satellite, fished the cable through the existing channel through the wall and connected it directly to the Hopper. So far, 24 hours and no lockups!
All in, Dish techs must have spent 15 - 20 hours in my home and on the roof trying to resolve the lockup problem. My guess is thousands of dollars in service fees for Dish technical service employees and subcontractors. Who could ever complain about that level of service and dedication to customer service? Very impressive. Next month, the service fee is expected to increase on my account. If I can't get Dish to agree to lock in my present service fee, everything was for nothing. I'll go to DIRECTV, Streaming or The Devil. But I can't afford to pay any more than what I am paying now.

I ordered DISH Network in December 2015. The technician who put up my dish just set it on the ground and put bricks around it and left it. Never got all my channels, which I was never aware of. This is all new to me. In June of 2016, I knocked service out. They were nice to come out on a Sunday. The new technician moved from where the first guy put it and told me it had a very weak signal where it was. He actually put on a pole in the ground. Now it works wonderfully. I called DISH Network. They basically said it was my fault and gave a credit of 35 dollars off June bill. Been with for 8 months now and this is thanks I get. Very bad customer service. I recommend that everybody to watch these guys. They are out there for themselves not their customer.

Over a four month period my billings from DISH is almost $800.00; also, we still have the old, old, system and dish equipment. Thanks Dish for saying you will do something and never do. I have contacted dish many times, they do nothing but continue to do the monthly billing. Why don't you put a minus star and let us pick that? I don't know what you mean by an Order Number; and my dish bill has PPI info on it, can't share it.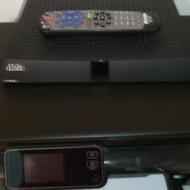 Purchased a DISH ViP 211z Receiver in May 2016 for $115.00 including shipping for my Class B Eurovan but, did not try to activate the receiver until June 14th, 5 days prior to leaving on a trip. We were going to use the pay-as-you as needed that Dish offers. I contacted Dish on 6-14 and had a return call 24 hours later while I was in the shower. When I returned that call, all I able to do was leave a message but they called me back. I called again on 6-16 but never received any response to that third call at all. We ultimately left on our trip and then went with DIRECTV because Dish wouldn't call us to activate the receiver which we purchased from Dish. This company totally sucks and now we are stuck with a Dish receiver that we cannot use and cannot return because the 30 days passed before I even tried to activate it. Don't go with Dish!! They are the worst!

My husband and I had Dish Network for years and Georgia and loved the service. Our issues have started with our move to Anderson, SC. At this point we will never use Dish Network again. We my husband moved up he called Dish to have service set up bringing our receivers with him. He called and requested the dish to be placed on a pole as we were currently renting the house and didn't want to place any holes in the house. When the installer arrived he states he was not informed and didn't bring the proper equipment. FAIL NUMBER 1. My husband called Dish and they put on hold on the account and we continued to use Charter. Once the house belonged to us we called and set up another appointment for installation. My husband had to take another day off work. The installer keep changing the time that they would arrive. At this time we also decided to up our service to the Hopper.
When the installer arrived he said that he had our new boxes. My husband informed him that the service call was for installation. The installer's response "They've got to pay me more money to do that!" With the installer's attitude my husband didn't want the kid in our house. FAIL NUMBER 2. I don't blame him. We called Dish to cancel everything and to set up returning the boxes that we had. We were advised that there is a $10.00 per box, which we understand. Unsure why they have to mail this boxes when we have the original shipping boxes. That isn't the fail, it is when they charged us for service we didn't receive. I called customer service explaining that we shouldn't be charged for something that we didn't receive because they sent out someone with receivers not to install. How is this our problem.
After some time the customer service rep stated we only had to pay the $20 to return our receivers. Yesterday my husband called because he received another bill and called customer service and they stated we had to pay the full amount. FAIL NUMBER 3. Why would we ever go back to Dish with this type of customer service. I will no longer recommend Dish which I have done for years.

Afternoon of 5/8 paid bill online $103.60. Paid from different account as I was clearing out other account and did not want this bill coming out so I paid it in advance. Got my confirmation #, ZERO Balance as of 5/8 at approx 2:00 pm. I DID NOT take off the auto pay. BIG MISTAKE!! 5/9 - First attempt thru Bank to collect the dish bill of $103.60 already paid... Bounce #1 - $36.00 bank charge. 5/13 - Second attempt thru Bank to collect the dish bill of $103.60 already paid on 5/8... Bounce #2 - $36.00 bank charge for $103.60 plus they charged an additional $10 retry charge so the bank charged me an additional $36.00 on that separate $10.00 retry fee. At this point I have $108.00 in bank charges.
5/20 Once again for the third time Dish tried to collect from the bank acct. Bounce #3 - Same charges as noted above including retry. So now I owe the bank $180.00!!! On a bill that was paid!!! Not done yet... SO after many hours of arguing with these people they give me 1 - $30.00 one time credit which I did not get. And 10 months of a $10.00 per mo discount. I got my first on this bill. SOOO in June I go to pay my bill and its $153.60. WHAAAT!!! Oh that's because they had to run it thru the bank 3 times and that's their bank charges!!! 3 hours on the phone. Nooo satisfaction. To bad so sad!! Ok so I pay it!!! So so far folks I am at $230.00 for a bill that was paid early!!!
So they tell me that in July my bill will have the $30.00 credit and the $10.00 credit. Oh cool right. July' bill is $93.60 so where is the $30??? I look BACK on June's bill and now it was miraculously shows $183.60 now which shows my payment and they applied the $30.00. The bill was not the same written bill and its got some weird stuff about a tv on it... so bottom line is they stole back their own one time credit!!! And they actually redid their own bill to steal it back... how crazy is that!!! So to even make things more screwed up THEY have removed ME from auto pay because my paid bill bounced 3 times lol. That's fine by me as I ask to be removed so I can just pay it and not stress. No instant access to my bank account anymore. But they removed me not visa versa lmao. YES YOU BET I WILL BE CHANGING BACK TO DIRECTV... sooon as the next good offer comes in DISH CAN BITE ME!!!!

When I subscribed for Dish Network I was very happy with their service and the ability to watch their programming remotely with the Hopper. Through failed negotiations, they have lost contracts with some of their programming providers. After speaking with customer service, there was no knowledge of when or if this programming would become available again. I said that I had been a happy customer but planned on looking elsewhere unless a clear advantage to remaining with their service was made.
There was no offer to reduce cost, offer additional programming in place for what I had lost, etc. so I chose to subscribe with DirecTV. When I called to cancel my service with Dish Network, I spoke with 2 representatives who continually tried to sell me on upgrades despite my repeated request to just cancel my service as I had already offered an opportunity to make good and they failed. After calling back a 3rd time, the representative told me that my account had indeed been cancelled and emailed me my confirmation. Arrivederci Dish Network.

I have to say this is the worst company I have ever dealt with. 1st I was suppose to receive Netflix free for a year and they gave me sports channels which I don't ever watch. They stated there was no way to fix it. I should of cancelled my service right then and there, but I kept them. Now we have lost fox and 3 other channels we use to watch all the time. Do you think we got any kind of refund or Reduction in our bill. I tried to voice my opinion on social media and they blocked me. Why cause I told the truth. I still have a year contract with them and I hate it. They should be letting us out of the contract with out penalties due to all the problems and lost channels. Do not get Dish Network ever!!!

ConsumerAffairs Research Team
The ConsumerAffairs Research Team believes everyone deserves to make smart decisions. We aim to provide readers with the most up-to-date information available about today's consumer products and services.
Founded in 1980, DISH Network now provides paid TV to almost 14 million subscribers. The company, headquartered in Meridian, Colorado, is the second-largest satellite TV provider in the United States.
Flexible payment: DISH network accepts Bitcoin as a payment method for those who prefer the cyber currency.
Fantasy and reality: Subscribers can watch a game and look at their fantasy football stats to chart their team's progress, using DISH Network Hopper.
Watch from anywhere: DISH Network allows access to recorded shows from anywhere, as long as there is an Internet connection.
No up-charge on HD: DISH Network offers free HD channels, and it does not charge extra for the high-quality imaging.
Promotional offers available: DISH Network sign-up promotions allow customers to get extra channels with a 24-month contract commitment.
Best for Television fans who watch a range of programs and households on a budget.
Compare Cable & Satellite TV Providers
Basic Information
Company Name:

DISH

Address

9601 S Meridian Blvd.
Englewood, CO 80112
United States

Year Founded:

1980

Website:

http://www.dish.com/