Consumer Complaints and Reviews

I have been a loyal Dish customer for TWO YEARS. I went to cancel my service because my two year contract is up this month and DirecTV has better prices. When I called I was told I can't because my contract is up NEXT June. I tell them that is not possible and they proceed to tell me I resigned a contract in June 2016. I tell them the only thing I did in June was downgrade my receiver to get a cheaper payment because the price kept going up. I am then told I voluntarily signed a contract when equipment is changed. I told them I was never verbally told this and would have NEVER changed receivers if I knew I was resigning for another 2 years. I told them the technician had me sign something I thought was just acknowledging that I had a different receiver being put in. I would have never dreamed it would be another 2 yr contract. I asked to see the contract I signed and was told I could dispute this. I was to receive an email in two days.
Four days went by so I called again. I was then told I could not dispute anything and there was nothing that could be done because I signed the contract. I asked to be emailed the contract I signed and was told there was an issue and my email didn't work, which is funny because I receive my bill every month through my email!!! I asked to speak to a manager and was very rudely told that wouldn't get me anywhere. I spoke with a manager and was told the same. No sympathy, no compassion, just flat out that if I want to terminate my contract it's $300. I asked if they can review the phone call in June and see that none made me aware changing my receiver would mean I would sign another 2 yr contract. He said they would review it but even if the person didn't tell me that, it wouldn't be waived. So I got screwed.
He then in a condescending voice told me I should have read the contract I signed. They are sneaky liars, who don't care about their customers. All of the customer service I received was garbage. I still have no answers and haven't received an email with the signed contract. I don't know how they sleep at night!! PLEASE DON'T USE DISH!!!

This is my first tumultuous year with DISH. I began my two year contracted "guaranteed" rate of $59.99, which was reduced for 10 months by $5 due to the Friends and Family rewards. My new bill for 10 months was to be $54.99. Within a couple of months, my bill showed a ridiculous .02 cent charge for FCC or Federal tax (I honestly cannot remember what excuse they gave me); my rate then went up to $68.02 to cover the cost of the Hopper. Mind you, this was all supposed to be covered in my "guaranteed" first-year rate. Just this past week, I was informed that instead of the $79.99 "guaranteed, contracted" second year rate, my bill is going to $108.02! They are separating the Hopper, additional 200 channels and whatever else their heart desires from the $79.99 and essentially charging me double for the second year!
I have called and been placed on hold for so long that I have had to hang up. I have emailed requesting an explanation, to which I did receive one response that told me that I needed to go online, review the channels available, and work with them to "reduce my bill". This was an already pre-arranged, pre-guaranteed rate that they want me to "work with them" in order to reduce my bill?! I am absolutely livid. Now, no one will respond to my emails or telephone calls. The email they sent telling me I had to choose other methods to reduce the bill, had a disclaimer at the top saying that if they didn't hear from me within seven days, they would assume the matter was resolved. HELLO! No one will respond to emails or telephone calls, so I cannot resolve this issue.
I have asked for a final bill, instructions on how to send the receiver and remote back to them and requested the bill be sent via email because I have been out of town since February 11 and won't return home until the end of April. Still, no one responds. Essentially, what will now happen is that they will keep charging my account $108.02 until I can get someone to talk to me. I haven't even used their service since February 11 because I have not been home. PLEASE dear public, be informed. This company is dishonest, evasive and nonresponsive.
I switched from DirecTV because I had a relatively small issue, compared to this one, and was encouraged by DISH that they stuck by their "guaranteed" rates. R.I.G.H.T. As soon as I return home, I will be reconnecting with DirecTV and paying DISH $20 a month until the end of my "guaranteed" second year contract ends. They should be ashamed of themselves. I, like so many other people, am retired; I budget my money and pay all of my bills on time. Surprises like this from dishonest vendors is extremely unprofessional and could be damaging to many of us retired individuals. DISH should be aware that karma is a beast!

I signed up with Dish and they made me sign a contract two years ago and I wanted the 120 channel plan. Since then I've noticed they have been taking channels off for awhile and some channels were my favorite and now I can't watch them anymore and as time goes by they have taken over 25 channels off that they never let me know they were taking off. Since then just to fill the spots up they doubled some channels so now I'm paying for the 200 channels but not getting the same channels I signed up for.
We are paying for channels we no longer get and are stuck in a contract they say so we can't go to someone else who has the channels we like. They broke my contract because we don't get the channels we signed up for in the beginning and they also put the price up more than I signed up for. We are getting ripped off for paying for channels we no longer get and they changed the price that was in the contract. Now I cancelled Dish and they want me to pay a fine even though they broke the contract and this is not right and illegal rip off.

I had DISH for several years. I reached out to DISH about problems I was having with my service. The On Demand didn't work and the box had trouble connecting to the internet. They told me the best way to solve my issue was to upgrade my box in my living room for a better connection. I agreed and they installed the box to fix the issue. It turns out that did not solve my problem. Then shortly after I lost some of my favorite local channels. I decided enough was enough and I was going to cancel my service. I was well out of the original 2 year required time frame from my initial setup. When I called to cancel I was informed that there would be a cancellation fee. When they installed the new box to fix my issue it automatically placed me in a new contract, even though I didn't sign anything. I was further informed that within 10 days of cancelling my service they would be drafting these funds out of my account automatically!
On top of everything, they were incredibly rude to me on the phone as well. I definitely moved forward due to their poor service. I didn't want to pay the fee, but since they just drafted the funds I guess I didn't have the opportunity to fully dispute the fact that I never agreed to an additional two year. I was informed of my final bill amount and proceeded with termination. I get my final bill and sure enough it was $89 more than what I was told it would be. I called in and after getting to "the office of the president" and an hour on the phone they agreed to refund me the $89 difference. Now, let's fast forward a month. I was told I had to climb on my roof to return equipment as well as pay for the boxes to return it in. I will admit that it took me some time due to weather etc. for me to climb on my roof. I had the boxes for over a month and hadn't returned the equipment. I had full intentions to do it, it's just not convenient for me to get on the roof.
I received an email on 3/7/17 stating that I had a bill due of over $700 due to unreturned equipment. I realized it was finally time to force myself on to the roof. On Monday March 13, DISH network drafted $649.00 out of my account for the equipment. The email simply said I owed a bill and that it was due immediately, it DID NOT say they would be drafting funds from my account. I was charged several fees to transfer money to cover the funds they drafted without my consent. I called them and was informed no monies would be returned until they received their equipment. Since I had just gotten it around I immediately went to UPS to have it sent back. IT was received by DISH yesterday (I mailed it on 3/13/17).
I then receive an email that says they will be refunding me $249.00! Of course I immediately call them to find out about the rest of my money. The guys says that they will refund all of it and I should have it in 7 DAYS! Seriously, I have to now wait 2 weeks to get my money back they took without permission!!! Also, let's point out if I hadn't called they were going to keep the majority of my money!!! I feel that due to their poor business practices there may be room here for legal action. I read many other reviews where they pulled funds from people's accounts without permission and they forced you into new contracts or in my case setup new ones to solve their own issues with services!! I will be forwarding this information on to anyone who will listen!! This company needs to be reported and addressed!!

After years of Dish, I called as my equipment had just been reinstalled at my new address, I was having problems getting reception on stations I subscribe to. Bad signals or no signal at all. So when I called they told me for them to come out $95.00 to fix the problem, or 10 more bucks a month. I choose to remove it all, send me the box. They said ok. Upon receiving the return box they now want me to climb on the roof (I'm 60 and disabled, "thanks Afghanistan") and remove a part of the dish on the roof... just a part not the whole dish... I had also chatted with DISH is Listening on FB to no avail. They are not listening and don't care.
How do I know I can trust these reviews about DISH?
717,175 reviews on ConsumerAffairs are verified.
We require contact information to ensure our reviewers are real.
We use intelligent software that helps us maintain the integrity of reviews.
Our moderators read all reviews to verify quality and helpfulness.
For more information about reviews on ConsumerAffairs.com please visit our FAQ.

I received a collection notice from a agency from well over a 7 years ago. I called and spoke to Jeannie who informs me to disregard the collection. I ask why I would receive a notice if I could disregard the collection, again I was to throw it away it was a mistake! I ask the customer service rep to please look it up again was told it was no big deal. After a 4 time he looked it up! Come to find out I owe a out dated equipment fee for 526.86 and was told I need to pay this in full. Dish network is a scam and the worst customer service ever. I would recommend to everyone to never do business with these people.

When I signed up with Dish Network, I was promised that my debit card would only be charged $1. As I was talking to him my bank sent me a text that said I was just charged $50 by Dish Network. I told the man I needed that money back in my bank account that day because it was a fraudulent charge. I was promised up front because I was cashing in on a special offered to me, there would be no set up fee for that amount. He said "Oh that wasn't supposed to happen" and then put me on hold. He came back and said it was reversed and I would have to wait 7-10 days until it goes back into my account.
I was supposed to get a bill for my monthly amount of $119.96 that was due on the 22nd of each month. I paid $900 in bills yesterday and had just enough money left in the bank to cover the checks I had written and to get groceries and gas to get to work for the next 10 days. I woke up this morning (the 14th) to a lovely $119.96 charge to Dish Network. I was furious to say the least. I called and gave them down the road for stealing my money and Michelle # ** said that they don't do the charges. That comes from a company called GoDish.com/ltd and I would have to contact them. I told her that I did business with Dish Network not this 3rd party clearinghouse. I then told her that if I go to McDonald's and order a cheeseburger, I don't go to Burger King to pick it up.
So I called this GoDish company and the very rude woman who answered the phone with a monotone voice, said that the money was refunded on February 28th. My bank said they had no refund of $50 to my account at any time from any company. Then the rude woman said they only deal with the $50 set up fee and they don't deal with the monthly bills.
Well I now have about $40 to last me 10 days thanks to Dish Network. I hope people come on this website to read these comments before they think of slitting their throats with Dish Network. Never again will I ever give my debit card number to anyone over the telephone. And don't think you will get an American when you call customer service because they are not in the U.S.

My Dad & I have DISH network. We thought it would be better than DirecTV. We were so wrong. They keep going up on the price (and that doesn't even include HBO), and the service is just terrible. We lose the signal just about every day; sometimes 5 or 6 times a day. Yesterday (3/13/17), we lost the signal from 6 A.M. to about 7:30 P.M. What really gets me, regardless of the fact that we lose the signal so much, they (Dish) wouldn't dream of knocking that off a person's bill. Never mind the fact that we can't very well watch t.v. when the signal is out. We still have to pay their outrageous bill. Why should you have to pay for something you don't get? I wouldn't recommend DISH to anyone. Ever. When our contract expires, we are switching back to DirecTV.

My husband and I have had Dish in the past and had great service. We switched a few years ago due to them losing a local channel. I tried to switch back in my name since our current satellite is in my name (was in my husband's) and after giving all of my personal info (which I would never normally do) I was told I needed to give my husband's ss# as well as mine and put in his name or give a family member's ss # that referred me to verify who I was. My security questions were not difficult ones to answer. They were ones I live and breathe and yet I was told if I wanted service with them I had two choices. Give my husband/family members ss# OR pay $300 for equipment upfront. He was VERY clear, I had no other choices. The gentleman (I use that term VERY loosely) that I spoke with was rude, condescending and acted like he was doing me a favor.
I asked repeatedly who I needed to speak with to move forward with a quote of having DISH in MY NAME, not my husband's and was told he was the only one and a bunch of other garbage. He acted like I was ridiculous for not wanting to give my family or spouse's personal information (social security numbers) over the phone. I immediately changed by bank card of which I had just given him all my info on. I will NEVER recommend DISH to anyone again. I am so disappointed that a company that I thought excelled at customer service, is now a company that clearly does not care about their customers, whether former, current or potential. I was upset about DirecTVs pricing but at this point I will pay the extra to be treated with respect.

Once a very good company now the very worse of the worse. Years with no problems and great issue resolution experiences. But starting Feb 2016 they changed their behavior when their receiver broke down and had to replace mine. I ask for the exact one I had as it gave me no issues. They said the only they have to replace it with was their Hopper now but that won't affect me at all except with more functions. No price difference and my programming package would stay exactly the same with the same pricing. Within 1 day this new receiver had been malfunctioning. They returned a week later and replaced with a 2nd new one. That failed within a week, 2 weeks later replace with a third then a 4th. I learned some workarounds so we may watch some programming but never received what I was paying for.
We are on Social Security and my wife is bedridden. We must control our expenditures as they have been aware of for years and have been very cooperative until now. Now they want to raise my fees by 50% claiming all kinds of nonsense and still unable to solve receiver problems. I'm moving on... I have given them every chance a loyal customer can give, but now they have become indignant to my problems. Too bad, they were once a good company that I believe is under different management. They soon will go the way of other companies who forgot what got them to where they are. I reward good companies with blind loyalty by paying my bills early, recommending customers and never changing carriers.
We have been with Verizon and AT&T since the 1980's among others companies. Next week I call AT&T and a few others. Once I change, they'll never see me back. Sorry that you have changed. BTW... I have been a "C" band user for many years and in the past communicated with their founder, another "C" band user Charlie Ergen. We had a great relationship. So if they can treat us this way, many more are next.

I created an account just to tell everyone and anyone out there wanting to make a deal with Dish. If I could give ZERO stars I would. For anyone currently looking to purchase services with Dish Network, I will warn you - DO NOT DO IT!!! We have literally been put through the ringer with this company of crooks. Our internet NEVER worked. I spent more of my time on the phone with technical support saying, "Yes the box is plugged in" than actually on our internet!
When we finally disconnected our services in January we were told there was a credit on our account and to look forward to receiving a check in the mail- yea right! I got a call a week ago, it's March, saying that we owed $57.39. After a full week of at least four phone calls a day to collect this debt that Dish magically managed to pull out of their hat I called and was transferred from one person to the next who all couldn't answer why the representative that I formerly spoke with couldn't do simple math and told me that Dish apparently owed us money! How do you go from expecting a check in the mail to owing money!!!?
We switched our services to DIRECTV and not only has the price for our TV decreased, but the combined price for our TV and internet is CHEAPER for what we were paying Dish Network for the basic TV package. Also, their customer representatives aren't idiots. Save your money and don't waste your time with Dish Network.

My equipment was always needing to be serviced and the rates just kept increasing. I decided to cancel service since I was no longer under contract. Customer service was a joke, but I had to deal with them in order to receive my refund. I was given conflicting amounts and when finally transferred to a supervisor he authorized a lower refund than I had just been quoted. His name was Victor (rep **) and he had the audacity to ask me why I wanted my refund if I was so dissatisfied with their company. Unbelievable!

I called to merely cancel my subscription and the customer service rep would NOT stop trying to sell me no matter what I said. I finally had to hang up as he was laughing and would NOT complete my request!

Had online chat yesterday 3/7/2017 with Gelina ** from Dish Network, I was looking to see if internet was offered in my area and price to bundle TV/internet. I was not able to find out about internet or TV price until I gave personal information I did not want to share. However Gelina ** stated NO charge to do this process and on about validation would provide me with the most technologically advanced equipment available. I stated I did not want to commit and would speak with my husband before making any decisions.
Finally I was given a price but stated again I would not commit till discussing with my husband. She still wanted to lock in the deal for TV and I could add internet later. I stated again no. Gelina ** stated "by locking in promotion, you won't to do the same process all over again. We're giving you guaranteed price and we don't want you to miss it." I thanked her and she said "for security, we don't save any information here on our end."
Well fast forward to today 3/8/2017 my card was charged a fee. Mike at customer service 18448481071 a sales specialists says it is a pre authorization fee. I stated I was told in online chat I have printed in front of me NO charge to do process. He says it is really not charged to account. Well my bank subtracted it. So do not give this company any information or credit card/debit they use it anyway.

I have been with Dish for a short time and have had many problems. Today was the worst. Dish sent someone to fix the most current issue and after some time he switched the receiver. It took a long time and many tries to get it working but it did. About an hour later the On Demand would not work so again I call Dish and was told to run all the tests again and that they have been having problems with this and that. It may take some time for them to fix. I asked if I would get a refund for the now five days and soon to be weeks without the service I am paying for and was told no but could get HBO for free. I said "No. I just want what I pay for. Nothing more nothing less."
Richard from customer service told me that it was my internet and that Dish could not fix. My internet worked on all other things and worked for the first hour and now it is my problem not Dish. After a while Richard said he would send out another receiver but if that did not work Dish was done doing anything for me. I then asked to be released from my contract. Was put on hold and then disconnected. They have my number but have not called me back. After seven hours of this I have had it for one day and will call tomorrow. All I ask is that I get what I pay for or released from my contract. Never would I think a company would treat customers like they are the problem.

What I would like to know is HOW these companies get away with this type of customer service (customer service reps that you can hardly understand, lack of consistency in pricing, long wait times for installation in the home). We switched from DirecTV less than 6 months ago and got Dish. The first installer came out and it was a TOTAL day job for installation. After that, the TVs just started freezing up and when we called Customer Service (offshore) all the response was they will "send us another box" (3 in total). That didn't work either, TV still kept freezing up. Called again and another DAY JOB... replacing inner workings of sophisticated equipment built into a home in 2005.

I cancelled my service and was told there would be a cancellation fee even though when I set up service I was told I could cancel any time. I asked to see my signature where I signed for this. They showed me a signature but it's not mine. Then I get a bill for non return of the equipment. I put it all in the box they sent me and used the call tag label they sent me. Over 3 months later I'm sent to collections for a $640.55 bill. I just got off the phone after 1 1/2 hrs and still no one was willing to help me. I asked for the call tag # they sent me and they have no info on it. I asked for a supervisor, spoke to a Lynn ** and she was totally not willing to help. All she kept telling me is that I had to prove the equipment was mailed. I thought I was dealing with a legitimate copy with values. Told me to call UPS and get proof. Without it I owe this bill. I have been felt to feel like a liar. Why would we keep this equipment.

They are the worst TV company out there. Had them for about a year and their service was garbage. They say they are better than cable and their equipment is better than ever but that is a lie. Every time there was bad weather my Dish was out. Save your money and go somewhere else. Plus their customer service was garbage too. They are a scam and a garbage company. If you don't believe me burn your money and order TV with them.

I have been with them one month. The system has not worked right for the entire time. I said I wanted to go back to DIRECTV cause I never had a problem with them. They have a dish sitting in my front yard with rocks on it! Not mounted or anything. TV cuts out at least once a weeks. I spend hours on the phone and fixing stuff. I am so sick of it I wanted to cancel after only one month! They said it would be $600.00. DON'T USE DISH!

How is that you can charge someone a freaking 400 dollar early termination fee and 600 dollars in unknown charges. Never will I ever suggest Dish to any of my colleagues. Comcast has my full support. ** scam artist.

I have too many complaints to list them all. But the last one now I'm getting charged for local channels $10.00 per month. I called them to have those channels removed because I have a roof antenna. They refuse to remove them unless I pick another channel package. I even spoke to a so called supervisor. Still she would not remove the channels. I always love paying for a services I don't need or use. I'm switching to Direct but I know when my 2 yr contract is up then up goes the price just like Dish did to me. I only buy the basic package and even then I only watch about of 3rd of the channels I pay for.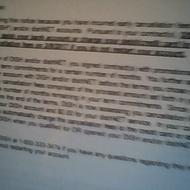 I and my husband have had Dish services for the last 4 years. For the last two years we had the service with the hopper dvr. We asked them about being able to add a room for dvr cause we had a TV in our bedroom. They led us to believe that it would just cost an additional service charge of about 8 dollars every month for a wireless joey in our bedroom plus a 35 charge for them to come and set it up and also recommended that we purchase a surge protector of about 45 dollars.
My husband and I recently moved to a different town and was told that Dish reception here wasn't very good so we canceled Dish services. We recently received a letter from them saying they were going to automatically charge our debit card 360 dollars thru our bank account on March 9 2017 for cancellation fees if we do not restart our account with them. This is the actual letter they sent us. It doesn't contain even our account number just their threat of stealing our money from our bank on March 9 2017. Please help put a stop to their thievery.

I have had Dish Network for nearly 3 years. Recently, I got irritated with my bad WiFi service, constantly resetting the modem and TV boxes, and losing service in bad weather, so I called Xfinity to see how their prices matched up with Dish. It was cheaper by far and gave me more services (including a home security system). So I switched and once they were done installing it, I called Dish to cancel.
The first lady I spoke with tried to get me to stay, but when I told her it was already done, she gave up and transferred me to an "account specialist". This lady, Sam, would not take no for an answer. She was offering me discounts and help with tech issues. For ten minutes I just kept clearly stating to her that I already had Xfinity and just needed to cancel. WELL -- so much for the nice Sam who wanted me to stay. She said I was going to be charged for early cancellation. I told her I didn't see how, since I had been with them over 2 years and get this -- apparently when I moved and upgraded my services (Upgraded as in paid them MORE money), a new contract started. There is also a fee for them to come out and get the atrocious satellite dish off my roof. I'm livid. Learn from my experience and STAY AWAY FROM DISH NETWORK!

Dish Network is the worst company that I have dealt with. When first starting my service I had wanted to bundle TV and internet. I was told that while internet was available, I would have to stay in good standings with their company for 3 months to get their internet service. Three months later I was told that it would be another 3 months. Also, when I signed up I requested a sling box that I did not receive and was told to "buy my own from another retailer". In addition, one month my service was shut off for non-payment THE DAY BEFORE my bill was due. After all this I decided to cancel my service due to their horrible business practices.
Over a year later I let a friend put $1000 on my debit card for an online order. IMMEDIATELY DishNet took $600 off my card for early termination fees so needless to say my friend is pretty upset about the $600 I cannot pay him back. To sum it up, DishNet will break their own rules and regulations and then bleed your bank account for anything they can. If you want to spend money on services you never receive and have your service shut off based on a hunch, then Dish Network is perfect for you but if you are like me and don't have the money to donate to a multi-billion dollar conglomerate who provides little to no service, then you should look into a respectable TV company and avoid Dish Network at all cost.

I have been a DISH customer for the past 10 years. When I first purchased the DISH service in 2007, the cost $40.00/month was not a bad purchase. Programming was good and service was tolerable (still it was very hard to understand the India service personnel). Jump ahead to 2017. I am just about ready to disconnect from DISH. Programming has become a constant barrage of reruns and old programs (if I wanted to watch old programs I would switch to the antenna and watch the H&I channel). DISH shows the same movies over and over again to the point I am learning the dialog. When I complained to them, they suggested I purchase the $40.00 movie package.
The programs are now secondary to the commercials. Some programs have as much commercial time as they do actual program time. I have counted as many as 14 commercials in a row followed by as little as 53 seconds of program, followed by another large barrage of commercials. I know commercials are important for the revenue they generate, but have a heart, I don't buy anything they advertise on television. Then there is the synchronized commercials. It seems like once the commercials start on a channel, commercials begin on every other channel offered by DISH. This gives me a good amount of time to clean house.
My original DISH bill was $40.00. Now I am paying a bill that is a slight bit over $80.00. Recently I received a note that I was receiving a rate decrease of a few dollars. The rate decrease was to compensate for the newly imposed charges for the local free TV channels they added to the line-up some time ago. I still receive my local channels through my antenna because this is a high-def signal while DISH is a low-def signal (I have not opted to buy DISH's high-def, Hopper, recorder, receiver due to the added cost and new service contract).
The way I currently figure I pay $45.00 a month for old programming (very few new shows are ever available) and $35.00 a month to watch commercials. You guys ought to be ashamed of yourselves. Being a senior citizen with a disabled wife I live on a very limited income. We are not able to travel anymore due to the wife's bad back and other severe medical conditions. Our television is the main source of our entertainment.

After 16 years of being a faithful Dish Net customer we decided to downsize, drop the service and go via antenna. I was kept on the phone for at least 20 minutes with sales pitches. I finally told them, "No Thanks. Just disconnect me." I was sent the box to ship receivers, remotes and eye. We sent it off. The next day we got it thru UPS. Lo and behold, we started getting calls that we owed $264.74 for the equipment that they never received - imagine that!! My big mistake was not searching thru the internet on this company on similar complaints. Why in the world would we keep this equipment (it's useless). When dropping Dish Net, save yourself nights of sleeplessness and worry, ask for a tracking number before you send your package off (huge mistake). I trusted this company to do what was right. I was wrong!!!

I signed up with DISH Network for service for my RV, I previously had DISH Network for home and had a good experience with it for about 6 years. My service at home is no longer DISH but that is besides the point. I had my RV account on pause due for 6 months as during winter we were not using any of the services. This was costing $5.38 a month service charge. During this time I had an accident and was admitted to the hospital during which time the pause ran out. They immediately reinstated my service even though I was not using it and sent a bill.
When I finally received the bill almost a month and half later I called them reinstate the pause. I explained the situation to them and they were unsympathetic and now stated that I owed them 2 months of charges. I told them I would pay them one month but not two since l never got a bill in a timely manner. They refused to budge and since I am now disabled and have no income I told them I would pay as I could.
Then the harassment started. I started getting calls several times a week to pay my bill. I called after paying some of my bill and told them to cancel my service. I am now getting calls DAILY to pay my bill. Each time I have explained my situation and told them I would pay them as much as I could each month until the bill is zeroed out. That is not good enough for them, they are continuing to call daily, sometimes several times a day. I have now had to block their number as they refuse to listen to reason. I was actually thinking about going back to DISH for home service prior to this happening, I will no longer be considering DISH for any service in the future. Oh and it's not like I don't pay my bills, my current credit score is at 840.

I called Dish to transfer service between summer house and winter house. The agent told me I could suspend service for $5/month rather than disconnect, so I agreed to do that. Five months later I found out they have been charging the full fee to my card, not the $5 fee as agreed. The "person in charge" would only give partial refund, he said they can only go back 60 days for refunds. What BS that is. They just want to steal your money plain and simple. I am done with DISH, between their crappy packages and always trying to screw customers out of more and more money this company will end up going under. I have Comcast at my other house, never have I had these kinds of problems. They have gone out of their way to keep me happy and they will keep me as a customer as long as they do that. Dish should get on board with that kind of customer relations.

Going into my 5TH year with Dish; you'd think I was a happy customer! I tried to be, but continual billing errors made that nearly impossible! Should have realized from the get go, when after signing up on a bundle deal with Frontier in Sept 2012! My first bill I was overcharged on the Dish portion over what was agreed to! So here was my #1 phone call (to be fair Frontier was great and got this rectified).
I am on fixed income, so auto pay is not something I take advantage of, and review every bill before scheduling! I highly recommend to all of you to do likewise! Once my first year was up, they high jacked the price to no longer affordable levels; at the same time weekly offers arrive in the mail for new customers to get hooked up! Yes, they agreed to some price matching! Then you'd still be billed incorrectly and make that call to get corrected! Little did I know their errors become your penalty; and on Jan 16, 2017 I get my bad episode of Celebrity Apprentice phone call from Mr Carlos ** in escalation that in 20 days time we were being "terminated"; which just happened to land us on Super Bowl Sunday on Feb 5, 2017! Talk about punitive; but that's your reward for loyalty and making sure of accurate billings!
Here's what I've learned through this process; if they start out with incorrect billings! Guess what; it doesn't get better? Consider changing providers every 2 years so you're always a new customer somewhere. We have an 88 year old and a couple of 70's in this household and we like continuity so would have preferred being treated with dignity, respect and accuracy! Guess what, your Smart TV can pull in 31 stations for free! With aid of a laughably simple antenna, who knew? DirecTV offers service for 1/2 the price and includes your Genies and Super Genies for free for up to 4 TV's which is what we have!
This should be a Thank you to Dish, as in 5 years time we have paid too many thousands to think about! Explore every other option before you take the leap! This was misery start to finish! Actually thinking strongly about cutting the cord permanently and not commencing with alternative service; as taste in my mouth is not one a Christian wants to mention! So do you feel lucky? Good Day from Oregon. Also I might mention, the 57 calls they claim I made; was not verified in my detailed audit of all my phone bills, from which all my calls are generated! So one more weak link in their faulty systems!

Bad service. Every time I open my bill it is something! Every 6 months my bill goes up 5.00 and I am tired of it! My package came with 3 remotes but when I went to get the 3rd they wanted 7.00 a month and 97.00 to hook it up, hook up what?? or 7.00 a month and pay 8.00 a month and hook up to insurance. I am sick of it and I am looking for other options in our area and why all of a sudden they are breaking out our local channels and charging us 10.00 extra a month. They give me a song and dance about so we could see what local channels were costing them. Bogus line of CRAP!!!

ConsumerAffairs Research Team
The ConsumerAffairs Research Team believes everyone deserves to make smart decisions. We aim to provide readers with the most up-to-date information available about today's consumer products and services.
Founded in 1980, DISH Network now provides paid TV to almost 14 million subscribers. The company, headquartered in Meridian, Colorado, is the second-largest satellite TV provider in the United States.
Flexible payment: DISH network accepts Bitcoin as a payment method for those who prefer the cyber currency.
Fantasy and reality: Subscribers can watch a game and look at their fantasy football stats to chart their team's progress, using DISH Network Hopper.
Watch from anywhere: DISH Network allows access to recorded shows from anywhere, as long as there is an Internet connection.
No up-charge on HD: DISH Network offers free HD channels, and it does not charge extra for the high-quality imaging.
Promotional offers available: DISH Network sign-up promotions allow customers to get extra channels with a 24-month contract commitment.
Best for Television fans who watch a range of programs and households on a budget.
Compare Cable & Satellite TV Providers
DISH Network Company Profile
Company Name:

DISH

Year Founded:

1980

Address:

9601 S Meridian Blvd.

City:

Englewood

State/Province:

CO

Postal Code:

80112

Country:

United States

Website:

http://www.dish.com/