Consumer Complaints and Reviews

We bought a 2012 Subaru Forester because of their reliability and safety. We bought it from a dealer used with only 114,000ish miles on it. After one oil change it now has gone through 2.5qts of oil in half of the oil's life. After calling Subaru they said that there is nothing they can do to fix the problem without me paying several thousand dollars because it has more than 100,000 miles. This is completely unacceptable! I have been a mechanic professionally for 16 years and the last time I had a customer that had a vehicle that went through that much oil they blew their engine. Subaru needs to man up and fix this issue and fix it correctly, no band-aid on a bullet hole.

Bought a 2015 Subaru Outback 3.6 on Jan 2015. Never had a car like this before. To think that they supposed to be reliable. On its 30 month or about 40k miles the engine went dead, on a warm morning weather. Attempted to jump start but to no avail. Road service responded and attempted to jump start but unsuccessful. Finally towed to Bill KOLB SUBARU, ORANGEBURG, NY. BATTERY AND MASTER FUSED CHANGED. Gregg of service dept said, maybe an interior light was left on. But could not be, once alarm was pressed it shuts everything off. Charge - $524 - 180 for battery and 300 for labor for finding the problem - a blown master fuse. Were supposed to be computerized now but it took them 3 hrs to diagnose the problem. I'm very very disappointed with Subaru. Thinking of trading it off before it act out again in peculiar situation with my entire family on it.

I certainly like my Subaru but... Over a year ago, Subaru notified its owners of an airbag recall and warned us not to have anyone sit in the front. Having a large family that proved to be a big problem and inconvenience. Months later, we received a note that the airbags were now available and to schedule an appointment for the replacement with the nearest dealer. Upon calling the dealer, we learned that there is a two months waiting list (and that's within less than 24 hours of having received that note in the mail). The dealer took our information and informed us that we would be contacted in the order our name was received.
Fast forward three months later, we never heard back from the dealer. So we called again, they said "can you bring it in a week time because they only receive 4 new airbags at a time." At that point, we weren't sure if they simply forgot to call customers back or they're overwhelmed with this whole recall thing. We probably would have never heard back had we not called (In the meantime, Subaru had sent another note urging us to get the airbag replaced.). And when you eventually get an appointment, they cannot tell you how long the work will take given that they have so many appointments. Overall, I find that Subaru has not been on top of this recall issue and is not acting swiftly. Given the safety risk associated with the faulty airbags, they need to act with a greater sense of urgency since people lives are at risk. And the customer service end has not been any better either.

Have a 2015 Subaru Forester and can't stand driving it bc the Bluetooth rarely pairs and/or works. Once it does pair, it drops calls as soon as I start driving faster (like on the highway) and then pops back on once I slow down (exit the highway). It's the craziest thing! I've brought it to the dealership and it seemed 'fixed' when I left, but then the next day it started acting up again. Apparently, it's a software issue. Apple says that Subaru software is outdated and need to be updated. C'mon, it's 2017... update your software. I swear more accidents are going to be caused from jacking with this bluetooth! So frustrating and time-consuming.

Subaru - love the car, hate the company! This is just the latest issue I had to deal with on my wife's 2014 Outback Limited with the special appearance package, a car that stickers for close to $37,000. In hindsight, I should have bought a Lexus NX for that price! I have had countless issues with stupid things in this car. The AC broke and the first time they fixed the car, they pulled a part off another car on the sales lot (really?). Every wheel molding installed by the factory fell off. The rear storage plastic covers all fell apart. I have had multiple sensor issues including the one described below. The list goes on. And the closest dealer is an hour away so if they never take your word for anything and they never stock parts in house, so every fix requires a minimum of 4 trips. My last experience was actually four trips to a dealer 2 hours away.
In fact, I was right the whole time every time and in this last experience, dealer tested the issue using a tire pressure gauge, one who he admitted was faulty. A simple, cheap TPMS troubleshooting tool would have avoided everything listed below. Why? Because one of the sensor batteries was low, but they were incompetent in finding it. Perhaps this email sent to the dealer says it all:
Just as an FYI... I just responded to the Subaru of North America survey with the following statement: "Dot was the WORST representative you can hire to help your customers. She is adamant about protecting Subaru's resources than solving a customer's safety issue, regardless of "policy." If leaving your customers high and dry with a valid safety issue that causes frequent distractions to whether my wife is low on gas, TPMS, etc. is UNACCEPTABLE!! I had to sneak around DOT in order to get to a manager of the team who is now at least providing the resource of time towards my issue."
"I DEEPLY fear my issue will not be resolved, despite my photographic proof of the issue that is FALSELY causing safety alerts during my wife's driving of the vehicle. I explained this inexcusable behavior by Subaru has now put my future trust in Subaru in serious jeopardy. This is my second Subaru, my first being a Saab 9-2x, which makes this car my first with Subaru directly. With a car being allowed to travel on the roads with a serious safety issue is unquestionably irresponsible of your company. And Dot makes sure I do not get the help needed. She was yelling at me and a disgrace of your organization."
"REPLACE TPMS sensors immediately under warranty. I am at a loss at what else there is to do. This is the position I am now in. If there is any way we can escalate this within the Subaru executive organization, it would be greatly appreciated. I cannot fathom giving my wife her car back with this serious safety issue questioning her constantly whether or not her tires are safe based on the continued false TPMS sensors, only because you are unable to reproduce the issue, despite my three documented and photographed incidents SINCE leaving your service center on my last two visits. Despite the policy, I am seeking replacements of the TPMS sensors to give my wife the safety and security she needs as safety is our number one concern when purchasing a vehicle."
"Whatever we need to do, please let's continue to push for escalation wherever possible. Subaru has a responsibility to stand behind the safety of their vehicles under warranty. While my wife's car is in your dealership service center right now for the third time in three consecutive weeks, you have the opportunity to make this right. You have the proof it happened three times after leaving your dealership, that is all that should be required for replication of the issue."
How do I know I can trust these reviews about Subaru?
792,868 reviews on ConsumerAffairs are verified.
We require contact information to ensure our reviewers are real.
We use intelligent software that helps us maintain the integrity of reviews.
Our moderators read all reviews to verify quality and helpfulness.
For more information about reviews on ConsumerAffairs.com please visit our FAQ.

I have owned 4 Subarus but I must say, I am done with the company. My 2002 Outback had the leaking head gaskets but was not part of the recall. Subaru paid for the repair (as they should have) and I was told the head gasket issue had been resolved on the newer model Subarus. When it was time to purchase a new car I bought a 2007 Outback thinking I would be OK because SOA promised the head gasket thing was resolved. Imagine my shock when I was told I had oil leaking from my head gasket. Then soon after the antifreeze started leaking. I wrote to SOA and was told this was normal wear on a car with 139000 miles. Shame on you Subaru. I have since found many people with the same leaking gasket issue on different model/year/mileage of Subarus. A google search will show you or just ask any mechanic or your Subaru owning friends. I wish I had done better homework. I love my AWD wagon but never another Subaru.

2014 Outback- Until now I have done all my oil changes at the dealer (Tom Wood Subaru). On 3 occasions the oil light came on and I had to add one quart of oil. This occurred about 3000 to 4000 miles after the oil change. When I brought this up with the service rep the first time he told me that apparently during assembly, one of the three piston rings had not been installed in some vehicles resulting in excessive oil consumption. Consequently, Subaru had instituted a usage test involving retesting for loss of oil after 1200 miles (loss of 1/3 quart). The dealership has run this test twice and reported no excessive loss of oil in either case. I believe that the test being used by Subaru is not precise enough to detect the problem after 1200 miles and should actually be done between 3000 and 4000 miles. The other possibility is that excessive oil consumption occurs under certain conditions. If this is the case, Subaru needs to share this information with the vehicle owners.

I bought my Outback new and have taken meticulous care of the car, religiously changed the oil and all of the customary tune ups. I do quite a bit of driving, having put 149k in less than 6 years but have tended to every update or replacement so to avoid any unforeseen major issues. Last year, my oil light came in which confused me since I had 2k miles to go before the next oil change. Went to check the oil and it was boned drive. Since then, I have carried extra oil - just in case this happened again. Did not think much of this fluke. Fast forward to a couple of months ago, I felt a noticeable decrease in performance. Took it to my mechanic and always got "it's fine".
A month ago, noticed that my acceleration was compromised so my mechanic changed the engine filter and then the battery, which improved the acceleration slightly, but thought it was in my head. The car started to make a "rattling sound" after trying to accelerate over 60-80MPH; it felt that the engine was choking. I would not even pass other cars for fear of the car stalling; no lights came on. Then the next day, the dashboard went haywire with the lights (cruise control, solid engine light, traction control, and another light that I can't remember right now). Took it to another Subaru dealership in North Attleboro, MA and they hooked it up to the "machine" and told me that I needed OSV Valves for both side, code P0028. The cost of the valves were 235.74 and labor was 600.00, totaling $835.74, which I paid since I thought it was going to resolve this issue once and for all.
I asked if the tech took the car for a test drive and they could not confirm this. I picked up the Subaru and drove off, the car had a slight improvement but not for the 835.75 repair. Called Subaru the next day, and drove the car back to the dealership. Had the general manager drive my car, and he felt that the car had no power to accelerate and that the transmission felt like it was slipping. This was Saturday morning. On Tuesday, the Subaru manager said that they were still working on it; they could not find the source of the problem and was on the phone with another Subaru department trying to figure this out. A day later, we got a text message stating it was my transmission leaking down internally. The cost to replace was $6040 and that did not include other parts and fluid. I wrote to Subaru since I feel that the Class Action Lawsuit of the excessive oil consumption may be related to the transmission.
In addition, Subaru had replaced OSV valves and did not test drive the car to see if they remedy the issue. Lastly, why did the diagnostic machine pick this up? I purposely asked the tech, if there was another nested issue underneath the OSV valves; she answered "no". The POO28 code was correct diagnosis. I will contest the charge for the valves on my Visa and have written to Subaru Corp about this issue. Between replacing timing belt, fuel pump, tires... this transmission would have set me back well over 10k. If I can't get Subaru to fix this for under 2k, I will trade it in. This car was great in the snow, but the seats were uncomfortable, poor visibility from the side of the car (blindspots were bad). Headlights are constantly burning out and Subaru response is to go to the dealership to get them replaced. Next car will be a Honda or Toyota.

I can not believe that Subaru refuse to fix a warranty issue with a new vehicle. Subaru have dodged the issue for 18 months. They refused to admit there was an issue; operator error. Now they admit there is a fault but only want to fix half the problem. Looking at international websites, there are quite a large number of complaints about the 2015 Outback and also the tailgate function. The tailgate has malfunctioned since now and they make up plenty or reasons not to repair the car. I thought this sort of deceptive practice stopped in the last century. So much for buying a new vehicle.

Subaru of America resolved this issue.
Original Review
I purchased a new Subaru Forester 2017 manual. At approximately 2300 miles the oil light came on and I had to purchase 2 quarts of oil to get the light to turn off. I took the car into Dellenbach Subaru in Fort Collins, CO and was told that they would need to run an oil consumption test which requires me to drive the car for 1200 miles. I was not happy. The service manager, Jerry, agreed that they have had issues with the Forester and oil consumption. A salesman informed me that they had to "buy back" another 2017 Forester model because of the oil consumption. I told them that I did not think that it should be the customers responsibility to drive a car 1200 miles in order for Subaru to determine if there is an issue. I purchased a new car and should not have to put oil into it this early on. That's why I purchased a new car, in order that I wouldn't have to return to the dealership with any issue(s) or have any issues to deal with at all.
I told them that I was not happy. I would like to trade-in the car for another car that they have not had any problems/issues with previously. I was told that this is the only way for Subaru to determine if there is an issue. Obviously, there is an issue here. Subaru customer service needs to listen to the customer. One does not pay the money for a new car to have to return to the dealership 3 times to deal with Subaru's problem.

I bought my 2014 Subaru Forester new, I even had to wait for them to make it. I was excited until driving home from work one day and my oil light comes on, so naturally I add a quart of oil. Then I have my oil changed and told them to put in an extra quart because of it using up a quart before my next oil change, but lo and behold the oil light came on again. I am so afraid that I am going to have major issues after I reach 100,000 miles. They have done 2 oil consumption test and they come back fine per the dealership. I don't understand how they come back fine and halfway through my oil change my oil light comes on.

I purchased my 2013 Subaru Crosstrek mainly due to Subaru's great reputation for reliable vehicles with low maintenance costs. At 86k miles I started hearing a louder whirring noise from my transmission. I took it to the dealer and had to get the CVT transmission replaced. Luckily I bought the extended warranty, otherwise I would have had to pay close to $10,000 for the repair. Considering I bought the car for $19,000 and the blue book value on the car is around $11,000 this is completely outrageous. I expected this car to go at least 150k miles before replacing a transmission and expected the cost at that time to be at least half that cost if not less. I will never purchase a car with a CVT again. I will likely be selling this car before the current warranty expires and will likely do the same with my Wife's Impreza before it's warranty is up as well since it has the same transmission.

Recently we purchased a 2007 Subaru Outback, our 14th Subaru. This is the worst SUBARU that was ever made! It had 107,458 miles on it, so we thought we would be driving it at least to 250,000 or more. However, on day 6, the engine caught on fire in Virginia, 699 miles from home. SO we paid to have it towed home, another engine was put into it and guess what. That is now gone too. In between these 2 engines the brakes had to be replaced because the lines rusted and broke causing fluid to leak all over the place, but because I'm the 2nd owner SUBARU of AMERICA will not help at all.
EXTREMELY DISAPPOINTED, especially finding out that they have been having engine problems and brake issues with these vehicles. BOTH issues have been causing these 2007's, vehicles to catch on fire. SHAME on you SUBARU of AMERICA, consumers need to know these vehicles catch on fire because of engine and brake issues. WE were a SUBARU family, but this month I bought a TOYOTA and a CHEVY, it's the first time in 26 years that I DIDN'T BUY ANOTHER SUBARU. Clean up your ACT BEFORE SOMEONE GETS HURT or even KILLED!!!

I've always been an American car buyer, but I've always been intrigued by the Outback. I have been researching your vehicles for some time. So I decided to buy my first Subaru. I went used, and I bought it from Subaru of Melbourne Florida. Here is my nightmare of an experience, this the letter I wrote to the dealer: "Hi Shannon, I don't know if you remember me, but we talked about 4 weeks ago. I was interested in a 2011 Outback that you had for sale. As a matter of fact I did come down from Michigan and buy it. It was one of my worst buying experiences ever. I told Larry to have everything ready. I would be there by noon on 4-3-2017. I was on vacation and didn't want to waste a lot of time. Got there by noon, left by 3. Here is a list of problems and delays:
1. In the picture on your website the car had a trailer hitch. I wanted that, but no hitch. Larry said they had to take it off because it wasn't a Subaru hitch. It was after market. So I have to buy a hitch. U-Haul is 300.00. 2. In the picture on your website it had a rear cargo mat. No mat. Larry said it was bad, so they threw it out. He finally gave me a used one from another car. 3. It took 45 minutes to find the second set of keys. OK, so I got the car, drove it home to my place in FL. Waxing it and notice a dent in the front fender passenger side. I had it removed by a dent removal service 195.00. I did ask for detailed pictures that I never received, and I also ask Larry if there were any paint deficits or dents. Of course he said no.
The final thing, drove it to work yesterday in the dark and notice a headlamp out. Now I know there is an extended warranty for bad headlamps on 2010, 2011. So I replaced the lamp myself and found that Larry and your dealership had left non Subaru HID headlamp conversion kit on the car, so now I don't know if Subaru will honor the warranty."

I just purchased 2017 Subaru Crosstrek. Very disappointed with vehicle and dealership which sold me the vehicle. I purchased the remote start for this vehicle to which is useless since the vehicle shuts off once the door is opened. Why would the salesman sell me an accessory that does not work in my vehicle type. He should have informed me of this. I was misled along with the salesman being incompetent not knowing this feature would not work. I should be refunded for the $525.00 I paid and they can uninstall the device. Aside from this disappointment the vehicle engine start is extremely rough and take too long to warm up, thus I can't use the remote start as necessary. Right now it's spring and 50's, how long will it take for this car to warm up in the cold winter months when it's in the teens. I'm also not sure how this was rated a top seller in its class. Huge disappointment with dealer and vehicle.

I bought a 2011 Forester and was generally happy with the car although it consumed a lot of oil. I then bought another Forester, a 2014 which also consumed a quart of oil every 700 miles. First the catalytic converter went at 35000 miles, then the engine imploded at 75000 miles. Then I thought I was saved by the country wide oil consumption lawsuit against Subaru. Nope, not only was I denied the extended coverage to 100,000 miles, but I was told it was not due to oil consumption and consequently not reimbursed for an engine that died prematurely due to excessive oil consumption.
Cute commercials, supposedly a green forward thinking company, don't believe it. Subaru produced thousands of faulty pistons and kept using them until they were caught. Subaru of America's response was flat out denial. I will never buy another Subaru product and I encourage you to do the same. A company that doesn't stand behind their product and presents a fake posture of caring should not be dealt with.

I put down a $200 deposit, still haven't gotten the check that they promised to send over 3 weeks ago. The manager Erik ** was rude and completely apathetic to anything I spoke about. I would never send anyone here.

Several months after purchasing my 2016 Outback I experienced an occasion when my engine stalled when I was trying to move into moving traffic. At first I assumed it was just a one time incident but I had the same thing happen a couple more times over the next few weeks. I drove the car to Armstrong Subaru and discussed the issue with Terry the service manager who told me that Subaru is aware of the problem that is in the computer module. He said they were expecting to come up with a solution within the next five months but in the meantime there is nothing they can do. The problem has continued to plague me and I fear that it could possibly cause an accident. I called Subaru America and the lady at that number pretty much told me the same thing. I waited several months and called Terry again only to learn that they are still working on the problem.
In today's internet issue of Consumer Affairs I learned that the Impreza has been recalled for the same issue but there is not mention of the Outback. I am very disgruntled to say the least. I guess I will be forced to wait until all the Imprezas are fixed before a recall is issued on the Outback. I'll just continue to keep my fingers crossed because I have to have my car for transportation and can't just park it indefinitely. No more Subarus for me.

The car chargers are faulty. They keep blowing up now twice in few months. Every time I have to waste a whole day to fix them. They keep trying to convince me that the problem is with my adaptor but that's not true. I have used the same adaptor for 10 years with my last Toyota with no problems. Needs to be fixed permanently. What an annoyance.

When I bought my 2014 Subaru Crosstrek, I thought I bought a car that I would keep to over 200,000 miles. With a noise in the rear, my car went into the Subaru dealership in NH to be checked. Lo and behold the news received today was the transmission is gone and the rear wheel bearing needs to be replaced. While I am thankful I bought the extended warranty at the time of purchase, I cannot understand why a transmission would have to be replaced at 65,000 along with the rear wheel bearing. Needless to say, I will be trading in my 2014 Crosstrek before the 100,000 mile warranty expires.

(Am not a car expert so forgive the terminology) In 2010 we leased brand new 2010 Subaru Forester and it sometimes would not start and had weird electrical issues. Gas tank "meter" would sometimes not register when I filled tank. Engine/oil and other lights would start flashing randomly--was not able to establish a pattern or pinpoint reason. Once I was not able to fill tank and gas station attendant pushed hard into gas tank opening and gas spilled out. Dealership supposedly fixed it--something with the sensor. But electrical issues continued to happen sporadically and dealer kept saying to bring it in when it happened--but of course it would never happen when I could bring it in. We returned that car thinking it was a lemon.
In 2013 leased another 2014 Forester because we love how it performs in the snow and ice. Well, this one is also giving us problems right after the 3-year warranty mark. This past winter it didn't start in about 7 or more different occasions (lost count) leaving me stranded in the cold, sometimes alone or with kids. We are never, ever getting another Subaru--I don't care how well it performs in the snow.

My customer information reflects items required to acquire notifications of service: both acquisition and notifications of appointments, and potential notifications of recalls. I attempted to notify Subaru of changes in (1) email address and (2) snail-mail address. In my opinion, such an attempt on my part should be available on *one* website, and should, when made, cascade *throughout* the "sophisticated" Subaru bureaucracy.
As it turns out, Subaru has three levels of databases in which these items are stored: national, regional, and local dealership. For each of the two items, I attempted on several occasions on national and local websites, via multiple national and local phone calls, multiple snail-mail requests, and multiple face-to-face visits to acquire the changes. In spite of my attempts, materials from Subaru continued to arrive at the *old* email and snail-mail addresses! All this took place over a period of 9 months. The issue has *still* not been fully resolved. For my own security, I feel I must make face-to-face appointments for maintenance. (The vehicle is still under warranty and a regimen of maintenance is required to maintain terms of the warranty.) I must describe Subaru's information processing as primitive at best.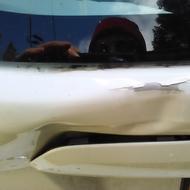 My husband backed my new 2017 Impreza 2.0i Premium with Eyesight into our plastic trash container at low speed. The trash container had no damage. The Impreza was badly dented. In addition, the paint over the dent cracked and fell off. I am dismayed that a low-speed collision with plastic was able to do so much damage. The steel skin of the Impreza is weak. The paint is brittle, since it did not follow the contour of the dent (which was round and not sharp). The paint adhesion to the steel is poor since it peeled away after it cracked. Subaru proudly advertises the strength of the car's high-tensile steel skeleton, but they do not mention that the skin and paint are weak. I am afraid that the appearance of the car will deteriorate rapidly as it accumulates the inevitable dings over the years. I do not yet know whether the dealership will repair this dent.

2013 WRX with less than 40000 miles on it is about to receive its 2nd engine replacement. Always kept stock and always maintained to spec. I use to shrug off WRX stories about blown engines, assuming that the drivers were somehow neglecting or abusing the cars. I've been proven wrong. Oil bypass and burning, spun ring lands, leaks coming from everywhere... it is all real. Heed this warning... Subaru under engineers their boxer drivetrains and you have a 2/3 chance of owning a nightmare car. The perception of a reliable Subaru is just clever marketing and die hard fans trying to boost their own egos. I'd never buy another one.

My wife and I currently own a 2011 Subaru Forester we purchased new from Hatfield Subaru in Columbus, Ohio. We have always had it serviced at Byers Dublin Subaru in Columbus Ohio. At the 25,000 mile mark both head gaskets were leaking so the mechanics at Byers pulled the motor and replaced them. Just recently at the 33,000 mile mark I brought in my vehicle to Byers for my 30,000 maintenance check also complaining of a strange noise. They informed me the head gasket was leaking again and the noise we heard was the transmission running low on fluid. They again pulled the motor and made repairs.
However, when placing the motor back in the car a strange noise developed in the engine. They again pulled the motor adjusting the tensioning on the timing chain yet the noise was still present. They then contacted Subaru technical support asking for assistance. They are currently pulling the motor for the fourth time with the intention of replacing the cylinder heads and camshaft.
Up until now, I have been in contact with both dealerships expressing my concerns. I have also spoken with customer service, a supervisor, and a manager at Subaru of America. The manager at Subaru headquarters said they could only offer me 2500.00 towards the purchase of a new vehicle. The manager at Hatfield where I purchased my vehicle from passed me off to a sales associate who only wanted to sell me a new Subaru at full price to meet his end of the month February sales quota. The manager at Byers where my car is being serviced has been less than forthcoming as to the true status of my vehicle and I have not heard from him as to the status of my vehicle as promised in the last four business days.
What concerns me the most is my wife and I now own a Subaru with a long list of engine problems so early in its life and a transmission which has been exposed to wear by fluid loss and after June of 2017 we have no warranty. We worked very hard paying off this vehicle early with every intention of keeping it for at least the next ten years. This was our first new car purchase and we chose Subaru because its incredible record of reliability. The current trade in value for this vehicle is 14,500 and we cannot afford to take out another loan for 10-14 thousand dollars to get the same style of Subaru we just paid off.
We paid in full for a Subaru because of its name, we always had it serviced at your dealerships, and I feel we are being punished for a rare flaw which required them to pull the engine so early in its life and thus creating more problems with the engine and transmission by trying to put it back together. It is not a matter of if this vehicle will have more problems in the near future it is a matter of when and I refuse to put my wife and two children back in this Subaru wondering when the next big mechanical failure might occur, one which we cannot afford. I am reaching out to you with the hope of resolving this issue and I refuse to give up until a solution can be reached.

New 2017 Subaru Forester with 2500 miles when has a small puncture while driving about 40 MPH. I immediately stopped the car and changed to the cheap junk spare. My local tire dealer examined the tire and said he could repair the puncture easily but the sidewall was delaminated rendering the tire unusable. Since he is a trusted friend, I value his opinion and the delamination was obvious. Subaru is selling cars with these junky Yokohama tires. It's my life and my family's that they put at risk selling this junk. I purchased the new Subaru based upon reputation and never thought to check the tires. I'm now out $145 for a new tire as well as the inconvenience. Fair warning Subaru - I do not forget and I do often comment.

"Double clutch your sports car if it won't go into gear." That's what I was told when I repeatedly complained to the new car Subaru dealer when I took my '08 WRX in for service. I bought the car new in '08 and have never abused it, but at times I couldn't even get it into R, 1st, sometimes 2nd gear. When the service rep finally got tired of giving me the "try double clutching" suggestion he had me talk to their head mechanic about the manual transmission issue. After he gave me the technical hard to sync explanation he finally said that Subaru isn't noted for having "refined" manual transmissions. I guess I should have done better research before I bought the car.
I finally gave up complaining and had to live with it until a couple of months ago with only 83k non-abused miles the transmission started whining. When I took it to the same dealer I was told that a rear bearing needed replaced and they couldn't even get that part. So I was told that I needed a reman transmission and it was going to cost over $5k. And I thought Subarus were well-built, long-lasting vehicles. Other than that the car has been pretty good, with the exception of 5 safety recalls and the firewall that the clutch is attached to has spot welds cracking. And this issue is a known issue and there was even a class-action lawsuit against Subaru. So if you're thinking of a Subaru please do some research before you get stuck with issues that could be very costly and time consuming to deal with. And you might want to do like I'm going to do in the near future, get a Honda.

I have never had a Subaru where every month or every other month I need bulbs replaced. I just had it in for inspection and there were 3 bulbs to be replaced. Not feeling excited about owning a Subaru. I have owned two others and they were great vehicles. Makes me want to trade it in... Worse Subaru I have ever owned.

Thought Subaru made a quality vehicle. Wrong. Needs struts at 28,000 miles, needs a headlight replaced every 3 months but can't find a problem. Just not a good purchase. So look elsewhere new car buyers.

I bought an Outback 2017 model on July 2016 and decided to spend more for the convenience of having the ability to set interior temperature of the car before I go in by having the remote start option. The car manual stated that if you set the A/C or heater setting the way you like it before turning the engine off, you should be able to have the same setting when you turn the engine on using the remote start. My car did not do that.
I brought the car to the Subaru of Glendale, California on January 20, 2017 and the service advisor told me that it only works for the 2016 and not the 2017 model. When I told him that it did not make sense that a newer model would be less capable than an older one and that the feature is clearly stated in the 2017 manual, he promised to call me on Monday or Tuesday of the next week because that day was a Saturday and he can't get a response from Subaru of America.
So I waited and no call came. Today (Wednesday 1/25/17), I gave them a call and was told that the advisor was busy and that he will give me a call. After a while I called again and was told the advisor was off-duty! I called the service supervisor and she said she would connect me with another advisor to help me. I was put in hold and after a few minutes, the line was cut!!! I called again and again, I was promised that somebody would call me back and as I am writing this, no calls! They were so good when I was buying the car, and you think that I was planning to buy the Impreza for the wife next month! Hell no! This will be my first and last Subaru!!!
Company Name:

Subaru

Website:

http://www.subaru.com/