Consumer Complaints and Reviews

When I bought my 2014 Subaru Crosstrek, I thought I bought a car that I would keep to over 200,000 miles. With a noise in the rear, my car went into the Subaru dealership in NH to be checked. Lo and behold the news received today was the transmission is gone and the rear wheel bearing needs to be replaced. While I am thankful I bought the extended warranty at the time of purchase, I cannot understand why a transmission would have to be replaced at 65,000 along with the rear wheel bearing. Needless to say, I will be trading in my 2014 Crosstrek before the 100,000 mile warranty expires.

(Am not a car expert so forgive the terminology) In 2010 we leased brand new 2010 Subaru Forester and it sometimes would not start and had weird electrical issues. Gas tank "meter" would sometimes not register when I filled tank. Engine/oil and other lights would start flashing randomly--was not able to establish a pattern or pinpoint reason. Once I was not able to fill tank and gas station attendant pushed hard into gas tank opening and gas spilled out. Dealership supposedly fixed it--something with the sensor. But electrical issues continued to happen sporadically and dealer kept saying to bring it in when it happened--but of course it would never happen when I could bring it in. We returned that car thinking it was a lemon.
In 2013 leased another 2014 Forester because we love how it performs in the snow and ice. Well, this one is also giving us problems right after the 3-year warranty mark. This past winter it didn't start in about 7 or more different occasions (lost count) leaving me stranded in the cold, sometimes alone or with kids. We are never, ever getting another Subaru--I don't care how well it performs in the snow.

My customer information reflects items required to acquire notifications of service: both acquisition and notifications of appointments, and potential notifications of recalls. I attempted to notify Subaru of changes in (1) email address and (2) snail-mail address. In my opinion, such an attempt on my part should be available on *one* website, and should, when made, cascade *throughout* the "sophisticated" Subaru bureaucracy.
As it turns out, Subaru has three levels of databases in which these items are stored: national, regional, and local dealership. For each of the two items, I attempted on several occasions on national and local websites, via multiple national and local phone calls, multiple snail-mail requests, and multiple face-to-face visits to acquire the changes. In spite of my attempts, materials from Subaru continued to arrive at the *old* email and snail-mail addresses! All this took place over a period of 9 months. The issue has *still* not been fully resolved. For my own security, I feel I must make face-to-face appointments for maintenance. (The vehicle is still under warranty and a regimen of maintenance is required to maintain terms of the warranty.) I must describe Subaru's information processing as primitive at best.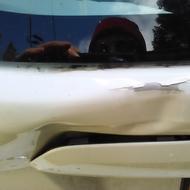 My husband backed my new 2017 Impreza 2.0i Premium with Eyesight into our plastic trash container at low speed. The trash container had no damage. The Impreza was badly dented. In addition, the paint over the dent cracked and fell off. I am dismayed that a low-speed collision with plastic was able to do so much damage. The steel skin of the Impreza is weak. The paint is brittle, since it did not follow the contour of the dent (which was round and not sharp). The paint adhesion to the steel is poor since it peeled away after it cracked. Subaru proudly advertises the strength of the car's high-tensile steel skeleton, but they do not mention that the skin and paint are weak. I am afraid that the appearance of the car will deteriorate rapidly as it accumulates the inevitable dings over the years. I do not yet know whether the dealership will repair this dent.

2013 WRX with less than 40000 miles on it is about to receive its 2nd engine replacement. Always kept stock and always maintained to spec. I use to shrug off WRX stories about blown engines, assuming that the drivers were somehow neglecting or abusing the cars. I've been proven wrong. Oil bypass and burning, spun ring lands, leaks coming from everywhere... it is all real. Heed this warning... Subaru under engineers their boxer drivetrains and you have a 2/3 chance of owning a nightmare car. The perception of a reliable Subaru is just clever marketing and die hard fans trying to boost their own egos. I'd never buy another one.
How do I know I can trust these reviews about Subaru?
744,488 reviews on ConsumerAffairs are verified.
We require contact information to ensure our reviewers are real.
We use intelligent software that helps us maintain the integrity of reviews.
Our moderators read all reviews to verify quality and helpfulness.
For more information about reviews on ConsumerAffairs.com please visit our FAQ.

My wife and I currently own a 2011 Subaru Forester we purchased new from Hatfield Subaru in Columbus, Ohio. We have always had it serviced at Byers Dublin Subaru in Columbus Ohio. At the 25,000 mile mark both head gaskets were leaking so the mechanics at Byers pulled the motor and replaced them. Just recently at the 33,000 mile mark I brought in my vehicle to Byers for my 30,000 maintenance check also complaining of a strange noise. They informed me the head gasket was leaking again and the noise we heard was the transmission running low on fluid. They again pulled the motor and made repairs.
However, when placing the motor back in the car a strange noise developed in the engine. They again pulled the motor adjusting the tensioning on the timing chain yet the noise was still present. They then contacted Subaru technical support asking for assistance. They are currently pulling the motor for the fourth time with the intention of replacing the cylinder heads and camshaft.
Up until now, I have been in contact with both dealerships expressing my concerns. I have also spoken with customer service, a supervisor, and a manager at Subaru of America. The manager at Subaru headquarters said they could only offer me 2500.00 towards the purchase of a new vehicle. The manager at Hatfield where I purchased my vehicle from passed me off to a sales associate who only wanted to sell me a new Subaru at full price to meet his end of the month February sales quota. The manager at Byers where my car is being serviced has been less than forthcoming as to the true status of my vehicle and I have not heard from him as to the status of my vehicle as promised in the last four business days.
What concerns me the most is my wife and I now own a Subaru with a long list of engine problems so early in its life and a transmission which has been exposed to wear by fluid loss and after June of 2017 we have no warranty. We worked very hard paying off this vehicle early with every intention of keeping it for at least the next ten years. This was our first new car purchase and we chose Subaru because its incredible record of reliability. The current trade in value for this vehicle is 14,500 and we cannot afford to take out another loan for 10-14 thousand dollars to get the same style of Subaru we just paid off.
We paid in full for a Subaru because of its name, we always had it serviced at your dealerships, and I feel we are being punished for a rare flaw which required them to pull the engine so early in its life and thus creating more problems with the engine and transmission by trying to put it back together. It is not a matter of if this vehicle will have more problems in the near future it is a matter of when and I refuse to put my wife and two children back in this Subaru wondering when the next big mechanical failure might occur, one which we cannot afford. I am reaching out to you with the hope of resolving this issue and I refuse to give up until a solution can be reached.

New 2017 Subaru Forester with 2500 miles when has a small puncture while driving about 40 MPH. I immediately stopped the car and changed to the cheap junk spare. My local tire dealer examined the tire and said he could repair the puncture easily but the sidewall was delaminated rendering the tire unusable. Since he is a trusted friend, I value his opinion and the delamination was obvious. Subaru is selling cars with these junky Yokohama tires. It's my life and my family's that they put at risk selling this junk. I purchased the new Subaru based upon reputation and never thought to check the tires. I'm now out $145 for a new tire as well as the inconvenience. Fair warning Subaru - I do not forget and I do often comment.

"Double clutch your sports car if it won't go into gear." That's what I was told when I repeatedly complained to the new car Subaru dealer when I took my '08 WRX in for service. I bought the car new in '08 and have never abused it, but at times I couldn't even get it into R, 1st, sometimes 2nd gear. When the service rep finally got tired of giving me the "try double clutching" suggestion he had me talk to their head mechanic about the manual transmission issue. After he gave me the technical hard to sync explanation he finally said that Subaru isn't noted for having "refined" manual transmissions. I guess I should have done better research before I bought the car.
I finally gave up complaining and had to live with it until a couple of months ago with only 83k non-abused miles the transmission started whining. When I took it to the same dealer I was told that a rear bearing needed replaced and they couldn't even get that part. So I was told that I needed a reman transmission and it was going to cost over $5k. And I thought Subarus were well-built, long-lasting vehicles. Other than that the car has been pretty good, with the exception of 5 safety recalls and the firewall that the clutch is attached to has spot welds cracking. And this issue is a known issue and there was even a class-action lawsuit against Subaru. So if you're thinking of a Subaru please do some research before you get stuck with issues that could be very costly and time consuming to deal with. And you might want to do like I'm going to do in the near future, get a Honda.

I have never had a Subaru where every month or every other month I need bulbs replaced. I just had it in for inspection and there were 3 bulbs to be replaced. Not feeling excited about owning a Subaru. I have owned two others and they were great vehicles. Makes me want to trade it in... Worse Subaru I have ever owned.

Thought Subaru made a quality vehicle. Wrong. Needs struts at 28,000 miles, needs a headlight replaced every 3 months but can't find a problem. Just not a good purchase. So look elsewhere new car buyers.

I bought an Outback 2017 model on July 2016 and decided to spend more for the convenience of having the ability to set interior temperature of the car before I go in by having the remote start option. The car manual stated that if you set the A/C or heater setting the way you like it before turning the engine off, you should be able to have the same setting when you turn the engine on using the remote start. My car did not do that.
I brought the car to the Subaru of Glendale, California on January 20, 2017 and the service advisor told me that it only works for the 2016 and not the 2017 model. When I told him that it did not make sense that a newer model would be less capable than an older one and that the feature is clearly stated in the 2017 manual, he promised to call me on Monday or Tuesday of the next week because that day was a Saturday and he can't get a response from Subaru of America.
So I waited and no call came. Today (Wednesday 1/25/17), I gave them a call and was told that the advisor was busy and that he will give me a call. After a while I called again and was told the advisor was off-duty! I called the service supervisor and she said she would connect me with another advisor to help me. I was put in hold and after a few minutes, the line was cut!!! I called again and again, I was promised that somebody would call me back and as I am writing this, no calls! They were so good when I was buying the car, and you think that I was planning to buy the Impreza for the wife next month! Hell no! This will be my first and last Subaru!!!

We own a 3-year old Outback with 37,000 miles on it. Since purchasing the vehicle, we have had to add a quart of oil between each scheduled service (about every 3,000 miles). The dealership tells us that is not abnormal due to the thin grade of oil (which was never mentioned when we were considering purchase of this Outback). It gets worse. In November, without warning, the car lost all power while waiting at a red light on an exit ramp off the interstate. Because we could not get the power back, we were unable to move the vehicle to the shoulder. While waiting for the tow truck, another car smashed into the driver side of the vehicle (hit and run). After months of arguing with Subaru of America, we were told that the accident resulted from the other driver's negligence (rather than because the car was completely dead on the ramp) and, therefore, Subaru was not responsible in any way.
The Louisville, Kentucky dealership where we purchased the car finally examined it last week and reported they could find no identifiable problem with the engine. Therefore, the service department concluded there is absolutely no reason to expect this will ever happen again and suggested that we were overreacting because we fear this could occur again, without warning as before, and don't want to drive the vehicle any longer. Not surprisingly, when we asked to meet with the General Manager of the dealership to discuss our concerns, the response was that he was too busy to meet with us (but we could call him). And Subaru has the nerve to boast about its reputation for "customer service." You couldn't prove it by our experience. It would be difficult for us to say that Subaru stands behind its product.

Have 2016 Subaru Outback with serious electrical problems. Steering lockout prevents car from starting. We Have extended warranty. Dealership found and identified several codes indicating the sporadic occurrences. Bob Baker Subaru Carlsbad CA refused to fix the problem, and stated we would have to bring the car in while it was experiencing the problem which would be almost impossible. The "reason" given was itemizing and comparing the risk to a potential "flat tire" and how much money the repair would cost them. So much for extended warranties.

The Subaru flagship has terrible engine alert system. Apparently, when there is an engine problem instead of just a check engine light, all feature lights go on and the extra safety features, eyesight etc. become disabled! Subaru service says that the car does this so you'll bring the car in to be serviced and that most cars do this. I have never had this experience. Why disable any safety features! We are dealing with the all lights on, no safety features, for the second time. When I inquired about our lost garage opener left in their loaner car, that loaner was out more than two weeks because they couldn't figure out what was wrong with the owner's car. I thought I was buying a good car for my son and now I'm really starting to wonder.

I own a 2013 Outback 2.5. I drive a ton for work, family and fun. Like 30k per year. Pretty quickly I realized my car was going through a lot of oil. Oil light was going on at 2,500 miles. The dealership said it was probably because of the amount of miles I drove. I would just add the oil. At 90,000 miles my transmission was making a horrible whiny noise that got worse. They said I needed a new transmission because they can't fix the CVT. It is an all enclosed unit. They said it would cost about $8,000.00 but would talk with Subaru about getting some help. It still cost me $2,000.00 and I was driving a loaner for about three weeks.
At 110,000 miles I get a letter in the mail about a Class Action lawsuit regarding the oil consumption issue. I take it to the dealer as directed. They changed the oil and I bring it back after 1250 miles so they can verify oil consumption. What do you know, my car goes through too much oil! They replaced the small block for no charge. I had my car back in three days. My point is that I was less than happy about the issues my car had, but more than happy with Subaru's and my dealer's response to those issues.

Bought a brand new 2016 Forester limited back in May at the white bear Subaru dealer. At 5,000 miles five thousand miles the car failed to start sitting for as little as 24 hours in a nice and warm garage. The person that jump started my car was surprised knowing that it's a brand new car... taking it to the dealer next week for an inspection... definitely not a lovely way to start a new year.

I had this Impreza on March 2016, so far very disappointed. Compare with my last car Hyundai is not that good. First the painting is not a very good quality, the front lower paint is already had lots white spot, maybe in the rough road a bit damaged, but the Hyundai never like this and I had more than 8 years, just show the painting not very strong. Second the sound system sometimes not working, still display everything on screen, just not play, like dead computer, I have to restart it. And today I found my windscreen got a crack line, not really like a stone hit as the crack very even, maybe the original fitting is not good so sooner or later will cracking. I just wondering what's happened in that day when they assembly this car in Japan? And I want to know is really Japanese care about their customer.

I purchased a new 2016 Subaru Outback 3.6R Limited in March of 2016. The interior is a light-colored leather. A few months after purchase, I found that anyone wearing blue jeans in the car turned the seats blue. I contacted Subaru official site and spoke with my dealer. The dealer stated they were aware of this and have been receiving numerous customer complaints, but have no remedy to offer. They also said frequent cleaning of the leather may cause premature wear. This wasn't something I was warned about when buying the car. I traded in a 10-year-old Honda Accord with the same color leather and never had any problem with dye transfer and no problem with previous leather upholstery, including the other Outbacks in the family. I'm looking at the option to trade in my 9 month old car on another brand, though it would cause a major financial loss. But I need to weigh this against the possibility of having to replace my interior.

Since day one I have been getting an electronic alert sound, like a "doink" sound. I think this happens when the vehicle loses communication with the satellite. It is very loud and can occur multiple times when traveling in an area where there is a weak signal. It overrides all audio sound systems. Why can't this sound be silenced? My Subaru dealer says that nothing can be done to silence this most annoying and unnecessary noise. They said that I should not renew my StarLink or Sirius radio subscription and that should take care of the problem. What!!! I paid $35,000 and I can't use these features!! That is ridiculous. I hope someone might have a solution to this problem. Here's one. How about a line of software code that says "if communication with satellite is lost DON'T DOINK!" I would recommend any potential buyers not to purchase the navigation voice command or StarLink system. Not worth the money.

It has always been at least a two week wait for an appointment. Now it's 30 days. Really??? I was also given the option of just leaving my car there for a week. They might get to it per the person answering the phone. I purchased an extended warranty which is about to run out. Now all of a sudden my headlight won't come on. I took to a mechanic and he tests and determines it's the switch which is over $200. He says it should be under warranty. I cannot get an appointment earlier than 30 days. I travel a lot and consider this to be dangerous. Are the low beams going to go out too? Who knows, I don't. Also had a recall on the wiper motors which I cannot get serviced either. 30 days is a ridiculous time to wait for service. Especially on things that can cause you harm or injury if they go out.
What's going on? You sell us this stuff and you cannot deliver. Oh I was also told I could take it to the next county which is 40 mins away. What kind of service is this, anyway. The solution. If your auto has problems and you don't have enough mechanics to deal with the volume of customers, then Subaru needs to pay the person I get to repair it. I think that is fair. Is there a recall on the turn signal light switch? My vehicle is a 2012. Never owned a car that had so many dangerous problems so quick. My car now has 50K miles. What am I to expect in the future?? I thought this was a well put together vehicle. I'm beginning to wonder. Not being able to have the vehicle serviced in a reasonable period of time is not acceptable to me, and I'm sure not to any owner. So, I await your reply for my solution since your service dept. cannot help me. I live in Asheville, NC.

I was driving South on I-90 near Janesville, Wisconsin and noticed that my hood was not fully latched. I knew there was a Subaru dealer in Janesville rather than waiting until I got to Rockford, I'll another hour away. I pulled into the dealership and explained my problem. Soon Jim the service manger was at my car looking over the latch and cleaning it so that it now works perfectly. The entire visit took less than 15 minutes. I was then sent on my way at no charge. My wife and I both have 2014 Foresters and we love them. Our encounters with Subaru service departments have always been very positive. This latest encounter with Jim reinforces why we are Subaru owners.

Love the 2015 Crosstrek! Eyesight is great when it works. Had the car in for the recall and three additional times, in two different states. Last time, took 1-1/2 days, had a great, brand new loaner (Courtesy Subaru in Rapid City) turned out to be a right rear brake assembly. Have another appointment tomorrow, on again, off again Eyesight. This morning, car started right up, no Eyesight and stuck in park, neutral or brakes locked up. Don't know, might have to be towed in. Glad it was in the garage at home.

I'm a long time Subaru owner and enthusiasts however my 2013 Subaru Crosstrek began making a noise. When I took it to the dealership they proceeded to tell me it needed a $8,000 transmission and I'm 8000 Miles over the warranty. It currently has 68000 miles on it. How many people expect your transmission to go out at 68000 miles? Let me know if you're having the same problem. I'm currently trying to get into contact with Subaru about this problem. It has to be some sort of defect in the transmission. Still waiting for them to contact me. Everyone thinking about purchasing a vehicle like the Crosstrek should probably get a standard not an automatic. Why in the world would a transmission cost $8,000? That is crazy and go out at 68000 miles.

I have a 2014 Subaru Outback that I bought new. Until now, I loved my car. A few weeks ago, I noticed it having difficulty starting. This happens both when I use the key to start it and when I use my auto start. When it began, it wasn't cold out (I live in Minnesota). It was almost 50 degrees. The car would take longer to start and keep turning over before firing up. Other people even noticed it. I took it in for service and they tried doing a computer reset and told me that should do it. It didn't work, so I took it back.
Meanwhile, I had done some research and found that some Subarus can start doing "hard starts", which is exactly what this seemed to be. Unfortunately, the dealership I took it to did not take me seriously and tried to tell me that it was normal for my car to start that way in the cold weather (by this time it was in the teens outside for temps). They were unwilling to see it as an engine issue and told me that all cars do this, which was completely ridiculous. Prior to bringing it in, it almost would not start one night and I thought I might have to call a tow truck. If this is what my car is going to do at 3 years old, it needs to go. A Subaru dealership is telling me this is "normal" for the car and it cannot be fixed, and apparently it isn't that uncommon for this car. I need a reliable vehicle. I plan to get rid of it and get a vehicle I can trust to start. It's disappointing because I really liked this car.

I have owned my Subaru 7 years. I only have to do the manufacturer service maintenance as my Subaru runs beautifully! I have had NO major issues at all. My Subaru is dependable with Great gas mileage! My Muscatell Subaru dealership on Hwy 10 in Moorhead MN does an excellent job of also taking care of my Subaru with their GREAT service staff!

I think I got one of the few troublesome Subarus made. I have it serviced at the dealer. I complain. They say everything is fine. I call it the gutless wonder. Other friends who have 4 bangers are surprised at the poor handling and slow to accelerate car. It is very noisy inside, lots of rattles, very disappointed. I have read owners' complaints and comments online. Apparently there are major problems down the line with the Outbacks. I have the start of the said problems. I am just hoping the problem can be fixed before my extended warranty expires in 2017! I also don't get better than 23 mpg combined in the base model, and I am careful because I am cheap. I wish it was better.

Great car but has an excessive oil consumption problem. The 2011 Forester is a good car to drive. Good visibility, good power, comfortable but it consumes much more oil than it should.

Returning from a long trip late Oct. 2016, the oil light came on with over a thousand miles left to go for the next scheduled oil change. Added a quart of oil to get home and after contacting Subaru Customer Service took the car to Tucson Subaru, AZ for an oil consumption test. At the first part of the test, engine is checked for external oil leaks, oil level sensors to be in working order, and complete oil and oil filter change is performed. After 1200 miles, you return for the second part of the test which is to check oil level, add oil if necessary, and determine amount used. If a third of a quart (10.7oz) or more is consumed, engine deemed to be using excessive oil and the short block is replaced. My car is still under powertrain warranty.
Here is the problem: First part - the crankcase was overfilled (I personally checked and oil level was over the full mark on the dipstick by well over 1/2"). Second part - the crankcase was filled to the full mark on the dipstick. (Again, I personally checked) Result - Very small amount of oil consumption. Engine deemed normal.
If you look at the first invoice findings (see attached) it says 1.2qts low, add the 1qt when oil light came on during trip and that equals 2.2qts consumption in approx 6500 miles. At that rate, the 1200 miles test should have been 0.406qts consumed. Well over the one-third quart criteria. How can anyone determine oil consumption in this manner? My common sense tells me to fill the crankcase with a pre-measured amount of oil in ounces, drive the prescribed 1200 miles, return for a measured oil drain in ounces, the difference is the amount of oil consumed.
Cars are not cheap nowadays. The manufacturers and dealers should stand behind their products, customer satisfaction and not put the bottom line $$ first.
Are dealers mandated by Subaru to test oil consumption in this manner in order to save money?Is the dealer too irresponsible to do things correctly? Either way, it is very disappointing and frustrating to say the least. My daughter owns a 2014 Forester and has been having oil system problems as well as numerous other issues. I for one, and probably my daughter as well, would not recommend Subaru vehicles to anyone and definitely not consider buying again. In my opinion, Subaru's perceived reputation is just that, perceived and not a reality.

Excellently made car. Have had absolutely no issues with this car, always in top condition through rain, snow, sleet, hail, heat, etc. When I was initially shopping for cars I never would have thought that I would love my Subaru the way I do, but the moment I sat in my Forester and drove it around the block I knew I had to have it. First, Subaru dealerships also don't pay their employees on commission, so there is no need to be haggled and harassed. They state the true and honest facts about their vehicles. My Subaru has not depreciated in value, and even though it is a 4 wheel drive car NO maintenance has ever been done to it besides an oil change every few thousand miles. Worth every penny. Oh, and don't forget about Eyesight. It has literally saved my life (and my insurance premiums) more times than I can count. You won't regret it buying this extremely well made and beautiful car. I know I haven't.

I purchased a brand new 2017 Subaru WRX roughly three months ago. Upon immediately driving onward I was noticing a really bad smell shifting gears and I brought it into a shop nearby. I had the service manager come for a ride-along to view my driving habits and he told me it was OK and that the smell would go away. Now, a couple of weeks ago, I was noticing the gear was tougher to shift into first, and then eventually the gears weren't selecting properly. I'd be in gear 3 and it'd say gear 2, and so forth. Also, the biting point became completely non-existent. I took it into the nearest dealership with only 7800 km on the odometer and the clutch was completely gone.
I called Subaru of Canada about it and as they reiterated many times throughout the conversation, the clutch was not covered under warranty since it was a wearable item. The dealership also said it was due to driving error. Upon doing research into this, I'm seeing a lot of the earlier models are having the exact same issue and it's the highest complaint on record for the 4th gen wrx in both the 2015/16 models - that can't be coincidence. Anyways, I'm having to fork 1000+ out of pocket for the expenses and more for the rental I'm using since the dealership didn't have any loaners on hand.
The lady I was speaking to even said the clutch will go out that quickly depending on driving habits but I'm a spirited driver, at best. And there's no reason a clutch should go out in less than 10,000km. Hopefully this helps anyone think twice about their next big purchase, especially the wrx, to actually do some homework and check into any policies or warranty information. This is my first Subaru and probably my last.
Company Name:

Subaru

Website:

http://www.subaru.com/