Consumer Complaints and Reviews

Getting ready for a road trip, I went to have my oil changed. I had never had any issues with this vehicle before. After my oil was changed, I was driving home. Approximately 5 miles down the road, my vehicle made a horrible noise and I had to pull over. I contact my husband who came to help me. We then contacted the Jiffy Lube center that I had my oil changed at to let them know something had just happened. They sent one of their technicians and a manager down.
They arrived within 15 minutes after our call. They brought along a filter, more oil and tools. The technician got on the ground to check underneath. There was oil on the ground but the technician stated that a rod had been "thrown" and had punctured the oil pan. The manager pulled my oil stick and there was still a lot of oil on the stick (reading high up on the stick). They stated that it must have been an engine issue and there was nothing wrong with the service I received from them. I had the vehicle towed and salvaged b/c it was going to cost too much to have a new engine put in. (This was after a week of calling several places to try and have it fixed.)
A few weeks later, another man I worked with was talking to me and I mentioned the issue I had. He stated that the same exact thing happened to a relative of his. He said that if there was oil on the ground and still a lot of oil in the reservoir, then they must not have drained the old oil out and it over-pressurized and caused it to "throw" a rod. Unfortunately it was too late to prove anything on our end but seeing as it had happened to more than just me, at the same Jiffy Lube, I will never bring my vehicle back there to be serviced and I will warn others.

The Jiffy Lube on Aramingo Ave do not follow the checklist that is given. I had to watch them to make sure they were doing their jobs. Their whole objective is to try and sell you things that aren't needed to up the price. I've brought multiple vehicles to this place and had to do the same thing. Once I sent my wife and they didn't put the oil cap back on. It was just under the hood on the side. I had to take it back and had them check everything in front of me. They are some crooks and I don't recommend and women to go to this place by yourself. Today was and is the last time I spend any money at jiffy lube period.

Took my 1996 Toyota in for an oil change and tire rotation. When I got the truck back, I noticed a hubcap on the passenger side floorboard. Brought it to the attendant's attention and while he was struggling to get it on, I noticed one of the back caps was missing. Brought that to his attention and he said, let's go look for it. Looked in the work area to no avail. Attendant said cap might not have ever been on the truck. I asked to see or talk with a manager. Talked to Adam ** who promised he'd look at security photos to see if the cap was on the truck when it came in. He's not been available since. I've e-mailed him three times. No response.
The caps were original caps and had been on the truck for more than 150,000 miles. I take it in for a tire rotation and all of a sudden I'm minus two rear caps. The front caps were improperly installed and would have fallen off had I not pulled them off and put them inside the truck. Really sloppy work and a truly dishonest attitude. Really a shame. The Devine Street location has always been a reliable shop. I've been there a number of times and they've always been quick and efficient. I know I'll struggle to go back and I'll tell this story to anybody who'd care to listen.

April 22, 2017. This was the second and last time I have my Honda serviced at Jiffy Lube. It's not enough to simply bring your vehicle in for an oil changed - but each time, I'm told I needed all these additional services. I will Never have my Honda serviced at Jiffy Lube again.

Jiffy Lube way overtighten my oil filter and my oil pan drain plug. They did not use any oil on the gasket seal that was on my oil filter. That's why it made it almost impossible to remove the oil filter. I'm surprised it did not strip anything? They lost one more.
How do I know I can trust these reviews about Jiffy Lube?
762,011 reviews on ConsumerAffairs are verified.
We require contact information to ensure our reviewers are real.
We use intelligent software that helps us maintain the integrity of reviews.
Our moderators read all reviews to verify quality and helpfulness.
For more information about reviews on ConsumerAffairs.com please visit our FAQ.

I was taken advantage over priced for a oil change... 75.00 ridiculous prices. I have never paid for an oil change that much. I was quoted 44.99 and they also have hidden fees. They don't let you know you get charged on top of that labor fees. In the end, I got screwed with 65.00 with a 10.00 discount. And 4 days later I had to retake it back 'cause it was leaking. Didn't do the job right. I will never ever go to this place. I'm gonna tell everyone that I know never to go there. I'm gonna post it on social media never to take it to Jiffy Lube on 27th Ave and Bethany home. The worker that attended us was a native man. Really rude.

On 01/30/17 my private info was "hacked" at the Jiffy Lube in Carson City, NV. I received a letter of apology from the company (not the franchise) and 2 coupons for free oil changes. When I went to redeem the coupons in Metairie, LA, 7212 Veterans Blvd. store # 536, they would NOT honor the coupons. The coupons were not expired and valid for ANY Jiffy Lube! I will never use Jiffy Lube again!!! If you use Jiffy Lube - pay in cash and give no personal info.

Skip this place altogether. They failed my vehicle saying I tampered with the exhaust system. I have passed emission testing for the last 10 years in this vehicle with the same exhaust it had since the I bought it. Of course you still have to pay even if you fail. They charge 50.00 for a safety and emission test. Went to another emission shop, and passed no problem. The other shop had to verify with the local health department about my exhaust because the jackass at Jiffy Lube flagged my vehicle in the DOT system.

I took my truck in for a oil and filter, I explained I wanted it done from the bottom. They kept avoiding a price quote. 10 minutes later, ready to pay. They charged me over $100 I looked under the hood, oil everywhere. They had reached way down. Removed the filter, started the engine, turned it off, new filter, oil was 10.99 a quart 8 quarts on a 4.6L. They started making excuses, then something clicked and they called me a **, drug addict, I felt so vulnerable.
I didn't sign the charge, Dan forced his signature and charged me. I always check prices before I get work done, I get 2 quotes if it doesn't jive. These 3 guys Dan, Chris, Glen all creeped me out, don't go alone and I realized if I was a man they would have done the job right, as I specifically asked, if I was a man and had a issue I wouldn't have been called crazy **, I'm appalled. I can't imagine my daughter being safe waiting, her car held hostage. I'm sickened, upset and there should be posted background checks for employees so women can feel safe.

For those using Jiffy Lube, beware! This was my 2nd visit. I went to the Federal Rd Jiffy Lube location with my 2016 Acura yesterday. The first time a few month ago they told me I needed additional services and I trusted them and accepted them. I took. I went there yesterday and they did the same thing. They charged me $94.99 for the oil change, synthetic oil where at Acura I paid $59.95. Then they told me I needed a radiator flush for $109.99 and added fluid for another $39.99. I only have 22,000 miles on the vehicle. I went to the Acura dealer and they told me I DID NOT need a flush & coolant and that was way too much for an oil change. I did not need an air filter with only 22,000 miles.
I then Googled jiffy lube only to learn that many other people had the same problem. One guy sent his son to have his oil changed and the son came home with almost $700.00 worth of work done on his car. I will never go back to Jiffy Lube again. Beware, maybe just kids and women that they do this to? I would suggest you check the blogs on this location, this happens often there. What a rip off even with the coupons which still brought me to MORE than if I had the work done at Acura. Now I wonder if they even used the right oil. I am sticking with Acura, big mistake.

Antifreeze is not washer fluid!!!! I had an oil change and fluid top-off at the Jiffy Lube in Dorchester, MA. This was in anticipation of a business trip to Central Pennsylvania. I needed my wipers once I got there, and was shocked when I couldn't see out of my windshield. It was thick and greasy and I almost got in a very serious accident on the Pennsylvania Turnpike. I will never return to any Jiffy Lube again. Anilia refunded my money, but that's not the point. There's a huge difference between the colors green and blue.

I was not informed about how much my oil change was gonna be. I said I would not do it but they told me they already drained the old oil. I talked to the manager and he gave the oil change for free. They still did not check fluids and did not put the sticker for next oil change. I will never go to that location again. They did not give me any information of what they actually did. Location is store #1334, in Miami, Fl.

HORRIBLE HORRIBLE HORRIBLE. These people put a hole in my radiator, denied doing in and refused to pay for the fix. I will never use this or any other Jiffy Lube for the rest of my life -- that is for sure.

Went in for a semi-synthetic oil change. Normally pay around $50 for this service. Had my cabin filter changed as well. Total cost was $130.00 with a $10.00 discount. Totally ripped off, and will never use this service again.

This was far and away the WORST customer service experience ever! They overcharged us by several hundred dollars and were totally unwilling to correct the situation. Don't GO unless you want to give your money to pirates.

I can't express how upset I am with their service and disregard of people's feelings. I went in for an oil change and they blew my engine. They have not given me a loaner because at their fault I will not pay to replace it. I will never and I mean never recommend or go to them again!!! I'm truly keeping my comments PG. My car was completely fine and well maintained until they got a hold of it... I feel shafted!!! How is that fair that they can get away with it??? I was even told that if I tried to sue them that I would lose... If I could submit this review with 0 stars I surely would.

They forgot to put the sticker in my window after my oil change, so I went back in. It took 10 minutes for the kid to hand-write a new sticker. He pulled my information up on the computer and asked, "Which one?" I looked at the screen and saw what I deduced were different oil-change packages and answered, "I don't know. Whichever's standard." After he placed the new sticker, I said, "Oh, no. That's the mileage on the last sticker." "Well, I asked you!" he shot back. We went back and forth for a second before I gave up and went home.
I called the manager, who never once acknowledged the way I was treated. "That doesn't sound like him" was all he said. Four times. "You don't tell me about your employee's character. You apologize for the customer service experience I had," I complained, to which he replied, "I'm sorry IF that that happened." "I heard that," I said, whereupon he admitted that he was "having a hard time believing [me]." I responded, "I didn't say the kid was screaming and pounding his chest. He raised his voice and got mad at me when he couldn't understand a simple task. It happened." Nothing. "Wow," I replied. "You're calling me a liar." He denied it. I hung up. Still don't have a sticker.

This has been the best experience I've ever had with Jiffy Lube. I've been coming for years at a different location. This location is the best. Customer service is excellent. Mark at the desk was great in explaining everything. Even though I have one closer to home I'll make the longer commute to start coming to this one. Thanks.

Do not! I repeat do not go to Jiffy Lube! I went for an oil change, and my car started ticking. I took it back to them and said what the hell. They argued with me, they did nothing for me other than tell me they took pics, and to top that off they said they would fight me tooth and nail because they did nothing wrong. They were right about that, they didn't put all the oil back in my car which caused the ticking. It's about 4 qts low. They showed me a full dip stick, but they had already put the stick in, and didn't wipe it off and do it again in front of me. Didn't think anything of that until there were issues with my car. I will never use their services again. They could have blew my engine. Do not use them.

Have had oil change performed at various Jiffy Lube locations. Last time talked into replacing cabin filter; charged. Toyota dealer inspection showed dirty cabin filter and engine air filter after the fact. Toyota gave this customer old filters as evidence. Additionally what Jiffy Lube stated that fluid levels were in good range untrue; had to have considerable amount of fluids replenished at additional cost in addition to cost of filters. Verify the work is done and parts replaced by obtaining old parts and make sure they are from your vehicle. Lack of business ethics, employee misconduct, poor auto repair service, and bad overall customer service. Will never use Jiffy Lube again. Trying to resolve situation, issues, obtain refund for fraudulent misrepresentation, service not performed and parts not replaced in addition to improper assessment of fluid levels.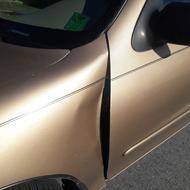 I received my car back from my very first oil change at store #2344 off Camden ave and Hillsdale in San Jose, California on the 26th of January and received it back with major front driver side fender damage. I recommend no one to ever come to Jiffy Lube anywhere for services, better off repairing yourself or through a friend! ** em!

I will start by saying that I have contacted the Jiffy Lube store manager and am waiting for a return call from a district manager. I will update this if the store takes responsibility and holds itself liable for the resulting issues I am now facing. Oil change on my vehicle, second in a row at same facility. Less than one week later my vehicle goes into limp mode an hour from my home. The next day I bring it into my local shop only to find out it is low on fluid and my transmission needs a 2500 dollar repair. No leaks.

I visited Jiffy Lube #35 in Randallstown Md today for an oil change and was informed there is no oil on dipstick, So, I asked how could this be because there isn't any oil on driveway surface and oil light had not come on. I was told he (Kevin) doesn't know. Although, he came back to ask me to get an engine flush, in which I didn't want. Upon finishing the oil change... I was informed that the car has many leaks, oil pan gasket, rear main seal, transmission pan leak and missing shield parts. This info can't be true or the car would be leaking while parked in driveway. In addition, I asked for senior discount...but wasn't given this discount. I was told it's in the price. I've been customer for quite some time, but I think I have to take my business to someone else. The tech was so very unprofessional with me... very negative. At first he doesn't know then, all of a sudden everything is wrong with my car. Unbelievable!!!

After taking my truck to Jiffy Lube for a oil change I discovered I had one gal of antifreeze missing. I took my truck to an auto repair shop. They did a pressure test and found no leak in the cooling system!

Their incompetent, dangerous staff drained my transmission fluid, replaced plug, then changed oil and let me drive away. Not a word of the almost 3 gallons of trans fluid he drained. Returned to shop asking about trans issues, denied any involvement. Towed to dealer, confirmed JL drained trans. Franchisee took 3 weeks to resolve and refused to pay all costs I incurred by making mistake to patronize their business. Avoid any business owned by Atlantic Coast Enterprises out of Connecticut in Florida. They are not good people and don't care about their customers.

I have always given Jiffy Lube at Salem NH high compliments until they changed managers. You can check my records and you will see that I have gone here faithfully for may years. I change my air filters both engine and cabinet before I get an oil change. I brought in my 2009 Toyota for its routine synthetic oil change and they showed me a dirty air-filter that had pine needles and leaves in it. Bit confused I told them to change it and cabinet filter was also dirty - I then later the same day I brought my 2011 Toyota for an oil change this time making sure that the filters were clean and they were. There must have been a change again in management someone else was there. Again they took out my filters and they brought me back a dirty cabin filter and the same filter with pine needles and leaves in it. But I knew that air filter would not fit in the 2011.
I asked them if they finished the oil change and they said that they were in the middle of it. I asked them to complete it first before changing the filters. They did and I asked the manager to step outside with me to the car. They said I could not go in because of some kind of regulation, but yet we have to go through there to get out. I told them to open the the overhead door where my car was. They did. Standing outside I asked them to put the filter that they showed me back in the car (See at that time I owned a 2009 corolla and a 2011 Camry which take total different filters) and told them to put it in the car. It did not fit. Actually I don't think it would have fit my corolla either.
I told the manager that I have been coming here for years. There use to be a tall, slanky, bearded manager that the customers loved including myself. He was gone hopefully he was promoted. Needless to say - Since the Summer of 2015 I did not go back. I did take my 2015 jeep there in 2016 and decided I was not doing that anymore either. I use Synthetic which I really believe it was not used in my Jeep.

Took my car in 1/5/17 at 10:56 am. I did not have any issues with my car. It just needed an oil change. They tried to upsell me more service. I told them I would take it into my mechanic since I just got the car from him. A few hours later, I notice my headlights are not working and then my oil pan falls out from under my car! Almost got into an accident with my son. My brother came to help me and we got duct tape but I am returning to JL as soon as they open!!! Very negligent!

I took my family 2 cars for oil change and inspection and maintenance services to Jiffy Lube in Fontana, CA. I paid oil changes, services charges $240 without any bargain so I know that cost of oil changes was $10 for non synthetic and $45 for synthetic oil. Then after few days I noticed my wiper fluid is empty. No complimentary car wash services. I had window glass problem and they do not want to fix it. I was expecting they will help to fix my car problems after discussing with me but I end up with paying lots of money without getting nothing. So be careful with Jiffy Lube.

I took my car to the Jiffy Lube in Olive Branch, MS on June 29th for a simple oil change. At one point, I noticed a guy down on the ground by my front passenger tire and wondered what he was doing. I figured he was checking the tire pressure but I didn't notice any gauges or hoses in his hands. I didn't really think too much about it until the next morning when I went to get in my car to go to work and noticed that tire was flat. I took it to a tire place and was told that it was a leaky valve core. I was inclined to think that the oil change and the flat tire were not related but in my mind I kept seeing this guy stooped down by the tire.
Six months later, December 28th I took my car back in for another oil change and the next morning - a flat tire!!! Same tire as before. Took it back to the same tire place and was told it is a leaky valve core. Now I'm suspicious. Has it been sabotaged or does someone there just not know what they are doing? Because I'm not buying that it's a coincidence. I called Jiffy Lube to complain. The guy said he would look at my history and call me back. Of course, no call back. When I told him I was upset, all he could offer was "I understand". Two people were late for work this morning because of someone's mistake. They have lost my business, but I felt others should know to beware.

I brought my car to BMW dealer and they found that the battery need to be changed, also they recommended to for a flushing cooling system. I changed the battery with them but I decided to bring the car to Jiffy Lube for the flushing, oil change etc. The job was done at Jiffy Lube #1176 on 11/19/16. As per the BMW dealer, the recommendation was flush coolant system and it was clear on they report: NO leak at this time. Because I work from home my car is not moving much, and when it does is for very short distance, that is why it believe the accident does not happened before. Regarding the work at Jiffy Lube, they working as a mess from the beginning.
They introduced the miles wrong in their receipt, 53,549 on 11/19/16. The car at the BMW check and report having 53,825 miles on 11/15/16. When I first brought the car there, the argue was about the miles that I was driving the car, and in addition the person add extra 200 miles to that argue. So he was saying that I drove the car for 800 miles. I knew that it was wrong because I work from home and I do not move the car so much. I came back to prove them, how I can have less mile 4 day after I left the car at the BMW dealer. Resuming I do not drive the car more than 200 miles for two weeks. The person who attending me on Sunday and Morning gave me so absurd explanation.
I called the 1-800 number customer services, I was informed that I have to deal with Victor **, zone manager at **. I called him on Monday morning, he said he will look at the papers (report from BMW dealer and bill for what was done there) that I left at the office and call me back. I called him back morning-afternoon, he does not have the time to look at it. He will call me Tuesday after 10:00 am. I have been calling him the whole day Tuesday and Wednesday and he is not answer my calls. The incident happened on Saturday December 3, 2016 around 6:00 pm.
I was driving from home to BrandsMart USA located at 7260 North Kendall drive. When I arrived I saw a light on the computer screen saying "coolant level is low." I was very surprise as it was done already. So I parked and I started to see a lot of smoke from outside. I step outside I see water running from the car. My cousin came and we put 3 L more of the fluids which was running too. I can't contacted Jiffy because they were closed. Car was brought to the location, and the nightmare is getting worse. They only gave me an estimate of $500.75 for the work that they do not do properly. I am not having a car from Saturday night. So I am waiting to hear from them. Very disappointed. I went to the location Sunday morning and Monday, I spoke with Victor **, at **. I have been call him every day, he has been return my calls.
Called back Jiffy Lube customer services on yesterday. The person said that Mr. ** will call me back yesterday and she provide a ph. 954-267-9244 Atlantic enterprise to be contact if I did no hear from Mr. **. I called this number and transfer to operator. Only voicemail can be left. VM left. Call back to Jiffy Lube customer services, the operator it is no answer. Call the location at 305-661-9928. The person told me that they will pass the message to Mr. **. Jiffy Lube has been very disrespectful and they need to be handle this situation. Waiting for a better solution in this luckless incident.

Lauren FixAuto & Finance Contributing Editor
Lauren Fix, also called The Car Coach, is an automotive and auto finance expert. Her understanding of vehicles has made her the "go to" person on TV, radio, print media and the Internet. She has authored multiple books and writes a column for several outlets, including Parade Magazine, NewsMax and Car Coach Reports. She is a regular guest on major news and morning shows, discussing the latest updates on cars and car financing that will help drivers make smart decisions when buying, maintaining and financing cars. More about Lauren→

Jiffy Lube was founded in 1979 when it introduced the first drive-through service bay, making it easier for customers to get their oil changed quickly. Now, there are more than 2,000 franchise locations across the United States.
Jiffy Lube Dashboard: Jiffy Lube customers can create a Jiffy Lube Dashboard account on the company's website. They can keep track of all services performed at Jiffy Lube as well as receive maintenance reminders, promotions and coupons.
Franchise locations: All Jiffy Lubes are now independently owned and operated franchises. Consumers support local business owners when they visit a Jiffy Lube. Different locations might have special offers and discounts.
Recommendations tool: Consumers can view the manufacturer recommended service schedule for their make and model of vehicle by visiting the Jiffy Lube website. They can then see if there are any coupons for recommended services available at their Jiffy Lube location.
Resource Center: The Resource Center section of the company's website offers informational articles about maintaining a vehicle. It also has tips for driving safely and making an automobile more fuel efficient.
Nationwide warranties: Certain products and services come with a warranty. These warranties are honored at locations across the country, so consumers will be covered even when traveling.
Best for Jiffy Lube caters to those who want their vehicles serviced quickly.
Compare Auto Service and Repair
Jiffy Lube Company Profile
Company Name:

Jiffy Lube

Website:

https://www.jiffylube.com/