Consumer Complaints and Reviews

Jan. 2017 have ignition switch go bad. Was changed 4 times on 2015 Ram 1500. Talked to a dozen reps. They don't know what to do cause ignition switch is a sealed unit and they don't know what else to do. Called again 08-14-1017 and awaiting another call back that 9 out 10 times they don't know. I received a recall on the airbag. Guess they cant get that right either. If they think I am going away they're in for a surprise. If it were in another state other than Louisiana I could use the lemon law.

This Dodge Ram 1500 truck has a severe transmission problem where it jerks into 1st and 2nd gear which lunges the truck forward. Finding many references online with the exact same problem and after three dealership visits, Chrysler warranty claims the truck functions as designed. Buyer beware.

First off NEVER buy a new Dodge truck!! We bought a brand new 2015 Dodge Ram 3500 DRW... Only having 147 miles on it at 3,000 miles truck went in to the shop for over a month to have tail gate and hood re-painted from having blemished paint from the shipping! At the time of getting re-painted the truck was out of line and pulling terribly to the right... Having electrical issues and squealing brakes! Again at 10,000 miles pulling strongly again to the right we take it back in and get aligned... Right after leaving the dealership the steering leakage comes apart while my wife was driving down the interstate... Went in the shop again for a few weeks... This truck has been through 3 sets of tires and it only has 36,000 miles on it...
Since buying this truck it has literally been in the shop every two months the last time which was last week it spent 1 month and 1 week in the shop with the front end coming apart once again in the truck!! We pick it up this week and it's shaking so bad it's hard to drive and the passenger back ceiling is leaking from the rain!! The truck is covered in ants inside and out they are coming out the vents and steering column!! Called to report our problems once again to Hoover Dodge Jeep and Ram in Summerville, SC only to be treated like a piece of trash!! We are hardly getting to drive the truck because it's constantly in the shop but yet the payments are due every single month on time!! So over this company and the dealership!! DO NOT BUY A NEW DODGE!!! Take our advice and just about everyone on this page that is complaining!! This company has went to hell very quickly.

1999 5.9 turbodiesel manual transmission - Typical problems with almost all plastic parts in the interior passenger window control broke off the plastic door mount for window and door lock fell back into the door panel. The plastic rear window lock broke. The sunglass holder broke. The plastic safety brake release separated by cracking. The whole dashboard shatters as it's very fragile. The front dashboard bezel molding cracks and came loose. The compartment in front of the manual ** stick broke away from dash. The plastic door for the glove compartment broke and the switch mount for the glove box like also broke leaving the bulb on till it burnt out the light. Clearcoat delaminates from paint on the roof first then the fenders. Mechanically very sound engine replaced crank position monitor 2x and starter and water pump at 160K. Both headlights tend to haze over. The driver's side headlight took in water starting last year.

I am the original owner of a 2008 Ram 2500 w/ Cummins 6.7L engine. The truck has been serviced religiously. I purchased the vehicle because Cummins has a stellar reputation. Or so I thought. As soon as the warranty expired, the engine computer motherboard failed. The cost was $3,000.00 and it took three trips to the dealer to completely install the motherboard correctly. Hey, things happen, correct? Recently, I have had a consistent engine light on. At 70,000 miles, I took the vehicle in for service. After a diagnosis, the code of P2262 was the most prevalent code and it signifies a turbo failure. Replacement cost is $4,901.00. I called Dodge to express my concern and they refused to stand behind their product.
While I have researched blogs and forums for a reasonable solution, at the end of the day, I have a Cummins diesel engine, with two major failures, before the vehicle turns 70,250 miles. This is an inferior product with an inferior organization (Chrysler-Dodge) standing behind it. Run, don't walk, away from FCA (Fiat Chrysler).
How do I know I can trust these reviews about Dodge?
852,533 reviews on ConsumerAffairs are verified.
We require contact information to ensure our reviewers are real.
We use intelligent software that helps us maintain the integrity of reviews.
Our moderators read all reviews to verify quality and helpfulness.
For more information about reviews on ConsumerAffairs.com please visit our FAQ.

I purchased this Dodge Ram 1500 late in 2015. Regularly serviced, 13000 miles. New condition. Was driving it at low speed when it stalled. I pulled off the road and noticed flames, called 911 until the fire company arrived. My vehicle was engulfed in flames. I darn near popped the hood. Glad I did not. Anyone have pending lawsuits against Dodge Ram? I have seen several posts about an alternator problem that leads to fires but perhaps they are hushing things up. Any similar experiences and recommendations? I have owned 3 Dodge Rams and purchased 5 Chrysler products.

Bought a Ram 4500. Had 6 weeks then dealership had for 6 weeks due to a faulty fuel tank. Customer service at Ram headquarters agreed to send me a "goodwill" gesture then revoked the offer. Truck was bought for Hotshot business. Lost over twenty thousand and then they kicked me again by revoking the goodwill gesture. Sorry people.

I purchased a RAM ProMaster 3500 to remodel and use as a RV to travel in my retirement. I purchased the Diesel so it would last a long time. The motor failed three times in 20,700 miles. The state of North Carolina titled it as a "Lemon". DO NOT PURCHASE THIS TRUCK. In addition Chrysler Customer Service lied to me on three (3) occasions, so do not trust them to make good on what they tell you. The old Chrysler is dead and the new owner Fiat is not to be trusted. Sell your Chrysler stock. The product appears to be a good price, the actual cost can not be calculated, I lost over $7,000 dollars over a 30 day period while I lived on the side of the road.

Bought this 2015 Ram with 24k on it and since that it has been only problems. Truck has either engine (5.7L hemi on it) or transmission problems. It shakes and hard to start in morning and also, don't downshift in time, when it needs and the exhaust system rattle under the truck. And after a few seconds (30-40 to be precise) it downshift and truck moves. It also jerks the transmission. Downhill it won't change gears until you get to the bottom of the hill or if I step on gas to give more speed (crazy stuff). Also in reverse it make a pitch noise. Took to dealer a few times already but they keep saying they can't reproduce the problem. I suggest take a ride with mechanics. They denied. They update the software but no changes at all. If you buying a truck get a Toyota at least. It's well-made.

I can't move my steering column away from my knees! I was adjusting it and went to low apparently and now it will not come up! Additionally, the cruise control only works half the time and now I've read that there is a recall on the Dodge Ram Hemi 2014-2016 for the airbags in this steering wheel. I seriously feel unsafe in this vehicle. Traded in a 2014 Chevy Silverado because we wanted a lower monthly payment and ended up only getting a $55 per month break and all these problems. I knew better than to get a Dodge. For as expensive as this vehicle is, it's not worth more than my life.

2016 Ram 4x4 Ecodiesel MPG - Went in for software updates. They also changed a sensor that went out in the exhaust. Since this I cannot get over 20 MPG and before I use to get 28 to 31 MPG. I bought this and sold my Tundra for the MPG as I commute. What's up with this RAM? I think they should have to refund my money or fix it for 20 MPG. I could have bought a heavy duty 2500 or a gas truck? Has to be a law on this false MPG claims.

My Ram stopped in the middle of road 3 times now. First time I took it to the dealer they replaced a cable. Second time they replaced the mpc because the water went in it. It has been raining but I can't even take it to a car wash. And now the third, the engine cut off. The dealer is telling me it's the alternator and it's not covered under warranty because it was muddy. The cost is approx $2000. Let me just say that when I bought the Ram for work, it was to be able to travel in a construction site. Even they advertise it going in mud, mountains etc. I am very disappointed of this truck. Seems that I won't be able to take to work anymore and leave it in the parking at home since it won't survive mud. Never going to buy a Dodge truck ever again. The 60,000$ truck is not made for construction people.

We installed both a front and rear bumper replacement on a 2016 Dodge Ram. During the process we removed the sensors in the factory bumpers and reinstalled them in the aftermarket bumpers. The sensors failed to come back on so we sent it to the Dodge dealership for re-calibration. They discovered that six of the sensors had failed. The total bill will be just under $1000. How is it that these sensors are so sensitive that they cannot stand such a simple process as removal and re-installation? If these sensors are really this sensitive, they must be a faulty design and should be recalled.

When buying a vehicle normally buy to use not to always to be in the shop for repairs and waiting on parts or recalls. Frustration part is Ram don't care. If they would have developed a good vehicle from the start the EcoDiesel owners would not have this problem. Have tried to get Ram to buy back or supplement rebate on a gas truck with no success. Buyers beware of Ram's EcoDiesels. If buying a truck to have at home think twice.

Mirror arm cover. This is a part that is prone to contact garage doors, etc. A new cover should be $20 or so but Ram will only sell a complete 700$ mirror. This is my 6th Dodge truck and will be my last one. Ram trucks just don't have the quality that others have.

I have a 2012 Dodge RAM 5.7 Hemi with a #5 misfire problem. The problem was reported to the dealership at the last oil change, but all they did was reset the fault code and returned the vehicle to service, exclaiming they "could not duplicate" the problem. Took it in last week and informed them of my concerns. Two days ago, received a call from the Tech Representative requesting permission to accomplish a complete tuneup, i.e. spark plugs, possible bad coil pack, and to perform a fuel system clean and flush. Aghast, I responded that this was a complete waste of time!
On top of that, the service departments wants $775.00 dollars just for a tuneup. Obviously I think they are trying to find ways to make normal servicing so expensive that I would either choose to take my truck back and fix it myself (which voids the warranty), or to pay them a hell of a lot of money to do something that would only take about 1.5 hours. This is so they could pay the techs and the Reps labor for completing a warranty replacement, should it come down to that.
I already know what is wrong with the engine. #5 (and sometimes, 1, and 3 cylinders) have a history of failing due to faulty valve seat design. The hemi heads utilized pressed-in valve seats that are powder coated from Mexico (there's problem number 1), and these rings eventually work themselves out of the valve ports, mostly the exhaust side, but sometimes the intake side. As the seats back out, but doesn't completely fall out, compression is lost although not entirely gone. This explains why some of the misfiring only happens at 3/4 to WOT responses. In severe cases, the seats come out complete resulting in destroying the piston, the heads, and possibly the timing chain if enough forced impact occurs.
I have 4,000 miles left on the warranty, and it is quite clear that the dealership in Sumter South Carolina is trying to throw the vehicle back at me without actually repairing my truck. And if the tune-up doesn't solve the problem, they will have constituted SOME labor expenses from the most expensive tune-up in recorded history! $95 diagnostic charge, and nearly $700 bucks for a tuneup for no more than 1 to 2 hours of work!
What ticks me off is how Chrysler has continued to engage in mafia style treatment in forcing consumers to buy their crap, con them into buying the extended warranty, and yet refuse to honor the warranty when circumstances are warranted. How in the name of God are these people allowed to continue bamboozling the American people?
I have been screwed twice before from Dodge! My 1997 Dodge Stratus 2.4 liter lost a head gasket at 48,000 miles. Repairs were at my own expensive at about $650 bucks. A year later, the gasket failed again, only this time resulting in a seized engine! I next bought a 2002 Stratus R/T with the worthless 2.7 liter engine. This engine lost a water pump at 89,000 miles. But because the pump is internal, and a special tool is required to depressurize the timing chain tension pump, I was left with paying Chrysler some $900 dollars in repairs. 8 months later, it failed again only this time destroying the engine! Now my 2012 RAM may need an engine replacement, and at best, the dealership will choose a Jasper engine which are nothing but crap! Total crap! And that's even if the dealership doesn't try backing the truck back at me with a continued problem!
The solution folks? DO NOT BUY DODGE! And ignore some of the online trolls telling you they have over 300,000 miles and counting on their trucks and cars. Some (if not all) of those people are paid trolls to defend Chrysler's worthless piles of junk! The 5.9 engines were not that bad. Sure they were under-powered compared to the Hemi's, but very rarely did any 5.9 engines fail except under vehicle maintenance neglect. There is absolutely no reason why my 2012 Dodge RAM truck should have a worn camshaft, worn lifter roller, faulty valve-seat rings, and all leading to misfiring of cylinder 5 with under 100,000 miles accumulated!
Fool me once, shame on you! Fool me twice, shame on me! Fool me thrice, then double shame on me! I swear to Chrysler that I will never buy another Dodge vehicle ever again! Moreover, I will ensure that no future customers are fooled into buying your pieces of crap! Facebook, Youtube, online forms will be filled with my rants! And trust me! I've personally seen three people in my town with this very same problem, 2 of which had theirs repaired under warranty, but the other screwed. Looks like I am next!

2015 Ram 1500 Ecodiesel - Last fall our ECO was put in shop due to it violently shaking and losing all power. The dealership told me my fuel system imploded due to bad fuel. Had the station tested where I last received fuel... No infractions found so $6,500 later the entire fuel system was replaced. This was with less than 20,000 miles on truck. Yesterday with 30,763 miles it caught fire and is Totalled! I'm sure they will blame it on something they think we did but I will never ever own another Ram Ecodiesel! I'm so disappointed! So many people having issues with these Ecodiesel yet Chrysler isn't stepping up!

At the point of sale no copies of bill of sale or installment loan contract was given to me the buyer. Then when I tried to cancel after 3 days of no receipts they made out and deposited my 3 checks for the down payment. I DID not get any paperwork 'till June and had to call police to get it. Then they would not give my trade back and cancel deal. Then when I got the paperwork it was shrunk photocopies, not the hard copies I signed in. This is a 10-25k fine. So the loan was 30074.00 after paying in 17000 in cash for 4 years I still owe 29500.00. And the truck is worth 12000. This crime was committed on 4/09/13. And no one has ever helped me in this fraud and check writing fraud. So far they ducked every bullet. I'm 71 and the payment is 657 monthly on a 15.8 loan. Where do I find relief. I was sick for 5 years. I'm a vet that has been held hostage. Help please.

My experience terrible. Brought my new 2017 Ram 1500 in for wind noise issue coming in the doors. First dealer said it was my vent visors, still the same after they were removed. They had the truck for 5 days, said it was fixed and ready for pick up. So I took truck for ride, same issue as when it went in. Then the manager said he brought three trucks out and they all have the same wind noise. I told him then they should tell the buyer before they spend 60.000 for a truck that they're buying a truck that is not very well sealed. Not impressed because I just traded in my 2013 with no wind noise whatsoever with 160.000 kms on it. Nobody wants to help. RAM JUNK, POOR QUALITY VEHICLE. Bumper to bumper warranty ya right. They write reviews that they are as quiet as a luxury car. That's false advertisement.

PROBLEMS WITH 2015 DIESEL 3500 DODGE RAM!!! I can't speak for any other truck but 2 weeks ago my truck had a message about the DEF pump and I took it in. And I have taken very good care of this truck, oil changes are on time, fuel filters get changed on time, I take it to the car wash regularly, the DEF fluid is put in as soon as it hits the ½ way mark, I put new tires on it. They replaced the pump and found that something electrical was causing the pump to burn up. Well yesterday 3/30/17 I was told that the part wouldn't be in for 3 MONTHS!!! In that amount of time they could rebuild the entire truck. Now I can't trust it even if I get it back to haul my 5th wheel or me for that matter.
My truck has 35,000 miles on it, however you don't buy a truck to make huge truck payments on a something that you CAN'T DRIVE!!! I called CHRYSLER 1-866-726-4636 and they said someone would call me back in a couple days, but hey if they happen to not call you by Friday, you can call back on Monday. What the Hell!!! REPLACE THE WHOLE TRUCK OR OFFER ME SOMETHING!!! If you buy a 3500 Dodge Ram you best have someone follow you when you haul your 5th wheel once it gets to 35000 miles because let me tell you will be stranded on the side of the road!! And good luck having your truck to even get to a campground.
They said they would reimburse me for a rental car, NO just pay for it, and pay for my truck payments since CHRYSLER HAS MY TRUCK AND I DON'T! I love the looks of my truck but if I can't drive it what good is it?!! I hope that anyone who has already purchased a 3500 Dodge Ram doesn't have issues with blood pressure because this would definitely raise it even more. I don't care where you buy a vehicle from. 3 ½ months is an unacceptable time frame for them to fix your vehicle. CHRYSLER SUCKS!!!

Brand New Truck with paint issues on the roof, inner door and metal shavings under paint in the bed. After weeks of contacting them, they approved the roof and the bed but they denied the claim for the door even when the area had rust on it and I just own the truck for like two weeks. If your trucks rust in two weeks then is poor materials used on it. Before they approved the truck to get fix, I fix the bed. My guy repair all the paint and metal shavings. I decided to spray a bed liner since it would be the best option to keep the bed in good shape. I sent the receipt and now Dodge Chrysler is giving me a hint that they might denied the claim since I installed a bed liner on top of the repairs. Are you kidding me, you should be praising me since I fix it for way less that was approved initially.
Crappy company, and by the way I had a 2007 Ram. I also own a charger and now have this problem on this Ram 2016 Laramie. Is incredible how they are risking a customer for a mere $597. This truck was 50K. Plus I'm stuck with this truck with a major problem (roof paint), Dodge who is going to pay me for the value lost for a crappy paint job done by you. I'm pretty sure this will come out on my truck report. Also if you have a problem with your dealer, then you are out of luck since they contact the dealer for everything. The dealer that I deal with is Arrigo Dodge in Fort Pierce FL. Good luck if you are in this area. They are as crappy as it gets. They are part of this problem since I took the truck for the pictures to them. They did not took my info so the case was just sitting there till I call them. Really mad customer

I purchased a new Dodge Ram 4500. I have had it just under 1 year and it has 53000 miles on it. I have had it in the shop SIX times now!!! And they won't do anything about it! I have lost customers and a lot of money Because of this truck! I don't recommend anyone to buy a Dodge Ram! This is by far the worst truck I have ever owned! And Dodge doesn't care. They DON'T stand behind their products. I have contacted them personally to give them a chance to make this right. Now that they have said they did their part by changing more parts again and have said that they don't know if that's what is wrong with it. I am supposed to rely on it. They have left me no choice but to turn this into my attorney!! SO DON'T MAKE THIS MISTAKE AND DON'T BUY A DODGE RAM TRUCK!!!

We purchased the Allstate platinum plan with our 2015 Ram 3500. We have a leak in the rear passenger area. It has soaked our headliner and speaker area. When we took it in to dealer we were told that it was not covered for leaks??? We are outraged because it's obvious it is caused by some manufacturing defect because there has been no damage to our truck and only a year old. We feel they just get these expensive warranties sold to buyers but never cover things that are wrong! Frankly I am sick of being taken for a ride.

In regards to a 2014 Ram 2500 - under 40K miles. I was recently involved in an accident which resulted in the truck rolling over multiple times. The speed of the truck was just over 50mph when it began to flip. At the end, the truck was sitting in the middle of the road on its roof, without a single airbag deployment. Regardless of FCA's comments, I think being the driver, I was in a much better position to dispute the seatbelt "slack" or tensioner. I wasn't driving leaning over the steering wheel, but somehow, with the seatbelt on, my chest slammed into it. If it did lock at any point, it was well after the point it should have. At the end, I was fully turned sideways in the seat, upside down, with over a foot between myself and the seat. Locking after the slack comes out doesn't constitute it "working" to me.
Public - be aware - FCA has claimed that the "vehicle" decides when to deploy airbags in a rollover event. (Note: - in their response, they do not specify these tolerance levels of course). I'll attach pictures showing the damage to the outside of the truck, along with the inside showing no airbag deployment. I will also paste FCA's direct comments. Look at the pictures. Imagine yourself or your loved ones in that vehicle. Then read the FCA comments. If after all that, you feel that there still is no need for airbag deployment, then go ahead and buy one. For those that believe they should have deployed - please get the word out.
For full disclosure - I did buy another 2500 myself. I was, until I received the FCA email an hour ago, a loyal RAM buyer. I bought the new truck 2 weeks ago with the hopes that FCA would have told me a sensor was bad, wire disconnected, or something that pointed to a failure. I never, in my wildest dreams, would have thought that something as violent as I went thru, did not warrant airbag deployment. (Also, it took about a month before they could get the vehicle inspected and respond back. Every call to them was a standard response - "you will hear back from someone in 1-2 business days.") I will be pleading with the dealer to take the truck back. Personally, I could not in good conscience put another person in that vehicle, fully knowing that in the same situation the air bags would not deploy.
FCA comments: "We have had the opportunity to review the results of our inspection, and must advise you we believe the air bag system operated properly, and as designed in this incident. Your Ram is equipped with a passive safety restraint system that consists of Seat Belt Tensioners (SBT), Side Curtain Air Bags, Side Seat Airbags, and driver and passenger Front Air Bags. The SBT's actuate to remove slack in the seat belts to snug the occupant into the seat at the onset of an accident. The Air Bag Control Module uses a roll rate sensor to determine the severity of a rollover event, and the appropriate response, activate the SBT's alone, or activate the SBT's in conjunction with the appropriate Air Bags. If the SBT's are sufficient to provide protection, then the air bag deployment is not merited. In your accident it was determined that only the seat belt tensioner deployment was necessary."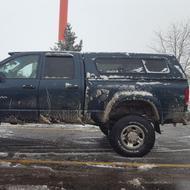 I bought my 2003 Dodge Ram 2500 in 2006. If you don't beat it and keep up on the maintenance you will truck that runs forever. My truck has a 6.5 lift kit and 37.5 inch tires. The lift kits are popular for blowing out u-joints, not my Dodge. Everyone you know in the last 10 years that I owned my Dodge that owned a Ford or Chevy, has purchased 2 or 3 new trucks since, but me I still have Ram tough, with 170,000 miles on it. I guarantee I never had it leave me stranded, no issues other my wear and tear. It's normal for things to need replacing. I maintain my gem by replacing tires, air filter, changing fluids on time, repairing rust, cleaning injectors etc. If you neglect your responsibility and something fails it isn't Dodge's fault. You bought a Dodge for a reason. A Dodge is the only truck I will trust. It's nice to watch Ford owners complain that the tranny failed under 20,000 miles in a new truck as I sit back happy I have a Dodge.
If the company is at fault, they tell you, "That's we have such a thing called recalls!" I have a marketing degree, and I will use my skills to promote Dodge! Oh have I forgot to mention my Dodge was previously used in the mountains of Utah, and the previous owner rolled it, and amazingly after the roll the truck landed on all 4 wheels and it still drove off the mountain, that's when it was rebuilt and customized and I purchased it when it was 3 yrs old. You would think Dodge Ram is built tough! You think I would have had issues since but I haven't! So stop your insulting and blaming Dodge for your negligence. What you all have to say about this! Keep it up Dodge. You rock!!!

Purchased a 2015 ram approximately 15 months ago. Have had all kinds of issues with electrical, paint and body, moisture on the interior, seat covers, tires and airbags. I tried to take it back to the place I bought it but instead of addressing my issues was called "just another crazy" and turned away. After contracting Chrysler numerous time I had to contact BBB to get anything resolved.
Last interaction with Chrysler said I was eligible for a buyback after going through the national center for dispute settlement. With no resolve, come to find out national center for dispute settlement always sides with company which is why they sent me there. During this process I dealt with people who were rude and unhelpful who would hang up on me and not return calls and emails. Last time I tried to take it in for the latest issue (airbag light came on and advised service needed) was told they could not work on it because it was under arbitration even though this is a major safety issue.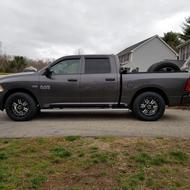 I bought this Dodge ram 1500 2014 new and drove it for less than two years before the bumper started rusting, but because I put so many miles on it (40,000) it was not covered under the warranty. The tires needed replacing at around 25,000 miles. Had to replace an airbag sensor for over $500. Had to replace the fuel gauge sensor that is located in the fuel pump in the gas tank, that cost around $350. Had to take it in and have exhaust manifold bolts replace but that was covered under the 100,000 mile manufacturer warranty. They also replaced the right front axle because that was loose with play. Also covered under the warranty luckily. I have it in the shop right now and they believe the camshaft is bad which is covered under the 100,000 mile warranty also.
The truck has 92000 miles on it and is 3 years old this month. I have decided I will sell it before it turns 100,000 miles and buy maybe a Tundra or a Chevy but certainly not another Dodge. This was my second and I love my first one but this one drove me over the edge. I will also look for a dealer who seems concerned with my wants and needs. I do have to say I love the look of the Dodge truck. Mine is dark graphite gray with custom rims and it's beautiful but I should have purchased stock in their check engine light because it never turns off.

Let me begin by saying that I love my truck! But can tell you that Dodge service is subpar and over the top expensive. I took my 2009 Dodge Ram 1500 into the place I had bought it from. When I put the key in nothing happened. They had it for 3 weeks. I told them just leave it like it is and had it towed to Dodge. Dodge had it fixed in 1 day. Great right? Well when I got in my truck to take it home the console was just set back in place. I brought the mechanic out to look at it. He said "That's the way it came in." "Are you kidding me? How am I supposed to drive this?" I had to take it back to the first place I went to finish the job Because he wasn't sure how to put the console back in. YOU'RE THE DEALER! It's your truck.
My second was when my key fob stopped working. I can't unlock my truck using my remote. I have to remove the key from its fob and unlock it "old School". I go to the dealer (the only place you can go) and they say "Sure, $300 please." "You're Kidding?" "Nope! That's why most people just use the key." "$30,000 and I have to use a key?" "Unless you give me $300". This brings me to my most recent fun filled experience. My engine light is on. After taking it to a trusted mechanic shop they tell me the only way they can get the light out is to take it to the dealer for an update on your system that only the dealer can do. In 2012 there was a "Technical service bulletin" issued for my truck. As I was NOT the original owner I was not notified.
Now in 2017 the only way I can get my truck to pass smog is to take it to Dodge and PAY $120 to have my system updated. THEIR SYSTEM updated in my truck. After all it takes Labor to plug my truck into a computer for 5 minutes and push START. When I asked if this would solve the issue they said maybe not. "You should have us do a diagnostic on it first for $210." "If it turns out to just need the update will that money be covered in the $210?" "No. The $120 will be added to the $210." "Sooo, I need to pay for an "update" to a system in one of your trucks when anything on my phone that is a Bug or systemic problem with their programming they just update it for free as it's a programming issue on their end and nothing I did". To quote "Yep". "And if I do get the diagnostic test done I'll still need to pay for the update regardless so you're going to get $330 no matter what?" "Sounds like it." "Does it at least come with lube?" "HaHa." I'm not laughing.
I called national customer service. Here Comes the final straw. He brings up that my warranty had run out. I told him that's impossible. I paid $1500 for the extended warranty 100,000 miles or 10 years. It's 8 years old and only has 71,000 miles. He told me the truck wasn't brought in for its 30,000 mile checkup so the warranty was voided. It had 38,000 miles on it when I bought it in 2012. How come I wasn't told about that then. As I wasn't the original owner I guess I wasn't notified. "So what about the $1500 I spent on YOUR warranty." "Sorry". I love my truck but I can see to keep it on the road it's going to really keep costing me and it sure doesn't feel like Dodge cares all that much.

We were in the market for a new truck when we were offered a Dodge Ram 2500 mega cab with a 6.7 Cummins motor in it. Let my just tell you this we have had all 3 major car brands and nothing has ever or will ever compare to the quality of this truck. WE LOVE IT. Yes there are some things that could be improved but just small minor things but I would recommend the RAM to anyone who needs a hard working truck all the time.

I purchased a new 2015 RAM 3500 Dually with the 30,000 lb tow package for my business. The dealer convinced me to buy the factory extended warranty for $4,500. It was supposed to be a 4 year, unlimited Mile warranty. Between the time I purchased the truck and October 2016, I had already 3 warranty claims covered in the truck. Then in December of 2016, after av$900 tow bill, an authorized dealer informed me that my truck had a hole in the piston and cylinder wall #5 was scarred up so bad that the engine was junk. That it would be $23,840 to get my truck on the road.
A Chrysler inspector came out and not only denied my warranty claim, but voided the warranty saying they had already paid out a lot of money on my truck and that they would not pay out anymore. That because I used my truck for "commercial use" my claim was being denied. I bought a work truck and used it for work. I battled with them and got nowhere. Then the dealer battled with them and told me yesterday that they were 90% sure that Chrysler would pay out one last time and fix my truck. Then today, the dealer said that Chrysler would not help me at all, case closed, that they will fight me in court if I get a lawyer. The manager of the dealership said he had never seen Chrysler treat somebody like this in his 18 years there.
Dodge Ram Company Profile
Company Name:

Dodge

Website:

http://www.dodge.com/en/