Consumer Complaints and Reviews

I purchased a new Dodge Ram 4500. I have had it just under 1 year and it has 53000 miles on it. I have had it in the shop SIX times now!!! And they won't do anything about it! I have lost customers and a lot of money Because of this truck! I don't recommend anyone to buy a Dodge Ram! This is by far the worst truck I have ever owned! And Dodge doesn't care. They DON'T stand behind their products. I have contacted them personally to give them a chance to make this right. Now that they have said they did their part by changing more parts again and have said that they don't know if that's what is wrong with it. I am supposed to rely on it. They have left me no choice but to turn this into my attorney!! SO DON'T MAKE THIS MISTAKE AND DON'T BUY A DODGE RAM TRUCK!!!

We purchased the Allstate platinum plan with our 2015 Ram 3500. We have a leak in the rear passenger area. It has soaked our headliner and speaker area. When we took it in to dealer we were told that it was not covered for leaks??? We are outraged because it's obvious it is caused by some manufacturing defect because there has been no damage to our truck and only a year old. We feel they just get these expensive warranties sold to buyers but never cover things that are wrong! Frankly I am sick of being taken for a ride.

In regards to a 2014 Ram 2500 - under 40K miles. I was recently involved in an accident which resulted in the truck rolling over multiple times. The speed of the truck was just over 50mph when it began to flip. At the end, the truck was sitting in the middle of the road on its roof, without a single airbag deployment. Regardless of FCA's comments, I think being the driver, I was in a much better position to dispute the seatbelt "slack" or tensioner. I wasn't driving leaning over the steering wheel, but somehow, with the seatbelt on, my chest slammed into it. If it did lock at any point, it was well after the point it should have. At the end, I was fully turned sideways in the seat, upside down, with over a foot between myself and the seat. Locking after the slack comes out doesn't constitute it "working" to me.
Public - be aware - FCA has claimed that the "vehicle" decides when to deploy airbags in a rollover event. (Note: - in their response, they do not specify these tolerance levels of course). I'll attach pictures showing the damage to the outside of the truck, along with the inside showing no airbag deployment. I will also paste FCA's direct comments. Look at the pictures. Imagine yourself or your loved ones in that vehicle. Then read the FCA comments. If after all that, you feel that there still is no need for airbag deployment, then go ahead and buy one. For those that believe they should have deployed - please get the word out.
For full disclosure - I did buy another 2500 myself. I was, until I received the FCA email an hour ago, a loyal RAM buyer. I bought the new truck 2 weeks ago with the hopes that FCA would have told me a sensor was bad, wire disconnected, or something that pointed to a failure. I never, in my wildest dreams, would have thought that something as violent as I went thru, did not warrant airbag deployment. (Also, it took about a month before they could get the vehicle inspected and respond back. Every call to them was a standard response - "you will hear back from someone in 1-2 business days.") I will be pleading with the dealer to take the truck back. Personally, I could not in good conscience put another person in that vehicle, fully knowing that in the same situation the air bags would not deploy.
FCA comments: "We have had the opportunity to review the results of our inspection, and must advise you we believe the air bag system operated properly, and as designed in this incident. Your Ram is equipped with a passive safety restraint system that consists of Seat Belt Tensioners (SBT), Side Curtain Air Bags, Side Seat Airbags, and driver and passenger Front Air Bags. The SBT's actuate to remove slack in the seat belts to snug the occupant into the seat at the onset of an accident. The Air Bag Control Module uses a roll rate sensor to determine the severity of a rollover event, and the appropriate response, activate the SBT's alone, or activate the SBT's in conjunction with the appropriate Air Bags. If the SBT's are sufficient to provide protection, then the air bag deployment is not merited. In your accident it was determined that only the seat belt tensioner deployment was necessary."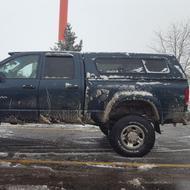 I bought my 2003 Dodge Ram 2500 in 2006. If you don't beat it and keep up on the maintenance you will truck that runs forever. My truck has a 6.5 lift kit and 37.5 inch tires. The lift kits are popular for blowing out u-joints, not my Dodge. Everyone you know in the last 10 years that I owned my Dodge that owned a Ford or Chevy, has purchased 2 or 3 new trucks since, but me I still have Ram tough, with 170,000 miles on it. I guarantee I never had it leave me stranded, no issues other my wear and tear. It's normal for things to need replacing. I maintain my gem by replacing tires, air filter, changing fluids on time, repairing rust, cleaning injectors etc. If you neglect your responsibility and something fails it isn't Dodge's fault. You bought a Dodge for a reason. A Dodge is the only truck I will trust. It's nice to watch Ford owners complain that the tranny failed under 20,000 miles in a new truck as I sit back happy I have a Dodge.
If the company is at fault, they tell you, "That's we have such a thing called recalls!" I have a marketing degree, and I will use my skills to promote Dodge! Oh have I forgot to mention my Dodge was previously used in the mountains of Utah, and the previous owner rolled it, and amazingly after the roll the truck landed on all 4 wheels and it still drove off the mountain, that's when it was rebuilt and customized and I purchased it when it was 3 yrs old. You would think Dodge Ram is built tough! You think I would have had issues since but I haven't! So stop your insulting and blaming Dodge for your negligence. What you all have to say about this! Keep it up Dodge. You rock!!!

Purchased a 2015 ram approximately 15 months ago. Have had all kinds of issues with electrical, paint and body, moisture on the interior, seat covers, tires and airbags. I tried to take it back to the place I bought it but instead of addressing my issues was called "just another crazy" and turned away. After contracting Chrysler numerous time I had to contact BBB to get anything resolved.
Last interaction with Chrysler said I was eligible for a buyback after going through the national center for dispute settlement. With no resolve, come to find out national center for dispute settlement always sides with company which is why they sent me there. During this process I dealt with people who were rude and unhelpful who would hang up on me and not return calls and emails. Last time I tried to take it in for the latest issue (airbag light came on and advised service needed) was told they could not work on it because it was under arbitration even though this is a major safety issue.
How do I know I can trust these reviews about Dodge?
720,415 reviews on ConsumerAffairs are verified.
We require contact information to ensure our reviewers are real.
We use intelligent software that helps us maintain the integrity of reviews.
Our moderators read all reviews to verify quality and helpfulness.
For more information about reviews on ConsumerAffairs.com please visit our FAQ.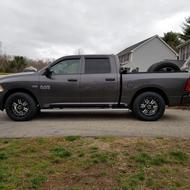 I bought this Dodge ram 1500 2014 new and drove it for less than two years before the bumper started rusting, but because I put so many miles on it (40,000) it was not covered under the warranty. The tires needed replacing at around 25,000 miles. Had to replace an airbag sensor for over $500. Had to replace the fuel gauge sensor that is located in the fuel pump in the gas tank, that cost around $350. Had to take it in and have exhaust manifold bolts replace but that was covered under the 100,000 mile manufacturer warranty. They also replaced the right front axle because that was loose with play. Also covered under the warranty luckily. I have it in the shop right now and they believe the camshaft is bad which is covered under the 100,000 mile warranty also.
The truck has 92000 miles on it and is 3 years old this month. I have decided I will sell it before it turns 100,000 miles and buy maybe a Tundra or a Chevy but certainly not another Dodge. This was my second and I love my first one but this one drove me over the edge. I will also look for a dealer who seems concerned with my wants and needs. I do have to say I love the look of the Dodge truck. Mine is dark graphite gray with custom rims and it's beautiful but I should have purchased stock in their check engine light because it never turns off.

Let me begin by saying that I love my truck! But can tell you that Dodge service is subpar and over the top expensive. I took my 2009 Dodge Ram 1500 into the place I had bought it from. When I put the key in nothing happened. They had it for 3 weeks. I told them just leave it like it is and had it towed to Dodge. Dodge had it fixed in 1 day. Great right? Well when I got in my truck to take it home the console was just set back in place. I brought the mechanic out to look at it. He said "That's the way it came in." "Are you kidding me? How am I supposed to drive this?" I had to take it back to the first place I went to finish the job Because he wasn't sure how to put the console back in. YOU'RE THE DEALER! It's your truck.
My second was when my key fob stopped working. I can't unlock my truck using my remote. I have to remove the key from its fob and unlock it "old School". I go to the dealer (the only place you can go) and they say "Sure, $300 please." "You're Kidding?" "Nope! That's why most people just use the key." "$30,000 and I have to use a key?" "Unless you give me $300". This brings me to my most recent fun filled experience. My engine light is on. After taking it to a trusted mechanic shop they tell me the only way they can get the light out is to take it to the dealer for an update on your system that only the dealer can do. In 2012 there was a "Technical service bulletin" issued for my truck. As I was NOT the original owner I was not notified.
Now in 2017 the only way I can get my truck to pass smog is to take it to Dodge and PAY $120 to have my system updated. THEIR SYSTEM updated in my truck. After all it takes Labor to plug my truck into a computer for 5 minutes and push START. When I asked if this would solve the issue they said maybe not. "You should have us do a diagnostic on it first for $210." "If it turns out to just need the update will that money be covered in the $210?" "No. The $120 will be added to the $210." "Sooo, I need to pay for an "update" to a system in one of your trucks when anything on my phone that is a Bug or systemic problem with their programming they just update it for free as it's a programming issue on their end and nothing I did". To quote "Yep". "And if I do get the diagnostic test done I'll still need to pay for the update regardless so you're going to get $330 no matter what?" "Sounds like it." "Does it at least come with lube?" "HaHa." I'm not laughing.
I called national customer service. Here Comes the final straw. He brings up that my warranty had run out. I told him that's impossible. I paid $1500 for the extended warranty 100,000 miles or 10 years. It's 8 years old and only has 71,000 miles. He told me the truck wasn't brought in for its 30,000 mile checkup so the warranty was voided. It had 38,000 miles on it when I bought it in 2012. How come I wasn't told about that then. As I wasn't the original owner I guess I wasn't notified. "So what about the $1500 I spent on YOUR warranty." "Sorry". I love my truck but I can see to keep it on the road it's going to really keep costing me and it sure doesn't feel like Dodge cares all that much.

We were in the market for a new truck when we were offered a Dodge Ram 2500 mega cab with a 6.7 Cummins motor in it. Let my just tell you this we have had all 3 major car brands and nothing has ever or will ever compare to the quality of this truck. WE LOVE IT. Yes there are some things that could be improved but just small minor things but I would recommend the RAM to anyone who needs a hard working truck all the time.

I purchased a new 2015 RAM 3500 Dually with the 30,000 lb tow package for my business. The dealer convinced me to buy the factory extended warranty for $4,500. It was supposed to be a 4 year, unlimited Mile warranty. Between the time I purchased the truck and October 2016, I had already 3 warranty claims covered in the truck. Then in December of 2016, after av$900 tow bill, an authorized dealer informed me that my truck had a hole in the piston and cylinder wall #5 was scarred up so bad that the engine was junk. That it would be $23,840 to get my truck on the road.
A Chrysler inspector came out and not only denied my warranty claim, but voided the warranty saying they had already paid out a lot of money on my truck and that they would not pay out anymore. That because I used my truck for "commercial use" my claim was being denied. I bought a work truck and used it for work. I battled with them and got nowhere. Then the dealer battled with them and told me yesterday that they were 90% sure that Chrysler would pay out one last time and fix my truck. Then today, the dealer said that Chrysler would not help me at all, case closed, that they will fight me in court if I get a lawyer. The manager of the dealership said he had never seen Chrysler treat somebody like this in his 18 years there.

The Ram 2500 Alpine radio is great! Way better than the GMC boise system (no highs no lows must be Boise) you heard the saying. Also power and towing are great on the Ram. I have 60,000 miles now and I am wondering why I bought the lifetime warranty. The only thing that has happened is I bought a Dcx tuner from a company online and it locked up the ecm and had to buy a new one because they knew I tried to install it and that obviously would not be covered under warranty.
When I get oil changes we laugh about it now. I also like the seats, dash, the way the Taylor hooks up makes sense not like the GM who does not think about the ergonomic when they build a truck. Theirs is more like a car a crapy car. Also the GM is so quiet that I almost got t-boned by a ambulance. The suspension is so loose it feels like you can flip over if you turned hard. It's just not a real truck. Now I'm not saying I don't like frills. My Ram has heated and cooled seats, front and back sunroof, all the frills the GM has and they work better. The GM people are rude, slick like an old TV car salesman. The Ram dealerships are normal regular people. Ram 5 stars, GM 0. Mad GM took the bailout your money you pay out of your check every week not tax money, your money.

I have been reading all the bad reviews for Dodge pickups. Some are really bad. I bought a 2003 Dodge Ram 2500 with a Cummings diesel engine. I have almost 200,000 miles on it and it has been almost trouble free except for a fuel pump a few years ago. I am still driving it and most of the driving was pulling a 34 ft fifth wheel across the country. I think maybe some changes must have been made for all of these comments to be bad reviews for Dodge. I would really do some research before buying another on though. Sad too about the dealers not standing behind their customers. I will check here with Consumer Affairs before I buy anything in the future.

2016 Ram 3500 Diesel - Horrible front end vibration on delivery. According to the FINDLAY RAM dealer in Post Falls Idaho where I bought it, it is normal for the front to vibrate your fillings out. Vehicle dangerously cut out pulling out onto the highway/road. Took it to the same dealership 3 times and they couldn't figure it out (I checked the transmission fluid and it was a full quart low).
The computer went completely crazy making every single gauge go crazy, and warning light flash continuously. She drove it straight back to the dealer and it wouldn't start again. They had to give her a loaner car and couldn't get their diagnostic machine to even talk to it. Out of the blue it magically works again a day or two later, but since no code was thrown they didn't fix anything.
Engine is now knocking like crazy on acceleration (taken it to the dealership 4 times) and the same dealership says it's not a problem and that if I throw a rod out of the bottom of the engine while on vacation, warranty will cover it. This is a brand new 67 thousand dollar truck... and all of this has happened in the first 5000 miles. I am now at 8000 miles and couldn't be more disappointed with the brand, the dealership, and RAM care. Now I am going to have to get a lawyer to get this resolved.

I bought the truck used from a Dodge dealership. Used it. Had 58,000 miles on it. I was shocked I got the loan so I planned on keeping the truck for a while. When it hit 102,000 miles (out of nowhere!) I lose the transfer case and the transmission (and I never abused the truck). Actually bought a new transfer case from dodge. Cost me $3,500 and cost me the same for the transmission I had rebuilt. 30,000 miles later the same thing happen to me. I lose both of them. To make a long story short I replaced 3 transmissions and 3 transfer cases.
Got the same thing from dodge about transfer case out of warranty. I swear there was a defect in the truck when it was made, I took it to good people not on backyard mechanics. No one to this day could figure out why. I would of placed a suit against dodge for all the money I spent because trucks just don't do that. The truck was never wrecked either. Last winter I put a Jasper trany and Jasper transfer case in it. Had my truck maintained all the time. Last Nov. I had to change everything because it blew out dry shafts muffler pipes. It vibrating and no one can figure it out. WELL I am extremely happy to say I got another loan and I bought me a Ford F250 Super Duty. I will never buy a Dodge Ram ever again. They would have to give it to me for me drive it.

I was driving home on December 8, 2016 when I noticed smoke coming from the passenger side under the dash. Within seconds flames came through the fabric under the dash and hit the floor. I pulled over as fast and safely as possible. I grabbed what I could and got out. I went to the passenger side and attempted to put out the flames but I failed. I called 911 and within minutes the FD arrived on scene.
I contacted Chrysler about the fire and they hired an investigator. He contacted me and I explained what I saw. 3 weeks later I got a letter in the mail saying it is not a manufacture defect. The thing that got me from the letter was "We are sure you will appreciate, fire of this nature can and do occur for a number of reasons not associated with the manufacturing process." Then tell me how does a 2015 truck catch fire inside the cab while driving at 65 mph? I'm not a smoker and the truck was all stock. I would not recommend anyone buy anything from Chrysler. They do not stand by their products.

2016 Truck, lasted 990 miles and transmission failed. Rebuild, now sluggish and dangerously slow to move off the line. Smells of burning every time it is driven. Told by Dodge Techs this is normal for the truck. Terrible quality, terrible after care. Service Manager said "We are not going to pay for a new transmission, this is good enough." This is our third Dodge, and our last...

The issues with Ram trucks that people are having must be just from these people on here. Regardless of the Chrysler vehicle, whether it be Dodge Journey, Caliber, SRT Charger, Challenger, Magnum, Dakotas, Stratus, (on my second Hemi Ram), I know people that own/have owned all the above-mentioned vehicles, and besides regular maintenance, zero mechanical issues whatsoever. I myself have owned 2 Rams, and again, NO mechanical issues whatsoever. The only issues I've had has actually been with cosmetic stuff added to the truck by the dealership after delivery from the factory. The side step bumpers and brackets rusted, and the powder coating was peeling off after only 2200 miles. One Rumble Bee sticker on the box had to be replaced as it was starting to bubble. I took the mud flaps off the dealer put on as they were literally flapping in the wind, rubbing the paint.
Oh yes, the radio would have a mind of its own, would sometimes stick on maximum volume, wouldn't shut off, couldn't change stations, nothing. And sometimes wouldn't even turn on. Chrysler had to download new software into the radio. Works great now. Guess what, my Dad's friend's 2016 Honda Civic (yes Honda) had the exact same problem. The dealership had to download new software into the radio. Works great now. (Yes, a Honda Civic.) Anyone I've known. Family members as well, anyone I've known who have had Chrysler vehicles have never had any mechanical issues at all. Just regular maintenance.
A buddy of mine, his Magnum went 215,000 miles zero problems. Heck, never even replaced the battery. My first Ram truck went 173,000 miles. Except regular maintenance, zero mechanical issues.
Broken exhaust manifold bolts was the only what I considered major issue. (Even though the repair was only $378, taxes in, Canadian dollars to boot as I'm in Canada) And the place I had the work done, they told me Chrysler AND GM trucks are prone to exhaust manifold bolts breaking. The service manager told me they do probably 1 a week from both GM and Chrysler. My nephew bought a new Ford Fusion. Sooner rather than later he traded it in, guess what, he was having electrical issues with it. And he thought, before it gets any worse, and runs out of warranty, trade it in. My girlfriend's 2012 Mazda (yes Mazda), the torque converter quit on her 2x. Leaving her literally stranded, again, yes Mazda. Japanese. I worked with a guy who had a Miata, THE biggest pile of junk he said he had ever owned. Nothing but problems with it. Guess what people, even the Japanese can make crap vehicles.

After returning from Calif to Wyoming, during a severe Ice & snow storm, my 2014 Ram 3500 4x4 26,000 mi truck was stuck on the ice in my gravel driveway. As it says in the users manual pg 196. to become unstuck use a rocking motion by shifting from reverse to drive, turning front wheels right to left. Common practice for someone who has owned 4 wheel drive vehicles all of their lives. (I just turned 65 and have driven in severe conditions most of my life.) When placing vehicle in drive, the CV U joint off the transfer case side of the front drive line broke causing the vehicle to shut down. I placed gear selector in park, turned the engine off and I had to use my own tow service to get vehicle to the Dealer. (Road side assistance was a JOKE.) Will only tow 30 miles, dealer is 50 miles away. The dealership did a digital imaging, involved the district manager who sent it to be reviewed by Chrysler digital imaging review.
A case had to be opened by Detroit Chrysler Customer Service. Chrysler has found me at fault for being stuck in the snow and ice in my driveway. Snow depth was 6 inches with 3 inches of ice underneath (Like I could have chose to divert the storm) and Chrysler will not warranty the vehicle and is calling this ABUSE. Now I have to get an attorney involved to replace the front drive line and (replace transfer case wiring) harness is $2,750.00. To replace drive line and solder 6 wires back together $1,350.00 at my expense. I have had to go to Chrysler's top management supervisor. Still waiting. There is no way that spinning your tires on ice and snow can break a drive line CV U joint. (The vehicle was running in low range at 20000 rpm when this happened)
I have owned several new 4x4 trucks, never have I broke a drive line CV U joint. They have worn out but never broke like this New Heavy Duty Ram 1 ton truck has. It also has a front end alignment problem - the (right front) wheel keeps cupping tires. This is another case I have to open with Chrysler. This is the 3rd time for repair for this.. also touch screen radio has been replaced, another problem. Cost of unit $3,000.00. They fixed without a problem but the dealer damaged dash and had to pay for a new dash replacement.
This truck has been in the shop for repair for 1 month during the 2 years I have owned it and still climbing and they give you no rental vehicle unless you buy the extended warranty another $2,000.00 -- $ 60,000.00 and 3 years bumper to bumper warranty, drive train 5 years or 100,000 thousand mile (means nothing) if Chrysler is not forced to stand behind it. This truck Is a $60,0000.00 pile of JUNK. My 04 Chevy Duramax 1 Ton has 45,000 miles on it. Never been in the shop since the day I bought it June 2004 like new to this day. Tows heavy loads and has never broke a drive line or worn out a U joint and has been stuck in snow and ice several times in the past 13 years.

If you think for a second that the Ram badge means anything anymore, you're a fool just like I was to buy this $34,000 POS! The list is too long to list and transmission, electrical and engine trouble started at 600 miles! The only thing worse than the total lack of build quality is Chrysler's denial technique. No one will take responsibility and service is always 2 weeks to 2 months away due to being completely overwhelmed with all these promaster rejects coming in with so many problems.
Have decided to pay for a complete wrap with appropriate big yellow Lemon and verbiage to warn everyone about the horrible quality coming from Mexico. Will start in Asheville, NC and drive till I get justice for being robbed of my hard earned money. Anyone who wants to join my campaign is welcome. The wrap will be completed Jan 4th and I will be driving down the coast to Florida then take I-10 across to California making a total of 85 major dealers along the way including corporate offices.
Chrysler has been shoving this junk to consumers and turning backs on the problems. Now we have this outsourced NAFTA garbage flooding the market and no one is checking the quality before shipping. After contacting all the responsible representatives assigned to resolving problems and have NO ONE call me back I am left with this last option. This is a matter of principle and while Chrysler has no shame in budging this junk the least I can do is show everyone what they are selling...

I purchased a 2016 Ram 2500 6.7 diesel Crew Long Box 4x4 maybe 10 months ago. This week Monday morning I started my truck and check engine light came on so I stopped at my local dealer they plugged it in and couldn't read any codes. They informed me that the soonest they could look at the truck was 10 days away. I asked the service manager if the truck would go into limp mode. He informed me NO. I made an appointment 10 days out. Later that day I drove the truck an hour north and boom. What happens the DEF system starts a count down to 5 mph. So I drive into the nearest RAM dealership. They tell me "We have no one that can look at the truck or plug it in."
I ask the service writer what am I supposed to do brand new truck 16,000 miles on it less than a year old. I was told "if you drive west about an hour you should hit another RAM dealership. They might have someone that can look at it, if not keep driving west and you will hit another dealership they might look at it!!" I mean really that's what I was told. Now keep in mind you have a 150 mile range until the truck goes into limp mode and won't go over 5 mph. It's December in Wisconsin and it's cold so instead of driving west I decided to head closer to home and I stopped at another RAM dealership and asked them to plug it in to see what was wrong with it.
This is the 3rd Dealership I stopped at that day. They also informed me that they didn't have anyone to look at the truck and I would need to warm the truck up and try clearing the code out of it which could buy me a few days. I paid $60,000 for this truck and this is what 3 different dealers tell. Well my truck is at a service shop now not a RAM dealer because this private shop is moving heaven and earth to get it back on the road since no dealership would do anything. The kicker is all over this is under warranty but I'm paying out of my pocket because I don't have any other way of getting around without my truck.
I've called Customer Service with RAM 3 times and I keep getting the runaround with no HELP. If people like me stopped buying RAM Trucks dealerships wouldn't be in business. I guess spending $60,0000 few months ago doesn't classify me as a good customer..... Sad part is a traded my Chevy Duramax in on a new Cummins. I guess I'm the one that made the mistake. I wonder if GMC customer service would be better after spending $60,000. I keep getting told someone would call me in 24 hours still waiting.
I'm glad that a 3rd party service center is helping me because if they wouldn't be right now I can tell you some Chevy or GMC dealership would be getting a RAM as a trade in. My faith in RAM is gone and I'm out thousands of dollars for parts and missing appointments because my new truck is broke down. Thanks but no thanks.

2014 Ram 3500 with 49k, we are on our 2nd set of tires due to wear on the outer edges. Had the truck in the dealer multiple times and everything is within specs to them. If you're in the market for a new Ram 3500 this will give you something to consider when making your decision.

The vehicle has had vibration in the front end. Since purchase I had to replace the ball joints at 38,000 miles. Front end tire wear has forced premature purchase of tires. Def fuel problems have delayed travel plans twice. From my research I believe the front end issues should be a recall item. I have had the truck in service now 20 times and now have a "CAR FAX " history that is affecting the sale of the vehicle.

Hate this truck! This truck is an insult to real trucks. It can't tow anything with any weight. Every time you turn around something goes out on it. I recently saw a study that shows the front will completely crush if you're in a head-on crash. That's not a surprise, but it is scary!

Completely undependable. Too many problems to list here. In the "shop" with great frequency. Significant safety issues. Service Department doesn't know how to fix it. Chrysler ignoring warranty and refuses to buy the vehicle back. This is the first Chrysler (Ram) product I have ever purchased and it will be the LAST!! This truck was in the shop with just over 1000 miles on it having major components replaced and almost two years later it continues to be undependable, unsafe, glitchy, and in the Service Department repeatedly.
Chrysler refuses to stand behind their product, they have ignored the warranty, they have treated me like I am fabricating issues to the point that I have started taking pictures/video of incidents that occur to prove these issues are occurring. They refuse to buy the truck back, they don't care that some of the problems are safety concerns, they just want their money and don't give a damn about the customer (who is apparently NEVER right!!). Worst vehicle experience of my life!

On Oct 31 I was driving to work in my 2013 Ram 2500 Laramie, 58K truck. About 3/10 of a mile before my turn in, the transmission threw itself in 1st gear (from about 45MPH) and the truck completely stalled in the roadway. No gears, transmission would not engage, no power, no go. Had the truck towed to Moss Bros San Bernardino. Moss tells me it will be at least 1 week before they can even LOOK at my vehicle - however it was already towed to the dealer, and as stated before - it was and still is completely inoperable. The following day I receive a call from Moss Bros - stating they THINK a bearing on the input shaft "grenades" itself through the transmission, and is covered under warranty and they're going to work on getting a replacement.
Fast forward to Friday the 4th I receive a phone call from the dealer and they say they HAVE NOT torn down the transmission case nor done anything to the vehicle. Well how could they have known or hypothesised a bearing went out without even having looked at the vehicle? The following week I receive a phone call from the dealer stating that the transmission will be rebuilt and covered by FCA however, parts are on back order (specifically the valve body). My service writer told me to expect it to be in by the 22nd of November.
However, he also mentioned they have brand new transmissions (68RFE) in stock at their local warehouse. However FCA will not authorise a replacement. All while my vehicle has been sitting at the dealership for approx. 2 weeks at this point and I have not been offered a rental vehicle of any sort. So I call FCA "Parts escalation" and I am told the valve body is on back order and to expect it by the 22nd. November 22 rolls around and I receive a phone call saying that there was an issue with the vendor for the valve body and they are "delighted to inform me that the part will arrive the week of the 28th".
I explain to FCA parts escalation how this is unacceptable as my work vehicle, revenue generating work vehicle, my fleet vehicle has been out of service for 3 weeks and I cannot do my job with my personal vehicle. I was not offered any kind of rental for my truck being in service for so long either. Parts escalation then assigns me a "case manager". I'm told to expect a call from the case manager the following day. Never received phone call. The following day I receive a phone call from Felicia in Chrysler Parts escalation and she explains to me that the valve body will be delivered on 12/1/16, however that IS NOT A GUARANTEED DELIVERY DATE AND IS SUBJECT TO FURTHER DELAY. Again, 12/1/16 marks 31 days without my work vehicle.
I call my case manager repeatedly only to never receive a callback or even as much as an email. Fast forward to today, 11/28/16. I call my case manager and repeatedly leave voicemails demanding to be called back. After about 4 attempts I get ahold of someone who passes me onto a manager, who then calls my case managers, Irving, directly. Irving explains that Chrysler is not responsible to provide a rental vehicle, nor will they provide a rental vehicle, nor will they compensate for a rental vehicle, nor will they replace the transmission (when the COMPLETE transmission is in stock at the local warehouse) and I will have to wait until the valve body is delivered.
I got a complete run-around from him about how FCA is not liable for rentals, nor is the dealership, and nor will they further investigate replacing the transmission with one in the local warehouse to get me back on the road faster. So here I am still without my work truck not being able to do nearly 1/5 of my daily tasks because FCA will not do anything to expedite the repairs on my vehicle. I should also note that the vehicle is currently under the 5 year 100K mileage warranty. FCA corporate has given me nothing but a complete run-around and basically "shove it" attitude about expediting the repairs on the vehicle or issuing a replacement which would have solved the issue 100% and gotten me back on the road 3 weeks ago.

I purchased my 2014 Ram back in Sept of 2015 as a left over. I noticed rust marks bleeding onto the paint on the rear wheel lips. Upon closer inspection I noticed the seam on the wheelhouse was rusting and bleeding out on to the paint. I took the plastic liner out and drove truck to dealer so they could submit photos to Ram's digital imaging. After not hearing from dealer for over a month I contacted them and they told me they denied claim, that I had to call so consumer complaint number which I did and was a total waste of time because the person said he could not do anything for me.
Then it got brought to regional manager who admitted that Dodge is aware this is an issue but doesn't want to pay to have it fixed properly. SO THEY ADMIT THAT THEIR TRUCKS HAVE DEFECT BUT ARE NOT WILLING TO FIX IT! So now I'm stuck with a one year old truck with 17,000 miles rusting. I have contacted a attorney and am going to start the process of taking them to court. I really enjoy the truck otherwise and am refusing to lose money for someone else's poor workmanship.

After buying my Ecodiesel I noticed lights pecks on the fender. Don Jackson was very good about replacing the fender but could not get fender tight to the body. The service department said it all like that. But that no correct by knowing now. Then when I got my 1st service and asked about and said they can tight up better than that at Autonation at Victory drive Columbus. Again the technician did do better and the glue was left all over my vehicle. Also the service department had to drain my truck because it put in the wrong oil. To bring you up to date now it is 9 Nov. 2016, had to tow to Autonation Chrysler.
The next day Autonation informed the engine failed and broke it down to take pics to send Chrysler. To get it a action to okay to order was 5 days and no rental was assigned to me. Autonation here on Lake parkway was not any help. Fast forward to Wednesday 16 Nov. the Customer service has given me a runaround. I have been asking for a rental pickup for my 60000 weight paper and I have no seen a solution. With number of problem I will be continue calling and get to someone in the corporate to listen and compensate for the damages. I would like to replace the vehicle that is not even a year old 17500 on it. Ram/Chrysler has lost all faith of Company.

As an owner of a Dodge this is the first time I have been very disappointed with its make of the Dodge Ram. My truck is 13 Years old at about 97,000 miles and have a blown head gasket. I keep up with maintenance and always clean don't use it much or haul anything. Now this is very expensive to fix. It's like putting a down payment for a new car.

This is my third Ram, 2006, 2012 and now 2016. This is by far the worst truck I have ever owned, and the worst dealer service experience! The dealer was in too much of a hurry to put me in a truck, they failed to hear my needs and wants, from the get go with a salesperson who was actually a corporate rep, visiting the dealership this day. He did not listen to my towing needs, and everything he promised me for free (thrown in) was just added to my bill of sale, and my application was for 0% down, 0% financing - and in the end was 3.49%, which was not communicated to me at all.
So, first I did not end with a hitch receiver, towing mirrors, or brake module - I had to buy a receiver for $300 and a brake module for $500 plus $90 to program it. I was forced to buy this, as the dealer would not help me and I had to move my trailer promptly. Second the rep promised me the truck could tow my trailers and handle the capacities. The truck falls short by 3000 lbs. because the 8 speed trans. and 3:21 rear gear combo are ** - something the rep failed to even look at and confirm capacities - and assured me that this truck could handle my towing needs. NOT!
The truck: the front end is loose - rattles over tracks and bumps, shakes violently on highway (death wobble close) - tires have been balance three times, steering column shakes and rattles, transmission growls, shudders, clunks (when putting into gear or decelerating), vibrates on highway. Rear end clunks, tow haul button doesn't work, gas gauge glitches, headlight out of aim, antenna loose, leather seat clips came off, door weather strip fell off, hood is not aligned with fender, led lights fell out of back seat. When towing my 3500 lb. trailer in tow haul mode the trans. feels like it wants to explode (loud growling and vibration) at any speed. This experience may be only from my particular truck and dealer but I feel it warrants this submission!

I just bought a new 2016 RAM 1500 Limited, just shy of $60,000. The truck is really a luxurious, roomy, and very comfortable ride all-around. In fact, this is my second RAM as I traded a 2012 Dodge RAM 1500 Big Horn. Today marks one month of ownership and I have only put 225 miles on the truck since taking delivery.
Upon getting my new RAM home I started to notice several issues with both exterior and interior finishes that are result of sloppy handling of materials during manufacturing. In addition, my exhaust system was loose and the right rear tailpipe was loose enough to fall off. I notified my dealer and took it in for review of all issues noted. The dealer will be replacing a dash bezel and the leather covered console armrest to remove damaged materials. Then my dealer reviewed the bubble-like fish eye in the paint on the hood. What was so shocking he walked around the truck and pointed out numerous defects in the finish of the paint that I had not found on my own. The more he looked, the more defects he found. It reached a point where I felt really bad about my new truck and really sick about the price I paid for it! The dealer has "opened a case" on my truck which isn't entirely clear to me what that means.
I get home from my visit to my dealer and decide to call RAM customer service to relate all of this and learned something that was not disclosed to me at the point of sale. I was so excited to finally own a vehicle that would give me the ability to navigate Pandora on a big dash screen. Over the past month I have about gone crazy trying to get Pandora to load to the UConnect system only to learn from a rep at RAM customer service that there is no way to make it work as intended due to the loss of a third party technology relationship that is necessary to bring Pandora and UConnect together. What a disappointment!
I was told that a notice went out to dealers earlier this year regarding the Pandora issue. However, no one informed me, the consumer, that this luxury feature will never work through the UConnect system. This may have given me pause to move ahead with the purchase. At nearly $60,000, I should not be writing such a negative review of my new truck. All I can do is hope that RAM steps up and backs the product and goes the distance to give me some sense of customer satisfaction. That part remains to be seen.

In late June my vehicle was in a car accident. The vehicle went in to our local Auto Nation Collision Center for repair in Winter Garden, Fl. Unfortunately they have not been able to complete my repair due to the extreme back order on the part. I own a 2007 Dodge Ram Laramie and the clockspring has been on back order since at least July. Chrysler has only been able to give me a release date they acquired from my repair shop. I called them to submit a complaint and their method of verifying the information was calling my repair shop. I felt that by calling the direct manufacturer Mopar Chrysler they would provide me with a solution. Instead they cannot confirm when parts are going to be available since there are so many request ahead of me, 186 to be exact.
They further explained there could be a wait for over 18 months. Until then I have no vehicle, and it is my burden to carry because there was a repair needed where a part is not available. I asked for rental car options and they declined any type of remediation. I understand that we are responsible for repairs as a consumer, but when there is not even an option to complete a repair what am I left to do? It's been 6 months, and now I am definitely out of patience. I am extremely disappointed in Chrysler Ram at this time. I have been a loyal customer with 4 vehicles purchased from the brand in the past 10 years. Not what I expected from a national US automotive company.
Dodge Ram Company Profile
Company Name:

Dodge

Website:

http://www.dodge.com/en/