Alzheimer's Risks and Treatment
Researchers are optimistic about the future of the technique
09/21/2018
|
ConsumerAffairs
Researchers from the Clinical Memory Research Unit at Lund University in Sweden recently published an article detailing a new brain imaging technique that would help doctors diagnose Alzheimer's more accurately.
In the study, the researchers focused on the spread of two Alzheimer's-linked proteins throughout the brain -- beta-amyloid and tau. While beta-amyloid can start spreading years before the patient starts showing symptoms of Alzheimer's, the presence of tau on a b...
More
The same drug disappointed during clinical trials in December
07/09/2018
|
ConsumerAffairs

By Mark Huffman
Mark Huffman has been a consumer news reporter for ConsumerAffairs ... Read Full Bio→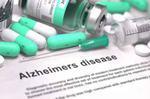 After a series of disappointments, a major drug company has reported promising clinical trial results from its drug to treat Alzheimer's disease.
Massachusetts-based Biogen and its Japanese partner Eisai jointly announced positive topline results from the Phase II study with BAN2401, an anti-amyloid drug. The buildup of amyloid plaques in the brain is thought to be a key contributor to Alzheimer's.
The study was a large one, involving 856 patients in the early stages of A...
More
Sort By