Find the Best New York Electricity Companies

Compare Reviews for Top New York Electricity Companies

Direct Energy
Read 2,213 Reviews

One of North America's largest providers of electricity, natural gas and other home services for residents and businesses throughout the U.S. and parts of Canada. In Texas, their 4 plans start at 11.7 cents per kWh for 36 months.

Spark Energy Gas and Electricity
Read 813 Reviews

Offers electricity and gas to residents and businesses throughout 19 states, including Texas. With over 11 plans to choose from, pricing starts at 13.9 cents per kWh for 18 months.

Learn More

Toll free number

(855) 465-1954

Champion Energy Services
Read 424 Reviews

Offers electricity to residents and businesses throughout several Texas cities including Fort Worth, Dallas, Austin, Houston and Abilene. Their 3 plans start at 10.2 cents per kWh for 12 months.

Ambit Energy
Read 560 Reviews

Ambit Energy provides energy solutions in deregulated markets throughout the nation. Based in Dallas, it is marketed through over 250,000 independent consultants and offers cost-effective choices for energy consumers.

National Grid
Read 514 Reviews

National Grid is an investor-owned energy company that services Massachusetts, New York, Rhode Island and the United Kingdom. It works with its stakeholders to promote and implement clean energy solutions.

PSE&G
Read 467 Reviews

PSE&G is one of the U.S.'s largest electric and gas companies, serving three-quarters of New Jersey's population. It is a publicly owned utility and a subsidiary of PSEG, a holding company that operates many utility companies.

Constellation
Read 98 Reviews

Constellation, formerly MXEnergy, provides electric, natural gas and renewable energy services to residential, business and government clients in the contiguous United States. They are owned by Exelon, an energy holding company.

ConEdison
Read 379 Reviews

ConEdison was founded in 1823 as New York Gas Light company. Today, its electric, gas and steam service gives energy for over 10 million people who live in New York City. It focuses on sustainable energy sources and saving money.

Central Hudson
Read Expert Review

Central Hudson is a regulated transmission and distribution utility company that got its start in the early 1900s. Today, it services over 300,000 customers with electricity in New York's Mid-Hudson River Valley.

NYSEG
Read Expert Review

NYSEG is a subsidiary of AVANGRID that delivers electricity to over 880,000 customers in upstate New York. It implements clean energy innovations, improved energy options and strengthened system reliability for its customers.
Considerations before choosing a New York electricity company
What are your rate and plan options?
A lot of independent providers help you save money with multiple plan and rate options. Once you understand the different types of rates, you can make a decision about which one works best for your home or business.
Fixed rates: Fixed-rate electricity plans keep your electric bill the same for the duration of your contract or term. A term is typically three to 36 months with penalties for breaking your contract. Fixed rate plans keep you from having to pay more if the market fluctuates and causes the price of electricity to rise. However, if the price of electricity falls, you'll be stuck paying your agreed rate.
Variable rates: With a variable rate plan, the price of your electricity will fluctuate with the market price. There are no long-term contracts or penalties. Variable rate plans tend to be cheaper than fixed plans, and you can switch providers at any time. When the market price for electricity spikes, however, your rates will go up.
Customizable plans: Many independent electricity suppliers offer customizable plans for your small business. These plans are tailored to save money on your energy bill based on your business's size, location and energy use.
What types of energy do electric companies use?
Electric companies use multiple types of energy sources to generate electricity, but they generally fall into two camps: renewable or nonrenewable. Most natural resources that create electricity are nonrenewable. Ask each company what type of energy they use when you're shopping for an independent company.
Renewable energy: Wind, solar, geothermal and hydropower are all renewable energy sources that replenish in a short amount of time. Many electricity companies are switching to renewable energy sources to reduce pollution.
Nonrenewable energy: Nonrenewable energy comes from sources like coal, petroleum and natural gas. These resources will run out, and they contribute to pollution.
How do electric companies promote sustainable energy programs?
Many electric companies in deregulated states implement sustainable business practices, programs and donations. Electric companies in New York offer incentives for you to use renewable energy to power your small business or home and often provide programs to make renewable energy accessible to others.
Energy incentive programs: The New York State Energy Research and Development Authority (NYSERDA) has a number of energy efficiency programs. These offer incentives for homeowners and businesses to use renewable energy. The Electric Efficiency Program provides a free energy audit and covers 70 percent of the cost of lighting and refrigeration upgrades to your business.
Donations: Some independent electric companies have donation programs that provide solar energy to non-profits or electricity to neighbors in need. Look for each company's sustainability programs on their website.
Public education: Many independent electricity providers offer programs to teach kids about smart energy use and safety. The Department of Education in New York offers prizes to schools that compete to see who can save the most energy.
What convenient features do electric companies offer?
Electric companies offer a number of features that let you easily manage your account and services.
Manage services online: Most companies let you log in to your account and set up a time and date to start, stop or transfer services. This prevents you from being on hold with the company's customer service department anytime you need to perform a task.
Automatic bill pay: Set up automatic bill pay with your electric company to eliminate missed payments. The company will make scheduled withdrawal payments from your bank account.
Power outage reporting: Some companies allow you to report a power outage via a mobile app. You can also view a map of current outages with estimated repair times.
How do electric companies provide customer service?
Electricity companies with a responsive, helpful customer service department make getting your issues resolved less of a hassle. Today, many companies use features like live chat and social media to keep you informed.
Live chat: Live-chat software is a relatively new feature companies use to connect with customers quickly and conveniently. Live chat prevents you from having to call customer service and waste time being put on hold.
Active social media: Companies use social media to post information like current power outages and repair times. These companies keep their users informed about current events.
Building and renovation services: Some companies have building and renovation service specialists that help you with things like new service installation, equipment and facility relocation, planned outages and site meeting request fulfillment.
What rebates and incentives do electric companies offer?
Electricity providers and utility companies offer rebates and incentives for switching to energy-efficient appliances and implementing smart energy usage. You might qualify for a free in-home energy assessment to determine where you can improve your usage.
Energy-efficient appliances: Companies will give you up to $800 back just for updating your appliances to energy-efficient models. Larger appliances like water heaters, dishwashers, washers and dryers give you the best chance for a bigger rebate. Most companies provide a full list of appliances with their rebate values online.
Peak-hour usage: Some companies offer cheaper rates if you lower your electrical usage during peak hours. Some can automatically adjust your power settings for you during peak hours when you use your smart thermostat.
Lighting: You may receive free LED bulbs or discounted installation of LED light fixtures from your electricity provider.
What are the different types of electricity companies?
Electricity suppliers
Electricity suppliers (or providers) generate your electricity. Suppliers in deregulated states offer competitive prices and more renewable energy options than local companies.
Electric utility
Utility companies build and maintain the power line networks that electricity providers use to deliver electricity to your home or business.
Who uses electricity companies?
Homeowners
If you're a New York resident, you may find that switching your electricity provider to an independent supplier can save you quite a bit on your annual energy costs.
Business owners
As a New York business owner, you can switch to an electricity provider that offers customizable electric plans to save you money on your energy bill.
People switching to renewable energy
Many electricity providers in deregulated states offer renewable energy alternatives such as wind and solar power. Find a company that works with a renewable energy company to properly assess and install any new solar systems.
Thank you, you have successfully subscribed to our newsletter!
We value your privacy. Unsubscribe easily.
Expert reviews for New York electricity companies

ConEdison got its start in 1823 when it was called the New York Gas Light company. Today, it provides energy to more than 10 million people across New York City and Westchester County. ConEdison focuses on building a sustainable future through renewable energy while minimizing consumption and saving you money.
Read More

National Grid is an investor-owned energy company that services New York, Massachusetts, Rhode Island and the United Kingdom. It promotes sustainable energy and educates the community about the importance of clean energy and energy-saving practices.
Read More

Central Hudson is a regulated utility company that services around 300,000 customers with electricity in the Central and Mid-Hudson River Valley of New York. Its website offers convenient options to manage your account, pay bills and choose an energy supplier.
Energy choice: Central Hudson informs you about electric suppliers currently taking new customers and lets you choose which one to use. No matter which company you choose, Central Hudson will be the company that delivers the electricity through its network of power lines.
Residential rebates: Central Hudson offers rebates to customers who switch to energy-efficient appliances. Earn up to $300 on a natural gas furnace, up to $450 on an electric pump water heater and up to $500 on an air-source heat pump. Check out the full list of appliances and rebates online.
Efficiency tips: Central Hudson gives you energy efficiency tips to help you save money and reduce the amount of energy you use. Its website lists tips for appliances, electronics, heating and cooling, lighting and more. From choosing Energy Star appliances to replacing your inefficient light bulbs, you'll find an extensive list online that can save you money on your energy bill.
Power outages: Report a power outage or a fallen electrical line via phone or on Central Hudson's website by entering your account number and telephone number. You can also monitor the status of power outages in your area for an estimated time of repair.
Self-service: Central Hudson has multiple self-service features on their website that let you set up automatic payments or choose a different payment method. You can also view your bill history, set up budget billing, manage text alerts and change your contact information from their self-service portal.
Best for: customers in New York's Mid-Hudson River Valley area.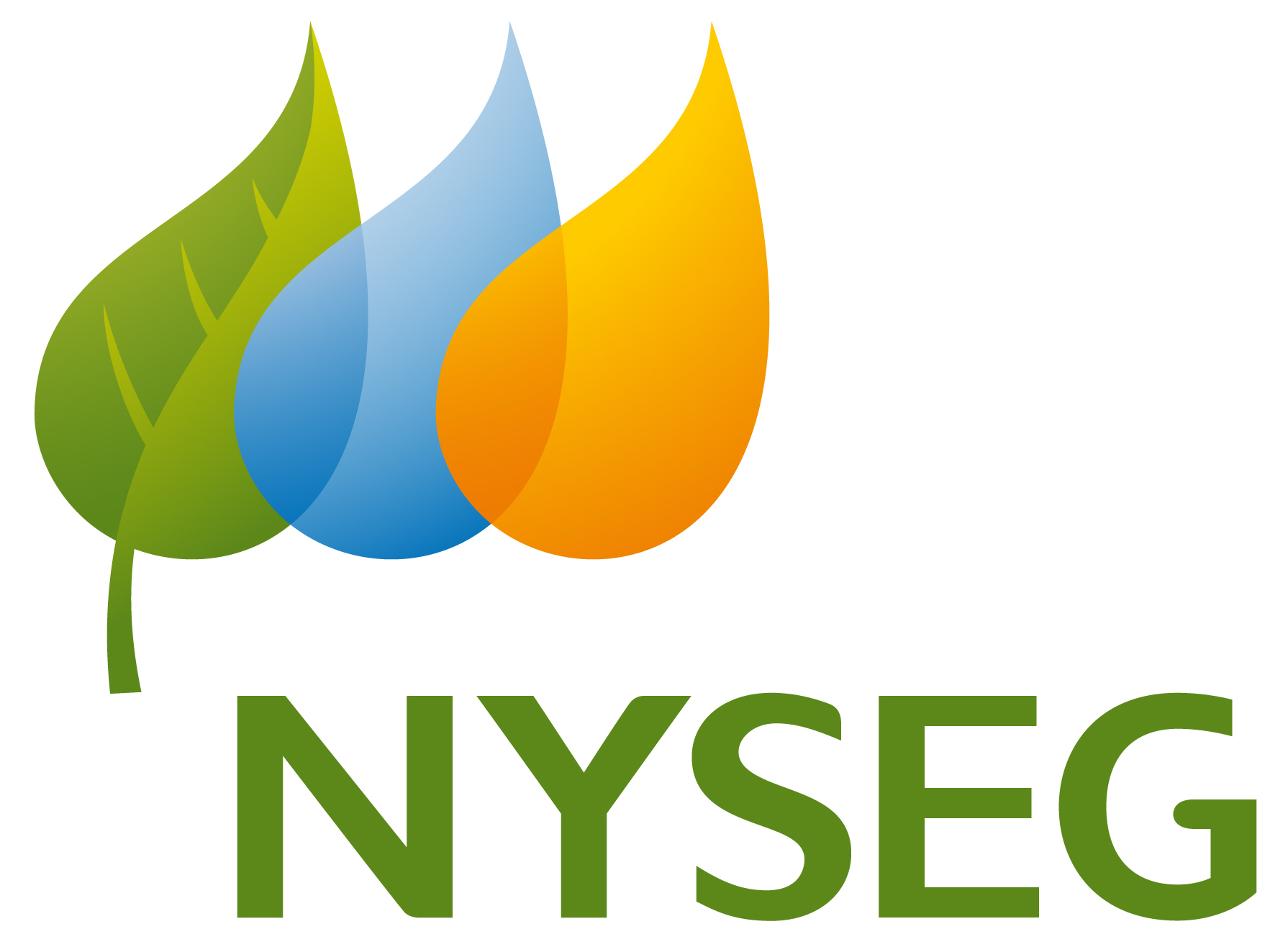 NYSEG is a subsidiary of AVANGRID and delivers electricity to more than 880,000 customers in upstate New York. It educates people about clean and smart energy use and implements renewable energy resources wherever possible. It also helps you save money with different rates such as day-night service and time-of-use rates.
Residential services: NYSEG provides a list of all approved independent energy providers to make setting up service quick and easy. You also get incentives for using smart energy and converting to energy-efficient appliances. Incentives include 70 percent off the cost of hardwired LED upgrades, free installation of LED bulbs in up to six fixtures in your home and free installation of energy-efficient faucet aerators and showerheads.
Business services: NYSEG helps your business save money by offering incentives for smart energy usage. Eligible small businesses receive a free energy assessment and up to 70 percent off the cost of upgrading to recommended equipment. Your business may also qualify for custom rebate programs when you upgrade things like lighting and controls, heaters and non-lighting equipment.
Giving back: NYSEG offers business development programs, educational materials and environmental initiatives for the neighborhoods it works in and provides service to. Community programs include the Project Share Heating Fund that raises money for customers experiencing energy emergencies. Additionally, it provides online educational resources and safety material for schools.
Rates: NYSEG helps you manage your energy costs by offering different rates for different types of energy use. The day-night rate is for customers who use 20 percent of their electricity at night. The time-of-use plan is for people who use the majority of their electricity in off-peak or mid-peak hours.
Wind energy: Support clean, renewable energy by buying a block of wind energy through NYSEG. Buying a 200 kilowatt-hour block of wind-generated electricity every month for a year reduces carbon dioxide emissions equal to planting one acre of trees, according to NYSEG.
Best for: customers wanting a utility that focuses on clean energy and is active in the community.
Disclaimer
Information in this guide is general in nature and is intended for informational purposes only; it is not legal, health, investment or tax advice. ConsumerAffairs.com makes no representation as to the accuracy of the information provided and assumes no liability for any damages or loss arising from its use.