Consumer Reviews and Complaints

When I moved here to small apt near my prior large home I expected much lower bills. When my bills were way too high I contacted ConEd. They gave a new meter but left the same Meters for other tenants and nothing changed. Finally all three meters were changed plus no more estimates (read outside) and although my bills are not less than the home they are not 3-4 times more as before. Since I paid the higher bills all along I should be given refund now but they are still harassing me to pay bills from the time I first moved in and that are in error. My usage is low and the changed meters happened in 2015. This is so cruel to prolong it still with concrete proof. It's irrational.

The town in which I live in has a special contract for electricity. I choose to opt out which I did by the special card that was sent in the mail & by calling ConEdison. It did not appear on bill for several months as I opted out yet going through my bills I was put back into that program in September. It is not the minimal difference that bothers me, it is the principle of the matter. I didn't see it initially and I brought it to the attention of ConEdison. They offered no real legitimate explanation and failed to recognize their own absurd error. Rep said they did not have any record of me calling the first time which highlights a level of incompetency & failure to input simple information correctly! They ignored the consumer's direct request and failed to satisfy me with any explanation. Rep sounded like a broken robot by continually saying "Well, um, um, I don't know." Well what I DO KNOW is as the consumer this indicates total lack of responsibility on *Con*Edison's behalf.

The website to pay a residential utility bill is horrible, I shouldn't have to wait 10 minutes just to get to the login screen. The charges and fees are should be criminal... I used .23 cents in gas but with the service/delivery charge and four other "adjustments" it's $24. I used $13 of electricity but with all the adjustments, charges, and fees it was $58 dollars. This is highway robbery and NYC don't give a **. I guess someone has to pay for their fleet of Jeep Wrangler Unlimited Rubicons though! And make sure if you can't pay your bill online to pay by mail, otherwise they'll charge you $250 security deposit. In NYC I'm obligated to use Con Ed, I can get my gas and electricity through other companies but Con Ed still delivers it. This is the biggest scam I've ever seen.

Honestly it's a huge pain to try and pay my bill online. Your website is incredibly slow. It's terrible. I'm trying to save paper but your website gets on my nerves so much that I'm thinking about switching back. Please fix the website please. No it's not my internet connection. My computer works fine. Thank you.

Every single time I need to get information on the website they do not recognize my ID and password combination. I then have to ask for password help probably 12 times. The website sending me a temporary ID takes so long that I have to ask for another temporary ID because I didn't get it soon enough before the website closes me out. I see your system is asking for order number to locate my account. I would give you an order number if I could get into their website.
How do I know I can trust these reviews about ConEdison?
882,235 reviews on ConsumerAffairs are verified.
We require contact information to ensure our reviewers are real.
We use intelligent software that helps us maintain the integrity of reviews.
Our moderators read all reviews to verify quality and helpfulness.
For more information about reviews on ConsumerAffairs.com please visit our FAQ.

I would not even give one star. I lived in my apartment for 6 months and paid for electricity with Con Edison. I moved out, had my mail forwarded to my new address. I had filed for bankruptcy during that time and told the apartment to pay off any attached bills. I get a bill two months later, that includes my last month and two additional months that I no longer lived in the apartment. They told me it was responsibility to call in and turn off electric. Ok, how is my bill $400. That is insane? What did these people do??? I don't believe it.
It's my job, but my past leaser isn't helping and how do I even know the new people didn't pay and they are getting money from both of us? I refuse to pay and now it's affected my credit score and they won't even notify the current leasers. Why won't they help out? This seems very fishy since I can't actually wait outside the apartment and hassle these people. I plan on getting a lawyer. Just reading this site really makes me sad that they out to get people instead of offering some kind of customer service. Hopefully, you will do the same and we can stop a big corporation like this from skimming off the top. So sad!!!

Here in New York, there is a very funny cliche about two service providers - the cable TV provider Time Warner and the utility provider ConEdison. Of the two, ConEdison is by far the worst of the two. It is probably the single worst service provider or business in New York and probably causes New Yorkers the most ire among threats including crime, terrorism, traffic, and mutant cockroaches. It's a for-profit company (NYSE-listed), but might as well be the Department of Motor Vehicles.
Aside from personal gas and electric needs to households, ConEd specializes in tormenting small businesses in New York. In my personal experience, ConEd has kept my family restaurant waiting for six months for service, though the restaurant was ready to open four months ago. ConEd will send an inspector out to a restaurant, and if no violations are found, they will give a thumbs-up for service and work. Therein lies their game. After the inspector goes back to ConEd, they fail to report the thumbs-up and you're left waiting for weeks for word from them about their promised service or work order. When you get nervous about waiting and start calling their offices, no one answers. I MEAN NO ONE ANSWERS. This company services eight million people and the largest and most important city in the United States, yet no one ever, ever answers the telephone there.
For the past several months, one calls them ten times a day (between their hours of 7AM and 4PM) and leaves voicemails every time. YET NO ONE ANSWERS AND RARELY CALLS BACK. After the 150th or 200th call (this isn't hyperbole), a ConEd official will return the voicemail (two weeks later), and you learn the inspector who came out to approve your work never submitted the paperwork or something is wrong. They then send another inspector out to do the exact same job and so begins the cycle again. Rinse. And. Repeat.
The best part is that ConEd's personnel don't even feign concern. They simply do not care, and always blame the customer. This is why people hate utility companies and hate monopolies. The State of New York and New York City should really look into ConEd's practices, (*ahem* *ahem* two deadly gas explosions in the past five years), because their work sucks; their customer service sucks; and their corporate culture sucks.

Is there any lawyer or law we can sue ConEd for charging us no access fee $100? They do not call when the tech comes to apartment, I had to take entire day off every time they need access. Very very unfair practice to charge $100 for no access fee.

Out of the blue, on my first bill for 2017 there was a $20 increase. When I called, I was basically told to "shut up and pay" because there is nothing that can be done and if/when they read my meter and find a mistake they will re-bill (never happened, EVER). Energy monopolies suck the blood out of working people. Do they even see all the reviews that have been written here? Wherever there are unions, there is corruption and thievery! Wake up and say something!

Con Edison are a bunch of crooks. After living in the same apartment for 3 years, they just charged me an extra $125.00 as "a security deposit." The only reason Time Warner/Spectrum or Con Edison are still alive today is because NYC tenants don't have any alternative choices.

Con Ed continues to charge me "no access" fees even after agreeing that I am all set and do not need to let the meter readers access the meter. Here is some context: Con Ed charges me a $100 "no access" fee. I call and ask for clarification. The rep says, "Well we weren't able to access your meter." I say, "Did you call me?" The rep says, "No". I say, "Did you buzz my apartment?" The rep says, "No". I say, "Did you buzz any apartment?" The rep says, "No." I say, "Did you notify me in any way that you were trying to gain access?" The rep says, "No". I say, "Okay, so how was this supposed to work exactly?" The rep says, "Well typically the meter reader arrives at your building and hopes that the door is left open or the landlord lets them in. Was your landlord around on the scheduled meter reading day?" I say, "Yes - I am the landlord." The rep says, "Oh".
I say, "They just hope that the door is open? Nobody attempts to contact anybody at the actual building?" The rep says, "Yes". I say, "Well I think we just solved the issue of why the meter reader wasn't able to gain access! So what do we do about the no access fee and the meter reading?" The rep says, "Well after you first grant us access to the meter, we will permit you to email us photos of the meter instead of us sending a meter reader." I say, "Well why can't I just email you photos now?" The rep says, "Oh, well, because it's been so long since we've been able to read your meter, we need to do that no matter what".
So I continue, "When is the meter reader coming next?" The rep says, "Tuesday." I say, "Okay, at what time?" The rep says, "9am-2pm". I say, "That's a huge window. How can I be at home all day on a workday?" The rep says, "I don't know. We don't know exactly when the meter reader will come". I say, "Fine, so I'll take a vacation day from work to stay home and wait for your meter reader." And I do. And guess what time the meter reader comes? Well, the meter reader never comes. So I call Con Ed again. I say, "Hey what gives, the meter reader never came". Con Ed says, "Oh, sorry, well, you don't have to wait for the reader anymore. We'll charge you at the rate per the photo of your meter, this month as well as all subsequent months". Next month, I get a letter saying I owe $100 worth of "no access" fees. Nice!!!!

I bought 4 air conditioners and applied for energy star rebates. Con Ed wrote asking for more information. They sent four letters with only the case number and no indication which unit was which. Worst of all, they gave a phone number to call. Three calls and always requested to leave my number for them to call me back. BUT THEY NEVER CALL BACK. That's all a scam to me.

Long story short I own 2 homes, one with an automatic outdoor Con Ed meter reader and the other without. The one without was hit with a giant bill after 1 year of estimates. They said they sent technicians to read my meter but no one was home. Yes because everyone is working to pay their bills. Tried to fight it and was basically told that my tenants and I just had to deal with it. My other house with the outdoor reader started to get estimated bills too so I called right away and was told that the technician noted that something was obstructing my outdoor reader. There was nothing there. Finally 4 months later I run into the technician because I took a day off and she tells me that the reason she can't read my outdoor meter is because she doesn't have the tool to read it. Con Ed only has a few and they are planning to phase out that technology so basically they don't read my meter unless they can come in.
I called Con Ed. They told me "Oh yeah this is true, not sure when the new auto readers will be implemented... maybe 1-2 years... don't know details, but you're going to have to pay the BALLOON bill." There's nothing she or a supervisor can do. They will not adjust my bill. How can a company treat customers (human beings) like this? This is GROSS negligence. There's a huge implementation that you are doing which affect thousands of people, but you do not communicate it properly internally with your staff or externally with your clients. What is the transition plan? Was it approved by the Commission? What were the steps you took to mitigate the risk for your clients? I mean this is Project planning 101 and to hold hardworking people responsible for your thoughtless planning and execution to me is terrible and they should be held responsible. So my question to all my Attorneys out there is does this qualify for a class action lawsuit?

Con Edison's meter readers knock on my door in the morning and leave a second after. I have only once been able to answer my door while they have been still standing there because they leave within seconds from knocking to read the meter. I always get this notice of an estimated bill and have called numerous times to Con Ed to let them know I am always home and run to the door but the meter readers leave before I can answer. I always wind up with an estimated bill and a notice that they had to estimate my power usage? I AM ALWAYS HERE WHEN THEY COME TO MY HOME! Today I got hit with this enormous bill because my power usage was estimated for the past 4 month! I called them to complain. They had no records of my calls when I complained about their workers and now they tell me it's my problem and I have to pay this huge bill that is essentially making up for their workers incompetence.

So the other day, my upstairs neighbor came to me and made me aware that he felt as though our meters were switched, which is bad, and he had a Con Ed representative come out and confirm that our meters were in fact switched. I was not there for this meeting or made aware of when it was. Now all of a sudden my bill went from $70-100 a month, which seems about right, or average compared to what I've always paid, but now I have a "past due" bill of the difference which is over $1,600... I understand that it isn't my upstairs neighbor's responsibility to pay this, and I would never want them to be accountable, but I certainly don't believe I am responsible for this absurd bill. I don't know how one's bill gets that high, as I have never paid more than $150 or $200 for super high electricity bills. How our bill was almost $600 for Aug 22-Sept 22, I am truly dumbfounded.
If I would have been aware of this issue, I would have been able to make changes (if that's even possible with bills this insane) to lower my monthly usage, but to try and charge me after the fact because they had been reading the wrong meter, somehow doesn't seem like my responsibility. I have always paid my bills on time, and to the best of my knowledge paid in full. I feel as though, if it is not Con Edison's responsibility, then it might be the electrician's who installed the meter, or possibly our landlord's?

Ok. I have been living in my house for 1 year now. The bill would come through and I would pay it. Now all of a sudden I owe 1 year worth of billing (800) and I have to pay this amount, because they never were able to ACTUALLY come to read the meter. I just found out that they needed to actually read it in order to get the bill right, and all this time, it was just an estimated guess of how much I was using, and now I have pay for all the electricity I have been using that they didn't estimate. OK I GET IT. But all this time, I had no issues with my bill. It would always say I paid the amount, and every month so on and so forth. So NOW 1 year later, I GOT DUPED! Now I'M BROKE. THANK YOU CON ED! On top of that, my recent bill actually stated I was in the NEGATIVE for 800 bucks. Go figure. I will get a lawyer for this one.

I just received a bill for a year's worth of electric service. For some reason Con Edison only sent me gas bills and never read the electric meter. Now I am expected to pay for an entire year of service within the next 3 weeks or pay penalties. Even the payment plan they offered is more double my usual bills and I will still need to stay current on my monthly electric bill as well.
Not sure why they read the meter on July 25, 2015 and never returned till July 2016 and never sent an electric bill in the interim. They sent gas bills and I never realized that the bill was simply for gas service. The first bill has a balance of 47.58 from service prior to July 24th and we moved in to a new house on August 1st. The back of that bill states actual meter reading on July 25th of 0. The front states a past due balance of 47.58 plus the bill from July 24-Sept 15 of another 511.36. Not sure what dates are covered by the first bill. Very frustrating process and all they could say is, "We're sorry."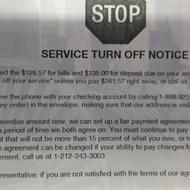 So my mail carrier hasn't been putting my mail in my mailbox for some reason for the last 2 months. Eventually I found a pile of my mail outside my mailbox. I received a service turn off notice from Con Ed for only $126.57 dollars. A very small amount to owe in my opinion for 2 months. But Con Ed had the audacity to try and extort an extra 135.00 dollars from me or they will turn off my service. I find this downright despicable for Con Ed to be trying to extort this amount of money from a customer. How can you try to extort that amount of money from a person that doesn't even owe that amount. I'm sure this is a practice that is only implemented in low income neighborhoods.

For over a year, I was on their "Budget Billing", paying faithfully until I moved in March. After the move, they sent me a "Final Bill" of over $400, which was the actual balance since my budget payments were only a portion of the actual bill each month. Not having the money to pay or even start the deferred payment plan at that time, I ignored it and figured I'd get to it when finances allowed.
Since then, they've ADDED THAT BILL to my current account instead of leaving it on the old account number and now, I have a "Final Disconnection" notice, even though the amount is only this high due to the budget billing that THEY offer; how are you going to offer me something and then penalize me for accepting it?! I not only faithfully paid the BB amounts, but have paid all the Current Bills since I moved. It would be one thing if my balance was this high due to my negligence in paying or if they were willing to give me time to get started on the payment plan without threatening disconnection, but as a faithful payer for the last 18 months, at LEAST, this just doesn't make any sense!

I contacted Con Ed and locked in my pricing 2 months ago. Since then I have called back and they had no record of such event and relocked me approx 3 weeks ago. Today I got a call stating they had me a commercial service and offered me a higher private residence rate. I think they are scamming people with low tickler rates then calling back and raising them. Total thumbs down.

I chose this route to pay bills thinking it was faster but l was so wrong. The automated voice just cannot understand all voices. A simple "yes", I'm told "l don't get that". Saying out the account number still l get the same response. Tried almost 7 times calling until l got past it. The next nightmare was paying by checking account where they wanted routing number and account number. Why can't they simplify their system and accept debit/credit card payments!!! This leaves us not being able to make payments will on-the-go because we have to be equipped with routing numbers and bank account numbers. Please have a user-friendly system for consumers.

I just received a $4,081.29 bill in the mail to my surprise. Con Ed claims it is not an error but for over seven years they did not charge my account accurately and now I owe the above-listed amount? No notice or registered letter was ever received, no call, no email, or ring at the door but Con Ed claims they did not have access to accurate meter readings, no Con Ed representative or supervisor has helped me resolve this absurd issue! Please have someone contact me at ** or ** regarding this matter asap!

I have been charged several no access fees over the last year. This is a Con Ed scam that must stop. A class action suit must be filed to stop these fees of $100. I have video monitoring and Con Ed workers do not even attempt to ring the bell to enter the property. I have called them on this many times however they continue this scam of charging no access fees.

On February 18, 2016 my residence at above address was affected by a partial power outage. This is the third (3rd) time my residence was without power subject to this outage due to the manhole on the street. Con Ed is fully aware of this problem and they continue to sugar coat this problem, because it continues to occur, mainly to my residence and not other homes on this block. The technician from Con Ed says that the wiring from the street connected directly to my residence need to be replaced. The power outage affects the heating system in my house, so I have no heat when power is down.
I have written to them informing them of this problem and the spoilage of food in my refrigerator, no recovery was received. I am 66 years old and has been a customer of this company for over 38 years, making prompt payments on my bills. A technician did a temporary bridge so that I can receive power to my house. I had to call for an appointment so they can return to permanently repair the line, the date is March 21, 2016. I would appreciate if you would look into this matter so I would not have to be in the cold again. Thank you.

Since 2014, Con Ed has imposed a large amount on my parents' bill. My parents not having a clue why their bill all of a sudden increased to 1500. Con Ed couldn't give them a reason as to what had happened. They paid it off and then continued making payments which were deducted from their bank accounts and not credited to their bill. On February 25, 2016, I printed out all of the Con Ed bills and noticed that for 1125$ were charged to parents and never deducted from their Con Ed bill. After a couple of attempts in speaking with a manager the issues being disputed never got solved and my parents are still paying this bill for a mistake Con Ed made for not deducting the amounts. Even on some statements it states payment never made, meanwhile my parents have the receipt of making a payment. Can some please help me and my parents with this matter? I've even tried reaching out to Help Me Howard from wpix 11.

I have many frustration toward Con Edison. Since we installed the remote meter for gas (2 meters) and electricity (3 meters), everything messed up. First of all, it's a hazard to finally get someone to install those meter (you can read the history of my account, over 100 calls including non answering by Con Ed, 5 emails, 2 visits over the past 6 months).
Then since meter was installed 2 months ago, your guy still come to my house every month to read meter. I told the guy to update his map each time, but he said our address showed he still needed to read meter. Our gas meter will show estimated (the past 2 months). 2 floor electricity meter has no digit on the screen, I called few times, emailed the picture, but no one ever do anything.
2 floor electricity bill should be wrong since they claimed they also use electricity heat and bill should be more than $200 like last month, but this month showed less than $100 even he actually used more electricity this month. 2 floor gas meter showed only 21 therms as a total since installed, but you charged him more $200 this month. We called to complained, you guys never admit those mistake, and requested us to stay home all day for an appointment that we shouldn't have. Please contact me at ** to fix all those junk ASAP. I also attached this email to 311, BBB and ConsumerAffairs to show my frustration. Thank you.

I am so disgusted with Con Edison. They rob the people of the United States and are the biggest crooks. How is it possible that NYC allows this monopoly to go on? Delivery charges are twice the amount of the supply charges and then they have the audacity to charge a "monthly rate adjustment" surcharge because the weather wasn't what they predicted and because the PSC has limitations on the amount they can profit from their consumers so instead of cutting the people a break, they make up fake surcharges. That's a load of horse manure. We, the people have no say. There is nothing we can do but shut up and pay it or freeze to death.
I am infuriated by them and their bogus charges. Is there nothing we the people can do about this? Can we not fight for our rights to electric and gas without these ludicrous "delivery" charges that break the bank? They have made it to where it is nearly impossible to not use their services. Hot water, heat, electricity, stove, etc., they have the people by the throat. Pay or else... Sad enough, there is no other option and that is how they want to keep it. Want another supplier? Sure, no problem. Where do you think the supplier is getting their supply from? The illusion of choice fools many. If only I could boycott them, I so would but I need hot water and even if I wanted to heat my own water, I have to use the stove which runs on gas. Damned if you do, damned if you don't
.
If you value your wallet, go elsewhere with for your energy IF it is possible. Don't give your money to CON Ed, it is time to make THEM pay and the only way to do that is to boycott them. If you don't believe me, read their reviews. You will see how many unhappy customers there are out there. Consumer Affairs, investigate CON Ed's delivery charges and other bogus charges and you will see why all the outrage.

I have been paying Con Edison regularly as they billed. Yesterday I received a bill for over $1500 because they claim they inaccurately billed October and November so now they are lumping Sept., Oct., Nov. and Dec. together. No explanation as to why those meter readings were wrong and this one is right when no changes have been made to the meter. Also claims I used vastly more gas this onto than same time last year although this year NY is warm this month and last year it was cold. They just charge whatever they want and attach some bogus incoherent explanation and nobody stops them. This company is very poorly run and survives only because of its monopoly and the political class's unwillingness to hold it accountable. As a result the public is held hostage.

I am a senior citizen with a stellar record of payments. My home was sold in July 2011 and I rented in a 3 family in walking distance. I called Con Ed to open an account. I was assured it would be done without need to go to an office. I started getting bills for prior tenant and also shut off notices but I had no account so ignored. I then paid it to stop the notices and expected it would be credited to me when my account was opened. The prior tenant moved in April so it was also several months lapse from then to when I moved in.
Meanwhile landlady who does not live here or have a separate meter used electricity for painting and drilling and construction and showing apartment. The meter was last read in April. A new reading was not established when I moved in because I had no account. I got several bills sent here but for my old account number in my home where I no longer lived and that was October 2011 and November. So I paid July and October and November bills but still had no account here in my name.
I called and wrote and emailed but though it only takes a day to give me an account none was given. Finally my first bill came in February. It was same here in a one bedroom as my house with 4 stories, washer and dryer, and more lights and air conditioners. It was $50 -$65. After paying this for several months a bill for an additional $770 was sent. Apparently they claim a union strike occurred so the meter was not read and this was estimated bills I had paid not actual.
I protested that I paid the estimate and the actual could not possibly be 4 times higher in Winter. That means close to $200 a month whereas 40 years in big house the highest in Summer was $120 and rarely that. In addition they also sent $600 added amount a bit after the $770 for the time I had no account. This though included the months from April till August which was not my usage but landlady fixing apt. The service and delivery alone is ~ $25 and there was usage too. So though I paid every bill in full from February through August 2012, per billing I owed $1,300 more.
I filed a complaint to PSC but after that case was open they sent someone to shut off the electricity. I notified the Public Service Commission that I already paid 3 months that need be applied to my account and that one meter reading for six months is unfair as I need to see the monthly statements. But main concern was the out of range $770 bill. Con Ed verified that the meter was in order but they removed and replaced it "anyway". So they sent me a notice now after 4 years that a Marshal will tear out my newest meter. My blood pressure is skyrocketing from stress and I never had that medical condition before. And they added late fees and legal fees and now I owe $1,800 for that same period which I paid for.
The commission thinks I am the one at fault and I am disappointed in them as they added their weight to help Con Ed not me when this is outrageous. So what to do? I went to court but so far every case I saw was just given to Con Ed regardless. I don't owe this yet if I do not pay it they will allow me to be without electricity. We need a petition to stop this bullying and coercion to pay enormous absurd bills. Their management is uncaring and incompetent as I have now read similar complaints on this site and nothing is done and it continues to go on. This is theft not proper to not open bill and include usage not mine, and convert normal bills by claiming they were estimated. Smells fishy all around.

I just moved into a brand new building that's one year old, the first month there was a bill in my mailbox for over $4000.00. The bill was not in my name but it was my apartment number. I then call Con Ed to have NEW service turned on and told them about the bill. They said if it not in my name or my account, dont worry about it. Over the next couple of months case workers have tried many ways to get me to give up my account number, or to make copy of my bill. On the 12th of November 2015 they are having recertification. One on the documents that is needed by the management for recertification is my bill. I don't want to give up my Con Ed info, but if I don't I can be taken to court to have me evicted... HELP WHAT SHOULD I DO?
Compare New York Electricity Companies
ConEdison Company Profile
Company Name:

ConEdison

Formerly Named:

Con Ed

Website:

http://www.coned.com/