Consumer Complaints and Reviews

I had a 5 number plate in Massachusetts for the decades. In December I began receiving EZ Pass toll charges for my plate number for days I was never on the Mass Pike totaling $115. I am an EZ Pass member and I do receive valid charges triggered by my transponder when I travel the Mass Pike. The charges I received were for a 5 axle commercial vehicle. My vehicle is a jeep. When I contacted EZ Pass I was told that Massachusetts issues duplicate plate numbers to cars and apportioned vehicles. I was told the only way to correct the problem was to change my plate. It took me 3 months to receive a refund and it cost me $89 to get a new plate.

Inaccurately sent notice of violation to charge $15 when I already paid this in cash while passing through the toll. The woman at the toll took the cash and opened the toll to allow us to pass, if I had not paid the toll, she would not have allowed us through. Late fees would be $50 if not paid, hopefully it won't come to this.

I called and told them to add my account to the E-Z Pass account. They took payment and didn't add the card and bill me for over 500.00 then had a nerve to apologize but won't reduce to zero. Time to pay 100.00 in penalty.

E-Z Pass MA has been a major ** from the beginning of this recent roll out to remove toll booths and make transponders Pay By Plate fees mandatory. I ordered my E-Z Pass in October and was mistakenly charged for 2 transponders. When I called to correct this error, customer service stated that the account was canceled and I'd be refunded $20. Well, a month later, the E-Z Pass still hadn't arrived and I hadn't been reimbursed $20 for the transponder. I called customer service again and the person I spoke to was in fact helpful. She informed me that the last representative had canceled both accounts (the erroneous as well as the correct one) and that the reimbursement was not managed correctly by E-Z Pass which was why I never received $20.
After another month (December) I received the $20 reimbursement but still no E-Z Pass. I called customer service again. They told me that the E-Z Pass had never been sent out. Meanwhile I'd been accruing violations and received a couple notices from Pay By Plate, which is aggravating since I should have had an E-Z Pass 2 months prior. Eventually, I received that transponder around January. However, I'm still receiving Pay By Plate invoices (mail) as well as E-Z Pass bills (electronic)--therefore I'm being charged twice at the tolls plus late fees because I'm not paying them twice for their mistake.
Furthermore, the website is far from user friendly and is full of glitches and loops that equally mimic their entire customer service ethos of bang your head against the wall frustration until the problem appears different or the problematic customer becomes indifferent. I've entered my account number, transponder number, and all other required fields and still can't access my account. This is the most careless, bureaucratic, incompetent department I've had to deal with in a while. I'm tempted to bypass rt 90 and all tolls and take the scenic route because they do not have their ** together.

I don't recommend this E-Z Pass corrupt system especially the way they send random "alerts" to your phone higher than the amount you agreed to once you got on E-Z Pass. Who's making out, aside from the jerk who created this BS.
How do I know I can trust these reviews about E-Z Pass?
718,857 reviews on ConsumerAffairs are verified.
We require contact information to ensure our reviewers are real.
We use intelligent software that helps us maintain the integrity of reviews.
Our moderators read all reviews to verify quality and helpfulness.
For more information about reviews on ConsumerAffairs.com please visit our FAQ.

At the end of June and early July I went thru 3 tolls totaling $16.50. I received a bill from E-Z Pass NY at the end of July for $16.50 with a due date of August 23, 2016. I paid the amount of $16.50 through my People's Online Banking account on August 1, 2016. The payment was received and cleared on August 9, 2016. Since then, I've received bills for late fees totaling $150.00 plus the $16.50. I called numerous times, I sent proof of payment (bank statement and cancelled check) to both the Tolls by Mail Pay Processing in Albany, NY AND Violations Processing Center in Albany, NY.
December 5, 2016 - I received a letter from a collections agency Transworld systems - spoke with Sean ** ext # ** he said to fax a copy of the cancelled check from the bank. On December 6, 2016 I faxed him the cancelled check. Today February 13, 2017 I received a notice in the mail stating I owe $166.50. So I wrote the above complaint to the BBB NY - I got a message back stating it was out of their scope??? So how does someone correct an obvious error on the part of EZ-Pass billing system?

I have been an account holder for many years. I had an issue where my transponder stopped working and I was never able to speak to anyone. Instead I got $300 worth of violations in the mail. Phone numbers never worked, constantly got transferred and every incompetent person got on the phone and transferred me to someone else. Issues never got resolved.

License plate reader problems lead to supposed toll violations: My transponder was 9 years old and started to fail. (They say they last around 10 yrs.) My account is linked to a card and I have e-billing and I check my account very infrequently. A lot of video tolls started showing up intermittently in December 2016 unbeknownst to me. Since E-ZPass uses computers to read license plates, it sometimes misread my plate.
My Virginia vanity plate is "**" with the letter OH. (Not really my plate but made up a word with an OH for this story.) The problem is the E-ZPass computer sometimes read it as a ZERO instead of an OH, as it is listed on my E-ZPass account. So when the computer looked up with a zero, it didn't find it linked to an account. So they then asked Virginia DMV who owned the plate. Since Virginia does not distinguish between a zero and an OH on their plates--they used the same character--they gave E-ZPass my address. And so began my three weeks of phone customer service hell.
Even after sending them my motor registration, as requested, to show that their computer was at fault, they still wanted to charge me the video toll rate. After a third call, they said they reviewed my letter explaining the problem, my vehicle registration, and the plates listed on my account and denied a correction. I asked for a simple explanation of why it was denied. Like a robot, she only repeated it was denied. I asked to speak to a supervisor. She said the supervisor only does callbacks and to expect a call in 24-48 hours. How stupid is this? I was ready to file a complaint with the consumer office of the State Atty General and the consumer advocate with the local Baltimore TV station.
On my travels, I was passing an E-ZPass administration building in Perryville, Maryland and stopped in to speak face-to-face with a rep. I hoped I could get an explanation. Within 10 minutes, she confirmed my transponder was on the fritz, reviewed my complaint, understood the problem, and her supervisor gave the approval to correct all the violations (have me pay the E-ZPass rate, not the higher cash or video toll rate). I left with a new transponder (cost $7.50) and relieved that this totally unnecessary nonsense was over.

I have an E-Z Pass account. My kids and husband sometimes use my E-Z Pass and for some reason their trips did NOT register at the tolls. My poor husband has accrued over $500.00 in fines due to ADMINISTRATIVE FEES!!! We can't make ends meet to begin with. I sent checks for the tolls, which were promptly cashed, and requested that they drop at least some of the administrative fees only to be turned down. These tolls were supposed to end years ago once the roadway construction was paid, but CROOKED NJ, won't let that happen. Absolutely criminal of NEW JERSEY. I can't wait to move from this place!

Months ago I was starting a new job. I had no money. For a week I didn't pay tolls but I took the receipt from the toll clerk. She told me to mail the payments into the turnpike. I did. Then I got a notice in the mail from E-Z Pass stating I didn't pay their tolls. I went back-and-forth with them and they finally said "just send us proof that you paid the turnpike instead by accident and we will drop the fees." And all I would be responsible for is the tolls which was a sum of $54.
I had the money order receipt with the date stating I had paid in time on time the correct amount. I just got a letter in the mail stating that they are rejecting my actual solidified proof and while I was waiting for their response they decided to send the tolls into collections $600. My god. Can anybody fight these people and win? Is there any way to win against E-Z Pass? Please somebody help, help, help!!! This has to stop. How can this go on and the attorney general of New Jersey not get involved? E-Z Pass is a criminal organization getting away with murder and stealing peoples money...

I have a new vehicle and my plate apparently was not registered with my transponder... so I have 16.42 toll bill... suspended registration in the state of NH for this and 528.50 in fees!!! What the heck! How about a notice in the mail? This happened in the fall and I didn't realize it until I was stopped for a headlight out and my license had been pulled. I straightened it out and guess what! It's happening again! Feeling pretty done with the EZ pass scam! Nothing is EZ about having anything suspended!

I did not receive bills for 2 consecutive months, not by regular mail nor by email. Was then charged 13 X 25.00 dollars for violations. When I called in NY E-ZPass, was told that they "may" take off only 20.00 out of the 25.00 dollars per violation. Nobody tried contacting me by phone or by mail, so why pay any violation at all? Also how come there are no way to appeal this decision, just because 'they' made a mistake. This is really unfair!

I'm from Kansas, had done some work in Massachusetts, and decided to travel back through NY/NJ. With no visible attended toll booths I went through the ones I thought would be sending billing. Having received my bill, I see that I owed $2.15 for a toll. Sounds reasonable. BUT WTH IS THE $50.00 ADMIN FEE??? Is this even legal? With three options to dispute (complete form, do it online, or call the phone number), I chose the phone number. And... it gives me no opportunity to speak to anyone nor leave a recorded message, and refers me to the other two options. Does that not make a phone call NOT an option then??
Having then paid it online (it being due today) thinking I could then dispute it online or at least leave a comment, I was not given any option to take any action or leave any comment. Is the EZ Pass site intentionally set up to deflect and confuse??? I will do my best to avoid anything having to do with New Jersey and its ripoff toll system should I ever head east again.

Even after multiple suits in court (which they apparently lost), they haven't really stopped. I owe $1,100.00 for something like $12.50 in missed tolls. You try to pull the money together to settle it before it even goes to collection, but the administrative fees keep stacking up and when you are in a very tough spot financially already, it's nearly impossible to pay them on time. This all started when they switched my account replenishment status from "automatic" to "manual" after an issue with a replenishment transaction, but I never got a notification of the status change. By the time I realized it when checking my balance on my account just to make sure things were okay, I was already in the red and getting toll violation mail from them. I tried contacting them and making a toll dispute explaining the situation and requesting other options for payment but, from what I could tell, they just ignored me.
Now I have to take time from work to go to court and handle this with their "litigation specialists" (which they only allot you 30 minutes before your hearing to hammer out a deal). I work 60 hour weeks and I don't have time for their nonsense. I could have paid them if it were something like $25 to $50, but no, they have to bleed me dry even when I've got hardly anything to give them. I'm never using their service again, and they greatly overstate whatever value they do provide. I feel terribly for venting on the phone to their customer service rep, as it isn't her fault, but someone on their end needed to hear it. So, if she's reading this, I apologize to her, and ONLY to her. Transurban as a whole can just do the world a favor and completely restructure at the executive level, take ethics seriously, or just go away entirely.
Misc notes: It's not like I was intentionally being delinquent or irresponsible really. I had a near life-ending and permanently life-altering head injury several years ago and, unfortunately, that has yielded me the short term memory span roughly akin to that of a gold fish, among other issues. I hate pulling the TBI card, but it's a significant factor in my ability to function, and I'm doing my best over here. EZ Pass and Transurban just add to the stresses and frustrations of life where they shouldn't be. Whatever value-add they perceive their companies to provide is not at all worth the rise in blood pressure and they have to be, bar none, the worst infrastructure/toll outfits on the planet. I would rate 0 stars, but I have to admit the use of the lanes has been a convenience from time to time. Worth it? Absolutely not, but it is a slight convenience. Are their dealings through the company with local and state governments ethical? Not really.

Been using the system for approx. 3+ years and have gone from $25 a month to $50 recently. They are here to squeeze every possible penny from the consumer. I cannot plan to go to NYC or anywhere that uses a toll because they will be quick to raise the replenishment limit. I work every day and spend $1.50 in toll in total. How is it that I go to NYC one time and all of a sudden they start charging me $10 more for a Lincoln Tunnel difference of 12.50? I went to NYC 4 months later and in one trip spent $30 in tolls. That somehow averaged to a $25 difference in 3 months? How the heck does that make any sense? How does $30 difference in 3 months average to a $25 dollar increase? And right before Christmas? Yeah, sounds like somebody is trying to get an early Christmas gift.
This is ridiculous! The website sucks and is of low quality, customer service representatives are extremely rude and unprofessional. Always answer the phone and respond with an attitude and even though they say that "the system" will re-evaluate and adjust 3 months later, that is total bull. "The system" is quick to increase your rate but they will never decrease it. Never seen an decrease in the 3+ years that I have been with them. The total hierarchy of this system and this staff should be looked into. I would not be surprised if there is some sort of underground illegal things happening here.

If you have a low digit plate in Massachusetts, check your bill as Massachusetts issues the same numbers for commercial plates. I am in a vortex being charged 30 a day for a commercial account. They told me to get new plates.

I pull commercial trailers for a living. I have 3 days to turn in my Toll receipt. EZ Pass MA takes 6-8 days to register. I drive through IN, OH, NY and they all register immediately. Massachusetts is very slow and costing me out of pocket... This is not at all fair... Shame on Massachusetts!!

I decided to look through my mail and found a letter from a law firm for EZ Pass violations. YES! I do know that I haven't paid. YES! I do know that I have under $300 worth of unpaid EZ Pass tolls. So I thought! Just got off the phone with the law firm. Apparently, my account has a $1200 something balance. I asked him how is that even possible?!? I told him that I knew for a fact I probably had a MAX of $300 worth of tolls. He explained to me that my actual toll balance was $210 and that it got so high due to fees. Are you freakin' kidding me?!? No, NY State has a law where it's a $25 fee per unpaid toll.
This whole EZ PASS BS has people right on their tippy toes! If you fail to pay after the law firm sends you their final notice, the DMV will suspend your registration. I asked him if there was anything he could do. And after checking, he said he can do a settlement of 50% off which came out to $700 and something. Well that's better than $1200. Payment plan? Yes! But it can't be towards the settlement! The settlement has to be paid upfront. Now how can a college student afford that upfront?!? So, now I'm STILL stuck with paying the $1200 in payments!! S.O.B!!!

I just tried to renew my registration and come to find out I had EZ pass violations from 2015; never received invoice and they stated they mailed 3. Ready for this. So from $3.00 for each violation it went to $90.00. This is a complete disgusting way to treat your residence. I put an appeal but it can only bring down to $40.00 for each violation. I am a first offender and I find this just unbelievable. Secondly, how can you possibly agree with this to hold on to someone's registration for not even knowing about these violations. I am sorry but this is just an injustice to me and the residence of MA.

Driving through NJ in a motor home. Toll booth at exit 14C said we couldn't take the MH through the Holland Tunnel due to having Propane. So they made us get off the Turnpike. We did, then drove 20 miles out of our way, paid $45 to go over the Washington Bridge to NY. When we get home we find they gave us a toll violation for not paying... WHEN THEY TOLD US TO GET OFF the turnpike. We filled out the dispute paperwork, tried calling, they said they couldn't help us because we actually went through the booth, are you kidding me? We should have waited and got a form from the toll attendant saying they were waiving the fee since we weren't actually using any more of the turnpike. We never heard anything until they sent us a second violation and now they have it in collections and added $50 to it. ** thiefs!!!

Against my better judgement, I signed up for an EZPass. When I received my credit card statement, I had been charged three times for a transponder. After more than an hour on the phone with a CSR who seemed clueless and told me she didn't know if refunds were given and that I must have ordered three transponders - she couldn't explain, though, why EZ Pass sent me only one transponder. After being on hold for the third time, she returned and said a refund would be made.
This morning, I received a reply to an earlier email I had sent and the reply mentioned my conversation with the CSR and suggested I call again. Just got off the phone and the CSR said there was nothing on the record about a refund and that I should call back later. Oh, ya. In addition, there's a glitch in their website, since I discovered I was charged for two trips over the Tobin Bridge on a day when I did not leave the house. Would be nice if they could get things right.

Received a letter and new pass, asking me to send old one back BUT the letter listed a number for a pass I do not have. I had one in my car for many years and one in a motorcycle for many years - total 2 for 2 vehicles that I own. When I called and tried to explain they insisted that I have 4 vehicles and 4 EZpasses. I tried to explain that I have only EVER had 2 passes. The response was "You can't expect us to just believe customers when they tell us they don't have these passes". Really? I tried to explain that I have only used 2 passes, because I only had 2 vehicles, and read them the numbers for what I had in my possession.
All I got was continuous RUDE arguments, even to the point that I was told "you're wrong. You have 4 passes and you have to send that one back". No matter how many ways I attempted to explain that I didn't have the pass they listed in the letter, and have had the same 2 passes for years, they continued to insist I had 4 and must return the one listed in the letter. I tried to explain that any other passes assigned to me were not mine and if they were in use it wasn't by me. The response was "if they are in use it's you!" These people are unbelievably rude and should in no way be serving the public. Instead of trying to be helpful they simply argue, and tell customers they are wrong. Someone should investigate how they operate and definitely send them out for lessons on customer service. If the people I spoke to worked anywhere else they would be fired.

On 25 December, visiting my mother on the other side of Boston, I used the Ted Williams Tunnel. My EZ account was charged 3.50. Nearly 2 years later, I went to renew my registration and found out it was non renewable for an EZ Pass Violation. Dozens of calls, hour wait, disconnected with their phone system. Online Chat, automatically disconnected. Finally I reach a human, he explains that yes, my account was charged 3.50 on that day via my transponder but... because the plate wasn't connected to that vehicle (newer car), I was in violation. Never received any correspondence. Now, two years later, the 3 dollars became 90. 30 times the original toll. 30. That is a 3000% return on 3 dollars, now, since I paid the 3 to begin with as they stated, they move right past 3000% directly to extortion. If I do not pay, I cannot drive or own a vehicle in MA.
I saw an expose on a local TV station earlier this year. A single mother had 25 dollars turn into 2000 dollars. The Governor vowed to fix this broken system. What has Charlie Baker done? Nada. Zilch Zip. He has allowed these extortionists to continue to operate. The Mafia was placed out of business for less years ago. Perhaps there is a Hillary Clinton Clause in the law where money is funneled directly to the Clinton Foundation making it perfectly legal for them to charge any amount they desire. MA EZ Pass sucks, plain and simple. The people running this are as crooked as the Clintons themselves and use strong-arm tactics to take money from taxpayers. As we all know, Massachusetts has zero shame when it comes to taking money, tolls, taxes from citizens, otherwise, I could simply say shame on you MA DOT. Like the Clintons, the MA DOT EZ PASS people are laughing all the way to the bank.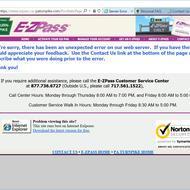 EZ Pass: We try to be as careful as possible as all the time, we pay every poll possible, but there is no way we can see every poll, especially when your toll booth are completely separated on the other road, which is misleading newbies like us that they are going the other way. Newbies like us have to follow GPS, and you build your tolls taking advantage of us!! Why don't you put a gate there like always? Why don't you send mail a bill instead of a violation notice like the others? What can I say, I can't believe Philadelphia is a state letting scams like you exist! Enjoy the cursed $99.35! I hope you will be tripped like this all year long!

This is unbelievable. EZ Pass is on a kick with mailing violations and tripling late fees to me that aren't late. What the hell is going on with this system?? Last week I received a "NOTICE OF VIOLATION ENFORCEMENT IMPENDING COLLECTION/LEGAL ACTION" notice from 3 violations back in June 2016 on the Tappan Zee Bridge. I believe they didn't perfect the computer system or they are just way over their heads with this automatic, computerized billing. Then they have the nerve for doubling and tripling late fees. Thousands of drivers/commuters like myself are getting harassed by a billing team that cannot handle the load. NY State E-Z Pass will be part of an embarrassing news story soon.

I drive thru hampton toll booth with my car and boat in tow registered in EZ Pass. I get an invoice from nh for the tool for both vehicles. I look in my EZ Pass statement and it shows the toll paid. I call NH and they say, "Send us a copy of your EZ Pass statement by fax" because they can't see the MA EZ Pass account. So how the ** do they know anybody paid if they can't see the info. The fax no. they gave doesn't answer and MA EZ Pass says they see the toll paid but "you'll have to convince NH." Are you kidding me!!!

First of all they have the worst associates sitting in that office. Better off with an automated system that would be glad to help you more than these ladies sitting there. Never look at you when you are talking to them, pretending they are the busiest and we have nothing better to do. I told them I was interested in opening an account and they showed least bit of concern for a new customer. When I went to return the transponder and close account, they showed me charges that were not supposed to be there. I asked them why those charges are on my account and the lady kept saying "you went through a toll booth and it scanned it. Talk to the dispute if want money back". Another associate began asking me questions, which seemed like she wanted to try to help but this lady who was helping me interrupted and said "let her talk to the dispute".
When I said I had paid at the toll booth with cash not knowing that it scanned my transponder she kept saying "that's not my problem." She already admitted that the dispute is not going to solve my issue. I wasn't a fan of EZ Pass before, I bought it reluctantly and now I am damn sure of why typical method of paying using cash is better than the hi-tech automated methods where most of the time is spent on arguing or following up with these people.
These ladies in the office seemed least concerned that somebody was having issues with their product and did not want to be in that office working - but definitely get paid. At least that's the impression I received. I placed a complaint with the customer service, hope they would do something about it but I am definitely going to keep following up. These people are relying on the fact that nobody has time or energy to complaint against them or follow up and we as the public have to tell them "enough is enough".

EZ Pass is sending everyone violation fees because of not paying the bills, but they are not sending any bills. Tappan Zee bridge has no toll booths because of construction so bills are supposed to mailed by tolls by mail but instead they are sending Violation notices for non payment. I believe that because they have gotten sued so many times because of all the incidents that happened there they are trying to get the money from the consumers. We have to get together as a group and call every TV station so that they can do an investigation and stop these people from ripping us off. I was trying to call news 12 Westchester but they acted like I was speaking another language. I also called 47 a tu lado. I am waiting for something to be done but more people have to call.

I registered for EZ Pass as a NJ resident. This past labor day weekend, 2 out of 7 EZ Pass tolls displayed "unpaid." Yesterday morning, I called a customer service number to check. The phone options were too long and confusing so, I visited website for "faster 24 hr service". After many attempts with passwords, usernames, account numbers, car tag, device number, and encrypted security numbers options, I finally logged-on to the site (really, a Logon call to action?). I must say, the EZ Pass site/system is uncanny; a total vintage version of sites developed in the late 90s. The site doesn't look trustworthy and the fact that it has features/functions of early web commerce scares me. It is scary that my credit card is associated with such a cumbersome outdated system that doesn't even function on mobile devices.
Anyway, my account showed a '0' balance on a spreadsheet table. The content on it was a bit confusing to decipher and I was unsure where my true balance was at first glance. To be sure I didn't owe anything, I clicked "violations". After typing another set of redundant criteria, never mind that I was logged-in to my account, an error message appeared above the criteria panel "Please enter violation number". I assumed that I owed nothing but I was still restless about it. Later, I chatted with a coworker about my experience. She warn me to double check. She said that she had trouble with EZ Pass charges in the past. She showed me that there are two EZ Pass sites, one for NY and NJ state and that I should check the NY site.
I logged in to the EZ Pass NY and to my surprise, after typing another set of redundant criteria, I found outstanding bills dating back to 2013 and 2015. The toll charges were 92.25 total but the unidentified between 30 to 50 dollar "fees" brought my full total to 595.25. Called NY EZ Pass customer service immediately, and after being on hold for 20 min, the operator informs me that my account balance was at ZERO. She told me that I owed nothing and that everything was fine. Why is a system not showcasing the same thing I was seeing on my monitor to the customer service operator? I insisted, she told me that if there were any outstanding bills they were sent to a collection agency. I asked for the collections agency number.
Well, the number she gave me routed me to NJ EZ Pass Customer Service Center. At this point I'm totally confused. Why is my EZ Pass account number not able to pull my payment history regardless what state I travel to and from? After speaking to the NJ customer operator, I was told that the systems between NY and NJ are independent and they DO NOT communicate with each other. The only thing they share are the tag number and the payment cards associated with the devices. He offers an apology for having recurring problems with the toll system during labor day weekend but then he lectured me about paying more attention the my mail for bill and violations. The point of having an EZ Pass was to have toll amounts deducted from my card. Apparently, I am the problem and so is every person with similar complaints on this site. I finally got a collection agency number from this operator.
Called the collections agency number but the operator said there was nothing associated with my account. She told that I had to call the the NY EZ Pass again because they were likely using a different collection agency. Dialed again the same number I started with. Waited 15 min to speak with someone. The end result, I was given the NJ EZ Pass Customer Service Center. Seriously, this is not right. This experience continues to be awful. It is truly sad that other countries I've traveled to, in Europe and Asia, have flawless toll systems that include devices with small LEDs telling you how much you're charged every time you pass a toll, at high speeds. Shame on EZ Pass for making no effort with the other high standards that countries with less have. Tried calling again today and I'm still at a lost.

My last week of working on the island, I went over the bridge two times for 5 days. Everyday I was able to drive over and the screen said "paid". I get a notice a month later saying I owed $500.00!!! It was.80 cents for me to go over the bridge every day and because my money wasn't taken out of my account fast enough, the fines jumped to $500.00!!! Then to top it off, when I called EZ pass in Jamestown to complain about the fees, a very rude woman told me to "not get obnoxious" and hung up on me. I am a professional and was not rude once, I can imagine it gets sickening to hear from all the people the place she works for has robbed, but she clearly had no place in customer service. Whoever created these fees should be sent to jail. Do everything you can to avoid the EZ pass, they will find a way to rob you.
Company Name:

E-Z Pass

Website:

https://www.e-zpassny.com/en/home/index.shtml