Consumer Complaints and Reviews

I drive thru hampton toll booth with my car and boat in tow registered in EZ Pass. I get an invoice from nh for the tool for both vehicles. I look in my EZ Pass statement and it shows the toll paid. I call NH and they say, "Send us a copy of your EZ Pass statement by fax" because they can't see the MA EZ Pass account. So how the ** do they know anybody paid if they can't see the info. The fax no. they gave doesn't answer and MA EZ Pass says they see the toll paid but "you'll have to convince NH." Are you kidding me!!!

First of all they have the worst associates sitting in that office. Better off with an automated system that would be glad to help you more than these ladies sitting there. Never look at you when you are talking to them, pretending they are the busiest and we have nothing better to do. I told them I was interested in opening an account and they showed least bit of concern for a new customer. When I went to return the transponder and close account, they showed me charges that were not supposed to be there. I asked them why those charges are on my account and the lady kept saying "you went through a toll booth and it scanned it. Talk to the dispute if want money back". Another associate began asking me questions, which seemed like she wanted to try to help but this lady who was helping me interrupted and said "let her talk to the dispute".
When I said I had paid at the toll booth with cash not knowing that it scanned my transponder she kept saying "that's not my problem." She already admitted that the dispute is not going to solve my issue. I wasn't a fan of EZ Pass before, I bought it reluctantly and now I am damn sure of why typical method of paying using cash is better than the hi-tech automated methods where most of the time is spent on arguing or following up with these people.
These ladies in the office seemed least concerned that somebody was having issues with their product and did not want to be in that office working - but definitely get paid. At least that's the impression I received. I placed a complaint with the customer service, hope they would do something about it but I am definitely going to keep following up. These people are relying on the fact that nobody has time or energy to complaint against them or follow up and we as the public have to tell them "enough is enough".

EZ Pass is sending everyone violation fees because of not paying the bills, but they are not sending any bills. Tappan Zee bridge has no toll booths because of construction so bills are supposed to mailed by tolls by mail but instead they are sending Violation notices for non payment. I believe that because they have gotten sued so many times because of all the incidents that happened there they are trying to get the money from the consumers. We have to get together as a group and call every TV station so that they can do an investigation and stop these people from ripping us off. I was trying to call news 12 Westchester but they acted like I was speaking another language. I also called 47 a tu lado. I am waiting for something to be done but more people have to call.

I registered for EZ Pass as a NJ resident. This past labor day weekend, 2 out of 7 EZ Pass tolls displayed "unpaid." Yesterday morning, I called a customer service number to check. The phone options were too long and confusing so, I visited website for "faster 24 hr service". After many attempts with passwords, usernames, account numbers, car tag, device number, and encrypted security numbers options, I finally logged-on to the site (really, a Logon call to action?). I must say, the EZ Pass site/system is uncanny; a total vintage version of sites developed in the late 90s. The site doesn't look trustworthy and the fact that it has features/functions of early web commerce scares me. It is scary that my credit card is associated with such a cumbersome outdated system that doesn't even function on mobile devices.
Anyway, my account showed a '0' balance on a spreadsheet table. The content on it was a bit confusing to decipher and I was unsure where my true balance was at first glance. To be sure I didn't owe anything, I clicked "violations". After typing another set of redundant criteria, never mind that I was logged-in to my account, an error message appeared above the criteria panel "Please enter violation number". I assumed that I owed nothing but I was still restless about it. Later, I chatted with a coworker about my experience. She warn me to double check. She said that she had trouble with EZ Pass charges in the past. She showed me that there are two EZ Pass sites, one for NY and NJ state and that I should check the NY site.
I logged in to the EZ Pass NY and to my surprise, after typing another set of redundant criteria, I found outstanding bills dating back to 2013 and 2015. The toll charges were 92.25 total but the unidentified between 30 to 50 dollar "fees" brought my full total to 595.25. Called NY EZ Pass customer service immediately, and after being on hold for 20 min, the operator informs me that my account balance was at ZERO. She told me that I owed nothing and that everything was fine. Why is a system not showcasing the same thing I was seeing on my monitor to the customer service operator? I insisted, she told me that if there were any outstanding bills they were sent to a collection agency. I asked for the collections agency number.
Well, the number she gave me routed me to NJ EZ Pass Customer Service Center. At this point I'm totally confused. Why is my EZ Pass account number not able to pull my payment history regardless what state I travel to and from? After speaking to the NJ customer operator, I was told that the systems between NY and NJ are independent and they DO NOT communicate with each other. The only thing they share are the tag number and the payment cards associated with the devices. He offers an apology for having recurring problems with the toll system during labor day weekend but then he lectured me about paying more attention the my mail for bill and violations. The point of having an EZ Pass was to have toll amounts deducted from my card. Apparently, I am the problem and so is every person with similar complaints on this site. I finally got a collection agency number from this operator.
Called the collections agency number but the operator said there was nothing associated with my account. She told that I had to call the the NY EZ Pass again because they were likely using a different collection agency. Dialed again the same number I started with. Waited 15 min to speak with someone. The end result, I was given the NJ EZ Pass Customer Service Center. Seriously, this is not right. This experience continues to be awful. It is truly sad that other countries I've traveled to, in Europe and Asia, have flawless toll systems that include devices with small LEDs telling you how much you're charged every time you pass a toll, at high speeds. Shame on EZ Pass for making no effort with the other high standards that countries with less have. Tried calling again today and I'm still at a lost.

My last week of working on the island, I went over the bridge two times for 5 days. Everyday I was able to drive over and the screen said "paid". I get a notice a month later saying I owed $500.00!!! It was.80 cents for me to go over the bridge every day and because my money wasn't taken out of my account fast enough, the fines jumped to $500.00!!! Then to top it off, when I called EZ pass in Jamestown to complain about the fees, a very rude woman told me to "not get obnoxious" and hung up on me. I am a professional and was not rude once, I can imagine it gets sickening to hear from all the people the place she works for has robbed, but she clearly had no place in customer service. Whoever created these fees should be sent to jail. Do everything you can to avoid the EZ pass, they will find a way to rob you.
How do I know I can trust these reviews about EZ Pass?
610,392 reviews on ConsumerAffairs are verified.
We require contact information to ensure our reviewers are real.
We use intelligent software that helps us maintain the integrity of reviews.
Our moderators read all reviews to verify quality and helpfulness.
For more information about reviews on ConsumerAffairs.com please visit our FAQ.

I have been receiving ticket violations. Keep in mind I have my EZ Pass and it says "paid" as I go through. I have received about 160.00 in tickets so far and I am sure there are more to come. I got the pass and out of nowhere began getting tickets. It's not recorded in my account online, but it is working as I pass the tolls. My account has money on it and I use it correctly. This awful company goes out of its way to destroy people's lives and STEAL money from them with their con game. I recommend that everyone throw out their EZ Pass and come up with a new company or system. This is the most corrupt organization I have ever dealt with. They won't listen to me or get rid of the tickets. I am disgusted.

Where do I begin. It started with a debit card change due to a some fraud that happened at a store we shop at. This caused my EZ Pass to not register while traveling through a $0.75 toll in Maine. We talked to them on the phone and paid it, but the next time we were in Maine, sure enough, they gave us the yellow light going through the toll again. Next week we received a letter with a non-negotiable $25 fine, followed the same week by a letter stating that they have requested the Maine Bureau of Motor Vehicles to suspend our right to operate in the State of Maine. WTF!!! Over their own mistake. My wife got nowhere with them on the phone today, but tomorrow, I am on the phone warpath!

Phone support wait times - Been trying to call the NH EZ Pass customer service line for assistance with my account, and have been on hold each time for very lengthy periods. Today I have been waiting 42 minutes for someone to take the call.

I don't even have an account and it's hard for me to avoid receiving letters in the mail saying I owe them for missing a toll, and along with every violation comes a $50 administrative fee (upgraded from the $25 it was last year). In my case, the tolls I have been "missing" have been for the same toll booth, called the Route 50 toll plaza (I'm pretty sure this is the booth you encounter when getting on the AC expressway from route 50). I have been informed this booth is now EZ Pass only, meaning if you don't have an EZ Pass account, you cannot travel on this road. Besides how Orwellian the idea of a company/government-company (?) exclusively owning roads is, their way of announcing is quite non-existent. I can't recall many details about the booth itself, and frankly I'm afraid to even go near it again, but I'm pretty sure I remember it having these features:
- Still has a toll basket (even though your money does not matter if you do not have EZ Pass).
- Does not have a sign stating it is EZ Pass only.
- Does not have a way to turn around once turned onto the road.
I'm going to do some more research to see if these facts are true. Oh and this EZ Pass-only road I am talking about is not the only one. There's more! I read there were about 10 recently installed in NJ and others are being added in other states too. In an interview, PA Turnpike spokesperson was asked about these EZ Pass-only roads. Capone said it's expected that, when a new E-Z Pass-only interchange opens, people will go through it without one. But, he said, violations are expected to level off "as people figure it out." AS PEOPLE FIGURE IT OUT? Okay. So I owe about $100 for the second time now, but I think this time I've got it figured out. I just won't ever drive anywhere again to avoid this from happening. Because I am also stubborn and don't want to get an EZ Pass although it would probably end most of my problems with them. They treat their account holders with a lot more respect.
What I'm hoping to get out of this is for EVERYONE TO GET RID OF YOUR EZ PASS. THROW IT OUT. IT'S NO GOOD. IT'S BROKEN NOW. If you have any information you could share with me, to help me with my situation or to inform me further of this companies ridiculousness please do at **. I do not really know what I am going to do with the recent fines I've received but they have caused me to care about stopping the corruption of them.

How is it legal to charge $50 per every violation??? That is having minor violations turn to astronomical thousands of dollars owed? I called and asked my total and they said $6900... how am I ever going to be able to pay that? And then they said, "You have to put down half for a payment plan" as if I have $3500 just laying around. Whenever that period last year through OCT-NOV '15 to take away the $50 penalty fees. I moved and never got a letter about it whatsoever. If I would've got the letter I would have gladly paid everything off. I'm frustrated because I don't know how I will ever be able to afford any of this. This is crazy! I would love if someone reached out to me and gave me a better financial offer to settle all of this

I called the toll free EZ Pass number this morning and was subjected to a 5 minute "you've won a free cruise" advertisement in order to speak with a representative. I went through it but it prompted me 3 times to accept the cruise before moving on. I ignored it and on the 3rd option it allowed me to reject the cruise by pressing 2. Then the advertisement started ALL over again and would not allow me to be connected to a representative. I hung up and called the administrative number who asked me what I needed. When I said "billing" she said she'd "transfer me to the right department" but all she did was transfer me to the main number forcing me to listen to 10 prompts I didn't need. I can't believe its legal to force someone to listen to an advertisement when calling your business. The customer service rep said she didn't "know anything about it".
The reason I called is because I went into an EZ Pass office about a month ago to switch my transponder on to my credit card since my father has purchased it for me under his account but of course wanted me to be responsible for the charges. "No problem" they say and switched it. Fast forward a month I get a bill for 3x the normal amount and realize they have put both my parents transponders on to my credit card as well. So I call the customer service line and they say, "Oh different transponders under the same account can't be under different credit cards, its policy. You have to go get a new EZ Pass pass and open a new account, its policy."
Uhh but I just paid $20 for this transponder, now I have to go pay $20 for another which makes no sense and is meant to garner more money. Let alone the fact when I bought the transponder and put it on my card a month ago, the customer service rep didn't explain properly the fact that all 3 transponders would be charged to my card and that you can't separate the charges, and if I wanted to separate the charges I needed to open a new account. Every time I said something to her or had a request she said "it's policy" and wouldn't budge. "Its policy" and "well its our policy". Well its a bad policy, robbery, and purposely vague customer service. Turning into the new Time Warner... When you have a monopoly do whatever you want when you want however you want.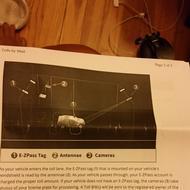 The Tappan Zee Bridge has gone toll-free. According to the EZ Pass signs and website, if you do not display an EZ pass you will receive a bill in the mail. I never received a bill, just a violation and fine for over $500.00. EZ Pass has decided that rather than send me a bill, they would begin charging an EZ Pass that was not displayed and has been inactive for over a year. Not only did they charge the toll, but also an additional fine for the account not having funds available. I have called and written and have not been able to get this resolved. In addition, while they "investigated" they refused to stop billing that account and it continued to be fined. How do they justify this behavior? I am now receiving threatening notices that they are going to refer this to collections. There must be someone that can assist in resolving this. I cross this bridge on a daily basis.

The EZ Pass MASSACHUSETTS company has me in tears and on the verge of suffocating from lack of breath because I simply do not know what to do. The EZ Pass is supposed to take money out of a prepaid account when you pass through a toll. If there is a problem a little yellow light will shine. When I had to travel south, they did not advise me that there might be a problem because I kept seeing a green light. Upon coming back home, I received a fee from every state I passed through. I was able to take care of all of those fees by making a phone call or going online, except Massachusetts.
With MA, I received two $50 fees. I tried calling and taking care of it but I was told that I need to send in written correspondence before the fee due date. I did this, yet I still received another $90 late fee!!! HOW CAN I POSSIBLY RECEIVE A LATE FEE FOR FOLLOWING YOUR POLICY??? I do not have this money. I did not even make an error. I had $20 in my account that was supposed to be automatically refilled but it was YOUR error for not refilling automatically and YOUR error for not advising appropriately!!!
Even if YOUR company processed the written correspondence I sent appropriately then I would still end up paying a small fee. THIS IS CALLED STEALING! I am so sick to my stomach because of this. I do not have this money and I have been dealing with YOUR error since April. Please get off my back and leave me alone. I am not strong enough to deal with this nonsense. It is so discouraging. I can't breathe. How do I go about getting these fees off my name, not to mention they say they are going to send my info to the Massachusetts department of motor vehicles so that I cannot renew my license. I need to travel south again in a week and I cannot have problems with my license. I am just trying to live my life. Why must you make it difficult?

When I first started using EZ Pass, I set up automatic payments through their system. Since it was an automated service, when I received paper bills/documents in the mail, I disregarded and did not even open them. I figured that the same information was included in the paper billing as the online charges. Once I began receiving notifications in the mail that displayed red on the envelopes, I started to pay attention. However, at that time, I was dealing with a lot of things personally, with my family, and on the job. My first plan was to pay the bill online, but that website is extremely confusing and not user-friendly.
When I tried to log on, I did not have the correct login information and even after repeated attempts to do so, I was unsuccessful. Next, I tried calling them, but I was always placed on hold for extremely long periods of time or their office was not open when I was available to call. My final plan was to wait a month and a half until the summer when I had more opportunities to try to figure out how to navigate through the online system to pay the bills.
Fast forward to two weeks ago when I received a car registration suspension notice in the mail stating it was because my EZ Pass violations were not paid. When I went to the Gaithersburg MVA to pay, they stated that I owed over $10,000. If all of my actual fines were totalled, I would owe no more than $600 a year @ $2.00 a day/once a day and 5 days a week, but EZ Pass tacked on $50 for each unpaid fee and labeled each as a violation. So why was such an exorbitant amount assessed?

These people are thieves and should be thrown in jail. I only given them one star because zero is not an option. You will get random bills that don't make sense. They will turn you over to a collections agent without even trying to contact you and then charge all sorts of administrative fees. And you will have no recourse. Just understand you will pay a heavy price for convenience - suggest you pay the old fashioned way.

I have a NJ EZ Pass and have received 4 violations in NY. When I accessed my NJ EZ Pass account I don't see the NY violations so thought I didn't have any violations. After a few months I get a collection notice. The notice gives no explanation and no way to pay the violation with my EZ Pass. Their phone system is horrid with very long wait times and only limited hours. How are people who work during the day supposed to contact them if there are long wait times and no one there after hours? I finally got through to someone and was told to write a HANDWRITTEN letter to them. Who writes hand letters these days? Should I use a feather and a ink also?

I use my EZ Pass for a tractor trailer, or used to. I gave them money upfront to prepay tolls. They set my replenish amount at $75.00, that jumped to $160.00 and from there to $795.00 with no notification whatsoever. They did this even though my account did not got into negative because I was on auto replenishment. I took off auto replenishment because they seem to replenish at will and I was not getting hit for another $800.00 without warning. Soon as I did this they raised my threshold from $140 to $340. Again with no notification at all. Customer service was rude and told me there is nothing they can do. These people are horrible and out to keep as much of your money as possible.

My credit card was accepted on the website but removed from the website later, with no communication. I was subsequently sent violation notices, which are a nuisance to resolve since they are from a state other than my EZ Pass registration, and this is not a whole computer system but a bureaucratic morass.

It first started when I read about the new intercounty connector 200. I thought about how much time it will save me to get to work. So I decided to go to Giant on January and purchased 2 E-Z Pass for my 2 vehicle, one was under my girls friend name and mine with my name, both vehicles using my check card. January 20, 2012 I was billed my first E-Z Pass Rebill $25.00.
Nice wow is working, am using the ICC 200 and am saving about 15 mins to get to work but is all worth it. Jan 30, 2012 another Rebill of $25.00. Ok sounds good since me and my girlfriend are using the ICC 200. Feb. 3, 2012 E-Z Pass check card purchase of $24.65. Feb. 3 Recur Debit Payment Rebill of $25.00. Feb 6, 2012 another $25.00. Ok no problem is a reload so they just put money in it. And so on 2/16 $25.00 2/21 $60.00 and so on with my bank statements showing every payment every month: Recur Debit Crd Pmtdate E-Z Pass MD Rebill 888-3216824 MD, my CC number and transaction number.
Let me fast forward to March 2, 2015. I renew my tags. No warning, nothing so I renew my tags. March 16, 2015 while I was to renew my license one day after my license expired I decided to get a third transponder for a vehicle I was leasing thru my job. I went to the E-Z Pass counter and the lady charged me $9.00 for a new transponder. I said "Ok thank you but no!" She said "Wait a minute." So I proceeded to stand there and wait for about 30 mins while my number to renew my license has been called. I said "What is going on?" She responded and said I owe $102.00. I said "Ok I don't know how that can be when I always get Rebill from E-Z Pass but ok is my birthday week and ok let's pay it off and move on." I paid.
Another 25 mins passed by I was standing there again and asked her what's the problem now? She said "You owe 28." I said "Ok ma'am I have to go that's fine, charge me the 28 dollars so I can be on my way." She said "No sir, you owe $28,000 dollars." I asked her again in disbelief how much and she repeated the same $28,000. I asked why she thought I owe that much. She told me it was because my check card did not have insufficient funds, so I asked her how can that be when I was getting Rebill all along. She says, "You have not paid anything since 2012." How is that possible? She then said "Well you can't not have 2 accounts using the same check card." So then she said one car (my girlfriends car was getting paid the whole time but not mine). I said "Ok something is wrong here" and I left and told her I will contact E-Z Pass when I get to work.
I renew my license and went to work 3 hours later. Got to work made the call and I was told that I never paid anything (even though the transponder came with 25.00 reload when you purchase it) and that they don't see any of my cars that I had register since 2012 have not been paying anything that they don't see anything. They show I have paid $0.00. Nothing. How is this possible the lady continue to say sir you owe this amount ($28,000) and there's nothing they can do they don't show anything. I continue to ask where did all the money E-Z Pass was Rebill and shows in my bank statement go to? Response was they have not received anything from me. Maybe I did not go thru because no funds which I reply that's impossible because I have overdraft protection and which he stated maybe my card had expire in which I told him no that was not the case.
I asked to speak to the manager who said they don't show anything and how will I take care of the $ 28,000? $3,000 is what I owe and since I haven't paid anything the rest in fines. They told me to email my bank statement to the head personal in charge which I email my bank statement highlighted with them Rebill every month. She got back to me and said I should of know I owe because they had sent me letters stating I did. I was told to go online and request a hearing with my violations. I called.
The lady on the phone walk me thru it and I'm still waiting on my case hearing but nothing. All the money I have paid they said I haven't paid a dime for any of my cars. It was hard to find and hire a lawyer because no one knew how to handle this situation. I hired one but I have not spoken to him since paying him a year ago just telling me is a tough job and does not know how to handle it. But he advise me since I had use the 3rd car before all of this with my other transponder to pay off anything I owe on that vehicle.
I called E-Z Pass once again on 3/27/15 spoke to a lady about my 3rd vehicle and asked her how much did I owe on my third vehicle which I already knew about the other 2 and I have my lawyer working on those but was advise to pay for the new vehicle. She said I only owe $121.20. I asked again to repeated to me, this time I had her on speaker and she again responded annoyed stating that I did not owe nothing more on my third vehicle to pay this amount and it will over for this car. I asked for a confirmation number which I took a picture of it since I did not want to lose that.
Fast forward 3 months later. Received a letter stating that I owe $1,000 something for my third vehicle so I called and spoke to a service rep who stated I did not pay anything that at the time I called I owed this same amount and that I had not paid anything. I stated I had a confirmation number and that "Please go back to your phone recording and you will hear the conversation." I asked for a manager who called me a day later stating that I did not paid anything (even though it shows in my bank statement) and that I owe the $1,000 something, forgot the exact amount and told him "Please I have a confirmation number." He proceeded to say that is not needed and to contact my lawyer and hung up on me.
Fast forward to now. I have kids and am on child support work hard for me and my kids and now they suspended both of my vehicle tags and my girlfriends vehicle in her case she was told she owes also money because also she was not paying anything even though that was one of the excuse was I was paying for her car not mine. I have all the bank statement proof and they still cannot answer where did all the money I was paying went. Was told I was paying for one car not the other, that my check card expired, that you cannot use one check card for 2 accounts, that my check card did not have funds and that I did not register it online.
They send me to MD collections. Fox News contacted me to do a story but it was too late when I saw the email from Fox News, it was a day late. I need help here in Maryland getting bullied by a big company. By the way last time I used the ICC was in Middle of March 2015. Last I got rebill from them again on was 5/22/15 for $35.00.

For some unknown reason, my credit card rejected my automatic EZ Pass payment. EZ Pass then removed the credit card number for my account without sending me any notice. Tried calling customer service but there is NO OPTION for a human being anywhere on their automated phone menu if you don't know your account number. When I finally was transferred to a human, the customer service rep insisted a letter was sent, but clearly it was not. When I asked for my account number, she refused to give it to me, despite the fact that I had verified my ownership of the account. Terrible company, terrible customer service.

I tried to close my Massachusetts EZ Pass account after I noticed repeated charges on my account that were invalid such as $5.00 fees for when the transponder didn't read correctly. They also make it very difficult to pay any other way other than automatic debit because that way they can more easily charge you excess fees that you won't notice. I found out I could not cancel my account because I had a violation. I never received the violation but they said I could no longer appeal it because it was past the appeal time. They said they could "help" me write a letter to reduce the fine from 90 to 40 but I would need to add money to my EZ Pass account first. The account I was trying to close!
I paid the 90 instead of updating my account because updating my account would just allow them to continue to overcharge me. The EZ Pass program in Massachusetts is a racket and I would rather wait to pay cash for hours than continue to do business with crooks who charge unreasonable fees for every possible thing they can think of.

Spent 52$ in tolls over two weeks. They spike it up to 250$ "prepaid payment". They're cashing in on the interest. I can under a prepaid payment of 100-150$ MAYBE, but not 250. Only benefit is the discounted tolls at the bridge.

I closed my EZ pass account and mailed my EZ pass tag back to their Staten Island office mid-February. During its transit, either on the way to the Staten Island office or after being received by the Staten Island office it was charged a toll for crossing the George Washington Bridge. Yesterday, early May, I received my final statement from EZ pass with the toll charge and my tag refund (less the toll charge). When I called them to report the fraudulent toll charge, they said they will refund it to me, and after several rounds of questions they admitted this was their fault - that the toll happened during the EZ pass transit (via mail) back to their office. Had I not called in to request the refund the $10 charge would have stood. The company should take better precautions to fix these mistaken charges without my involvement, and be more upfront about them.

Going to keep this short. I got EZ Pass back in 2011. They had come put with the EZ Pass that is screwed onto the front of your license plate. I got into a minor car accident, someone backed into the front of my car and broke the EZ Pass. Not enough for me to even know that it wasn't working anymore. At this time, I was going back and forth over a $5 toll bridge quite frequently (11/21/11 - 12/14/11). Apparently, it was unable to read my tag because of the damage. I wasn't living at home so I didn't realize it wasn't charging my account.
I received a bill of $85 of unpaid tolls + $425 in fees= $510. They would not wave the fees even though I had an account at the time. Granted, I did not pay give attention to this issue immediately. But, I was willing 100% to pay the unpaid tolls. I couldn't afford the $510 so I never paid it. I now spend $120 a month in tolls that I have to pay cash because they will not work out the issue with me. So now it has gone to collections and EZ Pass said there is no way to clear this up unless I pay the $510. Ridiculous.

I recently spoke with a customer service rep at Pennsylvania EZ Pass. I learned that I have an original transponder from 2004, which has been replaced in recent years. The CSR explained that they would send me the new transponder with the aluminum foil sleeve, pre-paid return label and reuse the same envelope received with the new transponder. Basically, the old transponder must be returned within 21 days. Sounds fair.
I received the package with the new transponder, foil sleeve, envelope, but no pre-paid label. It turns out that I spoke to a new CSR at PA EZ Pass this morning. They require the customer to pay the return postage even though the customer isn't the party that decided to retire the old transponder model. How convenient? PA EZ Pass charges annual fees just because, raises tolls every year and now upcharge you to replace an old transponder that they retired. Wow! Better yet, the CSR said that "We paid for the shipping for the new transponder. We ask that you pay the return shipping for the old transponder." So, not only does PA EZ Pass save money by farming out the return shipping to customers, the customer is indebted to EZ Pass for paying shipping one way. I wish I never called these crooks. Good job, Sleazy Pass!

As you probably aware most E-ZPass customers do not have good visibility into their toll account as: It is a chore to log in. When customers finally logged in, they find statements that are complex to understand and difficult to reconcile. Toll discount rules vary among toll agencies, as each of the 37 agencies using the E-ZPass technology, operates independently. For business customers who apply their toll spending to their tax deduction or T&E reimbursement the above translate to either spending valuable time doing shallow work (i.e., figuring out toll records) or giving up altogether.
Given that last year toll revenues in E-ZPass 3 biggest toll agencies combined reached close to $5 billion. Unclaimed annual toll expenses/discounts/errors can easily add up. The TollWiz app puts toll road customers back in the driver's seat! It innovates because it is first to market with a driver-centric focus and not an individual agency-centric. Available as an App on Android and iOS phones, it is hassle free. Since it is not restricted to any individual toll agency: It looks for toll discount opportunities that are applicable to the customer across all applicable toll agencies. Customers can easily check their toll account in any one of the 12 states currently supported, timely detect and address costly errors.
Business customers can easily track their mileage as well, and send their driving expenses: tolls and mileage, directly to their Travel and Expense (T&E) account (e.g., Concur, Expensify, Certify). With TollWiz, toll agencies gain as well since customers are back in the driver's seat, having to rely less on the toll agency for every inquiry and catching issues early before they become a headache for both: the customer and the agency.

I borrowed a car one day, not knowing that a EZ Pass tag was already in the car. I therefore used my tag and both tags were charged. Called customer service who explained that I could fax in a complaint, but will most probably get no credit on the double charge even though the receipts indicate that the charge were for the same time/location. A warning to all - be sure you do not have 2 tags in the car for customer courtesy is quite lacking in this organization.

I moved three years ago. During that time, I updated EZ Pass with my new address and received bills and notices to my current location. In December and January of last year, I apparently acquired 5 violations due to a change in my debit card. The violations were not sent to my house but rather the old address on file. The unopened letters were returned to EZ Pass, all which was noted and documented by EZ Pass. Never were these violations sent to my current address and I never received a phone call regarding the matter. I was actually told that the company does not make phone calls because they have too many customers.
After speaking with a representative when I finally learned of these violations (months later due to a collection notice from a 3rd party), I was told to send a letter of dispute to the violations center with the information provided above and a check for the tolls, which I promptly did. A few weeks later, after my check was cashed, I received a notice from EZ Pass to my current location, as a final notice prior to collections. I immediately called them (the violations department of EZ Pass) and was told by a supervisor that my letter was received and one of the violations was taken off for a courtesy. I explained that I felt as if I was not responsible for any of the "administration" fees that I was being charged due to the circumstances detailed above, which were recorded and reviewed by said supervisor.
His response was to send the letter again. He said that I might get a nicer person next time who will accept my dispute. I refused to send a second letter, asking to be transferred to one of the people who were responsible for disputes instead. He informed me that the only way to contact that department was through mail and they did not converse over the phone.
I am appalled at EZ Pass's policies and "bedside" manner. To have to send a second letter, hoping to have a nicer person read it next time is ridiculous. To not be able to talk to someone on the phone for that personal interaction is ridiculous. For the company to not make phone calls about violations that are not reaching the responsible party is ridiculous. To say that you have too many customers to be able to reach out to them is ridiculous. This seems like an amateur move to me and a company that basically has a monopoly on tolls in New Jersey should have enough employees to be able to handle their affairs in a personal and responsible manner.

E-ZPass Maryland has the absolute WORST customer service of ANY company I have ever dealt with, dating back to when I was a baby. The wait time to talk to someone on the phone is well over 20 minutes. They consistently mess up account information. If the internet existed in 1980 and the first prototype website had been developed, it would have been better and more user friendly than the E-ZPass website used today. I believe they had their website created for free by the local community college first year IT students. Unfortunately the students failed the course yet E-ZPass still decided to use the website that they created for their final project.
The only thing E-ZPass is consistently good at is employing mean, sassy women to man the phone lines. When someone finally does pick up, they are sure to be an angry woman who hates her job and anyone calling in with a legitimate question. There needs to be a competitive market established for this service in order to increase quality, even if it decreases E-ZPass' short term profits. I highly recommend bypassing the EZ Pass system and continuing to pay tolls the old fashioned way. It is way more efficient in regards to your time.

Received a violation in the mail today for the Delaware Memorial Bridge - so unfair. I go over once every other month, so I don't need/use EZ Pass. I pay the $1.00. Never thought I needed a receipt until I got a violation in the mail today. No recourse. What kind of scam is this? $31.00 violation for the $1.00 I ALREADY paid. I handed the money to a toll taker. Is this something they do, for people that don't ask for receipts? Is this a..."I gotcha"? Why would anyone breeze through a 1.00 toll, knowing how easy it is for them to snap a photo and send you a bill? Just awful. Shame on you, NJ/PA.
Company Name:

EZ Pass

Website:

https://www.e-zpassny.com/en/home/index.shtml