Consumer Complaints and Reviews

First of all I don't expect a reply like this after waiting for approximately forty days after filing a complaint. As you have said "We certainly do agree that our policy should be administered consistently with all our airports and consequently, we have shared your comments with the respective Kolkata Airport Manager for internal review and assessment".
On the above statement I wanted to comment that it should have been implemented beforehand. If it is not yet done then it's solely the concern of Emirates. Here I want to mention that why a passenger should suffer for it? Emirates baggage policies should be unique at each and every airport. Why is such harassment taking place in a mid way? What would have happened if a passenger would not have enough money to pay for the extra baggage in a foreign country? Do you expect that the person should not board the flight in that case? The person has to be stopped in the base location itself so that they can handover the extra luggage to their relatives in his/her base location. Why such policies in the mid way?
I have been made to pay extra dollars which I could have completely avoided if your team Emirates would have enforced the baggage policies in Kolkata Airport itself. Can you compensate me for the loss of money which happened solely because your policies vary from airport to airport. Why the passenger should suffer for the mistakes made by Emirates?

I'm so sorry to be handled like this. I booked it's because my only option. The time gap on transit is 14 hour from 8 pm to 10:40 am. First the ticket office trick me that I can't have a hotel, because my ticket is under 900 USD ("that what they said for the poor country"). Then the Emirates office in Addis Ababa told me as if they will give me three meal vouchers, 1 for every 4 hour. But when I get in the terminal they only gave me 1 voucher. Then when I ask the Emirates counter they told me it already been arranged by Emirates ticket office in Addis Ababa, and they will not change anything.
Another thing is do not reply back if you are thinking to cover it up or trick me for the 5th time. That's what they do. They all trick you just to fly then they don't give a ** about you and trick you just to live them alone. Also the blanket and the food is also yuck. They are just good for the 1st class. All the rest are junks. If you complain they'll listen you if you are rich otherwise you have no place in emirates.

Will never travel Emirates! I was a loyal passenger of Emirates for over a decade and witnessed the decline of this once great Airliner. Out of about 15 long-haul travels with Emirates for last 10+ years, I was stopped at the boarding gate by an Emirates Staff in an unprofessional manner in Toronto on October 21, 2016 (EK242). I was told that I have to leave my small laptop bag as the checked in luggage. I had small carry on weighing 6.2 kg in addition to my laptop bag. I requested that I put my laptop inside my carry on, but I was told that the limit for carry on is 7 Kg including laptop. So, I'll exceed the weight and will have no other choice but to check in my laptop.
I wanted to talk to the Supervisor. The supervisor showed up, PATTY by name. She was even worse, as a matter of fact the worst customer service I ever received from an Airliner staff and that too at a supervisory/managerial level. Long story short, I had to check in my laptop bag along with my laptop. But I cannot forget the bigotry and racism PATTY displayed. She was like the 'Lady Donald Trump' of the Toronto Pearson. She was so racist that she was sadistically enjoying the misery and inconvenience she created for me and people of my colour. I deeply abhor such behaviour. I hope Emirates would take care of such racist.
Again, at the Dubai airport on the same journey on Oct 23, 2016 (Flight EK582), the ground stuff compelled me to book my only carry on, because I bought some showpiece in Dubai Duty Free and put it inside by carry on, thus increasing the weight from 6.2 to 9.5. They wouldn't listen to any logic whatsoever. I told them I had important documents inside the carry on and even I offered to pay for my 2.5 kg excess weight. But they did not listen to anything. 4 staff gathered around me and started almost bullying me. I told them that I'm entitled to get 1 carry on. But they rightly said that it should be within 7 kg. I showed them that I've bought some stuff from Duty Free and that I was allowed from Toronto to carry this. But one of the staff arrogantly said, "This is not Toronto, this is Dubai".
Anyway, they were stubborn, arrogant and stupid. So you can imagine what customer service I (or anyone) did receive. My whole journey was a mess for these unprofessional staff of Emirates, PATTY was the worst and the 4 other at Dubai are close second! I will never never ever fly Emirates. In contrast, my experience with Etihad, Qatar, and Turkish Airlines were way superior. I can see that Emirates is GOING DOWN for sure, just a matter of time.

WARNING!!! What happened with me when Emirates flight had a long layover in Dubai on 28th October 2016. This review is not much for the airline comfort but for the Emirates airline staff in Dubai. We had a long layover (7 hrs) at the Dubai Airport while traveling from Rome to Mumbai. Me and my friend were traveling. While calling for boarding the ground staff forced us to put both of our small hand baggage (a small carry-on suitcase and a bag), which were lightweight and perfectly within the legal dimensions approved by the airline as we had carried it with no problem from Rome to Dubai. They forced us to do that on the basis that the flight was full on the pretext of Diwali whereas there was enough space to keep the baggage on the overhead cabins while we actually boarded the flight. It's not that they didn't allow us to take anything with us, they had asked us to empty the bags so that we can take our fragile things along with us in small packets.
Particularly those two bags came in the very end after a long wait at the luggage collection in Mumbai. At home when we opened them, we figured out the real massacre. The bags were both full of alcohol smell and all the important documents and books and clothes were soaked in alcohol. As I have mentioned earlier, our bags were empty with some official documents and books kept in them with no trace of alcohols. But now everything is soaked in alcohol and all the documents are stained and turned into waste materials along with discolored files and folders and most importantly our books with stains of alcohol spoiling them for life. The big question is Where did this alcohol came from? I hope the readers can decipher the real reason that why the bags were taken from us and were also emptied before handing it over to them.
I don't know if anything can be done regarding this. But my main motto for writing the review is that the passengers should definitely lock their handbags to tackle a situation like this. Also one should challenge the ground staff about the legal dimensions that is mentioned by the air carrier to carry cabin bags and ask them to allow the hand bags. I share this cause I want to create awareness about this extremely unethical behavior by Emirates.

My parents, both elderly were off loaded from the flight EK565, booking ref no. ** ticket number **, today stating my father's name is not same in his passport and visa. However, I got all the documents verified at Doha Foreign Affairs and Emigration Department and at Emirates office in Doha. They did not find any misinformation in the travel documents. Both my parents, senior citizens, had to go through lot of mental stress and mishandling by the flight personnel. And would like to take this matter to the utmost escalation level possible to claim for the trauma and mental damages that they incurred due to this. We have all the necessary documents and proofs with us.
How do I know I can trust these reviews about Emirates Airlines?
633,951 reviews on ConsumerAffairs are verified.
We require contact information to ensure our reviewers are real.
We use intelligent software that helps us maintain the integrity of reviews.
Our moderators read all reviews to verify quality and helpfulness.
For more information about reviews on ConsumerAffairs.com please visit our FAQ.

I flew with Emirates for a project I was working on in Kenya. I checked in about 5 or 6 cases. The guy checking myself and the rest of the crew in made the mistake of not tagging one of the pieces of luggage. I realized this only after arriving in Nairobi. The equipment was worth a nice chunk of change and I was making a $1200 rental off of it. I called Emirates at JFK as soon as I realized the error. I processed a claim and insisted that they find my luggage and ship it to me because I needed it for this job. I never heard from Emirates about it again and we had to source the equipment locally.
Anyway, I get back and I have to deal with finding this lost luggage. When I went to an Emirates rep he had no idea what I was talking about. No claim was filed or entered into the system. So I repeat all of the same information that I had told Emirates 2 weeks earlier when I first "filed the claim". The guy has no idea where it is and said I should go home and they would call me when they find it. I had already lost my trust of Emirates and I knew that if I did not find the luggage that day, I would never see it again. So I went to baggage claim and found it instantly. Proves to me that Emirates really had no interest in helping me.
After this whole ordeal is done, I knew I needed to file a claim against Emirates. Their error cost me $1200 so I began that process. The Customer Affairs agent was really no help. It's 5 months later and she has stopped answering my emails. They refuse to reimburse me even though it is pretty cut and dry. Now I have to go to small claims court. The fact that a company of this size has no interest in taking responsibility for their actions in order to keep a customer happy says a lot. Seriously, avoid Emirates like the plague. It has been a nightmare dealing with their customer service.

They will rob you of your money by creating fake baggage fees. They will wait until your flight is almost leaving before they start harassing you. You then have no time to spend arguing with them as you will miss your flight. Good thing is you can dispute any bogus charges with your bank/credit card co. They are extremely rude with zero customer service. And by the way, they don't care if you don't fly with them ever again - zero customer service knowledge.
I guess we are tiny specs in a sea of customers they currently have. But if you have several family members and friends that travel all the time, spread the word and in time they will see their business decline and maybe only then will they care. I have several friends and family that do travel a lot and I have managed to get 7 of them to use different airlines within a 2 month span. My job now is to make sure NO ONE I care about uses EMIRATES ever again and make sure that they also spread the word. Oh, and their food sucks!!! I will stick with British Airways for now.

My complaint no **. I'm regular traveller of Emirates airline from Mumbai to Accra. Your airline misplaced my luggage from 8th August 2016 to 8 September 2016. The content in luggage was urgent and very important... For the month delay I spent almost 700$. I've mailed request and called you several times still no response. If that's the case I will publish whole issue on social media like Twitter and Facebook. I'm waiting for answer immediately. Thank you. I've mailed several times to your customers care.

My wife and I had planned a tour to Italy and since it was a special occasion for us I have chosen Emirates, being one of the best airlines in the world in terms of overall service and customer experience. My itinerary required me to book to-and-fro tickets from different destination, so I booked the tickets for onward and return journey separately (onward journey - Dubai to Rome and return journey - Venice to Dubai).
To book the tickets I went to Emirates website, clicked on the "Book" tab and then pressed "Search for flights". Next, I unknowingly used a simple one-way ticket booking option because I was unaware that the tab "Advanced search" option on the Emirates site was actually for multi-city booking. This lack of awareness was mainly due to my experience with the websites of other reputed airlines that used to call this feature as Multi-flight booking or Multi-city booking. Unfortunately the resultant booking ended up to be far more expensive and I actually spend AED 7,650 instead of AED 6,140 which is what I would have paid using the advanced search/multiple flight option.
Quite simply I am inclined to believe that Emirates should make online bookings more user friendly and use terms which are generally known to a consumer. I know that as part of their loyalty program, Emirates reward customers in terms of fare discount when they book return or multi-city flights from Emirates and that's the reason for the difference between the two fares. In this case, I have actually done the same but without reaping any benefit of the loyalty.
In order to seek redressal I called Emirates helpline the next day of the booking and after a lengthy discussion I was advised to go to their website in order to register a complaint as they do not take complaints over the phone. And so I patiently asked to provide me an option to complain and the gentleman on the other side helped me go through a chain of clicks and options to finally register the complaint for refunding the additional charges that I have incurred. Honestly speaking, I did not expect a dime of this from the world's best airline. A few days later I received a call explaining me that it was not the airline's fault and hence they will not be able to refund the additional charges.

My passport was misplaced by a courier company en-route to an embassy in New York for an entry visa. After 10 days from the day my passport was originally picked up, when my passport could still not be located, I contacted Emirates for assistance. Customer service was totally unhelpful, rude, and each person that I spoke with provided me a different quote for the total cancellation fee. I was finally asked to email the online operations of Emirates because I had purchased the flight online, who could only be reached by an online comment feedback form! I had to explain to them, that my passport had been lost by a third party or stolen, and that the reason for my trip cancellation was totally out of my control.
They also could not provide me with an exact amount of trip cancellation charges. I requested for special consideration as I could just not travel, under no circumstances without a passport, and had no option but to cancel my flight. I even sent them the police report that I had filed for the loss of my passport. The airline still charged me 400 USD for cancellation, deemed certain legs of my flight as non-refundable (another USD 300) and then also did not refund the entire USD 1,000 of carrier-imposed fees. The total cost of cancelling the trip has been outrageous! The non-refundable nature of the carrier imposed fees are just ridiculous and completely unfair and unnecessary.
An airline needs to be understanding of the limitations of international travel law that a passenger faces, and Emirates as an organization has no compassion for the customers that it serves. I have traveled with other airlines, that are willing to work with the passenger to provide refunds to in special circumstances, in miles or airline credit. But, Emirates just plain out refused to make any adjustment, or even talk through it with me in a polite manner. Needless, to say, I will never be travelling with the airline again.

We suffered so much inconvenience and inconsideration by the purser. I, with my sons traveled business class while my husband traveled on economy. My sons (6 yr old and 16 months) have their own seats and child fares were paid for both. All we ask during flight was that my husband be allowed to visit at times, sit at the baby's seat to take care of him when so I can take some rest, eat, carry the baby while he fusses or sleeps, assist during feeding and changing diaper. The crew told us that he would ask permission from the purser but the answer was a no except for brief 5 minute visits.
We were extra careful not to disturb others while my husband visits. But my son 6 has been coughing and I was tending to him. The baby was fussing a lot and was screaming and wants to walk around. However, we've been constantly asked and reminded by the staff that my husband has to go back to his seat since it is not allowed to stay in my baby's own seat. I ask them to make him stay longer so my husband can assist me since I cannot tend to two at the same time but it was a no since according to the crew, purser has not agreed to this. So my husband goes back to his seat.
The reminders happened when I was fixing formula, getting things on the locker for my sons, when the baby was crying as he was sleepy, moving a lot, feeding, etc. The times i needed somebody to assist me. It seems the purser in this flight wants it better for my baby to cry and walk around disturbing other passengers rather than allow my husband to help me pacify and make all of us comfortable. Or maybe she is not a mother her own that she doesn't know that at this age the baby has tantrums and very mobile. I was most annoyed when my baby slept in my husband's arms, when I tried to get some rest and then he was asked to leave and he passed the baby to me and he woke up, screamed, fussed a lot causing all us not to get rest.
To sum up, i was very disappointed and annoyed in this flight. In all my flights never have we been treated inconsiderately like this even with other airlines. I have written to customer service. To sum up, if you are going to complain, you won't get any positive response from them as they always side with their crew and with security procedures which are not explained to you that they feel you did not follow. After I wrote them again for explanation. So far no response from them after more than a month of writing. So, if you are traveling as a family especially with children, better think twice.

On my husband's and my flight from Dubai to Houston, one piece of our luggage was pulled off along with many others because of a weight problems on the airplane. We didn't know of this at the time. When we landed in Houston, 19 hrs. later because of additional fueling needed, of course, one piece of luggage was not there. We were told after 19 hrs. of sitting and going through customs, that we would have to wait in a long line of people to fill out forms for the lost piece. Since it was already 10pm and we had a 5 hr drive home, we didn't wait and decided to fill out the form online the next day.
I called and was given an e-mail address (**) which I repeated back and the employee said "perfect". ( He also mentioned that there were 10,000 pieces of lost luggage they had to deal with which should tell you something.) Unfortunately, there isn't such an e-mail and there is no place online to enter the needed information. It's just a lesson in frustration. I'm wondering how they managed a one star rating with their lousy procedures.

I would like to highlight the following problem we have had with Emirates airlines. On July 16th we were to return from Dubai to Dublin after a wonderful week on holidays. We being, 2 adults and 2 kids age 7 and 9. When we got to the airport on the Saturday morning to check in at the Emirates desk, we approached the emirates check in desk and handed over our passports etc. The day before on the Friday I had received 2 emails to check in online, but did not do this as I thought with having to check the bags in anyway it would be easier to do it this way.
We stood for more than 45 minutes while the check-In attendant tried to find us on the system. I asked numerous times what the problem was and stated that we were going to be late for our flight. After the 45 minute wait he called a supervisor over and she tried to explain to him what to do to find us. I couldn't understand what the problem was. He then had to call her over twice more until she eventually sat down and tried herself. After 1 hour of standing there and at this stage only 2 hours to take off, she eventually found the problem. There were always 2 bookings; I had one ref number and my husband and 2 kids on another.
The horror of the next 24 hours started to unfold. The supervisor made me aware that we were not on the system, as in my name was there to fly on the Saturday but the rest of the family were not. She found them booked in on the Sunday flight but the booking was not confirmed (this means that unless a booking is confirmed by emirates you would not get on the plane) at this stage I went into shock and didn't know whether to cry or scream. A row erupted. I showed her all the print outs of the flights and the 2 check in emails from the day before. She could not understand what had happened. I refused to go on the flight, as I am the main person who deals with all holidays, monies and passports and plus I was not leaving my family behind.
On Friday July 15th I rang Emirates to find out how much it would cost to stay an extra night and move our flights. After 25 minutes on the phone she told me it would be 1500. I told her no way was I changing for that price and leave the flights as is, all to fly on the Saturday. This same lady changed my 2 kids and Carl's booking to the Sunday but never changed it back when I told her to leave as it is.
Emirates admitted this was their fault and could not understand how it had happened. In order for me to get on the Sunday flight, emirates kept saying that they could not book me in from there as it was a call centre issue. I found this a lot over the next 4 hours, no1 wanted to take responsibility for what they had done and it was always some1 else's problem. I went from desk to desk and same response was given. The original Emirates check in attendant stayed with me and in fairness he was as shocked as I was. He admitted he had never seen anything like this happen before and was astonished and disgusted.
When we got back to the desk I rang the travel company I had booked with (Tropical Sky). They were shocked and horrified and could not understand why emirates would do this and also would not help me. They wanted to speak with the Emirates staff and when I handed the phone over, the emirates staff member was very arrogant and rude to Yvonne on the phone. She told me to keep trying my side to see what had happened and why. She on the other side in Dublin got on to Emirates to try and sort the problem out.
In the meantime the supervisor at the check-in desk told me that the Saturday flight was overbooked by 9 anyway and that the Sunday flight by 29. I was then told I would have to call the call centre back off my mobile as their phones did not ring out to call centres. I was shocked but what could I do. I was stranded with no flight. When I rang them and explained the case again, the lady on the other side said they would listen back to the tapes of the day before. This call cost me 125, for 1 call.
She called me back after a half hour and admitted it was their fault and that she would try to get me on the next flight tomorrow with my family. In the meantime Yvonne in Tropical sky called me back. She was on the phone to emirates for 2 hours and eventually got me booked on the Sunday flight and also got my family's tickets confirmed.
The next bit of the horror show was yet to come. Emirates told me that we had to fend for ourselves re ACCOMMODATION. It was their fault but tough luck is what their attitude was. We were exhausted and hungry. This was now 5pm and we had been in the airport from 11.45 that morning. We eventually found the accommodation kiosk downstairs. I explained what happened as the guy wanted a voucher from emirates to say we had no flight. He eventually got us a room in one of their hotels. (What nobody knows is that Emirates own numerous hotels in Dubai to offload the people that miss/are delayed/or have flights cancelled.)
The accommodation was horrific. When we got out of the lift for the bedrooms, the smell of vomit and dirty mops was awful. We got into the room to find 2 tiny single beds for 4 people, the carpet filthy and no toilet rolls. It was our worst nightmare. I rang down to complain about all of the above and after 4 phone calls to housekeeping and going to reception, they eventually came with 2 fold up beds. We were in Dubai in 40 degree heat and we were stuck in the most disgusting hellhole. We had gotten food vouchers, and because the hotel was so far out there were no other restaurants nearby, we ate a buffet meal. I asked for water and unknown to me it was tap water. This lead to me being violently ill on the Monday.
The noise in the hotel throughout the night was unbelievable. At 2.30am after lying awake for hours I decided to try and sleep in one of the fold up beds I got such a shock that I near vomited myself, the bed was stinking of vomit. It was awful. All I kept thinking was thank god the kids did not sleep on this. On the Sunday morning we left for the airport an hour before we had to check in just in case we ran into any other problems. I asked could we be upgraded because of the mess they made with our flights the day before, but we were told we had not paid for this and no.
I lodged a complaint twice in fact, with emirates website. This is the only way a complaint can be lodged. They responded and told me that it would be investigated and they would get back to me after 30 days. I also lodged the same to my insurance and got Tropical sky to look into it. The insurance has come back saying that they don't cover such events, tropical Sky have been outstanding in their help, but again they have their hands tied as emirates won't deal with my complaint through them, only through myself.
Emirates came back with the following reply: "Whilst I acknowledge your request for an upgrade, I would like to explain that it is not Emirates policy to offer complimentary upgrade as a form of recompense and this is in fairness with passengers who have paid the applicable fare to travel in First or Business Class. Therefore, we are unable to meet your request.
"Nevertheless, should you, Mr. ** wish to join Skywards or Skysurfer, our frequent flyer programme, and provide us with your membership numbers within 30 days of this letter, as a gesture of goodwill we will arrange for 25,000 complimentary miles to be credited to each of your accounts, together with the flown miles that you would have earned from your recent journey under our booking reference HBB... and M3E... I do hope your recent experience has not marred your impression of the service offered by Emirates and that we will be given another opportunity of serving you in the future. Yours sincerely, Mathieu, Customer Affairs."
"Thank you for your email dated 28 July 2016 and once again, please accept my sincere apologies for any dissatisfaction that you experienced with Emirates. Whilst I can understand your frustration and the inconvenience that you and your family were put through on this occasion, I wish to reassure you that your file has been investigated in accordance with our procedures. Naturally, I am sorry if you are disappointed with the goodwill miles offered, regrettably, we are unable to offer any alternative recompense. I regret if we have been unable to bring this matter to a totally amicable conclusion, nevertheless, I would like to thank you for allowing me to clarify. Yours sincerely, Mathieu, Customer Affairs."
This is unacceptable. I am not only down the phone fees, the horror of the illness which meant I had to take the Monday off work and so loss of wages but also when we got to Dublin airport my Tripp suitcase (hard shell) was burst inwards. My husband was to attend the Ulster final and so lost that money and I had arranged a night out with friends that I had not seen in months. The trauma of the above and the annoyance it has caused me over the last few weeks has been awful. It has caused many sleepless nights and headaches.
To be told to more or less go to hell is disgraceful. I have been in touch with a solicitor. I have rang the citizen information and aviation authority, but they say unless I take it to court that Emirates is the winner. As emirates are not registered within the Eu and the flight is coming back into the Eu rather than going out, I don't have anywhere to claim from. I want to highlight this with yourselves as I have hit a brick wall and also to help the next person that this happens to on an Emirates booking.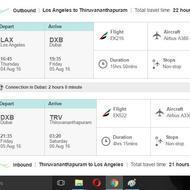 I was suppose to boarding a flight now to Lax - Dubai - tvm. They delayed the flight by 11.30 hrs. I have ended my apt. lease and need to look for a hotel to stay with my family including 4 month old. I was give a option of either take a flight on 6th Aug. or cancel for refund. Now a ticket is booked for 6th. No bassinet seat confirmed. Really worried. I asked them can they change the return date as well, but they have restriction to change only 2-3 days. Interestingly, I found tickets online in Emirates site and on 4th and 5th same class. Not sure why the rep has not gave me these dates. Those can't be just cancelled tickets. It is more than 4 tickets. If there are less than 5 then we will see a only 4 seats left msg... Now that I have taken off for 2 days, I will not get paid, hotel bill, other exps... Had waited in line 3 times, more than 6 hrs... Nothing helped. Spoke to 2 rude customer service specialist. Will never book again with Emirates.

I recently had a flight from London Gatwick to DXB. When I arrived at the airport I was informed that the flight was full. I was asked to change my flight to the next day instead - even though I had booked this flight 3 weeks prior. I refused and stated that I had work to attend to in Dubai and had to fly at that time. After much (unnecessary) negotiation, I was 'found' a seat. It was at the very back and the chair was broken.
After checking in my main luggage, I had a small carry on suitcase (7kg and did not exceed the limit). I finished my shopping in Duty Free and placed my shopping items in my carry on. Just before boarding, I was subject to a 'random luggage check'. They found that my bag was over the 7kg. I explained that it was all the shopping I had done in Duty Free. The lady (Carol) was very rude to me. I quote she said that I was "lying", she began talking very loudly to her colleague about me. There was many people there and I got very upset. She began to argue further, I was reduced to tears (are there are many witnesses to this.)
To avoid further embarrassment, I listened to her and checked in my hand luggage. I was forced to pay 78 GBP. I have the receipt to prove this. I will further repeat that at this point, I was reduced to tears, I asked for a tissue and I was ignored. I have never before seen such a poor level of customer service. When I told ** that this was poor customer service she scoffed, laughed and walked away from me. I boarded the plane, my seat was at the very back, and it was broken. I spent a very uncomfortable journey, especially already being very upset. When I arrived in Dubai, my original checked in luggage was there, but the hand luggage I was forced to check in was not. I waited in Dubai Airport for 2 and a half hours until my baggage was found. I arrived home at 5am instead of 1am. I was be taking this matter further should it not be resolved. Will never fly Emirates again.

Emirates. What comes to your mind when you hear of this airline? Award winning airline of 2016? Amazing service on the plane? As much as that is true, all that hard work goes in the drain for this award winning airline when it comes to responsibility. Responsibility is something you are required or expected to do. Emirates is great in the icing of the cake, but when it comes time to the batter it is really bitter.
Not one but two suitcases along with one uprighter have gone missing. What do you think happened? They fell off the airplane onto the runway? Were they stolen within the airline? Did they go to another location? No one knows because the airline has no track of them. They say they have landed in the designated location, but they haven't. That's not only our baggage that have gone missing there were several other families whose luggage went missing. Instead of looking for them they are blaming us. "Why did you book your uprighter?" Well we didn't. They made us drop it off at the door of the airplane to load on. "This is being loaded on the airplane right?" My dad had asked. "Yup!" Had said the air host at the gate of the plane confidently. They forced us to drop it off. They had said, "The plane doesn't have space for your uprighters." "What?" My parents said confused.
They were saying that sentence like it was perfectly fine. "You specifically stated in your terms in conditions not only there, but it is a well-known airline rule as long as each person has one hand carry in the dimensions of the expectations you can take it on the airplane." They didn't let us take our uprighter because the flight was overbooked. "I'm sorry sir, but it needs to go in with the big baggage." There was no point in arguing with them. They were not gonna change their word, because they had already gotten our money. They gave others pain by letting the flight be overbooked. They made their profit, and helped us lose our luggage. They lost responsibility because they were drowned with awards and money. Thank you very much world's best airline ever. That's why all my important stuff has gone missing.
You land at your final destination waiting for your stuff at the baggage claim, and what do you find? Two missing suitcases and one hand carry. The hand carry had some very important medicines. Instead of finding our baggage the airline blames us. "Is it our fault you had medications in there?" Well they stopped it when we had a connection flight stopping over at Dubai right before we entered the plane. "So sir it actually is your fault." They say that they will give us the money of all the things that went missing. There was a lot of stuff which means a lot of money. They are great at taking money from you, but when it comes time to giving they are the most selfish people on earth. They better pay it back or their award equals nothing but the trash or another airline who has good icing along with a sweet inside.
We go to complain at the Emirates desk. The man there says "The tags got ripped. We don't know what happened to them. It's better not to waste your time anymore." We sent an email to Dubai since our uprighter was taken there. The response we got was they never went on the airplane. This proves all of them are lying. If they say the tags got cut. OK one. There were three tags. One was paper, the other one was plastic, and the other one was an actual name tag that is impossible to break. Even if they aren't lying why are there two different explanations? It's hard to say who is telling the truth. I hope they have a good explanation. I need every penny that we lost. I don't care if your pays get cut. You ripped off not only one, but many families on the airline.
Some award winning airline. Looks like the judges looked at the icing of the airline, and not at the bitter inside. Once the judge gets the inner taste of the cake he/she will never go to that bakery for their service. Just like Emirates once the person travels through this so called wonderful airline, and have a bad experience they are more likely not to return. Emirates is an amazing airline on the outside, but the inside is just sour.

Myself and my wife travelled to Delhi to Munich via Dubai. It was corporate event. At the time of check in I was told that flight is overbooked. I never realised any problem since we checked in 3 hours before departure time. I got surprised (at Munich) when I was unable to find check in baggage on conveyor belt. The girl on baggage desk took my details and gave me a slip. I called up several time during the day but no one was able to give status as it was not confirmed by Delhi/Dubai to them and they being agents can't do anything. I was wondering how to manage since I was supposed to attend corporate event organised at Hilton. We purchased essential clothes and few accessories from nearby store.
I got my baggage delivered by courier boy next day. I lodged claim to reimburse the amount spent by me for the same. To my surprise airlines offered just 100 USD despite of sharing bills worth 600 USD. The airlines must improve their empathy towards customer woes if they wish to become best airlines in world. I suggest traveller to be careful and handle such issues with care with them. I am going to initiate legal action for such incident.

On 31 May I travelled from Frankfurt to Dubai. The Monday, 30 May I stayed in the same hotel as Emirates cabin crew. The crew was drinking heavily. An Irish girl, Jade, was drinking lots of rum and cocktails, she got so drunk she vomited in the bar and had to be escorted out of the bar to her room. Boarding my flight the next day I was shocked to see Jade, the crew member was part of the service team, barely 8 hours after I saw her vomit in the bar. She had a hangover and was irritated with any requests. I phoned Emirates customer care and reported it, they informed me that they will investigate and report back to me. Until today no response. I expected better from an top rated airline.

Firstly I would like to state for the record that I'm a seasoned traveler and class Emirates airlines as a quality company. Since a young age I have suffered with a back injury and sometimes struggle with long haul flights, so you can imagine my annoyance to find my seat was broken on my flight from Dubai to Tokyo. The issue with the seat only became apparent at takeoff when the seat went into the reclined position. I informed the flight attendant on duty there was an issue with the seat only to be told that there was no other seats available and it was a old plane.

I am traveling from the United States to Kolkata (India) on Emirates. Although the ticket is an Economy ticket, I bought an upgrade to Business Class and I was hoping to use the Business Class lounge in Dubai after the long 12 hours flight from JFK. The Business Class lounge staff denied me the use of the lounge and told me that this ticket does not allow for the use of a Business Class lounge, which was not explicitly mentioned in their promotion. Not only I find this utterly poor customer service, I also find them to be engaging in discriminatory practice and keeping the customers completely in the dark. What ticks me the most is - during my flight from JFK to Dubai, I became sick and I was hoping to get some rest. With the display of this poor customer behavior, I have no other choice, a choice I thought I bought and paid for. NEVER AGAIN ON EMIRATES.

I am writing you to express the frustration and disappointment I have with Emirates extremely poor customer service and lack of professionalism. I have called their customer service center 3 times and spent over 2 hours on the phone talking to 4 different agents to accomplish a simple name change on a reservation. This is the first time my family has purchased a ticket through Emirates and due to this negative experience it will also be the last time as well.

Very old aircraft and old seats and dirty bathrooms. Flight attendant very rude and resist, we ask for bathroom soap they said "we are out of soap." I am diabetes. Ask for more food, they said "we don't have." For fly non stop 14 hours should be good service and new airplane but they are liar and very old aircraft. We will never ever fly with this junk airline and it is not safe.

It's evident that customer service of Emirates has deteriorated but also Emirates has found tricky ways to deceive consumers on fares. I booked return ticket from Dubai to Hyderabad India for $360/- and due to change in travel plan I had to postpone the initial booked date. If I buy a separate new one way ticket for new travel date back to Dubai then it will cost $208 so the fare difference compared to my initial booked ticket is $208-180=$28+change fee $82, but as per hidden conditions of Emirates I need to pay $208+82 and I can't cancel my initial booked ticket nor ask for refund. I felt completely deceived. Also initial fare of $360 is not cheap fare for the destination and travel dates.

We just flight back Hong Kong by A380 from Bangkok beginning of June 2016, Emirates provided very poor and rude service, food supplied but did not supply any beverage; when requested but we got a very rude answer there was a box of water in the tray (very small one). The Flight Attendants were only busy on chatting and enjoyed snacks during flight.
These did not only happened in the flight of EK384; same thing happened in the flight of EK385, but drinks would provide when requested ~ better. We took EK385 Economy Class to BKK stay for two days, then transferred Finnair Business Class to CPH from BKK and flight back Hong Kong by EK384 last week. Hope Emirates maintains the most basic service to ALL ECONOMY CLASS passengers, not only provides excellent service to the passengers of First / Business Class; Economy Class passengers also paid. Please respect the job!
Updated on 07/01/2016: Thank you. Emirates informed us that they've hidden the posts on Facebook that contain images of their crew to protect their privacy about Emirates provided very poor and rude service, food supplied but did not supply any beverage; when requested but we got a very rude answer. There was a box of water in the tray (very small one). The Flight Attendants were only busy on chatting and enjoyed the snacks during flights. These happened not only in our round-trip flights; there are many passengers complained Emirates these poor service and rude have frequently occurred in different flights recent years but still not improve and more serious.
Passengers made the formal complaints to Emirates, they said Emirates no response or only perfunctory response. All complaints of Emirates can be easily searched online. Emirates asked us file a Formal Complaint, share these experience to their Customer Relations Team? For what ~ We do not ask get back the free drinks / wines. Just hope Emirates maintains the most basic service to ALL ECONOMY CLASS passengers, not only provides excellent service to the passengers of First / Business Class; Economy Class passengers also paid. Emirates should be ashamed for these! Please respect the job!

My wife's iPhone got stolen while in Emirates Airlines custody. On May 20th my wife and 2 years old daughter had travelled from Qatar to the USA (Dulles International Airport) to be more specific via Dubai since it's Emirates airlines. She had checked in her luggages and my daughter's stroller so that she can get them at the final destination and so far no issues. After only 10 she had realized that by mistake she had forgotten her cell phone in the stroller and went right away and asked them to bring back the stroller so that she can take her cell phone. The check-in lady looked towards her supervisor (I guess) and asked him about this matter and he said "NO... we can't bring it back to you and it will be delivered at the final destination" and "don't worry it will be safe" and that "the stroller as you saw is in a big plastic bag and sealed." Having no choice, she had to go and hope that she actually does get it.
Arrived at her destination and SURPRISE!!! THE PHONE CASE IS THERE BUT NOT THE PHONE!!? Someone had intentionally opened the bag, removed the phone from its cover, re-sealed the bag and carried on. What bugs me the most is that Emirates airlines do not want to take responsibility for the inconvenience and ever since they are trying to push me away with all kinds of nonsense excuses such as "YOU SHOULD PUT YOUR VALUABLE ITEMS SECURED IN YOUR HAND LUGGAGE". Excuse us but we did try to retrieve it and your crew had refused.
On top of that this could've been her items in her luggage. My real question here is: IF THEY (EMIRATES) ARE NOT RESPONSIBLE FOR THE CHECKED IN ITEMS, THEN WHO IS? BAD BAD BAD CUSTOMER SERVICE... The least that they could do is apologize and try to find a solution and make it up in a way or another. Won't recommend Emirates to anyone anymore and they do not deserve to be among the best airlines.

We traveled back to the UK in April on Flight EF0029 from Dubai to Heathrow. It was the worst check-in experience we have had ever for first class. We travel first as I have a problem standing for a long period and this was the last of 14 flights of a round the world trip. We have traveled from Dubai before with no problem. On the B level there is no priority for first class and you queue with business and all 'priority' passengers including economy priority. No one in the queue could understand why first had no priority. There we over 100 in the queue a small plane load. The economy check-in had cleared and we were still queuing. When I went to school first meant first. Not quite sure what Emirates think it means. We will no longer use Emirates as our first class choice of travel. We got no apology from them either.

On a long flight from Auckland to Dubai, I suffered serious discomfort as there were not enough toilets available to the 56 Business class passengers! There were only 2 for 56 people during 16 hours of flying time. We raised this issue to the flight attendants, who told us they suffered through the consequences of passengers dancing in the aisles, and begged us to report the problem to Emirates, as they were ignored when they highlighted the problem. So I complained to Emirates, who pretty much shrugged and told me their "experts" and management had decided that 2 toilets was enough, so I shouldn't worry my little head about it. I am a grown person highlighting a health and safety issue - I do not expect to be laughed off. Never have I gotten such bad treatment from an airline!

Heads up, if you're in first (1st) class, your Emirates ticket, a couple of weeks before departure. They've changed some 777 segments that don't have first. Full stop. They don't call you to avoid compensation. Airport surprise (!) - tough luck. Years of Platinum level, always fly first, but don't expect even a written reply - written to them or otherwise. Don't bother, they don't reply. Same with customer service center(s); clueless & could care less. Don't. Best go to their local office to talk with someone on this or anything really. Some days they may feel like doing something helpful so it's worth a try. Note: no tangible "Platinum benefits" (extra points, big deal. 1 R.T. Tk. = 300K-400K ) if you're already flying first. The in-flight service and value proposition is still very good, but no longer close to top "industry standard" in many areas, which is a shame. They used to be tops. Their web service has improved, but it's still like the 90's.

On March 14, 2016, I arrived at Dubai by EK0867 from Muscat to catch my connecting flight for Toronto EK 0241 (DXB to YYZ). Airlines landed me at Terminal C of Dubai Airport, and from there, my connecting flight was at Terminal A6. From Muscat to Dubai (MCT to DXB), airlines has no diabetic meal, which I requested month before. Started my journey I was offered some others which was not helpful for the diabetes. I preferred to remain hungry than having anything to escalate the disease like diabetic and acid high reflux, whereas I was reconfirmed by Emirates at Muscat before I flew that I will be served diabetic meal inside the flight.
When I arrived at Dubai, there was no way to get Gate A6 than only walking. I had to walk with high reflux acidity because, since last night, I didn't have sleep to catch the flight for Toronto while I flew from Muscat at 455 AM. That's a terrible experience, first flight didn't serve diabetic meal, then I preferred to remain hungry than escalating my disease worst with high reflux.
Meantime, a person from ground staff at Dubai asked me to hand over my carry luggage whom I requested that I have some medications inside the luggage which I prefer to carry with me. Then he started arguing with me. I said, "you have to treat each person equally and fairly." Then I asked why I was being singled out?
However, he was waiting near the gate of the plane (Flight EK 0241) bound to Toronto, and the moment I reached there he started snatching by force. I felt I got offended awkwardly, whereas other passengers luggages were much heavier 2 times, 3 times than me. Finally I spoke to Air hostess at the gate, the head of the Air hostess came, and she asked me if I could manage by myself, then it's ok, I can travel, and she requested me to step inside the plane.
Immediately, the guy started pushing Air hostess and he passed some message to the captain. The captain's assistant came. She discussed with me. Finally, she asked me, "why don't you take out the medicines which you needed, and hand over the carry bag?" I requested, "just wait because the bag was locked, and under the influence of acid reflux it was hard to figure out which I didn't remember where was the key." I asked some water, and requested the Assistant to let me settle down, then I will take out the medicine. Meantime, the assistant came to me and informed that she is not going to carry me. That's the decision of the Captain. Then I was offloaded.
Eventually, the local ground manager and supervisor Mr. ** assured me that they are going to send me Toronto via New York JFK, and I was advised to pay the difference. Then I was told to wait they are going to come back. Since 10 AM until 1 PM I was made to wait, but nobody showed up, and I was feeling headache because I didn't have breakfast, etc. and medicine.
Then I again I kept waited as usual. Finally, I asked for my booking reference at the flight going to JFK, and then I was told by Emirates staff there is no booking for me and flight is going to leave soon. Then finally, I contacted Dubai Police, and I explained the plight, then police officer spoke to Emirates' s senior staffs on behalf of me. And the Emirates confirmed the police officer that they would book flight going to JFK, then and there, and then made me wait again and over again, but didn't do anything and lie. Finally late evening I had to purchase another air ticket from Dubai to Toronto by KLM, and that Airlines didn't serve diabetic meal because it needs 48 hours prior request to process. And I traveled to Toronto back one day later without a valid reason.

I was traveling to via Emirates to Iran. The staff at the counter was disgusting. They sent me from one place to the next. Did not speak English. Rude. I missed my flight because of a delay at immigration. They cancelled all my return flights and told me to go home. I paid for a tour to Iran, had to meet other 20 members visiting Iran. This airline is overrated. They are disgusting and rude at every level. They should be banned from Canada. This must be part of their attitude towards people in general. Never ever will I fly this airline again - even if they give tickets away. Keep you country and your disgusting airline.
Company Name:

Emirates Airlines

Website:

http://www.emirates.com/us/english/