Consumer Complaints and Reviews

I purchased a multi-destination ticket. After using the first leg of the ticket. I was told I could get credit for the second journey of my flight. When I spoke to the manager who does the calculation (scam) Travelocity they told me my remaining credit was $0 based upon their calculation. So, I asked them how could the second flight be worth $0 and what about the taxes and fees. They continued to avoid my questions and would not issue me a credit. I thought this was a professional organization, but now I see that it's not. Never again would I use Travelocity.com.

So a few months ago I decided to book a cheap flight home. I'm on a budget and had to plan accordingly. I also bought the travel protection plan just in case. Fast forward to now, I unfortunately can't go on this trip. The flight is non refundable or non exchangeable. The reasoning for my cancellation and need for a refund or something of value. So I called twice, first time took about an hour on hold, only to be hung up on and the second time... exactly the same thing happened.
So I decided to try online, and I didn't get a response until I called the company out on a public post. Pretty much they said that they can't do a thing for me, this was their policy and sucks to be you. After the bad customer service, constant hang-ups, that's what I get. My reasoning for cancellation doesn't fit the insurance reasoning but still put in for it. Doubt I'll get it but I'll see. Don't use this service, customer service downright is not worth it.

Today, I went through the Travelocity website to reserve a vehicle in Tucson with plans to go to a certain city in Utah and spend a month there with the vehicle. When presented online with the motel options for the city I wanted to go to, I was offered a different motel in a different city! I did not want to stay for a month in the different city (which has no restaurants). I got frustrated and told the Travelocity representative on telephone that I would go to a different on-line source for travel connections. I suggest you do the same.

Their system had a glitch which caused duplicative flight reservations. After being put on hold and passed around to several people for 3 hours and 21 minutes, they refused to refund the funds. This big corporation is picking on a little consumer. Terrible.

Most frustrating place ever. Been trying to change a reservation for a flight that has been canceled TWICE in just a matter of months. Yesterday I was put on hold for about 20 minutes and was told I'd be charged $200 to change my flight because I was switching from a morning to an evening flight and I didn't change the flight THEY DID. When I asked to speak to a manager I never got one. Was just put on hold for about another 45 minutes and gave up. Called again today got a manager within 6 minutes. Talked to a manager for about 10 minutes but now and have now been on hold for almost 2 hours.. just waiting and waiting and waiting. I am never using them again or American Airlines!
How do I know I can trust these reviews about Travelocity?
720,415 reviews on ConsumerAffairs are verified.
We require contact information to ensure our reviewers are real.
We use intelligent software that helps us maintain the integrity of reviews.
Our moderators read all reviews to verify quality and helpfulness.
For more information about reviews on ConsumerAffairs.com please visit our FAQ.

I had booked a trip to Rome, Italy - my first vacation in 9 years!!! - through Travelocity, to fly via TAP Portugal. My oldest brother passed away several days before I was to take my trip, and I cancelled with Travelocity within 12 hours of being notified of his passing and specifically requested a full refund. Not only was the representative completely unsympathetic and unhelpful when I asked what the airline needed from me, she didn't issue me a refund - she issued me a full credit with the airline, promising someone would contact me RE: What next.
Naturally I have other things to worry about - my brother's dead. Three weeks later, I think, gosh. Haven't heard from anybody about my refund. Better call. I call Travelocity - who send me to TAP Portugal. Who send me back to Travelocity. Travelocity tries to shuffle me back to TAP Portugal and I say, "Look - I've been passed between you two all afternoon, can you help me out?" The Travelocity agent puts me on a long hold and then comes back with a Case ID# and tells me to send my brothers' medical paperwork and obituary to a generic Travelocity email - okay, I think, I can do that. I get everything they requested, and more, and send it off. The rep had promised someone would contact me within 48-72 hours. So I wait. And I wait.
8 days later, I call Travelocity again - they can't find my Case ID#. Great. More sitting on hold, them calling TAP, and - oh! They found my Case and the paperwork I sent. Cool. No one has looked at it yet, allegedly. But the Travelocity rep assures me that they will contact me within 48 hours... Again, nothing.
After another week, I open a claim with my credit card company. This has been going on for almost two months at this point. I'm done.
Credit card company contacts me (WOW, a company that actually follows through) a week later to let me know the status of my claim and that the Airline needs the paperwork I had sent to Travelocity nearly three weeks prior. Apparently because the original representative had failed to do as I asked, my money was with TAP Portugal the whole time. Rather than 1) Do what your customers ask you to do and 2) communicate to them what is needed from you in order to get the ball rolling, Travelocity has shuffled me around for nearly two months.
This is hands down the worst customer service that I have ever had to deal with. And I quote my Credit Card rep (whose personal line and email address I have been provided until case resolution, also - talk about customer care!) "Oh, Travelocity... Yeah, I would advise avoiding them in the future." If you have a dispute with this company, try to contact them - get something in writing that you tried - and let your credit card company help you out. These people are truly impossible to deal with.

We booked a vacation package including air to Biloxi. My wife's mother was in a nursing home and is 98 years old. When our trip approached my mother-in-law became very sick and we were notified by the nursing home of her condition. We decided that it was better to cancel the trip due to her condition. Travelocity refunded our money for hotel and car but could not the airfare. Our insurance had stated on the Travelocity site that we could cancel for any reason. ANON I believe was the insurance company and would not refund our money. When we contacted Travelocity about the problem they more or less said we were on our own and did not offer to help. Find your own insurance or use Expedia.

I had a terrible booking experience and customer service with Travelocity. They present false advertisement on their deal tickets. The advertised ticket showed return from 10pm to 6am and when I received my itinerary, it showed return time for 5:30am in the morning even though I called to verify the time frame before purchasing the ticket. Their agent hung up on me the first call and was placed on hold for over 35 minutes only to be told that there is no refund or cancellation on deal tickets from their false advertisement and confusion to get people to purchase their ticket. I will never use their service again, never!!!

I had trouble with a hotel booking and needed to speak to someone in Customer Support. I made a total of 13 phone calls, and I never could get a HUMAN on the line or directed to the issue I wanted to speak about. I will NEVER use Travelocity and will tell every business colleague I know to do the same.

DO NOT use this company! What a horrible headache and waste of time and money. They hike up prices, so you're better off booking with the airlines directly and if your flight goes without issue, you're fine, but if for any reason you need to cancel or make a change... be prepared for a RIDE! You will have to babysit the process of ever getting a credit, by calling and calling and calling. They will lie to you over the phone, they act confused, tell you you will receive a voucher?? That's bogus and never arrives. If you attempt to use your "voucher" it's impossible, what a waste of money, it's a foreign SCAM! With foreign SCAM ARTISTS, do not use them. They provide no benefit!!!

I tried to book a trip online. The Travelocity website wasn't working so I called to book a package deal. First mistake, do not call these people. The Travelocity customer service agent overcharged me $1800 and promised a credit. Now, after weeks of trying to find the credit (after calling more than 10 times and emails to customer service) I've gotten nowhere but put on hold for hours, disconnected multiple times, lied to by about least 6 different supervisors, and given false phone numbers. They will not help (or give you their last names or corporate information to go further up, they just hang up on you after being on hold forever). Do not use Travelocity, Expedia, or Orbitz. It's the same company. They just give you the run around for weeks and incorrect information that leads nowhere if you have a problem. Worst customer service!!! And I see the same complaints online. THEY DON'T CARE!!!

I was informed that my return flight was canceled by the airline and I tried to re-book the flight for two days later. I was informed that there would be a 200.00 fee per ticket. I informed the agent that I could give up my existing tickets (which were already paid for) and buy new tickets for 147.00 each for a total of 294.00. I explained this in detail and it fell on deaf ears, even after speaking with the supervisor. In short I called American Airlines and they had my new reservations available for a minimal up charge of 120.00 for both tickets. It is my hope that anyone reading this does not book through Travelocity. One word --> Ripoff.

They have changed their business practices and their customer service is nonexistent. I never write reviews, but I feel the need to warn, and implore, others not to use them for your travel plans. This company has become unethical in their business practices. Not only have their policies become unfriendly, but it is impossible to communicate with a representative in a reasonable manner due to the drones they have working the phones, which are also the end of the line for any kind of resolution. I will never use Travelocity again! After using them almost exclusively for years, they have finally proven that they are untrustworthy and do not deserve a dime of my money.

Airfare Booking/Buying - They answer the phone and quote higher prices than I found online. Then when I ask to speak with a supervisor, they hang up on me. I then call back and tell another employee why I want to speak with a supervisor and after 15 minutes on hold, I hang up. I will NEVER again in my lifetime try using Travelocity.

I recently purchased 2 air tickets to Italy for my wife and myself on Air Berlin. Air Berlin canceled the flights that I had fully paid for. When I contacted Travelocity I was informed that in order to rebook on different available flights I would have to pay an additional amount totaling more than FOUR TIMES the original amount I had paid.
I then requested a refund from Travelocity and was told that I was not entitled to a refund. Only after arguing for over 30 minutes with different personnel at Travelocity did they agree to give me a refund. However, they refused to refund the travel insurance I had purchased for those Air Berlin tickets stating that it was not their policy to make such refunds.
Fortunately my credit card company, Capital One, reimbursed me at their cost. I am fortunate that I have so excellent a credit card company. But it angers me that Travelocity can sell a product, then not deliver said product and still keep my money. I WILL NEVER DEAL WITH TRAVELOCITY AGAIN!!! They are simply thieves. I ended up rebooking our flights directly with Swiss Air for the same cost that Travelocity offered and was treated with courtesy by Swiss Air. My suggestion is that you book directly with the airline you intend to travel with and save yourself a lot of grief.

I got charged 3x for the same flight - Travelocity AFTER 2 HOURS didn't care, didn't help and scammed me. Booked online through their website. Charged for one leg of the trip three times and they couldn't give a care - told me to call my bank or the airline. TERRIBLE COMPANY - AVOID - NEVER AGAIN, NEVER AGAIN. WISH I COULD GIVE THEM A ZERO. PAY MORE, GO ELSEWHERE.

If you ever have a problem call Travelocity and you will reach a person in Central America who speaks very little English. And what they do speak I had to keep asking to "slow down" and "repeat". I will never use Travelocity again. NEVER! Another money hungry company that uses cheap slave labor to increase profits.

The WORST experience. I was hung up on 3 times. They would not honor the cheaper price from Expedia because I didn't have the photo showing the details but clearly it was still on Expedia and the agent confirmed it. I spoke to a manager and she hung up on me. I took the issue to social media but they still didn't care. They also booked the wrong dates on one of my reservations for a car, after I repeated the dates and times several times. It's also VERY hard to understand some of them. Never shopping on Travelocity or Expedia as they are the same company. I rather book directly through the airline and hotel. Spend the extra money but save the struggle.

Purchased tickets for my step-daughter to come out to visit her father, as he is not in good health. I purchased the trip cancellation protection specifically because his health condition could change easily. During her stay his health status did change. He was hospitalized and was going to need someone to be at home with him when he came home. Therefore we needed her to stay and help out. We wanted to change the flight. I was told that I could not change the flight as the airline specifically would not let Travelocity do that and it was out of their control. I tried to ask why they sold me a policy for cancellation and change knowing that the airline was not going to let them make those changes. All I got was the run around from someone in India. They did not want to give me their name, John **, or the address of the employer.
I was told I would have to cancel the trip and then I would need to send all kinds of documentation and then the agency would review whether they would cover anything, but they would not cover my ticket only my penalties. I tried to get him to explain what penalties but he could not clearly explain what those penalties were. On the day, this happened I had also booked 4 more tickets to get my grandkids out too and paid for trip insurance for them as well. As soon as I encountered the problems with the 1st ticket I went into my Travelocity account and tried to take off the trip insurance (within the first 24 hours) but nowhere is there an option to cancel the insurance. Instead I have had to write a letter (the following day) to request the cancellation for the trip insurance and a refund for those tickets.

TRAVELOCITY AND WESTIN HOTEL RIPPED ME OFF. Travelocity's policy is cancel within 24 hrs no fees. The hotel I booked cost $1933 for three nights package. The Westin's policy according to Travelocity's site was cancel by 18 FEB 17 no charge, cancel after and a one night fee. I booked on the 25th of JAN 17 and canceled early 26 Jan 17. They charged me over $654 and are refusing to refund it.

The website had a price of 125.00 per night at VI Campground's. I was charged twice the price. In small letter was Water Island. I tried to cancel within 24 hrs of the booking and was hung up on twice. The first time I waited on the phone 40 mins then was disconnected. The second time I asked to speak to a supervisor and again was hung up on. I am traveling with a handicapped person and they had no regard for the situation. This booking site is the worst I have experienced.

Several years ago I had dental work done in San Jose and stayed at a modest, inexpensive hotel near the dental clinic and it was O.K - inexpensive but clean with a comfortable bed and adequate continental breakfast. About a year ago I needed to book a hotel near the clinic for myself and my son for further
dental work and the Hemingway Inn was available and it was listed three star on Travelocity and the pictures appeared to be of a quaint and cozy inn.
When we arrived my heart sank to see the old building was in poor condition - the sidewalk was demolished and we had to drag our bags and ourselves up a six foot long, eight inch wide plank to the steps to ring a bell for an iron gate to be opened - it took about five minutes to get the door open and we were offered no help. I had booked for ten days and they insisted in payment in advance. I am eighty years old and my son was in pain. Against all instincts I paid it. Before we left I asked for the remainder of our money - they said they would have to contact Travelocity and I stood by their computer while they were online with Travelocity and saw for myself that they were told and authorized to charge for two additional nights besides the two we were there.
The mattresses were stained and dirty with no mattress covers, the tiny shower dribbled lukewarm water that wouldn't drain, spilling over onto the floor, the vanity bowl was cracked down the middle, part of the wiring cable ran down the wall and the only lighting was a fluorescent bulb with no covering in the ceiling and the beds were excruciating. There was a small reception area, almost always occupied by a sloppy man who appeared to be paying weekly to live in a small room behind the office and as I passed by the door was open and he and a woman were lying in bed, both naked and uncovered. And for all this, they charged me $60 per night - the same as the lovely hotel we moved to.

Travelocity sucks... Never book through them. I never write reviews... I thought booking my trip to Punta Cana through them and buying all their insurance would be safe. I had severe problems when I arrived at the Majestic Mirage Punta Cana. The hotel was not finished. The rooms were under construction. I spent 8 hours begging for help. Finally the hotel moved us to a sister hotel. They told me once I filed a formal complaint with Travelocity they could help me be refunded for our first day. (I bought 2 rooms.) That is not the case. Travelocity will not help me at all!!! They will do nothing!!! NEVER BOOK WITH TRAVELOCITY... If you have a problem they WILL NOT HELP YOU!!! THEY DO NOT CARE!!! THEY ALREADY HAVE YOUR MONEY!!!

On Dec. 17 our flight through Cheap Air was cancelled, due to weather, for the morning of the 18th. They would not re-book us. At 2:00 in the morning I found flights out on the morning of the 19th through Travelocity. I booked them, or so I thought. I got up on the 18th, to look for the confirmation e-mail, and only one, out of 5 tickets was there. The one was not booked exactly like the others, as it had a different return date. I called Travelocity, I was on the phone with someone for almost 2 hours. They could not find the reservation for 4 and could not book me another because they were having "trouble" and prices had also gone up.
After being on hold FOREVER, she said she would call me back within an hour. She never did. After being told, I had no reservations, I booked through a reliable travel agent to leave the morning of the 19th. Upon returning on the 27th, I checked my credit card account, and TRAVELOCITY HAD CHARGED ME FOR THE 4 TICKETS THEY SAID I DIDN'T HAVE!!! I called, and they said they would do nothing. I am trying different avenues to get my money refunded. Extremely dishonest, unrepeatable and HORRIBLE company. BEWARE PEOPLE!!!

Booking with this site is easy however the prices for the flights go up the more you look around on Travelocity and other sites (KAYAK, Expedia etc). This is incredibly frustrating and seems a bit devious. I don't know about any "extra" services they offered as compared to the other sites, they all seem about the same. There's an added pressure when you get pop ups saying "100 people booked flights for XYZ today" or "only 1 seat left" when there's not really only 1 seat left. Additionally, some flights don't show the seats left, so sometimes I'll pick out my flights and start making seat selections only to find out that my last flight won't let me choose my seats. This is frustrating as I have to sit next to my child for a flight that's going to take 9 hours. I would still recommend this site to anyone who needs to fly, they all work the same way and are all equally frustrating.

Booked a trip on Travelocity and because we knew there was a chance we would need to change the flight due to a family member who was in very poor health, we purchased the trip protection. The family member passed away a few days later, and we tried to change the flight. Travelocity (Dennis... Some kind of supervisor at their customer service) will not stand behind this trip protection. They point their finger at the trip insurance company, who absolutely will not do anything without a death certificate, copy of credit card statement, and all sorts of other documentation... And then based upon their review may or may not refund a portion of the amount paid. This trip protection is a SCAM!!! Don't plan on getting any money and/or credit from anyone if you waste your money.
AND... Don't waste your money on using Travelocity... They have a bunch of drones in some far-away call center who are of no help at all. Will never use Travelocity again. Will never bother with purchasing trip protection... I would encourage people to use Southwest Airlines if you ever anticipate a change to your itinerary. Southwest is great to work with on changes.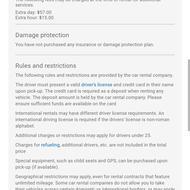 I rented a minivan on December 28, 2016 in Oklahoma City from the Travelocity website for a trip to Texas with my family. The website asked nothing about where we would be going nor did they give any clear information about out of state rentals. When I went to pick up the van they asked me where we would be going of which I told them Texas. The gentleman informed me that the rental would cost me $300 extra and I would no longer have unlimited miles. Of course, I was taken back. I asked about this and then told them I was not prepared for that much more and all the man and I assuming the owner could say was that it is clearly stated on the NU Car Rental website. I then let them know that I didn't rent from them but from Travelocity and they didn't budge.
The email I received from Travelocity stated that "some geographical restrictions apply even if you have unlimited miles." This in no way says that if you take a rental out of state that you are charged extra. The rental company did offer to "help me out" on the extra cost. They "let" me have the van for $100 extra instead of the $300 extra. I couldn't pass it up since we had no other way of transportation for the amount of people going. I informed Travelocity of the situation. Of course, all they said is that they would pass the "feedback" on. I haven't heard from them since. I am highly disappointed in the fact that Travelocity didn't clearly state the difference in an in state rental and an out of state rental. If I would have known we would have made other arrangements. This was my first experience with renting a vehicle. Not sure if I will ever rent one again.

The travel insurance covers nothing. Not the hotel which allowed up to 24 hours advance notification of cancellation anyway; not the airline = Jet Blue itself has a policy of giving credit for cancelled flights, and not even the change fee - Travelocity policy is that the rebooking has to be made at the same time that the flight is cancelled, not later. You are far better off booking directly with the airline and taking their insurance. The insurance is just a way of getting $100 extra profit.

This is my favorite travel site for the ease of use and the low cost. I can always find the best deals and the registration is painless. Last weekend a friend could not find a room for under $300 and I went on Travelocity and found a comparable room for $120.

Easy to use and when a problem it is resolved efficiently. I use for both personal and business travel. I find asking for flexible dates and nearby airports allows for finding best pricing.
Travelocity Company Profile
Company Name:

Travelocity

Year Founded:

1996

Address:

3150 Sabre Dr.

City:

Southlake

State/Province:

TX

Postal Code:

76092

Country:

United States

Website:

http://www.travelocity.com/