Consumer Complaints and Reviews

I will be posting a bad review for Thrifty Car Rental on as many websites as I possibly can. I booked a flight and car rental through Spirit back in February 2017. My car rental ended up being $170 and some change. Once arriving to Denver's Thrifty, there was a man there that did not know what he was doing, took an hour and a half to finally (with another attendant) get my little Ford Fiesta, THE SMALLEST CAR THERE. Other than the deposit, the attendant said there would only be a fee for $55.77 which was for tolls. I told him "that's fine" (Which brings my total to about $225 for a couple day rental). Upon returning the car, there was zero system, you just dropped the car off, they checked everything out and said "you're good to go." NO COPY OF PAPERWORK OR WHAT OTHER FEES THEY WERE GOING TO TAKE FROM YOU.
A day after I returned the car, I was charged the said amount of $55.77, and didn't think anything of it because that was accurate. However, the following day I was charged an EXTRA $226.33 (now my total rental for THE SMALLEST CAR ON THE LOT adds up to approx. $450). I was never told I would be charged this amount on top of the already paid $225, or I would have gotten a car from somewhere else. I filed a claim with my bank, which they said they could not give me the unauthorized charge of $226 back because Thrifty said it was billed correctly. Again, I have yet to receive paperwork or an email. There are apparently Airport fees of $39, State Fees of $60, toll fees of $50, and some "other" fees for $39 that they DO NOT tell you about. This company is taking your money, they are all SCAM ARTISTS. They trick you and do not tell you any of what you NEED to hear, just what they WANT you to hear in order to rent a car from them.

We booked a car with Thrifty Los Angeles LAX for the amount of 330 USD. We received the car, and everything went fine. We never received an invoice. As we are frequent travellers we didn't take any of the coverage extras, etc. Two weeks later a total of 700 USD was charged on our credit card. After contact with customer service I received the invoice with on the invoice a max of all extra coverages. Now I am already four weeks email with customer services. They do admit something went wrong, they will somehow not sent me the exact calculation of the charge. They did refund 50% of the overcharge, they are now telling me they are going to refund more, but refuse to tell me how much. This is by far the most bizarre customer experience I have had in my life. NEVER EVER AGAIN will I be a customer of Thrifty.

Rented a car from Thrifty from April 30-May 3rd. As a Blue Chip member I was assured that any tolls accrued would be included in my final invoice. Late May I receive a $25.30 invoice from Metro Express lane for the.30 toll and now late fees. I contacted the customer service department and Vanessa stated that express lane tolls "Don't count" and that I would also be receiving a $15.00 invoice from Thrifty for having to "Change over accountability" for the.30 charge. In addition, Thrifty policies are modified without any communication and as of the beginning of the year, a debit card is no longer accepted and must be paid for with a credit card. The staff, that was once professional, are now extremely rude. DO NOT RENT FROM THRIFTY!

I forgot my leather jacket in Thrifty rental car while returning it on Miami airport. When I called consumer service they told me to fill form online. Everytime I went online and filled the form while submitting it, I got an error message "Duplicate Record". I called consumer service again and told them about the error, they informed me that they cannot do anything about it which was really pathetic. She also told me to wait for 20 days for someone to call me which didn't happen. Finally I asked my friend to go there and she told me, "Lost and Found is closed on weekends and is only open on weekdays 9-4 ET". By this point I was really mad. My friend went again to same place on weekday "Friday" and no one was available at lost and found section. Finally after multiple follow-ups some lady showed up and told us there is no jacket which I mentioned in description. Pathetic service I have ever seen from car rental.

I wouldn't recommend anyone to go here for car rentals. I book a reservation for a full-size vehicle and was giving a compact car. I've spoke to three different people and no one help. Oh btw I tried to get my money back and they was only gonna give me half out of my total pay when I only had the car for two days with a two-week reservation. Very disappointed and I've been going here for almost a year for travel purposes for work and this would be my last time.
How do I know I can trust these reviews about Dollar Thrifty?
789,262 reviews on ConsumerAffairs are verified.
We require contact information to ensure our reviewers are real.
We use intelligent software that helps us maintain the integrity of reviews.
Our moderators read all reviews to verify quality and helpfulness.
For more information about reviews on ConsumerAffairs.com please visit our FAQ.

The WORST CAR RENTAL COMPANY in the world! I prepaid for the reservation, paid in advance over $240.00. Right before leaving on the trip, I receive a letter from this company saying "Sorry, no car available." I have a feeling I will have to fight for the credit card to be credited. I read reviews before renting... I should have listened to my gut. The reviews are horrible!!!! DON'T RENT from these RATS!!!!

In April 2017, I was in Ft. Lauderdale, Florida and I rented a car from Thrifty in Lauderdale Lakes for 1 week, April 7 to 15. At the desk, I wasn't told that I would have to pay a fee for the toll. I went through the tolls over a 3 day period at the most. I returned the car on April 15, happily paid the rental fee with no hassle, thinking that all was well. Fast forward to May 12 and I see a charge on my credit card for $109 from Thrifty. I called the local office where I rented the car and they weren't able to tell me what it was for. Neither could Thrifty's customer service department.
I searched the car rental ticket site where I was told I would find any information if I had wracked up any toll violations and nothing came up. I was eventually passed on to Thrifty's toll department where an agent by the name of Jen told me that I am being charged for using the toll, in addition to their administration fees, which is approximately $62. When I asked her, "How could that be?", she said, "That's Thrifty's policy." If that is the case, why wasn't I told that upfront? How could using the toll 3 days lead to a charge of $109, when the furthest I went from Tamarac was Miami to the South and West Palm Beach to the North? Why wasn't I informed about this at least via email? I will NEVER use Thrifty again because it's apparent to me that they are scamming people through their "hidden" fees. Use them at your peril.

So this is my first time renting a car, and after this horrible experience I will never be using Thrifty again. When I arrived to pick up my car, he gives his pitch to get insurance, or fuel options. I say no, I have full coverage insurance. He asks for all my general info, I give him my insurance card as I told him I don't need to buy insurance. Welp, he shows me the paper with $150.00 estimated charge on it. I say I already paid for the car and don't want any extra charges and he assures me this is just the deposit in case of lost keys or smoking damage. Ok, I sign it, drive to my destination.
I looked at the paper that he tucked away in a booklet when I got home and it says "accepted fuel option", "accepted insurance option" so I call and they tell me there is nothing they can do over the phone, I have to talk to a manager. Well, my flight back was at 3 in the morning and when I dropped the car off, there was NO ONE there. No one to take the car, or talk with. And two days later I'm charged with the $150.00, mind you I filled the tank to FULL when I returned it, and still was charged for an optional fuel option of $40.00 when I already filled it up. It seems this happens to about every customer and there is no way to get your money back unless using social media. Please just use a different company, it will probably be much cheaper in the end and save you from this headache.

I booked my rental initially through Kayak but confirmation came back from Priceline saying rental was with Thrifty in Barbados. I selected and prepaid for a subcompact SUV or similar, showing it was big enough for 5 people, 4 bags. Get to Barbados, no Thrifty office there, it's handled by Stoutes, though no mention on paperwork. We go to the office, fill out all the necessary paperwork and they take us to the car, a 2 door Jimmy. I told them this was not the correct car as I had booked and paid for a car big enough for 5 people 4 bags but according to Stoutes, a Subcompact SUV is a Jimmy which is designed for 2 people 1 bag. And of course they are sold out of bigger cars so could not offer me anything else as a replacement.
After complaining to them for ages, they say they have a 7 seater vehicle, not at the airport but another location that we could rent but it would be an additional $214. And as they don't see it as their fault, we had to pay. They said that the description we got from Thrifty is incorrect. So we were driven by them to where we were staying, we had to wait in for the car to arrive, but yes we had transport during the vacation. When I get back to the US, I contact Kayak who say it's a Priceline issue, I contact Priceline who say it's a Thrifty issue, and Thrifty who say it's the agent in Barbados who should take responsibility. They give me the name of their agent in Barbados which is different to who we actually picked the car up from (Coconut Cars).
I email them and they say they are not even affiliated with Thrifty and do not know why I was told to contact them. I go back to Thrifty customer service and get the rudest person ever who has no empathy with my situation whatsoever. She just reads the notes and tells me the agent I should contact in Barbados even though I tell her they have the wrong information about their own agents in Barbados. She tells me that Coconut Cars is lying to me. She said there's nothing that can be done by anyone at Thrifty. I am disgusted with their lack of caring, their finger pointing and laissez-faire attitude to customer service. I haven't given up, I want someone to reimburse me for the extra money I had to pay to rent the vehicle that I reserved but it's so frustrating & do not know where to turn.

I am writing to say that it was disappointing to use Thrifty Car Rental because upon checking in to receive the car we'd reserved, unbeknownst to us, thought we had verbally told the check-in cashier of our refusal of the extra insurance, the insurance was added anyway. Of course, we didn't know this until we were checking out and saw the extra charges. These charges, when we called the company to complain about this, were not totally dismissed. We only received 20% of $200.00 off of the insurance charges. Very disappointing. I was with my husband when he refused the extra insurance, but when he was asked to sign the contract, we thought the person had been responsible and had not added the charges. I suppose we'll be smarter next time, but we won't be using Thrifty, that's for sure!

I recently rented a car at from Thrifty in Nassau. I declined insurance on my reservation but when I went to the counter I was forced to order the insurance or they would not give me the car. They knew that there were no other cars available at the price I rented for on the island so they had me. After a month of talking with Hertz I was finally told that this was an independent dealer and there was nothing I could do but go through my CC company. DO NOT RENT FROM THESE PEOPLE.

Flew into Fort Lauderdale Airport in January 2017 for a trip to Miami Beach. Thrifty agent at FLL tried to sell us the LDW, but we declined. We explained that we already had premium coverage through American Express, and she scoffed and was incredulous. We told her that we would be driving to Miami but also to the Everglades, and asked how tolls are handled. She explained that unless we were driving to the Keys, we didn't have to worry. She never offered us the toll coverage nor told us about any administrative fees. Today, we just received a bill from them demanding $9.00 in tolls and $90 for administrative fees. I am going to call them to dispute this, but this was an obvious way to try to make money from us because she was upset that we didn't buy the LDW coverage. Will never rent from Thrifty again. Avoid Thrifty and Dollar at all cost!

I spoke with a customer service representative on a Thursday afternoon inquiring about renting a car at the Sanford Airport in Florida and returning it to the Clearwater Airport in Clearwater, Florida. I specifically asked if the car rental agency was located in the terminals. I was told that they were located off site but they provided a shuttle service from the airports to the rental agencies and from the agencies to the airport. I again specifically stated that I needed to be at the Clearwater Airport at 6:30 am and was told that would not be a problem. So I prepaid for a vehicle. About 15 minutes later, my husband was looking at the Clearwater Airport site and it stated that the Thrifty agency did not open until 7 am so how were we going to get to the airport?
Good question. I called Thrifty 800 number and they stated that yes the agency did not open until 7 am. I said I spoke with someone about 15 minutes ago and they stated that I would be able to get at 6:30 am. If you aren't open how is that going to happen. The rep stated that there must have been an error. I said well then I need to cancel my reservation. The rep then told me that she could not help me since I prepaid and that I would need to call another telephone number that started with 363. I called that number and was on hold for 40 minutes before I hung up. I called the 800 number again, explained my situation and was told to a different number that started with 312. Again, I call the 312 number and explained my situation.
The rep told me that since I did not cancel within 48 hours I would be refunded everything except $55. I asked how could I cancel within 48 hours when I just reserved the about 40 minutes ago? She said that is their policy. I asked to have the $55 refunded as I did not feel that this was an error on my part and she stated that that's the policy, a fee is charged. I asked to speak to a supervisor and was told that Jenny wasn't available. I know $55 isn't a lot of money to Thrifty but it is to a stroke victim who is on a limited income. Will not EVER rent from Thrifty and will tell anyone who wants to rent a car about this issue. Very poor customer service in my opinion.

I recently booked a flight and car rental for my daughter and her fiance who are both in the USAF. The rental cost me $350 for 4 days. When they went to pick up the car, they were charged an additional $300 due to the fact that the driver was 24- not 25. So obviously you can protect their lives, just not rent a car!!! On top of it all- they received a $125 charge on their credit card. $35 was for one toll they had to go thru. The rest was additional "admin" charges. Customer Service was NO HELP. I asked to speak to someone in a higher position- she told me that she was the highest that it goes.

I booked a car online at Thrifty.com using my debit card using the prepay option. When I tried to pick the car up I was denied because I didn't have a "major credit card", my debit card is a MasterCard. After 9 calls to Thrifty Car I will have to wait up to 20 business days and then could be denied a refund of the $309.01 that they took from my account at the time of booking.

A friend and I rented a car to drive from Miami to Orlando and while the car was comfortable and came without issues the charges for our 6 hour rental were another story completely. While at the counter the agent had no problem encouraging us to get insurance we didn't need but failed to mention to us that the Orlando airport is remote and has no gas stations nearby and we should be sure to stop at the first available one along the way or there will be a charge of $9.99 USD to fill the tank, had we been made aware of this we would have surely taken the option of prepaying at pickup, but again none of this was discussed.
Upon returning the car at Orlando airport the agent closed the bill and charged us over $120 to put back 3/4 of a tank of gas. When we attempted to speak with the agent about the gas cost he told us we would have to go into the airport and speak with the people at the desk. We checked into our flight and proceeded downstairs to the Thrifty desk to sort out the bill and we were told that the agent that took the car in closed the bill and we would now have to deal directly with the agents in Miami.
Upon arrival back in Montreal and a phone call to Thrifty the best they could do for us was to cut the bill down to $60 US which is still a ridiculous amount of money to be charging to fill a Jeep Cherokee in Florida which would have been $35 at the most, even less as there was a quarter of a tank in it when we dropped it off. I feel like I was hijacked by these people without the gun. Beware when renting cars that the rental companies charge you more than four times the cost of gasoline at the pump if you return it without filling it or prepaying the cost of the fill up at the time of pickup. I wish I had known this before I rented, would have saved me a lot of money and headaches trying to sort it out.

When taking my rental car in LA office, I was asked to sign on the digital screen for the 540$ deposit, which I did and ask when I would get this back. The nice lady told me it was just in case I did not return the car, which in the end was false because when I returned it in SF, they charged me 468$ of additional insurance that I apparently signed for on the digital screen (which was never written). I tried to dispute it but they say in SF they can't do anything because not the same office. Since then, they just answer my emails saying that I signed the digital screen so they will not refund me. DO NOT BOOK with THRIFTY as they are thieves!

Checked into the Orlando airport, we had pre-booked our vehicle through RBC Avion. We asked about the prepaid toll option, inquiring if it was just charged as you use it? She laughed and said "No, it's $11 a day." I then asked her if it was worth it as we were travelling up the Gulf Highway and she told me there were tolls on ALL highways. Left the airport, drive through TWO tolls on the way out of Orlando and never saw another one for TEN DAYS, until we returned to Orlando. And I mean, we traveled. Crystal River, Destin, Atlantic Beach, St. Augustine.
Called the toll-free and they told us to take it up with the agent at the desk. When we told her what I wrote here, she said, "But did you go through a toll?" I told her that we had been mislead about tolls on every highway. She then said that there are some tolls that you might not see, like a board across a highway. I knew then there was no arguing with her, you can't fix stupid. She offered to refund our money but then each till we did go through would be considered a ticket and could possibly impede us from driving again in Florida. Never again, Thrifty.

I reserved online and picked up my car from the LAX location. I bought the extra insurance and the prepaid gas. When I dropped the car off, I was charged $17/day for the insurance instead of the $11/day I was told it would cost; I also was charged an extra $10 for pre-paid gas (BTW I returned it with half a tank, so they really made extra on me). When I phoned to resolve this, I was told the prices the agent gave me were estimates; I explained that he did not say they were estimates; in fact quite the opposite. I was put on hold and disconnected 3 times. After spending an hour trying to resolve the extra costs, I gave up. I suspect that Thrifty counts on people not checking their receipts and that they regularly inflate prices.

First time rented a car with Thrifty for 3 days from Orlando airport (Thrifty rental record # **), and returned to the same place. It took *** 2 hours and 15 minutes wait time *** in the line on 04/07/17 1:00 AM in the Thrifty airport car rental front-desk, before I get my turn. After waiting patiently for so long asked if I can get a free upgrade if any vehicles available. The front-desk person first hesitates, and then says yes upgrading me from sedan to midsize apologizing for the long wait time... So far so good.
I declined Loss damage and roadside assistance when the front-desk person asked for them during checkout.. But still some charges show up in the authorize screen for me to sign before checking out. I inform her that I have paid for this rental already online through my airline, and expecting to pay only the taxes and the gas. And when I ask her what those charges are about? She responds saying something to this effect *** DEPOSIT TOWARDS THE RENTAL *** and tells me that "NOTHING TO WORRY ABOUT... AND THOSE CHARGES WILL BE BLOCKED IN YOUR CREDIT CARD BUT WILL NOT BE CHARGED." I believe her words and "E-SIGN THE CONTRACT" and walking away with the paperwork and the car...
When I return the car, the service personnel who records the mileage hands me with $241 bill which included several coverages which I did not authorize. When I asked him about it. He says "DON'T WORRY ABOUT THAT... THAT AMOUNT WILL NOT BE CHARGED... IT SHOWS UP AS SOME KIND OF DEPOSIT." I walk away peacefully to board my flight only to notice 2 days later that my card was charged for $142 additional towards ***$112 - TOWARDS Loss damage and roadside assistance*** WHICH I DENIED DURING CHECKOUT, and "$30 TOWARDS upgrade" which was told I am not charged for.
When I call the customer service about this, I get routed to 3 different number and after waiting on the call for 20 minutes, I was told that I have **SIGNED UP A CONTRACT FOR THE Loss damage and roadside assistance AS PER MY RENTAL AGREEMENT.** WHAT A SCAM... I cannot forget that fat lady's face who lied to me while checkout from Orlando airport terminal B ON 04/07/17 3:12am LOCAL TIME. If your company is telling you to do this kind of scam, rather go find a new job elsewhere. This is sick... Never experienced before...
By the way - I would blame it on me booking a Thrifty or a Dollar brand when I had several other reliable choices which I had used in the past. Not sure how these companies are getting away with such scamming... Pay a dollar more for your rental to keep away from scammers like these. I am would be posting the same in my social media for awareness to help others with these brands!!!

Run as fast as you can to another car rental company. DO NOT PREPAY! If your car rental company uses CarTrawler for their customer service and prepay ... just run faster! I spent over 6 hours today, talking to people using at least 7 different phone numbers with one company in the Philippines, where 3 people hung up on me for asking questions. Also I received a fraud alert from my bank as the prepay services use a bank in Dublin. None of this information is on the Thrifty website. And calling 1-800-334-1705 the Customer Service for Thrifty, I was told to go to the Customer Care section of the Thrifty website. ONLY PROBLEM - THERE IS NO CUSTOMER CARE ANYTHING ON THE WEBSITE, ONE CANNOT EVEN TYPE IN A SEARCH BOX.
I will also be leaving this message for HERTZ GLOBAL HOLDINGS as they own Dollar and Thrifty now. I was a BLUE CHIP when it was Thrifty and you could call the local rental office. Giving one star is highly overrating Thrifty. I will be posting this message on every review website I can. Unfortunately this is what happens when our American companies rent out their services to less expensive foreign contract labor, their customers get less and pay more. And you will NEVER see a refund so NEVER PREPAY and NEVER USE THRIFTY. One star average on this site--I am in the majority opinion here. NEVER USE THRIFTY.

I rented recently in Orlando, Florida. The clerk offered the toll pass. I said no. He went into a sales pitch. I told him I was recently in a rental car on this route and it was no trouble to pay the tolls. He began the pitch again. I told him add it. He said no. I again told him, "Add it and I won't need deal with the tolls." He said OK. After I pulled out I wondered if he added it. I tried to find a way back to ask. It was busy and I had trouble maneuvering and gave up when I noticed the Sun Pass in the window. It was great to ride through the tolls, I decided I would always buy the pass. Now I have two separate bills for tolls and administration fees. Stated on the bill is "as a courtesy you will incur a maximum of six administrative fees." There are six on one and seven minus 1 on the other. A total of twelve! I NEVER would have ridden through the tolls if I had known the clerk did not add the pass!

Fraudulent activity - Tampa Intl. Airport: Arrived Tampa AP and waited in line for over 1 hour to pick up a rental car booked and paid for via/Spirit ticket package. Agent (PATRICK) was surly and passive/aggressive. Very slow to process the reservation w/a big attitude. Added 1 additional driver and TOLD him we would not pay for anything more. Returned to Tampa AP to return the car. Garage attendant give us a bill for an ADDITIONAL $708. Thank goodness for on-site agent (JEAN). Unapproved charges were removed from final bill. Do agents earn commissions for adding unapproved charges to car rentals? Business travelers may not pay attention or be in too much of a hurry to complain and agents get away with it... because Thrifty is not paying attention. JEAN stated that PATRICK has 'done this before.' Why does PATRICK still have a job?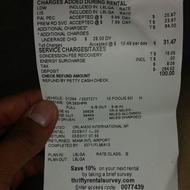 I rented a car in Orlando, Florida to drop off in Miami airport. The car stopped twice and I lost my flight to Argentina. I had to pay US $399 to get the next flight. They just gave me US $50. Later I saw my credit card resume and they charged the rental car on my credit card when I already paid with cash because they told me that the credit card was no found. For that reason I had to paid with cash, so they charged me twice. I wrote many emails for the double-charged and they didn't answer. Very bad service and no responsibility with the client.

I rented a car from Thrifty at Phoenix sky harbor airport. Waited 30 minutes to speak to agent and additional 10 minutes for paperwork. At the end of the process he asked if I'd like to add an additional driver but never mentioned an additional expense for it. Imagine my surprise when I returned the car and I got an additional charge for 69.36 for additional driver. I reviewed my receipt when I returned home, multiple areas were highlighted in yellow showing charges and deposits but not the additional driver, I was never told of the charges! I called customer service and Karleshia ** become very rude as soon as I told her why I was calling. She flat out refused to issue a refund or let me speak to a supervisor. She even hung up on me. DO NOT RENT FROM THRIFTY!

I rented a car at T.F. Green airport in Providence. I was staying in Connecticut for 2 days and then driving to New Hampshire. I was informed by the clerk that since I was going to NH I would need to rent a Paypass for 11.99 a day, (even though I was staying in CT for 2 days and they do not have tolls). I was told that in New Hampshire they had electronic tolls and that there were no cash lanes. I asked what would happen if I did not get a pass and she stated that I would be fined 15.00 per occurrence by Thrifty and then whatever the toll was. Seeing it did not look like I had an option I said "Alright put the pass on the bill." A total of 47.96.
When I arrived in NH rt 93 exit 11 imagine my surprise when I saw a cash lane 1.00 toll. I was not in the right lane to get to the cash line in time, and was also puzzled because I was told they did not have a cash lane. So I used the paypass instead because I did not want to incur a 15.00 fine each time like I was told.
I contacted Thrifty after arriving in New Hampshire stating that there were indeed cash lanes and I would like a refund of the 47.96. They stated that they would look into it. However I was told since I used the pass (4 times = 4.00) I am responsible for the cost of the paypass. I do not find that fair. I was lied to, that is why I purchased the pass because I truly thought that I need it. I am not done fighting these charges. I will contact my credit card company, the BBB, and anyone else I think that can help me. At this point it is more about principle than the money.

Upon arrival to the counter to pick up our car, we were directed to a kiosk where we communicated with an agent via phone and computer screen. She told us that if we used a mastercard, they would hold $350. Also tried to up sell an additional driver for $13.50, but didn't mention that was per day. I used to work in the rental car business so I knew to ask if it was a one time fee or per day. We declined. Didn't ask for our confirmation number and proceeded to show us a contract for just under $200. I reserved it for a total price of $120. Only after I questioned it, did she fix it, and very reluctantly. Picked out our car and took pictures of minor damages since there was no one in the lot to check it over with us. Small crack in windshield and minor marks and scratches in 2 areas.
We had to be at the airport at 4:30 am when it was time to return the car and decided to call customer service to make sure someone would be there at that time, as well as the shuttle would be running. Was assured 2 times from 2 different agents that they are open 24 hours. Got to the rental at 4:00, and building was completely black, no one around not even in the lot. Drove to enterprise and they told us to go to the Dollar counter since they are the same company. Maybe one of the customer service reps should have mentioned that. Got to the Dollar counter, stressed and rushed. 2 agents, neither spoke English very well. I mentioned the minor damage and they said not to worry, they were only concerned about large dents. I will be watching my receipt. Our experience with this company was the worst I've ever had. Will never rent from them again and will tell everyone I know to not rent from them.

THRIFTY appears to be a subsidiary company of HERTZ RENTAL CAR. We recently took a trip and booked our airfare, hotel, and rental car through Expedia. When we picked up our rental car in Houston, we were asked if we wanted toll coverage ($12/day for 3 days). Knowing we would be on the interstate, I agreed. We were also told we needed to pay a deposit and it would be returned when we returned the vehicle. I reviewed my bank account today and saw that we were charged $111.00?!? When I called to inquire, I was told I consented (by signature). I signed a screen (I assumed consenting to the verbal items discussed with the agent). I asked to speak with a supervisor. I was told to call back. After three calls to Manila, I was told I couldn't speak with a supervisor, and there was NO RECOURSE, since there was "a signature". CAVEAT EMPTOR!

I had Booked my Car Rental via Expedia with a cost of $307.98. I arrived to Pick up my Vehicle at LAX 5440 W CENTURY BLVD. The agent went on to Say it was a horrible idea to Rent a Bigger car. I said "well there is only I and two little girls. No need to do that". He went on to say, "oh it will only be 2-3 Dollars the most". (He probably gets a Commission or bonus. Who knows.) Then he says "so you don't want Insurance", I said no... This is why I also said no while I was booking through Expedia.
Now that I am back THRIFTY CAR RENTAL BILLED ME TWICE... for this extra perks!! It is my word against the Clerk... I specifically said I did not want a bigger car rental and NO INSURANCE!!! SO INSTEAD OF PAYING $307.98 MY TOTAL BILL NOW IS $624.59!! After reading all these reviews... I wish I would have taken my business somewhere else. I asked if I could talk to a supervisor or Manager. I was told NO... They don't have any!! Biggest con-artists I have ever dealt with!! Never again!

I had reserved a rental at this place thinking I got a good deal. I got there earlier than my reservation time. The employee told me I couldn't pick up the rental early because I prepaid. I was lost, a reserve is a hold regardless off the time and this wasn't specified on the website. So the employee told me to fill out to become a rewards member, that way he could get into the reservation and let me rent early and it charges you $1 for that.
Then he proceeded to tell me "oh I understand you have a credit card however, it's a MasterCard so we have to treat it as a debit card and do a $250 hold." I told him I didn't recall reading that on the site. He turned the computer all the way around so I could see this all the way at the bottom of the screen, very tiny then the rest of the writing. He apologized and I said that was fine. I by no means am going to max out my card for a rental when I needed to do other purchases.
He told me to contact customer service because I prepaid. In a nutshell Thrifty refused to refund my money back to my card because I should've been aware that they discriminate for visa versus MasterCard but in bigger writing it said debit a deposit. Nonetheless, I could see maybe taking a percentage but to take all a person's money and I did not get the vehicle is bad business. And I'm reporting them to BBB.

Lauren FixAuto & Finance Contributing Editor
Lauren Fix, also called The Car Coach, is an automotive and auto finance expert. Her understanding of vehicles has made her the "go to" person on TV, radio, print media and the Internet. She has authored multiple books and writes a column for several outlets, including Parade Magazine, NewsMax and Car Coach Reports. She is a regular guest on major news and morning shows, discussing the latest updates on cars and car financing that will help drivers make smart decisions when buying, maintaining and financing cars. More about Lauren→

Part of Hertz Global Holdings, Thrifty Rental Car has more than 1,000 locations in 77 countries. It focuses on serving cost-conscious consumers and business travelers.
Best-rate guarantee: Renters may book on one travel site, only to find the same terms on another site at a lower price. When booking on the Thrifty website, the absolute lowest price on all rentals is guaranteed.
Airline loyalty program: Thrifty Rental Car partners with airline rewards programs to offer miles or points for every rental.
First-time rental guide: The first-time rental guide on the Thrifty Car Rental website walks customers through how to make a reservation and what to expect.
Contact: Call or email Thrifty Rental Car during normal business hours for fast service, or use its urgent contact line in the event of an emergency.
Loyalty program: Blue Chip Rewards loyalty program comes with benefits like shorter lines, faster reservations, faster drop-off services and members-only discount offers.
Get more for less: Pay for a compact car rental and get something larger with the Wild Card rental. Any reservation with a Wild Card is guaranteed at least a compact car, but it may be upgraded at no additional charge.
Best for Vacationers, business travelers, temporary workers and those with cars in repairs.
Thrifty Car Rental Company Profile
Company Name:

Dollar Thrifty

Year Founded:

2002

Address:

5330 E. 31st Street

City:

Tulsa

State/Province:

OK

Postal Code:

74135

Country:

United States

Website:

http://www.thrifty.com/