Consumer Reviews and Complaints

Qatar staff provide prompt, professional and courteous service. The food is delicious and the fares are reasonable. I love this airlines and will fly with them again in the future wherever possible.

I received a few emails regarding irresistible flight offers. Mmmmmh, same price as before Qatar. Flew with you several times and paid for friend's flights, but you just seem to be going down the tubes. I'm getting flight from UK to Oz at nearly half the price. It's goodbye from me, and goodbye from my friends.

During a layover in Doha I changed my flight time and was I promised with 5 hours to spare my luggage (which was a bicycle) would be transferred on time to the next plane. While boarding, they stopped me to tell me they were not sure where my baggage was. After describing my bag to them on the phone, the man who was in the plane told me that it was in front of him and all was good. He had lied of course as when I landed in Helsinki my bike wasn't. The bike had long been reported that it never got on the plane.
This cost me an extra day in town where I had to pay for accommodation, food and just waste my time. The money I had paid for my bike tour was lost including a train ticket to Northern Finland. I asked Qatar for compensation and well they jerked me around for 2 weeks wanting different things. Finally they were not satisfied with the tour organizer's letter I could provide them with. Also they didn't care that my bag had been opened, turned upside down and all my bike bags had been opened. 3 times I told them this and they didn't care to ever respond. All I asked for was 200Euro or something to compensate me for my lost time and money.
Nothing from Qatar. I got to Europe every year and next year I'll choose another airline because Qatar doesnt care about fixing their mistakes.

If you expect service from Qatar you are mistaken. I flew Jakarta to London on the 26th July and, on arrival at Heathrow baggage collection at 22-30 found that both the side and top handles of my case had been ripped off, the case crushed, and the baggage label re-attached to the pull handle of my case. It was obvious that my case had been crushed and stuck under heavier objects and suffered the damage on attempts to pull it clear and although their handling representative viewed the case he showed no interest other than to hand me a form and subsequent attempts to contact Qatar proved fruitless.
On my return on the 8th July I showed the damaged case to Qatar staff when checking in and was given addresses to write to by the helpful staff member on duty who saw for herself the damage to my case. However, having submitted all required details to Qatar their response was a dismissive "external handles are not covered and neither is wear and tear" and then had the audacity to say "We look forward to you flying with us again". Follow up emails of complaint have been ignored and my only recourse now is to the UK Small Claims Court. No other airline that I have dealt with has taken such an arrogant and unsympathetic attitude and for all their claims to offer 5 star service they are the pits. ANYONE WHO READS THEIR REVIEWS AND THEN STILL WASTES THEIR MONEY FLYING WITH THEM HAVE MORE MONEY THAN SENSE.

We flew business class Philadelphia to Doha and then to Johannesburg and onto Capetown. 2/4 pieces of luggage did not arrive in JNB. The woman took our info but never gave a reference number. We have called continuously! No information. I will never fly again.
How do I know I can trust these reviews about Qatar Airways?
882,235 reviews on ConsumerAffairs are verified.
We require contact information to ensure our reviewers are real.
We use intelligent software that helps us maintain the integrity of reviews.
Our moderators read all reviews to verify quality and helpfulness.
For more information about reviews on ConsumerAffairs.com please visit our FAQ.

Their online policy states that the pets are loaded first and then unloaded first. This is patently not true. I waited at the transit stop in Doha for over an hour before my pets arrived in the cargo transit lounge. I asked to be put through on the phone as the online pet policy states that in transit they are walked, their carriers cleaned, fed and given a bigger container to rest in before having to board their next flight. I called when the dogs had arrived in transit cargo and spoke to a rep who assured me this would take place. In Athens, our final destination, I waited 2 hours for the dogs to be unloaded. When they arrived in the cargo depot they were left in the hot warehouse. They would have been left there had I not been the one to process them through Customs so I insisted they were moved in their carriers to a cooler area whilst I went through the Customs hoops.
I was not permitted to see where they were moved to. However what I could see through their carrier doors was that they were soaking wet with water. The unloading had obviously thrown them about and the water in their water containers had spilled and soaked them and their bedding. I don't know how long they had been left like this. It was evident to me when I was able to free them, several hours later, due to Customs being so slow and disinterested in spite of all my documents being up to scratch that the cages had not been freshened up at all when they had been in Doha in transit.
The carriers had not been fouled and the wetness was not urine but nothing had been touched. I know as I meticulously prepared their carriers for travel. I had asked in Doha that they only fill the water carriers with a third of water in an attempt to prevent spillage as I have become wary of how these cargo companies load and off load live animals. Basically they don't give a damn. So much for beautifully articulated pet policies. Beware it is the cargo companies that these airlines use that need to be regulated.

On July 13th the nightmare started. The flight QR675 from Mal to Doha boarded all the passengers a bit later than the estimated departure time that should departure at 7:30 pm. After all the passengers were inside the plane, for around 1 hour nothing happened, no departure, nothing! Only the staff serving water because it was 30°C and no air or A/C were coming inside the plane! Then a lady felt bad because of the heat, so they had to follow all the procedures with her. To guarantee her safety and everything is fine, but the REAL problem wasn't her. They reset the computers 4 times and keep saying that because of the lady the flight was late, a huge lie. Took more than 4 hours to this plane departs. All the passengers including children waited in this terrible heat like hell.
When it finally arrived in Doha, I contact the staff at customer care, gate, etc. I had a hotel paid but it was no sense to go to the hotel when the connection was less than 4 hours. I tried really hard until I get the access to their lounge. That is not a big deal. Food is terrible and service worst. Also asked for all the staff the possibility to have an upgrade to business class and they all said that it was no way to get it without paying. For Qatar Airways luck I work with Luxury Tourism and this poor and terrible assistance will be share with all the market! I highly recommend Emirates Airlines. Service, staff, planes and generosity are much better! I wish I could post the video here where all the passengers are in a terrible position inside the plane waiting in 30°C for 4 hours!

Refused to let me on second leg of flight (I'm 37...) because I said I was nervous and heart was beating fast. Promised to get me back but didn't (passed health check in 5 minutes). Then said would put up in hotel and get me to final destination but didn't (8 hours in airport chair...). Then they gave me a new flight 21 hours later and told me I needed to book and pay for my final connecting flight myself. So I was over a day late and an extra $500 to buy my final connecting flight for a second time. Don't use Qatar.

They are resolving the issue and have reached out to me
Original Review
This is the 2nd time my bags were delayed within a 3-month period. After emailing them numerous times, I got a form which I filled in and sent back. I asked them to transfer the case to Philadelphia, which is my home base and turns out, that they need other forms filled. Philadelphia office claimed, that the form which I received from the South African office was incorrect. They pretty much is giving the runaround. All these forms were to get $75 since I flew business for that segment. They did not honor the rules regarding delayed baggage payment which they are required to pay. Do not fly with them. They do not leave enough time for connections, and the ground customer service sucks. You get shuttled like one would transfer cattle in Doha. I am oneworld Platinum member and have upgraded to business numerous times, but they really don't seem to care.

Customer Service is extremely rude. They are not familiar with their own policies, make decisions on their own, and are just plain rude to the customer. They talked to me as if I work for them or something, refused to refund me based on their own policies, and suddenly said "this is the last email you will receive from us," as if to say "go do whatever you want. We don't care," and they really don't care.

Told was late to check in so can't propose to fiancee. I was delayed by an hour due to a traffic accident and missed "economy" check in by 8 minutes. When I approached the agent she asked if I was business class, to which I replied no. I was then informed that I could not check in and that I must talk to the person at the ticket counter. When I did, I was informed that I must call Expedia to change my booking, which I did. Expedia told that the flight was nonrefundable, which I understood, so then I asked to speak with a Qatar agent directly.
This agent informed me that I must create an entirely new booking. I then asked if he would refund the taxes to my trip if no satisfactory conclusion could be made, to which he told me to contact Expedia in order to be refunded the taxes, as he could not. When I contacted Expedia, again, I was informed that they could not do this. I'm waiting for Expedia to call Qatar main office and return a response to me. I'm very frustrated as this has cost me a great deal of time and effort to plan this trip. If I cannot get a satisfactory conclusion I will be contacting the FAA and looking into what could be done.

I booked my tickets (13 members) on CheapOair.com and the airline was Qatar. After receiving the confirmation email I got a call from CheapOair customer service asking for my seats which I didn't choose at the time of booking. He said he could help me in the seat selection so the whole family can sit together. I was overjoyed to go ahead with him and while I was talking to him my father called me on the other phone and said that they are charging $14 and odd for each passenger seats. I was shocked and refused to do the seat selection with him. On my father's advice, I called Qatar Airways directly and madam Luz (customer service representative) was on the line and she helped me with no further questions and reserved our seats free of charge. I'm thankful to madam Luz for being helpful, patient and friendly in the seat reservation process. I highly recommend calling the airline directly if you book your tickets on other websites.

I was traveling from Chennai to LAX on March 25. My check-in bag was around 25KG, it exceeds 23kg allowed, but way the ground staff was interacted with me was so horrible. There was a guy named Mr. **, way he handled the situation was horrible. Even cabin baggage was also wanted show exact 10kg, after three or four trip back and forth removing lots of stuff, finally allowed. After done everything, there was a lady told me that I could check-in freely my hand luggage. Honestly I appreciate that but I could appreciate good enough because of the previous treatment. Please ground staff, don't think that you can treat like a ** when people flying in economy class. I would not fly Qatar again. It was a horrible experience.

I am writing this review because of what my brother experienced with Qatar airline in Houston March 31st 2017. Today is April 1st 2017, and I am writing this review with great pain because of the way he was treated. He was supposed to board this plane at 6:30pm CST on 3/31/2017 as his first connecting flight before he experiences 16 hrs layover time at each country he gets (A total of 32 hrs to get to Nigeria). At first I was upset telling him "How in the world would you spend 3 days to get to Nigeria when other airlines will get you to Lagos Nigeria from the USA in less than 24 hrs," his reply was "It is a 5 star airline".
After checking in at the Qatar check in station and paying $315.00 for extra luggage he was offloaded from the airplane by the supervisor on duty with his chief complaint of "You're not allowed to carry two carry-ons on this airplane." Everybody pleaded and begged him, even his own employees begged him, letting the so called supervisor know that my brother already paid more than enough for extra luggage and they can actually checked one of the carry-ons in if it's going to be an issue, but he bluntly refused saying it's either he pays another $250.00 in cash or he gets off the plane. Before my brother knew what was going on, the Supervisor on duty for that night escorted him off the plane and offloaded him. I had to drive for another hour fifteen minutes to go pick him back from the airport when I received a phone call from him saying he was offloaded.
To cut the long story short, they did not cancel his ticket like they promised and the money he paid for extra luggage is still hanging. This is the worst airline ever, majority of the customer service representatives are very nice, however some of them are just pure nonentities. This is a racist airline, and I wish there is a top notch for this airline I can contact directly. I felt that my brother was offloaded from this airline because of his skin color. There are other people with bigger carry-ons and some with even three carry-ons and the supervisor had no issue with them, but went straight to my brother after boarding the flight using the word "You in black, follow me. I think you sneaked into the plane". Are you for real? It is a very sad story. My brother is stuck here in the USA now, but this is a warning to everybody "Please do not fly Qatar Arline". It is a disgrace of an airline. If there is any other rating less than 1 maybe -10, I will gladly give this airline.

It was the most horrifying trip of my life: Journey started from Chicago to Doha and then to Islamabad, the aircraft was ok but fully loaded and no room to keep my hand bag. I was told that it will be offloaded because of no space in the cabin, I had my laptop, my medicine for the day and I just could not give it away. I had to take out my most important things in a bag and gave away my back pack. Islamabad weather was bad so the pilot decided to go to Lahore and wait there for a few an hour until the weather gets cleared, once we reached Lahore, the airline decided for passengers to disembark in Lahore and proceed to Islamabad by bus.
It is a road journey of not less than 8 hours and that also on Pakistan roads which does not have any services or rest areas, the motor way was also closed because of the weather and the journey had to be taken via secondary roads, all these the ground crew did not mentioned. In short, they said good bye at Lahore and all the passengers were really very upset especially few ladies who were alone. I had to help one lady all the way to Islamabad as she was very nervous traveling alone by road. I had a very bad experience as the road journey without food or water was really very tiresome. (8 hours).
The ground crew promised me to give me a flight to Islamabad but they vanished at the airport. No food no water no hotel no equivalent transport, only promises. Please note that the real test of any airline is under such extraordinary circumstances which makes an airline, it is not the aircraft or the inflight service, which is almost similar in all airlines of the world. I have rated them without any starts.

My luggage arrived 11 hrs after I did, thanks to my hotel who I informed and they worked their butts off at the airport to find and deliver my luggage. Nobody at the airport gave a damn and there were not any Qatar staff working there. I had to wear same clothes from the day before and go to my meeting scruffy due to luggage not arriving on time.
I got back to London and on 16th sent them a complaint, their response was "Someone at Abu Dhabi airport will contact you". By 21st Feb I didnt hear anything so emailed them again, they said the same thing again. After this they did not bother replying and its been 3-4 weeks now. I've been trying to get their Twitter team to do something about it for 11 days and the same reply is always "we have asked someone at Customer Care to get back to you, rest assured". Well rest assured my ass, nobody at customer care has bothered to get back to me. Don't charge premium money for flights if you can't be bothered to reply to emails.

I am absolutely disgusted with the way I have been treated by Qatar Airways and the shallow, heartless and incompetent manner with which my claim for compensation was handled and consequently denied. My flight to Manchester Airport (UK) was scheduled to arrive at 11:50, but as we were unable to land immediately, we circled around for 45 mins before being diverted to Glasgow. Initially, we were to fly back to Manchester at the next break in the weather, but spent the next two hours in taxi at Glasgow before being escorted into the airport.
By arriving at Glasgow just before 3pm, there was still 8 hours or so by which I may still have been able to use the last public transport service to get home. As it was, I was constantly fobbed off with lies, insulting excuses and misinformation as to why no action was being taken and why the stranded passengers were delayed for over 5 hours before being transported by coaches, which ultimately resulted in our arrival at Terminal 2, Manchester Airport long after all possible public transport services had stopped running. I was guaranteed, at least verbally, that the costs to get me home would be paid from Terminal 2, only I found the staff there to be of no further assistance when the coaches arrived, which was at nearly 1am.
At that point, a taxi home would have cost £40. In my consideration for Qatar Airways and my desire to not rack up such a fee for Qatar Airways, I travelled on a bus for £4 to Manchester city centre and then paid a taxi to get me home for £13.60. It is completely unacceptable, given the nature of the delay, that I will not be receiving any compensation for my travels, knowing fully well when I booked the ticket in order to arrive by noon, that even a huge delay of 10 hours would still enable me to use the public transport and only pay £3.
Other passengers were allowed to stay in a hotel. I could easily have accepted that arrangement knowing it would ultimately cost Qatar Airways even more money and I would have arrived at Terminal 2 well before 7pm the next day, therefore avoiding taxi fees and having spent the night in comfort and warmth and having been well fed and rested. As it was, I was stood up for 5 hours, shivering in a cold airport, having become used to tropical weather for the past four weeks. While the clothes I was wearing would normally be sufficient for winter wear, on this occasion due to my tired and weakened state, they weren't able to provide enough warmth, and all that time stood up in cold discomfort caused severe pain to my hamstrings and gluteus maximus due to having spent most of the past two days being cramped up whilst travelling.
It was not my idea to be stood waiting for 5 hours: I was reassured that the coaches were waiting outside. Then I was told only one coach had turned up so far. Then I was told that the coaches were yet to arrive. Then I was told that passengers in no rush to get home were being offered to stay overnight in a hotel. Then I was told that as only one coach had arrived, it was necessary to prioritise the available space for families with small children first.
Finally, I was assured that the rest of the journey from Manchester Airport Terminal 2 would be covered by taxi, and some of us even arranged ourselves into localised groups to help keep the cost down. Unfortunately for me, the group I was with changed their plans on arrival at Terminal 2, insisting on catching a taxi individually due to there being no further help from the staff once we had arrived at the airport, and so I wasn't willing to pay half the fee for a £40 taxi home with one other passenger. I was accommodating and changed my seat so a family could all be together, and this was not at great convenience to me.
I was considerate to the fees involved in transporting the stranded passengers home and despite demonstrating such reasonable behaviour, I haven't even been offered the compensation to cover the taxi fare home. Once again, I can only express utter disgust for the way I've been treated. At least the rivals of Qatar Airways will have benefited from the fact that I do not intend to use this appallingly inhumane service again considering the vile treatment I have been subjected to.

On November 25th 2016 I logged on to Expedia and I booked a trip for my wife and mother-in-law to go to Thailand and Laos. My mother-in-law was born there and has not made a visit back in 11 years. For my wife (though we are VERY active travelers) it was going to be her first time she made the trip to that part of the world and had the opportunity to meet her grandmother and extended family still in Asia and spread her long deceased fathers' ashes in his homeland. Every day I would come in from the office and she would have a new street food she wanted to try or a temple to see, some incredible beach or a long-lost cousin who was reaching out on Facebook in anticipation of her arrival. Needless to say the trip was a big deal.
They were to leave our hometown of Montreal on Saturday January 7th 2017 at 3:50PM and were scheduled for a 4 hour layover in Boston and an 8 hour layover in Doha before arriving in Bangkok to spend the night then catching the morning flight to Laos. We paid 150-200 extra per ticket specifically so my wife could fly Qatar Airways since it was supposed to be a 5 star experience.
The night before they were to leave we received an email from Air Canada stating that her flight from Montreal to Boston had been cancelled. We called the customer service number in the email and the gentlemen on the line said he had set her up to get to Boston through Toronto. At 11AM on Saturday January 7th 2017 Montreal time I kissed my wife before she left for the airport. I am writing this letter at 2:30AM Wednesday January 11th 2017 Montreal time and my wife has just landed in Thailand.
When she left our house in downtown Montreal she arrived to the airport and walked up to the Air Canada desk. They did not have her or her mother in the system to get on any flight. She explained the situation to the person working the desk and they were able to get them on a flight to Toronto departing at 1PM. When they arrived in Toronto she was not in the system for a flight to Boston. Expedia and Air Canada both did not have a solution for that day. They were stuck in Toronto for the night. We paid for meals for two, a hotel room and transportation to and from the airport. Nobody offered a hotel voucher or meal voucher and they denied her when she asked.
The next morning they arrived at the airport for 6:30AM and waited and waited and talked and pleaded. Finally, she was told by Air Canada they were able to get her to Bangkok by flying her to Beijing. The time came she wasn't in the system despite being given a reference number. We were told Qatar Airways would not release the funds so she couldn't get on the plane. Eventually they were given a paper saying confirmed booking and sent to Boston that afternoon to catch the same 8:40PM flight with Qatar Airways they were supposed to be on the day before.
When they arrived in Boston they were in the system but the tickets had been cancelled and it was the only flight of the day and the flight was sold out. They were stuck in Boston for the night. So once again we paid for a hotel room and transportation to and from the airport. Nobody offered a hotel voucher or meal voucher. They didn't eat that night, the hotel did not have room service and the surrounding area was too sketchy to go outside.
The next day they came to the airport bright and early and once again tried to get to their destination any way they could, we called Expedia, attempted to get through to Qatar Airways but did not get anyone on the line. We were eventually told they were confirmed for the 8:40PM flight on Qatar Airways from Boston to Doha. She tries throughout the day to check in but is unable. We speak to customer service at Expedia and they say it is now out of their hands the airline has taken over the file.
When the time comes for everyone to go to the gate my wife walks up and asks about she and her mothers situation and guess what? They tell her she is not in the system. My wife is now in tears on the counter ashamed to explain the situation again to her mother who is being dragged around on the few yearly vacation days she has. They finally bring her over a supervisor. Magically seats become available. They get their boarding passes and then get told the flight is delayed and another plane boards ahead of them. They wait around an hour before they finally board.
They arrive in Doha and have a long layover. When they finally board the plane is once again delayed before departure. In the desert. At this point I call back Expedia to change the tickets for the portion of the trip going from Bangkok to Laos as they clearly have now missed their flight by days. As I found out the previous times I called Expedia to change the tickets when they were initially stuck. Expedia.ca customer service will tell you they have no way of helping you regarding anything involving Expedia.th and Expedia.th doesn't answer the phone or email. Luckily the first time we were able get through via Expedia Taiwan. How much does a call to Taiwan cost? Unfortunately I'm going to be finding out when the bill comes in. This time around fortunately we were able to get the new tickets through an agent at Expedia.ca corporate office. The only problem is now the tickets were 140.00$ more.
This entire situation is unacceptable and ridiculous. There was no Air Canada ticket counter in Boston and no Qatar Airways ticket counter in Toronto. They had to take every employees word for it. Even with something that looked like a booking reference number which didn't exist in your system when it came time to get on a plane.
I own one of the busiest bars in Montreal for the past 7 years. As a very high volume business myself we try to do our best to leave all of our customers happy and it doesn't always work out as much as we would like it to. As a high volume business in this case you failed my wife, her mother and honestly your customer service team leave a lot to be desired. It's not acceptable. We paid extra to book with Qatar airlines because it's supposed to be a 5 star experience but when I spoke to your customer service representative they told me they cannot help.
I want a refund of every dollar I spent on the trip itself and for all the extra expenses incurred surrounding this disaster of a situation. This all could have been avoided by simply releasing the funds so they could have gotten on the flight through Beijing days ago. You cannot sell a seat you do not actually have. It shows a severe lack of respect for your customer and it shows greed from a government owned company. Shame on you.

On the day that I was flying out I arrived at the airport at the time. The ticket counter asked me to pay 65$ for overweight (32 kg) package which the weight for my another package was (17kg). I paid the money and ticket counter asked me if I have a backpack. I said yes. She handled the boarding pass to me wishing me a nice trip. Everything was normal till I passed the TSA and arrived at my gate. One of the crew said "you backpack exceeded the allowance weight so take some stuff out or pay 250$" (25% of the ticket price that's unbelievable right?). I spoke with a supervisor, but he was worse. He said to me "leave the whole backpack or pay". When I tried to explain to him there nobody here that I can give him the stuff he replied "We not going to lose 250$" and I opened my backpack and I told the supervisor I can give or throw some of the candies but he said "even if you did you have to pay or leave everything."
Qatar airways crew was Rough, unprofessional and inhumanity. I can't forget the pregnant lady with the problem like mine. She laid on the ground pleading the manager to let her catch the flight. He was saying too late and ordered the supervisor to close the gate in the front of us. Can anyone imagine that. Then the manager order one, get us our baggage and he promised to rebook for the next flight. After we took our luggage from the arrival we met him and he said to us "you got your ticket through the agency, solve your problem with them. We have nothing do for you."
Finally, I sent my story to the complaints departments. They replied "there was difference 3kg in your and you refused to pay or to take some stuff out". Which is totally wrong. Even though IF they said in the email was true, there no sense to pay 250$ for the 3kg difference or to miss your flight and to lose over 1000$ tickets.

During my check in Luxor Airport, the Qatar airways officer his name Mr. Shereif ** stop me from travel to Korea as a tourist for 28 months without any security reasons or any other clear reasons. I reserved roundtrip ticket. Also, I booked a hotel in Korea for 28 days. As Egyptian, I do not need a visa for travel Korea within 30 days. My older brother has the plan to wait me in Incheon airport -Seoul and he already reserved KTX train ticket from Ulsan city to Incheon airport. My brother works as assistant Professor in Ulsan University and he sent me photocopies from invitation letter and his passport and residence ID card. The Qatar airways officer Mr. Sherif ** reject all of those submitted documents and he told me, "by your face, I do not agree to allow you for travel to Korea."
Please, let me know, Qatar airways decide people for travel according to their faces. Please, I already went to the police office in Luxor and I complain against Mr. Shereif only now. I lost my money, my chance for visiting my brother, and my hotel reservation and my visiting chance to Korea. Please, let me know, the procedures I should start to take against the officer and Qatar airways company?

Lost my laptop. I flew from Doha to Dallas on January 19, this is my first and last travel with Qatar. They dropped my laptop with my luggage and it's more than a week now and still didn't get my laptop. Never ever fly with Qatar Airways anymore.

I traveled from Houston to Dubai via Doha, which is a long flight. The Qatar Airways has 777 aircraft and the seating arrangement is 3x3. The biggest problem is that you cannot lift the seat armrest, and the seats are very narrow and the space in between your seat and front seat is very little, and not enough to move, so you have to sit tight throughout the flight. The biggest and worst problem is that it is very difficult to go to aisle. The armrest on aisle seat cannot be lifted and it is very hard to stand and move to aisle. Hopefully I shall never travel on this airline again, as these aircrafts are totally unsuitable for such a long haul flights.

We had a horrible experience with Qatar Airways and I believe your business practices involve false advertising and scamming, and I intend to not only take legal action (hopefully a class action lawsuit so that other victims of this scam also get compensated), but also make sure there will no longer be a partnership between Qatar Airways and Expedia or Priceline. False advertising is illegal in the United States, and it's a bad business practice.
I looked up the conditions of flights and layovers on Qatar Airways website before confirming the purchase of the flight through Expedia. I called Qatar Airways about a week later to confirm the hotel booking, and I was told to that we do not qualify for the free transfer stay at the hotel because there was an earlier connection available. However, this is incorrect because there is no earlier connection available from when we got here. We found that out at the transfer desk when we had stood in the long line and in good faith expected them to correct that mistake. However, we were told that they are not capable of fixing the mistake, and we were told that we can do it at the hotel desk. At the hotel desk we were told that they were not capable of fixing that and we could just pay $350 for the room, or pay $120 for the transfer visas and another $200 or so for some random hotel in the city, and that the hotel desk never issues hotel vouchers.
We were sent to a third customer service desk. From there we were being sent back to another transfer desk, and because we were tired of being pushed around with all our luggage, we asked the Ms ** from the customer service desk to call the transfer desk to confirm the name of the supervisor we were going to be talking with. However, the supervisor REFUSED TO GIVE US HIS NAME (We later found out that the supervisor who refused to give us his name is Mr **). We went back through the security with all our bags and had to explain the whole story not once but twice to different people when we were just asking to talk to the supervisor.
The last person we talked to gave us a different excuse for why they were avoiding honoring their responsibility to provide us with transfer accommodation - he said we received a special fare for the ticket. However, on Expedia website there was NO indication that this was a special fare, so there was literally no way for us to find out that we either had to pay $350 out of pocket for the hotel, or else be stuck for 20 hours in the airport like homeless people. This is completely unacceptable and a shame to Qatar Airways. We have NEVER come across this issue during long layovers, not with Emirates, not with Turkish Airlines, not with any other company, and we travel a lot.
We were eventually sent to a hotel which we had to pay for, but Qatar Airlines said that the breakfast was included. Not so - they were trying to charge us $20 for a bagel we grabbed on our way out after not receiving a wake up call that we had set up with the hotel. The back and forth with the customer service was a completely useless waste of time as well. Talking to these people and being sent from one counter to the next took literally HOURS, we were exhausted and the people were rude. Our friends flying Emirates encountered none of these problems, their hotel was included as well as all the meals, and they had a blast. I really hope Priceline and Expedia will stop working with those scam artists.

I flew to India and return. Our baggage got lost after we checked it in Mumbai airport. It has been gone a week now with no feedback. We have called several times to the baggage department in Capetown, who tells us every day the same story that they will call us back because a flight has just landed but they never do. Then you contact Qatar airways. They don't answer your calls. Our luggage is important to us but Qatar airways does not understand. We used their airline but they need to take care of the customers and losing our baggage after checkin should be solved and they should make priority to inform the client what is happening. I'm totally disgusted, and need to get my luggage back.

There were a number of problems with my first (also the last) flight with Qatar Airways on June 1, 2016. I purchased the tickets online on a debut flight from Atlanta to Doha to Tehran. There were a number of problems with that flight which I am itemizing for the sake of being succinct and efficient: More than three hours delay in departure time from Atlanta to Doha. In-flight food was ordinary.
Due to late arrival at Doha, we had to go through a long line for border customs to exit the airport in order to check in to our hotel. The customs officer called a passenger from the end of the line to the front to process his entry permit. Upon my protest for unfair treatment of passengers waiting for their turns, I was summoned by the head border officer who told me that I had shouted at the officer. He indicated that it was against the law and I was denied exiting the airport which meant that I had to stay in the transit area overnight.
On my return flight from Doha to Atlanta, I was told that I could not take my carry-on to the cabin due to limited space. I agreed, however, I monitored other passengers' carry-on allowance from the waiting area. To my surprise, there was not a similar restriction for the carry-ons of other passengers in my flight. When I protested the procedure, they agreed that I could take my carry-on with me!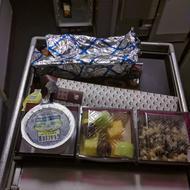 I flew Qatar airways a month ago. I was confirmed kosher meal by email, then when I got the gate to check-in I asked the crew if I was confirmed kosher meal and if they can call into the airplane to confirm. They said it's confirmed kosher meal as well as it stated on my boarding pass. Fast forward to dinner I asked for my kosher meal, but the crew member named Rohini told me they will check. They returned and told me there is no kosher meals on board and that they apologise. Keeping kosher doesn't give me any other alternatives to eat something else but whole fruits. Twenty minutes later the same crew member Rohini tells me that they found my kosher meal and they gave it to me. But something didn't seem right. The meal was open and kosher meals are double wrapped. So I asked about it and they told me it's kosher and they broke the seal but it's kosher.
To be honest it did look kosher a little since the hot meal seemed wrapped like a kosher meal but when I looked further I saw they mixed two different non-kosher meals and told me it was kosher. When I called the manager of the economy class named Imana she told me that in fact the food wasn't kosher but this she told me after I pressed her. She asked me what can she do to compensate me. But when I asked for anything or even a company form they told me they don't submit such things and I need to file a complaint online. They also told me that this is serious case and they told me to wait after all the passenger side left so they can see what to do to compensate me. And so I waited after everyone left. And someone named Pay took me from one manager to the next. All told me they can't do anything.
Even the manager of Qatar said they can't do anything (no money or business upgrades. At first Jaboc told me he will do what he can to put me on business class then he told me he can't though he is the supervisor of all the aircraft. He is a duty Manager. When I returned I wanted to speak to someone from Qatar but they told me they have no phone line and only request form. I filled it to no reply. Only after PM on Facebook did they finally reply by email. Stating that they didn't have kosher food. (That was a 14 hour stop and 4 hour stopover. I went over 18 hours with no food!!) And that I requested that nonkosher chicken casserole which that is a lie since it is forbidden for me to eat nonkosher. It is similar as to Muslim that eats halal and gets served pork instead and they tell him it's halal. I was lied and discriminated. I asked them more questions and see if they can compensate but no response.

I know I am writing this review bit late, but wanted to at least do it so that other people can be aware. I took a flight on 26 Feb 2016 with my 2 and half year old kids on a flight from DFW. I ignored some small incidents but could not ignore following: They simply denied any meal for my kid - after everybody was served their meal, I asked attendant about my kids meal and she simply said that my kid don't have any meal.
When asked why, she brought a list, went through it and said "your kid is not entitled for any meal." I was so shocked and puzzled. I was thinking - my kid will go without food for 14-15 hours!! I had to argue with her saying that I paid full child price for my kid, show her our boarding pass to prove that my kid should get meal like everybody else in this flight. After some delay, they gave her food. But I was still feeling so bad that everybody around is looking/listening at me, when cabin crew is saying my kid don't get any meal and I am asking them for one.
After 3 hours delay in Doha for our onward flight there was another incident that disappoints me. I saw kids sitting around us were given kids activity kit but not my kid. I had to ask. Attendant said she will see but nothing till end of the flight. I had to write to their customer service once I came back. Here is the chain of event with them for everybody to judge. This is the worst part.
Complained through their website on 21st of March 2016 and got an automated response with a case number. On 31st of Mar, I wrote them again saying that their website says I should get a response within 5 business days but even after 10 days I don't have any response. On 1st April I got an email from customer care coordinator Joanna ** saying that they are still working on my case will response soon.
On 11th Apr same coordinator replied. Her response made me angry. I was thinking - really this is what your response is!! Do you not understand what my comments were!! Here is her reply in brief: That their cabin crew do not have any record of what I complained, that there were no request for CHILD meal, no comment about kids activity kit that other kids got.
I replied her back immediately saying: "I am not talking about child meal. I know child meal was not requested." They just refused A MEAL for my kid. "You also fail to response about the activities that was given to other kids but not to my kid." When you say - "our staffs were not aware of the issue you described in your email," does it mean this matter never happened and I am just making up something to waste time?
Anybody can understand why should cabin crew record such an incident that is not supposed to happen? On 6th of May she replied my email saying that they apologize for the inconvenience. She also said they hope we will fly with them again. Really? You screwed up with me and my kid and hope that I will let you do that again!! I am not going to give you that chance when I have options. This airline claim to be a five star airline and that's what they advertise. I will give them negative 5 if I can. FYI, I just booked my next trip for March 2017 with my whole family. I paid about $50.00 higher per ticket with another airline.

When we got in touch with Doha airport security as well Qatar airways security. They promptly acted and restored our baggage presumed to be lost in Doha-Houston flt QR713 on 10th Dec'16. Everything intact and we are very happy at the end.

On November 21st my Ahmad ** flew from Melbourne airport to Doha via Qatar airways and during his flight to reach Beirut Lebanon, customs removed a so called dangerous item from his baggage. It's an ice maker that costs $200 and I have called multiple number multiple times and they argue with me and say they don't understand. I'm ** disgusted with their service and will NEVER fly Qatar airways again. NO ONE replied to my 100 emails and they're all useless dogs that steal people's things and never return them. ** YOU QATAR AIRWAYS.

After several attempts to contact Qatar Airways in order to resolve issue of my destroyed luggage, I was brushed off and treated as if I was asking for charity. This is not a one-time thing, I have had to replace 3 luggage within 2 years of flying Qatar Airways due to the mistreatment of the luggage. I decided to post this review hoping someone from Qatar Airways have a better over watch on their baggage processing and when luggage is damaged, to honor their ticket agreement with their customers. The luggage in the pictures were brand new. I have flown with other airlines and never had such an issue. Every flight I had with Qatar Airways, my luggage gets badly damaged and they don't even care. As soon as I use up my miles, I will never fly again with them.
Qatar Airways Company Profile
Company Name:

Qatar Airways

Website:

http://www.qatarairways.com/