Consumer Complaints and Reviews

On November 21st my Ahmad ** flew from Melbourne airport to Doha via Qatar airways and during his flight to reach Beirut Lebanon, customs removed a so called dangerous item from his baggage. It's an ice maker that costs $200 and I have called multiple number multiple times and they argue with me and say they don't understand. I'm ** disgusted with their service and will NEVER fly Qatar airways again. NO ONE replied to my 100 emails and they're all useless dogs that steal people's things and never return them. ** YOU QATAR AIRWAYS.

After several attempts to contact Qatar Airways in order to resolve issue of my destroyed luggage, I was brushed off and treated as if I was asking for charity. This is not a one-time thing, I have had to replace 3 luggage within 2 years of flying Qatar Airways due to the mistreatment of the luggage. I decided to post this review hoping someone from Qatar Airways have a better over watch on their baggage processing and when luggage is damaged, to honor their ticket agreement with their customers. The luggage in the pictures were brand new. I have flown with other airlines and never had such an issue. Every flight I had with Qatar Airways, my luggage gets badly damaged and they don't even care. As soon as I use up my miles, I will never fly again with them.

I traveled in Qatar Airways to India and returned back USA on August 27th. One of the checked in luggage got damaged. Luggage was cut and missing some items in the bag. Complained to Qatar Airways right away at the airport. Submitted written complaint and also pictures were taken, no one responded after that. Emails submitted to authority. No response until now.

There was an incident where my parents had to suffer through another airlines. I have contacted Qatar Airways executives thinking it was the other airlines. I just wanted to Thanks Qatar Airways that they responded it especially executive e-mail me within a day even though issue was not with their Airlines and willing to sort it out. If you have executives like this the company will go far up. I hope they keep this kind of services and just wanted to give them positive reviews because their executives deserves it.

On the 15 October 2015 on my way back to Kingdom of Saudi Arabia. I have arrived at OR Tambo Airport at 13:12 to the check-in counter but I was told that I am late. The check-in time is closed 2 minutes ago (13:10) by the controller Mr. **. I had to buy a new ticket. During boarding one of the staff told me that is very sorry about what happened to me. They accommodated their own people (Family Members) on my space. All I want from the Qatar Airline to tell me if it's fair.
How do I know I can trust these reviews about Qatar Airways?
639,780 reviews on ConsumerAffairs are verified.
We require contact information to ensure our reviewers are real.
We use intelligent software that helps us maintain the integrity of reviews.
Our moderators read all reviews to verify quality and helpfulness.
For more information about reviews on ConsumerAffairs.com please visit our FAQ.

While I was paying a standby reservation I am entering my credit card information but meanwhile I was checking on the other page if there is any discount on any flight, and without entering any credit card information for the second one (the flight) the application of Qatar Airways is putting a blockage on my credit card for the second one that I look.
And then the Qatar Airways has emailed to me that "There is some disorder (complexity). Please correct your first reservation in 24 hours." And I said well fine. After all they send me a new priced flight ticket but which is not from the price that I already booked which is the one I was looking from the other one's price. Even the price does not shown up on Qatar Airways booking page and nobody knows that why my money has been blocked.
I am trying to call Customer Relations and Credit Card Payment Center but nobody is trying to find out my problem. I got tired of this situation. I only wanted to buy a ticket from 550 US dollar but they charge me with somehow blockage, only was checking some other flight for 100 dollar more. Please be careful while making any reservation with Qatar Airways. You can not even understand somehow they charged you from any reservation and can put blockage the reservation you made. Now I am trying to reach Customer Relations and try them to look my situation. I have all the receipts and timelines for reservation and I am telling someone from Qatar Airways, "Please find a resolution for my situation and pay back my money which is blocked unfairly from you."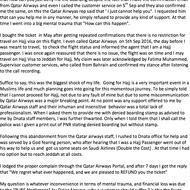 I would like to share the worst airline experience with Qatar Airways. The story goes like that on 6 Sept. 2016 at Dubai International Airport. When I reached Qatar Airways Counter along with my wife and old mother for travel to Jeddah Saudi Arabia, for the purpose of Hajj. The person on duty printed my boarding passes and tagged my luggage then all of a sudden, I was approached by Qatar Airways Rep, who informed me that the last day to travel for Hajj was 5th Sept. and that I could therefore no longer proceed to Jeddah for my Hajj. This came a bombshell on me that you prepared for this journey for months and all of sudden someone tells you that you just cannot GO.
This information was a shock and I immediately told the gentleman that "how can you just deny me the boarding despite the fact that I have the confirmation email from Qatar Airways and even I called the customer service on 5th Sept. and they also confirmed me the same." On this the Qatar Airways rep said that "I just cannot help you." I requested him that "can you help me in any manner," he simply refused to provide any kind of support. At that time I went into a big mental trauma that How can this happen.
I bought the ticket in May after getting repeated confirmations that there is no restriction for travel on Hajj visa on this flight. I even called Qatar Airways on 5th Sept. 2016, the day before I was meant to travel, to check the flight status and informed the agent that I am a Hajj passenger. I was once again reassured that there is no issue, the flight was on time and I may travel on Hajj Visa to Jeddah for Hajj. My claim was later acknowledged by Fatima **, Supervisor customer services, who called from Bahrain and confirmed my stance after listening to the call recording.
Suffice to say, this was the biggest shock of my life. Going for Hajj is a very important event in a Muslim's life and much planning goes into going for this momentous journey. To be simply told that I cannot proceed for Hajj, not due to any fault of mine but due to some miscommunication by Qatar Airways was a major breaking point. At no point was any support offered to me by Qatar Airways staff and their inhuman and insensitive behavior was a total lack of professionalism. When I asked them to provide me with denied boarding stamp as advised to me by Dnata staff members, I was further thwarted. Only when I told them that I shall call the police was I given a print out of PNR stating denied boarding but without stamp.
Following this abandonment from the Qatar Airways staff, I rushed to Dnata office for help and was served by a God-fearing person, who after hearing that I was a Hajj Passenger went out of his way to help us and got us some seats on Saudi Airlines (Double the Cost). At that time I had no option but to reach Jeddah at all costs. I lodged the proper complaint through the Qatar Airways Portal, and after 7 days I got the reply that "We regret whatever happened, and we are pleased to REFUND you the ticket." My question is whatever inconvenience in terms of mental trauma, and financial loss was due to the PURE Negligence by Qatar Airways, why a customer should suffer? Is this the favor they are doing by REFUNDING the ticket after denying the boarding due to their OWN FAULT?

I had high expectations for Qatar Airways, thus why I flew with this airlines to Eritrea. However, flying with them has been the worst experience ever for several reasons. Firstly, on my return journey to Munich I checked in person in the Qatar Airways office in Asmara 2 days before my flight. Once I checked in I was informed by the Qatar Airways staff that my flight was departing on time, little did I know that they were lying. Later that night, a couple of my friends, who were scheduled to fly with Qatar Airways too, their flight was delayed by 9 hours. So they were stuck in the airport for a minimum of 12 hours. They missed their connecting flights, missing commitments in their home country. Therefore, I went back into the office the following day to query about my flight, since my flight was scheduled to fly the following morning.
I asked a senior staff member if the flight was delayed, and they said yes it will be delayed due to bad weather. However, on this day and over the last number of days. The skies were clear. After discussing the issue for at least 1-2 h, Mr. Ahmed **, the Qatar Airways Commercial Manager for the Asmara Qatar-airways office, informed me that Qatar Airways has been rescheduled all its flights by 9 hours for the last 2 weeks. How is this possible?! Firstly they didn't disclose this information to those of us flying with Qatar airlines and were deceivingly asking us to arrive at the airport at 2am to wait within the airport premises for 10+ hours and secondly I was going to miss my connecting flight to Munich, and my connecting flight from Munich to London, which I booked through a separate airline. Despite that flight time change, I had to be in London on time so that I can make it to work on time.
So I asked Mr. **, if I can get a direct flight to London instead of Munich and his response was "yes but we will have to charge you for this change." I was asked to pay circa $400 to change my flight for a delay that was clearly their fault. I couldn't afford it so I had no choice but to reach London a day late, spending 2 days of my annual leave flying with Qatar Airways, excluding the 4 hours I spent in their office. It took me a while to recover from this journey. Secondly, on my return journey to Munich they damaged both my checked in suitcases to the point that it became unusable.
I reported it to the lady personnel of Qatar airways. She filled in a case at Munich airport, and they said they were going to pick up my damaged suitcase from my home address. She noted every needed information down including name, address, damages, age of luggage, e-mail address and phone number. She informed me that Qatar Airways works with a third party company named dolfi1920 - baggage service. She also informed me to call after three days to organise a date. A collection date. When I called back a week later to organise this collection date. I was told that I have never opened a case. The lady did not provide me with a reference number and they couldn't find any case with my name, address or any other detail. The company informed me that I have to contact Qatar airways directly to open another case.
After this nightmare, I had absolutely no energy to call them to go through a lot of hassle again to prove that the suitcases were damaged by Qatar Airways. Furthermore, it is strange how this occurs only in Asmara. I have never faced this sort of problem anywhere else in the world. Can you imagine this situation occurring in Heathrow London? No I don't think so. Then is it fair to say that Qatar Airways is degrading its services to Eritreans, just because it is an African country. Qatar Airways is a disgrace. Shame on you Qatar airways. I would not recommend ANYONE to fly with Qatar Airways!

Upon recommendations from various quarters/friends and relatives about the excellent service commitments of your worthy airline, myself and my wife undertook our first journey aboard your flights QR 621/economy and QR3/economy on 3rd September 2016 LAHORE to London via Doha and regret to bring to your personal attention the horrific experience of this journey which we faced in our entire flying experience.
We had placed our hand luggage consisting of my briefcase and my wife's handbag in the overhead compartment on boarding our both flights. My briefcase and my wife's handbag contained Gbp 4000.00 each in Gbp 50 notes. Upon reaching our final destination (London) and upon getting to our apartment, we were astonished to discover that the entire £ 4000.00 from my briefcase were gone and 56 single usd bills were stuffed into the same envelope. Likewise £1900.00 were gone from my wife's handbag. None of the other contents were removed from the bags, only cash has been taken away. We can assure you that we never let our hand luggage/briefcase/handbag out of sight at time during the entire journey until we got home in London.
We strongly suspect that this theft has been committed very professionally by one or more of the cabin staff on board either of the flights. We still hold the envelopes and the 56 usd bills if you need the same to carry out your investigations. We sincerely hope and expect that you investigate this matter thoroughly and reimburse us our loss and also help retain our newly found respect and love for your esteemed airline. Looking forward to hear from you soon.

During flight from Doha to New York, while filling up my US Custom form, I made a mistake, so I thought better to get and fill a new form instead of overwriting. After my 5/6 failed attempts to get attention of any cabin crew by pressing call bell, I finally stopped a passing air-hostess and requested her for a new custom form. On my second reminder 15 minutes later, she turned up after almost 30 minutes with a funny but unbelievable excuse, "Sir we do not have any spare form in our plane, you better to get it at the airport". Obviously she was bluffing so I again asked her to search for some spare form or I would better talk to her supervisor. Then she moved away seemingly in a very angry mood. Then perhaps after half an hour later, she came on my seat with 5/6 forms in her hand. She threw these forms in my lap very angrily and walked away, without offering any excuse on what she had said earlier.
An American lady passenger sitting next to my seat got some minor bruise on her forearm. On her call, an air-hostess attended her very promptly. The lady asked for some particular ointment which was not available in the plane. From this point onward a parade of cabin crew started, member after member coming to her seat, consoling with the lady, offering all sort of excuses for not having her demanded medicine. (It was a good gesture that the lady was getting proper attention, but this should have been applicable to all other passengers.) I wished someone would have responded the same way on my call.
On my return flight from JFK Airport, the passenger (** man) sitting in my front seat reclined his seat fully, so much so that and I could not take my meal easily when it was served. Firstly, I requested the passenger to straighten up his seat which he did not. Then I requested the air-hostess but the passenger pretended to be sleeping. The air-hostess repeatedly said to me that she would not disturb the passenger, instead I should compromise which finally I had to do.
The same story was repeated during second meal serving. This time again the serving air-hostess showed her helplessness to ask the passenger to straighten up his seat. Yet another air-hostess, seemingly more loyal than the king type, jumped in and instead of resolving my problem, started blaming me for reclining my seat as well. But she had no answer when I told her that the passenger sitting behind me never had any complaint against my slightly reclined seat. Obviously, the air-hostesses never took into account my inconvenience, but they were taking care of the comfort of the chosen one.
Above incidences clearly indicate that Qatar Airways is a racist airline which treats its passengers on the basis of their race and region. Middle East, European and American passengers are on the top priority list of special treatment, while others in general, and those belonging to sub continent in particular, are subjected to worst kind of discrimination. I would not say that the cabin crew is incompetent, untrained and non-professional. The reality is, and I am pretty much sure that its cabin crew is trained to toe this racial policy in spirit and letter in the flights.
During my 35+ years flying with local, other Middle East, and European Airlines, I have never experienced such a discriminatory behaviour. Based on my this worst experience, I would advise the would-be passengers belonging to subcontinent, to think twice before traveling in this airline. Spending a few dollars more on some decent airline are worth, where they would be treated at par with other fellow passengers, instead of becoming victim of discrimination.

I purchased a ticket via Qatar Airways website, the booking info said the ticket was refundable. After I purchased ticket it then had a link saying that the ticket was not refundable. I called an Qatar Air agent, asked if the ticket was refundable and was told that yes the ticket was refundable and then when I tried to refund ticket I was told it was not.

I recently purchased a flight to New York from Dubai with Qatar airways. The flight had a stopover in Doha however on my 'manage a booking' page and every other piece of correspondence received, it was treated as one flight. This is standard when booking flights with a stopover. They will show up as one booking not two separate bookings.
I received an email with an offer to upgrade my trip which I took. Once I had made payment I tried to select my seats to find that only the flight between Dubai and Doha had been upgraded. I realised that I had been mistaken and that the upgrade was not what I expected and I did not want it for just the first part of the journey. It did not offer good value at all. I called Qatar airlines and explained the situation in which I was told a request for a refund would be made and I would receive a call the next day to confirm. I received no call the next day, or the day after and called my self on a couple of occasions. On the third day I received a call saying they had denied my refund because of their terms and conditions.
My opinion was that if I request had been made then obviously a refund was possible and why were they punishing a customer who had been confused by the offering. I had made the call 10 minutes after the booking, not weeks later, so there had obviously been a misunderstanding. I had asked to speak to a more senior member of staff - a request that was refused. I was also denied the request of being transferred to another department and in the end the agent hung the phone up on me. This was 100% on purpose and if there was any doubt whatsoever it was confirmed by the fact then when I tried to call her back on the direct number she had called me from, she cancelled my call without picking up. This happened after a few rings and on 4 separate occasions. She obviously did not want to deal with me and decided this was the best course of action.
After this I sent a complaint outlining all of the above, and stating that if they cannot refund me the money can we discuss a compromise such as credit towards other Qatar airways flights, or even a discount on the upgrade to New York in which I thought I was purchasing originally. I stated that upgrading a flight to Doha from Dubai, which is little over 45 minutes, was not something I wanted for such a high price. I even sent a screenshot of my booking which just stand Dubai to New York as one booking and no mention of the stop-over to show how I was easily confused by the offer. Also that the behaviour of the customer services officer was completely unprofessional and shameful from a Qatar airways point of view.
The response was to ignore anything about their customer service officer and to once again illustrate no refund or compromise will be issued for the upgrade. I then replied once again, this time including the email address of their Chief Executive in the email, to once again a few days later ignoring completely the behaviour and conduct of their employee and only stating no refund would be made. I then sent an email only mentioning the conduct of their customer service employee and this has so far been ignored completely.
I really am at a loss to why an airline of such reputation would act in such a manner but I will not be flying with them ever again and recommend that others follow suit. If I compare this customer service to Emirates, Etihad, Virgin Atlantic and even British Airways (who I think are pretty poor) - the airlines I fly mostly with - there is no companion. These are by far the worst and I am at a loss to how they are rated so highly. Give your money to another airline!

File Reference number: **. This is regarding the loss of my baggage and the subsequent experience while traveling through Qatar airways from Mumbai to Chicago. I traveled with my parents on 25th May 2016 on flight QR557 reaching Doha from where we traveled via flight QR725 to reach Chicago. Between the three of us, we had six suitcases, all of which were under the required weight. On reaching Chicago, we found out that two of our six suitcases (Tags 343704 and 343700) were missing and we were told to file a complaint at the Qatar Airways airline counter. The staff at the counter told us that we'd have a definite answer with regards to the status of our bags by 9 pm that very night. Three days passed without any call or details of our bags. The Qatar airways helpline number provided was useless as no one answered the phone no matter what time we called.
Around four days after we filed the complaint we received an email saying that a complaint had been logged. Even then there was no reply when asked about what has happened to our bags. Finally, tired from the lack of response through email and otherwise, we visited the airport (O'Hare) to speak to the staff in person. I'll add that the Qatar airways staff there was only available if there was a flight arriving or departing any time soon. At other times we were told to wait for someone to turn up at the counter. when that would be was anyone's guess. At the airport I asked to meet the manager of Qatar airways and was told that the system was unable to trace our bags. The staff was in fact unable to trace exactly where our bags went missing. I was also told that the case was being handed over to a private tracing company and the process would take at least another three days.
Memorial day weekend followed and another four days passed and again I had to go the airport and speak personally to the staff to find out that the tracing company too had been unable to locate our bags and they were now officially being considered as lost. My last resort now was to file a claim for compensation. We filed a claim and gave details to the best of our ability about the contents of those bags and their worth. This claim was filed on 5th June and we travelled back to India on 7th June. On 14th June I received a mail from the airlines asking me to file a claim. I can't help but ask the question: How slow and uncoordinated is your system that despite having filed the claim and submitting it in person to the manager himself, we are asked to repeat the process again.
It is the 13th of July today and we have still not received any compensation at all. CRITICAL POINTS: My family had visited Chicago to attend a wedding. The lost bags contained wedding clothes (all designer wear), footwear as well as casual clothing for me, my mother and my sister (who came via Emirates airlines the same day). We were forced out of necessity to buy new casual clothes, shoes etc. The wedding in question being an Indian wedding, we had no ethnic wedding clothes to wear and buying new Indian dresses in Chicago was out of question as we needed close to eleven wedding dresses between the three of us and the cost of dresses in Chicago was very high. We had a tough time getting any clothes good enough to attend each event and even had to miss some events because of the lack of proper attire.
The worth of all the clothes, shoes, personal items and other necessities in those two bags combined came to over 482,000 Indian rupees. The manager Sandeep at Chicago O'Hare airport was rude and unhelpful. When we mentioned that we are in USA for a wedding and we needed the clothes in the bag, his response was - "You are visiting USA and crying for clothes?!" He also asked us to go buy dresses from Devon (an area in Chicago that sells really expensive Indian wear) if it was that urgent. When we wanted to know the reason our bags were lost and what exactly went wrong, his response was - "This is normal in Chicago. Even CEOs lose their bags here". He seemed very amused by the entire situation.
On top of that he expected us to have the bills and receipts of all our stuff in the bags (which was purchased in India) as if we should have expected our bags to be irrevocably lost. His attitude about the problem conveyed that this was very normal for Chicago and Qatar airways and we were supposed to passively accept it and not complain about it. He was absolutely not interested in our case and seemed not to care at all that the passengers had a problem. When we discovered that we had lost two bags, we thought this was the worst thing to happen to us on the trip. We later realized that it was just the starting of our troubles. In addition to having no clothes, shoes and miscellaneous necessary items, we faced great pains with the Qatar airways staff and the experience is far from over with no information of our claim compensation so far.
The entire trip which was supposed to be an exciting and fun filled vacation turned out to be nightmare. I and my family have been travelling around the globe since 35 years and never before have we encountered such carelessness and apathy by any other airlines. I would ask all travelers, especially those travelling to Chicago, to avoid Qatar airways if they value their baggage and want a trouble free experience. Our last request after this horrible ordeal is that we should be compensated properly and at the earliest.

Terrible services if you need redeem your miles. You can't go through internet. You have to call the assistance and then they look for you day by day, and guess what? They never have the date you need it! Well after all, I got the ticket that I bought to my mom, and paid for the other connection but I lost it, because they never explained that I had 48 hours to pay the taxes. Instead I received an email with my book confirmation, the itinerary and everything, (I was sure this was the ticket) and other email saying: "Your request for award booking was processed. You can call us at your best convenience to pay for taxes".
So I called 10 days before to ask how to pay the taxes, and what was my surprised and disappointment, when they said to me that I've lost my ticket and the date was not available anymore. We call the supervisor "Fabiola" from Qatar USA, and she didn't solved nothing to us, neither could find a new date for travel, just say "sorry" and "goodbye". I am gold member and my husband platinum. Is very disappointing to realize the company doesn't care when you need to redeem your miles. I felt like an idiot to trust and the Qatar miles system, they just very disrespectful. I have other cases with happened with us that show they really don't care their clients.

I had a flight booked at the end of March but due to a delayed Visa I was not able to make it – my problem, my loss. I called to schedule another flight and was told it would be an additional $337. As I already lost the money attributed to the original ticket, I got very upset and complained to the customer service rep. He wasn't helpful so I asked to speak to a manager. He told me to hold and came back saying, "Great news Ms. **. I was able to get this waived." I thanked him profusely and kept him on the line as I drove to the airport. At the Qatar counter in the airport (IAD), I encountered a rude fat woman possibly named Tina. She told me it could not be waived and I told her to speak with the customer service rep on the phone. She refused and kept saying he can't do that, he can't do that.
I put him on speaker, told him to tell her it was waived. He hesitated and she cut in saying "You didn't waive it right because you can't do that", and he replied "No I didn't waive anything." – completely denied it!! This company is so dishonest and shady. I was in complete shock and under duress sobbing through the airport. Never in my life have I seen such poor customer service. Bold faced lying, zero compromise. I'm sure the actual flight is okay if you sit quietly in your seat and encounter nothing problematic but heaven forbid the slightest thing get off track, you're on your own. Qatar airways doesn't give a damn about you or issues you have with them.

My parents arrived at the USA on Qatar Airways #QR 725 on 17th May 2016. They travelled from Kolkata, India via Doha. The Airline PNR# is **. Names of passengers are Alaka ** and Arabinda **. On their arrival at Chicago ORD international airport all the checked in 4 baggages with booking numbers ** were claimed at baggage claim belt # 5 at the airport. However baggage #** was not received. We could not locate it on the baggage belt.
The loss of baggage number ** was reported to the lady personal of Qatar airways on duty at the said baggage number 5 belt point. She noted down the baggage number and our contact telephone number to take up the matter for retrieval of the loss baggage. She also escorted us and checked for the baggage herself but could not find it. It is only after that we had to leave Chicago to Saint Louis (Our place of stay at USA) hoping the baggage will be found and shipped to Saint Louis.
Since then we have followed up with Qatar personnel in the Chicago airport for the baggage. Senada **, Airport Services Supervisor, ORD emailed us that she has found the bag. She has been claiming that we did not pick the bag on arrival which is not true. As can be seen in our email we did lodge a complaint with the concerned authority. They should not have received it had we forgot to pick it! After our repeated requests and follow up the Qatar staff wants to enforce on us that we forgot our bag and Qatar is not responsible for sending the bag to Saint Louis.
I even tried explaining this on the phone to Senada **, Airport Services Supervisor. She tried putting words in my mouth and wanted me to accepts things that are not right. She hung up the phone rudely without even trying to understand our concern. I am shocked and dismayed by this. This is no way to talk to a customer. I am appalled at Qatar's customer service! This has caused us a lot of agony and pain. We are flying back on Qatar to India and now I am scared to even think about it. I am scared to go through the harassment that I had to undergo by Qatar employee and not owning up responsibility for their mistake. Please let me know how to proceed on this. I wanted to escalate this concern and asked your employee about the supervisor, but she hung up the phone on my face. How can I get my bag?

Qatar Airways is the best. I wish all other airlines will follow their high standards. I will always fly with them. I've never had any issues or problems regarding any aspect of the airline. The FAs are friendly, caring, thoughtful, alert, and all other positive adjectives related to customer service in the dictionary.

Thanks for Qatar Airways management. I am businessman – my company name **. We always choose the Qatar Airways as first flight during my travel. My member since ** or **. Last month I was travel from Muscat to FRA return ticket. This month also I travel from MCT to IST return ways. When I come to IST counter they tell us my card not updated, main's not activated. I spoke to Qatar Airways crew, they didn't give me any answer until now. And also they delay my flight without any reason. I have taken my small son with us. He is very young. My question: Why they delay my flight and not guide us in proper way? I don't get any care from anyone? Please updated my member since. Kindly waiting reply as soon as possible. 5 hours I stay in Doha airport without any help. Flight number 0248 IST-Doha.

We have flown to India with Qatar from Brussels via Doha, just four days before the Brussels attacks. Our return flight was supposed to be on April 1, 2016. Two days before this date I received an alert (only because I had actively subscribed to it, not automatically), that the flight Doha - Brussels had been cancelled - understandable, as the Brussels airport was yet fully closed. When I contacted QR via phone, after a long waiting time (also understandable with thousands of Brussels passengers stranded within 10 days) I got offered rebookings to Munich, Frankfurt, Amsterdam, or Paris but all alternative flights were only available on April 5th earliest.
When I asked the agent to provide us with ground transportation to Brussels from one of the alternative airports, the answer I got was "We are an airline, we only provide flights." They left it to our own devices to get back to fetch our car. I complained about this via e-mail, stating Qatar's own "Conditions of Carriage": "[We shall] Re-route you to the destination indicated on the Ticket or applicable portion thereof by our own scheduled services or the scheduled services of another carrier, or by means of surface transportation." In their e-mail reply, they reinstated their position, with no word mentioning their own rules.
The learning for me as an EU citizen is to stick with EU carriers in the future, as passenger rights are clearly regulated (in this case they would have been for the first leg of the flight departing from the EU, but not originating from outside the EU with a non-EU carrier like Qatar). I will still seek legal advice to make them at least adhere to their own terms.

My son flew to Morocco on Qatar in November. His ticket both ways was with Qatar. When leaving Morocco, Qatar used Air Maroc. He was forced to pay for excess baggage, 1500 Dirham, and reduce his bag to 23 kg while Qatar allow 30 kg.

I am completely dissatisfied with the way I was treated in flight QR707 on 11 Feb, 2016. I am aware that I will be served two meals and a sandwich in between them during the whole time. I selected my meal preference as Asian Vegetarian when I booked my tickets. The first meal was not served to me though I was awake and the hostess passed me ignoring me completely and served food for the rest of them, I understand that mistakes do happen and I called them and asked for my meal.
Now the second time when they served the sandwich (stayed awake this time too), again I was ignored and this time I went up to them as I was curious why I was being targeted. They just said a word SORRY and gave me the sandwich and started doing their work. I felt like a beggar and wondered why I was constantly being ignored and went back to my seat. I expected at least my last meal would be served without problem but that too didn't happen. They gave me a Hindu meal which had meat on it but I am a vegetarian and I clearly made my preference as Asian Vegetarian. The hostess asked me to show my boarding pass to verify if my preference was the same. She then apologized and went back. It took so long for them to bring back my meal where I went to a stage I lost all my energy to ask again and started to sleep. Finally after a while I got my meal.
THIS WAS THE WORST EVER FLIGHT EXPERIENCE I EVER HAD IN MY LIFE. I was made like a beggar to ask for food each time when I paid for my ticket. I understand it's a 14 h 30 min flight which is long but I never expected this kind of treatment from QATAR. I am not really sure if there was some intention behind this treatment from the hostess based on color, religion, country, race etc. But I am very sure I will never travel back again with QATAR in future.

Tickets were purchased 12/21/15. Upon arrival at the airport in Lagos Nigeria, we were informed that the credit card verification had not been done. I filled out verification form. Gave copies of California ID, American Passport, and the credit card used to purchase the tickets. I then called my bank and they sent the agents a copy of my bank statement. Agents then requested that I make a purchase with the credit card. I asked them to charge the card. They didn't have a credit card processor to make a transaction. So I went around the airport trying to make a purchase.
Due to the high fraud rate in Nigeria most US credit cards were not allowed to work. Everyone knew this already. So my card was declined but I had a declined receipt with my card number and name on it. Agents accepted this and allowed us entry onto the plane. We were then pulled off the plane by the same agents who then informed us that Qatar agents from Doha called them and told them not to let us on the plane. The plane took off without us.
The local Qatar staff refused to help us any further saying that there was nothing they could do. We then had to call Qatar Airways in the USA for help. We had no cellphone service, and no computer. Qatar USA now asked us to provide the exact same things that we had already provided to the local agents. Copy of ID, Passport, Credit Card, and Bank statement. Then I filled out the Credit card verification form again online from my cell phone which was hooked up to a wifi. 7 hours later they reissued the ticket for the next day. But at this point it was too late, we had already called home and had them buy us new tickets on Lufthansa for a flight home that night.

I have had issues every time I travel with Qatar Air and fill out a feedback form ever time and they have yet to respond even once. I am disabled and wear orthotics from my knee to feet. It prevents me from full range of movement and ask to be given a bulkhead seat because otherwise I am in pain and basically unable to move my legs from the knee down at all. I am never able to reserve the bulkhead, I am told it is first come first serve basis for the bulkhead. The last trip from Kuala Lumpur to Doha we were literally the first customers to check in and Kathima the customer service representative was unbelievably rude. She told me that all the bulkhead seats were full with children. I asked how is that possible, we are the first to check in and we have always been told that we cannot reserve the seat but must be first to check in to get the seat.
She was so disrespectful and dismissive of my disability needs it was absolutely shocking. She was basically blaming me for being disabled and I do not have the right to request a bulkhead seat. I also was traveling with my whole family so we had paid QA the price of 6 tickets. She begrudgingly gave me a bulkhead seat and I said that I needed a companion to help me as I have peripheral neuropathy that limits my ability to use my hands as well and cannot open things myself. She became even more rude, her attitude was again so disrespectful of my disability and how I needed assistance.
I could not believe her ignorance and disdain towards me. I was completely humiliated by her. I had to beg for a decent seat despite being the first in line to check in. Being the first in line also requires that I arrive 3 hours before departure when the desk opens and so I am also forced to stand for a lengthy period of time which also is quite taxing on me. I have never seen an airline so ignorant of disability rights and common courtesy to disabled people. They are absolutely horrific.

My mother was travelling first time internationally from JFK to HYD on Dec 5th, 2015. There was a layover in DOHA. They asked her to check-in her cabin baggage at the gate as there would be no space in the aircraft. She checked in her cabin baggage at the Gate and when she landed in HYD she couldn't find the gold except one ear ring. When she complained regarding this to the airlines they refused to take complaint, that they are not liable for it. After 4 hours of continuous fight they logged a complaint. How can these people be so irresponsible. Hopefully we find our valuable items back. I will never ever travel with Qatar Airways.

We left Oman on flight QR 1149 at 5:00 am to Doha, reached at 6:00 then left Doha on flight QR 840 at 7:00 and due to bad weather the aircraft could not land in Phuket after 3 times trying to land at Phuket airport, and due to that, the destination is changed and land in Penang Malaysia at 19:30hrs, then after landing in the airport we got hold inside the aircraft for almost 3hrs without enough food. No information was given to any passengers that there is technical issues which needs to be addressed to make the passengers comfortable or at least to offload outside of the aircraft as inside airport to be more comfortable. Later at 22:15 after all the passengers got panic then they decided to cancel the flight and book us hotel to stay till further notice. It took us 30 minutes to go out from the aircraft which is terrible.
The arrangement of the hotel transport was disaster. There were no enough buses to take us to the hotel. We have to wait for the buses to go and come back again from the hotel. We reached the hotel at 00:15hrs and we queued for almost 1and half hour to check in into our rooms. No cloth to change as the airline got hold of our luggages. The food was not covered, laundry was not covered, internet was not provided, and phone was not provided. We received letters in our room saying that we will be picked up by the shuttle at 12:00 hrs to go to the airport and our departure time to Phuket estimated at 15:00 hrs. We reached the airport at 13:00 hrs then at 14:30, we boarded the aircraft hence after half an hour the aircraft wasn't ready to leave.
They offloaded all the passengers again due to technical issue after being inside the aircraft for almost one and half hour, after being in the airport we got information from the Qatar airways that the aircraft issue it's been resolved. They request us to board again. After we boarded then waited for 45 minutes to leave from the stand to the runway and the aircraft was very hot which was difficult to breathe but the pilot and the crew they couldn't do anything about it.
Later after leaving the stand near the runway the pilot announced that there is passenger was forgotten which we will go back and pick him up, even after the ground staff and the crew counted all the passengers in the aircraft. We went back on the same stand then the pilot announced that the engineering will come to recheck the aircraft as another technical issue appeared again. The question here how come the pilot is announcing that we have to go back because of passenger is not on board then he change it to technical issues?!
Later after coming back on the same stand the aircraft was very hot and they didn't want to open the doors for us to go out, after all the passengers start to panic and there was an elderly woman got difficulty to breathe. Luckily there was doctor on board treated her otherwise something could happened to the woman, they opened the door and all the passengers went down and an ambulance came to assist people, passengers requested to have their luggages and not to operate this flight as it's not safe, but the ground staff they didn't agree to give our luggages and advise us to stay inside the airport till further notice.
What kind of safety is the airline is doing for the passengers? You all prefer us to die in the aircraft or get sick. Last but not least the agency of Qatar airways came with two solution, is to fly to KL for overnight then the next day they will provide us flight to Phuket at 17:00 hrs and the second option was to wait in Penang airport for 3 hrs more till the aircraft get fixed which was more than 3hrs, hence we waited for the second option and we departed after 4 and half hours after ETD. The representative from Qatar airways came and he couldn't handle the situation properly which is not professional considering his position.
Now kindly consider the below points from the above mention. We consider Qatar airways is the 5-star airline of the world. They should provide us quick solution to reach to our destination. Why they didn't give us specific information for the situation with aircraft as we were more than 3hrs inside aircraft? The airline refuse to give us our luggages as we arrange and reach our destination without further delays. The agency in Penang informed us that the Qatar airways representative will wait for us in Phuket airport to arrange for us transportation to our hotel which didn't happened.
We reached Phuket airport and stand in queue for 2 and half hour. The airline should provide us a separate queue for immigration which didn't happen. We paid our one transportation to our hotel. We planned our holiday one year ago and we booked hotels and paid in advance. Our schedule got mixed up and we had to pay no-show charges for all the tours and hotels. There was no letter or official apology received from the airline till date.

I have checked in on 11/21 - 19:25 trip to Doha and connected to Chennai India. Announced Delays and cancellations. Don't want to give me hotel since I am being considered local passenger, even though I drove 5 hrs from south of Indiana. Struggling with 18 months child, no confirmation, when can I fly out. Had to wait on Sunday. 4 hrs in queue; at the end gave me a hotel and say come on Monday 11/23. But still not sure I can fly out or cancel trip. Horrible. All the staff are lying. They say I am being rerouted via Frankfurt. I can see booking changed in system, but still I didn't fly out. Since they didn't give me rebooked ticket. All Nonsense. All I have asked is give the checked baggages, so that I can go back or plan different, they are not giving. I wanted to file a case against, but don't know how to. Never choose these idiots anymore.

My flight was on Monday, Nov 23rd from Chennai airport, India. We bought the ticket on Nov. 21st using my son-in-law's credit card from USA. We did not know about payment verification until I reached the airport. Apparently, we received an email 12 hours before the flight departure time about payment verification. Once I arrived at the airport, the gate manager and the person who processes tickets at Qatar Airways told us to take care of this ASAP. My son-in-law sent the documents and Qatar Airways personnel sent emails to both me and Qatar Airways at Chennai airport saying that the payment has been verified. This was done around 75 minutes before the flight departure.
When I told this to the manager and the ticket authorities of Qatar Airways at the Chennai airport, they refused to check their email saying they don't have time and did not even bother to consider my request at the last even after all the passengers have been checked in. You need to have a bit of courtesy and not treat us like animals when I am traveling to USA on an emergency situation. Can't the manager just spend 1 minute to verify that he got the email and let me travel? If humans can't help me out in this difficult situation, why have customer service? Why not let a robot do this entire thing?
The most difficult part of this entire experience is not that I had to cancel the ticket at the end and travel on a later date. But just the harrowing experience we went through. Please tell your great folks at Chennai airport to treat people as humans and not as animals. We will never use Qatar Airways again and will make sure all our friends know about this experience.

I am going to share horrible experience encountered by my family in Qatar Airways from Kolkata to USA recently. I will not book ticket in future for my family in Qatar. Please read and it may happen with you. First experience - my wife and 5 yrs old daughter's ticket was booked via Expedia with itinerary CCU - Doha - Dallas - St. Louis. I did the web check-in with proper seat selection and made sure everything was fine for their trip. The first flight departed 25 mins late which is very common in aviation now. But a bit worried as next connections was in 1.40 hour gap. From Kolkata Qatar desk people gave them onward boarding pass 'til St. Louis. So the problem solved.
I had activated international roaming in my wife's mobile. Expectedly I had received a call from my wife that they have safely reached Doha and with 1 hour gap it was easy to catch next flight. But the next call was that Qatar is not allowing them to board flight. It was ridiculous, and they were giving the reason that my wife and kid are late and can't board this flight, please go to transfer desk, though there were other fellow passengers standing behind the boarding queue from same Kolkata fight. Then my daughter started crying in shock and my wife asked "we are not late, flight is still there. And what about other passengers, will they also not going.to board?"
Qatar people started isolating my family from the other people, saying that "they are fine and can board, but not you." My wife asked "why?" They answered "you are late." Then couple of fellow business class people fought for my family and Qatar ultimately gave them boarding pass but with different location seat and without luggage. My wife then in-flight managed the adjacent seat with my baby. It's not end.
After 2 hours of their flight from Doha to Dallas, in my cell phone all of a sudden, I had received an email from Expedia that Dallas to St. Louis flight itinerary has changed and it's +1 day. That means they have to wait 24 hours for connections. I immediately called Qatar help desk and asked the reason, again a foolish, stupid answer - "the itinerary had changed one month ago and your agent accepted it." Anyway I asked them to book same day flight. Then everything was fine. But think about situation if I was also traveling with them, that means no update of rescheduling as we were in flight.
2nd experience - very common scenario, flight got cancelled from Kolkata. They gave next day flight but once they arrived in Chicago for next flight, AA people said Qatar did not book any seat. "All seats are booked, so you can't travel." After a long international flight, I think you can understand the situation. Anyways after long wait and tension, AA gave them seat number.

I had booked 3 seats on Qatar Airways flight going to London from Doha on Saturday 12 on QR001. I had done an online checking before reaching the check in counter at the Hamad International Airport where two incidences happened that demonstrate very poor customer service, especially for a privilege club member. The first when we arrived amongst a commotion between the staff of Qatar Airways when the staff at the counter was complaining that he stayed 2 hours over his shift schedule and his replacement was not there yet. Needless to say that this angry staff treated us very badly and hardly got our questions answered. When I asked him about our lounge access cards he said reluctantly "check at the lounge."
The second more serious incidence is when I reached the boarding counter and discovered that all our prebooked seating arrangements were reshuffled. The lady 'Joan' at the counter was extremely rude when I asked her not to separate the seats and started talking very loudly in Filipino to her colleague and banging on her keyboard. I asked her as a 'privilege member' to see if she can fit us together, she still insisted that nothing can be done. At this point I asked for the manager, she got aggravated and never offered a slight apology for the inconvenience caused. I waited and the alleged manager never showed up, her other colleague took my passes and sorted out the problem in two minutes.
Conclusion: Before expanding fleet, Qatar Airways needs to properly train their staff in customer service especially that it claims that it's a five-stars airliners. Also, the staff was not honest since the 380 has always the same configuration so nothing was reshuffled. In short, don't trust your seat arrangements with Qatar Airways and don't count on getting a slight apology for the inconvenience caused.

Totally poor customer service, no understanding... My flight to Bangkok on the 2/8/15 was delayed at Heathrow. Qatar Airways didn't put up the gate number until the last minute, the Staff didn't know what was going on. Once on the flight to Bangkok the service we received was totally poor for a so call 5* Airline. I have had better treatment with EasyJet.
Once me and my partner arrived in Doha we was told we can't board our flight to Bangkok either when we still had time to board the flight to Bangkok but we could see the plane and it was still boarding. So basically Qatar Airways SOLD our tickets before we landed. So we were told the next flight to Bangkok was 7.5 hours away. We were put up in a lounge after been up for 13 hrs had no sleep... Plus nowhere to sleep in the lounge, no food, hardly any drink to have in the lounge. I will never fly with Qatar Airways again in my life. Makes me wonder how the hell they got the 5* Stars in the first place, must be like how they won the World Cup bid with Back handers.
Qatar Airways Company Profile
Company Name:

Qatar Airways

Website:

http://www.qatarairways.com/