Consumer Complaints and Reviews

Property Not 2-2.5 Stars. Stayed in Mojave, CA. The property was Budget Inn of Mojave which would appear to be 1 step below Motel 6. The biggest problem I had was that the property was so close to the train tracks that you could hear multiple trains blowing their horns all night long. So to be fair, here are the pros: 42 inch flat screen TV with Premium Cable (multiple movie channels), coffee maker in room, rooms look remodeled, free Wi-Fi. Cons: Bathroom window screen torn, towels seemed blood stained or stained with something, bedding pretty hard and firm but nowhere near what you find at a Comfort Inn or Best Western, dead flies found in the bathroom (bad housekeeping?). Property right across from the train tracks which means you do not get a restful sleep unless you knew in advance to wear earplugs. All Priceline could do was offer me a 5% discount coupon with an expiration date.
It seems to me Priceline doesn't review these properties internally so if where I stayed was 2.5 stars, I wonder what a 2 star or 1 star would have been like in the area of Mojave, CA. No I didn't select other surrounding locations and I have a feeling Priceline deceives and is fraudulent because they dare to compare a 2.5 or 2 star to other properties which would actually have decent amenities and a breakfast to boot. I would say the keywords here are deception and fraud. Was better off staying at the Motel 6 that night which was Days Inn recently. Live and learn but I would not recommend Priceline now or in the future and yes let the buyer beware. I don't expect a refund and I completed my stay and got a better nights rest up in Lone Pine, CA the next night and didn't go through Priceline to do it.

I found a lower price on another website with Priceline. However despite the fact the guarantee was on the reservation confirmation, they refused to honor it since I clicked through to them on TripAdvisor. TripAdvisor also refused to take responsibility. No notice of this was on either website. Stay away from Priceline.

I made a car reservation through Priceline. The itinerary said unlimited mileage. When I went to pick up the car I was told that I did not have unlimited mileage. They wanted to charge me 3X the amount I had agreed to pay. I had to get a car from a different company and ended up paying double what I had expected to pay in the first place. I called up Priceline and they said that although it says so on the itinerary, the car rental company does not have to honor that and that there was nothing they could do about it. I am now 4 hours late for my trip. I am extremely disappointed in this company and will NEVER use it again. In fact, I will be sharing my experience with everyone I know.

I booked a hotel at the Ramada Inn in Spokane Washington on March 4, I actually booked and paid for the room in Ramada Inn's parking lot thru Priceline to save about $20.00, so I thought... Shortly after I purchased the room online I tried to check in, the hotel would not accept my NetSpend visa card for a deposit, which was the same card I purchased the room with. I checked my account and seen the money for the room had already been taken out, the hotel said they couldn't do nothing about it, to contact the other company for a refund. I sat at the hotel for about a hour on the phone with the contact information they gave me just to be given the runaround of who I needed to talk to... because I had family obligations to do I had to leave before settling this matter.
The next morning I called the number on my email confirmation to Priceline for a refund. I was then told that this was nonrefundable that the hotel had already been paid for the room and wasn't going to give back the money and because they thought my husband was rude to them, I am not going to get my money back either. I do not understand how Priceline can charge me for a room that I was refused. My card has not been refused anywhere else ever. The customer service at Priceline is so unprofessional, the way the lady was speaking to me was uncalled for. I told her I could not afford to pay $105.00 for nothing, and that I ended up having to pay a lot more for another hotel room and she replied "That's not our problem." I will never use or recommend Priceline's company to anyone else ever again.

I booked a car well in advance of a trip that had a flight cancellation due to weather. I called and they stated they could refund my money, but not change the dates. I would then need to do a last minute booking that would have a total price 4x the original. Even though I repeatedly told the agent not to cancel it, because I could use part of the reservation, until I checked the new rates on their site he canceled it and then lied about my repeated requests to his supervisors even though he responded with "oops" when he did this.
Of course the only solution the supervisors could give was to book the inflated non-refundable reservation and they would refund the difference after they "researched" it, which they refused to do right away telling me at first it would take 2-3 days to even get the information to the research dept., then it dropped to 1-2 days, then it changed to I would hear back in 1-2 days, anything to try to get me to book at 4x the cost.
Of course the promised calls never came, instead all they do is send e-mails so they don't have to talk to you telling you they are unable to refund the difference because "you requested the cancellation". This is how they lie and get away with it, they get their inflated commissions and refuse to call back even after you reply to their e-mails telling them you repeatedly requested the reservation not be canceled and expect the promised phone call. Stay away from Priceline - use reputable booking services. Hertz said they would hold the car for me even though I would be late, but Priceline canceled it and refused to reinstate the original price.
How do I know I can trust these reviews about Priceline?
717,984 reviews on ConsumerAffairs are verified.
We require contact information to ensure our reviewers are real.
We use intelligent software that helps us maintain the integrity of reviews.
Our moderators read all reviews to verify quality and helpfulness.
For more information about reviews on ConsumerAffairs.com please visit our FAQ.

Due to the snow storm that we had in NYC. 1st I booked a hotel reservation thru Priceline for a 1 night stay at the Pennsylvania Hotel in NYC. I booked the room at 6:00 am in the morning on 3/14, and by 8:30 am the same day, I tried to cancel the room which I was not able to do so because of the hotel's policy. I did finally get in touch with someone at the Hotel that if I had a good excuse to cancel they would refund me, but unfortunately I stayed, The worst hotel stay I ever had. The bed was hard, not comfortable at all, was not clean. It had 3 star should have been one, but I just had to tell someone.

Bad experience with Priceline even before my Disney vacation started. I searched for vacation package which has free breakfast and I reserved one of the hotels from the list. After purchasing, my reservation didn't mention about free breakfast, I have contacted Priceline customer service on the issue and they say my contract doesn't have free breakfast and told me they can't help. My kids definitely will be disappointed when we go there. Never trust Priceline. This will be my first and last Priceline purchase. Never recommend to others.

Booked hotel on Saturday. Change my mind on sunday. Five days prior to stay. Cancelled online. Got confirmation. Saw credit card statement. They still charge me. They said they had no record of cancel. I keep email confirmation stamped with time and date. Thank god. Took me all day to get someone to do the right thing. Long story short don't use them. Go straight through hotel. Isn't worth the extra you save. They charge your credit card full price then you have to wait 7 days to get your money back. You can go on the hotel website and they give better pricing if you book on their website. They only do one night not the time of stay. Worst place to deal with. Never make this mistake again. I would give it no stars.

I am a long time user of Priceline and have always had a great relationship with them. I recently booked a hotel in NYC via the name your own price function. Before I agreed to send my query I was shown an amount that my credit card would be billed. I agreed on the amount and got the Crowne Plaza Hotel on Broadway and 49th. I was very pleased and have heard good things about the hotel but when I went to check in I was told there was A $30 PER NIGHT RESORT FEE that would be added to my credit card. I should've been told about this fee before I agreed to accept this hotel.
This practice is unscrupulous both on the part of Priceline and Crowne Plaza. Why shouldn't the consumer know ahead of time that there is this fee? They only do it this way because when you arrive at the hotel you're in a precarious position to deny the fee. I called Priceline that same night and was told that they would review my situation and a day later I received an email from Priceline saying that this was indeed something in the fine print and that they couldn't help me. I will never use this company again. What a huge disappointment for a long time customer.

I booked 4 double rooms through Priceline 2 weeks before travel. I was taking a group of 10 kids and 2 adults to the other side of the state for a sports meet. There were several events going on in the area, and I knew hotels would fill up fast. Traveling with kids is scary. So when I got to the hotel, in addition to issues with the hotel itself, the sister company that priceline uses (Booking.com) had only sent 2 room reservations to the hotel. And they were for single king rooms. I showed them my receipt from priceline, and they said this has happened before with booking.com. Unfortunately, the ENTIRE HOTEL (as well as every hotel in an hour radius) was booked.
Looking at my printed itinerary, I now realize that what I selected is NOT what got booked. And I realize I should have checked that right away. I tried calling Priceline. They sent me to booking.com. I was waiting for a representative for an hour and a half. It hung up on me 3 times, so I kept having to start over. I gave up, because we found a different hotel that had just randomly popped up on Hotels.com at a very convenient moment. The power had been out and had just come back on.
Today I finally got a hold of booking.com. It took me 2 tries and an hour to get to a representative who tried to tell me it was the fault of the hotel because they see my booking on their shared site, so the hotel must not know how to access the information correctly. The hotel had printed the booking.com page information they received from them showing 2 rooms.
THANKFULLY I had not paid in advance. Thankfully I had gone against our school policy and kept the cash students paid instead of depositing it and having a check cut for the hotel. Unfortunately, the hotel still put a pending charge/hold on my card for the rooms I had booked through priceline... FOUR ROOMS I was charged for, even though they only had me down for 2 rooms. But that is a different story.
I should just let it go, because I know I won't be able to be compensated since I didn't pre-pay. Booking.com is claiming it is the hotel's fault because the reservation is there, but there is printing glitch being worked on that only prints one page. So the hotel is supposed to look at the whole reservation online, and not just the print version. So really the problem is both with Quality Inn in Port Huron as well as Priceline/booking.com.

I spent more than five hours waiting on phone with different people from the customer service for one flight which was canceled by the airlines. Priceline customer service people could not figure out how to correct it, and it got so annoying that I had to get my flight canceled. Did not want to spend any more time arguing with or waiting for them.

I booked a car with Priceline, ended up not needing the car, and was told no refund, and I can't re-book for another day. Call to complain and the rep was laughing. Straight up insult to injury. This group need to be stopped. They are ripping folks off and getting away with it. HOW IS THIS POSSIBLE??? I wished there was a civil lawsuit against them forcing them to change their policy. They pretty much take your money and give you the middle finger. $300 just gone. Not cool. Folks beware. They do not value their customers at all.

Priceline is a horrible company. I don't recommend anyone to use this to save a little bit of money. I made a reservation to stay overnight in a city 3 hours away. Due to unfortunate circumstances being in that town was not going to work. I called Priceline and told them about the issue, and even asked if I could stay closer, there was no way they would even work with me. So now I'm stuck in a town or pay for a hotel that I was willing to transfer closer to home. They have no regard for one's life.

I need to book a trip from LAX to Austin, Texas for my job interview and back. If I could, I would give this company a negative rate. This company would not show the departing time & returning time as well as the airline name unless I pay the ticket. I agreed that the price is a little bit cheaper compare to companies, but this is not the good company to buy the ticket from. It's not worth it. Especially when a person has important events to attend that one would rather pay a little higher fare from a reliable & trusted company/agent to have a peace mind. It makes it much harder for people plan their trip schedule so they could enjoy their trips. Also, you won't be able to have a refund if you don't buy the protection plan within 24 hours after buy the ticket or so.
Pay attention to PST or EST... When you call, you will notice right away that the rep that answer your call is either from India or Filipino. If you don't buy that plan, there is nothing you can do about it. Either you use the ticket that you bought, or you lost the money if you don't use it. There is nothing else they can do for you. NOTHING ELSE. It's a really cheap bad business model that took advantage of the consumers. After I paid for the ticket, I realized the ticket is from United Airlines which only lets you have a free personal bag. You have to pay for all of your luggage. Also, when I go online to the airline website to pick my seat for my trip, all the seats are picked. It tells me to pick a seat when all the seats already picked. I wonder why they sold me the ticket if there is no open seat left.
I called Priceline to get a refund or change my date and they didn't answer my call. So, my final advice is NEVER NEVER NEVER use this Priceline for your traveling plan or reservations. It's full of baits that will cost customers their comfort, trust, time, planned event... I will never do business with other middle companies similar to Priceline... I will pay a little bit higher fare and I won't have to worry about it except for natural disasters or other unfortunate unpredictable events. Save yourself and your family members from Priceline.

Went to Disney on 2/13 to 2/16. Got a reservation through Priceline at Comfort Inn Buena Vista. Room looked clean and nice. Next morning, took a shower and saw roaches in the bathroom on the wall. Got two of them in a Kleenex and brought them to the young girl at the desk on the way to breakfast. She freaked out and said they would change our room. That night, after Disney, we went to the customer service desk and told him our story and he gave us another key and moved us from the 3rd floor to 4th floor. Just got a letter from Priceline saying the hotel was not aware of our problem. That was a lie. Same room different floor. No reason for change unless we had a problem. Will not recommend either Priceline or hotel.

Used websites for the first time. Found the hotel I wanted for a very good price. Left the website and came back. The hotel was no longer listed even though five rooms were available. Tried to find customer service. All I could get was a messaging service that told me to go back to the website I had already had trouble with. Glad I didn't get involved once I read the other reviews.

Wanted to book a hotel room in Montgomery NY. Get the price from Priceline and book the room while I'm looking at the page for the Holiday Inn Express in Montgomery NY. Get the email confirmation for Holiday Inn Express in Poughkeepsie NY pretty far away. I can't get a human on the phone so I go to online chat. Tell me there's nothing they can do because it was already booked in Poughkeepsie. They said I should have checked before I confirmed. I was in the Holiday Inn Express Montgomery page. Why would I think it would be anywhere else. I was told for the price quoted that was the hotel in the shaded area for that price. It's a SCAM. If that was the case why didn't it take me to the Holiday Inn Express in Poughkeepsie NY? If I wanted to stay in Poughkeepsie I would have put Poughkeepsie in the search. I wanted Montgomery. I searched Montgomery when I booked. I was under the impression it was Montgomery. What a bunch of crap. I'm going to stop payment on my card and report it as fraud.

My wife was trying to book a hotel room while we were on the road. She had entered the date for the current day but we went through a tunnel and the site refreshed. In the refresh it changed the date to one week later. Within seconds of booking the room she realized her mistake and immediately cancelled her reservation but the charge for the hotel remained. When she called Priceline she was unable to talk to anyone but she was given the option of live chatting with an agent. The agent informed her that there was nothing he could do because of their agreement with their partner.
I know they make it clear on their site that all sales are final but it was pretty clear what had happened and obviously they could have refunded the money. A sleazy company. Obviously we will stay away from Priceline in the future and we will tell all our friends to do so too. I would advise everyone else that if the Priceline site refreshes you should recheck your date so you don't get caught like we did.

This was my first time, I tried multiple times with bid your own price, it was never accepted when I tried with low and best prices, but then mentioned normal price it locked. I called them to cancel it since my trip is in 3 months and the per day for rental car is 23. I found low price later, they said they don't have anything low. I cancelled it and I booked it for 20 per day for the same trip with Priceline. They never refunded me but they charged me again. Now this hell in earth company charged me 43 dollars per day for 13 days to make it 820. Bloody blood suckers. Wish this company never existed in this world. Hope this company will fall away somehow. With this many blood sucking tactics they won't die but this is not hard for God to kill this kind of companies. Wish to see price policy makers and Priceline in suicide position for their unstoppable money run.

First, I would like to say that Priceline is very misleading. We made a bid on a car and won the bid. The price was great I will say. Priceline gave two options to use as debit or credit. We used the card as debit. When we went to pick up the car we were told that they do not accept debit cards. I explained that, that was one of the options given online at purchase time. I asked to see the manager, I was directed to Lawrence ** who was very unprofessional. I addressed me as "Sweetie" several times which was addressed. He then asked me have I ever rented from Priceline or Alamo before. I explained to him that, "This situation had nothing to do with me renting prior to but yes I have." Then, I go on to say that how Priceline was misleading to which he agreed and asked if they could revise their site policies so that others may not go through this ordeal.
Mr. ** went on to say that this happens quite often. As we were having a conversation with the receptionist there was another gentle speaking to the receptionist that was experiencing the same problem. Alamo told us if we did not have roundtrip airfare or a corporate number that they were unable to help us. I encourage ConsumerAffairs to look into this matter so that others does not have to experience what I had to experience.

I wish I could give this company 0 stars. I booked a room in Vancouver BC through them. Any other time I've booked a hotel online it's been in Canadian dollars, seeing as I'm in Canada and booking in Canada. This was the first time I've used Priceline, so when they charged my credit card I was shocked to see it was $200 more than quoted. Only when I checked my email reservation confirmation did I see in tiny print that all prices were in USD. Didn't end up being a deal at all, what a ripoff. I could have gotten a better room elsewhere for the rate they charged me. Do yourself a favour and don't use such a shady company. Customer service is useless. NEVER again.

I went to check prices of hotels as I have used this site for booking rental cars in the past with success. This time, however, the site continued to input "false" dates--dates I had not been searching for. When I would hit the delete button nothing would happen. It kept returning to the "false dates". It gave me a screen that said in order to check the dates, I had to enter credit card info (yes, stupid I know, but it was late night). I thought that this was part of the membership to have it on file. But I discovered a few days later, a hotel room had been booked for the "false dates"--I had not wanted to book the hotel, I just wanted to check rates.
I contacted Priceline customer service over chat. They said a contract agreement screen had come up and that I had checked "yes". I don't recall this at all. Eventually, I called the hotel and was able to cancel the reservation. Priceline refused to help and said I had to contact booking.com their partner site. I did call while keeping Priceline chat open. Booking.com kept me waiting for 20 minutes 'til someone got on and did agree to cancel. The Booking.com person said that I would be given a refund and should expect an email confirming such. It is a few hours later--instead of a refund, they rebooked the reservation!
I will now have to call and cancel again. Their site is misleading, confusing, in my opinion deliberately "buggy" to trick consumers into making and paying for reservations they did not book. They refer you to another agency, who said that the reservation would be cancelled and then rebooked it. IN fact the reservation is still in place.

Priceline has the worst customer service in the industry. The staff are trained to apologize for all the inconveniences that have been caused by Priceline not keeping its end of the promise, however they are also trained to give you the runaround and not address any of the up issues you are facing because you booked with Priceline. Their claims of matching lower prices are false.

I booked a suite in Vegas on Priceline.com. Before I submitted my payment I made sure all the room info was right. When I got my receipt it had booked me a standard room... not what the site showed me. I called customer service explaining what happened. They said the room that showed on their site was no longer available... but to this day that exact room is still showing. I feel that it's false advertisement. They said it shouldn't be showing on the website but it's still there. I was in tears I booked that one bedroom suite for my wedding... and my bridal party all had to cancel their reservations... total mess!!! And they did nothing to make it right!!! Horrible. I will never use this site ever again!! My point is that my payment should of never went through for a room I didn't book... if the room wasn't available. What right does that site have to decide to pick a room I didn't order and then give me a standard room for the price of a suite... straight scam!

Traveling through Pittsburgh with children and booked a room via Priceline in Monroeville, Pa. After traveling to the hotel my family and I were turned away due to overbooking. So I received a call from Jeff from the Philippines and assured me everything will be ok. While speaking to Jeff we are on the side of the road after midnight. Jeff insisted that I travel about an hour in the opposite direction for a 2.5 star hotel with breakfast and indoor pool and don't forget free parking and free internet. I explained to Jeff all I need is a safe place for my children and I to go. Jeff's view it was more important to find a hotel with free amenities rather than being safe.
I pulled up my map on my phone and asked to check in the direction I was traveling and Jeff stated there is no rooms in that direction!!! Jeff assured me he would find a 2.5 star hotel with free breakfast indoor pool free parking and don't forget free internet!!! By this time I had to end the conversation with Jeff because he could not help me and HE DID NOT KNOW WHERE PITTSBURGH PA was because he is from the Philippines!!!!
So we began to travel east on the turnpike and about 30 or 40 miles west is a town called Donegal "which I asked Jeff from the Philippines to please check in Donegal for a room and he said there were none". I found a Holiday Inn the same hotel chain I booked through Priceline in Monroeville. I walked to the front desk and booked the same exact room I booked on Priceline.
The front desk clerk said "in the future just call us and quote us the price on Priceline and they will work with you". So I paid double and now waiting on a refund which could take 10-14 business days, but Priceline will take your money before they even know if the room is available. The worst experience ever!!! I would rather stick myself in the eye with a fork before dealing with a customer Care Rep from the Philippines.

I booked a hotel with Priceline 30 days before the stay. The day of the stay, I went to their site to confirm my reservation. I discovered that the hotel was now $60 (3 night stay) lower on Priceline. Same room and hotel. Only $20 a night less, so I called them and they told me the guarantee was only for 48 hours after I booked the reservation. I could have cancelled if I had been suspicious and checked the rate a few days ago. I cancelled the reservation too late losing $60 in the process. I booked a better hotel with a different travel site for the same price I booked with Priceline. So the $60 was the cost of my upgrade. First time customer with Priceline and last. They made no accommodations and stuck to the rules. They got $60 out of me for nothing (reservation cancellation fee). The original hotel lost a customer. Glad it was my first booking so it wasn't like we walked away from a long time relationship.

I booked a hotel, they took my payment, then told me the hotel was sold out. So I found a different deal & booked a different hotel, same thing they took my payment & said hotel is full. I tried to book my business trip on a different site & my card was declined. Priceline was holding my money for both the hotels!!! I tried every way to phone, no live person! I went online for help & explained I need that money badly for my business trip. They gave me the Priceline phone number, which is a robot named Katie. I'm desperately trying to get a very expensive payday loan to get my flight & hotel with because Priceline took my money & won't help me get it back!!! This is robbery!!! Shame shame on them, thieves. Be careful.

Used Priceline for the first time. Only after your price is accepted do you find out that you don't have a car in the airport... You have a shuttle to a no name... Sixt! It was supposed to be unchangeable etc. I called until I could speak to a manager to explain. This was my first time to use Priceline and I was bidding on cars INSIDE the airport. I have my elderly mom traveling with me for goodness sake! I was nice but expressed my deep disappointment. The kind lady manager cancelled my reservation for me since it did not expressly say that it could be a shuttle and because of my circumstances.
I had to go through a few employees and be on hold quite awhile but it was worth it. The manager gets 5 stars. I doubt if I use Priceline again! Also I checked for Tamp Airport and I saw Sixt would charge me about $8 a day for the Sunpass. Another chunk since I will be there 2 weeks. Would have been $112 total! God blessed me with a kind manager! Watch out! In the airport can just mean... in the area... could mean a shuttle!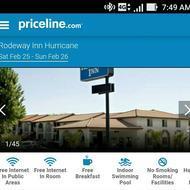 Looked for hotels through Priceline using their mobile site. Used the icons beneath the photo of the hotel to get a summary of the amenities the hotel offers. Found a hotel that the icons indicated had an indoor pool. Scrolled down to book the hotel. I read the cancellation fee but wasn't worried. There were indications that the hotel had an indoor pool and I knew I was staying that night. After booking, the confirmation itinerary stated that the hotel had an outdoor pool. I contacted Priceline immediately afterwards and requested a change. Priceline shared their cancellation policy.
I couldn't book another hotel because my discretionary funds were tied up in this hotel and who goes swimming with their children in an outdoor pool in 50 degree weather or colder? I personally feel this is a way for Priceline and their affiliated hotels that have the same cancellation fee to take money without providing a service. I trusted the information listed below the hotel to be accurate. Many online businesses have a provision to cancel an order immediately after ordering if you notice something about your order is not correct. There needs to be some law that protects consumers and allows cancellation and or changes to reservations at least an hour after booking unless they check in. That would seem reasonable and would alleviate many of the reviews like mine.

They mess up my booking and did not want to refund my money. After long argument several days later, they refunded my money, but they kept $ 100.00 of my money. Bunch of thieves and idiots. I will never, ever use their service again and I will tell all my family and friends how terrible service they provided!!!

ConsumerAffairs Research Team
The ConsumerAffairs Research Team believes everyone deserves to make smart decisions. We aim to provide readers with the most up-to-date information available about today's consumer products and services.
Priceline is a Connecticut-based company that helps travelers find discounted rates offered by a wide range of travel businesses, including hotels and airlines.
Price negotiations: Priceline lets customers name their own prices for hotel rooms, rental cars and flights.
Last-minute flights: Travelers can get extra discounts by booking last minute flights.
Customer service: Priceline responds to customer service emails within 12 hours.
Group discounts: Priceline can help groups get discounts including a free room for the group coordinator.
Travel bundles: Bundling travel services through Priceline can give travelers extra discounts.
Best for International and domestic travelers.
Priceline Company Profile
Company Name:

Priceline

Year Founded:

1998

Address:

800 Connecticut Ave.

City:

Norwalk

State/Province:

CT

Postal Code:

06854

Country:

United States

Website:

http://www.priceline.com/