Consumer Complaints and Reviews

Just needed to do a simple add of a loyalty number to a reservation. Received a no adds, no changes, no updates, no refunds, or exchanges. Oh and btw no loyalty, no discounts, no nada. Well what do you actually do? This is travel, things change. All the time what a waste of a company.

I made reservation in Four Points Hotel in Raleigh NC--date of reservation was April/24/17--to have 4 night on May/10-14/17. My confirmation no. is **. Went to the hotel today to check in after 5 hours of driving at 5:15 pm. I have been told that the Four points hotel had canceled all the reservation including my dates because of changing the opening date by the management. Also inform me that the hotel management had informed Priceline about the cancellation to contact the customers but I have not been contacted or informed by Priceline. I was in very difficult situation as I paid more than $350 for 4 night and don't have room to stay now after been informed by the cancellation and Priceline did not inform me or giving me my money back!!!
Spoke with the hotel manger and he was extremely helpful and understand the mistake was by Priceline. He helped me by offering another hotel with same standard of my previous reservation and he paid an extra amount of money to give me the same suite and made sure I have the confirmation paperwork and did call the other hotel to make sure they will take care of me... I highly recommend the Four points by Sheraton at Raleigh North and his extremely nice staff to anyone wanna get a hotel in NC. Please avoid the scam and the very bad treatment and handling of the reservation by Priceline and please try another website if you wanna your peace of mind.

I'm sending this email to inform you that the company is falsely advertising rewards through Barclaycard Visa, because their website does not accept Their own rewards card. You only get three customer call center overseas, through chat and email. There is no supervisor or manager or a corporate officer that will take care of this. I spoke with 25 different people through chat, email, and phone to get a response and they copy and pasted information that had no relation to any of my issues.
I had the manager of Priceline rewards VISA at Barclay call the manager of your customer relation teams who gave us similar responses and could do absolutely nothing for the partnership. She and all of Barclay are now aware of the issue along with all the saved and recorded phone call between Barclay and Priceline. I have saved all the messages and chats and emails as well, and I sincerely hope that they do not take this situation lightly. I want you to know what kind of company that you are dealing with in hopes that corporate will respond, and if not Barclay will be.

I booked a flight for $402 at the end of April. The flight changed today to $162 less. I also purchased the insurance for my flight - which they said is only for death or illness. I called Priceline and was transferred 3 times! Each person said they aren't trained in my questions - "Will you give me the price difference and if not, can I cancel the flight and re-book." I asked the same questions each time. I spent 2 hours on the phone with Andy, Angel, and Gus - none of them were knowledgeable and seemed to not understand what I was asking. After 2 hours, they wouldn't honor the price change, told me if I canceled flight, I'd lose all $402. Didn't seem to really care or try to help in any way at all. I will never use Priceline again! There's plenty of competitors.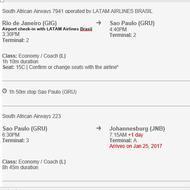 We purchased a ticket Cape Town to Rio de Janeiro and back from Priceline. After boarding pass issue, boarding was rejected due to Priceline admin problem. A new ticket had be purchased for $ 1000 to keep the family holiday. While a ticket refund has been indicated, after four months & 15 long international calls Priceline response to us is totally unacceptable. Who can advise me what to do? They blame the airline however we purchased the ticket through them. What to do? Not happy with Priceline. At Priceline we have spoken to Mauro, Liz, Madeleine, Jerry, Stacey, Jeje, Azue, not one of them has got back to us.
How do I know I can trust these reviews about Priceline?
766,665 reviews on ConsumerAffairs are verified.
We require contact information to ensure our reviewers are real.
We use intelligent software that helps us maintain the integrity of reviews.
Our moderators read all reviews to verify quality and helpfulness.
For more information about reviews on ConsumerAffairs.com please visit our FAQ.

On April 29th, I attempted to book the Hampton Inn in the Fort Myers area for that evening. When attempting to book, the reservation was not confirmed for the message sent was there was no availability. No confirmation was provided to print and no confirmation was sent to my email. However, I was billed for the night. I then called Priceline. They claim their screen showed my booking, but I was a no show. When an email confirmation was questioned, they stated one was sent. When asked to resend, they were unable to do so. The customer service was deplorable. Not sending confirmations to customer emails is unsatisfactory.
I worked in a hospital and if we treated our patients and clients with this disrespect, we would not be employed. I book very frequently with the following: Booking.com, Hotels.com, and Expedia with no issues. Consumer beware, if you choose to book with Priceline. Also, hotels need to beware of allowing Priceline to book reservations for them. Never book with Priceline!!

I did a car rental reservation through Priceline and when I pick up the car the price was more than 20 dollars higher. Payless informed it was a Priceline tax miscalculation and I should talk directly with them. I called Priceline and they seems not to care at all. Priceline informed that they only gave me an estimation of the taxes (Which was from 35 USD), totally different from the 57 USD taxes charged. Priceline made me a terrible deal and, as a customer, I gave them the chance to fix it but they threw it away. Zero transparency, zero customer care.

Deceptive advertising of locations. I booked an express deal in Miami for the Port of Miami area and received a confirmation for a chain hotel in an area known as the Civic Center. The surrounding area of the hotel has been crime infested and filthy. It is near the Dade County Jails and Courthouse. You see bail bond businesses everywhere and hospitals dominate the area. I informed the CSR that I'm very familiar with the area having grown up in Miami and per her map it is included in space covered by my selection. This hotel is at least 4 or more miles from the Port of Miami. I called my credit card company to file a complaint for not deceptive billing or fraudulent billing.

I have used this feature a number of times before (successfully). I have an upcoming vacation in Virginia, and used the feature to select a 3.5 star hotel in the Virginia Beach area. I was prompted to provide an increased price (with their suggested price point) which I did. To my shock and horror, I was immediately booked in Pat Robertson's "Inn" which is on the campus of his religious organization (the 700 club and Regents University).
I immediately contacted customer service via chat, and told them I was looking for a hotel. I was not anticipating being forced to stay in lodging on the campus of a religious organization (and one I disagree with at that). The service agent was nice but I immediately got the party line (no changes, too bad). Long story short, I have now sent 3 emails, 2 customer service chats, no resolution. They do not care. I don't want my money back, I want to stay in a hotel, not be forced to stay in Pat Robertson's lodging. Ugh. I will never use Priceline again.

We booked a van rental on Priceline.com the end of March for a Family Vacation in June. Four days later we called to cancel due to our son and daughter not being able to get the week off they had requested at work. On the Priceline Website they advertise; "Unlimited Mileage" - "Pay at Pick-up" - "Free Cancellation". NOT SO in our case! Our credit card was billed, and when called they said this was a non-cancelable offer due to Priceline's agreement with Avis. Still Not What Priceline Advertises!
We have made changes to our vacation to accommodate Priceline's Greed and unwillingness to work with us. We've tried to change the dates of the rental, use the funds for another time, and even reinstate the original rental back to the original dates. NO they will not do it, Will NOT work with us. As of today we find out that Priceline has cancelled our rental but will not return the money! Last week we asked to speak with a Supervisor, and was told, "They will call us back in 24-48 hours if they feel the issue warrants the return call." Is this a company you want to do business with? Priceline is a company of GREED! Not a Customer Service Company in the least. Lesson learned... DON'T USE PRICELINE!

Booked an express deal through Priceline for a 3 1/2 star condo for a five night stay in Orlando. When the resort was revealed it states we are booked at West Lake Resorts in Kissimmee Florida. Upon checking in I was re-directed to a referral desk. Confused I listened to this person say this resort is actually a timeshare sales pitch. Our 3 1/2 star condo turned out to be at best a 2 star high pressure sales pitch for a timeshare. The "condo" is nothing more than a hotel room with a refrigerator. We are now stuck in a timeshare resort that doesn't come close to comparing to a Hyatt/Regency as advertised by Priceline for the remainder of our stay because Priceline will not honor their reservation for an actual 3 1/2 star condo. Very disappointed with customer service and will never use their site again when booking a vacation.



Priceline explicitly states that they carefully review hotel partners to ensure quality, yet, in my first (and will be only) express deal experience, they included a hotel with a terrible user review from various websites, including complaints about bed bugs, roaches, knife gashes and cigarette burns in the sheets, lukewarm water, and rude reception desk, and broken into rooms, which I unfortunately was given. When I contacted Priceline about this, they insist that their review process is good, and that their policy does not allow any changes or cancellations. After trying to communicate with them, three emails later, I've given up. All I can do now is warn others - do not book through their express deals unless you're going for three stars or higher, depending on area. I will not use Priceline again. I'll stick with my usual choices, such as Hotels.com or booking with the hotels directly.

Reservation sent for two adults. When we got to hotel it was one queen size bed for two males. This was unacceptable. I tried to cancel then they would not cancel it. Even though they said it was for two adults they need to specify their ads and the hotel's which was a Howard Johnson's in Toms River, New Jersey. Should have worked with me instead they charge me an extra $10 for the second bed and would not allow me to cancel it either. So from a $56 room I have ended up spending any $81. I feel this is false advertisement and they should have given me a cancellation with a refund. I use Priceline three to four times a week and every single time it's a hassle to cancel and get your money back. It takes 1 minute to make the reservation and hour and a half to do a cancel when they allowed to cancel.

I tried changing the driver on my rental, which is scheduled in 6 days and it can't be done. The representative also didn't have answers to any of my questions and pretty much just told me I'll find out all the prices when I arrive to pick up my car. After I told her, "I'll be sure never to book with Priceline again," she said, "Sorry you feel that way." Good thing they appreciate their customers.

Reservation. Called back in 15 minutes to cancel. Payment still pending, customer service rude. Very rude. Absolute refused to upgrade COMPANY policy. They suck. Use Expedia. Would do NOTHING to accommodate me. 1 hr 30 min in the phone.

I reserved an "oceanfront" room at Myrtle, however I ended up with a non-oceanfront. This room was across the street with another building in front of it. I called customer services and they gave me a bunch of BS saying oceanfront meant "City Center". They did nothing to get an oceanfront or even an ocean view room. This is very misleading or even a lie. My advice is go directly to the hotel. Leave Priceline alone.

I booked a hotel in Savannah and inadvertently selected a reservation where you pay the full amount upfront. I called Priceline to notify them of my mistake and to rectify the issue and was told they could not help me per the FINE PRINT saying no cancellations or adjustments allowed to my reservation. I offered to pay more money to rebook my hotel so I could have the option of paying Priceline after my stay which is 8 months away and they still said no. Spoke with a Sr. agent by the name of Jada to see if she could help me with my plight and she was of no help nor did she seem to care. My experience with Priceline made me realize two things. 1) I felt like I was being treated like a transaction. 2) Priceline can care less about helping their customers.
I am very disappointed and frustrated how the company has taken the human factor out of the equation. I realize Priceline is and online sales organization and competition is fierce, but when you offer zero customer service to people who want to buy from you and most likely would buy from you in the future it just ends up hurting your bottom line in the long run. Simply put they failed on one of the most basic principles of business, Customer Service. Without that sales and customer loyalty will be affected. I made an honest mistake and I tried to rectify it immediately and there was no path to correct a simple misunderstanding.

I just booked a car rental for Maui, and a few seconds later I received the email confirmation. In that email, Priceline made hotel recommendations along with their pricing. 10 minutes after they sent the email and I clicked to book one of the 3.5 star hotels for $98, when it re-directed me to their site, and when I clicked to book the hotel it was $190. It jumped up by $100 in 10 minutes. This has happened many times before, and it is a very misleading, bait and switch practice, and one the government should regulate for consumers. I understand if this is like the stock market, with prices changing every seconds/minutes. But then as consumers we should see this disclaimer in the email marketing they send out and on their site. I hope someone can do something about this as it is truly not right.

I was comparing hotels and had multiple sites running comparisons. I looked at the hotel for Priceline and then thought I closed that screen and was looking at another hotel. I accidentally hit the buy button on the Priceline site instead of the other one. As soon as I realized I was on the wrong site and it was the wrong hotel I contact Priceline. This was within 5 minutes of the booking. They absolutely refused to cancel the booking and work with me. They are now charging me for 4 nights in a hotel that I will NOT be staying at. I will be filing complaints until I get this resolved.

I have used Priceline in the past to book hotels for my husband for business. I just now used it for a vacation hotel in Miami Beach for just one night. After booking, I looked the next day on Expedia and found the same hotel for $25.00 less on Expedia. I chatted for an hour with Priceline. No help, then I actually had my credit card company do a 3 way call with Priceline. They kept telling me that they could not see the 189.00 price, vs their price of $224.00 a night. After an hour of a 3-way call, I just gave up. When I was on Chat I cut and pasted from the website and they still would not honor the lower rate.

I attempted to book a room by naming my own price. When I hit submit it came back as an error on the page. Based on this I assumed I didn't get the room. No confirmation popped up. About :15 later I got a confirmation but by that time I had booked another room. I contact customer service and they said there is nothing they can do. I explained the situation over and over to no avail. I asked for a supervisor but was told there was no one else to talk to. No exception would be made. I explained that they were losing a customer for $61 and they said there is nothing they can do. I highly recommend you do not use them.

I booked a set of hotel rooms for a family reunion under the assumption that the rooms were "free cancellation" as the Priceline website indicated. After booking the rooms, I was informed by the 'concerned' chat agent that this was explained somewhere in the about this booking fine print. I went to Expedia just to compare how they handle this, and they are honest. They gave me the same hotel at a non-cancellation rate that was the same as Priceline versus a free cancellation rate that is more per night. I've also had issues in the past where I book a room with two double beds and arrive at the hotel only to be told I have to settle for a king bed. I'm going to use Expedia unless Priceline has an unbeatable deal.

I reserved a rental car through Priceline and my reservation was with Hertz. My plans changed and did not pick up my rental car. When calling Priceline customer service they do not give you the option to speak to an actual person about any problem you have. They still take your money even when you don't pick up your rental car. They are the biggest scam artist I have ever dealt with. Horrible customer service!!!
I don't suggest anyone to use Priceline for any services whatsoever!!! How does a big company like Priceline not refund any money back if you don't or could not follow through with the services that you requested through Priceline. What is it that I paid for that I didn't even use? I will do everything and anything to make sure Priceline loses business with others preferring to use Priceline for their services. I am disappointed with this company. I will see that they will never earn my or anyone else's business ever again. I will file a complaint through the Better Business Bureau about the terrible customer service and scams that Priceline uses to successfully take your money and not give it back.

HORRIBLE SERVICE! Email address I received from Priceline.com for complaints AJKTSFAX4.email.priceline.com. Hope this works. 02 November had reservations from LAX to Manila, Philippines. Because of fog, we could not arrive in time at LAX. Rebooked the reservations with "Doug" at Priceline for 03 November 2016. Priceline.com sent the changed reservations via email - received two emails - one for my wife and one for me. Get to the airport and find that my wife's reservation is valid and mine is in the system, but for some reason not valid. Virgin Atlantic allowed me to fly from LAX to San Francisco. Arrived in San Francisco. China Southern Airlines honored wife's reservations but not mine - even though I showed them the Priceline.com email reservation. China Southern Airlines told me they have lots of issues with Priceline.com.
I spent 3 hours and countless phone calls in San Francisco trying to get Priceline to straighten out the reservation - they kept hanging up! I ended up paying over $650.00 for another ticket to Manila - and fly with my wife. Return ticket was for 30 April 2017. Called China Southern and they said my reservation is not valid - my wife's is valid. I was told by Priceline.com "Amanda" that the return flight would be honored. I called Priceline.com on 13 April 2017 concerning the 30 April reservation. They said they had my reservation but it was not valid because Virgin Atlantic "changed" the reservation somehow and Priceline was not responsible. They did not explain to me how it was changed. I ended up paying another $850.00 for a return flight to LAX.
"Ken" from Priceline.com was a horrible service representative - I can't imagine having someone with his attitude actually "helping" anyone. It is all my fault and he can't tell me why. "Ken" told me that he would ask "China Southern" for a refund and he would send me the email with the request - still haven't received the email. I am writing to Priceline.com and the Department of Transportation - in my opinion this is fraud. They have my money. They have my money for changing the reservations. And I get really bad customer service. Please stay away from Priceline.com. I will be using Social Media about this situation as well.

I just tried booking a car rental through Priceline and had a pickup at one location and dropoff at another location and selected it and when I looked at the reservation it's shows the picking up and dropping off at the same location... I called Priceline and they said stuff, you can cancel it and there will be a $30 cancellation fee. I talked with customer service and they said the same thing. Will never use Priceline again.

If you're thinking about using Priceline DONT!!! It took us twice To learn. We booked 4 rooms paid for and received our confirmation number B a ride to the hotel and was told they had no reservations for us. We call Priceline. They said it was a screw-up. They had a lot of people just problem and they would call us back with new accommodations so we stood on the side the road for two hours. Of course no one from Priceline ever called us back. We tried numerous times to call. Of course you will never get through to anybody on Priceline!!! Do not use these people. They are horrible. FYI they are also a sister company of Booking.com. I would not take a chance with either.

I tried to book a flight ticket through Priceline app, I provide all the required information and at the end a message popped up. It says Credit card company didn't approve the transaction. I tried all process from the beginning at least three times, every time the same message popped up. I didn't give up. I called customer service to reach a real person to ask what's the issue. But there is no option to choose for talking a real person but I choose the same options again and again then at the end they direct me to the customer service representative. It took me 30 minutes. I explained everything to them then ask why my transactions didn't approved. The customer service representative has no answer but the ticket is no longer available.
While I am speaking with the customer service representative I was on website of United airlines to buy the same ticket. And I purchased the ticket through the United Airlines website. Even priceline.com customer service representative told me the deal was no longer available. This was not the first time I was experiencing problems with priceline.com but I'm done. I will not use their website either their application anymore.

I booked a room for one night (without doing research 1st and I'll never do that again) and was unable to keep it. I had to take care of my mom and didn't have anyone to help me out. I asked what the policy was when there are unforeseen circumstances and was told by 2 different reps that it was my $86 loss. I don't understand why there isn't a policy in place for extenuating circumstances. Customer service responds with, "I wish there was something I could do," I asked for info to reach management and I was referred to the website on how to do so. I see why now, why I haven't heard anything about Priceline, because I don't know anybody that would waste time using them! I've worked in customer service for many years and I try to put myself in the customer's position and have had to resolve issues within reason.
The people in charge of writing these policies will expect themselves and anyone they care about to be treated with compassion if they're ever in a situation that is similar. It will be interesting to see how they would feel. I won't use or recommend Priceline for any service. I've seen sooo many 1 star ratings on this website and it's clear that Priceline doesn't care about people, they only want money... whether you receive services from them or not. The competition is worth the chance I'll take going forward. Don't ever book with Priceline!!! If anything keeps you from checking in, they will gladly take your money and tell you sorry. Only book with Priceline if you are in the habit of throwing money away! I've received better service with other companies and will make sure that Priceline won't get richer with anymore of my hard-earned income.
Priceline Company Profile
Company Name:

Priceline

Year Founded:

1998

Address:

800 Connecticut Ave.

City:

Norwalk

State/Province:

CT

Postal Code:

06854

Country:

United States

Website:

http://www.priceline.com/