Consumer Complaints and Reviews

I booked a hotel stay with Priceline, I read the cancellation policy with the hotel. Unfortunately, I had to cancel my trip and called the hotel within the 24 hours required. The hotel said they couldn't do the cancellation and to call Priceline. Priceline told me the hotel had to do it and they would have to call them. After 2 days of getting the runaround, I was charged for the FULL stay and told there was nothing I could do about it! I will never use this service again.

The worst company to deal with. Purchased flight with Insurance and Travel protection, contacted them to change a passenger 2 weeks before flight. They refused to change or cancel flight without paying them double what the cost of the flight was. DO NOT USE THEM or the ALLIANZ insurance unless you are dead. They will not cancel or change regardless of your situation.

To save money and get a great deal I chose to use "express deals" on Priceline. Because I was unsure of the hotel I was getting thru the secret deal I paid the additional fee for "trip protection". I checkout and received the hotel confirmations from Priceline. I did not agree that it was a great deal. 1. Parking was additional $40 a night and 2. It was connected to a hospital and attempted to cancel online, but was told could not canceled because I used Express Deals. I then contacted Priceline via the phone, and they explained "trip protection" was only for illness and death and refused to give my money back.

Priceline engages in certain practice with hotels in order to trip a consumer. I just booked a 3-night stay at a hotel for $86/night, after searching for hotels under $100/night. Thinking that I am OK to pay that plus tax (totaling $306), I scrolled through the screens and paid. Only then did I see that the total for the hotel is actually $380. There was an additional item that read "Mandatory hotel fee" of $74. I called Priceline service, they could not explain what this mysterious fee is, except that it is to be paid directly at the hotel.
Now, I would've never booked this hotel, Sheraton San Diego Hotel & Marina, if it didn't show up in the result search under $100. But the price, obviously, is $110 when you add the "mandatory fee". So this is the trick Sheraton does. And Priceline is perfectly OK with that. It's pretty sad they resort to that. At the minimum they should explain what the additional fee is, but obviously it is simply the room rate placed AFTER the customer searches to select a hotel. Priceline did call the hotel to cancel the room, after several minutes of my haggling with them over the phone. Be very careful when booking with Priceline, and certainly with Sheraton too, or don't use either. There are more decent services than Priceline and Sheraton.

Rented a van via Priceline in Caicos. The rental was fine, and the basic price matched the quote. Unfortunately, the "taxes and fees" quoted were under-quoted by about $100. This was for a "premium location" fee. If I do this again, I'll probably call myself to verify the total price - it just doesn't make sense to use a tool to compare prices that doesn't include the total price!
How do I know I can trust these reviews about Priceline?
668,037 reviews on ConsumerAffairs are verified.
We require contact information to ensure our reviewers are real.
We use intelligent software that helps us maintain the integrity of reviews.
Our moderators read all reviews to verify quality and helpfulness.
For more information about reviews on ConsumerAffairs.com please visit our FAQ.

If my business matters so much to them, why won't they reimburse me for a trip I had to cancel due to an unexpected flair-up of an ongoing medical problem while I was out of town? Getting another doctor other than my specialist outside my hometown makes no sense. But, that's what they expect! There are exceptions to every rule. A little compassion would have been nice! Be careful Priceline users!

I booked trip through Priceline for the car and hotel. The charges for my hotel what is diff from actual price. They advertise best price guarantee but that is completely not the fact. Instead when I receive my receipt from hotel that is much cheaper so I try to reach Priceline. They just said, "That is an error. The other thing is rental car." Even you only use for couple of hours they charge you whole day and never refund, never issue any credit. All other site if you book and return it early always get refund, not the Priceline. Never ever book with them again.

On Nov 30, 2016, I booked a hotel on Priceline using the "Name Your Own Price" feature. The booking is for Jan 18 and 19, 2017. The "guaranteed " rate that I bid and got notice that it was accepted, was $85 per night. When I got my credit card statement, the charge for the booking was $290. I emailed them and they responded that they couldn't honor our contract -- too bad for me. Why did I bother to bid then book a hotel through Priceline, when I am bound by our contract, but they can charge me whatever they choose. SO LONG PRICELINE!!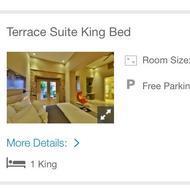 Be warned - Priceline.com falsely advertise hotel rooms, leading to a final booking for a room type not chosen by the customer. I booked a room via Priceline specifically for its private Terrace feature. The room had photos and a listing that clearly described the terrace - and the room was called "Terrace Suite King Bed." When I clicked book and paid I noted in the receipt email it made no mention of the terrace. I immediately spoke to a Priceline agent who, after an hour, confirmed the room booked was a generic "Deluxe Room Type" - NOT the room I had selected - no terrace and most likely a smaller size. I had no choice but to cancel and make a fresh and accurate booking with Expedia. Stay clear of Priceline. They draw you in with lower prices, but because of these deceptive listings you're not guaranteed the room you select. Shoddy, third-rate at best - unscrupulous and fraudulent at worst.

We used Priceline in December, 2016 to make a room reservation. We paid the hotel that we stayed at, but Priceline also took off the hotel fee for the same exact room on the same day. I have spent hours on the phone with Priceline trying to get our refund. I have sent them bank statements, emails, ID numbers and all I get is the run around saying it isn't their fault. But, I haven't received any financial payback for being charged from their company. They will not take responsibility for taking my money and charging me twice. So, I am out the money from using their company. It has taken hours on the phone and submitting receipts, etc.

Your tickets are messed up and they keep helping themselves to your credit card. You have to speak with someone that does not speak English well. They ended up messing up my tickets. I called in and there was a nationwide computer problem and I put my office phone on speaker all day and we were never answered. I went online to cancel my ticket and confirmed that I really wanted to cancel. I called the next day before I left for work to make sure they were canceled and she informed me that I was one day too late to cancel. I purchased 6 tickets and only needed to correct or cancel 3, agent could not help me (would not). They have double billed me. My credit card is a mess and they keep fighting with me. It has been a total nightmare. Will never use them again. I think they double bill you and fight with you so that you get so frustrated you pay into their scam.

I went to Priceline to book a flight for the owner of the company for a business trip over the holidays. This is something that I have done many times but after this incident we as a company will never use Priceline again. I booked a flight for 1-2-17 for a return flight home from Ft. Wayne IN to Greensboro, NC. I choose the flight online that fit the schedule that was needed for this trip. I went thru the confirming process on my computer screen and made sure that everything was correct. We were sent a email with the ticket information but when my supervisor took the ticket to the counter in Fort Wayne, IN the ticket was booked for a month earlier. This is NOT what I confirmed on the screen and paid for!!!
I spent over an hour on the phone with a customer service rep with Priceline that could barely speak any English and was very hard to understand and didn't seem concerned at all that the computer/human at Priceline had made a error in this ticket and now my supervisor is stuck in an airport with no flight at this point to come home. When he gets to the ticket counter to speak with a representative from American Airlines she was very rude and made a point to let him know that his ticket was for a month earlier and that he had used Priceline.
I never got anywhere with the lady on the phone. She kept giving me other numbers to call instead of helping with our problem and didn't offer any suggestions. Nor did they admit to the mistake that had happened in the process. My supervisor ended up paying over $1,000.00 for a flight home and luckily got the last seat on the flight. I will continue to pursue this issue with Priceline as they have lost a lot of business from our company and just the fact that no one would admit that it was an error on Priceline's behalf.

I sure wish I had read the Priceline reviews before I used them - I agree they are horrible and I also don't think they should not be allowed to operate! I had no idea that there was no way to speak with a "live human" at Priceline - they sure don't advertise that! But I found out after spending hours trying to reach them - I called the P# listed on their website: 877-477-5807 and there's no way to speak w/ a human, in fact the call hangs up on you - now that's what I call great customer service - LOL! Then I tried "live chat" through the computer, which was quite timely also, and was told that even though I made the reservation for the rental car through Priceline, they could not do anything to the reservation (i.e. change the driver from my spouse to me since spouse has to arrive a day later and I'd be picking up the rental car) stating that only the car rental co. could access the reservation.
I called the car rental car co. directly and they will cancel the reservation. Cancel directly w/ the rental car co. I will do (no fault of theirs). I'll call my credit card co. to cancel/dispute the charge. I'll gladly pay more money in the future to book directly with the providers of service, rather than try to "save" a few dollars! PROSPECTIVE PRICELINE USERS - PLEASE BEWARE AND READ THE REVIEWS... SURE WISH I HAD - A PRICEY AND DISAPPOINTING EXPERIENCE. I sure hope that ConsumerAffairs is reading these reviews and will consider taking action. After all, in America, if there's a company offering a service, the company should be required to provide a way for the consumer to communicate with the company - that is "live human" communication.

This is a terrible company. I offered $800 for a ticket from Logan Airport in Boston to Morelia, Mexico and went through hell. OK you expect some hell from Priceline. But $1000 worth of torture is not worth the $200 you wind up saving. If that... On the return trip to Boston these morons decided I needed to spend (Are you ready for this?) FIFTEEN HOURS in the Mexico City Airport even though there are a dozen flights that leave from Mexico City to Boston everyday! Clearly they have no problem abusing the flaming ** out of their customers for your business which I might add I will NEVER give them again. Only a sadistic brute of a company like the Spanish inquisitors of Priceline.com would subject one of their customers to a wait of 15 hours in airport when flight after flight leaves from the city you're at to the city you want to go. PRICELINE STINKS. I will NEVER, EVER USE THESE CLASSLESS CLOWNS AGAIN. EVER.

We rented a car to travel to Niagara falls for a conference. I called in advance to Priceline to make sure the car was ready. They confirmed it was ready at Thrifty car rentals. We got there, nothing in the system. Guy told us to call Priceline so I did. They didn't help at all. Said we have to book with another company because they have no cars available. This made me really frustrated. Thankfully guy at Thrifty told us another car rental place close by and we got a car at Discount Car Rentals. BIG shoutout to the guys there. Great job, very professional service. We got the car in under 20 minutes, ended up being late but all was good in the end. NEVER USE PRICELINE CAR RENTALS.

I reserved a rental car through Priceline. The car was to be picked up at the airport in Las Vegas, but when we arrived, we had to take a shuttle to car rentals. When we arrived there, we discovered that our car rental was at yet another site and we now had to take a van to that site. It was a strip mall and the name of the company (Verve Car Rental) was not the same as we were given in the confirmation. The manager said Priceline has known for two years that the site had moved, but doesn't change the information online. I was also informed that the rental didn't open until 6 AM and our return flight was 6:30. So, we had to return the car after only one day, instead of two, and get a cab back to the hotel and then get a cab for our early morning departure the next day. Instead of costing $114 for two days, it cost us $114 for one day plus an extra $25 in cab fees. I will NEVER use PRICELINE again.

Buyer beware. Using Priceline.com, I booked a hotel in Boston. I received a confirmation email from Priceline that indicated my booking was completed by Agoda and I had paid in full. I tried to check in at the hotel, they told me they had no record of my Priceline booking. The hotel phoned Priceline Customer Service who transferred us to Agoda. Priceline and Agoda offered no help or apology, and recommended I book directly through the hotel. Even worse, Agoda suggested the problem was the hotel who could not honor the booking and that my payment had not been processed. The hotel was not the problem, I made an online booking through Booking.com and it immediately showed in the hotel system and the hotel upgraded my room as a goodwill gesture. The hotel indicated they had experienced this recurrent problem with Priceline bookings. Think twice before using Priceline.com.

Because of bad weather we cancelled our trip to the Twin Cities. I cancelled the trip on the website before the deadline of noon on Dec. 22 but because I cancelled on the website and didn't call I was charged a $25.00 room fee. We did buy travel insurance but it did not matter. We will never recommend or use Priceline again!

The worse, despicable, rude, lying noncompassionate, hardly speaking English, worthless company. BEWARE. I bought tickets through them to Maine. Rental car too. Bought flight insurance so in case I needed to change return date due to mother who was passing away. I needed to change date as she had passed and so I called them. What ensued was a nightmare. I kept getting passed around and put on hold for hours. Then phone would get disconnected. I would have to do it all over again. Priceline was going to charge me over $700.00. All they kept saying was file a claim at some website and that I must pay now out of pocket!!! 4 and a half hours it took to try and get this rectified with NO help. FOUR AND A HALF HOURS!!! I called United direct and they charged me $61.00. I will never use Priceline again and I will make it my mission to destroy them on social media.

I am never using Priceline again. They screwed up the car rental and my $332 rental just cost me $700. Guess I can't take my children I haven't seen in over two years out for Christmas dinner now. They don't care. I spent 35 minutes on the phone trying to fix their mistakes and they flat out refused. They also refused to answer one question I asked over and over for fifteen minutes, didn't take ownership for their mistakes, and their customer service rep and manager were so disrespectful and rude.

I went to Priceline.com to book an airline ticket to bring my son for Christmas. The site told me that the flight was unavailable to select another. On the 4th try it finally went through but the reservation was different dates than I requested. I then noticed they had done a pre-auth on my debit card four times making $1,300 unavailable to me. When I called they cancelled the flights and said the pre-auth would go back to my account in 24 hours. It's day 7 and two days before Christmas I still do not have my money or any tickets to bring my son to see me for Christmas. Numerous calls getting the run around they refuse to do anything to help me. Only thing I received was the email below after 7 days:
"I apologize if you found our customer service to be unsatisfactory and sorry to hear about your charges. I see that, you were advised that you were not charged for your rejected request for your trip to Atlanta; hence, you will not see a refund. You may see an authorization or a pending transaction, which may appear like. Charges but are removed within 3 to 7 days. You can contact your bank to confirm the same. If your bank needs any assistance from us, please call us at 1-800-774-2354, and be ready to enter your trip number when prompted. Our phone service agents look forward to assisting you."

I tried to make a booking through Express Deals. It stated that hotel would be something similar to your hotel - is similar to Holiday Inn, Best Western, Hampton Inn, Fairfield Inn by Marriott and Marriott SpringHill Suites but the booking was made at Extended Stay America. When I contacted them to express my concern and asked for refund, they refused stating the contract terms. This is not fair. They state something and deliver something which is not written anywhere. Beware of their unprofessional practices and fall into their trap.

We used priceline.com to compare rental car rates for a trip in December 2016. Priceline.com did not find any matches that met our 'bid' for the car. Priceline sent a link to a similar vehicle at a comparable price but we did NOT intentionally confirm the reservation nor did Priceline.com actually provide PROOF or a confirmation of our rental. December 6 is when we were 'comparison shopping' through Priceline.com and we received an email that on that date but it was very innocuous and did not indicate anywhere that we'd actually confirmed a car rental reservation. In fact, you had to page down to the bottom of the email to see what the email was all about - a car rental - but, again, it did not state we had actually reserved the vehicle.
An email from priceline.com came to us on December 18 indicating our rental car would be ready on December 21. We contacted priceline.com and was told our reservation (that we did not actually confirm) was non-refundable. It did not matter that we made a MUCH better reservation for much less directly through a rental car company. We contacted our credit card and were advised to initiate a dispute with Priceline.com, which we did. However, Priceline.com CANCELLED our non-refundable car rental reservation because we initiated a dispute. No one from priceline.com nor our credit card company informed us of this action.
We contacted Priceline.com to restore our reservation and spoke to a gentleman named Nigel (employee ID **) and he confirmed that NO ONE in the ENTIRE priceline.com organization has the authority or authorization level to restore a canceled reservation. Priceline.com will not refund our money and initiating a dispute is equivalent (in the eyes of priceline.com) to a cancellation. That is priceline.com's POLICY.
Priceline.com's "system," according to Nigel, does not allow for a cancellation to be reinstated. We told Nigel it sounded like robbery and at the very least was fraudulent and asked to speak to someone in the fraud department. Nigel said there is a fraud department but he did not have access to any name, phone number, or even an organizational contact in the fraud department. Priceline.com's "system" does not contain information on other departments within the organization, according to Nigel. We then asked for the president 's name and he told us it was Paul Hennesy. A quick google search tells me Paul Hennesy resigned as president SIX MONTHS ago from Priceline.com. Mr. Hennesy probably realized his employer is a total dumpster fire and wanted out.
We are out $850 and have nothing to show for our reservation. Our credit card company said a dispute can take up to 30 days to resolve. Nigel said priceline.com is waiting on our credit card company to provide information. Our credit card company said it was waiting on priceline.com's response. I have no reason to believe priceline.com at this point. It is a company with low standards, terrible policies, and, judging by the other comments on this page, a long history of treating its users like garbage.
The current president of priceline.com is actually Jeffrey H. Boyd. He took over for Paul Hennesy who came on board after former president Darren Huston resigned in disgrace for having an 'at work' relationship with one of his subordinate employees. You can really tell a company has its act together when it goes through three presidents in a three-year span. Do yourself a favor: don't use priceline.com for anything. It may take a little extra work and research, but deal directly with your hotel of choice, car rental organization, or airline. You and your wallet will be much happier.

Let me say I have used Priceline before. However, on Saturday, December 17, 2016, I experienced a company that was non-credible and uninterested in correcting a situation caused by Priceline! I rented a vehicle to move my daughter from Louisville, KY to Jackson, Mississippi. The weather was awful. I got to the National Counter and the agent says, that will be three hundred and eighty-six dollars. Usually, when booked through Priceline, you simply pick up your keys and you are good to go. The agent asked me to call them. It took me forty-five minutes to get through.
The agent who answered the telephone started right in on me. He kept saying the reservation was booked incorrectly, they were not going to change it and no refund was possible. He kept saying the reservation was booked roundtrip to Louisville. I told him I had a one way drop-off. He said no I was wrong and could not change the reservation and was not going to get any money back. Meanwhile, I showed the agent at National my charges on AMEX on my phone, He advised me to ask them to cancel the reservation so they could honor the ticket. The Priceline agent had no grasp of the English language and only wanted to argue.
When I asked to speak with a Supervisor, he told me that was not possible! I was so trying to be cool, it was very hard. I just started saying Supervisor, Supervisor, Supervisor, until he finally transferred me. I waited forty-five minutes and a Supervisor came on line. She started the negative spiel and I told her I had the solution. I told her that they had already charged my AMEX card and National was going to honor the rate, so just release the funds. She hung up on me!!! The National agent said he wasn't surprised, he sees this all the time. This experience has left a sour taste in my mouth. I'm not sure I will use Priceline again.

The latest is the Banner "XYX hotel" $114.00 a night "choose room". Good luck finding that $114.00 rate! You then choose your dates to get a quote and that $114.00 a night room is now $159.00. So I went on their chat application, and asked, "What night is $114.00 at XYZ hotel?" "Well we don't know, it's based on availability". At least a car dealer will say, "We have one in stock at that price". In this case Priceline had no idea if there was a $114.00 room "ever"? Why is this allowed? Of course it's not as bad as the hidden "resort fees". How is it "free parking" and "free internet" when that is part of the "resort fee"?

I rented a car for 10 days and now only need it for 2. I wanted to turn the car back in but Priceline will not refund the money. They said I could turn it in but they would still charge the remaining balance to my card.

We had a rental car for less than 3 hours. It broke down leaving us stranded in freezing weather. We had to arrange alternative transportation as the rental company could not bring us another car. We called the next several days and still they could not give us a new car. Well, it's been 7 weeks and every time we call Priceline, it's another new story about why we can't have our money back. First, we had to wait until the 2 week rental contract was up even though the car was returned the same day. Next, we had to wait 10 business days for the claim to process. Now we are supposed to wait 14 business days for a refund approval. I am starting to wonder if I will ever see my money! It was a large amount for a 2 week rental car!!

Due to my job requirement I travel a lot and I have traveled a lot during the last 10 years. During my last trip I had a lay over of 24 hours in Dubai, UAE so I used Priceline.com to book a hotel room. The reservation was done through their "Express Deal" and the offer provided amenities such as Airport Shuttle Bus and so on. After the purchase the hotel that was booked DID NOT have any shuttle bus! Did NOT provide the breakfast that was included in the purchase. I contacted the Priceline.com numerous times to either provide the service that I paid for or cancel the reservation so I can book another hotel that actually provides the services that they get paid for. Their answer was "Sorry, there is no refund policy." Every representative and their Senior Supervisors that I spoke to said "we are really sorry about the trouble but there isn't anything we can do. Since it was a blind deal."
This must be a joke. I feel like priceline.com is a website that provides fake and bogus offers and sells it to consumers and after taking their money they say "sorry we won't provide what we sold to you." I will NEVER again buy anything through priceline.com EVEN if they offer it for free. By the way I have the audio recording of conversations with Priceline representatives and the rude hotel staff at (Fortune Grand Hotel in Deira Dubai, UAE) one of the worst hotel on the face of the earth. In short I arrived Dubai and needed to relax for 24 hours before my next flight however, I spent most of that time talking to priceline.com and then at night I laid down on the bed in a noisy, dirty, smelly room in a so-called "four star rated" hotel with loud screaming of Indians coming through the walls/windows, and door. I wish I had sat in a corner of Dubai Airport and that would've been much nicer.

I made a reservation through Priceline and when I received my cc statement called to verify the reservation. Priceline stated they didn't have the reservation so couldn't help me. I disputed the charges only to find out they passed the reservation to their China sister company Agoda. Agoda stated the reservation was non-cancelable so I reinstated payment and told them. Since the payment was not received by them before their self-imposed deadline they cancelled my hotel room and are now keeping the cc payment. I have used Priceline hundreds of times but never again. The Agoda relationship is a scam!

You really have to DIG to find the Small Print buried inside their Booking Policy. I didn't because what they wrote in Large BOLD print: "FREE Cancelation until 1 day prior to arrival date"! Who would look any further after that? But inside their Booking Policy (if you are lucky to find it) you will see this: "Deluxe Room at Concourse B Non Refundable"? See my Images. I booked 'FREE Cancelation' Room and got a Classic BAIT and SWITCH. Disgusting Company!

ConsumerAffairs Research Team
The ConsumerAffairs Research Team believes everyone deserves to make smart decisions. We aim to provide readers with the most up-to-date information available about today's consumer products and services.
Priceline is a Connecticut-based company that helps travelers find discounted rates offered by a wide range of travel businesses, including hotels and airlines.
Price negotiations: Priceline lets customers name their own prices for hotel rooms, rental cars and flights.
Last-minute flights: Travelers can get extra discounts by booking last minute flights.
Customer service: Priceline responds to customer service emails within 12 hours.
Group discounts: Priceline can help groups get discounts including a free room for the group coordinator.
Travel bundles: Bundling travel services through Priceline can give travelers extra discounts.
Best for International and domestic travelers.
Priceline Company Profile
Company Name:

Priceline

Year Founded:

1998

Address:

800 Connecticut Ave.

City:

Norwalk

State/Province:

CT

Postal Code:

06854

Country:

United States

Website:

http://www.priceline.com/