Consumer Complaints and Reviews

I give Priceline zero stars. Everything they stated in my package got screwed up. I called them while I was away and ask to speak with their supervisor. I spoke with three different supervisors and of course they're overseas in Philippines. They basically told me that when you book with them they can't guarantee anything. That it is just an estimate and that things can change. I am so tired of dealing with people outside of the USA. Nothing ever gets done and they don't agree with you at all. You will never receive any type of credit with them at all. I urge don't use this company. You will get scammed.

As previous customers of this site have found out... I, a Canadian customer... booked a Canadian hotel in a Canadian city and was shocked to find out I got billed in American funds. Don't even waste your time calling the "customer service" they are 100 percent useless! Tried to use the guarantee lowest price match... Useless... Tried to cancel the reservation since it was over six months away but no luck there! Run as far away from this booking site as you can get!

I total booked six trips with PRICELINE for the past few years, never did changed or request update my personal info in their system. I was satisfied with their service, but I don't know why, they made mistake with my name for the last trip, caused me can't check in. Have to bought another one round trip international ticket at the airport, that was the only choice I can had even after contacted PRICELINE Customer service asking for help. The worst thing is; after I complained, they did changed my name in their system as same as what kind of mistake they made, deleted my trip histories, but they can't delete anything from my previous emails. I have all the itinerary received from PRICELINE for the past few years, but you can't find any info with ticket # on their website. I just feel like somebody trying to make more mistakes cover previous, with absolutely no refund and no "sorry". PEOPLE! Please beware!

Company misrepresented the amount of hotel I booked. After placing booking they added fees, charges and taxes to the total. They have been completely unhelpful in my attempts to resolve. Use a more reputable booking company.

I booked a 4.5 Star Express Deal with Priceline on 2.13.16 for the night of 2.14.16 in Schaumburg, IL. The Express Deals was clear in that it said there was free internet and free parking. When I received the hotel information and confirmation I saw that free internet was only available in public areas. I contacted Priceline to no avail and found that it will cost me 12.95/nt for Internet in my room. I found this to be a very deceptive practice. If I could give them 0 stars I would.
How do I know I can trust these reviews about Priceline?
697,568 reviews on ConsumerAffairs are verified.
We require contact information to ensure our reviewers are real.
We use intelligent software that helps us maintain the integrity of reviews.
Our moderators read all reviews to verify quality and helpfulness.
For more information about reviews on ConsumerAffairs.com please visit our FAQ.

Did a Priceline name your own price car rental where you get one of 5 major brands they offer. This time however, after agreeing to a non-cancellable contract, Priceline gave me a no-name, off-airport site brand... Sixt. When I complained about the "bait & switch", Priceline said "sorry, this is non-cancellable". Very crooked and dishonest! Can never use them again.

I would give a negative rating if possible. The description stated that water park passes were included with room rental. I received an email confirmation and there aren't park passes included. Even after I called customer service first to verify that they were included!!! Sad that a company so big would have false advertising.

I continue to receive rental ads for $7 per day $9 per day at my destination and dates. When I click on site, the price changes to $47 or $51. There is no way the price increased that much that many times. Priceline is practicing false advertising and the consumer must be aware.

We booked on Priceline. They gave us a good price on a Hotel that was given a ranking equal to La Quinta or Holiday Inn but they would not tell us what the name of the hotel was until AFTER purchasing. The hotel ended up being a low class hotel in a bad part of town. (We are familiar with this very hotel.) We called to cancel the reservation but they would not cancel or refund the money. We ended up having to file a claim with our bank to dispute the transaction.

NEVER, I repeat NEVER purchase tickets through Priceline.com! They have no concern for customer service and will give you 2.5 HOURS of run around. They sold me a non-refundable ticket, unbeknownst to me, and sent me back to the airline 3 TIMES! After getting on a conference call with the two, Priceline would not waive the change fee for a flight that's over 3 months away (BTW, the change fee is more than the actual tickets themselves). They asked for me to send a private Facebook message and did nothing to address the issues besides say that they "empathized". YEAH RIGHT! Don't waste your time with them! What a scam.

I paid in full for a hotel reservation on Priceline about 3 weeks ago. Today as I was making a flight reservation on another travel website when a price for the hotel I reserved through Priceline popped up at a lower price. The difference was about $25, but hey, $25 is $25. So I called customer service to tell them that I found a lower price and could they refund me the difference BECAUSE on the confirmation email I was sent by Priceline it reads EXACTLY: "WE GUARANTEE THE LOWEST PRICE ON EVERYTHING YOU BOOK. Find a lower price, we'll refund you 100% of the difference. Book an Express Deal, we'll refund you 200% of the difference. Prices are in USD. Charges will be from "Priceline.com"."
There are no other terms in that statement, no fine print, nothing more. So when I called customer service they told me I had to find a lower price within 24 hours. I told them that was not the the paperwork I was sent by Priceline. Then this customer rep told me I had to Google it to find it online. REALLY??! So, so deceptive! I've used Priceline time and time again for years, but if they feel this deceptive practice is worth losing a long time customer over $25 then good luck with that Priceline. After reading other reviews on this site it seems they have a culture of deception within the company.

I didn't want to give this company any stars but I had to give it one. Today I wanted to book a room at a hotel in Squamish BC. I stay there from time to time and I usually just book by calling the hotel. My rate usually about $100.00 a night. I was on hold with the hotel I was trying to book and while on hold I scanned the hotel booking outfits. I've used them before without an issue but it's the first time I've used Priceline. The was here in Canada and any other time I've booked online I pay Canadian dollars. I made the reservation and only when the confirmation came through did I see that it was US dollars and the deal was no deal at all. A ripoff. About 30 dollars more than I should have paid. They have a no cancellation and no change policy. Stay away.

Booked a hotel classified as four star on Priceline and they compared it to "Marriott, Westin.. etc." Once the hotel confirmation came back I looked at the reviews the hotel had on several sites and almost without exception it had terrible ratings and reviews. Called Priceline and they agreed that the reviews were awful and promised to call the hotel to see if they could make an exception and get me a refund. When I called back the customer service representative "Latrice" pretty much read me the policy and told me there was nothing she could do. Don't use Priceline under any circumstances.

I would give them -10 stars. We bought 2 tickets from USA to our side the country and later on they changed our flight without telling us . They all speak Indian accent. Very hard to understand and can not trust them at all. I would recommend you all to stay away from Priceline. They have a very bad customer service.

I was searching hotels in the Toronto area and had all of my credit card information stored on my phone when I walked away to greet a friend at my front door. Upon return, I received a email notification confirming a reservation through Priceline which I did not authorize. My 3 year old daughter, who had my phone in her hands when I reentered my bedroom; apparently authorized the payment. I contacted Priceline to dispute the unauthorized charge - a supervisor by the name of Leah (who reportedly is stationed in the Philippines call center) said they couldn't refund me since the charge was confirmed.
Leah provided me with some of the worst customer service I've ever received. She was not empathetic nor seem to care that I've been a Priceline member for several years and made several bookings through the website. Leah was not courteous or professional and reiterated on several occasions the confirmation stands - despite the charge not being authorize by the bank holder. Finally I told Leah I would have this matter investigated by the bank - Leah thanked me; apologized for the inconvenience and yet again provided to me the charge stands. Leah's attention to this mater response shows that even a big corporation such as Priceline can have awful customer service; some of the worst I've ever experienced. Following this, I will take my business elsewhere and refuse to continue practices with priceline. Thank goodness my credit card wasn't lost or stolen because apparently Priceline doesn't refund unauthorized charges.

I booked a hotel and then found it cheaper 1 hour later and called Priceline 4x after getting the runaround. They told me that Priceline could not verify the cheaper price, their web browser wasn't working, so I can't get the price guarantee. I even offered to email the information showing the cheaper booking and had the telephone number for them to call and verify but they said that would not work. This company is a joke!!! After staying in the 4 star hotel that was dirty and smelled. Don't use Priceline.

I booked a return flight with Priceline from Uganda to Spain. First of all the airline reference number was not recognized by the airline. I saw the airline in person and resolved this myself. With the return date looming my husband was taken seriously ill and hospitalized in the UK. I tried to contact Priceline to change or cancel my ticket, airlines are not happy with no show customers understandably.
First I had a 'chat' with one of their online operatives. Either she was a android or not an English speaker. The conversation was difficult to follow and resulted with her suggesting I phoned them using an American toll free number. I explained that I was in the UK and could not use a toll free number, she repeated again three times to phone toll free. I decided this was not going anywhere so emailed them. I received back an automated reply with reference number and a promise of a 12 hour reply. I'm still waiting... Great company if everything goes to plan BUT life is never that simple and I would never recommend this company to anyone.

We used priceline.com. Booked a rental car with Alamo. When we show up at the designated location (in Punta Arenas, Chile) that address is printed on the rental car agreement, THERE WAS NO ALAMO RENTAL CAR. Later we were told that ALAMO RENTAL CAR has been CLOSED a couple of months ago. During these two months, we did not receive any notice or email from Priceline to warn us the Alamo is closed. Therefore, we called Priceline Customer Service, BUT they were insistent about the Alamo still being open at that location. To ignore our problem, the Customer Service Representative even transferred our call-help to a busy tone! We started looking at other options, but since it was peak season in Chilean Patagonia, the buses and rental cars have been all booked out! So basically we were screwed and our longtime planned vacation was in jeopardy.
Fortunately a local rental car company had one car for us. Of course they charged us more than Priceline in Alamo rental car agreement. But we do not have any other choice. We used our precious international minutes to cancel the Priceline reservation. When we got back to the States, we called Priceline to complain and would like to get some form of compensation. And Priceline say they are not responsible for this loss! They had inventory when we booked in September and since we supposed to pay Alamo when we got there (even the Alamo is closed!), they don't owe us anything.
All in all they say there is no guarantee through Priceline that you will have a car! They also don't think they are accountable at all. After all this complaining, we got a 10% coupon off my next rental car. No way we are not going to get another rental car through Priceline. We count us as lucky! We complain Priceline not only for Priceline unreliable and dishonor business, but also would like to warn readers that DON'T BE next victim. You may not be lucky like us!

Used Priceline to rent a vehicle and hotel. 1st instead of holding my reservations they charged my card immediately. 2nd I paid a charge for insurance that was for a third party but it states it is for accident. Read over and between every line it is very misleading. 3rd I used Priceline for two service on this trip rental car and hotel. I had issues with the Budget Inn in Okeebeechoee Florida. They were the nastiest rudest people on earth. I made my 1st phone call to Budget Inn Cooperate. After 10 mins of explaining, I was told since I booked through Priceline, they would have to settle my complaint. 2nd, 3rd, 4th phone call was to Priceline and I got nothing but no help after telling 4 people my scary unacceptable stay from a company they are backing. Never will I use or recommend Priceline. It is a racket. BEWARE.

Priceline just managed to throw a low-ball class damper to our hard earned family vacation!! I booked 3 airline tickets flying Virgin Atlantic through Priceline ...3 days I went online to book the 4th (had to save up) their prices dropped $110. Great. Locked that quick! Called in to request a price adjust. $300 is huge money. Waited over 1 1/2 on the phone. Was given the corporate line... not possible. Call the airline Virgin... called Virgin. Got the most appalling customer service ever! Rude nasty scumbag insults my intelligence and refuses to give me his name. Basically tells me go screw myself! This the first and last time I will using any of these scammers!! Beware.

Priceline takes your reservation but if you have any questions they push you to their booking.com dept that will only tell you they can't help. Charged my card 321 when total due was 280. Couldn't explain the difference, continually transferred me from dept to dept, repeatedly disconnected the call, then couldn't understand why I was frustrated. Save yourself time and money and book elsewhere.

Booked a 2 night stay at a hotel with my wife. I choose one king size bed. I get to the Hotel and they say Priceline transferred the request to Agoda and that Agoda never said we wanted a single bed. The hotel only had 2 Full beds available. The manager said this happens often and he would have upgraded us but unfortunately they didn't have any more rooms. I will NEVER use Priceline again. Bye bye.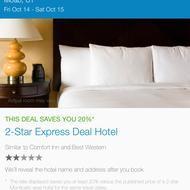 Priceline's express deal misled me to book a hotel one hour away from my selected destination. I only selected Moab, UT in the searching criteria and the 2-star express deal shows up and on top of the screen shows the express deal hotel is located at Moab UT. Priceline won't reveal the actual hotel address for the express deal. However, due to the misleading ad, I thought the hotel is located in Moab. After I booked the hotel, the confirmation revealed the hotel address which is another city that is 1 hour from Moab city.
I immediately contacted Priceline 10 minutes after I booked the hotel. Priceline refused to refund me the money and claimed the express deal is not refundable. I understand that express deal is not refundable, but the policy can't apply to the misleading ad on their website. Especially when I only selected Moab city in the search criteria and the deal shows the hotel is in Moab. I ended up have to book a hotel actually is in Moab city and just wasted the whole amount I paid Priceline. I'll never ever use Priceline's service. I believe a business can't last long by cheating customers.

I will start with saying I used to love Priceline, would recommend them and the express deal and name your own price was great until a couple months ago I started having this issue. I would go through the process, pick out my hotel, enter in all info, name, credit card, etc. then hit submit and cross my fingers. Of course error msg. "oops there was a problem with your credit/debit card info. Please check the card and try again." Well thank god I know from previous experience not to keep trying because that money is now pending! Yes I understand pending does not mean processed but now that money is untouchable for 3-5 business days maybe longer depending on your financial institution.
Anyway so I call customer service and ask what's going on the lady says well there are no rooms available at that hotel for the dates I'm looking for. Recommends I look for a different hotel and try again and can reassure me my card has not been charged! Lie. My card was charged, tried to charge it because the transaction is pending! So I have ran into the issue where Priceline didn't have the room I was looking for. Guess what, when I clicked on it it would say "this deal is gone," not "oops there was a problem with my card." If there was a problem with the info on my card then my card wouldn't have been charged because that means I must have entered something wrong but that is not the case. I have had this problem a bunch of times in the past. One time I tried to reenter the card info like 4-5 times and yes it tried to process but stayed pending for over $600 and there is nothing anyone can do to help.
They have to know this is happening because I am not the only one. My friends and family that I recommended Priceline to same thing has happened to them. It is very frustrating for someone to tell you "ohh well it was that there were no rooms available for that date" then to say "well it must be your financial institution." How is it my bank? I entered all the info correct and have the money in my account. Why would they deny the charge. No it's Priceline and there is something wrong with their system and they need to fix it. I mean what an inconvenience it is for your money just to go pending and you have no access to it until 3 to 5 business days.
I have been using Hotwire and still don't like it as much as I did Priceline. Priceline's rooms were a little nicer and their star ratings were accurate but I've never had an issue with Hotwire doing anything like this so from now on I'm not gonna make the mistake and try Priceline ever again. I don't recommend anyone using Priceline.

In June 2016 I booked a round trip flight through Priceline for $1122. The plans has changed and I had to cancel the flight. The Priceline representative told me that I will be able to use $1122 as my credit for 1 year (till June 2017) and when I am ready to book another flight I just have to call them to book a new flight. He also said that I can book multiple flights for the amount of $1122 credit that I have and I will just need to pay $130 penalty fee + $30 booking fee.
As I am ready to book a new flight I call the Priceline and as of now it turns out I have to pay $425 penalty fee + $30 booking fee. I had to call 4 times and speak to 4 different representatives to finally speak to a supervisor which brought me back to $130 penalty fee + $30 booking fee. So I found 2 round trips that cost around $539 each so I can use my entire credit of $1122. But now a supervisor says that she "can't find" the $539 tickets and she only found one for $1129 even though the $539 tickets I found on the official websites of the airline.

I booked a hotel stay with Priceline, I read the cancellation policy with the hotel. Unfortunately, I had to cancel my trip and called the hotel within the 24 hours required. The hotel said they couldn't do the cancellation and to call Priceline. Priceline told me the hotel had to do it and they would have to call them. After 2 days of getting the runaround, I was charged for the FULL stay and told there was nothing I could do about it! I will never use this service again.

The worst company to deal with. Purchased flight with Insurance and Travel protection, contacted them to change a passenger 2 weeks before flight. They refused to change or cancel flight without paying them double what the cost of the flight was. DO NOT USE THEM or the ALLIANZ insurance unless you are dead. They will not cancel or change regardless of your situation.

To save money and get a great deal I chose to use "express deals" on Priceline. Because I was unsure of the hotel I was getting thru the secret deal I paid the additional fee for "trip protection". I checkout and received the hotel confirmations from Priceline. I did not agree that it was a great deal. 1. Parking was additional $40 a night and 2. It was connected to a hospital and attempted to cancel online, but was told could not canceled because I used Express Deals. I then contacted Priceline via the phone, and they explained "trip protection" was only for illness and death and refused to give my money back.

Priceline engages in certain practice with hotels in order to trip a consumer. I just booked a 3-night stay at a hotel for $86/night, after searching for hotels under $100/night. Thinking that I am OK to pay that plus tax (totaling $306), I scrolled through the screens and paid. Only then did I see that the total for the hotel is actually $380. There was an additional item that read "Mandatory hotel fee" of $74. I called Priceline service, they could not explain what this mysterious fee is, except that it is to be paid directly at the hotel.
Now, I would've never booked this hotel, Sheraton San Diego Hotel & Marina, if it didn't show up in the result search under $100. But the price, obviously, is $110 when you add the "mandatory fee". So this is the trick Sheraton does. And Priceline is perfectly OK with that. It's pretty sad they resort to that. At the minimum they should explain what the additional fee is, but obviously it is simply the room rate placed AFTER the customer searches to select a hotel. Priceline did call the hotel to cancel the room, after several minutes of my haggling with them over the phone. Be very careful when booking with Priceline, and certainly with Sheraton too, or don't use either. There are more decent services than Priceline and Sheraton.

Rented a van via Priceline in Caicos. The rental was fine, and the basic price matched the quote. Unfortunately, the "taxes and fees" quoted were under-quoted by about $100. This was for a "premium location" fee. If I do this again, I'll probably call myself to verify the total price - it just doesn't make sense to use a tool to compare prices that doesn't include the total price!

ConsumerAffairs Research Team
The ConsumerAffairs Research Team believes everyone deserves to make smart decisions. We aim to provide readers with the most up-to-date information available about today's consumer products and services.
Priceline is a Connecticut-based company that helps travelers find discounted rates offered by a wide range of travel businesses, including hotels and airlines.
Price negotiations: Priceline lets customers name their own prices for hotel rooms, rental cars and flights.
Last-minute flights: Travelers can get extra discounts by booking last minute flights.
Customer service: Priceline responds to customer service emails within 12 hours.
Group discounts: Priceline can help groups get discounts including a free room for the group coordinator.
Travel bundles: Bundling travel services through Priceline can give travelers extra discounts.
Best for International and domestic travelers.
Priceline Company Profile
Company Name:

Priceline

Year Founded:

1998

Address:

800 Connecticut Ave.

City:

Norwalk

State/Province:

CT

Postal Code:

06854

Country:

United States

Website:

http://www.priceline.com/