Consumer Complaints and Reviews

I booked a set of hotel rooms for a family reunion under the assumption that the rooms were "free cancellation" as the Priceline website indicated. After booking the rooms, I was informed by the 'concerned' chat agent that this was explained somewhere in the about this booking fine print. I went to Expedia just to compare how they handle this, and they are honest. They gave me the same hotel at a non-cancellation rate that was the same as Priceline versus a free cancellation rate that is more per night. I've also had issues in the past where I book a room with two double beds and arrive at the hotel only to be told I have to settle for a king bed. I'm going to use Expedia unless Priceline has an unbeatable deal.

I reserved a rental car through Priceline and my reservation was with Hertz. My plans changed and did not pick up my rental car. When calling Priceline customer service they do not give you the option to speak to an actual person about any problem you have. They still take your money even when you don't pick up your rental car. They are the biggest scam artist I have ever dealt with. Horrible customer service!!!
I don't suggest anyone to use Priceline for any services whatsoever!!! How does a big company like Priceline not refund any money back if you don't or could not follow through with the services that you requested through Priceline. What is it that I paid for that I didn't even use? I will do everything and anything to make sure Priceline loses business with others preferring to use Priceline for their services. I am disappointed with this company. I will see that they will never earn my or anyone else's business ever again. I will file a complaint through the Better Business Bureau about the terrible customer service and scams that Priceline uses to successfully take your money and not give it back.

HORRIBLE SERVICE! Email address I received from Priceline.com for complaints AJKTSFAX4.email.priceline.com. Hope this works. 02 November had reservations from LAX to Manila, Philippines. Because of fog, we could not arrive in time at LAX. Rebooked the reservations with "Doug" at Priceline for 03 November 2016. Priceline.com sent the changed reservations via email - received two emails - one for my wife and one for me. Get to the airport and find that my wife's reservation is valid and mine is in the system, but for some reason not valid. Virgin Atlantic allowed me to fly from LAX to San Francisco. Arrived in San Francisco. China Southern Airlines honored wife's reservations but not mine - even though I showed them the Priceline.com email reservation. China Southern Airlines told me they have lots of issues with Priceline.com.
I spent 3 hours and countless phone calls in San Francisco trying to get Priceline to straighten out the reservation - they kept hanging up! I ended up paying over $650.00 for another ticket to Manila - and fly with my wife. Return ticket was for 30 April 2017. Called China Southern and they said my reservation is not valid - my wife's is valid. I was told by Priceline.com "Amanda" that the return flight would be honored. I called Priceline.com on 13 April 2017 concerning the 30 April reservation. They said they had my reservation but it was not valid because Virgin Atlantic "changed" the reservation somehow and Priceline was not responsible. They did not explain to me how it was changed. I ended up paying another $850.00 for a return flight to LAX.
"Ken" from Priceline.com was a horrible service representative - I can't imagine having someone with his attitude actually "helping" anyone. It is all my fault and he can't tell me why. "Ken" told me that he would ask "China Southern" for a refund and he would send me the email with the request - still haven't received the email. I am writing to Priceline.com and the Department of Transportation - in my opinion this is fraud. They have my money. They have my money for changing the reservations. And I get really bad customer service. Please stay away from Priceline.com. I will be using Social Media about this situation as well.

I just tried booking a car rental through Priceline and had a pickup at one location and dropoff at another location and selected it and when I looked at the reservation it's shows the picking up and dropping off at the same location... I called Priceline and they said stuff, you can cancel it and there will be a $30 cancellation fee. I talked with customer service and they said the same thing. Will never use Priceline again.

If you're thinking about using Priceline DONT!!! It took us twice To learn. We booked 4 rooms paid for and received our confirmation number B a ride to the hotel and was told they had no reservations for us. We call Priceline. They said it was a screw-up. They had a lot of people just problem and they would call us back with new accommodations so we stood on the side the road for two hours. Of course no one from Priceline ever called us back. We tried numerous times to call. Of course you will never get through to anybody on Priceline!!! Do not use these people. They are horrible. FYI they are also a sister company of Booking.com. I would not take a chance with either.
How do I know I can trust these reviews about Priceline?
741,284 reviews on ConsumerAffairs are verified.
We require contact information to ensure our reviewers are real.
We use intelligent software that helps us maintain the integrity of reviews.
Our moderators read all reviews to verify quality and helpfulness.
For more information about reviews on ConsumerAffairs.com please visit our FAQ.

I tried to book a flight ticket through Priceline app, I provide all the required information and at the end a message popped up. It says Credit card company didn't approve the transaction. I tried all process from the beginning at least three times, every time the same message popped up. I didn't give up. I called customer service to reach a real person to ask what's the issue. But there is no option to choose for talking a real person but I choose the same options again and again then at the end they direct me to the customer service representative. It took me 30 minutes. I explained everything to them then ask why my transactions didn't approved. The customer service representative has no answer but the ticket is no longer available.
While I am speaking with the customer service representative I was on website of United airlines to buy the same ticket. And I purchased the ticket through the United Airlines website. Even priceline.com customer service representative told me the deal was no longer available. This was not the first time I was experiencing problems with priceline.com but I'm done. I will not use their website either their application anymore.

I booked a room for one night (without doing research 1st and I'll never do that again) and was unable to keep it. I had to take care of my mom and didn't have anyone to help me out. I asked what the policy was when there are unforeseen circumstances and was told by 2 different reps that it was my $86 loss. I don't understand why there isn't a policy in place for extenuating circumstances. Customer service responds with, "I wish there was something I could do," I asked for info to reach management and I was referred to the website on how to do so. I see why now, why I haven't heard anything about Priceline, because I don't know anybody that would waste time using them! I've worked in customer service for many years and I try to put myself in the customer's position and have had to resolve issues within reason.
The people in charge of writing these policies will expect themselves and anyone they care about to be treated with compassion if they're ever in a situation that is similar. It will be interesting to see how they would feel. I won't use or recommend Priceline for any service. I've seen sooo many 1 star ratings on this website and it's clear that Priceline doesn't care about people, they only want money... whether you receive services from them or not. The competition is worth the chance I'll take going forward. Don't ever book with Priceline!!! If anything keeps you from checking in, they will gladly take your money and tell you sorry. Only book with Priceline if you are in the habit of throwing money away! I've received better service with other companies and will make sure that Priceline won't get richer with anymore of my hard-earned income.

Booked a blind express deal based on similar hotels listed such as Courtyard, Doubletree or Marriott. Hotel booked is in a bad area, poor ratings and other reviewers even said the rooms were dirty and equipment not working such as the shower. I contacted Priceline about the misrepresentation and was responded to with "would you like me to send you your contract?" And "there is nothing I can do" and disconnected. I will NEVER use Priceline again.

I booked a reservation through Priceline on April 1 and April 6. Both reservations were cancelled, stating that the reservations were fraudulent. When I arrived, the Hotel manager Brand realized this was a mistake and honored the reservation and did the 6th of April as well. They know me at this particular hotel. I've stayed there frequently in the past two months.
Tammy the General Manager however would not allow me to keep the Priceline rate on the 6th and made me pay the full rate. 95 instead of 80 with tax. A 15 dollar difference still makes a big difference when you are limited financially and looking for a better job. I had a interview the following morning and because of transportation issues needed to get a hotel, so as not to be constricted by time and location. Priceline rejected two of my reservations twice in one week. Priceline contacted the hotel and stated that the charges for the hotel were fraudulent and that they were cancelling my reservation. Brand and Tammy verified that the person who booked the room was me when I arrived at the hotel both times.
No one will give me a answer as why they think I am fraudulent. Their service representatives keep referring me to the Risk Management team which never pick up my call and there is no voicemail to leave a message. The number they referred me to goes to a car rental service. It is completely suspect. How can resolve the problem if no one will tell you what the problem actually is and it has happened? I deserve answers. I was fortunate to get a reservation at a place where the staff knows me. Imagine if I hadn't what a complete disaster it would have been. The discomfort and inconvenience I experienced alone were completely unwarranted and totally inconsiderate. Why is Priceline not apologizing and allowing me to use their service? I did nothing wrong. The hotel manager verified that I was who I am. Why is there still a issue with me using Priceline? The last time I checked this was discrimination.

Staying one night in Miami, wanted to stay in the "Downtown Area". They gave us a room on the very outside edge of downtown, the hotel is at the airport. Priceline also only paid for a King bed room, I was not given the option to decide the type of bed configuration I needed. So now, one of us gets to sleep on a sofa bed. Not worth the $40 I saved. Will never use Priceline again. And the hotel obviously does not appreciate their service either, considering when I spoke with the hotel they were totally unwilling to change our room to two double beds. I won't be staying at Springhill Suites by Marriott Miami Airport/Medical Center, again.

I was attempting to book a trip from Seattle to Sacramento on Memorial Day weekend, 2017 - leaving on a Friday and returning on Monday of memorial day. Of course the flights were expensive because it's a holiday so I tried various different airlines, using different scenarios - miles, one way only, etc... The Priceline spybot obviously spotted my efforts and popped up with a "We've got a good deal for the dates you want if you are flexible on your airline and flight times", so I clicked on the deal. It looked like a good price so I hit "book" and guess what? They had changed the dates on me to May 5th - May 8th (also a Friday to Monday but not THE Friday to Monday I was looking for).
So - now I'm booked for a trip that I can't take due to pre-scheduled medical procedures on those dates (RADIATION for breast cancer, seriously...) AND our friends we were going to visit aren't even home that weekend. (PS - I even bought trip insurance in case something came up because I didn't trust Priceline - and this got me NOWHERE - that's only for hurricanes and earthquakes and terrorism apparently.) There is no mercy and absolutely no refunds with this company, including the travel insurance company (Allianz) - I can only imagine how much money they have made off of people who have situations like this. So extremely frustrated - what an expensive way to learn NOT to use a particular company. I would highly advise - book with an airline directly and steer clear of Priceline.

Plans change (mine do -- a lot!) -- I've never had problems except NOW with Priceline who won't allow me to change my car rental location!! Priceline's customer service is a joke - been on extended hold twice only to be outsourced to the Philippines -- I will only use EXPEDIA <<< from now on. Expedia is much more customer centric.

Warning! Be sure to read the fine print. If you can even find it, I have nothing on the email stating that the car rental could not be cancelled or changed. Attempted to make a change 60 days out. Will not use this service again.

Will never book any travel plans with Priceline anymore. You just lost a customer. The website gives me options to pick morning or early flight but they didn't tell you that it going to take you 18 hr to get home until you book it. My flight was departure at 6 am in SMF to PHL and I didn't get home until 11 pm at night. Try to call them to see if anything they can help because I need to be home by 5 pm to pick up my children and all they said is, "Sorry we can not change." I paid $589 for the ticket.

Priceline.com is a despicable company. They should not be allowed to advertise having a price match guarantee because they absolutely will not ever match or refund you the difference on your booking. Please understand that they have crossed every loophole to make sure they do not have to price match. I usually don't try to price match but they literally sent me an email this a.m. telling me that the prices of car rentals dropped and when I searched my exact itinerary found my rental car to be 67.00 cheaper!!! Through their site!!! And after making me wait for an hour on the phone they still would not refund me the difference! Target would never pull this kind of crap! Priceline.com has lost my business forever.

Priceline is the biggest fraud. I booked a car with Priceline for $50 and Avis at the counter charged me $150. They said its because of Priceline and Priceline said it's because of Avis. Both biggest frauds ever.

Be very careful when using Priceline. I made a mistake in reserving a room for three days (my mistake). I had four different windows open looking for room in Vegas. I left computer and came back. I then opened the wrong window in Priceline and went through reserving room (was in a express window which was a nonrefundable reservation). After completing transaction I received a confirmation for a hotel I did not mean to reserve. (Like I said before it was my mistake for being on the wrong site of which I wanted.) I immediately called Priceline and told them the problem and hoped they would help because all I wanted to do was get the hotel which I really wanted in exchange. Went through 4 different people and all I got was SORRY.
When I read the review of hotel they gave me, they were not very good for a 3.5 star hotel. I felt their customer service was very poor. I also called the hotel to see if I could cancel and they didn't even have the reservation, so I know it was still in their system. The hotel I wanted was even a higher priced hotel. SO AS I SAID BE VERY CAREFUL WITH PRICELINE. BAD CUSTOMER RELATIONS.

I made a reservation for two guest rooms of Conrad Bali through Priceline.com with the period from 1st/Feb/2018 to 6th/Feb/2018 and from 6th/Feb/2018 to 12th/Feb/2018. I have already made a full payment in advance and received the confirmation letter from Priceline. Therefore, my companions and I have already asked a leave and purchased air tickets as a preparation of the journey. But now, I received the email from Priceline notifying me that there was something wrong with the price of my hotel order. It should be their own fault, however, they just informed me that I needed to cancel my order. I think it is illegal behavior violating the principle of honesty and credit. I hope that I can check in based on my original schedule and price.

The mid-sized car that I purchased was not available when I arrived at Miami Intl. Airport but I could have been put on a wait list. I was number nine (9) on that list and the rental counter could not tell me how long it would be but estimated the wait at 2-3 hours. This was totally unacceptable so I decided to pay double the original cost for an upgraded car that was available. The counter staff told me this was due to using Priceline and would not have happened if I had booked the car through my Hertz Gold status. Due to this, I will not use Priceline again in the future for my travel needs.

I am a avid Priceline user and have always booked all my trips and flights through Priceline, but this last trip they really pissed me off. First off Priceline probably has the worst customer service department hands down! I recently booked a $1,000 flight to CA for a friend. The friend couldn't make the returning flight back home and asked me to cancel the flight. I called up Priceline and asked if can cancel the flight well before 24 hours before the flight. The rep said I was able to cancel the flight but would be charged a $230 fee for canceling which I was fine with. They said I would be given a credit of $170 to use for another flight for my friend.
So recently I tried booking a flight with Priceline for my very same friend and tried using the credit I was issued. I spoke with a rep who helped me book the flight and paid the difference with my credit card. The rep did not give me confirmation number which I thought was odd. I tried calling back Priceline, another rep told me that they could not find any recent reservations. I flipped out because I literally just booked the flight. The rep told me to contact the airline the flight was for and that was not a better experience either. Priceline promised me a credit and have not kept their word. I will be escalating this issue because there is no way a person can pay $1,000 for a flight, pay the fees for canceling and not be properly reimbursed.

I purchased 2 airline tickets through Priceline. I searched for flights and found that they had the cheapest price for the day that I was flying. I filled everything out, made sure to read all the fine print etc. After I purchased them I checked my bank account to make sure the money was taken, but lo and behold they took out 879.42. My summary told me the tickets were 635.42. I am a Canadian and was flying in Canada but they charged me USD and then took the exchange for Canadian dollars. NOWHERE did it state that the price was in USD, until after I purchased the tickets.
Within the 15 mins of booking the flight I called and said I wanted my money back, they told me the trip was canceled and that I will get a full refund... WELL that hasn't happened. After hours of being on hold, explaining my story 15 plus times. All they could tell me was that it's my bank's fault and that they gave me my money back. We had a 3 way call with my banker. He told them that they owe me the money, and that they are lying to me. He also stated that if I didn't have the money within 24 hours that my bank would go after them to collect the funds. The agent was no help WHATSOEVER and just kept repeating herself, and blaming my bank.
I asked to speak with a supervisor who told me he would call me back and then just hung up on me. They did call back but as soon as I answered they hung up in my ear. I called again, sat on hold for hours, to finally get to a supervisor who then hung up on me YET again. My bank is now doing a investigation on these stupid **. I have yet to get my money. I have now had to cancel my other flights due to not knowing when I will be getting my refund. If you're from Canada don't book anything with this company. THEY ARE SHADY!!!

I would give them 1/2 a star if it would let me. I booked a room through Priceline and have used them in the past with little problem. I paid 25.00 more for the room because it said it was refundable and free cancellations. My son had his soccer tournament change and I had to cancel my reservations. After getting the runaround I was then informed that it was not refundable even though that is what it said and I had even paid extra for the refundable room. They were unwilling to help me at all just kept telling me they were sorry. They should not have things state they are refundable if they are not!! It cost me 135.00 for a room I won't be able to use. With the past problems I have had I wanted to give them another chance, however I will not be using this site again.

Somehow when I booked through Priceline my flight was duplicated. I did not realize this until my bank account was deducted for 4 tickets, instead of the two we needed. When I called Priceline to dispute, I was told that there was nothing that they could do about it. Therefore, I am out $1007. They suggested calling my financial institution to dispute the charges. Of course, that did not fix anything because the error was made with Priceline. I will never use their services again!

I requested on Priceline site to book an Express deal for oceanfront south beach hotel. This was a midrate choice on Express deals. When I hit to complete the booking, it assigned me to a cheaper hotel away from the beach in a congested city like area. I spent over 6 hours on the phone with several different Priceline people to get no assistance in changing this reservation. They said the contract showed the location that was assigned. I went as high as a manager who said he'd handle it with the hotel and call me back.
I waited for hours to get no call back so I called the hotel directly who said no one from Priceline had called about my reservation. The hotel said I had to deal with Priceline and Priceline said the hotel wouldn't let me out of the reservation. How is this consumer friendly to be forced to pay for what you didn't request? The accessibility to Priceline agents is terrible. It's not easy to reach them. I waited on hold several times for over 20 minutes. I'm still trying to get some resolution between my bank, hotel and Priceline before travel Monday. I have used Priceline in the past but will NEVER use them again and I travel a lot.

Tonight I tried to book a flight on priceline.com. Went through the whole process many times only to receive an error message that the flight could not be booked. After many hours on the phone trying to get answers priceline.com says the flight is not available. Why? I asked, I was able to choose a seat from over 200 available. They said, "Oh our website is not real time and is way out of date. Try again tomorrow. Also, we are only given a few seats on each flight." Then why does your website show over 200 seats available??? Poorly represented bull crap site that I will NEVER use again to book anything. What a waste of time.

Was told I was booking a honeymoon trip. When I purchased the trip I got the hotel number and called. I called the hotel to ask about certain things that I was hoping would be near or in my hotel. So I mentioned hotel suite and the hotel rep told me that it wasn't a hotel with honeymoon suites. I called and Priceline told me my refund would be 581. I told them I was still keeping my flying plans I was only canceling the hotel. They said I would receive confirmation of my refund. They said it will take a few days to get my refund. When I got my refund it was 566 and they refuse to give me the rest of my money. Every time I call PRICELINE they always tell me my case is being "investigated". WHY the ** does MY MONEY have to be "investigated?" I didn't have to be "investigated" in order for them to take my money!! ** PRICELINE!!

Was attracted to a 3 Star Express Hotel deal. Priceline does not provide exact hotel you will get but does provide comparable examples of what to expect. They claimed offer was similar to Courtyard by Marriott or Hyatt Regency. So they gave me a low class Motel Red Roof Inn. Priceline refuses to refund and claims they can state a hotel comparable if it is their opinion. So in their opinion a Red Roof Inn cheap motel is now comparable to a Courtyard by Marriott. This is fraud. Since they refuse to offer any concession avoid Priceline and use other sites. Also their so-called service people are in Philippines and are only able to read a script and waste your time.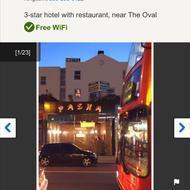 Just want to share my lessons and I have been spent a lot of money on Priceline to learn the lessons. I paid 150 dollars for bidding the hotel actually only worth 50 dollars. I paid 3 times more. And also I am going through hard time to use best price guarantee policy to get the difference refund because their system cannot find a lower rate so even my computer can find a lower rate they cannot refund me. Just kidding me...

I booked through Priceline's Best Price Guarantee, but it was a joke. I realized that I was going to get the best price without knowing where I was going, so I booked 2 rooms through them. I did get a good price from them, but found out when I checked out that I was charged $26 for each room booked for a 3rd party fee. If I would have booked straight through the hotel I would have received a better rate. I used Priceline once, but I'll never use them again.

Property Not 2-2.5 Stars. Stayed in Mojave, CA. The property was Budget Inn of Mojave which would appear to be 1 step below Motel 6. The biggest problem I had was that the property was so close to the train tracks that you could hear multiple trains blowing their horns all night long. So to be fair, here are the pros: 42 inch flat screen TV with Premium Cable (multiple movie channels), coffee maker in room, rooms look remodeled, free Wi-Fi. Cons: Bathroom window screen torn, towels seemed blood stained or stained with something, bedding pretty hard and firm but nowhere near what you find at a Comfort Inn or Best Western, dead flies found in the bathroom (bad housekeeping?). Property right across from the train tracks which means you do not get a restful sleep unless you knew in advance to wear earplugs. All Priceline could do was offer me a 5% discount coupon with an expiration date.
It seems to me Priceline doesn't review these properties internally so if where I stayed was 2.5 stars, I wonder what a 2 star or 1 star would have been like in the area of Mojave, CA. No I didn't select other surrounding locations and I have a feeling Priceline deceives and is fraudulent because they dare to compare a 2.5 or 2 star to other properties which would actually have decent amenities and a breakfast to boot. I would say the keywords here are deception and fraud. Was better off staying at the Motel 6 that night which was Days Inn recently. Live and learn but I would not recommend Priceline now or in the future and yes let the buyer beware. I don't expect a refund and I completed my stay and got a better nights rest up in Lone Pine, CA the next night and didn't go through Priceline to do it.

ConsumerAffairs Research Team
The ConsumerAffairs Research Team believes everyone deserves to make smart decisions. We aim to provide readers with the most up-to-date information available about today's consumer products and services.
Priceline is a Connecticut-based company that helps travelers find discounted rates offered by a wide range of travel businesses, including hotels and airlines.
Price negotiations: Priceline lets customers name their own prices for hotel rooms, rental cars and flights.
Last-minute flights: Travelers can get extra discounts by booking last minute flights.
Customer service: Priceline responds to customer service emails within 12 hours.
Group discounts: Priceline can help groups get discounts including a free room for the group coordinator.
Travel bundles: Bundling travel services through Priceline can give travelers extra discounts.
Best for International and domestic travelers.
Priceline Company Profile
Company Name:

Priceline

Year Founded:

1998

Address:

800 Connecticut Ave.

City:

Norwalk

State/Province:

CT

Postal Code:

06854

Country:

United States

Website:

http://www.priceline.com/