Consumer Complaints and Reviews

WORST experience out of ten times I have rented cars. Rented a Chrysler 200 (or similar) six days before arrival (Atlanta Hartsfield Airport) for $196.00 total. The day before our flight I checked and the rate was $173.00. I cancelled the original and reserved at the new rate, no problem. When we arrived, I stood in line for thirty minutes only to be told they didn't have a standard size car for me, they hoped to have one in 30 - 45 minutes, they would call me. I was offered a Ford Focus for less money (no offer to upgrade for the same price).
I said I didn't want a four seater tin can. I had RESERVED a standard size car (5 passenger)! After waiting a half hour to 45 minutes (no call). I rented a Camry, ready to go from Advantage. However, it cost us $50.00 more. I had the courtesy to go back to the Payless counter and cancel my reservation with them, however we had lost about an hour and a half because of their mistake. When I checked a few days later (out of curiosity), to rent a car on March 1st the website said 'There are NO CARS AVAILABLE at the airport location on that day'. CAN YOU BELIEVE IT?!! What good is a great price if you don't have a car to give out when the customer arrives? Needless to say, if Payless were the only car rental company available, at ANY location, I would hitchhike or take a cab before dealing with them. First and LAST time I'll call Payless!

The size car I reserved was not available. Would only give me a bigger car for the full price upgrade. Gave me a smaller car for a reduction in price equal to what the car cost would be. Charged me for insurance I did not ask for. Had to drive 25 miles back to the airport in rush hour conditions to correct their error. Would not fix over the phone. Car had multiple scratches and dents on the outside, big stain on the back seat. Had to go over in detail so I did not get charged when I turned back in.

DO NOT USE THIS COMPANY. They stole my money... I DID NOT USE THEIR CAR AND THEY CHARGED MY CREDIT CARD AND WILL NOT REFUND IT!!! They are liars and cheats!!! Use Fox Rental! They do not make clear their terms and agreements. If you leave LA county you get charge mileage... When we went to pay for the car one of their employees told us we were getting charge for mileage if we leave LA county. We told them we wanted to cancel the car. I wanted them to take it off my credit card and they said they did... Wrong. They trick you into signing up for the car and lie to you when they said they took it off. I was charged for the car that I did not use... This company should be put out of business! They are crooks and liars! Do not use this company... Use Fox Rental. They are inexpensive and a good company.

I initially had a call from my credit card co. inquiring about three charges form the same rental co at the same time. Two I confirmed were for a rental car, the third for $250.00. I did not know what that was for so I told them don't pay it. I then tried to contact the rental office to find out what the charge was for. After at least 1 hr. of trying to talk to someone I finally got a person by pressing 2 to rent a car. I was told the $250.00 charge was a deposit that would be credited back on return of the car. I contacted my credit card co and told them to pay the charge. On returning the car the person said it smelled like smoke and there were ashes in the back seat, I told them I was the only person in the car and that I did not smoke, and that I had been driving with the windows open due to the nice weather.
The manager showed up to check it out and then disappeared so I could not talk to him. And was presented with a bill for $100.00 cleaning charge that I refused to sign, then I was told it would be deducted from my deposit. I was never told there was a deposit required for any reason which is why I questioned the charge when I spoke to my card co. I contacted my card co and was told my only recourse as the charge had not been posted yet was to wait until I received my bill and then dispute the charge. That I will do and never rent from Payless again - I guess you get what you pay for. CHEAP UPFRONT AND THEN PAY FOR IT IN THE BACK SIDE. I would recommend Dollar Rent A Car or Thrifty to everyone as they treat you right!!! Neither had economy cars available this trip.

We traveled from Texas to Newark, NJ. When we arrived in New Jersey my wife and I decided we would rent a car so we went to Payless Car Rental and got a quote. The lady quoted us 160.00 and I asked her if that included taxes and fees. She said yes so we took it. Later that day I had to check my bank account and I noticed I was charged 226.00 so I looked at my paperwork and she had added two different insurance. I called 800 number that was on paper, I was told I had to call location and was hung up on. Another thing I told her I wanted to return car at noon and she put down 8 am. Horrible service!!
How do I know I can trust these reviews about Payless Car Rental?
718,857 reviews on ConsumerAffairs are verified.
We require contact information to ensure our reviewers are real.
We use intelligent software that helps us maintain the integrity of reviews.
Our moderators read all reviews to verify quality and helpfulness.
For more information about reviews on ConsumerAffairs.com please visit our FAQ.

I rented a car from Payless Car Rental. It was good at first but the check engine light came on in Georgia. So I called the 24 hour place. They said they do not have a place to exchange the car where I was at. So the light eventually went off so I carried on with my trip. The light came back on in Orlando Florida. So I had to cut my Disney World trip short to go find another place to pick up a car. Bottom line is this company did not want to give me some type of discount for inconveniencing me and my children for the trip that we made. Please do not ever, never rent from this car company.

Rented a car at LGA and returned it on Friday. On Monday I get a call when I would return my car. After I said that I had returned it never heard from them again. Tried to clarify the situation and now they send debt collectors for charges for additional days. No number they provide gets answered. No feedback on any of my attempts to reach out (letters). Shady company...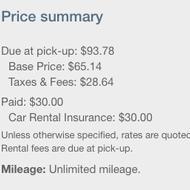 I booked my car rental with Payless via Expedia.com. When I got to the desk, they rushed me to sign some forms and I was on my way. The man at the desk asked me if I wanted to add drivers the reservation, which he never told me would be extra money. I was never told there would be all these extra charges, like gas per day (which I only used 1/2 tank of gas the entire trip), and an extra $100 for bringing the car back at 2 PM instead of 12 PM. I didn't notice all the extra charges until I looked at my credit card bill, which there was an additional charge of $395 from the original quote of $93. That's FOUR TIMES the amount I was expecting to pay. Absolutely absurd. I'll never use Payless again. Please protect yourself and don't use Payless!

This is the worst customer service I have EVER experienced! I can not call them directly or I am told to wait 72 hours and then email them. When I email them I have to wait 72 hours AT LEAST for a reply. EACH TIME that reply tells me to send another email! To top it off their website won't let me send attachments so I have had to email them. I have sent several emails, with attachments of the receipts since their reps claim they can not read them once they are sent. This has been going on for 10 days now!
I was not sent a receipt in the first place as I was told I would be getting until I saw the outrageous charges on my visa bill and complained. There also was an EXTRA previous charge of $83 for who knows what that was removed when I initially talked to one of your representatives and she gave me my "ticket number" or I wouldn't have had any way to contact them! So If I wouldn't have noticed the Visa bill I would have been overcharged $252.36!
The man who checked me in at the airport totally falsified information putting down that the fuel was only 1/2 full when there was definitely a full tank AND falsified when I returned the car in saying it was 9:00 when in reality I returned it before 9:00 on purpose so I wouldn't be charged for an extra hour. They put my time of picking up my car as the time I went to the counter not when I checked out of the garage with the car which was AFTER 9:00! They SHOULD have that info since there was a man who scanned my agreement upon me exiting the garage.
Like others reviews I have read they charged me for roadside service that I CLEARLY declined on the paperwork. Plus they went completely against the written information on my AARP confirmation papers that say that my TOTAL bill would be $280 INCLUDING TAXES AND FEES!! They overcharged me $169.36! I have filed a complaint with AARP and since I can not be connected to any supervisors at PAYLESS end, if it is not corrected and the $169.36 is not credited to my visa bill I will be checking into filing a complaint with Pam Bondi the Attorney General of Florida and the Better Business Bureau!
I have rented a LOT of cars at this airport from other companies and have NEVER had this much trouble! I also have NEVER had a person stating that the fuel was 1/2 full when it was CLEARLY full and I having to prove that I was not lying by submitting a receipt for my gas. They want to charge me $77 for gas!! I was not driving a tank! Trust me, everyone I know will hear about this terrible service and be totally advised NOT TO rent vehicles from this company when traveling to Orlando. In the future I will be renting from a company that knows me by name not by a ticket number!

Charged a $250 cleaning fee for cigar smoke. I was scammed. I do not smoke cigars. I am a female. I was still at airport and asked to see the car and was refused. I used a sweet smelling hand sanitizer which apparently was called a cigar. This is a scam. Do not use Payless Car Rental. You have been warned!

I booked online through Rentalcars.com, booking price was $99. When I came to St Petersburg FL Payless site, the staff asked me if I need loss and damage coverage. Me and my husband both clearly told her we do not need it. But when I was checking out after 3 days returns my car, the bill is $188, double price than I expected. I was talking with the supervisor. His explanation is that I had my initial at car loss coverage, which the staff circled it with her pen and asked me to sign with many other circles which I did not pay attention. My online booking has no power on them. It does not make sense to people choose Payless who wants to save money, end up they paid much higher price for poor services. The company complain phone line has nobody answers and they never call back! Obviously they do not care less you as a client, as long as they still got new clients keep coming. They still run the business!

I discovered that employees (rental agents) of the Payless Car Rental at the San Antonio Texas airport location engage in fraudulent activities by stealing from their customers. I requested a refund to be sent to me for charges on services that I had contested and declined upfront: a fake Roadside Assistance fee labeled "RSP estimated charge" when I saw that there was a $150 difference in my reservation charges and Payless' actual billing statement when I picked up the car rental. The agent alluded that it was only an "estimated" combination of "pre-fuel" and "pickup time difference" charges that would surely drop off when I returned the car. Basically he was lying to me. Why would I want to accept this bogus "RSP Assistance Plan" while on short business drives in/near San Antonio?
When I returned the car, as I suspected, the "estimated" charges had not "magically" dropped off. A second colluding agent stated there was nothing that she could do at the location and referred me to the Payless Service Desk. The Service Desk only looped me back to the original San Antonio agent (Miguel) who of course would not refund his own scandal fee! This San Antonio branch is playing this "deceptive pricing" game (pricing lower than other companies) on unsuspecting customers and then hitting them with these extra bogus charges on customer billings after they have hooked them in. They tried this on me previously, as I had to go back during daytime hours and luckily had a 3rd day shift agent remove the "estimated optional declined charges (Roadside Assistance)".
It is unfortunate that they are motivated by this level of profit greed/theft and are brazen to the point of not admitting it when customers catch them in the act of cheating. I calculated that they used this scheme to overcharge me by 26%! You think that they would be pleased with having a recurring customer spending $400+ per rental with them! You think their brand "Payless" means that until you find out that you actually PAY MORE to fund their cheating schemes! I have rented with Alamo, Thrifty and Dollar in San Antonio without incident, easily declining optional services, and not having bogus charges stealthily forced upon me. I will resume business with others and henceforth avoid Payless. I have learned the hard way so you don't have to repeat it and get cheated by them!

Booked a car in Denver for my wife and I for a week. The internet quote I got was $247.84 Base Price plus $105.37 for Taxes and Fees. Upon arriving in Denver, the printed rental agreement was $247.84 plus $158.13, a $52.76 overcharge! Since the internet quote does not breakout Fees and Taxes, the agent could not explain the reason for the overcharge, but stuck to the higher price. This is definitely a bait and switch, and we'll be going elsewhere in the future for our car rentals. Payless simply can NOT be trusted!

As a first time traveler to Puerto Rico, I knew things would be a little different. I reserved a economy car for 55$ online. I knew it would be more when I arrived... yea a lot more! The guy taking care of me asked was it my first time there. I said yes. Why did I do that! He told me it was 150 plus - 60$ for the EZ pass that "I had no choice" but to get according to this liar because they "don't have tolls". Last not least 200$ holding fee. Of course I walked away to a way better company. Thanks AVIS!!! PAYLESS ARE A RIP OFF!! No fine print either.

My wife and I were renting a car at Seattle Airport. When we arrived at the counter, the lady told us they were going to give us an upgrade. I said great. I have rented several times when the car rental company has not had my vehicle, so they give you an upgrade for free. Nothing was said about an increase in cost. They had me initial at several locations. Again, nothing was said about an increase in cost.
When we got our bill, I noticed it was for 439.37. The cost should have been 200.99. I attempted to get a copy of our bill. It took 21 days to get a copy of our bill. When I complained, their response was "You initialed it, therefore you are responsible." I told them I was told I was getting an upgrade but thought it was free because nothing was said about additional cost. I felt like had their speech scripted to make it sound like they are giving you something for free, but in fact trying to over charge you. As I read the many other experience similar to mine, I realize even more, this was extremely intentional in their business practices. I called my credit card company and am trying to get the charges reduced.

Worst rental company ever. We booked a car from Oakland Airport and were supposed to drop off at St. Jose Airport. Total cost was supposed to be $275 for a Ford Fusion. But when we went there we got Nissan Juke (so tiny for 4 of us with luggage). We didn't want to wait for long so we took that and I called at their 800 number to see if they can change the car later at other location. They said "No" we have to go to same location if we want to change it to our original car. We were getting late for our event so I thought of dealing with this issue later when we reach home. Dropped off the car at the mentioned Location on 21st Feb around 5 am and few hours later we were charged $303 extra.
Called Payless. They said we got charged because it had smoke smell. We are vegetarian family. Never smoked in our life and never even had alcohol. The smell was there when we rented the car. We didn't even know that we are supposed to tell them about it. My husband always check any scratches and stuff but we had no clue about this. My husband was at work so he told me to call them and explain. I called and was told that because we dropped off the car when the office was not open and that's the reason we got charged $303. So as of now we don't even know why are we getting charged.
By the way, at St. Jose Airport every single company has different parking levels where you can drop off your car and the keys. Payless cars level id Level 7 and we saw lot of other cars that were parked there with car windows open and car keys inside. We even saw guy who guided us that all we have to do is park and leave the keys inside. I am for sure going to fight this but posting my reviews for all of you to be aware. I have been told that a ticket has been generated and someone will contact me within 72 hours. Let's see what happens. I will dispute these charges for sure.

I called to reserve a car. Picking up in Dallas going to Austin. Explained to the booking agent that I would be returning, but did not know when. He talked so fast I hard time understanding him. Ask him to slow down 3 times, but he never did. I stated I did not want to pay for the car to sit at airport, but would be returning 3 to 7 days. He quoted me price for the 1 day. I accepted. Showed up at the airport and there was no reservation. Checked email, nothing. He said he would send me email confirmation. So I rented a car for the day and a drop off fee was added since I was not paying for the days it was sitting. When I called to complain I was informed the reservation was for Austin and returning to Austin same day. That was the price I was quoted. Where he got that I have no idea. He pressed me to make return reservation. I almost had to get rude explaining I could not as I didn't know when I was returning.
No email because he had it spelled wrong. I spelled it for him more than once. So I opened a ticket to complain and ask for a refund. I would have been happy to pay them the fee for the day, the drop off fee not so much. I was trying to avoid that. Agent "no problem". After waiting 3 days I get an email stating they were issuing a refund and I would have it in 7 to 10 days. Didn't mention how much refund was. It came in 2 days and was $15. So I sent them back an email saying that was not acceptable. The agent totally screwed up reservation and was requesting remainder of drop off fee. Received email back. There would be no more refund. I will never rent from them again. They are idiots.

My friend K and I were traveling to Arizona and rented in advance from Payless which looks nice enough. We asked upon arriving at the rental counter if we could have K drive the car also. The counter sales rep said "SURE!" We were not told of the daily $13 fee it costs to have a second driver. It was only when I returned the car 5 days later I was presented with an invoice for $92 extra! I think a company that strives for honesty and good reviews does not withhold information about additional charges. What's more is K didn't even stay in Arizona more than 3 days, so I was clearly charged 2 days he wasn't even there to drive!
When I went online to register my complaint I was told, "Sorry, this is our policy and we're sticking to it!" I'm appalled in this day and age business is being done this way. They figure they can fly under the radar and if they get caught once in a while, well, no problem. We're just the little people. I will go out of my way to avoid Payless---I won't mind paying more to their competition, and I truly think you get what you pay for.

I have rented from Payless several times but never again. When renting a car, I always decline the extras and add-ons. This is normally easy to do. In the Payless rental agreement there are four places to decline and initial. On my latest rental I did just that: 4 options, 4 declines. I initialed and signed, the agent gave me my folder with the parking spot, and off I went.
When I returned the car, the rental fee was more than DOUBLE what it should have been. It seems that the "electronic" version of the car rental agreement showed me accepting the CDW coverage at $25 per day. They did not give me a copy of the "signed" rental agreement with my initials declining this service. I contested it on the spot but got nowhere. I contacted Payless corporate. They refused to refund the charge. They also refused to show me the signed and initialed copy of the rental agreement which they should have given me at the time of rental, but did not. This is a scam. Be very careful renting from Payless. If you rent from Payless, insist on a copy of your ORIGINAL rental agreement, not just an "electronic" copy, and look very closely at all of the items to be sure they are correct before accepting the car. Better yet, consider renting from a company with a better reputation.

Normally I don't have issues with any company and if something happened usually they take care of it. But what happened with Payless is beyond imaginations, especially the way to handle it. The bottom line stay away from them. They are all liars and not reasonable people especially management and supervisors. I booked a car for 4 days rent online for $80. On picking up they changed the car (which usually happens), they didn't explain any reason and I didn't mind. The new car is still almost same size and same level, the charges on the paper was high. I ASKED WHY IT IS NOT $80, the guy replied with careless that it will go down again when I return the car with full tank.
I returned the car after four days with full tank. I asked them again about the amount, they said it will go down like they told me. After few days it is $170. I called them. They didn't compare over phones. I opened a ticket, I reply was I requested upgrade and agreed on paying almost $90 more which never ever happened and doesn't make sense either. I called again, no one is helping. Opened a new tickets, explained all the discussion between me and the counter guy that never mentioned a word about. Again the reply was, "We don't issue refund and that's final decision." No one agree talking to me! I can't have a live person!
They are rotten bunch of people running the company. Even Expedia when tries to interfere they didn't cooperate with them. I asked them on the ticket to call the counter and ask them if they said any word about this upgrade and they ignored everything! That's the first time in my life that I got fooled this way and still can't get my right!! Anybody can help?!

I went on vacation to Seattle and decided to rent a vehicle from this airport. I have booked rental vehicles from airports several times in the past and always had a pleasant experience - until I booked a Payless rental! Don't be fooled by their low prices. I was supposed to be charged $129 + insurance that I was told is $26/day, coming out to $233. I was randomly charged $345 on my credit card! When I finally fought to get a receipt, I found all these miscellaneous charges on my summary that I have no idea what they are for!
When I called Expedia to complain, they called Payless for me and said that I would have to deal with them directly since Payless was not cooperating with them. I called Payless at every extension and could not get a hold of ANYONE! Every line goes to voicemail. I called Expedia and explained this, they said the manager told them I have to go on the Payless website and submit a form on the Customer Service tab about being overcharged. When I submitted my form, they sent me a response: "We're sorry but once a rental agreement has been completed and services have been rendered we are unable to make any changes or issue refunds."
This entire experience of going in circles with this company has been a nightmare! Unprofessional and unhelpful. Payless rental is a complete SCAM and I will NEVER book with this company again. I am currently having my credit card company help me fight the excessive charges. What a stressful ending to my vacation.

We rented a car from Aric at Payless. He went way over the top in making us happy with our car choice. He upgraded us for very little cash and then went to get our car and wasn't happy with the looks of it and put us into a Jeep Cherokee instead. We could not have had better service anywhere else. The car & the price was perfect!

Tue, Jan 10 2017 5:36am Upon arrival we were told that no cars were available. I reminded the girl, Erin, that I had a reservation. She informed me that the reservation confirms the price, but not the availability of the car, "read the fine print" was her recommendation. Then when the car was available (within 5 minutes) the price changed from $221 to $284. I asked why and she said the price I was quoted on Carrentals.com was an "estimate only" and that her earlier comment about the price was only a "play on words". Seriously. We went back and forth until she took me down to the parking garage to speak with the manager, Sharone. The garage was full of full-size Payless cars.
After about 45 minutes of back and forth, another girl pulled a new contract off the dot-matrix printer with the original price. Thoroughly pissed off, we drove away. Upon return, the car-checker guy sent me to the booth in the garage to wait another 20 minutes while another person pulled our final bill off of the dot-matrix printer. The whole experience had SCAM written all over it. I've been renting cars in Vegas for many years and this is the worst experience by far that I've had. I see on social media that this is common at this location. I want to hear some sort of explanation from you about this.

Got a car with my siblings at the airport in Guatemala City (November 29, 2016), took a while to get the car. Unprofessional service representatives behind the counter. Finally got the car (2 hrs later). Drove and about 130 km out of Guatemala City, in Zacapa Guatemala the car broke down. Called the rental office in the airport who said they were sending someone with another car, the other car didn't show up on the same day, had to get a hotel for everyone in the family. Car showed up at 2 pm the next day. Decided to head back to Guatemala City and on the way back the new car started to stall and 25 km before arriving in Guatemala City the new car broke as well. That was 2 broken cars in less than 2 days... GRRR.
Manage to start car and drove back to Payless Rental place at La Aurora International Airport. Spoke with the person behind the counter who said I could return the car if I wanted and they would cancel everything returning all my money back to the CC including the hotel I paid the night before. I did cancel my contract on November 30, 2016, got copies of everything I signed and they signed. Today is January 22, 2017 and the ** company haven't return my 2 wks money that they should of returned within 8 business days back into my CC. Being making international calls to Guatemala Payless Rental Car and to the USA Payless 800 number to see if I can get any help through them but both offices continue to put me on hold and I get nowhere. Called my bank (Chase Bank) who is helping me deal with this big ass problem and they are going to deal with Payless now.
So if you go to Guatemala and plan to rent a car, DO NOT RENT ANY CARS FROM PAYLESS, DOLLAR, THRIFTY, OR ENTERPRISE, they are all the same company owner with different names in Guatemala. Found that out after I returned the car to Payless because I told the guy I was going to go to those companies to get a better car from them, and the ** just laughed and said we own all the cars from all of them except Avis, Hertz, Budget, and Alamo Rental Car Companies.
As soon as he said that, I said the hell with all of them and went straight to Avis, Hertz, and Budget getting a way better car and price from Budget Rental Car at the airport counter. The Customer service from Budget and professionalism of the personnel was 100% much better than the people working at Payless. So if you want to rent a car in Guatemala Central America DO NOT GET IT FROM PAYLESS, DOLLAR, ENTERPRISE OR THRIFTY RENTAL CARS or you going to be left stranded and alone on the side of the road.

Laguardia airport, NYC - Rent a car from Payless Car Rental on 01/09/2017. It was a lemon car with defective side mirrors and dangerously unsafe conditions. I contacted Payless customer service phone number at LaGuardia airport NYC location at least 30 times trying to cancel the service or get a replacement, nobody ever picked up the phone, and it was automatically disconnected after 15 seconds of ringing. The customer service agents at the Payless location was very rude and gave zero information about the service or car, absolutely the ** service people I ever experienced. And at the end they stabbed me again with extra unauthorized charge. Do not, do not ever use Payless! They are not actually cheaper and these Payless service agents are absolutely hideous and will make your stomach feel sick the entire time.

I was lead to believe I was getting a different vehicle for the same price as the one I reserved and told the one I reserved would not be good for the area I would be driving in. I was never told I was going to pay for an "upgrade". Shame on me I did not stop to read what I was signing but I was given no reason to think I was being deceived. The guy at the counter seemed to be sincere. I fell for it. Other aspects of the contract were never explained clearly. These people know that you are in a rush to get to the airport when you drop off the vehicle and take advantage of that. I filed a complaint with Payless and disputed the additional charge with my credit card company but it was futile since I had signed the contract. No more Payless for me.

Rented a car through Expedia and was provided a total price and it was paid. Once arrive in Chicago airport to pick up the car, I was told there wasn't any cars available. I waited 2 hours to get a car and could finally leave to drive and see my mom 2 hours away. About halfway into my trip, long story short, I was pulled over and the car was impounded illegally and I was told to call Payless because they could release it. Actually, the next morning I called Payless told them of the situation and was provided a ticket number. I was told that someone would connect to the location of the towing company and review the car and possibly release it. I was told I would hear something back by the COB but that never happened so I continue to call and was told a different story every time. Each representative I spoke with was rude and articulate the process. I wanted to ensure that the car was release as stated or picked up by a representative before my flight left.
The towing company also stated that they tried to reach out to Payless and also their parent company, Avis and was given the runaround and when they stated they would picked the car up it never happened. They intentionally left the car at the towing company for 9 days and they stole over $1800 from our account. This is not the end and I would never wish this on my worse enemy. I called the processing center in Virginia Beach and the young lady Mallory couldn't explain the charges and was so unprofessional and unruly. This place should be closed down and never again to reopen. This is the worst place to rent a car no matter where you live. Don't do it! I wouldn't even give them a star.

After renting a car in Las Vegas, I returned it 2 hours before the "return time." Much to my surprise I received a tacked on fee of $35 for returning it early. Their website even states the cars can be returned 24/7. After sending several bills which I refused to pay, they referred me to a collection agency who sent all kinds of threatening letters. Of course they could not follow through, so my ultimate punishment was, I COULD NEVER AGAIN RENT A CAR FROM PAYLESS. So beware of this crooked "low priced" car rental agency.

Why I choose Payless, because it's cheap, however, it's a total Wrong. I rent a car at Miami International Airport Payless in December 22nd, 2016. The total amount from the contract is 700 dollars. Since I have a flight to catch, so I return the car into another Payless store. Finally they deduct me 1300 dollars!!! It's unfair, I called Payless Miami International Airport, the phone directly transfer to customers service. I told my problem to customer service. They said they can't found my name and information!!! I try over 50 times, no one pick the phone at Miami International Airport Payless store. The phone automatically transfer to the customer service!! I went to the bank, the bank said they can't cancel the transaction, because I have the contract with Payless, it's not fraud!!! Currently, they deduct me extra money, but nobody help me solve this problem!! I hope you guys don't choose Payless, because I don't want you guys be deceived again!!

I rented a car from the Denver Airport location Oct. 23rd. I arrived late at night, tired and still had a two hour drive. I agreed to the refuel fee but there were other charges I did not agree to. I only realize this after I had left the location... my fault! When I returned the car I didn't fuel the car but I had over a 1/4 of tank. I expected that Payless would only charge me for the fuel used... Wrong! My thought at that time was that will never happen again as I will be much more careful if I ever rent a Payless car in the future!
The first week in December I noticed an unauthorized charge of $50 on my credit card. After reading "Term & Conditions" I assumed that I must have gotten a red light camera violation or a toll violation... neither of which I am aware of doing. I immediately disputed the charge because I EXPECT a letter, bill or something informing me of the charge to my credit card. To date I still have not received any communication from Payless why I was charged a fine. After the last unsuspecting charge and doubling the price of the rental behind the rental company I will NEVER choose Payless as my choice. I have rented from several other companies and Payless tops my list of unethical business! I don't feel that Payless is worthy of a one star rating!

Lauren FixAuto & Finance Contributing Editor
Lauren Fix, also called The Car Coach, is an automotive and auto finance expert. Her understanding of vehicles has made her the "go to" person on TV, radio, print media and the Internet. She has authored multiple books and writes a column for several outlets, including Parade Magazine, NewsMax and Car Coach Reports. She is a regular guest on major news and morning shows, discussing the latest updates on cars and car financing that will help drivers make smart decisions when buying, maintaining and financing cars. More about Lauren→

As an Avis subsidiary, Payless Car Rental operates more than 120 retail locations under a combined corporate and franchise model.
One-way rentals: Travelers can expand their reach and make work travel more convenient by picking up a vehicle at one location and dropping it off at another. Renter also have a choice of 15 different vehicles including economy cars, minivans, SUVs and 12 passenger vans.
Loyalty program: The Perks Club provides a streamlined reservation and check-in process.
Last-minute pricing: When booking ahead, renters usually get the lowest pricing, but Payless Car Rental also accommodates last-minute bookings with specials based on the pickup location.
Discounts: Partner organizations get discounts, like the five percent discount offered to all AARP members. Save 10 percent on monthly rentals or when you book more than 30 days in advance. Sign up for the newsletter for additional discounts.
Early-pay discounts: When renters book at least one day in advance and pay at the time of booking, they can save up to 20 percent. Cancellation fees apply to this type of booking.
Best for Those who plan ahead, those traveling only one way, business travelers, vacationers, temporary workers, those with cars in repair and those who want a wide selection of vehicles and temporary workers.
Payless Car Rental Company Profile
Company Name:

Payless Car Rental

Year Founded:

1971

Address:

P.O. Box 699000

City:

Tulsa

State/Province:

OK

Postal Code:

74169-9000

Website:

http://www.paylesscar.com/