Consumer Complaints and Reviews

I scheduled a round trip flight through Orbitz. Great price/deal. Super happy. Delta confirms my seating assignment 24 hours in advance. I fly to my destination. Three days later, I'm waiting and waiting for my confirmation, and it never comes. I can't remember which airline I am flying home on, because I made the reservation 4 months in advance. There is no online check in. No Confirmation for a return flight. I had to purchase a ticket home at $264, when I already had a flight booked on JetBlue!
I just never received any email to check in. After speaking to both customer Service Reps from Orbitz and JetBlue, with only finger pointing, neither business is willing to admit fault. JetBlue EMAILS its customers twice before they fly, and NEVER received my personal email from Orbitz. Orbitz took my money, purchased my flight and then stepped away without another look.
Orbitz as the 3rd party took my personal information but NEVER passed it along to JetBlue. I missed my flight with JetBlue, and don't get reimbursed, in ADDITION to paying for a new flight! (Which would never have happened if I KNEW which airline I had a reservation on.) Don't trust Orbitz to take care of you from start to finish. There are plenty other businesses who will. Super disappointed.

I learned of a city error when booking a hotel. I then called Orbitz on the 28th, I was assured it would be canceled and I may get a 30% penalty but they would escalate it to see if I could get a full refund. The 30th I heard nothing so called and learned it was still active and never canceled. The gentleman on the phone again said he was going to escalate it and I would hear something within 48 hours. I did hear from tier 2 support which said they could not waive the penalty, I emailed back and said that was fine.
Well the 4th goes by and I decide to check my status for the refund. The hotel is STILL active. I get pit through to a supervisor this time. She tells me it is past the point of refund (reservation was for the third). I explain how many times I called etc., I mean come on cancel means cancel. Well she tries to tell me they sent another email saying I needed to recontact them via phone. I never got it and when I asked for her to resend it so I had a copy she said she could not, she then told me she would submit it higher. Well I received an email today, basically saying I did not submit in time. Will never deal with again.

We have booked a family vacation with Orbitz to Italy. It has been a mess since the beginning. First they had trouble re-booking us from April to June. That took about 20 hours of hold time and repeating our story through tier 1, tier 2, tier 3 and tier 3 leads. Then they re-booked us but not everyone in our party. They re-booked me twice. Thank God that I called the airline to check the status or we would have never found out and we would be short a ticket.
I called the airline again Alitalia. After they supposedly fixed the problem only to find out again that they still had not booked as well. I again was short a ticket! Another 6 hours on hold through tier 1, tier 2, tier 3, tier 3 leads to get resolved. I would never use Orbitz again, Never! We have spent more than 30 plus hours on hold, lost work time, doctor's appointments (could not hang up to go to) time and energy. I would strongly recommend to never ever, ever to use this or any other affiliate. If I could give them minus stars I would. AWFUL!

I booked a package trip with Orbitz for a business meeting which included my airfare and rental car. I did this to save money for the company and for convenience. When I went back to my account to print a receipt for the trip for my reimbursement request I found that the receipt does not show the itemized statement, there is just one lump sum listed for the entire trip. The reimbursement policies at the company require you to submit the cost of each item showing the date and cost of travel related to that item similar to policies at most organizations.
When I submitted a request for an itemized receipt I was told that Orbitz cannot provide this instead they sent me an email listing the total for the car and the total for the airfare however there was no date or location information listed for these items. Also, there was a date of purchase listed on the receipt which was incorrect. I have now been trying to speak with an agent on the phone for over an hour. I have spent approximately 3.5 hours trying to get a simple receipt for items that I paid for. I am shocked that an online company cannot add two lines to their receipt template showing total cost of airfare and total cost of car rental. I am sure I am not the only customer who needs to have receipts that show this information. I will never book another package deal with Orbitz again. Extremely frustrated and disappointed.

I generally don't buy airfare from 3rd-party companies but bought a couple of tickets for my nephew and his fiancé to visit me. AFTER the fact, I noticed that I couldn't select the seat assignments on the Orbitz which indicated that I need to call the airline "to make seat assignments." When I called the airline, to my horror, I found out that there were additional and substantial fees involved. Orbitz HAD NOT DISCLOSED THIS BEFORE I FINALIZED THE PURCHASE ON ITS WEBSITE.
I am a savvy traveler and know that airlines sometimes charge for seat assignments. For example, Delta does it but it is disclosed BEFORE you agree to the purchase. Orbitz failed to disclose and refuses to take responsibility for the fees because "the airline is charging the fees." Indeed, but I got the tickets from Orbitz which had failed to disclosed them. This has got to be illegal. If it's not, it's morally reprehensible. The company sucks. I will never use it again and will spend more time advertising its scams on social media.
How do I know I can trust these reviews about Orbitz?
762,011 reviews on ConsumerAffairs are verified.
We require contact information to ensure our reviewers are real.
We use intelligent software that helps us maintain the integrity of reviews.
Our moderators read all reviews to verify quality and helpfulness.
For more information about reviews on ConsumerAffairs.com please visit our FAQ.

I am disgusted by the service provided by Orbitz Cruises once I canceled my reservation. The customer service reps (I spoke to several) all provided conflicting information about monies that needed to be refunded to me and were quite attitudinal and unprofessional. In addition my credit card was charged without notifying me. The cancellation fee could have just been taken from my deposit. Instead, they charged my bank card for this fee which, as a result threw my bank account into a negative balance and I am beyond pissed off! I will never book thru Orbitz again for any reason. This is exactly why I do not TRUST giving access to my bank account to online businesses.

I fly often and always use the airline site to book with. This time as a convenience I was flying one way with American and home with Delta so used Orbitz. NEVER AGAIN. I paid for my flight; a month later, get a charge from Orbitz for $16. Called them and was told this is the regular charge for using their site, nowhere does it state this when you book. They would do nothing about it.

WOW. So I call to cancel my reservation, less than 24 hours from booking. The lady who answered the phone was very hard to understand (horrible English), said she would have to talk to the "Baldpate Inn" before they could cancel. I was very confused why it was so hard to cancel a room booked less than 24 hours ago. She was talking very fast and I had a hard time understanding her. I said, "This is complete BS. All I'm trying to do is cancel a one night stay." She then said she was feeling threatened by me and said she might end the call?? Umm ok so I said, "I'm sorry. I'm not trying to threaten you or make you uncomfortable in anyway. Please cancel my room." She then said someone would call me back in 24 hours. That didn't happen.
I called the next day, I got a man (horrible English). I explained to him I just want to cancel the room. He repeatedly told me I was "in the queue." I have no idea what that meant. I asked him to explain, he couldn't or wouldn't. All he would say was now I would be contacted in 24-48 hours... I lost it at that point. I hung up the phone and started the process through the hotel directly. They were very helpful. They canceled me but asked that I please go on and cancel online as Orbitz will charge them outrageous fees if you don't cancel through them as well. So I did that and then Orbitz charged me 10% of my booked amount!!! Are you kidding me!
I can't even explain how time consuming and frustrating this experience has been and it's not the hotels at all, it is Orbitz!! I will never go through them again. I feel like they take advantage of you and make it almost impossible to cancel, and then they will still take $ from you. I can't imagine the $ they charge all the companies who use their service. Call the hotel directly to book is my advice....

I have been fighting with ORBITZ (not owned but Expedia) for over a month about a DOUBLE charge for the same reservation at Hotel Woodland, Kathmandu. I disputed it with Amex and Orbitz declined the refund. The hotel manager confirmed when I check in that there was an error. Now the hotel manager, Mr. **, again confirmed that the bank refunded the money to Expedia yet they are still claiming they don't know what is happening at Orbitz/Expedia.
Third call to them that they claim they can't reach the manager of the hotel or reservations. I offered to copy Orbitz on the email but Orbitz "doesn't use email". What?!? Each time they say they will call the hotel in the am (due to time difference) and get back to me, no response until I call back and start the same runaround!

Orbitz total travel protection plan is a TOTAL WASTE of money. The insurance company (www.aontripclaim.com) only reimburses money in case of extreme circumstances like immediate family member demise, earthquake or flood evacuation, medical emergency with lot of documentation. In such extremities, God forbid if they should happen, why would anyone worry about petty things like if they reimburse my 200 rescheduling flight fee?? In any general circumstances, however genuine and serious your situation is to interrupt/cancel a flight, they would NOT reimburse and Orbitz does NOT want to take any control over it. Very dissatisfied with Orbitz and how they deviously advertise on their sites about how everything they cover etc. so travelers fall into their trap.

Orbitz has the worst customer service I have come across. The protection plan is a joke however I paid the $200 to change my fees. I get to the airline and am told to call Orbitz and ask them to send the confirmation. After multiple waits and almost two hours on the phone and talking to inept reps I finally got a supervisor who was able to charge my card for a separate ticket just so my mom could make the flight. Horrible. Buy directly from the airline so they can at least help you. I do not recommend. I cannot explain how stressful it was.

Let me start by saying I have NEVER gone out of my way to write a review about a company, as a whole (whether it was a good or bad experience), but thought it was absolutely necessary in this case when concerning Orbitz. We had numerous issues after booking our vacation package to Cabo San Lucas. First, they sent us an email stating that due to a "missed connection" for the flight, they were not able to issue the airline tickets and to call for assistance. The customer representative clearly could not speak English fluently, and did not know, and was in turn not able to explain what a so-called "missed connection" was (it is the time of the layover not matching up with the airline's tickets, which had been explained later on by a supervisor). He also informed us multiple times that he was unable to issue the airline ticket in general (which they were still very much able to do).
We then requested to cancel the entire package to which he replied that the package would be canceled in full as we requested. We then found out the next day by an entirely different representative, that only the flights had been canceled, as he was only a ticketing agent (which he also failed to inform us of) and to contact the Help Desk for further assistance with canceling the hotel reservations. As if that wasn't bad enough, the Help Desk informed us that our hotel reservations were non-refundable and would need to be canceled with the hotel's consent alone. Honestly, just save yourself the headache and don't use Orbitz, their customer service is truly appalling to say the least.

I made reservations to fly to two cities on the East Coast from the West Coast. I scoured through over one hundred flights looking for the perfect flight times. I had a very important doctor's appointment on the day I was to travel so I needed to schedule the times to work out perfectly. My appointment was for 11 a.m. so I chose a late flight, 8:30 p.m. which would get me to my first destination at 5 a.m. the next morning. This worked out perfectly because it saved me one night's cost of a rental car and hotel ($175.00). Well, I didn't double check the reservation because I triple checked the final choice I had made.
As it turned out, the flight they scheduled me for was to leave the West Coast at 11:44 A.M. and get me to the East Coast at 8:37 P.M. the same night. I had already made my car rental reservation for 6 A.M. that next morning and my hotel was booked for the same day. So... now I have to reschedule my doctor's appointment (more than a month and a half down the road) and I have to pay another day at the hotel or just hang out somewhere. Another real negative is the car rental reservation I made was for 4 days at the cost of $277.00. Two weeks later, I found a car rental of a better car for $152.00 (A $125.00 savings!). I HIGHLY RECOMMEND NOT USING ORBITZ FOR MAKING ANY TRAVEL RESERVATIONS! Live and Learn.

Orbitz presented $71 for a flight. I entered my credit card information on the same page that presented that amount. I expected to pay that amount since that was the number listed on the payment page. I then clicked booked and $140 dollars was charged to my account. I called Orbitz asking if I booked two flights instead of one. The customer service rep said the price of one flight was $140. How can a company charge the customer a certain price without their consent? I did not consent to paying $140. I agreed to pay $71. Their customer service rep said to fill out Price Guarantee request however it was not granted since I was comparing them to THEMSELVES. I now tell all family and friends to AVOID AVOID AVOID. I have never had issues like this with Priceline or similar websites. Don't waste your time or money with Orbitz!

Orbitz sold me tickets to the bahamas and the flights were cancelled. Orbitz refunded 1/2 of the money and kept the rest. Orbitz alleges that the airlines was to refund the money. American airlines has said that they refunded the money to orbitz to return to me. Obviously orbitz is keeping half of my money or $872.11 and claiming that american is keeping my money.

I recently booked travel for myself and my mother through Orbitz. We booked an all inclusive resort and flight, but within 24 hrs I was notified by Orbitz that the airline would not confirm the booking or issue the tickets. Now my mother was weary of flying to begin with, decided this was a sign not to go. After reading reviews I was very worried about canceling the trip and if I would be refunded. When I called to cancel the trip, Orbitz handled everything wonderfully and I was fully refunded within the next 72 hours. If I can convince mom to try flying again, I will definitely book through Orbitz again.

The travel protection plan is a waste of money! I knew there was a possibility I would not be able to fly due to other conflicts. When I booked the flight it said "free cancellation" and buying the protection plan it was easy to cancel and get your money back. But no, I went to cancel my flight and they told me I needed to check my protection plan and the ways to cancel. The only way you could cancel was to be sick with doctor's note and ability to get into medical insurance information, have a death in the family with a death certificate, be in an accident and have a police report, go to court and have a summons, and all these nonsense reasons. The reason why I bought it was for the Free Cancellation. When I called Orbitz they told me I could cancel my flight and pay another $200 to have points saved to my next flight, or I could just lose the money. Overall I will NEVER book Orbitz again, it was a ridiculous process to lose about $400.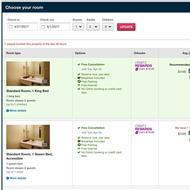 I booked a hotel room through Orbitz that stated "Free Cancellation" and "Reserve Now, Pay Later". Neither was true. I carefully read through the confirmation email which informed me that the room was non-cancellable and non-refundable ($660.00). It took an hour on the phone with Orbitz - their employees (who don't speak English very well) refused to look at their own website. The first one hung up on me. I finally spoke to a supervisor who looked at it and said she would contact the hotel and see if it would consent to allow me to cancel and get a refund. Thankfully, the hotel consented. Meanwhile, in regard to why my card was charged ("Reserve Now, Pay Later"), Orbitz simply stated that they had to "study" the matter. Now it will take a week or so to get a refund. The listing was purposefully deceptive. I'm still hot about having been deceived and lied to by Orbitz.

My husband, our four month daughter and myself were planning a trip to Europe for June and we didn't know our baby needed a ticket so we only had our 2 tickets. When we found out we needed a ticket for our baby I called Orbitz and they refused to add on our baby. They said since it was 3 airlines they couldn't just add on our baby. And they wanted almost 900 dollars to make changes to add our baby on (which normally should be free for babies under 2) or just taxes on the ticket. Or we had to cancel our flight which cost us 500 even though we had insurance but they tried telling us it wouldn't cover for adding a passenger.
My family spends thousands a year travels the world all the time for business trips and we will never use Orbitz again. We worked extra hard last year to afford this trip to visit our family and Orbitz will not help us out to get our baby on our lap so now we lost our trip. They also refused to let me talk to executive management.

As I write this review I have been on hold with Orbitz for 1 hr and 56 min. I have been transferred 4 times just to cancel an air reservation. This is ridiculous! Who takes this long to cancel a simple reservation??? Will NEVER use this company again.

Be very careful using Orbitz. I booked my son and my mom a multi city round trip for April 2017. I included cancellation insurance and quickly realized that we booked our trips through Easter Sunday. I called Orbitz back the next day and they told me that I could cancel so they hit the cancel button! They told me to call American Airlines to re-book within 12 mos. I called American to re-book and they said to call Orbitz. Orbitz again sent me to American. The only thing I found out which Orbitz did not tell me is that American charges $200 per person to re-book, not that that helps me much because neither one of them will re-book. I have called each company several times and I am still out $1307.80 now with no tickets at all! I did call in a credit card dispute so hopefully I can get my money back that way. I have booked several trips with Orbitz in the past, never again!

I booked a flight from Buffalo, NY to Ketchikan, Ak. We missed our flight from Ketchikan to Seattle, as the flight showed a 2 hour delay (which we, being unseasoned travelers, thought meant 2 hours). When we returned to the airport, the gate was closed and we were unable to get on the plane. Alaskan Airlines told us to contact American Airlines (it was an American airlines flight operated by Alaskan Airlines) and American said we had to go through Orbitz since it was "ticket stock." The first time we called Orbitz, we got hung up on after about 15 minutes on hold. We then spent the next 2 hours on the phone trying to get help getting a flight home.
At first, the agent had to confirm with the airline about the 2 hour delay, which the airline denied, saying it was only a 45 minute delay, despite the fact we had a screen shot of it on our phone. Orbitz didn't care. They gave us so many prices to re-book, it made our heads spin. They charged us each $200 re-booking fee (the airline re-book fee would have been $125). Then, they were telling us it would be another $1000 per person. I had to demand a supervisor, as the agent didn't seem to understand what we were saying. It was also very difficult to understand her accent. The supervisor was easier to understand but also didn't help and said we would have to pay the $200 fee plus the difference in flight, even though we contended it was not our fault for the missed flight.
The prior agent got on the phone again to re-book us... We had to re-explain where we needed to go... She could not pronounce Ketchikan or Buffalo and we had to GUIDE HER by looking at their own website what the best value and flight would be to re-book. She obviously didn't know her geography either. I was totally disgusted by this experience. I sent an email to customer service, but have received no response. On the upside, Alaskan Airlines gave us a $125 voucher for the re-booking fee they would have charged. Orbitz was not at all helpful and created a financial and stressful burden.

Orbitz charged my credit card for a reservation that was never completed, I have no confirmation number or itinerary and Orbit is avoiding me to prevent reimbursement. While trying to book a flight and hotel to Maui Hawaii, an Orbitz sales rep charged my credit card several times while the charges were pending and exceeded my credit limit. All charges were declined due to insufficient funds and all reservations were cancelled, but not before American Airlines and Virgin Americas charges came through my account. I did not receive any confirmation or reservation numbers or an itinerary. They received my payment but I have no flight to or from Hawaii.
I immediately contacted the Bank to find out why the charges weren't going through only to learn that Virgin America and American Airlines in the amount of $2608.80 were pending and when Orbitz rep tried to input the amount of $3825.75 for the complete package (airfare and hotel) it was declined for reasons of insufficient funds because the combined amounts exceeded my available balance. The Bank rep said Virgin America and American Airlines would have to send a letter on their letterhead to have the charges removed.
I contacted the Airlines who claim they are a 3rd party which leaves the remedy to Orbitz, but the charges came through my account, and Orbitz could not cancel the payment after it was paid from my account. The Airlines were paid from my account, but I have no reservation, flight number and no confirmation number or itinerary to show for it. Both Airlines are contradicting their refund policy. However, I need a letter from both Airlines so I can have the charges reversed when I submit their letters to the Bank, but the Airlines cite the fault of Orbitz and won't give me the letter.
On 2/21/17, there were 4 inputs at $ 322.80 each that reference American Airlines from Orbitz and 4 inputs of $329.20 from Virgin America. After Orbitz advised me that all parts of my reservation was cancelled, Orbitz inputted my credit card number again and without my permission. On 3/12/17, Orbit made another big mistake by emailing me an unauthorized booking itinerary & confirmation code on American Airline; a one-way ticket with no return trip and with no return email address for me to communicate back with them. Again, THIS BOOKING IS UNAUTHORIZED. I've been given a flight I can't use, so I called American and cancelled it, but American won't refund me and Orbitz is avoiding me to prevent paying the reimbursement.
Prior to 3/12/17, I was advised by Orbitz manager Evet (they don't give last names) that I would be reimbursed for the problems Orbitz created. During that phone conversation, I specifically asked Orbitz manager for a full cancellation and full reimbursement so I could start the reservations over with a clean account and with someone else. She affirmed that I would be reimbursed and I was assigned case # **. However, during a subsequent phone contact, Orbitz supervisor Carolyn could not find my information under that case number.
This problem has become enormous for 3 reasons: (1) Orbit has a general phone number and a customer can't speak to the same person they spoke to 5 minutes ago--you can't call back and ask to speak to a specific person. (2) When a person calls Orbitz corporate Office to speak with Customer Service, a recording says, "SORRY, the person you are trying to reach does not have a valid voice mailbox on our system." (3) By having to speak to multiple representatives, some of Orbitz reps do not speak English well and the understanding gets lost in the translation, which only complicates matters worst. I called back more than 1 dozen times and could not speak to manager Evet again. To add insult to injury, CEO Hartford never answered the certified letter I sent him. His office signed for it in February 2017.

Orbitz offers insurance on flights, knowing people are assuming that means if they need to cancel they can get a refund. And then when you call to use your insurance they refer you to insurance company which requires you to submit a proof of medical emergency. NO ONE can predict medical emergency, therefore NO ONE would purchase this insurance if they knew all the details. This kind of deception is highly unethical, and Orbitz knows exactly how they are deceiving their customers. I will never use Orbitz again.

I made a mistake by checking that I wanted travel insurance when I booked my travel online. So immediately after booking I called customer service to delete/cancel that portion of my reservation but they said their system was down and I should call back in 4 hours. So I called back in 4 hours and they told me the same thing... but that would've been like 2 am, so I didn't call back until a few days later. But then their service message said due to the storm in the NE that I should call back another day unless it related to travel related to that day or the next. So I called back a fourth time in a different day and I was on hold for over 20 minutes.
Then my request got sent to a different level and I didn't get a response until a couple of days later Via email saying because I didn't call them or request this sooner that they could not refund my money. They said they had no record of my previous attempts to call. They wouldn't have record of the call the day of the storm but the first 2 attempts where I actually talked to people should have been noted... but I'm pretty sure now that the 'system is down' thing is something they tell people to avoid having to refund things in hopes they will not call back soon enough for their rules. Overall extremely poor customer service!

I will NEVER use this outfit again. I made a reservation with a hotel through Orbitz and had to change the reservation. Not only did the person get the dates wrong, but I was charged the full price for the change of reservation. I complained and kept getting, "We are sorry" e-mail, but no action or help at all! I did contact the hotel and they actually helped me. Thank you Orchards Inn of Sedona! You are wonderful. Orbitz is an awful company, and their customer service is extremely poor. Avoid them at all costs.

I have been a customer of Orbitz for quite some time and always found them to be reliable. Recently I purchased cancellation insurance on a flight that needed to be cancelled due to a family emergency. Orbitz staff was rude, double talking and not a bit willing to help. They actually issue refunds, then when you try to rebook, charge outrageous booking fees which cost more than money refunded. I will never book flights through Orbitz again.

On May 23, 2016 we booked the flights for 50th wedding anniversary to Hawaii starting on Feb. 9th, 2017. We were told to book early because it was during prime time for Hawaii and we were using Frequent Flyer Miles. We received our itinerary on May 23, 2016 at 12:56pm from Orbitz. We checked it for accuracy and connection times and everything was OK. We did not receive any correspondence from Orbitz or The Rewards Center telling us there were any changes to our flights so we assumed all flights were scheduled as planned.
We chose to arrive at the Spokane Airport the night before and stay in a nearby hotel because of possible Icy roads. I tried to check in online but a message came up saying we need to see an agent to get our boarding passes. We arrived at the ticket counter at 6:40a for our first flight to leave at 8:10a. When we checked in it was discovered that the second leg of our flight out of Portland was changed from 10:45a back to 8:15a. Giving us 5 minutes to get to Portland and board our plane. The agent Alaska Agent (Bonnie – very nice) tried for about 30 minutes to get it changed but was put on hold with her call to Alaska.
Finally she asked if we wanted to wait on hold or have them call us back. We told her we would wait on hold for her. I waited for 1 hour & 16 min. Meanwhile my wife Audrey decided to call the Rewards center. A fellow answered and was very helpful but we were on hold with him for about 2 hours. He kept checking in and finally said to take the next available flight to Portland and that hopefully he would have a flight to Hawaii set by the time we got there. We took a flight at about 11:30 to Portland. When we got there a flight was booked for us on United to LA. The agent said she couldn't give us boarding passes because the next connection was on another airline (Hawaiian). We had about 45 min. in LA to the get to the next flight to Honolulu.
Just before push back it was discovered they needed to change a couple of tires on our aircraft which took about 20 min. We arrived in LA with 15 min. to get to our next flight. We used a shuttle cart and went as fast as we could but our connecting flight scheduled for 5:27p left 10 min. early. We were told at the Hawaiian gate that the next available flight was the same flight the next day (5:27p). We went to the Alaska ticket counter to see if we could get an earlier flight. A really nice female agent worked with us for about 90 min. and finally she got us on a flight the next morning at about 8a. We were given vouchers for hotel & meals. Then to find our luggage. Alaska told us they were probably at United but if not come back. We went to United baggage claim and after a bit of insistence they found our bags. We boarded our flight the next morning and everything went as planned and we arrived in Hilo at 2:15p.
Now for our flights home. We went to the Hawaiian ticket agent upon arriving at Hilo to check on our return flights. We were told everything was OK except one flight change and some minor time changes. We were told they couldn't print out an Itinerary because it was on another airline (Alaska). 23 hours before our flight I tried to do an Online Check In. I got a message that I would have to see a ticket agent for check in. I then tried using Online Confirmation and was given our flights and times but there was no flight from Portland to Seattle.
I called Alaska to get it fixed and they said their computer showed there was a flight on our itinerary. She tried to confirm it on the Online site as I had and it wouldn't work for her either. She said she would talk to a supervisor and after about 30 min. she said they didn't know what was wrong but that our flight should be OK. After all the problems we've had on this trip I was still a bit nervous. When we left Hilo to start our trip home we finally got our boarding passes and luggage checked back to Spokane. We arrived in Spokane exactly on time. During all this all the agents, both at the airport and on the phone were very helpful.
We also booked flights for our children using our Frequent Flyer Miles. They left 3 days later so we warned them to confirm their flights. Most of their flights to & from had been changed with no notice. But they were able to get them fixed in time. Our question is why we weren't notified of these changes by Orbitz or Alaska. Other airlines keep us well informed by Email. We were told that Our Bank Rewards has dropped using Orbitz because of all the problems they were having. After reading other reviews and our experience we recommend you do not use Orbitz.

We booked a hotel with Orbitz and one of the kids was sick so we pushed back our reservation by two days. They apparently didn't inform the hotel so when we showed up after a 7-hour drive our room had been canceled since we didn't show up on the original day. They originally were going to refund us and give us an hundred dollar credit even though our other house was going to be over 200 dollars more. We finally got a house after 2 hours and a huge hassle that is not on the water and doesn't have a pool. Will not be using Orbitz again.

Beware of false claim that the price went up. After buying my two tickets through Orbitz I realized I didn't enter the exact name as it appears on my friend's ID which is strict with Delta. Orbitz customer service said they couldn't change it without canceling and starting over so I asked her to do that for me. It had only been about 15 min. so well within no cancellation fee. Then she tried to swindle me out of $50. more telling me the price had just gone up. I challenged her as I had been looking at that flight for several hrs unchanged. I asked if she was charging me an assistance booking fee and she said no. Not believing the price had gone up I asked her just to cancel everything. I went back into Orbitz online and found the exact same flight I wanted for the original guaranteed price. I consider this a dark policy with Orbitz and caution everyone on this subject.

ConsumerAffairs Research Team
The ConsumerAffairs Research Team believes everyone deserves to make smart decisions. We aim to provide readers with the most up-to-date information available about today's consumer products and services.
Orbitz is an online travel website owned by Expedia Inc. It was founded in 2001 and acquired by Expedia in 2015.
Rewards: Orbitz rewards travelers with points they can exchange for discounts.
Vacation packages: Travelers can save money by choosing vacation packages instead of buying services individually.
Activities: Orbitz can help tourists find activities and events in their destination cities.
Mobile apps: Mobile users gain access to exclusive deals.
Scratchpad: The website's Scratchpad feature helps travelers keep track of offers that interest them.
Best for Budget, domestic and international travelers.
Company Name:

Orbitz

Year Founded:

2001

Address:

500 W. Madison St.

City:

Chicago

State/Province:

IL

Postal Code:

60661

Country:

United States

Website:

http://www.orbitz.com/