Consumer Complaints & Reviews

Super horrible disaster happened!!! During my living 1st day, after the house keeping I lost all of my stuffs including valuable private thing even food, clothes, pants,etc. Although some part of my personal things is found back, I still lost some personal thing! My clothes is thrown directly to the trash can so that everything is polluted and dirty. I had to suddenly stop my trip. It seriously and deadly affect my emotion!!! Although the hotel pay some money for my compensation, I think the hotel general manager is not enough and no sincerity at all! This bloodcurdling experience make me so scared and angry!!! I can not find a sentence to express my feeling!!!

I booked a reservation for this hotel through Orbitz for a stay from August 12 to August 19. According to both Orbitz and Holiday Inn websites, if I cancelled before August 10, I would not incur a cancellation fee. I cancelled this reservation on August 1. I was informed by Orbitz that Holiday Inn states that I had to cancel 13 days prior to August 12 to avoid a fee. That part was not on either company websites but if I cancelled prior to August 10 to avoid a cancellation fee was on my receipt.

In confirming reservations just for my own information for a flight a week away, I discovered that my flight had been canceled (perfectly understandable, but I got no notification) and it had been changed from a 2-1/2 hour non-stop to a 4-1/2 hour one-stop. I called Orbitz - big mistake! After many hoops, person with little English tried to convince me that a 1-1/2 hour layover in another city - which she said was "for refueling" - constituted a non-stop flight. I asked to speak with a supervisor, who told me he had no access to my records but would forward me (again) to a "reservations specialist." He gave me a "direct number" to reach them, which turned out to be the same general number I had called in the first place. I spent an hour and 14 minutes on the phone, by my phone's count, and finally succeeded in getting the reservation changed (after one hangup). I will never use Orbitz again!

I wouldn't advise my enemy to their services. I think they trick their customers, deceived them, and most people will forget that they have future travel money in their account. I cancel my flight an hour after the stipulated 24 hours margin. I called them and they told me any canceled flight will incur flight fees and Orbitz fees. This is crazy to me. After claiming my future trip fee, I would never use them again. Deleting my account afterwards. There are other cheaper services to use. Trust me.

After calling Orbitz to confirm a specific room they were advertising was available I paid for my hotel room and drove 8 hours to LA. When I got to hotel I was told the kind of special room I ordered wasn't even a room in their hotel. I called Orbitz and was on hold for 4 hours while they tried to get me a manager because they kept calling hotel manager asking them to accommodate me, but hotel manager was really nice but kept explaining they can't accommodate what doesn't exist in their hotel. I told Orbitz there was another hotel on their site that offered the room too but that all others were all sold out. Orbitz told me they would not refund my money so I could get another hotel until they listened to a recorded conversation they said they had of me booking the night prior. I told them that was fraud and they said well take the room we have for you or sorry nothing else we can do for you until we listen to recording which will take 7 to 9 business days.
My bank won't reverse my funds because they say I made the transaction. Well yes I did but they sold me something that I didn't buy. Now Orbitz has stolen my money for the last month of the sum of 580.00!!! Don't book with Orbitz. They false advertise for something they don't have even when you call and confirm with their so called customer service.
How do I know I can trust these reviews about Orbitz?
575,164 reviews on ConsumerAffairs are verified.
We require contact information to ensure our reviewers are real.
We use intelligent software that helps us maintain the integrity of reviews.
Our moderators read all reviews to verify quality and helpfulness.
For more information about reviews on ConsumerAffairs.com please visit our FAQ.

The most inept, unorganized booking site ever. I booked a flight, it was cancelled, and I never even received a notice until I was at the airport. Then, trying to get a refund on a cancelled flight was pure agony.

I made a reservation for a hotel but the screen had a different Marco Polo than I wanted. When the confirmation popped up, I immediately contacted to tell Orbitz that I had the wrong hotel--less than four minutes after making the reservations. I was told there was no waiving the cost and I was responsible for the cost.

DO NOT BOOK YOUR CAR RENTAL THROUGH ORBITZ!!! I too made a car reservation thru Orbitz and purchased their insurance which is charged to your card immediately unlike the car reservation. When my husband got to the counter, they told him the insurance was not accepted and that they would have to charge us an additional $15/day on top of the $65 that we have already paid. We are fuming!!! It has been a very long time since I have used Orbitz (about 2 years) and I had an issue with the car the last time as well. I stupidly thought that things might be different this time around. Again, DO NOT BOOK YOUR CAR RENTAL THROUGH ORBITZ!!! And if you call to complain, you will be redirected somewhere in India.

Orbitz shouldn't be offering car rental services at all. When I got to car rental all of the sudden car rental rate doubled in price and on top of it Orbitz insurance wasn't accepted. It cost me additional 250 dollars than originally booked. Such a scam. When I contacted Orbitz Customer Service I was directed to talk to car rental company about extra charges. So what is the purpose of using and booking through Orbitz if they don't care about their customers at all? Not even willing to solve a problem that was created on their end. I was charge for insurance 77 dollars by Orbitz. Last time I talked to representative I was assured to receive refund back within 5 business day and two weeks later I still haven't received it, not even to talk about the difference that I had to pay. Completely ruined my vacation. Be smart. Do not use Orbitz.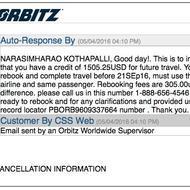 I made an airline booking through Orbitz with Orbitz booking number #**. Later I had cancelled the trip and I got an email confirmation from the supervisor stating that I am having a credit balance of $1505.25 and I should use it before September 2016. Yesterday (08/04/16) I had contacted Orbitz for making a new airline booking. The agent informed me that my earlier booking had been flushed out of their system and kept me on hold for one hour to verify my credit balance.
After one hour he told me that I need to wait for one day to make a new booking. I had complained and asked me to contact with their manager and after lot of persuasion he had transferred the call to their Manager. I had explained the situation and informed him that I cannot wait for one day since the airline fare can go up. He understood my problem and took down my flight details and informed me that their executive will call me within one hour for completing the transaction. After one hour I got a call from the executive and confirmed the flight itinerary with me and asked my credit card details for the balance payment. I gave my card details and he had confirmed to me that he had completed the transaction and I shall get my email confirmation shortly. He even updated my frequent flier no. I had completed this call by 1900 Hrs CST on 08/04/16. I had also seen hold on my credit card for the balance amount.
Even after 2100 Hrs I had not received any email nor the booking is being shown in my Orbitz account. So I contacted customer care and after lot of wait (nearly 45 minutes) the agent had confirmed to me that there was no booking in my name. Today from morning onwards I am calling Orbitz to get confirmation, but even after spending > 3 hours on phone my problem was not resolved. This is the WORST customer service I had faced till now. I do not know whether I need to make another booking directly with airline or wait for Orbitz to resolve the complaint.

I will never use your company again. Your website said there was only 1 room left, so I reserved it. When I got to hotel there were 18 rooms left and I could of gotten a lower rate by booking direct with them. I call Orbitz customer service and was told hotel policy would not let me cancel. That was not true. Orbitz had already collected my money. SHAME ON ORBITZ!!!

I purchased an airline ticket in Feb 2016 and in June 2016. I received a confirmation email with different return times for my trip in Aug 2016. I didn't really look at it until today because I knew the times I selected on my original ticket... I needed to be back by a certain time which is why I chose that flight. For some reason the airline cancelled or changed... I really don't care what the excuse is. I paid Orbitz and Orbitz should make sure that they provide the service they are selling, period. I shouldn't have to deal with, "oh your flight was changed and there is nothing I can do, it's up to the airline"... No, that is unacceptable... There is no reason why flights should be changed with a drastic time difference without Orbitz accommodating and taking every step to ensure their customers get to their destinations as close to the original time as possible.
I should not have to provide a reason, it's because that is what I chose and I plan what needs to happen in my life and I need to be home at this time. The reason why is irrelevant. Orbitz has the ability to reach out and make changes, that's what they do. That is the service they are providing... They collaborate and network daily with airlines to move people throughout the world. If you don't understand how to talk to people in America then why not just let us talk to the Airline that will take care of us.
My flight was changed and Orbitz told me there was nothing they could do. I was very calm until I kept getting the runaround. The guy would not let me talk or even talk to someone else until I started screaming at him like I was 5... Then he transferred me to his "superior" and then the "superior" finally switched me to Virgin airlines (this was over an hour) and once I was transferred it took two minutes to give me my old flight times back... Why was that so difficult. I paid for trip protection and Orbitz was all about me cancelling my trip... WTF... That isn't an option. Why was this so difficult? Why can't airlines just schedule their own flights... I don't get it. I would not have a screaming headache right now. Stephanie at Virgin America fixed it all and I am very grateful and happy... I left a great review for her... Thank you!!!

I bought my flight tickets with Orbitz to fly with TAP from Sao Paulo (Brazil) to Madrid (Spain). On my way back home, TAP changed the date and time of the flight, but Orbitz didn't inform me and I just heard about it when doing check in at airport. So I had to go to a hotel to spend the night once the flight was 12 hours later than the planned. I called the airline direct and they said they couldn't help me because I had to deal direct with Orbitz. Then I call them and spent more than 3 hours (on 4 separate occasions) and most part of time I was waiting and at the end, they told me they have nothing to do. I want Orbitz refund me on the hotel and dinner.

Through an associate's suggestion, I used this company to purchase a ticket for my mom. I received an itinerary notification and when I checked my bank statement on July 29th, 2016 I saw that the ticket was paid for along with the insurance. On July 31st, I received notification from a company that my purchase for a business item was declined, which was confusing because I had calculated everything and already transferred the monies from my regular account to this spending account. When I checked the account, I saw that there was a pending charge of $601.00 from Orbitz for the same ticket that had already been paid. I called the bank and they confirmed that a payment was already paid, and another payment pending was now in the system from this company, which caused them to place money on hold.
I called Orbitz right away, first off the customer service representative had such a strong accent you cannot understand anything they are saying well. I explained to them I was not happy and they needed to remove the pending charge from my account right away since they were already paid. They had the nerve to tell me that this is normal and that the pending cannot be removed for 72 hrs. Are you kidding me? So you will screw up someone's account for no good reason holding on to monies you are not authorized to do so? I am livid. If I did not get notification from this first company, I would have had all of my other purchases declined due to the imbeciles at Orbitz. Then to find out after they have had so many complaints, that they are rated very low. Do yourself a favor, save yourself heart and headaches. DO NOT USE ORBITZ EVER.

We have booked with a few online agencies. Booking with Orbitz was the worst experience I Have ever had. We booked early in April for our vacation in July. When the day came for our departure flight from JFK on July 22, from Dynamic International Airlines at 6:00 AM for our 8:00 AM flight. Dynamic was the last check-in counter, with the rest of that row empty. The four attendants that were there, talking to each other and texting, then informed us with a condescending attitude that our flight was rescheduled for 8:00 PM that night.
When we called Orbitz right then and there with what was going on, the representative did not believe us. She said that according to her records the flight was scheduled as usual. We said "we are here right now and it isn't." We had to put the attendant on the phone with the Orbitz representative. She still didn't believe. She called the airline and they weren't open till 9:00 AM their time. We were on over an hour with her. She finally hung up and said we had to deal with it and there was nothing Orbitz could do. That was the first of seven calls to Orbitz and each representative was rude, kept us for over an hour on our cell phones.
At 2:30 PM that day after calling the airline up to 10 times, we informed the flight was altogether cancelled. When we called Orbitz with that information, again they said, "We have not been given that information." They finally rechecked after we said it was and had them recheck. Orbitz, then knowing that the flight was cancelled and that we had already missed a day in our 6 day, 7 night vacation package to Punta Cana, said they would only refund us the money. The refund would take 8 weeks.
When we asked to be rescheduled for another flight, their response, call the airline ourselves and they couldn't do anything. They left us to fend for ourselves and find another flight out. We had to find one because we had a vacation package booked separately and we worked hard to have this vacation. We had to book another flight for more than double the cost of what we paid Orbitz. NEVER BOOK WITH ORBITZ!!! They were rude, hard to understand, unhelpful, and absolutely horrible to us.

I booked a trip to Mexico City with Orbitz for Thanksgiving 2016. Now we have only July 2016 and the trip is already in jeopardy. I was contacted by Orbitz to call them because of a change in itinerary. I was connected to someone in India and I could not understand a word he was saying. I asked for a supervisor and after a long time I got a guy on the phone that barely spoke English. What I could get out of him was that the airline had cancelled the outbound flight. I could not understand what other flights were available.
After some back and forth he told me that I could get a full refund if I would cancel. However, I still have not received the money back that Orbitz owes me, over $1,000. I have already called five times, and one customer service representative is worse than the next. You never know what country you are actually calling. I feel that I am supporting third world development instead of booking a travel, which I originally intended. It is a shame that companies like Orbitz are allowed to operate in the US. I think that they are circumventing the US labor laws and making money at the same time with offering shady deals. Needless to say, once this refund procedure is over, I will never ever in my whole life use Orbitz again. I will also contact the Better Business Bureau and see what my options are.

We travel a lot for my twins' travel basketball team. To get a good rate we book in advance. In this particular case we needed to cancel and thought this would be a considerably easy process. Let me just say dealing with accents and the lack of knowledge is the worst thing I have dealt with for some time. Not to mention the constant transfers and the 20 minute wait for a supervisor is ridiculous. After my matter is resolved I will not book through Orbitz again. Expedia or Priceline will now gain my business along with the other 25 parents that are a part of our travel team.

I book a lot of travel for my company. I never used Orbitz before but thought I'd try it for the rewards. I booked a couple hotel stays but every time I tried to sign up for rewards, I would get this error message: We couldn't complete your request. Please try again later. I called customer service and 45 minutes later with no help I was getting angry and asked to speak to someone else. I was on hold for a couple minutes when the same girl came back on the line and asked if she could help. She then said... "Oh sorry... This is Expedia." Maybe she thought it was funny, but I know it was Orbitz since I was on the phone for the prior 45 minutes. Real funny. They just lost out on a ton of travel bookings from my company. I will never book with them again.

I was booking a hotel for an upcoming trip. When I put the dates in and hit continue all was good. I glanced at the amount and it was correct at $137.00. As the date approached I realized I had not received an email confirmation, so I called the hotel direct... they said "We don't have anything for you coming up." I called Orbitz. The customer service rep was a jerk out of the gate. He then told me I booked the hotel for some time in September. I said "No I am not going then there. Must be a mistake, and I never received an email confirmation." I then asked to speak with a supervisor. He said "NO." I said again "May I please speak with a supervisor." He said "NO, I gave you the answer and I will not connect you."
I hung up, called back, asked right away to speak with a supervisor. The woman was pleasant however she promptly put me on hold for 45 minutes. I then hung up and contacted my CC company. This got a call from someone at Orbitz. He said the reason I did not get a confirmation was I input the wrong email address. I told him what happened. He said he will not allow the CC company to dispute the charge but would remove the reservation and credit me. I said that is fine... Guess what... NO CREDIT from Orbitz. I WILL NEVER USE THEM AGAIN AND I PLAN TO TELL EVERYONE I KNOW HOW BAD OF CUSTOMER SERVICE THEY ARE. For a company this offers the same product as 100's of other companies online you would think the way they would differentiate themselves is customer service... Well I guess they have done just that!

I used Orbitz to book a flight for two from Sacramento CA to Cody WY. The price on the site was $447 round trip per person. When checking out, it didn't occur to me to double check what I was actually being charged. After completing the transaction, I noticed that I was charged $662 per person. I immediately tried to cancel online, but found no apparent way to do that. It took awhile, but I finally located a phone number to call. After the usual frustrating menus, I got through to a live person and told him I wanted to cancel the reservation I just made.
The interaction with that person went reasonably well and I was promised I'd get a full refund. For several days after that call, the Obitz charge appeared on my online credit card account as "pending." The charge has now disappeared from my online account, but I won't be certain I'm not being charged until I receive my monthly statement. Nevertheless, the bait-and-switch tactic was clearly dishonest. I ultimately booked the flights directly with the airline. The airline's price was $20 per person cheaper than the Orbitz advertised price and $235 cheaper than the price Orbitz was actually going to charge me.
In addition, the per-person 'fees and taxes' charged by the airline were $69.30, while Orbitz's fees and taxes were $83.87. We had a bad experience with Orbitz a few years back when we booked a room through them and initially got an unacceptable room. Orbitz ultimately did book us into another hotel a block away for the same price, but it took a couple of hours of frustrating and maddening runaround phone calls.
Despite that bad experience -- and thinking maybe it was just an honest misunderstanding about what kind of room we were being booked into -- I decided to give Orbitz another chance. Big mistake! This company is just flat out dishonest. If you catch them at it, they make right, but apparently they figure lots of folks won't catch them (or will give up trying to get it set right).

Flight cancelled by airline in Ecuador which caused us to miss our hotel reservation and leg of trip. Airline assured us we were eligible for refund but that we had to process refund through Orbitz. We returned home and called Orbitz to process this refund. We waited on hold for over one hour for the customer rep to inform us that our refund had been refused by the airline because the flight had not been cancelled, even though I had talked to the airline immediately before calling Orbitz to confirm procedure, and holding the unboarded boarding passes stamped cancelled by the airline. I explained to Orbitz customer rep that there was no way that the airline had told them that. She immediately put me on hold again to "transfer me" but left me on hold, periodically picking up to check if I had given up and hung up. Then finally hung up on me. Orbitz is a joke of a company and should not be trusted.

Orbitz is very misleading about their pricing. Their reward points expire quickly and it's useless. The prices on their website don't include extra hidden fees that are not charged on other websites (not just taxes, which is expected). I booked a Triple Room room for 3 person and was up-charged to add an additional person even though this should have already been included (and was on every other website when booking the same room). This is an Orbitz charge, not from the hotel. The total price after the room cost, hidden fee, taxes and including Orbitz rewards was still substantially higher than other websites (regular price). The rewards points are essentially a SCAM to keep you using their website. I highly recommend booking direct from all airlines and other hotel websites. Never, never ORBITZ!!! If you want to contact customer service you have to wait for long, long, long time and good luck to understand their English.

I had to cancel an Orbitz flight due to illness. To rebook, normally there is a 135 per person exchange fee for the credits, but the airline involved (JB) agreed to waive these due to the illness. Later on I called to book new flight with credits. Orbitz claimed to lose the documentation about the 135 waivers, 3 hours wasted proving this. Eventually booked a new flight, which should have been less than 1/2 the price of my existing credits. Orbitz verbally confirmed the number of dollars remained, however never sent e-confirm. Had to call again for confirm, they sent, but ticketed the flights for the full amount of credits (basically tried to sneak this by me). Orbitz refused to acknowledge this upon calling.
I went to Jetblue, who was able to cancel and rebook those flights at the correct prices, but had to leave the excess credits at orbitz. Orbitz emailed me with "MCO numbers" to use these credits. I have called no less 8 times since and spent more than 14 hours on the phone trying to use these credits. I have sat on hold for over an hour no less than 6 times, and no less than 8 different orbitz agents have claimed these MCO credits either didn't exist, were not valid, were not opened, or required a different person to book them (resulting in new transfers and wait times). Eventually allowed they would let me book, but only with corporate escalation dept which is basically impossible to reach (for each and every new flight).
Have called 3 times since to try do so, had one called dropped after 2 hours, fell asleep after one 2 hour hold, and was never called back on the last one. I have no way to use these credits. Orbitz is using deceptive business practices/fraud and purposely incompetent customer service so that I can not actually use the funds that are rightfully mine. I have wasted almost 24 hours on this to date without help from this company. This company is fine if you never have an issue, but never experienced such horrid customer service as this without recourse.

On June 11, 2016 me and my friend came to DC from California. We had scheduled with Orbitz to pick up a vehicle from the airport when we landed. We made all payment arrangements via Internet. I flew all the way from LAX to Reagan national airport, upon arrival I was instructed to take a 15 min shuttle to Dollar Rental and pick up my vehicle... When I arrived I was told that my reservation was invalid due to the fact they don't accept my credit card (which was a Visa by the way). At that point I cancelled the reservation however Orbitz still charged me for a insurance fee, which I never used because I never received the vehicle. Then when I contacted Orbitz they told me because I didn't file a separate cancellation with the insurance department I could not receive a refund for the insurance... Don't book with Orbitz.

While I have used Orbitz many times in the past, I never will again. When we tried to return from our overseas trip, we were informed that our flight had already left. Apparently, there had been an itinerary change that rerouted us through a different city and more importantly it left two and a half hours earlier. While Orbitz claims they e-mailed me about this, there's no question that I never received the e-mail. As others here have stated their attempt to fix this problem and get us home would've cost over $1400 per person for three people - there were all sorts of change fees/price difference fees/etc. Ultimately, Aer Lingus agreed to get me back to the United States for €150 per person which is basically a missed flight fee but then my remaining domestic flight had to be purchased from scratch so to speak.
Additionally, since it was already late in the day we had an overnight stay in an expensive near-airport hotel there and the whole thing cost $2000 in the end. As many others have mentioned here, their customer support is appalling. No one speaks English and you can be on hold forever. Every time you call them you basically start from scratch with the lowest level employee they have. Even when a "supervisor" e-mailed me with a request to provide receipts and told me to call back the next day, it took two hours the next day to get back to a "supervisor". That individual told me that my situation involved too much money and that I had to speak to a "manager" so I was put on hold again.
This was taking way too long so they agreed to call me when that person was available. That was literally 4 1/2 hours after I first dialed the phone at which point I was sleeping. They sent me an e-mail refusing to provide any reimbursement. I told them that I thought when someone has an itinerary change that is literally 2 1/2 hours earlier that when they contact the individual they should REQUIRE a reply from the individual - whether that is a reply to an e-mail or a reply to a text message or whatever. That would seem like a sound business practice me. They never bothered to respond.

First I want to say that Orbitz is a great company. My flights I book was perfect. The only problem I had is when they took $45 twice out of my account for two different rentals that I booked and cancelled. I book two separate rental car booking I was suppose to pick up on 06/01/2016. I cancelled these rentals. I called and requested a refund on 06/01/2016 and they told me I had to fax over my paperwork then they will consider a refund. I tried the fax number and was busy my whole trip. Today 06/28/2016 I called and ask why they did not refund me my $90. Their answer was because they had to wait and investigate. So I ask "was you ever going to refund me my money?" Yes when you all. Be careful with places that take up front down deposits. They don't refund you your money until you call a month later.

After I write this review I will be trying my best to contact the CEO of Orbitz seeing my son has got nowhere with them. Now for my story. My son who has served this country with three tours between Iraq and Afghanistan and has now been stationed at a Pacific base location has had his next base orders canceled at the last minute. My Son has tried to get a refund from Orbitz on his airline tickets for himself, wife and 8 month old son. Total cost of about $5K. He had insurance on these tickets. My son thought his request for a refund would be honored. Instead he got a response that the ticket will not be refunded and that they would remain good in the event he was to someday go to this forward base. This of course will not happen as his orders to go there is cancelled for very good family reasons that are private.
First off; besides being a proud father of a Son that has lived though three tours and being very grateful I have him alive and feeling proud and sad for other fathers who has gone though the ultimate sacrifice of losing their son or daughter makes more angry at how business like Orbitz and some parts of society seem to easily forget where their everyday freedoms come from. Yes I have a personal beef with Orbitz but it needs to start somewhere and yes a company like Orbitz may never refund my Son's tickets.
So I want everyone who reads this to do one simple thing that can be anything in regards to our men and women in the Military. First thank them for their service for retired and active. Buy them their lunch if you can. Perform an act of kindness for them. Visit the VA. If you see them outside doing yard work pitch in and help them. Invite a military family to your home cook-out. And best of all... Remind business like Orbitz that being military friendly above all must be their top priority.

Will never book with Orbitz again. An hour and a half on the phone (mostly on hold) with two agents whom I could barely understand because of their accents, and then they wanted to charge me $498 per ticket (two) to change my reservation. Before I pulled the trigger on that, I went online to the airlines website and in 1.5 minutes changed my reservation and only paid an extra $50 per ticket.

I was booking a flight from Chicago to LaGuardia during the week of June 27th. The least expensive combination on Orbitz cost $290 per person so I selected it. In the next window Orbitz said that the airline had just increased the price to $605 per person, more than 100% increase! So I withdrew from the site and checked out Kayak and Expedia who were steadily at about $410 per person. Then I decided to test Orbitz so I went back one hour later and did the same search again. The $290 to $610 increase happened again!
So you know that the increase was not due to the airline because airlines do not jump the price over 100% all at once, if the airline had increased the rate 100% at 5pm, it would still be about that same price at 6pm, and if the airline had increased the rate to $605, the other resellers like Expedia and Kayak would have raised their rates accordingly and they did not. Orbitz is a very tricky business and is not truthful. Be careful. We'd rather drive than deal with companies like Orbitz.

Even one star is more than what they deserve. Do not use Orbitz!! I made two reservations for my brothers and I for the same trip. The day we got to the airport one of my brothers couldn't get on the plane because his flight was not confirmed with the airline, which was BS. I had called and confirmed all the reservations prior to our flight. I had even paid extra to purchase 3 seats next to each other. This totally ruined our trip. We had plans to attend an event in Copenhagen, which we missed. I called Orbitz and was on the phone with them for 45 minutes and then they hung up me.
My brother purchased another ticket to get to Copenhagen two days later (he could fly the next day but he had to pay a fortune) which was the day we had plans to fly to Norway. So, we lost money for our flights to Norway and from Norway to Amsterdam, we lost money for all our hotel reservations, we didn't attend the event that we flew to Copenhagen for, and on top of all that we purchased three new tickets from Copenhagen to Amsterdam and reserved new hotels. We missed that event, we never made it to Norway, and was so stressed out the entire time. It took us years to save money for this trip and to plan it. We had to go through hell to get approval from work. I hate Orbitz with all my heart. I hope this company goes bankrupt and all the employees of it go to hell.

ConsumerAffairs Research Team
The ConsumerAffairs Research Team believes everyone deserves to make smart decisions. We aim to provide readers with the most up-to-date information available about today's consumer products and services.
Orbitz is an online travel website owned by Expedia Inc. It was founded in 2001 and acquired by Expedia in 2015.
Rewards: Orbitz rewards travelers with points they can exchange for discounts.
Vacation packages: Travelers can save money by choosing vacation packages instead of buying services individually.
Activities: Orbitz can help tourists find activities and events in their destination cities.
Mobile apps: Mobile users gain access to exclusive deals.
Scratchpad: The website's Scratchpad feature helps travelers keep track of offers that interest them.
Best for Budget, domestic and international travelers.
Basic Information
Company Name:

Orbitz

Address

500 W. Madison St.
Chicago, IL 60661
United States

Year Founded:

2001

Website:

http://www.orbitz.com/