Consumer Complaints and Reviews

My experience of booking a flight with Orbitz was very negative due to the deceitful and misleading business practice conducted by Orbitz. When I already started booking the ticket through Orbitz, the price was about 10% lower. However, without ANY notification about the price change, Orbitz wrote off higher amount about which I found out only after my credit card write off. So be careful if you decide to book with Orbitz. The price during the booking process may differ substantially from the sum wrote off of your credit card (and not in your favor). I believe such practice is unfair because Orbitz should honor the initial price once the booking is started or, at least, notify the customer BEFORE the write off that the price has changed during the booking process.
Therefore, I applied for refund according to Orbitz Best Price Guarantee Policy. Orbitz made the procedure of applying for refund much more difficult than it should be. They requested me additional info which was not necessary. Since I am a lawyer, I anticipated that might happen, so I was prepared in advance. However, most of people would not be able to satisfy Orbitz's additional requests to qualify for refund.
My refund was approved BUT Orbitz stated that "Your refund... will be processed 30 days after the completion of your trip. After which, the refund will reflect on your account after 5 days..." However, according to art. 11 of Best Price Guarantee Terms and Conditions "Verified requests will receive a credit to the credit card used for the booking, within approximately 7-10 days of verification." Therefore, the 30 days approach re refund processing clearly contradicts the provisions of Best Price Guarantee Terms and Conditions which I pointed out to Orbitz employee. Orbitz replied that "Article 11 refers to the approximate days of verification by the credit card company to process the refund."
I wrote the following reply to Orbitz re this: "I carefully read Orbitz's Best Price Guarantee Terms and Conditions again and I could not find the 30 days refund return rule mentioned in your email. Such rule is expressly set out for Orbucks but not for refund. In fact, art. 11 of Orbitz's Best Price Guarantee Terms and Conditions does not even mention credit card company. Which is logical, because Orbitz cannot guarantee that a third party not controlled by Orbitz (i.e. credit card company) will process the refund within 7-10 days. It would be very strange for Orbitz to guarantee the exact number of days (7-10 days) for performing the actions by third parties not controlled by Orbitz that are located in foreign countries and operate under various foreign laws.
Therefore, according to the legal meaning of the wording of art. 11 of Best Price Guarantee Terms and Conditions and common sense, 7-10 days term refer to Orbitz's own obligation to process the refund and not the obligation of the third party not controlled by Orbitz. Summing up, I should be grateful if you could send me the quote form Orbitz's regulations or policies stating that 30 days term applies to refund return. Please also indicate the source of this information with a web link attached to it. Otherwise I would be inclined to believe that Orbitz is willingfully misleading its clients to believe that they will get fast refund from Orbitz in 7-10 days when in fact it is not true. If this is the case, such actions of Orbitz are unfair to its customers and are in bad faith and therefore such actions should be brought to the attention of existing and potential clients and state regulators."
I did not receive any quotes or links to Orbitz policy re 30+ days refund processing. In its reply Orbitz has just stated that 30 days refund is their new policy. That just proves that Orbitz conducts a deceitful business practice leading its customers to believe that getting a refund is quick and easy when in fact it is not. I am very disappointed with Orbitz and I will not recommend anyone to work with a company that misleads and deceives its customers.

I booked a round trip on Orbitz. The outgoing flight on Spirit and incoming on Frontier. I received an email confirmation for only the outgoing. I immediately called Orbitz and they said there is no record of the outgoing flight. They said call Spirit to get a refund. I did and rebooked directly with Spirit for a round trip flight. Then a few days later, my account shows a charge from Frontier. Orbitz still claims they have no evidence of a flight with them and when you call Orbitz they say call Frontier. You call Frontier and they say call Orbitz. Everyone passes the buck. After several wasted calls and hours of my life I can never get back, I now am filing a fraudulent charge on my account. The kicker is I got charged a service fee from Orbitz as well. A fee for what, making my life difficult and taking my money without providing a service. Thanks Orbitz and never again. At least Spirit came through, I can at least get back home.

I booked a flight on 10/10/16 using a travel credit for a flight I had booked last year. A double booking occurred when I could not verify my trip plan so I called the airline directly. The credit was the airfare but required a $200.00 rebooking charge. It took me some hours to arrange a nonstop flight to NY. I waited for the confirmation, it never came so I spent another hour trying to locate the flight plan, used customer assistance. They wrote that they were unable to find the booking, another hour on the phone and finally the agent decided to book a new flight, only to discover there was once again a double booking!! I found the experience tiring, frustrating, and expensive! No apologies received.

I booked and paid a ticket for 3800 Euros. I received an email to say the booking was not confirmed by the supplier. The account was charged anyway and no confirmation of booking was sent. When I canceled, it took over 5 hours of waiting time over 5 phone calls, a full refund was denied although the booking wasn't confirmed.

I am writing to complain about services provided by Orbitz. I booked a round-trip ticket to China on September 28, 2016 for a price of $1048.66 and received a confirmation (Itin: ** - Case ID: ** Booking Ref: **) in my email on September 28, 2016, saying that my reservation "is booked and confirmed. There is no need to call us to reconfirm this reservation." On September 29, 2016, Orbitz informed me via email that the airline has not acknowledged the flight. When I called the customer service I was told that I should not be worried and a new ticket confirmation would be sent to me shortly, which Orbitz did. The email indicated, again, that "the ticket is booked and confirmed. There is no need to call us to reconfirm this reservation."
On September 30th, 2016, when I arrived to JFK airport to check in, I was surprised to hear that I was not in the passenger fly-list. I immediately contacted Orbitz. I was then informed that the credit card did not go through and, therefore, I have no ticket to fly. Due to the fact that transfer ticket to another city in China had been bought and pick-up had been arranged for me there, I had no choice but to buy a one-way ticket from JFK to China on the spot, which was one and a half hour before the plane took off. The ticket cost me $730. When I come back to the State, I will have to buy another one-way ticket for a similar price. The total cost of the round trip ticket will add up to more than $ 1400, which is about $400 more expensive than the one I originally bought online with Orbitz. The experience with Orbitz not only added a lot of hectic and aggravation to my trip to China, but a few hundred dollars extra to my budget.
I am requesting that Orbitz find a solution to accommodate the extra $400 that I had to pay out of my pocket due to the misinformation that was provided by Orbitz's customer service. A one-way ticket from China to the State or credits for a future plane ticket would be most appreciated. I have been a loyal customer of Orbitz for quite a number of years. My prior experiences with Orbitz buying tickets and booking hotels have been pleasant. I wish that Orbitz would be able to find a solution for this unpleasant experience I had this time. I look forward to hearing from you soon.
How do I know I can trust these reviews about Orbitz?
612,345 reviews on ConsumerAffairs are verified.
We require contact information to ensure our reviewers are real.
We use intelligent software that helps us maintain the integrity of reviews.
Our moderators read all reviews to verify quality and helpfulness.
For more information about reviews on ConsumerAffairs.com please visit our FAQ.

I recently traveled to Montreal, booking the airline portion through Orbitz this past summer. My return flight was Montreal - Toronto - San Diego. When I checked in for my return I noticed I didn't receive a boarding pass from Toronto - San Diego and my luggage was checked only to Toronto. To make a long story short Air Canada had a schedule change of which they notified Orbitz on July 7th that the leg from Toronto to San Diego was discontinued the day I was flying. After spending over an hr on the phone (received my phone bill today for that $65 charge) they offered absolutely no compensation - for the airline change fee, a hotel in Toronto (next to impossible to find a reasonable hotel in that town during the World Cup of hockey), extra meals or taxi fares.
Their excuse was "they have no control if airlines change their schedules". I wholeheartedly agree but since this was booked through Orbitz rather than the airline who has no contact information for a passenger who books through a third party, I was flabbergasted they would take absolutely no responsibility for not contacting me. I will NEVER book anything on Orbitz and advise others the same.

How does BBB give Orbitz a 4 star rating with 1 positive review, and 112 negative reviews? I booked a flight via Orbitz. I never made it to my destination. AA provided Orbitz with a refund on my behalf. Orbitz never passed the refund forward. Orbitz states they provided a refund, but myself and my bank tell a different story. After a year of fighting, Orbitz still cannot provide a banking reference number, the reference number they provide is not a banking reference number, my bank has written a dozen letters, stating they never accepted a refund from Orbitz, and the reference number they are providing is not a banking reference number. As of today Orbitz now says they refunded me twice, but cannot provide a reference number for either refund.

I don't know where to start. I booked a flight from Tennessee to China. First of all, I pulled up the flight and hotel that I wanted, then I found a better price at Travelocity, so while I was looking a both prices, I called Orbitz on the phone, I ask them if they price matched their competition? The lady at Orbitz said "Yes, we do". I told her that Travelocity was $54 cheaper than her price and would she go ahead and price match that. She pulled it up on her computer and looked at it, while I was looking at it. She said "I see that, but I cannot price match it now, you have to go ahead and book thru Orbitz, then fill out a price guarantee claim and I guarantee you that Orbitz will refund the difference."
I said, "Well, the price might change before I get that done, she said to do a screenshot, "take a picture of your screen", so I got my phone and took a picture of the screen and added the insurance protection for the package and booked the flight and hotel. Then I file the claim for the refund, on the price guarantee and was told that they didn't have any way to prove that Travelocity was cheaper when I booked my flight. Even though I sent them the pictures of the screen, that plainly show Orbitz and Travelocity prices and the clock on my screen showed four minutes before I booked the flight.
After fighting for 3 days, I gave up. There goes that $54. Then a few days later I became too sick to go on the trip, I bought the Insurance for $74, that said "Cancel for any reason and get a 100% refund on your hotel and flight." So, I contacted Orbitz to cancel and was told that I had to contact the insurance company, Anon, to get my money back on the flight, then I find out that you cannot cancel for any reason and it a big bunch of bull. I was told that it depended on why I canceled, if I qualified. So, I told them that I was too sick to go on the trip. Then they send me a form that says that I must go to my doctor and he must give me a doctors excuse saying that I was too sick to go on the flight, so there goes a days work, and $100 doctors office call.
Weeks have gone by, still no refund. Also, every time you call Orbitz, with a question, you get a different answer, from everyone you talk to. They even told me that I didn't have insurance, at first. Then they said I did, but I could only change my flight. I could go on and on and on. I found out that it does not matter what the website says at Orbitz, after they trick you into booking, you're just out of luck. And when you start trying to get questions answered from Orbitz, get ready to talk to people all over the world. Travelocity does seem to be cheaper. And surely their customer service is better.

It was my first time to use Orbitz and so frustrated with their service. I booked a flight from Toronto to DFW, got an email the next day that my flight was cancelled. The agent advise me to make another booking since the booking was cancelled. I got a confirmation from Orbitz that the second booking I made was confirmed. I contacted the customer service after I found out that I was charged twice for the booking fee and also found out that my second booking was cancelled without any advice from their end. I was totally shocked and frustrated because all the while I thought I have a confirmed flight ticket. Took me 2 hours to talk to their customer service just to get my refund for the booking fee and I need to call my bank regarding the booking that was charged to my account. I have to look for another airline for my cancelled IT. It's my first time to use ORBITZ and don't think I would want to use it again!!!

I booked a flight and hotel through Orbitz in March for a June trip to West Knoxsville,TN. After paying about $900 including insurance it became a nightmare. Within two weeks I got a email saying my return flight was changed for later in the day. I accepted it, no big deal. Then the following week I get an email saying my departure flight was changed for later due to some problem with the flight via American Airlines. I didn't want to pay for a hotel I wouldn't be in for most of the day so I called Orbitz. Two hours on the line and I had to get a new flight which included a one stop but I would get in around 2 pm. Then something came up at work and I had to postponed the trip for one month. Two more hours being transferred around to find out my insurance only covers if I am dead or kidnapped.
Finally the hotel waived a fee and the room was cheaper so they switched me over and I was back to Thursday 7:30 to 9:15 departure return Friday 3:25 to 5:15 pm. A week later I get a notice the flight has been changed again. Same plane, same flight two months in a row has been canceled? Again two hours on the phone and the rep has not other flights for the day even though I see it on their page. I looked at American Airlines and saw flights on their web page and decided to cancel the flight and keep the room. Rep apologized and said I would get a refund. A month later and no refund.
I called my credit card who called Orbitz who told me I would get a credit only and refused to transfer me to a supervisor. So I filed a chargeback with my CC card. Then check the reviews on Orbitz and decided to call the hotel to make sure there was an actual reservation for me. Lo and behold there is none. I call Orbitz, get put on hold repeatedly, rep tells me I have a reservation with them but not the hotel, puts me on hold and eventually hung up. So I filed a chargeback with my CC card again the hotel charge and booked then directly through the airlines and the hotel myself. I get a call a couple of weeks ago by a rep from Orbitz dispute department who wants my CC info so I can complete my reservation or cancel it but no refund will be given. The lady was rude and told me the credit card company told her to contact me and they don't make the reservation because it is too far out (3 months is far out?).
They wait a week before I go to make the actual reservation. She then hung up on me. Then while on vacation I had a collection dept call me for the money, which I went off on and directed then to my credit card company since a chargeback was filed. 90 days went by while Orbtiz contested, but did not send any documentation to show services rendered. The case was closed with my credit card company and I got all my money back. They still had a collection department after me. I explain to the rep the whole story and he would put it down as disputed since I never even stayed at the hotel they listed and ended up at a completely different one booked on my own. The fact that they went around the credit card company with a chargeback filed is unbelievably unethical. This company is just a bunch of thieves and the attorney general needs to get involved!!!

After booking a room with Orbitz for the last 7 year for a popular SF event, I learned that others in the same motel got their rooms cheaper with other sites. I looked and yes, the very same room we had with hotels.com was 900.00 for three nights while we paid 1600.00 through Orbitz. Even Orbitz had a lower price for the same nights than what I was guaranteed. The hotel referred us to Orbitz, and we filled out the guarantee in hopes we'd be met at least halfway. I get policy. Among several emails, I was just repeated policy and treated as a number, not a customer that has done business with them for seven years.
So, here's the thing. I feel they rely on customers like me to book early and feel satisfied I have a room reserved for a popular event and leave it as that. Perhaps I'm abnormal, but once I book, I'm satisfied and relieved I have a room. If it wasn't for the other people at the hotel, we would've never known there was a lower price. Not like it's going to bring Orbitz down, but I won't be doing business with them based on the fact I feel they raise prices on purpose and don't alert you if the price drops so you can get a better deal. I've discontinued using Orbitz and will explore other choices.

I booked a rental Car for Los Cabos, Mexico in August Itin# ** via website, Orbitz offered an insurance and I took it. When I was at Los Cabos to pick up the car Hertz told me that insurance was not valid in Mexico, I called Orbitz customer service and required to refund to send copy of several documents via Regular mail or via FAX!!! I request an e-mail and they told me they don't have one for this process, just old fashion... I mean... I booked on a website!!! Orbitz is negligent to refund and they expect to steal my money!

I was reserving a room for my mother and grandmother to get away from an upcoming hurricane. I made a reservation for a certain date and the Orbitz website switched the dates on me to the following week! I called Orbitz and was transferred 4 times between the hotel and back to Orbitz. Orbitz said they would not refund me since my reservation was a nonrefundable one. Even if it was a mistake made one minute prior. NOT MY FAULT! They could not help me and now I am out $300 and two elderly ladies are stuck in SC because I am out of money to pay for another room!! They could not make an exception? How can they prove it was not a computer glitch on their end? The system was absolutely jammed due to people trying to get rooms! I have been an Orbitz member for years and no more. I will NEVER use them again. Horrible customer service and horrible policies.

MOTEL 6 #4924 258 Harry Ln Blvd, Knoxville, TN 37923 (865) 690 - I can not say enough BAD things about this Motel Chain. We pulled in there at 8 PM our time which was 9 PM their time. We checked in opened the room turned down the air conditioner and unloaded the vehicle. We then ordered Pizza From "Marco's Pizza" for delivery. It was about 45 Minutes after we arrived that we noticed the room was not getting cool. While the Pizza was on the way I went down to the office to let them know I had no AC. They said they could move us up to the 3rd floor. I told them I made a reservation for the 1st floor because I have a dog who refuses to go upstairs. The women at the desk said "We have an elevator." Well, I said "He won't go in them either". She said there was nothing they could do for me. OK!!!
Well I went back to my room and my daughter told me that while I was gone someone knocked on the door. I said "you did not answer it did you?" She said no but she looked through the peephole and it was a guy in a black hat and white t-shirt. I immediately went out to my vehicle, got a knife, and went back in the room and locked the bolt. Meanwhile the food was delivered. I told her to go ahead and eat, but I was going to wait a while. She ate and while she was doing so I went up to the desk and told them they would have to do something about my room. The night manager had come on and I talked to him. He told me they could switch me to the room next door, but it was one king bed. I told him I was not going to sleep in a bed with my 18 year old daughter. He said he understood but that was all he could do for me.
I went back to the room and tried to calm down in a HOT room. About 11 PM I finally got to eating my dinner. As I was eating someone knocked on the door. I looked through the peephole and saw no one outside. But as I was doing so, Someone knocked again. I called the night manager and told him what was going on. He came down to the room and apologized. After talking to him I talked to a guy who was fixing the brakes on his truck in the parking lot. I told him what had happened. He said, "Oh those are drug dealers." I said "REALLY?" He said "Ya they have come to our room a few times". Well, I called the desk again and told them I found out that the people knocking on our door were Drug Dealers. He said "OK I will look into it." BUT... It became quite apparent after my conversation with him that this was NOT NEW NEWS!!!
So, a week later I called Motel 6 Customer service, and told them exactly what had gone on. I was told by the Motel 6 Representative that these are Owner operated locations, and if I wanted to complain I needed to call the location I had visited! I said "So, you don't give a DAMN that these people run a Motel with your name on the front of the building and allow drug dealers to knock on the doors all night long"? Again he said "Sir, these are Owner operated locations," and if I wanted to complain I needed to call the location I had visited!" I then told him that I had stayed at other Motel 6 Locations and heard the same "DRUG DEALER" info from other customers staying there. The Motel 6 Representative then said "If you have heard these stories why are you staying with us"??? I WAS DUMBFOUNDED!!! This is how you run a Motel Chain???
OK, I stay there because Dogs are free and I always travel with my Husky. But, this is a ridiculous answer from a corporate Representative. SO, The Summarization is, 1 Daughter, 1 Dog, NO Air Conditioning, 2 (SUPPOSED) drug Dealers, and a Corporate Representative who doesn't give a flying rat's behind how the locations are run!!!!!!

I book a trip thru Orbitz 1st time and something happened and I could not make the trip and I list my money over $100 and I could not get a refund. So I took that as a lesson learned. Almost a year later I have booked a trip thru Orbitz and purchased the insurance in the event something occurred which something did. Well what do you know even with the insurance I cannot get my money back due to some foolishness of a deception that was not even mentioned in booking. I just wanted to change the date and can't. Now I'm out of $180 more dollars. Please I don't want to see others lose money. There are other honest travel booking sites. Please take my advice with all of the other bad reviews and don't use Orbitz. They are thieves and there is a different story every time.

I bought a hotel and air package through Orbitz. Though I had a flight confirmation number, Orbitz never booked my flight, did not notify me of this and continue to show the flight as booked even after the date has passed. I had to resort to buying a last second one-way flight as Orbitz was no help before my departure. After arrival, I had to make 3 additional calls to get a return flight, totaling over 2.5hours of phone times, during which they wanted to charge me for the return flight!
Step by step: My problem was that my package was delivered without a flight. I resolved it on my own for the first leg by buying a one-way at the airport. So, my experiences with customer service started with me needing to be reimbursed for my purchase and my flight to be made whole by Orbitz providing a return flight as I had scheduled.
The Orbitz Website still shows that my package has a confirmed flight. When I arrived at the airport, AA had the confirmation code but said that Orbitz did not book my ticket. During the customer service "experience", I was told that the booking failed. Well, why does my itinerary show Confirmed, state that I don't need to follow up and if I didn't have a flight in my package, why wasn't the whole package cancelled and why wasn't I notified. Package = more than 1 item. At ORD, with no ticket for the last flight of the night to LEX, I called customer service and was on hold for over 20 minutes. Since it was the last flight of the night and I had a business trip, I purchased a 1-way ticket on my own.
After arriving in LEX, I called customer service again, spent far too long repeating my information, being put on hold and finally getting to a supervisor. Said supervisor stated that she understood the issue, documented it but couldn't resolve it since the ticketing office on the West Coast was closed. She stated that I would be called the next day to have the matter resolved.
End of the next day and no call. I called again, supposedly talked with a supervisor that could take no action himself, put me on hold twice - including once for 35 minutes - and actually quoted me a flight price for me to pay to get back to Chicago. After explaining for the 10th time that I needed Orbitz to provide that flight and for me to be reimbursed for my purchase, I received a flight confirmation and an email to attach my receipts to. They eventually charged me for just a hotel, which cost more than what I would have paid on my own, did not apologize for not including a flight and tried to make me feel lucky for getting a return flight!
After sending them my receipts for the one-way I bought 5 times since they claimed that they never received them, I got the response below. Keep in mind, I was more upset about them dropping the ball, taking no ownership and wasting hours and hours of my times. My total outlay ended up being about $38 more than it should have been and I just wanted that as compensation and I expected an apology! How do you sell a package for one item?! I didn't appreciate the caps on "round trip". I am sticking with Travelocity going forward as Hotwire is another site to avoid.
"Thank you for contacting us about your package reservation. Regarding your flight portion, no refund will be process since you originally booked the entire flight for the amount of 294.20USD. Since ticket was not issued, that amount will not be collected. You purchased a new ticket from ORD-LEX amounting to 296.10USD and we are the one who purchased a ticket from LEX-ORD amounting to 296.10USD. Technically, you paid 296.10USD to have an entire ROUNDTRIP TICKET and the difference in the original amount of your roundtrip ticket which is for 294.20USD is only 1.90USD.
As one time courtesy, we are offering you a travel coupon amounting to 75USD that you can use for your future bookings with Orbitz.com. You can use this coupon for prepaid hotel reservations and package reservation just for the hotel portion and this coupon is valid for 1 year. You will be able to read the full terms and conditions of this coupon once you log-in your account on our website."

Very bad customer service!!! I booked in a mistake ticket with wrong dates, they don't want to change the dates and don't give me my money back!!! Do yourself a favor don't book with Orbitz!!!

I would give zero stars but that is not an option! Paid for insurance and they would not cancel my flight and book another one that suited my needs. I wish I had read the reviews sooner! JUST DON'T USE ORBITZ! CHEAPOAIR AND TRAVELOCITY IS MUCH BETTER!

Upon arriving at the airport, we were informed that even though we'd received a confirmation email from Orbitz, they hadn't actually completed booking our flights so we had no flight reservation. After spending SEVERAL HOURS on the phone with multiple Orbitz representatives, they were able to book us on a flight that we had to pay over $2000 for, that "Orbitz would probably reimburse us for" but no one could confirm that for sure. When they finally did reimburse us for the difference, they wouldn't reimburse us for the flight insurance we bought for a flight that was never booked.
They also charged us a booking fee to book a flight that only had to be booked because they messed up. After another 45 minutes on the phone they (very unapologetically) refunded the insurance and booking fees and nothing else. This whole experience resulted in a 6.5 hour travel experience turning into a 16 hour travel nightmare. I will never ever use Orbitz again and will dedicate a small portion on my life to making sure no one I know does either.

One month ago, I booked all inclusive package with Orbitz for flight and ALL INCLUSIVE westin spa and resort hotel for 5 days. The cost of that was almost $1800 (the price without all inclusive option, would cost me half of this price). However I don't have appropriate vacation for more than 5 years, I decided pay this extra money for my comfort). I spent almost 2 hours in the phone speaking with orbitz attendant, triple checking all the details of my reservation before book it.
When I finally, I got everything done, and got Orbitz email, I noted that it didn't mentioned my all inclusive option. I called Orbitz to ask what happened and the attendant said that is all right, and my reservation is for all inclusive meals. After a long trip from Vancouver to cancun (9 hrs and 30 min trip) and spent 1 hr waiting to rent a car, to finally, got to the hotel. For our surprise, only the room was reserved. We were exhausted and starved and I spent more than 3 hours speaking with 4 different supervisors and attendants of orbitz, that didn't helped in absolutely nothing. The supervisor Jay, was incredible rude, apathetic and insensitive.
When you call orbitz you gonna hear the machine say "this call will be recorded". Based on that, I asked the orbitz attendants to check my calls history and hear the "record". For my another surprise, they have no access to the call records :0. So I asked to sent me my call records, and they said that I have to contact the corporative department, that, surprise again, they don't have the number or email for I contact them. At this time, I was crying and having a such a hard time at the reception of the hotel. What a shame, everyone there looking at me and feeling sorry for my situation. I never passed such situation before. I never asked for a bonus, tip, gift or nothing, I was just asking what I paid for. And I have no help or support at all.
Detail: in April I booked the same deal with orbitz, but my brother had heart attack, so we have to cancel it to travel to Italy. At that time the hotel was refunded, but the tickets with united wasn't. For the United tickets we got a "credit" that we have to pay $200 each to rebook our trip. When I tried to rebook it, the tickets cost way more than buy a brand new one. So in result of it, I lost a $1000 ticket. Based on that, when I booked this trip, I paid more than $100 for insurance, in case that I need to cancel it, and SURPRISE, I CAN NOT cancel the hotel!!! I wasn't expecting spend more money, but for the all inclusive option in this hotel I have to pay extra $80 per person, that gonna cost me $160 PER DAY = $800!!! In conclusion, my dream vacation (5 days only, that I missed the first day discussing with orbitz in the phone) started be a nightmare!!!! Orbitz I'm so disappointed with you!!!

I made my reservation for 9/3 around a month early to my trip to Las Vegas. Checked Orbitz site shows "booked No need to confirm." We "booked" at the Comfort Inn in Henderson, Nevada. Show up to the Comfort Inn around 930 pm with a 9 and 7 year old after playing baseball games all the day in the wind. Told the front desk our name and with a blank stare he doesn't have a reservation. Call orbitz.com after being transferred and cutoff because it isn't normal office hours. Came to the conclusion that Orbitz did NOT "post" it to the Comfort inn and suites. It being a Holiday weekend there isn't a vacancy in Henderson or Vegas that we can find at 1030pm now.
They eventually hung up on my wife because they couldn't find a room. Ended up staying with friends that used Hotels.com that actually made the reservation. Today 9/5 called orbitz.com to see if they would make it right for the inconvenience they caused my family. They said "sorry" and offered me a 25 dollar credit. I will not use Orbitz again.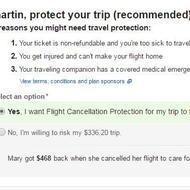 Do not use Orbitz or buy the travel insurance. It's misleading and a scam. My family had a trip planned to drive cross country and for me to fly home then fly back and drive the family home. However we ran into mechanical issues with our car that wiped out our travel budget. When I bought the ticket I also purchased the insurance because I thought it would cover me if anything happened. When I had to cancel the trip I submitted the claim and now I find out I am not covered. In the rejection letter it stated I could file a claim if I was dead. I have yet to figure out how to do that beyond the grave. However, the webpage that talks about the insurance, does not list any restrictions. The assumption it gives you is you can cancel your flight and get your money back.
So, I am very disappointed in Orbitz for misleading its customers and I will continue to give them bad reviews until they make it right by refunding my money and to rewrite the page. I went back to the site this evening and went through the process of booking a flight so, I could re-read the page about trip cancellation. It's very misleading. I have added a screen of the page. Now it's up to Orbitz and their customer service to make a customer happy again.

Economy Rent a Car Bucharest (OTP), Reservation dates Jul 11, 2016 - Jul 29, 2016. The company that you brokered for in Bucharest has the lowest standard of integrity and customer service. Please stop working with such companies that will destroy your hard earned reputation. We arrived at 11PM exactly as we mentioned in the pickup time. I traveled with my wife and her pet companion for emotional support. This Economy Rent a Car does not have a booth or office for that matter, nor clear information were supplied on the reservation email received from Orbitz after reservation. Pick-up instructions from Orbitz: Counter in terminal, shuttle to car, open 24 hours. That was not true. We were stranded in the airport after landing, 1.5 hours trying to locate someone, when a person approached us without any identification or uniform asking if we need transportation.
I explained our situation and the person volunteered to take us to the actually Economy Rep that was waiting outside the terminal for us. "What a lucky coincidence". We had our first red flag right there as this is not customary to meet and greet as described by Orbitz (counter in terminal). Took us to a nearby shop 4-5 km out of the airport in the middle of night, was close to 2AM after 24h of around the globe travel. My wife was crying, the tension high as I could not believe I got myself dragged in this kind of deal by Orbitz. After presenting my reservation the real circus begun and I will try to use their positioning as much as I can remember:
"Tough luck for you but Orbitz is not the rental company and the price they gave you will not stand here. You need to purchase insurance, Geico International from US will not cover. There is going to be a warranty/deposit and will be used as deductible in case of an accident in amount of $900, and we will draft and hold the funds upon signing the new contract. There is also inconvenience fee involved as you pick up and will drop off the car to unusual hours, $40 each, pick up 11PM and drop off at 4AM."
These times were taken in price consideration already when I booked the car with Orbitz and agreed to the amount of Total: $286.94, Base Price: $208.00 Taxes and Fees: $78.94. New deal with Economy was $544 and actually after returning they charged my card $594, have all documents ready for review. I was terrified driving the i20 Hyundai they gave me not to have any issues with them. On their contract it says that once taken the car and returned sooner there is no refunds, but if late will pay by the minute. The car had half a tank of gas only, was heavy perspiring smelling and had a bunch of dings and dents. They would not note them as they said are insignificant however I took pictures of everything.
The worst ordeal I ever encountered while traveling and this should not be acceptable or happen to anyone. Long story short this is not the reservation I made and I should request refund of the full amount however request to be reimbursed the $307 additional they charged me for a car not worth a penny more than the initial deal, not even that.
At the drop off they refused to give me any paperwork stating they will be emailed to me as there is no printer available. Guess too early at 4AM to turn on the computer and they had just the return sheet I signed for no damage and return of deposit printed early. I did not have time to argue as my international flight was boarding within the hour and never received that copy ever, for that matter. I will address all social media channels if this request will not be honored. It ruined the entire vacation and Orbitz is responsible.

Super horrible disaster happened!!! During my living 1st day, after the house keeping I lost all of my stuffs including valuable private thing even food, clothes, pants,etc. Although some part of my personal things is found back, I still lost some personal thing! My clothes is thrown directly to the trash can so that everything is polluted and dirty. I had to suddenly stop my trip. It seriously and deadly affect my emotion!!! Although the hotel pay some money for my compensation, I think the hotel general manager is not enough and no sincerity at all! This bloodcurdling experience make me so scared and angry!!! I can not find a sentence to express my feeling!!!

I booked a reservation for this hotel through Orbitz for a stay from August 12 to August 19. According to both Orbitz and Holiday Inn websites, if I cancelled before August 10, I would not incur a cancellation fee. I cancelled this reservation on August 1. I was informed by Orbitz that Holiday Inn states that I had to cancel 13 days prior to August 12 to avoid a fee. That part was not on either company websites but if I cancelled prior to August 10 to avoid a cancellation fee was on my receipt.

In confirming reservations just for my own information for a flight a week away, I discovered that my flight had been canceled (perfectly understandable, but I got no notification) and it had been changed from a 2-1/2 hour non-stop to a 4-1/2 hour one-stop. I called Orbitz - big mistake! After many hoops, person with little English tried to convince me that a 1-1/2 hour layover in another city - which she said was "for refueling" - constituted a non-stop flight. I asked to speak with a supervisor, who told me he had no access to my records but would forward me (again) to a "reservations specialist." He gave me a "direct number" to reach them, which turned out to be the same general number I had called in the first place. I spent an hour and 14 minutes on the phone, by my phone's count, and finally succeeded in getting the reservation changed (after one hangup). I will never use Orbitz again!

I wouldn't advise my enemy to their services. I think they trick their customers, deceived them, and most people will forget that they have future travel money in their account. I cancel my flight an hour after the stipulated 24 hours margin. I called them and they told me any canceled flight will incur flight fees and Orbitz fees. This is crazy to me. After claiming my future trip fee, I would never use them again. Deleting my account afterwards. There are other cheaper services to use. Trust me.

After calling Orbitz to confirm a specific room they were advertising was available I paid for my hotel room and drove 8 hours to LA. When I got to hotel I was told the kind of special room I ordered wasn't even a room in their hotel. I called Orbitz and was on hold for 4 hours while they tried to get me a manager because they kept calling hotel manager asking them to accommodate me, but hotel manager was really nice but kept explaining they can't accommodate what doesn't exist in their hotel. I told Orbitz there was another hotel on their site that offered the room too but that all others were all sold out. Orbitz told me they would not refund my money so I could get another hotel until they listened to a recorded conversation they said they had of me booking the night prior. I told them that was fraud and they said well take the room we have for you or sorry nothing else we can do for you until we listen to recording which will take 7 to 9 business days.
My bank won't reverse my funds because they say I made the transaction. Well yes I did but they sold me something that I didn't buy. Now Orbitz has stolen my money for the last month of the sum of 580.00!!! Don't book with Orbitz. They false advertise for something they don't have even when you call and confirm with their so called customer service.

The most inept, unorganized booking site ever. I booked a flight, it was cancelled, and I never even received a notice until I was at the airport. Then, trying to get a refund on a cancelled flight was pure agony.

I made a reservation for a hotel but the screen had a different Marco Polo than I wanted. When the confirmation popped up, I immediately contacted to tell Orbitz that I had the wrong hotel--less than four minutes after making the reservations. I was told there was no waiving the cost and I was responsible for the cost.

ConsumerAffairs Research Team
The ConsumerAffairs Research Team believes everyone deserves to make smart decisions. We aim to provide readers with the most up-to-date information available about today's consumer products and services.
Orbitz is an online travel website owned by Expedia Inc. It was founded in 2001 and acquired by Expedia in 2015.
Rewards: Orbitz rewards travelers with points they can exchange for discounts.
Vacation packages: Travelers can save money by choosing vacation packages instead of buying services individually.
Activities: Orbitz can help tourists find activities and events in their destination cities.
Mobile apps: Mobile users gain access to exclusive deals.
Scratchpad: The website's Scratchpad feature helps travelers keep track of offers that interest them.
Best for Budget, domestic and international travelers.
Company Name:

Orbitz

Year Founded:

2001

Address:

500 W. Madison St.

City:

Chicago

State/Province:

IL

Postal Code:

60661

Country:

United States

Website:

http://www.orbitz.com/