Consumer Complaints and Reviews

Don't ever buy Marriott Vacation Club ownership for these reasons: 1. Many RULES that the owner needs to spend hours figuring them all out. 2. Very rude customer service reps. 3. An owner is not treated any differently than a non-owner. 4. Phone hours are limited and can not call on the weekends since they are closed. 5. Fees are very high including maintenance fees. 6. Website is of poor design and needs to be desperately updated to modern times. 7. Very little value for the money invested. 8. Cleaning service is separate and paid separately. 9. It is so time consuming to manage the Vacation Ownership that is takes the joy out of vacation planning.
10. Terrible and rude customer service agents who treat owners like they're criminals. 11. So many rules at the resorts that it is very difficult to comply thus the correction officers are booting cars that are parked incorrectly, force owners to switch villas at the last minute, and some locations require wristbands in the pools that are issued from a stand just outside the pool. The correction officers are constantly checking for wristbands. 12. I will mention again, rude customer service agents like Ashley **. Very hostile.

Marriott Philly Airport Hotel - very disappointing and inadequate for handicapped guests. When I had surgery on a recent visit to Pennsylvania we broke up our trip home by staying at this facility before flying out the next morning. I had just been discharged from the hospital that day and we asked for a wheelchair to get me to our room. (We had requested an accessible room which, oddly enough, was at the FAR END of the hallway from the elevator. Who the heck is their architect?) Anyway, after searching high and low the hotel said it had NO WHEELCHAIR. So we took our time and walked; I leaned on Jim to get to our room.
Next morning we asked again for a wheelchair, which should have come as no surprise to management but again - they had no wheelchair. I told the people at Marriott.com what happened but no one ever got back to me! Aside from failing to meet the Federal ADA requirements as a public accommodation, Marriott doesn't care about the comfort or safety of its guests. Shame on them. UPDATE: I tried to post a review on the hotel's website but it says that only guests who receive and complete a guest survey can post a review. Hmmm. I never got such a survey, however.

I have stayed at multiple Marriotts all over Georgia. In fact, I was at one in Atlanta last week. However, my experience at the Savannah Marriott on the Riverfront has been by far the worst experience I have had. I have stayed at a Super 8 with better quality of service. I had to go to the desk 3 times because my key would not work. I tried to call from the phone near the elevator and it did not work. When I got to the front desk, I refused to come up without an escort. I had to stand almost 20 minutes before they could get someone. To top it off, the hotel smells like mole is in the building. Mattresses are leaned against the wall in the hallway.
I decided to check my debit card account and then I realized that they had charged my card over $100. Keep in my mind, I had paid for my entire stay with a business check when I checked in. I called the front desk to ask why I was not told that would be charging my card over $100. Ashley was very rude and nasty. I called back to ask for the 1-800 number for the complaint line. This young lady gave me the wrong number. When I called back to tell her that she gave me the wrong number, she was not apologetic and again she was rude. I am going to make sure that I tell all my business partner about my experience at the Marriott in Savannah on the Riverfront.

I recently visited Atlanta to celebrate my 34th birthday with friends and family. I utilize Marriott frequently and have never been dissatisfied with the hospitality of the hotel staff. My stay at the Courtyard Atlanta Marietta/Windy Hill location was horrible. I called and spoke with Jessica ** on Wednesday 09/28/16 as I wanted to make sure my sister would be able to check in without me due to her plane arriving in Atlanta before me. Jessica took her information and I was advised to e-mail my discount letter to Jessica directly as she would need this before being able to check my sister in at the rate provided.
On Thursday 09/29/16, I received multiple calls from my sister because they were having issues checking in even though I had called and spoke to Jessica the night prior. I made another call to make sure everything was fine and advised Jessica that my brother would be checking in the next day as I wanted to confirm that my card would not be charged for his room as well. I was advised it wouldn't be and they would request a card from him. Thursday night, a guest of mine was outside and I was on the balcony. He was attempting to throw a black n' mild to me and it fell short of my rooms balcony and landed on the balcony of the room below.
The next morning (Friday 09/30/2016), I called to the front desk again and spoke to Jessica. I advised her that we had dropped a cigar on the balcony below and we needed to retrieve it. Jessica advised me that there was no one occupying the room and that she would go get it. I never heard from Jessica again and after about 2 hours, my guest went downstairs and saw housekeeping and asked them to retrieve it. We leave for the day and we come back around 3 to allow my brother to check in. We head to Lennoz Mall and I go to purchase something and my card gets declined. I check my balance and I see that Marriott has charged my card again for 220.00.
After speaking to my brother, I learn that the rep who checked my brother in never asked to see a debit or credit card. I was majorly confused because Jessica had gave my sisters a hard time the day before stating they needed me and my card to be present before they could charge it, yet the next day, my card was charged without my permission or knowledge with no problem. When I called the front desk the rep advised me they didn't need to see any ID or the credit card because it was on file and we have mobile check in. I advised her that this is not what Jessica told me and she stated she would send my complaint to the manager and I would hear something the next day.
Saturday (10/01/2016) I called to the front desk at 9 am because we had no toilet paper in our room. 9:30 comes, still no toilet paper. I call again and advise we were still awaiting toilet paper and could not use the restroom. Around 9:45, housekeeping knocks on the door and drops off a roll of tissue. About 45 minutes later there is another knock on the door. It is Jessica (who I later find out is the manager) and the young lady from housekeeping who just dropped off the toilet paper. Jessica states that she received two calls from hotel guests stating they smelled smoke coming from my room. I instantly become agitated because no one is smoking in the room. I ask Jessica can she smell smoke and she says, "no". I invite her in to check and she declines. She then states, if someone does smoke in the room it will be 250.00 charged to your card.
I advised her again that no one was smoking in the room and I said, "Well since you're up here can you please explain why my card was charged yesterday without my knowledge or permission". Jessica had no answer and could not answer why my sister was told they needed my card and ID to check in Thursday but they had no problem charging my card an additional 220.00 with no issue. Jessica stated she would comp me some points for the inconvenience. Jessica leaves and I assume all is well.
She comes back maybe 5 minutes later and asks to speak to me outside. She states that what really happened was they received a call on Thursday from a young lady stating they had dropped something on the balcony. Jessica then states "a large man" came to the room and was trying to get in without telling the housekeeper what was going on and then finally tells her that he is trying to retrieve **. I instantly look at Jessica and tell her that is a lie.
I said, "Jessica, I am the young lady that called the front desk. I spoke with you and I told you it was a cigar. You told me you would retrieve it and you never did." Jessica claims that she sent housekeeping to retrieve it. I am now frustrated because Jessica continues to lie and instead of apologizing she keeps trying to state that her housekeeping staff is right. I am attempting to go back in my room and she asks me when I am checking out. Please note that this is not the first time she has asked me this. I say Monday and she asks me, "Well do you want to check out now because there seem to be a lot of inconsistencies." I am instantly pissed because I can not believe that after accusing me of being a "**" and the countless other errors and troubles I had from this location, she would insult me by asking if I wanted to check out.
I asked her where did she suppose I go. She responded with, "I don't know". I went back in my room and ended the conversation. As if, they hadn't shows enough ignorance, when I opened my door to leave, there was a bag of towels in a bag connected to the door. There was no 'do not disturb' sign on my door and housekeeping never made an attempt to knock on the door and advise that they were there. They only left two towels (even though I had 4 people staying in the room). They never cleaned the room in all of the days I was there. They never retrieved the dirty towels and I had to go to the front desk on Sunday and get tissue because once again the room was never taken care of. I had to retrieve a trash bag from the front desk on two occasions so I could clean the room myself.

I'd like to bring a complaint to your attention regarding the Lakeway Marriott in Metairie, La. For this price point the service is ridiculous. I've stayed multiple times and the last one was the breaking point. I've been a repeat guest for 2 reasons: the proximity to my office and honestly, the Starbucks downstairs. I've had multiple problems mostly with housekeeping and room service. Valet doesn't offer to help out a bag in a car or even pop your trunk. Housekeeping is horrid. My bed has not been made multiple times, coffee and supplies not being replaced regularly, towels and washcloths not being replaced, toiletries not being replaced, and finding my prescription medicines and toothbrush on the ground near the trash. Room service will regularly get your order incorrect, but my last straw was when I ordered coffee, cream, and Splenda and received lukewarm carafe of coffee with 1 Splenda packet and no cup.
I called down to management and was hung up on 2 times and put on hold for well over 5 min the third time before talking to him. I explained the problem and he said that he wished I wasn't checking out that morning because he'd love to "make this right" for me. Upon me asking him to comp the horrible breakfast and send me up some coffee, he said he would do just that. Over 15 min later I received a cup and some Splenda, no cream as requested and no fresh coffee. Just got my bill and see nor did he comp the breakfast. For this price, this hotel is barely worth it. I have canceled my reservation for October and will not return. Shame too, I travel to this area often with other people from my company that will not return either to this specific property.
How do I know I can trust these reviews about Marriott?
608,728 reviews on ConsumerAffairs are verified.
We require contact information to ensure our reviewers are real.
We use intelligent software that helps us maintain the integrity of reviews.
Our moderators read all reviews to verify quality and helpfulness.
For more information about reviews on ConsumerAffairs.com please visit our FAQ.

First there was no cart so pushed my sister's wheelchair while me and the 2 children carried all luggage, birthday gifts and cake. I asked for cart at front desk and was told there were only 3 and they were missing. We get to our room and not only is it not the 2 bed disabled room but because of furniture placement her chair will not fit thru door. We call front desk, l go downstairs with all luggage etc then go up to new room. Did I mention I had back surgery 7 months ago?
WiFi code did not work. We get to breakfast buffet and they ask for tickets, we were not given so we waited 15 minutes for that. All in all what should have been an enjoyable treat for my great niece was not. I travel a lot and this was one of the worst hotels.

Everyone was very friendly and made good suggestions for things to see and places to eat. It was better than I had expected for the area. Breakfast choices were adequate, and the lack of a bar is the only downside. There was a gym which I did not use so cannot comment on, but there was also an included breakfast which was a good start to the day and included wi-fi which was very quick and easy to log on to. The hotel was a little drive from downtown but not really out of town. It was only 5 minutes from the interstate and close to the lake. The curb appeal was excellent and the lobby looked comfortable. Check in was quick and pleasant.

Very good, excellent, about the best in the hotel industry. Would always stay at a Marriott without fail. Excellent. The Marriott Crystal City is on the Metro line, makes it super handy, most visits my wife and I never needed to rent an automobile. They also gave us a discount to match my federal per diem. Great flag-waving American company. That hotel was later sold to the Radisson hotel chain. Same comments apply to them as well.

Very nice and professional. Expensive, but worth every dollar. If you are fortunate to go once, you will plan to go again and again and again. The accommodations, the restaurants, the environment, and the service was all on a scale of 1 to 10, a 10+!

The staff was so helpful and proud of the hotel. We would go back in a minute! Friendly and convenient, good pool and close to restaurants. Free internet and parking. Leave your car parked at hotel and walk to the Polynesian Culture Center. Very handy and avoid the crowds after the evening shows. The staff will be happy to give you discount coupons for the center.

Excellent. Worth the price. Stayed at the Stellaris Casino. Everything was close by. Rooms were well maintained & worth any added expenses. Several pools to choose from, family friendly or adults only. Right on the beach with many activities.

EXCELLENT. LA is expensive, the Marriott Fairfield Inn was very reasonable. Everything you need - washers dryers, an excellent Market Place in the hotel, with microwaves, stores make your own food and a Pizza Hut inside the hotel/marketplace which had breakfast too. Excellent for children. This hotel is fabulous. It has the greatest caring staff. They are always helpful and have a smile and not a scowl on their faces even though I know they get asked the same questions over and over again. They are so helpful and that makes a lot of difference. The room cleaning staff was also so friendly. The idea of The Market Place is outstanding, and the pool area is fab for kids and parents alike. Free wifi is great and also free use of computers and printer in the lobby area great idea.
This hotel is excellent for cleanliness. The rooms are perfect size and the fact that the queen size rooms with the two beds they also have a sofa bed that pulls down to accommodate two children so it is an excellent value for big family at least 6 in the double, queen room, plus they provide cribs for babies too. I would highly recommend this hotel and will be returning.

I stayed at the Marriott Residence Inn Providence Coventry Rhode Island and my sister had one of those carpet staple went up into her foot which she was freaking out because she thought it was a needle. I paid for a 2 bedroom suite where one of the knob of one of the bedroom door kept falling off with the hinge sticking out. Almost hurt my nephew. And they have a pull out sofa bed that when you lay on it your feet go up in the air and your head toward the floor. This room was a disaster. I complained about the door knob which they never did anything about and when the incident happened with my sister they took the staple then told me they misplaced it. With all of this going on there were no manager on duty and I was told I would receive a credit back to my bill...
With what happened to my sister I had to take her to the urgent care then the doctor wanted her to her an xray done which was another day I had to take off work to accompanied her all because of this incident. When I spoke to the Manager he never gave me their insurance information, the doctor at the urgent care told me to get the insurance info. This doctor said he got a small scratch on a nail sticking out of a door when he stayed at the Marriott and they wanted to call a doctor when he told them he was a doctor so they gave him their insurance information, credit for one night and voucher for 2 free night stay at any of their hotels.
So I called their corporate office number to get the insurance information which we spoke with a Carol and my sister gave her all the information. They decided to give my sister around 300 bucks for what happened and gave me 150 for what was going on with the room which I also inform them of having to take off the day to take me sister to have xray done etc. (They lied to the Better Business Bureau that my sister never got xray done which we have proof of all that was done.) I reached out to the corporate office and spoke with a Diane who stated she was a problem solver in the office of Mr Marriott and she will take over the case. Well in the end they told me they gave me a credit of 150 and they will not be doing anything else for me so my vacation ended up costing me much more all because of this hotel.
I am a problem solver for my company and train new hires so I will be using this story as an example of what not to do when dealing with customers because without your customers you would not have a business. I was not looking for all that they gave the doctor but to at least pay for the time I took off to take my sister to the urgent care and the get the xray which was more than 150 but I guess I am not a doctor. I am reading all these negative ratings on ConsumerAffairs and most of them are on how they treat their guests so next time I would know to do my research before I make reservation with any hotel.

Hi - I am a Marriott rewards member. I booked a family vacation using their website to find an airport hotel. ** This website says "Redeem 4 Nights. Get the 5th Night FREE!" without any asterisk or instructions to see further details etc. I Redeemed 4 nights but the web would not allow to book the 5th. I tried unsuccessfully to resolve. I sent an email and then call then had a live chat. Even though their website only says Redeem 4 Nights. Get the 5th Night FREE! They are claiming that it is only for consecutive nights. I planned to stay at the airport hotel at the beginning and end of my visit to Seattle so consecutive nights do not work for me AND it is not what they say on their own website.
Member customer service, Jackie, could not help so I asked to speak to her manager Andrew, who was rude and raised his voice unprofessionally. The live chat person would not help either and would not allow me to speak to a manager. My Marriott Rewards #: ** and Reservation for the 4 nights is Reservation Confirmation: **. This is not a good way to treat Rewards members. I had almost 100,000 reward points before this trip.

Whenever I travel I always look for the Marriott Hotel. I love the ambiance and comfort of the suites... Today I checked out of the Residence Inn in Miami Airport North to travel and check into the Marriott Courtyard in Providence Rhode Island. When checking out this morning at 5:45 I found out that I had been charged for parking a vehicle. A question to which I responded, "No, I do not own a vehicle." We all know that to get this rectified could take a number of frustrating calls.
This evening I was checking into the Courtyard Marriot in Providence. The young lady was cold, bias and unwelcoming. After speaking to her in English she asked if we (myself, nice and sister) were Spanish. She also deliberately offered wrong advice fully knowing that if we were to cancel and rebook my reservation I would have lost my room due to a fully booked week or had to pay much higher current rates. Luckily my sister pointed it out and she concurred. Finally without any question she disdainfully handed me three keys. I handed back two informing her that I was staying alone. There was no welcome, smile or anything. I will continue to look for Marriott hotels wherever I go but hope that these concerns could be looked into and rectified.

This hotel gives the Marriott chain a bad name. This is an old and dirty hotel with horrible service. The room and the balconies were filthy and poorly maintained. The food was inedible and the service was terrible. For the price per night that this Marriott charges, I could've gotten another room in the best hotels in San Diego. Never again!!

I'm not sure who exactly is responsible in this situation, but because it's "Marriott hotels" that keeps calling me saying my phone number was selected for a free stay in blah blah blah... I have been getting several annoying phone calls every day for the last few days now. I even pressed 2 to be put on a "do not call list". I've never been to a Marriott and I have no idea how they'd have gotten my number. All I do know is the phone calls are excessive and disruptive through my day to day life.

On August 7th around 1:04 am- I walked in the Fairfield inn 2826 Taylor Road- Columbus Oh. I checked in and gave the girl my card. Within 30 mins I call them back and I said I don't need the room can I cancel without being charged. The lady working said yes - I advised my card had already been charged and she stated it was a holding fee, but once she cancelled the reservation my card would be funded. I waited for this to occur and it never did. I called the bank to verify and they stated she never reversed the charged. I called this 614-864-4555 and they said it shows I checked out at 1:04 pm the next day- oddly almost the same exact time 24 hrs.
They said a manager would not be able to help me and based off their records I was there 12 hrs- So now it my job to make sure staff provides accurate information to me does what they are supposed too. I am out $148.00 if I would of known your staff was wrong I would of stayed since I was being charged anyway. Oddly enough the manager was too busy to assist me and/or call me back. I advised the staff they should have cameras / recorded phone calls they offered no suggestions to follow up or validate my issue. I advised I was filing compliant with corporate and the simple response was ok and they hung up. Obviously, they don't feel calling corporate or filing a complaint is a service problem and clearly didn't care. In the long run as the customer I am paying for your horrible customer service, inaccurate information& lack of follow through and no one seems to care. On the other hand- now I am wondering if someone pocketed money and allowed someone to use the room I paid for since I didn't even go to the room or past the front desk. There is no way I checked out at 1:04 pm.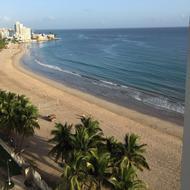 My GF and I stayed at the Courtyard Marriott for our 1st, solo, no hubs, no kids vacation in SJ Puerto Rico. Booking online gives options of ocean view rooms and the more expensive ocean front rooms. I specifically chose the ocean front and was extremely disappointed at what I considered an ocean view room. Since we arrived late in the day I just wanted to unpack, get some dinner, take in the beauty and call it a night. In the morning I went to discuss this with the front desk. The gentleman showed me a map, if you will, of the hotel and what Marriott considers ocean front rooms. My room, located on the SIDE of the building, not directly facing ocean front, is considered ocean front merely because it is the very 1st side rooms and slightly larger than the rest.
It seems that although I do love my GF dearly and we have been friends for decades, the only solution they could give me for a real "oceanfront" room was one with 1 king size bed. You see the rooms directly facing the ocean front are either junior suites or 1 king bed and my GF snores so that was not an option. The gentleman at the desk had to get the hotel manager and she was unsympathetic. Although she did say that during our 8 day stay she may be able to get us a blah blah blah... If the sun the moon and the stars lined up. She said she would call me in a couple of days but never did.
I want to say that although the room was not what I wanted it was comfortable and clean. The housekeeping staff was superb! Our buffet breakfast was outstanding and the restaurant staff made us feel very welcome. The casino was pleasant (Lady Luck was not with me-LOL) and the ocean was lovely. Yes this is not the crystal blue Caribbean side but this water was clear and mild and warm. You see I'm from Jersey, enough said. My complaint is I PAID for an ocean front room. This is clearly a room with an ocean view and I shouldn't have had to pay the premium for something that is clearly not as advertised.

My recent stay at Fairfield Inn & Suites in Williamsburg Va was horrible. During my check out my daughter noticed some bites on her arms, neck and back. I called the general manager to inform her and she didn't have any empathy displayed. She said she will write a incident report and someone will be in contact with me. I took my daughter to the doctor and the doctor confirmed they were bed bug bites. I informed the hotel and they inspected the room and denied my claim. I would like someone to contact soon as possible please.

They use a written list for early arrival for anyone to see. We used the mobile check-in and they asked for my phone number. We were first on the list. I checked back numerous times, the list was exposed each time. 8 hrs later and 20 people below us checked in. I was frustrated and snapped a picture of the list looking for an explanation why we were skipped over. I was threatened by customer care to not show this list that has everyone's phone number, room number, rewards status, method of payment and last 4 digits of their credit card. I still have the picture of the list.

Springhill Suites ended up comping is the second night that we stayed.
Original Review
We called to have a shuttle pick us up from downtown. Keisha, front desk, blew us off and said she was too busy to help us out and asked us to call back in 10 minutes (which took us that long to get someone to answer the first time)! We ended up taking a cab back. When we mentioned this to the supervisor, Keisha admitted to blowing us off and no apologies were offered. Terrible customer service for a community dependent on tourism. In addition, our room was never cleaned and we had to go downstairs to ask for towels. Again, the supervisor did not care.

On June 23rd 2016 I paid for three rooms to stay 2 nights. On June 24th I paid for one additional room to stay one night... all to check out on June 25th 2016. Location is Courtyard by Marriott 4083 Lavista Rd in Tucker GA. 770.938.1200. I was charged $50.00 incidental deposit per room. The front desk sign stated that deposits would be refunded 3-5 business days.
Well it has now been 10 business days and Marriott has yet to refund my deposits. The General Manager ** who is employed at the hotel has yet to return my phone calls or offered to release my funds. I called on July 5th to the corporate office and was told that they would email the GM and escalate her to contact me... she still has not contacted me and today is July 7th. In lieu of contacting me she emailed Corporate and claimed she did contact me and said she is RESEARCHING the situation. After calling Corporate back I was told that my deposit had never been released. Corporate suggested that I file a claim with my card holder. WOW... they aren't even the ones holding the funds... but guess that's a great ploy to keep more money in Marriott pockets. What Marriott is doing is a flagrant violation and complete fraud. The sign at the front desk states 3-5 business days but they hold as long as they want to.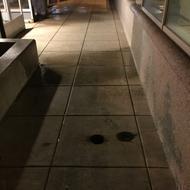 Watch where you walk it at The Marriott Philadelphia airport. Tripped in a hole that was not covered or marked. Hurt my foot. Was off work two weeks and all I have is a claim number. No one from Marriott has ever called, never called to make sure I was OK. I guess you have to sue to get common courtesy of 'are you okay...' I would never stay at Marriott hotel or one of these brands. They suck when it comes to customer service...! I paid to stay at a hotel to hurt myself. I've paid a pretty penny at that...

My daughter was in the national American miss pageant there and when her events were done for the day I went to go get in my car but my car was gone. I seen them moving my car and isn't a person supposed to be notified if they need to move their car. I was not notified. They took it upon themselves to move my car. How can they do that with my daughter being in the pageant - it upset my child and they had the nerve to charge us 40 dollars for parking. You think if you had a child in their pageant they would be considerate of that and what's worse is that my daughter witnessed them taking my car.

Me and my friends stayed in room 560 over the weekend at Springhill Suites downtown Memphis and by Monday night I had multiple cluster of bites on my legs and just thought I was breaking out. The next day my other friends who stayed with me called me and said they had cluster of bites on their bodies. I emailed and called the hotel to report bed bugs and the manager tells me it may just be mosquito bites which is an insult to brush something this serious off in that manner! For one I am from Alabama so I know it doesn't take a full 24 hours for mosquito bites to show up - they are instant. She made this assumption before a professional bug inspector came out! I just hope something is done about this! I will never stay in Memphis or at another Marriott hotel.

When you book a specific reservation and give credit card. That should be it guaranteed. Not this need to request when check in. Need to see if available at time of check in. That is nonsense. If it is available when booking then that should be a "done deal". If booking it without actually being available then that's I feel is taking my money under false pretenses. If someone stays longer than original booking they should move to another room. Do not understand why cannot do this. It's so simple. Either you have the room or you don't.

I stayed at the Fairfield Inn in Bloomington Indiana June 18th to June 19th. In total to date, l have had 4 withdrawals from my account totaling $525. Still working on the room rate. Was overcharged, $250 withdrawal, $40 withdrawal and a $25 withdrawal. I highly recommend not staying there.

Our weekend plan was kind of messed up by an inexperienced staff worker about booking through a 3rd party booking service. I booked and paid thru my CU Reward (Orbit) and when I arrived at Courtyard Marriott, Ivy (staff) was going to charge me again for my room that I have already paid for 2 nights through my CU Reward, which she said Marriott does not honor the CU Reward. I had already paid for this through a 3rd party booking service. She would not check me in or issue me room keys, so I had to leave and find accommodations at another hotel. I tried to call my 3rd party that evening but could not speak to a live person, so I could get reimburse or the issue resolved. So the next day I called and was told that Ivy with Marriott told them I was checked in. Wonder how that happens when I never showed anyone my ID; and was not issued room keys. FRAUD!!!
My plan is to pursue this matter as far as I have to, to get my reimbursement. Points or cash whatever it takes!! I had my 2 grandchildren with me ages 4 and 7 and this inexperienced staff (Ivy) cause me and my family some very precious time that should have been avoided if she has only taken the time to find out the correct procedure before leaving us out without accommodation. She stated that if I wanted to stay it would be 179.00 per night. Now why would you ask for payment again? So I did leave and booked my weekend stay with a different hotel chain, which cost me money that was reserved for our weekend adventure.
I request that this be corrected and that Marriott reimburse me for my 2 nights' stay that was booked in advance and Ivy would not issue room or keys to. VERY UPSET WITH MARRIOTT STAFF at this location. I am not asking for anything above the cost of the other charges from the hotel I had to stay because Ivy would not issue me a room or key. The charge was $308.94, and I will be glad to mail you a copy of my receipt.

I booked my stay at the San Juan Marriott Stellaris in April. My Booking was advertised as follows; Buy two nights get one free. My reservation confirmation did not reflect the promotion. I called for clarification in April and was told that the adjustment would be made at checkout. In addition the agent actually calculated the adjusted amount so that I would know what my final charges would be. Upon Checking in to the Hotel on June 9th, the amount was again different. I was not clear about the charges upon check in so I called customer service again. Again I was told that the third night would be taken off at check out. I inquired about how to proceed in the event that the third night was not taken off. I was told that I would receive a copy of my bill prior to check out and that I would be able to resolve any issues then, and in the event that It was not taken care of to call customer service.
On the day of check out I tried to go and resolve the bill and ended up having to call customer service as I'd expected. To no avail. The agents I spoke to on June 12th began to back pedal even though they confirmed that the hotel manager, Jennise's, explanation did not add up. I spend most of my morning 7 am to 10 am trying to get this resolved. The hotel manager told me to call a number and ask for the name and department of the people I spoke with because all calls are recorded. She said to get the name and department of the person that told me it would be taken off and they would just charge the third night to that person's department. I called the number and was told that they have no record of the other calls only the calls from June 9th. I was given the runaround, passed to several supervisors and no one was of any help.
I spoke with Karen **, and Patty at one point. I was told that it would be handled by the hotel manager. I also asked for a late checkout to compensate for the 5+ hours of my vacation I spent dealing with this and was told I had to pay. When I finally tried to check out I was told that the manager was still working on my bill and that my receipt would be emailed to me that day. It has been over 24 hours and I still have not received anything. I am appalled that I had to go through this and angry that "Customer Service" and the employees on the ground do not have the same information. I made arrangements and was confused. I called Marriott for clarification and made my plans based on that information only to have it not be honored and cause confusion. I also don't appreciate being treated like I was making up my story because I didn't have an email or the record number for all the conversations I had. This is no way to treat a customer.

ConsumerAffairs Research Team
The ConsumerAffairs Research Team believes everyone deserves to make smart decisions. We aim to provide readers with the most up-to-date information available about today's consumer products and services.
The Marriott brand started in 1957 with a single hotel. Now, there are more than 500 Marriott Hotels & Resorts worldwide, and Marriott International includes 19 brands in over 4,400 locations.
Travel Brilliantly: Marriott Hotels & Resorts has a website dedicated to collecting customer suggestions called Travel Brilliantly. Visitors to the website can make suggestions or vote for other people's suggestions. Each year, some of these ideas are selected as winners and implemented in the chain.
Environmental responsibility: Marriott International's website clearly lists goals and deadlines for reducing the company's impact on the environment. These goals include reducing water and energy consumptions by 20 percent by the year 2020 and ensuring their entire supply chain is green. The have dozens of LEED certified properties as well as properties with electric vehicle charging stations.
Member benefits: Members of Marriott's free rewards program not only acquire points to book free stays but also get free Wi-Fi at the hotels, a dedicated customer service line and exclusive special discounts.
Meetings and events: The meeting and event spaces at Marriott Hotels & Resorts have been redesigned to focus on collaboration with open designs and natural lighting. They also have a staff of Meeting Experts who work with event planners to make their job easier and improve attendees' experience.
Guestrooms: Marriott Hotels & Resorts' guestrooms have a modern design with flexible spaces you can use to work or relax. At select locations, travelers who have a subscription to a streaming service, like Netflix or Hulu Plus, can stream content on the in-room television.
Best for Marriott Hotels & Resorts caters to travelers looking for a high level of customer service, a wide range of amenities and those looking to host a meeting or event.
Marriott Hotels Company Profile
Company Name:

Marriott

Website:

http://www.marriott.com/default.mi