Consumer Complaints and Reviews

They gave our number to telemarketers and now we are being HARASSED with multiple calls every single day on both of our phones. When we answer they reply, "You recently stayed at a Marriott and so you qualify for..." IT's SO NOT WORTH IT.

Marriott. Melville, New York (Long Island). This is the worst run hotel I have ever seen in my life. Management is ineffective. Staff is incompetent. I was there as part of a large group for an extended business stay. The night manager (a Michael **, from India) involuntarily changed our room assignments when wedding guests came in from his home country. The hotel ended up overbooked and he kicked us around not once, not twice, not three times, but four times total! It got to the point where I didn't even bother to unpack as I knew we would be moved.
Why he targeted our particular group I never knew. There were many other groups from which to choose. But he zeroed in on ours to target his inconvenience. In addition, there were days when the maids didn't clean our rooms. No fresh towels, shampoo, etc. Is this how the Marriott treats their guests? If that isn't enough he complained to our own supervisor when we complained about his management skills. That may be how they do things in India. But someone needs to tell this clown that he's in New York. I will never stay in another Marriott as long as I live. They should be run out of town on a rail.

I have been a Marriott Member for over 25 years. I have not been traveling like I did in former years so when I find myself traveling again, I have encountered surly reservations people, lackluster customer service people who couldn't get what I told them and a supervisor Petrolyn (spelling) who was just as cold and surly as the hotel reservations person. I was told that I would be able to have a room for $159. Conference rate. I need a room with 2 beds in each room for the propriety of the guests. I could only have the rate if it had a king bed. And the room was $179.
I've NEVER had a problem in the past with Marriott. In fact, I have been met every time with such care and respect that I never wanted to change loyalty to another chain. Are you nuts to lose my loyalty to Marriott over $20? I am so mad about what I feel is bait and switch. What hurts even worse is the cold and indifferent treatment I received from you all. I want my old Marriott customer care back!!! What happened to taking care of your loyal Marriott rewards customers?

St. Louis Missouri Downtown Marriott has the rudest customer service, the nastiest, smelliest room, lack of parking, etc. of any hotel I have ever stayed in. I was told that there was parking right at the hotel - Turns out they had rented the parking garage for the Cardinals game, had to park in the overflow lot 3 blocks away, drag your own luggage. I have a heart condition, this was hell. The room was small, cramped, looked like a room in someone's basement, and smelled like mold. Customer service did comp our parking - Which should be free with a $200 room, you had to pay for wi-fi. Just not a good place to stay. Very pricey for what you got. You can get a better value at Motel 6.

I must start by saying that I am a South African citizen who was here to attend a conference at the Ernest N Morial centre. I checked into the hotel on Saturday 06 May 2017. I clearly indicated that my department will cover my room (including breakfast) and taxes. In fact this information was already on record including an American Express card number to which these expenses would be charged.
As per usual business practice, I was asked for my credit card for a hold to be put on it for other incidental costs. I was told later that this was about $50 per day for each day of stay. The lady at reception then put a hold on my personal credit card for an amount of $1920. I got the text message from my bank immediately. Upon seeing this and realizing that a mistake was made, brought it to the attention of the lady at reception and the night manager on Saturday. They apologized profusely and indicated that they would sort this out.
It is now Friday, almost a week to the day I checked in and the hold on my personal credit card has still not been sorted out. Usually I would not worry about this as no money was or will be taken from my credit card, but I have $37 in my pocket and under $100 available on my credit because of this hold. And I am now heading back home to South Africa. All the apologies in the world are not going to help me if I don't have enough money to get back home. I am leaving tonight and I hope that I do not require more than what I have for food and other items I might need over the next two days. All of this was caused by a person at reception not focusing on what she was doing. This is the frustration that I have.
And I want to advise the Marriott group to train their staff on improving their listening skills. If you have people from out of town, make sure you understand each other because as I have now experienced, it is all well and good to swipe a credit card, but undoing the mess that was created takes a long time. While I am frustrated with my check-in experience, I want to commend your Chef (Terence **) who lives and breathes southern hospitality and is truly an asset to this hotel.
How do I know I can trust these reviews about Marriott?
790,852 reviews on ConsumerAffairs are verified.
We require contact information to ensure our reviewers are real.
We use intelligent software that helps us maintain the integrity of reviews.
Our moderators read all reviews to verify quality and helpfulness.
For more information about reviews on ConsumerAffairs.com please visit our FAQ.

Outrageous & Upsetting! Marriott Hotels had an absolute error in judgment when it came to customer health & safety, and customer satisfaction, as follows: As I travel very regularly for work, I have encountered many inconveniences, yet none like what occurred during the week of April 24, 2017 at TownePlace Suites Manchester-Boston Regional Airport. After having had a long travel day, I checked into this hotel. I went to my room and unpacked my clothes & toiletries. I set my personal toiletries on the counter in the bathroom. A little later, I needed to go to the restroom. As I began this process, I looked to my left. To my left was the bathtub with a bath mat laying over it & on top of the bath mat was a SOILED feminine sanitary pad! It might as well have been a cobra with Ebola, as far as I was concerned. I took a picture for evidence, but will not share it here due to its graphic nature.
I immediately called the front desk, but it was late & housekeeping was gone for the day so the hotel's "Houseman" came by to remove the disgusting item, along with all of the towels in the room. I was offered to move to another FILTHY room; however, I declined as I wanted to clean and properly disinfect all of my toiletry items before I repacked my bags & got the Hell out of that hotel. Plus, there was no reason for me to believe other rooms in the hotel were not disgusting, as well. I was booked for a four night stay, but of course I checked out the next day... having barely slept because I was so anxious about the situation.
The hotel's Operations Manager expressed their embarrassment and apologies by adding 5,000 points to my account. The "Bonus" receipt is documented in the picture & notes the points were given due to "undergarment pad in bathroom." After my complaining all the way up to "Mr. Marriott's" office, it was decided that 15,000 bonus points added to my account was "more than generous" for my experience at the hotel. I have added a pic of the email sent from "Mr. Marriott's" office. Keep in mind, 15,000 points is not enough for a night's stay at any Marriott property - in any major city. In addition, who says I want to give Marriott my business again. 15,000 points means absolutely nothing. In essence, the 15,000 bonus points does not satisfy or cover the gravity of the situation!
Needless to say, I have been very upset & unsatisfied with their resolution to this matter. Marriott has treated this situation as an inconvenience for me & not the health & safety risk it was. According to the CDC, dried blood & dried vaginal fluids containing viruses can live on surfaces for days. I requested to be put in contact with their Risk Management Department... I have heard nothing. Even though the email from the corporate office notes the Risk Management Dept will be in contact with me.
While all of Marriott customer service representatives were empathetic, understanding, and as outraged as I, when I finally got to "Mr. Marriott's" office, the Corporate Liaison, Kimberly **, was very condescending, expressed no empathy, and exhibited little interest in delivering customer satisfaction. While it is the hotel's choice on how to resolve the matter, Marriott's corporate office has much leverage in that decision making process. The corporate office could have & should have done more.
My experience was unsettling & egregious. There are No Words that can truly capture this incident. I was completely outraged by it. By not holding the hotel accountable, Marriott's corporate office condones and promotes their chains to continue to miss the mark & not meet the minimum industry standards, especially regarding infection control. After a week, I have calmed some but wanted all to be aware of Marriott's support of their properties' substandard practices & their disinterest in providing customer satisfaction. I will think on it more before deciding whether to let it go, or take additional action.

I have been barraged by telemarketing calls from Marriott for months. The numbers are always 415.637 (which is the same as my mobile number prefixes) and then every number combination. I daily block these calls only for another number combination to call. Today I received four (4) calls. Any suggestions other than the No Calls site? I will try to get through to Marriott corporate and file a complaint but that will probably go nowhere.

On a recent stay at the Marriott Marquis I left a very special ring. 30-year anniversary ring on the counter and a glass of water to clean it. I forgot the ring. When I called the hotel later that night they said they were sorry there was nothing they could do. The ring had a value of $5000 but more than that it had a very special sentimental value. I could not believe the hotel did not do anything. They said they question housekeeping and that they never saw it. I can't believe a hotel chain the size would do nothing. My husband and I have stayed at Marriott's for over 32 years and we are very disappointed that nothing was done.

Dallas Marriott Suites Medical/Market Center- I went to Dallas for a mini get-away and stayed at this hotel April 2017. The second day there I left my hotel room for the maid to clean while I went for a coffee (20 minutes tops) to give her time to clean my room. I come back and my cell phone was missing off the desk. I laid it there to charge not anticipating it'd be stolen. The hotel staff did a card entry scan determining only myself and the hotel maid entered the room. I filed a police report and attempted to work with the hotel hoping they'd at minimum reimburse for the stolen phone which is around $270.00. "Staffer described the phone and case perfectly alleging she saw it but cleaned around it," states the police report.
I was informed they trust their staff and they are at no fault and will not reimburse or credit the stay for the inconvenience. If you want your valuables to feel safe in a hotel I do not recommend staying at this one. I've spent two weeks now trying to remedy the situation but to no avail. My expectation when I stay at any hotel is that I do not have to stress about my items being taken by anyone. I'm not sure how many people put cellphones in a safe as I was told I should have done but moving forward I guess I will pack up all my valuables and tote them around with me wherever I leave my room is basically what the GM and hotel staff implied. Worst experience I've had at a Marriott and the customer service if I could rate it in the negative I would.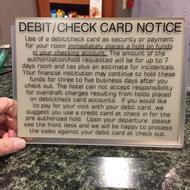 Warning! Whilst the hotel is pleasant to stay at, but in my opinion do not give them your credit card. They put $500.00 dollars on my card on a hold, for incidentals. What incidentals, there is nothing in the fridges, there is nothing else to cause incidentals. I believe they do this regularly to create a running profit to run the Hotel from. Two weeks later and they still haven't returned the funds. I will be lodging this with the local law enforcement. I did not consent to the additional charges and they state I didn't have to.
"Thank you for your patience as I investigate the overcharge. It looks like your card was not overcharged but that it was authorized for any extra incidentals that may occur during your stay. However you didn't have any so the amount that I sent you will be the final amount. You should see that extra authorized charges gone in a few days, you can always contact your bank to see when those will be gone, let me know if you have any questions, thank you!" But the charges still haven't been returned, too bad if you needed those funds for other expenses! I incurred over $150.00 in fees etc. as a result of having to move money to cover this in my opinion is THEFT. When a hotel treats all its customers as guilty, and steals their money without their consent, it says a lot about its management.

I contacted the Marriott Rewards Customer Service Department today... What an awful experience to the point of the Manager - who I asked to speak to - calling me names and making accusations to me about my character and then ultimately choosing to hang up on me and telling me she was going to document in my profile that I went on a tirade. My one question is - what was the cause of the tirade? She was unwilling to take responsibility. My verbal tirade was the result of my frustration of being ignored after 3 attempts of trying to resolve my issue via the online tool, that is apparently not working. How is a customer to know that the feedback tool provided by Marriott is malfunctioning??
Yes, I do have an attitude and that is because I've been trying unsuccessfully for over 3 weeks to get a Customer Service issue with Marriott Rewards - at least acknowledged (I've sent 3 missing stay requests), yet alone rectified. It appears that level of Customer Service offered by Marriott Rewards has diminished over the last couple of years, absolutely no empathy. When speaking to the lowest level agent you can tell they are just following the script they are given and then they start blaming the system and things are not working and there is a backlog and how awful the job is... Really? As a customer I simply don't care about all of this - so please don't tell me. Keep the dirty laundry inside of Marriott. Your customers don't care about the strife and struggles of Marriott Corporation. All a customer wants is fast and efficient Customer Service.
WOW, as I said the worst Customer Service ever. I have been a loyal Marriott customer GLOBALLY for at least 15 years. I've never had a *manager* hang up on me... Good job Marriott. This is how they treat one of their best, very loyal customers. Good to know. When traveling there are choices when it comes to hotels and I will definitely be re-assessing my choices. Net-net is your status with Marriott does not matter... Sorry, I have one level of Customer Service and that is Nordstrom.

I stay at Marriott a lot and this one is bad news and expensive to book. My room wasn't ready, had to move rooms twice because of noise and very loud people on the floor. The rooms are dingy, not up to Marriott standards and haven't been redone in 11 years. The bathroom drain was stopped up and the shower dripped all night and kept me awake. The manager still hasn't called me back and my next move will be calling my card company for help. The charge for one night of hell was $145.02.

First, I stayed at a Marriott in Winston-Salem, NC and was double charged. I prepaid for the room, and then they charged me for the room at check-in and held the incidentals on my card, double (yes twice). It took me weeks to get this straight. Then a few weeks later, there the charges are AGAIN on my card. Fast forward to a later stay. I paid for items that my kids and I bought as we went. Nothing was charged to the room. Today, 3 weeks after our one night stay, I get a random $40.02 charge on my account. Well, since I am back home in Dallas, it triggered the security feature on my card. Since two charges in two cities were made they shut my card down. I do not have access the ONE card I keep.
This is unacceptable. It's an unfair and deceptive trade practice. It is ILLEGAL. Each time I call, the billing manager says the same thing, "...I have no idea why this keeps happening." Please, don't waste your time there. You will be billed several times, in duplication for one stay/purchase with little to no resolve. Worst case scenario, your card will be shut down because of their ridiculous practices. As of today, I am moving my accounts to the Hyatt. Hopefully we will not continue to experience these issues!

The room had bugs. Along with bugs it was a smell. We found cigarettes and mini wine bottles. I had my 8 year old a sleepover and was not please. Dirty room. Tried to get another room. They said a supervisor will have to approved. Never had an response. Service was awful.

Courtyard Marriott, Page AZ. We checked in and asked the front desk for recommendations for tours to Antelope Canyon and Lake Powell. We came from NYC and booked 2 night in Page only for that purpose. They insisted that they could make the recommendations for us. My wife spent over 2 hours with the front desk people selecting and booking the tours based on cost and time. The hotel took a cash deposit from us and gave us tickets/vouchers for the tours. The next day we went for the tours but it turned out that we were not booked on any. We spent the whole day driving from tour to tour but couldn't get in anywhere. The one your that we were able to do at Lake Powell was at a different time and we had to pay $100 more than what was in our hotel issued voucher. We never got to see Antelope Canyon despite having a hotel issued voucher for the tour.
We went back to the hotel in the afternoon and were very annoyed. Our entire trip had been for nought. We asked to speak to the manager, Jeremy **, but he had left for the day. We were given his cell number which we called. My wife initially spoke to him and he told her in a rude fashion that this was our fault and that she had no business disturbing him. The next day when I went to check out the manager was there. I once again brought it up and he said, "We are a lodging company and so are not good at making reservations for tours" and that "I should deal with this or go back to where I came from" - this was obviously a reference to my ** skin.

I stayed at the Marriott Surf Club Aruba. This hotel is overpriced and overcrowded with no idea of customer service. It was over 1000.00 a night for a filthy "suite". Food and accommodations were disgusting. I have never stayed at a Marriott before and of course didn't expect the normal service we receive at a Four Season or even a Ritz, but this was deplorable. First and last time.

I have received a call from ** several times the past week or so. I finally answered the phone this morning and asked what the call was about. The sales guy on the other line said it was a free Marriott Hotel complimentary stay and then tried to sale me a vacation package... I kindly said that I was at work and only had 2 minutes to talk. As soon as I said this, he put the phone down and I heard him say, "Aw, she's only giving me two minutes!" then he started laughing. I kept saying "hello, hello" and he laughed and hung the phone up in my face. This is so rude and unprofessional. I've never used Marriott in the past and I never will in the future after today.

SpringHill by Marriott in Lou, KY. Open/exposed energized electrical conductors in the middle of the floor surround by young children. Building maintenance had tried to fix problem with duct tape. Fail! Management's half ass apology without action solved nothing! I wonder if they would allow their children around such danger?? NEVER STAY HERE! YOUR CHILDREN'S LIVES MAY DEPEND ON IT!! Just a suggestion from a line electrician that knows what he's talking about. Management's number one responsibility is the safety of their guest. They failed miserably.

On March 7, 2017, approximately 8 pm I, Santonia **, made a reservation for Courtyard Marriott Isla Verde for a King Room, Oceanfront Balcony. During this call, I was told that I could submit a claim to "look no further" to assist with the lower rate is found on Booking.com. After the call, I did just that. The next morning, I received both my confirmation email and look no further email. Both has an incorrect resort booked for me. I know that I repeated Courtyard Marriott Isla Verde on my call and in the claim as well which leads me to believe, at this point the agent has booked me incorrectly. I immediately, canceled that reservation and booked a new one where I was again to submit a claim for a lowered rate.
The dilemma was that on March 7, the room was available on Booking.com. During the second attempt at reserving my stay that room was sold out. Upon noticing this, I called look no further to see what steps I should take seeing as the original mishap was fault of a Marriott agent. Since that very first call, I have received a chain of impolite, nonchalant, uncaring look no further agents. I was told that there is never anyone to escalate my particular issue because everyone I've spoken to is a supervisor. I've been brushed off as if it's my fault, laughed at, and hung up on. Even after, responding to the denied claims with screenshots, I'm still being treated terribly.
What is completely unnerving is that this is the first real trip I've ever had an opportunity to take and this Marriott was the very first place I called to reserve. It's disturbing how unsupportive and inconsiderate most of the agents have been. It's to my understanding that every call is recorded so to have been forced in circles for 24 hours is misunderstood and completely in vain. I find it hard to believe this is a distasteful trend of Marriott hotels and resorts.

I have been a long Hilton Honors Diamond member for years. Decided to make a switch to Marriott... I was put on status challenge and a few weeks before it ended I called to clarify a stipulation on the challenge. The Marriott agent I spoke with advised me on the details. I spent an additional $700 on rooms to meet the challenge. Once the challenge ended I called to verify I would reach platinum status. I was told the Marriott agent had told me wrong and there was nothing they could do... Even though the customer agent lied, I didn't get my platinum status and I am out $700. Joliene (supervisor) chose to do nothing!!! I even asked her to look back at the conversation and listen to the call. I will not recommend Marriott to any of my customers or people I do business with.

I am not sure if this is the correct place to rate Marriott Timeshare ownership or not but I have searched and can't find many places where Timeshare Ownership offers reviews. I do not know if all Timeshare works the same but I would imagine that they do. The resorts are very nice when you are there but it is a full time job trying to work through all the rules and regulations and fees that you incur as an owner. Also as they build out new places, the number of points needed to stay in the newer places are higher than the points you own so you are constantly feeling like you need to spend thousands of dollars more to keep up. Now maintenance fees are another whole issue. They go up every year and with the money spent on maintenance fees every year, you could just book a vacation.
No need to own timeshare. It is the worst investment you can make. If you want to stay in one of the resorts, go on Redweek.com and just pay for a vacation. Forget forking out tens of thousands of dollars upfront only to spend thousands more every year on maintenance fees for the rest of your life! Also Maintenance fees are always due in December which is the worst time of the year for a hefty bill and if you are late, you will be charged a late fee and somehow they are able to add interest to a maintenance fee. Interest on a maintenance fee?? Where is the interest calculation coming from?? It is not a loan, it is a service fee which is never taxed... just with Timeshare I guess???
Nobody ever wants to buy your timeshare so if you want out, good luck! I have no idea how retired people pay their maintenance fees every year when they go up every year so by the time you have owned it for 30 years, the maintenance fees just keep going higher?? Then you get to stick your kids or grandkids with burden of keeping up with the maintenance fee... Advice: Just plan a vacation when you want and where you want instead of dealing with the many rules and deadlines and fees associated with ownership of a Timeshare!

I recently attempted to make a reservation using my Marriott Rewards points at a resort that falls under the Autograph collection. I was told there were no rooms available to use my points. I was told that there are however rooms available at a different location that has customer reviews showing an unsatisfactory experience, including large roaches.
I confirmed with both agents that I would receive a basic room with the use of my points. Based on this information I opted to attempt to use my points at the higher end resort, the Cove at Atlantis. There is nothing noting that reservations should be made prior to 45 days in advance. The website leads you to believe that your points will be valid no matter when you try to use them. I was led to believe that my points would be valid whenever I chose to use them. I was also told that I could use a combination of cash and points. I was also told that this was not an option. I received these points as compensation for a horrible customer service experience, only to try to redeem them and not be able to use them.

I would not recommend this hotel to anyone. I had to move my luggage using their cart and then bring it back to the ground floor. The room was dirty so they are planning to give us a new one. I have been staying in Marriott at various locations for the last 3 years as an Elite member and still the customer service that I got in Miami Downtown Marriott was the worst. It's not Marriott but it is a particular location of the brand and I would not recommend anyone to book this particular hotel.

We went Fairfield Inn & Suites in Hopewell, VA to attend my son's graduation at the Army Logistics University. There were four of us, so I booked a room with two beds. When we got in the room, I realized the beds were full size. I thought a hotel with the Marriott name would at least have queen size beds. The beds were lumpy, and uncomfortable. My daughter noticed right away how small the bathroom was. The next morning when she went in to get in the shower, the water was just trickling out of the shower, while most of it continued to come out of the bathtub faucet. I called the clerk and asked to speak to the manager. She informed me that the manager wasn't in. I told her the problems, and stated I would like to get refunded. She said, "I can tell you you ain't gettin' your money back." She went on to say that I could come down and get a key to another room to shower in.
Since we were in a time crunch with the four of us, I decided to take a bath in the tub, while my daughter, and two grandchildren showered in my son's room. I let the water run in the tub while I was brushing my teeth, and when I went to get in the water was ICE cold. Therefore, I had to take a birdbath, because there wasn't enough time for all of us to go to my son's room, because they had to use their bathroom as well.
After the graduation, the manager tried to argue that giving us a key to another room to shower in was adequate compensation. However, I beg to differ. How inconvenient is that to have to pack up your things, especially when you have small children! She finally agreed to take 20% off my bill. I felt like I should have been completely reimbursed for that room. I am an ex-army wife and have stayed in many hotels, and have never had that happen. They clean those bathrooms (I guess), so they should have known that the shower didn't work!! I am very disgusted that Marriott would attach their names to something as low rent as that hotel! I will be looking elsewhere next time!!

I have had a most unpleasant stay at this Marriott! I am well traveled and never had such a bad experience. First upon arrival I discovered there is a daily charge for parking that used to be free. There is no alternative but to use their parking because the hotel is literally on a highway. Management simply did not care and stated they started charging for parking because there is a new baseball stadium across the street. Basically they are price gauging and using the stadium as an excuse. Then I check my account there were excess charges. I called front desk and they tell me there is a $50.00 hold PER NIGHT. I stayed for 4 nights so a $200.00 hold that I had no prior knowledge of.
Then there is the gift shop $3 for a 16 ounce soda and 8 dollars for a pint of Ben and Jerry's. Needless to say I didn't make the purchase. Just giving an example of how inflated everything is at this location. The irony is the rooms are AVERAGE looking. These hidden fees and charges have totally ruined my stay. I literally feel like this Marriott just devise ways they can take money from people. Everything here is all about the money that they can siphon from you. So instead of me relaxing until check out time I'm up disgruntled and writing this review. Never ever never will I stay here again.

Pleasant, convenient, comfortable, very clean and treated well. Somewhat overpriced. Sitting there were newer hotels in the area and the parking situation is insufficient. The amenities and inclusions were average. The residence Inn in Naples, Florida is conveniently located on the Tamiami Trail, close to major arteries around the area and walking distance to shopping, restaurants, and attractions. The desk clerks were helpful, and housekeeping was on the spot. We will return.

Prepaid reservations 6 weeks before arrival at the Marriott Hotel in La Vista Nebraska USA. They sold the rooms from there. There was rude clerk and he said "you take what I got or leave". Did not try to fix anything or reduce already paid for three rooms two queens in each for family group. Room was passably clean but six people in two queen beds... We could have camped out for the crowded space rent 4 get 2 and then not all together. No breakfast and no extra towels and no trash liner, no refrigerator.

Courtyard Jersey City NJ -- I put my car in valet, it got ransacked. Stolen things from my car. Management couldn't really care too much. They were going to check the cameras. No locks got broken, or windows, so it had to be a inside job. I was there for a funeral. Just what I needed.

Atlanta Airport Marriott. I am a Platinum Elite Member! I have been staying at this hotel for more than 30 years...sadly...that is coming to an END! Always received the best of service at this hotel. I needed assistance with a larger or possibility corner room due to special circumstances. Front desk was "casual" at best upon my check in request. Room 1558 is newly renovated but does not allow room for extra luggage and hang-ups. I called down to front desk requesting assistance and was assured nothing available and would not be available to me. This Platinum card member misses the "old" ATL Airport Marriott and its helpful, friendly service. Thanks for "most" of the memories!!!

I had a nightmarish experience when security and management at Galleria Marriott erroneously assigned me to Swingers of Atlanta block of rooms then had me evicted and arrested by Cobb County police for refusing to participate in Swingers of Atlanta activities.

ConsumerAffairs Research Team
The ConsumerAffairs Research Team believes everyone deserves to make smart decisions. We aim to provide readers with the most up-to-date information available about today's consumer products and services.
The Marriott brand started in 1957 with a single hotel. Now, there are more than 500 Marriott Hotels & Resorts worldwide, and Marriott International includes 19 brands in over 4,400 locations.
Travel Brilliantly: Marriott Hotels & Resorts has a website dedicated to collecting customer suggestions called Travel Brilliantly. Visitors to the website can make suggestions or vote for other people's suggestions. Each year, some of these ideas are selected as winners and implemented in the chain.
Environmental responsibility: Marriott International's website clearly lists goals and deadlines for reducing the company's impact on the environment. These goals include reducing water and energy consumptions by 20 percent by the year 2020 and ensuring their entire supply chain is green. The have dozens of LEED certified properties as well as properties with electric vehicle charging stations.
Member benefits: Members of Marriott's free rewards program not only acquire points to book free stays but also get free Wi-Fi at the hotels, a dedicated customer service line and exclusive special discounts.
Meetings and events: The meeting and event spaces at Marriott Hotels & Resorts have been redesigned to focus on collaboration with open designs and natural lighting. They also have a staff of Meeting Experts who work with event planners to make their job easier and improve attendees' experience.
Guestrooms: Marriott Hotels & Resorts' guestrooms have a modern design with flexible spaces you can use to work or relax. At select locations, travelers who have a subscription to a streaming service, like Netflix or Hulu Plus, can stream content on the in-room television.
Best for Marriott Hotels & Resorts caters to travelers looking for a high level of customer service, a wide range of amenities and those looking to host a meeting or event.
Marriott Hotels Company Profile
Company Name:

Marriott

Website:

http://www.marriott.com/default.mi