Consumer Complaints and Reviews

I checked into to JW Marriott on June 29th at around 1.45 in the afternoon all excited only to be cheated from you guys who charged me $36 per (INVALID) ticket for the Statue of Liberty tours which were valid only till June 23rd. I bought 3 tickets and the person at the desk lied to us saying the tour is $24 (which actually is $18.00) and $10 service charge but I paid $108 so technically I was charged $36. When question he said the rest is for train tickets to and fro. Everything that happened here is fine. But when I noticed the ticket was invalid right as soon as I checked into the room. I went back to him and showed it to him. He was shocked or at least pretended to be. So he took his time and came back to tell me he has no more tickets and would refund.
I asked him for the void transaction receipt, he said it would take time as he had to call the main office blah blah, I said "Okay please leave it at the front desk," and smiled and left. Came back and asked at the front desk about the receipt after explaining everything to him but all he said was he had no idea. So next morning I went to the concierge and spoke to a gentleman named Peter and he guaranteed everything will be fine and told me to wait 5-7 business days and I will get the refund of $108. It's 11 DAYS and no one has either contacted me neither do I see a refund on my account.
THIS IS NOT WHAT I EXPECTED FROM JWM. First cheating customers with the price of a tour? Second giving wrong information to make small bucks out of it. It's been more than a month and more than 30 business days and no one has contacted me yet, sent a refund or has given me any update of what the hell is happening.

After a 15 hour day of travel, I arrive at the Marriott Portland Downtown hotel and am given the smallest room in the hotel. With a four night reservation at an average of $300 per night, the room I was given has a long hallway with a very small room at the end. I asked for a regular size room with a water view (which I paid for), and was told I have to wait until tomorrow. So, I have to stay in the smallest room in the hotel tonight, then pack my bags again in the morning and transfer to another room. I am attending a conference and this is very inconvenient. What is interesting is the man who was also at the front counter when I was checking in wanted to have his multiple room reservations on the same floor. The hotel upgraded him to a suite to make him happy. And the only offer I get is to stay in the smallest room in the hotel, unpack, repack and "we will move you tomorrow". This is an interesting way to treat a woman.
I have over 700,000 Marriott points so I stay with Marriott quite frequently. I cannot believe the price they expect me to pay for a room that is only a bit larger than the king size bed in it. This is deceptive advertising. I have the room description promised in my reservation. However, this is not the room I received. I will not be recommending Marriott Hotels and I will go out of my way not to stay at Marriott in the future. I will take my business elsewhere.

Checked in at Marriot Myrtle Beach Costa Verde Road. It was somewhat late but I had called the reservation number explaining we would be late due to an unexpected death in the family. The service desk person, act as if though it was a bother we even showed up. In fact, I nicely said, "I hope you are having a good day". I will leave the name out but I am well aware of his name. I then asked were they sure we had unlimited internet access. I was assured at reservation and check in that these services are available. The internet did not work. I called daily and would be told they would reset the router. I ended up using Hot Spot from my phone everyday, to teach my online classes.
The staff was well aware of this. Finally, one of the staff members told me "The internet will never work, They are in the process of renovation and I will not be able to get access. This is not a priority in the renovation process". I voiced my concern at check out and all I was told is, "I will let the manager know." Nothing was done. I called the 800 customer service number who in return called the manager on site. She offered 10,000 points and simply stated, "This is all we can do." The attitude of the staff is so unconcerning. What can I do with 10,000 points when it takes 40,000 to stay there? I would rather they keep the points and treat me with dignity and respect. I can pay for my own room.

I booked a room on July 14 for July 15. I drove from New York to Washington DC. When I arrived to the hotel the front desk informed me that they don't take cash when you check in. I informed the front desk that I was leaving. At 4:47 am I received an email from my bank stating I had an overdraft. This hotel charged 162 dollars on my card even though I Didn't stay there. I spoke to so many people and nothing. I sent emails and nothing. I continue to get the run around.

I stayed two days in July 2017 at Fairview Marriott in Falls Church in Virginia. The hotel was very nice, however when I had breakfast buffet for $15.95 per person. I signed a credit card for $33.81 for 2 people. Then I decided to treat the other 2 people with another credit card payment of $33.81. I then gave a $7.00 cash tip left on the table. I checked out of the hotel when I received alerts on my credit card for $41.76 and $75.57. I called the hotel and the representative was very rude, he told me that if I did not calm down he was not going to assist me.
Subsequently, I drove back 30 minutes to the hotel to discuss the charges with the account department. I was told they put a hold on my credit card for $41.76 and $75.57, I have never in the life received a hold for payment at a restaurant. Also they were the wrong amounts. It took 3 days for the correct amount to be credited to my credit card. As a conclusion, if you stay at this hotel the buffet breakfast is not worth the credit card problems or the food.
How do I know I can trust these reviews about Marriott?
848,010 reviews on ConsumerAffairs are verified.
We require contact information to ensure our reviewers are real.
We use intelligent software that helps us maintain the integrity of reviews.
Our moderators read all reviews to verify quality and helpfulness.
For more information about reviews on ConsumerAffairs.com please visit our FAQ.

Fairfield Inn Cruise Port in Fort Lauderdale FL owned by Marriott: We booked 2 reservation for our cruise in July 16, 2017. We had delays coming in due to the weather, which we were in constant contact with hotel due to late arrival. Upon our arrival on July 15th 2:30 AM we were given room 125. To say the least it was disgusting. We found dirty towel hanging over the shower curtain, blood on the floor on the toilet, and a dirty sock from the previous guest. When we spoke to the front desk the answer we got was "what do you want me to do". Spoke to 3 different people and no one cared. Finally one front desk clerk named Jose said he would forward to manager.
On our way to the cruise a lady Alejandra called to see what had happen but we were going through customs and missed her call. When my husband called back the number we were told she was not working that day and they don't know how she called us. They said they would give her the message. She never called back. If it wasn't that we had prepaid our stay coming back from the cruise we would have not stayed there again.
On 7/22 we arrive from our cruise, we were put on a early check in list. We waiting about 2 hours to get our room, I was #1 on the list with an unassigned room. I meet Jose the front desk clerk again and he says he is sorry for the experience in our first check in on 7/15. When we check in to my amazement we find stain of blood on one of the beds. We tell the front desk and nothing was done about it. We left the next day for the day when we came back blood stain was still there. No one even bothered changing the sheets or emptying the garbage under the desk.
We checked out and left the next morning at 7 am and then this same person Alejandra said she went with housekeeping to see the blood and claims the blood was fresh and wet??? How is it blood can be fresh and wet 2 days later. We had to put towels on the sheets to be able to sleep on the bed. This place is disgusting and no one cares about anything but making money!!! I wonder if they would take their family and stay in a place like this.

We recently got married and stayed two nights at your hotel in Liverpool. Unknown to us our stepdaughter rang the hotel to see if anything could be done for us, to our surprise when we arrived we were told that we had been upgraded to an Executive room. On entering we had a chilled bottle of wine and personalised chocolates waiting for us, then came a bottle of champagne wonderful, treated beyond expectation. I do believe the person who looked after us was Allan. We have stayed in your hotel at Manchester that's why we elected yours in Liverpool, all was wonderful, both my wife and I enjoyed our stay but the breakfast was not up to standard. Waiting for bacon to be replaced, the tea and coffee were very weak even though we asked for it to be strengthened. Minor details but need to be highlighted. We stayed on the 9th and 10th of July. Your staff were very attentive at all times.

Well, Marriott is still at it. I am Platinum with nearly ONE MILLION POINTS. Rapid City Res Inn, and asked for a 4 pm check out, NO NO NO. Could buy another night at 200 bucks. Said maids leave at 4 pm and "no one to make up a room". Seriously?? What does the housekeeping manager do? Or Guarantee by Marriott means nothing. I am at the exit door with them.

We booked three rooms directly off the Marriott Website and they stated that my card was declined and they recharged it at the best next rate which was 30 dollars higher than the original booked price. Marriott claimed they did nothing wrong, and that they did us a favor. How can our card be declined when it had over 4000 in credits! Sounds like a scheme they have to overcharge customers and reap millions in profit. How can they recharge my card at a higher rate without my consent??? Their customer service was rude, obnoxious and really showed no compassion towards the issue. Last time we are using them.

We checked in Friday the 14th of July for an 8 day stay. It began with no help with baggage. By Sunday they took our entire stays charges out of the account card. By that same afternoon they took another 814 out. Mind you, we did not put any charges on our room. The laundry facility has been out of order since we arrived. They offer breakfast with the room, the toasters do not work. The eggs have been cold twice. The room does not get cleaned unless you call. It is now 3:00 in the afternoon when we would like to relax undisturbed, they have not cleaned yet. The room refrigerator should have been replaced five years ago. It does not get cold at all. We had to demand they bring another. The carpets are dirty. The windows are dirty all over the hotel. Worst hotel experience I have ever had. Go somewhere else unless you enjoy torture.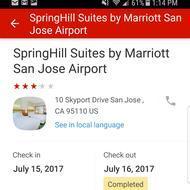 ************************ published: https://www.yelp.com/biz/springhill-suites-san-jose-airport-san-jose *******
********I requested to have a room on a lower level by the elevator. And instead we were put on the second level down at the end of the hallway. We had someone with us who is disabled so that was a long walk for them. The pool was beyond packed because 2 hotels shared one pool. We couldn't even go in. The light behind the bed didn't work. The pullout bed was not made. We had to make the bed in both rooms and when we got to the hotel at 1 am with our kids who were already asleep we found that there was no sheets in our room for the pull out beds! I called down to the front desk and they said they would send the maintenance guy up with sheets. Well 30 minutes went by and still no sheets. I called again and he said he would bring them up. And he did 15 mins later...
They knew we were using the beds because we said we have children staying with us on them. They first said they only had one room available when I booked 2 rooms. Also 2 of the lights were out in the room. The ac was not working. We turned it down and the temp was going up... We called down to the front desk and they said they would send someone up and no one ever showed up. They ran out of coffee for breakfast we asked if they can make more. They said they would and then never refilled it. When we left there was coffee spilled on the floor in front of the elevators. We told the lady at front desk. And when I came back Down 30 minutes later with luggage the coffee was still all over the floor. Very disappointed with this hotel stay. We will not be staying at this Marriott hotel again in the future. I would like to hear back from someone regarding my stay.

I called to ask a question related to my Marriott reward account. It is likely that she sensed that I was not going to make a reservation that she act pushy and asked "is there anything else I can do for you?", while I still had doubt about the answer I got. Maybe they got good commissions when making reservations. I didn't like the way the conversation went and asked her name. She gave an unusual name. So I asked her to repeat and then spell it out. Suddenly she just played dumb and her end of phone was dead silent. I asked a couple more times and waited, then she hung up after 10 more seconds. Maybe there is miscommunications during the early conversation, but I was loud and clear in asking her name. Can she ignore a customer's request for name? I am shocked that this is the level of Marriott's customer service. Totally unacceptable! It is a shame because I used to enjoy my stays with Marriott hotels.

We are GOLD ELITE members for ten plus years. We never stay at properties other than Marriott. This property is a huge disappointment. The AC is in the wall and very loud. We cannot sleep. Maintenance not available. It is rattling and constantly drowning out our conversations. The WiFi connection is weak. The furniture is shabby and outdated. There is a hole in the wall in the bathroom, paint chipping, and the tub is at best moderately clean due to aging. There is an old mattress outside in the pool area. HORRIBLE EXPERIENCE. We are registered here for 3 nights but checking out tomorrow morning for a HILTON because this is OUTRAGEOUSLY BELOW our expectations and CERTAINLY not up to the standards of what we expect when we stay at Marriott.

I have stayed at various Mariott Inns. However this is the first time we stayed outside of the US. The one I am referring to is in Brampton Ontario. First the room was small for 4 unlike what we were told when making a reservation. When we arrived at 5 pm there wasn't anyone to help with all of our luggage. The entrance was clean and busy.
As soon as we entered our room we called to see if there were any other rooms but they were sold out. We slept on a sofa bed with ripped sheets and dirty ripped blanket with holes. I took the sheets off the next day to find the same dirty blanket back on the sofa bed. They stopped by with towels at about 5 pm hours after supposedly cleaning the room which was not vacuumed, the floors in the bathroom were dirty and not swept. I used Lysol wipes to clean the toilet for the week.

Price online with senior discount was $88/night. When I tried to book online the rate was no longer available. My wife got online and was given the same rate of $88/night. Same thing happened when she tried to make the booking. Call the hotel and was told the room was available but the rate was now $123/night!!! How can Marriott justify an almost 50% increase unless the online price is just a con? I have stayed at Marriott Hotels all over the world for more than 40 years and held Marriott Rewards membership a long time. I have now cut up my rewards card and will never stay in any of their hotels again.

My husband and I have been traveling for some time with his work. We have stayed at Residence Inns, and I have to say with all the states we have been in, we are now in Tysons Corner Vienna Va. There is an employee in which I have to say has been most kind, polite, helpful person I have ever dealt with. Her name is Nyah **. My children and grandkids came for a visit, and if she had not suggested, the upgrade that was available to us we would have had to purchase another room. The employees here are all so kind to all their guests. This facility is so well run I can not say an unkind word. I would like to thank the Marriott for hiring on such a well run crew. Highly recommended this property to anyone traveling. Thank you for my home away from home accommodations.

My friend approached Marriott in Novosibirsk and Moscow in Russia as she was looking for better deals directly for a massive video promotion of Russia. Marriott quoted her their special prices of nearly 4 times more than on the internet. Whoever owns Marriott should really fire these incompetent people. Better hire locals who can do a much better job than these stupid idiots. Never will she even look at Marriott again, booked a nice 4 star Russian hotels with nice polite staff. Hope Mr. Putin gets rid of foreign owned companies. Better off with them. There should be a star for p... off here.

I was looking on the internet for a hotel room to reserve in Portland Oregon during our September 2017 vacation and had selected the Fairfield Inn & Suites by the Portland Airport (a Marriott hotel) based on their rates for seniors. I decided to directly call the hotel first because the room I had chosen included a statement saying "This room type does not offer hearing accessible rooms."
Since I am hard of hearing and over the years stayed at many hotels - including Marriott hotels that all had closed caption for the hearing impaired I wanted to clarify what they were talking about and what rooms were available with closed caption. The female person who answered the phone curtly informed me that NONE of their rooms had closed caption. This really surprised me. Thank goodness I found this out before making my reservation and was very disappointed and sad to learn not all Marriott hotels offer closed caption for their customers.

I have recently returned from the US, the last of my stay was at the Fairfield Hotel Marriott Bremerton WA from 2 June to 11 June 2017. On check-in I gave my Visa credit card (which is the norm) & advised that I would not however be paying for the final bill with this card. Also as this was a twin share my friend & myself would be splitting the bill. I was advised that this would not be a problem.
On the morning of our departure I found the bill hanging on the outside of the door & it had been charged in full to the Visa credit card. This is an Australian card. I had also transferred the night before $US onto my cash card so that there would be sufficient funds to pay. I feel that it would be at least common courtesy to ASK how we would like to pay. The receptionist was able to reverse this charge & we settled the bill as we had intended. On my return to Australia I found that there was the debit & credit, however with the 2 transactions and the different 2 currency rates I am now out of pocket nearly A$100. This also caused other problems as this account is used to pay other bills & there were insufficient funds for those bills.
There were also other issues. We requested an electric kettle as we only drink tea not coffee and were told that there weren't any. As we were there for 9 nights it would have been nice to have regular plates & glasses. All we had for the length of our stay were paper plates & cups. In the end we purchased some cups & glasses. It may seem trivial but drinking out of paper for 9 nights is not something I am happy to do. Your prompt response to this matter would be appreciated.

On June 5th I made a reservation through Expedia, that was confirmed for late check in. We made this trip to see and pay our respects at the National Law Enforcement Memorial in DC where 38 names are inscribed - all giving the ultimate sacrifice in our city. On June 11th I was sent another confirmation. When we arrived at DC by M Landover MD - 8330 Corporate Dr. 20785 at 9:00 p.m. I was told by desk clerk ** that our reservation had been cancelled. When I inquired as to how this happened the desk clerk told me I must have cancelled it - He knew that was not true. Then he said, Expedia must have cancelled it - also knowing that was a lie. After talking to the manager on the 22nd of June, she told me that they all knew that the hotel had been overbooked. Why would the desk clerk lie?!
The truth is that the hotel overbooked and they simply would have LEFT US STRANDED. My wife and I and our 13 yr. old daughter had nowhere to go, the other hotels in the area were all booked. He offered NO help, No information, NO referral, not even a number to call. He told me he couldn't help me. He expected me to just leave. What kind of person leaves a family stranded in the middle of the night with no help? Did Marriott expect us to just sleep in our car 3000 miles from home? I called the manager **, and she never once apologized, nor cared one bit that a family was left stranded, only made excuses. What kind of company would treat a family like that - the answer - COURTYARD BY MARRIOTT!
As of this date, no one has returned my calls. I do NOT want any monetary consideration or anything other than the apology we deserve. What was done to us is wrong and not one person at Marriott is honorable enough to say so. I WILL however do everything to make sure no one from the City of Phoenix, the 3000 employees of the Phoenix Police Department or their families ever experience what Marriott did to us. It's just business to you, it was a trip of a lifetime for us. SHAME ON YOU ALL!!

To the people who have stayed at the Marriott brand of hotels here is the major reason why you are having problems with the Personnel who work there - even the interview process is ridiculous. I am on their website for their jobs and careers and you will be contacted for an interview eventually. During the interview process, it seems they never ask about your qualifications or experience. They truly are not interested. It seems they want to know about any drama that may have occurred during times you've been employed. Why? I don't know.
But - you really have to think back to what may have occurred as a result of other people's infractions on a job (which of course is not what you would be concentrating on as an employee) of any company. At times while you're answering the interviewer will cut you off in mid-sentence. The people interviewing you seem to be in another place thinking about other things. If the individual who is interviewing you is not truly not interested in your experience and qualifications because this info rarely comes up during the interview process This may be also a reason why employees at the company are disinterested as well in solving problems.
I have been a "problem solver" in many of my previous Employments. This company has too many problems that I've read about on this website for any one individual to solve. Finally, if their "cause celebre" is Hospitality it is the number one thing they truly lack. I don't believe they care about the individual at all, in any way. The person who comes to the Marriott is nothing but a cash cow for a corporate entity that could care less about you!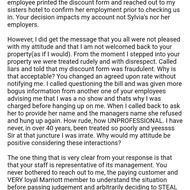 This review is regarding my stay Feb 8th for one evening. We arrived at the hotel at approximately 3A after traveling for 8 hours via car from GA. When we walked into the hotel the lady behind the counter was too busy with some papers to even acknowledge our presence. Once she did, she looked up and said 'yes'. We were checking in under the friend/family discount and she was kind enough to allow me to email her the discount form so that it could be printed. After which she told me that my form was fraudulent and I would need to agree to pay the current room rate. I explained to her that my sister is a current employee and I used the same form earlier that week w/out issue to which she pointed to a wall of fraudulent forms and told me to look over there, "Do you see all those fraudulent forms?"
"Lady I'm not sure why you are sitting here calling me a thief and lack the ability to come up with solutions to resolve this situation OTHER than to conclude that I am the fraud." We ended up calling my family member at 3 AM and she suggested to the lady to call the property she works for to confirm her employment and the validity of the form. Boom! Verified! We were checked in and I asked for my folio to confirm the rate was correct and it was. 4 days later a charge well above and beyond the rate was debited from my account... upon calling the hotel to understand the charge a whole other onslaught of incorrect information, unprofessional and disrespectful behavior. Ultimately the manager, and I use that term loosely, decided that he would charge me a higher rate because he concluded from his employees that I have a bad attitude.
I logged a complaint with Marriott (still not resolved) and provided my bank with my receipt clearly identifying the friends/family rate and reported their behavior as the FRAUD that it was. In fairness to the establishment I'd like to note that the hotel, itself, was fine and in close proximity to the highway and airport. If that's the only thing that's important to you, go for it. Just keep your receipt, check your account later and don't expect much in the way of service.
The manager emailed me in regard to my Marriott complaint and I have provided a screenshot below. Since that time he has reached out to my family members management team and LIED to them by telling them that she misrepresented herself as a member of the Marriott Customer Care team when he spoke to her after the complaint was filed. He clearly forgot that his email states, "I spoke to your sister..." His behavior is disgusting and unacceptable.

They gave our number to telemarketers and now we are being HARASSED with multiple calls every single day on both of our phones. When we answer they reply, "You recently stayed at a Marriott and so you qualify for..." IT's SO NOT WORTH IT.

Marriott. Melville, New York (Long Island). This is the worst run hotel I have ever seen in my life. Management is ineffective. Staff is incompetent. I was there as part of a large group for an extended business stay. The night manager (a Michael **, from India) involuntarily changed our room assignments when wedding guests came in from his home country. The hotel ended up overbooked and he kicked us around not once, not twice, not three times, but four times total! It got to the point where I didn't even bother to unpack as I knew we would be moved.
Why he targeted our particular group I never knew. There were many other groups from which to choose. But he zeroed in on ours to target his inconvenience. In addition, there were days when the maids didn't clean our rooms. No fresh towels, shampoo, etc. Is this how the Marriott treats their guests? If that isn't enough he complained to our own supervisor when we complained about his management skills. That may be how they do things in India. But someone needs to tell this clown that he's in New York. I will never stay in another Marriott as long as I live. They should be run out of town on a rail.

I have been a Marriott Member for over 25 years. I have not been traveling like I did in former years so when I find myself traveling again, I have encountered surly reservations people, lackluster customer service people who couldn't get what I told them and a supervisor Petrolyn (spelling) who was just as cold and surly as the hotel reservations person. I was told that I would be able to have a room for $159. Conference rate. I need a room with 2 beds in each room for the propriety of the guests. I could only have the rate if it had a king bed. And the room was $179.
I've NEVER had a problem in the past with Marriott. In fact, I have been met every time with such care and respect that I never wanted to change loyalty to another chain. Are you nuts to lose my loyalty to Marriott over $20? I am so mad about what I feel is bait and switch. What hurts even worse is the cold and indifferent treatment I received from you all. I want my old Marriott customer care back!!! What happened to taking care of your loyal Marriott rewards customers?

St. Louis Missouri Downtown Marriott has the rudest customer service, the nastiest, smelliest room, lack of parking, etc. of any hotel I have ever stayed in. I was told that there was parking right at the hotel - Turns out they had rented the parking garage for the Cardinals game, had to park in the overflow lot 3 blocks away, drag your own luggage. I have a heart condition, this was hell. The room was small, cramped, looked like a room in someone's basement, and smelled like mold. Customer service did comp our parking - Which should be free with a $200 room, you had to pay for wi-fi. Just not a good place to stay. Very pricey for what you got. You can get a better value at Motel 6.

I must start by saying that I am a South African citizen who was here to attend a conference at the Ernest N Morial centre. I checked into the hotel on Saturday 06 May 2017. I clearly indicated that my department will cover my room (including breakfast) and taxes. In fact this information was already on record including an American Express card number to which these expenses would be charged.
As per usual business practice, I was asked for my credit card for a hold to be put on it for other incidental costs. I was told later that this was about $50 per day for each day of stay. The lady at reception then put a hold on my personal credit card for an amount of $1920. I got the text message from my bank immediately. Upon seeing this and realizing that a mistake was made, brought it to the attention of the lady at reception and the night manager on Saturday. They apologized profusely and indicated that they would sort this out.
It is now Friday, almost a week to the day I checked in and the hold on my personal credit card has still not been sorted out. Usually I would not worry about this as no money was or will be taken from my credit card, but I have $37 in my pocket and under $100 available on my credit because of this hold. And I am now heading back home to South Africa. All the apologies in the world are not going to help me if I don't have enough money to get back home. I am leaving tonight and I hope that I do not require more than what I have for food and other items I might need over the next two days. All of this was caused by a person at reception not focusing on what she was doing. This is the frustration that I have.
And I want to advise the Marriott group to train their staff on improving their listening skills. If you have people from out of town, make sure you understand each other because as I have now experienced, it is all well and good to swipe a credit card, but undoing the mess that was created takes a long time. While I am frustrated with my check-in experience, I want to commend your Chef (Terence **) who lives and breathes southern hospitality and is truly an asset to this hotel.

Outrageous & Upsetting! Marriott Hotels had an absolute error in judgment when it came to customer health & safety, and customer satisfaction, as follows: As I travel very regularly for work, I have encountered many inconveniences, yet none like what occurred during the week of April 24, 2017 at TownePlace Suites Manchester-Boston Regional Airport. After having had a long travel day, I checked into this hotel. I went to my room and unpacked my clothes & toiletries. I set my personal toiletries on the counter in the bathroom. A little later, I needed to go to the restroom. As I began this process, I looked to my left. To my left was the bathtub with a bath mat laying over it & on top of the bath mat was a SOILED feminine sanitary pad! It might as well have been a cobra with Ebola, as far as I was concerned. I took a picture for evidence, but will not share it here due to its graphic nature.
I immediately called the front desk, but it was late & housekeeping was gone for the day so the hotel's "Houseman" came by to remove the disgusting item, along with all of the towels in the room. I was offered to move to another FILTHY room; however, I declined as I wanted to clean and properly disinfect all of my toiletry items before I repacked my bags & got the Hell out of that hotel. Plus, there was no reason for me to believe other rooms in the hotel were not disgusting, as well. I was booked for a four night stay, but of course I checked out the next day... having barely slept because I was so anxious about the situation.
The hotel's Operations Manager expressed their embarrassment and apologies by adding 5,000 points to my account. The "Bonus" receipt is documented in the picture & notes the points were given due to "undergarment pad in bathroom." After my complaining all the way up to "Mr. Marriott's" office, it was decided that 15,000 bonus points added to my account was "more than generous" for my experience at the hotel. I have added a pic of the email sent from "Mr. Marriott's" office. Keep in mind, 15,000 points is not enough for a night's stay at any Marriott property - in any major city. In addition, who says I want to give Marriott my business again. 15,000 points means absolutely nothing. In essence, the 15,000 bonus points does not satisfy or cover the gravity of the situation!
Needless to say, I have been very upset & unsatisfied with their resolution to this matter. Marriott has treated this situation as an inconvenience for me & not the health & safety risk it was. According to the CDC, dried blood & dried vaginal fluids containing viruses can live on surfaces for days. I requested to be put in contact with their Risk Management Department... I have heard nothing. Even though the email from the corporate office notes the Risk Management Dept will be in contact with me.
While all of Marriott customer service representatives were empathetic, understanding, and as outraged as I, when I finally got to "Mr. Marriott's" office, the Corporate Liaison, Kimberly **, was very condescending, expressed no empathy, and exhibited little interest in delivering customer satisfaction. While it is the hotel's choice on how to resolve the matter, Marriott's corporate office has much leverage in that decision making process. The corporate office could have & should have done more.
My experience was unsettling & egregious. There are No Words that can truly capture this incident. I was completely outraged by it. By not holding the hotel accountable, Marriott's corporate office condones and promotes their chains to continue to miss the mark & not meet the minimum industry standards, especially regarding infection control. After a week, I have calmed some but wanted all to be aware of Marriott's support of their properties' substandard practices & their disinterest in providing customer satisfaction. I will think on it more before deciding whether to let it go, or take additional action.

I have been barraged by telemarketing calls from Marriott for months. The numbers are always 415.637 (which is the same as my mobile number prefixes) and then every number combination. I daily block these calls only for another number combination to call. Today I received four (4) calls. Any suggestions other than the No Calls site? I will try to get through to Marriott corporate and file a complaint but that will probably go nowhere.

On a recent stay at the Marriott Marquis I left a very special ring. 30-year anniversary ring on the counter and a glass of water to clean it. I forgot the ring. When I called the hotel later that night they said they were sorry there was nothing they could do. The ring had a value of $5000 but more than that it had a very special sentimental value. I could not believe the hotel did not do anything. They said they question housekeeping and that they never saw it. I can't believe a hotel chain the size would do nothing. My husband and I have stayed at Marriott's for over 32 years and we are very disappointed that nothing was done.
Marriott Hotels Company Profile
Company Name:

Marriott

Website:

http://www.marriott.com/default.mi