Consumer Complaints and Reviews

My daughter stayed at this hotel on military orders. Because this deployment was sudden, the military credit card was being mailed directly to the hotel. The Army set up the room as well as the soldiers in her until showed their orders. The front desk told the soldiers in her until that they would need a card that would NOT be charged! They play games with words. Holiday Inn put a hold on my daughter's account of almost $2200!!! This meant any pending charges she had would be assessed an overdraft, plus these soldiers had NO money for FOOD until the military cards came in.
We left several messages for the General Manager, but the last RUDE woman told me that the GM is busy managing three hotels and will get back with us if he deems necessary. 5 Days my daughter would have gone with no money for food had we not covered her hotel charges. We have taken the issue up with my daughter's unit. It is UNACCEPTABLE Holiday Inn bills soldiers UPFRONT on rooms the hotel has set up with the Army! We are filing complaints with the Army to have this establishment banned. If you support our troops, please do NOT support Holiday Inn anywhere. I have also sent out notices to my military families to also stay away so their soldiers don't get screwed over by this anti-military establishment.

I have two single day pre-paid reservations that I will not be able to utilize because I have become ill. The hotel management staff refuses to talk to me or return my calls to try and resolve the issue.

2 days after I checked out of the Holiday Inn Express in Tipp City Ohio I found an additional charge to my card with no explanation of $100. When I called the hotel they told me it was a charge for cleaning "HAZARDOUS WASTE". And they had to have the room fumigated because I had left a used diaper in a plastic bag in another trash can. I have tried to contact the number the manager gave me to dispute the charge but the manager has not returned the call as of yet. This a totally bogus charge and should be removed. Be careful if you stay at this hotel.

My family and I stayed at the Holiday Inn Express Hotel & Suites Mall of Georgia, 2499 Satellite Blvd., Buford Georgia for 2 nights. When we checked in, we realized there was an error regarding the check out date. The person checking us in assured us that it was corrected and we would only get charged for 2 nights for a total of $391.94. About 2 hours later my husband noticed that we had been charged for 5 nights ($972.85). We went back to the front desk and were assured the charges would be reversed.
The next day we noticed another charge of $480.85. Again we were assured this was an error and it would be reversed. On Sunday morning when we checked out the hotel clerk charged our account another $391.94, which is the amount we should have been charged. At that time we questioned the other two charges and were again reassured the first two charges would be reversed. After getting home, my husband noticed all three charges plus an additional charge of $200 had been charged to our account. We immediately called the hotel and they said it was because we were smoking in the room. NO ONE IN MY FAMILY SMOKES. The hotel clerk claims the housekeeper smelled "heavy smoke" outside of our room. Really!!! This was never questioned with us during our stay and housekeeping cleaned up our room after the first night.
Holiday Inn Express has robbed us of $1,653.03. This is not a small amount of money! We are truly, truly angered by this whole thing and I will not stop complaining until we get our money back! I have already contacted ABC news and the attorney general's office of Georgia. I do not care about a business that deceives and get over on the consumer. I will NEVER ever stay in another Holiday Inn hotel chain and I will ensure you are exposed for this wrongdoing, which we feel was intentional, a way to steal money from us.

I've never been so humiliated, embarrassed, and disappointed. I had a difficult time contacting this location to check on availability for a meeting room. I called several times and got no answer so I drove to the location. Upon my arrival I met and spoke to the front desk associate Quanisha **. I expressed my concerns and then ask if they had a room for my mom's engagement party. She gladly told me yes, and then said it was available to book. I booked the room, with deposit. On the date of the engagement party, when decorating Ms. ** made sure I was taken care of. Later on she then begin to send Sybil, another front desk associate (new hire) to assist with my needs. I, then, begin to be treated as if I was an inmate being watched. I expressed to Ms. ** before the night ended I'll gladly leave and I want my funds back. She proceeded to contact someone higher up and said that I could continue with my party. From that point the night got worse.
I was told during the party that I was not allowed to have music and entertainment. I begin to ask Ms. ** why none of the details was provided. There was numerous disturbances from Sybil. The night went horrible, Ms. ** by far is a manipulative, unprofessional, deceitful associate. She called the police as if we were noncompliance and acting rudely. She was yelling at me and lied in front of officials saying I never told her my details for the engagement party and refused to give me my funds. I volunteered to leave the property because I had enough. I'm a member and can say that this is by far unacceptable behavior displayed by the associate and a very poor representation of IHG.
How do I know I can trust these reviews about Holiday Inn?
791,307 reviews on ConsumerAffairs are verified.
We require contact information to ensure our reviewers are real.
We use intelligent software that helps us maintain the integrity of reviews.
Our moderators read all reviews to verify quality and helpfulness.
For more information about reviews on ConsumerAffairs.com please visit our FAQ.

We arrived at holiday inn Express in Pembroke north Carolina. We arrived there at 2:36 am. When we arrived in room all look good. We woke up 4:30 am. The heater was loud and had strange smell from it, we turn heater off. Woke back up at 7:30 am, ate breakfast at their complimentary breakfast bar (this is the best part of holiday inn express). After we took shower notice there was mold on bathroom ceiling and wall behind toilet not to mention the heater not working. As we were leaving hotel we went to the desk to let them know. They put false accusations to us telling us we smoke in room and damaged the heater. They were very rude. Told us to leave. We paid for 24hrs stay we only stayed 5hr here. I am a rewards member. I WILL NEVER STAY AT HOLIDAY INN AGAIN. THEY DO NOT SUPPORT THEIR CUSTOMERS.

I reserved online two nights at the holiday inn express in Grand Canyon, Arizona. Long story short they charged one of my cards for $112.49 and they have flat out refuse to give me my money back even though they have been paid in full for my stay which was $195.64 and I have proof of such. They went so far as to even lie to my bank while I had my bank on a three way call claiming they released the funds and the bank told them no they had not. They are liars, they are thieves and I have also filed a complaint with the state attorney general of Arizona.

Lies, Telephone Fraud, Mail Fraud, Deceive. We called the hotel. The reservation person quoted us a rate for two-night stay including all taxes. We made a reservation and they gave us a confirmation number. While we were on the phone we received the reservation confirmation number via email, which I didn't open the email. During the checkout I noticed the rate difference by over $100 for two nights stay.
When I complain the discrepancy to the hotel desk and the manager, they asked us to check our confirmation email. After opening that email for 1st time I noticed that the quoted over the rate is different by email I received by email. This is LIES, FRAUD (TELEPHONE & MAIL). This is the 3rd time that happened to me by Holiday inn in one year. Last time I completed the review via email. In one of questions they asked if I like to speak with someone. I marked 'yes'. As of yet NO ONE has contacted me. This is a deceive. HOLIDAY INN SHAME ON YOU.

I booked and paid for a room at the Holiday Inn Express in Charleston SC. The hotel was nice, but when I returned home I discovered they had put an additional $15 on my card when I checked in. When I called about it they said it was in case I ordered incidentals like long distance, and they said all hotels did this. I have never had this happen at any of the other hotels I have stayed at when I paid with a credit card. Management said I should get credited back the $15 in a few days - but why are they doing this without telling the customers. Maybe they are making pretty good interest off all the thousands of $15 they are holding every day, or maybe they are hoping no one will notice the extra charge and ask for it back.

I recently stayed at the Holiday Inn In Somerset NJ and the billing was a disaster almost to the point of fraud. My mistake was going to holidayinn.com to make my reservation. Holidayinn.com, is operated by a third party billing services (getroom.com) and has nothing to do with Holiday Inn. To make matters worse Holiday Inn wants nothing to do with whatever happens on that website. When I checked in the front desk I was told that I might have already been billed by a third party and that they would check. This was the first time that I realized there was a third party involved. When I checked out the next day I was told that they called getroom.com and I wasn't billed so they billed me. Sure enough I was billed twice with getroom.com at a substantial higher rate. It looks like the people at the front desk at the Holiday Inn in Somerset NJ either lied to me about contacting getroom, or they're incompetent or getroom.com committed fraud.
Holiday Inn did refund me the lower rate that they billed me, but refuses to have anything to do with getroom.com. In addition the higher rate that was never disclosed to me until I saw my credit card bill. When I complained to Holiday Inn about Holiday Inn not being responsible for a holidayinn.com website I was told there is nothing that they can do and that people complain all the time about this. So Holiday Inn knows there's an issue with the holidayinn.com website but could care less. I would strongly recommend you avoid Holiday Inn's reservation system, and especially avoid the Somerset NJ location as the front desk is incompetent and can't even check you in without incident.

Front desk was very rude. Put me on hold for 20 mins. Called IHG. I have been transferred 3 times. Each time I have been told I spoke to the supervisor, no one take the response. Such poor customer service. I simply wanted my money back. There is no service or accommodation. I got full charge because of "no show". There is no call or message to notice me. It's such a scam. My travel plan changed. I'm on the road. I couldn't reach the Holiday Inn Express for cancellation. It's poor management and no one will take the issue and solve it.

We stayed at this Holiday Inn Express in Eastland, Texas, room 413 on December 13th, 2016 and the following morning my kids had bed bug bites all over them. The pattern of three bites in which we knew right away it was bed bugs. We went down to the front desk and asked to speak to a manager. An hour went by and no manager ever came down when we were told that she is too busy inspecting rooms. The front desk lady then told us that there is nothing they can do for us as we booked thru Expedia. Never an apology nor never told that they will resolve the issue. We were then told the manager would call us which still has not happened. We contacted corporate via email as well as called them and have yet to receive any follow-up.
This place needs to be shut down. The lack of management not caring to come speak to a customer with the concern of BED BUGS at a motel tells me they have a problem and we were not the first to report this. Not to my surprise, YELP had a review advising this location has bed bugs (they now have two reviews). One word for this entire organization, FARCICAL.

On 11-22-2016 I decided to rent a room from a Holiday Inn Express. Now since I own my own business, and usually get a discounted rate from other motel firms by showing them my business cards, I asked if I could also get a discounted rate from their establishment. Now I am not some big corporate business. At one time I asked how do I get a rate from Holiday Inn Express. They said you have to call our corporate office and talk with one of our corporate staff and they will tell you how to go about doing so. I called and got a message and left my business name and left my number, with no return call back.
Now again, trying to do business with them, asked for a business rate with them telling me "we do not recognize that company and cannot give you a discount." So as a small business owner, I RECOMMEND TO ALL "SMALL BUSINESS OWNERS" TO STAY AWAY FROM HOLIDAY INN EXPRESS AND ALL THEIR AFFILIATES. You will get no-where with them and to take your money where it is more appreciated. And to leave them with just their more important people. I was belittled and should have walked out. Had I not been so tired, I would have. Won't happen again!!!

As of Nov 19, 2016, we received a complete refund for the unauthorized withdrawal of $249.00 from our debit card. For this we are thrilled! We turned to the Better Business Bureau, and also the TripAdvisor website through their public review process. TripAdvisor struck down my review yesterday after the refund deposited to our account.
Before working with the BBB, we were told by IHG/Holiday Inn Rewards that we could not get a refund once we gave them our credit card number, and it was very difficult to reach them on the phone. The Manager at the Fort Dodge Holiday Inn Express became hostile in our request to speak to her Supervisor. She never informed us who it was. She also denied that IHG was their hotel's managing agency (which they are), or that the promotion in question was offered through Holiday Inn (which it was). She was altogether unhelpful and unsympathetic. When I noted that this could affect the business relationship between our company and theirs (which is true), she accused me of threatening her. We were maintaining a calm and reasonable tone, so this reaction was unwarranted and adversarial. We simply wanted our funds back, and none of this would have occurred if their front desk had not transferred me to their IHG Marketing Agency after making our reservation. It also caused our family a great deal of turmoil and financial distress. No one needs that while they are in the process of relocating to a new city. She repeatedly denied her hotel's role in the scheme and even suggested the promotion was through some completely different online travel agency. In short, Holiday Inn Express Fort Dodge was a complete dead end. They washed their hands of any and all responsibility in the matter.
IHG did not return our calls. The only times we were contacted by this company was through BBB and TripAdvisor, so my advice is to carefully document your experience, be professional, and appeal to BBB, ConsumerAffairs, and other online review sites that people consult in order to avoid getting scammed or treated badly (It's also a good idea to pray).
Because we ultimately were able to resolve this to our within 10 business days, I am giving IHG/Holiday Inn Fort Dodge an extra star. The hotel stay itself was very good otherwise. I still do not approve of their aggressive promotional schemes, how difficult it is to reach someone who cares about their customers, or the rude way we were treated on the phone in our efforts to restore the unauthorized withdrawal of funds on our own.
It is a very dangerous and unscrupulous position to take that if a credit card number is given over the phone, it implies consent whether or not actual consent was ever given. This is unscrupulous. These are inexcusable and unethical practices for a reputable business like Holiday Inn. Are they desperate?
For these reasons I am considering whether or not I should revoke my membership in IHG's Rewards Program through Holiday Inn, or ever book with Holiday Inn Express again. This experience leaves a very bitter taste behind. I hope they will revise their business practices, stop scheming, and taking advantage of their own customer base going forward.
Original Review
After I booked a stay at Holiday Inn Express in Fort Dodge I did not realize they were collaborating with Intercontinental Hotels Group (IHG) to scam customers out of large sums of money through their promotions packages. I had a nice booking agent and she offered to transfer me to hear about one of their vacation packages. I usually always refuse these, but that night I felt conciliatory and agreed to hear the deal. I did not realize I was no longer dealing with Holiday Inn (perhaps I never was), but I thought I was. The agent explained that the offer was to evaluate one of their new properties and asked me which one sounded good.
I chose Myrtle Beach just to move on to hear the rest of the offer. She explained that after the stay I would submit a rebate form to be reimbursed for the entire cost of the hotel stay which would cost $249 and that I would just have to pay $49 now to secure my deal and I had one year to book with the hotel. She explained the particulars. I felt like $49 was a fair deal and thought that the rest would be paid upon checking in so I gave my credit card number after asking that if I change my mind after discussing it with my spouse, could I get my money refunded- the $49. She said yes. I asked this twice to be sure and she insisted that I could get a refund on the credit card charge.
Once she had my card number, she read back the terms and the credit card charge jumped up to $249. I told her I must have misunderstood her and that I could not afford $249. I told her NOT TO CHARGE MY CARD and that I did NOT want to participate in this offer. She said "Okay" and we hung up. Now my husband informs me today that $249 was withdrawn by IHG anyway!!! I was absolutely appalled and stunned! Moreover, they refuse to refund the money saying that I agreed to the deal by giving my card number! This is absolutely false! This is false advertising and theft! We should always be able to change our minds before agreeing to the deal if there is a misunderstanding regarding the terms!!!
I have filed my detailed account here on this website against IHG, but my complaint against Holiday Inn Express is that they are a reputable hotel line that we had trusted, but they are taking advantage of us by exploiting our trust and feeding us to wolves who are fleecing us and exposing us to financial danger and deceit. They are aiding and abetting this scam agency who is stealing their customers' money! We booked our hotel stay for business purposes and our employer corporation is going to hear about our experience. Our employer is a multinational manufacturing company that has made a deal with Holiday Inn Express Fort Dodge to send their employees to that hotel. We will be very vocal about this scandalous experience and recommend that they break ties with Holiday Inn Express completely if IHG does not act honorably in this matter and refund our full amount charged without our consent.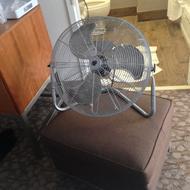 Both the front desk attendant and manager were beyond unhelpful. Refused to give me a RECEIPT. The AC was broken. I couldn't be moved to another room because the hotel was full, so they brought up an industrial fan from the laundry room, which blew lint everywhere and sounded like a jet engine on the lowest setting. I was told I would receive a discount for my discomfort. I work for a state institution and brought the state tax-exempt paperwork with me so they would remove that charge from my bill. I only got about 2 hours of sleep because of the noise and temperature of the room. To compensate me for my "inconvenience," I was told I would be given a 25% discount (as an aside: this doesn't compensate me at all, since my company paid for the room).
When I asked for a receipt to confirm that the 25% refund and the state taxes had been removed, the desk attendant refused. She had the paperwork in her hand, but would not give it to me. I asked for the manager, who also said that it was against hotel policy, and that I needed to speak with Hotels.com for the receipt. I have never had this problem with any other hotel I have booked through this site. My receipt on Hotels.com does not reflect any of the changes were made, and neither does my credit card statement. They lied, and were rude and disrespectful to boot. Because of my experience, I will NEVER stay at that hotel, or any Holiday Inn ever again.

I was traveling with my 90 year old grandfather who uses a cane and has much difficulty walking. We stopped into the Holiday Inn Express in Wilson, North Carolina on Tuesday the 18th of October at roughly 11:45 pm. As my grandfather checked in he clearly asked for a handicapped room with 2 beds, the incredibly rude man at the desk, who was on the phone the whole time with his mother, informed him the only handicapped room only had one bed never offering the option of a roll out bed. Instead he gave us one of the farthest room from the elevator possible. The shower curtain and tub were dirty as was the rest of the room. In addition the shower didn't work. I cannot express to you my disappointment and frustration with the accommodations and treatment by the staff.

I reserved two rooms at the Holiday Inn Express Orange Beach, AL for my wedding. One hour before we arrived, a representative called me asking for the first night payment before we arrived to guarantee we would have a room. I immediately told the rep. that was unheard of practice but I went ahead and paid with my debit card the first night. When we arrived at the hotel, our rooms were not ready! We had to wait three hours for our rooms to be ready and the hotel manager was very rude!
When my husband spoke with her regarding the poor level of service, she provided the option to waive the first night of stay for both rooms but then went back on her word saying she said she could only comp $100 off of each room. In addition to her being dishonest, my debit card was over charged $1k in excessive fees that were inappropriately placed against my bank causing severe overdrafts! When I contacted the corporate office and spoke with 8 people for the same issue, in the end they decided to take the manager's word against what was communicated to my husband. Needless to say, the hotel did not refund all monies that were rightfully mine.

My recent experience with Holiday Inn Express in Sikeston, Mo began in August 2016. Booked reservations for 6 rooms for family members that would be arriving from "out of town" for a wedding Oct. 8. I told the reservationist that I wanted a "block" of rooms so that we would all be together. It was for only 1 night but some of our family were driving in from Chicago & Houston arriving that day Oct. 8 & going back home on Oct 9. We were not going to have much time together so every minute was going to be special. We thought - when family members inquired about the reservations (which I had confirmations for) they were told that they had no reservations for anyone by my name! This happened with several family members. I had specified 5 rooms with 2 queen beds & 1 king suite & that all rooms at least be on the same floor.
After several phone calls we thought all was worked out. But when my son from Chicago called the Sikeston Holiday Inn Express, he was informed that we had NO reservations and that family members who had used some of the confirmation # I had given them we not even on the same floors. So I immediately made a trip to the Sikeston Hotel which is about 40 miles from my home. Spoke with the same person - Becky- that my son had spoken with and was told that "I have been expecting to hear from you"!! They had my phone # why not give ME a call when you know that a problem exists?! She made some changes and gave me a vague explanation then assured me that she had everything "fixed" and would e-mail me a new confirmation to that effect. I would have the new info in 20 minutes! WRONG!
1 & 1/2 hours later I still had no confirmation. So I called the hotel again! Spoke with REGGIE who then had me to speak to the Manager - David **. David even had difficulty figuring out the MESS. (Or so he said) BECKY had cancelled all previous confirmations (which we were told didn't exist) including my brother-in-laws reservation (his last name was nelson also). I know this is lengthy but even then it is difficult to really adequately describe the mixed-up, inefficient mess being created. David told me that it was all good and that he had reduced our room rate by $9.
Oct 8 arrives and my son arrives from Chicago to discover that there were no rooms reserved for us!!! SO USING HIS CREDIT CARD - HE HAD TO MAKE MORE RESERVATIONS FOR THE REST OF OUR FAMILY!! My daughter from Houston and her 4 children (teenagers) all shared 2 queen beds! Because
my husband & I ended up with 1 king bed (not a suite)! I had planned for 2 of the grandchildren to share our room since we were only going to be together a few hours! They had driven all night friday arriving about 8 AM on Sat Oct. 8 and were leaving at 7AM on Oct, 9 - To make matters worse - our family was scattered on all 3 floors of the hotel!
Needless to say, I was VERY upset! Reggie tried to "work" things out which was impossible by this time! By this time, I was in tears - so frustrated, exasperated, fed up with the many excuses & tired of the disappointing way that we had been treated by the Holiday Inn Express. Becky, the front desk manager, has an attitude problem & David **, the general manager, needs a lesson or 2 in how to "manage". I question the training (or lack thereof) of the employees.
The room was clean - the bed comfortable. We were told that breakfast was from 6:30 until noon on Sunday. The Houston family & us joined for a breakfast that did not exist! We were told that she was running a LITTLE late! 45 minutes later & a dining room full of guests waiting - we were able to eat. Our experience with Holiday Inn Express - Sikeston, Mo was close to a nightmare! Nothing was done correctly nor satisfactorily. I will not use them nor recommend them again unless some changes are made there.

My wife and I stayed at the Holiday Inn Express in Columbus, GA at 2800 Manchester Expressway, from Sept 15, 2016 until Sept 18, 2016. After we checked in my wife noticed a cockroach, on the wall near the ceiling of our room, after we had been there for about 2 hours. We contacted the front desk after discovering the bug and not being able to kill it. The front desk was very cooperative, and they immediately moved us to another part of the hotel.
All appeared to be going well, until on the morning of Sept 18, 2016 when we were packing to leave, I noticed another roach in the second room near our luggage. I know that it was not the same roach that we had seen in our first room, because this cockroach was darker and larger than the first roach that we encountered in our first room. I took some Kleenex and I was fortunate enough, to have been able to kill the insect. I dropped the roach in a plastic cup, and took a photo of the roach with my cell phone camera. We loaded our luggage in the trunk of the car, and drove around to the part of the hotel where the front desk is located.
When we parked the car in a parking space, and opened the door to go inside to check out of the hotel, my wife noticed a dead rat in the parking lot next to our car where I had parked. We went inside the hotel and made the manager aware of the issues that we had faced. The manager became very defensive and she told me that an exterminator comes twice a month to prevent pests. After we left the hotel and entered our car, I noticed that the manager had come out to witness the dead rat for herself. When I attempted to speak to her again, she gave me a nasty look and walked away quickly. I had given her the plastic cup with the dead roach inside of it. When I mentioned the dead rat, she stated that it was more than likely an opossum. When she came outside and saw for herself the problem that I was bring to her attention, there was no more denying the health code violations.

I stayed at the Holiday Inn located in Selma Alabama, woke to bug crawling on the bed, pulled the covers off to check the mattress, found bed bugs. Contacted the front desk. Was told would move us, middle of the night. Move next room. It was dirty so moved to another room, again. Bed bugs found after pulled sheets off check the bed, so moved again. The maintenance man was spraying the rooms with Raid. The housekeeper said they need to get the problem under control. What? They knew. Still had people checking in to this mess. I will never stay at another Holiday Inn and I will contact the Alabama Health Department as well. This is not right. My husband arm had bite marks all over it. The room rate $130 night. All other hotels were booked.

200 south mannheim road hillside Illinois - I came in early on this monday just past. Had everything schedule ahead of time. The hotel shuttle was to pick me up from the airport. It took them 3 hours or more to come get me. And the hotel gave me the wrong instructions where to go to be pick up. I got to the hotel and had to wait another 2 hours before they had the room ready for me. The Rude lady at the front desk ** is not the person you would want to wait on you. I had to ask for my room to be clean every day. Why? The shuttle was very nasty and dirty. But the driver was very nice. This lady should be working in the maid department not the front desk. First impression is the most important one.
I will not stay at the hotel anymore. Fire alarm went off early this morning. We had to run out our rooms with pajamas on. What is this? This has never happen to me. This will be the first and last time never again. I will check out the reviews from now on before I stay at any hotel in the future. And they only want to take off a little bit from your bill. The same people will not be working before the end of this year here at this hotel. Thank you.

On August 27, 2016, I missed my flight and stayed at the Holiday Inn Express in Charlotte by the airport. In the middle of the night, three men entered my room saying they needed to check the room. I told the clerk who gave me the assistant manager's card, but that was the hotels number itself. I then sent an email to corporate and they emailed the hotel for manager to get back to me. On Sunday, August 28, someone called and asked what happened and said someone would be contacting me soon.
On Tuesday, August 30, I called corporate again and they said they were sending another email to the manager to call me with an update because they want the manager to handle the situation. As of September 1, I still have not heard from anyone. They are not taking my safety and well-being seriously. I could have been killed, raped and robbed. No one can tell me how these men got into my room or who they were. No apologies, nothing. I will never ever patronize another Holiday Inn or any of its affiliates.

My room is by the pool and when I stay in another room you can always hear noise. The walls are too thin. Desk person not very helpful. I stayed in $50 rooms that were better. Can't wait to get out of here but this is where my job put me. Also only one washer and dryer. Am at the Burlington Iowa location.

I got multiple bites, red marks, itching, swelling on exposed areas of my body. I reported and showed them to night clerk who seemed baffled and later showed my arms, hand to the day clerks. Manager got a visual inspection that found no bugs and is planning to do nothing and continue renting out the room. No explanation for why I have so many marks consistent with bed bug bites. I consider this unacceptable to wait until infestation becomes overwhelmingly obvious before acting to ensure cleanliness of room.

Being a fellow employee for Holiday Inn I look forward to one of the perks for working at this establishment. Boy was I surprised to rent a room at the Holiday Inn Express in Pismo Beach Ca. My companion and I checked in and I was given the Employee rate. (Standard procedure is upon check in they take my Id info and if the credit card holder is different they take their info also.) The last day of our stay I had left early to go to attend church. A young lady that runs the front desk named Shelby called our room and in short ordered me to report to the front desk. Obviously I was not returning to the 30 minute drive. Days later I was informed they did not honor the Employee rates. I called and Shelby was rude, accused me of not being there.
Of course when you check in all transactions are fully viewed on camera. I tried to assure her of the fact I checked in and she bluntly called me a liar. I then asked to talk to the GM and she informed me Samuel ** the GM was going to say the same thing. I was to say the least very upset. Waiting a couple of days I and my companion made the trip up there to speak to the GM in person. The lovely Shelby was working the front desk as I asked to speak to Samuel ** who was behind a wall, refused to come out front claiming he was on a conference call. To leave a name and number and he would get a hold of me. That never happened. Their attitude and display of non professionalism was very disappointing. I am still waiting for them to reverse the charges and apologize for their accusations.

I booked a room at the Holiday Inn in Harrisonburg, VA for September 12, 2015. The reservation was for one room and 2 beds, four adults. We needed a place to spend the night, because my 93-yr-old mother needed a rest spot 1/2 between our home and the destination. I went to the front desk that afternoon to check in and put our stuff in our room before heading back out. The lady at the front desk said she had our king size bed ready or us. I looked at the room and it was not what we reserved. The lady, term used loosely, said I didn't have the room I had reserved because I didn't confirm it. I showed her the confirmation number and she said that is not our confirmation number.
I asked "This IS your hotel is it not?" She agreed it was but this was not a confirmation number they have. It was a from Travelocity and they do not have the room I reserved. The only room that they have was the king size. I demanded my money back and she said that she could not do that - nonrefundable. I was livid because she blamed ME for the mess up, when it was all there in black and white what I had reserved. Since I was unemployed and had no extra money to go to another hotel, we stayed there.
A few days later, I received an email wanting me to rate my stay at the Holiday Inn. I entered my unsatisfactory comments about the poor service I had received from the front desk lady, and said even though the room was satisfactory, I will never stay at a Holiday Inn again because of being blamed for their mess up and not being offered a refund of my money.
Approximately a week later, I received a phone call from a representative, who wanted to discuss my recent stay at Holiday Inn Harrisonburg. I agreed. I told her the story and she apologized. I said I will never use Holiday Inn again. She kept saying that she wanted to make restitution. I told her I wasn't interested. I was unemployed, and was looking for a job. I couldn't afford to go anywhere, even if the room was free. She insisted I hear her out. I listened and she said, because of the terrible experience I had in Harrisonburg, they wanted to offer me a 3-night stay in Myrtle Beach free of charge. I needed to put down a $199 deposit that was refunded back to me after my stay in Myrtle Beach, SC. I thought well maybe my niece could go with me and drive and we can eat sandwiches etc while we were there. So I did it.
Fast forward to present time. I made the reservations online and I got a call from the lady handling my reservation. She asked if I made $50K a year. I said no, I was unemployed due to back surgery. She said "I am sorry - this vacation is null and void." I asked her why was a 3-night stay that was for restitution for a bad experience last year no longer valid because I am unemployed - I was unemployed when the offer was given to me. Found out that it was for a vacations club package - I would have had to sit in a 3-hour speech about buying into it. I told, Manuela that when the offer was given to me, the rep knew I was unemployed and said nothing about it. She never said I had to make $50K a year! I said I want a refund of the $200! Money that I could have used (because of being unemployed).
Now I have to jump through hoops to get my refund!!! I will never use Holiday Inn again in my travels. A copy of this letter is going to the BBB, and any website I can find where I can leave a rating about my Holiday Inn experience. The lack of compassionate customer service is appalling to say the least. Blaming your customer on your lack responsibility to your customers.

I called to book room for tournament rate, was told there were no rooms for that rate. I could get a king for $40 more. I went on Hotels.com, they had rooms available. I called hotel back, they still said, "no", so I booked through Hotels.com, but agreed to pay at hotel. When we arrived at hotel, they had many vacant rooms. Told me I basically could pick what floor I wanted since they hardly had any bookings. Hotel charged me more than rate I had confirmed even though I showed them the confirmation email.
While at the hotel, our truck was broken into. Thieves ripped off door handle with a screwdriver, and ransacked the truck, stealing everything down to the change in the ashtray, and my child's school backpack with all his school homework and projects among other valuables. Hotel basically ignored it all. When I asked about the cameras, they said insurance would not allow them to have cameras recording without someone to monitor them. They have 20 signs stating they are not liable for theft in the parking lot. This was worst display of hospitality that I've ever dealt with. I would not recommend this hotel to anyone. Pathetic!

On 04/15/16 I called in a reservation for 3 nights at a Holiday Inn, I was going to use reward nights for 2 of the nights so it had to be booked in 2 different reservations. The woman from IHG told me to call back 2 days before my trip and have the reservation changed to the reward nights because initially I wasn't sure we were gonna make the trip and would lose the money. So today, 04/26/16 I called to do this. They informed me there were no reward nights available at that hotel. So I asked to speak with a manager, which I spend over 30 minutes on the phone with, and we got disconnected.
I waited and he NEVER called me back. So, I found another hotel in the area that showed online it had reward nights available, so I called reservations and the girl went over the type of room that was available and I told her to book it. She put me on hold for almost 10 minutes only to come back and tell me that room had just been booked. Now, I am 2 days from my trip and I have cancelled ALL reservations with them and will NEVER stay at a IHG property again. I will also, post this complaint on every sight that takes complaints!!! Very poor way of doing business and their reward nights are a TOTAL SCAM!

I booked a hotel stay at the Holiday Inn Express thru Travelocity (both establishments I will never use again). I thought my son would be staying with us so I reserved a 2 bedroom with 3 adults. He didn't stay with us and upon arriving I explained to them so I could get reimbursed the $20 fee for the 3rd adult. They said since I booked thru Travelocity I would have to ask them for the $20. I spoke to Travelocity and they said it was Holiday Inn Express' fee. So I explained to Holiday Inn Express that including this stay we spent over $600 in the last month staying at their hotel and they were not willing to reimburse us the $20, and I was told no because we booked thru Travelocity they would not. Never again Holiday Inn Express or Travelocity. THE KICKER IS - IT WASN'T EVEN CHEAPER TO BOOK THRU THEM LIKE THEY ADVERTISE.

I am in a wheelchair and always go to Holiday Inn Express hotels nationwide because the handicapped room is totally accessible with shower bench. But the mattresses are being changed and they are very high and too soft. This type of bed DOES NOT comply with the ADA standards for handicapped rooms. PLEASE the accessible rooms have to be ACCESSIBLE and I ask PLEASE DO NOT put mattress high and too soft, because as a Gold member I cannot go to these hotels again nationwide.
I want to go to these hotels but with these beds it is impossible. I cannot transfer from the wheelchair to the bed too high, and transfer from the bed to the wheelchair I cannot it is too soft for a disabled person. I had to leave the hotel and not stay for the18 days I had made the reservation. I called today for a reservation and asked to please put normal mattresses (as they were until 2015, I have been customer of the Holiday Inn Express for over 12 years) and the front desk person hung up the phone on me.
Holiday Inn Express Company Profile
Company Name:

Holiday Inn

Website:

http://www.holidayinn.com/hotels/us/en/reservation