Consumer Complaints and Reviews

They advertised a 3.5 star hotel in Scottsdale at a great price. After reviewing the various franchises listed on their star rating description page, I decided to book. They then booked me into a Holiday Inn that is listed on their own site as a 3 star hotel, not a 3.5. When I complained and noted that some hotels are listed on multiple levels of the star descriptions, but not Holiday Inn, they said that Expedia rated it a 3.5? Expedia? Expedia had nothing to do with my booking... I booked on Hotwire! So, they list false information on their Hotwire website and then don't stand behind it and make excuses such as "the site needs to be updated".
Speaking with supervisor did nothing and they refused to pass me up or acknowledge the issue... So they screwed me good. Bottom line, don't deal with this company as they are dishonest. I will submit this info to the Attorney General office in Texas and BBB. This type of behavior is a class-action lawsuit just waiting to happen and I can't wait to be a part of it! STAY AWAY FROM HOTWIRE FOR YOUR OWN GOOD.

Don't book with Hotwire. They are not clear and upfront with you while you are making reservations and as soon as you click accept you are charged and no refunds. I booked a car at Orlando airport only to find out the rental place was off site and you would need a shuttle (although the choices of rental places that came up as possibilities are all at airport)! Furious I rented from a different place at the airport and was still charged the full rate from Hotwire!! I have made reservations from other sites and after found a better deal so I cancelled without any problems. But not Hotwire the minute you make a reservation they charge your card.
Stay far away from Hotwire. They are a shady place and they will not refund your money no matter what!!! Not to mention they are very sneaky about letting you know about the NO REFUND until you book then it becomes clear you're screwed. They should just have a big middle finger pop up as soon as you hit book! STAY AWAY FROM HOTWIRE!!!

Don't use Hotwire - you'll regret it! I made the mistake of coming across the hotwire site to rent a car. Nowhere on the site did I see it advertised that their hot rate cars are final sale no if's and's or butts. I was told when I called customer support that I had agreed to it in the terms of reference. Had hotwire been a more upfront company, they would have had that disclaimer as big and bold as their advertising for their rate cars. My travel date is over a month away. Why don't I have the option to cancel when other car rental companies allow it... no questions asked. Is there not a consumer safeguard that allows me to cancel within a certain time period?

These guys don't have their own service. The reason why they can offer a few bucks cheaper than other sites is because they compile all the listings and give you a price. I recently booked a one night stay at Best Western but something came up. I couldn't go. I couldn't cancel through Hotwire. I called the hotel directly and the reservation was through Expedia, not Hotwire. Do not use them ever again. You'll lose your money.

I was trying to book a hotel for the evening in the Detroit area due to power outages and when I tried to book through Hotwire the system kept saying that my request could not be processed. So I booked my room through Expedia only to find out that Hotwire charged me for a room the next day when I checked my account, and I never received any confirmation of anything. They just charged me $90 and I did not even use their services because the system wouldn't accept my request.
Now I am trying to get my refund because I was unaware of the charges made to me by them and I did not even use their services but they are giving me the run around having me call so many various numbers that lead me to nothing. I have no information on the reservation because it was never finalized or even supposed to be charged, all I have is the charge on my bank account and the description of who charged me. Does anyone know how we are supposed to get our money back from them? ** 03/14/2017 Card PreAuth $89.55 HOTWIRE-SALES FINAL. This is what is showing on my bank statement.
How do I know I can trust these reviews about Hotwire.com?
720,415 reviews on ConsumerAffairs are verified.
We require contact information to ensure our reviewers are real.
We use intelligent software that helps us maintain the integrity of reviews.
Our moderators read all reviews to verify quality and helpfulness.
For more information about reviews on ConsumerAffairs.com please visit our FAQ.

Rented car from Dollar via Hotwire. When I went to pick up car at Dollar was told they had none and had no idea when they would get one. Could not send me to another Dollar location since they did not have these arrangements. RUINED MY HOLIDAY as I was left without a car! Both Hotwire and Dollar were totally unhelpful and there was no way they could be of help!

Hotwire's site is deceptively misleading. I booked a car rental for a specified amount. When I received the confirmation, the name read "David David", instead of my first and last name. I would never fill a form out like that and asked them to change the confirmation to my real name, the name that is listed on my Hotwire account that I signed into the site with.
They told me all modifications were subject to prevailing rates and my bill jumped up $100. I spoke to a supervisor and robotic person who kept stating that no modifications were allowed without rebooking at higher rates, even though I know that this was their error. I will NEVER use this site again and highly recommend that no one else does either. They are only looking to deceptively charge you more.

I booked a flight to leave the same, exact night for a funeral and their internet system had two (2) glitches. My flight confirmation was incorrect and they kept telling me to cancel it so I can rebook it. But if I did that would only mean I would have to pay more for the flight I have already purchase. I've called at 6:28 pm today (3/7/2017) and I am currently still on hold (it's 8:55 pm). My flight leaves tonight out of the country, NYC to Ecuador (1:10 am), and Customer Service has no sense of urgency. They have just been transferring my calls to every single department and when I ask for their first and last name to keep a log they refuse to provide me with any information forth (currently 9:05 pm... still on hold).

HORRIBLE, HORRIBLE, HORRIBLE company!!! I booked an international trip with a great price, received a confirmation email, my credit card online showed a "pending" charge, called the airline the following day to confirm and was told all looks good and they were able to assign seats for us. A few days later I received an email confirming my cancellation as if I canceled. I've been on the phone with them for hours, spoke with so many supervisors, and it seems like no one understands anything except for the script they have in front of them. Apparently the airline didn't honor that price and so they canceled our flight! There is nothing they can do except constantly offer me to go ahead and book it again. If a company gives a quote, shouldn't they honor it?? HORRIBLE HORRIBLE company!! I never really write bad reviews but I am beyond mad and frustrated at this right now.

This company doesn't deserve even one star. Suck!! I booked a rental car via Hotwire for one week at San Francisco Airport. It was more two hundred dollars. My plan was changed and I wanted to cancel the reservation, but they refused to give refund and amazingly I couldn't even change to rent other day or even give me any credits. So the robot Indian customer service recommended me to keep the booking the same way, nothing the company can do for me!! Does it make sense to do business this way? I pray for them to get out of the business very soon.

Wanted to book directly with the hotel, but Hotwire's website took the reservation instead. Never knew I wasn't booking directly with the hotel. Billed me for the entire amount ($580) immediately. Had a family emergency and needed to cancel, but tough luck on my part. No refunds since I didn't book directly with the hotel, even though the website led me to believe I was on the hotel's website. Extremely deceptive. Hope a lawyer is reading this so they can start a class action lawsuit against Hotwire.

I have booked a car rental through Hotwire for a weekend (Feb 4-Feb 5) from Newark International airport. They have selected Advantage as the car provider who should be renting out my car. I have booked similar rentals from Hotwire multiple times in the past with car rental including insurance from Hotwire and never faced this issue. The exact issue is that when I went to the Advantage car rental, they did not accept the Hotwire insurance and they told that I need to have insurance coverage on my insurance policy, for the rental car because I live within 65 miles from where I am renting the car. When I told that I have taken car rental in past from same airport without such an issue, and the lady told that this is a new rule and refused to give any alternatives telling that I could go to a competitor but she cannot do anything about it, and refused providing the service or alternatives.
Being a surprise planned for my wife on her birthday, it was a disaster for me, such a denial of service. Later when I complained regarding the same to Hotwire who have taken my money already, they sent initial reply but refused to take the case any further in spite of repeated follow-ups. I lost money, did not get any service and had the worst experience in car rental in my life using this Hotwire + Advantage combination. I do not know what to do to get justice or a hearing. Neither anyone is talking about a refund also.

I used Hotwire.com to a book a car rental with Thrifty. When I arrived at Thrifty I gave the associate a copy of the reservation and was told "there were no cars available for people that booked online today." My car reservation was not honored and no further assistance was offered by the associate.

I got an email deal from Hotwire for a car rental which says $15 per day. I immediately left all I was doing to make the booking because I had searched for that same date previously on their website but the price was $20 per day so I didn't book it. When I clicked on "book now", the price increased to $20. I was so angry that I was deceived so I called their unfriendly customer service and all the lady and supervisor could tell me is that their price changes. But I told them it was less than 5 minutes that I received the email deal that I immediately clicked on it to book. I even sent them the screenshot of what I meant but they made me look and sound stupid and no one got back to me. Please use other companies for your bookings. They are even a lot more cheaper and reliable. I had to book for the car rental elsewhere where what I see is what I will pay for. My rating is actually "0".

I have called Hotwire 5 times today for passenger name correction (on the ticket issued) and every agent I talked to promised me that they would call me back with issue resolved in 2 hours and none (not even a single person) gave me a call nor showed courtesy to provide me the status. I don't think they value their customers at all. Big NO. Hotwire put me on hold while they are talking to the airlines all the 5 times I called them and guess what. The answer was (every time)... "WE WILL CALL YOU IN 3 HRS and we apologize for the inconvenience." And I never got a call back and my in-laws have less than 10 hours to catch a flight.
And guess the worst part. Now they are going to cancel and re-issue a ticket with the right name and I have to pay for the remaining amount (What a way to make money) with no courtesy intended. I have been using Hotwire for years now and I started to think otherwise and wouldn't recommend anyone either. Being said, the issue hasn't been resolved yet.

Used Hotwire to do a 2 day stay on a hotel. 24 hr before I called hotel to make sure everything ok with the reservation. The attendant at hotel indicated she had no smoking rooms available; she then indicated that I needed to call hot wire. Called hot wire spoke with Valentine who told me I need to call when I arrive at the hotel the next day and then he would make arrangements for it. Arrived at hotel call and tried to explained the situation to a lady at hot wire who barely spoke English. I ask to speak to a manager but was told no one would speak to me. After a while she just hung up on me. Hotwire internet deals are fraudulent. Searching for a deal they tell you are getting a great deal and will not give you any details until they have your money. After they get your money on a supposed deal. They screw You over. Not worth it for the money I paid.

Never ever!!! Hotwire site sucks!! So my family and I book a hotel through hotwire, pay our money with a confirmation number. After a long day me, my wife, and three kids get to the hotel for them to tell us all the rooms are full. Not only that they are the rooms full. But we cannot get our refund back until days later. My wife calls hotwire to see what they can do, with our three underaged kids in the car also? Which was nothing! But give her $25 on her next booking. So thank you hotwire. After the long convo of my money is booked into this hotel and it's after 12 am we can't get a hotel until 3 pm the next afternoon!!! My kids have to sleep in the car until then. Nothing you can do right???

I paid to rent a car on November 8 2016 to go to a medical appointment. My doctor's office called me less than 5 minutes after I made the reservation to reschedule my appointment for the next day. I called Hotwire who informed me that they cannot change my reservation but I can make another reservation. Then Hotwire representative told me if I were to send in a doctor's note explaining what happen I can receive a refund. I have called them several times just to hear I will receive my refund to send document again which I did at least 5 times. 1st they denied receiving email, yet one of the representatives mentioned the attached note info. 12/18/16 @ 1:50pm was the last date that I called Hotwire. I asked to speak to a supervisor after being told they don't have document. I spoke to Shara @ 2:07pm, Email Support team: support@hotwire.com, Case id # **. To date I have not received my refund nor any correspondence from Hotwire.

Hotwire initially seems like they will give you a good deal but they fail to list the extra fees/hidden fees that you'll incur (like a parking fee and/or resort fee). They claim their prices are low but when you factor in these other fees, you're taken aback because you don't expect it. It's a bait and switch scheme. This is a dishonest business practice. How do we get legislation to outlaw this despicable practice? We need more transparency when it comes to fees. We cannot make an informed choice when we are malignantly deceived by these companies. Shame on you Hotwire! If you're a person who wants more transparency when it comes to your bill then boycott Hotwire and all hotels that charge parking and resort fees on top of their "room rate." They should just include everything in the total final "room rate" price. It's not that hard Hotwire and like hotel schemers! A 1st grader can add those numbers up.

I clicked to book a hotel on sale regular $203CAD/night on for $65CAD/night. When I booked to pay I was charged $75.61CAD/night + taxes and fees for a hotel that is listed for $78CAD a night on its website. I phoned Hotwire and the operator told me I must have had multiple tabs open and it charged more. I did not and told him that's false advertising. I was charged $70 + taxes more for a week than advertised for a hotel that's not $203 a night.
The rep said, "Well we charged you that because that's what the hotel released as their price" and I said, "That has nothing to do with advertising $65. Then it should be advertised as $75.61 a night and regular $78 a night." He refused to let me speak with a manager as he said all the operators are managers also and refused to give me the difference back. I didn't screen shot the booking advertised and today price dropped on Hotwire but they again won't credit me because they said I don't have proof. I would not book again with them as they are falsely advertising deals and overbilling.

Car rental misleading by Hotwire. I tried to use Hotwire to book a car at Logan airport in this month. I put information on their website searching page, I thought I have found a good deal so I gave my credit card information. Through this process the website only showed the dates I would pick up and drop off but not time. When I got my itinerary, I read it thoroughly. That gave me wrong time on pick up and drop off.
When I called back and asked Hotwire to correct it in less 5 minutes later after booking. Paula who spoke to me on the phone acted as a robot. She said that she can't change it and she needed to rebook one, she asked for additional fee for it. I asked her if she can give me refund since I did not want to book it from Hotwire, she said their policy can't do it. I told her the Hotwire misleads customer on booking by their web design. Then I read reviews on Hotwire, its rating is 1 out of 301. I won't use them again and I will call my credit card company to refuse to pay for it tomorrow!! Beware what you have gotten from this fraud company.

I helped my son book a car rental reservation in Texas on December 21st coming back to Illinois. The agreement stated unlimited mileage in their ad, but when he went to pick the vehicle up, the car rental agency said "hey do you know this is only limited miles in the state of Texas?" He said "no I didn't or I never would have booked with Hotwire." He did not pick up the rental car that day. We called right away to get refund, but they would not refund the money stating all sales are final. They will not give you a manager when you call customer service and you could not understand customer service speak because of heavy accent. They were extremely rude and unhelpful.
I filed a credit card fraud claim against them, but that was not allowed to happen because they said I approved the charge even though the rental car was never taken from the rental car agency. Never use this company. They are tricking you into thinking they are giving you a better rate when in actuality a $400 rental charge would have turned into $1,200 had he taken the vehicle. Please don't use Hotwire!!!

First of all, I should clarify that I booked a hotel room with Expedia, not Hotwire. However, on my credit card, I was billed by Hotwire, which it turns out is a subsidiary of Expedia. I was charged the full price of the hotel by both the hotel itself and Hotwire. The phone representatives of Hotwire won't help, and every time I email them, I get a different customer service representative. I've sent a copy of the hotel receipt, my credit card statements, everything, but no refund. They just ask for more information, or information I've already sent, "in order to process my claim." I have come to terms with the fact that I will never get the money back. My advice is not to use Expedia or Hotwire!

Woke up this morning and saw my account had two extra full room charges on it. Yesterday I tried to book online with Hotwire and was told my reservation would not work and to try again. I did not agree to any room reservations and my card was charged twice. So I called Hotwire and was told this was just a hold on my card which will be released within a week. I understand travel companies will do this but my problem was with the hold the transaction on the website never went through.
I wasn't impressed with the answer from the customer service representative. She said if I gave her my banking info we could three way the bank??? I asked for her name. She wouldn't give me her name and wants my banking info??? Maybe she wants to charge my card some more? I then ask to speak with a manager and this employee tells me that the manager won't be able to help me? I ask again for the manager and I am put on hold. The manager eventually comes on the line. I ask for the employee name and she tells me I was speaking with alora and her name is Vickie. I explain the situation again and I'm told that there is nothing they can do and that it's my bank's fault not Hotwire's. Anyhow I actually should expect my money to get hot wired by a company named Hotwire. All in all expect zero customer service from these internet pirates and they may even steal your money.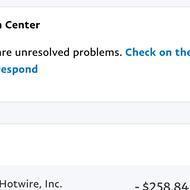 I reserved a hotel for a 2 night stay in Los Angeles for next month on Hotwire.com. I never received a confirmation although I received an email from PayPal regarding funds in hold for my reservation with Hotwire? I called Hotwire today. The agent told me they didn't have a reservation and it was canceled because the hotel oversold? They claimed I needed to get my money released from PayPal. I contacted PayPal and the agent told me Hotwire needs to release the funds.
After 2 hours and 3 more calls PayPal did a three way call to Hotwire. The PayPal agent asked to speak to a supervisor. Apparently they don't have them. They also don't have managers, accounts receivable or anyone that is in charge of PayPal issues. Paypal as well as myself found this very interesting! The 2 agents at Hotwire were very rude and not helpful at all. Just stated that they did not have the funds nor a reservation. My PayPal account clearly says Hotwire Inc. as seen in the attached photo. Don't ever use this company! I was shocked when I looked up and saw all the lawsuits and complaints filed against Hotwire which is also Expedia so don't use them either! Very frustrating to spend 4 hours on the phone with no reservation, and no refund! It's terrible that a company can scam so many customers.

Hotwire Supervisor treatment - I called Hotwire regarding a complaint against the Sheraton hotel by Atlanta hotel because they refuse to replenish the water in the room. However nothing was done by the agent who talked to me where she said the hotel doesn't replenish and they didn't give me the board of rules of the hotel to see that this is not included because I know that water should be replenished and to make sure I asked for the board that states what services are given and if water replenishing was included. I asked the front desk and they said they don't have one. What I know that all hotels need to have this. Also I called the front desk of the Sheraton hotel regarding toothpaste where I needed. They said it is late and that I have to go down and pick. Well there has to be rules written so we know what are the rules.
When I first talked to the first agent from hotwire. She said she can rebook me in another hotel and give me 25 dollars but I said I want to stay because it will be hard for me to move because I got lots of stuff. I talked then to the supervisor called who refused to give her full name. She told me that the hotel doesn't provide water and that nothing can be done. I asked her then that I want to move to another hotel but she said, "We can't do that because your booking is final and cannot be altered" and what she said is contrary to what the first agent said because the first agent said that I can be rebooked and given 25 dollars.
Therefore I made a complaint against this supervisor because it made me feel that the manager took it personal and this resulted in uncomfort to me and I requested my money back for them not being transparent with me and for causing me this comfort. I need to know what can be done regarding this issue. I Sent hotwire an email but they didn't do anything. I asked the reason why this hotwire Supervisor told me the booking is final while the other agent said that I could be rebooked. They didn't answer me. Do I have to go to consumers protection in Atlanta?

HOTWIRE SUCKS! Consumers Beware! Use Trivago or Priceline. I am a long time customer of Hotwire - and I am done - I will NEVER book through Hotwire again! I will spread to all on my social media account including Yelp and other sites as such, what horrible customer service Hotwire gives to their customers - also having the rudest people working for them, especially the rude supervisor I spoke to.
I book a trip over a month away - and when I purchased this hotel room for 2 nights I was applying for jobs, so I decided for the first time to purchase insurance. Well I was offered a job by the X Company and I can now not go on my trip to Orlando, so called for a refund - because they already charge my card almost 2 months before the actual dates of reservations. I explained to Hotwire my situation and they refused to give me back my money. I could see if this was a day or 2 before my reservation started - but a month before and I purchased the damn insurance and you still refuse to refund me my money and cancel my reservation. I called the hotel and explained my situation and they were very nice and said they wished they could refund my money but they told me Hotwire has it, and it is up to Hotwire to hold it. I WILL NEVER BOOK THROUGH HOTWIRE AGAIN! THEY SUCK ALL AROUND - Do not book a room through these crooks!

I booked a Hertz car rental through Hotwire. I filled out the necessary information on your their site and I inputted the return to be made at 10 am and their program defaulted to 3 am. When I called Hotwire I was told that once a reservation made you could not change it. I was then told I had to call Hertz and I was given the number. I called Hertz and they told me they could not change the reservation that only Hotwire can change the reservation. I again called Hotwire back and was told the same thing. I explained that I had called Hertz and they told me that Hotwire had to make the changes.
Hotwire then told me that once the reservation was made it could not be changed or canceled. I again explained that it was their website reservation program made the error. I was again told that it could not be changed or canceled. A that point I explained that I would call my credit card company and have the charges reversed and I would reserve a car through another company. At that point I was told that they could give me a refund only if I agreed to make the new reservation through Hotwire. We proceeded to do that. When I got to California I explained to the Hertz person the problems I had with Hotwire and they told me that Hotwire is not one of their favorite customers. This told me that this type of business practice must be common place for Hotwire.

I made a reservation, but first call a specialist to help me. I wanted to be sure that everything was fine, I asked if the hotel had a pool and she told me that when I book the hotel I did not have a pool, I called customer service to explain What happened and did not want to help me, I asked them if you could change my hotel or give me back the money and they said no, I ask the authorities to investigate this company as they are committing consumer fraud. We are not asking for money if they do not change us to another Hotel, since the reservation is for February, I do not see why they cannot help us, they are stealing the money from the client.

My husband booked a hotel for 4 nights that Hotwire described as in central Madrid. It turned out to be 75 Euros taxi ride away from the city. The Rafael hotel manager promised if we switch to another Rafael hotel in downtown Madrid, they are going to waive the charge and we only had to pay the difference. We tried multiple times every day for 4 days to get hold of someone at Hotwire and Expedia, no one answered the phone and no one was helping us. We ended up being charged twice for the 4 nights by Hotwire and Rafael Hotel chain. We were out of pocket 370 Euros. Do yourself the favour of staying away from Hotwire as they only charge you and provides no service or value. I would not trust the hotel chains like Rafael either going forward, end of the day they just want the money, not taking care of their customers.

ConsumerAffairs Research Team
The ConsumerAffairs Research Team believes everyone deserves to make smart decisions. We aim to provide readers with the most up-to-date information available about today's consumer products and services.
Hotwire is a San Francisco-based company that helps travelers find discounted rates on a wide range of services, including flights, car rentals and hotel rooms.
Bundled services: Hotwire lets customers bundle travel services to get discounts.
Partners: Hotwire partners with several other travel businesses, including Expedia and Hotels.com to access more deals.
Mobile app: The iOS mobile app lets customers use Apple Pay.
Last-minute deals: Hotwire publishes steep discounts from hotels that want to fill rooms at the last minute.
Cancellations: Hotwire accepts cancellations for rooms at most hotels.
Best for Budget travelers.
Company Name:

Hotwire.com

Year Founded:

2000

Address:

655 Montgomery St.

City:

San Francisco

State/Province:

CA

Postal Code:

94111-2627

Country:

United States

Website:

http://www.hotwire.com/