Consumer Complaints and Reviews

I had to cancel my flight back in November due to personal/work reasons (non-medical emergency) so I couldn't get a refund. Instead, they gave me airline credit in full (Emirates). I was also told that my card would not be charged. It was too good to be true and I asked them THREE TIMES. The guy on the call assured me that it was their policy and I accepted that. A few days later, my credit card was charged in full. I immediately called them. I was on call for 4 hours (on hold for about 3:30 hours) and Hotwire tells me that they are sorry for the misinformation and that actually there is a 300 dollar rebooking fee. I was frustrated but I also took the blame as well.
After 2 months, I tried to use my credit. I was on call for over an hour just now trying book an Emirates flight using the credit I received through Hotwire. Despite me able to see the flight on Emirates, the guy tells me that he cannot see the flight and so he cannot book the flight with the credit that I have. He also tells me that he cannot let me know when he will be able to see it because he would have to check until it appears (meaning, he would not do this for the customer). I also told to wait "42 hours" during which price could increase or there could be no seating available. I am appalled at the lack of service Hotwire is delivering. NEVER USE THEM.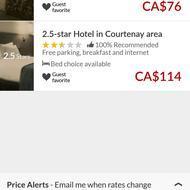 I recently used Hotwire to book a one night hotel stay in Courtenay BC Canada. I live in Victoria BC Canada. When I searched the hotwire app for deals I got a list of prices all quoted in Canadian Dollars, with the symbol "CA $72/nt" for example. I selected one and finished the reservation. The hotel stay was just fine. That day I received the invoice that is attached below, which states the price of the hotel as $76/night plus tax with no indication of the currency. When I checked my credit card account online, I noticed that Hotwire has charged me $72 + tax in US dollars. Amounting to $126 Canadian dollars.
I called to complain but they said it cannot be fixed, and to send an email to their research department. So I did, and got a reply saying that all their rates are in US dollars, and they would not be refunding me anything. I think this practice is dishonest, and probably illegal. I agreed to pay $72 Canadian, the amount quoted, and they have charged me more, without my consent. If this is happening to many other Canadians, I think we have grounds for a class action against Hotwire. Please contact me if you need more info.

I booked for 2 nights for me and my daughter. We stayed only one night because the room was so disgusting. See pictures of hairs in bathroom and in the bed and black mold in the toilet. So gross. Hotwire has only refunded me half. I have been trying to get a full refund with little luck. Currently I am on hold for more than 15 minutes trying to get full refund.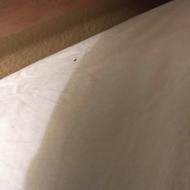 I booked a hotel through hotwire from Jan 9 thru the 14th and I got to the hotel and it was infested with bedbugs. They wouldn't give me my money back nor would they transfer me to a different hotel. They had me on the phone with them for over 3 hours and would not help. The lady even said we would need to charge your card again. Don't ever ever ever use these people they will rip you off.

I went to hotwire.com to book a room in the Sarasota County area. I clicked on area codes, enter the area code to my mother's house which is in North Port Florida, did a hot deal and it showed me Budget Inn North Port Florida. Well after I clicked pay and went through all of the credit card information and finally got to the itinerary it actually book me a room in Port Charlotte Florida which is two cities away from my mother. I called to try to get a refund or have them switch my room to the city that I originally planned to go to and even bought Insurance to no avail. I was basically told there was nothing they could do for me. I put in the computer first of all for four star hotel. The hotel that they booked me for was a 1 star hotel. They have horrible customer service, horrible insurance. I had to buy another room through the same Hotwire.com and that to no avail was horrible as well. I do not recommend this website to anyone.
How do I know I can trust these reviews about Hotwire.com?
671,681 reviews on ConsumerAffairs are verified.
We require contact information to ensure our reviewers are real.
We use intelligent software that helps us maintain the integrity of reviews.
Our moderators read all reviews to verify quality and helpfulness.
For more information about reviews on ConsumerAffairs.com please visit our FAQ.

I booked hotel for 2 nights for my husband who was in Vegas at the time. I clearly received confirmation that the hotel was booked for 2 nights and my card was charged, however, once my husband tried to check in they couldn't find his reservation so I texted and emailed him the confirmation and the hotel still couldn't accommodate. My husband's friend ended up paying for the two nights out of pocket which we reimbursed him out of our pocket, however, Hotwire continued to charge my card twice for 2 nights. This is the second time this has happened. My husband was in Vegas for work so one can imagine the frustration and embarrassment he had to endure when his friends/co-worker had to pay for hotel. I am starting to wonder if this website is just another fraud or scam.

I Booked through Hotwire 2 days ago to stay at a Hotel in Las Vegas for a event happening 2 weeks from today. I called to cancel the reservation today 2 weeks in advance because I realized I had made a mistake on the dates and now I am not able to cancel, change the dates, get a refund or make any changes at all. I spoke to a Manager and they did not want to help me either.

I booked a 'HotDeal' which was marketed as a 3.5. When you go to the regular deals page the hotel is actually a 3. I tried to explain this to two reps who would not issue a refund. Horrible service and false marketing tactic! Do not book on Hotwire!

I rented a car from 5pm Friday to 5pm Saturday. Later, I discovered that the location closes at noon on Saturday. If I had returned it after noon, using the drop box, I would have been charged TWO EXTRA DAYS. There was no notification of this during the reservation process. This is a great disservice to customers! Also, I purchased the insurance, believing it would be $9, but was charged $18. I assume it is on the basis of two calendar days instead of one 24-hour rental period. I have not seen this practice on any other rental website.

I booked hotel in Jamaica for 2 night. While booking I choose 3 star hotel, but after payment I got confirmation for 2 star hotel. At the same time for same hotel in other site I was getting 30 less price for same hotel, same date and same guest. After booked I contact customer service and sent clear screenshot where it was showing 30 less price but they return back with email saying the same reservation was not for same number of guests, but it was and I sent clear screenshot 3 times but they keep giving me same auto generated reply.
Real frustration is there is no phone number to talk to their manager and explain the situation. All these things Hotwire doing intentionally for making money only. Hotel always has policy to cancel but Hotwire charge extra for that. Hotwire give less price hotels and charge high as it display as high star at their website. Honestly, I am giving this review, please avoid using Hotwire.com and Expedia.com for any kinds of booking, you will lose your money and spoil your mood for trip. Hotwire is fraudy company with their policy, like: low price guarantee policy, they wouldn't return back your money...

We booked what we thought was a 4 star hotel room on the Riverwalk. Not true. We overlooked the parking lot. Then it was a small hike to get to the actual Riverwalk. When we got there the smell hit you like mold. Then when we checked in and went to our room the bed felt like we were sleeping on a rock. Then Hotwire forgot to mention this hotel had a 25 dollar parking fee not mentioned when booking. Then when I pulled the covers back to get into bed, it looked like they purposely flipped the covers so the dried blood stains wouldn't be discovered. The sauna was supposed to be open until 10. 9. We tried and it was closed. Not to mention testing the fire alarms 3 times at 230 am. 30 min later they make an announcement over the systems it was a test.
Then my husband called to talk to someone about the false advertisement of a 4 star hotel. He got the response basically "You're out of luck." because we didn't call when all this happened. We called as soon as we got home because we needed somewhere to stay. We're be very unhappy that Hotwire was not helpful and said our money went to a 4 star hotel on the Riverwalk. It was anything but that and we travel a lot.

I booked a flight last year with Hotwire and purchased their insurance. Had to cancel the trip but since I wouldn't jump through a million hoops, the cancellation insurance didn't cover it. Was credited for the flight, but have to pay $200 to use the credit, what is the point of the insurance or the credit? Never will I use Hotwire again.

DO NOT USE HOTWIRE! They are impossible to deal with and will not refund, give a credit, or compensate you in any way if your plans change. They kept me on the call for over 30 minutes saying they were checking their resources only to come back and try to justify why they could not accommodate me at all! I have never dealt with a business so corrupt and lacking any amount of customer satisfaction. I believe that they should be audited and shut down for corrupt business practices. We had unforeseen circumstances beyond our control that canceled our trip and they do not care... It's just a numbers game to them.

Stay away from this company, they're thief. I booked rental car from their website - paid in full and received confirmation email. When I arrived the rental car, they could not find my reservation. I show them all the documents but still they cannot find any reservation. I contacted Hotwire. I was unable to get a hold of them. They advertise cheap products so that you can buy... at the end you don't get what you paid for and they will not refund your money. I hope they go out of business someday.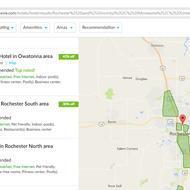 I went to Hotwire website to book a hotel. Found a three star in the area of interest listed for $61 per night. Chose that particular hotel and rate which was again shown on the Hotwire booking page that has the "book now" button. After I clicked the "book now" button, the reservation came up with a hotel rate of $67.20 per night. This hotel rate is separate from taxes or booking fees. I called and emailed customer service. Was told reservations are not cancelled in spite of the fact that I did not agree to the rate charged. Emailed Hotwire screenshots of both my booking page and the reservation page. Hotwire replied that I needed to send a screenshot that also includes the address bar, which I am no longer able to access. This website baits and then switches the price which is immediately charged to your credit card! Stay away! Total Scam!

I booked rental car for 3 days on www.hotwire.com but the website charged my credit card 4 days rent. I called them but don't want to refund. I came to know that this company has been cheating customers in a similar fashion. Please be careful. DON'T FOOLED BY THEIR WEBSITE. IT SHOWS ONE AMOUNT BUT AFTER SUBMITTING YOUR CREDIT CARD IT CHARGES MORE.

I had very very bad experience with Hotwire. I booked rental car for 3 days but their website charged my credit card for 4 days. I immediately called them but they don't want to refund my money. They said that is their company policy. Their website has some customer cheating mechanism. When you book online it will extend your booking for 30 min extra and then charge you extra day to your credit card. It is really hard for you identify until you submit your credit card details and submit. Once you submit your credit card details then they can charge any amount. It is impossible to get the money back from them. I am from Australia for holiday and no time to take it next level. I will try my level best to take this issue to consumer affairs court. I WARN EVERY OVERSEAS TOURIST NOT TO GET CHEATED BY HOTWIRE. Be aware of your charges. Don't use their website to make payment.

I made a reservation for a Madrid hotel on Dec 2, 2016 for my vacation at the end of the year. When I received the email with the confirmation, it was a completely different hotel. Today is Dec 18, I have been calling almost everyday. They put me on hold for long periods of time to then tell me, someone will be calling me with the results of my claim. Do not use this company... TERRIBLE!

This is a very inflexible company. Set a reservation online with Hotwire. Plans changed. Yes I read the "non-cancellation" policy. Didn't expect a refund. Thought they'd at least credit my account or transfer the rental to my new destination. Nope. Held to the company line, all for $140.00. Do not use Hotwire. They do not care about your family circumstances. They simply want their money.

I have used Hotwire dozens of times over the past 10 years, and have never had an issue with their service until now. As savvy Hotwire users will know, you can review the "hot rate" hotels and try to determine the hotel by amenities, Tripadvisor rating, etc. Today, I booked a 2.5 star hotel in Savannah, GA which was listed as 4 out of 5 (circles) on TripAdvisor (TA). I never book a Hotwire hotel that has less than a 4 on TA. Once my hotel was revealed, the result surprised me as I had not determined it would be one of the possible results. I immediately went to TA, and discovered that it was rated 3.5 based on TA reviews. The most recent review was from mid-October, nearly 2 months ago. I have never seen a discrepancy such as this on Hotwire.
I immediately contacted Hotwire customer service, and got the standard run-around by the CSR ("It is a non-cancellable hotel", blah blah blah). I asked for a supervisor, and stated that it is clearly false advertising to represent that the hotel selection received a 4 on TA, when it is not accurate. I spent over 30 minutes with this supervisor on the phone, who was full of canned responses. She said that TA reviews (which are listed at the TOP of the hot rate hotels to specifically stand out!) are merely a recommendation... Huh??? Hotwire customer service is non-existent. I believe I was entitled to a full refund based on their false advertising, but the clueless supervisors obviously are told to say no refunds under any circumstances. Therefore, do not count on the Tripadvisor reviews to be accurate! As a result, I am DONE with Hotwire and they have lost years worth of future sales from an avid traveler.

This website is nothing but a scam! Star rating hotels that they say are extremely discounted but it's a lie. They list seal hotels you may get then after you confirm your order they give you a hole in the wall never listed! NEVER AGAIN!

Do not use Hotwire. Scam operation. You book a "secret deal", no cancellation, lowest price. When you arrive (in this case, Days Inn, Birmingham Alabama) they say they have no room available. What you don't know is that your credit card is still charged. When you go to contest the charge they reply that it was no cancellation - and that it went through as booked. We are still trying to get Days Inn to show proof that "we" checked in. Bottom line... they double book rooms and charge you regardless. A terrible scam and one that is hard to clear up.

I booked a hotel room at Extended Stay in Peoria, IL with Hotwire for the night of September 17. About 6 pm, a staff called me to switched my booking to another hotel because that hotel was overbooked and she told me that my credit card would be charged again for the new hotel but the fee for the original booking would be fully refunded later. She also told me that my first booking was only $80, but the new booking costed more and Hotwire would cover it. I had never been in this city thus I trusted the staff.
My original booking was a non-smoking room, thus I thought that the room that the staff switched for me would be smoke-free too. However, when I arrived at the switched hotel, Quality Inn in Peoria, the receptionist told me that the hotel had only one smoking room. I told her that I would check whether I could stay in that room but I could not and checked out after 30 minutes. Right after I checked in, I called Hotwire staff and informed about it and requested her to find another smoke-free room for me in any hotel. The staff advised me to Travelodge because she contacted this hotel and knew it had available rooms but she asked me to pay myself because this hotel is not in their partner list.
After the trip, I called Hotwire and request a refund for the night at Quality Inn that I did not stay, but its staff told me that Hotwire had no refund policy. I found this answer unacceptable because it was not my fault and I did not cancel my booking. I made many calls to Hotwire, and its staff told me they needed time to investigate the case. Once, a staff told me that if I call Quality Inn and this hotel agree to refund Hotwire, then Hotwire will refund me. Again, I called Quality Inn many times and met the manager, Jenifer, she agreed to refund and asked me Hotwire number so that she called Hotwire. Until now, I did not hear any thing from Hotwire. I think Hotwire's service are really bad, it does not care about you.

I made a reservation online with Hotwire.com. I had the correct dates chosen for my stay and a very good price. Then, I put the reservation through and it showed up for the night that I was sitting at home making the reservation! I immediately called them and they refused to change it without charging me an additional $44!! Then they said I could cancel the reservation and make a new one because they have a best price guarantee.
I waited forever on hold and they tell me they can't do that because it doesn't show in their computers! It showed on my computer on THEIR website. I have successfully used Hotwire in the past, but I will never use them again. The first girl I spoke to refused to answer my question as to the total cost of changing the date and I spend 20 minutes with her before I could get a straight answer. I would watch out for this website as it seems to have become money hungry and corrupt. Years ago they switched things for me for free and all was fine.

Absolutely horrible experience with Hotwire... I tried to book a resort in the Virgin Islands for a 4 star hotel. When purchasing the resort, I received a message stating the resort was full and my card would not be charged. No big deal. I proceeded to book another hotel and it was able to process. However, the first transaction DID come out of my account and I had to place a fraud claim with my bank, and close my debit card. Secondly, the newly booked hotel, which is located in St. Thomas, VI and was shown there on the map, was switched to an Ontario, Canada address... a little different kind of vacation. Now Hotwire assures me that they have confirmed the hotel is in US VI but honestly would any of you trust that after this experience?
Avoid Hotwire at all costs! Terrible customer service on the phone as well. Spoke with two ladies who were nice to begin with but clearly had "Blame the hotel, not Hotwire" type of training which doesn't sit well with me knowing it was entirely Hotwire's fault and know they blame their clients. That hotel did not charge me when I wasn't provided a room and that hotel did not erroneously give them a Canadian address. Funny part is the two girls' names are Joe and Dan. Okay, I see other reviews who have spoke with this "Dan." LOL. Cross your fingers with Hotwire!!!

Hotwire advertised a property (which it didn't identify) as "usually 169" but with a price of $86. (Which was the "guaranteed" lowest price available). We paid $5 for "travel insurance" for the right to cancel. When they revealed the name of the property we had the same place on a different window (through Priceline) for $2 less (and with free cancellation). I asked Hotwire to cancel the reservation. After 2 emails and a phone call they agreed to reduce my price by $2. They admitted that their "usually $169" had nothing to do with the current price of the property (it was probably a peak season price). They refused to reduce the price by the total of 7 that I was overcharged ("the travel insurance is not refundable"). FYI I didn't bother getting the $2 refund.

So Hotwire prods you into booking a car, they tell you "you will save money" if you book (and pay) now! They tell you that's the "total cost" for the rental. Guess what? You get to the rental counter (of a less than nationally-recognized company,) and they tell you "Well you are required to pay $13 a day for this insurance!" Well, I paid the total for the rental on hotwire.com, I said. "Nope, you have to pay more!" They say at the rental counter. And what a surprise, Hotwire will NOT let you cancel this reservation, so you are STUCK with a rental which they "guaranteed" you was entirely paid for, and now you owe hundreds more, but you cannot cancel it. This is simply called "fraud."
The rental companies and Hotwire have colluded to force you to pay money you did not agree to a point of sale. I would suggest you avoid Hotwire.com for any and ALL purchases. I raised this problem to them and they simply ignored me and would not even refund me, after they admitted it was blatantly theft. Dishonest, disrespectful and actually operating an illegal scam. Do NOT use Hotwire under any circumstances.

I had a duplicate car rental reservations and despite utilizing only one Hotwire charged me twice. I talked to the customer service rep and her supervisor (Dan, who is a female) separately and they cited me their rules that they have sent me confirmation and nothing they can do. For two days car rental I ended up paying $80.71 and $68.67. I certainly won't be doing business with this company anymore.

I agree with the other disappointed customers and only wish I had read their reviews before booking with Hotwire. It is a SCAM, they lie in their advertisement and do not own up to their mistakes. They claim high original prices on the advertised hotels so that they can come up with "the big discount" that is actually comparable with other websites where you do not have to book "blindly" and have a chance to cancel in case of change of plans. I actually ended up with an old shabby dirty Motel. The Hotwire staff is obviously used to and trained for complaints as they are very uncooperative and plain rude. NEVER AGAIN!

Hotwire offered a "deal" on a 4 star hotel. The example 4 star hotels include the likes of Westin and Hilton. I booked this "deal" through them. They put me in a Club Quarters. I have stayed in Club Quarters and I have stayed in Westins. They are not comparable. Hotwire's 4 star rating was deceptive. And, like many others, my unrefundable deal rate was what Club Quarters was offering on their website. The rate was $90. Typical 4 star rated hotel rate in Philadelphia, right? Hotwire refused to provide a refund. I will never use Hotwire again and I will tell everyone I can about this experience. Hotwire should be investigated. Us consumers need support.

ConsumerAffairs Research Team
The ConsumerAffairs Research Team believes everyone deserves to make smart decisions. We aim to provide readers with the most up-to-date information available about today's consumer products and services.
Hotwire is a San Francisco-based company that helps travelers find discounted rates on a wide range of services, including flights, car rentals and hotel rooms.
Bundled services: Hotwire lets customers bundle travel services to get discounts.
Partners: Hotwire partners with several other travel businesses, including Expedia and Hotels.com to access more deals.
Mobile app: The iOS mobile app lets customers use Apple Pay.
Last-minute deals: Hotwire publishes steep discounts from hotels that want to fill rooms at the last minute.
Cancellations: Hotwire accepts cancellations for rooms at most hotels.
Best for Budget travelers.
Company Name:

Hotwire.com

Year Founded:

2000

Address:

655 Montgomery St.

City:

San Francisco

State/Province:

CA

Postal Code:

94111-2627

Country:

United States

Website:

http://www.hotwire.com/