Consumer Reviews and Complaints

I made a reservation & have to 6 pm to cancel, I called the Hotel & they said I was good & told me to call Hotwire so I don't get charged. I said "Ok. Thank you." Went on to call Hotwire & they told me I was being charged. After 3 calls to another country & 1 hour of my time, nothing was done! So now I'm calling my bank! SMH!!! This is the 2nd time this has happen! Will not be a 3rd time! Unreal... So save yourself a headache & don't use Hotwire!

I have never considered writing a review, but if you are reading this. I would say never ever use Hotwire for ANY transaction ever. They are horrible horrible criminals that will steal your money. They flat out stole my money, I have filed a complaint, I disputed the charge. They don't care. They took 306.00 from me without a blink of an eye and guess what I got for it? STRANDED & WITHOUT A HOTEL. I was not able to redeem the 306.00 that I spent with them and then was forced to pay cash with another hotel therefore leaving me in the hole a grand total of 600.00 bucks. They are crooks!! I got zero from them and they stole 306 from me. It sickens me that corporations can get away this pathetic practice. If I ran my business like this I wouldn't have one.

When I booked a rental car through Hotwire, I was required to make an upfront payment for the rental. After I did the actual rental, the rental car place gave me a bill that was $58.00 below the price I pre-paid to Hotwire. When I asked Hotwire to refund the payment they refused and sent this. "Thank you for contacting Hotwire Customer Care regarding your reservation with Advantage, Hotwire Itinerary **. I recognize you are requesting to clarify the receipt the car rental agency provided to you. I regret the inconvenience this has caused you. I am pleased to provide information on this matter.
"We received your documents and as we review, I can assure you were not overcharged. The car rental agency may have shown you the Hotwire rate. Please be assured these base rates are specially negotiated for Hotwire, and are generally lower than the available rates presented to car rental customers booking directly. Our Hot Rate Cars are non-commissionable, meaning rental agency do not pay us for bookings. We ask our car partners do not disclose the Hotwire rate on their receipts, as it leads to confusion. We addressed this with the rental agency directly, to prevent this situation from occurring in the future.
"Please accept our apologies along with 25 HotDollars, which we have added to your Hotwire account under **. You can use HotDollars to book any Hot Rate® Car or Hot Rate® Hotel on the Hotwire site. Each one is equivalent to one U.S. dollar in value and is available for one year from the date of issuance. A separate email will be sent to you with more information about how to use your HotDollars. Keep in mind that you will still be required to enter other billing details to cover any amount beyond your available HotDollars. Any remaining HotDollars will stay in your account for future use. Please note that your HotDollar credit will expire on the 5th of August 2018". In other words, they refuse to refund the difference for whatever the email above refers to.

I used to use Hotwire for booking of hotels because I thought I was getting a deal and liked the fun of maybe getting a better one than I would of using another site. Last night 8/21/17, I learned the exact opposite. I spent $540 on a two night booking and I picked an option that would hopefully get us a nicer room since 4 grown men will be staying there. After the booking, I had one member of our group call me literally minutes later telling me his grandma had passed and we had to cancel the trip. Hotwire disgusted me with their requests to cancel by asking for his grandmas death certificate and then they would review it! It was all business and no care for customers as I've used them several times.
Not only was this the problem but after calling the hotel I was told we have the smallest room available and if I spent the same amount of money through the actual hotel, we would of had a suite that was 300 square feet bigger than the 210 square foot room Hotwire has us in. I will never use Hotwire again as it's a complete ripoff and they don't even get you good rooms. Not to mention asking for a family member's death certificate is the most appalling business approach I have ever seen. Never posted a business review in my life until this event. Was trying to cancel literally within 10 minutes of the booking. Hotwire is the last place in the world to book anything, I will never use them again.

I was booking a Hotwire Hot rate hotel with a friend of mine so we could stay in the same place with our grandsons to go to the NY State Fair. We both went online together side by side and chose the same hotel and went through the checkout process. My friend's booking went through but mine said the hotel was now sold out. Sad I thought I'd try again to see if a room of a different bed configuration or spare room would come up. This time at checkout it said the system was checking new rates. It kicked me out. So I went back and tried again. This time at checkout I was successful however to my horror the booking came up for a hotel in a different city! And it said no refund. I emailed them upset however after looking at an online forum, I found the contact number for Hotwire and was able to call.
The operator was really nice and arranged a refund for room. I was quite surprised how smoothly everything went and was very relieved. They instantly sent an email stating I was getting a refund although I have to wait up to seven days for it. Basically I'm relieved and happy with the results as I was able to book finally in the same hotel as my friend, although at a higher rate, and I got all my money back and the operator was really pleasant and helpful. I will feel very anxious about ever using Hotwire again though as this was very scary that I was going to be out several hundred dollars. I don't know that I would ever book a big trip using Hotwire ever again after this experience.
How do I know I can trust these reviews about Hotwire.com?
883,201 reviews on ConsumerAffairs are verified.
We require contact information to ensure our reviewers are real.
We use intelligent software that helps us maintain the integrity of reviews.
Our moderators read all reviews to verify quality and helpfulness.
For more information about reviews on ConsumerAffairs.com please visit our FAQ.

Long story short... Hotwire scammed me out of $534.91 since April 4th 2017 for a flight that was cancelled. I even purchased the insurance coverage and Delta Airlines refunded them the money so they were paid 534.91 twice and here it is The middle of Aug and they still refuse to refund my Acct! They need another class action lawsuit brought against them! I've called countless times only to be put on hold over and over to be read a one line script! No supervisor or Manager Available!??? Scam Scam Scam! How does our government allow them to keep doing so??? No one speak English!

My wife and I just recently booked a room with them out of state and we got the email confirmation that everything is going to be. Didn't have to call the hotel but we decided to call the hotel the day of when we were almost there to see if we could check in early and they told us that had been canceled the day before. We never got any confirmation or anything which left us stranded. You're looking to try and find other hotels in the area and most of them were booked and when's that weren't were a lot more money. We called them and they said unfortunately the hotel was overbooked. I decided to call the hotel and the hotel said that was not true.

Went on their website and rented a car for 8 days because I have a family emergency! Paid them with a visa! Drove 40 min to pick up my rental and Hertz wouldn't rent to me because I didn't have a major credit card! Called Hotwire their solution was to give me my money back in 1 or 2 days and the hell with my family emergency! Now I have to wait until I get my money back! This is not right!

As of today 08/07/2017 it's been 1 month and they have not refunded my money. I had to cancel reservation because my son had respiratory issues and Doctor recommended not to travel. I told same to Hotwire Representative and she said she understands... She told I will have to send document proving my claim. On July 9 I have sent them properly signed and reason stated by Doctor... Still waiting for their response. Every time I call them they say to Wait... and I have already sent the AS PER HOTWIRE Spec DOC so many times. Sad part is the Customer Agent don't know anything... As they say it's some other Department. They are Fraud... Beware.

I book travel for my staff and have used Hotwire consistently throughout the last 4 years. I gave them a lot of business. About a month ago after booking travel through Hotwire my staff arrived at the car rental location. Hotwire had cancelled the car with no reason and refused to tell me why. We had a difficult time finding another rental. After 3 hours we found a car and my staff drove 6 hours to the hotel... All was fine and after two days of staying at a hotel booked through Hotwire they were locked out of their hotel room after a 12 hour work day. The hotel said it was a fraud issue. I called Hotwire who gave me a # in CA to call.
The Hotwire agent said it was a case of Fraud???? They had canceled all of my travel I had booked and never gave me notice or a reason. They suggested I call the fraud department. I called the "fraud" division of Hotwire about 15 times as I was furious anyone would claim this. Two months later and I still call once a week and leave a message. Never heard from them. I have also tried to contact Hotwire and they continue to refer me to a fraud department that does not exist. Good luck if you choose to use Hotwire.

Hotwire is the absolute worst travel agency I have ever used. I booked a trip in February for the month of June for my grandmother's birthday. But then realized I needed to change my dates from June to August. My problem was I couldn't understand a word anyone was saying over the phone and they were charging me $700 dollars for a change of dates for the hotel and flight. I paid it and got reimbursed for $400 dollars because I had insurance on everything, but it took me calling them for 4 days to resolve the whole situation and each agent told me something different. When it came time for my trip which was today, my grandmother and I went to the airport and go to print our tickets on the kiosk and it says I owe $561.44 when originally I paid $1,074.66 for the hotel and the flight roundtrip for 4 nights. I went to customer service at the airport and they say my tickets are frozen and I had to call the agency. This was at 6:30 am my flight was at 8:25 am.
The entire time I am on the phone with the agency they continuously placed me on hold and we kept getting disconnected. I then missed my flight after calling back 4 times to figure out what was going on. I made a total of 11 phone calls to Hotwire and they told me I never paid for the flight when I did, so they wanted me to pay $218 dollars instead of $561.44 but my thing is why should I have to pay any more money when I already paid $1,074.66 and paid an additional $700 dollars. I had to end up canceling the whole trip because we missed our flight for a mistake the agency made. Hotwire is a complete scam all they want is to take your money.
Now my grandmother and I have wasted vacation time from work due to the mistakes Hotwire refused to fix. I will never use them ever again. By the way nothing got resolved and we spent a total of 8 hours on the phone with the agency and now I am out of the hard earned money I made to book this trip. By far the worst agency ever. They will sure be hearing from my lawyer shortly. DO NOT USE HOTWIRE. I REPEAT DO NOT USE HOTWIRE. IT'S A HUGE SCAM.

The Hot Rate that is mentioned on the car rentals are not truly the best rate. Wait for a few days and you will get better rates from other car rental companies. The reservation is final and they mask that information to the point that it is hardly visible for you to know. Also they do not price match beyond 24 hours after your reservation. I highly recommend not to use Hotwire as a provider.

Someone stole my credit card number (probably a fast food restaurant employee when I bought a couple of hamburgers at drive through) and then used it to charge about $1800 of fraudulent charges, one of which was for $317.28 at Hotwire.com. Hotwire.com has its customer service off-shore in the Philippines, like DoorDash.com, Blue Shield of California, and others who don't want to pay Americans to handle their customer service needs.
Of course, since I did not make the reservation, and because I don't have a Hotwire.com account, they claim the reservation cannot be found. Well, that's a crock of BS. Priceline.com and Hotels.com can look up any itinerary with the credit card number used to pay for it. I doubt that Hotwire.com uses a different system that can only track to an itinerary. I was trying to obtain information about the person who made the charge, since that person obviously has a Hotwire.com account, and an email address that law enforcement can follow up on.
Because the other fraudulent charges were all made relatively local to my home address, I was hoping to be able to provide my Police Dept with information a detective could follow up on without having to do much work on his own. The Filipinos in Manila don't care much about providing service or taking the time to put forth a little bit of effort to help someone. So if you want to continue doing business with Hotwire.com, caveat emptor.

Booked a hotel in Owen Sound through Hotwire. At booking, the price was in USD and realized the amount was MORE than the hotel itself was advertising. Canceled in under 5 minutes, called Hotwire and the hotel and BOTH said there would be no fee. Hotwire had "no record of a booking, therefore nothing to charge for". Hotel - "it's Hotwire's decision to charge fee, not them". Hotel "Mary" stated that there would be no charge. I did not check in and to my "shock" they charged my card while they continue to point fingers at each other. Canceled 4 future dates stay for the hotel and will warn everyone to steer clear of Hotwire.

I decided to stay in Alexandria for the night, so I went to Hotwire online and got me this Itinerary # ** to stay at the BRAGG TOWERS in Alexandria VA. I drove for about 30 min to get there, then I walk inside to see the receptionist who was like "sorry WE ARE DONE". Then I mentioned Hotwire and he answered right back that the BRAGG TOWERS HOTEL system is down! Bummer. So I left and ended up staying at a different hotel! Today I was checking my balance to find that I was charged by Hotwire! I was on the phone for an hour with a customer support with no support, and lame excuses on how they can't reach the hotel to confirm my refund! I've still yet to receive my money, they said they will follow up on my case tomorrow. I am never ever using their service! Look out people.

Travel business, hotel reservation... things can go wrong. Initially Hotwire stood up and refunded a very poor hotel condition, the Clarion in Ronkonkoma NY in eastern L.I. Then we went through "rebooking" the next hotel. First shot, Residence Inn but there weren't two beds as the reservation called for. Fast on his feet the hotel manager finds a sister Marriott Hotel, Fairfield Inn not that far away and Hotwire agrees to pay difference even if it isn't in the Hotwire network. So far very good service.
38 days later, numerous attempts to deliver receipts requested to central email and fax addresses. They are never acknowledged. Phone people out of direct touch with Resolution people (designed this way). Finally offered Hotwire "dollars" which are soft coupon like dollars on forward purchases, not what was agreed to at the time. Basically "take it or leave it". Lots of time and energy wasted to get this far. Be warned, service people say one thing but may not be able to complete stated claims and agreements. I blame the management bad faith for this result and system support offered. Be warned.

Not having a reservation is better than thinking you have one. Our 18 year old daughter booked a room in Ocean City, MD two days prior to the over-night trip. She got a confirmation email from Hotwire with a note, "no need to call to confirm reservation." She and her friends drove to Ocean City, MD, a 3 hour drive, and when she went to check in to the hotel were told the reservation had been cancelled. When we called Hotwire, we were told the hotel had cancelled because they were over-booked and they (Hotwire? hotel? not sure) had sent an email letting my daughter know. She did not receive an email (and if she had, as with most 18 year-olds, she doesn't check email regularly and had every reason to assume she was confirmed, no reason to check per the confirmation email).
She and we had to scramble, several hotels that we tried were full as it's peak season. Obviously it was important to us that she have a reserved room that we had vetted, but by then our choice were limited. We ended up with a more expensive hotel, not at the location we wanted, foregoing options we would have had when we originally booked if we had known we were making an "unconfirmed reservation" a la Seinfeld.

Do NOT purchase a "Hot Rate" hotel from Hotwire. These are the hotels that you don't know what you are getting. They give you a description and some examples of what the hotel could be. If you have ever booked with Priceline, it's similar to their "Express Deals." I was making a Hot Rate purchase through Hotwire because the price of their deal was 20 dollars cheaper than Priceline. Usually, I go with Priceline, but in this case I thought it was best to save the money and get the same type of hotel.
I was getting a 3 star boutique hotel in the theatre district of midtown west area of New York City. Now, keep in mind that this description says "boutique." I knew it was going to be a guaranteed chain hotel, but some chain hotels have their own boutique hotels. According to Hotwire's definition, a boutique hotel is a "property that offers a distinctive, unique or eclectic atmosphere. Many boutique hotels are smaller, hip properties in an urban setting, or renovated hotels with historical flair." And the hotel that we got... Holiday Inn Express! Ok, not just a Holiday Inn, but an Express. There was nothing unique, hip, small, or distinctive about it. It didn't even have historical flair. I was NOT happy and was not about to "deal" with the "no cancellations" policy with Hotwire.
I called Hotwire right away and explained the situation and told customer service that their description was misleading. I thought I was booking a boutique hotel only to find that this was far from boutique. Just call it a 3 star hotel. Don't give it the name boutique if it really isn't. She apologized and offered to make a refund if I made a purchase for a new hotel on the phone. I was leery about this, but eventually did it because I certainly didn't want the hotel I was given. She offered me a different 3 star boutique hotel in the same area for about 50.00 extra all together. I said that was fine and kept asking to make sure, "Are you sure this is a boutique hotel this time?" She kept reassuring me and saying, "Yes this is. You should be happy with this one." Of course she can't reveal the name because it's a "hot rate" hotel.
She comes back on the phone after making the cancellation of the first one and now making the second reservation. Get this... She says, "I'm sorry, but the hotel I just booked was actually the same one you booked in the first reservation." I said, "Are you serious?" I was really thrown out of my seat because not only did she guarantee that I was getting a boutique hotel, she said I was going to be really happy. Plus, she charged me 50.00 extra for this "better" hotel. There was no way I was paying 50.00 extra for this ordinary hotel that was clearly not a boutique hotel in the first place. She said there was nothing she could do after making the second reservation. Then, she offered $30 in Hotwire bucks where I could use it on my next purchase. I didn't want their bucks. I wanted my bucks back. What is 30.00 going to do about my vacation experience? Nothing.
Then, she offered the 50.00 difference back. I said, "No. I want a complete refund. This is the reason why I called. This hotel is not a boutique hotel." After an hour on the phone, we were back to square one. I asked to speak to her boss or manager above her. There was silence for about 20 seconds. She didn't want to do this. At that moment, she offered to call the hotel and see what she could do. Now, we are talking about $550 dollars on the line. Not just a one night stay somewhere in a small town. She comes back on and says... "The hotel confirmed that they are NOT a boutique hotel." She apologized for all of the inconvenience and said she was going to refund all of my money back to my credit card. She was very apologetic about it, which I give her credit for. However, I will NOT be making ANY purchases through Hotwire ever again! BUYER BEWARE...

The hotel that Hotwire advertised in fort lauderdale fla. was the b ocean resort. They falsified my checkout bill by over a 150 dollars with fraudulent charges. They said I ran up a bar tab at the hotel bar for 50 bucks on wed july 19th. Problem was I was never in that bar number one... and bar is only open on friday and sat nights. I told them to produce a bill with my signature and room number on it. Of course they couldn't. Also made up charges about beach access and resort fees. Total nightmare... Stay far away...

I book through Hotwire often and I'm usually pleased with the experience. This particular booking has me disgusted beyond belief. I'm well aware that Hotwire books through the hotels and normally regardless of the star rating I have a pretty decent room. This past hotel I attempted to stay in had mold and mildew thru out the room and the mold affected my breathing. I had to leave after only being there an hour. Your policy says no exceptions for refunds but as I am a constant shopper on your site due to my illness I request a refund for this purchase. I purchased another booking thru your site immediately after leaving the Ramada and was pleased with the new booking.
I do not feel this company should promote molded hotels that have bugs etc regardless of the star rating. It puts a terrible reputation on the company. So for an ill women on disability I ask that you refund my account as I still did purchase a new booking the same day or I will continue to report this issue until it is resolved. Please understand where I'm coming from. Thank you very much for your time. My itinerary number is **. I stayed at Ramada Capitol Park Atlanta Ga.

Hotwire is the worst place that I would recommend someone to get a reservation for anything. On 07/20/2017 I reserved a hotel room. I put credit card number in there and when I went on the bank's website. It took a 179.00 out my account. But I didn't get a room so I called Hotwire to see what happened and they tell me that I didn't get a room. But the banks took the money and would not give it back until 2 to 3 business days. And I talked to Hotwire. They assured me that they would give it back. So I booked another room for the same amount. I get here to my destination and later find out that it's a 100 deposit. And this was all the money I had.
I have no way to get back home. I called Hotwire. They were very mean and didn't care what was going on. I have a 4 star hotel and they offer me a 2 star hotel. But I already paid for the other room. They didn't care, their managers were not willing to help. They felt I should take what they give me and be happy. So now I am 6 hours away from my state and no gas to get home. And on top of that it's my birthday. Oh and didn't advise me that you don't have free parking. Happy Birthday to me. I would never recommend Hotwire for anything.

I booked on Hotwire and booked the insurance, which I never do. I booked because I thought I might have to cancel so I thought I would be protected. Turns out that I did need to cancel due to a medical emergency in the family. Hotwire requires a medical certificate signed by a doctor proving the emergency AND they ask for details of the emergency! Complete strangers asking for deeply personal information for purely financial reasons. While that may be just information for them so they can determine whether or not my emergency is worth giving me a refund, this information is actually none of their business.
Additionally, if one is in a position where they cannot obtain such information, which I am, the only other possibility is to book ANOTHER reservation with them where they essentially transfer the money to that reservation. Why would I want to continue to work with a company that clearly has no regard for me? Also, now I have to hurry to make travel plans or forfeit the money. When I book the next reservation, instead of taking that money out of the existing reservation, they charge you AGAIN while they "process" the request. I am done. I am already stressed enough by this family issue and Hotwire made something that should have been simple, much harder than it needed to be. What was the point of ordering and paying for the insurance then? I will never use them again.

I booked a hotel in London through Hotwire on the recommendation of a friend for the first time about ten days ago for my trip to London. Everything went smoothly on booking and I got the confirmation email from hotwire that the booking has been confirmed with the hotel. I actually booked two rooms and when I noticed that I had to be present for the check in for both rooms, I contacted the hotel and asked them to put down my colleague's name on the booking as well so that he can check in by himself as he would arrive 5 hours before me. The hotel had no problem accommodating my request so everything was great up to this point.
I arrived at London around 8:30 pm and got to the hotel around 10:30 pm. When I showed my confirmation number to the front desk, I was told that my reservation had been canceled by hotwire. I couldn't believe what I heard. I double checked my email and there was no record of hotwire contacting me regarding any issue with my booking. I called hotwire in the hotel lobby and was told by the hotwire operator that my booking had been canceled and there was nothing he could do for me. The only thing he could do was to give me a phone number and I could leave a message at the number and would be contacted by hotwire. I called the number and left a message for them to call me back. At this point, I knew I was on my own so had to work with the hotel to figure something out. The hotel was nice enough to rearrange the room assignments to free up two rooms for me but I had to pay a rate which is 60% higher than what hotwire's booking was.
Now I am back from London and it's been a week from when I left a message with hotwire and I haven't heard anything back from hotwire. They actually kept sending me "great" deals email. I suspect I was caught in some sort of computer operated fraud prevention mechanism. I am a computer engineer and I can totally understand that there could be false positives with such mechanism.
I am a frequent traveller with perfect credit record and I don't know how I could be picked as a potential fraud. But the bottom line is, the follow-through on such incident for customers like me is a strong indicator that this company doesn't care about their customers. I usually don't leave negative feedbacks for service providers but this incident made me feel that I should let people know how hotwire operates so that people know the truth about the company.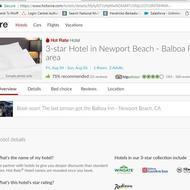 Hotwire is a scam! When using Hotwire today their system told me I would get the Balboa Inn if I "booked now." This was in the exact area I needed for my trip with my daughter. SO I booked it right away. Once the booking was finished their system tells me I got the Holiday Inn Express, nowhere near the Balboa Peninsula where I needed to be. When I called their "customer service" line, they said that was just a "suggestion" on what the hotel could be.
I let them know I use their system all the time and when it shows a specific hotel and says to book now, that is the hotel I get. This time that did not happen. And that if that was not going to be the hotel then they should not falsely advertise that hotel. I explained to the rep why I needed to be in a specific location, as we would not have a car and needed to be able to walk to our activities. The rep did not care and just kept insisting that was a "suggestion" of a hotel. I just ran the search again and guess what hotel they are saying I will get? The one I needed! Unbelievable! See photo. I am NEVER using them again!

Hotwire has a serious bug in their reservations system that they as well as consumers are unaware of and puts all Hotwire users at risk of financial loss. While the risk is small, it does exist. I would not recommend using Hotwire for this reason. Here is the problem: At the point during Hotwire's reservation process where the consumer is to confirm his purchase, if Hotwire's system returns an error and failure message, it may still confirm the reservation internally even if it fails, and never sends any confirmation email to the user. Hotwire apparently has no verification process to confirm to itself that it did indeed send a successful email confirmation to its customers, as well as logging system errors and failed reservation attempts.
On June 2 of this year I attempted to make an online hotel reservation on Hotwire while traveling in Europe. At first, Hotwire's system was down, as in not accessible. A short time later at a second attempt, Hotwire was back online, but running slow. I attempted to make a reservation, but at the point of confirmation, I instead received an error message that the confirmation failed, and to try again. I made a second attempt, but received the same error message. I then checked my email for any kind of confirmations from Hotwire, but received NONE. So then I went to Travelocity, where I made a successful reservation. As it turns out, little did I know, that the Travelocity reservation was for the same hotel that Hotwire was going to use for it's mystery hot deal hotel I had attempted to make earlier with them.
So when I check in at the hotel, I give them my name, and the receptionist responds, "Yes, we have your reservation right here, and checks us in. Unknown to me however is that while Hotwire' system failed to send me any email reservation confirmation with any hotel name on it to ME, their system DID manage to send a reservation order to the hotel, and the hotel checked us in under the Hotwire reservation rather than the Travelocity reservation. Additionally upon checking later, I find not one but two charges to my credit card from Hotwire for the reservations I never received, and of course a third charge from Travelocity for that reservation that the hotel never used. The result is that due to the Hotwire errors, I paid not twice for the same reservation but rather THREE TIMES.
Disputed charges through American Express were denied, as Hotwire responded that they found no errors and my hotel stay was logged in under the Hotwire reservation. Communications with Travelocity are ongoing. I have no doubt that deep digging into Hotwire's system error logs for the time of my reservation errors should reveal the problem, this kind of problem investigation is beyond Hotwire's customer support skill level. So Hotwire users be warned.

Hotwire recorded the date of my reservation incorrectly, then refused to refund my fee. I have subsequently learned that Hotwire, Expedia, Hotels.com and BookingBuddy are all the same company. Which has, by the way, zero regard for honest and ethical business practices. I will not be rolling the dice with these companies again, but instead will reserve through a hotel's website. I should have done this in the first place.

I booked hotel, paid and kept receiving emails to add nights before or after on same reservation for same hotel. I went ahead and added another night and the rate was higher due to higher charges in fees on top of hotel room rate. I find this dishonest but was told when I called they could charge me anything as they are only stating add additional night. This is very sneaky way of selling additional nights. Spoke to Mary ** and she was not able to help. Her opinion was that they were only offering additional night not same rate. Don't use Hotwire. They had me on hold 20 minutes to get this negative feedback.

I will never use their service again. A total bait and switch scam. Booked a trip to Cabo San Lucas for my son and two of his friends for a graduation gift. The trip was booked back in early May, it's now the end of June. When we booked the trip, we searched only all inclusive hotels. We wanted the boys to be able to stay on site as much as possible. We found a hotel at a very reasonable rate as well as flights that worked. We proceeded to the page to "book" the trip, still with the hotel as all inclusive. We booked and paid, without issue. Received a confirmation email of our booking that included only our itinerary. There were no specifics regarding "what" we booked but we weren't too concerned as we knew what we booked and where.
Cut to today when the boys went to check in. Miraculously, the hotel was no longer all inclusive, there was an additional charge for that at the tune of $92 per guest per day. We were looking at $1200 MORE on top of our already paid $2000 trip. Called Hotwire customer service and all I can say is that is the strongest contradiction of terms I've ever heard. They were absolutely unwilling to help, claimed there was no way that we booked what we booked, that it wasn't all inclusive due to the type of room we booked (which I pointed out, we didn't pick, we took what was offered as part of the deal), even had the nerve to ask me if I had a screenshot of what we booked. HELLO - it was booked 6 weeks ago. When I pointed out that the confirmation they sent didn't even provide helpful details, they responded by implying that wasn't their fault. Absolutely unreal.

Hotwire continues to go down hill in my book. I purchased a Groupon for $30 towards a Hotwire hot rate hotel at $200 a night. I entered my Groupon code and it deducted $30 from the price but when I tried to pay, it told me I just missed the deal as they have sold out of those special priced rooms. The next day I see the same hotel at $200. I try to reserve it with credit card and Groupon but when I hit enter, it says that I missed the deal as they have sold out of the room. I have a feeling it would work if I didn't put the discount code in. They no longer seem legitimate to me and that's really too bad.

I booked a hotel for $94.93 today with Hotwire. And after I finish the booking I noticed that there was an additional $94 per day for cleanup fee. I felt like I was paying twice per night for the same room. I called Hotwire Right away but they were not helpful so I called the hotel and they did not want to tell me what their cleaning fee was. They said I had to call Hotwire. Well this all took about 2 hr and I kind of feel like between Hotwire and Bahama Bay Resort in Orlando. They are both running a scam. Buyer beware.

ConsumerAffairs Research Team
The ConsumerAffairs Research Team believes everyone deserves to make smart decisions. We aim to provide readers with the most up-to-date information available about today's consumer products and services.
Hotwire is a San Francisco-based company that helps travelers find discounted rates on a wide range of services, including flights, car rentals and hotel rooms.
Bundled services: Hotwire lets customers bundle travel services to get discounts.
Partners: Hotwire partners with several other travel businesses, including Expedia and Hotels.com to access more deals.
Mobile app: The iOS mobile app lets customers use Apple Pay.
Last-minute deals: Hotwire publishes steep discounts from hotels that want to fill rooms at the last minute.
Cancellations: Hotwire accepts cancellations for rooms at most hotels.
Best for Budget travelers.
Company Name:

Hotwire.com

Year Founded:

2000

Address:

655 Montgomery St.

City:

San Francisco

State/Province:

CA

Postal Code:

94111-2627

Country:

United States

Website:

http://www.hotwire.com/